If you're looking for the best things to do in Detroit Michigan then you've come to the right place!
I was born and raised in the Midwest and as I child I'd go to Detroit every year.
So I know that it's an amazing city in the Midwest that is a great place to visit year-round, not just in the summer.
Detroit is the largest city in Michigan and that means it is full of fun activities.
It's a vibrant Midwestern city that has a great foodie scene, fun road trip stops, and more!
Detroit is often called the Motor City thanks to its rich history involving the automobile industry.
You'll also find plenty of unique museums, beautiful gardens, historic sites and areas, and hidden gems.
Whether you're interested in art, or American history, or just want to explore the city, you'll find plenty of fun things to do in Detroit Michigan.
There are so many Detroit attractions, so let's take a look at the 15 best things to do in Detroit that you don't want to miss.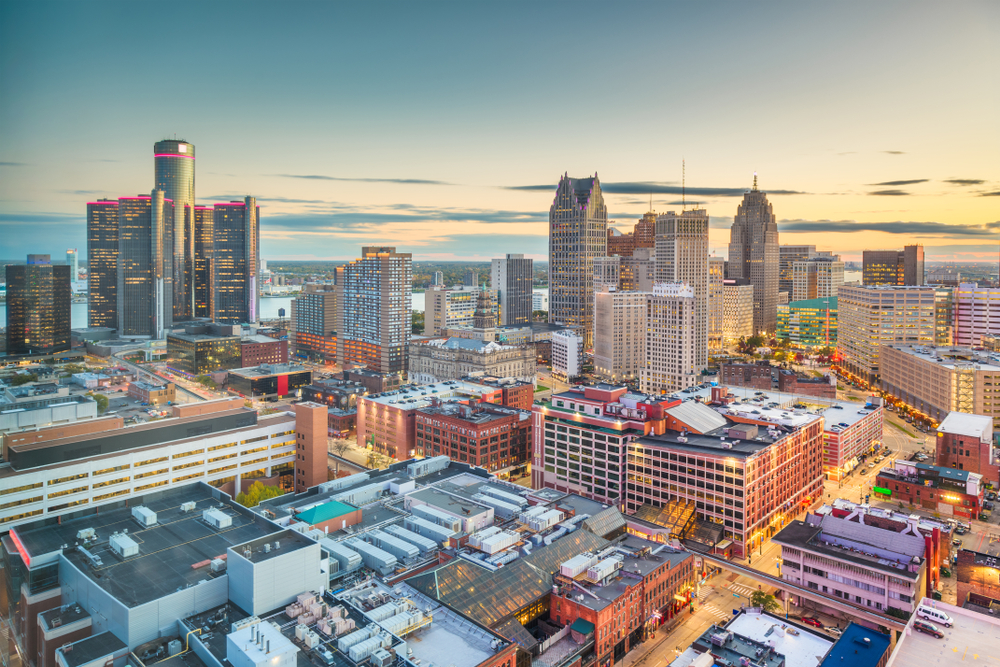 15 Best Things To Do In Detroit MI You Shouldn't Miss
The Automotive Hall Of Fame Is One Of The Best Things To Do In Detroit
If you're visiting this vibrant Midwest city, one of the must-see Detroit attractions is the Automotive Hall of Fame.
Because Detroit is the 'Motor City', it is home to this really fun museum.
If you are interested in automotive history, you'll especially like this museum!
At the Automotive Hall of Fame, you'll find exhibits of some of the most ingenious automotive designs in history.
The museum was founded in 1939 and features prominent figures and designers in the international motor vehicle industry.
It's similar to the Rock and Roll Hall of Fame or the NFL Hall of Fame.
The Automotive Hall of Fame is one of the most unique attractions in Detroit and it's a must-see.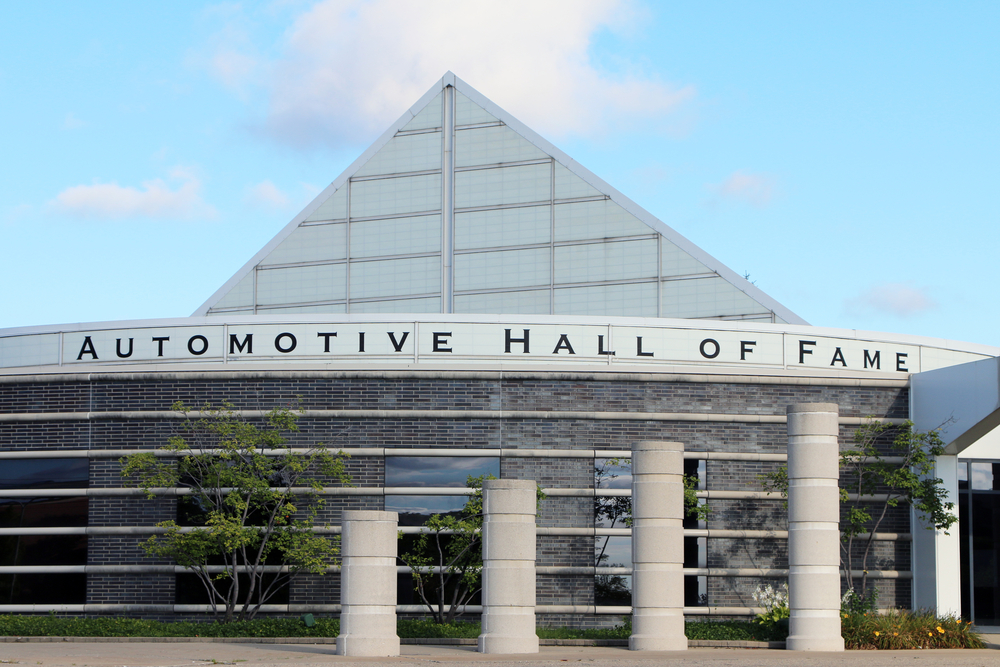 Admire The Architecture Of The Guardian Building
One of the coolest things to do in downtown Detroit MI is to visit the Guardian Building.
The Guardian Building is located at 500 Griswold Street in the heart of Detroit's financial district.
It is a stunning building that is actually listed on the registry of National Historic Landmarks.
When you step inside the building you'll quickly understand why it's so beloved.
It was built in 1928 at the height of the Art Deco period of architecture and art.
Historians now consider it one of the boldest examples of Art Deco architecture in the United States.
The beautiful and intricately painted ceilings, and the boldly carved stonework, are stunning.
And its mixture of Native American, Aztec, and Arts and Crafts design influences continues to wow visitors today.
The Guardian Building is still in use today as an office building.
It's also an event space that you can rent.
However, you can walk into the lobby and admire some of the finest work inside the building completely free.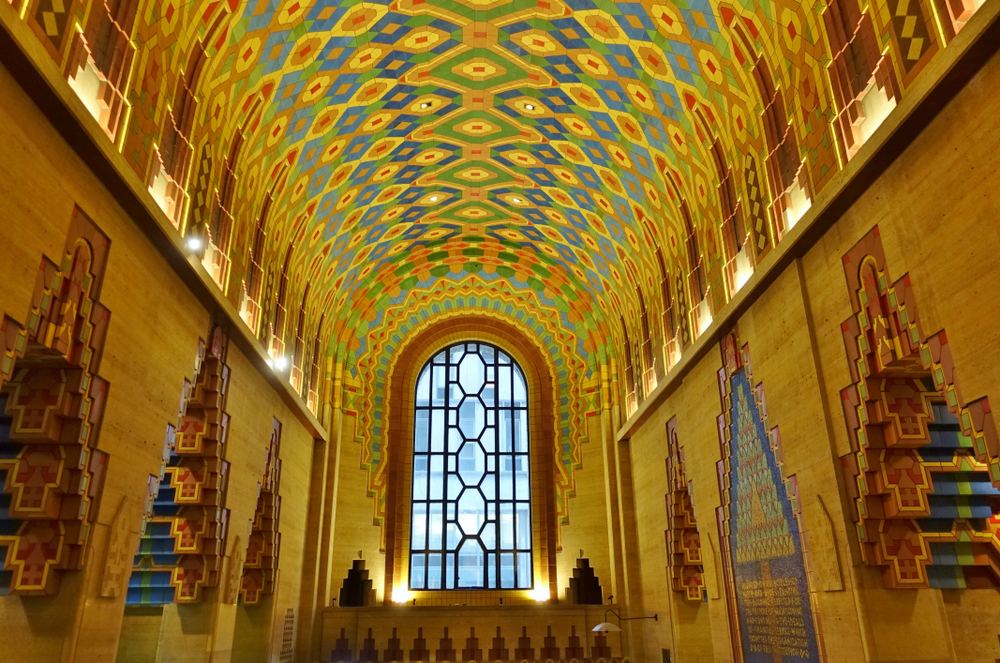 Spend Some Time In The Charles H. Wright Museum Of African American History
The Charles H. Wright Museum of African American History is a great way to spend a few hours in Detroit.
There is a small entrance fee to get into the museum. It is open Tuesday through Sunday except for major holidays.
The entrance fee goes toward the continual curation of museum resources and exhibit expansions.
Inside the museum, you'll learn about the history and culture of African Americans, especially those who called Detroit Michigan home.
Some of the museum's permanent exhibits include the Blanche Coggin Underground Railroad Collection and the Harriet Tubman Museum Collection.
They also have exhibits detailing the labor movement in Detroit.
The museum also has over 35,000 other items that pertain to African-American history.
The Wright, as it's most commonly called, is an important museum.
It continues to educate its visitors on the African-American experience and is one of the best attractions in Detroit.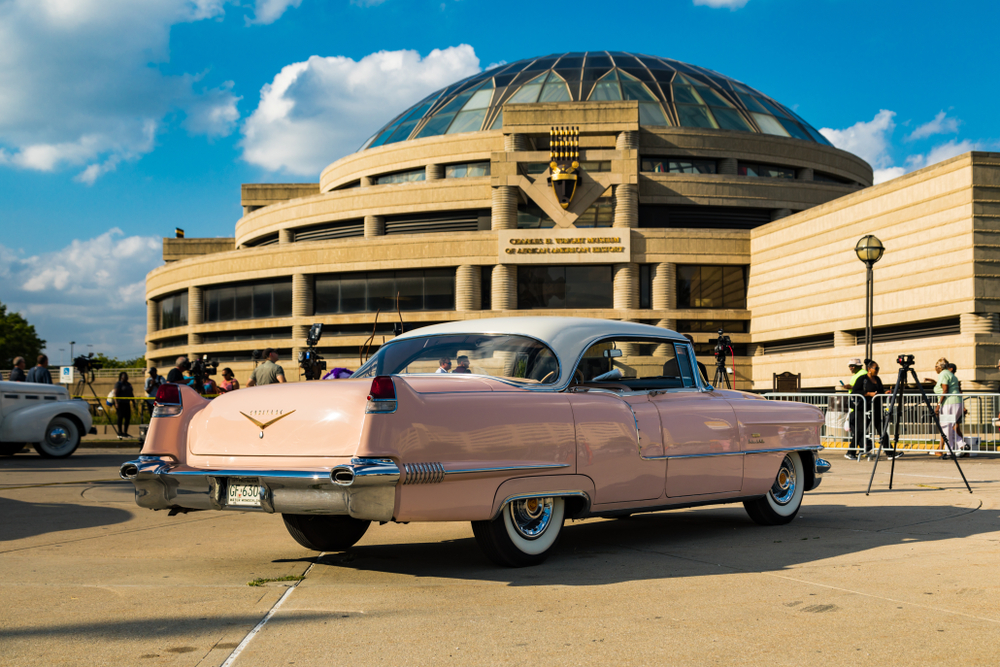 Make Stops Along The MotorCities National Heritage Area Route
The MotorCities National Heritage Area is scattered all around Detroit and even in the towns surrounding it.
There are over 10,000 square miles of land encompassing the area.
That means there are plenty of things to do in Detroit if you're exploring the National Heritage Area.
Within the city limits of Detroit, there are dozens of historic sites, museums, and more to check out.
They include the Automotive Hall of Fame, Hart Plaza, and the General Motors Renaissance Center.
Plus almost the entire Boston Edison Historical District.
As you walk or drive around Detroit MI you'll see tons of placards near buildings, parks, and museums.
They detail their significance to the Detroit automotive industry history.
It's one of the most unique Detroit attractions.
I definitely suggest stopping by at least a few of the historic sites while you explore the city.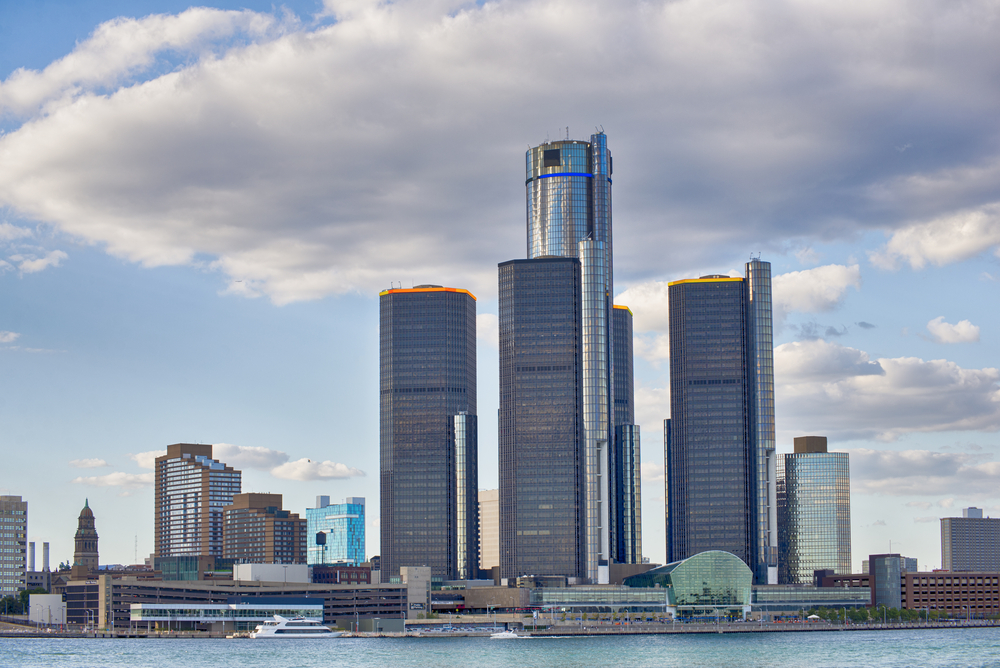 Stroll Through The Galleries At The Detroit Institute Of Arts
Most people don't know that the Detroit Institute of Arts is actually the home of one of the most extensive art collections in the US.
It's also one of the most significant art collections in the United States.
That makes it one of the best things to do in Detroit Michigan.
The museum has over 658,000 square feet of gallery space and over 100 separate galleries to explore.
It is open Tuesday through Sunday, but the times vary depending on the day.
So make sure to check their schedule before you plan your visit.
There is a small admission fee to enter the museum, but it is absolutely worth it!
Their collection includes works by artists like Auguste Rodin, Diego Rivera, Vincent Van Gogh, Henri Matisse, and Claude Monet.
They have everything from ancient art to modern art from all over the world.
The Detroit Institute of Arts is one of the best Detroit attractions.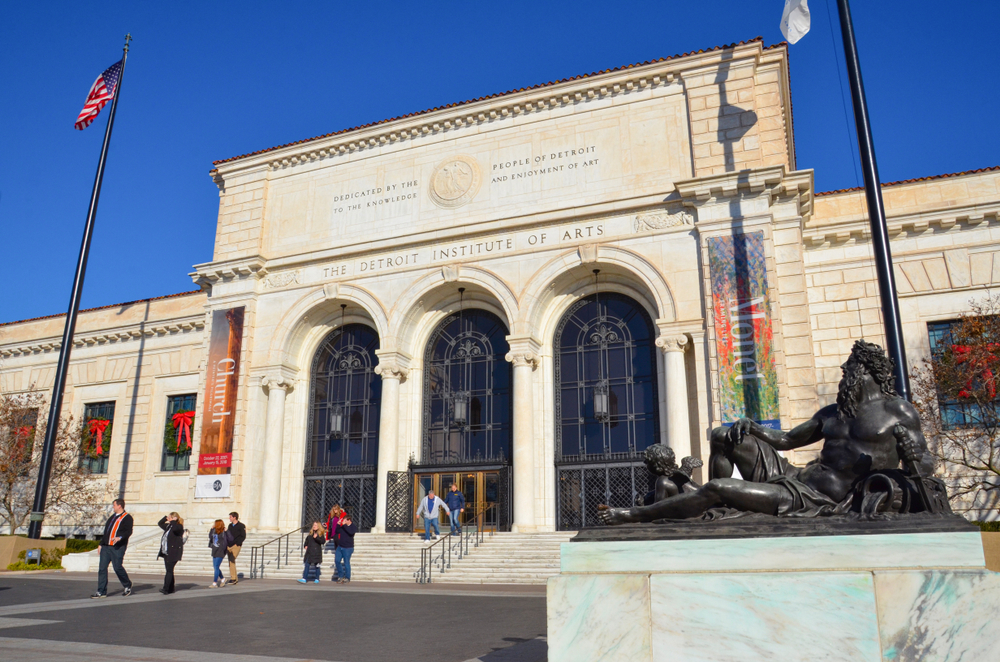 Escape The City And Drive To Belle Isle
Belle Isle is an island park in Detroit.
The park is over 980 acres of beautiful parkland and attractions.
Belle Isle is in the Detroit River and also includes several smaller inlets and you can easily access it.
You can walk or bike onto the island for free. If you drive onto the island, you'll need to purchase a Recreation Passport.
When you're on the island you'll find plenty of unique Detroit attractions.
There is a beautiful conservatory, planned gardens, picnic areas, a nature center, and the Dossin Great Lakes Museum all on the island.
If you'd like to escape the city for a little bit and enjoy the beautiful views of the Motor City, then visiting Belle Isle is one of the best things to do in Detroit Michigan.
And if you visit Belle Isle during the holidays, you can see some of the best Christmas lights in Michigan.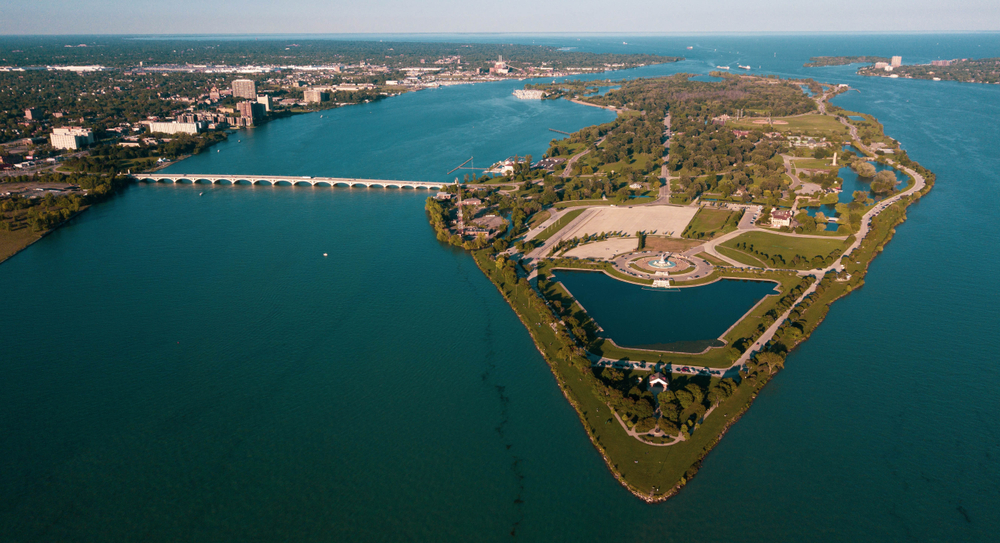 While You're On Belle Isle See The Anna Scripps Whitcomb Conservatory
Since you're already on Belle Isle, I suggest taking some time to see the beautiful Anna Scripps Whitcomb Conservatory.
The conservatory was built in 1904 and has a beautiful Edwardian architectural design.
Throughout the years the gardens have been updated and changed.
However, much of the original conservatory structure has stayed the same.
You can find the conservatory on 13 acres of beautifully sculpted landscape.
There is a lily pond, perennial gardens, and a green lawn where you can picnic.
The conservatory building itself takes up about an acre of land and is separated into five areas.
Inside you'll find plants like cacti, ferns, and other hot-weather plants.
It is the longest continually operating conservatory in the United States and a must-see stop on any Detroit Michigan itinerary.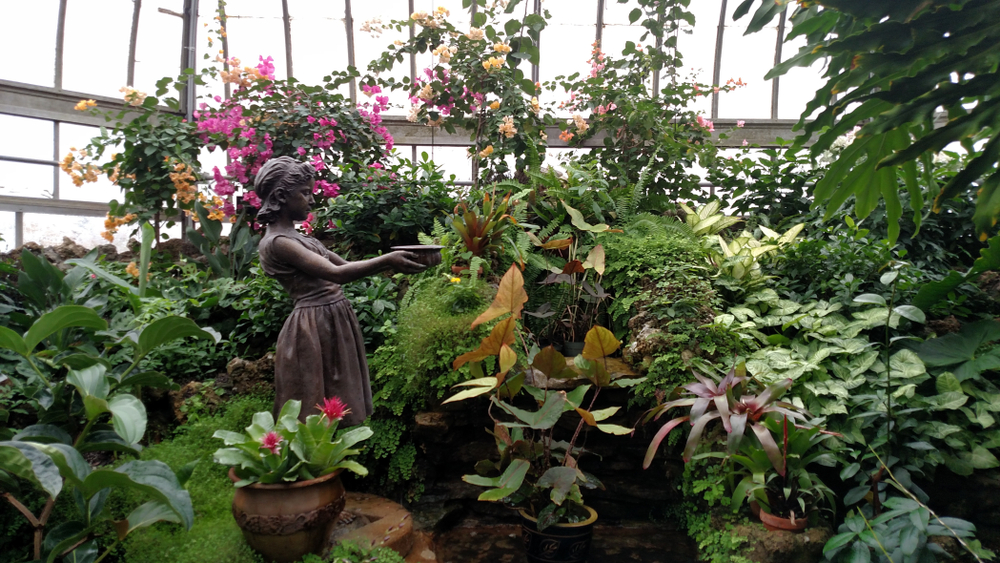 Visiting The National Museum Of The Tuskegee Airmen Is One Of The Best Things To Do In Detroit
The National Museum of the Tuskegee Airmen has actually recently moved into a brand new wing of The Wright Museum.
The museum used to have its own building in Historic Fort Wayne, but it was only able to remain open seasonally.
With this recent move, visitors to The Wright can enjoy the artifacts relating to the Tuskegee Airmen at any time.
Inside the museum wing, you'll see a few different exhibits relating to the history of the all-black squadron.
For those who don't know, the Tuskegee Airmen became famous during World War II.
The Airmen fought bravely even though they were segregated from the rest of the Air Force.
And all because of the color of their skin.
They have original supplies, equipment, photographs, and an informational film.
They also have original uniforms and even model aircraft on display.
It is an incredibly important piece of black history.
The National Museum of the Tuskegee Airmen is easily one of the best things to do in Detroit.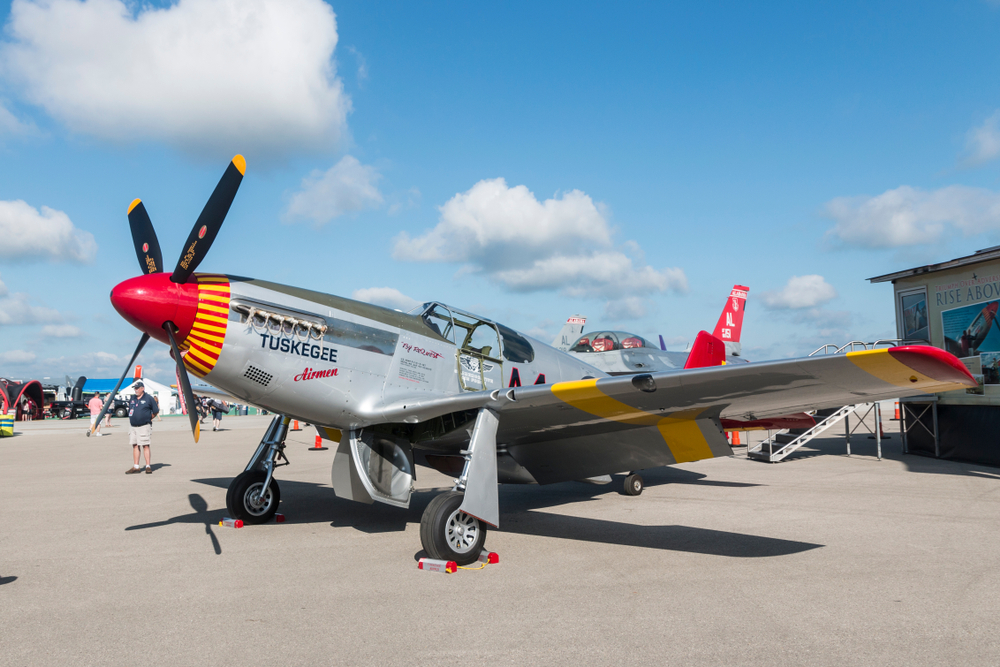 Experiencing The Heidelberg Project Is One Of The Fun Things To Do In Detroit
If you are an art lover, you absolutely must experience The Heidelberg Project.
The Heidelberg Project is located in the heart of 'urban Detroit'.
It is a large outdoor space full of a variety of different art installations.
You can experience this amazing community space for free daily.
It's also completely free!
While you walk through the space, I suggest downloading their app.
The Heidelberg Project App takes you on a guided tour through all of the installations.
In other words, you'll have a free tour guide in your hand as you walk through the space.
It is certainly one of the most unique things to do in Detroit.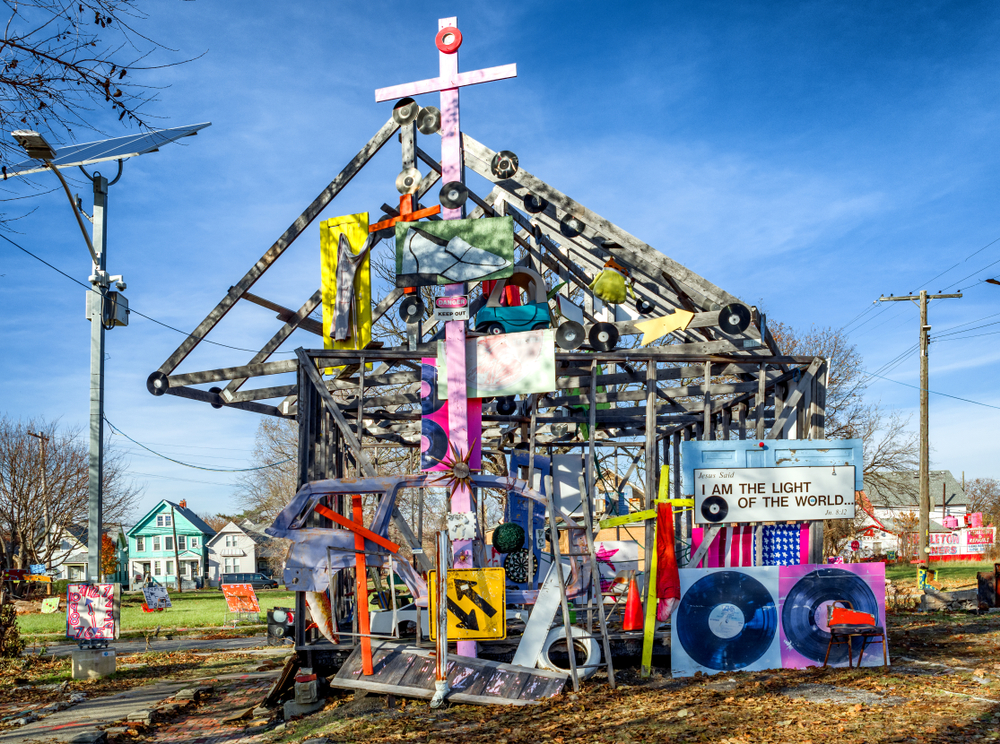 Spending Time At Hart Plaza Is One Of The Best Things To Do In Detroit Michigan
The full name of the iconic city plaza is actually the Philip A. Hart Plaza.
However, it's most commonly referred to as just Hart Plaza.
The plaza is located on the spot where the settlement that would become Detroit was originally located.
It sits on the Detroit River with the city skyline as a backdrop.
As a result of its great location, it often hosts festivals, concerts, and seasonal events.
The plaza takes up 14 acres and in the middle, you'll find a large sculpture and water feature.
Hart Plaza is an iconic Detroit Michigan attraction and you'll love its beautiful scenery.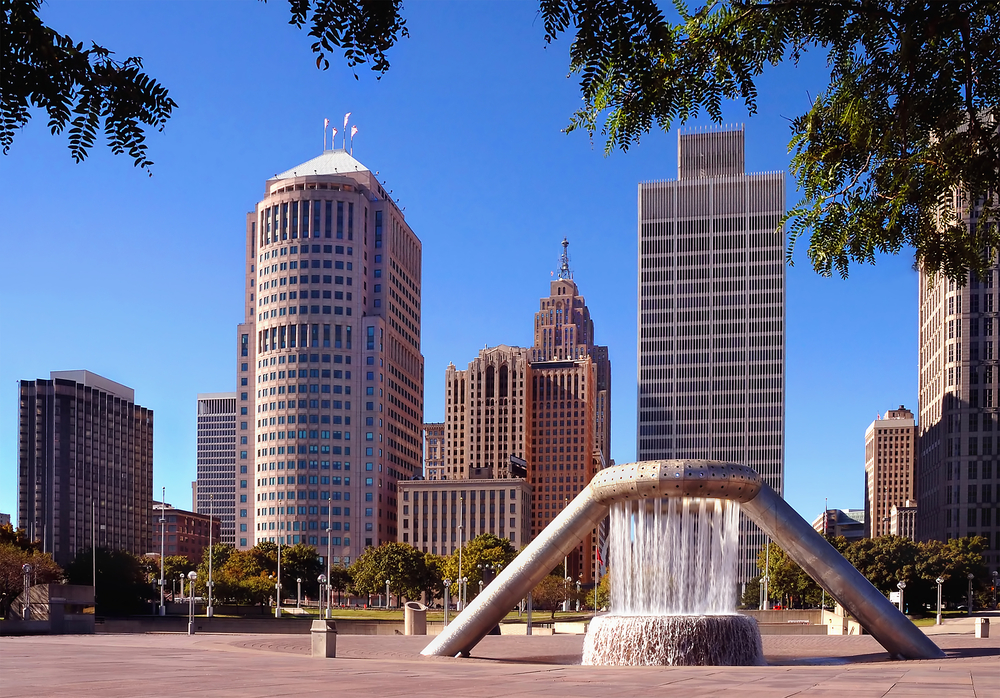 One Of The Most Interesting Things To Do In Detroit Is Touring The Ford House
Edsel and Eleanor Ford built their dream home in 1928, and it is opulent.
Edsel was the son of automotive and industrialist pioneer, Henry Ford.
You can take a short ride to visit Henry Ford's home as well. It is one of the most remarkable things to do in Dearborn MI.
The rooms are elegantly decorated and on the walls, you'll find art by artists like Vincent Van Gogh.
When you visit the Ford House Estate, you'll find plenty of activities.
You can tour the house, leisurely stroll around the grounds, or enjoy a nice meal at their restaurant.
It's an interesting thing to do in Detroit if you are interested in architectural history or the Ford family.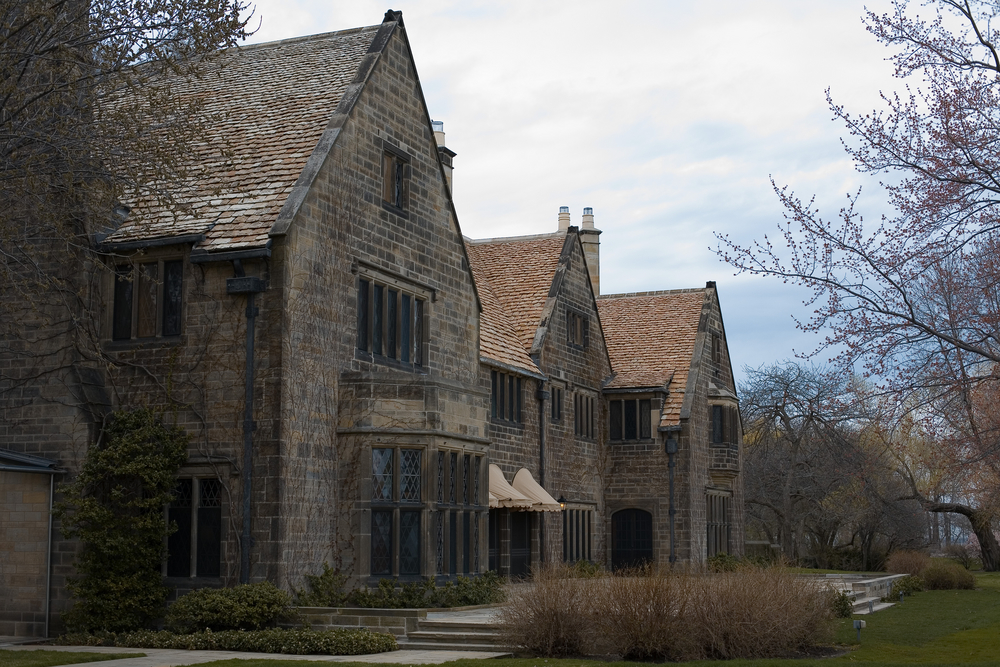 Touring The Motown Museum Is One Of The Most Unique Things To Do In Detroit Michigan
Detroit is the home of Motown, an incredibly popular genre of music in the 1960s.
Motown was often referred to as 'the music of the young people.'
Motown music was also a predominantly black music genre.
That made it a bit controversial in the 1960s.
You can find the Motown Museum in the original home where Motown Records was established in 1959.
Inside the museum, you'll find an extensive collection of artifacts, records, and photographs.
All of them focus on the history of Motown.
That includes its black cultural roots and the importance of the music genre at the time.
People come from all over the world to stand in the place where Motown music was born.
That makes it one of the best things to do in Michigan.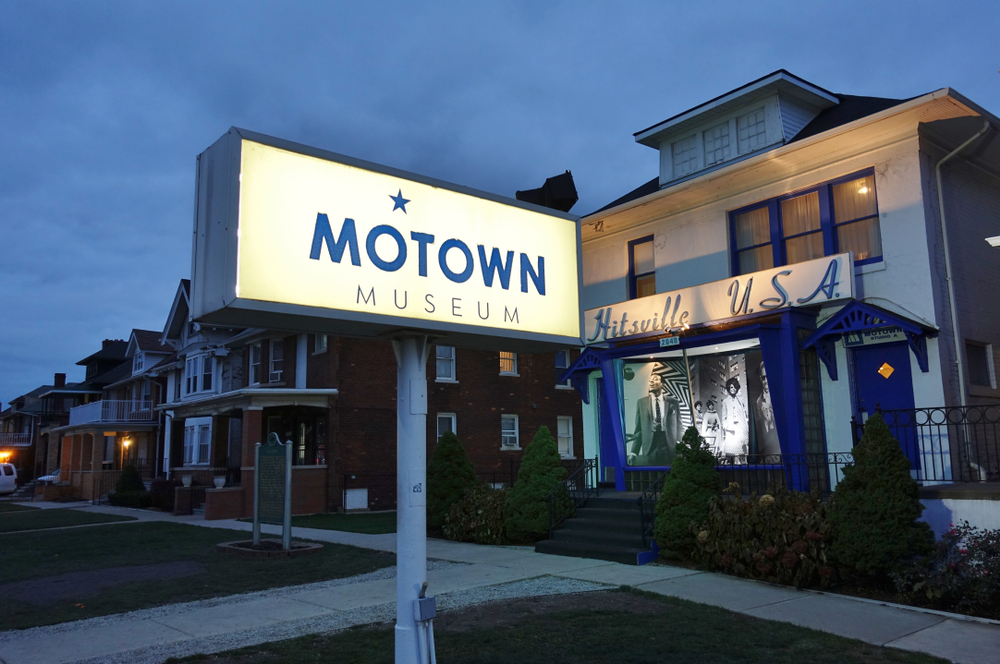 Marvel At The Beauty Of The Iconic Fisher Building
Designed by the famous American architect, Albert Kahn, the Fisher Building is a prominent Detroit MI building.
Kahn also designed the Ford House and other notable Detroit buildings.
One look at the building and you'll notice it is an Art Deco design.
Art Deco was a popular architectural design style when the building was finished in 1928.
Many believe the Fisher Building is one of Kahn's most prominent architectural works.
Adding to its design, the exterior is made of granite, marble, and limestone.
You can find a 2,089-seat theater inside along with 30 floors of office space.
Because the building is such an iconic piece of architectural history, it is actually a National Historic Landmark.
You can always at least tour the lobby of the building, but it is still in use, so be respectful when you visit.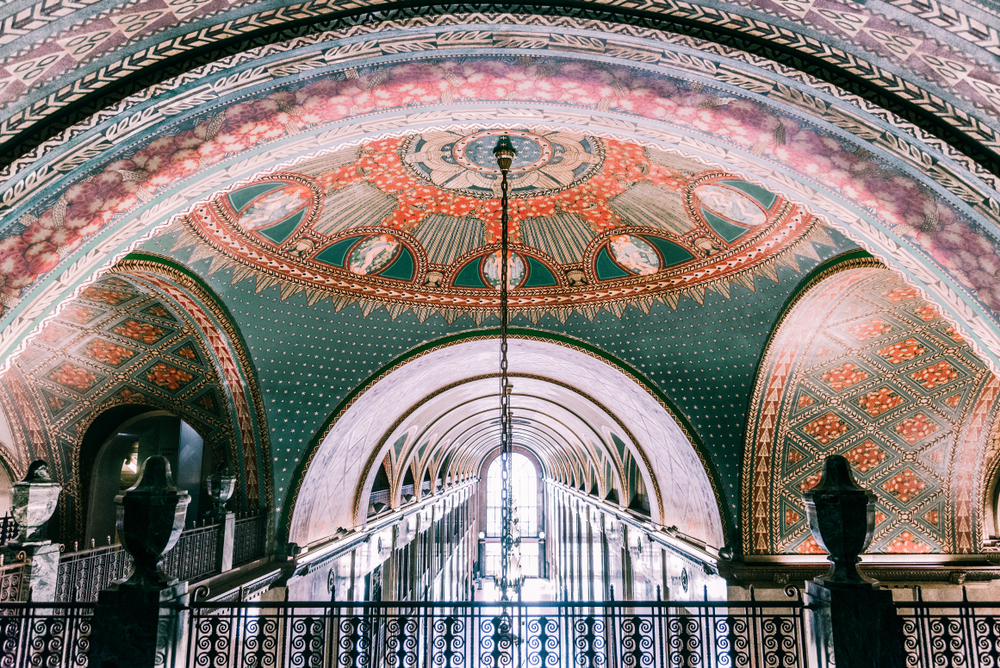 See The Unique William Livingston Memorial Lighthouse
Another one of Albert Kahn's famous designs is actually one of the coolest lighthouses in Michigan.
The William Livingstone Memorial Lighthouse is on Belle Isle.
It faces Lake Saint Clair and guides boats along the Detroit River. And would make quite an interesting Michigan road trip destination!
William Livingstone was a prominent member of Detroit's affluent society.
He served as President of the Dime Bank and was a philanthropist interested in the Great Lakes.
After his death in 1925, his friends and family raised money to build the unique Art Deco lighthouse.
It's one of the more unique attractions in Detroit, especially because of its unique design.
The Henry Ford Museum Of American Innovation Is One Of The Coolest Things To Do In Detroit
The Henry Ford Museum of American Innovation is actually just outside of Detroit, in the suburb of Dearborn.
You can find tons of things to do in Detroit Michigan at this super cool museum.
The massive museum sits on 250 acres!
On the 250 acres, there are three main attractions.
You can learn about American innovation throughout history at the main museum.
Or you can try the Ford Rouge Factory Tour and see the Benson Ford Research Center.
Before you leave, I also suggest exploring Greenfield Village.
With so many different activities to explore, it's one of the best things to do in Detroit.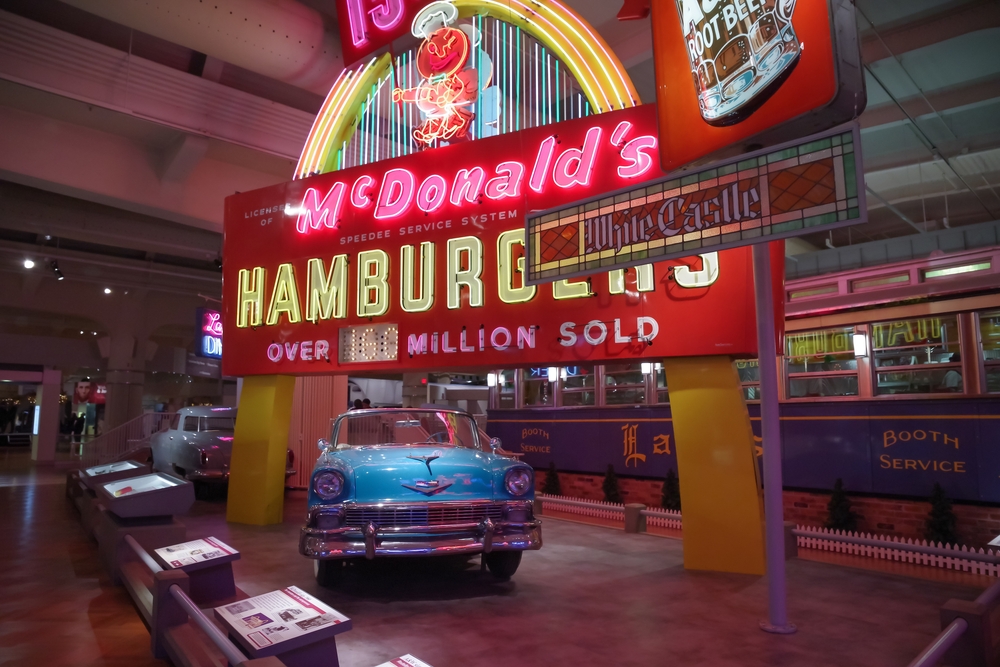 Packing List For Visiting Detroit Michigan
If you will be traveling, either by plane or by car to Detroit MI here are some tips on how to pack lightly.
A concealed travel pouch may be one of the most important items you bring along when visiting Detroit. It is always important to protect your personal information. Identity thieves are everywhere.
This unisex RFID-blocking concealed travel pouch is lightweight and comes in several colors. It has lots of organization to give you peace of mind.
If you have a pouch already that does not come with the RFID protection, as I do, these RFID sleeves are the perfect solution.
This configuration comes with enough credit card sleeves that the entire family would be protected. They are slim too, so they will easily fit into your pouch or wallet.
If you are planning on taking a lot of pictures with your phone you will definitely want to consider an external charging battery. This Anker high-speed phone charging battery is the exact one I carry with me on all of my trips.
It can be used on a variety of phones, not just an iPhone like I have. And wow is it fast!
I like that it holds its charging capabilities for several uses so I do not have to worry about it while out and about, and if I forget to recharge it at night, it will still be good to go the next day.
My daughter gifted me with this FugeTek selfie stick and tripod setup for my birthday. I absolutely love it! It is made of lightweight aluminum and is easy to use.
It has Bluetooth connectivity and is a breeze to use for taking selfies when visiting attractions in Detroit.
You will want to bring your own refillable water bottle with you.
I never leave home on a trip without my Bobble filtration bottle. The 18.5-ounce size is perfect for hiking and it fits nicely in the pocket of a backpack.
When filled with water, it is not too heavy to carry. And the replacement carbon filter ensures fresh clean water whenever you fill the Bobble.
Perhaps you are traveling a long distance and packing space is a premium in your suitcase, or in your car.
Then this collapsible silicone foldable water bottle would work well for you. Would not take up much space at all.
You will want a backpack or daypack with you to store snacks, your water bottle, phone, extra clothes, etc.. when hiking This foldable water-resistant backpack would be great
It is very affordable and is available in many color options for you to choose from. The fact that it folds down into a zippered pouch will make it easy to pack.
As an Amazon Associate, I earn from Qualifying purchases.
---
There are certainly tons of fun things to do in Detroit Michigan. It certainly would make one epic Michigan weekend getaway.
It is a city that has a rich history, both culturally and industrially.
And Detroit is one of the fun places to experience fall in Michigan.
As a result of that rich history, Detroit attractions are incredibly varied and above all, interesting.
Have you had the chance to see any of these unique things to do in Detroit?
I'd love to hear about your favorite activity in the comments!