Are you thinking about taking a road trip through Michigan?
Then take a look at this list full of fun and unique Michigan road trips.
I am from the Midwest, and Michigan is one of my favorite Midwestern states to visit.
It's a state that has so much to offer, from varying landscapes to cute small towns and even amazing food.
If you have been thinking about exploring Michigan, then you'll love all the different Michigan road trip options on this list!
There is truly something for every type of traveler on here, and I think you'll quickly find yourself packing for your next road trip in Michigan.
So, let us take a look at 12 fun Michigan road trips for your bucket list!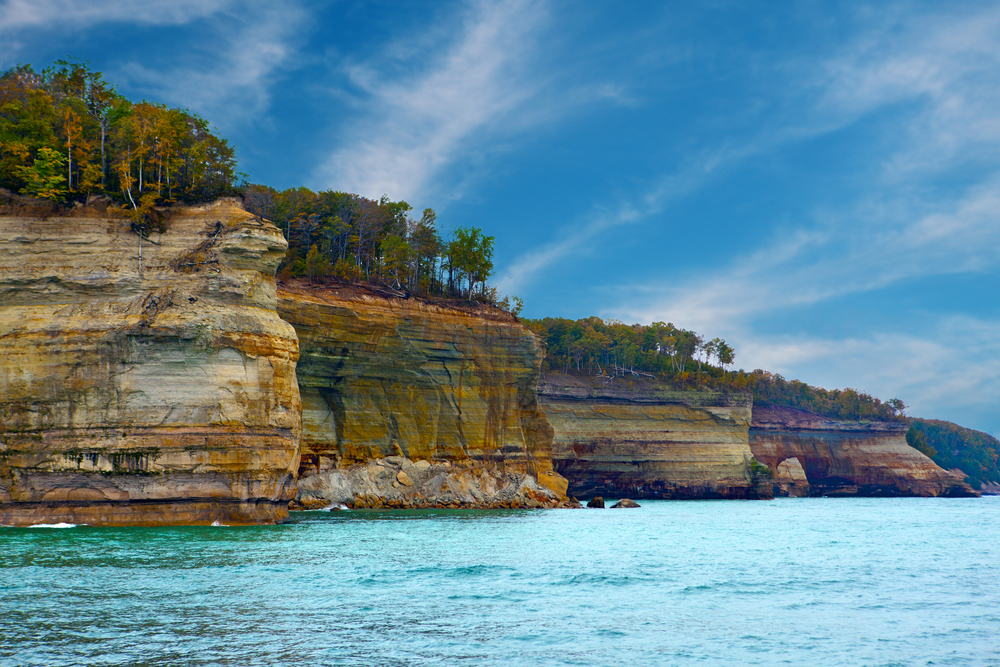 12 Fun Michigan Road Trips For Your Bucket List
Southwest Michigan Road Trips
Highlights
Battle Creek
Kalamazoo
Paw Paw
Start your Southwest Michigan road trips adventure in the town of Battle Creek.
Battle Creek is known as Cereal City, because it is the birthplace of Kellogg's.
The town also has a great Natural History Museum and Planetarium, a Kingman Museum, and the Leila Museum.
Next head to the town of Kalamazoo.
It is a University town and there are so many things to do in Kalamazoo!
You'll definitely want to head to the Air Zoo. The Air Zoo is home to vintage planes that are all named after animals, many of which were used in WWII.
The Air Zoo also has fun aviation-themed rides and flying simulators.
After exploring Kalamazoo, finish your road trip of Southwest Michigan in Paw Paw.
Paw Paw is the Easternmost town in Michigan's wine country.
While there, do a winery tour at one of the many local wineries and reflect on your fun Midwestern road trip.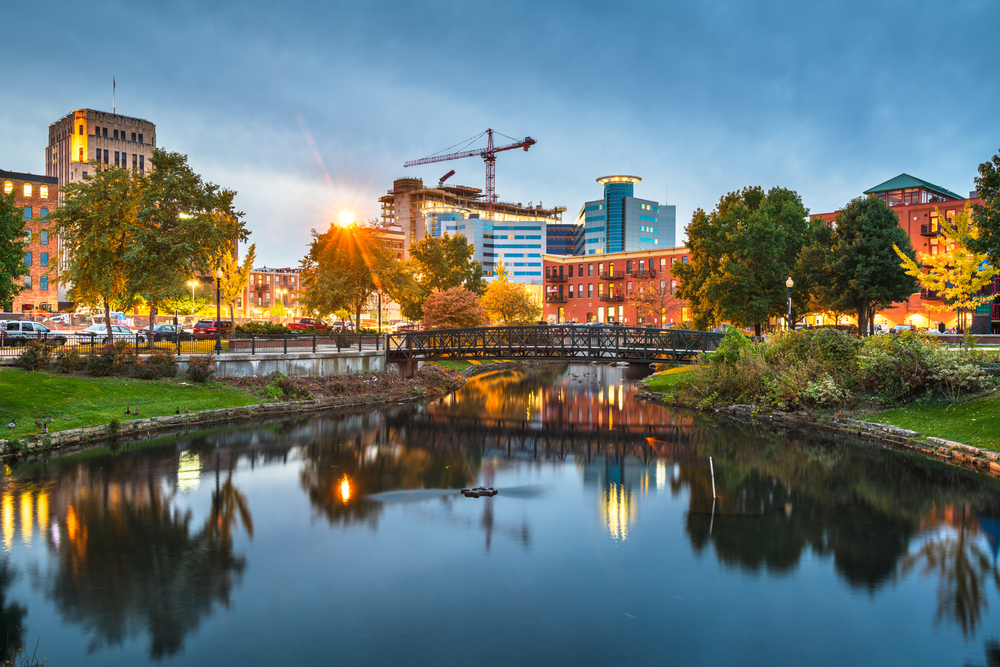 Visiting The Upper Peninsula Is One Of The Epic Michigan Road Trips
Highlights
Mackinac Bridge
Kitch-iti-kipi
Porcupine Wilderness State Park
Marquette
Pictured Rocks National Lakeshore
The Upper Peninsula is one of my favorite places in Michigan to explore and this is one of the best Michigan road trips to explore the area.
Start your road trip by crossing the Mackinac Bridge into the Upper Peninsula.
Once you've crossed the Mackinac Bridge, you'll be in the Upper Peninsula, so head on to Kitch-iti-kipi.
Kitch-iti-kipi is an amazing fresh water spring in Michigan. It has clear blue waters that you can see directly into.
From there, continue to Porcupine Wilderness State Park. It's a great place to get out and it has some of the best hiking in Michigan!
Continue on to attractions in Marquette, the biggest city in the Upper Peninsula.
Grab something to eat, stroll through the shops, and enjoy views of Lake Superior.
End your Michigan road trip at Pictured Lakes Nation Lakeshore, one of the best National Parks in Michigan.
If you decide to travel to the UP there are so many things to do in Sault Ste Marie!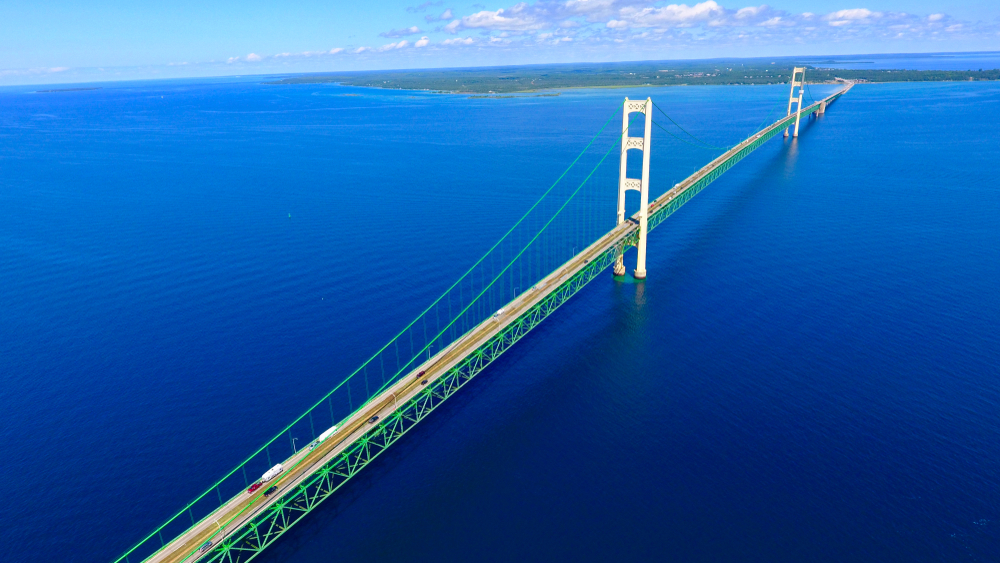 Lighthouses Of Michigan Road Trips
Highlights
Big Red Lighthouse
Point Betsie Lighthouse
Old Mackinac Point Lighthouse
Sturgeon Point Lighthouse
You can find some of the coolest lighthouses in the Midwest in Michigan.
Begin your road trip at the Big Red Lighthouse, one of Michigan's most iconic lighthouses.
Big Red is a visitor favorite and is so cool to admire.
Then head to Point Betsie Lighthouse, which is known as a marker of the Manitou Passage.
Built in 1858, the 36-foot lighthouse is open to visitors daily.
From the top of the lighthouse, on clear days, you can see Sleeping Bear Dunes, which are 14 miles away.
Continue on to the Old Mackinac Point Lighthouse. Built in 1890, it's another one on this road trip in Michigan that is open daily for visitors.
Finish your Lighthouses of Michigan road trip at the Sturgeon Point Lighthouse.
It is a charming lighthouse that was originally built in 1869 and is a great way to end your trip.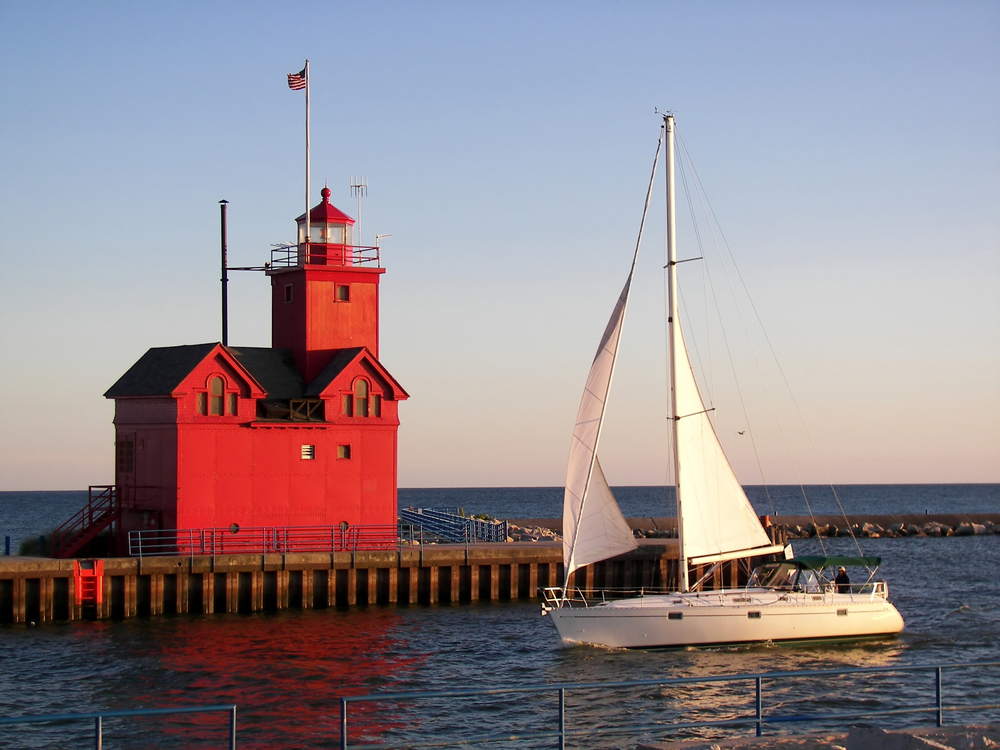 Waterfalls Of Michigan Road Trip
Highlights
Potawatomi Falls
Manabezho Falls
Miners Falls
Tahquamenon Falls
There are so many beautiful waterfalls in Michigan and this road trip hits a lot of the best ones.
Begin your scenic drive in Michigan at the Potawatomi Falls. It is right near the Wisconsin border and part of the Black River Scenic Byway.
Continue on to Manabezho Falls, which can be found in Porcupine Wilderness State Park. It is one of the coolest state parks in Michigan.
From there, head to Miners Falls.
Miners Falls can be found at Pictured Rocks National Lakeshore.
These falls may be difficult to get to as there are 77 steps that lead to the viewing platform. But if that sounds doable, they are worth the effort.
Finish your Michigan waterfalls road trip at the Tahquamenon Falls, which is one of the largest waterfalls East of the Mississippi.
The falls are absolutely stunning and make a great last waterfall on your road trip.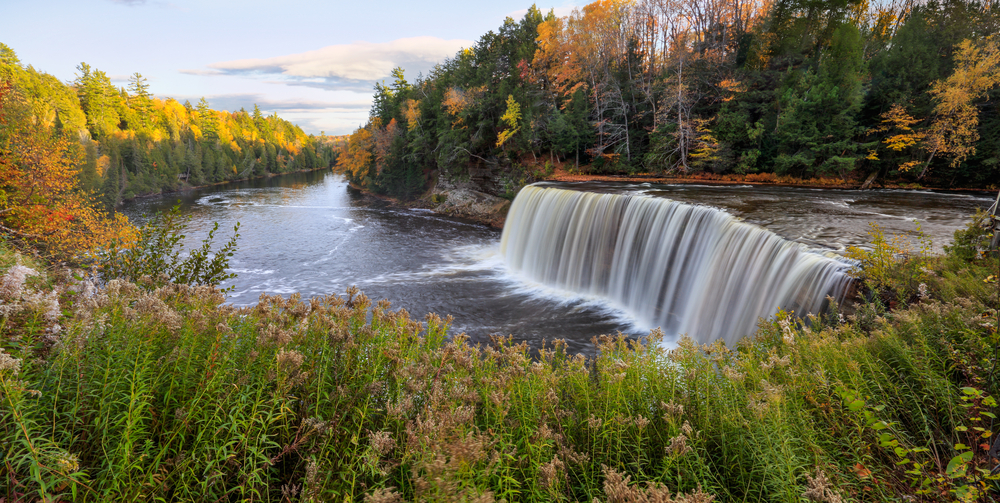 Michigan Road Trips For Natural Wonders
Highlights
Turnip Rock
Pictured Rocks National Lakeshore
Kitch-iti-kipi
Sleeping Bear Dunes National Lakeshore
This is one of the more unique Michigan road trips because its all about the diverse landscapes that you can find in the state.
Start by admiring the Turnip Rock in the small lakeside town of Port Austin.
You can kayak out to the unique rock formation to get a closer look, or admire it from the shore.
From there, head to Pictured Rocks National Lakeshore.
The cliffs along the lakeshore are beautiful and you'll find a ton of unique rock formations as well as great hiking trails.
Continue on to Kitch-iti-kipi, a large natural freshwater spring in the middle of the Upper Peninsula.
You can take a floating dock to the middle of the spring to get a better look at its depths.
Finish your Natural Wonders of Michigan road trip at the Sleeping Bear Dunes National Lakeshore, a beautiful lakeshore that is a great way to end your adventure.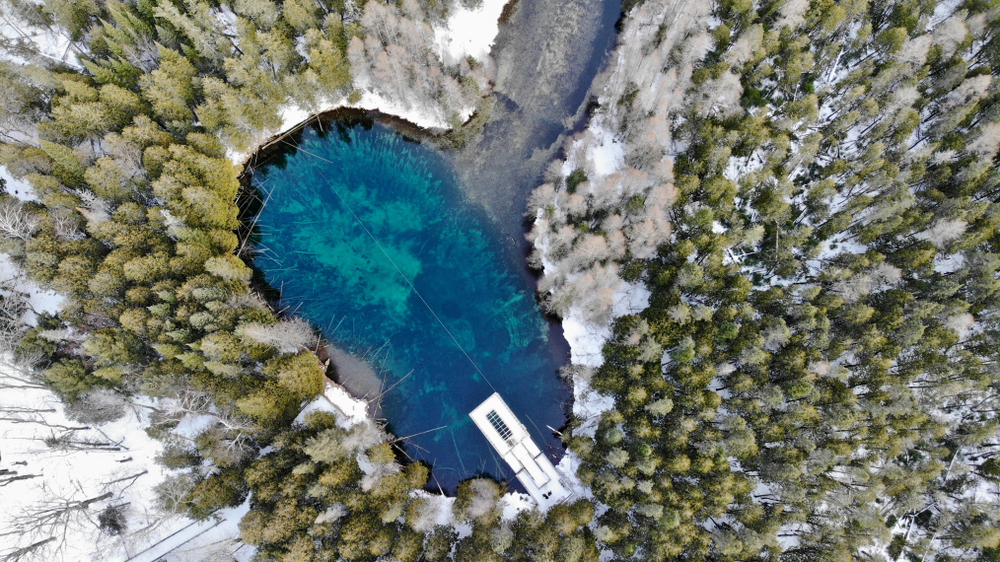 Covered Bridges Of Michigan Road Trips
Highlights
Fallasburg Covered Bridge
Ada Covered Bridge
Holz-Brucke Bridge
The Michigan Covered Bridges Trail is one of the best Midwest road trips.
Begin your road trip at the Fallasburg Covered Bridge. At 100 feet long, it has been a popular local site since 1871.
From there, head to the Ada Covered Bridge.
The Ada Covered Bridge carries foot traffic over the Thornapple River to Bronson Street.
The first bridge was built in 1867 but unfortunately burned down in the 1970s. Since then, it has been lovingly rebuilt.
End your Covered Bridges of Michigan road trip at the Holz-Brucke Bridge.
The bridge is outside of the iconic town of Frankenmuth and is actually fairly new. It was built in 1980 but quickly became a tourist staple.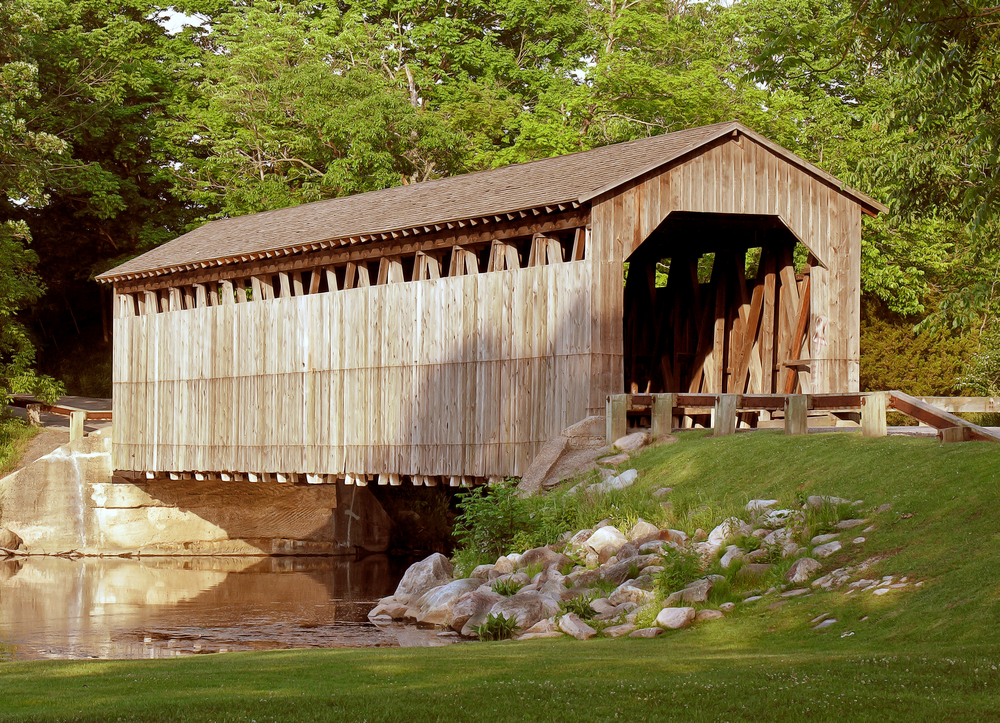 Michigan Road Trips For Foodies
Highlights
Rose's Fine Food
Frita Batidos
HopCat
Black Star Farms
You'll begin your Michigan Foodies Road Trips at Rose's Fine Food, one of the coolest restaurants in Detroit.
While there, you can enjoy a delicious breakfast fresh house-made bread, garlicky greens, and amazing fresh pastries.
Next head to restaurants in Ann Arbor where you can grab lunch at Frita Batidos. It is a hamburger restaurant that has a Cuban twist.
On the entire menu, you'll find American diner staples with Cuban influences. Like chorizo burgers, black beans, and coconut milk milkshakes.
Continue on your road trip in Michigan to HopCat, a Grand Rapids restaurant.
HopCat is known for it's craft beers and gourmet bar bites.
Finish the Michigan road trip at Black Star Farms in Sutton's Bay. Its a great place to sample the local wine while you explore the extensive grounds.
If you are interested in food then this is one of the best Michigan road trips for you.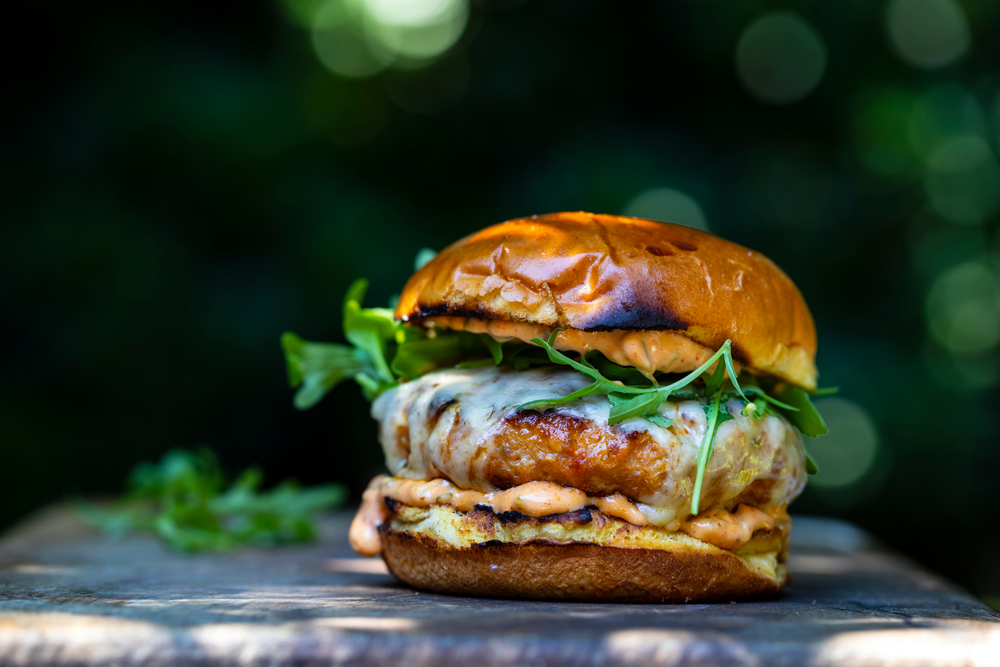 Ghost Towns Of Michigan Scenic Drives
Highlights
Laurium
Lake Linden
Hubbell
Many of the ghost towns of Michigan are old mining towns that were left abandoned after the mining industry in the area dried up.
The first stop on your Michigan road trip is Laurium.
Laurium was originally named after an ancient Greek mining town. It is not completely abandoned, but with under 2,000 occupants, it is practically empty.
Next on your Michigan scenic drive is Lake Linden.
Lake Linden was the site of a copper ore processing plant outside of the town of Calumet.
It's now on the National Register of Historic Places.
End your road trip in Hubbell, which was once a thriving mining town. Now, there are less than 900 occupants in the long-abandoned town.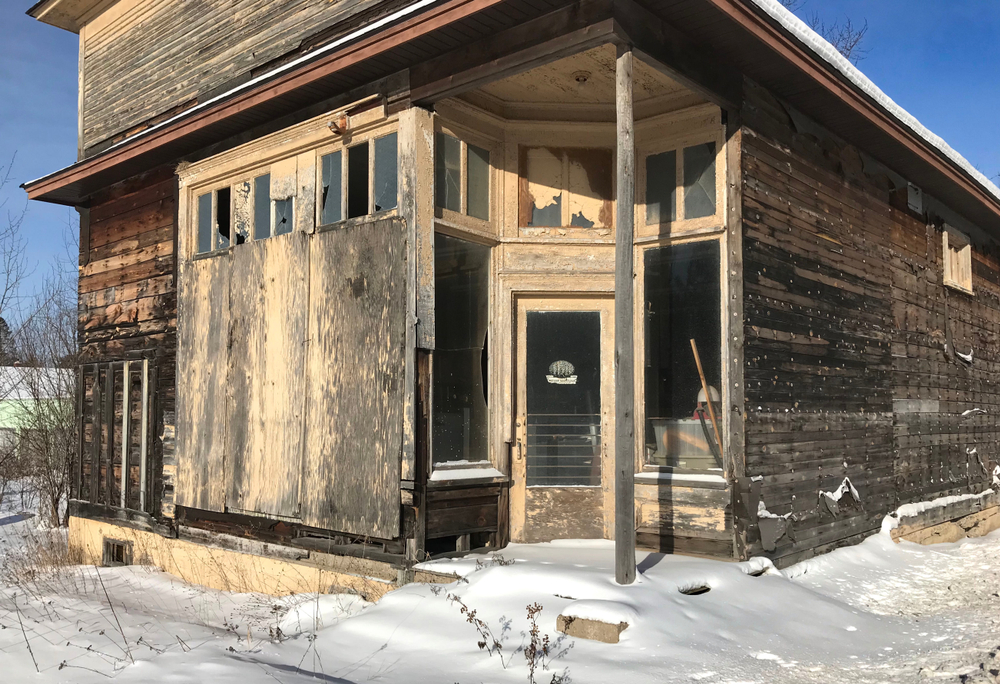 Small Towns Of Michigan Road Trips
Highlights
Frankenmuth
Chelsea
Saugatuck
Frankfort
There are so many small towns in Michigan, and this road trip takes you to some of the best ones.
Begin your Small Towns of Michigan road trip in Frankenmuth.
Frankenmuth is known as 'Little Bavaria' and is full of charm. You'll find great food, unique shops, and so much more as you stroll down the streets.
This is one of the best places to experience Christmas in Michigan.
Next, head to Chelsea. If you have time, make sure you check out a play at the local theater and peruse the cute shops in the downtown district.
From there travel to Saugatuck where you can check out one of the many local art galleries, sample some fresh fudge, and admire the boats in the harbor.
End your Michigan road trips in Frankfort a cute beach town. You'll find rows of Victorian homes, beautiful lake views, and so much more.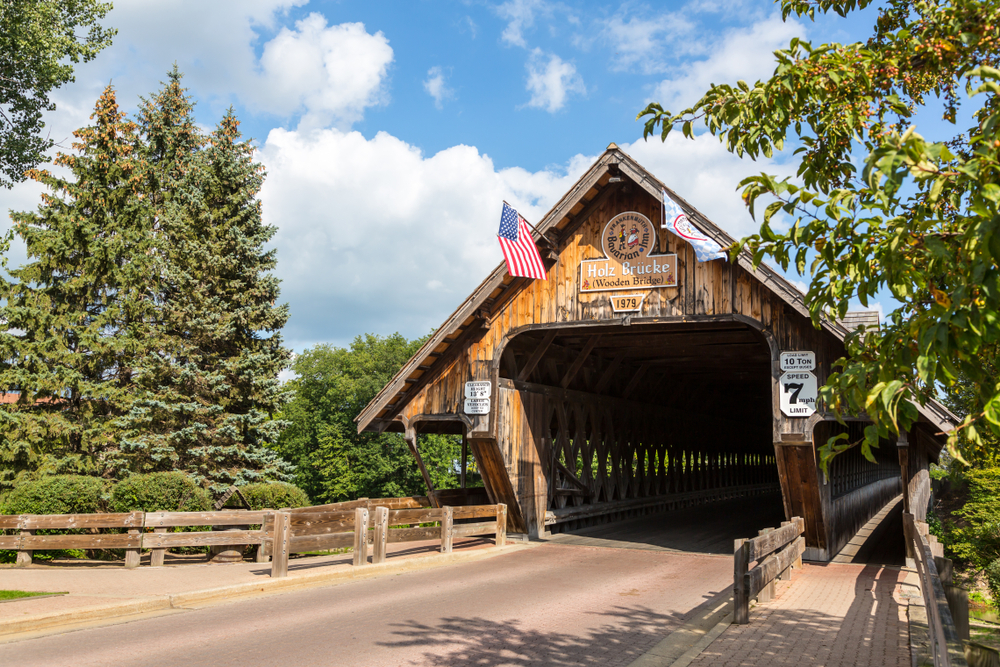 Fall Foliage In Michigan Scenic Drives
Highlights
Hiawatha National Forest
Fayette Historic State Park
Palms Brook State Park
One of the best Michigan road trips is the Fall Foliage Road Trip.
For some of the best views of fall foliage, start your scenic Michigan drive in the Hiawatha National Forest.
The National Forest is over 890,000 acres and is the best place to view fall foliage during the peak season.
Next up is the Fayette Historic State Park where you can enjoy the fall leaves while exploring one of Michigan's oldest smelting towns.
Its a really unique way to admire the fall foliage in Michigan.
You'll finish your road trip at the Palms Brook State Park.
There you'll find tons of hiking trails, and the famous Kitch-iti-kipi spring. Fall in Michigan is so beautiful!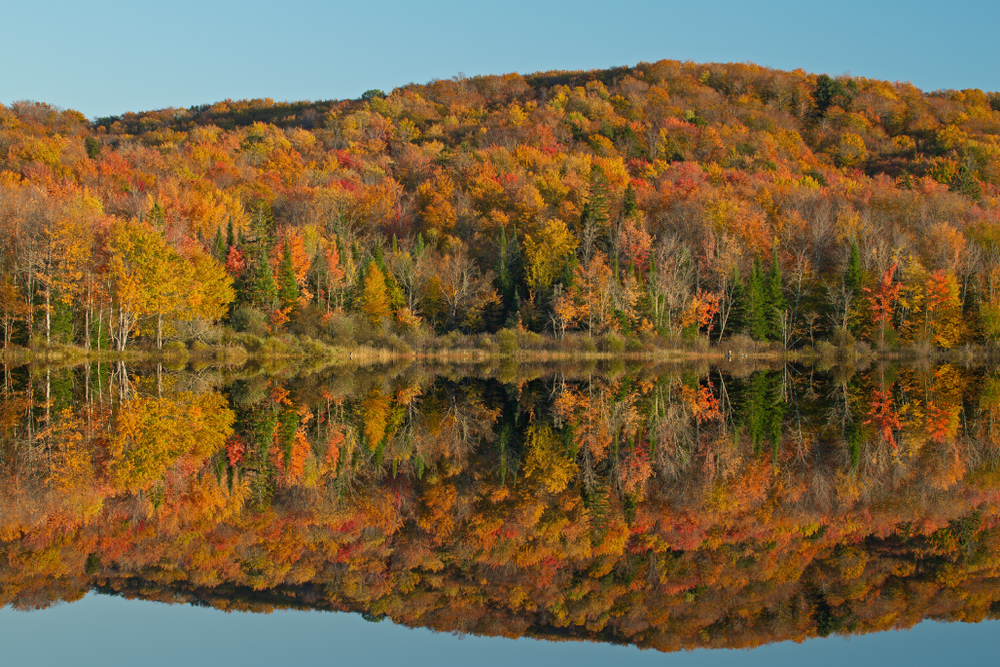 Huron Shores Heritage Route
Highlights
Standish
Tawas Point State Park
Dinosaur Gardens
Presque Isle
The Huron Shores Heritage trail makes for a great Michigan scenic drive and road trip.
In the charming small town of Standish, you'll start your drive on the trail.
From there, head to Tawas Point State Park.
While you're there, you can explore the hiking trails, swimming, and even a lighthouse.
Continue your scenic Michigan drive with a stop at the Dinosaur Gardens.
The Dinosaur Gardens are a fun roadside attraction with over 25 dinosaur statues.
Its a great place to stop and take a selfie and a fun place to make some unique memories.
Finish your exploration of the Huron Shores Heritage Route at Presque Isle.
There you can tour two lighthouses, admire the boats in the harbor, and find great places to eat and shop.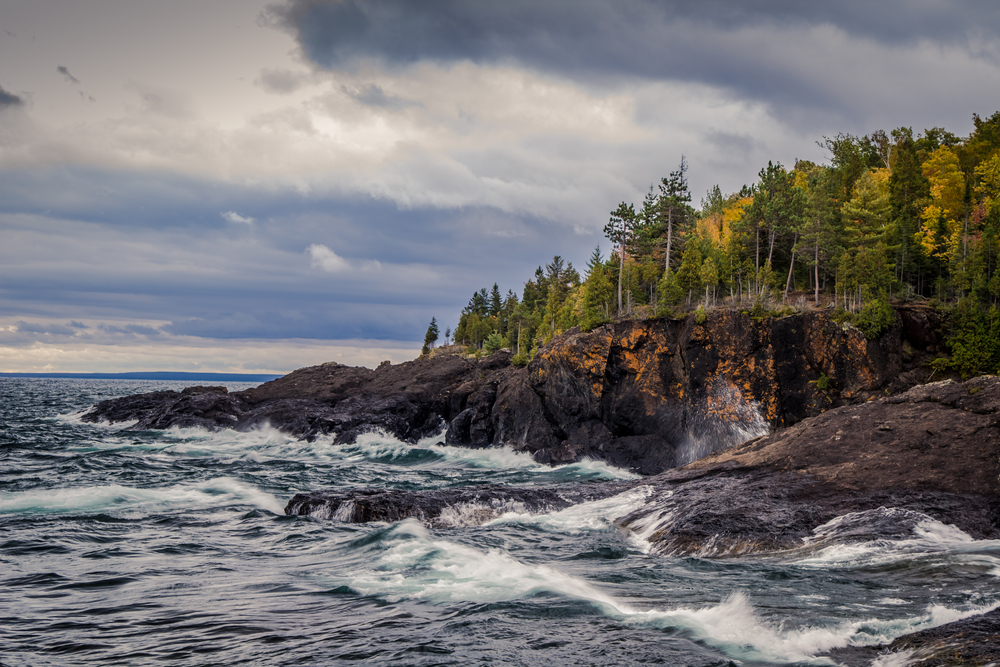 New Buffalo To St. Joseph On The Red Arrow Highway
Highlights
New Buffalo
St. Joseph
Albion
Jackson
There are so many things to do in New Buffalo. It is also the starting point of Michigan's Red Arrow highway.
From there, head to check out the attractions in St. Joseph, a super cute small town in Michigan.
St. Joseph is known as one of the best beach towns in Michigan, so it's worth a stop.
Continue on to Albion, where you can learn about the local history by touring a house museum.
In Jackson, you'll finish your scenic drive in Michigan on the Red Arrow Highway.
Jackson has a great downtown scene, historic buildings, and great restaurants and shops. It's the perfect stopping point for your road trip in Michigan.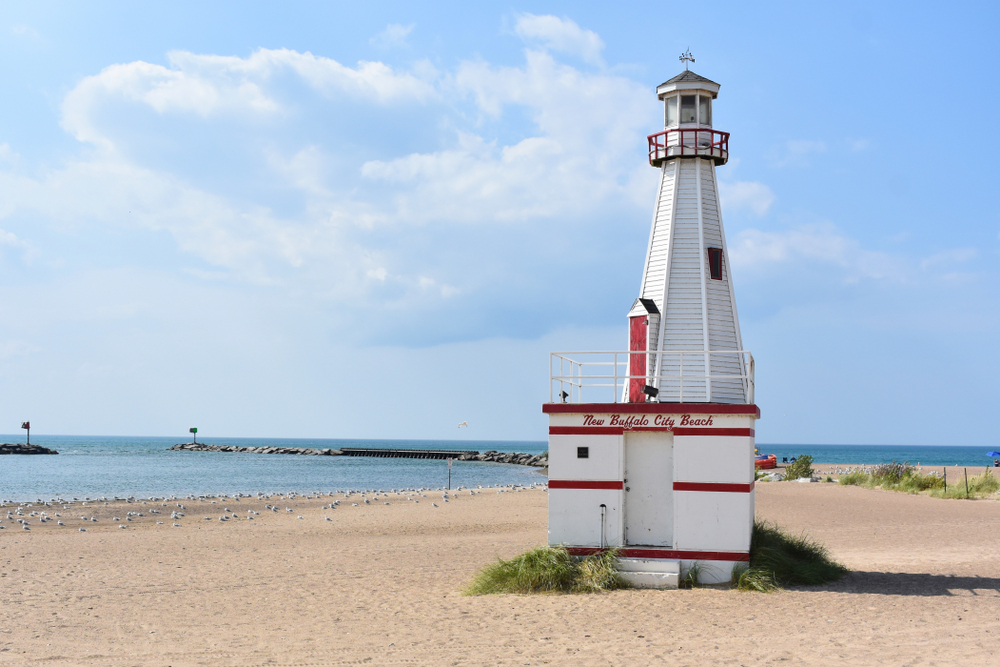 Packing List For Your Michigan Road Trips
If you will be traveling, either by plane or by car to Michigan, here are some tips on how to pack lightly.
A concealed travel pouch may be one of the most important items you bring along when durnign your scenic drives in Michigan. It is always important to protect your personal information. Identity thieves are everywhere.
This unisex RFID blocking concealed travel pouch is lightweight and comes in several colors. It has lots of organization to give you peace of mind. You can place it under your hiking clothes next to your body to carry your ID safely.
f you have a pouch already that does not come with the RFID protection, as I do, these RFID sleeves are the perfect solution.
This configuration comes with enough credit card sleeves that the entire family would be protected. They are slim too, so they will easily fit into your pouch or wallet.
If you are planning on taking a lot of pictures with your phone you will definitely want to consider an external charging battery. This Anker high-speed phone charging battery is the exact one I carry with me on all of my trips.
It can be used on a variety of phones, not just an iPhone like I have. And wow is it fast!
I like that it holds its charging capabilities for several uses so I do not have to worry about it while out and about, and if I forget to recharge it at night, it will still be good to go the next day.
My daughter gifted me with this FugeTek selfie stick and tripod setup for my birthday. I absolutely love it! It is made of lightweight aluminum and so easy to use.
It has Bluetooth connectivity and is a breeze to use for taking selfies with all those nature shots while on your road trips in Michigan.
Hydration is so important when on vacation. You want to remain hydrated throughout your trip to support your immune system which in turn will be stronger to fight off any germs you will encounter during your travels.
You will want to bring your own refillable water bottle with you.
I never leave home on a trip without my Bobble filtration bottle. The 18.5-ounce size is perfect for hiking and it fits nicely in the pocket of a backpack.
When filled with water, it is not too heavy to carry. And the charcoal filter ensures fresh clean water whenever you fill the Bobble.
You can find filter replacements here.
Perhaps you are traveling a long distance and packing space is a premium in your suitcase, or in your car. Then this set of collapsible silicone foldable water bottles would work well for you. Would not take up much space at all.
You will want a backpack or daypack with you to store snacks, your water bottle, phone, extra clothes, etc.. when on your Michigan road trips. No matter the time of day or evening.
This foldable water-resistant backpack would be great.
It is very affordable and is available in many color options for you to choose from. The fact that it folds down into a zippered pouch will make it easy to pack!
—
Michigan road trips are so varied and unique, it is difficult to select just one. If you decide to travel to the UP there are so many things to do in Sault Ste Marie!
I hope you enjoyed seeing some of my favorite road trips through this great Midwestern state.
Have you gone on any of these road trips, or any that are similar?
If not, is there one that is really calling to you?
I'd love to hear about it in the comments!