Are you looking for things to do in Marquette Michigan? You are in the right place. In this article, I will walk you through things to do in the Upper Peninsula and activities in Marquette. 
If you have never been to Marquette before you are in for a treat. Set on the scenic shores of Lake Superior the town and surrounding area are stunning.
Once the center of the local iron ore industry, the town is now a bustling cultural and art hotspot steeped in history and great eating establishments.
If you are someone who loves the great outdoors mixed with city life then Marquette is the perfect destination.
It makes a great romantic destination simply because it is so stunning and relatively quiet in comparison to some bigger towns.
Whatever you love doing Marquette has it, there is something for the children, something for the hiking outdoor types, and something for the history buffs.
And something for those that just want to relax and take it easy.
I love this part of Michigan and I can't wait to share 15 best things to do in Marquette MI with you.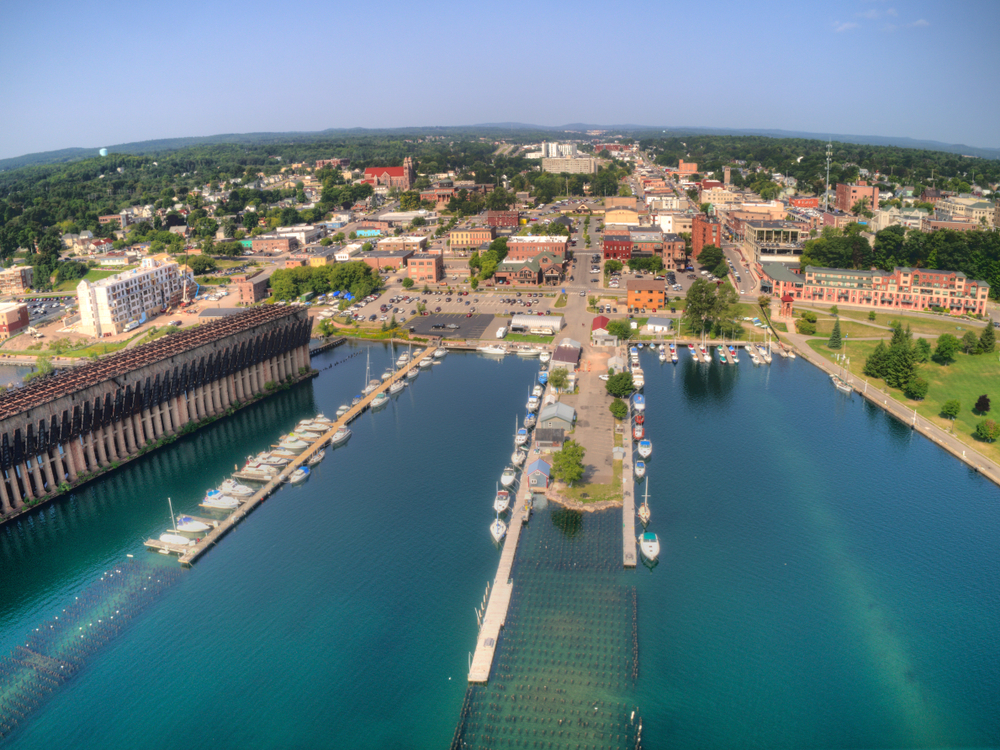 16 Best Things To Do In Marquette MI You Shouldn't Miss
Take A Photo At The Marquette Harbor Light
Mostly everyone loves a romantic lighthouse! And this Michigan lighthouse is truly stunning. The lighthouse you see today was constructed in 1866 and a second story was added in 1909.
The lighthouse is one of the oldest significant structures in the city and on the lake.
Marquette was the premier shipping port for iron ore on the Great Lakes so this lighthouse played an important part in navigating the ships to shore safely.
The lighthouse also sits on two and a half acres of beautiful surroundings which you can explore. You should definitely put this one on top of your things to do in Marquette MI itinerary.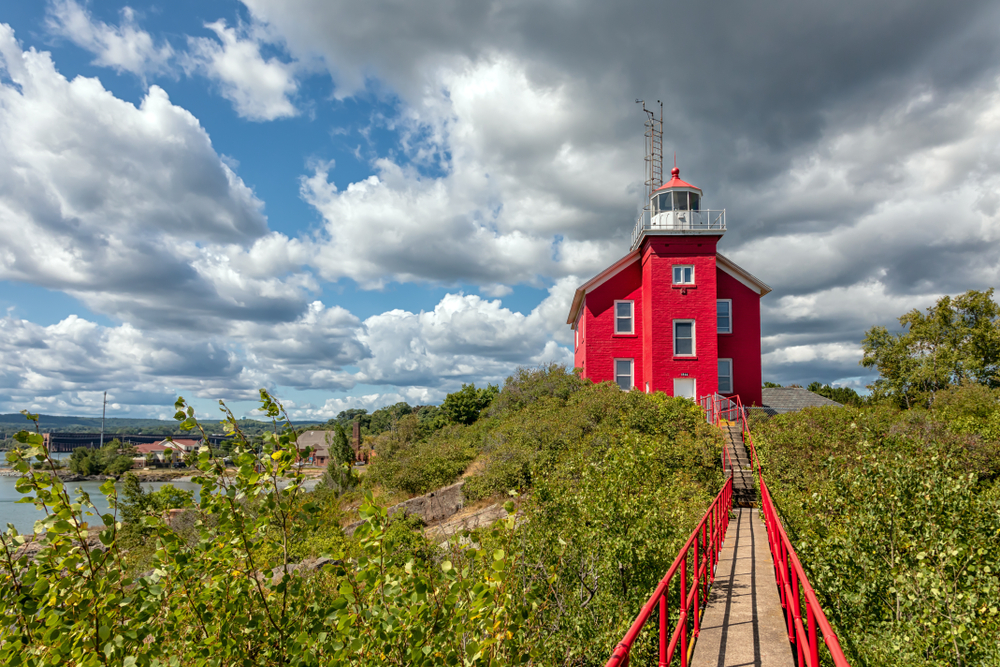 Exploring Presque Isle Park Is One Of The Best Things To Do In The UP
Locals refer to this as The Isle and it is essentially a 323-acre oval peninsula that provides stunning views and plenty of activities in Marquette.
And it is one of the most beautiful state parks in Michigan.
It's just beautiful, all sandstone cliffs covered in dense forest with the water as a backdrop.
Hike one of the many trails or bring your bike and explore. There are coves, beaches, and plenty of flora and fauna to keep anyone occupied.
In fact, there are over 100 species of plants in the park.
There is also plenty of wildlife to keep you occupied with deer inhabiting the Isle.
Presque Isle is also the only dark sky park in the Upper Peninsula. It's one of the best places to see the aurora borealis (northern lights) in the country.
The hours the park is open change with the seasons so check before you go. There are picnic facilities if you want to take lunch or dinner and make a day of it.
If you are short on time drive through the park on Peter White Drive where you can get out and see many of the park's features.
Sometimes the road closes due to conditions but it often still remains open to walkers so do check.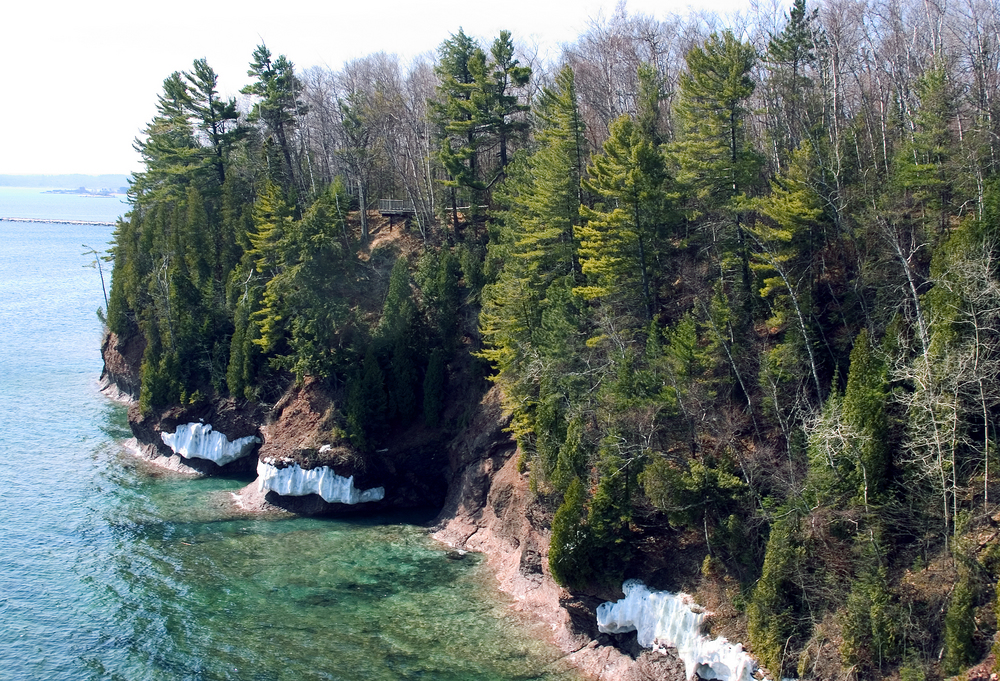 One Of The Best Things To Do In Marquette MI Is Admire The View From Sugarloaf Mountain
Sugarloaf Mountain Natural Area is definitely a place you want to put on your things to do near Marquette Michigan list.
Located just six miles north of downtown Marquette, it's one of the most popular scenic overlooks on the central Upper Peninsula coastline and the view is worth the climb.
Take Big Bay Road from Marquette to Sugarloaf Mountain.
There are two paths. One short and quite strenuous and one longer but easier, so pick which suits you.
The 360-degree view of the surrounding area from the top will make it worth your time. The mountain's summit is 470 feet above Lake Superior.
And there are various viewing platforms for you to enjoy the spectacular scenery below.
And if you can and feel able, the view from here at sunset is truly incredible.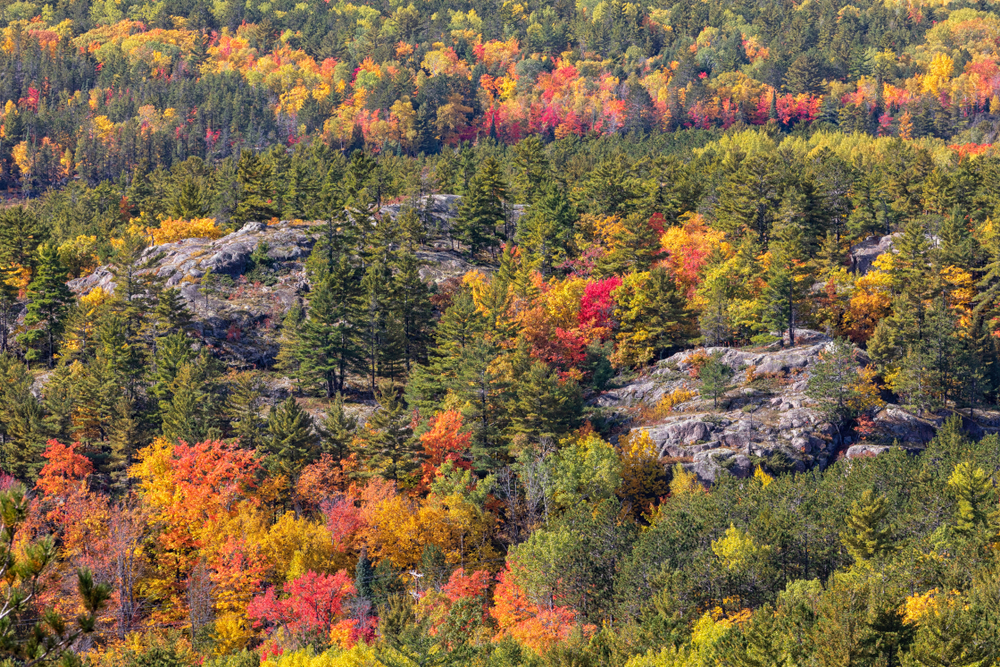 Go Waterfall Chasing At Dead River Falls
If you are a bit of a waterfall chaser then Dead River Falls is a must for you. It is one of the coolest waterfalls in Michigan.
Located just outside Marquette MI, this is actually a succession of waterfalls along the Dead River.
The area and the surrounding woods offer many scenic views and hiking trails and the water is safe to swim in which is an added bonus.
There are three main falls all spectacular in their own right. The waterfalls are of course more impressive in spring but it is worth a visit at other times of the year.
The first fall drops straight down to the water below, the second fall plunges some 15 feet and the third tumbles down three ledges.
The second waterfall is the best place to climb down to the base.
The trail isn't necessarily an easy one so keep that in mind. The rocks can be slippery so please be careful.
All that said though these falls are impressive and one of the most exciting things to do in the UP.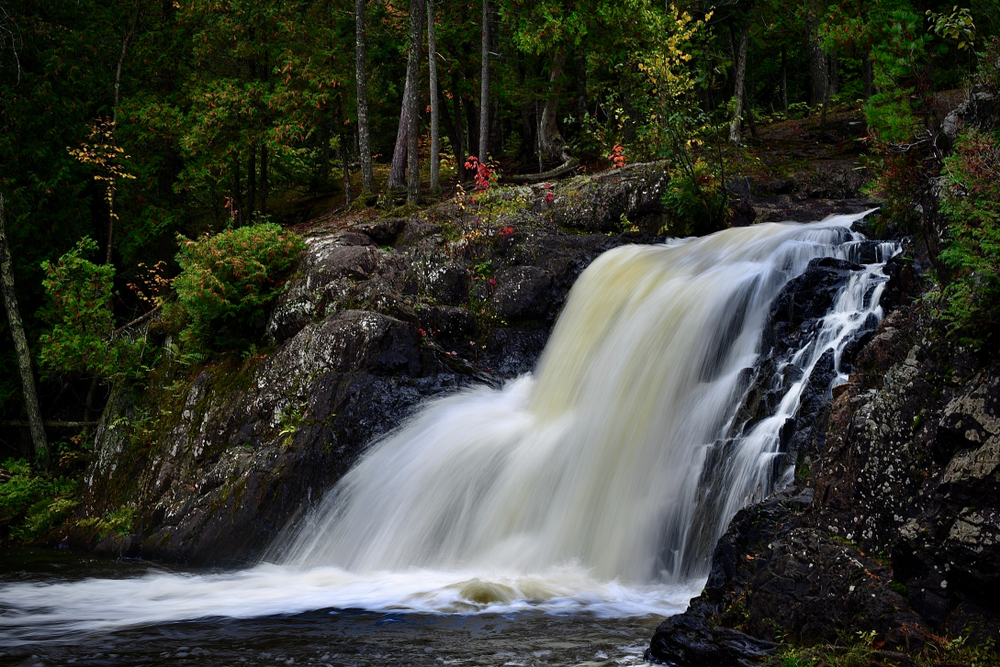 Learn At The Upper Peninsula Children's Museum
If you have children then this is one of the Marquette activities to add to your agenda.
This is a hands-on educational museum designed to engage families in programs about the arts, science, health, and global issues like the environment.
The mission of this Marquette MI museum is to create equal learning for everyone and to get the community involved in arts and science often overlooked subjects.
It does an impressive job with children involved in the creation of some of the exhibits and programs on offer.
There are eight major exhibits here including The World of Science and Nature and the Design-O-Saurus program. A great day out in Marquette if the weather isn't on your side.
Marquette is such a lovely place for a Michigan weekend getaway.
Get All Nautical At The Marquette MI Maritime Museum
Housed in an old city waterworks building the Marquette Maritime Museum explores the nautical history of the area.
Here you will learn about the maritime past, the importance of the lighthouse mentioned earlier. But you will hear the tragic tale of two infamous shipwrecks in the waters of Lake Superior.
November storms and rough water tragically took down two massive vessels the Edmund Fitzgerald in 1975 and the Henry B. Smith in 1913.
Perhaps a reminder that this beautiful area and the lake it surrounds can be hazardous and dangerous.
The museum also pays tribute to all the submarine veterans who have kept the waters safe. One of the interesting things to do in the UP if you love history.
Work Out At The Superior Dome
Located on Northern Michigan University's campus in Marquette sits the unusual home to the Wildcat's football team.
What makes it unusual? It's actually the world's largest wooden dome.
This geodesic stadium made from Douglas Fir beams has space for up to 16,000 people inside and is an impressive building. It stands tall at 143 feet, with a diameter of 536 feet.
It was built like this with the harsh Michigans winters in mind and is well worth a visit.
On days when there are no events going on visitors are free to explore the space and even practice a few sports if they want.
Cycle The Iron Ore Heritage Trail
If you love local history then The Iron Ore Heritage Trail is something you might want to consider.
The whole trail is 47 miles long so is perfect for runners, cyclists, horseback riding, or cross-country skiers in the winter.
This nature trail follows the old corridors of the railroad that used to haul firewood and iron ore to the Lake Superior Harbor.
The byway connects several populated areas including downtown and takes you on a historical journey educating you on the iron ore industry and its impact on this area.
There are options for beginners or more experienced hikers on the trail and you will find restaurants cars and shops at various points.
One of the best things to do in Marquette MI if you love learning the background of the places you visit.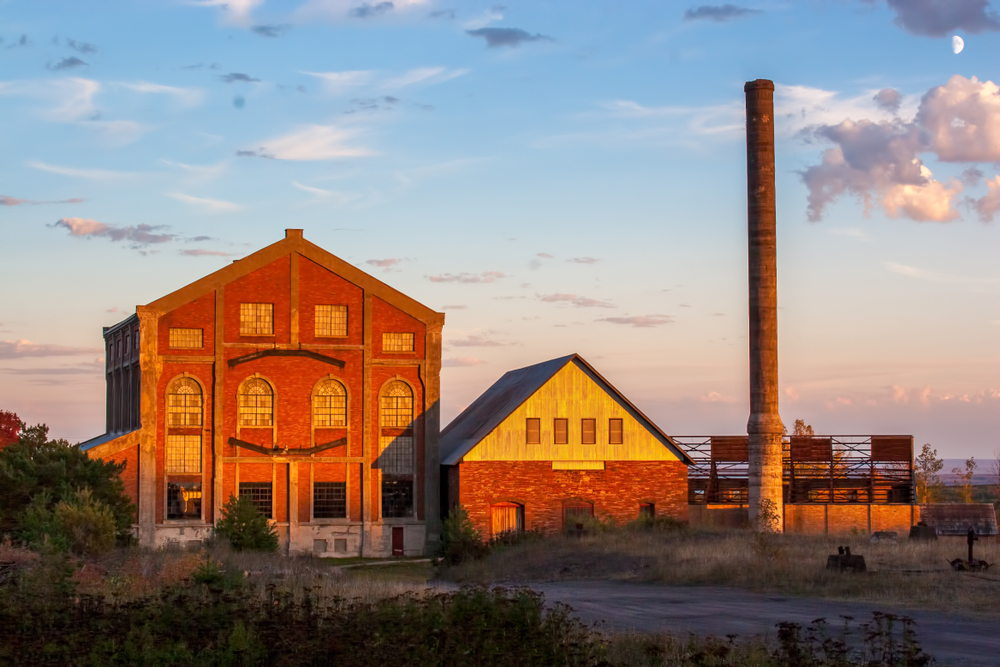 Admire Art At The DeVos Art Museum
The aim of this museum is to bring art and ideas to the community in the form of engaging exhibitions of diversity and collaboration.
The museum grew from the Lee Hall Gallery of Northern Michigan University and has become a place to showcase local and regional artists.
It is also part of the School of Art and Design at the university.
There are two galleries here, one for new displays of students, national, and international art, and the other offers selections from their personal collections.
The permanent collections have over 1,500 works of local and regional modern art, contemporary photography, 20th-century illustration, and indigenous artifacts.
It's a unique and exciting museum that always offers something different.
Go For A Walk At The Lakenenland Sculpture Park
This is definitely one of the more quirky things to do in Marquette MI. This unique sculpture part is well worth a visit.
It houses over 100 sculptures made entirely from scrap iron. It is recycling at its best, junk turned into art.
The metal installations are scattered throughout the 37 acres along the sculpture trail. You will also find picnic shelters a bog walk and fishing ponds to explore.
And dogs are welcome just don't let them in the bogs.
The sculptures are all shapes and sizes. Some are very whimsical, some depict fictional characters, and some political satire. It's a real mix and definitely one of the cool things to do in the UP.
Admire The Engineering Of The CR-510 Bridge
If you like a little drive how about visiting a feat of engineering mastery?
The CR-510 Bridge is a massive steel span bridge and a historic monument to the fine craftsmanship and engineering of America's great bridge builders.
Originally in Pennsylvania crossing the Allegheny River it was moved in 1939 to its current position crossing the Dead River. While you can no longer drive across it you can walk across it.
The best view of the bridge is from the newer bridge that was completed in 2010 and now carries the traffic. The view from here of the bridge and the surrounding area is incredible.
It's an 8-mile drive to the bridge. You head west out of Marquette of US Highway 41. You then take a right on Midway Drive and after 0.6 miles take the right on CR 510.
There is a small parking area on the side of the road near the new bridge, this is where you are heading.
From this parking area, you will be able to walk onto the new bridge for a view of the old bridge. There are picnic tables in the parking spot but no other amenities.
If you can make this journey in the fall even better as the Midwest colors are absolutely stunning.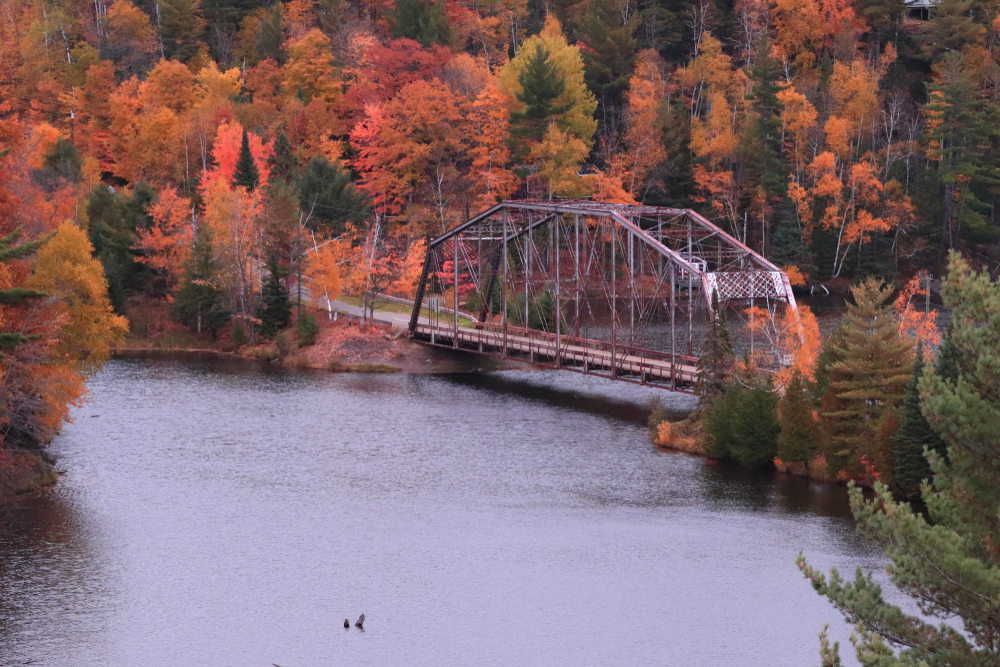 Relaxing At McCarty's Cove Is One Of The Best Things To Do In Marquette MI
Just steps away from downtown Marty's Cove is a great beach to spend some time on if the weather permits.
This is a popular family-friendly sandy beach and has many amenities. You also get stunning views of the Marquette Harbor Lighthouse as an added bonus.
It's a lovely soft sandy and safe beach in Michigan with lots to do and great water so if beaches are your thing this is one of the best Marquette activities for you.
There is always a lifeguard on duty when the beach is open.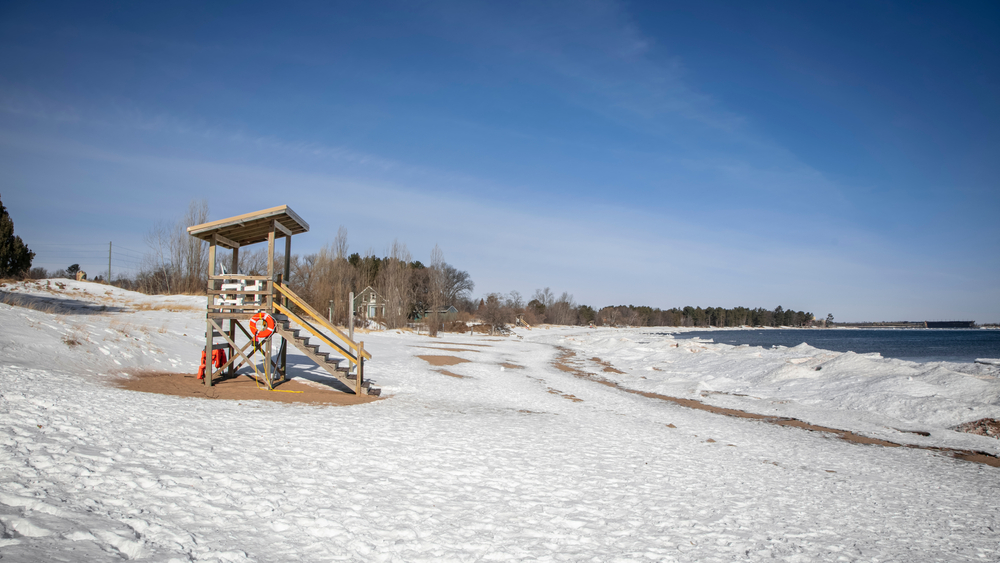 Tour One Of 30 Craft Breweries In Marquette Michigan
If you love a good craft beer then visiting one of the craft breweries should be on your things to do in Marquette MI agenda.
There are over 30 craft beer creators in the area so you will easily have your pick. Each of them offers its own unique brews and flavors.
All offer a warm welcome and popular beers on tap. The most popular is Blackrocks Brewery. And Barrel and Beam is a farmhouse-focused brewery.
This is a great way to spend a leisurely afternoon or evening in Marquette Michigan!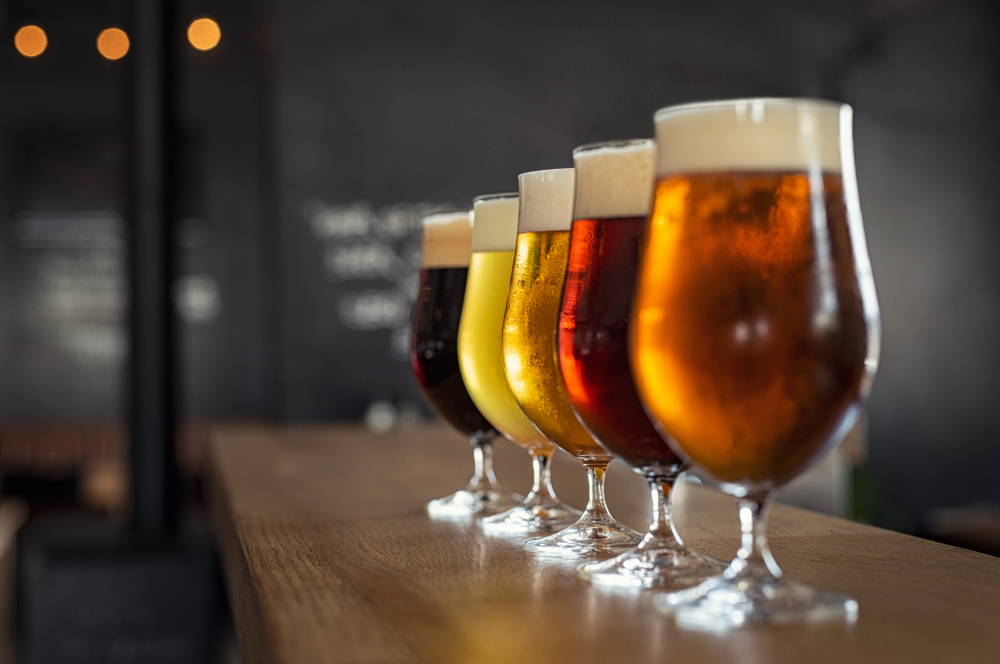 Admire The Sky At Shiras Planetarium
Hosting laser light shows on Saturday evenings and regular star shows, the Shiras Planetarium is a must-see Marquette activity.
First opened in 1965 it has been educating children and adults about the night sky since then.
The presentations change and rotate so check before you are here what is on offer. In the past, they have done educational events like Endless Horizons or Planets of the Solar System.
If there is something on while you are there I highly recommend a visit
Going Diving At Marquette Underwater Preserve Is An Exciting Thing To Do In Marquette MI
The scuba diving in Marquette is unforgettable.
There are so many submerged historical resources here that in 1990 The Marquette Underwater Preserve was established to protect them.
The protected area covers two areas of shoreline the Marquette area covering 24 miles.
Divers can explore wrecks of wooden schooners, steamers, and commercial fishing vessels as well as unique geological formations.
There is some excellent shore diving in and around Marquette. You can also dive around Presque Isle Park's black rocks and old dock ruins.
Check water and weather conditions before you go. You will have to hire a charter but if you are a diver there are some unique opportunities here.
And if go a little further out to a cool Michigan small town, Munising there is a glass-bottom boat ride you can take to see underwater without even getting wet.
Admire The Ore Dock Of Marquette Michigan
There is something about this structure that is so fascinating that it needed to be included.
It's not on most tourist routes but it is beautiful and well worth a look at and even better to take a photo of.
The Lower Harbor Ore Dock is a relic of Marquette's iron ore mining and maritime industry.
This impressive structure was used to load and unload freighters. It was in fact the first ore dock built for the iron industry which is perhaps why it is so impressive.
The dock seen today was built in 1931 and used until 1971 when all operations moved to the upper harbor.
This is on the Lake Superior Circle Tour and is pretty easy to get to. You will find it right at the beginning of the Marquette City Multi-use path.
This is one of the things to do in Marquette MI that will take you off the tourist route but is well worth it.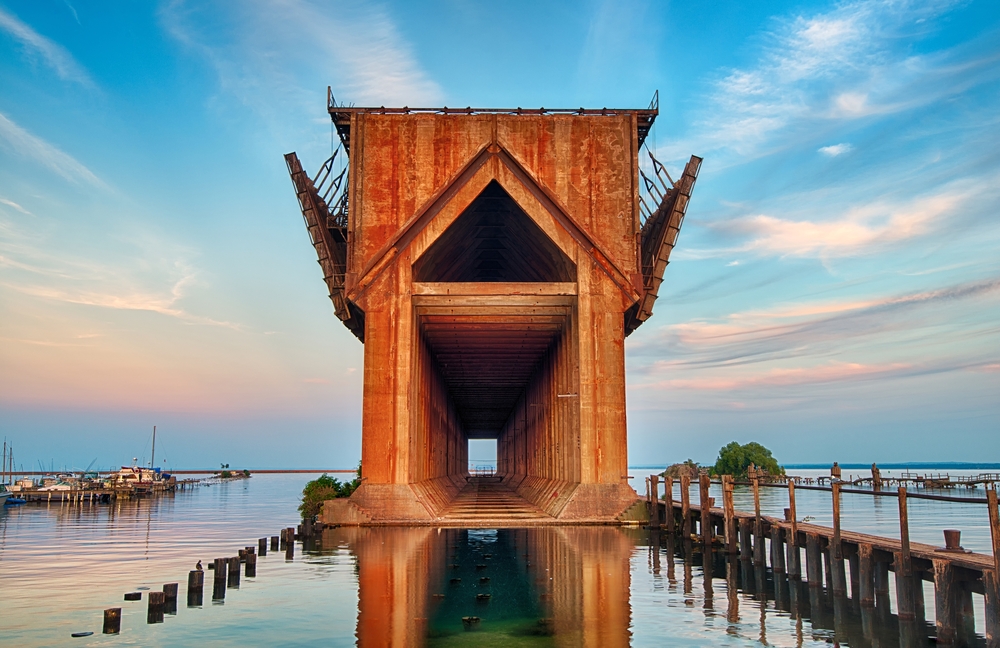 Packing List For Visiting Marquette Michigan
A concealed travel pouch may be one of the most important items you bring along when visiting Marquette MI. It is always important to protect your personal information. Identity thieves are everywhere.
This unisex RFID blocking concealed travel pouch is lightweight and comes in several colors. It has lots of organization to give you peace of mind.
You can place it under your hiking clothes next to your body to carry your ID safely.
If you have a pouch already that does not come with the RFID protection, as I do, these RFID sleeves are the perfect solution.
This configuration comes with enough credit card sleeves that the entire family would be protected. They are slim too, so they will easily fit into your pouch or wallet.
If you are planning on taking a lot of pictures with your phone you will definitely want to consider an external charging battery. This Anker high-speed phone charging battery is the exact one I carry with me on all of my trips.
It can be used on a variety of phones, not just an iPhone like I have. And wow is it fast!
I like that it holds its charging capabilities for several uses so I do not have to worry about it while out and about, and if I forget to recharge it at night, it will still be good to go the next day.
My daughter gifted me with this FugeTek selfie stick and tripod setup for my birthday. I absolutely love it! It is made of lightweight aluminum and is so easy to use.
It has Bluetooth connectivity and is a breeze to use for taking selfies when attending attractions in Marquette.
You will want to bring your own refillable water bottle with you.
I never leave home on a trip without my Bobble filtration bottle. The 18.5-ounce size is perfect for hiking and it fits nicely in the pocket of a backpack.
Perhaps you are traveling a long distance and packing space is a premium in your suitcase, or in your car.
Then this collapsible silicone foldable water bottle would work well for you. Would not take up much space at all.
You will want a backpack or daypack with you to store snacks, your water bottle, phone, extra clothes, etc.. when hiking This foldable water-resistant backpack would be great
It is very affordable and is available in many color options for you to choose from. The fact that it folds down into a zippered pouch will make it easy to pack.
—-
As you can see when it comes to things to do in Marquette MI the list is diverse and endless. There are so many things to do in the Upper Peninsula and this is only a small selection.
Whichever of these Marquette activities you choose I hope you will have an amazing time. Have a great vacation and please come back and tell me about it.