If you are looking for some fund and unique things to do in UP Michigan, then check out this list!
For those who don't know, the UP is the nickname of Michigan's Upper Peninsula.
I'm from Ohio, and the Upper Peninsula is one of my favorite places in the Midwest to visit.
There are so many different things to do in the UP, that I'm sure there's an activity for everyone.
On this list, I've found fun State Parks, interesting museums, and charming towns. There is an endless amount of things to do in the Upper Peninsula.
I think you'll soon find why I love visiting it so much.
So, lets take a look at 16 fun and unique things to do in the UP!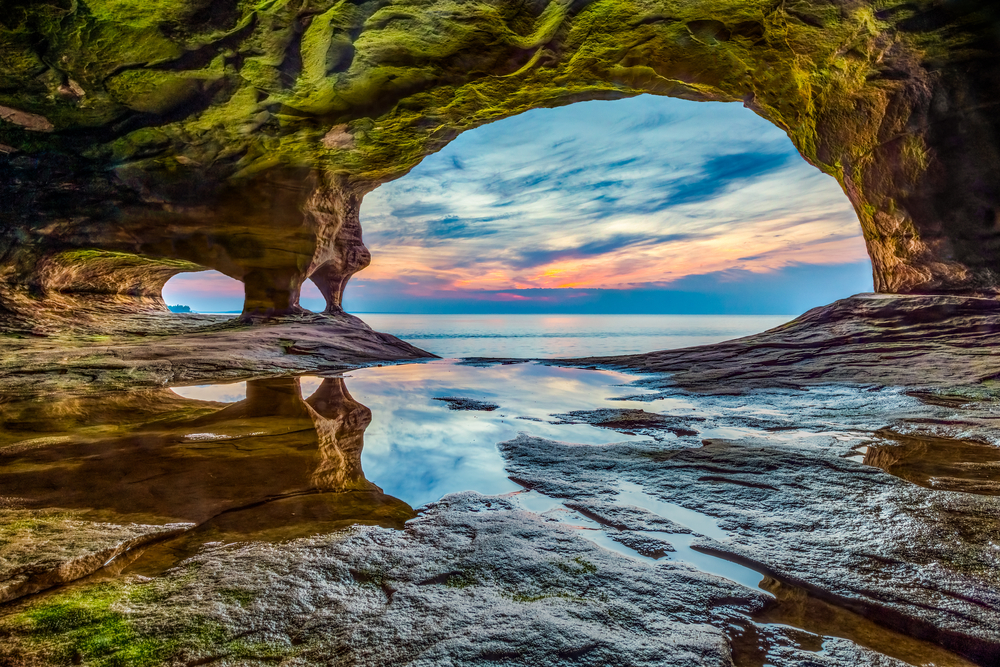 16 Fun And Unique Things To Do In The UP
The Great Lakes Shipwreck Museum
The Great Lakes Shipwreck Museum is located in Paradise Michigan, which is a city in Michigan's Upper Peninsula.
The Shipwreck Historical Society of the area was founded in 1978 and focuses specifically on shipwrecks that happened near Whitefish Point.
Since it's founding, there have been two museums opened to the public. They include the Shipwreck Museum and the U.S. Weather Bureau Building.
Visitors can learn about the area's shipwrecks at the museum daily from May 1st to October 31st.
Inside the museum, you'll find artefacts from shipwrecks, interactive exhibits, and more.
It's a super unique thing to do in the UP that you won't find many other places.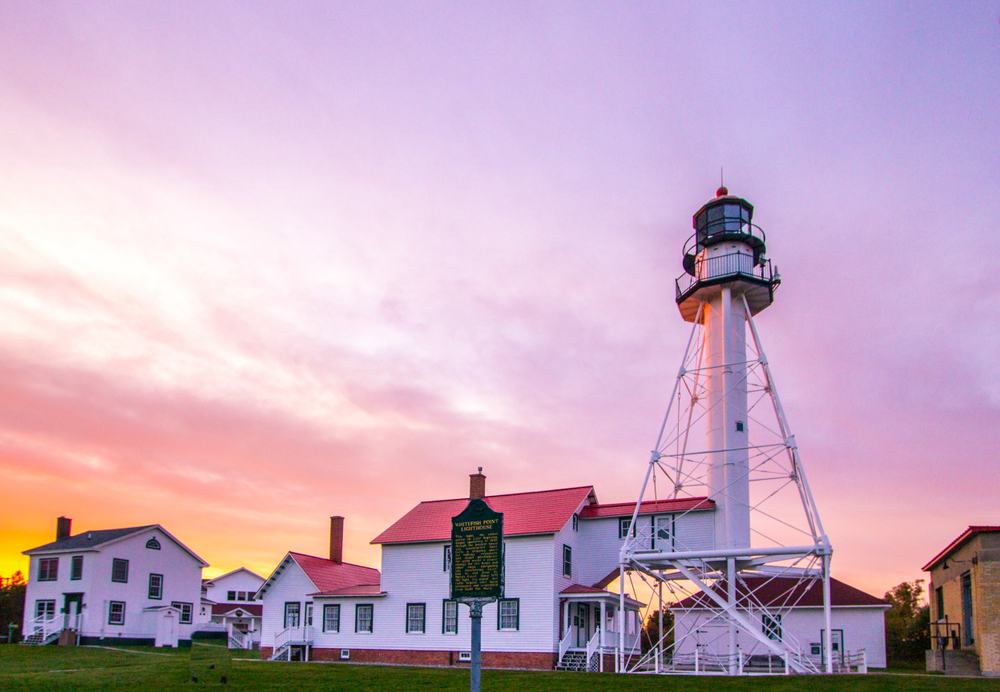 Mackinac Island For A Romantic Getaway
If you are looking for a romantic weekend getaway in the UP, consider heading to Mackinac Island.
Mackinac Island is a historic island that you can only get around using the island trolley, bikes, horse-drawn carriages, or walking. That's right, there are no cars on the island.
It's a beautiful island that has plenty of historic sites, cute shops, and amazing restaurants.
The island also has plenty of opportunities for outdoor activities.
There are several hiking trails around the island, and you can also enjoy watersports.
Mackinac Island is one of my favorite things to do when visiting Michigan, and it's a great way to experience Michigan's Upper Peninsula.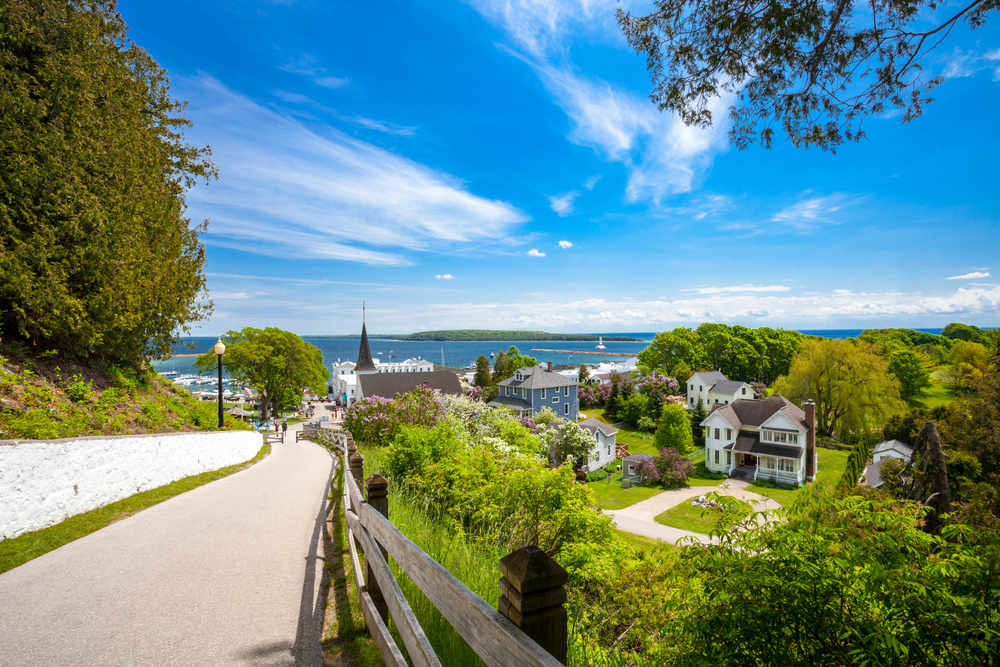 Visiting Lakenenland Is One Of The Best Things To Do In The UP
If you are looking for a free and unique activity in the UP, head to Lakenenland.
Lakenenland is a sculptural park created by metal artist Tom Lakenen.
It is entirely free to enter the park and admire the different funky sculptures, and the park is open 24/7, 365 days a year.
At the park, you'll find not just metal sculptures. There is also a bog walk, a large timber-framed pavilion with a unique fireplace, a picnic area, a playground, and more.
The park also has direct access to the North Country Scenic Trail, so its a fun way to add some miles to your 100 Mile Trail Challenge.
One thing is for sure, Lakenenland is a truly unique Upper Peninsula activity.
Isle Royale National Park For Outdoor Adventure
You can't explore Michigan's Upper Peninsula with out checking out some of it's most popular National Parks.
Isle Royale National Park is one of the best National Parks in Michigan and has a lot to offer visitors.
Getting to the park can be kind of tricky, so make sure you plan ahead. You'll need to either take a ferry or seaplane.
But once you get there, you'll love exploring the Lake Superior island.
No matter what kind of outdoor activity you enjoy, you can be sure Isle Royale has it.
You can enjoy watersports like kayaking, or go day and weekend-long hiking trips, or just hang out on the island's beaches.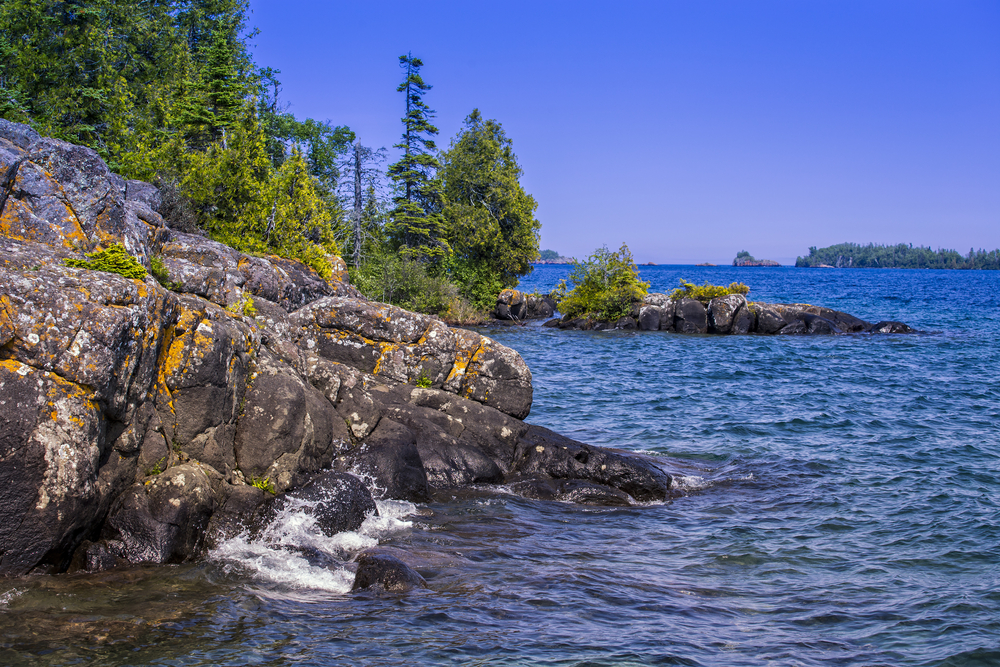 Stopping At Au Sable Light Station Is A Fun Thing To Do In The UP
Michigan is known for having tons of cool lighthouses. One of those is Au Sable Light Station.
The Au Sable Light Station is located on Pictured Rocks National Lakeshore, and is one of visitor's favorite attractions on the lakeshore.
The light station was built between 1873 and 1874 and was a beacon for sailors on Lake Superior.
Now, you can visit the several buildings that make up this iconic light station.
For tours of the light house itself, you need to visit from June to October. There are no tours during the cold Michigan winters.
If you happen to be visiting Michigan's Upper Peninsula during the summer or early fall, then Au Sable Light Station should be on your list of places to check out.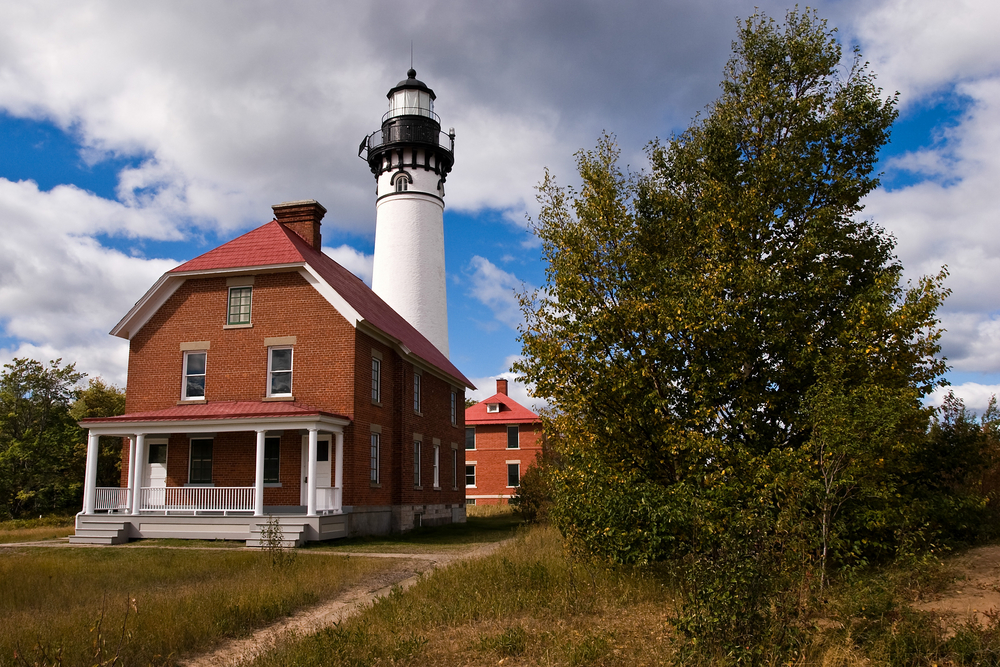 Head To Castle Rock For Stunning Views
Near St. Ignace you'll find the oldest look out point in Michigan.
Originally known as 'Pontiac's Lookout' by the Ojibwa Tribe, Castle Rock has become a favorite spot for visitors looking for things to do in the UP.
Castle Rock rises 195 feet above water level. It's magnificent height gives it some stunning views.
From the top of the rock, you can look out and see Mackinac Island, downtown St. Ignace, the nearby wildlife habitat, and Lake Huron.
If you want to get a more close-up look at the view, you'll find sets of viewing binoculars spaced around the lookout point on top of Castle Rock.
There is also a small gift shop near Castle Rock if you'd like to take a souvenir home to remember this Upper Peninsula activity.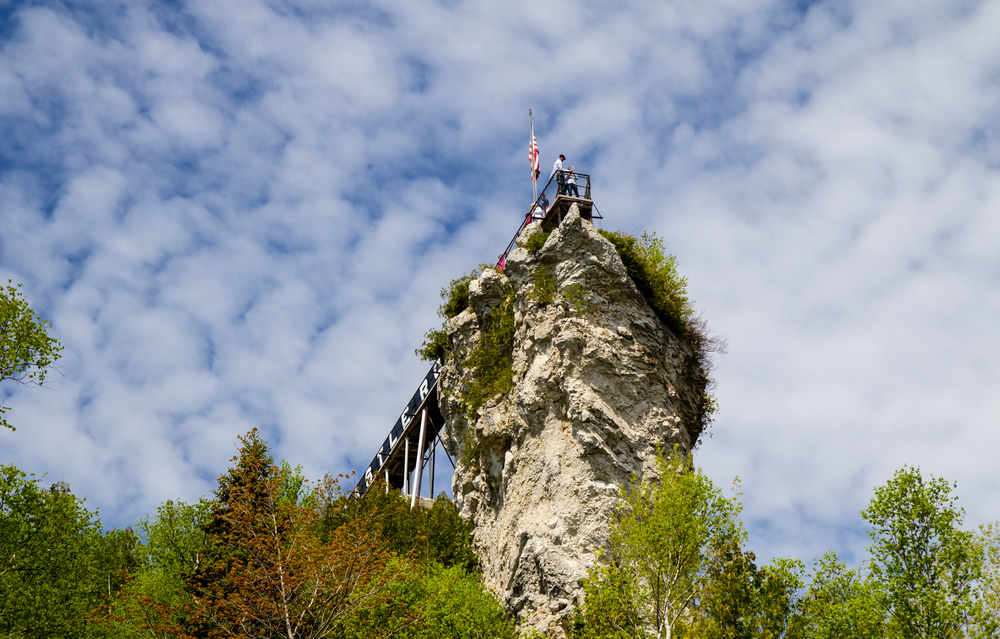 Visit The Historic Town Of Calumet For Things To Do In The UP
Calumet is a town full of historic sites.
It is home to historic churches, a historic theater, and other historic buildings.
Calumet was also almost the capital of Michigan, so it's no wonder its packed full of historic sites.
The most popular is the Keweenaw National Historic Park.
That is where you'll find relics of the area's lucrative mining trade. On the National Park there abandoned mining buildings and a small museum visitor's center.
Whether its strolling down the historic streets or exploring the National Historic Park, the historic town of Calumet is worth a visit when traveling in the UP.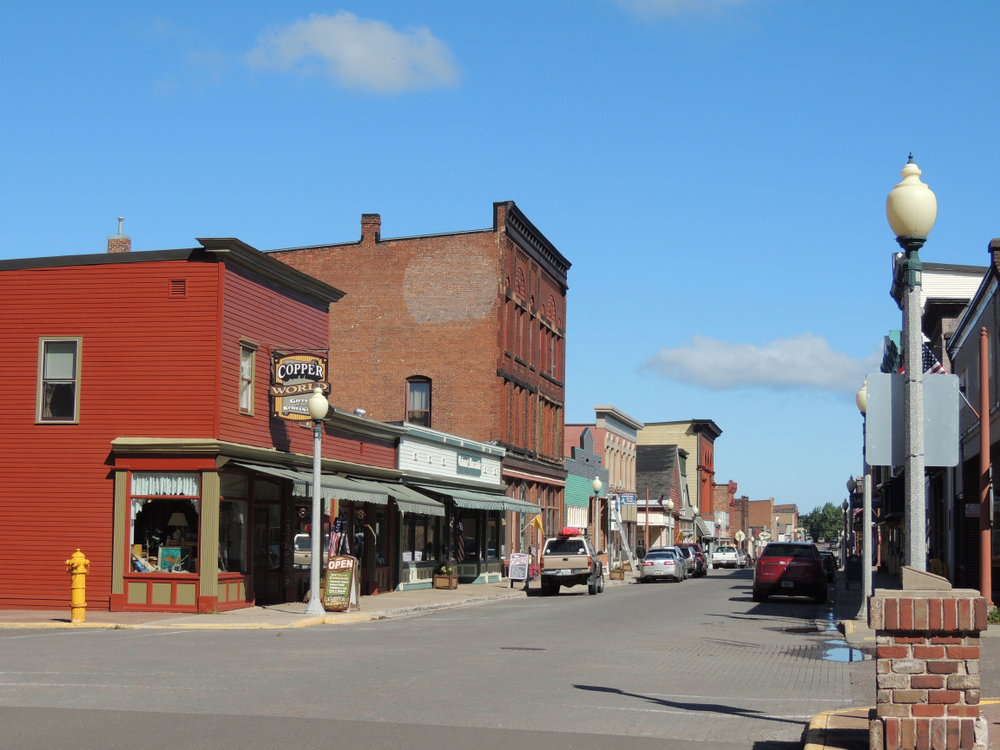 The Porcupine Mountains Wilderness State Park
One of Michigan's best State Parks is in the Upper Peninsula.
The Porcupine Mountains Wilderness State Park is 60,000 acres of beautiful untouched land.
Of that acreage, 35,000 acres of that are an old-growth forest.
With over 90 miles of hiking trails, you can spend hours exploring this amazing State Park.
There are also rivers and streams which create stunning waterfalls that you can hike to and admire.
If you have the time, consider making a whole trip out of the park and stay at one of their many campgrounds.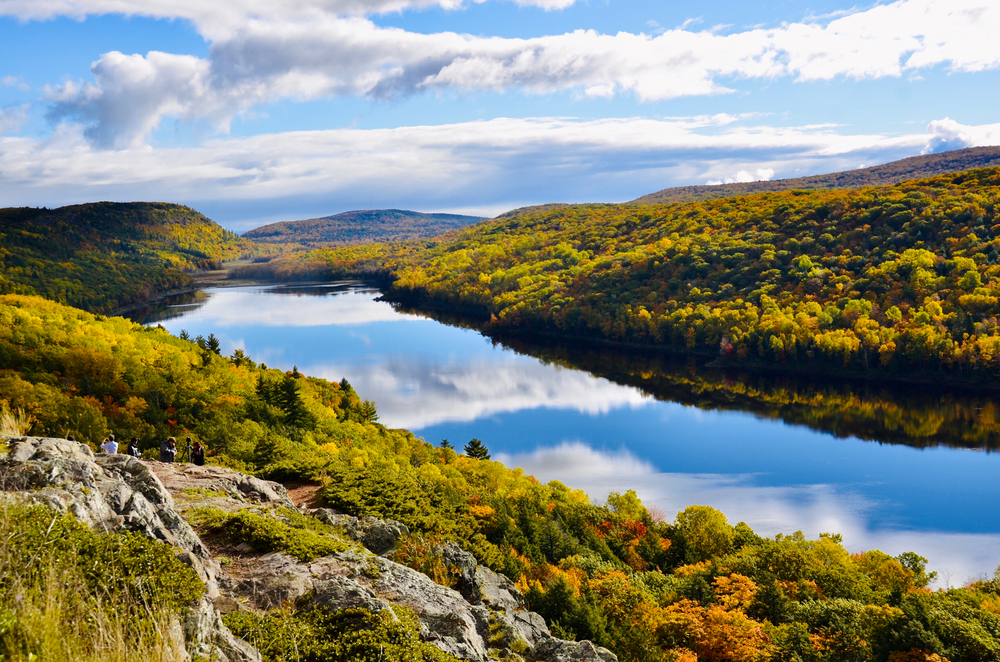 Learn About The UP's First Peoples At The Museum Of Ojibwa Culture
The Ojibwa Tribe were the first peoples to call the Upper Peninsula home.
The Museum of Ojibwa Culture is a great place in St. Ignace to learn about the area's first peoples.
It is a small museum, but is well maintained and is even a registered National Landmark.
In the main building, you'll find a museum that tells you about the culture and lifestyle of the Ojibwa Tribe.
On the grounds, there is also an example of a 17th century Ojibwa village.
The Museum of Ojibwa Culture is an excellent way to learn about the people who originally called Michigan's Upper Peninsula home.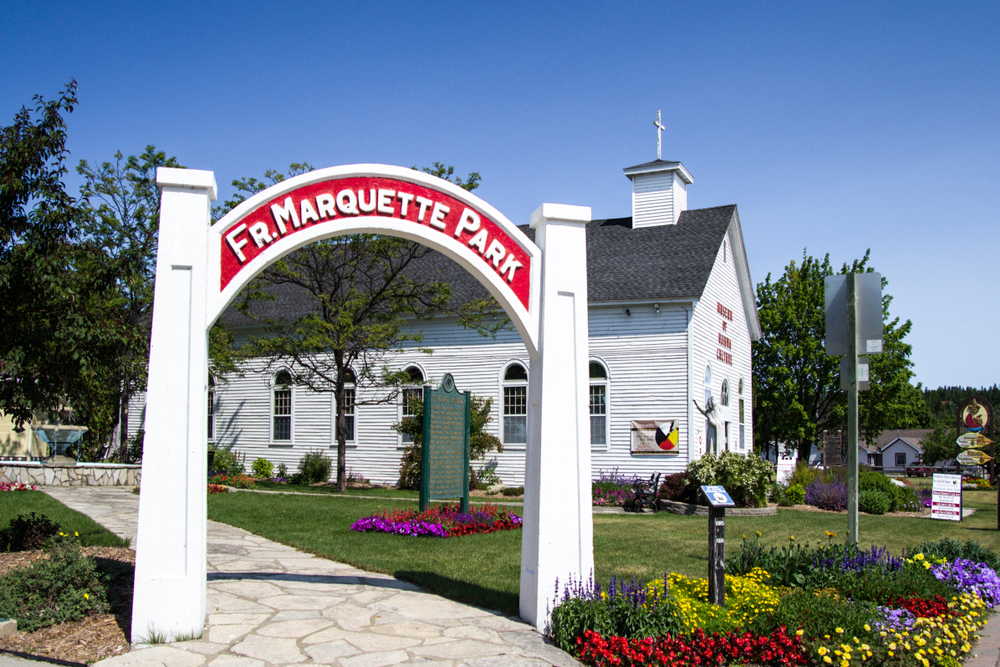 Visit The Iron Mountain Iron Mine
The Upper Peninsula of Michigan has a rich mining history.
To learn more about that history, head to the Iron Mountain Iron Mine.
There, you'll learn all about the mining tools and techniques that were used from 1870 to 1945.
You'll go beneath the Iron Mountain with a skilled guide, where you'll get a first hand look at what it was like for miners in the area.
Tours of the mine are available daily from June to October.
After spending 45 minutes to an hour learning all about the Iron Mountain Iron Mine, you can explore the small museum and gift shop.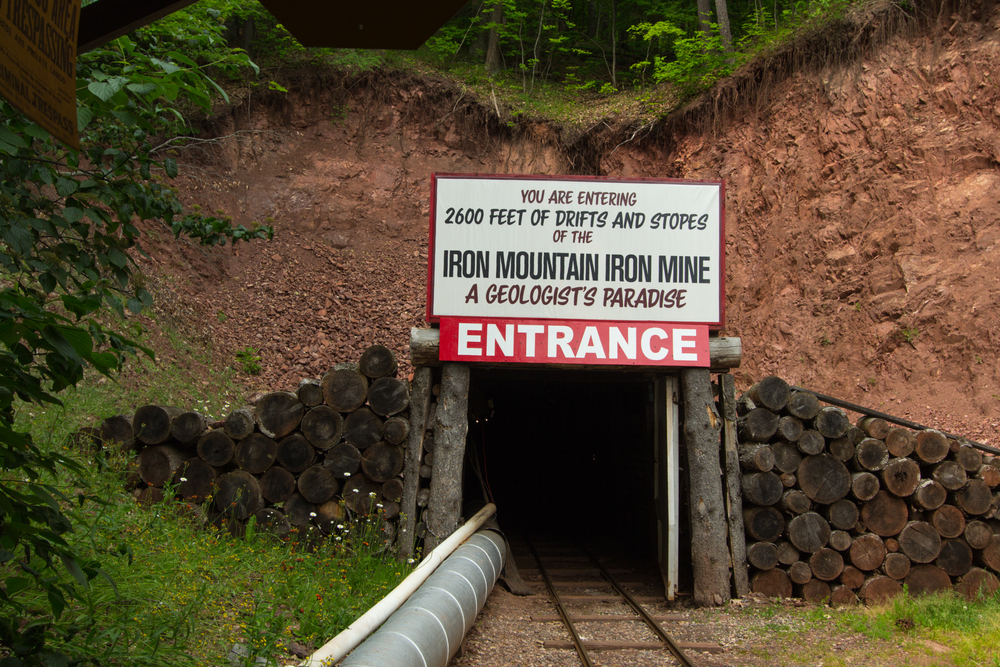 Admire The Clear Waters Of Kitchi-iti-kipi
Kitch-iti-kipi, which means 'Big Cold Spring' is the largest natural freshwater spring in Michigan.
It's clear blue waters allow you to see straight down into its depths.
You can find it at the Palms Book State Park in the Upper Peninsula of Michigan.
Once at the State Park, Kitch-iti-kipi is very easy to get to. It is just a short 50-yard walk on a paved trail through the woods away.
From the shores, you can admire the water. But if you'd like to get closer, hop on the self-guided observation raft.
It takes you to the center of the spring where you can look down into it's depths.
Kitch-iti-kipi is a super interesting and unique thing to do in the UP.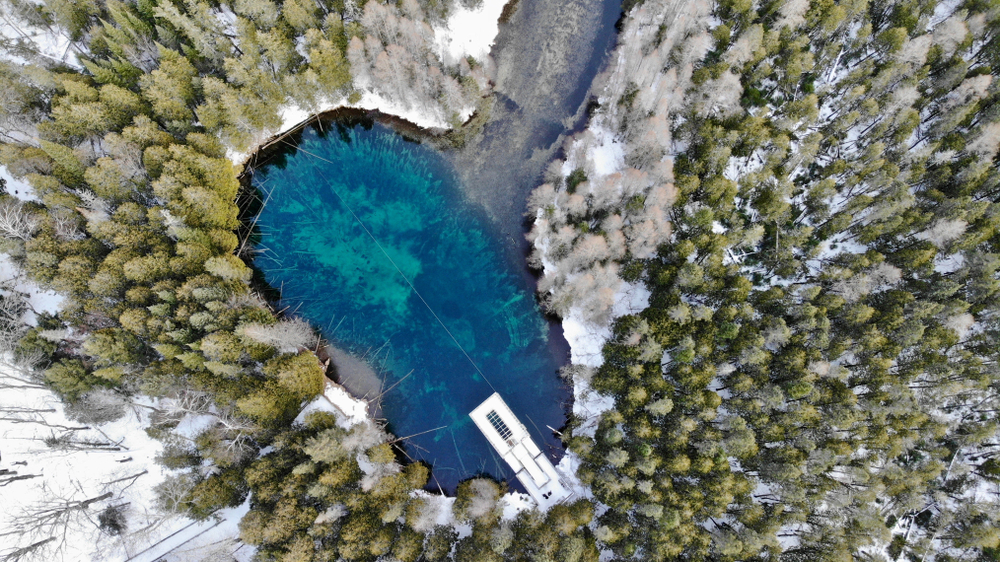 Enjoy The Yearly Pasty Fest In Calumet, Delicious Things To Do In The UP
Every year in August, the historic city of Calumet is home to the Pasty Fest.
Pasty Fest is easily one of the more unique things to do in the UP.
For those who don't know, a Pasty is a British baked pastry that became popular in Michigan due to it being the perfect food for sustaining miners.
Now, the town of Calumet honors that delicious baked pastry with its own festival.
At Pasty Fest you can sample sweet and savory pasties, check out local art, and enjoy live music.
Its a great family friendly way to enjoy the Upper Peninsula.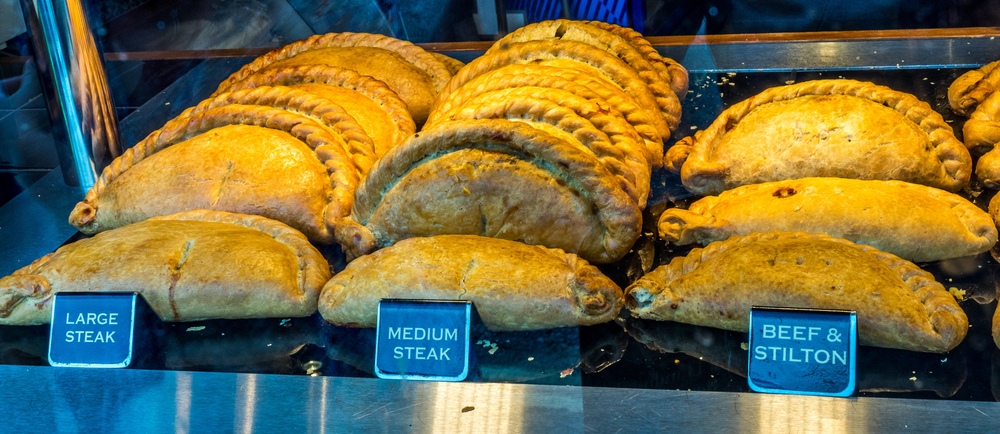 Fayette Historic State Park Is One Of The Great Things To Do In The UP
If you'd like to learn a little bit more about the history of Michigan's Upper Peninsula, head to the Fayette Historic State Park.
The Fayette Historic State Park combines natural beauty with historical buildings.
The area was once a part of a bustling industrial community near Snail Shell Harbor in Lake Michigan. When the industrial needs faded, the small community was pretty much abandoned.
The buildings that were once used in the community are now part of a cultural exhibit on the State Park depicting life for those in the 19th century town.
There are abandoned buildings you can explore, walk along the beach near the boat slips and harbor, or check out any of the number of hiking trails.
Fayette Historic State Park is a unique way to experience both the landscape and industrial history of the Upper Peninsula.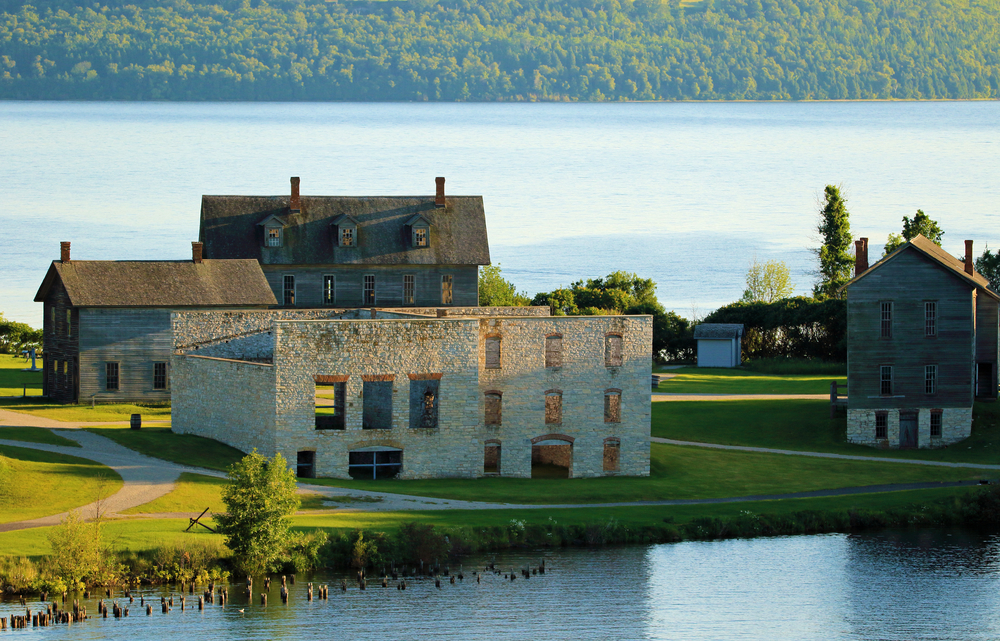 Hike To Tahquamenon Falls For UP Natural Beauty
The landscape in the UP is pretty stunning and varies depending on where you are. If you want to view beautiful waterfalls in Michigan, you can do that.
One of the best waterfalls in the UP is Tahquamenon Falls. The Tahquamenon Falls are located on the State Park with the same name.
It is 50,000 acres of beautiful Michigan forest, but the best part about the park is the falls.
There are actually two falls, the Upper and Lower Falls.
The Upper Falls is one of the largest waterfalls east of the Mississippi River and has a drop of about 50 feet and is about 200 feet wide.
The Lower Falls are smaller, but still beautiful to admire.
There are several different ways you can view the falls depending on your hiking skill level. This ease of viewing makes it one of the best things to do in the UP.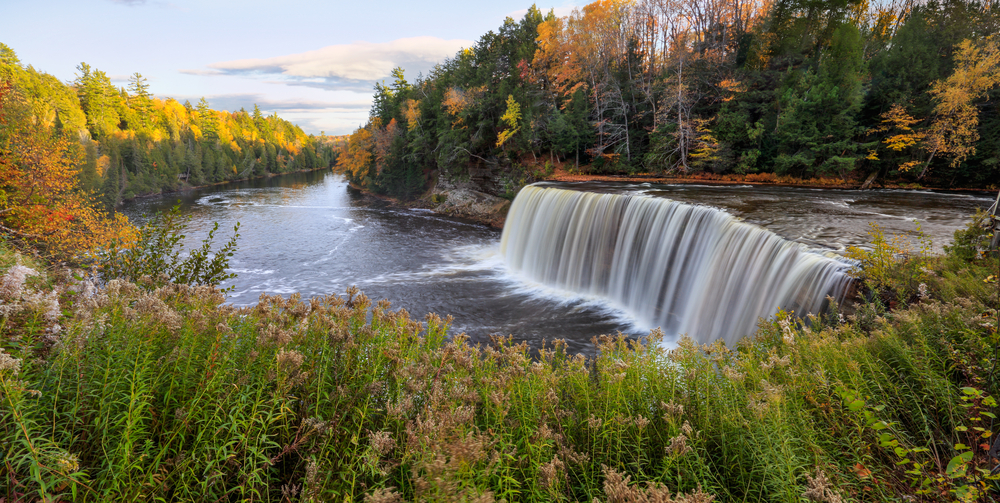 Climb The Crisp Point Lighthouse
If you've ever wanted to explore the inside of a lighthouse, well now is your chance.
Crisp Point Lighthouse is one of the 'newer' lighthouses in Michigan, having been built in 1904.
The area used to suffer many shipwrecks a year until congress finally approved the funds for a lighthouse.
So, Crisp Point Lighthouse was built, saving many sailors from wrecking in this remote location of Michigan's Upper Peninsula.
The lighthouse was decommissioned in 1993, and then it was purchased and rennovated.
Visitors can now take the steps up to the light and admire the view.
There is also a newly built Visitor's Center that replicates what would have originally been the Fog Horn Building.
Inside there is a small museum telling you about the history of the lighthouse and its importance to the Upper Peninsula.
Its a really unique way to learn about one of Michigan's best lighthouses.
Visit Chapel Rock
At Pictured Rocks National Lakeshore there are a bunch of different unique rock formations.
One of visitor's favorites is the Chapel Rock.
The Chapel Rock is reached via a three mile hike towards the shore of Lake Superior.
Along the hike, you'll be surrounded by beautiful Michigan forest land and you'll be able to admire the Chapel Falls.
At the end of the trail, you'll find Chapel Beach and great views of Chapel Rock.
Chapel Rock is a sandstone rock formation that was created by high water from Lake Nipissing over 3,800 years ago.
The rock originally had an arch that connected it to the mainland, but in 1940 the arch collapsed.
Now, Chapel Rock sits out on the beach, completely disconnected from any other rock formations, with a lone tree growing on top of it.
As one of Pictured Rock's most unique rock formations, it is a must see for those who are looking to admire the varied landscapes of Michigan's Upper Peninsula.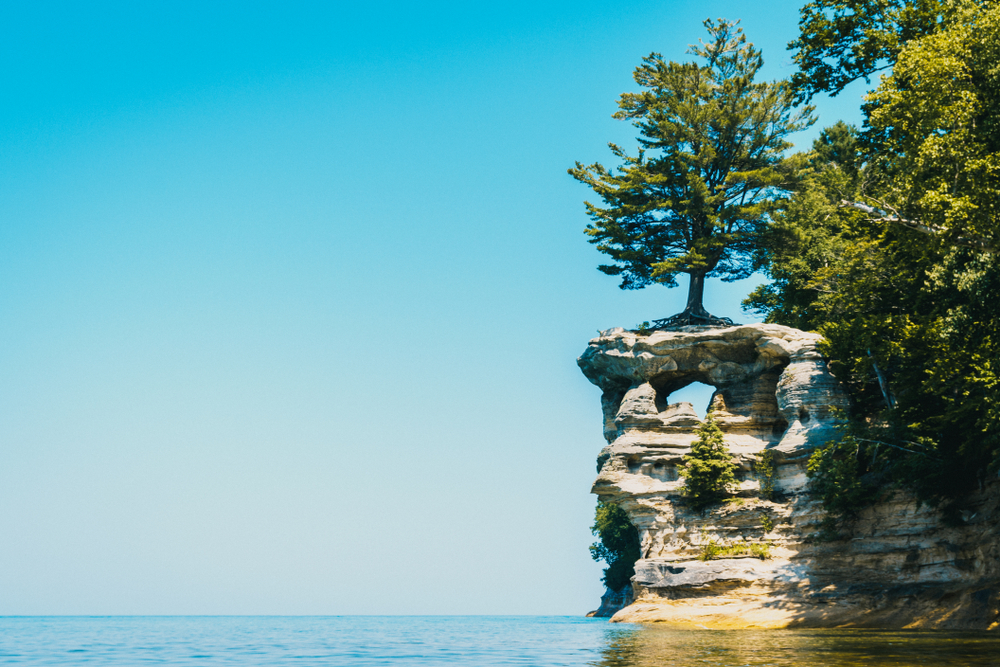 Packing List For Visiting Michigan
If you will be traveling, either by plane or by car to Michigan, here are some tips on how to pack lightly.
A concealed travel pouch may be one of the most important items you bring along when staying at the best Airbnbs in Iowa. It is always important to protect your personal information. Identity thieves are everywhere.
This unisex RFID blocking concealed travel pouch is lightweight and comes in several colors. It has lots of organization to give you peace of mind. You can place it under your hiking clothes next to your body to carry your ID safely.
f you have a pouch already that does not come with the RFID protection, as I do, these RFID sleeves are the perfect solution.
This configuration comes with enough credit card sleeves that the entire family would be protected. They are slim too, so they will easily fit into your pouch or wallet.
If you are planning on taking a lot of pictures with your phone you will definitely want to consider an external charging battery. This Anker high-speed phone charging battery is the exact one I carry with me on all of my trips.
It can be used on a variety of phones, not just an iPhone like I have. And wow is it fast!
I like that it holds its charging capabilities for several uses so I do not have to worry about it while out and about, and if I forget to recharge it at night, it will still be good to go the next day.
My daughter gifted me with this FugeTek selfie stick and tripod setup for my birthday. I absolutely love it! It is made of lightweight aluminum and so easy to use.
It has Bluetooth connectivity and is a breeze to use for taking selfies with all those nature shots while finding things to do in UP Michigan.
Hydration is so important when on vacation. You want to remain hydrated throughout your Midwest weekend getaway to Michigan's UP, support your immune system which in turn will be stronger to fight off any germs you will encounter during your travels.
You will want to bring your own refillable water bottle with you.
I never leave home on a trip without my Bobble filtration bottle. The 18.5-ounce size is perfect for hiking and it fits nicely in the pocket of a backpack.
When filled with water, it is not too heavy to carry. And the charcoal filter ensures fresh clean water whenever you fill the Bobble.
You can find filter replacements here.
Perhaps you are traveling a long distance and packing space is a premium in your suitcase, or in your car. Then this set of collapsible silicone foldable water bottles would work well for you. Would not take up much space at all.
You will want a backpack or daypack with you to store snacks, your water bottle, phone, extra clothes, etc.. when visiting Michigan. No matter the time of day or evening.
This foldable water-resistant backpack would be great.
It is very affordable and is available in many color options for you to choose from. The fact that it folds down into a zippered pouch will make it easy to pack!
—
I hope you enjoyed this list of fun and unique things to do in the UP!
The Upper Peninsula is easily one of my favorite places to visit in the Midwest because there is just so much to do.
Whether you are interested in history, outdoor activities, or cute towns, it really does have something for everyone.
Have you had the chance to check out any of this UP activities? If not, what would you like to see or do first?
I'd love to hear about it in the comments!