Are you looking for the most romantic getaways in the Midwest?
Whether you are on a tight budget or looking for a luxurious stay, this list has something for you!
The Midwest is full of beautiful scenery, romantic cities, and so much more.
It often gets overlooked when people think of romantic destinations in the USA, but it shouldn't!
I was born and raised in the Midwest, so I know a thing or two about what makes it so amazing.
I love the Midwest, so I'm going to show you the 15 romantic getaways in the Midwest for every budget.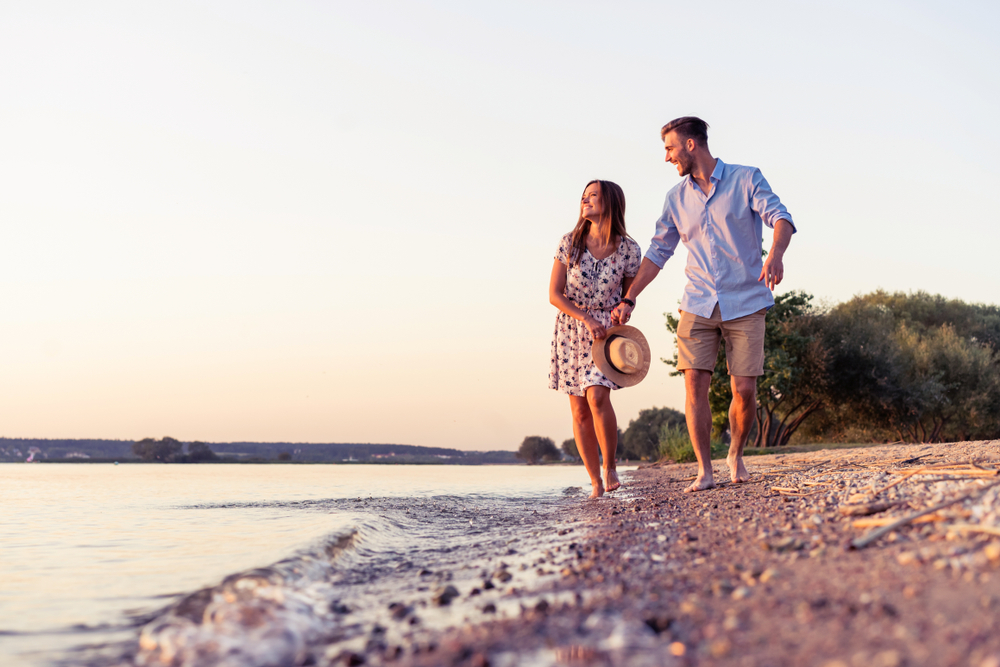 15 Romantic Getaways In The Midwest For Every Budget
Door County, Wisconsin
Door County Wisconsin is perfect for a weekend getaway in the Midwest, or for an extended trip.
It is one of the perfect romantic getaways in the Midwest for couples who love food and nature.
That's because Door County is known for both of those things.
You'll be able to stroll hand in hand through lavender fields at the Fragrant Isle Lavender Farm and Shop.
Or head out for a hike at the beautiful Peninsula State Park.
After a day of exploring, you'll want to enjoy one of Door County's most notable meals – a traditional fish boil.
Finish the night off with a delicious slice of cherry pie before heading back to your romantic Airbnb.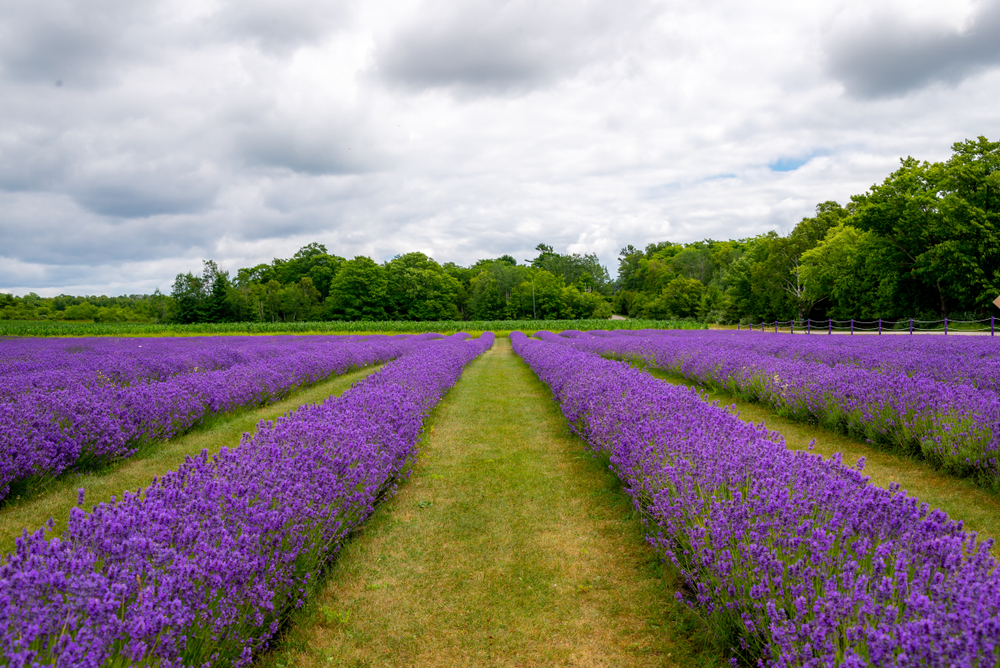 Mackinac Island, Michigan
Mackinac Island is a charming beach town in Michigan on Lake Huron.
It is the perfect romantic weekend getaway in the Midwest, but there is so much to explore you could easily spend more time there.
One of the things that make Mackinac Island so unique, and also makes it romantic, is that there are no cars on the island.
So you'll be getting around on the island trolley, by riding your bike, or by horse-drawn carriage.
There are so many things to do on Mackinac Island as well.
View the limestone Arch Rock, explore the lighthouse and history museum, learn about Mackinac at Fort Mackinac, or enjoy the Butterfly House and Insect World.
With so many shops, unique attractions, and delicious restaurants, you're sure to have a romantic Midwest weekend getaway.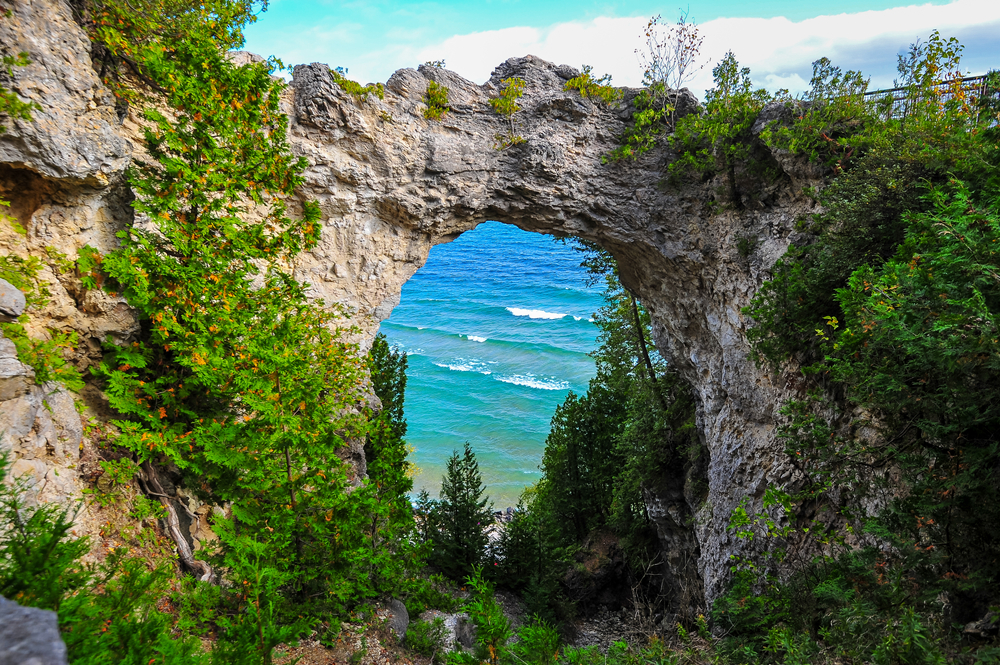 Hocking Hills State Park, Ohio
Hocking Hills State Park is one of the best romantic getaways in the Midwest for adventurous couples.
Whether if it's for a quick weekend getaway or for a whole week, there is plenty to do.
If you are looking to cozy up in a romantic cabin and explore the great outdoors, then you'll love Hocking Hills State Park.
There are tons of great hiking trails, opportunities for water sports, and so much more.
Glamping in the Midwest
If you want to really experience the beauty of the Midwest, you might enjoy glamping.
Glamping in the Midwest can be incredibly romantic.
From yurts, tiny homes, and funky campers, there is truly a glamping stay to fit everyone's needs – and budget.
Glamping is traditionally just a step above camping.
Typically, glampers have a cozy bed, beautiful views, and minimal facilities.
There won't always be running water or a kitchen, but that's what makes it so fun.
If you and your partner are looking to experience a romantic Midwest getaway that's a little more adventurous, then glamping is the way to go.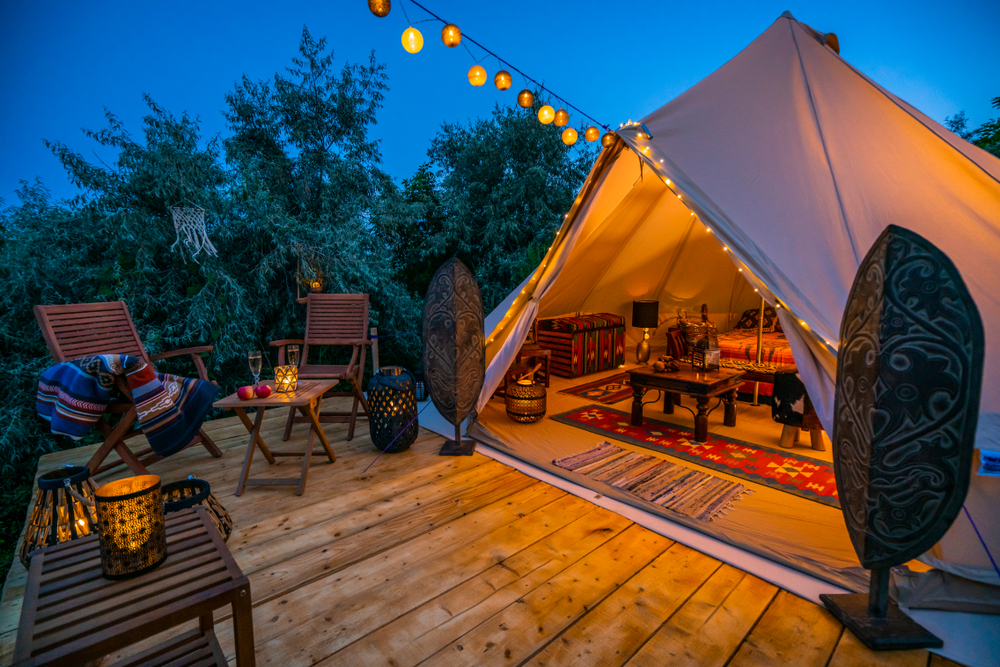 French Lick, Indiana Is One Of The Most Romantic Getaways In The Midwest
French Lick Indiana is a historic town in Southern Indiana.
It is best known for its mineral springs which beckoned visitors for their supposed healing properties.
The town got its start as a French trading post but quickly became a popular tourist spa destination.
Today that spa destination tradition continues and you can find some beautiful resorts in the small historic town.
Many of the resorts are in beautiful historic homes and manors.
The old-world architecture of the town makes it feel incredibly romantic.
Enjoy a romantic spa weekend at one of the many historic resorts and relax on the large old porches, surrounded by the quiet of nature. That would make one romantic weekend getaway in Indiana!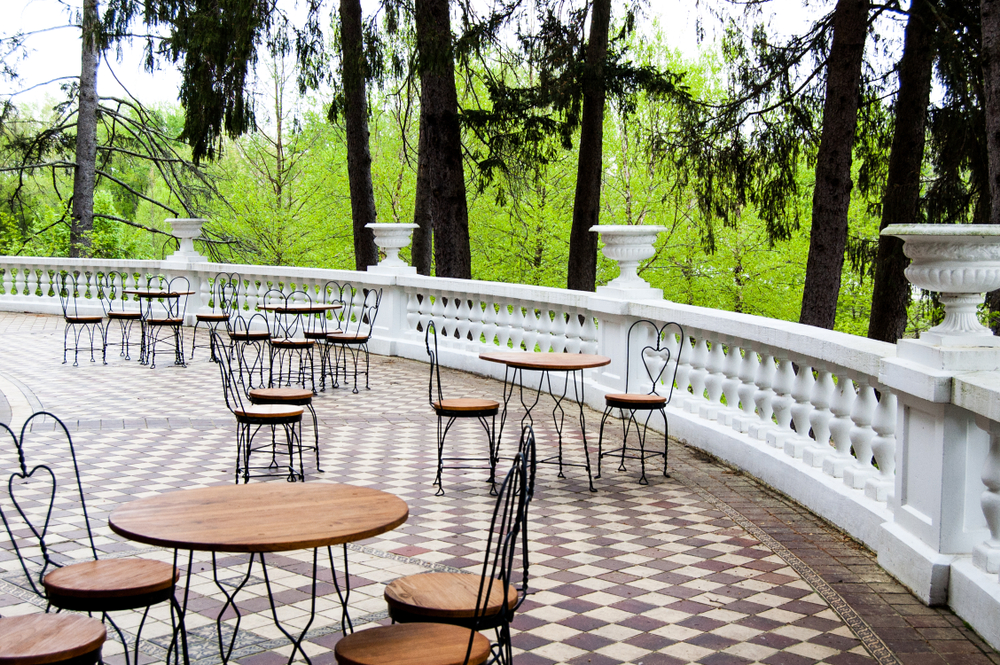 Suttons Bay, Michigan
Suttons Bay Michigan is known as the 'Year-Round Coastal City'.
It is a charming small town on the shore of the Leelanau Peninsula.
You'll find that this coastal city is one of the perfect romantic getaways in the Midwest, no matter what time of year you go.
There is something to interest everyone in Suttons Bay.
Enjoy winery and brewery tours, explore historic buildings, or walk down the charming main street and get in some shopping.
Because Suttons Bay is a coastal city, there are also plenty of opportunities for outdoor activities.
From hiking, water sports, and bike tours, there are plenty of adventures to be had in beautiful Suttons Bay.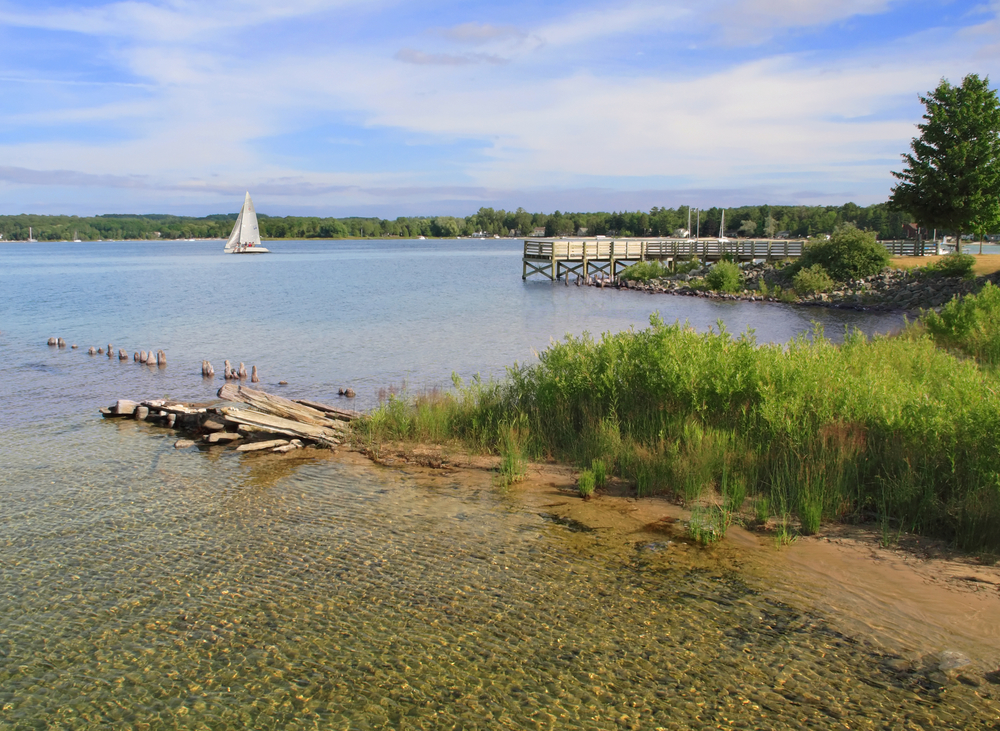 Chicago, Illinois Is One Of The Most Romantic Getaways In The Midwest
Because Chicago is a big city, there are so many things you can do to have one of the best romantic Midwest weekend getaways.
You and your partner can take a stroll down Chicago's beautiful Lakefront Trail, experience snow globe dining in the winter, or explore the Morton Arboretum.
Have brunch at one of Chicago's best gourmet diners or enjoy a romantic candlelit dinner.
If you like live music and the theater, Chicago has a thriving entertainment scene.
There are also amazing art galleries, museums, and even sunset dinner cruises.
The possibilities are endless in Chicago when it comes to romantic experiences.
One Of Best Midwest Romantic Getaways Is Deadwood, South Dakota
The Wild West town of Deadwood South Dakota makes for a unique romantic getaway in the Midwest.
If you like history, then you'll love the Historic Downtown.
That's where you can experience what it was like to live in the Wild West during the gold rush.
There are plenty of museums, historical reenactments, and so much more.
If that doesn't sound romantic to you, not to worry. There are tons of other things to do in Deadwood.
The town is also home to beautiful lodge resorts where you can enjoy snow sports, spa days, and first class dining.
There are also romantic bed and breakfasts or you can try your luck at one of the casinos.
No matter what type of vacation you're looking for, Deadwood has something to offer.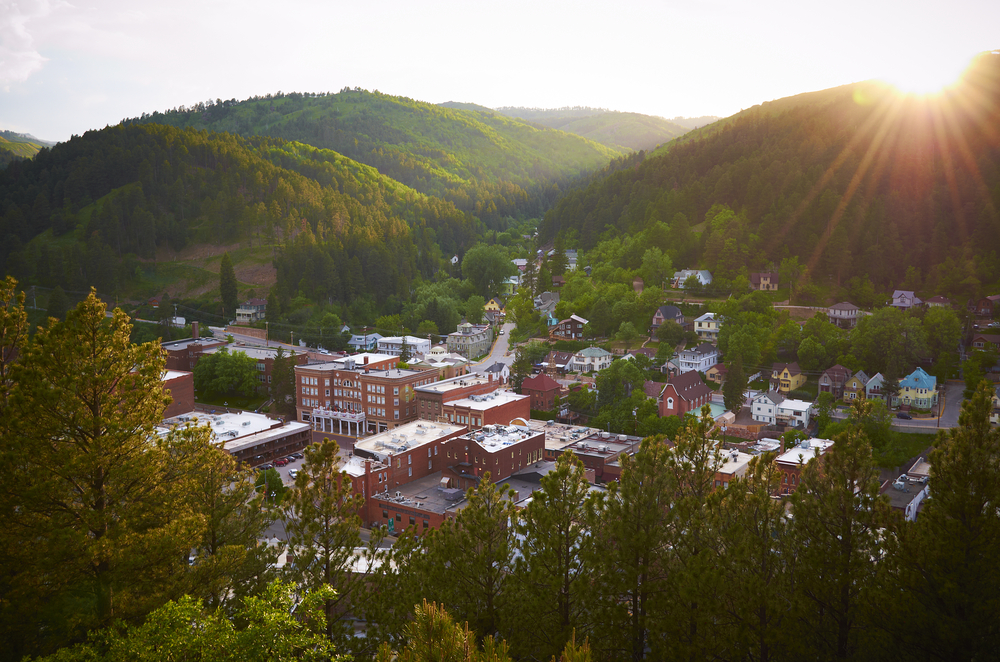 St. Louis, Missouri
The beautiful river city of St. Louis Missouri is perfect for a romantic couples vacation.
There are so many romantic activities that couples can enjoy during their stay.
Walk hand in hand through the botanical gardens, take in the Gateway Arch, or explore Grant's Farm.
St. Louis is also an awesome city for foodies.
There is fine dining, unique boutique restaurants, and even amazing places to grab a drink over dessert.
Stroll along the river or take a sunset river cruise and admire the city skyline.
It doesn't get more romantic than exploring St. Louis with your partner.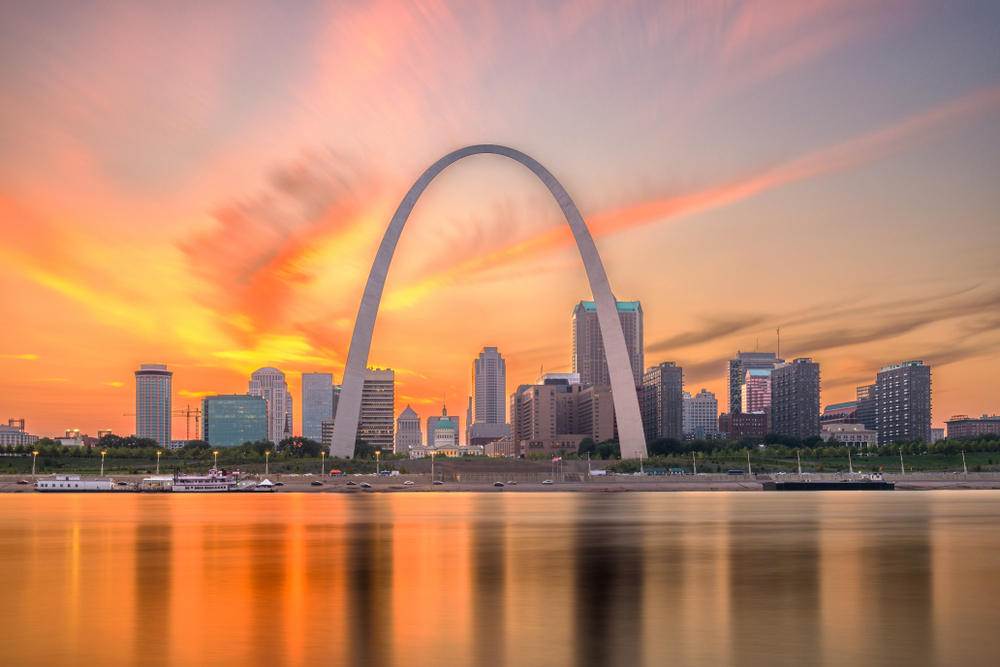 Winona, Minnesota
In picturesque bluff country along the Mississippi River is Winona, a charming small town in Minnesota.
Winona is known as the Festival City of the Midwest.
Every month of the year, often several times during the month, you'll find some sort of festival taking place.
No matter your interest, there is probably a Winona Original Festival to entertain you.
There is a film festival, a dance festival, several music festivals, a Shakespeare festival, and so much more.
After a day spent enjoying that weekend's festival, have dinner and drinks at one of Winona's delicious locally-owned restaurants.
Before you head home, make sure to stop by the Main Street to pick up a memento from one of the local shops.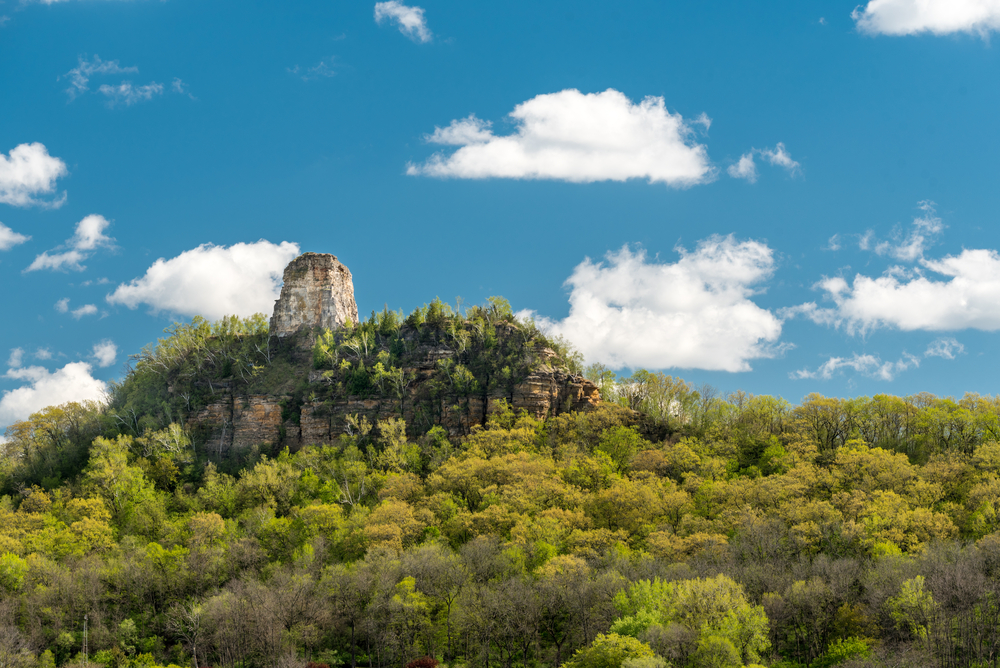 Kansas City, Missouri
Kansas City Missouri is an awesome place for a romantic Midwest getaway.
It is one of the best Midwest vacations for couples who consider themselves foodies.
If you and your partner love wine, you'll have a great time exploring one of the many wineries and sampling the local blends.
Kansas City also has a Taco Trail which you can follow to sample the cities best tacos.
You might not immediately think French cuisine when you think of Kansas City, but you can enjoy delicious French delicacies in KC.
Enjoy a romantic night out with your partner at Le Fou Frog before heading to the Green Lady Lounge for a night of cocktails and Jazz.
One thing is for sure, Kansas City is the foodie couple's perfect romantic getaway in the Midwest.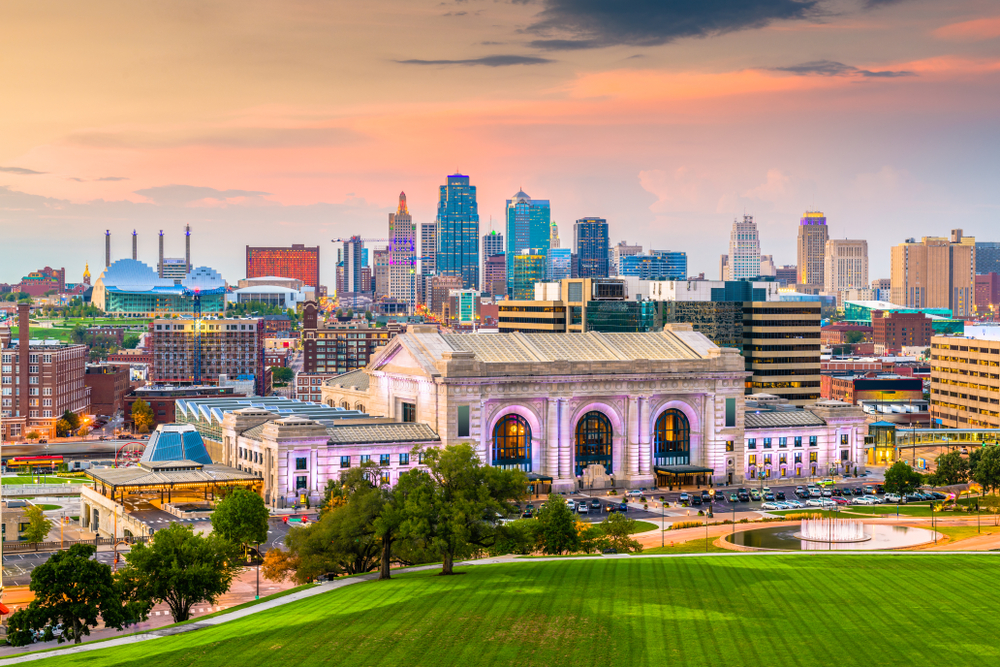 Rapid City, South Dakota
Rapid City is a large city near the Black Hills and the Badlands in South Dakota.
The area is most commonly known for being home to some amazing state and national parks.
This makes it one of the best Midwest weekend getaways for couples who love outdoor adventure.
Spend the day exploring Custer State Park where you can watch wild buffalo roam.
Or get lost in the Black Hills National Forest, experience the Badlands at Badlands National Park, or admire Mt. Rushmore.
After exploring all the natural and man-made wonders of the area, make sure to take the time walking through Downtown Rapid City.
There you'll find over 20 unique restaurants, unique boutiques, or check out the local art scene at one of the many art galleries and museums.
Rapid City South Dakota is an amazing central city to explore one of the best areas of South Dakota and experience a unique and romantic city.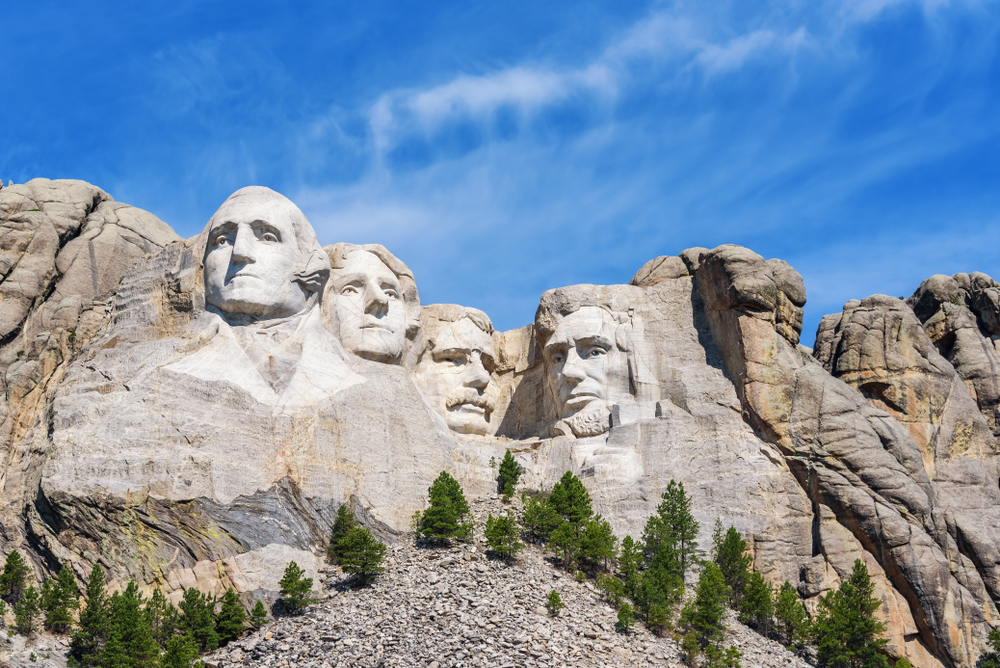 Indianapolis, Indiana
There are so many romantic things for couples to do in Indianapolis Indiana.
If you want to experience Indianapolis' epic dining and shopping district, make sure you stroll down Mass Ave.
There you'll find popular restaurants, the District Theater where you can see a show almost any day of the week, or stop into one of the charming boutiques.
Art lovers won't want to miss out on the Indianapolis Museum of Art at Newfields.
They have the original LOVE sculpture, acres of curated gardens and grounds, and a large collection of art.
Indianapolis is such a unique Midwest city and you and your partner are bound to enjoy a romantic weekend getaway there.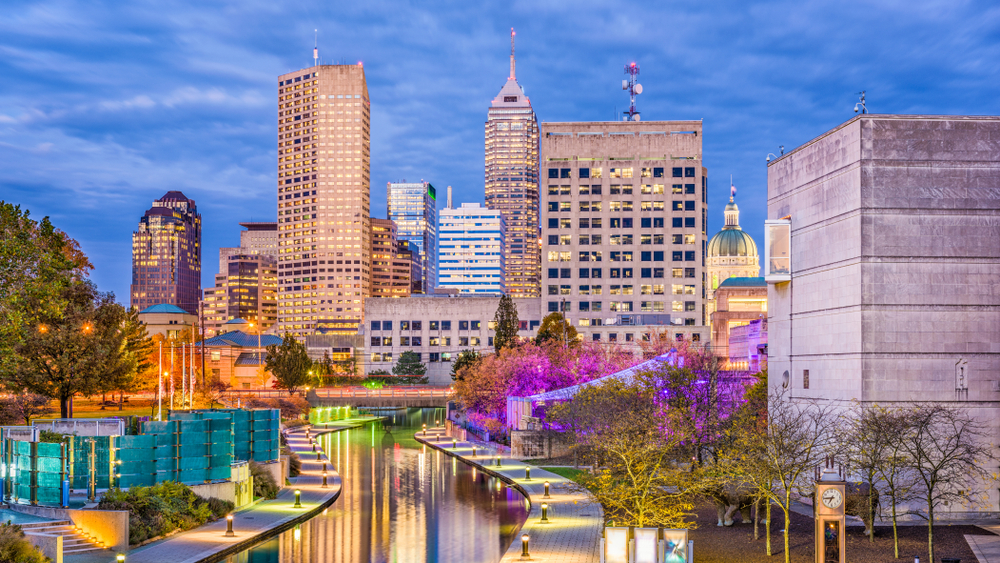 Milwaukee, Wisconsin
The options for cool and romantic activities in Milwaukee Wisconsin are endless.
Milwaukee is a super cool Midwestern city that is full of unique and fun things to do.
The city's newest up-and-coming district is called the Deer District.
There you'll find unique restaurants, bars, and even an arcade for adults with karaoke and a milkshake lab.
If you and your partner love whiskey and beer, then make sure to take a tour at the Great Lakes Distillery or the Lakefront Brewery.
No matter what time of year you go, you're going to want to check out the Domes.
The Domes are large domed greenhouses full of tropical plants and perfect for escaping the cold Midwest winters for a unique date night.
Milwaukee is a cool city that is just waiting to be explored.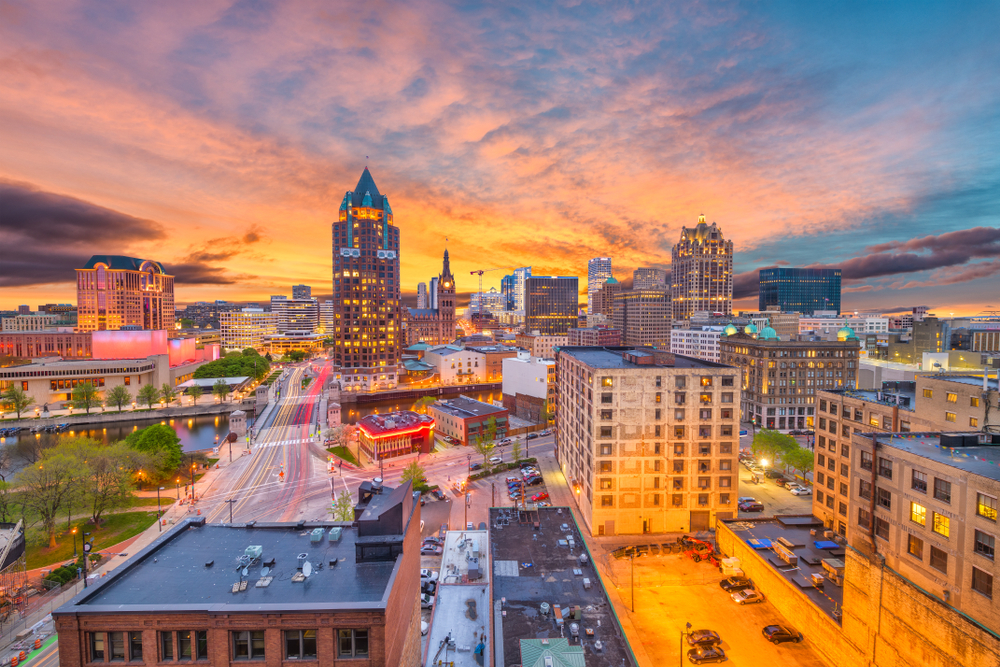 Branson, Missouri
The Ozark Mountains span four states: Oklahoma, Arkansas, Missouri, and a tiny bit of Kansas.
Branson is the best city in Missouri to explore the Ozark Mountains.
From Branson, you'll be able to go hiking, kayaking, canoeing, and even horseback riding through the Ozark Mountains.
In Branson, there are also some very unique activities.
You and your partner can spend the day riding roller coasters at Silver Dollar City or take in a show at the Sights and Sounds Theater.
Branson is also full of cool museums.
You can explore the Titanic Museum, Ripley's Believe it or Not, and even the Hollywood Wax Museum.
If you love live theater and music, Branson's got that too.
There are tons of local acts that are must-sees when visiting Branson.
No matter your interests, Branson has got so many charming activities for you and your partner to enjoy on a romantic Midwest getaway.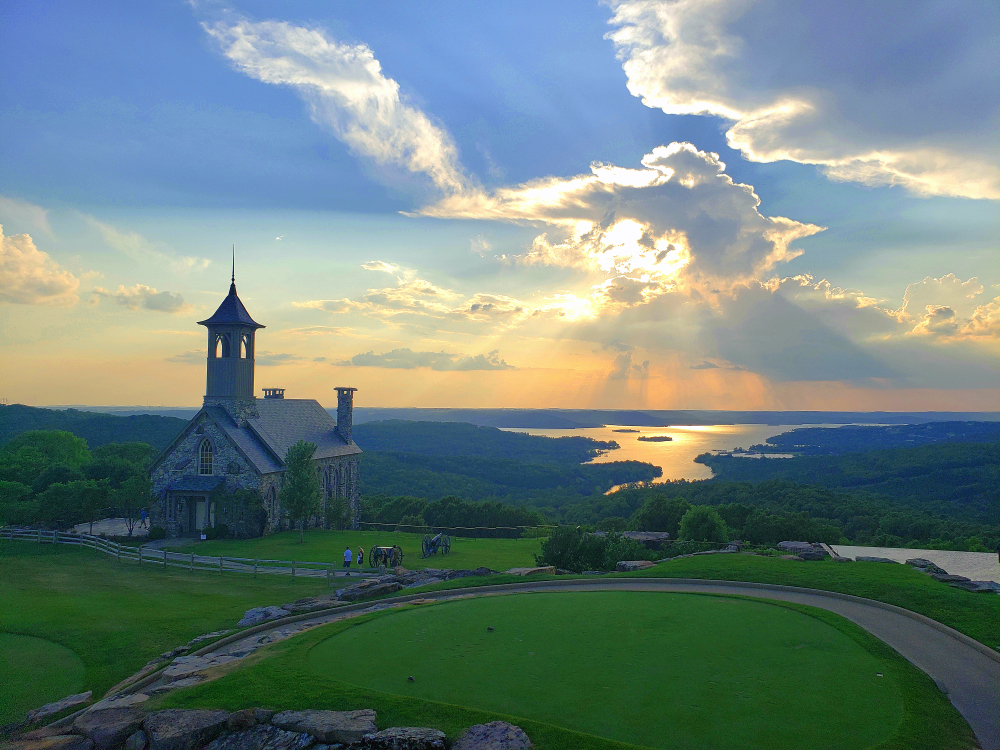 Packing List For Your Romantic Getaways In The Midwest
If you will be traveling, either by plane or car to the Midwest, here are some tips on how to pack lightly.
A concealed travel pouch may be one of the most important items you bring along when visiting the Midwest.  
It is always important to protect your personal information. Identity thieves are everywhere.
This unisex RFID blocking concealed travel pouch is lightweight and comes in several colors. It has lots of organization to give you peace of mind. You can place it under your hiking clothes next to your body to carry your ID safely.
f you have a pouch already that does not come with the RFID protection, as I do, these RFID sleeves are the perfect solution.
his configuration comes with enough credit card sleeves that the entire family would be protected. They are slim too, so they will easily fit into your pouch or wallet.
If you are planning on taking a lot of pictures with your phone you will definitely want to consider an external charging battery. This Anker high-speed phone charging battery is the exact one I carry with me on all of my trips.
It can be used on a variety of phones, not just an iPhone like I have. And wow is it fast!
I like that it holds its charging capabilities for several uses so I do not have to worry about it while out and about, and if I forget to recharge it at night, it will still be good to go the next day.
My daughter gifted me with this FugeTek selfie stick and tripod setup for my birthday. I absolutely love it! It is made of lightweight aluminum and so easy to use.
It has Bluetooth connectivity and is a breeze to use for taking selfies with all those nature shots while spending a romantic getaway in the Midwest.
I like that it holds its charging capabilities for several uses so I do not have to worry about it while out and about, and if I forget to recharge it at night, it will still be good to go the next day.
Hydration is so important when visiting the Midwest. You want to remain hydrated throughout your day trip to support your immune system which in turn will be stronger to fight off any germs you will encounter during your travels.
You will want to bring your own refillable water bottle with you.
I never leave home on a trip without my Bobble filtration bottle. The 18.5-ounce size is perfect for hiking and it fits nicely in the pocket of a backpack.
When filled with water, it is not too heavy to carry. And the charcoal filter ensures fresh clean water whenever you fill the Bobble.
Perhaps you are traveling a long distance and packing space is a premium in your suitcase, or in your car.
Then this set of collapsible silicone foldable water bottles would work well for you. Would not take up much space at all.
You will want a backpack or daypack with you to store snacks, your water bottle, phone, extra clothes, etc.. when visiting Michigan beach towns. No matter the time of day or evening.
This foldable water-resistant backpack would be great
It is very affordable and is available in many color options for you to choose from. The fact that it folds down into a zippered pouch will make it easy to pack!
—
Have you and your partner ever gone to any of these romantic Midwest getaway spots?
If you have, I'd love to hear about your trip in the comments!