There are so many fun things to do in Chicago, Illinois, no matter your interests!
Chicago is the biggest city in the Midwest and is a top vacation destination. Get ready to plan an epic Chicago itinerary!
Whether you are spending a weekend in Chicago or longer, there are so many fun attractions to check out!
Attractions in Chicago include world-class museums, delicious dining experiences, beautiful parks, shopping opportunities, and unique public art.
Simply strolling the iconic Riverwalk and admiring the incredible architecture is a great cheap Chicago activity.
Don't forget to check out our complete guide on where to stay in Chicago so you can find the best area to stay.
Now, let's look at the best places to visit in Chicago!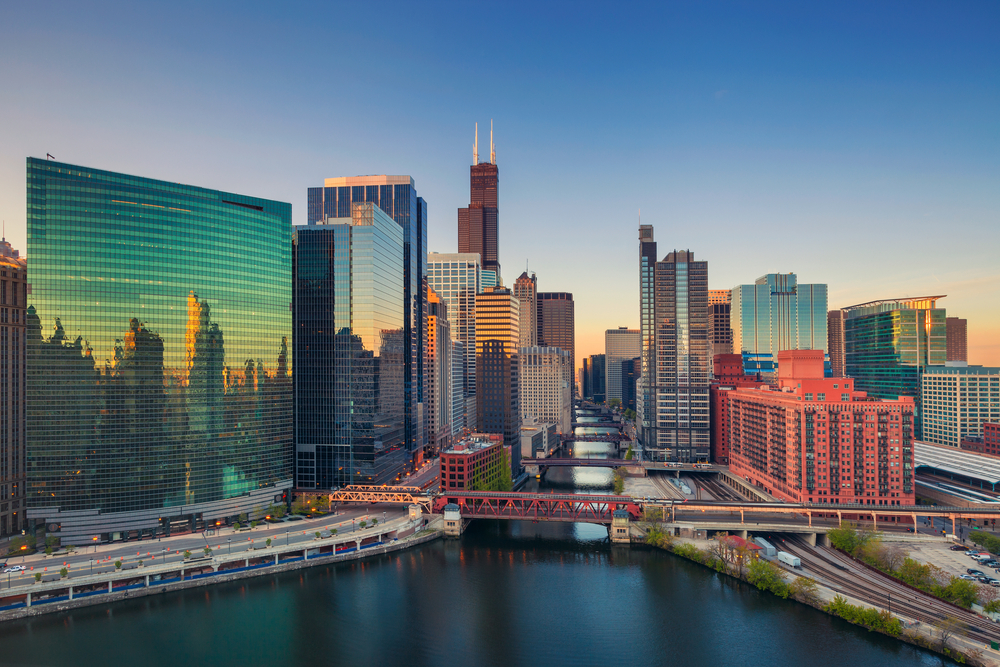 15 Best Things To Do In Chicago You Shouldn't Miss
Stroll Through Millenium Park
Millenium Park is one of the top things in Chicago to check out on your trip.
When you think of Chicago, the image of the iconic Cloud Gate sculpture, also known as the Bean, is sure to pop into your head.
You can find this sleek, metal art piece sitting in Millenium Park with a backdrop of skyscrapers. It is 33 feet high and 66 feet long.
If you don't grab a selfie with the Bean, did you even visit Chicago?
The rest of this downtown park is full of gardens, fountains, and a concert pavilion.
If you visit Chicago at Christmas, you can enjoy the Chicago Christmas Tree and ice skating.
This park also connects to Maggie Daley Park where you will find even more fun things to do in Chicago.
Book Here: Chicago: Big Bus Hop-on Hop-off Sightseeing Tour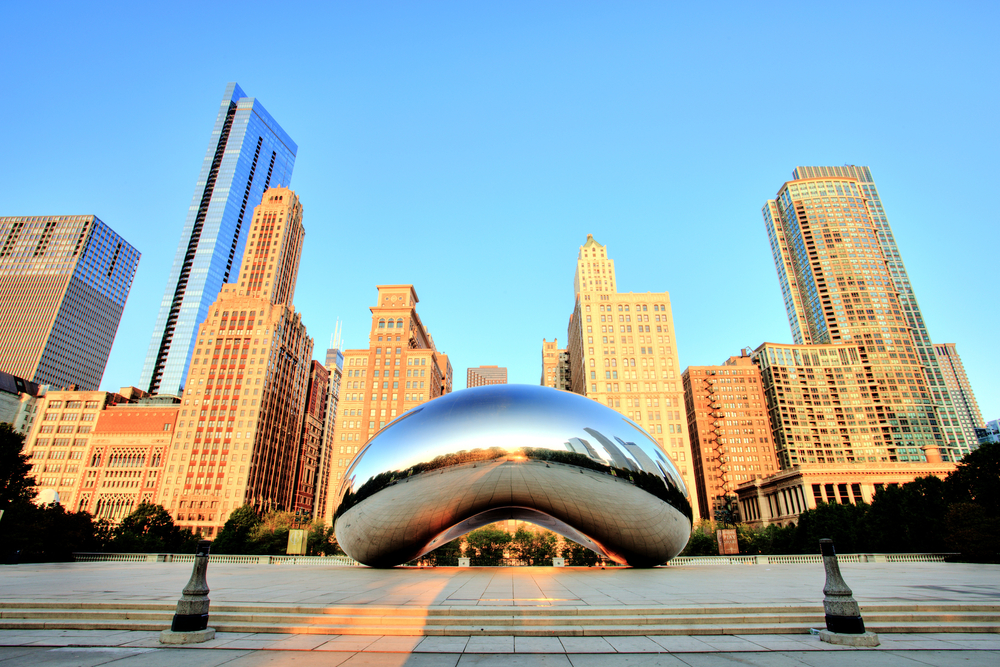 Having Fun at Lincoln Park Is One Of The Cool Things To Do In Chicago
Lincoln Park is one of the best things to do in Chicago with kids. There are enough activities here to fill a whole day.
Visit the Chicago History Museum, wander the Lincoln Park Conservatory, walk the pretty trails, or play sports.
You can stop by North Avenue Beach for fun on Lake Michigan. Walk out on the pier for a great look back at the city's skyline.
One of the most popular things to do here is the Lincoln Park Zoo. It is 35 acres and is free to enjoy! The zoo does a lot toward wildlife conservation.
This is one of the top Chicago tourist attractions!
Book Here: Chicago Lakefront Bike Tour of Lincoln Park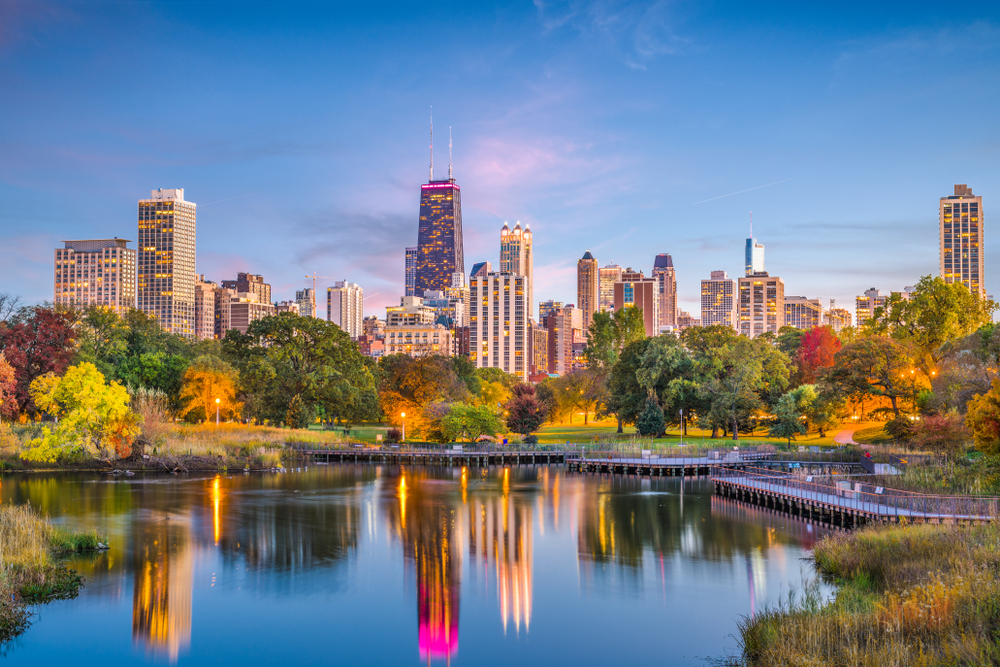 Find Amazing Views Atop the Willis Tower
The Willis Tower, formally known as the Sears Tower, is a dark skyscraper that stands tall above the Chicago skyline.
Built in the early 1970s, it is 1,730 feet high (including the antennae), making it the second tallest building in North America and the twelfth tallest in the world!
If you are not afraid of heights, the Skydeck is a must when visiting Chicago. Step out onto the Ledge, a glass box 1,353 feet in the air.
This is a fantastic photo op! Make sure to book tickets in advance so you can guarantee a spot!
There is also a great Chicago exhibit at the Skydeck that teaches all about the city's rich history.
You can't miss one of the most unique things to do in Chicago during your 2 days in Chicago trip!
Book Here: Chicago: Willis Tower Skydeck and The Ledge Ticket
Book Here: Go City All-Inclusive Pass with 25+ Attractions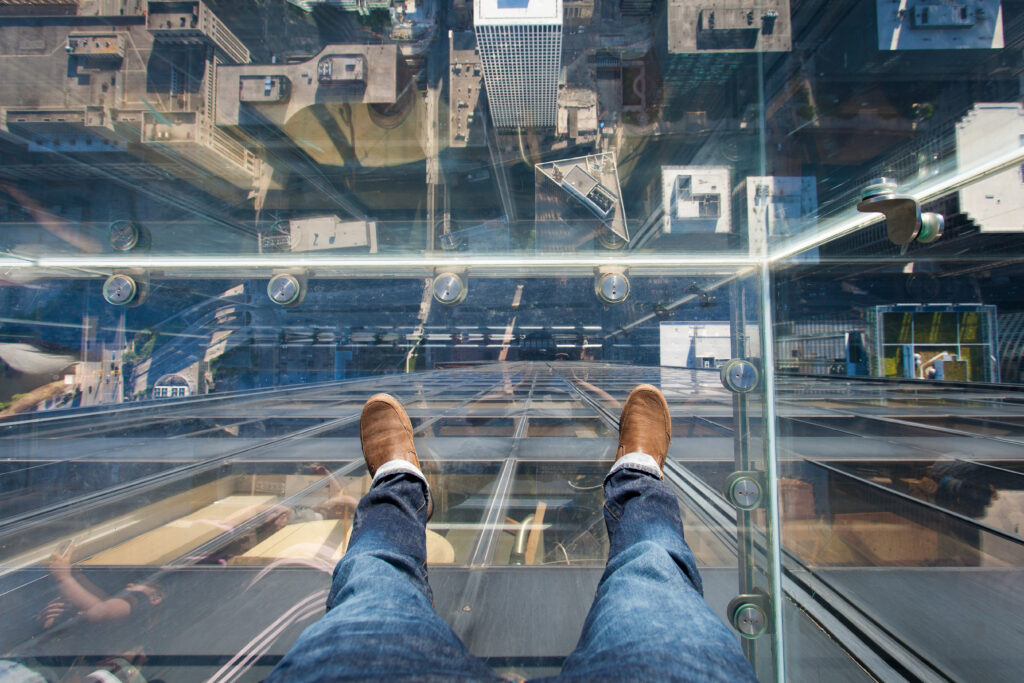 Soak Up Culture at the Art Institute of Chicago
Art lovers will want to add the Art Institute of Chicago to their list of favorite things to do in Chicago, Illinois.
This museum holds 300,000 artworks, including many famous pieces. You will find diverse art from around the world such as Japanese prints and Greek sculptures.
Classic American paintings like Edward Hopper's Nighthawks and Grant Wood's American Gothic can also be spotted.
If you want to see as much as possible, plan for a couple of hours wandering here. Afterward, grab a meal at the Terzo Piano restaurant.
The Art Institute of Chicago is found on Michigan Avenue and is guarded by two bronze lions.
This is one of the best things to do in Illinois!
Book Here: Chicago: Art Institute of Chicago Skip-the-Line Ticket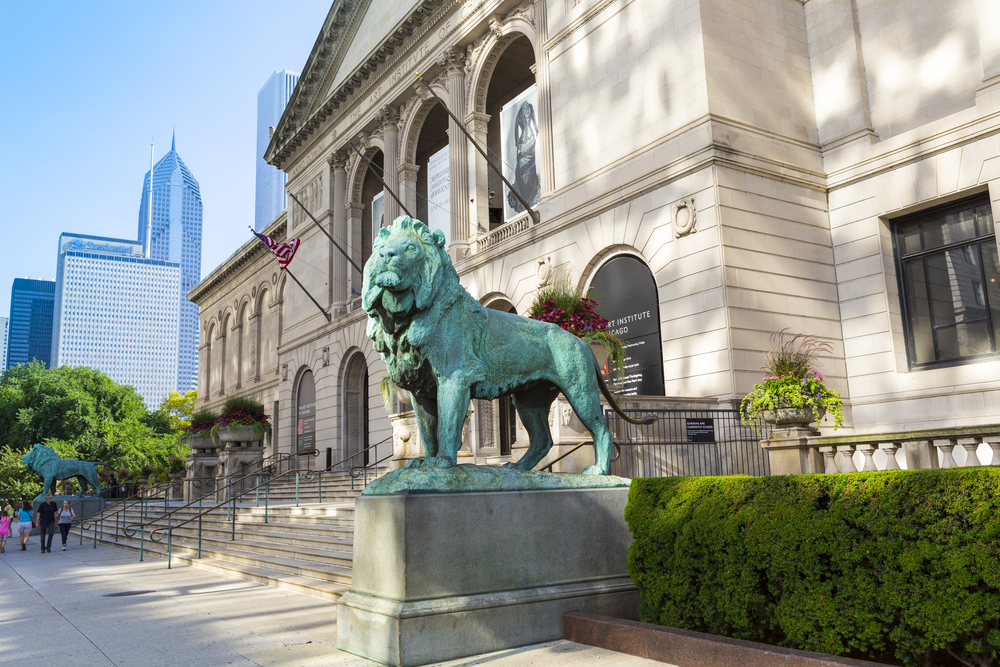 Take Pictures at the Garfield Park Conservatory
Looking for a relaxing nature activity in Chicago? Head to the Garfield Park Conservatory.
Opened in 1908, this conservatory houses over 100,000 plants within gorgeous architecture.
There are eight indoor gardens that are lush with tropical temperatures year round.
You can travel the world in these gardens from deserts to jungles and everything in between. Get ready to take some epic photos.
Outside, there are ten more acres to explore with themed gardens such as the Sensory Garden and Artist's Garden.
Bring the kids to the Play & Grow Garden. There are cool interactive features that will get them in touch with nature.
This is also one of the best places to experience fall in Chicago!
The conservatory is one of the best free things to do in Chicago, and it is open every day of the year.
Book Here: Chicago: History, Culture and Architecture Walking Tour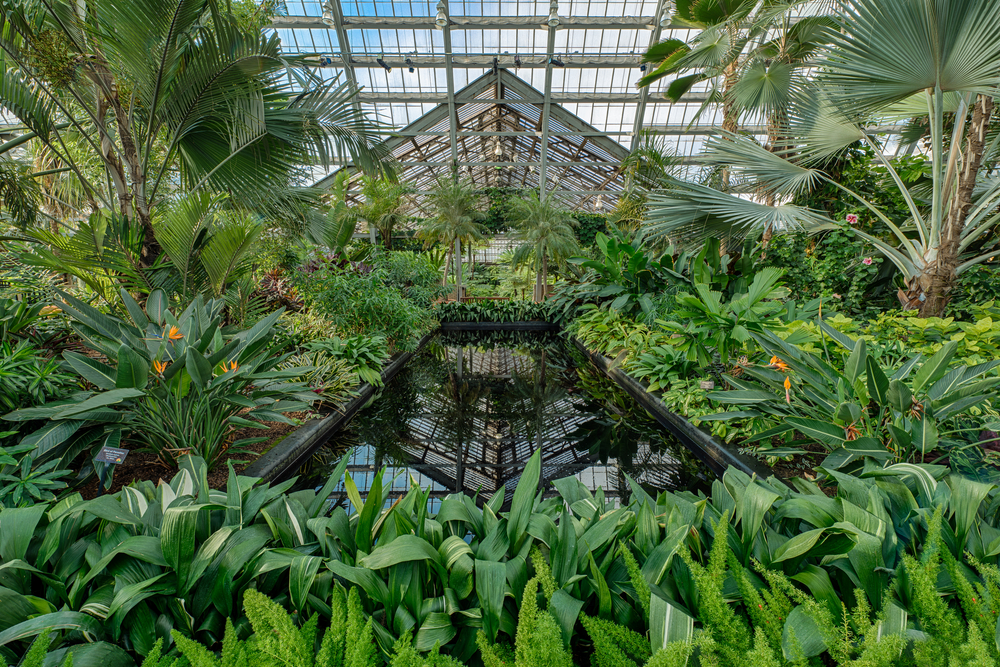 See a Show at the Chicago Theater
The Chicago Theater is one of the best things to do in downtown Chicago, IL!
The large marquee lights up the front of this historic building that dates back to 1921. You will step into an elegant lobby with a grand staircase.
If you want an idea for a romantic date night in Chicago, there are so many options including concerts, Broadway shows, comedians, and more!
If you are more interested in history or architecture than seeing a show, book a Marquee Tour and learn all about this landmark.
This is a great thing to do in Chicago!
Book Here: The Chicago Theatre Marquee Tour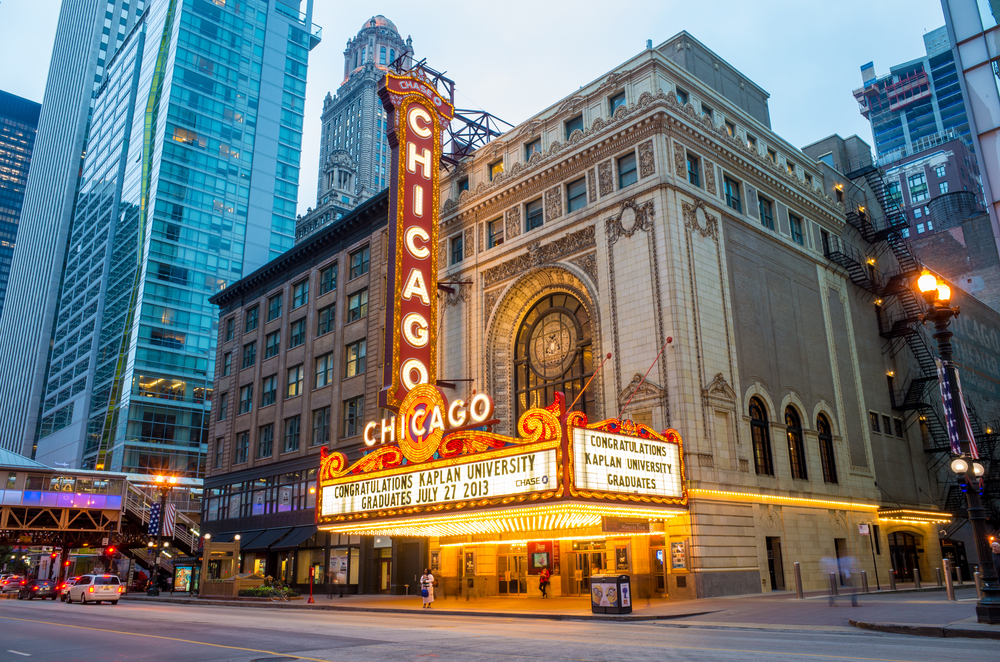 Eat A Chicago Deep Dish Pizza
Chicago is known for its elite food scene, but you can't go wrong with a classic Chicago-style deep-dish pizza!
This savory pizza is similar to a casserole. It has a tall, bread-like crust with thick layers of mozzarella cheese and tomato sauce in the middle.
There are restaurants all over town where you can pick up a deep-dish pizza.
Some of the best places to check out include Giordano's, Bartoli's, Pequod's, or Pizzeria Uno (who claims to have invented the staple dish).
Book Here: Chicago: Deep-Dish Pizza and Local Food Walking Tour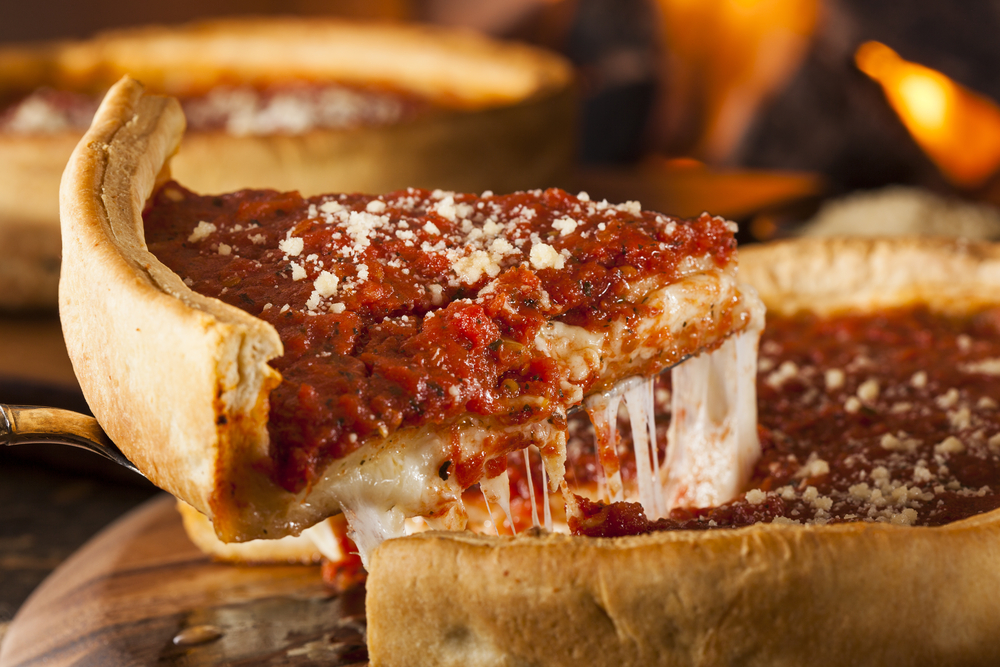 Go For a Ride at the Navy Pier
One of the best activities in Chicago for families is the Navy Pier. This waterfront, entertainment destination has so many activities.
Take a ride on the 200-foot Centennial Wheel for epic views of the city and Lake Michigan. There are a bunch of other rides and games for all ages too.
After the thrills, grab a bite to eat! There are plenty of snack options such as popcorn, ice cream, and funnel cake.
There are also takeaway meals and sit-down restaurants.
The Navy Pier Beer Garden is one of the best adult attractions in Chicago. Enjoy local craft beer from Tangled Roots Brewery and live music.
Looking for more places to get a drink in Chicago, check out our list of the best breweries in Chicago!
The Navy Pier is also great for finding cool art sculptures and shopping.
During the summer, the night sky is lit up with fireworks over the water. Arrive early on Wednesday and Saturday nights to find a good spot to watch the show!
This is one of the best things to do in Chicago at night!
Book Here: Chicago: Navy Pier Centennial Wheel Regular & Express Ticket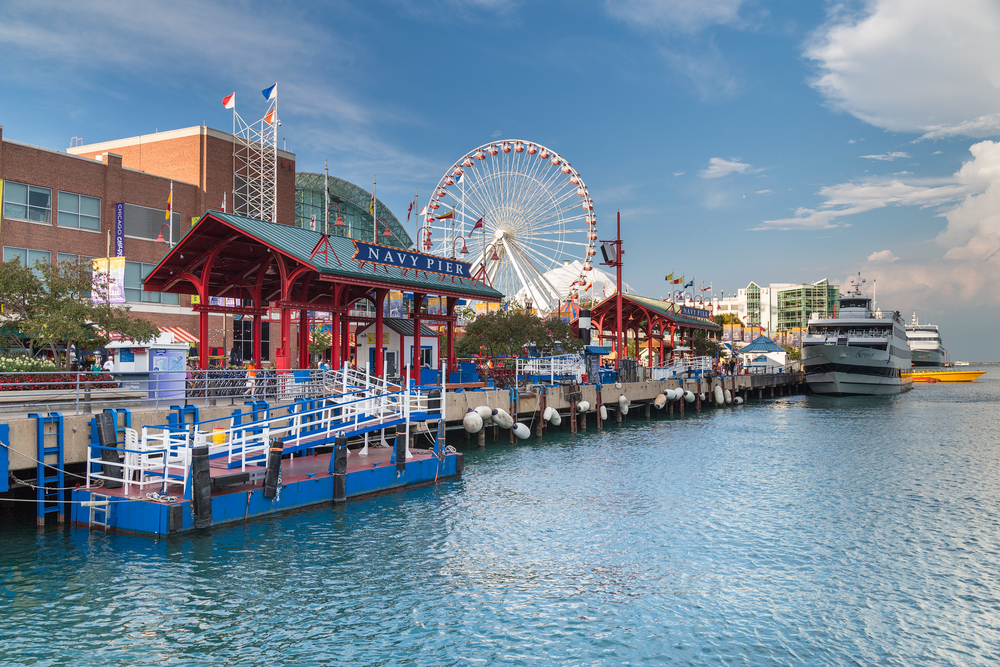 Explore Chinatown
If you want to see a unique part of Chicago, head to Chinatown. The streets of this neighborhood are beautifully decorated and the architecture has Asian motifs.
You can find many specialty shops and family-owned restaurants serving authentic Chinese food. This is the place to come with an empty stomach!
Take a photo with the amazing Nine Dragon Wall mural, wander around Ping Tom Memorial Park, and visit Chinatown Square, an outdoor mall with many shops and cafes.
There are also a lot of cultural events held here throughout the year including the Chinatown Lunar New Year Parade. This is one of the best events in Chicago!
Chinatown is what to do in Chicago if you want to see a different side of the city.
Book Here: Chicago: 2.5-Hour Taste of Chinatown Food Walking Tour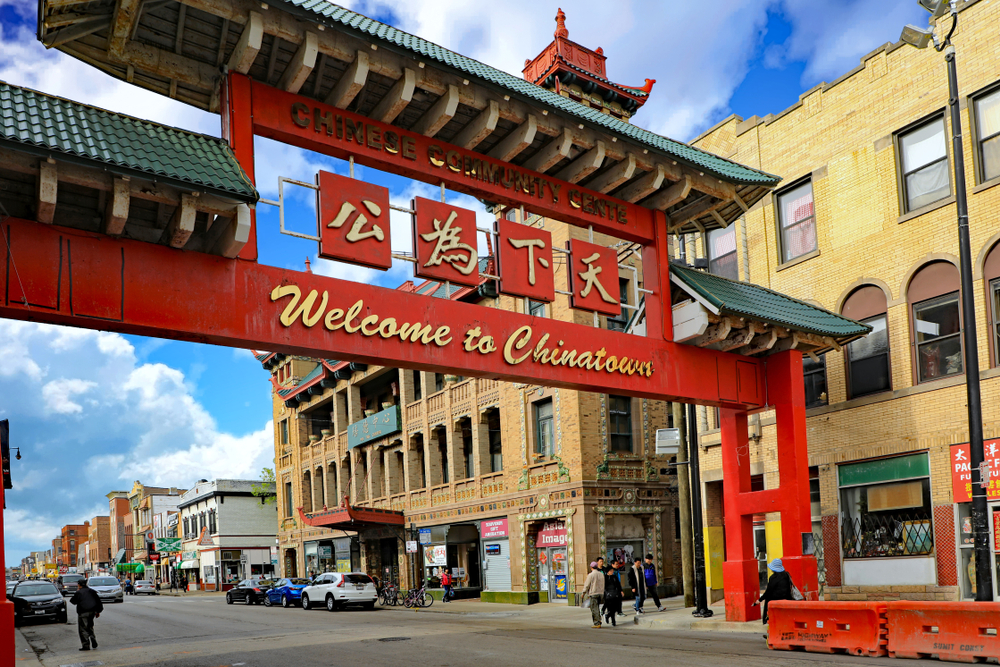 Take a River Cruise
The Chicago River cuts through the city creating a beautiful scene between the skyscrapers.
One of the best ways to experience the water is by taking a river cruise. It is a fun way to see the city from a new perspective.
There are a ton of tours in Chicago to choose from varying in length and theme.
There are cruises that focus on highlighting the city's architecture and ones that offer an awesome dining experience.
If you are looking for one of the best things to do in Chicago for couples, book a sunset cruise that will bring you out to Lake Michigan.
Wanting to skip the typical tourist cruise? You can rent kayaks and paddle the river at your own pace or with a guide.
Book Here: Chicago River: 1.5-Hour Guided Architecture Cruise
Book Here: 45 Minute Family-Friendly Architecture River Cruise
Book Here: Chicago River 1.5 Hour Lake and River Architecture Cruise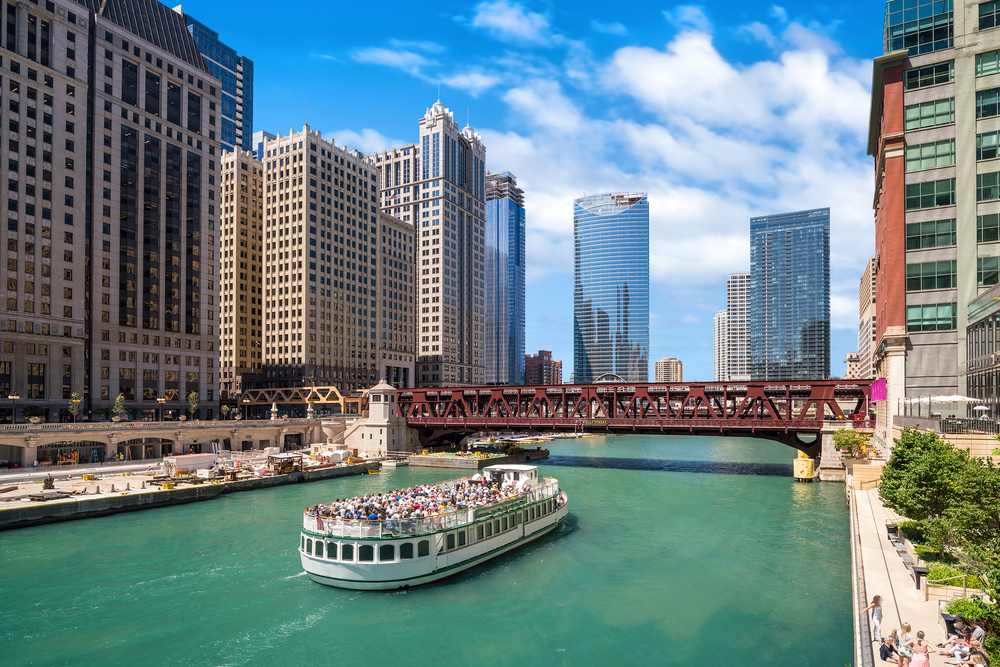 Shop the Magnificent Mile
The Magnificent Mile is a section of Michigan Avenue known for having some of the best shopping in the country!
Whether you want to spend money or just window shop, this is one of the best places to visit in Chicago!
With over 450 retailers here, you can buy anything you want from clothes, jewelry, technology, home goods, toys, and more!
If you love luxury and designer names, you are covered with Giorgio Armani, Louis Vuitton, Cartier, Gucci, and others.
Are department stores more your game? Wander the aisles of Macy's, Marshalls, Bloomingdale's, and Nordstrom.
You can also find gourmet food and smaller boutiques.
In the winter, the Magnificent Mile is one of the best places to see Christmas lights in Chicago too!
Book Here: Chicago: Art Deco Skyscrapers Walking Tour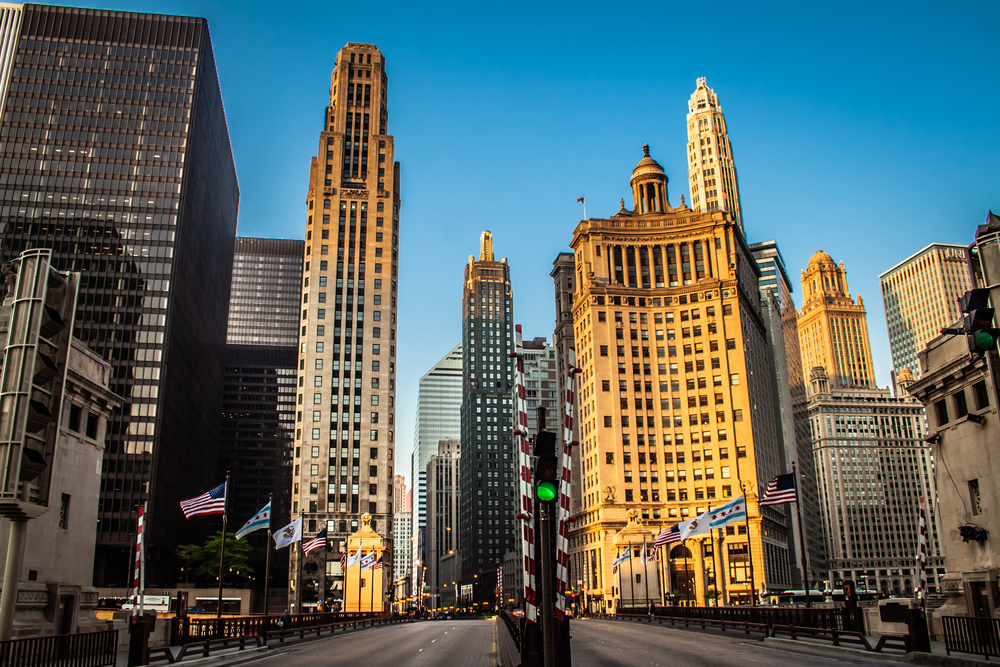 Watch a Game at Wrigley Field
Wrigley Field is home to the Chicago Cubs and is one of the best places to go in Chicago for sports fans.
Built in 1914, this is the second oldest ballpark in the major leagues. A lot of baseball history has been made here.
If you visit during baseball season, you can watch these World Series winning team play. Eat classic stadium food like hot dogs, nachos, and soft pretzels.
Even if you aren't able to catch a game though, you can take a tour of the ballpark.
This 90-minute tour will lead you to the field, press box, dugout, and more.
This is one of the best things to do in Chicago for adults and kids interested in baseball.
Book Here: Chicago: Downtown Chicago Helicopter Sightseeing Tour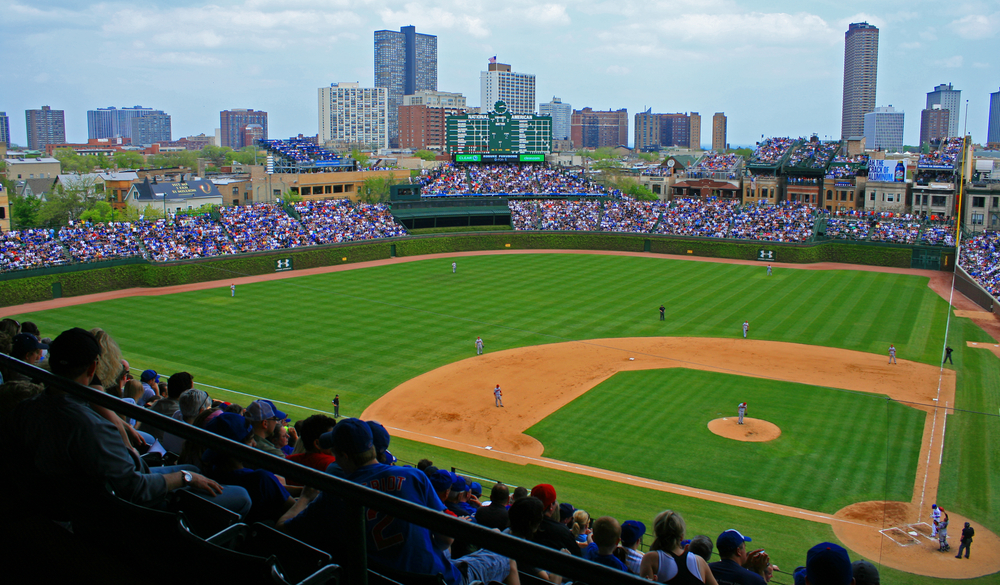 Learn at the Field Museum of Natural History
The Field Museum of Natural History is one of the best attractions in Chicago for anyone interested in science and history.
There are so many exhibits here that span time and place. Get up close and personal with Egyptian mummies, dinosaur skeletons, gemstones, meteorites, and more.
At the Fossil Prep Lab, you can even watch scientists uncover real fossils. How cool is that?
Walk through a recreation of a Pawnee Earth Lodge or explore different animal habitats.
There are also many awesome 3D shows that will bring you into the world of dinosaurs or ancient Egypt.
Kids and adults alike will have fun learning about the world around them at one of the best things to do near Chicago.
Book Here: Chicago: Field Museum of Natural History Ticket or VIP Tour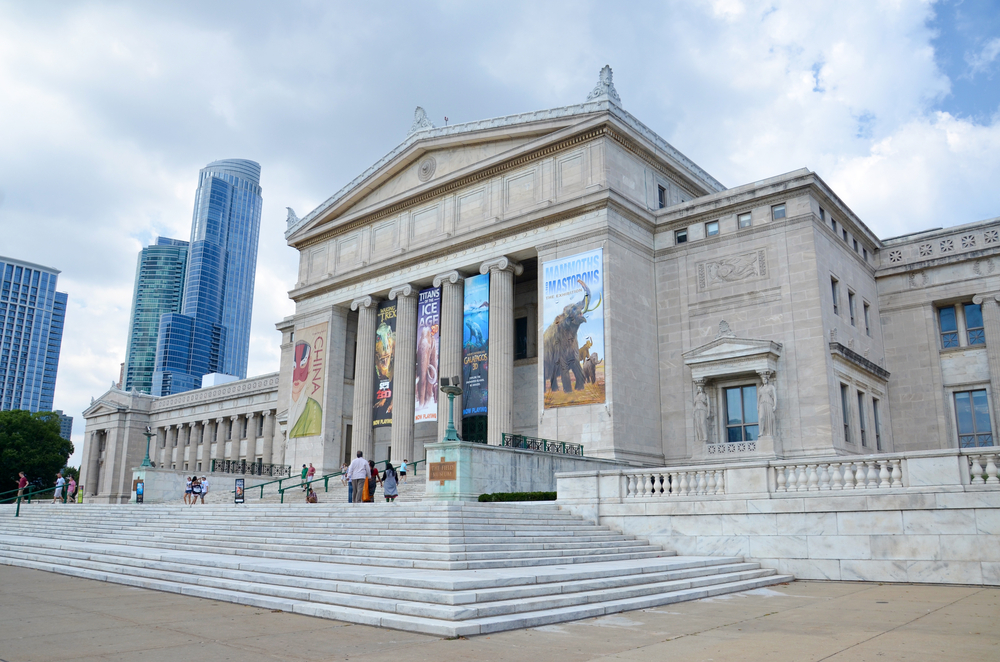 Satisfy Your Sweet Tooth at the Museum of Ice Cream
The Museum of Ice Cream is one of the most unique things to do in Chicago, and it is perfect for the whole family!
This interactive experience is like Willy Wonka in real life! You will be amazed by the bright, colorful rooms and Instagramable photo ops.
Ride the pink Sprink-L line, swim in a pool full of sprinkles, play ice cream-themed mini golf, and more.
The best part? All-you-can-eat ice cream is included! There are five stations through the museum where you can grab a sweet treat.
For an extra price, you can visit the speakeasy and order an assortment of drinks from milkshakes to cocktails.
Book Here: Chicago: Museum of Ice Cream Entry Ticket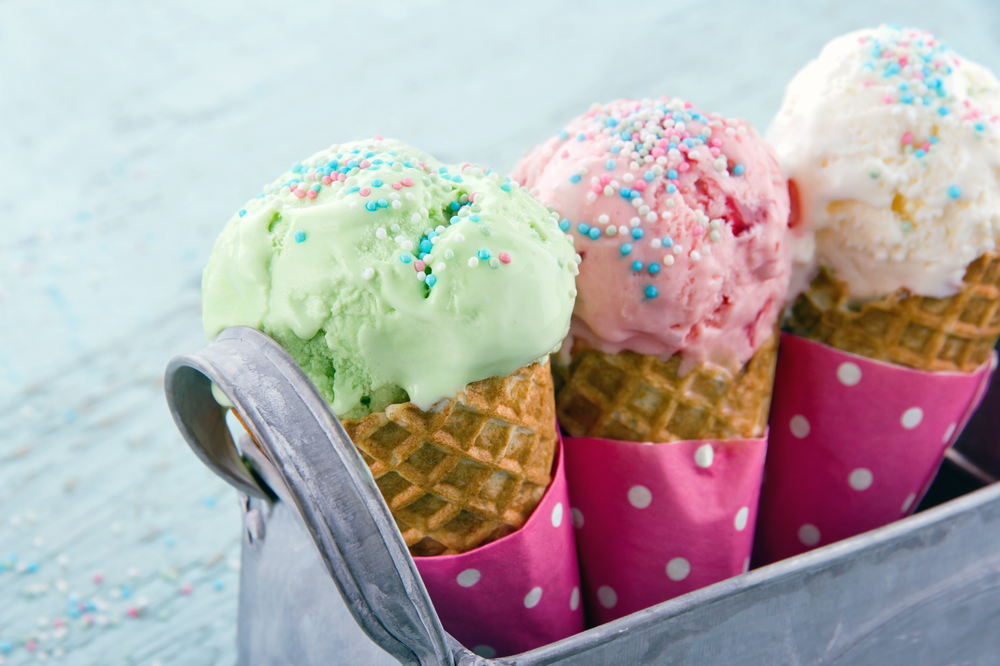 Visit the Museum of Science and Industry
The Museum of Science and Industry is another of the cool things to do in Chicago for museum-goers.
This museum is full of interactive and fun exhibits visitors of all ages can enjoy.
Tour a U-505 German submarine, feel the force of a simulated tornado, get lost in a mirror maze, fly a flight simulator, or step aboard the Pioneer Zephyr train.
Other things you will learn about include aviation, the Space Race, glaciers, farming, and so much more!
You can also walk Yesterday's Main Street, a recreation of 1910 Chicago. You will feel as if you have stepped back in time.
Chicago is the biggest city in the Midwest and is a top vacation destination.
Book Here: Chicago: Bikes, Bites, and Brews Biking Tour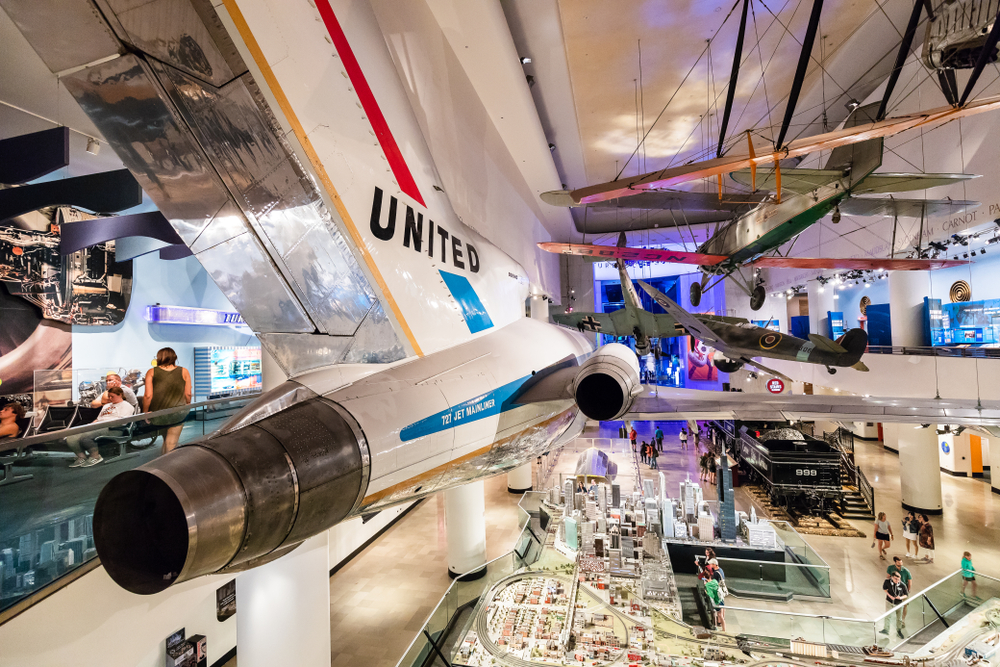 Packing List When Visiting Chicago Illinois
If you are searching, here are some tips on how to pack lightly when packing when heading to Illinois.
A concealed travel pouch may be one of the most important items you bring along when traveling to Chicago.
It is always important to protect your personal information. Identity thieves are everywhere.
This unisex RFID-blocking concealed travel pouch is lightweight and comes in several colors. It has lots of organization to give you peace of mind.
You can place it under your clothes next to your body to carry your ID safely.
If you have a pouch already that does not come with the RFID protection, as I do, these RFID sleeves are the perfect solution.
If you are planning on taking a lot of pictures with your phone you will definitely want to consider an external charging battery.
This Anker high-speed phone charging battery is the exact one I carry with me on all of my trips.
I like that it holds its charging capabilities for several uses so I do not have to worry about it while out and about, and if I forget to recharge it at night, it will still be good to go the next day.
My daughter gifted me with this FugeTek selfie stick and tripod setup for my birthday. I absolutely love it! It is made of lightweight aluminum and is so easy to use.
It has Bluetooth connectivity and is a breeze to use for taking Insta-worthy selfies during all the activities in Chicago you do.
I never much believed in using packing cubes when traveling. That is until I tried them. Now I am hooked. These are the exact cubes I use to stay organized when I pack for a trip!
You will want to bring your own refillable water bottle with you.
I never leave home on a trip without my Bobble filtration bottle. The 18.5-ounce size is perfect for your adventures and it fits nicely in the pocket of a backpack.
Perhaps you are traveling a long distance and packing space is a premium in your suitcase, or in your car. Then this collapsible silicone foldable water bottle would work well for you. Would not take up much space at all.
You will want a backpack or daypack with you to store snacks, your water bottle, phone, extra clothes, etc.. . No matter the time of day or evening.
This foldable water-resistant backpack would be great. And it comes in many different colors!
—
It is easy to see why Chicago is one of the top Midwest weekend getaways! There are activities for all ages and interests! And the best part is that there are so many boat tours in Chicago to check out.
If you are interested in getting out of the city, you can also take a day trip from Chicago!