If you a looking for where to stay In Chicago, Illinois, you might quickly become overwhelmed.
Don't worry, though! We are here to walk you through the neighborhoods and help you decide which area of Chicago is best for you.
Planning your trip to Chicago last minute?
Make sure to book ahead. Hotels and tours often sell out the closer you get to your trip. Here are our top pics for Chicago!
Top Experiences And Tours In Chicago:
Hop Hotels In Chicago:
Whether you are booking a family vacation, a couple's getaway, or a budget-friendly solo trip.
You have to decide what you want in a place to stay in Chicago. Having a checklist of what you need will help you pick the perfect place to stay in Chicago, IL!
Do you want to be within walking distance to top sights or maybe you want to stay in a quieter area? Will you need access to public transportation?
Think about your budget as well since each neighborhood varies in price and amenities. If you are traveling with family or a group of friends, you might need bigger accommodation.
Whether you are spending 2 days in Chicago or even a week, where you stay is an important part of planning your trip.
Keep reading to find out everything you need to know about staying in one of the best cities in the Midwest!
A trip to Chicago is one of the most popular things to do in Illinois, and you will find out why!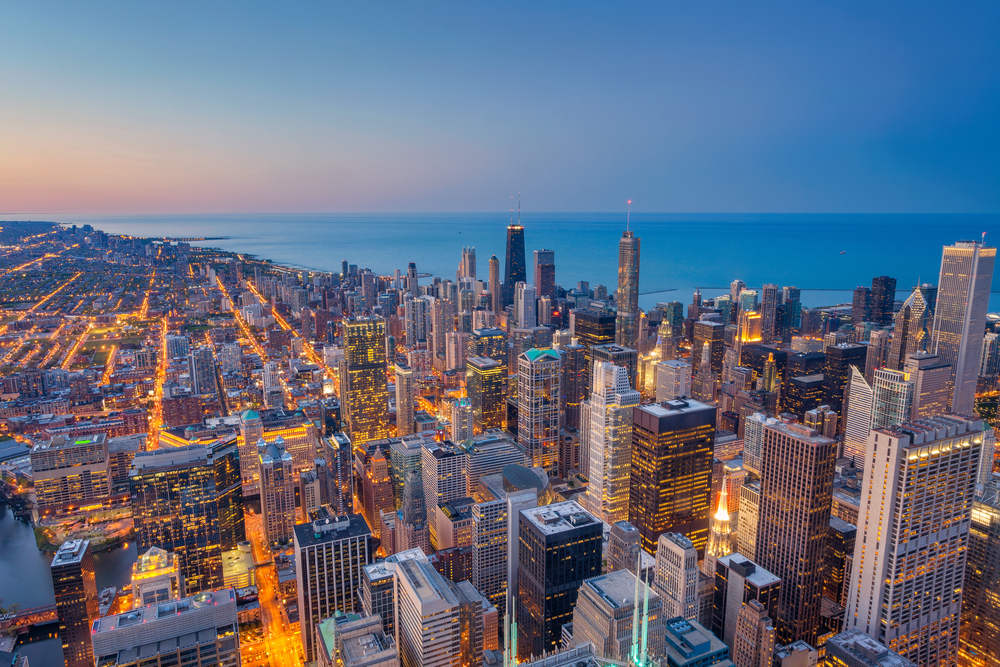 Understanding Chicago Areas And Neighborhoods
Since Chicago is such a big city, it is divided into many neighborhoods, and they all offer something different for travelers.
It is easy to get confused when looking at Chicago accommodations if you do not know the difference between each neighborhood and where it is located.
In this article, we will go over six of the Chicago neighborhoods in detail and suggest places to stay within them.
We'll cover the Loop/Downtown, River North, South Loop, Lincoln Park, West Loop, and Streeterville.
If you are planning to spend a weekend in Chicago one of these neighborhoods would be perfect.
Safest Areas In Chicago
Safety is a top priority when choosing travel accommodations in any major city including Chicago. If you do your research, you will find it is safe as long as you avoid a few areas.
Even so, you might have some questions such as, "Is it safe to stay in downtown Chicago?" The answer is yes!
Downtown is full of tourist crowds, popular restaurants, and some of the most famous attractions.
As long as you are aware of your surroundings, don't carry expensive belongings, and keep your bags zipped, you should be fine. In touristy areas, the main thing to worry about is pickpockets.
Now you want to know, "What is the safest part of Chicago to stay in?" Consider Lincoln Park, River North, the Loop, the Gold Coast, and Edison Park.
There are plenty of trendy Chicago boutique hotels hotels to consider.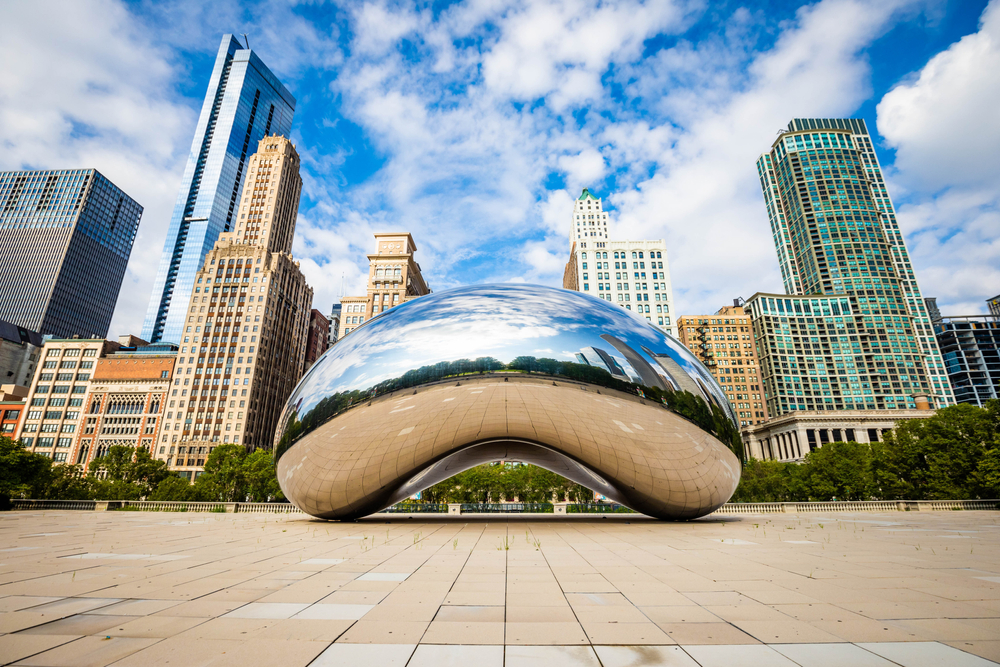 The Loop/Downtown Is Where To Stay For First Timers
The Loop is the name of Chicago's downtown business district. This area is where you will find many of the city's best attractions, restaurants, and architectural wonders.
Many of the best hotels in Chicago are found here too.
This is the best part of Chicago to stay for first-time visitors. You will be close to the top things to do in Chicago. Proximity to Millenium Park, museums, and the Willis Tower is very convenient.
The Loop is one of the best safe places to stay in Chicago. As long as you use common sense, it is safe day and night.
It is super walkable so you do not have to worry about driving in the city. If you do need to go farther, public transportation is readily available.
The Loop area is a great place to spend a date night in Chicago. Wander the bright streets and admire the buildings.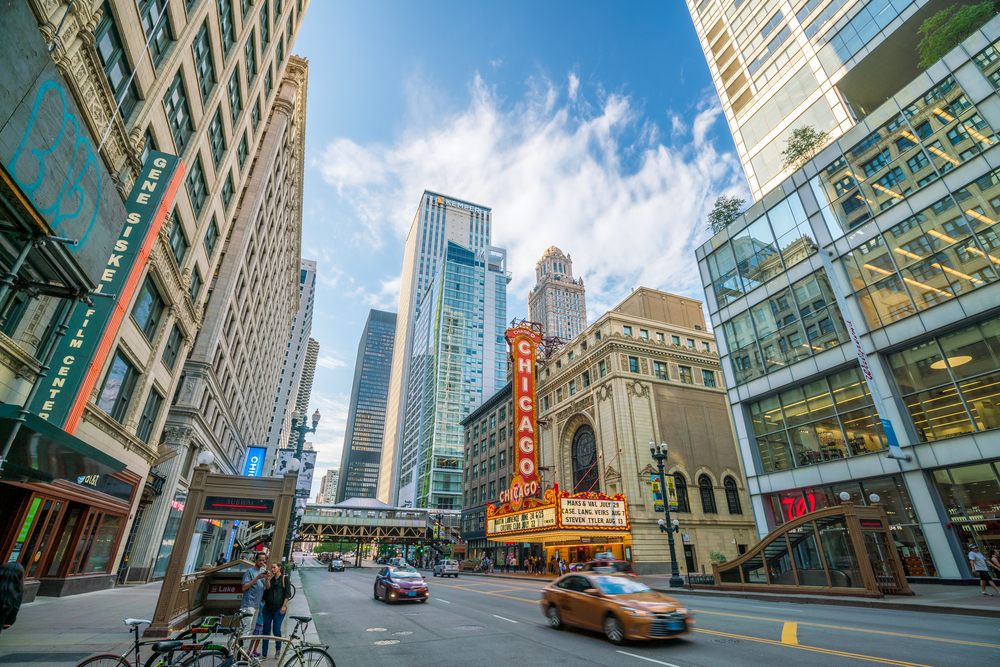 Best Places To Stay In Downtown Chicago
Congress Plaza Hotel Chicago
The Congress Plaza Hotel is found in the heart of the city on the edge of Millenium Park on Michigan Avenue.
This is where to stay in downtown Chicago if you want to be within easy walking distance to the Art Institute of Chicago, the Bean, and other famous attractions.
This historic hotel has a restaurant, bar, and fitness center as well as a barber shop and dry-cleaning services. The Congress Lounge has comfy leather couches and flat-screen TVs.
The rooms are modern with high ceilings and big bathrooms. You will enjoy the comfort of having a coffee maker, flat-screen TV, and work desk.
Check Rates Here: Booking.com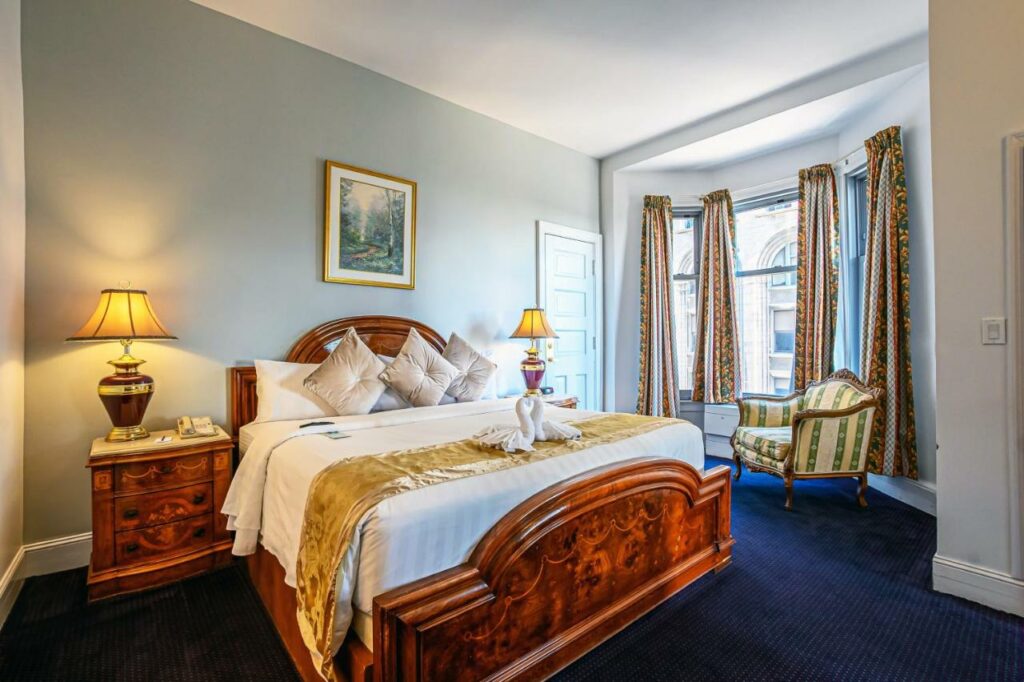 Pendry Chicago
The Pendry Chicago is one of the best places to stay in Chicago if you want a luxury experience. This hotel near the Riverwalk stands out with its dark color and gold accents on the exterior.
The inside is just as beautiful as the outside with a restaurant, bar, fitness center, and lounge. The rooftop terrace is a great place for a drink!
The 24-hour front desk and room service make sure everything runs smoothly.
The rooms range in size so they are great for a couple's getaway in Chicago or a family trip. Each room includes a mini bar, safety deposit box, coffee maker, and flat-screen TV.
Check Rates Here: Booking.com
Club Quarters Hotel Wacker at Michigan
This Club Quarters Hotel is found on the Riverwalk and is a great jumping-off point for exploring the city.
This hotel is in the Mather Tower, which was built in 1928. You'll have great views of the river and downtown.
Because of its location on the edge of the Loop, it is also within walking distance to the River North and Streeterville neighborhoods.
This is definitely one of the best places to stay in downtown Chicago!
The rooms are nice and modern with luxury bedding and a well-lit workstation. The hotel also has a gym and laundry facilities. The Club Room has games and computers.
Check Rates Here: Booking.com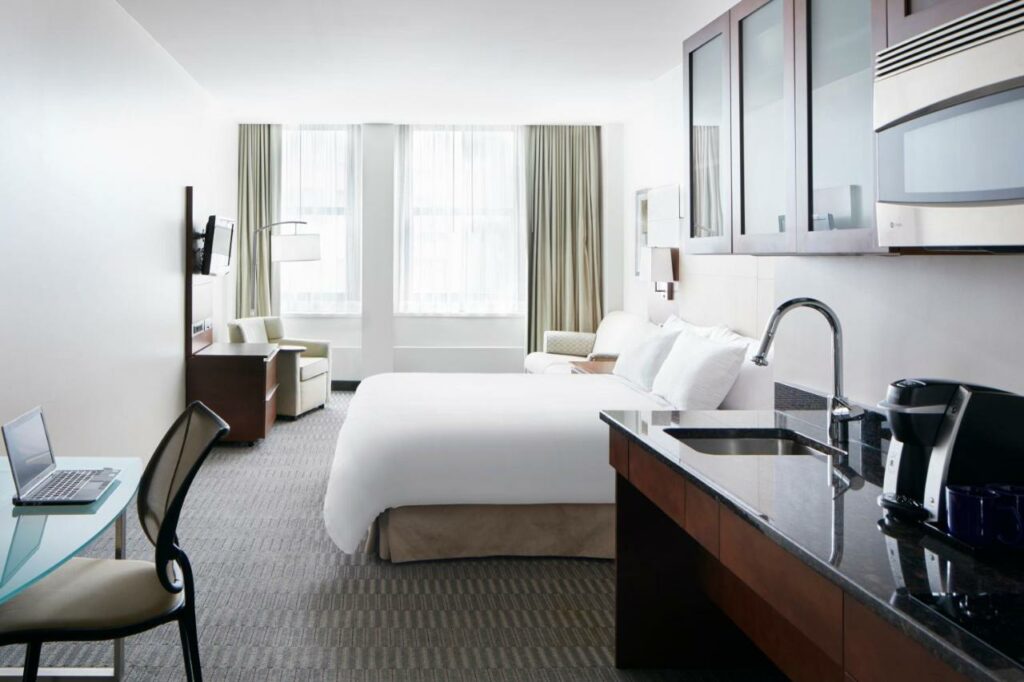 River North Is The Best Chicago Area For Nightlife
If you love a good nightlife scene, River North is the Chicago neighborhood for you! This area is found north of the Loop on the Chicago River.
River North is home to many bars and clubs where you can find great live music and tasty drinks. Anyone who wants the Chicago fun to continue after sunset should consider staying in River North.
There are also many art galleries and boutique shops here too to fill your days. This is the best area to stay in Chicago for bachelorette parties!
Best Places to Stay in Chicago for Nightlife
21c Museum Hotel Chicago
When you walk into 21c Museum Hotel Chicago, you will find unique art pieces and be welcomed with a warm towel.
There is a full-service spa, fitness center, and restaurant that serves breakfast, lunch, and dinner.
The spacious rooms are comfy for the whole family, including your fur babies. The bathrooms are marble and well stocked with toiletries.
The hotel is near the Escape Game Chicago, the Museum of Ice Cream, the Magnificent Mile, and of course, nightlife!
Check Rates Here: Booking.com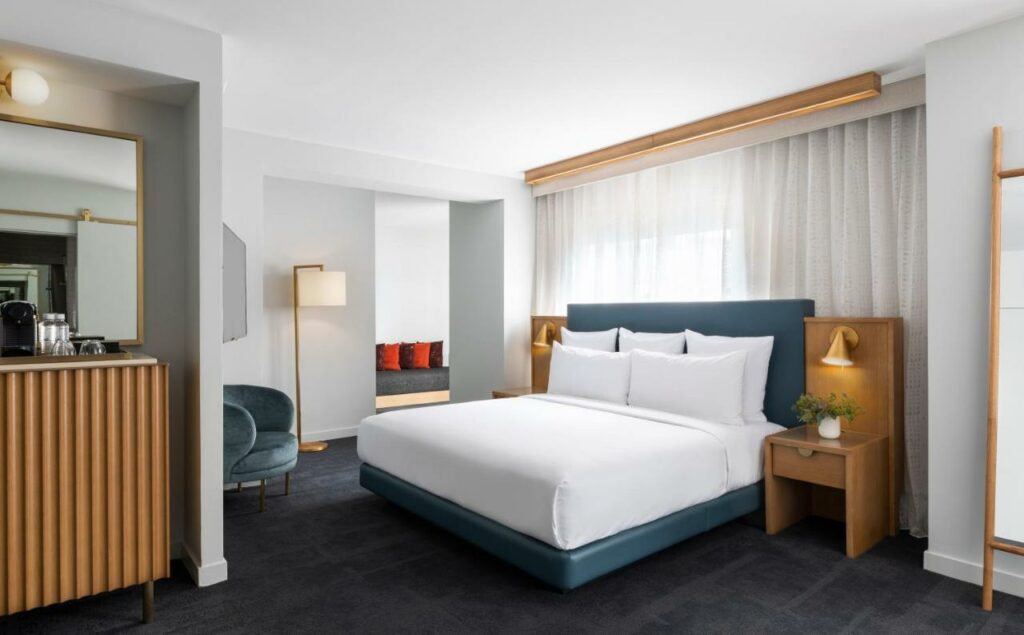 Hyatt Place Chicago River North
Hyatt Place Chicago River North is found right in the action of the River North neighborhood. There are great amenities here that will make you feel right at home.
The on-site Ema Restaurant serves delicious Mediterranean-inspired food. There is also a 24-hour fitness center and 24-hour market. There are a ton of bars and restaurants around as well.
And this is an excellent location to take advantage of some of the boat tours in Chicago.
In the rooms, you will find cozy beds and sofas, a flat-screen TV, and a work area.
Check Rate Here: Booking.com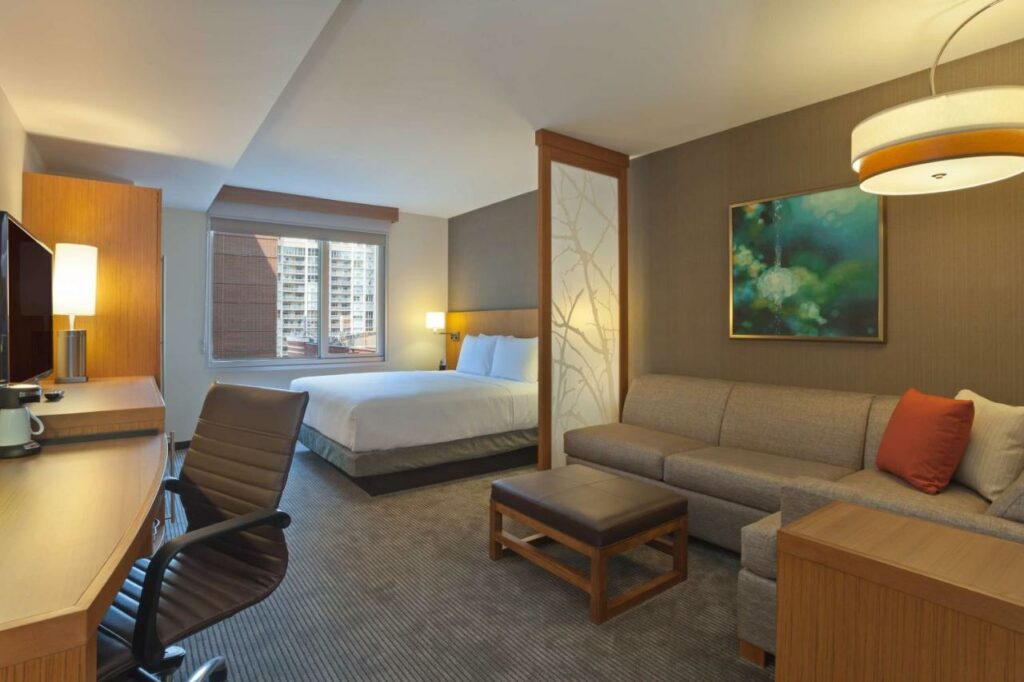 Freehand Chicago
Freehand Chicago is stylish with wood accents and a fun vibe. This is one of the more budget-friendly Chicago accommodations in River North.
You can book a private room or a bed in a shared dorm room.
Staying in the dorm is a great way to make new friends to join you on a night on the town. You don't even have to leave the hotel for a great time!
Stop by the Broken Shaker for signature cocktails and small bites. In the morning, head to Cafe Integral for Nicaraguan gourmet coffee and a tasty breakfast in Chicago.
Check Rates Here: Booking.com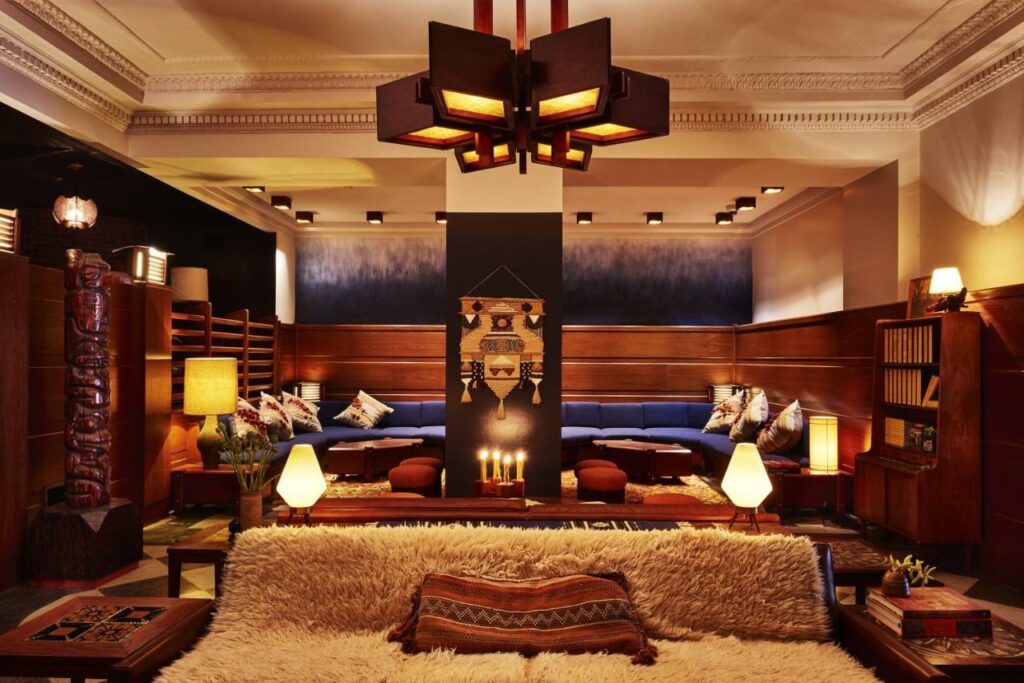 South Loop Is The Best Area In Chicago For Families
South Loop is a chiller and quieter area of Chicago making it perfect for families. It is just south of downtown between the river and the lakeshore.
There are many family-friendly activities here including Grant Park and the Museum Campus which has the Field Museum of Natural History, the Shedd Aquarium, and the Adler Planetarium.
You will also have fun at the beaches and walking the lakeside trails.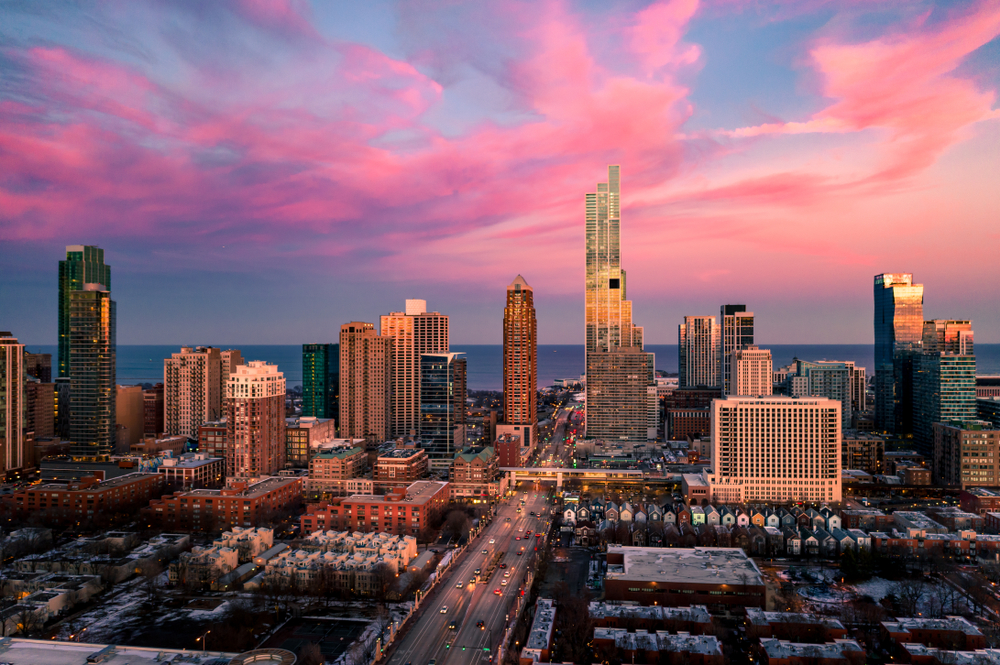 Best South Loop Places to Stay in Chicago
Marriott Marquis Chicago
If you want to know where to stay in Chicago with kids, book a stay at Marriott Marquis Chicago. It is in a quiet area away from the noise of downtown.
The big rooms are perfect for families. You'll have a flat-screen TV, coffee maker, and mini-fridge. Nearby train stops are a convenient way to travel downtown.
The Woven & Bound Bar and Restaurant, 2121 Pantry, or the Showroom Food Hall are great places to sit down for a meal or grab something to go.
There is also a 24-hour front desk and daily housekeeping.
Check Rates Here: Booking.com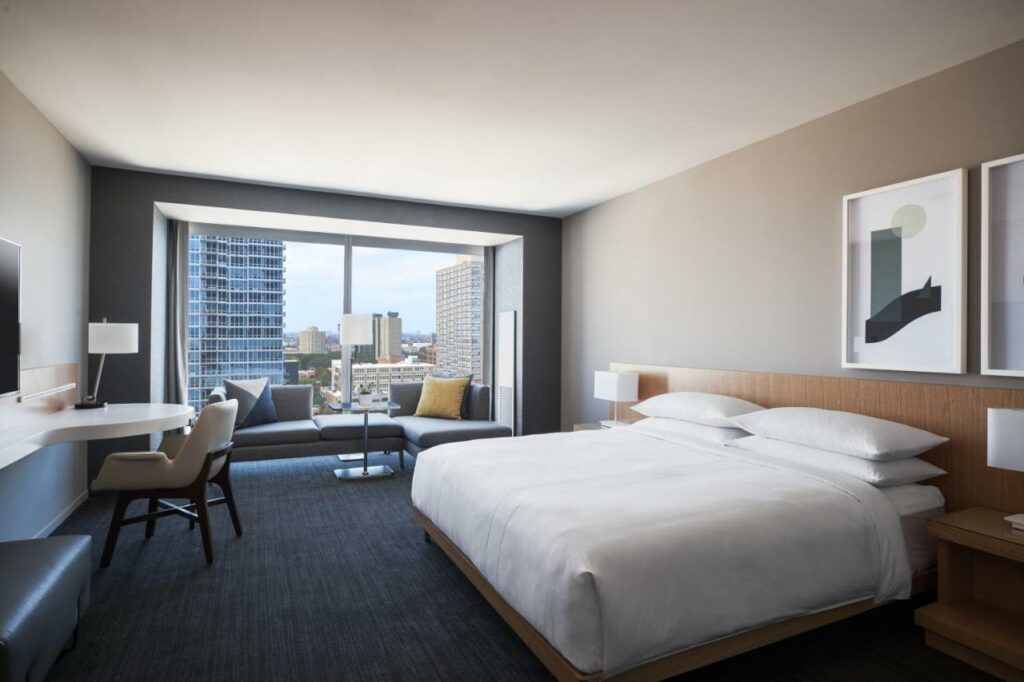 Sonder South Wabash
Sonder South Wabash is a couple of blocks from the Museum Campus so you will be close to fun family attractions in Chicago. The area is very walkable and safe.
The suites here are where to stay in Chicago for families since there is a lot of room for everyone. Staying in the suites, you will enjoy a homey feel. Floor-to-ceiling windows give great views!
There is a fully equipped kitchen and dining area so you can save money by doing your own cooking. There is even a dishwasher so you do not have to wash the dishes on your vacation.
Check Rates Here: Booking.com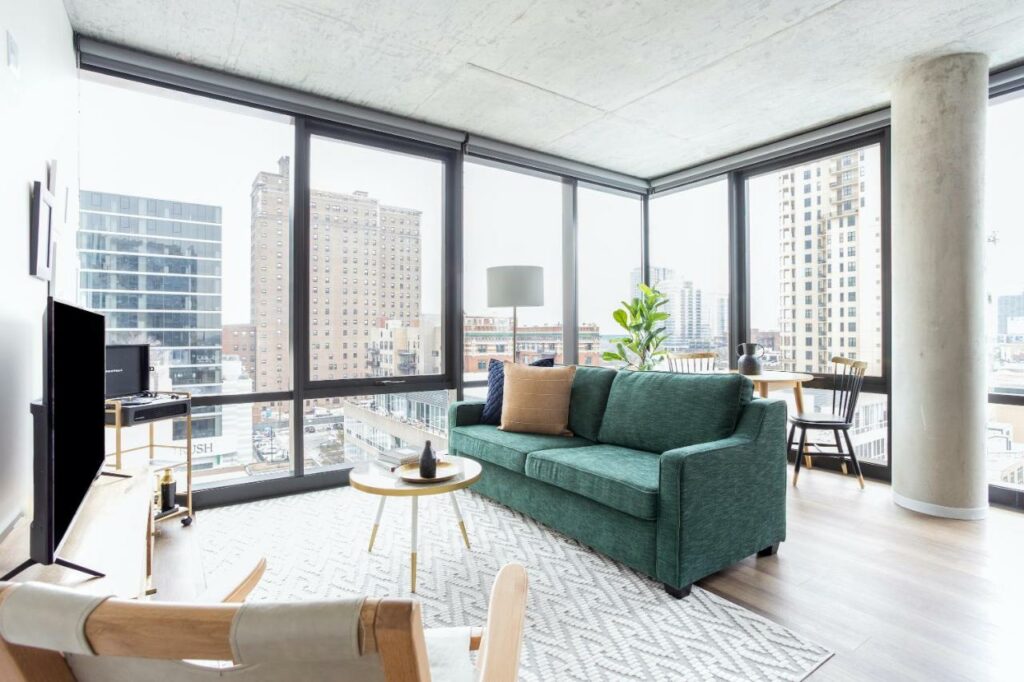 Lincoln Park Is The Best Place To Stay On A Budget
The Lincoln Park neighborhood is about two miles north of downtown. This area is ideal for people traveling on a budget and for families.
This is also one of the best areas to stay in Chicago if is safety is a concern.
Lincoln Park is the largest park in Chicago and has many great attractions such as the Lincoln Park Zoo, the Lincoln Park Conservatory, the Chicago History Museum, and the Peggy Notebaert Nature Museum.
It is also one of the best places to experience fall in Chicago when the leaves change color.
Bring the kids to North Avenue Beach to cool off in Lake Michigan or go out for some ice cream. This is the best neighborhood to stay in Chicago if you want to be near local culture, music, and art.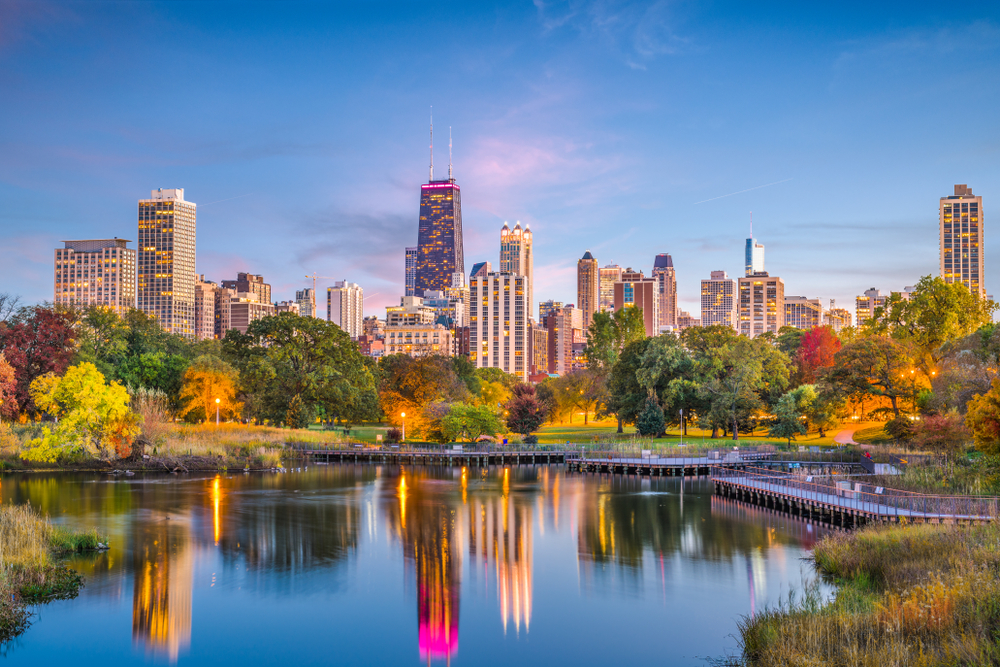 Best Hotels in Lincoln Park
Hotel Versey Days Inn by Wyndham Chicago
The Hotel Versey Days Inn by Windham Chicago is close to Lincoln Park and about ten minutes from Wrigley Field. There are many restaurants nearby too.
You will love the funky, artsy vibe of this hotel with its cool wall murals and colorful furnishings. Each room has a big flat-screen TV and a Nespresso coffee machine.
Check Rates Here: Booking.com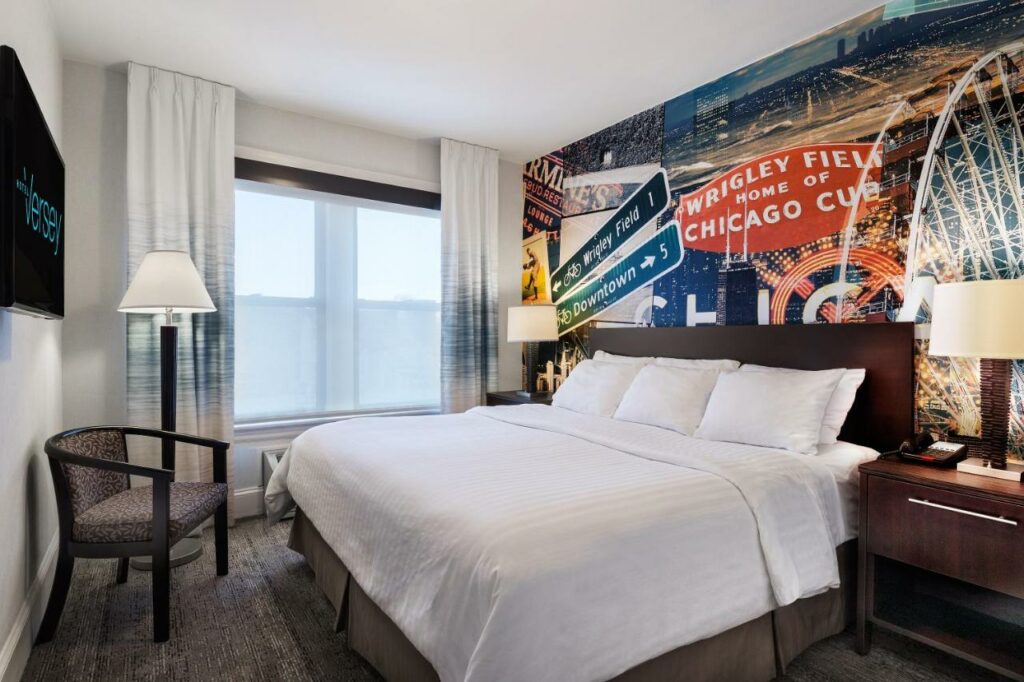 Chicago Getaway Hostel
Staying in a hostel is a great option to save money when traveling. If you want to give a hostel a try, book a night at the Chicago Getaway Hostel in the Lincoln Park neighborhood.
This hostel has lockers, a full kitchen with a continental breakfast, pool tables, and guitars. There a places to sit and relax or make new friends.
The hostel also rents bicycles and is close to public transport. This is great lodging in Chicago if you want to save money and don't mind sharing a room.
Check Rates Here: Booking.com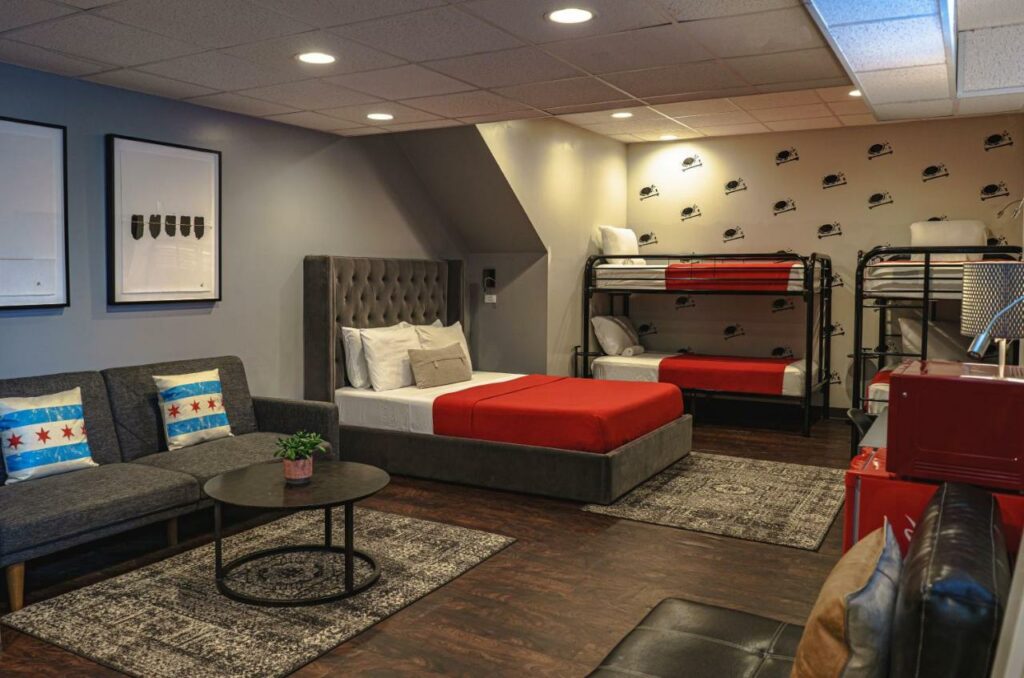 West Loop: The Foodie Area In Chicago
West Loop is found on the western side of the Chicago River near downtown. It was once the industrial and meatpacking district but it is now known for its awesome food scene.
Check out Little Italy and Greektown for authentic cuisine. In the Fulton Market area, you will find world-class American restaurants, cafes, and cocktail lounges as well as some of the best breweries in Chicago.
From Michelin-star restaurants to hole-in-the-wall eateries, you will have your cravings filled. West Loop is the best place to stay in Chicago for foodies!
To burn off some calories, you can walk a few blocks over to the Loop to do more Chicago exploration.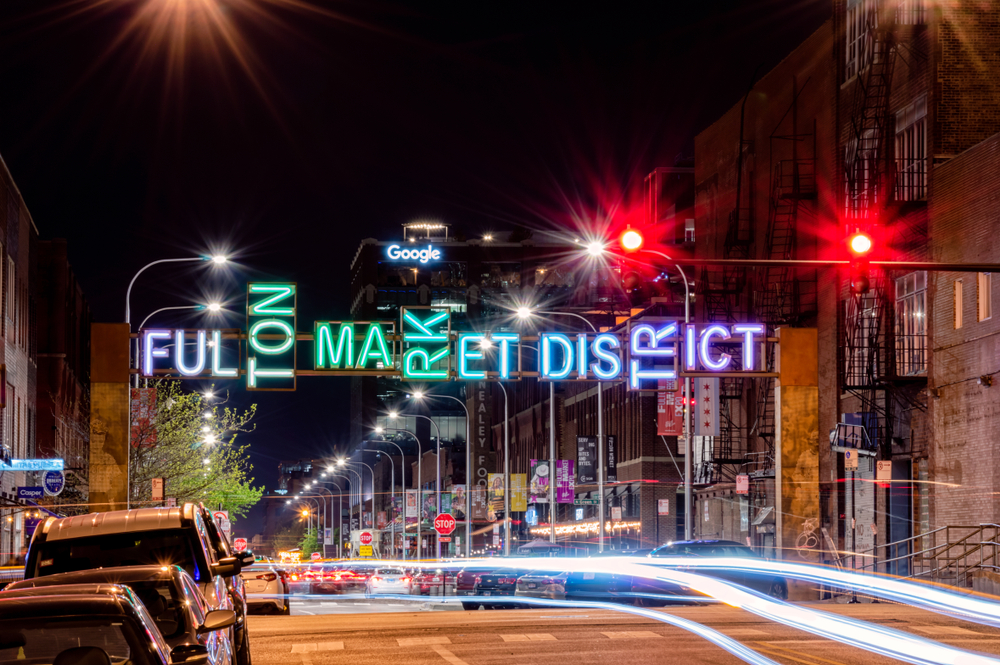 Best West Loop Chicago Hotels
Nobu Hotel Chicago
If you are looking for one of the best luxury hotels in Chicago, Illinois, check into the Nobu
Hotel Chicago! This gorgeous accommodation has everything you could want in a place to stay!
The hotel has a spa and wellness facilities featuring an indoor pool, a sauna, and a gym. Foodies will love the dining here as well and agree it is one of the best places to stay in Chicago!
On the ground floor is the Nobu restaurant with amazing Japanese cuisine. You can even watch your meal made at the sushi bar!
The Rooftop at Nobu Hotel is a cocktail lounge with pretty views of the skyline. Room service is available as well.
If you are wondering about the rooms, they are just as fancy as the rest o the hotel. They are sleek and modern with great views and amenities.
You might not want to get out of the beautiful soaking tub!
Check Rates Here: Booking.com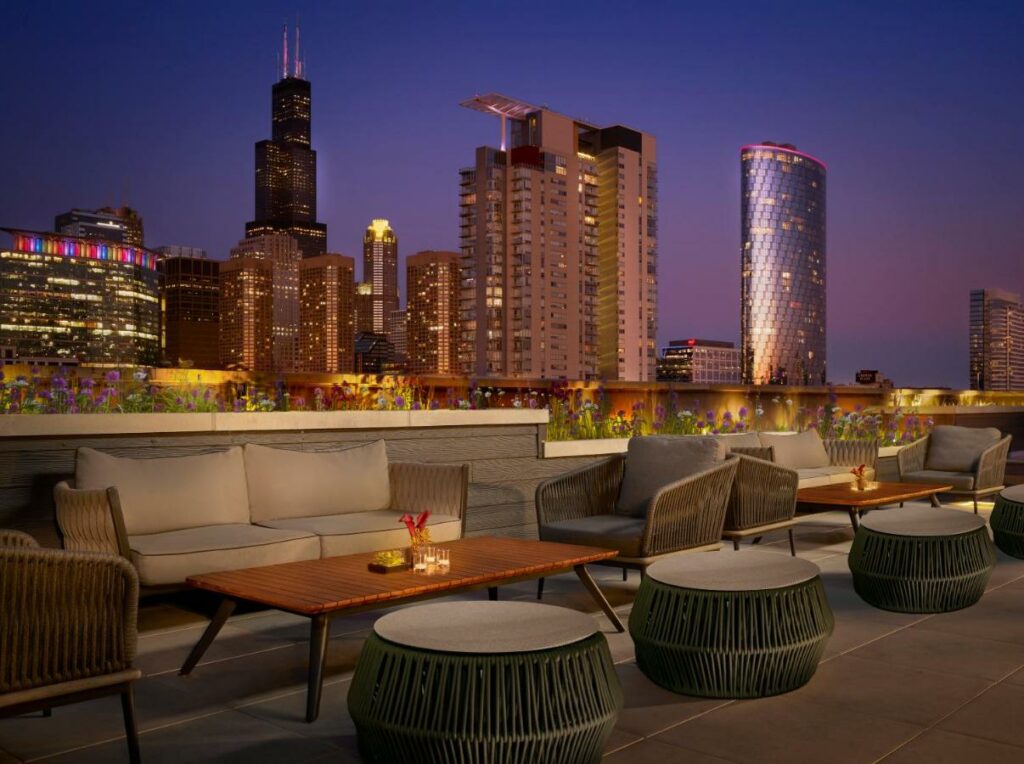 Publishing House Bed and Breakfast
The modern lofts at the Publishing House Bed and Breakfast are ideal for anyone planning a long vacation in Chicago and wants a place that feels like home.
This former publishing house was built in 1909 and has been remade into one of the hippest places to stay in Chicago. There are 11 ensuites to choose from varying from 250 sq/ft to 450 sq/ft.
Grab a meal at the buffet breakfast in the morning before heading out to explore Chicago on foot. Staying here is an experience you will not want to miss out on. Plus the rooms are very Instagrammable!
Check Rates Here: Booking.com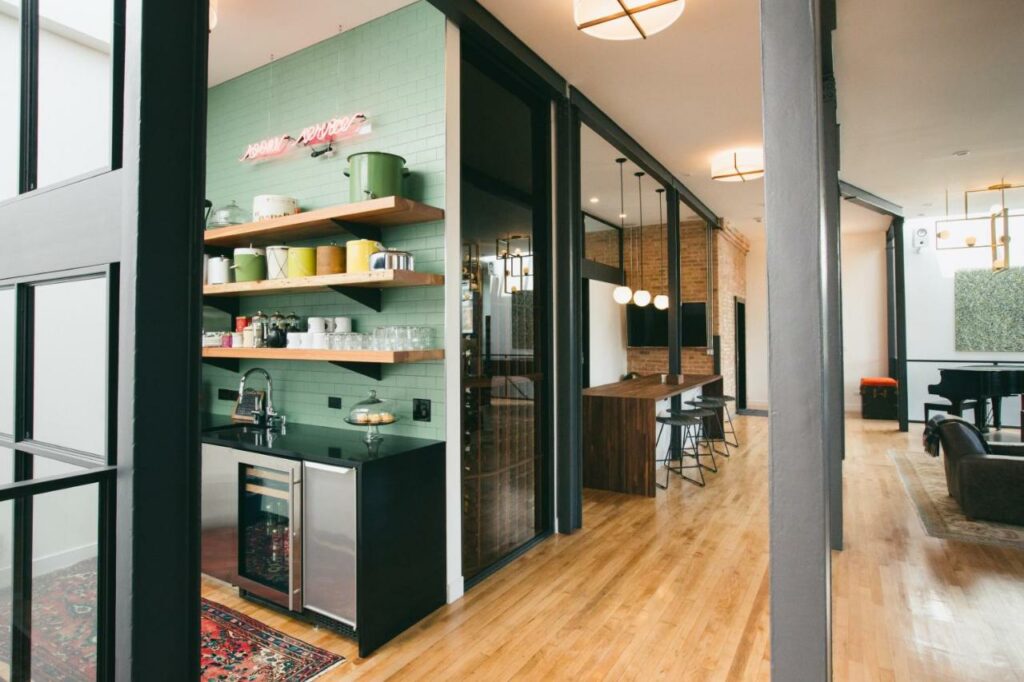 Streeterville Is The Place To Stay In Chicago For Shopping
Streeterville is one of the smaller Chicago neighborhoods and is found northwest of the Loop. You will find the Navy Pier to the west and the Magnificant Mile to the east.
The Magnificant Mile is a portion of Michigan Avenue known for having some of the best shopping in the country!
You will find a number of high-end stores and boutiques here perfect for a shopping spree.
Burberry, Louis Vuitton, Nike, Nordstrom, and more have stores here.
When you are done shopping, you can check out museums such as the Chicago Children's Museum and Museum Of Contemporary Art Chicago.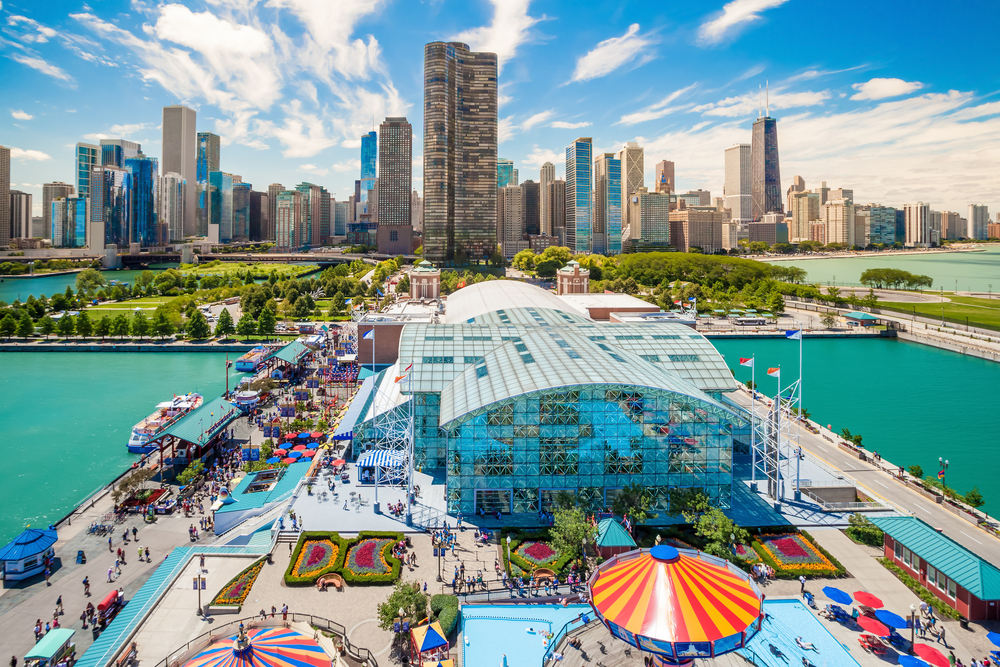 Best Hotels in Streeterville
Aloft Chicago Mag Mile
Aloft Chicago Mag Mile is just a couple of blocks from the Magnificant Mile where you can shop until you drop into a comfy bed back at the hotel.
There is also private parking on site which can be hard to find at some hotels in Chicago.
You will love the gym and indoor pool with views of the city. You can also play pool. At Re:Fuel, you can enjoy a gourmet mix-and-match meal. The W XYZ Bar is a relaxing place to get a drink.
The rooms have a desk, a flat-screen TV, a mini-fridge, and a coffee maker.
Check Rates Here: Booking.com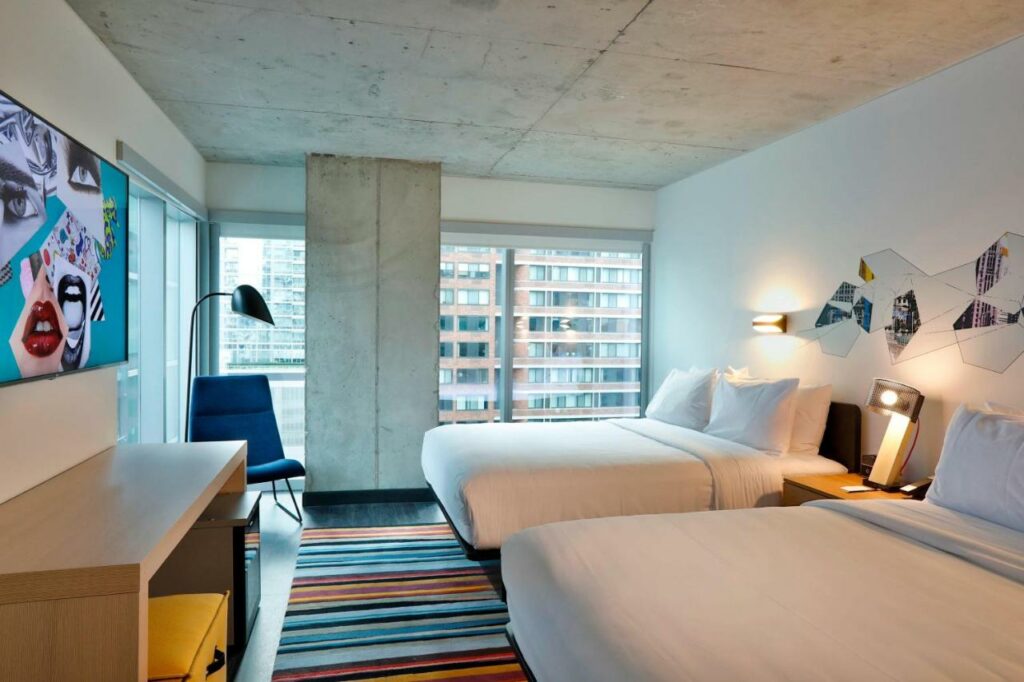 Millennium Knickerbocker Chicago
When you arrive at Millennium Knickerbocker Chicago, you will be amazed by the lit-up marquee. Inside, you will love the chandeliers and ornate details found throughout the property.
This awesome hotel is found at the northern end of the Streeterville neighborhood. It is within walking distance to the Magnificant Miles, 360 Chicago, and Oak Street Beach.
Breakfast and lunch are served at the NiX Restaurant. In the evenings, enjoy 1920s-style martinis at the chic Martini Bar. If you are hosting an event, the Crystal Ballroom is magical.
When you retire to your room, you will love the plush bedding, bathrobes, and rainfall shower head.
Check Rates Here: Booking.com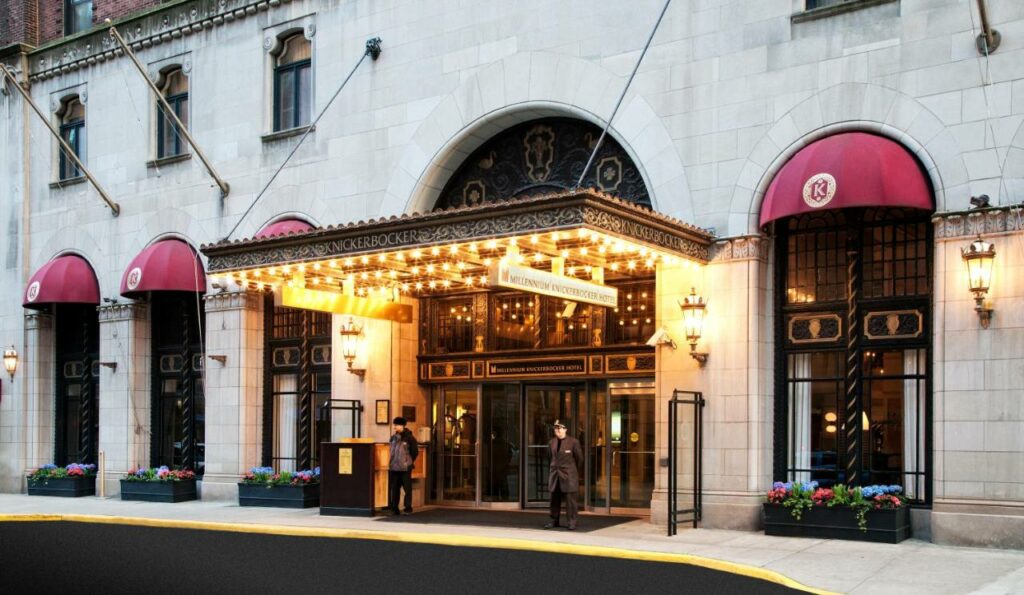 Packing List When Staying In Chicago
If you are searching, here are some tips on how to pack lightly when packing to visit
A concealed travel pouch may be one of the most important items you bring along when packing for where to stay in Chicago. 
It is always important to protect your personal information. Identity thieves are everywhere.
This unisex RFID-blocking concealed travel pouch is lightweight and comes in several colors. It has lots of organization to give you peace of mind.
You can place it under your clothes next to your body to carry your ID safely.
If you have a pouch already that does not come with RFID protection, as I do, these RFID sleeves are the perfect solution.
If you are planning on taking a lot of pictures with your phone you will definitely want to consider an external charging battery.
This Anker high-speed phone charging battery is the exact one I carry with me on all of my trips.
I like that it holds its charging capabilities for several uses so I do not have to worry about it while out and about, and if I forget to recharge it at night, it will still be good to go the next day.
My daughter gifted me with this FugeTek selfie stick and tripod setup for my birthday. I absolutely love it! It is made of lightweight aluminum and is so easy to use.
It has Bluetooth connectivity and is a breeze to use for taking Insta-worthy selfies while discovering island getaways in the US.
I never much believed in using packing cubes when traveling. That is until I tried them. Now I am hooked. These are the exact cubes I use to stay organized when I pack for a trip!
You will want to bring your own refillable water bottle with you.
I never leave home on a trip without my Bobble filtration bottle. The 18.5-ounce size is perfect for your adventures and it fits nicely in the pocket of a backpack.
The replaceable carbon filters ensure fresh drinking water whenever you want it.
Perhaps you are traveling a long distance and packing space is a premium in your suitcase, or in your car.
Then this collapsible silicone foldable water bottle would work well for you. Would not take up much space at all.
You will want a backpack or daypack with you to store snacks, your water bottle, phone, extra clothes, etc.. while visiting Missouri's National Parks. No matter the time of day or evening.
This foldable water-resistant backpack would be great. And it comes in many different colors.
—
Chicago is one of the best places to visit in the Midwest.
The place you stay while on vacation can really make or break a trip. When choosing where to stay in Chicago, you want accommodations that fits your needs and budget.
Hopefully, this explanation of the areas of Chicago gave you an idea of the best neighborhoods to stay in Chicago for you. There are so many best places to stay in Chicago from luxury to budget-friendly!
There are an abundance of resorts in Illinois to tempt you as well!