If you're looking for the best breweries in Chicago, then you'll want to check out this list!
Chicago is starting to become known as the 'craft beer capital of the country', and for good reason.
Planning your trip to Chicago last minute?
Make sure to book ahead. Hotels and tours often sell out the closer you get to your trip. Here are our top pics for Chicago!
Top Experiences And Tours In Chicago:
Hop Hotels In Chicago:
Within the city and the surrounding suburbs, there are just over 160 breweries and taprooms.
Lovers of craft beer have started flocking to Chicago, spending days in the city exploring its many breweries.
With so many different breweries in Chicago, it's hard to pick just a few as the best.
So if you don't have a ton of time to sample craft beer in Chicago, this list is the best place to start.
That's because all of these Chicago brewpubs are highly rated. They have carved out a unique place for themselves in Chicago's craft beer scene, and it shows.
Many of these Chicago IL breweries have a dedicated customer base who just keep coming back.
One sip of beer from any of these breweries and you'll quickly see why!
So, let's take a look at some of the best breweries in Chicago that you'll definitely want to visit!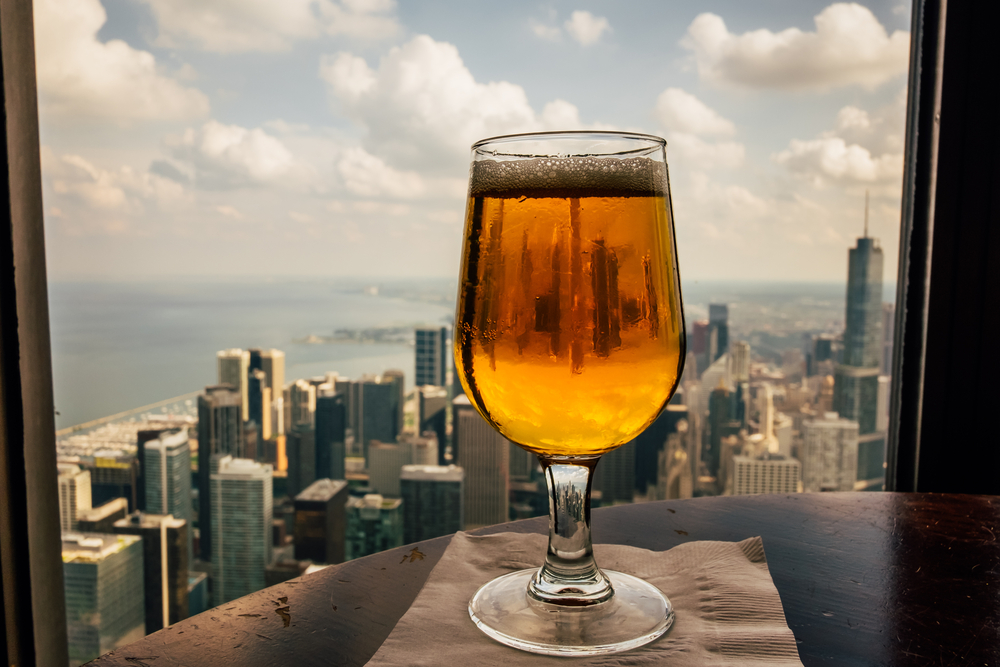 15 Best Breweries In Chicago You Must Visit
Sample Micro Brewed Beers At Begyle Brewing
Begyle Brewing is known for its straightforward micro-brewed beers.
You'll find Begyle Brewing in what is known as 'Malt Row' in Chicago's Ravenswood Industrial Corridor, in Chicago.
They have a community-supported brewery program, which means they are able to create new brews thanks to their community.
This is done through growler fill subscriptions, hosting events, and supporting other local organizations.
Because of this, Begyle Brewing has become a staple of the neighborhood. Along with that, their micro-brewed beers are very popular.
That's because their taproom is full of delicious but approachable beers that you can sample. You can sample the brews in their taproom, or head outside to their gorgeous patio.
They also offer Chicago brewery tours at Begyle Brewing, which is a great way to learn about the micro-brewing process.
Tickets Here to explore Chicago: Chicago City Pass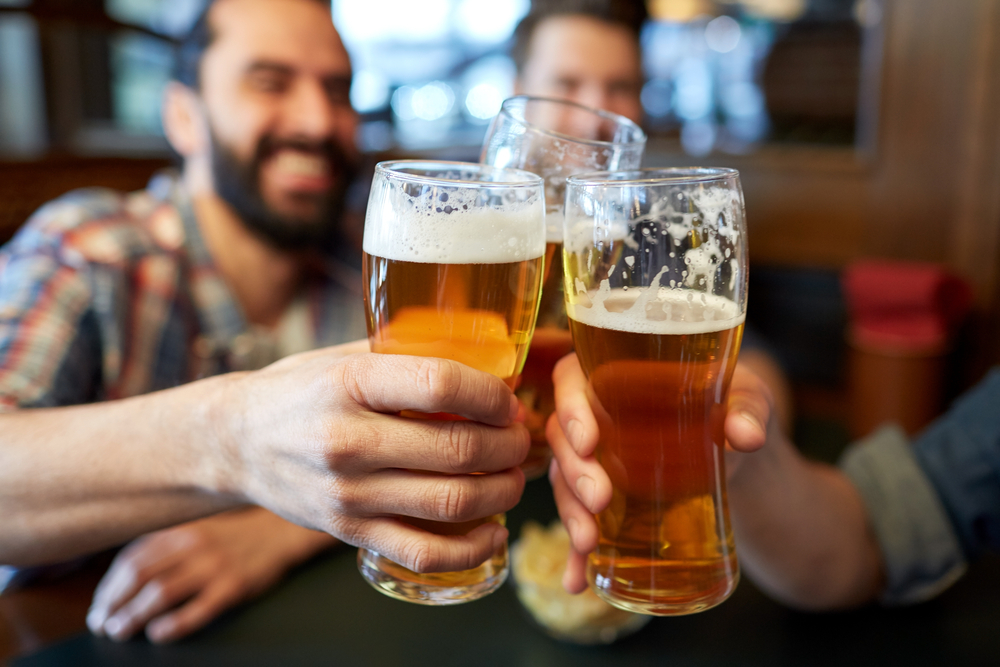 Revolution Brewing Is Illinois' Largest Craft Brewery
Not only is Revolution Brewing the largest craft brewery in Illinois, but it's also independently owned.
Revolution Brewing opened in 2010, and since its opening, it has become a very popular brewery in Chicago.
In fact, they now have two locations in Chicago.
The original Milwaukee Avenue location is where you'll find the brewpub and restaurant.
There, they serve a wide variety of beer, wine, and liquor along with a full menu. On the menu, you'll find items like shrimp tacos, sandwiches, and cheese curds.
Their newest location is on Kedzie Avenue, and it houses the brewery and taproom.
At the Kedzie location, you can order beer, and light snacks, and every Saturday they have public brewery tours.
Revolution Brewing is easily one of the best breweries in Chicago.
Tickets Here: Chicago's 360 Observation Deck.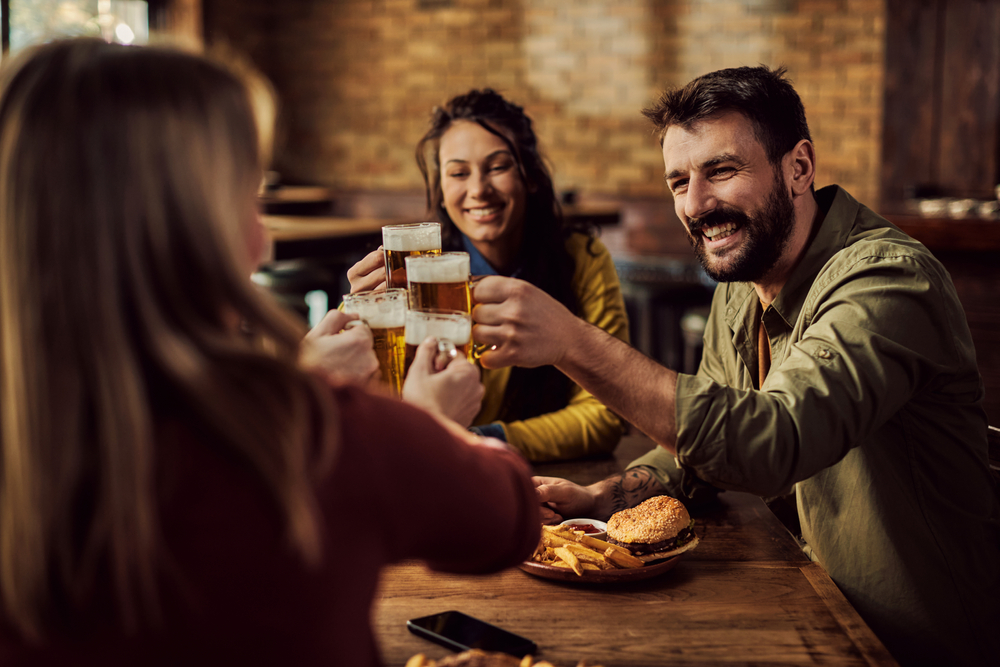 Pilot Project Brewing Is A More Unique Chicago Brewpub
If you want to sample a wide variety of beers, from different local brewers, in one spot, then head to Pilot Project Brewing. Pilot Project Brewing is on Milwaukee Avenue, at Logan Square.
It's a more unique Chicago brewpub because it's actually a brewery incubator.
What that means is at Pilot Project, you'll get to sample new brews that local brewers are just starting in the business.
With your help, they offer recipe suggestions, give guidance on marketing, and more to help new brewers get started.
So, whenever you visit Pilot Project, you'll get to try something brand new that you won't find anywhere else, literally.
Because of this, their tap list is always changing, sometimes daily.
Their tasting room is a comfortable space with craft brews, local coffee roasters, a scratch kitchen, and lots more.
Pilot Project Brewing is an excellent Chicago date night idea, and it's one of the coolest Chicago brewpubs.
Before exploring Chicago breweries, how about some sightseeing?
Tickets here: Willis Tower Skydeck!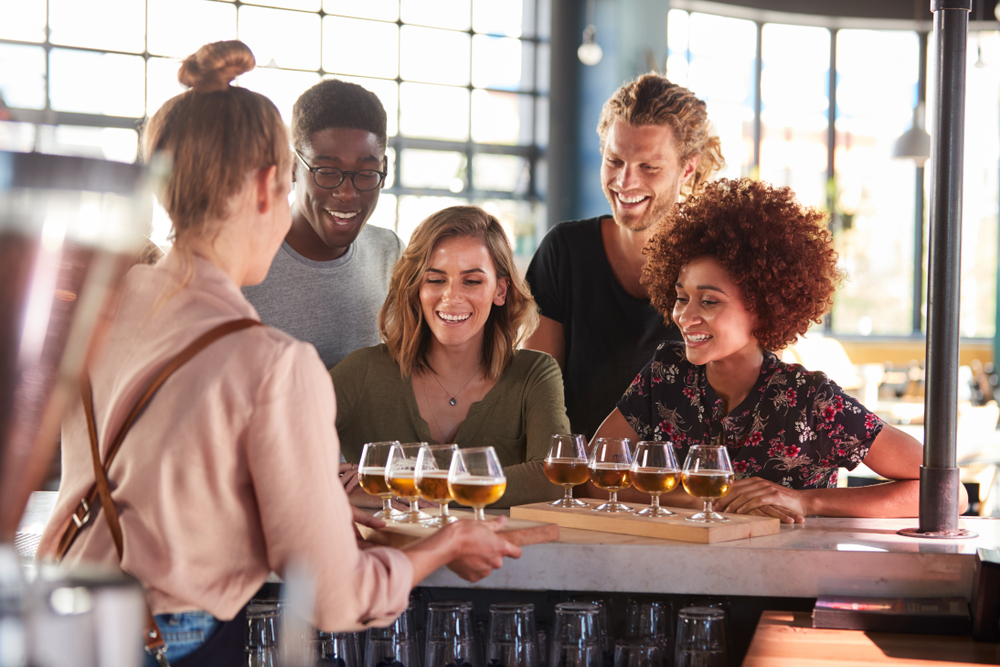 Lo Rez Brewing And Taproom Specializes In Traditional Beer Recipes
The founders and owners of Lo Rez Brewing and Taproom say that they make 'traditional beer for a modern world'.
Both founders were originally programmers that started making beer in their garage as a hobby.
They became masters of brewing and over the years they started getting certified in microbrewing.
Their hobby and passion for it grew, and eventually, they made a career switch.
In 2015, they started building their brewery in Pilsen, a neighborhood in the lower westside of Chicago.
Today, their industrial taproom is typically full of people enjoying one of the beers off of their tap list.
They have a core group of brews that you can almost always find on tap.
Lo Rez Brewing and Taproom also has seasonal brews as well as hard seltzers that are on rotation on the tap list.
With just one sip of any of their beers, you'll see why Lo Rez is such a popular brewery in Chicago. And one of the best places to visit to enjoy Chicago at night!
A cool way to explore breweries in Chicago is on the Bikes, Bites, And Brews Biking Tour!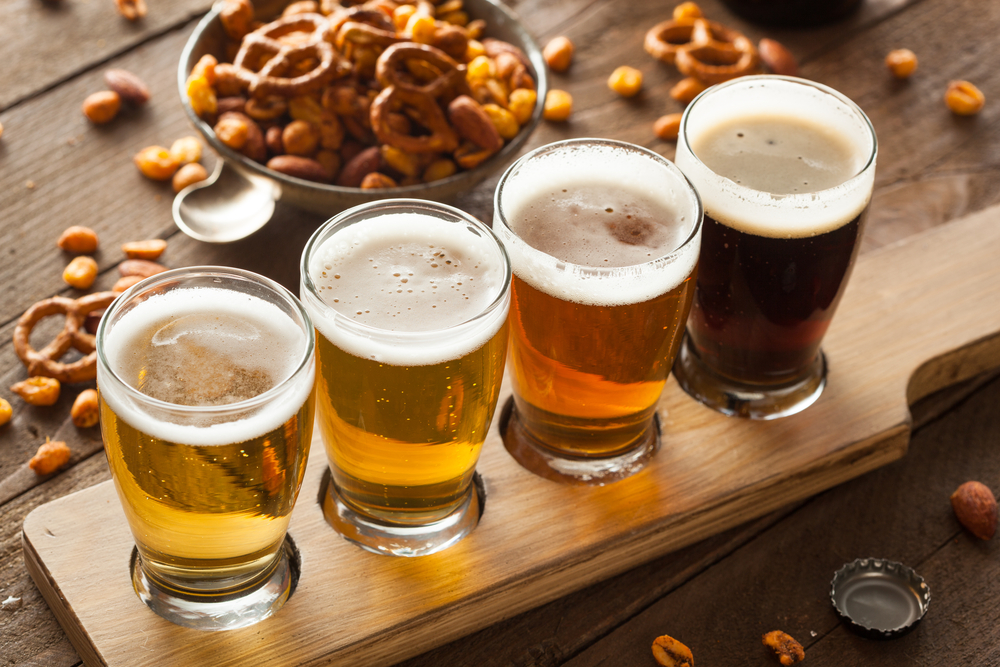 The Haymarket Pub And Brewery Is One Of The Top Rated Brewpubs In Chicago
If you only have time to check out a few of the Chicago breweries on this list, then the Haymarket Pub and Brewery is a good place to start.
With almost 2,000 positive Google and Facebook reviews, it's one of the best breweries in Chicago.
You'll find it on West Randolph Street, near Fulton Market.
At Haymarket, they have a large tap list that rotates fairly frequently. So there is almost always a new Chicago craft beer to try when you visit.
Along with the large tap list, they have a full pub restaurant.
At the pub, you'll find menu items like sandwiches, burgers, wings, and more.
It's a great Chicago brewery right in the heart of the city.
Tickets here to make exploring Chicago a lot easier: Big Bus Hop-On Hop-Off Sightseeing Bus.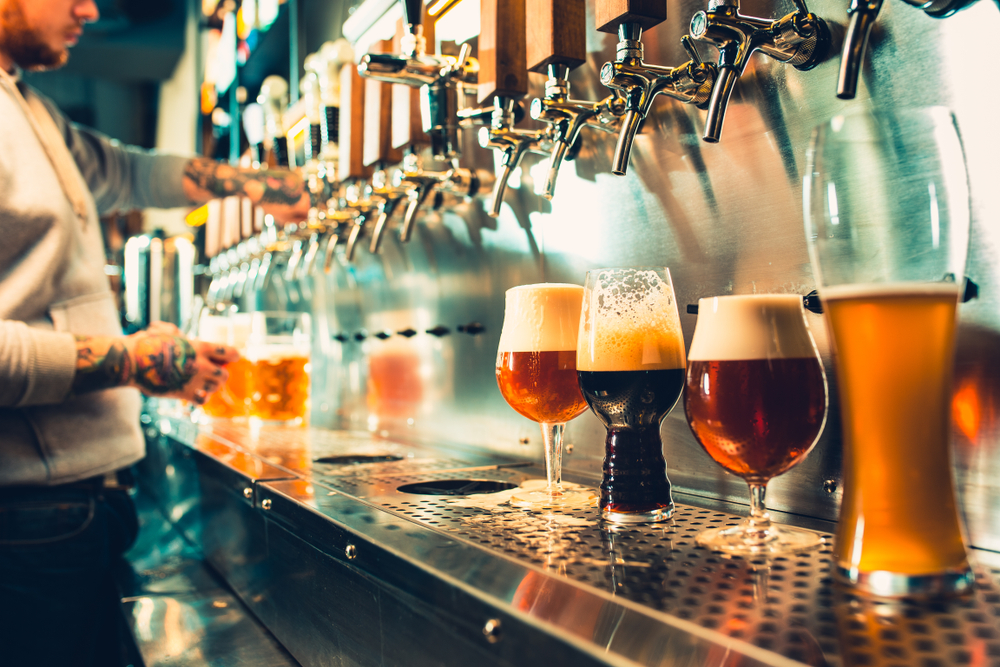 Old Irving Brewing Co Is A Fun Chicago Brewery
The Old Irving Brewing Co. has a really fun atmosphere to match their Chicago craft beer tap list.
Their tap list changes, but it features brews that are available all year, seasonal brews, and more experimental brew flavors.
On their website, they have a breakdown of what craft beer flavors are available and when.
So, if you find one you love, you'll know when to come back for more.
Not only are they a brewery, but they also have a pub restaurant, a funky industrial taproom, and a patio with outdoor games like cornhole.
They don't serve just Chicago craft beers either. They also have a large selection of whiskey and bourbon, and locally made hard ciders.
This is one Chicago brewpub you definitely want to visit!
Tickets Here: Chicago Go City All Inclusive Pass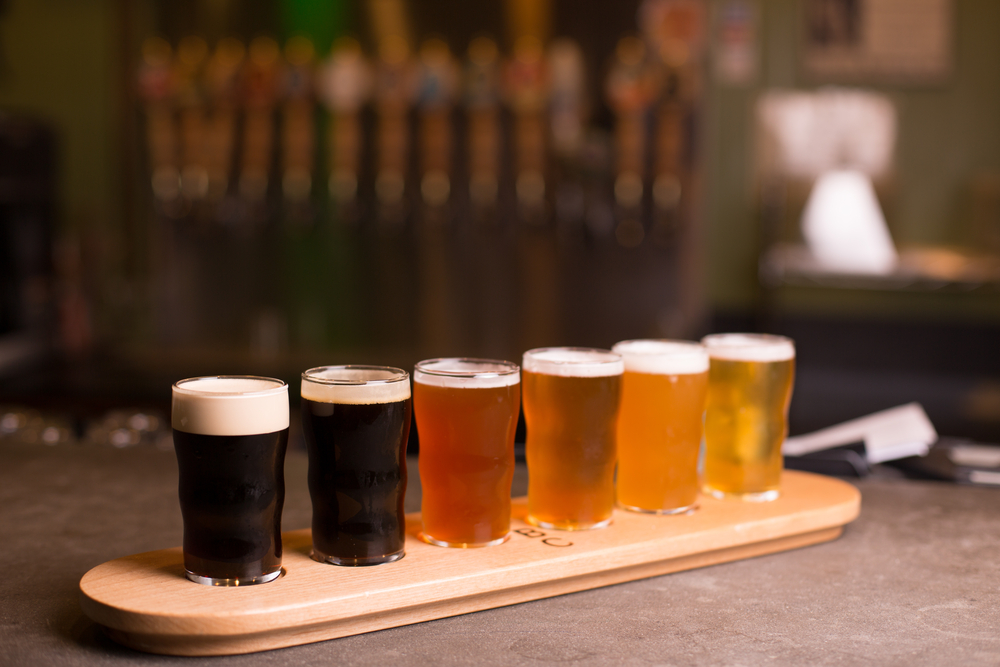 Dovetail Brewery Serves Classic European Brews In Chicago
Dovetail Brewery says they 'brew like monks, minus the vows'. That's because they specialize in classic European brew recipes.
The owners of Dovetail met in Munich, Germany, while getting their Master Brewer Certifications, but both are originally from Chicago.
It was there that they discovered they both loved the traditional brewing methods of Europe and wanted to bring that back to the US.
The rest is history so to say, and Dovetail Brewery was created. They combine traditional European brewing techniques with American creativity to create their unique craft beers in Chicago.
Along with their spacious taproom where you can try their unique brews, they also have a beautiful Biergarten that is open seasonally.
You can typically find around 20 beers either on tap or bottled that you can try.
Like most Chicago breweries, they have a few staple beers along with a variety of seasonal flavors.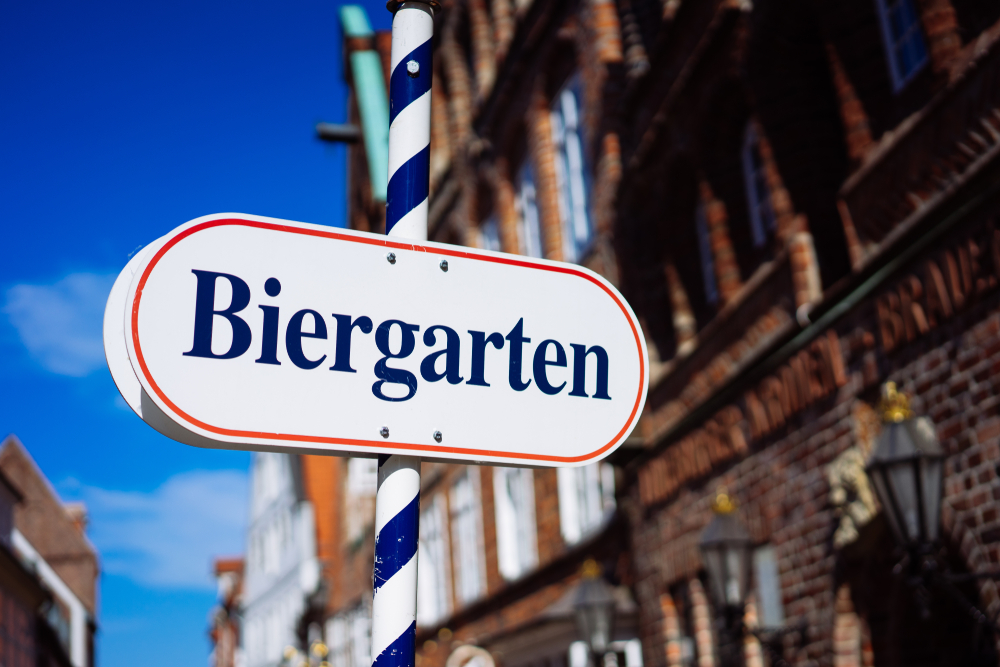 Enjoy River Views When You Visit Metropolitan Brewing
Metropolitan Brewing is a brewery in Chicago IL that is known for its German-style lagers.
Their taproom is a large warehouse-type place where you can try one of their many beers.
Typically, they have about 3 year-round flavors and then another 10 or so flavors that rotate or are seasonal.
When it's nice out, you can enjoy their beer on the beautiful riverside patio.
The riverside patio is literally right on the edge of the river and has tons of picnic tables, string lights, and of course, great views.
Metropolitan Brewing is also a family-friendly and dog-friendly Chicago brewery.
So, you can relax on the river with your family, friends, or dog while you get to enjoy delicious Chicago craft beer.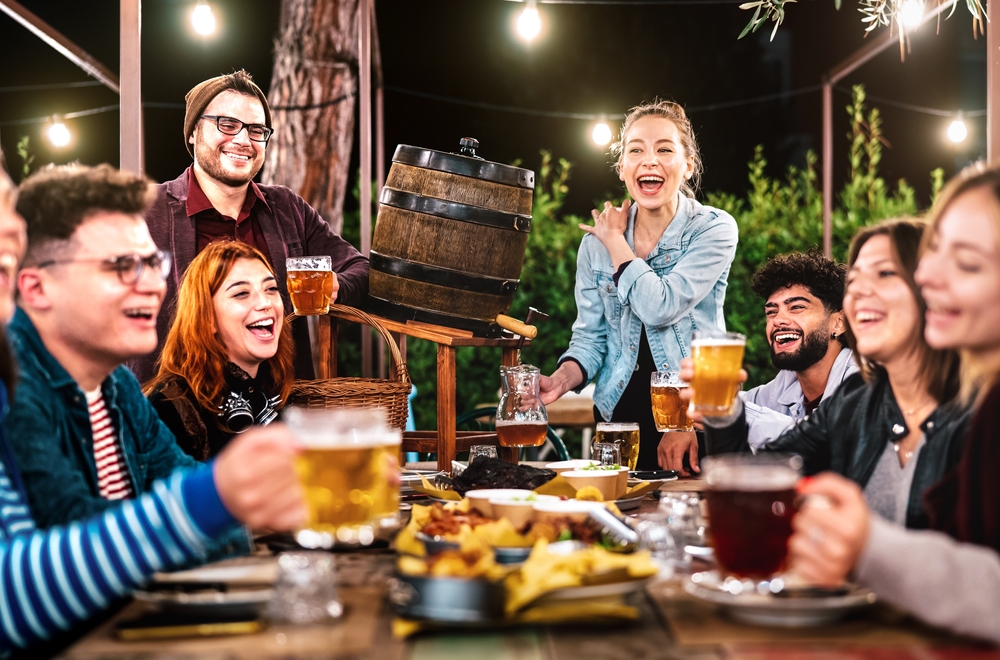 DryHop Brewers Is A Great Place To Try Craft Beer In Chicago
DryHop Brewers is a European-style gastropub that also offers seasonal craft beers in Chicago.
You'll find it in the Lakeview East neighborhood of Chicago.
They serve lunch, dinner, and weekend brunch, and all of the menu items pair perfectly with their craft brews.
Because all of their brews are seasonal, their tap list isn't as big as some of the other craft breweries on this list.
However, you'll still typically have about 6 different brews to choose from.
They also usually have at least one hard cider and one non-alcoholic beer on tap and a selection of wines and mixed drinks as well.
Their food menu is pretty typical for a Chicago brewpub and has items like burgers, sandwiches, small bites, homemade pizzas, and salads.
On weekends, from 11 am to 2:30 pm, they also serve brunch.
It is one of the things that makes DryHop Brewers one of the more unique Chicago breweries on this list.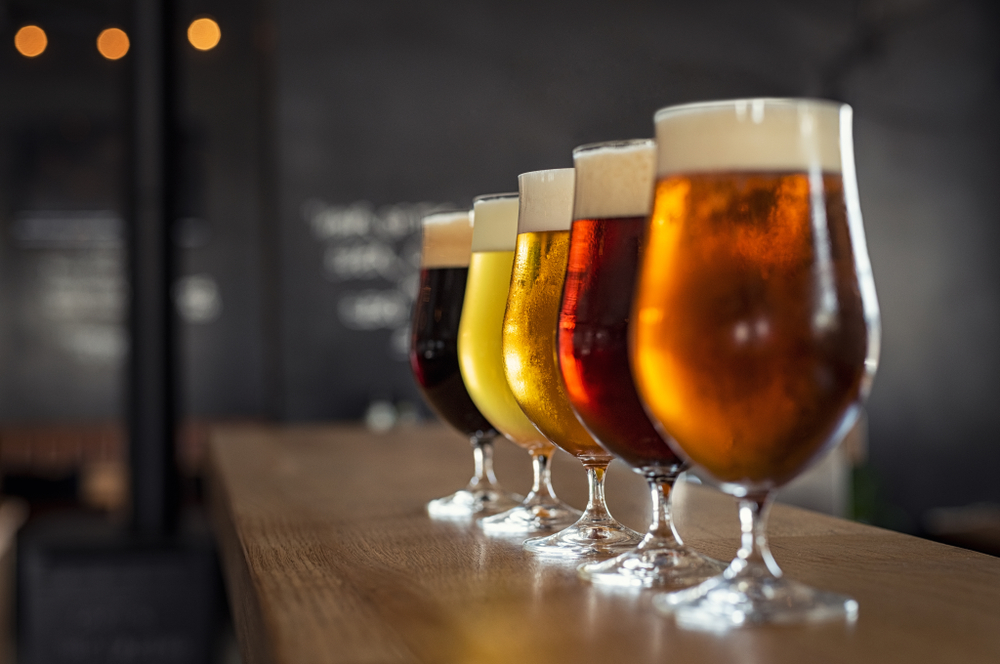 Goose Island Taproom Is Home To One Of The Most Popular Chicago Craft Beers
You may have seen Goose Island brews in your local beer distributor or grocery store selection.
That's because, in 2011, Goose Island was acquired by Anheuser-Busch and started to become available widely across the US.
The taproom and brew house has been in Chicago since 1999 and has become a staple part of the craft beer community in the city.
They continue to be dedicated to the Chicago brewing community and still brew a large majority of their beers there.
Their taproom has also remained open, and you can go there to sample both classic Goose Island brews and some of their new offerings.
Throughout the week, you can also take a Chicago brewery tour at Goose Island at their Fulton Street location.
After your tour, enjoy some brews and enjoy some of their small snack items like charcuterie trays or bring your own food!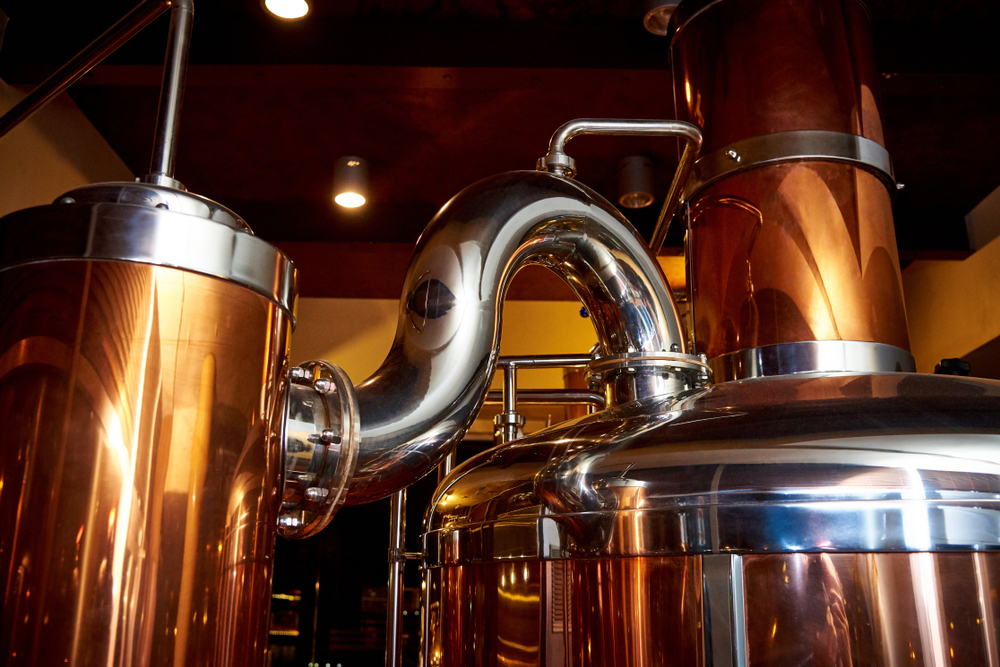 Experience An Upscale Pub Environment At Maplewood Brewery And Distillery
Maplewood Brewery and Distillery is a slightly more luxurious Chicago brewpub.
Their lounge, which is what they call their taproom, has an industrial vibe with leather chairs at tall tables, ambient lighting, and exposed brick walls.
They also have an outdoor patio that you can enjoy when the weather is nice.
Maplewood Brewery has 5 flagship beers that you'll be able to try year-round.
Along with those, they have seasonal lagers, seasonal ales, experimental flavors, and small batch craft beers in Chicago that you can try.
If you're looking to try a certain micro-brewed beer, they have a beer calendar on their website where you can see what will be available and when.
Maplewood Brewery hosts fun events throughout the year often themed around a fun idea or special brew, that are very popular too.
It's one of the best brewpubs in Chicago with a fun atmosphere in a more upscale environment.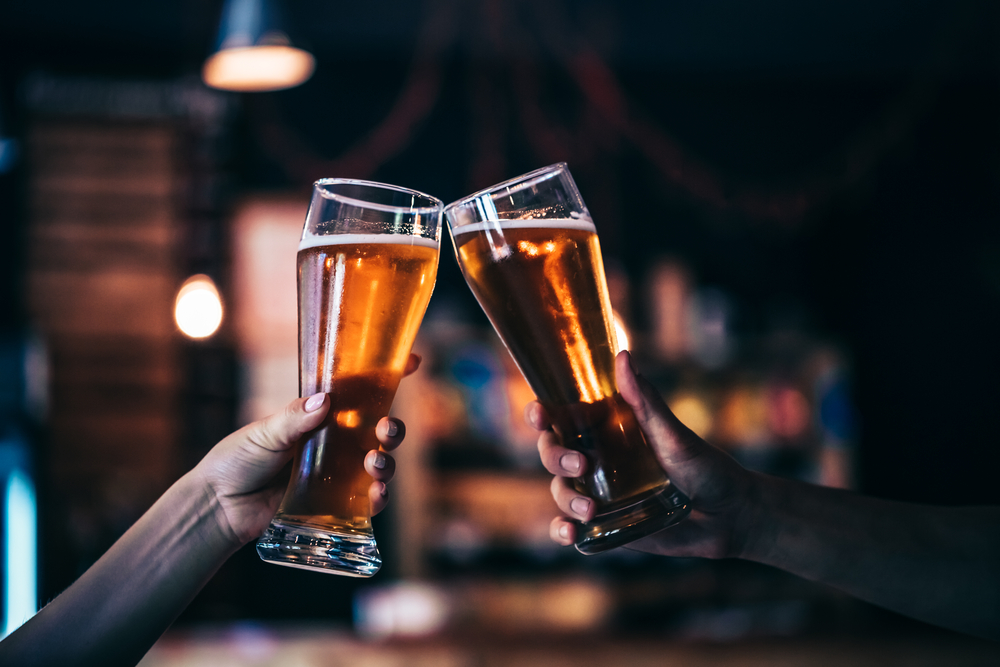 Go Bowling And Try Chicago Craft Beer At Burnt City Brewing
Burnt City Brewing is another fun Chicago date night idea, thanks to its great brews and 8-lane bowling alley.
In fact, it's the only Chicago brewery with a bowling alley!
They specialize in craft ales and stouts that pair perfectly with their upscale pub menu.
When you visit, you'll find a smaller selection. But that's because they are a smaller brewery that is part of a larger brewer collective in Chicago's District Brew Yards.
However, don't let that deter you. Their brews are some of the best Chicago beers and they are frequently highly rated amongst craft beer lovers.
Plus, you'll be supporting a smaller Chicago brewery when you visit Burnt City Brewing which helps them expand their tap list offerings.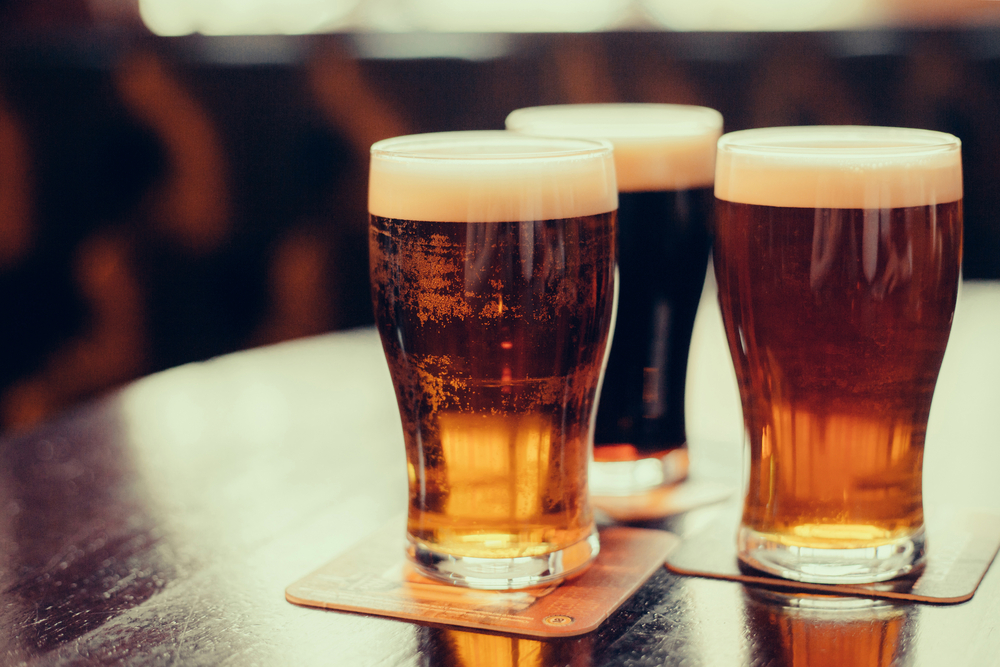 Burning Bush Brewery Is A Hip Microbrewery In Chicago
Burning Bush Brewery is a family-owned microbrewery in Chicago's North Center neighborhood.
Not only do they serve high-quality Chicago craft beers, but they're also dedicated to positively impacting their neighborhood.
They host a variety of charity events, fundraisers, and more that benefit their community.
Burning Bush is also family-friendly and dog-friendly!
With a beautiful hip taproom and a sunny patio, it's a great place to sample micro-brewed beers in Chicago.
They typically have about 10 beers on tap that range from classic recipes to more experimental flavors.
While they don't have a full kitchen, they do offer a small snack menu, and a few times a week they host a variety of local food trucks.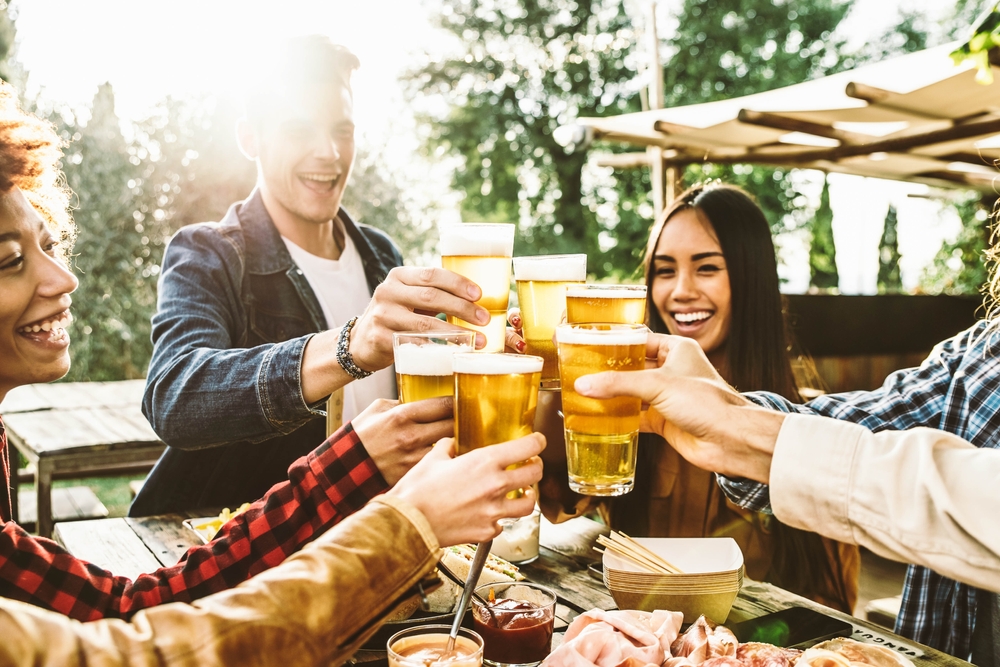 Try Uniquely American Micro Brewed Beers At Half Acre Beer Co One Of The Coolest Breweries In Chicago
Half Acre Beer Co. is known for its 'purposefully rough American micro-brews'.
They aim to have intense and unique flavors on tap for you to enjoy throughout the year.
On tap, they have 6 micro-brewed beers that you can find year-round. They range from IPAs, Pale Ales, Pilsners, and Lagers.
Along with their year-round offerings, you'll also find seasonal and monthly brews, as well as brews that you can only try in their taproom.
Their taproom is massive and they also have a seasonal beer garden.
There, you can relax in the sun and enjoy their taproom-only brews.
If you want to try a uniquely Chicago craft beer, then you'll want to head to Half Acre Beer Co.
Visiting here is one of the coolest things to do in Illinois!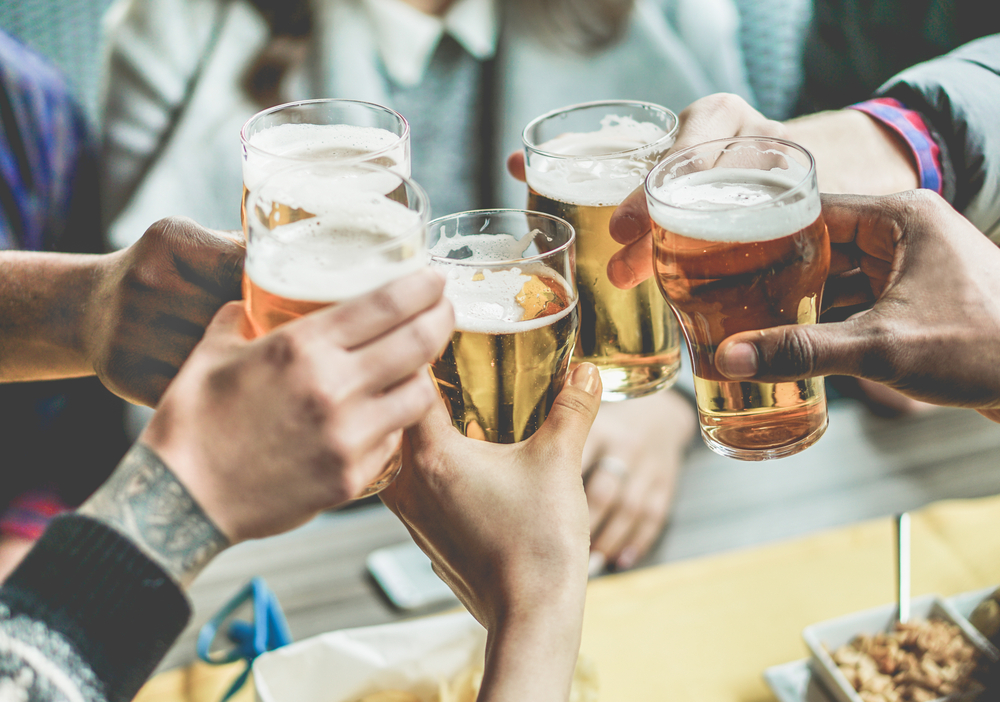 Moody Tongue Brewing Company Is The World's First Two Star Michelin Brewery
For those who may not know, restaurants, and now breweries are awarded Michelin Stars for their 'outstanding cooking'.
To earn a Michelin Star, let alone two, is a huge honor that many chefs will never achieve.
This is why Moody Tongue Brewing Company is a very unique Chicago brewery.
They have not one, but two Michelin Stars, which is a huge honor and accomplishment. In fact, they are the first brewery in the world to earn this distinction.
That's not the only thing that makes Moody Tongue Brewery so unique.
All of their beers are actually chef-driven, which means you'll be able to try some of the most exotic and unique micro-brewed beers in the world here.
They typically have about 15 different beers that you can try and each brew pairs with their Michelin Star menu.
This is one of the best breweries in Chicago, and definitely worth a visit if you want a unique craft beer in Chicago.
To start your day off right, or to end a fun night with friends, try having a great breakfast in Chicago.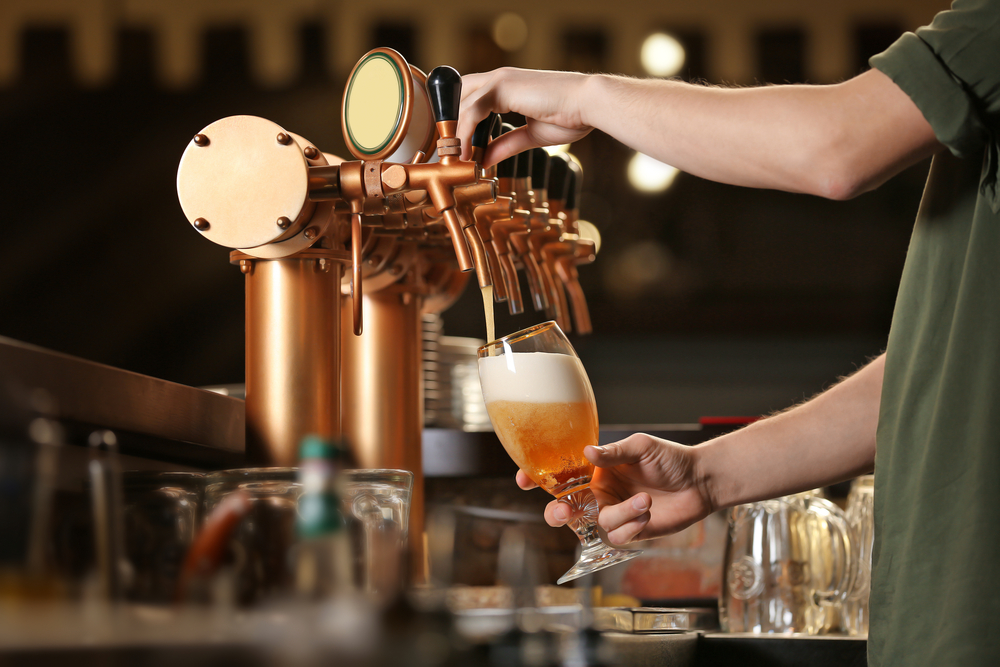 Packing List When Visiting Breweries in Chicago
If you are searching, here are some tips on how to pack lightly when packing to visit Chicago.
A concealed travel pouch may be one of the most important items you bring along when exploring breweries in Chicago.
It is always important to protect your personal information. Identity thieves are everywhere.
This unisex RFID blocking concealed travel pouch is lightweight and comes in several colors. It has lots of organization to give you peace of mind.
If you have a pouch already that does not come with the RFID protection, as I do, these RFID sleeves are the perfect solution.
This configuration comes with enough credit card sleeves that the entire family would be protected. They are slim too, so they will easily fit into your pouch or wallet.
If you are planning on taking a lot of pictures with your phone you will definitely want to consider an external charging battery. This Anker high-speed phone charging battery is the exact one I carry with me on all of my trips.
It can be used on a variety of phones, not just an iPhone like I have. And wow is it fast!
I like that it holds its charging capabilities for several uses so I do not have to worry about it while out and about, and if I forget to recharge it at night, it will still be good to go the next day.
My daughter gifted me with this FugeTek selfie stick and tripod setup for my birthday. I absolutely love it! It is made of lightweight aluminum and is so easy to use.
It has Bluetooth connectivity and is a breeze to use for taking selfies with family and friends when at the breweries in Chicago!
Hydration is so important when traveling. You want to remain hydrated throughout your travels to support your immune system which in turn will be stronger to fight off any germs you will encounter during your travels.
You will want to bring your own refillable water bottle with you.
I never leave home on a trip without my Bobble filtration bottle. The 18.5-ounce size is perfect for hiking and it fits nicely in the pocket of a backpack.
When filled with water, it is not too heavy to carry. And the charcoal filter ensures fresh clean water whenever you fill the Bobble.
Perhaps you are traveling a long distance and packing space is a premium in your suitcase, or in your car.
Then this set of collapsible silicone foldable water bottles would work well for you. Would not take up much space at all.
You will want a backpack or daypack with you to store snacks, your water bottle, phone, extra clothes, etc.. then this foldable water-resistant backpack would be great.
This list of breweries in Chicago is just a small sample of the over 160 different breweries in the city and surrounding suburbs.
Chicago is certainly one of the best places to visit in the Midwest, and its breweries are top-notch.
It's full of some of the most highly rated and unique Chicago area breweries!
Whether you're a fan of exotic flavors, classic European brews, or intense American flavors, the breweries on this list have a craft beer in Chicago perfect for you.
One thing is for certain, Chicago is the craft beer lover's dream Midwest vacation destination!