Are you looking for things to do in Akron, Ohio? You are in the right place. In this article, I will walk you through attractions in Akron and tell you everything you need to know about visiting this vibrant Midwest city.
Akron is a cool city and makes a great location for a weekend getaway in Ohio. Once a farming community it is now the fifth largest city in Ohio and offers many tourist attractions.
Whatever you like doing chances are Akron has it. From wide open spaces, historic places, art galleries, museums, and great restaurants Akron has everything.
So are you ready to see which Akron activities I have chosen for you? Grab a coffee, a pen, and paper, and let me walk you through what to do in Akron.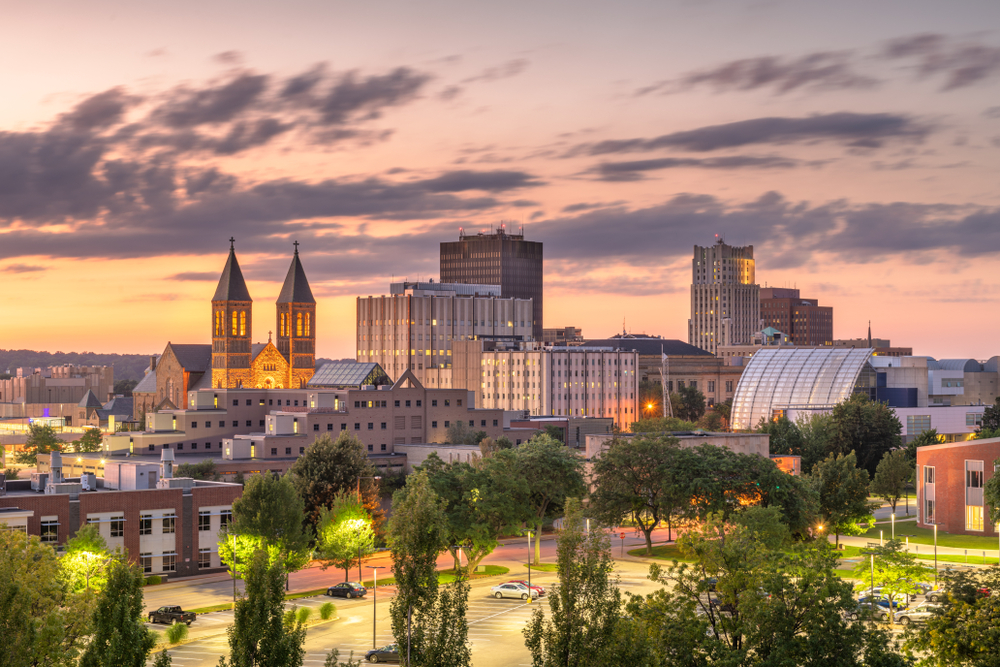 15 Best Things To Do In Akron OH You Shouldn't Miss
Explore The Hower House
On the National Historic Landmark registry, Hower House is one of the finest and best-preserved examples of Second Empire Italianate architecture.
If you love old buildings then this is one of the attractions in Akron you will love.
The house was built in 1871 by Akron Industrialist John Henry Hower and his wife, Susan Youngker Hower, and was designed by Jacob Snyder.
The 28-room Victoria Mansion is filled with unique treasures and furnishings collected by the family.
The house is open for private and group tours just check before you go to make sure. This is one of the best things to do in Akron.
Wonder Around The Akron Art Museum
This is one of those art museums where the building is as much art as what it held within its walls.
The original building is 19th style Renaissance style and has been mixed with glass and steel to create something unique and beautiful.
Inside there are many different art exhibits across seven different galleries. Works start from 1850 and go all the way to the modern day.
This Akron museum is one of those places you could spend hours in.
The museum contains paintings, sculptures, photography exhibitions, and paper drawings.
This is a great Akron activity for those that love visual art. Put this museum in Akron on your must-visit list.
This is one of the coolest museums in Ohio not to be missed!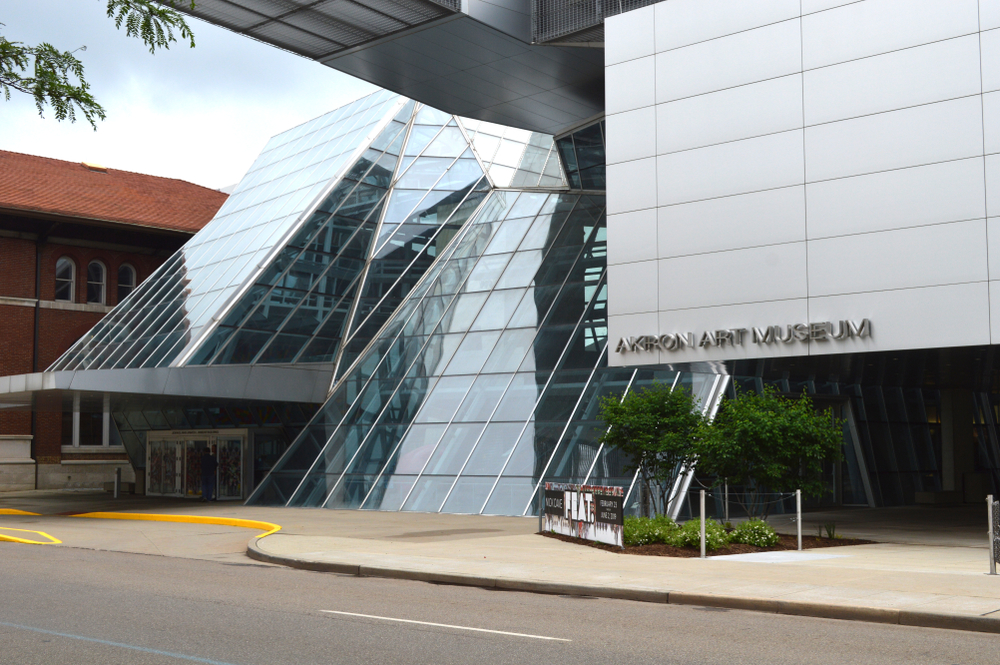 Enjoy The View At Cascade Valley Park
Part of the Summit Metro Parks system Cascade Valley Park is a great place to go to get away from it all for a while.
As the name suggests this park is full of river cascades. Visiting here is one of the best things to do in Ohio.
The park is between downtown Akron and the city of Cuyahoga Falls and is about a 6-minute drive. The real reason to come here is the view.
The bluffs stand nearly 130 above the river and a deck stretches out from them with a beautiful rewarding view.
For some great midwest hiking and some even better views take a trip here. It's one of the things to do near Akron that everyone will enjoy.
Spend A Day At Stan Hywet Hall And Gardens
If you are wondering what to do in Akron I can highly recommend a visit here. You will find the once home of F.A. Seiberling founder of Goodyear Tire and Rubber Company.
And it is beautiful.
The house and garden have 65,000 square feet to explore. A visit here is definitely one of the best things to do in Akron, OH.
The house was built in the Tudor Revival style and has 65 rooms. The gardens consist of 20 acres of scenic grassy lawns as well as flower gardens and a conservatory.
There is also an interactive play garden for children which includes an archeological dig and a splash fountain. The children will have endless fun here.
The house is a National Historic Landmark and is one of the largest homes in America. This is a great thing to do in Akron if you have children.
It is actually one of the fun things to do in Ohio with kids!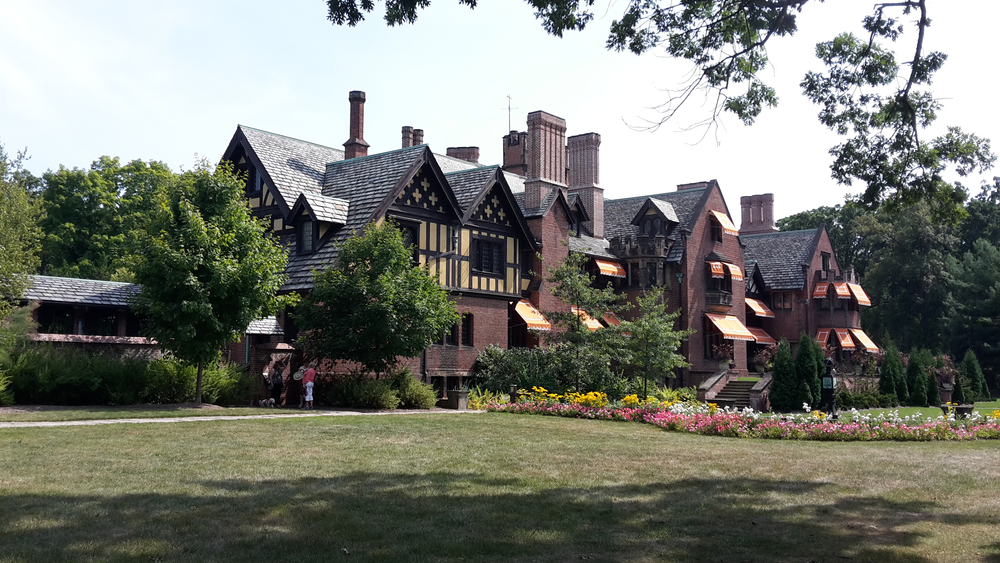 Enjoy Music At Blu Jazz
If you looking for downtown Akron activities to partake in at night and love live music then head over to Blu Jazz. It's much more than just a jazz club though.
Blue Jazz is a stunning live music venue with a photography and memorabilia gallery and it sits right in the middle of downtown.
It has a retro mid-century vibe and seems to capture comfort and sophistication in a way that's alluring. It's a great place to relax and listen to some great local music.
There is also a bar and one of the coolest restaurants in Akron on site. This is one of the best things to do in Akron for couples.
Akron is also a great base for a romantic Ohio Getaway.
Take A Trip To Brandywine Falls
If you are wondering what to do in Akron and you love nature then consider a trip to Brandywine Falls. It's one of the Akron attractions that is a little bit of a drive but I feel it's well worth it.
This Ohio waterfall lies inside the Cuyahoga Valley National Park which is an incredibly beautiful park to explore.
To get to the falls it's a short hike leading to a boardwalk from which you get a great view of the falls below. There are steps built into the side of the gorge if you want to get closer but take care.
The falls have a 65 ft drop and really are quite beautiful and impressive. If you are looking for things to do near Akron then this is one for you.
Cuyahoga Valley National Park is one of the most popular national parks in Ohio.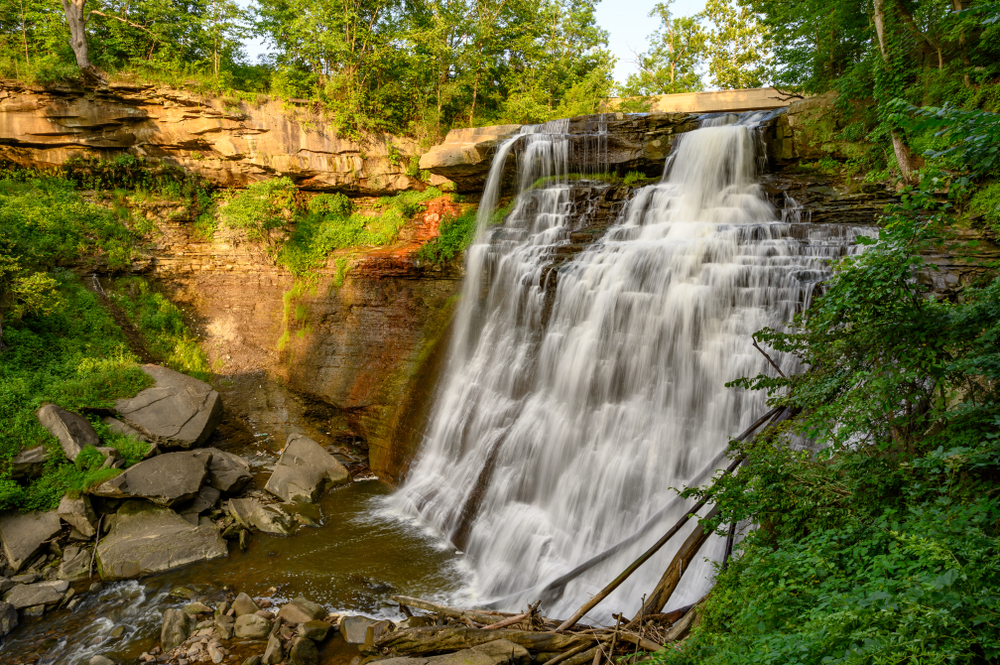 Visit The Indian Signal Tree
If you take a visit to Cascade Valley Park take some time to visit the Indian Signal Tree. This Akron attraction is about an 8-minute drive from the city but an interesting site worth visiting.
The tree is impossible to miss, it has a three-forked trunk and is 95 feet high. Its name derives from a folk tale telling of how Native Americans caused the tree to grow in its unique shape to serve as a way marker
The tree is certainly old about 300 years to be exact and probably has many tales to tell. Discovering it can feel somewhat spiritual that is for sure.
Certainly one of the more unusual things to do in Akron.
Akron seamlessly mixes history with the modern era creating a dynamic, exciting city. It is one of the best places to visit in Ohio.
Get Historic At Hale Farm and Village
If you love history then a trip to Hale Farm and Village is one of the best things to do in Akron. It's an 18-minute drive from the city but a great place to visit and kids will love it.
Hale Farm and Village is a historic property within the boundaries of the Cuyahoga Valley National Park. The farm was once the home of Jonathan Hale and dates from 1825.
On the National Register of Historic Places the site allows you to explore how people would have lived in the 1800s in this rural farming community.
If you are looking for Akron events they often have things on here so take a look before you go.
There are so many things to do in Cuyahoga Valley National Park. Don't miss it!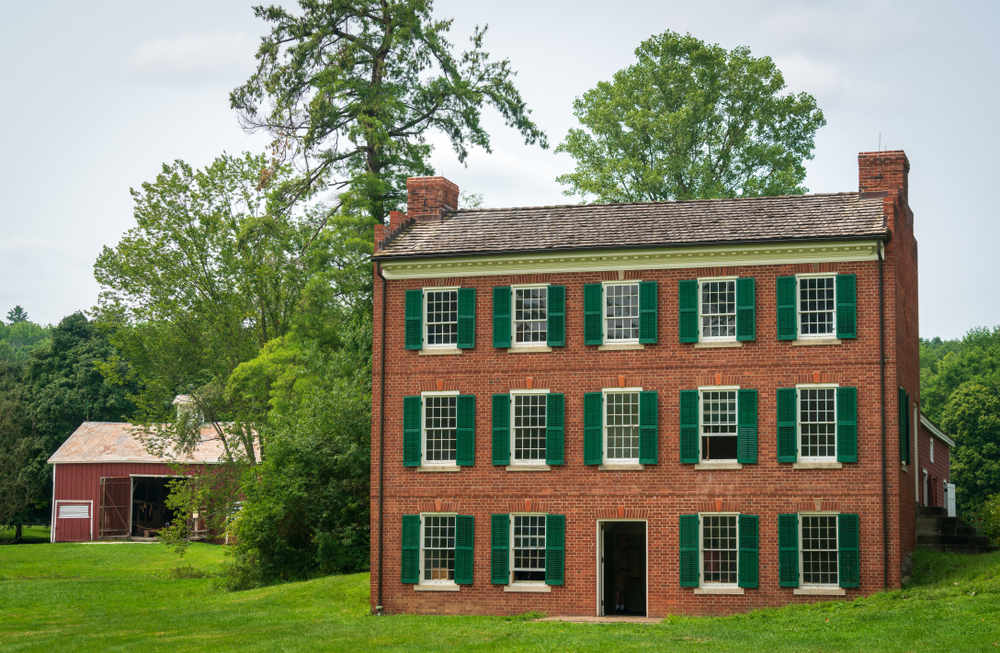 Mustill Store Museum
On the towpath trail in Akron is The Mustill Store and House. The visitors center/Akron museum is a great place to learn about the Ohio and Erie Canalway Byway.
The Mustill Store and House is the last combination of residence and commercial structure of its kind along the Ohio and Erie Canal. The exhibits inside tell the story of Akron's rise from a frontier town to industrial power.
The structure dates from the 1830s and was restored in 2000. It's one of the museums in Akron that I really recommend visiting.
It's one of the free things to do in Akron and you combine it with a lovely walk down the towpath.
Go Back In Time At The Perkins Stone Mansion And John Brown House
This mansion was home to the son of one of Arkon's founding fathers General Simon Perkins and is one of the best things to do in Akron.
The house was built in 1837 in the Greek architecture style and really is quite grand and beautiful. This Akron museum tells the story of the three generations of the Perkins family who occupied this house.
Here you get two houses for one as you can also visit John Brown House a property where the Parkins lived while their mansion was been built. This 1830 property is much smaller but still delightful.
Investigate The Akron Police Museum
Located in the Harold K. Stubbs Justice Center is the Akron Police Museum. This museum in Akron chronicles the development of the Akron Police Department from its earliest days to the present.
The museum features historical photos, uniforms, and weapons as well as log books and news clippings. It even has the keys to the original 1890 Akron Police jail, and a 1965 Harley-Davidson police motorcycle.
Outside the building is a police memorial wall honoring officers who have given their lives in the performance of their duty. The museum is one of the free things to do in Akron.
Touring Dr. Bob's Home Is One Of The Neat Things To Do In Akron
The home of Dr. Robert Smith is another historic house museum you can visit. Not sure who Dr. Bob was? He was one of the co-founders of Alcoholics Anonymous.
He lived in the house from 1915 to 1950 with the building dating from 1914. A National Historic Landmark the museum tells the history of AA.
So if you want to learn about the man behind a cause that helped and continues to help so many then take a trip here.
Travel Along Cuyahoga Valley Scenic Railroad
An 18-minute drive from the city is the Cuyahoga Valley Picturesque Railroad (CVSR). This is well worth the journey and children will love it.
Operating for more than 40 years now here you can take scenic train rides across Cuyahoga Valley. The round-trip National Park Scenic tour lasts two and a half hours and is a truly stunning journey.
And of course yes you do all this on vintage trains which totally adds to the experience. One of the Akron activities that everyone will enjoy.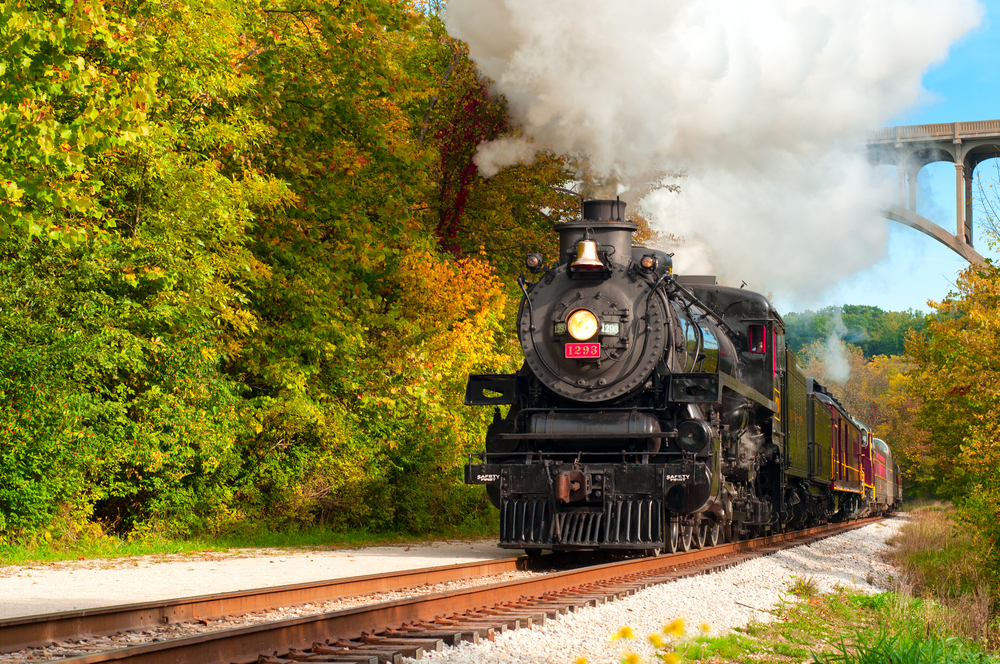 Relax At F.A. Seiberling Nature Realm
A peaceful escape in the city is what you find at F.A. Seiberling Nature Realm.
Part of the Summit Metro Park this Akron attraction has hiking trails, a rock and herb garden, a 110-foot suspension bridge, multiple ponds, and an abundance of wildlife.
The best way to enjoy this park is to take a picnic and explore. If you have children stop at the nature center they will love the interactive exhibits.
There are so many paths and trails to explore here, some are wheelchair and stroller friendly and some are more like hiking trails.
Make sure you check out the bridge because for many it's the highlight of the park.
Appreciate The Akron Civic Theatre
This is more than just a theatre it's one of only five remaining atmospheric theatres designed by John Eberson in the US.
Built in 1929 by Marcus Loew the interior mimics a Moorish castle featuring Mediterranean decor, medieval carvings, authentic European antiques, and Italian alabaster sculptures. It's honestly breathtaking.
In June 2001 the theatre underwent a $19 million restoration and the results are really incredible. If you are looking for Akron events then seeing a show here is a real must.
The theatre does offer tours but check before you go because it depends on the current show schedule as to what is offered. If you can see a show when you are here I highly recommend it.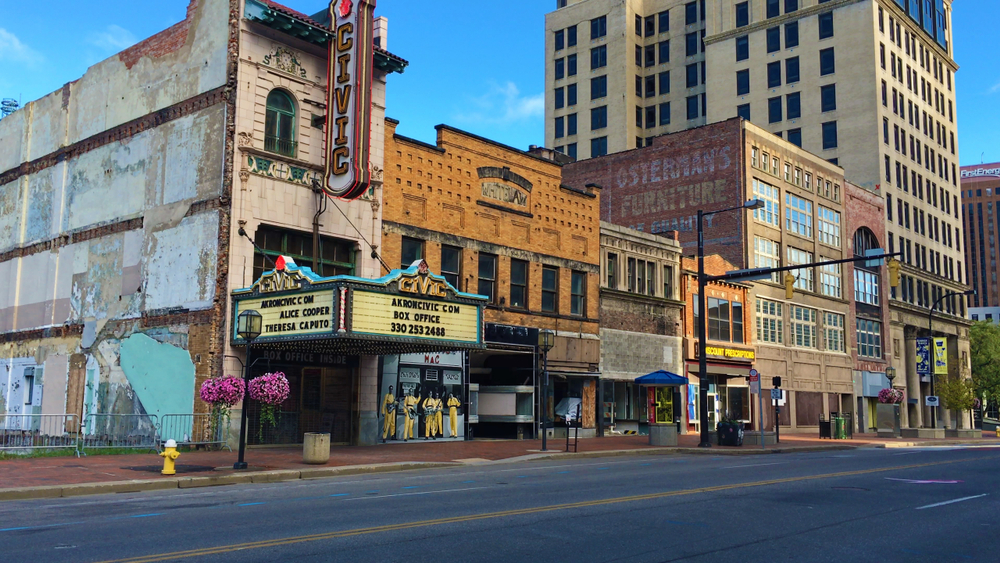 Packing List When Visiting Akron Ohio
If you are searching, here are some tips on how to pack lightly when packing to experience all the activities in Akron.
A concealed travel pouch may be one of the most important items you bring along when searching for things to do in Akron.
It is always important to protect your personal information. Identity thieves are everywhere.
This unisex RFID blocking concealed travel pouch is lightweight and comes in several colors. It has lots of organization to give you peace of mind.
If you have a pouch already that does not come with the RFID protection, as I do, these RFID sleeves are the perfect solution.
This configuration comes with enough credit card sleeves that the entire family would be protected. They are slim too, so they will easily fit into your pouch or wallet.
If you are planning on taking a lot of pictures with your phone you will definitely want to consider an external charging battery.
This Anker high-speed phone charging battery is the exact one I carry with me on all of my trips.
It can be used on a variety of phones, not just an iPhone like I have. And wow is it fast!
I like that it holds its charging capabilities for several uses so I do not have to worry about it while out and about, and if I forget to recharge it at night, it will still be good to go the next day.
My daughter gifted me with this FugeTek selfie stick and tripod setup for my birthday. I absolutely love it! It is made of lightweight aluminum and is so easy to use.
It has Bluetooth connectivity and is a breeze to use for taking selfies when experiencing Akron attrations.
Hydration is so important when traveling. You want to remain hydrated throughout your travels to support your immune system which in turn will be stronger to fight off any germs you will encounter during your travels.
You will want to bring your own refillable water bottle with you.
I never leave home on a trip without my Bobble filtration bottle. The 18.5-ounce size is perfect for hiking and it fits nicely in the pocket of a backpack.
When filled with water, it is not too heavy to carry. And the charcoal filter ensures fresh clean water whenever you fill the Bobble.
Perhaps you are traveling a long distance and packing space is a premium in your suitcase, or in your car.
Then this set of collapsible silicone foldable water bottles would work well for you. Would not take up much space at all.
You will want a backpack or daypack with you to store snacks, your water bottle, phone, extra clothes, etc.. then this foldable water-resistant backpack would be great.
—
As you can see when it comes to downtown Akron activities there are so many to choose from. Whether you decide to visit one of the Akron museums or venture to one of the natural attractions I know you will have a great time.
I hope this article has answered the question of what to do in Akron and please come back and tell me about your visit. I hope you have a great city getaway.