Are you thinking of taking a trip to Cuyahoga Valley National Park in Ohio?
There are so many fun things to do in Ohio so you must check out this list of some of the best things to do while you explore one of Ohio's best National Parks.
From waterfalls, natural wonders, hiking trails, walking paths, and even historic sites, Cuyahoga Valley is full of unique things to do and see.
It is frequently ranked one of the state's best National Parks to visit.
With over 33,000 acres, it borders Cleveland to the north and Akron to the south.
Which means it's perfectly situated for a day trip or road trip from either city.
I was born and raised in Youngstown Ohio, and Cuyahoga Valley National Park is one of my favorite National Parks in Ohio to visit, and you will quickly see why.
So, let us take a look at the 10 best things to do in Cuyahoga National Park!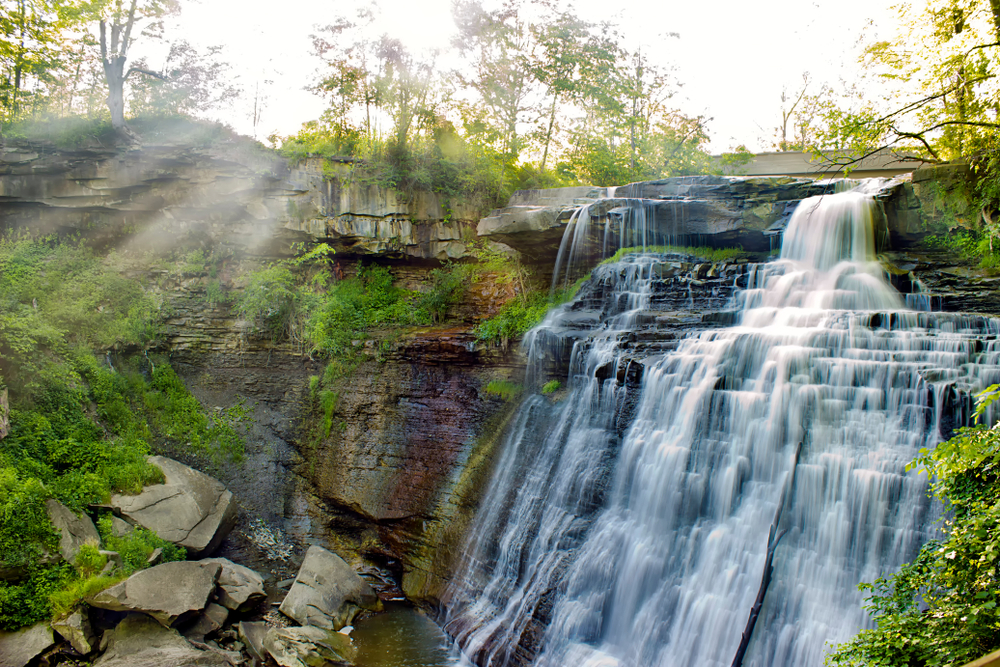 11 Best Things To Do In Cuyahoga Valley National Park
The Beaver Marsh
No matter what time of year you are visiting Cuyahoga Valley, you should head to the Beaver Marsh.
It is one of the most diverse ecosystem communities in the park and is always full of life.
In the warmer months, you will be serenaded by frogs and toads while you watch turtles swim amongst the lily pads.
During the spring and through fall you will be able to see the marsh's namesake, the beaver, munching on branches, and building in the marsh.
Even during the winter, the marsh is lively with birdsong and beautiful snow-covered trees surrounding the quiet water.
The Beaver Marsh is a beautiful part of the Cuyahoga Valley National Park that you absolutely need to visit on your next trip!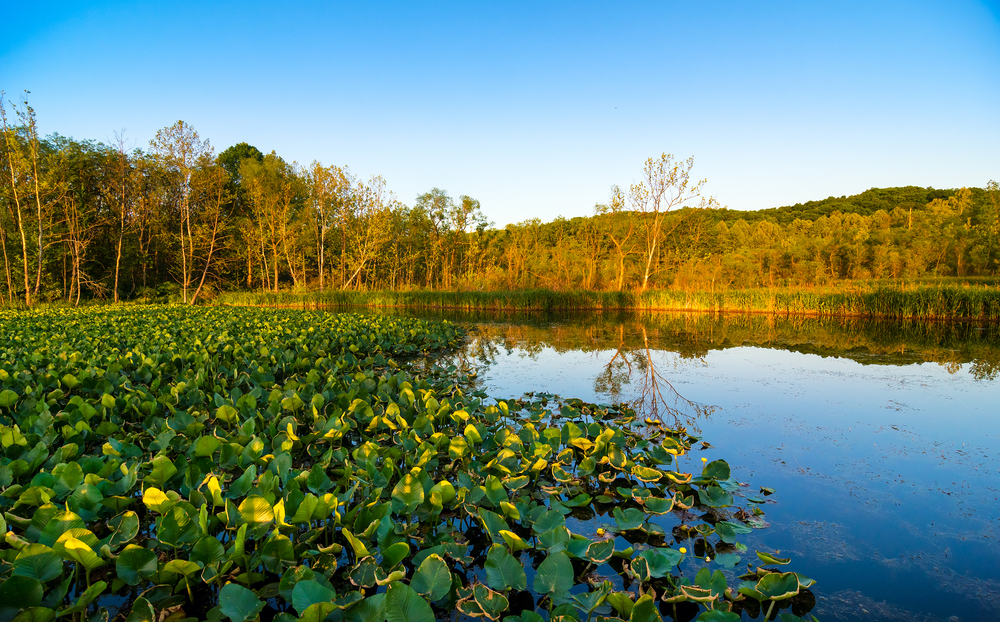 The Ritchie Ledges For Cuyahoga Valley National Park Natural Wonders
You can not visit Cuyahoga Valley and not see the Ritchie Ledges, or The Ledges, as they are sometimes called.
These massive rock formations in the Ohio National Park are millions of years old and made of Sharon Conglomerate.
In their layers, you can see how time, weather, and humans have changed them and their surrounding landscape.
During the 19th Century, the Ledges became a popular place for people to relax and even climb on the rock structures.
Now, you can reach them fairly easily.
They are a part of a 1.8-mile trail that connects to the larger trail system in the park.
You can enjoy the Ledges and the nearby field and overlook, and there are also a few covered shelters along the hiking trail that you can reserve.
The Ritchie Ledges are one of the most iconic features of Cuyahoga Valley, so you do not want to miss them.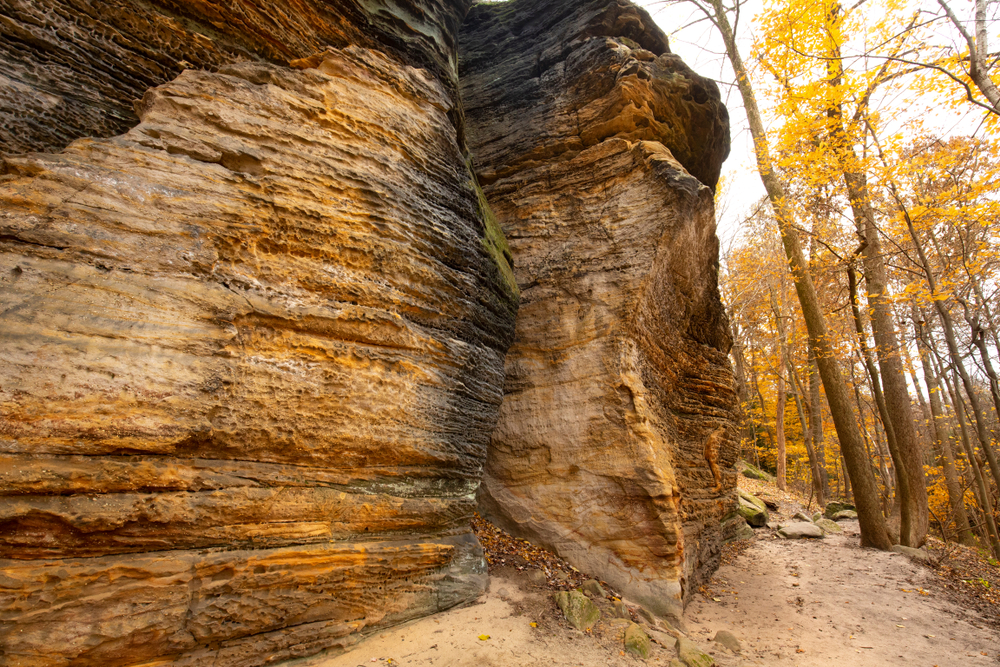 Brandywine Falls Is One Of The Best Falls In The Cuyahoga Valley
Brandywine Falls is easily one of the best waterfalls in Ohio, so it should definitely be on your list of Cuyahoga Valley stops.
The Brandywine Falls are fed by the Brandywine River and drop a dramatic 60 feet into the river below.
Because there are so many rock formations that make up the falls, they are considered to be bridal veil cascading falls.
You'll quickly find that Brandywine Falls are one of the more popular attractions at the park.
But don't let that discourage you from getting to enjoy them too, just make sure you plan accordingly.
There are several different trails you can take that have varying levels of difficulty, and all will give you unique views of the falls.
You will find that the area is the least crowded early in the morning and later in the afternoon, so that is something to keep in mind.
When you get to the falls, be careful around the rocks and trail.
The falls spit out a lot of water, so the area is often very wet and muddy.
A little mud is definitely worth the view of Brandywine Falls though.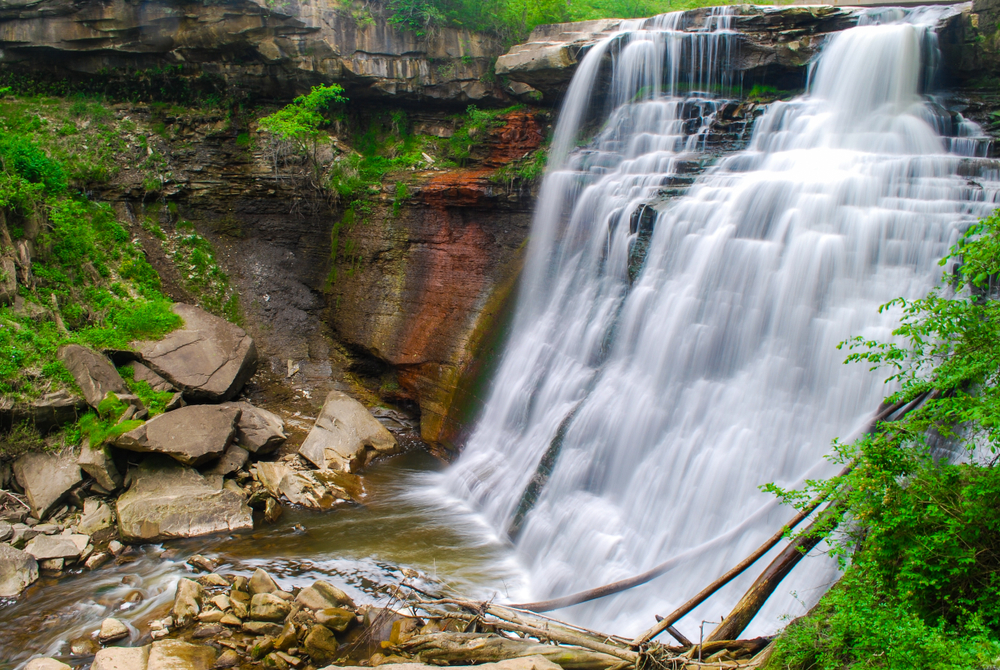 The Everett Covered Bridge
One of the most unique things about the Cuyahoga Valley National Park is that it has it's own covered bridge.
The area around the Ohio National Park is near Ashtabula County and Ohio's Amish country.
Ashtabula and Amish Country are known for having some beautiful covered bridges, and Cuyahoga has its own.
The Everett Covered Bridge crosses Furnace Run, a smaller creek in the park.
It is also the only still-standing covered bridge in Summit County.
The bridge was originally built in the 1800s and played an important role in Ohio's transportation system at the time.
Throughout its history, the bridge suffered some serious damage, and in the 1980's it had to be almost completely rebuilt.
Now, you can take several different hiking trails to admire this iconic piece of Cuyahoga Valley, and Ohio, history.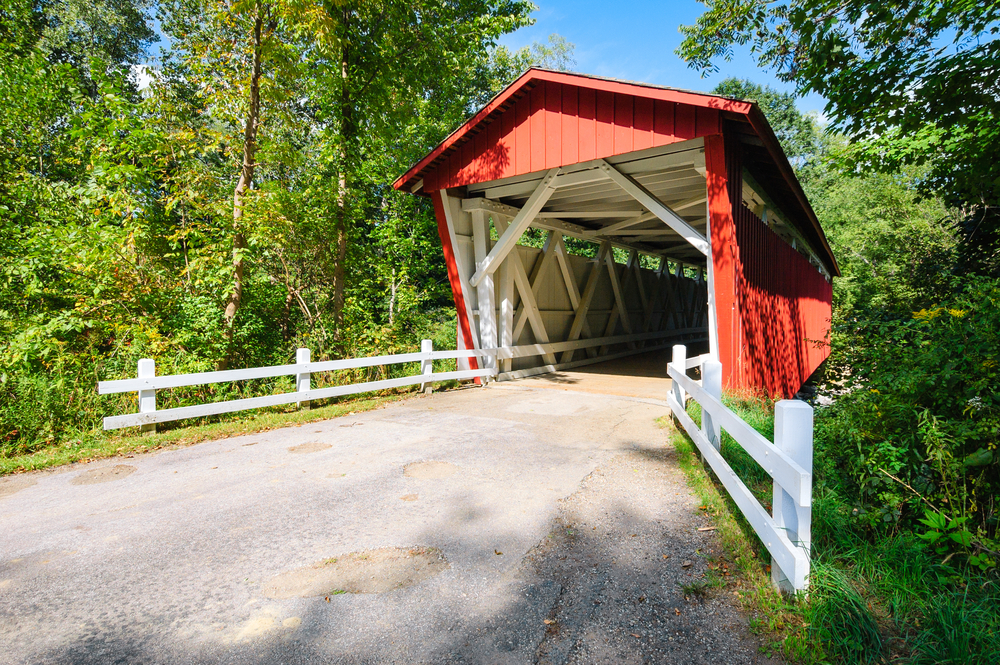 Taking A Train Ride Is One Of The Best Things To Do In Cuyahoga Valley National Park
The Cuyahoga Valley Scenic Railway is a very popular train ride in Ohio!
It runs between Akron and Independence all year long.
It provides exceptional views of the national park, including the Ohio & Erie Canal and local wildlife.
There are plenty of themed rides available all throughout the year. For both adults, children, and those in between!
This is truly one of the fun things to do at Cuyahoga Valley National Park.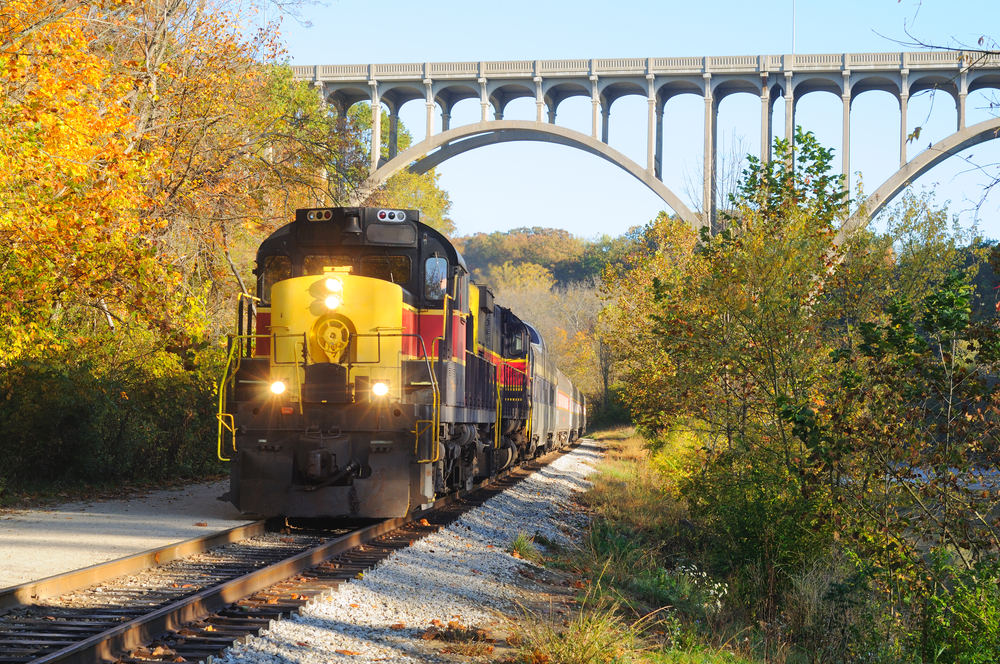 Canal Locks For Some Cuyahoga Valley History
Cuyahoga Valley is a national park that is full of varying historical aspects.
One of those is the canal locks.
The canal locks are what remains of the Ohio & Erie Canal that once passed through areas of the park.
The entire area experienced a boom when the area of the canal between Akron and Cleveland opened.
Nearby Everett had stables full of mules and horses that helped the local workers.
Peninsula and Boston became packed with immigrants looking for work and new families began to settle into the area.
Eventually, the canal shut down when more modern methods of freight shipping became available, but it remained an important part of the history of the area.
Now you can see what remains of the canal locks and learn more about the area's shipping history in the process.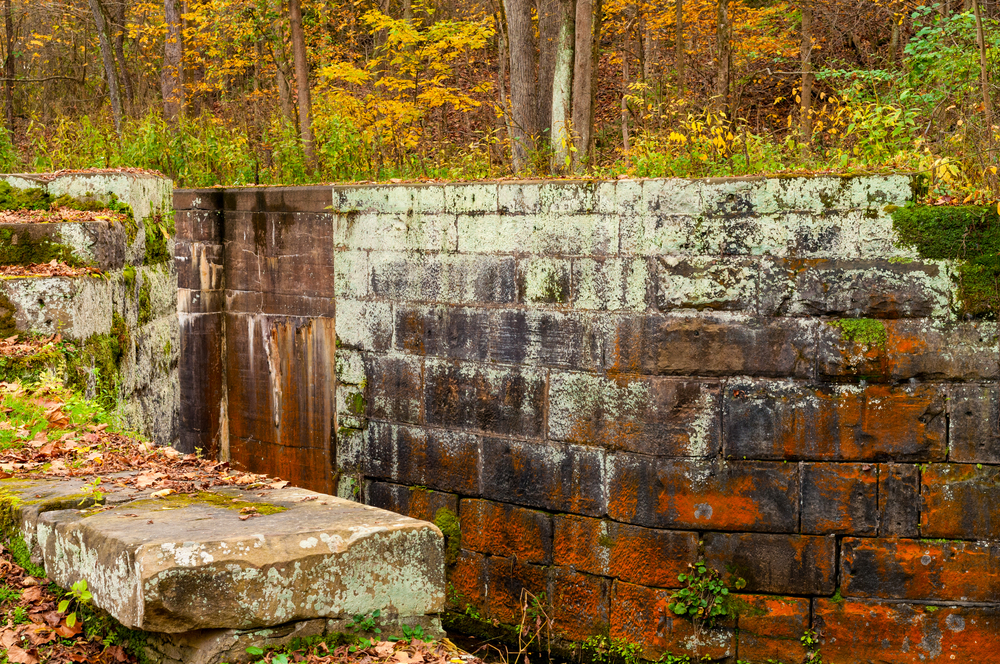 Indigo Lake For Birding In Cuyahoga Valley National Park
If you like birding, then you'll want to stop by Indigo Lake.
It is known for being one of the best birding spots in the Cuyahoga Valley.
The lake is a large bowl-shaped lake that truly does have indigo in color.
The area around the lake is also a favorite for hikers and even cross-country skiers during the colder months.
Its a beautiful spot that you'll want to spend some time exploring.
You may want to pack a picnic and set yourself up on the shores of the lake.
Even if you are not an avid bird watcher, it is fun to watch the natural wildlife around the lake all around you.
Indigo Lake is a beautiful place in the Cuyahoga Valley National Park to relax and enjoy a beautiful sunny day.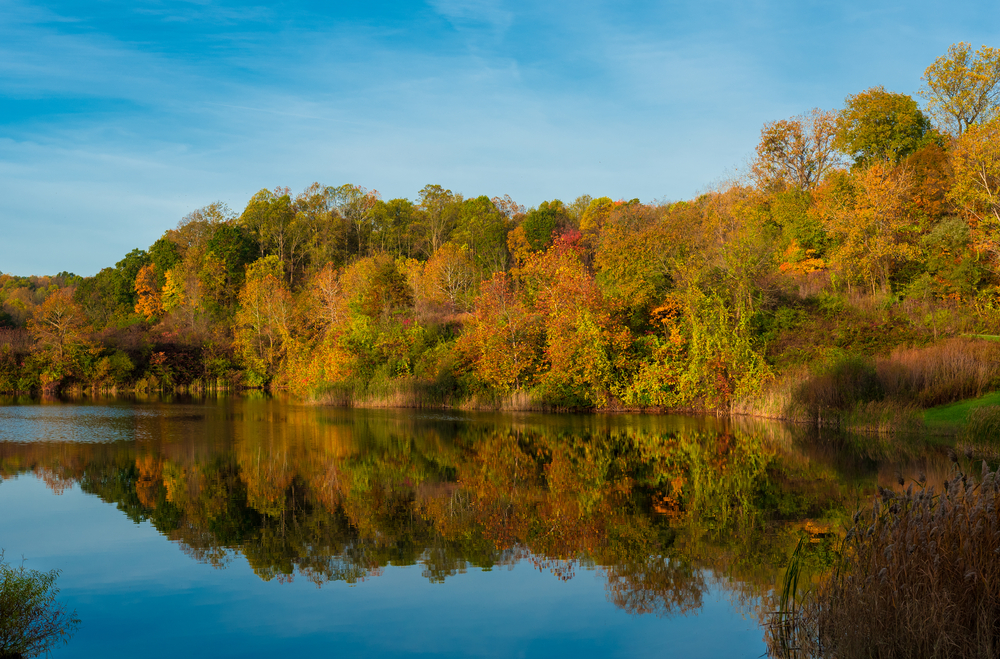 Ledges Overlook Trail To Enjoy Beautiful Views
For beautiful views of the Cuyahoga Valley National Park Ohio, you'll definitely want to take the Ledges Overlook Trail.
The Ledges Overlook Trail is about a 2.2-mile loop that is a fairly moderate hike.
It is a pretty popular trail, so keep that in mind when you are planning your hike.
The best time to hike the trail if you want to avoid crowds is early in the morning or later in the afternoon.
Along the trail, you'll see some natural attractions like a large cave and interesting rock formations.
When you reach the ledges, you'll be greeted by stunning views of the Cuyahoga Valley below.
It is a great way to spend a morning or afternoon exploring this fun Ohio National Park.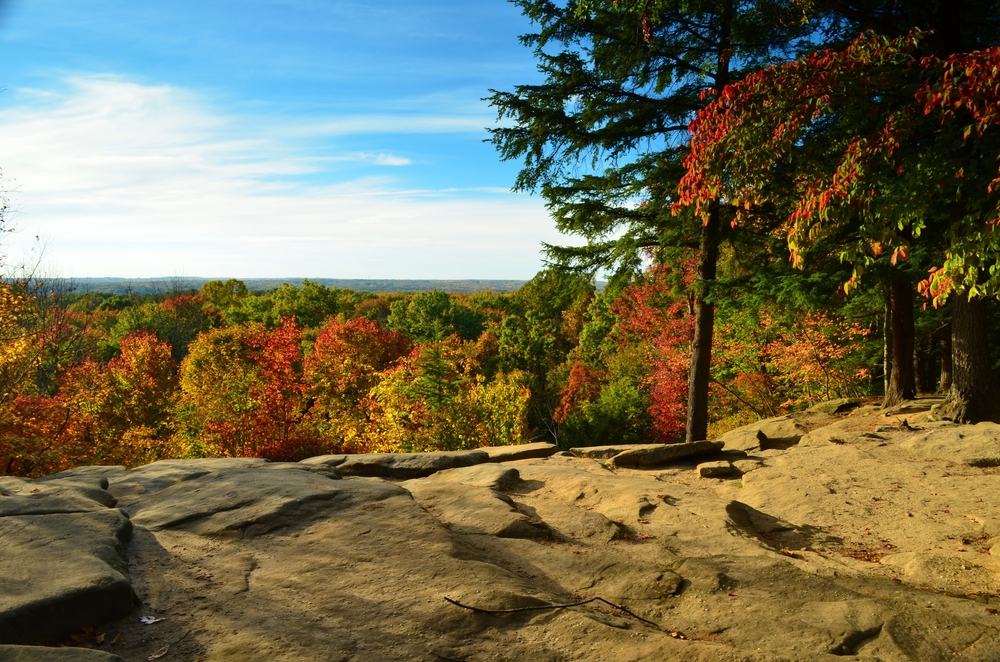 Blue Hen Falls
Another one of Cuyahoga National Parks visitor's favorite places to see is Blue Hen Falls.
To get to the falls, you will need to hike, but the trail is not very difficult.
It is three miles long and categorized as a one-way trail.
That just means that once you reach the end, you'll have to turn around to get back to the main trailhead and leave the area.
It is a pretty popular trail. So keep in mind that the best time to hike it is in the early morning or late afternoon.
The hike itself is considered moderate, but mostly because of the rocky terrain and slight incline.
The falls themselves are at the end of the trail, but well worth the trip.
They are very pretty cascading falls that should be a must-see whenever you plan a trip to this national park in Ohio.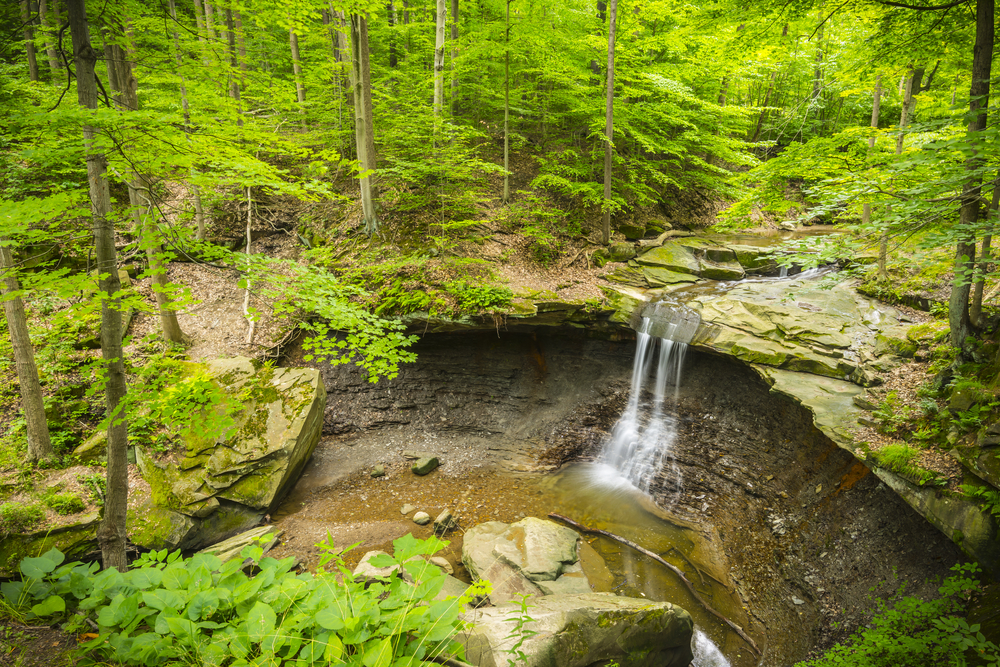 Cuyahoga Valley National Park's Frazee House
The Frazee House is a two-story Federal-style home that is located in Cuyahoga Valley National Park.
The house is made of handmade bricks and hand-hewn wooden beams, all locally sourced.
When the Frazee family immigrated to the area, they bought the plot of land that would eventually have the Frazee house.
After finding success and wealth in the area, the Frazee family began building their dream home.
Now, it serves as a wonderful place for visitors to learn about immigrants to the area.
Inside the house, you can see how they cleverly built it using local materials and with techniques that required some ingenuity.
It is a unique and charming home that is seemingly randomly placed in the middle of this Ohio National Park, but the family at one point worked the land around it.
If you are interested in learning about life for immigrants in the area, this is a great place to do that.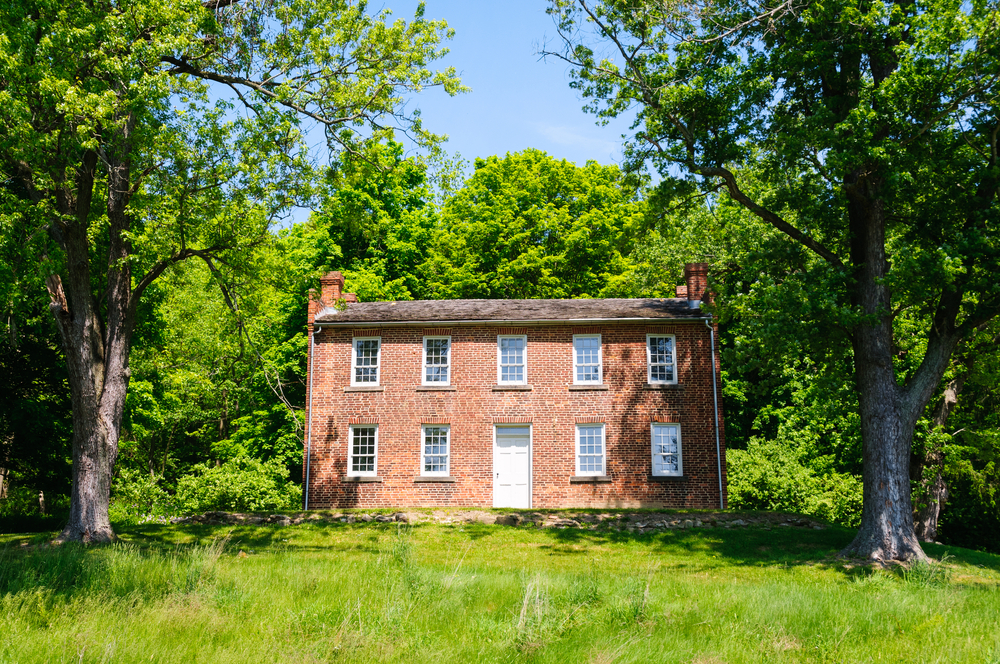 The Towpath Trail Is The Best Trail For All Skill Levels
One of the best things about the Cuyahoga Valley National Park Ohio is the Towpath.
It is the perfect place to hike, bike, jog, or do whatever you want to do.
The trail takes you past some of the best sites in this Ohio National Park.
Along the trail, you'll find parts of the area's history, like remnants of the old canal, the historic railroad tracks, and more.
The trail is very well maintained and fairly even.
That makes it great for those of all hiking or walking skill levels that want to enjoy the park.
Throughout the trail, you'll find plenty of places to stop and relax or have a picnic if you have the time.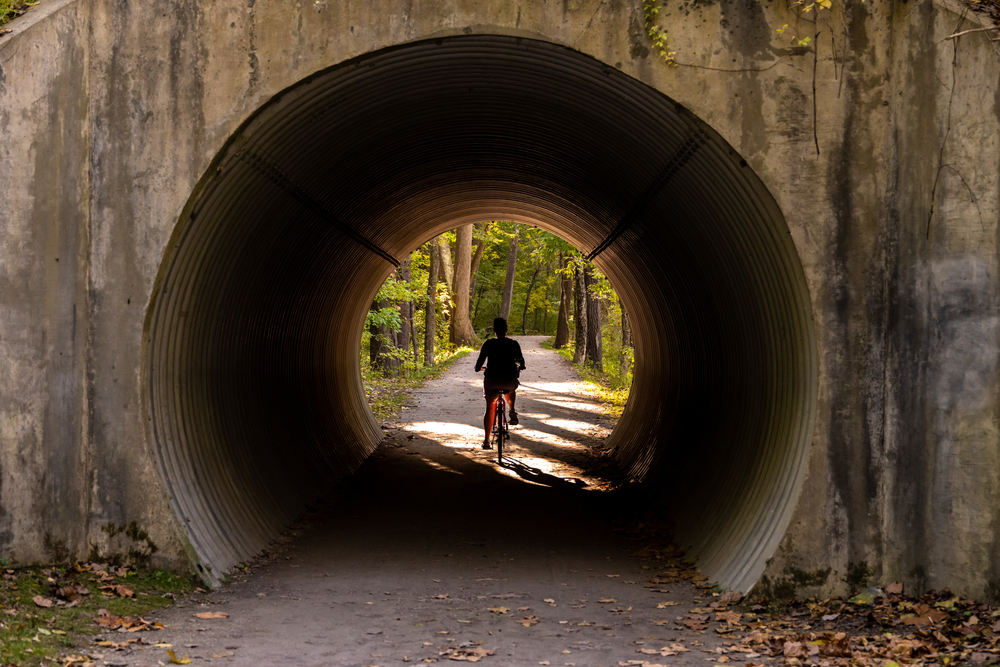 Packing List For Visiting Cuyahoga Valley National Park
If you are searching, here are some tips on how to pack lightly when packing when heading to Ohio.
A concealed travel pouch may be one of the most important items you bring along visiting Cuyahoga Valley National Park.
It is always important to protect your personal information. Identity thieves are everywhere.
This unisex RFID-blocking concealed travel pouch is lightweight and comes in several colors. It has lots of organization to give you peace of mind.
You can place it under your clothes next to your body to carry your ID safely.
If you have a pouch already that does not come with RFID protection, as I do, these RFID sleeves are the perfect solution.
If you are planning on taking a lot of pictures with your phone you will definitely want to consider an external charging battery.
This Anker high-speed phone charging battery is the exact one I carry with me on all of my trips.
I like that it holds its charging capabilities for several uses so I do not have to worry about it while out and about, and if I forget to recharge it at night, it will still be good to go the next day.
My daughter gifted me with this FugeTek selfie stick and tripod setup for my birthday. I absolutely love it! It is made of lightweight aluminum and is so easy to use.
It has Bluetooth connectivity and is a breeze to use for taking Insta-worthy selfies while experiencing activities at Cuyahoga Valley National Park!
I never much believed in using packing cubes when traveling. That is until I tried them. Now I am hooked. These are the exact cubes I use to stay organized when I pack for a trip!
You will want to bring your own refillable water bottle with you.
I never leave home on a trip without my Bobble filtration bottle. The 18.5-ounce size is perfect for your adventures and it fits nicely in the pocket of a backpack.
The replacement carbon filter ensures fresh water every time you fill the Bobble.
Perhaps you are traveling a long distance and packing space is a premium in your suitcase, or in your car. Then this collapsible silicone foldable water bottle would work well for you. Would not take up much space at all.
You will want a backpack or daypack with you to store snacks, your water bottle, phone, extra clothes, etc… while visiting this national park in Ohio.
This foldable water-resistant backpack would be great. And it comes in many different colors!
—
The Cuyahoga Valley National Park is one of my favorite National Parks in Ohio to visit.
It is one of the best Midwest Weekend Getaways.
There is just so much to do and see there, especially things that you may not typically see at a state or national park.
I hope you enjoyed this list full of some of the best things to do while you explore the park.
Is there anything that really piqued your interest or have you visited Cuyahoga Valley National Park before?
I would love to hear about your trip, or plans for a future trip, in the comments!