Looking for things to do in Youngstown Ohio?
There are so many things to do in Ohio and You have certainly come to the right place.
I am an Ohio gal through and through. I was born and raised in Youngstown Ohio!
Located in northeast Ohio, halfway between New York City and Chicago via I-80, Youngstown Ohio is easy to get to.
It is about one-hour northwest of Pittsburg, PA, and approximately one-hour southeast of Cleveland.
Situated in the American 'rust belt' Youngstown's claim to fame used to be its steel production. However, now Youngstown OH has reinvented itself into a culturally vibrant city with a lot of options now that the steel industry has fallen into decline.
I have listed for you my top 10 things to do in Youngstown Ohio. I hope you love my hometown as much as I do.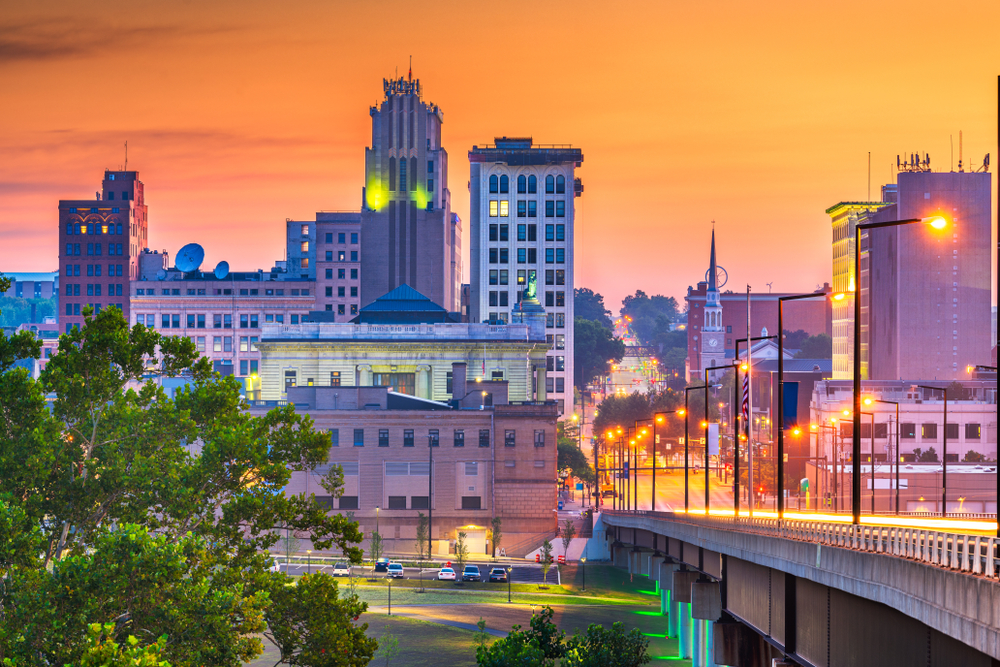 To Best Things To Do In Youngstown Ohio
Butler Institute Of American Art
Joseph G Butler had a dream. He wanted a museum in Ohio dedicated to American art and artists only.
Thus in 1919 was born the Butler Institute of American Art in Youngstown Ohio. The ornate building was constructed in the Italianate style of architecture and is listed on the National Register of Historic Places.
This unique museum collects and showcases only works of American artists in all forms of media. and visiting here is like taking a walk through Americana.
There is no admission fee to enter, but donations are gratefully accepted.
A stop at the Butler Museum of American Art is one of the romantic things to do in Ohio.
OH WOW! Children's Center For Science And Technology
Located in downtown Youngstown, the OH WOW! Roger and Gloria Jones Children's Center for Science and technology has been opened since 2011.
A very popular attraction in Youngstown Ohio, OH WOW! has been a key player in the revitalization of downtown Youngstown's business district.
Geared towards children from birth until age 14, OH WOW! offers fun and interactive STEM exhibits and educational programs.
With more than sixty interactive exhibits and eleven WOW! zones, this is one of the most kid-friendly things to do in Youngstown.
Mill Creek Park Is A Youngstown Jewel
Officially known as Mill Creek MetroParks, this city park is really 4,400 acres and is one of the largest metropolitan parks in the United States.
Here are some highlights of things not to miss at Mill Creek Park:
Fellowship Riverside Gardens is a public garden at the northern end of the park.
The twelve acres of manicured gardens are very popular and have become a year-round destination for locals and visitors alike.
Lanterman's Mill was restored in the mid-1980s. Today it operates grinding wheat, and corn as it did in the 1800s. It is a perfect representation of one of the industries along Mill Creek during that time period.
Any golfer looking for things to do in Youngstown will be pleased!
Mill Creek MetroParks offers two 18-hole golf courses. North Course plays through tall trees while South Course plays through streams. It was awarded one of America's best municipal golf courses.
Make sure to spot off at the Ford Nature Center. The rangers are there to share information about Mill Creek Park.
It is located inside a very cool stone mansion and has interactive exhibits, a gift shop. Walking trailheads can be found there.
If you are fortunate to visit Youngstown Ohio in spring, make sure to seek out the blooming daffodil meadow adjacent to Lake Newport.
The four-acre Lily Pond is another popular spot within the park. Goldfish and migrating waterfowl can be seen here. The Lily Pond Circle Trail loops around the pond and provides a lovely respite for weary travelers.
Pioneer Pavilion is one of the oldest buildings remaining in Youngstown Ohio. And it is located within the boundaries of Mill Creek Park.
And for an Insta-worthy photo, visit the ornate Suspension Bridge that connects the east and west sides of the park. It is nicknamed the Cinderella Bridge!
Lakes, trails, wetlands, waterfalls all beckon visitors to visit. Mill Creek Park continues to remain one of the most incredible things to do in Ohio.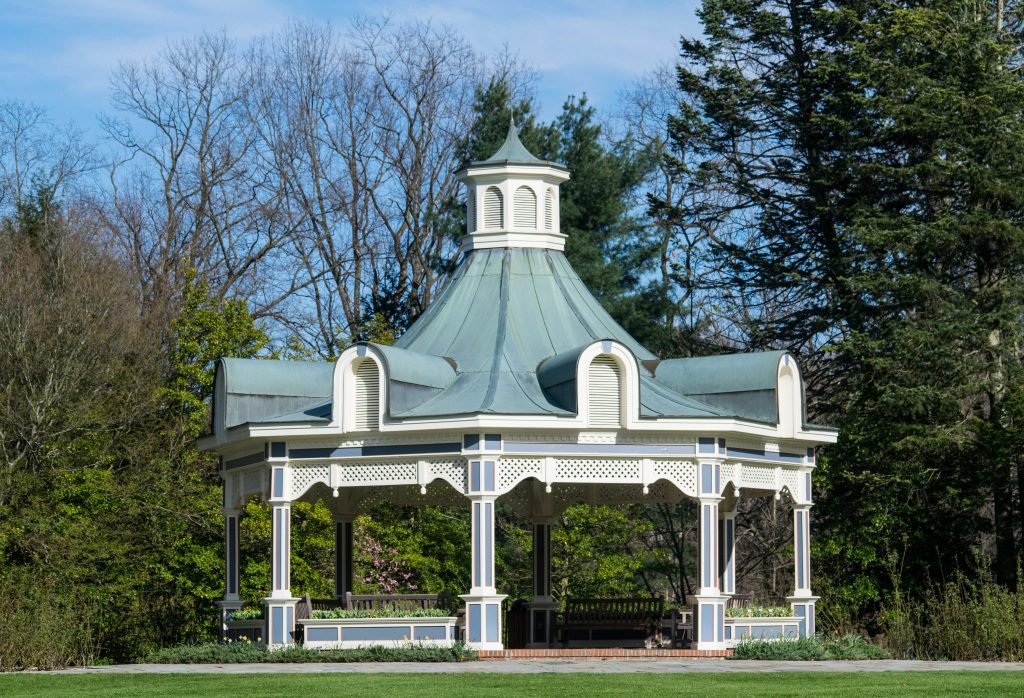 The Ward Beecher Planetarium At YSU
Located on the campus of my alma mater, Youngstown State University, is the Ward Beecher Planetarium for those who love astronomy.
It has been around for fifty years and is a very popular activity in Youngstown Ohio.
According to the wishes of Ward Beecher, its benefactor, there is no admission fee. However, donations are gladly accepted. And appreciated.
The technology is constantly being updated to proved guests with the most current up-to-date experiences, making a visit here one of the most interesting things to do in Youngstown Ohio!
9/11 Memorial Park
The park is dedicated to the memory of those who lost their lives on 9/11/2001.
A very somber experience indeed, one which we might or might not need to take as a cold reminder every once in a while.
The park's paths meander throughout the park and lead visitors to parts of the World Trade Center beams.
There is an urn containing soil from the Pennsylvania crash site of Flight 93.
And you can see some of the building stones from the Pentagon.
Visiting 9/11 Memorial Park is one of the solemn things to do in Youngstown.
The Mahoning County Courthouse
The Mahoning County Courthouse was built in the early 1900s. Constructed in the Renaissance Revival Style, this ornate building is a sight to behold.
Its main lobby floor is surrounded by 12 marble columns.
At its center, one hundred feet above rises the rotunda to an exquisite glazed art glass dome.
On either side, you will see two stunning marble staircases along with mahogany woodworking and marble wainscoting.
The landings provide artwork depicting agriculture and manufacturing, the main industries of the area of the past. 
Due to its beauty, the courthouse has won several preservation awards and is now listed on the National Register of Historic Places.
Visiting the Mahoning County Courthouse is one of the free things to do in Youngstown Ohio not to be missed.
Looking for other Ohio adventures? Ohio has some of the best beaches in the Midwest!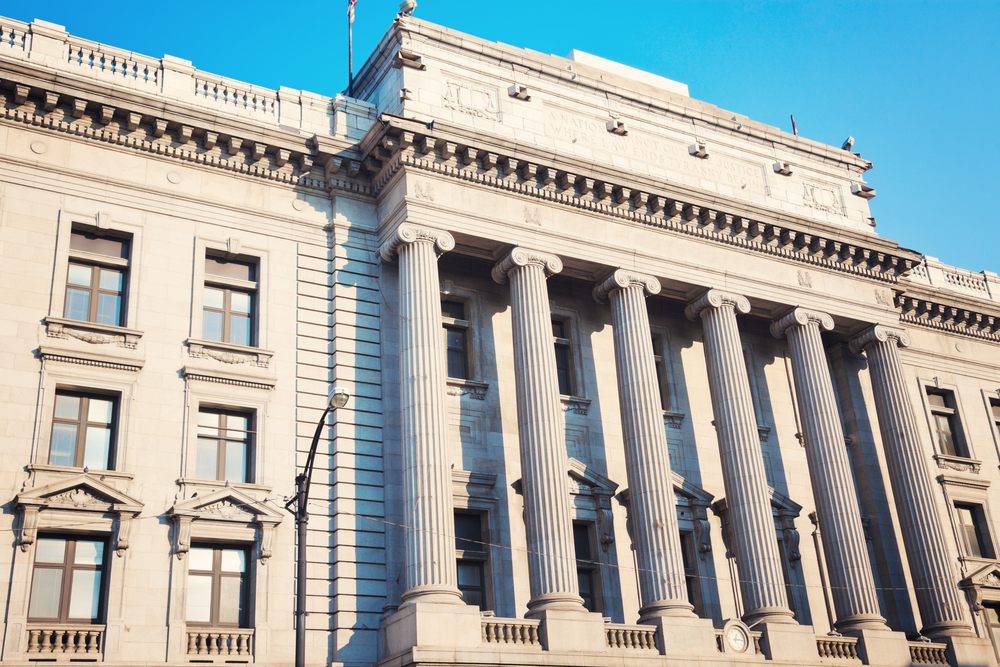 Sit Back and Relax At The Youngstown Foundation Amphitheatre
Located within the 20-acre Wean Park, this outdoor amphitheater is an impressive addition to add to your list of things to do in Youngstown itinerary.
Seating 4,800 patrons, a variety of concerts, and outdoor community events take place here yearly.
Check their online schedule when you will be visiting Youngstown Ohio to see if there is a live outdoor concert or event that interests you and your family. And see it under the Ohio stars!
You can picnic at the park, or take advantage of the best hiking in Ohio running, and cycling trails. Taking advantage of this community complex is one of the best free things to do in Youngstown Ohio.
Gawk At The Community Alley!
At 25 feet wide and 800 feet long the Huntington Bank Community Alley runs under Market Street Bridge.
This service road now has state-of-the-art LED lighting and allows access to the Youngstown Amphitheatre for its events.
Community events, such as festivals and craft shows are held there.
And it is available for private events as well.
See the Huntington Bank Community Alley all lit up is one of the free things to do in Youngstown.
Visiting President William McKinley Memorial Monument Is One Of The Best Things To Do In Youngstown OH
President McKinley was the 25th president of the United States of America.
He was born and raised in Niles, Ohio, a suburb of Youngstown.
To honor him, the National McKinley Birthplace Memorial was constructed in his hometown.
The McKinley Birthplace Museum is located in the north wing of the building.
The McKinley Memorial Library is located in the south wing of the National McKinley Birthplace Memorial.
And the McKinley Birthplace Home and Research Center is a replica of the McKinley family home. It is located less than a block away from the memorial library. Complimentary tours are available.
Visiting this historical location is one of the best things to do near Youngstown Ohio.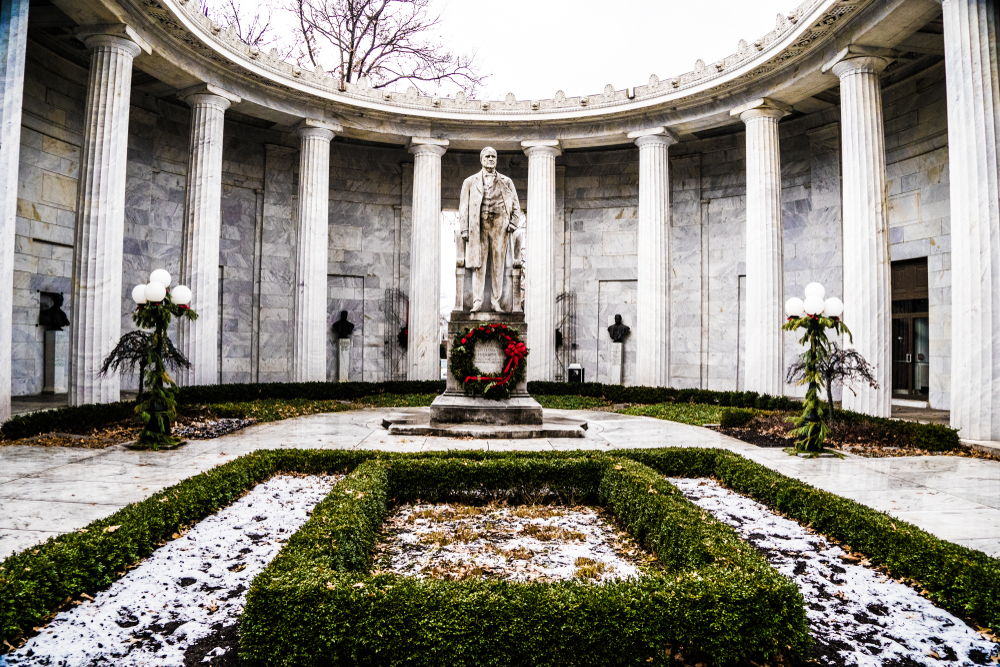 Visit Museums In Youngstown Ohio To Learn Its Steel History Is One Of The Interesting Things To Do In Youngstown
The Youngstown Historical Center of Industry and Labor has hundreds of photos and interactive exhibits on display showcasing in very interesting ways the interesting and explosive steel manufacturing history of Youngstown.
Youngstown Steel Heritage Museum is an open-air museum of sorts showcasing various historical pieces of steelmaking and railroad equipment.
Visit the Little Steel Strike of 1937 Monument and Memorial in downtown Youngstown to learn about the events of the strike that pitted large unions against the independent workers of the 'little steel mills.'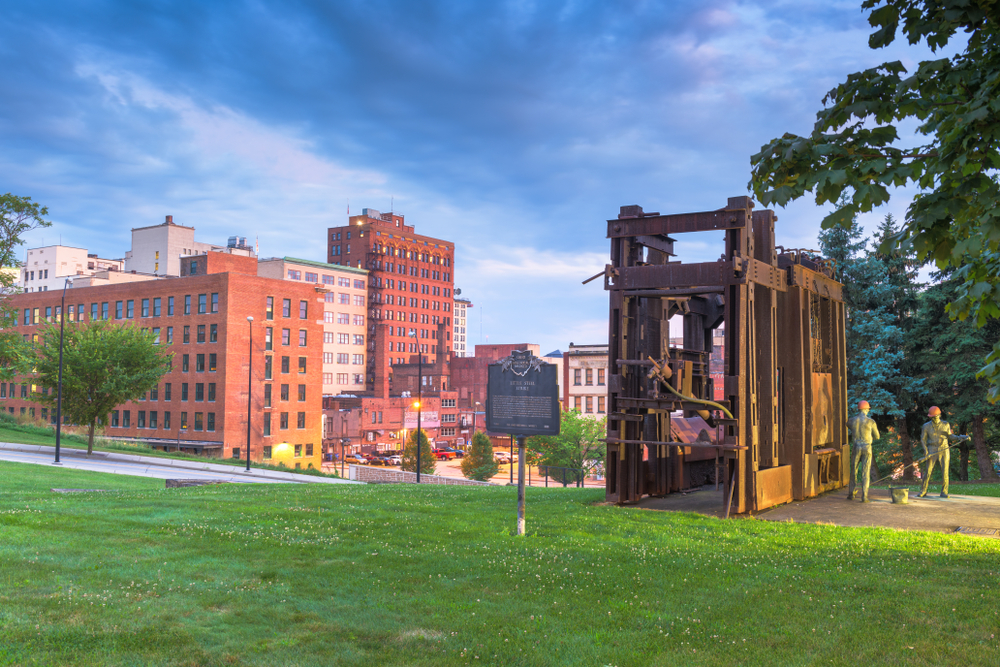 Packing List for Your Visit to Youngstown Ohio
A concealed travel pouch may be one of the most important items you bring along on when looking for things to do in Youngstown. It is always important to protect our personal information.
If you need packing tips, read how to pack lightly here.
This unisex RFID-blocking concealed travel pouch is lightweight and comes in several colors. It has lots of organization to give you peace of mind.
f you have a pouch already that does not come with RFID protection, as I do,  these RFID sleeves are the perfect solution.
This configuration comes with enough passport and credit card sleeves that the entire family would be protected. They are slim too, so they will easily fit into your pouch or wallet.
If you are planning on taking a lot of pictures with your phone you will definitely want to consider an external charging battery. This Anker high-speed phone charging battery is the exact one I carry with me on all of my trips.
It can be used on a variety of phones, not just an iPhone like I have. And wow is it fast!
I like that it holds its charging capabilities for several uses so I do not have to worry about it while out and about, and if I forget to recharge it at night, it will still be good to go the next day.
My daughter gifted me with this FugeTek selfie stick and tripod setup for my birthday. I absolutely love it! It is made of lightweight aluminum and so easy to use. It has Bluetooth connectivity and is a breeze to use for group shots or that perfect selfie!
I was not a fan of packing cubes until I started to use them! This is the exact set of packing organizers I use whenever I travel.
Hydration is so important. You want to remain hydrated to support your immune system which in turn will be stronger to fight off any germs you will encounter during your travels. You will want to bring your own refillable water bottle with you.
I never leave home on a trip without my Bobble filtration bottle. The 18.5-ounce size is perfect for travel and it fits nicely in the pocket of a backpack or your purse.
When filled with water, it is not too heavy to carry. And the carbon filter ensures fresh clean water whenever you fill the Bobble. You can find filter replacements here. 
Perhaps you are traveling a long distance and packing space is a premium in your suitcase, or in your car.
Then this collapsible silicone foldable water bottle would work well for you. Would not take up much space at all. 
You will want a backpack or daypack with you to store snacks, your water bottle, phone, extra clothes, etc.. This foldable water-resistant backpack would be great.
It is very affordable and is available in many color options for you to choose from. The fact that it folds down into a zippered pouch will make it easy to pack.
Perhaps you need a more substantial backpack for your travel. This antitheft backpack has a charging port, is water-resistant, and can comfortably carry up to a 15.6″ laptop.
You will be walking more than usual while looking for things to do in Youngstown. A sturdy and comfortable pair of walking shoes are a must-have. These waterproof all-season shoes are extremely affordable and yet fashionable.
Mostly everyone is familiar with the Skechers brand, and these Air Run high fashion sneakers come in a lot of colors to match your outfits and are still affordable.
If you are visiting Ohio in warmer weather, maybe you want a pair of sandals to wear to dinner or to the local cafe, I highly recommend these Vionics adjustable strap orthotic sandals.
I have several pairs of Vionics that I bring with me *everywhere* I travel. They are very comfortable and have orthotic footbeds that cradle and support your feet.
We all need to protect our eyes from the sun's harmful UVA/UVB rays. These unisex polarized sunglasses come in a lot of lens colors and frame designs and are extremely affordable too.
If you are fond of the aviator-style of sunglasses these polarized aviators may interest you.
If you are in need of new luggage, this expandable soft side spinner luggage is affordable and comes in lots of colors.
If you like hard-sided better, then you may favor this hard-sided luggage set better. Both sets come with TSA locks and 8 wheels per piece.
—
Here I have listed the 10 best things to do in Youngstown Ohio. Some are popular, some are not so popular. All are worth your time. I hope you enjoy visiting my hometown and home state of Ohio.