Are you looking for the best beaches in Ohio? Then this list is perfect for you!
Beaches in Ohio may be a little different than what you typically think of when you think of a beach.
Many of the beaches are sandy, but you'll also find pebble and stone beaches.
There are also beaches with large areas of grass and not as much sand.
One thing is for certain, Ohio beaches are all unique and have a lot to offer, and I would know.
I was born and raised in Ohio, and I've spent a lot of time at some of the best beaches in Ohio.
I'm going to share with you the 14 Best Beaches in Ohio you must visit!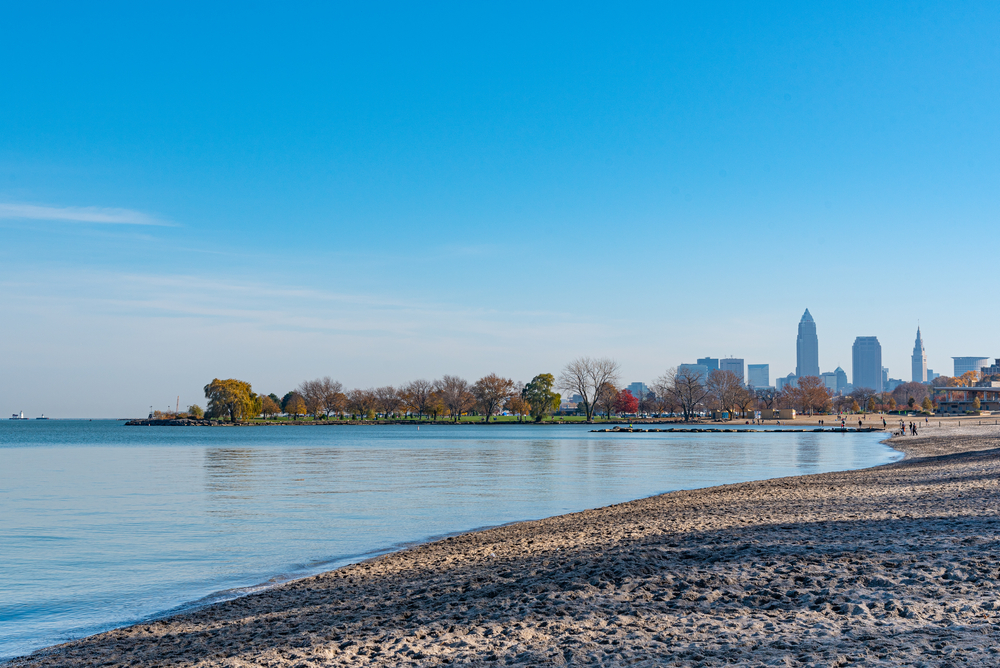 17 Best Beaches In Ohio You Must Visit
Conneaut Township Beach
Conneaut is a lovely vintage town in Ohio located in the northeast tip of Ohio right on Lake Erie.
Growing up in Youngstown, this is where I spent all my summer vacations.
The sandy beach is located within the Conneaut Township Park and is a quarter-mile long.
A series of wooden boardwalks connect the parking lots to this expansive beach.
Walk to the iconic Conneaut lighthouse, have a family picnic at one of the many picnic tables, or feast on treats at the concession stand.
There's a great playground for the children, and a myriad of sports for the adults to play. Or simply lie around on the beach soaking up the sun's rays.
With this many options, it is no wonder Conneaut has one of the best beaches in Ohio!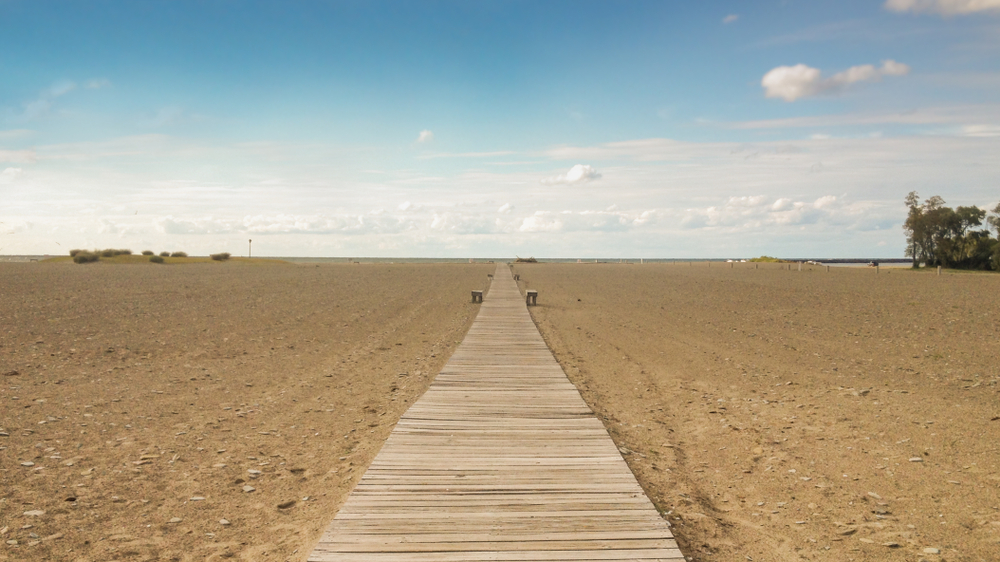 Headlands Beach To Avoid The Crowds
Headlands Beach is actually located on Headlands Beach State Park.
There you will find a mile-long natural stretch of sand and pebble beach with the Lake Erie lighthouse in the distance.
This is one of the best Lake Erie beaches in Ohio if you want to avoid crowds.
There is plenty of space as it is a large beach and visitors often find it fairly empty.
You'll get to see jet skiers and sail boats pass by as you have fun in the waves.
Because it is a pebble beach, Headlands Beach is also great for looking for cool pebbles and beach glass. Do not forget your aqua shoes.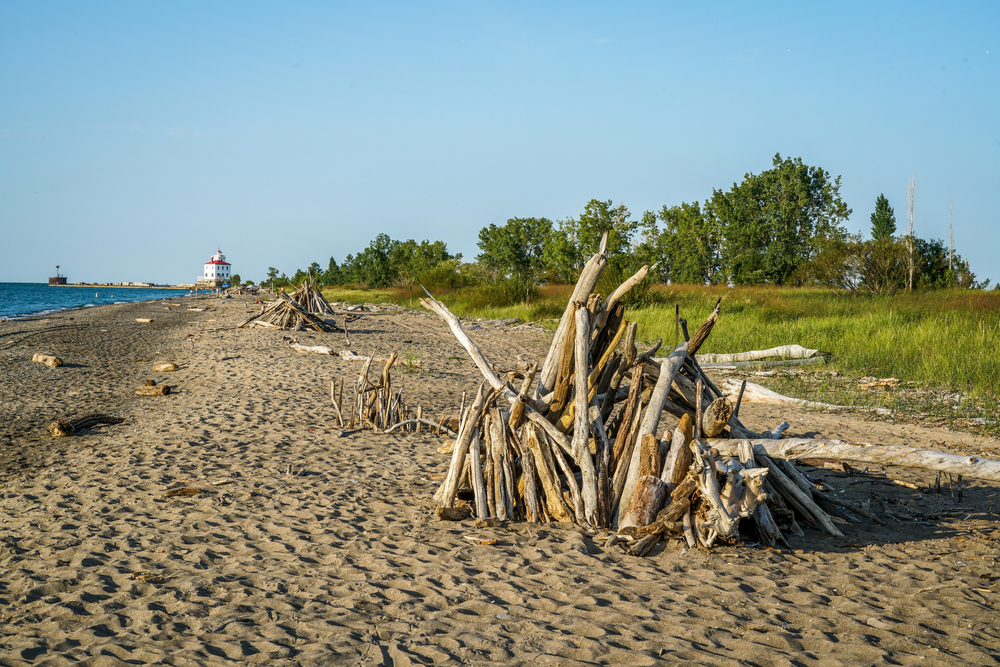 Edgewater Beach For A Unique Experience
Edgewater Beach is one of the more unique beaches in Ohio because it is right in Cleveland.
Its not often that you get to enjoy the beach in the middle of a large city.
That's what makes Edgewater beach so unique though!
Because it is right in the city, there is so much to do around the beach as well.
Grab an ice cream at the concession stand, enjoy watersports, or walk to the beach after a nice lunch or dinner in one of the nearby restaurants.
There are also cabanas you can rent, as well as places to play a game of beach volleyball.
If you want to spend a few days enjoying Edgewater Beach, make sure to check out the best Airbnbs in Cleveland.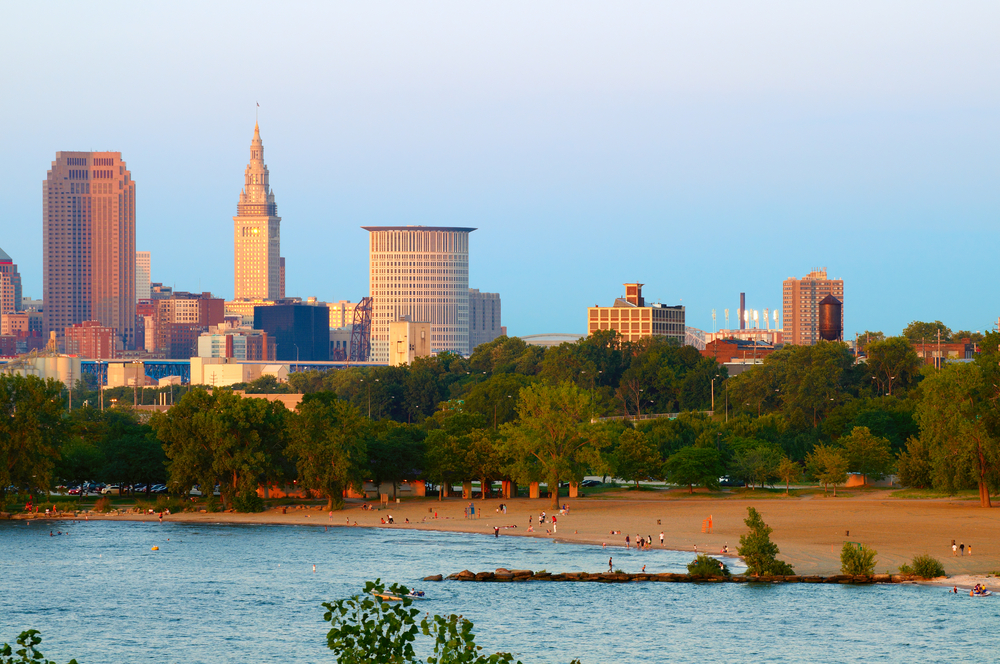 Nickel Plate Beach For Lighthouse Views
In Huron Ohio, you can visit the beautiful Nickel Plate Beach.
Nickel Plate Beach is one of the sandy Ohio Beaches on Lake Erie.
There, you can enjoy beautiful Lake Erie sunsets and even check out the Huron Lighthouse.
Along with the traditional sandy beach, you'll also find picnic shelters with tables, corn hole boards, a place to play beach volleyball, and a ping pong table.
If you'd like to try kayaking or paddle boarding, you can rent the equipment at the Paddle Shack.
There is also an area for grilling and a small children's playground.
This Lake Erie beach in Ohio is perfect for bringing the whole family and spending the day enjoying the waves.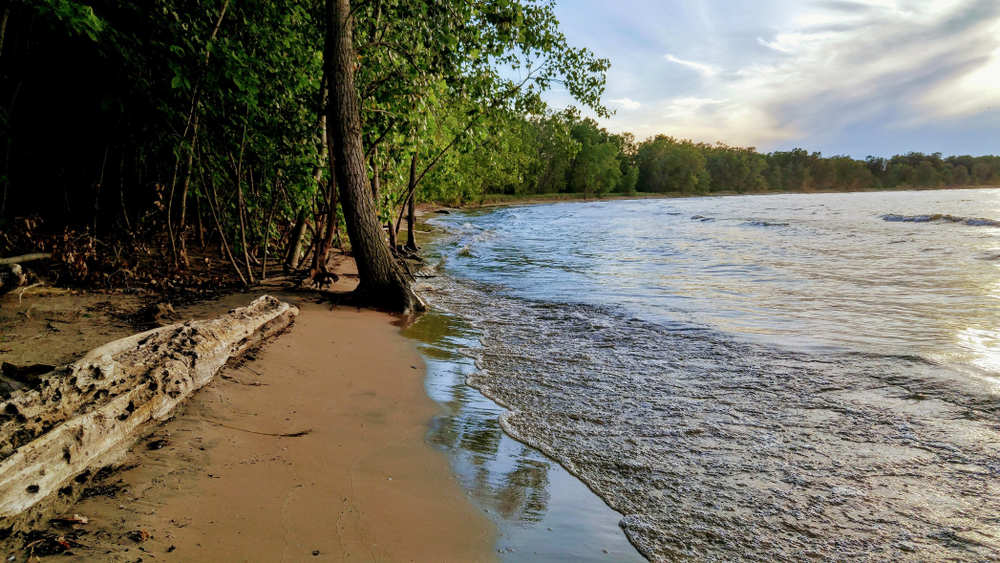 Lakeshore Park In Ashtabula
Lakeshore Park is 54-acres of fun right on the shores of Lake Erie.
Popular with the young and old alike, there is so much to do! The public boat dock is available for boaters and jet skiers. Pavilions are available for family or work outings.
There is a playground for the children as well as sports options (horseshoe pits, bocce and volleyball courts) for the adults.
There is a waterfowl pond brings attention to the beautiful while swans and are a delight to all ages.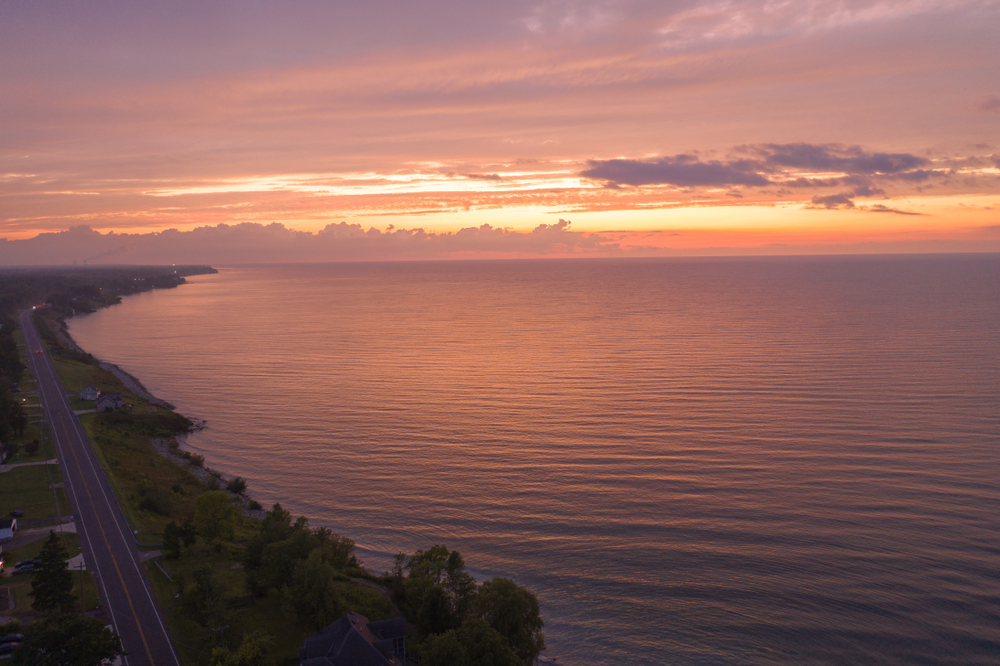 Lakeview Park To Spend The Day
In Lorain, you'll find Lakeview Park, one of the best beaches on Lake Erie in Ohio.
Lakeview Park is not just a beach.
In fact, it is an entire park complex that is full of activities and a beautiful beach.
There is a historic rose garden, space for beach volleyball, lawn bowling, a playground for the kids, and a bathhouse.
If you are feeling hungry, you can either grill in the picnic area near the beach, or you can head to the Sunset Café or the concession stand.
The beach itself is also great with plenty of space to stretch out and enjoy the waves.
If you and your family want to stay all day, you can even rent a shelter or gazebo.
Even if you get tired of the beach and want a break, there is still so much you can do at Lakeview Park.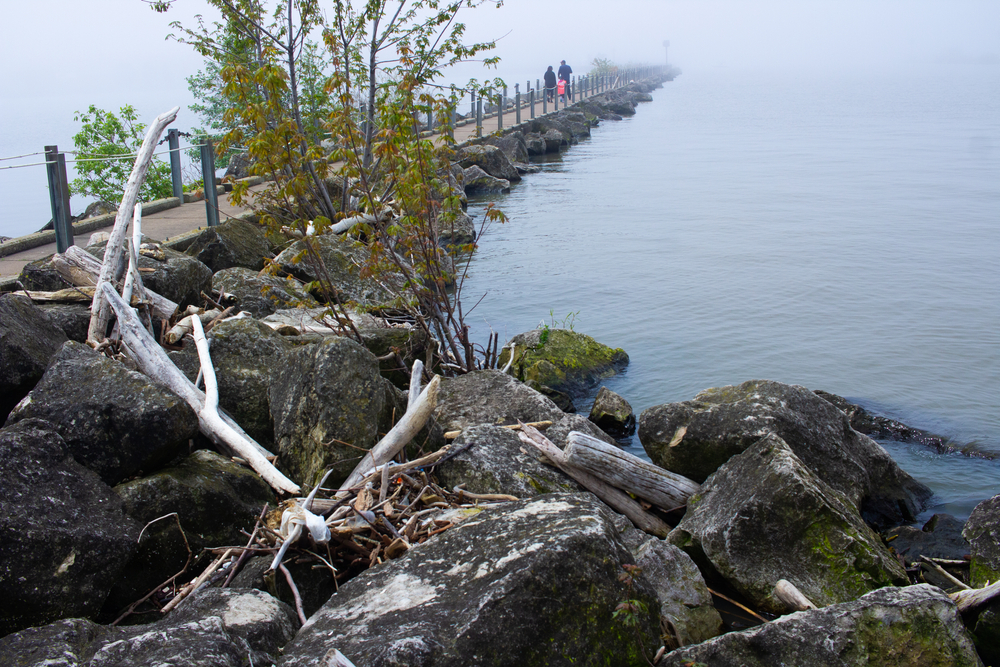 Huntington Reservation Beach
In Bay Village, on the shores of Lake Erie, is the Huntington Reservation Beach.
The Huntington Reservation is home to the Lake Erie Nature & Science Center, the BAYarts, and Huntington Beach.
Visitors of the Reservation can hike miles of trails along the beach or enjoy the beach itself.
The Huntington Reservation Beach is a sandy beach that also has some interesting rock formations.
The beach is also closely hemmed by the nearby forest area.
It is truly a unique beach exprience.
Visitors can enjoy swimming, and in the summer there are cabanas and beach chairs you can rent.
There is also a small picnic area as well as a bathhouse.
The Huntington Reservation is on the west side of Cleveland, so it's a perfect spot to visit if you're planning a trip to Cleveland.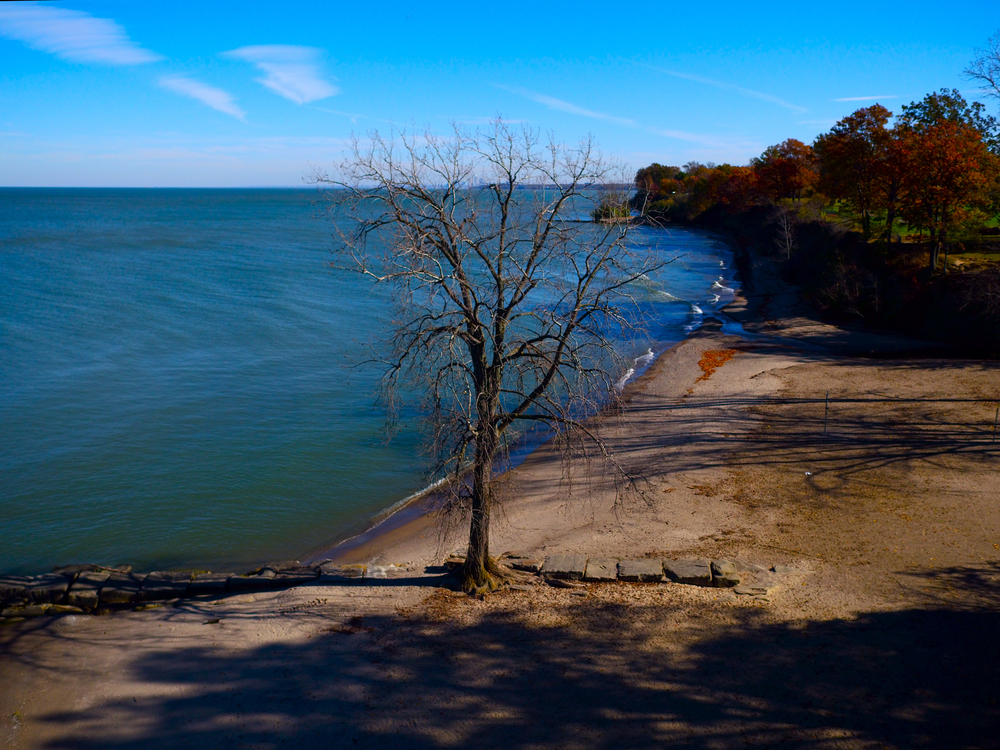 Geneva State Park Beach
In Ashtabula County is the cute town of Geneva-on-the-Lake.
It is also home to one of the coolest beaches in Ohio.
Geneva-on-the-Lake is a Lake Erie beach town and it is full of activities, as well as a great beach.
The beach itself is located in Geneva State Park and sometimes is referred to as Breakwater Beach.
On the State Park, visitors can rent cabins that are just steps from the beach. You can also enjoy camping on the beach.
There is a designated swimming area on the beach, but there are also places to enjoy kayaking, fishing, and pedal boating.
Geneva State Park Beach also has a designated swimming area for dogs!
Along Lake Erie in the park, you'll also find gazebos and even a small Ferris Wheel.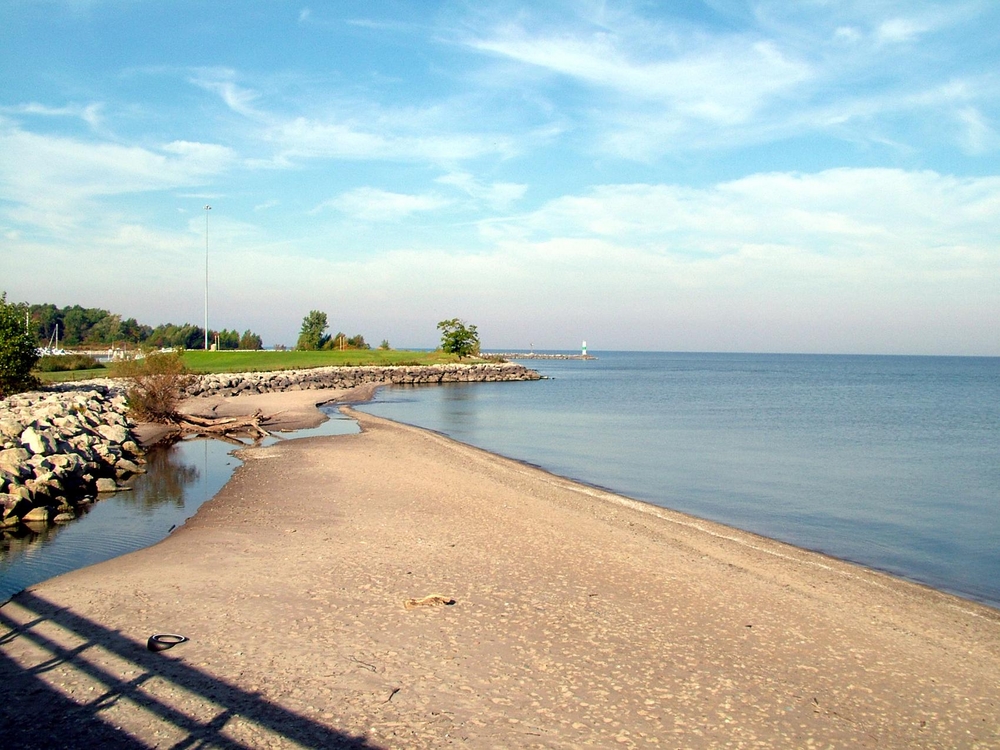 Kelleys Island State Park Beach
Kelleys Island State Park Beach is a popular Ohio beach for families with small kids.
The waves typically don't get to rough and the water gradually gets deeper.
It is a very kid friendly option, or even perfect for those who like to enjoy calmer swimming.
On the beach there is also a small boat launch, a pier for walking and fishing, and restrooms.
If you'd like to spend several days at the Kelleys Island State Park Beach, there is a campground.
Near the campground there is also a playground and plenty of hiking trails.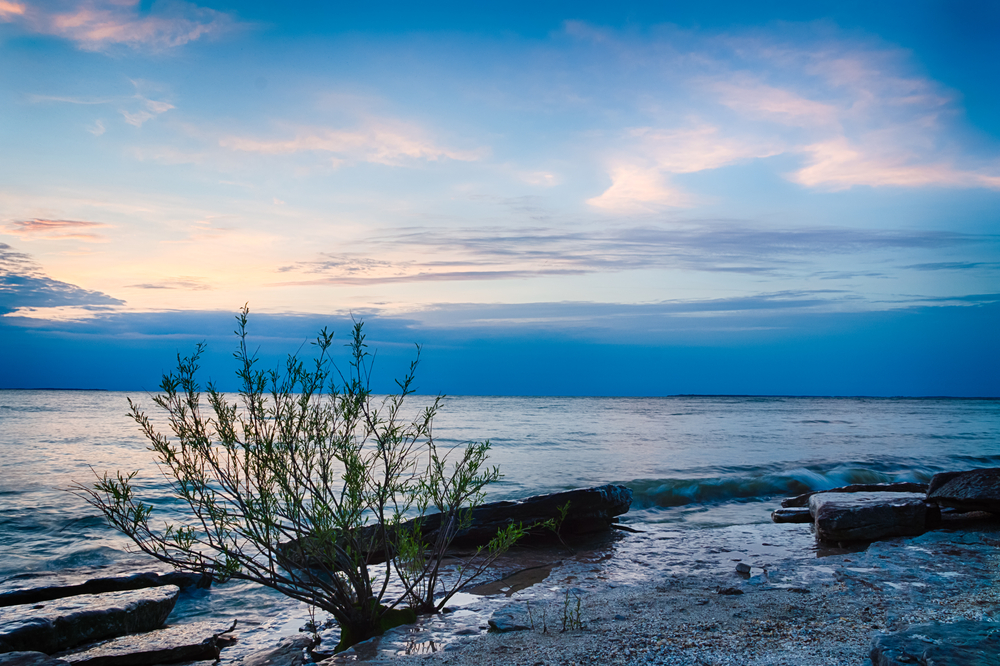 Euclid Beach Park Just Outside Of Cleveland
Euclid Beach Park used to be the home of the famous Euclid Beach Amusement Park.
The Amusement Park closed down in 1969, but beachgoers can now enjoy a 650ft sandy beach.
For those who love all things vintage or history, the park still has a few remnants from it's earlier days as an Amusement Park.
There are still several signs from the old Amusement Park still up, there are remnants of the beach fountain, and even blocks from the old roller coaster are still visible.
Now though, visitors can enjoy a fun beach just outside of Cleveland.
Euclid Beach Park is now home to shaded picnic areas, a scenic observation pier, and there is even a pavilion you can reserve.
If you decide to extend your Ohio trip look here for inspiration.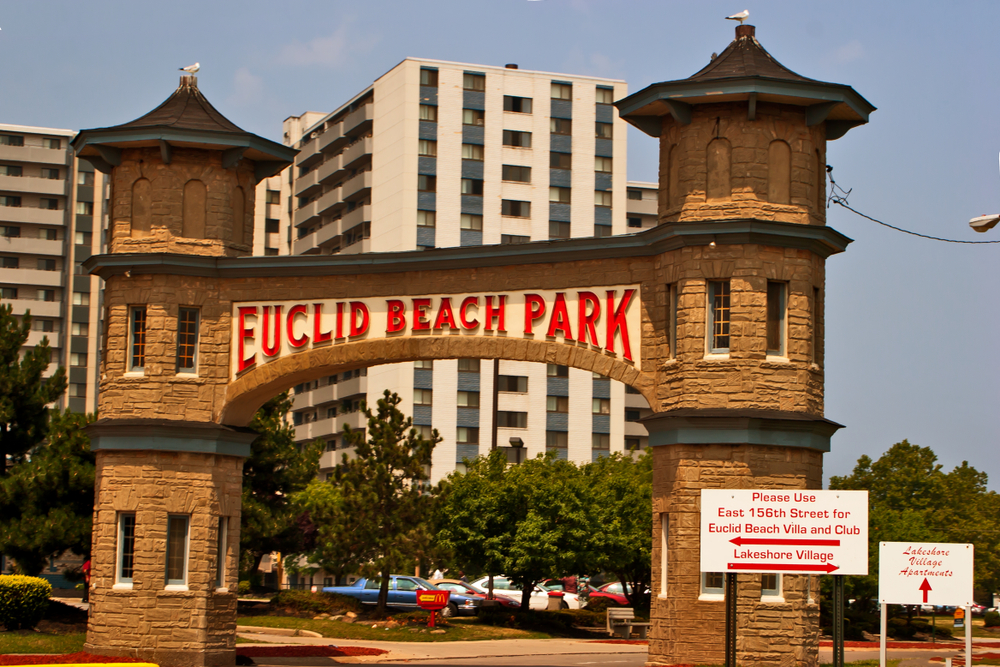 Cedar Point Beach If You Like Amusement Parks
This is one of the best beaches in Sandusky Ohio, and it's right next to Cedar Park, a famous amusement park.
Cedar Point Beach is a great Lake Erie beach that is perfect for visitors.
The beach itself is a sandy beach that gets an excellent breeze right off of Lake Erie.
There is space to play beach volleyball, build sand castles, or just sun bathe.
Behind the beach is the popular Cedar Park, and to access this beach, you'll need to have a Cedar Park ticket.
But, it's completely worth it.
If you want to spend all day on the beach you can. Or if you'd like to explore the Amusement and Water Park and then hit the beach, you can do that too.
Because you need a Cedar Park ticket to access the beach, it is also very well maintained.
You can enjoy the peace and comfort of a beautiful beach on Lake Erie in Ohio and still be surrounded by so many activities and accommodations.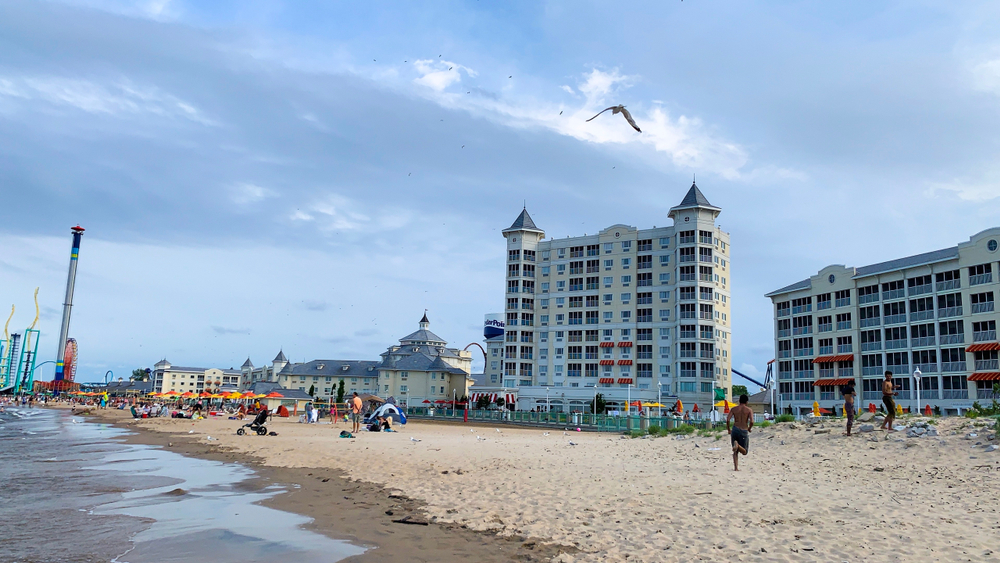 Salt Fork State Park
The Salt Fork State Park is Ohio's largest State Park, and it also has one of the largest inland beaches in Ohio.
The beach is a 2,500 ft space that is designated just for swimming.
So you won't have to worry about sharing space with fisherman or anyone enjoying water sports.
Salt Fork Beach permits swimming during the day only, and there isn't a life guard.
If you want to enjoy the beach all day, there are plenty of accommodations that make that possible.
There is a concession stand, restrooms, outdoor showers, and changing rooms.
You can enjoy the beach all day, use one of the outdoor showers and changing rooms, and then head out for dinner in one of the nearby towns.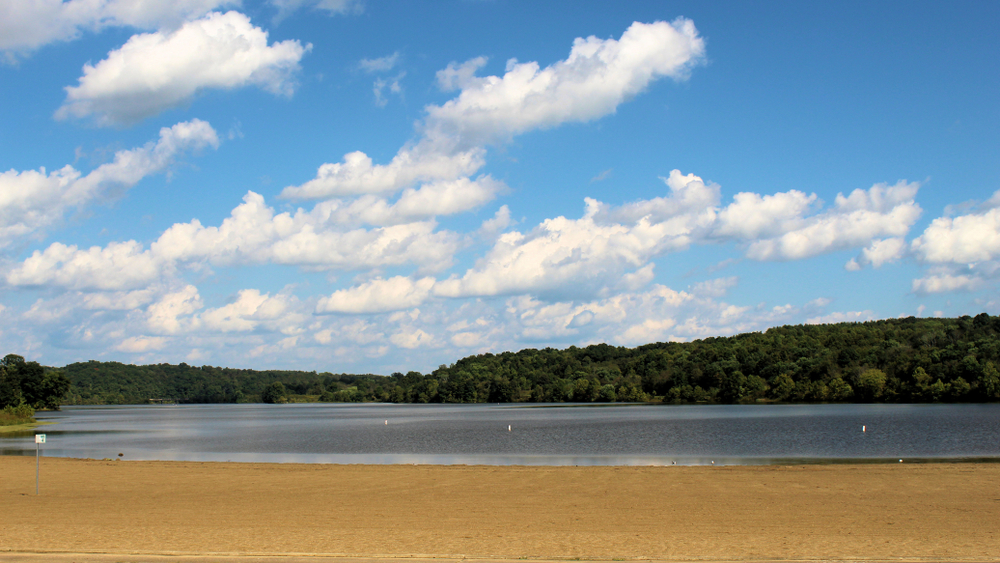 Long's Retreat Family Resort
The Long's Retreat Family Resort isn't just a beach.
It is actually a large amusement resort, full of family friendly and fun activities.
On the resort is a 20 acre lake which has an awesome beach.
The beach itself is a sandy beach and is packed with cool amenities.
For $5 a day, you can enjoy swimming in the lake, jumping off of the lake's many diving boards, go down the tube slide, and jump around on the splash pad.
You can easily spend all day just enjoying the beach.
But if you get bored, there is a Beach Hut that has a few games, snow cones, you can rent tubes to float on, and it even has lockers you can rent.
If you get hungry, Long's Retreat has you covered.
On the beach is a concession stand that sells snacks, drinks, and sweets.
For additional fees, you can also enjoy the many waterslides and go paddle boarding in the lake.
Long's Retreat also has an area for no water activities like go karts, and you can rent cabins, or campsites.
It is the perfect beach in Ohio to spend a few days with your family in the middle of the Summer.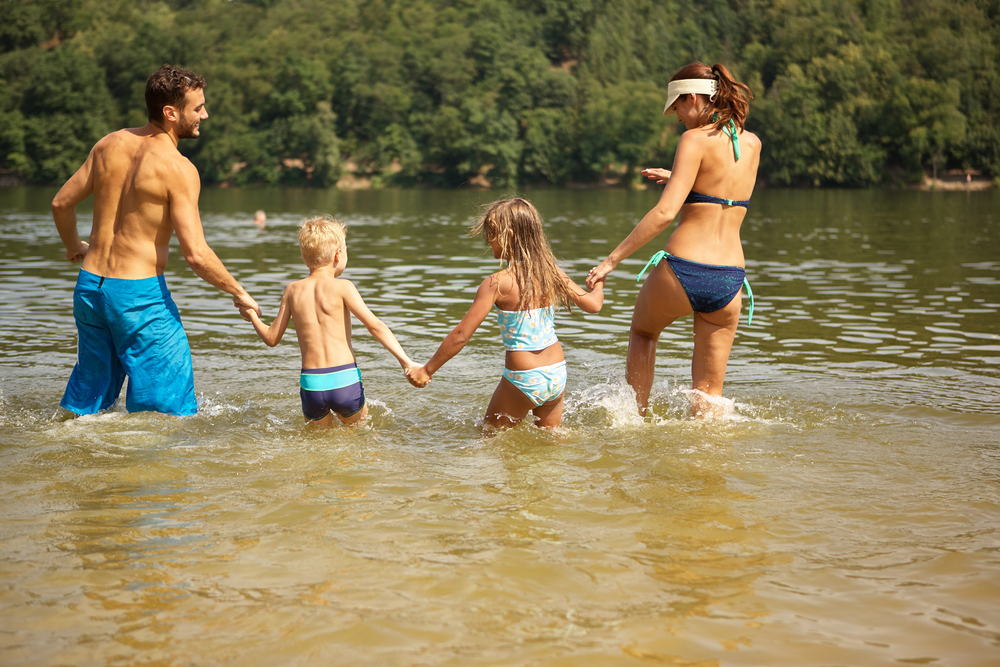 South Bass Island State Park
South Bass Island State Park is one of the coolest State Parks in Ohio.
It is located near Put-In-Bay Ohio and you can enjoy spectacular views of Lake Erie.
The beach is also a more unique beach as it is strictly a pebble beach, so you'll want to wear your water shoes.
There are areas to go swimming, but South Bass Island is really the best beach for enjoying water sports.
You can rent power boats and kayaks directly from the park.
Or if you have your own boat, there is a public launch ramp right by the picnic area.
If you prefer fishing, South Bass Island is perfect for that too.
There is a pier for you to enjoy shoreline fishing and there's even a hut where you can clean your fish before you head home.
South Bass Island also has a large campground, and some of the campsites are right on the beach.
This is the perfect Lake Erie beach in Ohio for enjoying watersports and fishing.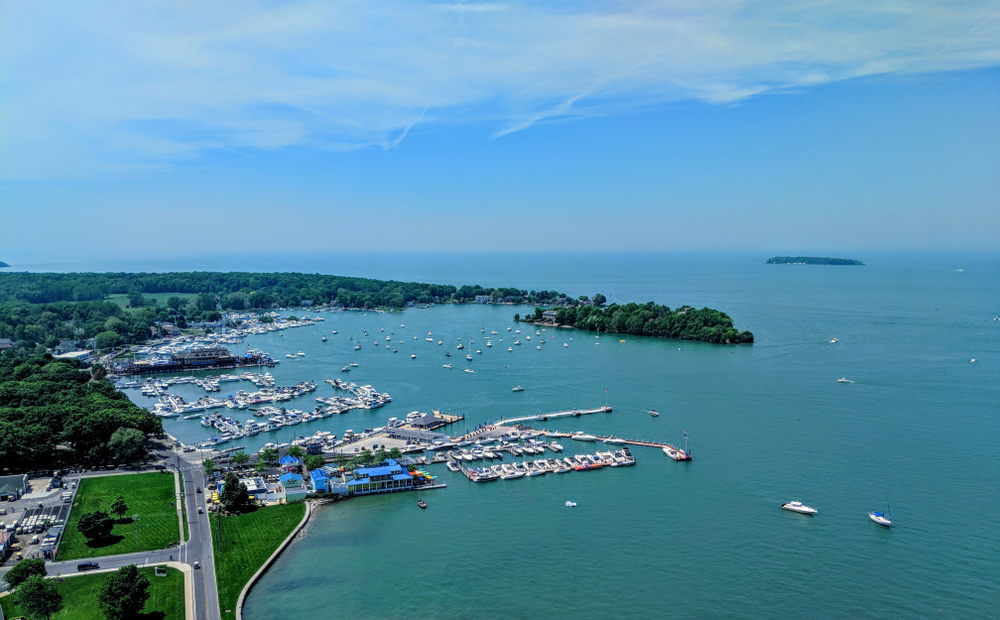 Walnut Beach Park In Ashtabula
Ashtabula Ohio is fortunate enough to have several beach to offer its residents and visitors.
The popular Walnut Beach is one of the very popular Lake Erie beaches in Ohio. And a year round year-round destination as well.
Plan to spend time at the beach, with a picnic, or you can treats at the cute pavilion. Parking is very convenient.
In this 28 acre park, there is also a playground, picnic tables for family outings, a skate park, and beach volleyball and basketball courts.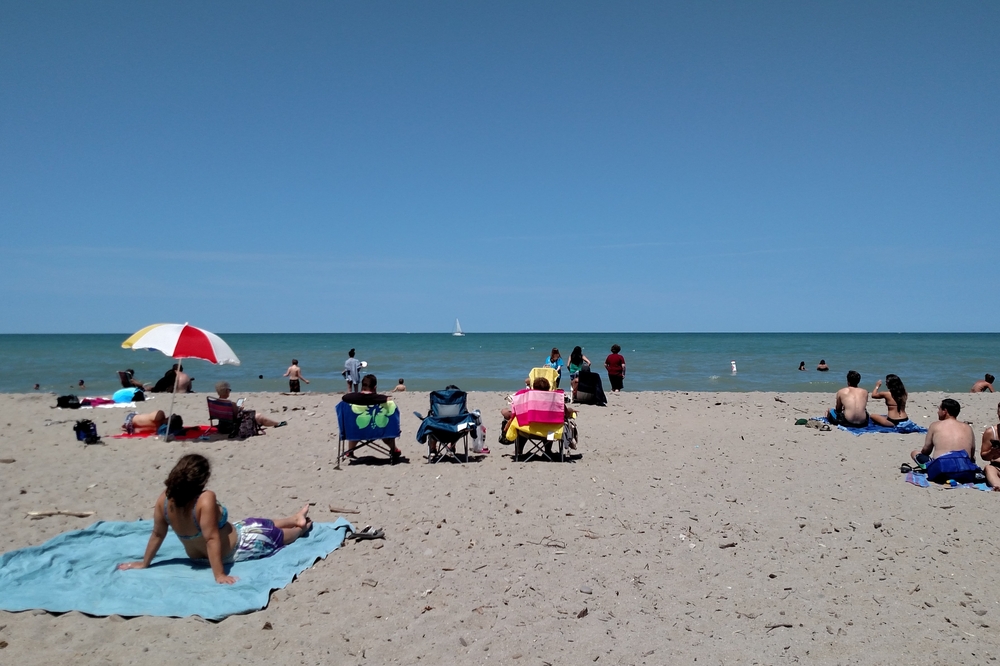 Fairport Harbor Lakefront Park
Fairport Harbor Lakefront Park is actually on the other end of Headlands State Park.
So, if you've got time, you can check out both beaches in one day.
It is open year round, and in the Summer it has plenty of amenities.
In fact, it has frequently been named the Best Beach in Ohio in Coastal Living magazine.
During the Summer months, this Lake Erie Beach in Ohio is extremely popular, and for good reason.
There is a large sandy beach that you can enjoy for swimming, watersports, or just relaxing.
You can rent cabanas and beach chairs and there is even a concession stand.
If you get tired of swimming, you can enjoy one of the many hiking trails.
Or you could walk the Harborview Boardwalk that has views of the lighthouse.
It's a really awesome Ohio beach that you could easily spend hours exploring and enjoying.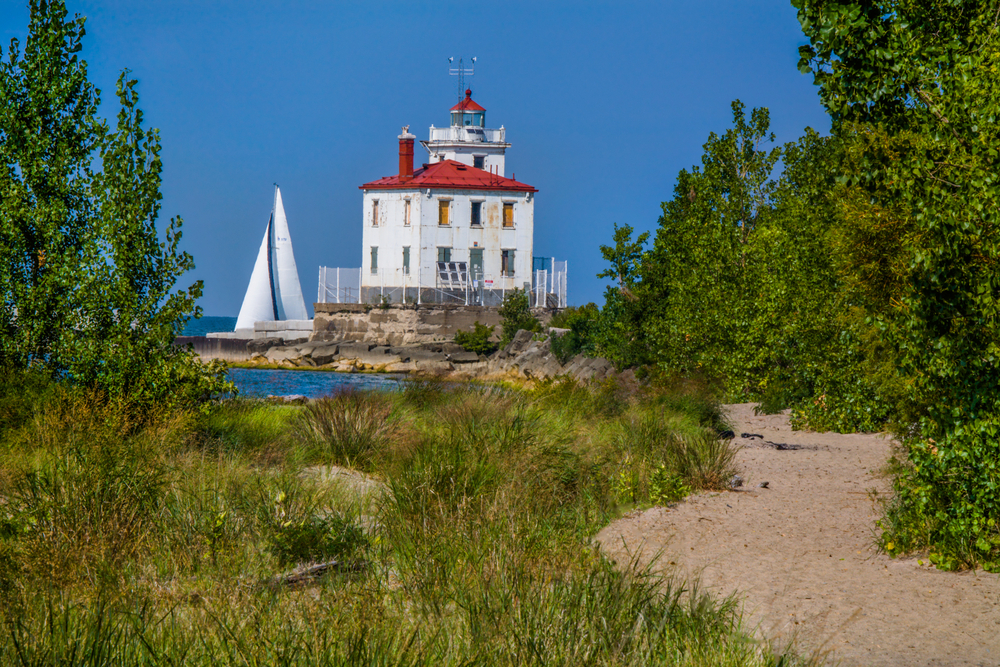 Baylor Beach Park For Family Fun
Baylor Beach Park is another unique beach that is actually on a smaller lake in Ohio.
The park itself has two smaller lakes, a mini-golf course, a gem mine, areas for volleyball and basketball, and a playground.
The smaller of the lakes is exclusively used for paddle boating.
The larger 2 acre lake is just for swimming.
It has a sandy beach that wraps around the lake and there are diving boards, water slides, and a splash pad.
Visitors can also rent inflatables at the Beach Hut, where they'll also find a concession stand.
If you want to spend a few days at Baylor Beach, you can stay at one of their traditional or RV camping sites.
This is truly one of the best beaches in Ohio if you are looking for swimming and fun water activities in one spot.
Packing List For Visiting Beaches In Ohio
If you will be traveling, either by plane or by car to Ohio, here are some tips on how to pack lightly.
A concealed travel pouch may be one of the most important items you bring along when staying visiting Ohio beaches. It is always important to protect your personal information. Identity thieves are everywhere.
This unisex RFID blocking concealed travel pouch is lightweight and comes in several colors. It has lots of organization to give you peace of mind. You can place it under your beach clothes next to your body to carry your ID safely.
If you have a pouch already that does not come with the RFID protection, as I do, these RFID sleeves are the perfect solution.
If you are planning on taking a lot of pictures with your phone you will definitely want to consider an external charging battery. This Anker high-speed phone charging battery is the exact one I carry with me on all of my trips.
It can be used on a variety of phones, not just an iPhone like I have. And wow is it fast!
I like that it holds its charging capabilities for several uses so I do not have to worry about it while out and about, and if I forget to recharge it at night, it will still be good to go the next day.
My daughter gifted me with this FugeTek selfie stick and tripod setup for my birthday. I absolutely love it! It is made of lightweight aluminum and so easy to use.
It has Bluetooth connectivity and is a breeze to use for taking selfies with family and friends at the beaches in Ohio.
Hydration is so important when on vacation. You want to remain hydrated throughout your Ohio weekend getaway to support your immune system which in turn will be stronger to fight off any germs you will encounter during your travels.
You will want to bring your own refillable water bottle with you.
I never leave home on a trip without my Bobble filtration bottle. The 18.5-ounce size is perfect for hiking and it fits nicely in the pocket of a backpack.
When filled with water, it is not too heavy to carry. And the charcoal filter ensures fresh clean water whenever you fill the Bobble.
You can find filter replacements here.
Perhaps you are traveling a long distance and packing space is a premium in your suitcase, or in your car. Then this set of collapsible silicone foldable water bottles would work well for you. Would not take up much space at all.
You will want a backpack or daypack with you to store snacks, your water bottle, phone, extra clothes, etc.. when vacationing on Ohio beaches. No matter the time of day or evening.
This foldable water-resistant backpack would be great.
It is very affordable and is available in many color options for you to choose from. The fact that it folds down into a zippered pouch will make it easy to pack!
—
I hope you enjoyed this list of the 17 best beaches in Ohio! There are so many different types of Ohio beaches and they are all awesome.
If you visit one of these amazing Ohio beaches, I'd love to hear about it in the comments!
Please know that Linda On The Run is a participant in Amazon's Affiliate Programs. This means I make a small about of money at no additional cost to you if you purchase an item.