Lakes in Ohio offers the perfect family-friendly nature getaway! Visiting is one of the fun things to do in Ohio!
Swimming, boating, fishing, and hiking are all activities you can enjoy at these lakes.
Whether you want to relax on the beach with a good book or go birdwatching on the nature trails, there are great outdoor recreation options for you!
Are you ready for an epic lake vacation in Ohio?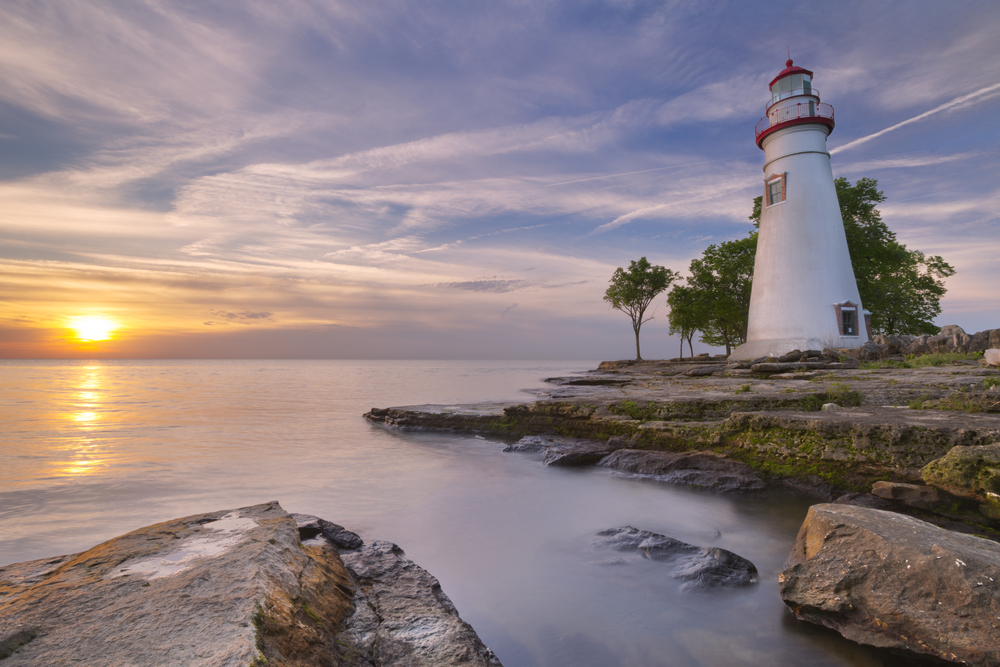 15 Best Lakes in Ohio You Must Visit
Lake Erie
Of course, Lake Erie is the top lake in Ohio!
If you are looking for something to do with the kids this weekend in Ohio, pack a picnic and head to one of the many beautiful lakes.
This Great Lake stretches for over 300 miles on the northern border of Ohio and is one of the best vacation destinations in the state.
Along the lake, there are many resorts, state parks, beaches, lighthouses, and more!
Adults will love the Ohio wineries while kids will have a blast at Cedar Point, one of the best amusement parks in the Midwest!
You can explore some of the best islands in Ohio, such as South Bass Island and Kelleys Island. Check out the best things to do in Put-In-Bay.
Have fun kayaking or photographing some of the pretty lighthouses in Ohio.
Whatever you do, Lake Erie Ohio is the place to make memories! It is the largest and deepest lake in Ohio.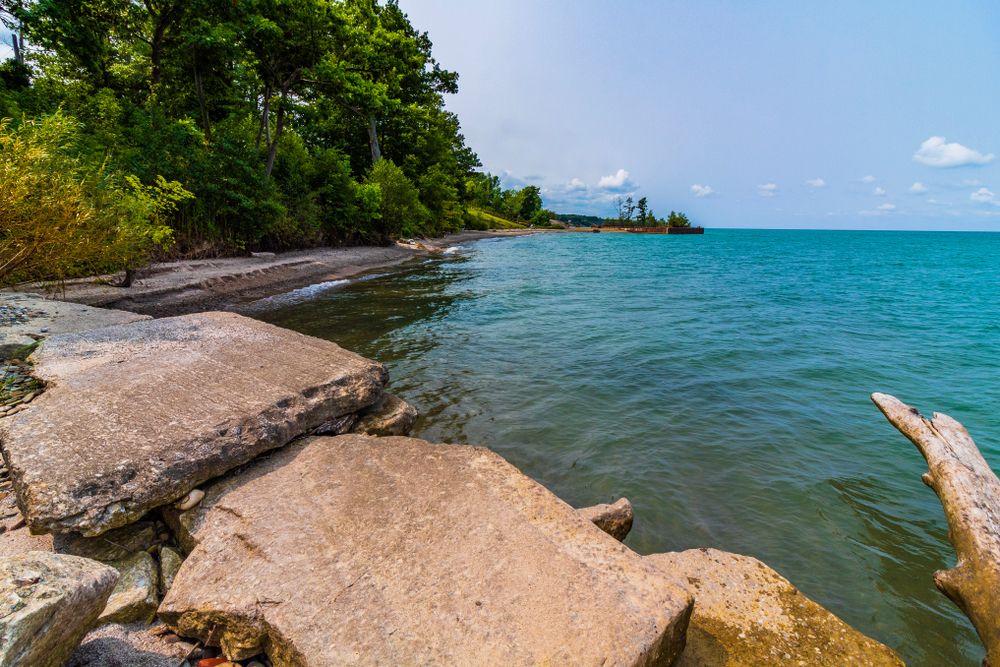 Indian Lake
Indian Lake Ohio is a 5,100-acre, man-made lake perfect for fun water recreation!
There are many parks along the shore and islands to explore. You will also find some of the best places for camping in Ohio!
Head to Indian Lake State Park where you can get out on the water in a boat, kayak, or jet ski.
There are two beaches for swimming and beach volleyball as well as hiking and biking trails.
You might also enjoy the archery range or the 9-hole disc golf course.
There are also plenty of picnic tables with grills so you can have a nice lunch in the great outdoors with views of one of the cleanest lakes in Ohio.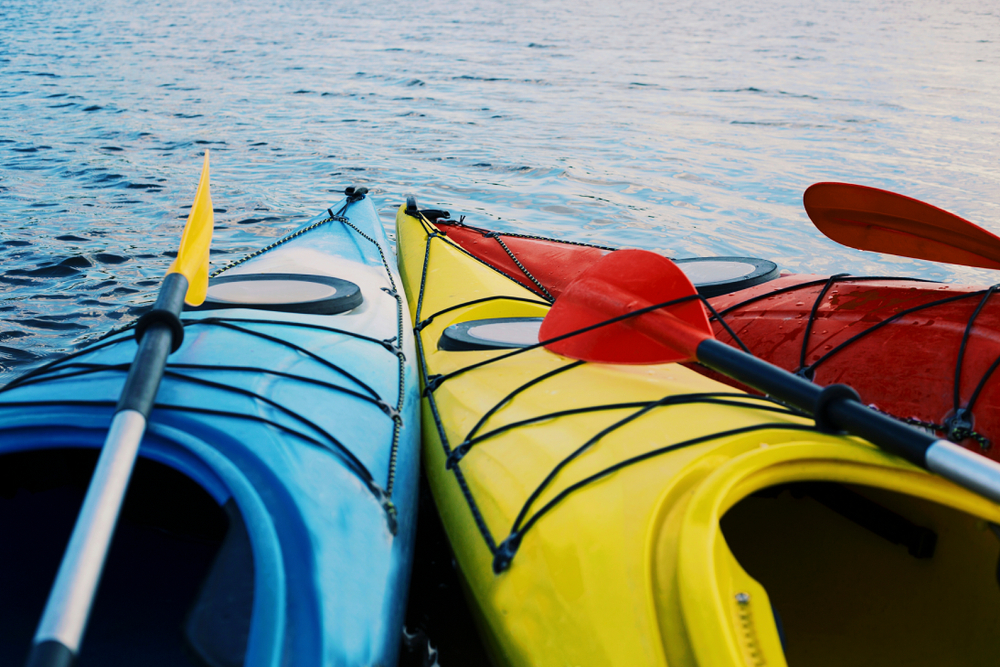 Pymatuning Reservoir
Pymatuning Lake is a 14,000-acre reservoir that sits on the border with Pennsylvania.
The pretty Pymatuning State Park Ohio has plenty of amenities to create the perfect lake day!
This is one of the best lakes in Ohio for swimming! The beach is 500 feet long and there are nearby changing rooms, showers, and restrooms.
After chilling at the beach, you can take a boat out on the beautiful water or hike one of the short trails in the park.
There is also an awesome campground and a Nature Center to check out!
There are so many resorts in Ohio to check out when traveling the Buckeye State.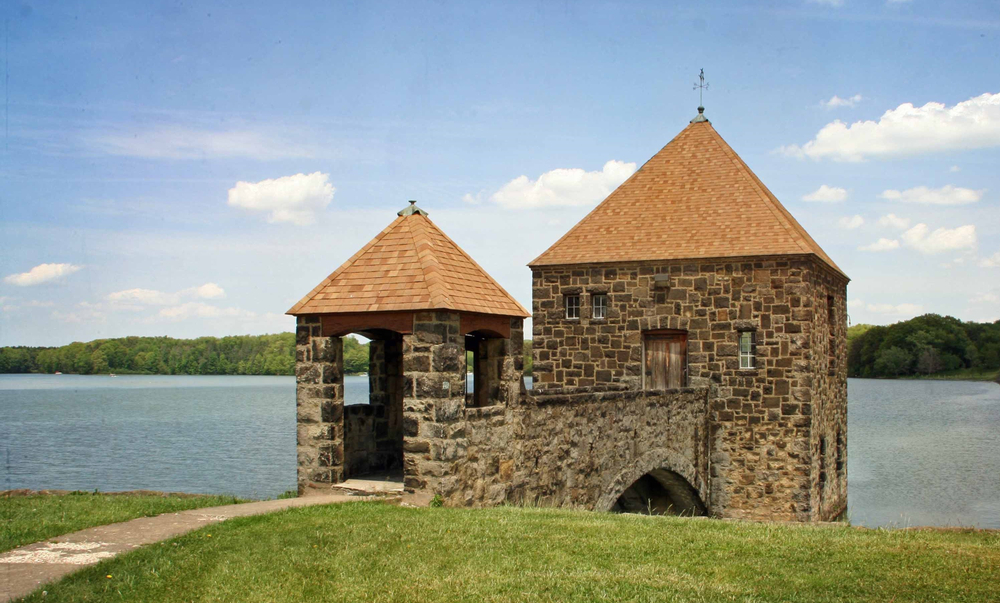 Buckeye Lake
The 3,100-acre Buckeye Lake is surrounded by many beaches and parks, including the oldest state park in Ohio, Buckeye Lake State Park!
This is one of the best lakes in Ohio for boating since it is designated as an unlimited horsepower lake. Get ready to rev your engines!
It is also popular with sailboats, canoes, and rowboats. Whether you are seeking a thrill or want a calm paddle, this is the lake for you!
If you are looking for a nice place for a walk or bike ride, there is a 4.1-mile paved trail that offers great views of the lake.
Fishing, swimming, and picnicking are also popular activities at Buckeye Lake Ohio.
This is a great area to find cabins with hot tubs in Ohio!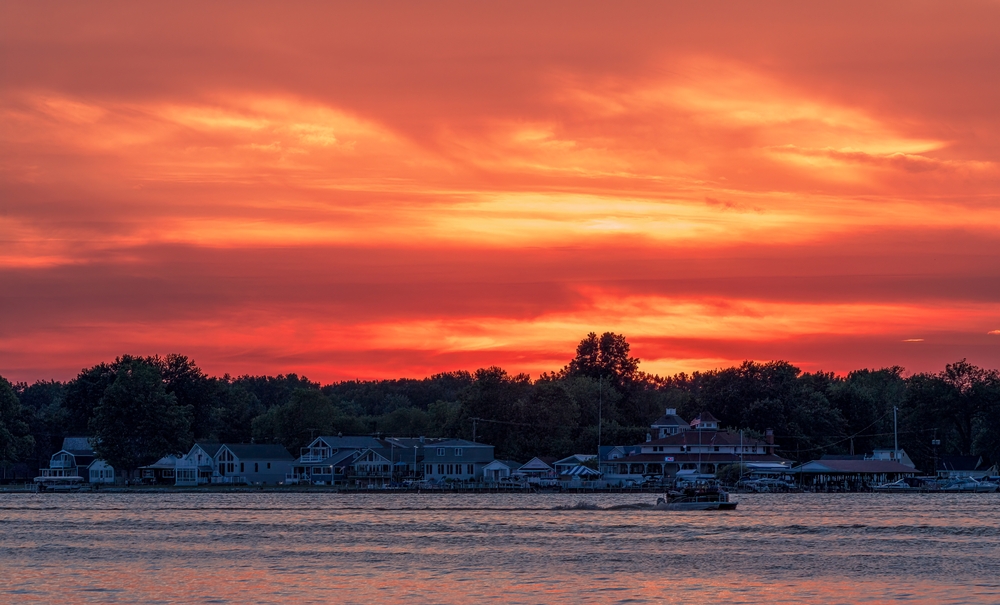 Seneca Lake
The 3,550-acre Seneca Lake is a great place for a family vacation. There are year-round campsites for both tents and RVs.
You'll have fun hiking the trails and swimming at the beach. Go sailing or give water skiing a try.
There is a full-service marina where you can rent boats or pick up fishing supplies. Grab a meal at the Dockside Restaurant.
There are also awesome events and activities throughout the summer to keep you entertained.
Visiting this lake is one of the best things to do in Ohio with kids!
Keep in mind this is Seneca Lake Ohio, so do not confuse it with the one in New York.
Grand Lake Saint Marys
Grand Lake St. Marys is the biggest inland lake in Ohio at 13,500 acres. It was even the world's largest reservoir when it was built.
This is another great Ohio boating lake since it allows unlimited horsepower. However, there is a 300-foot no-wake zone around the 52-mile shore.
There are four swimming beaches, trails where you can go birdwatching, and fishing piers for anglers.
At Grand Lake St. Marys State Park, you can find cabins, dog parks, picnic tables with grills, a pool, and a splash pad.
This is also one of the best lakes near Dayton, Ohio!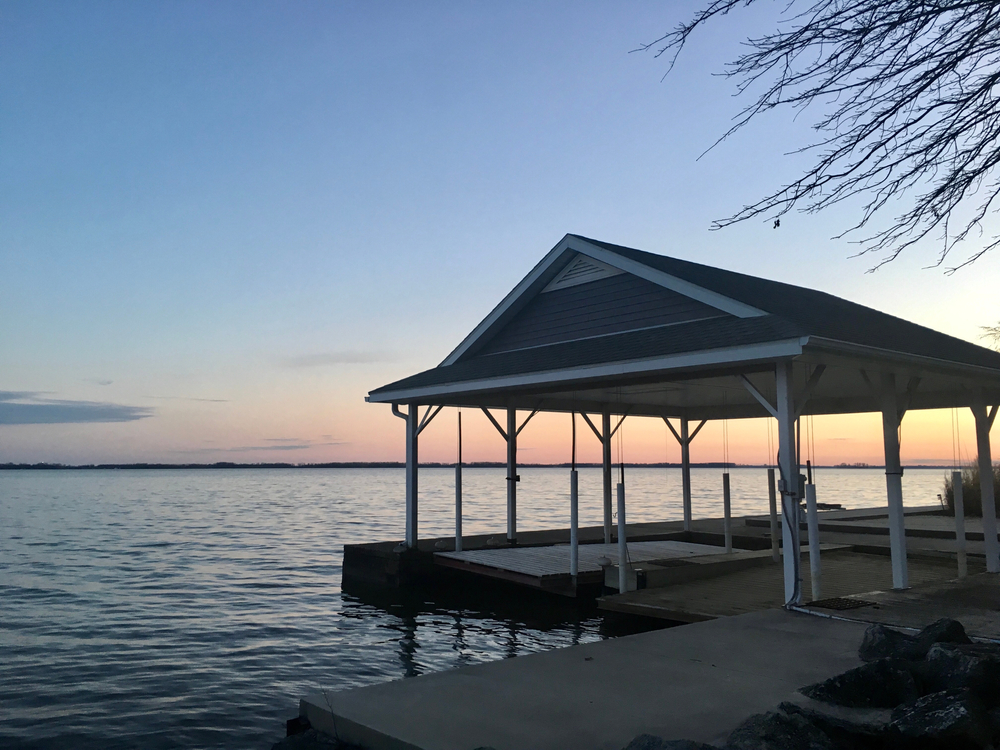 Lake Milton
Lake Milton is one of the best Ohio lakes for boating and other water recreation.
Since it is designated as an unlimited horsepower lake, you will have fun zooming through the beautiful water.
It is also one of the best swimming lakes in Ohio. At Lake Milton State Park, you will find a 600-foot beach.
Along with swimming, you can enjoy basketball, beach volleyball, and a playground. There are also showers and changing booths.
Hiking and mountain biking trails give you a chance to explore nature.
Fishing, disc golf, and archery are also fun activities here. Lake Milton is also a great place for spotting shorebirds and waterfowl.
Atwood Lake
One of the best inland lakes near Cleveland is Atwood Lake. The kids will beg to come back to this reservoir again and again!
At Atwood Lake Park, you will find the awesome WhoaZone, a collection of floating obstacle courses on the water.
There is also a sandy beach with water toys, a concession stand, a nature center, playgrounds, and a dog park.
A fishing pier provides a place to cast a line and an observation tower gives you great views of the park.
The park also hosts many nature programs and festivals for more fun.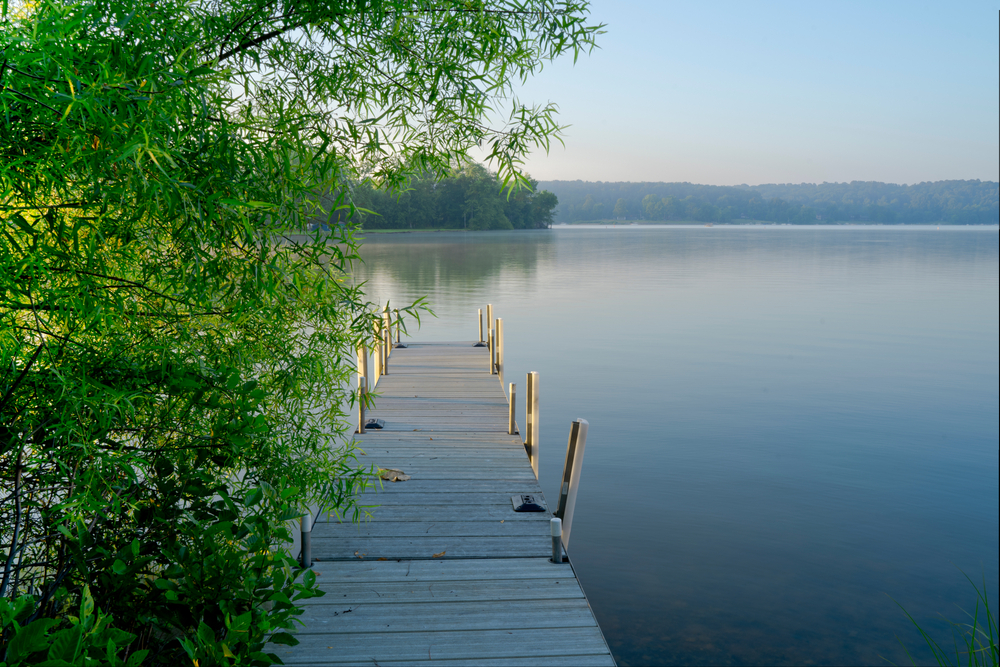 William H. Harsha Lake
William H. Harsha Lake is one of the best lakes near Cincinnati. It also has unlimited horsepower so it is great for boating.
The 2,160-acre lake is found within East Fork State Park, one of the largest state parks in Ohio at 4,870 acres.
If you are looking for a fun-filled day out with the kids or a beautiful place to camp, this park should top your list.
This park is a fantastic area for hiking in Ohio! There are trails for everyone from easy 0.5-mile walks to long backpacking trails where you can challenge yourself.
If you are visiting with kids, they will love the 0.5-mile Storybook Trail which tells a story in segments. There are also great mountain biking trails!
With a 1,200-foot beach, you'll find this is one of the best Ohio swimming lakes!
You will have everything you need for the perfect lake vacation in Ohio including changing booths, showers, restrooms, and picnic tables with grills.
Lake Hope
Lake Hope State Park is found within the Zaleski State Forest and is one of the best lakes near Columbus.
This is a peaceful and scenic lake surrounded by gorges and ridges. With so many forests, it is one of the best places for fall foliage in Ohio.
Keep an eye out for wildlife like beavers as you kayak or paddleboard through the water.
You can stay at the campground or choose one of the Ohio cabins to stay at.
The 600-foot beach is great for swimming and there is also a beach house with a sun deck and patio where you can relax with pretty views.
At only 120 acres, this is one of the smaller lakes in Ohio, but it is ideal for avoiding crowds and enjoying nature.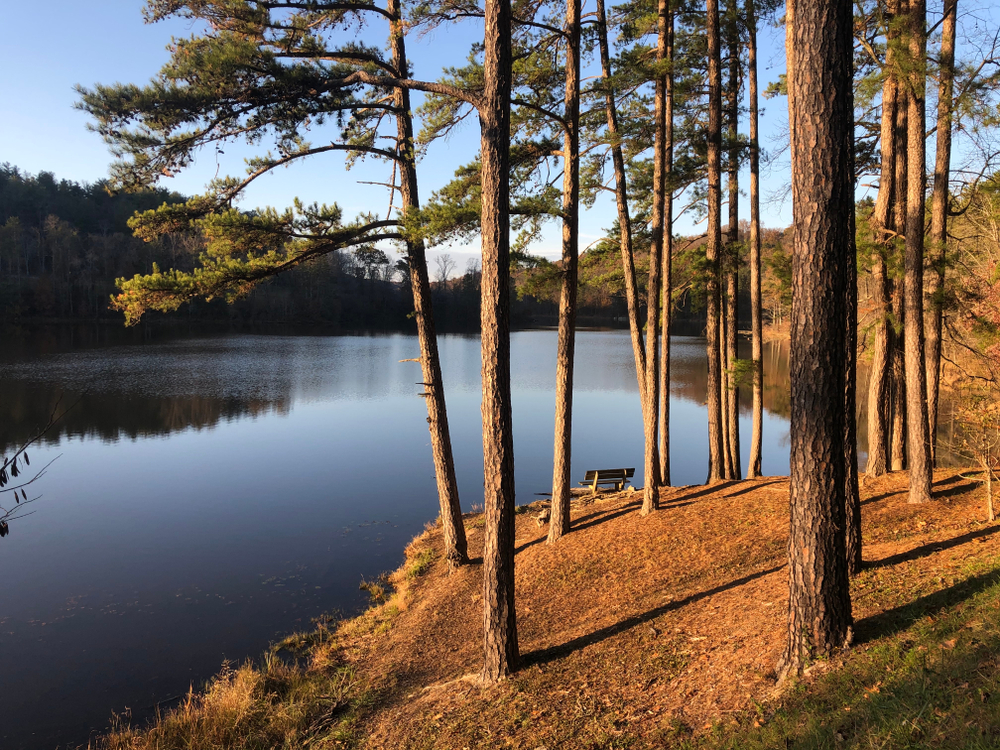 Lake Logan
Visiting Lake Logan is one of the outstanding things to do in Hocking Hills.
On this 400-acre lake, you will find Lake Logan State Park.
This is a calm lake where boats with motors are only allowed up to 10 horsepower. Sailing and paddling are popular.
There is a 527-foot swimming beach and picnic tables. Anglers can reel in bluegill, crappie, and more.
If you want to see another nearby lake, drive south to Hocking Hills State Park where you will find the beautiful Rose Lake.
If you have time, make sure to visit Amish Country Ohio.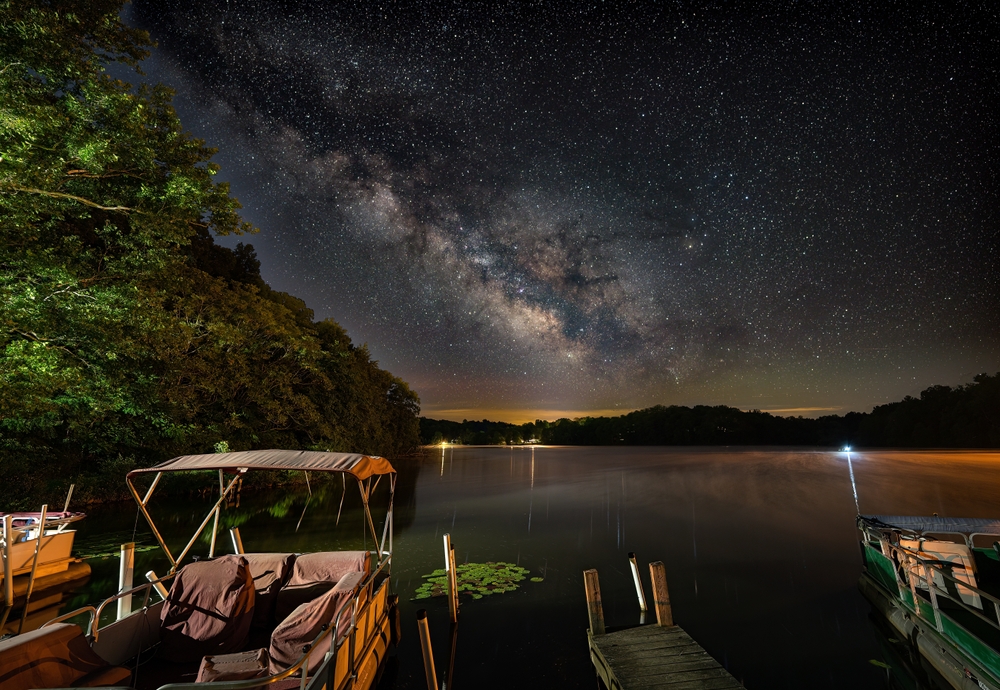 Punderson Lake
The 150-acre Punderson Lake is another of the best inland lakes near Cleveland. It makes a great Ohio day trip from the city at an hour's drive.
Punderson State Park is the place to be for all sorts of outdoor things to do in Ohio.
There is an archery range, shuffleboard, an 18-hole disc golf course, and an 18-hole golf course. Basketball, volleyball, and tennis courts are available as well.
There is a 600-foot swimming beach and 11 miles of hiking trails.
Punderson Lake is also popular for winter sports. You'll have fun cross-country skiing, sledding, and snowmobiling.
If you are looking for a really unique place to stay in Ohio, check into the Punderson Manor, a beautiful English Tudor-style lodge dating back to the first half of the 1900s.
This photogenic manor is also one of the most haunted places in Ohio! Ghostly happenings are often reported.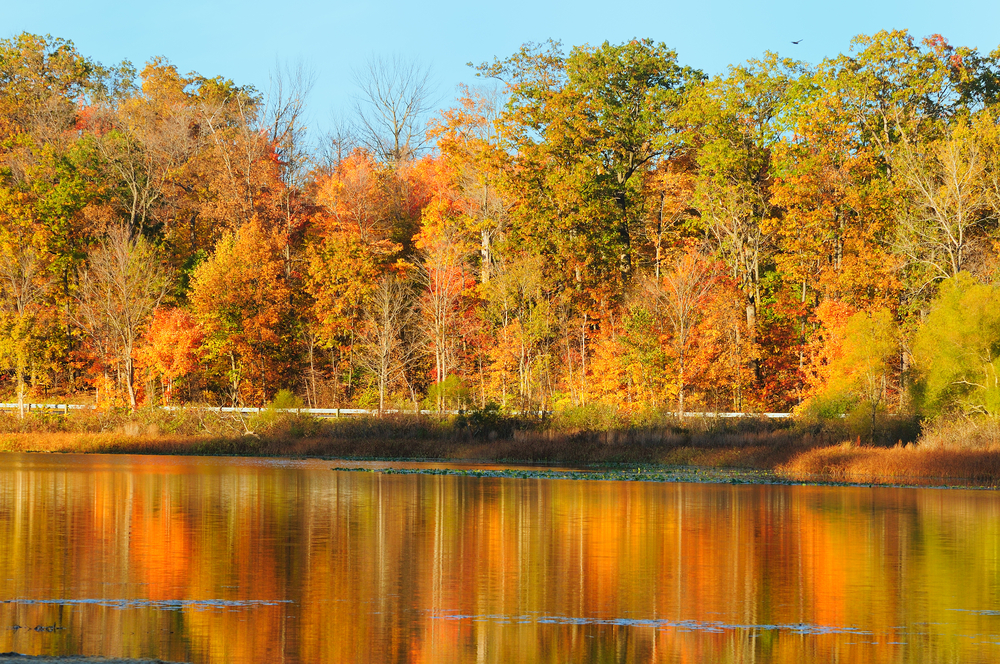 Dow Lake
Dow Lake is found within Strouds Run State Park and is surrounded by trees.
Head to the 700-foot beach to relax in the sand or play in the water. There are changing booths and restrooms.
This is one of the best beaches in Ohio!
Scuba diving is allowed in this lake too if you are looking for a unique experience. The clear water provides great visibility to view underwater life.
You can also spend time on the water kayaking or boating up to 10 horsepower.
There are also many trails of varying lengths for hiking, mountain biking, and horseback riding.
You can also enjoy fishing or playing at the basketball and volleyball courts. Kids will love the playground.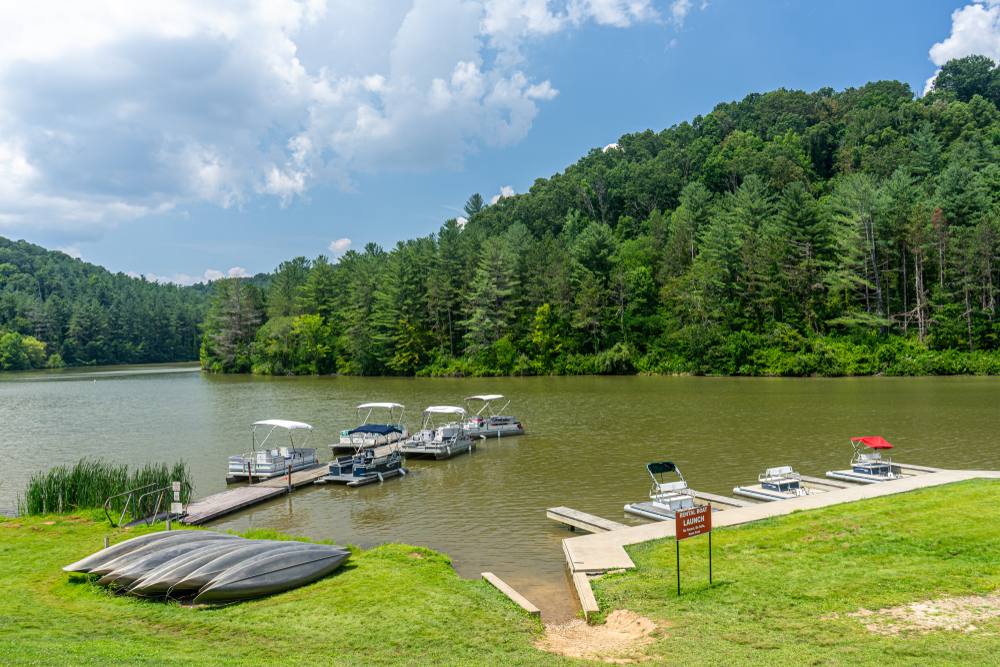 Wingfoot Lake Is One Of The Best Lakes In Ohio
Wingfoot Lake is one of the best things to do in Akron since it is just outside of the city.
On the northern side of the 444-acre lake, you will discover Wingfoot Lake State Park. This is a picturesque place to become one with nature.
This park was once owned by the Goodyear Tire and Rubber Company and it is possible to see the Goodyear Blimp on the opposite side of the lake.
There's no swimming at this lake, but there are plenty of other things to keep you entertained!
Kayaking and no-wake boating are great ways to explore the water. Keep an eye out for waterfowl.
There are trails, too, including another of Ohio's Storybook Trails for kids. This 0.5-mile trail is show off the park's nature while you read a story.
The park also has a ton of sports options including archery, horseshoes, bocce ball, disc golf, badminton, basketball, volleyball, and mini-golf.
There is even a dog park so your furry friends can get off their leashes.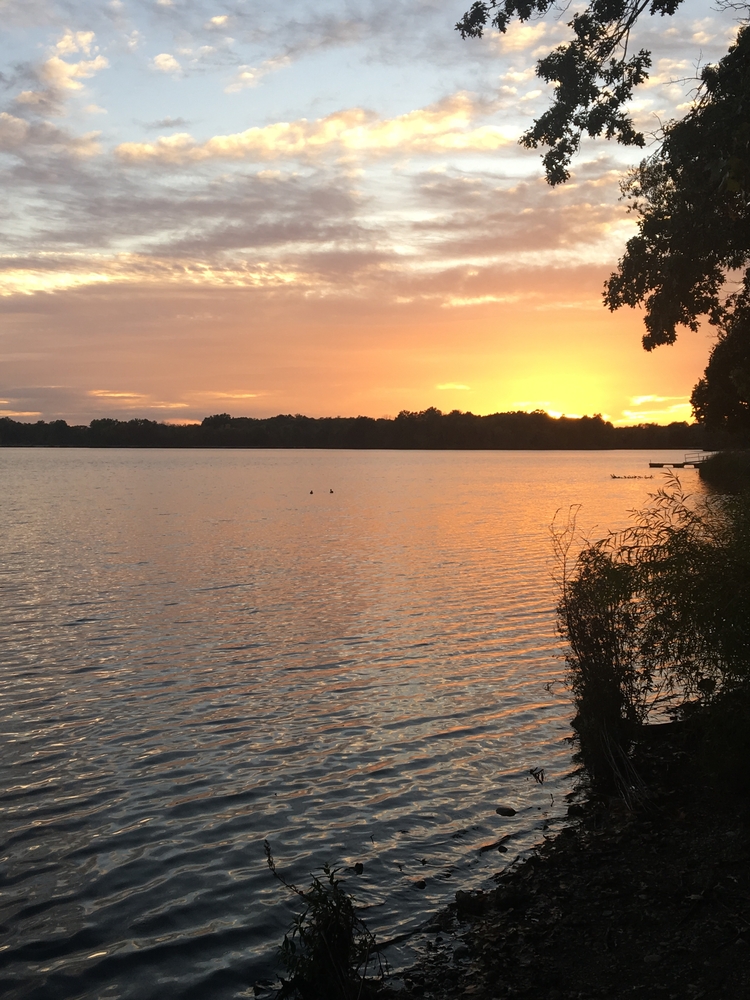 Burr Oak Lake Is One Of The Most Beautiful Lakes in Ohio
Burr Oak Lake is a beautiful and remote 664-acre lake nestled in Burr Oak State Park.
There are campsites, cabins, and a lodge if you are looking for a great place to stay in nature.
There is a 500-foot beach for swimming, sunbathing, and beach volleyball with nearby showers and restrooms.
This is another no-wake lake, but it is perfect for kayaking. Keep an eye out for waterfowl, turtles, and beavers.
There are a few trails for hiking and horseback riding. If you want a challenge, take on the 22-mile Lakeview Trail that circles the lake.
Other activities here include archery, disc golf, and fishing.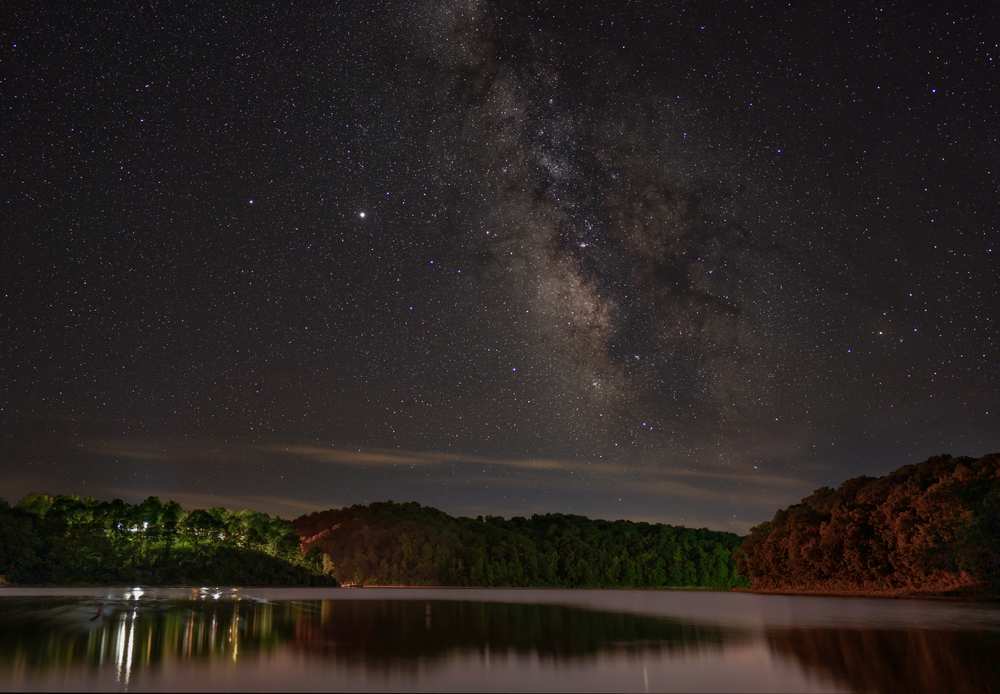 Packing List When Visiting Lakes In Ohio
If you are searching, here are some tips on how to pack lightly when packing when heading to the best Ohio lakes.
A concealed travel pouch may be one of the most important items you bring along when searching for beautiful Christmas lights.
It is always important to protect your personal information. Identity thieves are everywhere.
This unisex RFID blocking concealed travel pouch is lightweight and comes in several colors. It has lots of organization to give you peace of mind. You can place it under your clothes next to your body to carry your ID safely.
If you have a pouch already that does not come with the RFID protection, as I do, these RFID sleeves are the perfect solution.
If you are planning on taking a lot of pictures with your phone you will definitely want to consider an external charging battery. This Anker high-speed phone charging battery is the exact one I carry with me on all of my trips.
I like that it holds its charging capabilities for several uses so I do not have to worry about it while out and about, and if I forget to recharge it at night, it will still be good to go the next day.
My daughter gifted me with this FugeTek selfie stick and tripod setup for my birthday. I absolutely love it! It is made of lightweight aluminum and is so easy to use.
It has Bluetooth connectivity and is a breeze to use for taking Insta-worthy selfies during all your beach vacations in Ohio.
I never much believed in using packing cubes when traveling. That is until I tried them. Now I am hooked. These are the exact cubes I use to stay organized when I pack for a trip!
You will want to bring your own refillable water bottle with you.
I never leave home on a trip without my Bobble filtration bottle. The 18.5-ounce size is perfect for your adventures and it fits nicely in the pocket of a backpack.
The replaceable carbon filter ensures fresh drinking water when you want it!
Perhaps you are traveling a long distance and packing space is a premium in your suitcase, or in your car. Then this collapsible silicone foldable water bottle would work well for you. Would not take up much space at all.
You will want a backpack or daypack with you to store snacks, your water bottle, phone, extra clothes, etc.. . No matter the time of day or evening.
This foldable water-resistant backpack would be great. And it comes in many different colors!
—
If you are looking for lakes in Ohio, you will not be disappointed! This list is just the beginning of the many lakes this Midwest state has to offer!
There are so many cool places to visit in Ohio, why not add a few lakes to your list?
These Ohio lakes are great for swimming, boating, fishing, and so much more!