Are you wondering which of the many lighthouses in Ohio to visit? Wonder no more because I'm going to help you.
Growing up in Ohio, I know there are so many awesome things to do in Ohio.
This article, will walk you through Lake Erie lighthouses, and Cleveland lighthouses and tell you all you need to know about Ohio lighthouses.
There is so much to see and do in Ohio and visiting some of the many lighthouses is one of them.
Lake Erie alone has 30 lighthouses on the US side with 18 of them on the Ohio shoreline.
Some are open to the public, some are privately owned and inaccessible, and others are on remote islands. They are all majestic in their own way.
I grew up in Ohio and I have fond memories of some of these Ohio lighthouses. I still to this day remember the feeling of the cool water when I jumped from Conneaut Lighthouse as a child.
So are you ready to see which lighthouses in Ohio I have chosen for you? Grab a chair and a cool drink and let me walk you through some of the historic lighthouses.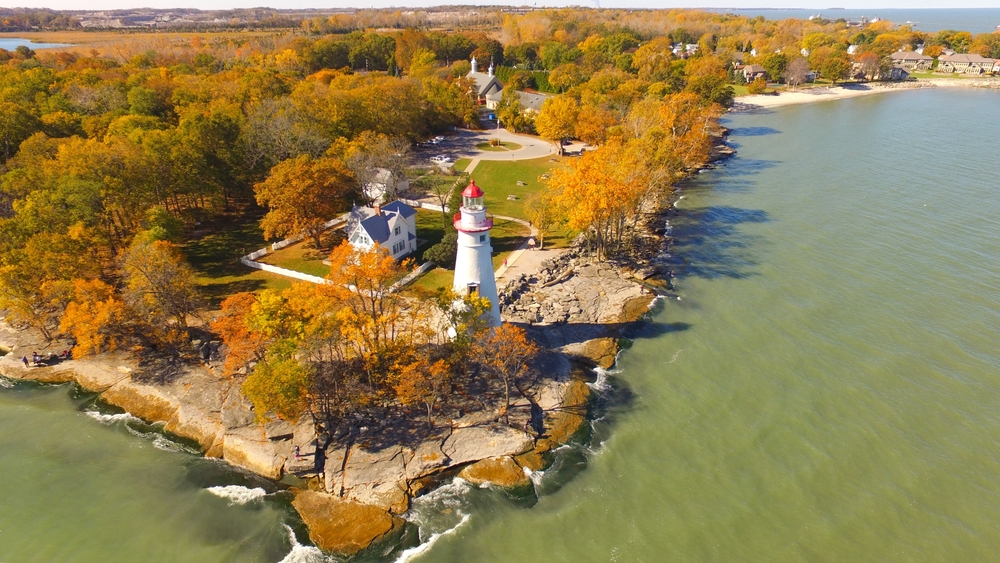 15 Coolest Lighthouses In Ohio For Your Bucket List
Port Clinton Lighthouse
Originally built in 1896 this lighthouse in Ohio was forgotten for nearly 60 years. 
A lot of lighthouses are in some of the cutest small Ohio Towns
It was on the Portage River on private property until the owner and the community got together to get the lighthouse back to Port Clinton.  
Fully restored in 2014 this lighthouse stands at 26 feet and you can take tours on Saturdays. It is the last remaining timber frames lighthouses on Lake Erie and is in Waterworks Park.
This public park also features outdoor shelters, playgrounds & river access. It's also a great place to watch the sunset.
This lighthouse is about a 45-minute drive from Toledo. There is so much to do in Toledo and the Toledo restaurants serve amazing food if you fancy a drive there afterward.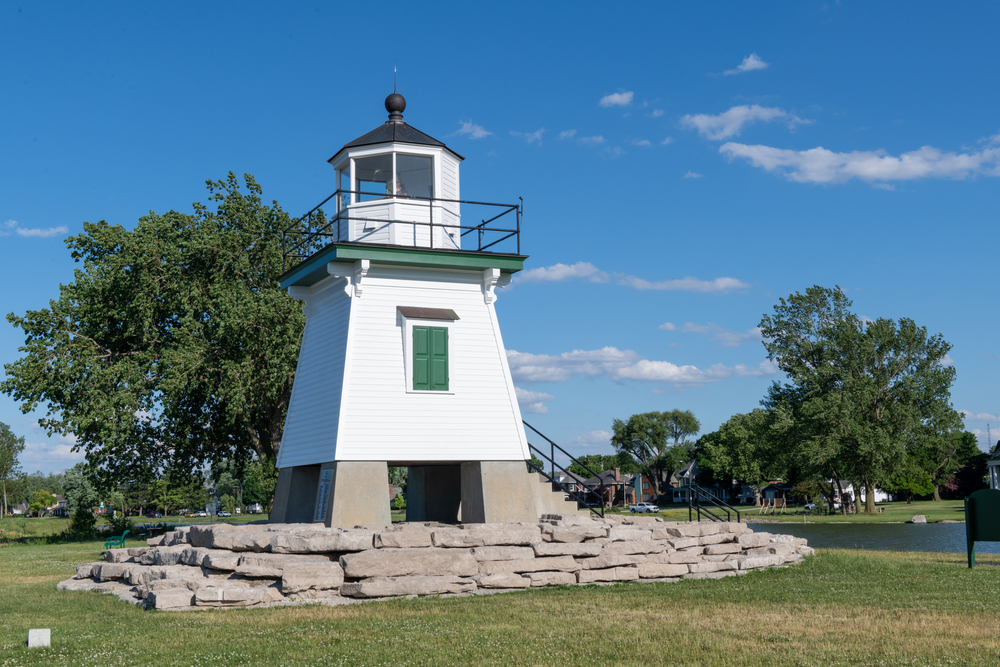 Green Island Lighthouse
While this lighthouse may be abandoned and in ruins, I feel it is still worth a mention. It can be seen on ferries and boats going to South Bass Island and is often missed as people don't lookout for it.
There have been three lighthouses on this spot, the first destroyed by fire, the second built of limestone was abandoned and destroyed by vandals, and the third still standing.
Originally built in 1955 it was destroyed in 1974 by fire after a storm.
The lighthouse was replaced and served as a navigational aid until 1926 when it was replaced by a steel one on the south side of the island which is still in operation.
Only the shell of the limestone building remains today but it can be seen particularly in the winter and autumn months. The new lighthouse looks more like a light rig at a pop concert than a lighthouse
Green Island is a bird sanctuary and closed to the public but you can see the lighthouse from boats.
There are so many resorts in Ohio to enjoy while visiting Ohio lighthouses!
South Bass Island Lighthouse
Situated on the southwest tip of the island in Ohio, the best view of the lighthouse is from the ferry that goes to the island. But nothing beats walking around the island and seeing it for yourself. 
Some lighthouses, like this one, are on the Ohio Islands and others are near the best Ohio Beaches.
Completed in 1897 this lighthouse in Ohio was in operation until 1962. It's quite a grand structure looking more like a large house than a lighthouse.
It's 60 feet tall and you can tour the lighthouse and climb the tower. The views of Put-in-Bay and Lake Erie from the top are incredible. The climb isn't the easiest but is well worth it.
While you pay to climb the tower the grounds are free and open to the public. South Bass Island is a lovely place to see and you can hire golf carts to zip around if you don't fancy walking.
Visiting this Lake Erie lighthouse is definitely one of the cool things to do in Put-in-Bay.
Cleveland West Pierhead Lighthouse
This Cleveland lighthouse you see here today is the second to stand here.
The first was erected in 1884 and the second in 1918. It's a unique lighthouse for many reasons, mainly because in the winter it entirely freezes over making it somewhat of an ice castle.
This freezing phenomenon happens because the lighthouse is so close to the Lake that the ice-cold waves bash up against it forming layers of ice that build upon one another.
It is picture perfect and photographers flock here in the winter to get a picture.
The lighthouse is only reachable by boat but you get a great view of it from Wendy Park or one of the Lake Erie Cruise boats.
The lighthouse is still operational and its original Fresnel lens is on display at the Great Lakes Science Center in downtown Cleveland.
This is definitely one of the unique things to do in Cleveland.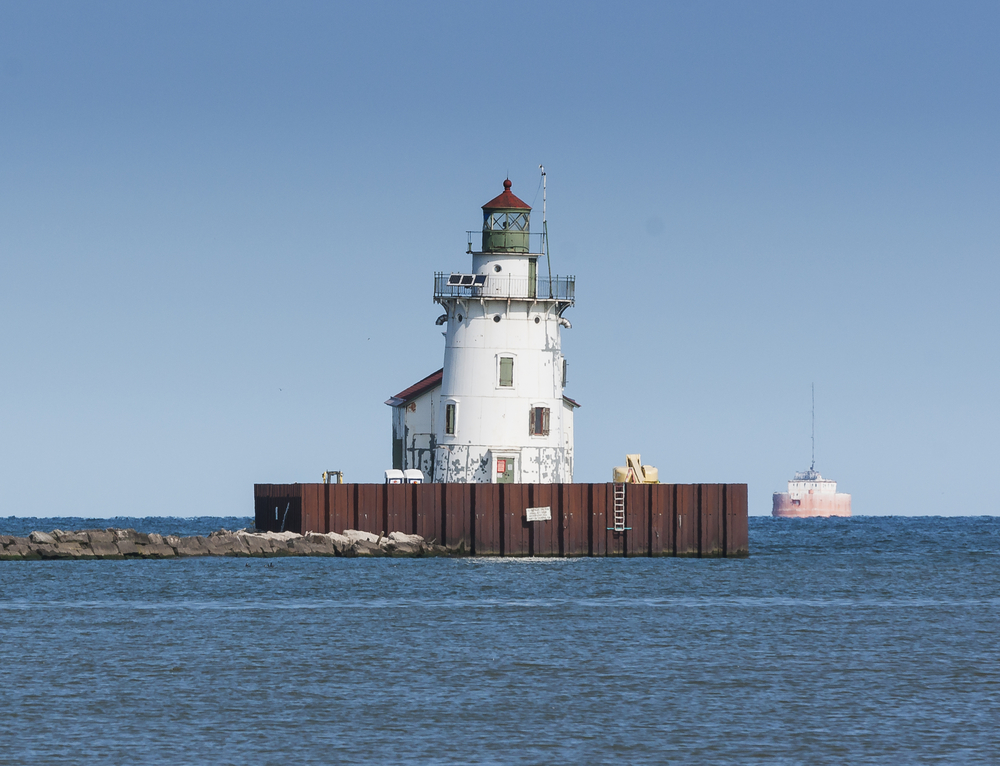 West Sister Island Lighthouse
This is one of the lighthouses of Ohio that is only visible by boat from the south shore of Lake Erie. It sits on the westernmost point of The Wilderness of West Sister Island National Wildlife Refuge.
The refuge was established in 1937 by President Franklin D. Roosevelt. Its job is to protect the largest wading bird nesting colony on the U.S. Great Lakes.
The lighthouse was built in 1847 it was automated in 1937 and it is still an active navigational aid. The island is 8 miles from the mainland in the western basin of Lake Erie.
The island was featured in a 2007 episode of the Discovery Channel TV series Dirty Jobs. It became known as vomit island due to a large number of birds vomiting and defecating from high in the trees. So perhaps we want to be thankful we can only view this island from afar.
Turtle Island Lighthouse
Turtle island is an island with a state boundary down the middle. Half of the island is in Michigan and half in Ohio and Ohio has the part with the lighthouse.
It's another abandoned lighthouse on Lake Erie but there is something quite beautiful and haunting about it. Built in 1866 it was abandoned in 1904 when the Toledo Harbor Light began operation.
Turtle island is privately owned and lies in the middle of the lake near Maumee Bay about 4.5 miles offshore.
This beautiful lighthouse is on one of the best lakes in Ohio.
Perry's Victory And International Peace Memorial
Although this doesn't pass as what most might think of as a traditional lighthouse it does have a flashing beacon on and serves as a navigational aid so makes the list.
The monument is among the tallest in the US standing at 352 feet tall.
It is located on a small strip of land on South Bass Island and is surrounded by grassland.
The Memorial honors those who fought in the Battle of Lake Erie, during the War of 1812. It first opened to the public in 1915 and became a National Park Service Memorial in 1936.
The great big column is topped by huge bronze ern and an observation deck. The top of the monument is accessible to visitors via an elevator after a climb of 37 steps to the first landing.
There is also a visitors center where you can learn more about the Battle of Lake Erie and the War of 1812. This might not be what most think of when they think of lighthouses in Ohio but I think it's well worth a visit.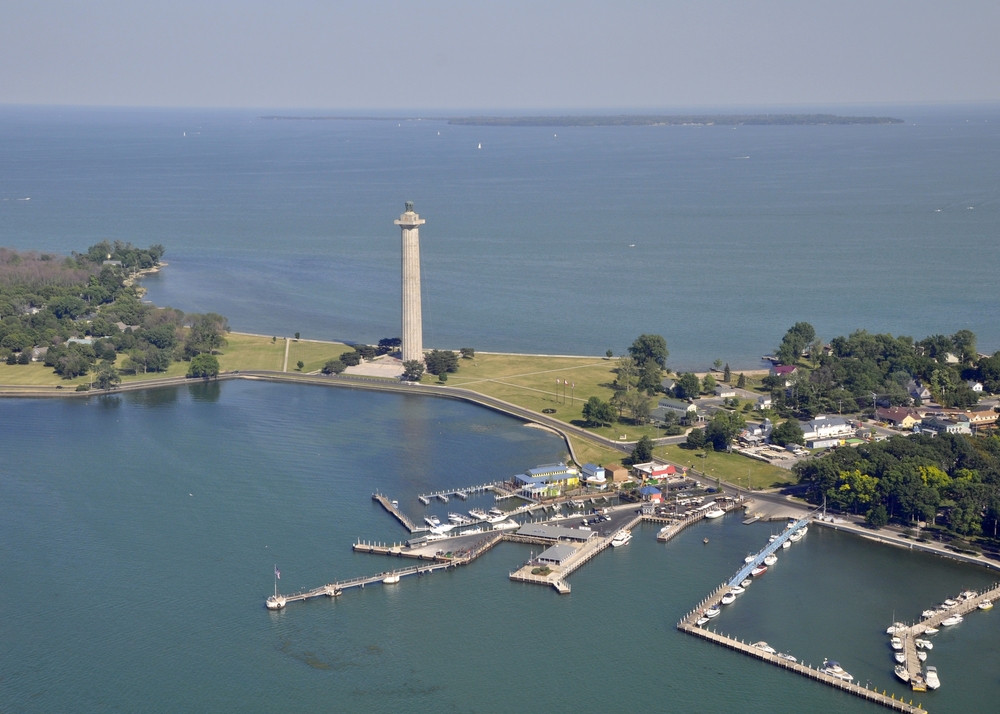 Toledo Harbor Lighthouse
Located about 7 miles north from Maumee Bay State Park's shores, the 4-story Toledo Harbor Lighthouse marks the entrance to the Toledo Shipping Channel where Lake Erie and Maumee Bay meet.
It's still an active navigational aid and is managed by the US Coast Guard so is closed to the public. First illuminated in 1904 it stands 85 feet high and is a tower with an annex attached to it.
The light was automated in 1966 and now just routine maintenance is carried out here. To stop vandals they put mannequins in the window. One had long blond hair and became known as Sarah and the other was dressed as a coastguard worker.
Only Sarah remains now and many ghost stories have sprung up about this lighthouse one of the many Ohio ghost stories.
Lighthouse tours are offered from the shore but they run very sporadically so check before you go.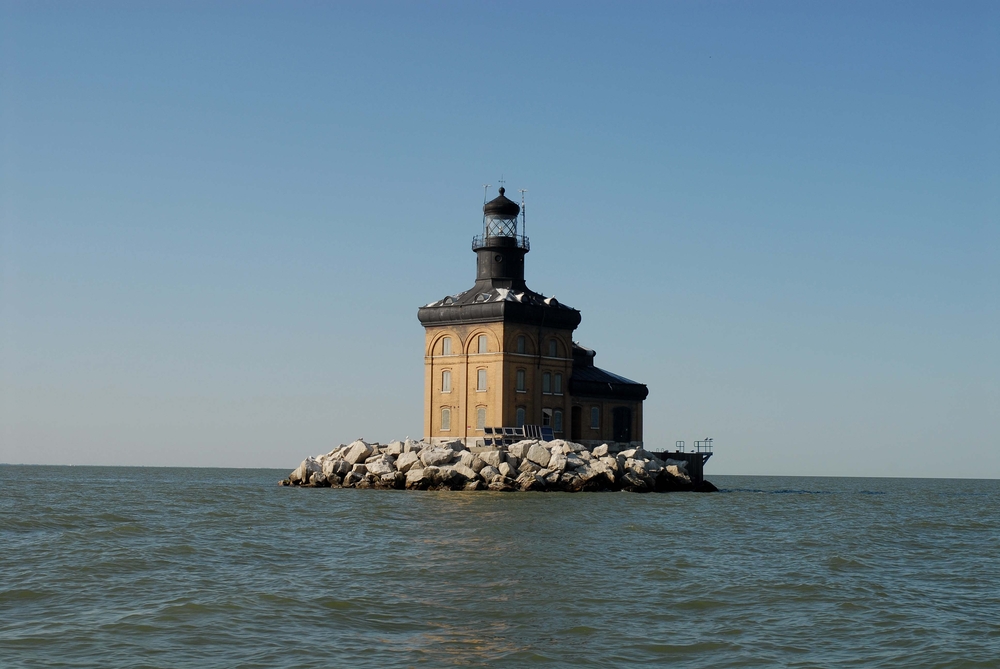 Marblehead Lighthouse
You will have absolutely seen pictures of this lighthouse as it's one of the most photographed landmarks in the state. It's the oldest lighthouse in continuous operation on the Great Lakes.
Operating since 1822 it stands 50 feet tall and offers great views of Lake Erie, Sandusky Bay, Kelleys Island, and South Bass Island.
Tours of Marblehead Lighthouse are offered on summer weekdays after Memorial Day until the Friday before Labor Day. You can climb to the top but it is very claustrophobic so keep that in mind.
There is also an interesting Ohio museum, located in the Keeper's House that is open whenever the tower is. The area surrounding the lighthouse is also beautiful and is maintained by The Ohio Department of Natural Resources.
A visit to this lighthouse of Ohio should be top of your Ohio Getaway list.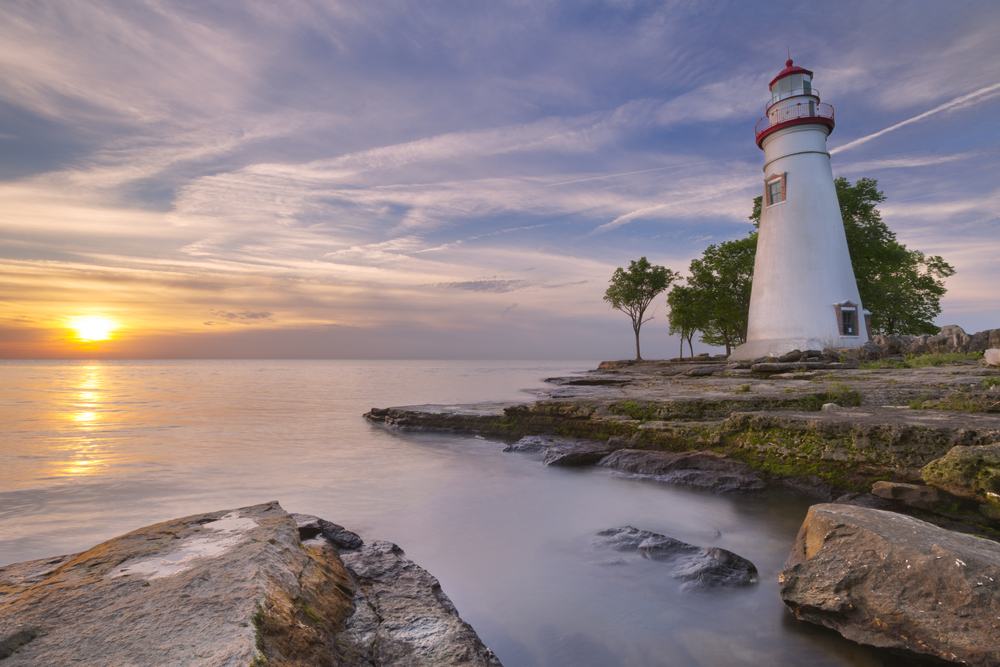 Cedar Point Lighthouse Is One Of The Lighthouses In Ohio Not To Miss
The first lighthouse here dates from 1839 and was built to aid sailing vessels to better identify the entrance to Sandusky Bay. Along with Marblehead, the two lighthouses guide the way in.
The main need for this lighthouse was the dramatic storms that rolled into this area at a moment's notice. Cedar Point would often spot ships in trouble and alert Marblehead that had rescue capability.
This lighthouse stopped functioning in 1904 and the current lighthouse is a reconstruction of the original in 1862. It is currently under the management of Cedar Point Amusement Park, one of the most popular amusement parks in the Midwest, and is open to visitors.
The lighthouse is on the grounds of Cedar Point in Sandusky. It's 38 feet high and located atop the lighthouse keeper's six-room limestone home at the tip of the Cedar Point peninsula.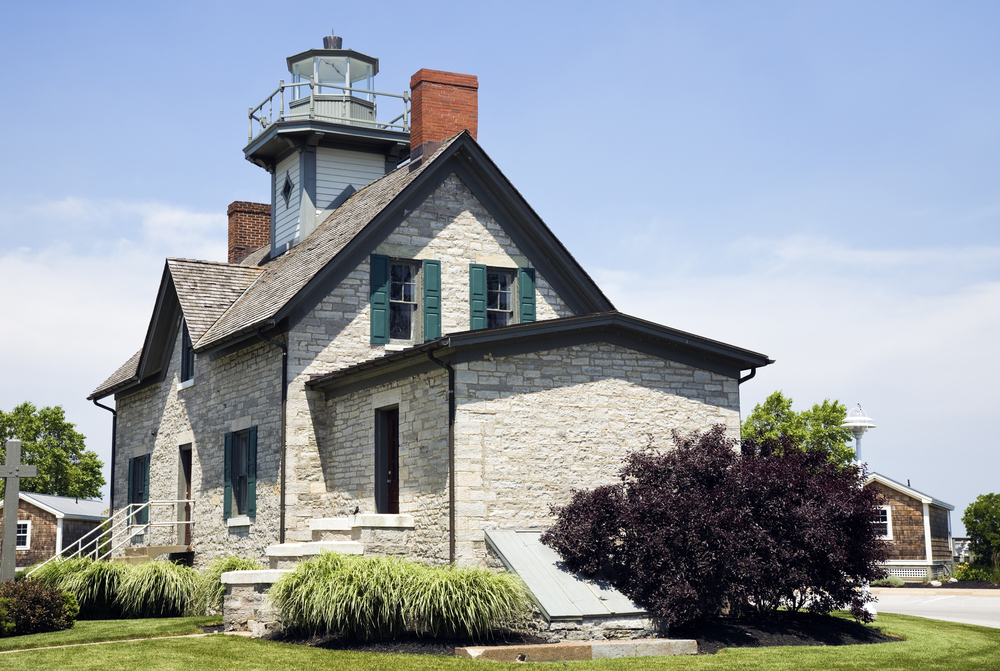 Vermilion Lighthouse
If you were to conjure up a lighthouse in your mind you might come up with something like this. Located on the shores of Lake Erie in Vermilion on the grounds of the Inland Seas Maritime Museum.
The lighthouse you see today is a replica original Vermilion lighthouse that was built in 1877. The original was taken down in 1992 and renovated and sits on Lake Ontario off Cape Vincent at the entrance to the Saint Lawrence Seaway.
The lighthouse you see today was constructed in 1991 after a fundraising campaign headed by local historian Theodore Wakefield. It stands at 34 feet tall.
You can't go inside the lighthouse but you can go up to it and explore the grounds around it and get some great photographs.
This Lake Erie lighthouse is a great one to visit on your Ohio vacation.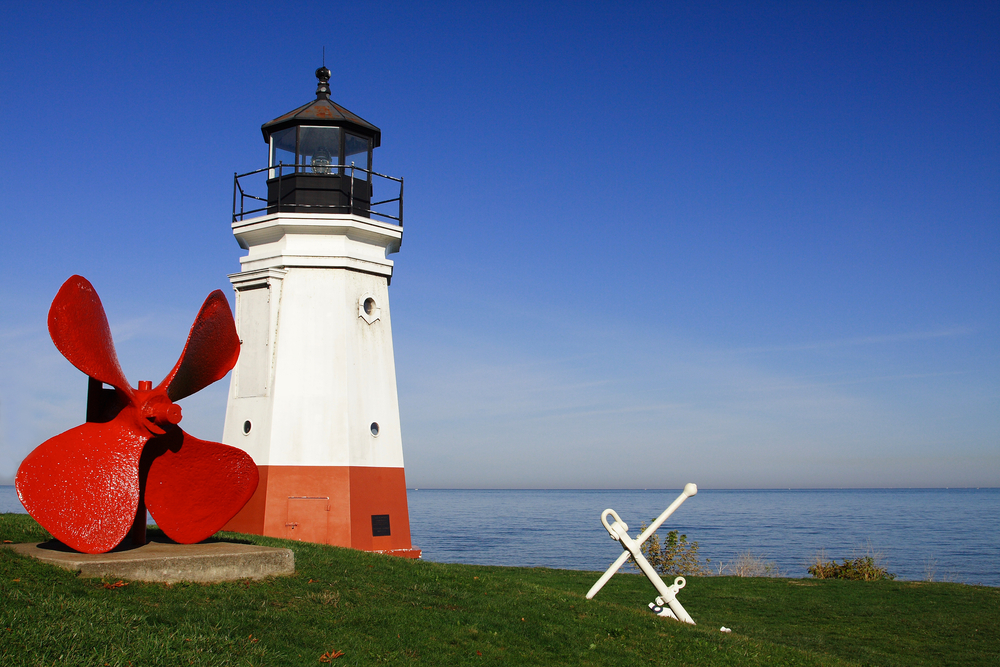 Lorain Breakwater Lighthouse
I feel like this lighthouse wouldn't go amiss on the banks of the River Rhine in Germany it has a somewhat German castle-esque appearance to it.
Located at the mouth of the Black River in downtown Lorain it dates from 1917 and stands 51 feet tall.
The lighthouse was decommissioned in 1965 and was due to be demolished.
was saved by a group of local citizens and in 1997 the Lorain County Historical Society was awarded the deed to the Lorain Lighthouse by the General Services Administration.
In 1978 the Lorain Lighthouse was placed on the National Register of Historic Places. There is currently a fundraising effort to restore it to its former glory.
Lighthouse Tours are offered by Lorain Lighthouse Foundation and they also offer sunset dinners which sound perfect.
There is something very beautiful about this old lighthouse and I feel it's well worth the time to visit.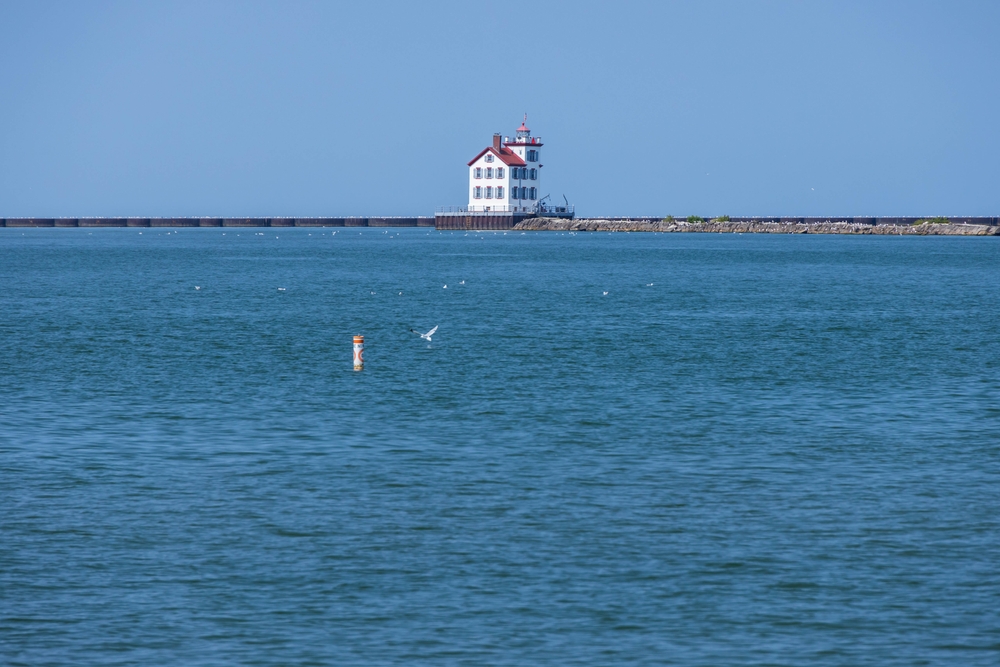 Fairport Harbor West Breakwater Lighthouse
Built in 1925 the Fairport Harbor lighthouse sits at the mouth of the Grand River. The original Fairport Harbor lighthouse now serves as a marine museum and this was built to replace that.
It's a classic square-style working building with a tower on it. It has been uninhabited since 1948 since it was automated and is managed by the Coastguard.
It is closed to the public but you can walk along the breakwater to get a better look. Efforts are underway to restore it to its former glory
It's a great historic lighthouse to photograph particularly if you manage to get a dramatic wave hitting the breakwater.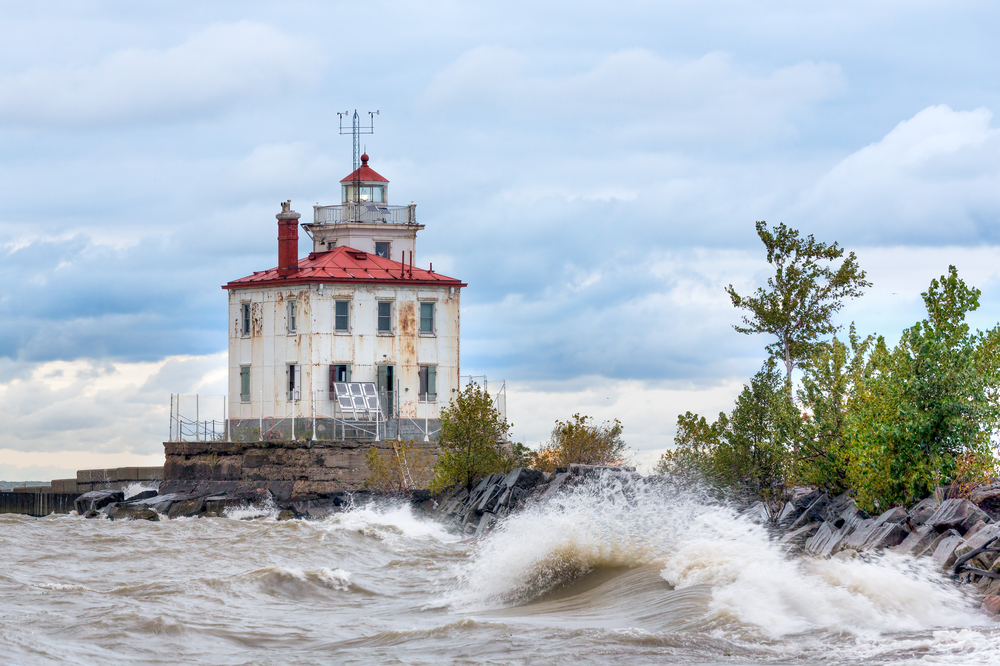 Ashtabula Lighthouse Is One Of The Historic Lighthouses In Ohio
Built in 1905 this is another one of those dwelling-type old lighthouses. It was the last remaining guarded lighthouse having a keeper up until 1973.
The Ashtabula Lighthouse Restoration and Preservation Society plans to restore the Ashtabula Lighthouse when funds are available. They do plan to run tours which can only be offered by boat.
The lighthouse is located near the northern end of the west breakwater in Ashtabula Harbor.
The keeper's house is now the Marine And Coast Guard Memorial Museum and it is from here you can get a good glimpse of the lighthouse.
You can hike the breakwater however the blocks are very uneven making it rather dangerous so if you do so please be very careful.
This area is also a great place to see some of the covered bridges in Ohio so you can mark a few historic sites off your list at once.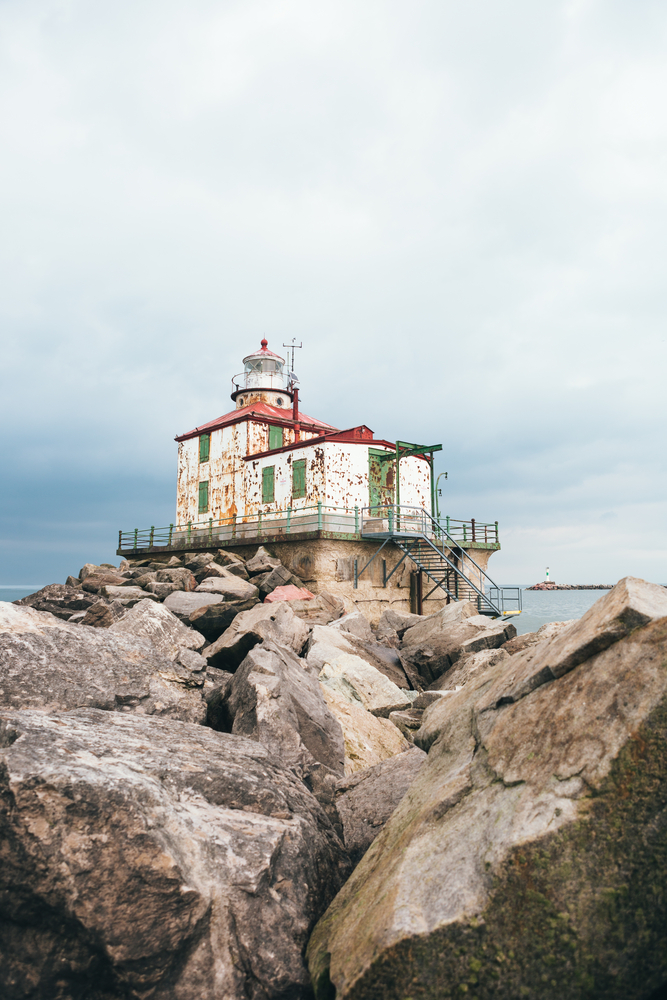 Conneaut Breakwater Lighthouse Is One Of My Favorite Lighthouses In Ohio
At 60 feet this strange-looking lighthouse guides ships into Conneaut Harbor. Conneaut Harbor was an important shipping point for grain, whiskey, and forest products in the 19th century.
There have been several lighthouses at this location the one you see today was completed in 1936. It did once sit at the end of a pier that is no longer there.
The best view of the lighthouse is from the public boat launch just off of Limestone Drive in the City of Conneaut but you will need a telephoto lens or binoculars.
If you are brave, and the weather is favorable, you can walk the stone break wall from Conneaut Township Beach to get a closer look at this piece of history!
The tower is 60 feet high and is a major landmark in the area. This is where I spent my summers as a child!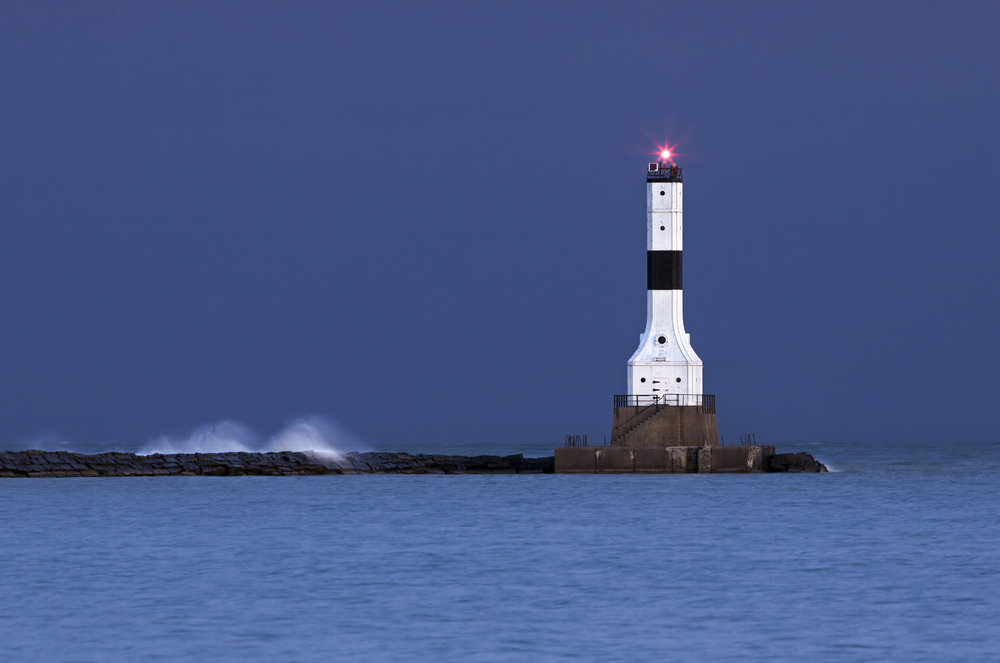 Packing List When Visiting Lighthouses In Ohio
If you are searching, here are some tips on how to pack lightly when packing to visit Ohio lighthouses.
A concealed travel pouch may be one of the most important items you bring along when traveling to lighthouses in OH. It is always important to protect your personal information. Identity thieves are everywhere.
This unisex RFID-blocking concealed travel pouch is lightweight and comes in several colors. It has lots of organization to give you peace of mind. You can place it under your clothes next to your body to carry your ID safely.
If you have a pouch already that does not come with RFID protection, as I do, these RFID sleeves are the perfect solution.
If you are planning on taking a lot of pictures with your phone you will definitely want to consider an external charging battery. This Anker high-speed phone charging battery is the exact one I carry with me on all of my trips.
I like that it holds its charging capabilities for several uses so I do not have to worry about it while out and about, and if I forget to recharge it at night, it will still be good to go the next day.
My daughter gifted me with this FugeTek selfie stick and tripod setup for my birthday. I absolutely love it! It is made of lightweight aluminum and is so easy to use.
It has Bluetooth connectivity and is a breeze to use for taking Insta-worthy selfies at one of the cool lighthouses in OH.
I never much believed in using packing cubes when traveling. That is until I tried them. Now I am hooked. These are the exact cubes I use to stay organized when I pack for a trip!
You will want to bring your own refillable water bottle with you.
I never leave home on a trip without my Bobble filtration bottle. The 18.5-ounce size is perfect for your adventures and it fits nicely in the pocket of a backpack.
The replacement carbon filter ensures you will always have fresh water.
Perhaps you are traveling a long distance and packing space is a premium in your suitcase, or in your car. Then this collapsible silicone foldable water bottle would work well for you. Would not take up much space at all. 
You will want a backpack or daypack with you to store snacks, your water bottle, phone, extra clothes, etc.. . No matter the time of day or evening.
This foldable water-resistant backpack would be great. And it comes in many different colors.
—
As you can see when it comes to lighthouses in Ohio there are so many to see. Whichever of these Lake Erie lighthouses you choose I know you will enjoy your visit.
Whether you choose to visit one of the lighthouses in Cleveland or visit some on the remote island they are all historic in their own way.
I hope you have a great time and come back and tell me all about your lighthouse hunting.