There are so many cool things to do in Cleveland, Ohio!
If you are planning a vacation to Cleveland and do not know where to start, we have you covered!
Whether you are interested in art, pop culture, or relaxing in pretty nature spots, Cleveland has something for you.
A romantic getaway to Cleveland could consist of strolling through a park or a night out on the town as you enjoy a show and a meal at a local restaurant.
Families will have fun learning about dinosaurs or having thrills at one of the best amusement parks in the Midwest. You are sure to make lasting memories.
If you are ready to write the perfect Cleveland, Ohio, itinerary, keep reading for some of the best Cleveland attractions!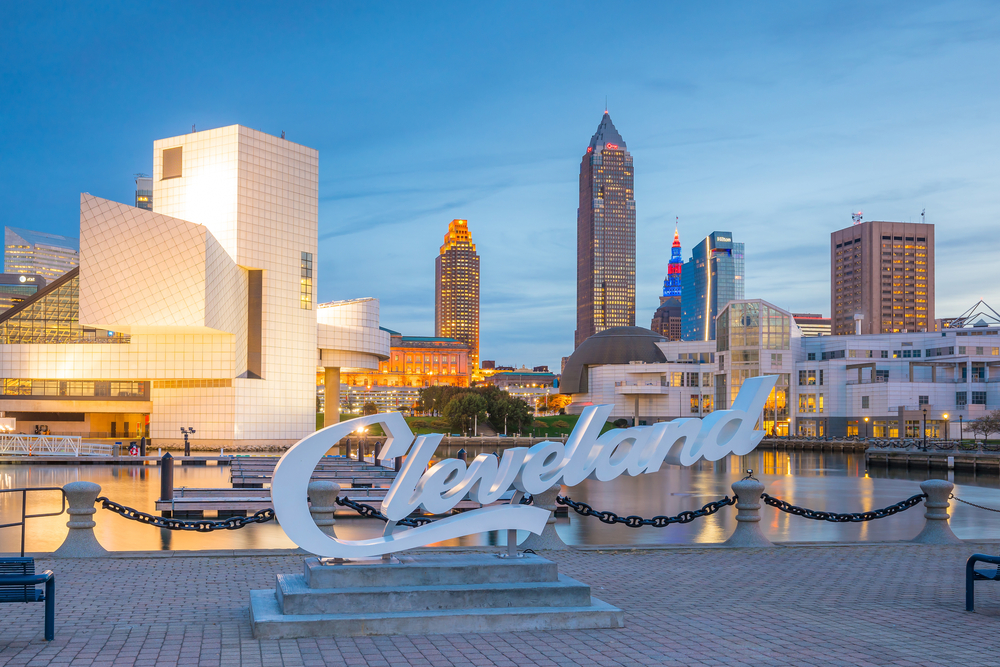 15 Things To Do in Cleveland, OH You Shouldn't Miss
Find Culture at the Cleveland Museum of Art
We will start our list with a couple of art museums. The Cleveland Museum of Art is a great place to acquaint yourself with some culture as well as amazing architecture.
This beautiful and columned Gregorian marble building opened in 1916 and holds about 45,000 pieces of work, including some that date back six thousand years!
The exhibits will walk you through in chronological order so you can experience the evolution of art throughout the world.
Also, did we mention this is one of the best free things to do in Cleveland? With no admission cost, this attraction is a great way to save money. Special exhibits do have a fee, though.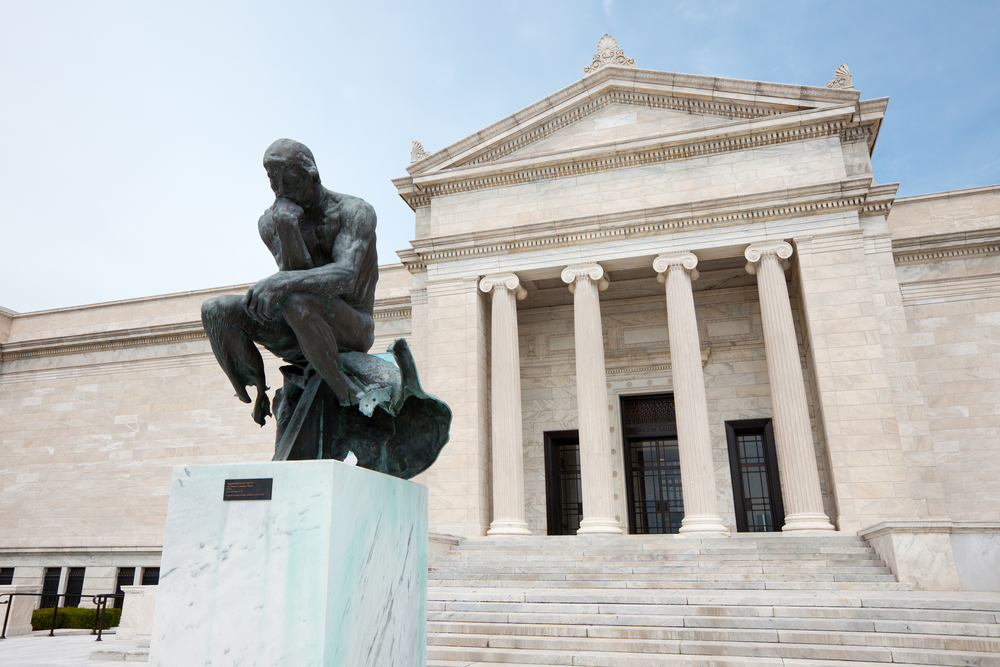 Enjoying the Museum of Contemporary Art Is One Of The Best Things To Do In Cleveland
If you want to dedicate a whole day to art, then you can head to the Museum of Contemporary Art next. This museum in Ohio is easy to spot because of its unique, geometric, and glass design.
This museum has more modern works of art from both local and international artists. There are rotating exhibits, so even if you visit Cleveland again, you can return to find something new.
Admission is free here as well, so the art is accessible to all, and you can stay within your budget.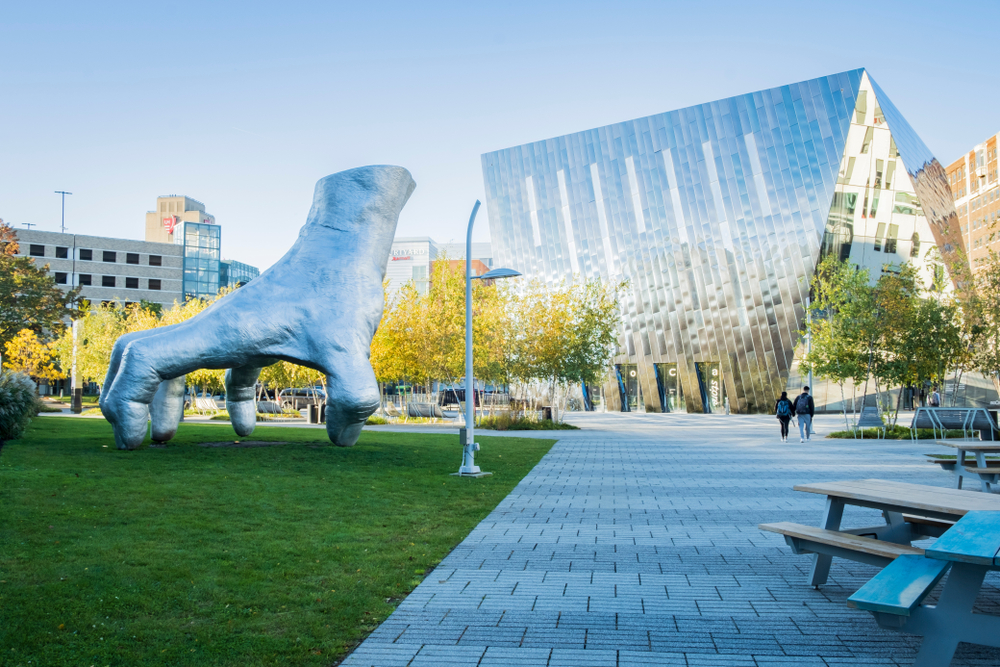 Hang Out at the Beach at Edgewater Park
If you are looking for a breath of fresh air, then head to Edgewater Park. This beautiful park is found on Lake Erie and boasts over 147 acres to explore, including nine thousand feet of shoreline.
There are peaceful beaches for swimming, boating, fishing, or simply soaking in the sun with a good book. Get some exercise on the biking trails or relax with a scenic picnic.
This is a great Ohio beach to bring the whole family, including four-legged members. There is even a dog beach so your furry friends can enjoy a dip in the water as well.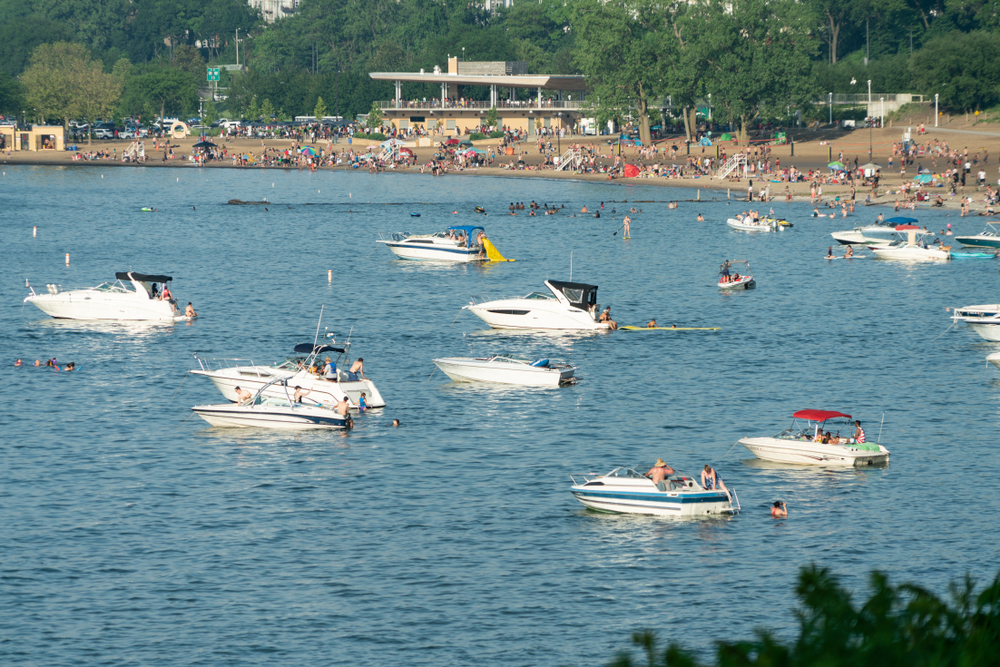 See a Show at Playhouse Square
Playhouse Square is one of the top things to do in Cleveland if you are looking for a memorable date night. This is the second-largest performing arts center in the country.
You will know you have arrived at the right spot when you see the elegant chandelier hanging outside the building. This is the world's largest outdoor chandelier with 4,200 crystals and a height of twenty feet.
Playhouse Square puts on a variety of shows throughout the year from local productions to well-loved Broadway shows.
No matter what show you watch, you will have a great time. Don't forget to take a photo outside with the big neon sign.
Afterward you can explore some of the best breweries in Cleveland!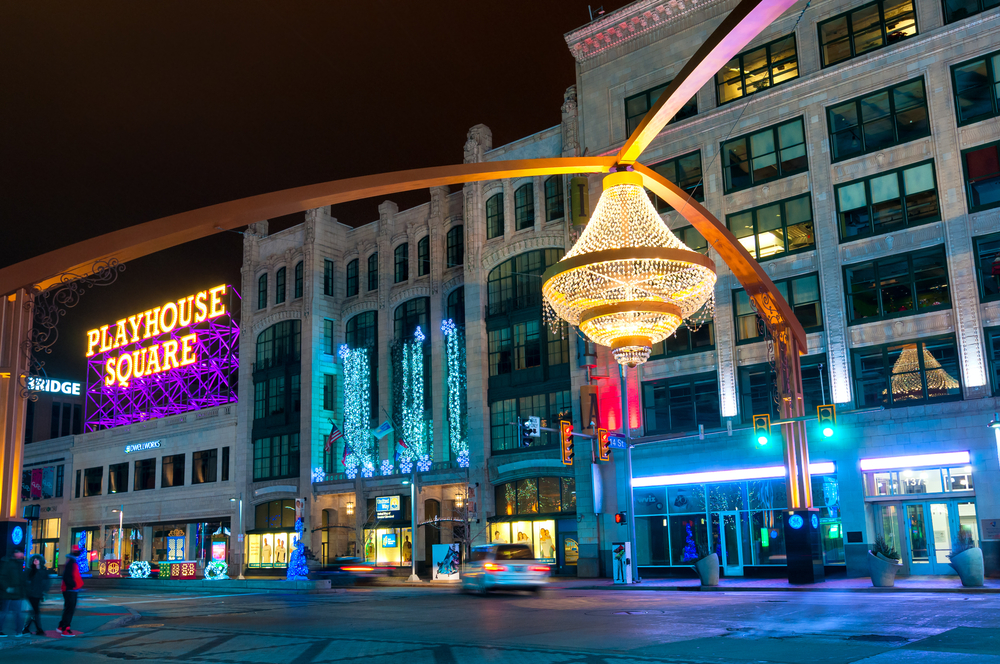 Step into a Movie at A Christmas Story House
Did you know Ralphie's house from the 1983 classic A Christmas Story is found in Cleveland, Ohio?
Exterior shots of the house were filmed here and since the movie is so beloved, the house has been restored to what it looked like in the movie.
Visit the house where it is Christmas all year round and take a fun tour. You can also stay at the house if you love unique accommodations.
Though the nightly rate is not exactly cheap, it might be worth it if you are a major fan of the movie.
Across the street from the house, you will find the Christmas Story Museum. You will find a ton of movie props, costumes, and behind-the-scenes photos. How cool is that?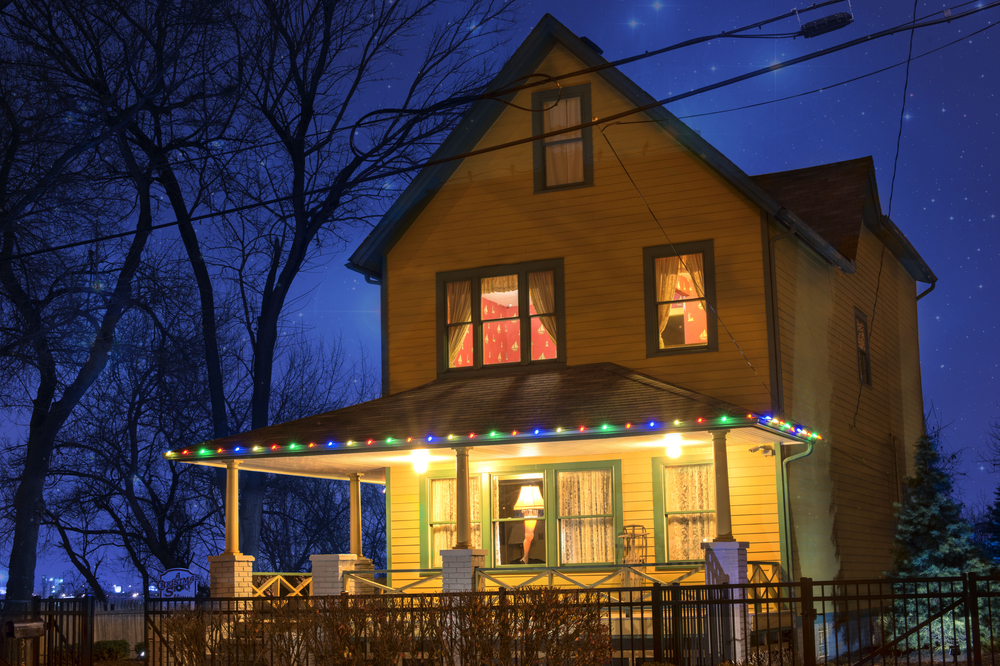 Find Local Produce at West Side Market
The West Side Market opened in 1840 and is definitely one of the best things to do in Cleveland, Ohio.
You can shop for an assortment of foods here, including baked goods, fresh fish, spices, herbs, and dairy products.
You can also pick up a wonderful bouquet of flowers to brighten your vacation rental home or hotel room. Use the fresh ingredients to cook a delicious meal.
Your time will be well spent as you stroll the many booths and breath in the amazing smells of cooking food and spices. Each purchase supports small businesses as well.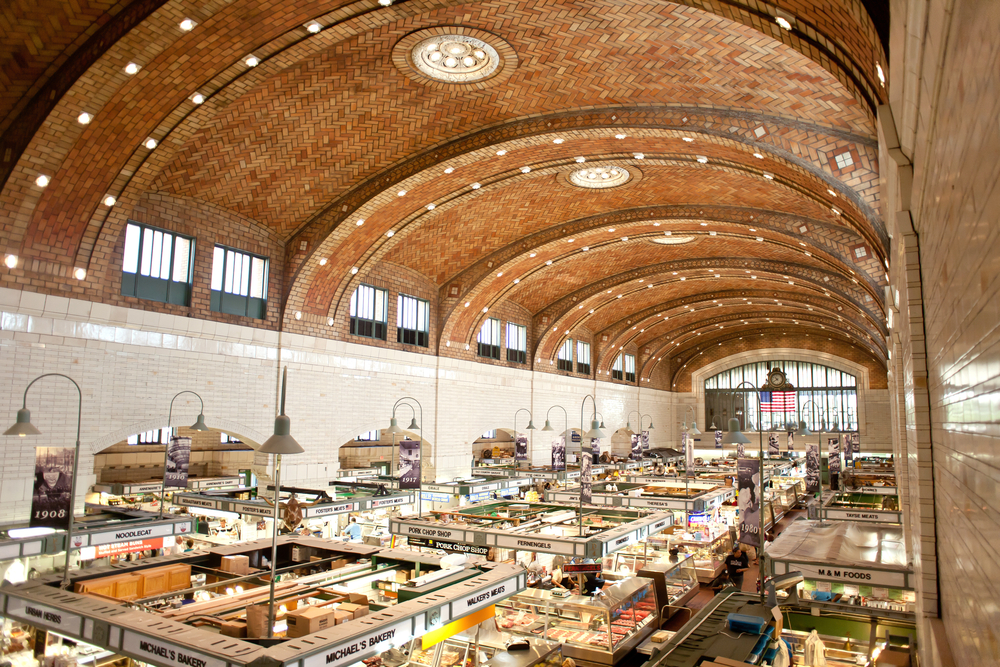 Photograph the Detroit-Superior Bridge
If you are a photographer looking for an awesome photo spot in Cleveland, you need to head to the Detroit-Superior Bridge. Built in 1917, this historic structure is found downtown.
This is a great place to photograph the Cuyahoga River with the city skyline in the distance. Day or night, it is beautiful and photogenic.
On both sides of the bridge, there is a park. On the western side is Heritage Park with Amazing skyline views. You will also see the cute, red Center Street Bridge which you can walk across.
On the other side is Settler's Landing Park with beautiful walking paths and a dog park.
This park is also next to the Flats district which is a lively area known for its nightlife. There are awesome bars, clubs, and hip restaurants.
Explore the peaceful park during the day, then party in the Cleveland Flats at night.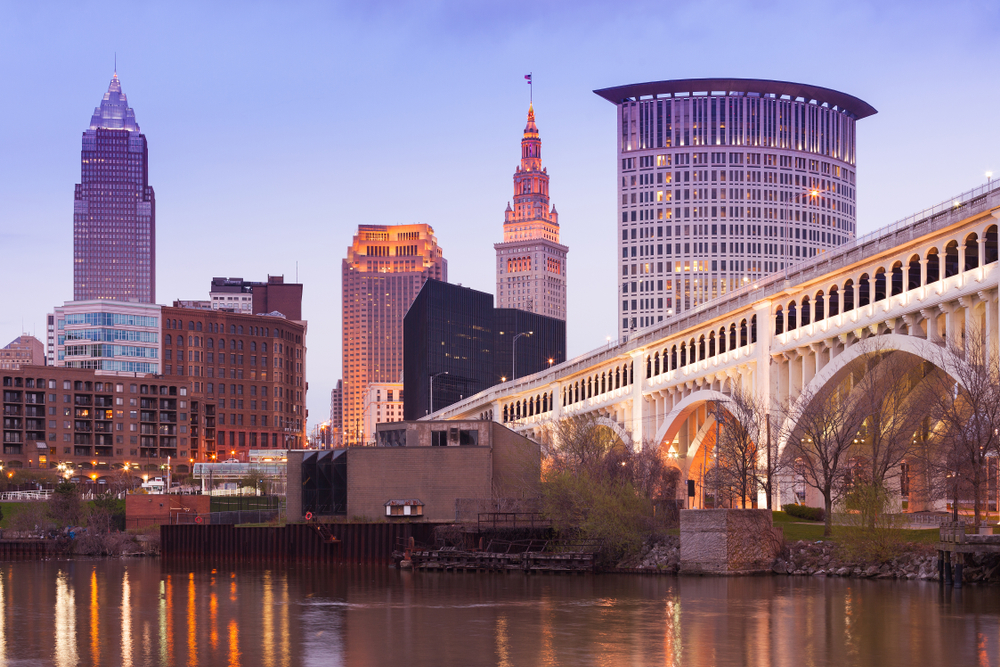 Wander the Lake View Cemetery
If you are a sucker for a beautiful graveyard, then you will want to visit the Lake View Cemetery. There are 285 acres full of trees and pretty, winding pathways.
Since opening in 1869, over 100,000 people have been buried here. There are historic monuments and graves of well-known people, including President James Garfield.
In spring, the cemetery's gardens and magnolia trees bloom spectacularly. If you are wanting moody, fall photos, the tombstones look perfect nestled among the bright, autumn colors of the Japanese maples and ginkgos.
Make sure to visit the gorgeous Wade Memorial Chapel. This exquisitely designed building was created in 1901 and is on the National Register of Historic Places. The Tiffany stained-glass window is an amazing focal point.
If you are road tripping from Columbus to Cleveland, this is a great place to explore!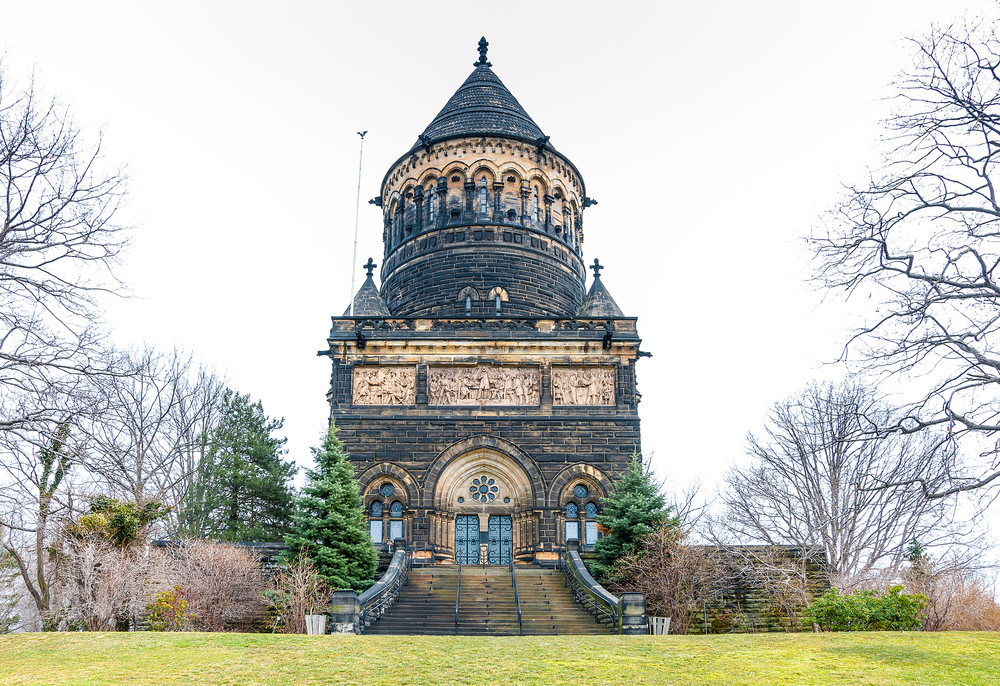 Snap a Photo With the World's Largest Rubber Stamp
If you love visiting super unique Midwest attractions or posing for quirky Instagram photos, then you will be intrigued to learn that the World's Largest Rubber Stamp is found in Cleveland.
This is one of the coolest things to do in Cleveland since both kids and adults will be amazed. Get ready for a fun family portrait!
The bright, red stamp is forty-nine feet long and reads "free" on the bottom. It is found in Willard Park next to Cleveland City Hall.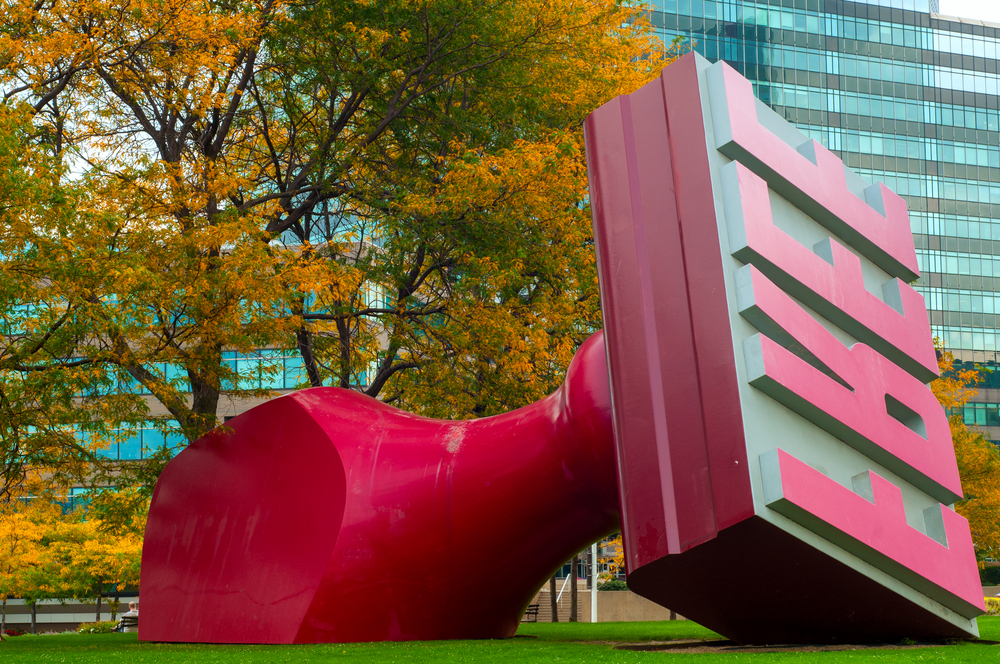 Shop at the Cleveland Arcade
The Cleveland Arcade is an absolutely gorgeous and historic shopping mall. It opened in 1890 and was originally known as Cleveland's Crystal Palace.
It was also the city's first addition to the National Register of Historic Places.
The arcade portion is five stories and the towers are nine stories. This is one of the best places to visit in Cleveland on a rainy day.
You can wander the floors and pretend you are in Milan, Italy, which inspired the construction.
The arcade holds many shops, restaurants, cafes, art galleries, and spas. If you love pretty places to photograph, you will definitely want to get here early before the crowds so you can get some amazing shots.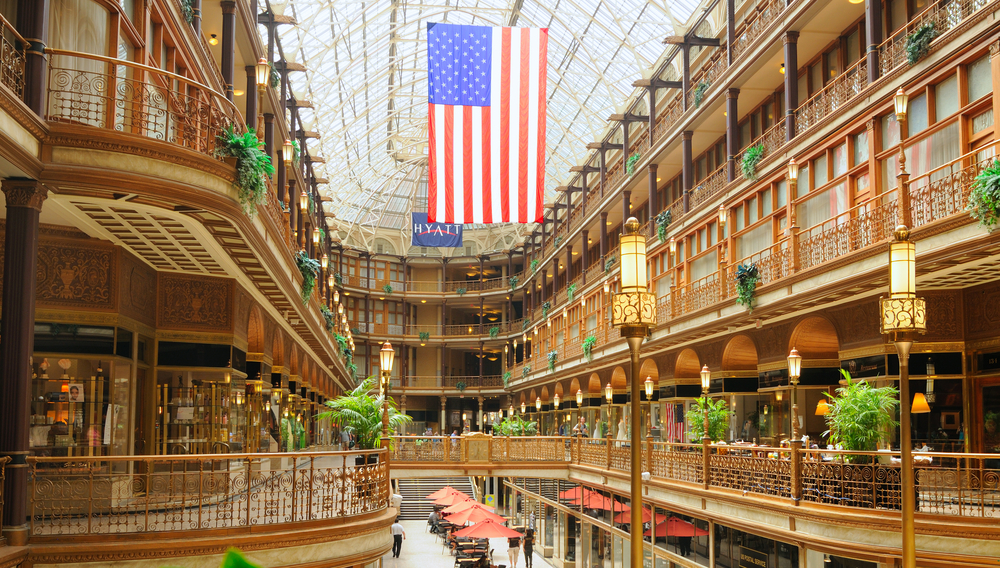 Visit the Rock and Roll Hall of Fame and Museum
The Rock and Roll Hall of Fame and Museum is found right on the river and is an interesting place to visit if you love music.
This is another really cool building design in Cleveland too, so make sure to snap some photos.
You will have fun learning about the history of rock and roll as well as visiting the Hall of Fame and seeing the inductee's signatures.
There are exhibits and memorabilia dedicated to legends such as Elvis Presley, Janis Joplin, Pink Floyd, and Prince.
The museum has holds concerts and other events. You might even get the chance to meet some musicians and get autographs.
Keep an eye on the events page when you are planning your trip.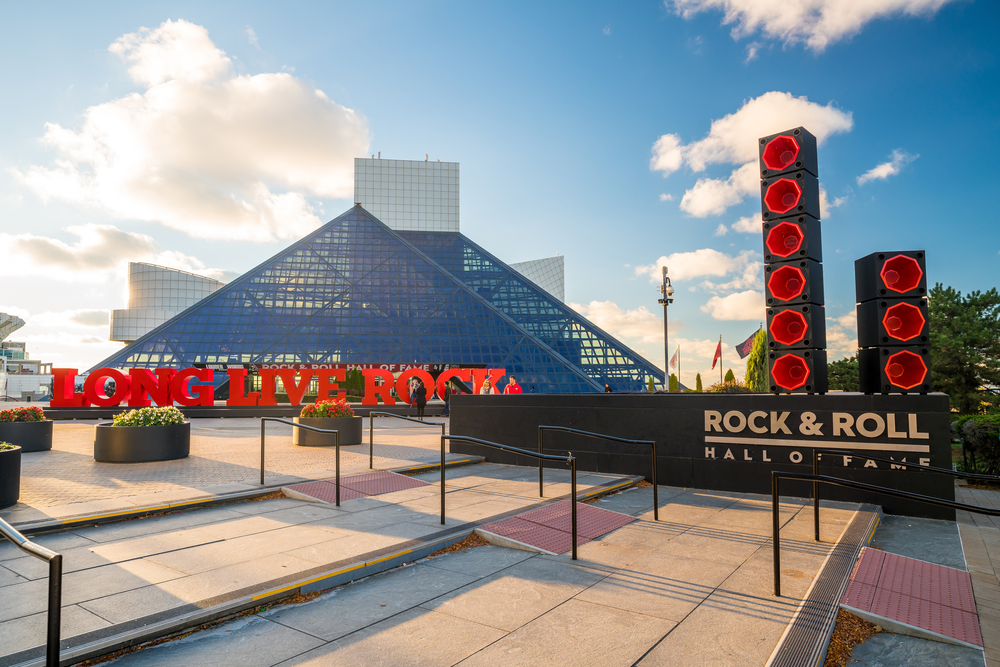 Enjoy Music at the Cleveland Orchestra
The Cleveland Orchestra is another of the best, must-see attractions in Cleveland. Even if you are not into classical music, the building itself is breathtaking.
Severance Hall was built in 1931. Today, it is home to what is considered one of the best orchestras in the country, if not the world.
A concert here will leave you awestruck with musicians at the top of their game performing excellently.
The orchestra is found next to Wade Lagoon, which is a fantastic place for a walk. The pond is pretty and full of waterfowl. You can also grab a photo with the Mermaids of Earth statue.
Before or after a performance, plan to visit some of the best restaurants in Cleveland!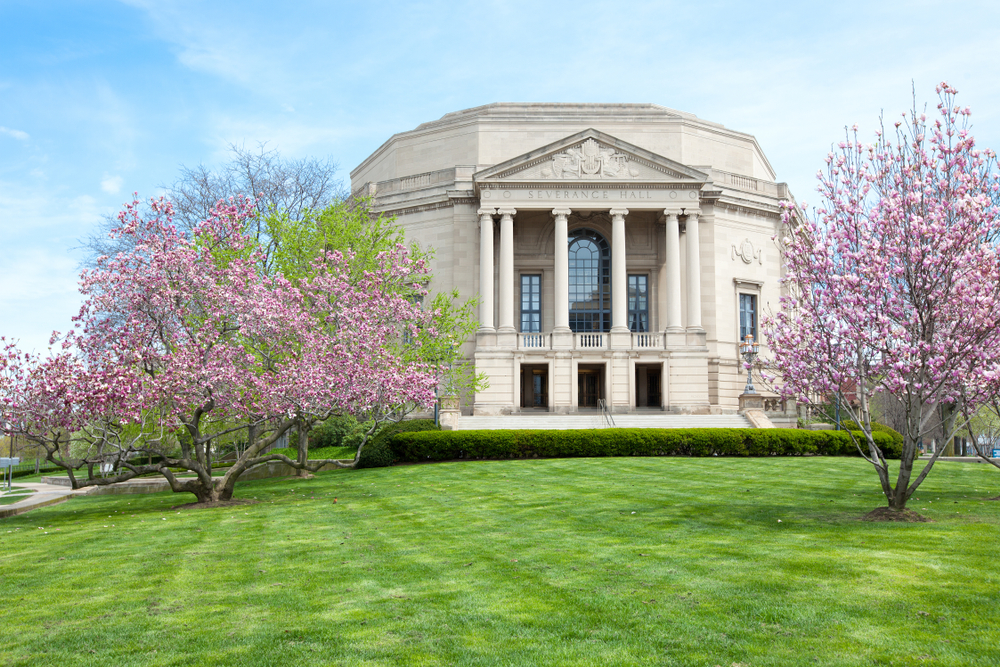 Stroll Through the Cleveland Botanical Gardens
The Cleveland Botanical Gardens are a wonderful place to escape from the city and immerse yourself in nature. Created in 1930, these beautiful gardens stretch over ten acres.
There are eleven themed gardens including the Butterfly Garden, the Japanese Garden, the Hershey Children's Garden, the Topiary Garden, and more. You can come at any time of the year and find beauty.
The Madagascar Glasshouse has many endangered plants and free-roaming chameleons and tortoises.
There is also an art gallery with different art mediums dedicated to nature. The Garden Cafe has yummy, artisanal dishes to try.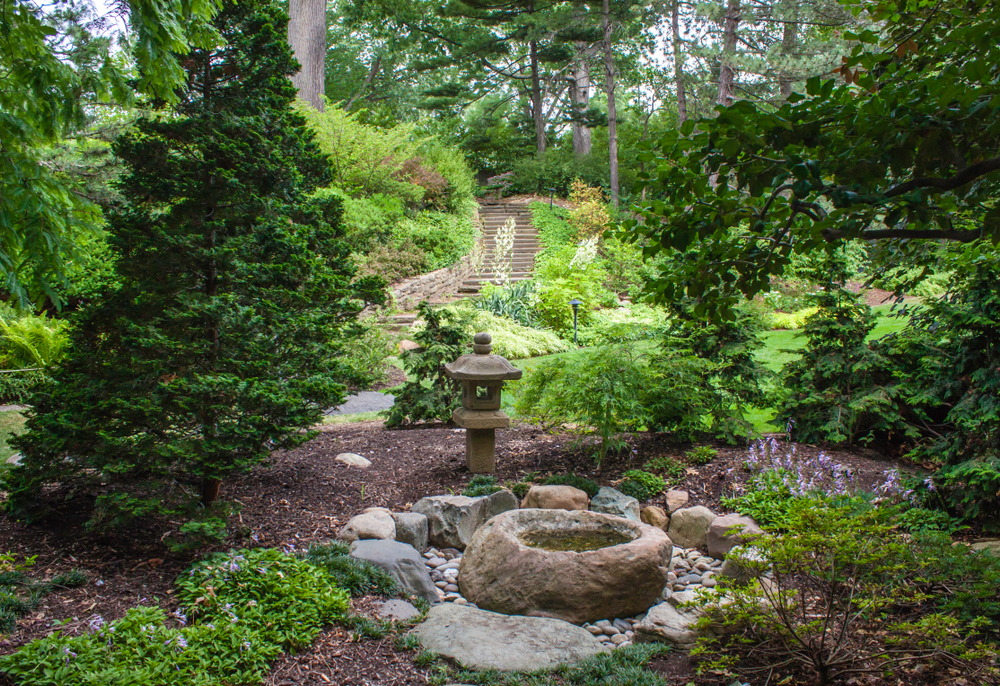 Learn at the Cleveland Museum of Natural History
The Cleveland Museum of Natural History is one of the best things to do in Cleveland for families. Found in University Circle downtown, this is a great place to spend a few hours learning in a fun and interactive way.
This museum is a hub for scientific research and the collection holds over five million artifacts. You are sure to leave with a greater understanding of the world around you.
You will find exhibits on a large number of fascinating science topics. The paleontology and archaeology area will teach you about dinosaurs and ancient civilizations.
Plants lovers will want to check out the botany section while anyone interested in animals will enjoy the zoology departments. The Shafran Planetarium and Mueller Observatory will make you fall in love with space.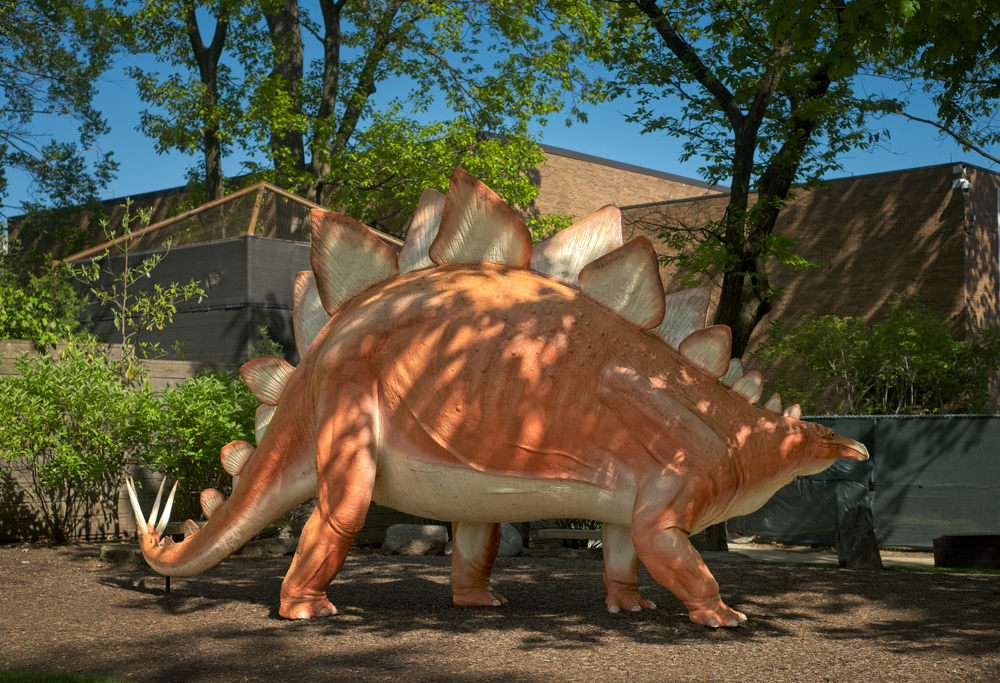 Have a Blast at Cedar Point
Cedar Point is easily one of the most popular Ohio attractions. This awesome amusement park is found about an hour west of Cleveland right on Lake Erie. Spend the day in this scenic location experiencing a rush of adrenaline.
There are seventeen crazy rollercoasters, including one that goes 120 miles an hour! If you love heart-stopping thrills, this is definitely one of the best things to do in Cleveland.
Even if you like things calmer, you will have fun here. There are plenty of family-friendly rides for all ages. Younger kids will love the Snoopy-themed rides.
In the heat of summer, check out the Cedar Point Shores Waterpark for some wet and wild rides and pools. There are private cabanas you can relax in to get out of the sun. Both parks have shops and yummy restaurants too.
Cedar Point is home to one of the really cool lighthouses in Ohio, so be sure to check into that!
If you are looking for accommodations during your visit to Cedar Point, these Ohio VRBOs are a great place to start looking!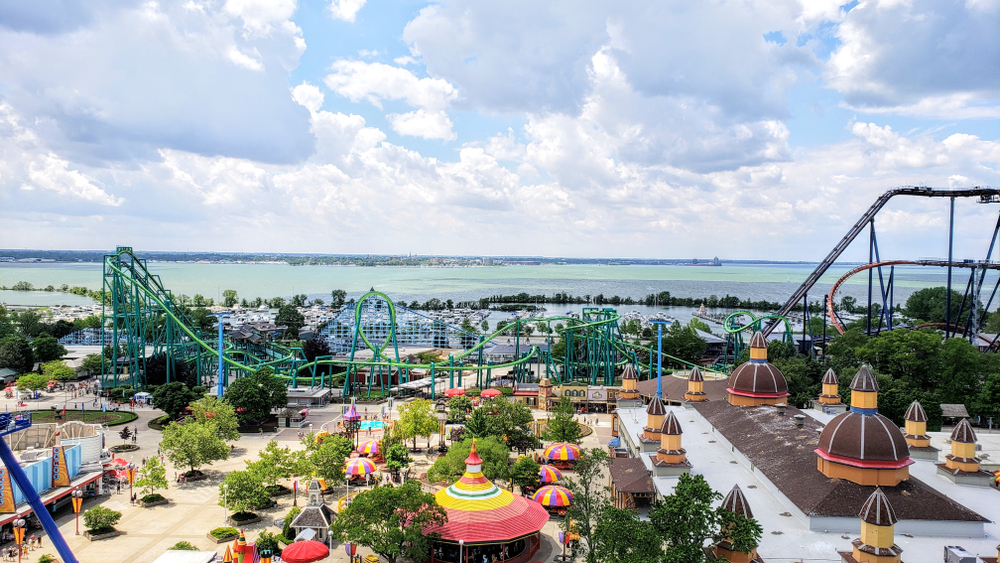 Packing List For Visiting Cleveland Ohio
If you will be traveling, either by plane or by car to Cleveland Ohio, here are some tips on how to pack lightly.
A concealed travel pouch may be one of the most important items you bring along when visiting Cleveland OH. It is always important to protect your personal information. Identity thieves are everywhere.
This unisex RFID blocking concealed travel pouch is lightweight and comes in several colors. It has lots of organization to give you peace of mind.
You can place it under your hiking clothes next to your body to carry your ID safely.
If you have a pouch already that does not come with the RFID protection, as I do, these RFID sleeves are the perfect solution.
This configuration comes with enough credit card sleeves that the entire family would be protected. They are slim too, so they will easily fit into your pouch or wallet.
If you are planning on taking a lot of pictures with your phone you will definitely want to consider an external charging battery. This Anker high-speed phone charging battery is the exact one I carry with me on all of my trips.
It can be used on a variety of phones, not just an iPhone like I have. And wow is it fast!
I like that it holds its charging capabilities for several uses so I do not have to worry about it while out and about, and if I forget to recharge it at night, it will still be good to go the next day.
My daughter gifted me with this FugeTek selfie stick and tripod setup for my birthday. I absolutely love it! It is made of lightweight aluminum and is so easy to use.
It has Bluetooth connectivity and is a breeze to use for taking selfies when staying in one of the best Airbnbs in Illinois.
Hydration is so important when traveling. You want to remain hydrated throughout your travels to support your immune system which in turn will be stronger to fight off any germs you will encounter during your travels.
You will want to bring your own refillable water bottle with you.
I never leave home on a trip without my Bobble filtration bottle. The 18.5-ounce size is perfect for hiking and it fits nicely in the pocket of a backpack.
When filled with water, it is not too heavy to carry. And the charcoal filter ensures fresh clean water whenever you fill the Bobble.
Perhaps you are traveling a long distance and packing space is a premium in your suitcase, or in your car.
Then this set of collapsible silicone foldable water bottles would work well for you. Would not take up much space at all.
You will want a backpack or daypack with you to store snacks, your water bottle, phone, extra clothes, etc.. when hiking This foldable water-resistant backpack would be great
It is very affordable and is available in many color options for you to choose from. The fact that it folds down into a zippered pouch will make it easy to pack.
---
Cleveland, Ohio, might not be near the top of your travel bucket list, but why not?! This cool and fun Midwest city should not be overlooked.
A Midwest weekend getaway to Cleveland guarantees an awesome time.
Bring the whole family to enjoy parks full of either nature or fun rides. Enjoy a fun getaway by seeing a show or concert. Get your fill of culture at art museums or the orchestra.
No matter what you do in Cleveland, you will leave with a ton of epic memories ad photos of cool attractions!
–