Are you looking for the best Ohio day trips?
Then I have got you covered! There are so many fun things to do in Ohio!
This list is full of the best day trips in Ohio, my home state!
I was born and raised in Youngstown, Ohio, so I know firsthand where some of the best places to go in Ohio are.
On this list, you'll find fun and interesting museums, beautiful state parks, and natural wonders, as well as charming small towns.
No matter what you are interested in, there is an option for fun day trips in Ohio to fit your needs.
So, let's take a look at the 15 best Ohio day trips, full of hidden gems, small towns, and more!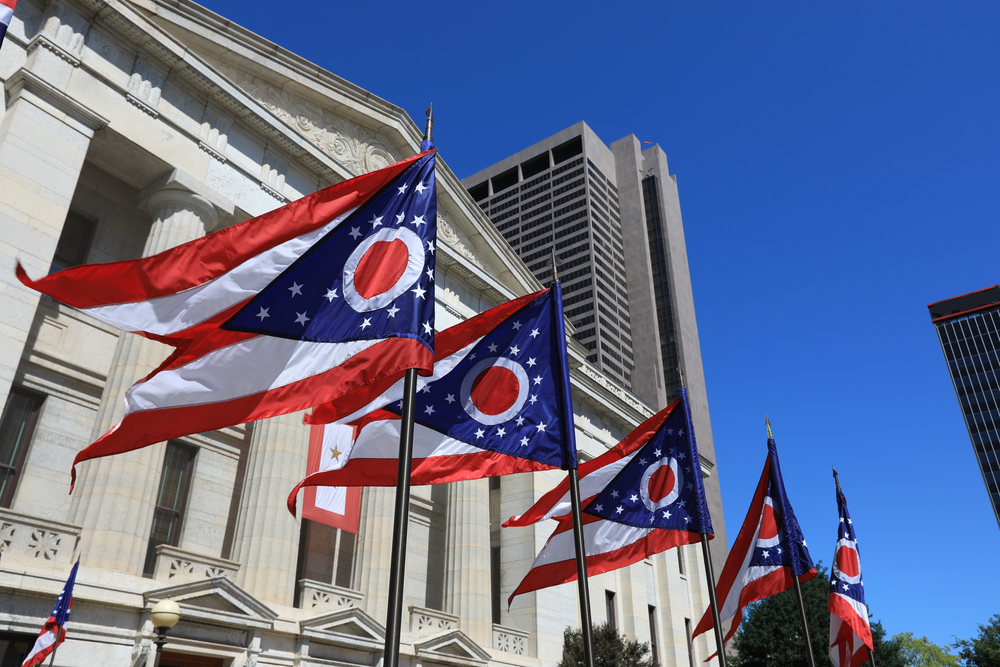 15 Best Ohio Day Trips (Hidden Gems, Small Towns & More!)
Rock And Roll Hall Of Fame Museum Makes For An Awesome Ohio Day Trips Activity
If you are looking for an activity that is unique to Ohio, then consider heading to the Rock and Roll Hall of Fame Museum.
It is one of the most incredible things to do in Ohio because it is the only home of the Rock and Roll Hall of Fame.
The museum is located in downtown Cleveland, right by Lake Erie.
Inside the massive 55,000 square foot building, you'll find several levels of exhibits dedicated to the history of Rock and Roll.
The I.M. Pei-designed building also houses the offices of the Rock and Roll Hall of Fame and it's where the artists who are inducted every year are decided on.
You'll also find souvenir shops and a cafe, which means you can easily spend the entire day exploring this super-unique museum in Ohio.
This is one of the most perfect Ohio day trips for music lovers!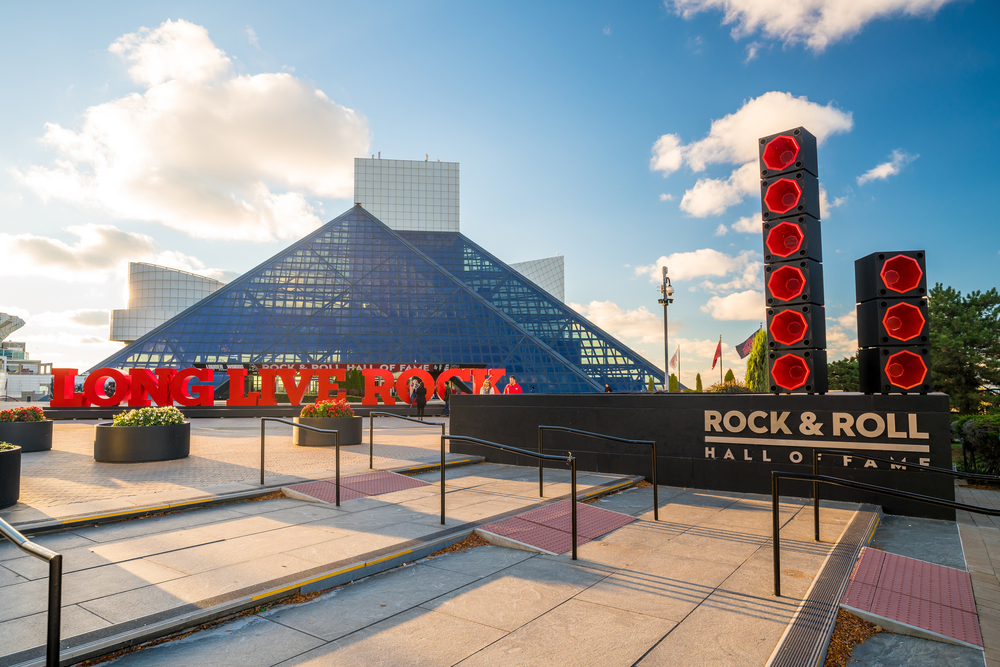 Explore The Ohio Caverns
The Ohio Caverns are definitely one of the best hidden gems of the Midwest.
Visitors have been flocking to these cool underground tunnels almost since they were first discovered between 1897 and 1925.
Now, the caverns are known as 'America's Most Colorful Caverns' and still attract thousands of visitors every year.
Depending on the time of the year, the caverns are open for tours at different times.
There are several different types of tours you can take too.
But no matter when you go, you're sure to enjoy this fun place to go in Ohio.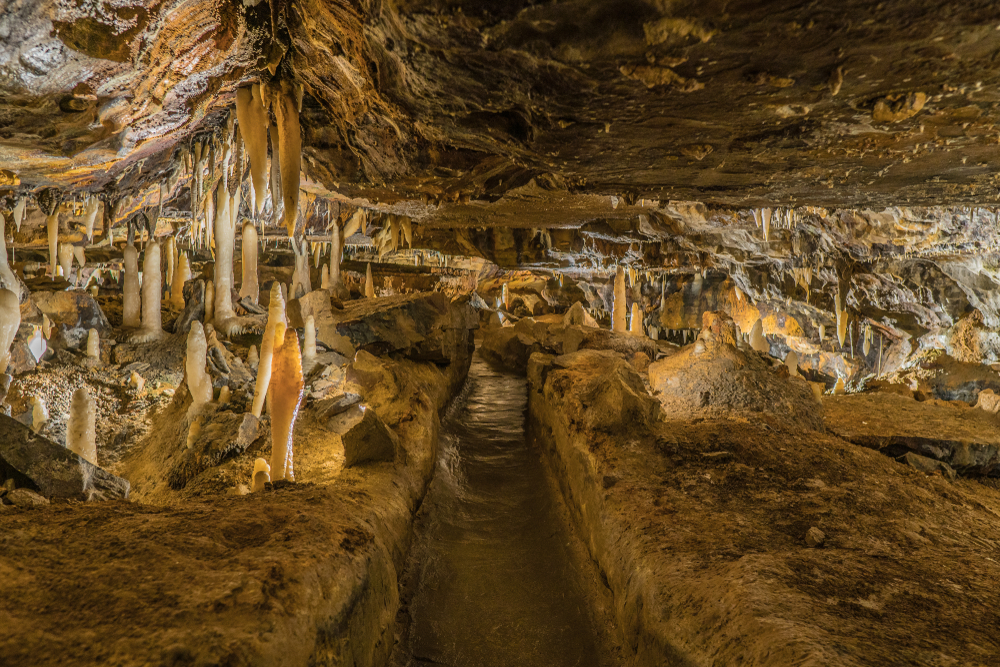 Visit Chateau Laroche
When you think of Ohio, castles probably don't come to mind.
But they should!
Ohio is home to several castles, and one of those is Chateau Laroche.
Chateau Laroche is often called Loveland Castle by locals, simply because you can find it in the town of Loveland, Ohio.
The Chateau is a full-size replica of a European castle and features a mishmash of different architectural styles from different European countries.
You will see influences from English, French, and German architectural styles as well as four turrets, each of which has a different style.
The castle is now a museum, where you can tour the inside as well as the grounds, and learn about its eccentric builder.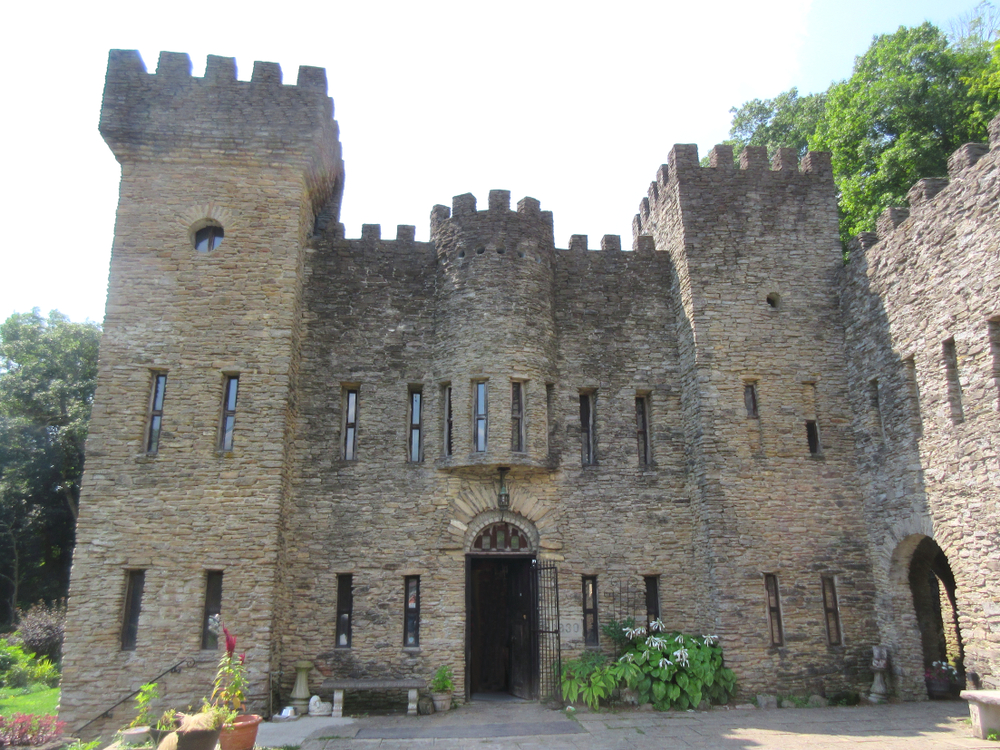 Explore The German Village In Columbus
One of the best day trips in Ohio is a day spent in the German Village in Columbus.
The German Village is a charming neighborhood in Columbus.
You'll find beautiful brick homes and buildings, many originally built in the mid-1800s by the area's original German immigrants.
It is one of the best places in Columbus to explore one-of-a-kind boutiques, restaurants, and admire the antique architecture.
Just west of the German Village you can also find Columbus' Brewery District.
The Brewery District was also originally built by the area's German immigrants and was the hub of the city's brewing culture.
Even today, it is still one of the best places in Ohio to stroll through.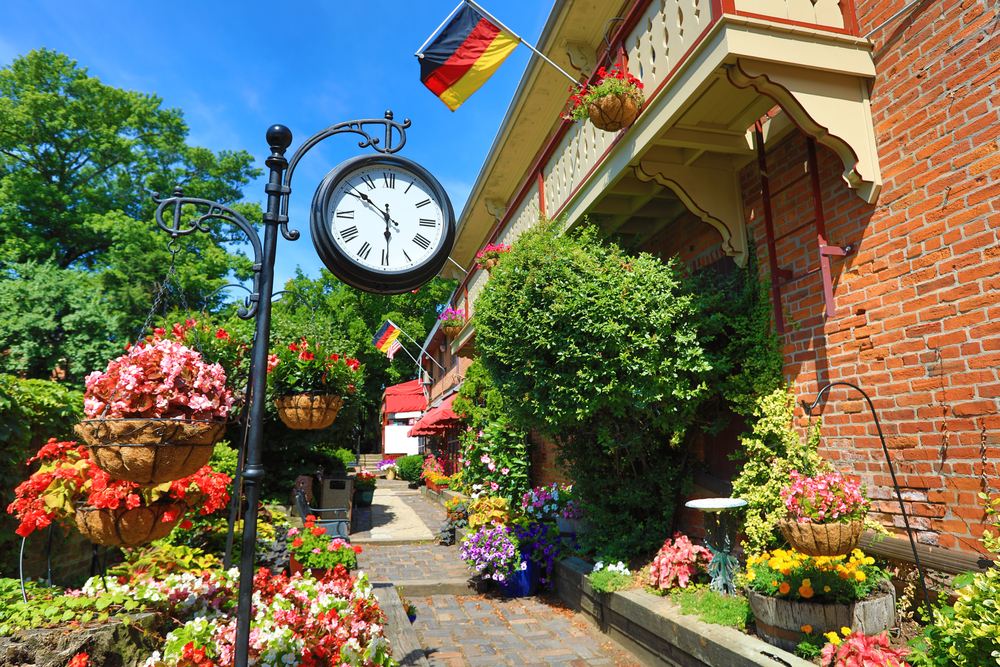 Amish Country Is A Must For Ohio Day Trips
You can't visit Ohio and not at least take a detour into Amish Country as it is one of the best Ohio day trips.
Ohio's Amish Country is located in the east-central area of the state and is easily accessible from most major highways.
While there, you'll find that there are a lot of unique things to do.
I suggest sampling some authentic Amish food, perusing through the shops and stalls full of Amish-made goods, and taking a scenic drive through the beautiful Amish Country landscape.
Amish Country is also one of the best places in Ohio to drive under one of the famous covered bridges.
The local Amish are very welcoming to visitors, but please be respectful of their lifestyle and religious beliefs.
That includes not photographing them, remembering that they take Sunday as a day of complete rest, and look out for horse-and-buggies while you're driving.
Check out our list of other festivals and events in Ohio.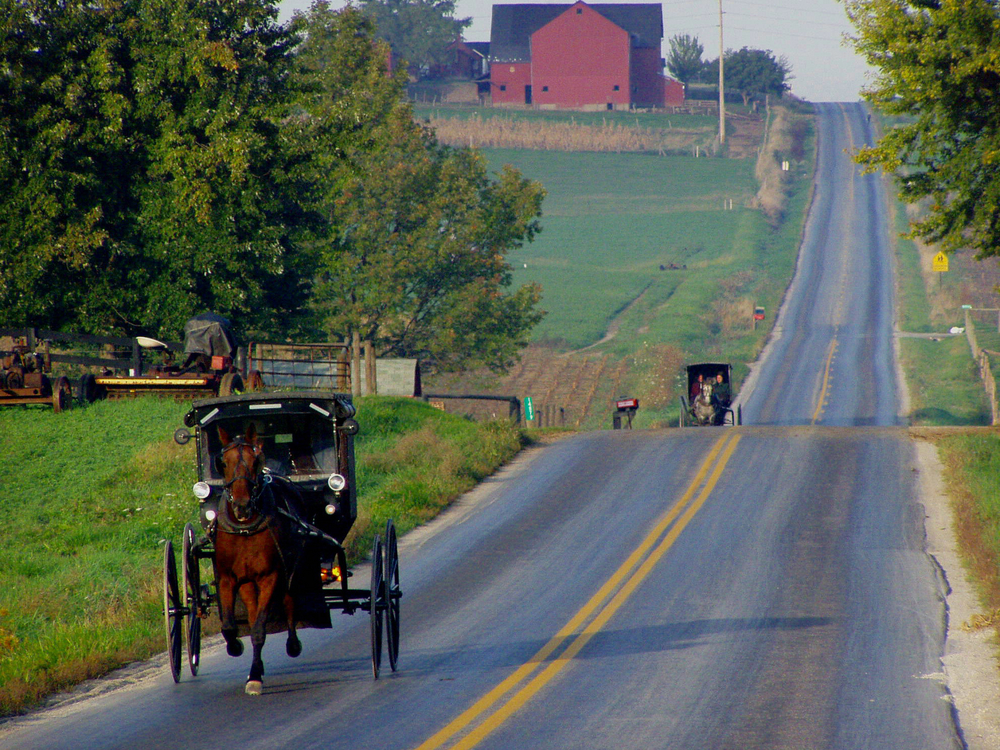 Visit The Pro Football Hall Of Fame In Canton
Football fans will love this fun option for day trips in Ohio.
The Pro Football Hall of Fame is located in Canton Ohio.
Inside, you'll find tons of exhibits all relating to American football.
It's no surprise that football fans travel from all over the world to spend the day exploring this really unique museum experience.
There are interactive exhibits and fascinating tours that teach you all about the history of football and some of its most iconic players.
You will even find exhibits dedicated to each Pro Football team, so you will be able to admire memorabilia from your favorite team.
Inside the Super Bowl Theater, you'll also be able to view videos that highlight some of football's superstars.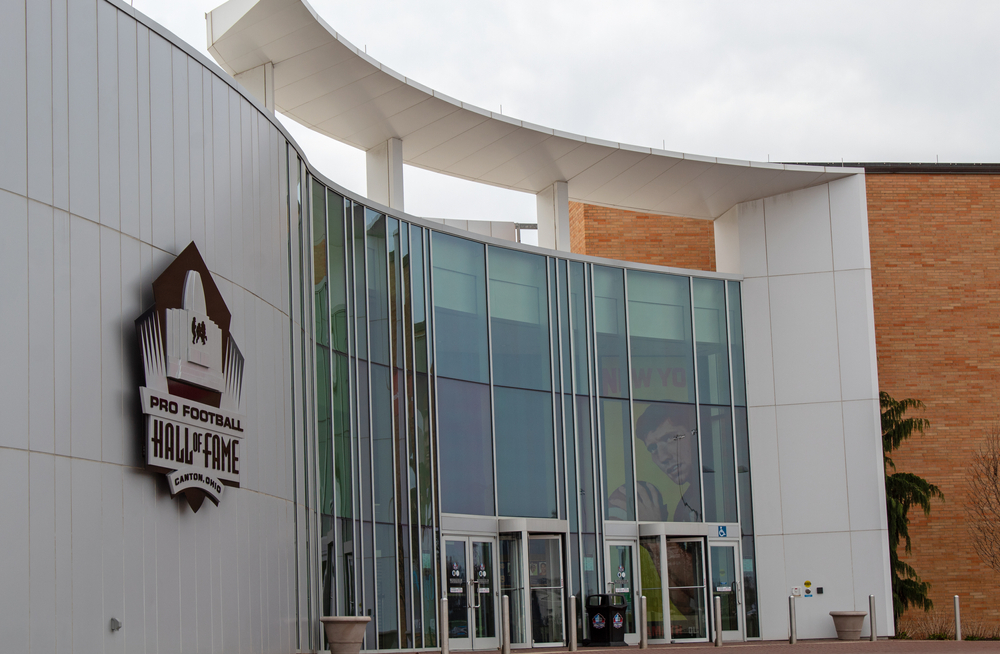 Step Into History At The National Underground Rail Road Freedom Center
You can find the National Underground Rail Road Freedom Center in Cincinnati.
It is specifically located along the banks of the Ohio River because the Ohio River used to be a natural divider between 'free' and 'slave' states.
The 'free' states were those above the Ohio River and the 'slave' states were those below the Ohio River.
So it was naturally one of the best crossing points for enslaved peoples looking to escape.
Now you can learn about the history of the Underground Rail Road in Ohio at the center.
The center highlights stories of those who helped enslaved peoples escape to Ohio as well as the stories of those who managed to find freedom in Ohio.
It is an incredibly moving museum.
While we believe that slavery ended in America with the end of the Civil War, that is sadly not the case.
Slavery continues to occur every day in the form of human trafficking, even in America.
Alongside the exhibits about the Underground Rail Road, you'll also find exhibits that highlight and inform visitors about the modern-day slave trade.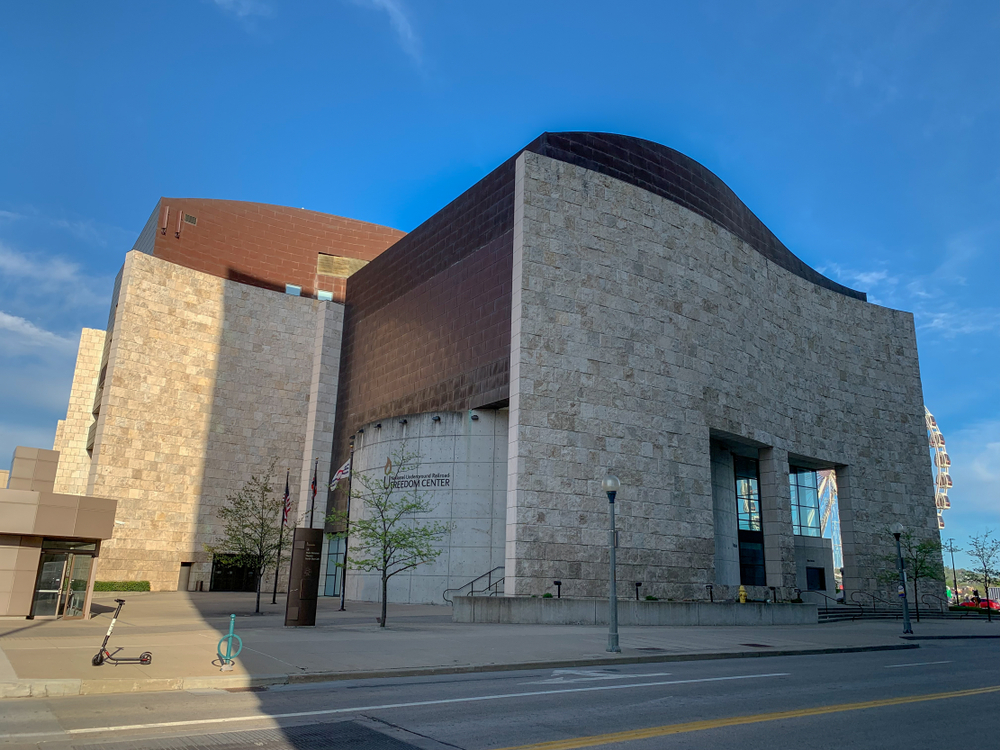 Admire The Kelleys Island Glacial Grooves
The Kelleys Island Glacial Grooves are an Ohio natural wonder on Kelleys Island.
It is an island just off the coast of Lake Erie near Sandusky.
Kelleys Island is super tiny and you can only reach it via ferry.
So keep that in mind when you are planning this Ohio day trip adventure.
To get around the island you will need to walk.
There are no cars permitted, but at only four miles by two miles, that probably will not be a problem.
You can see a few things on the tiny island, but the most popular is the glacial grooves.
The grooves were created by a glacier slowly sliding on the landscape and carving the grooves over time.
It is one of the coolest places to go in Ohio.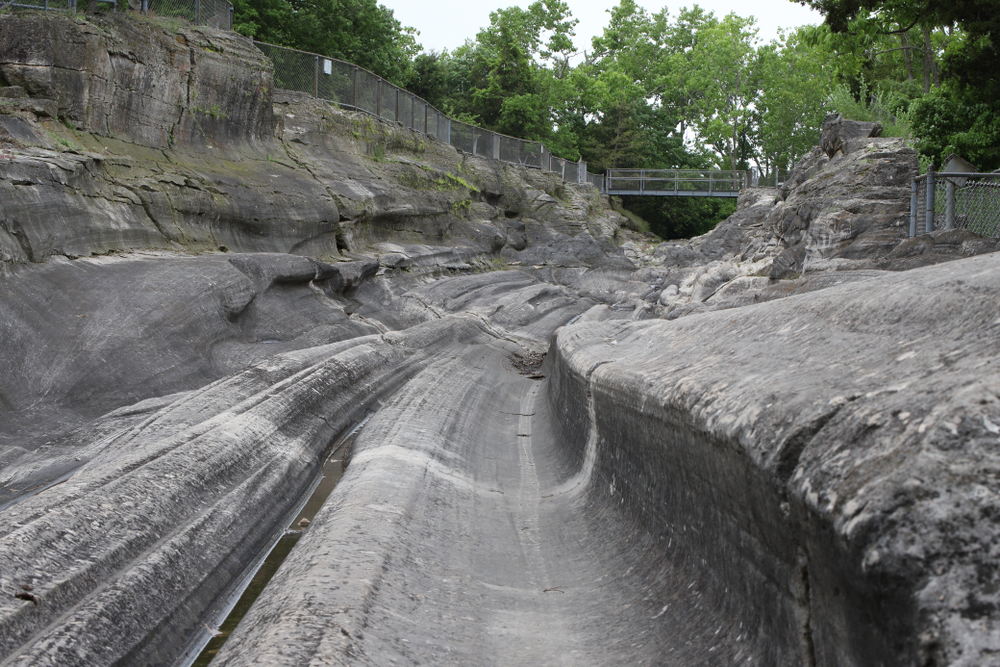 Put-In-Bay For One Of The Most Romantic Ohio Day Trips
The small town of Put-in-Bay is a great spot for a romantic getaway or even just a romantic day trip.
It is located on an island on the shores of Lake Erie, so you'll be surrounded by beautiful beach views.
You can walk around the island, check out the shops, get a delicious meal, or just stroll along the sand.
Put-in-Bay is also home to Perry's Victory and International Peace Memorial.
The memorial was put in place to remember the Battle of Lake Erie and the peace that followed for Canada, Britain, and the United States.
The small island also has its own state park, which is near Put-in-Bay, called the South Bass Island State Park.
There are also a few museums, a butterfly house, and a limestone cave, all waiting for you to explore them.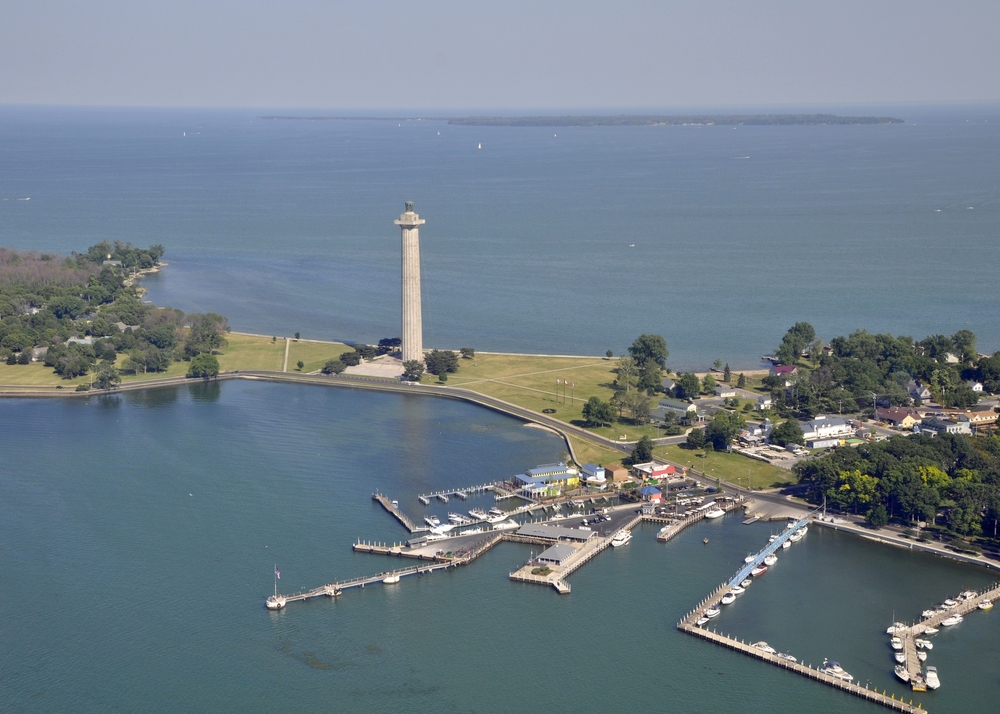 Hocking Hills State Park Is One Of The Best Ohio Day Trips
One of my favorite places to go in Ohio is Hocking Hills State Park.
Hocking Hills State Park is a natural Ohio attraction that everyone should take the time to visit.
While you explore the park you'll find gorgeous waterfalls, scenic hiking trails, and unique rock formations dotted throughout the lush forest landscape.
The area around the state park is also full of fun activities. There are shops, restaurants, and historic museums.
If you are looking to escape to the great outdoors for one of your next day trips in Ohio, then you can't go wrong with a day spent at Hocking Hills State Park.
Explore Ashtabula Beaches And Parks
Ashtabula is an adorable small town, probably best known for its wonderful Lakeshore Park.
The Lakeshore Park is located on the shores of Lake Erie and is about 54 acres of trails, sandy shores, and park area.
What makes the park and the beaches of Ashtabula so popular are actually a few different things.
The beaches are very pretty, and Lakeshore Park is full of amenities.
There are grassy areas where you can picnic or relax and play some horseshoe, a playground for kids, volleyball courts, pavilions, and even a public boat dock.
You could easily spend an entire day in Ashtabula.
That's what makes it one of the best small towns in Ohio for a day trip.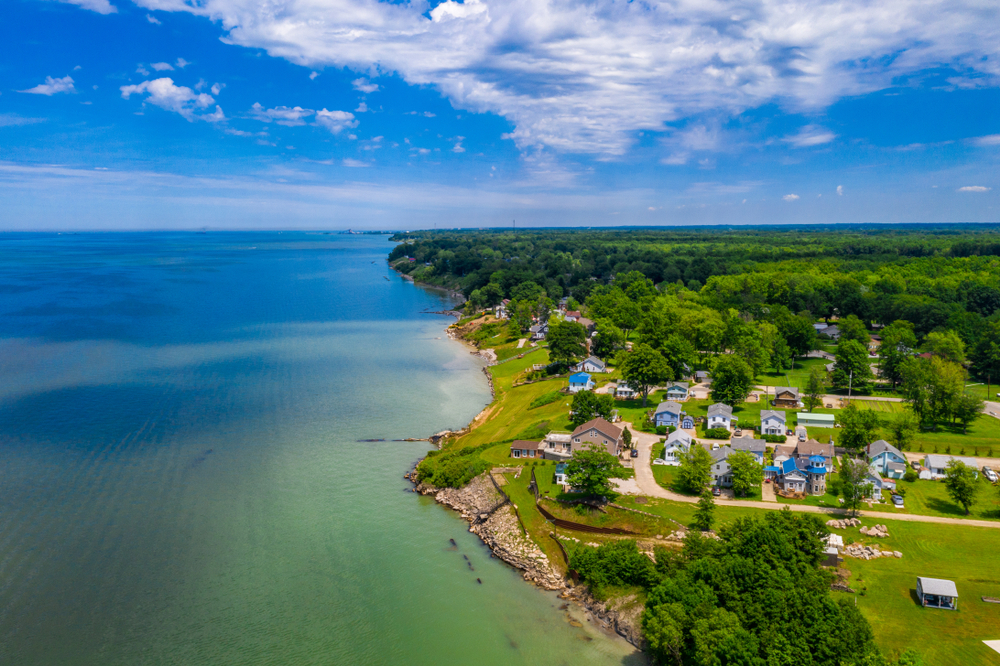 Westerville Is One Of The Cutest Small Towns In Ohio
If you are looking to explore one of the cutest small towns in Ohio, head to Westerville.
For those near Columbus, Westerville is just a short 20-minute drive away.
In the small town, you will find a great main street with unique shops and restaurants.
You can stroll through the Sharon Woods Metro Park or the Inniswood Metro Garden if you want to enjoy some beautiful small-town landscapes.
For those that are interested in history, Westerville is a cool place to visit.
A fun fact about the town is that it was called 'The Dry Capital of the World' because it continued the prohibition of alcohol long after the US rolled back prohibition laws.
While you are in town, history lovers should also make a stop at the historic Everal Barn and Homestead.
Westerville is a quaint little town that is easily one of the best places to go in Ohio.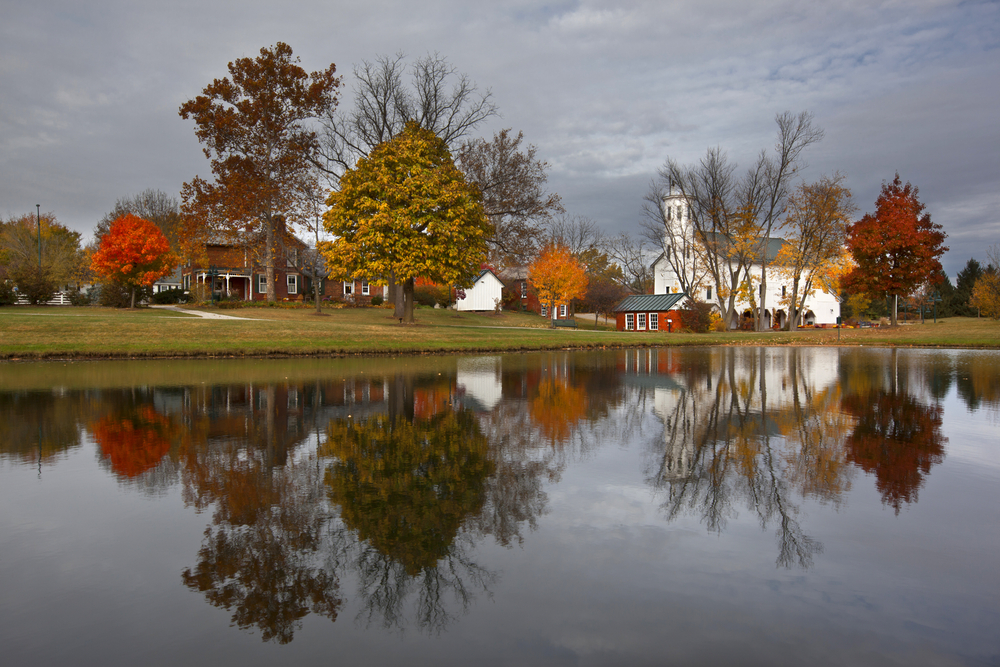 Explore Geneva-On-The-Lake Wineries
Geneva-on-the-Lake has a lot to offer for those looking to plan fun day trips in Ohio.
The town was one of the first lakeside resort towns in Ohio, is a great romantic getaway, and has tons of shops and restaurants to try out.
But one of the best things about Geneva-on-the-Lake is the area's wineries.
Within about a 30-mile radius, all around Geneva-on-the-Lake, there are at least 20 different wineries.
You can choose to take your own winery tour or take one that is offered by one of the wine tour companies in the area.
People come from all over the state to spend a day sampling one-of-a-kind wines and stroll through the picturesque vineyards.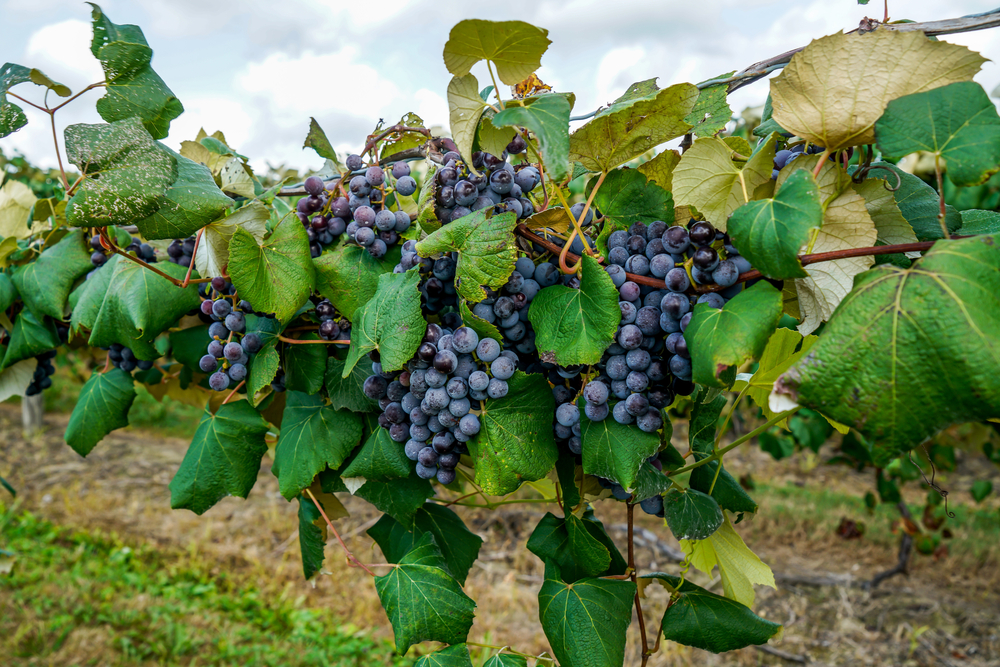 Stroll Through The Holden Arboretum
You can find the Holden Arboretum in Kirtland Ohio.
It is actually one of the largest botanical gardens and arboretums in the United States.
A trip to the Holden Arboretum can easily fill a day.
There are over 3,000 acres of natural areas and sensitive habitats.
Additionally, there are about 600 acres of planned gardens.
The arboretum has been open since 1931 and is one of the best places to go in Ohio if you want to explore a unique landscape.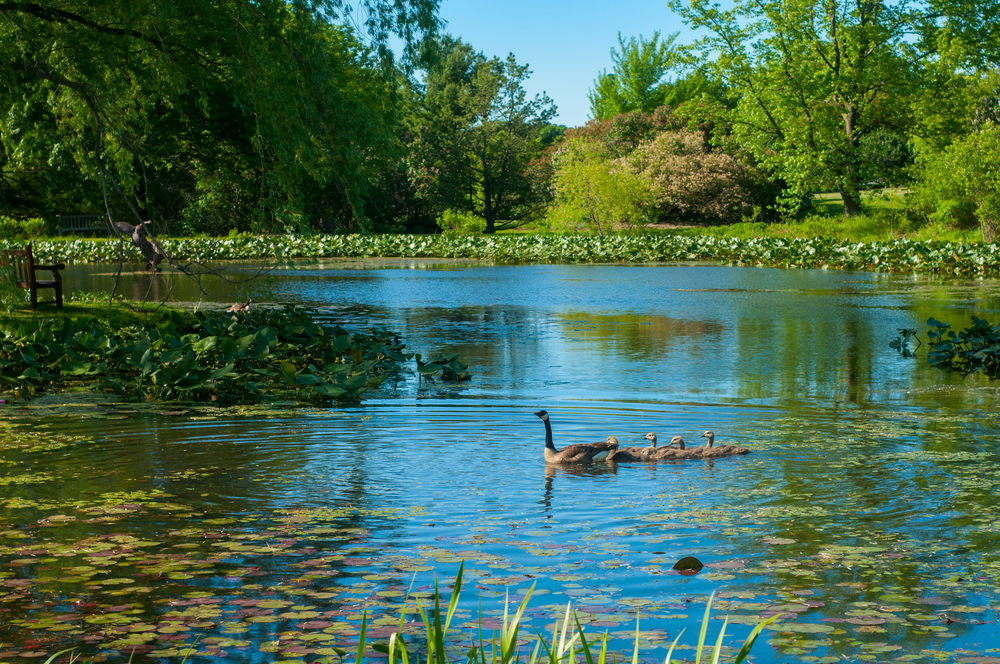 Enjoy Family Ohio Day Trips To Cedar Point Amusement Park
One of the best family-friendly Ohio day trips is Cedar Point Amusement Park.
Cedar Point is located in Sandusky on a Lake Erie peninsula.
Ohio also has Cedar Point partly to thank for the title of "Roller Coaster Capital of the World".
The amusement park has 18 roller coasters, all at different thrill levels.
Because it is also near the beach, there is a waterpark and you can also enjoy a private beach area with your ticket to the park.
Cedar Point is a popular family destination in the warmer months.
It is easily one of the best amusement parks in the Midwest, and it is one of the most fun places to go in Ohio.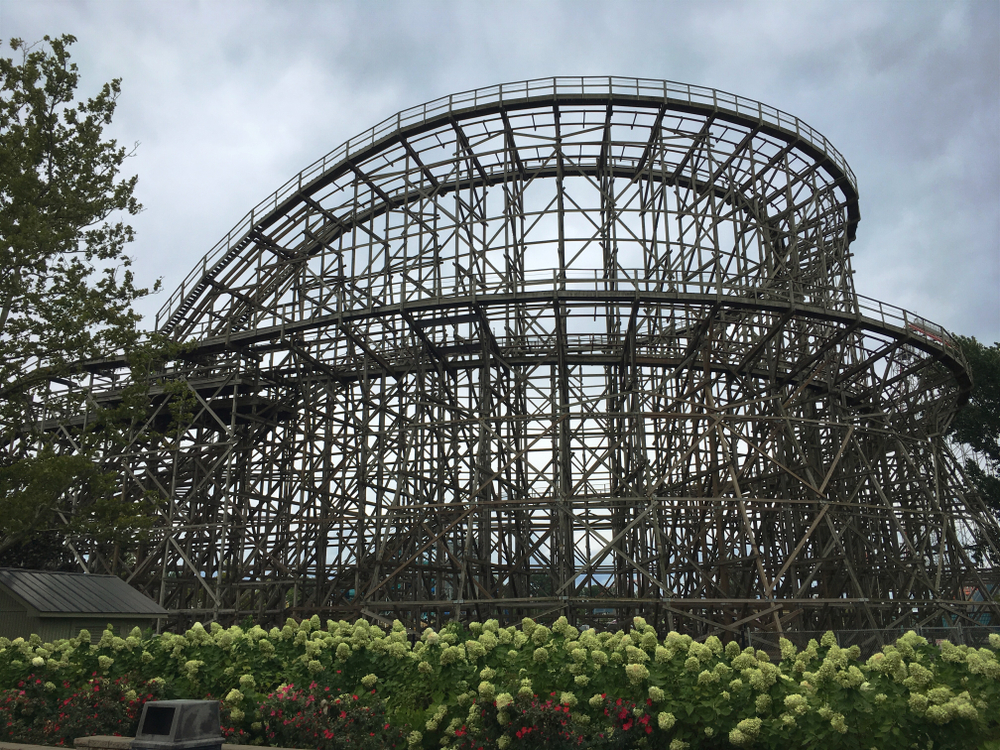 There are so many fun options for Ohio day trips on this list, it is hard to pick just one.
But no matter what mood you are in or what interests you, there are cool places to go in Ohio for your next day trip.
Have you been to any of these fun Ohio destinations?
I would love to hear about your day trips in Ohio, so leave me a comment!
Packing Tips When Taking Day Ohio Day Trips
Read about how to travel with just carry-on sized luggage to make your trip easier and more organized.
A concealed travel pouch may be one of the most important items you bring along when taking day trips in Ohio. It is always important to protect your personal information. Identity thieves are everywhere.
This unisex RFID-blocking concealed travel pouch is lightweight and comes in several colors. It has lots of organization to give you peace of mind. You can place it under your hiking clothes next to your body to carry your ID safely.
If you have a pouch already that does not come with RFID protection, as I do, these RFID sleeves are the perfect solution.
This configuration comes with enough credit card sleeves that the entire family would be protected. They are slim too, so they will easily fit into your pouch or wallet.
If you are planning on taking a lot of pictures with your phone you will definitely want to consider an external charging battery. This Anker high-speed phone charging battery is the exact one I carry with me on all of my trips.
It can be used on a variety of phones, not just an iPhone like I have. And wow is it fast!
I like that it holds its charging capabilities for several uses so I do not have to worry about it while out and about, and if I forget to recharge it at night, it will still be good to go the next day.
My daughter gifted me with this FugeTek selfie stick and tripod setup for my birthday. I absolutely love it! It is made of lightweight aluminum and is so easy to use.
It has Bluetooth connectivity and is a breeze to use for taking selfies with all those nature shots in Iowa.
Hydration is so important when hiking. You want to remain hydrated throughout your Ohio travels to support your immune system which in turn will be stronger to fight off any germs you will encounter during your travels.
You will want to bring your own refillable water bottle with you.
I never leave home on a trip without my Bobble filtration bottle. The 18.5-ounce size is perfect for hiking and it fits nicely in the pocket of a backpack.
The replaceable carbon filter ensures fresh water when you want it.
Perhaps you are traveling a long distance and packing space is a premium in your suitcase, or in your car. Then this set of collapsible silicone foldable water bottles would work well for you. Would not take up much space at all.
You will want a backpack or daypack with you to store snacks, your water bottle, phone, extra clothes, etc.. when celebrating Christmas in Ohio. No matter the time of day or evening.
This foldable water-resistant backpack would be great.
It is very affordable and is available in many color options for you to choose from. The fact that it folds down into a zippered pouch will make it easy to pack!