Are you looking to visit some covered bridges in Ohio? You are in the right place.
In this article, I will walk you through the prettiest Ohio covered bridges. I'll give you all the inside information so you know which Ohio bridges to put on your list.   
Ohio is only second only to Pennsylvania for the number of covered bridges. In fact, there are 135 so you really do have lots to choose from.
A lot of the bridges are on the U.S. National Register of Historic Places and they are important not only in their construction but for their historical significance. 
If you have never driven around Ohio before you are in for a treat. It's a truly beautiful state, I know I grew up here, you won't be disappointed. Covered bridges dot the landscape and most are easily reached and some are still driveable.
Covered bridges in Ohio range from 18 feet to 613 feet and all sizes in between. These bridges are also all kinds of shapes and some are modest in decoration while some are much more ornate. 
As romantic as covered bridges might seem to us nowadays they were built to serve a purpose. Mostly they were built to stop horses from getting spooked when they crossed the rivers however they also protected the bridge structure from the elements, therefore, prolonging their life.
If these bridges were not covered it's unlikely we would be talking about them today. Whatever the reason for the covers they can still be admired for their craftsmanship and engineering.
Many of us might associate these bridges with ghost stories and legends but in the day they were known as 'kissing bridges' due to the obvious seclusion they afforded people within them. 
Tradition also says that if you make a wish before crossing and hold your breath until you reach the other side your wish will come true. While I don't know if your wish will come true I do know whichever of these covered bridges you visit in Ohio you won't be disappointed.
So here are 14 of the prettiest covered bridges in Ohio.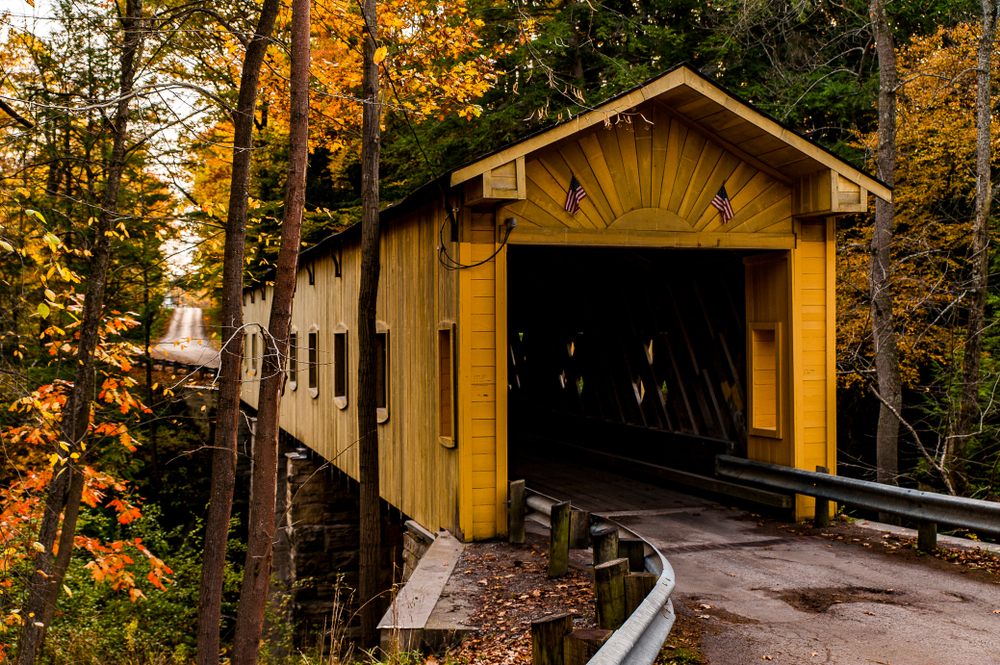 14 Prettiest Covered Bridges In Ohio
The Everett Covered Bridge
The only remaining bridge left in Summit County is within the Cuyahoga Valley National Park. Crossing Furnace Road at Everett Road Everet Covered Bridge is open for walking and picture taking.
The original 1870 bridge was destroyed in 1975 by a spring storm and the new historically accurate one was completed in 1986 as an exact copy.
It was an important bridge in its time providing vital transport links for the Ohio and Erie Canal. Before it was built farmers would have to drive their produce through the creeks. The bridge is believed to have been built after a local farmer lost his life when the river surged.
If you are looking for covered bridges in Ohio this one is a gem and in a lovely location!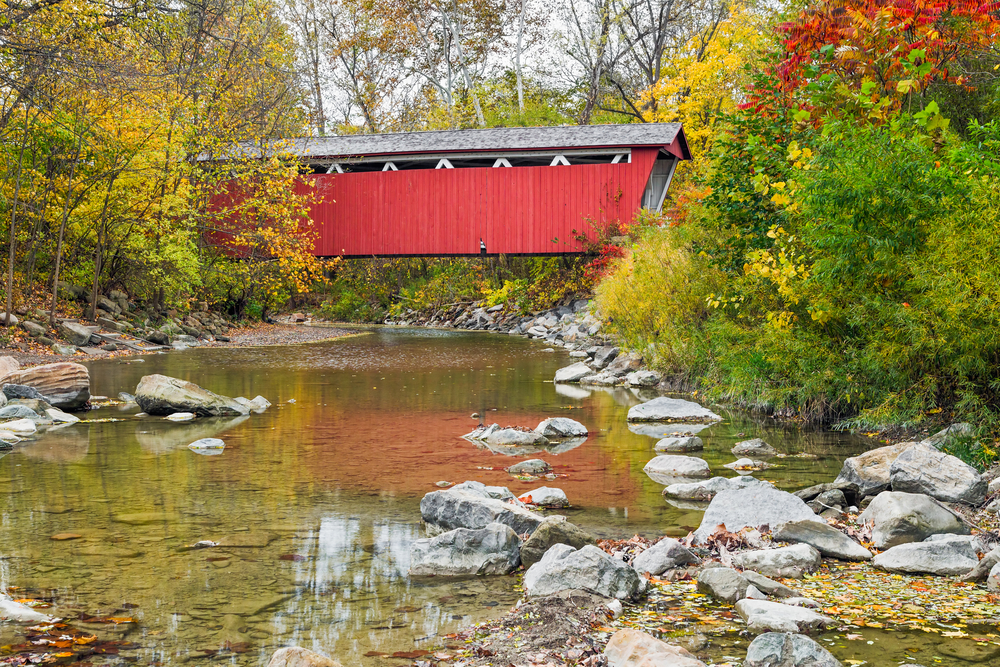 Hildreth Covered Bridge 
Built in 1878 this bridge is also known as the Hills Covered Bridge and Lafaber's Mill Bridge. It crosses the Little Muskingum River.
Located in Washington County in the Newport Township near Marietta off state route 26, it was built between 1871 and 1881. The bridge truss construction in the Howe type.
The bridge historically carried Hills Bridge Road over the river and was one of three bridges over the river.
The bridge is listed on the National Register of Historic Places because it has a unique construction and it has an important place in history.
Many consider this one of the most impressive bridges in the area because of its height above the stream below. It's definitely one of the Ohio bridges worth seeing.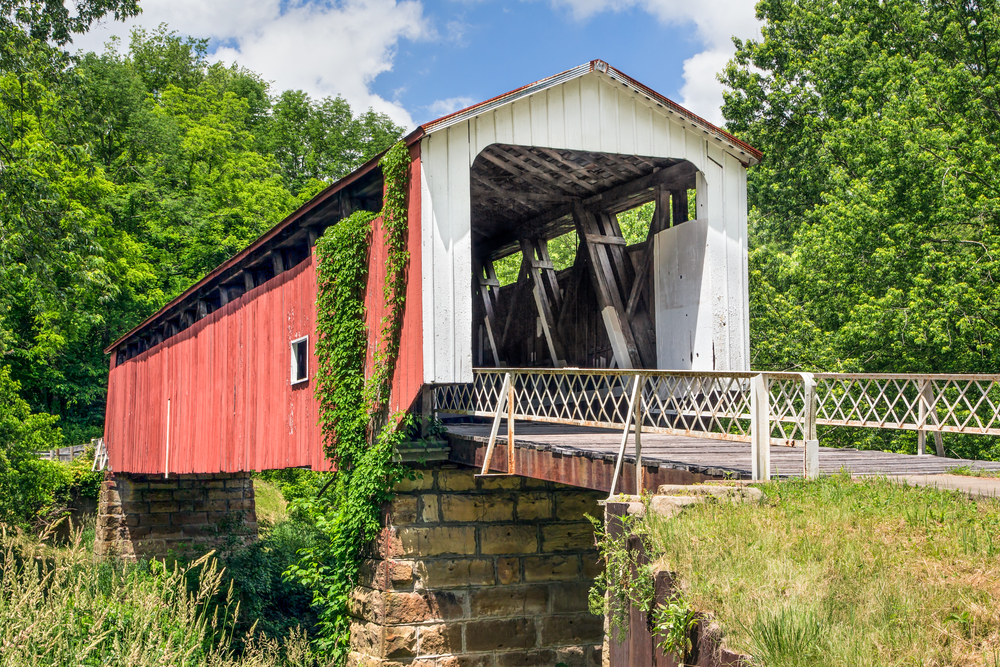 Windsor Mills Covered Bridge
Not many covered bridges in Ohio are any prettier than this one. First, it is yellow, second, it is decorated, and third, it is in a beautiful location.
The bridge spans Phelps creek and you can drive through this one which makes it much more special. Of course, it is listed on National Register of Historic Places.
Originally built in 1867 the bridge was renovated in 2002/2003 back to its original glory.
The address of the bridge is 7696 Warner Hollow Rd., Windsor, OH 44099.
This is one of the covered bridges in Ohio that you will need directions to find as it can be a difficult one to locate. Using your GPS and following local signage will get you there!
Put this Ohio covered bridge on the top of your list.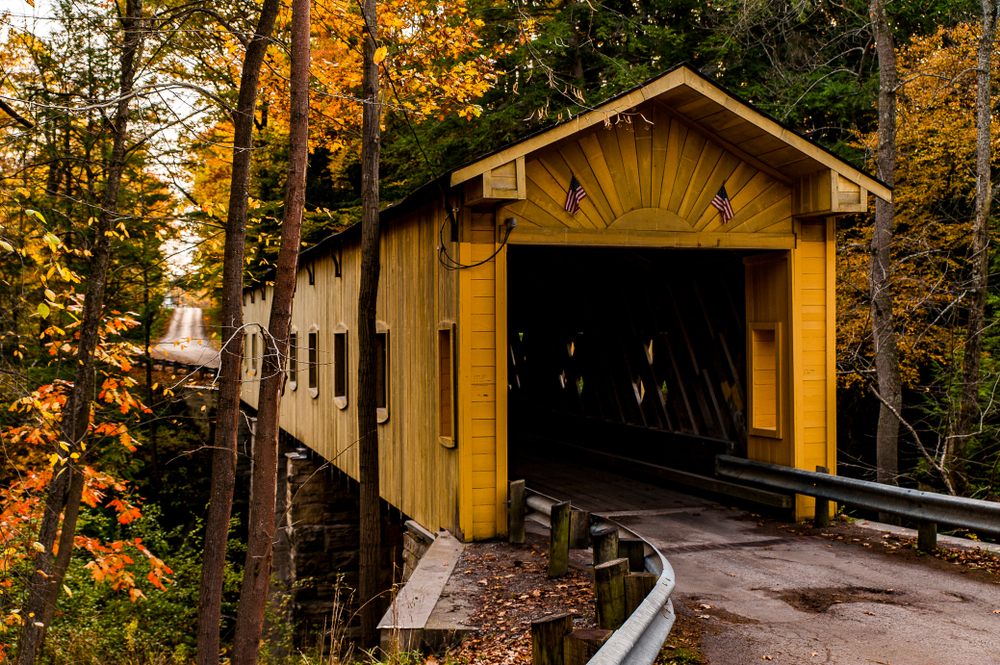 Mink Hollow Covered Bridge In Ohio
The shape of this bridge looks as if somehow it is about to take off. It also has the officially longest name of a covered bridge 'Mink Hollow Bridge over Arney Run in Oil Mill Hollow Near Borcher's Mill'. Yes, that is what it was renamed.
Known as The Mink Hollow Covered Bridge it was built in 1887 by Jacob "Blue Jeans" Brandt. It spans 54 feet and remains in its original location.
When you go looking for this do not look for Mink Hallow as it is actually in Oil Mill Hallow. The unique construction allowed for horses and passengers to say cool while crossing the bridge.
You can no longer drive over it but you can walk over and the area surrounding it is lovely. This is an Ohio bridge that is well worth a visit. The bridge looks truly magnificent in the Ohio fall foliage!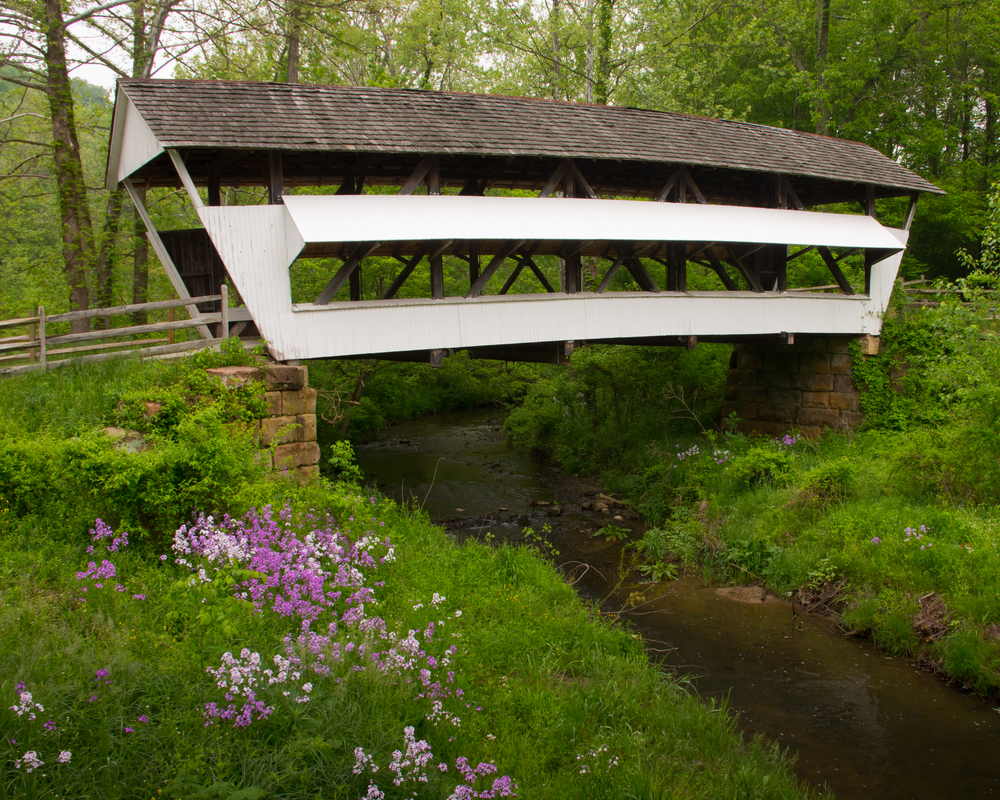 Bergstresser Dietz Covered Bridge
The last remaining covered bridge in Franklin County is this wooden bridge that crosses Walnut Creek.
It is located on the village limits of Canal, Winchester adjacent to the intersection of Ashbrook Road and Washington Street.
There is an Ohio Historical Marker marking the spot so look out for that. The bridge spans 134 feet across the creek and is on the National Register of Historic Places.
It was built in 1887 as the surrounding area become a transportation hub for the Canal and the Hocking Hill Railway. In the 1950s the road over the bridge was diverted and traffic no longer crosses the bridge.
You can still walk over the bridge and it is a great bridge in Ohio to photograph.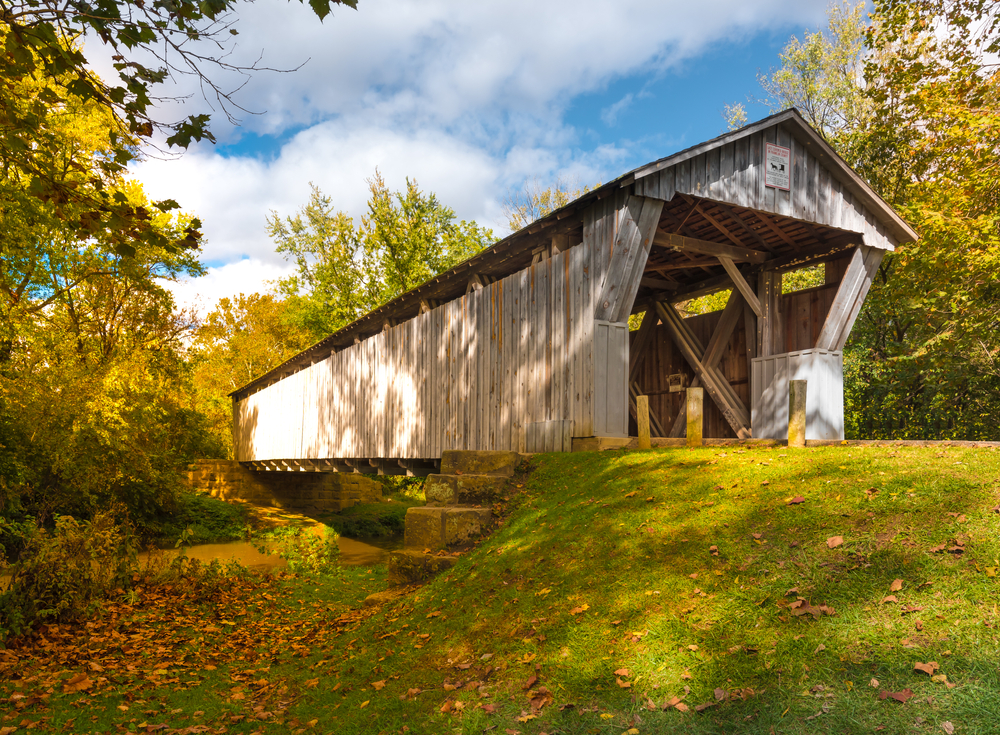 The Mechanicsville Covered Bridge
The Mechanicsville Road Bridge is the longest single-span bridge in Ashtabula County. It spans 156 ft over the Grand River and is a Howe truss design.
You can still drive over this bridge after renovations were completed in the early 2000s. Built in 1867 it is believed to be one of the oldest in the county.
The bridge is located just over 4 miles southeast of Geneva and the full address is 1153 Mechanicsville Rd., Geneva, OH 44041.
It is also close to Harpersfield Covered Bridge and The White Johnston Covered Bridge if you fancy seeing three bridges for the price of one.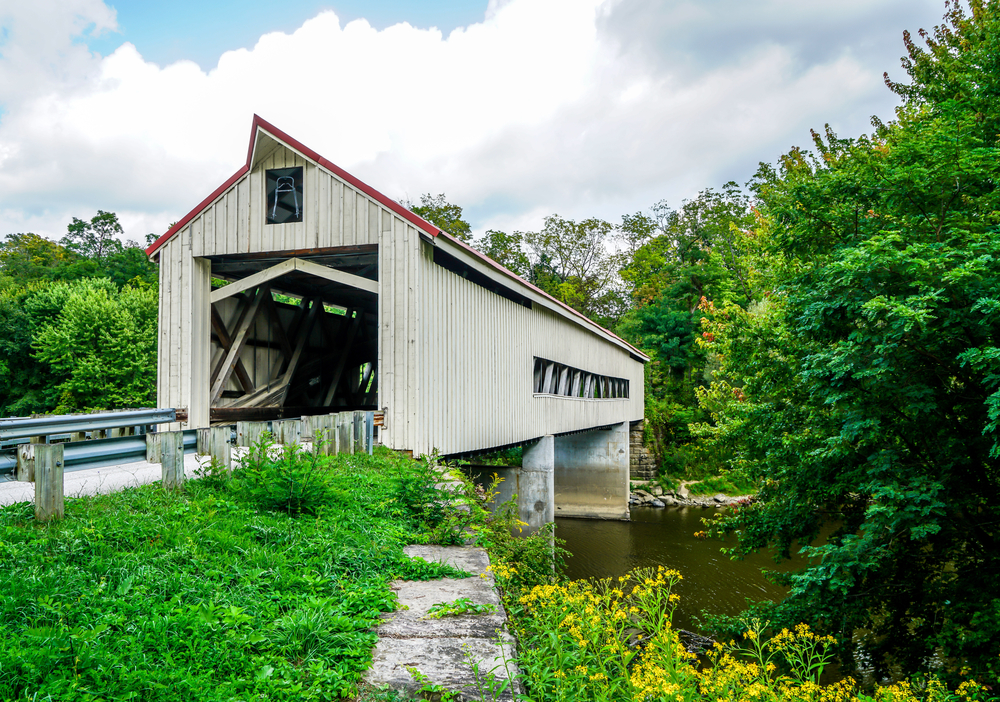 Mull Covered Bridge
In the northwestern portion of Ohio located near Burgoon in Sandusky County, this Ohio covered bridge is a historic site. The single-span bridge is 100 ft and is over Wolf Creek.
The bridge was built after a sawmill owner Amos Mull petitioned the county as no one could visit his sawmill due to the creek.
They granted Amos $75 towards construction and wood for his sawmill was used in the construction. The bridge was completed in 1851 and named after Mull.
Closed in 1962 and then preserved by the county's historical society it was later added to the National Register of Historic Places. The bridge was renovated in 2016 and is now the only covered bridge in the county.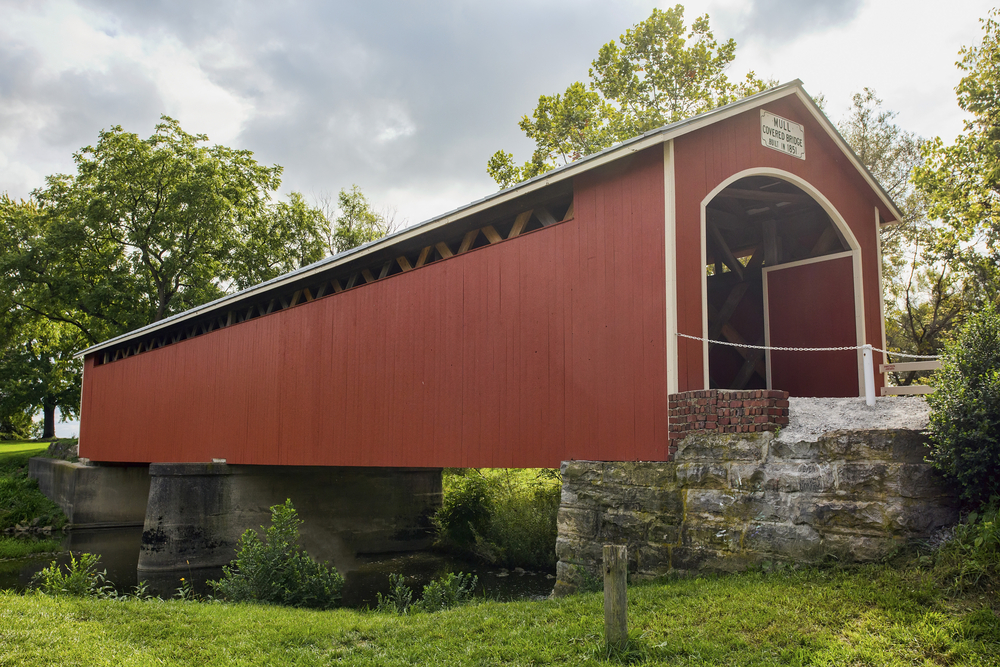 Shaeffer Campbell Ohio Covered Bridge
Located on the College Pond on the campus of Ohio University Eastern Campus in St Clairsville, this bridge in Ohio was originally located in Fairfield County on Clear Creek near Amanda.
Originally built in 1891, the bridge was damaged in1973 when a tractor fell through the floor. It was then donated to the county who reassembled and reconditioned it and moved it to College Pond in 1975.
The 68 ft bridge is open to pedestrians but was never reinforced for vehicles so you can not drive over it. It is off the I-70 exit 213 and you can see this covered Ohio bridge from the interstate.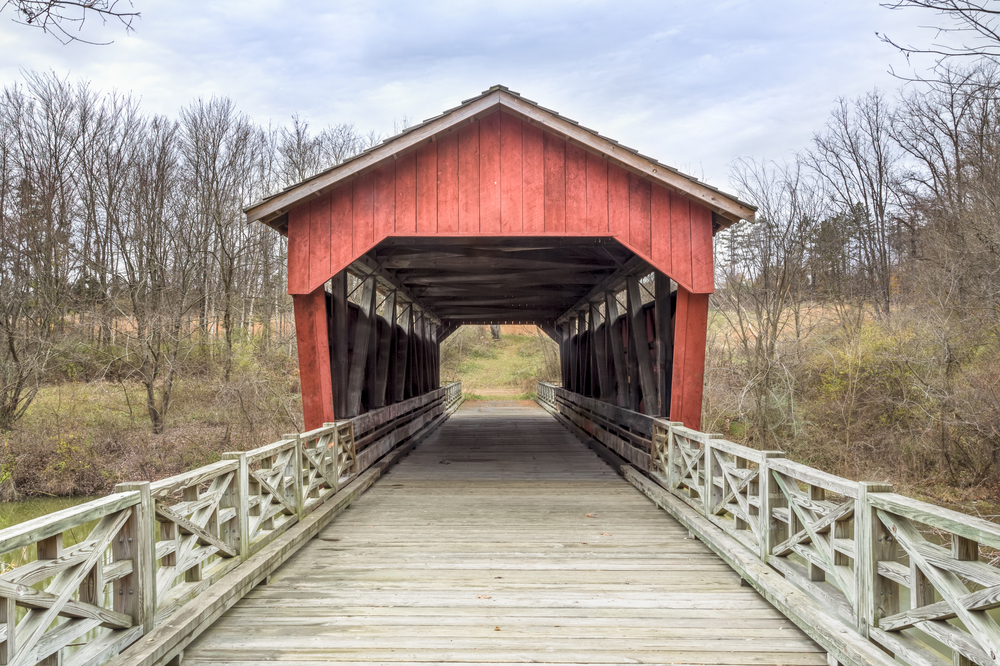 The Helmick Mill Covered Bridge
In the Deerfield Township of Morgan County near Malta, this bridge dates from 1867 and is listed on the National Register of Historic Places.
Joseph 'Joe' Helmick owned a mill on the falls, one on each side of the river, and the bridge was built to connect them, and bring Township Road over Island Run.
For this reason, it is also known as Island Run Bridge.
Rehabilitated in 1991 the bridge has a total length of just over 72 feet. It is very typical for the covered bridges of Ohio to be painted red in color and this one is no exception.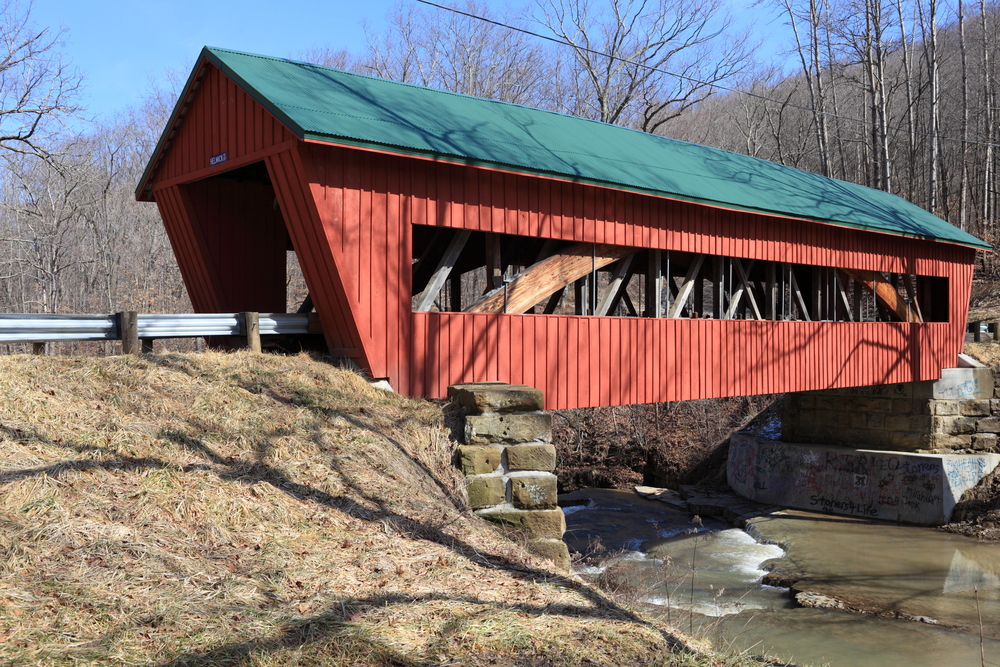 Harpersfield Covered Bridge
Harpersfield Bridge is in Ashtabula County and spans the Grand River. It's the third longest covered bridge at 228 feet and is one of the covered bridges you can drive over.
The bridge was originally constructed in 1868. The northern part was washed away in 1913 and a steel span was added. The bridge was renovated in the early '90s and a walkway was added.
Adjacent the bridge is a 53 acre park which spans the river and is designated as a wild and scenic river.
The metro park is a great place to spend some time with lots to do there including fishing, kayaking, and canoeing. It's also a great place to stop to have a picnic so stop a while and enjoy this location.
The bridge is located approximately 3.4 miles from Geneva. It is one of the most vintage covered bridges in Ohio full of character and charm.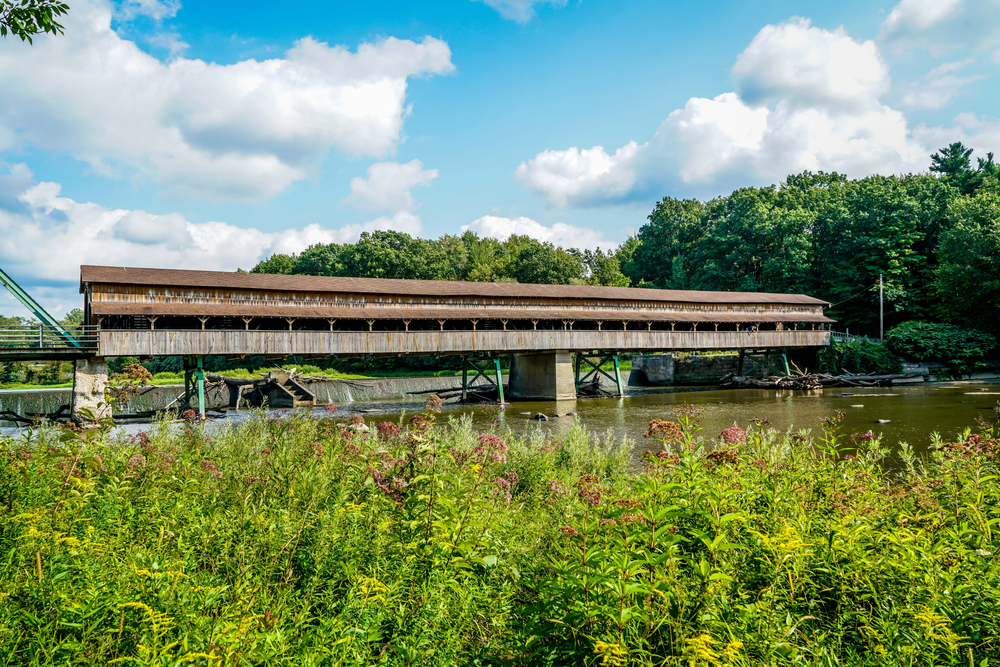 The Smolen-Gulf Covered Bridge In Ohio
This is a modern continuation of Ohio's heritage and at 613 feet it is the longest covered bridge in the United States and the fourth-longest in the world.
The Smolen-Gulf Bridge carries Ashtabula County Road 25 across the Ashtabula River at Plymouth. You do not want to miss that experience!
It opened in 2008 and cost $7.78 million to build. There are walkways down both sides so you can also walk down it if you choose to. There is also a Visitors Pavillion which opened in 2010.
It is definitely worth a visit and is one of the bridges in Ohio for your bucket list!.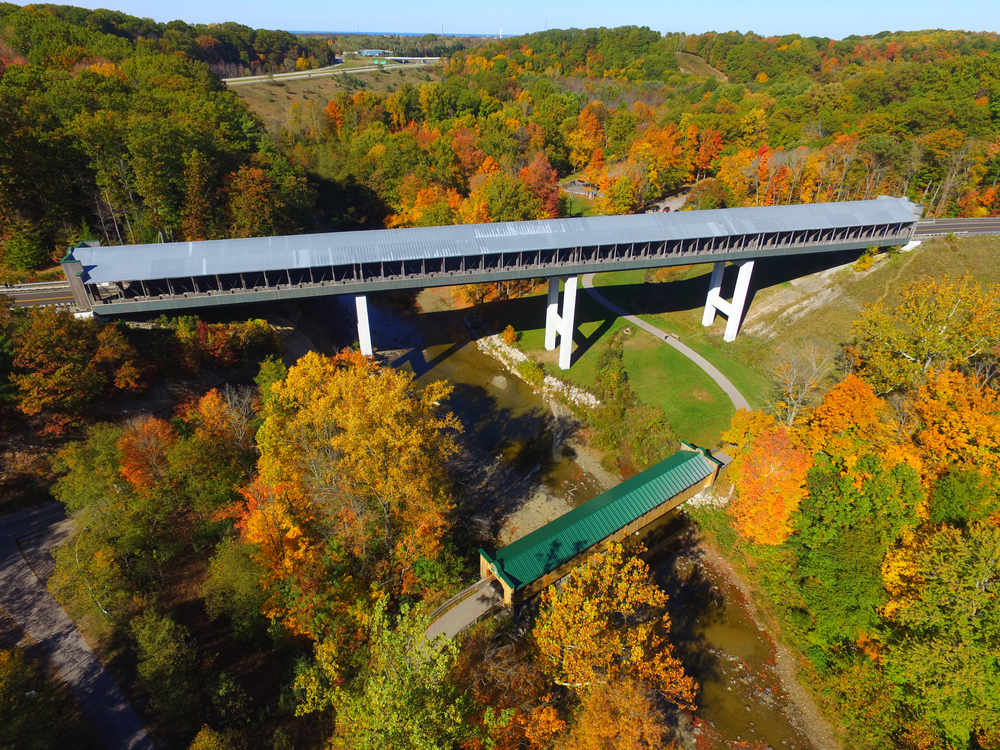 The Bridge of Dreams
With a name like this, how could I not include it? Ii is impressive as it is the second-longest covered bridge in Ohio. And the third-longest in the United States. It is definitely impressive.
The bridge is relatively modern, completed in 1998 with the help of Amish artisans and local volunteers to replace a railway line no longer in use. The bridge actually sits on the original steel railroad beams.
Crossing the Mochican River it is seen as a symbol of community and what people can do when they put their mind to it, hence the name.
It sits on the 4.5-mile Mohican Valley Trail between Danville and Brinkhaven. If you travel towards Brinkhaven State Route 62 and look out for Hunter Road. The actual address is 16606 Hunter Rd., Brinkhaven, OH, 43006.
The scenery around the area and the drive to the bridge is stunning. You can take advantage and hike the area to explore further.
This covered bridge in Ohio is 370 feet long and is a pedestrian, horse and buggy and bike bridge.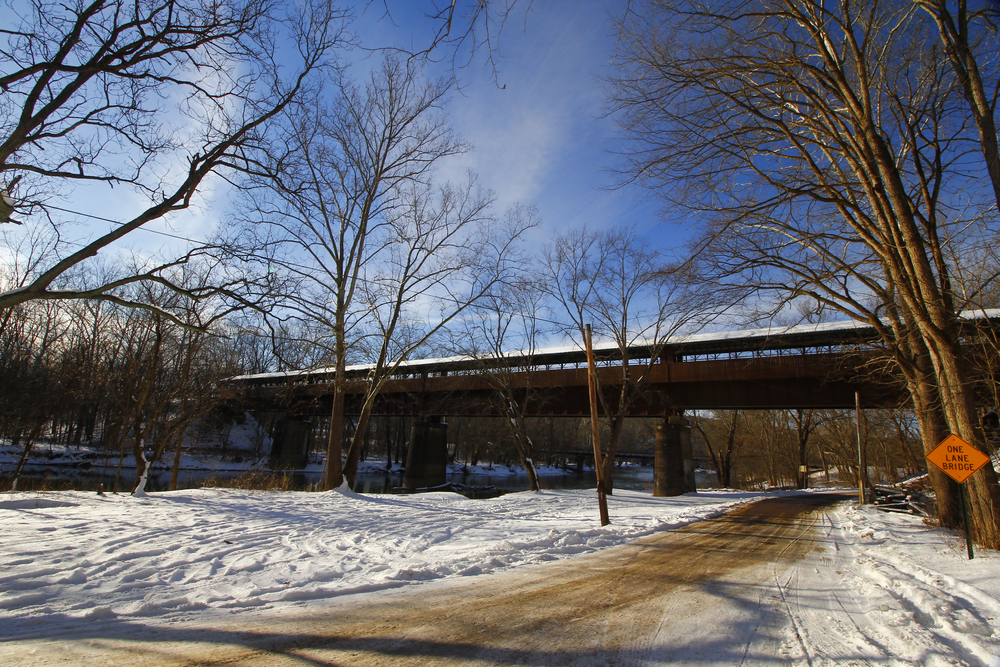 Spain Creek Ohio Covered Bridge
In Union County, there is a quaint covered bridge at only 64 feet. It covers Spain Creek which is designated an Exceptional Warm Water Habitat and Cold Water Habitat by the Ohio Environmental Protection Agency so this bridge has a lot more to offer.
Bult in the 1870's it is one of five remaining covered bridges in Ohio designed and built by Partridge. In 2008 and 2016 the bridge was reconstructed after heavy machinery damaged it.
This reconstruction included building a bridge within a bridge making it much stronger putting less weight on the original bridge. It is painted in the typical barn red and white and you can still drive through this Ohio bridge.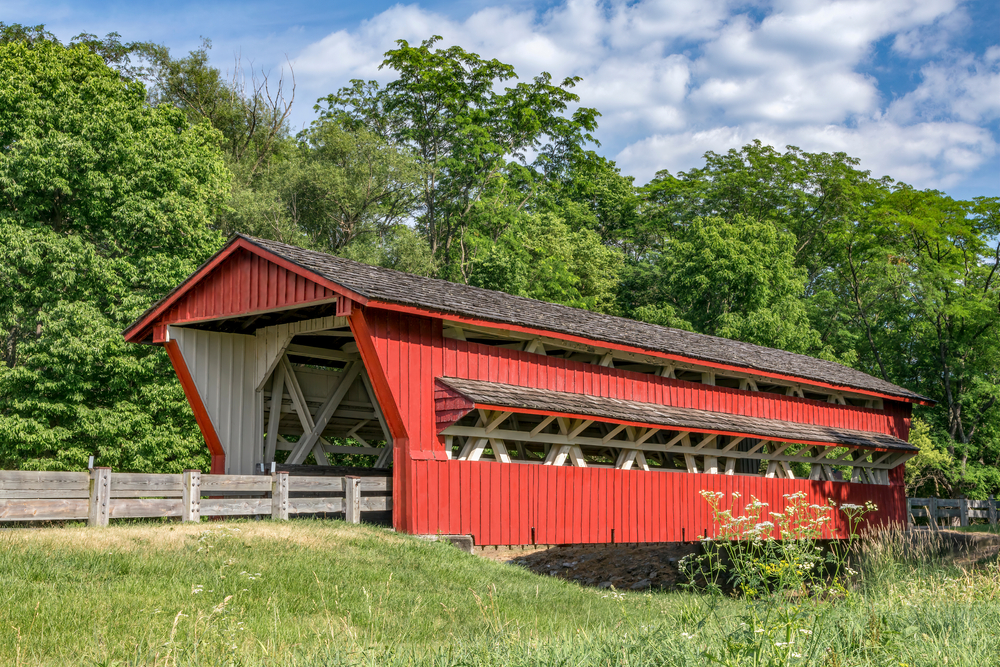 Benetka Road Covered Bridge In Ohio
This bridge has rustic charm. Built in 1900 it is 138 feet long and spans the Ashtabula River.
It is one of the covered bridges of Ohio you can still drive across. It's a single-span Town truss design for those of you who know your bridges. The laminated arches you see were added during its renovation in 1985.
The bridge is located in Sheffield approximately 4 miles from North Kingsville. The address is 4500 Benetka Rd., Ashtabula, OH 44004.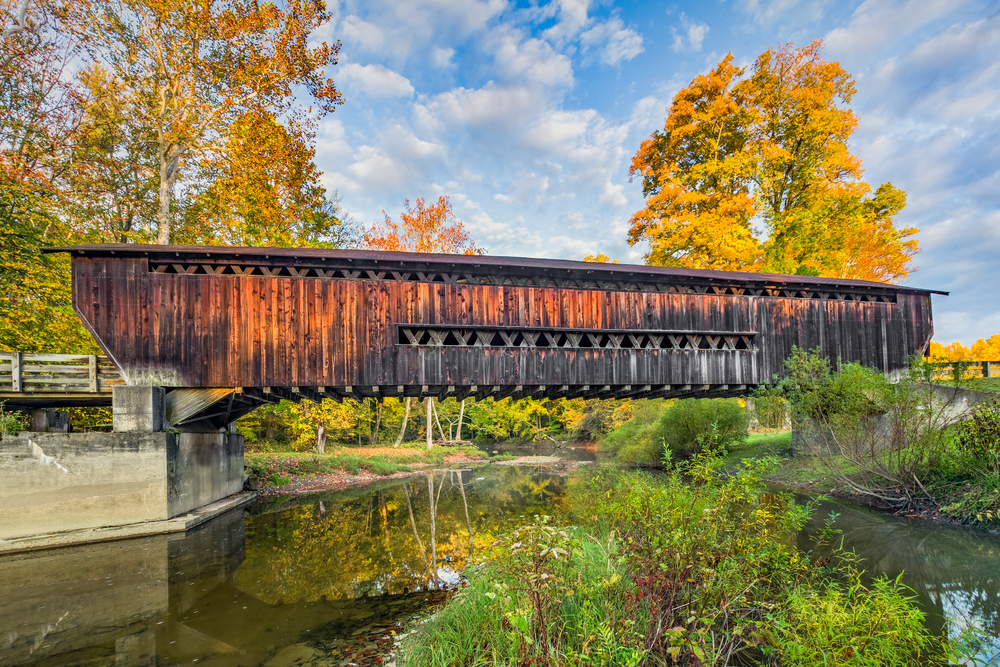 As you can see covered bridges in Ohio are varied, beautiful and all have a story. Bridges in Ohio have a lot to offer and are a great place to often go for a picnic, take a hike in Ohio, or explore nature.
Whichever of these bridges in Ohio you choose to visit I know you will not be disappointed. Please do come back and tell me all about your experience.