Are you wondering about what to do in winter in Montana? Well, then you have come to the right place!
From exploring the hot springs to visiting the small towns, there is no shortage of epic things to do in Montana.
In this article, we will be sharing some of the best Montana winter activities and festivals that you simply cannot miss.
Montana is a popular destination to visit in the winter and is home to Glacier National Park and lots of amazing mountains.
Montana winters are truly magical as a layer of snow covers the national forests and mountains in this Midwestern state.
The reduced winter temperatures in the state make it the best time to enjoy a hot cup of chocolate or go skiing/snowboarding on the slopes of Montana.
That's not all, there are lots of Montana winter events and festivals that you should look into.
So, whether you are looking to go on a winter hike, participate in cross-country skiing, or have fun at a local winter festival, Montana has it all.
If you also want to plan your perfect Montana winter vacation, then check out our list of the 15 best things to do in winter in Montana.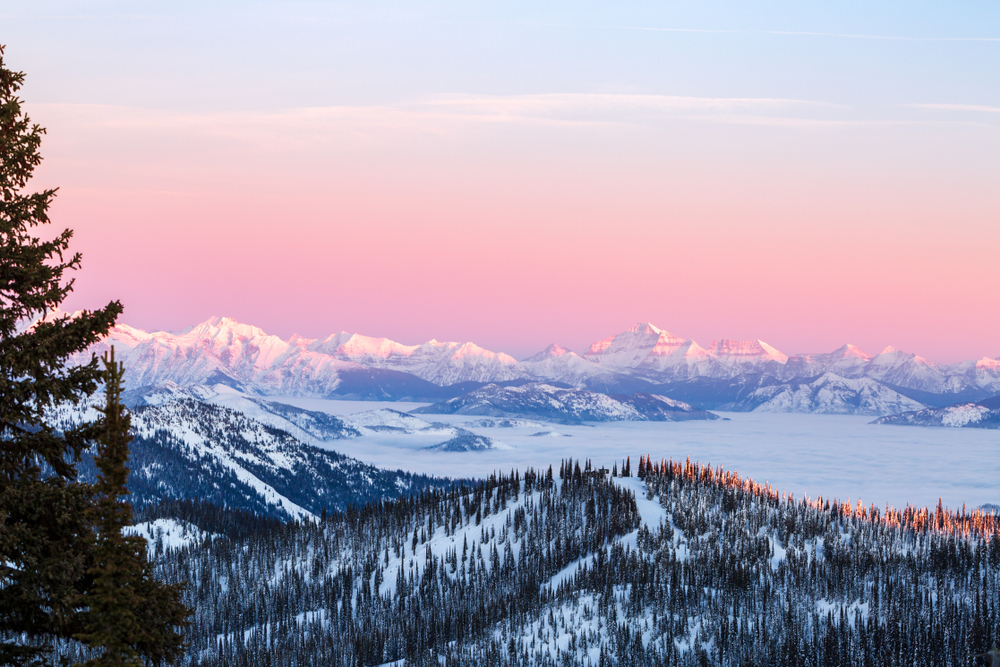 15 Best Things to Do in Winter in Montana
Enjoy a Dip in Chico Hot Springs
Of course, one of the best Montana winters activity that you cannot miss out on is soaking in hot water steam.
As the winter temperatures in Montana lower, this is a great activity to enjoy.
It helps you beat the cold weather while enjoying some gorgeous mountain views in the vicinity.
Thankfully, there are many good commercial hot springs in Montana where you can enjoy your winter vacation.
One such amazing facility is Chico Hot Springs which is located in Paradise Valley near Pray and features two open-air pools.
Opened in the 1900s, Chico Hot Springs is the perfect winter destination to beat the Montana temperatures and offers lots of overnight stay options to visitors.
So, if you are looking for a perfect winter getaway to escape the cold temperature in Montana, then visit Chico Hot Springs.
It is one of the coolest hot springs in Montana to add to your bucket list!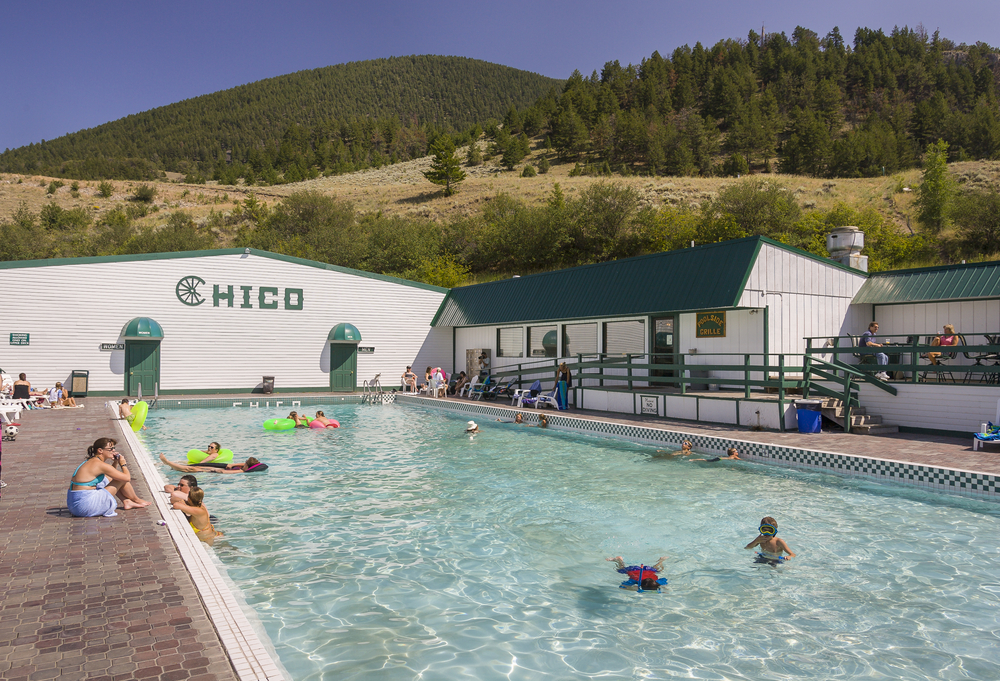 Snowshoeing in Glacier National Park
For some winter fun, plan a visit to the Glacier National Park in Montana which is also known as the Crown of the Continent.
With an area of over 1 million acres, this national forest in Montana offers a lot of fun outdoor activities to visitors.
The national park is filled with gorgeous cascading waterfalls and has beautiful winter scenery, making it perfect for photography as well.
If you want to enjoy snow in Montana, then you can go skiing or snowshoeing in this national park.
Explore the forest and wildlife here. Join a snowshoeing tour in this national park and enjoy the wildlife in peace and serenity.
For those who wish to further immerse themselves in nature, a camping tour is a great idea as well as it allows you to stay overnight at the park.
Learn to make igloos and how you can explore this beautiful terrain in the Montana winters.
Overall, snowshoeing and camping in Glacier National Park are some of the top things to do in winter in Montana!
Have Fun at the SnoFlinga Winter Festival
One of the top Montana winter events that you must attend is the SnoFlinga Winter Festival in Butte. It is one of the cool winter things to do in Butte MT.
This is a free community-sponsored festival that takes place for a couple of days in January every year to have fun in Montana in winter.
Located in Butte, this winter festival first started in 2016 and is the perfect way to keep the community active during the winter months.
Although the festival started small, it has now expanded and is held in 8 different venues and features around 18 fun activities.
From enjoying winter walks to skiing to curling, there are a lot of interesting winter activities to indulge in at this festival.
You can try fat biking on the Thompson Park bike trails or practice yoga, try the polar plunge and so much more at this festival.
Trust me, if you are searching for good winter festivals to attend, then you have to check out the SnoFlinga Winter Festival.
No matter when you visit, there is great hiking in Montana!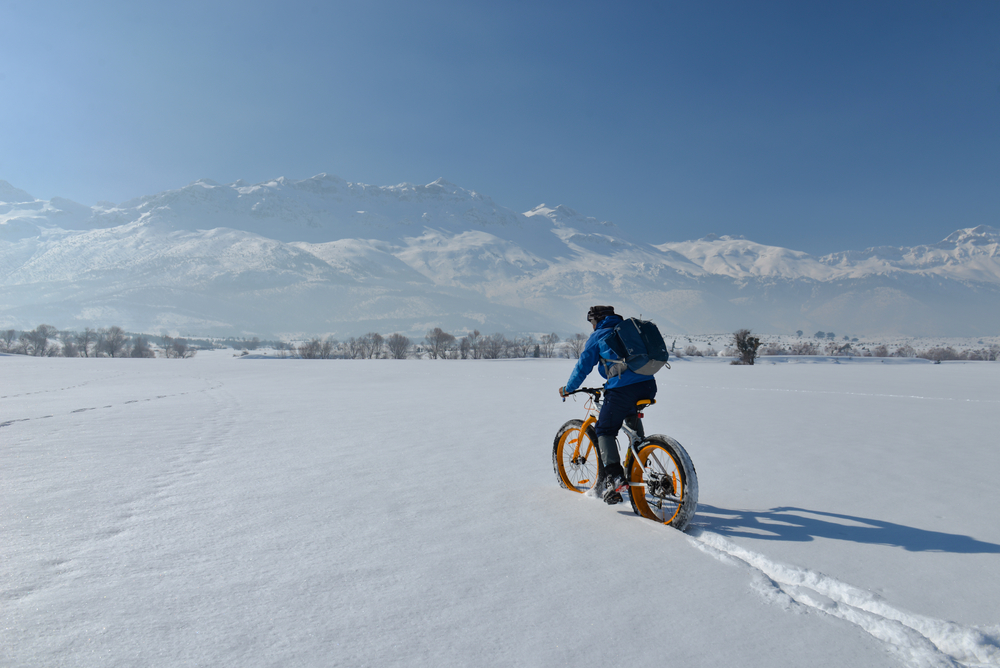 Enjoy the North Pole Adventure Train
If you are looking for a fun Montana activity in the winter, then there is nothing better than riding the North Pole Adventure Train from Hanover Boarding Station.
This train adventure takes place every year on the Charlie Russel Chew Choo during the Christmas season.
As it is one of the best ways to enjoy snow in Montana, there are limited dates and tickets available for the adventure ride.
This is why it is important that you book your tickets in advance if you don't wish to miss out on this amazing experience.
The train ride is 1.5 hours long and boards 10 miles from Lewistown, Montana.
The best thing is that this ride is filled with cookies, cocoa, games, stories, a trip to the North Pole, and interactions with Santa and Mrs. Claus.
As a result, your kids are absolutely going to love this train ride during the Christmas season!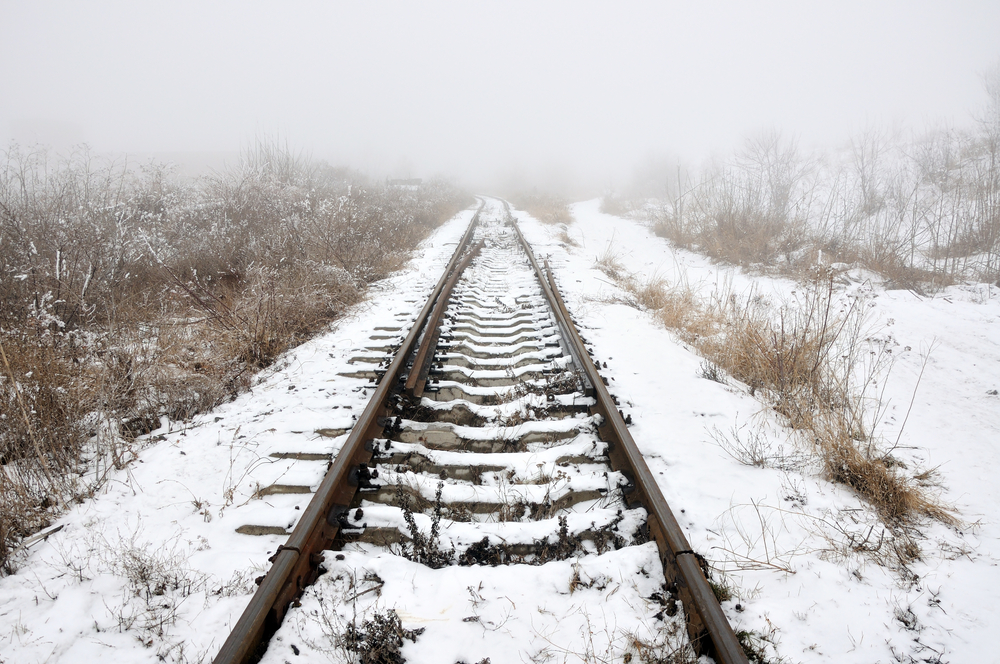 Attend the Whitefish Winter Festival
Are you looking for fun Montana events to participate in? If yes, then don't forget to attend the Whitefish Winter Festival in February.
This Montana event in the winter takes place in the charming little town of Whitefish where locals keep the old traditions alive.
This annual carnival has been running for over 60 years now and is the very essence of Nordic traditions.
In the carnival, the locals pay homage to the god Ullr who is considered the master of winter sports.
During this festival, everyone is encouraged to participate in snowboarding competitions.
That's not all, it also features fun activities such as skiing, dancing, skijoring, and more. The carnival ends with a grand parade where people win awards for the best costumes and floats.
If you wish to attend a fun carnival in Montana in winter, then do attend the Whitefish Winter Festival.
Explore Bitterroot on a Snowmobile
Another perfect winter activity in Montana that you should try is snowmobiling in the Bitterroot mountains.
Visitors will find a lot of trails to explore in the mountains for snowmobiling as this is a popular Montana activity in the winter.
The Skalkaho Snowpark offers 50 miles of trails while Lolo Pass features 250 miles of trails for snowmobiling.
You can easily get commercial snowmobiling outfits, snowmobile rentals, and guided tours in the towns of Bitterroot Valley such as Darby.
Make sure to check the local conditions before heading out for a snowmobiling adventure as you can unknowingly head into the avalanche zone.
For those who love outdoor winter activities, snowmobiling in Bitterroots is one of the best things to do in Montana in winter.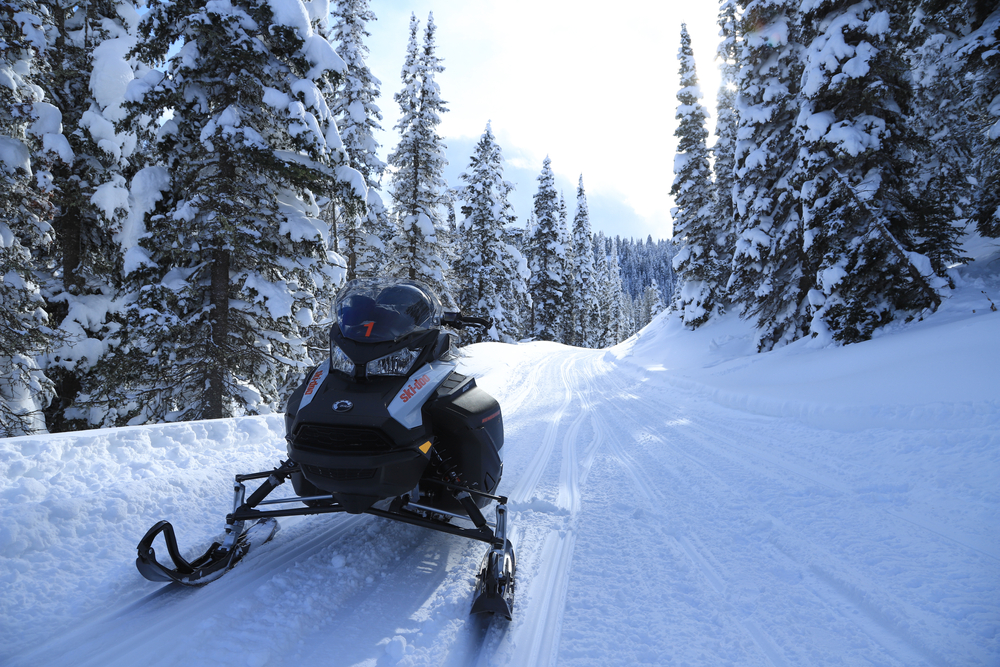 Go Ice Climbing at Hyalite Canyon
Do you love adventure activities like skiing, snowboarding, etc.?
If the answer is yes, then one of the top Montana winter activities that you should try is ice climbing at Hyalite Canyon.
Hyalite Canyon is located near Bozeman and features over 250 routes that can be done by both beginner and expert climbers.
You can take a guided tour of the canyon where you can not only climb the icefalls but also learn how to do ice climbing.
That's not all, this canyon is home to other amazing Montana activities in the winter as well. This includes fat-tire biking, fishing, sledding, and more.
So, if you are looking for a fun day out during the winter months, then do try ice climbing at Hyalite Canyon.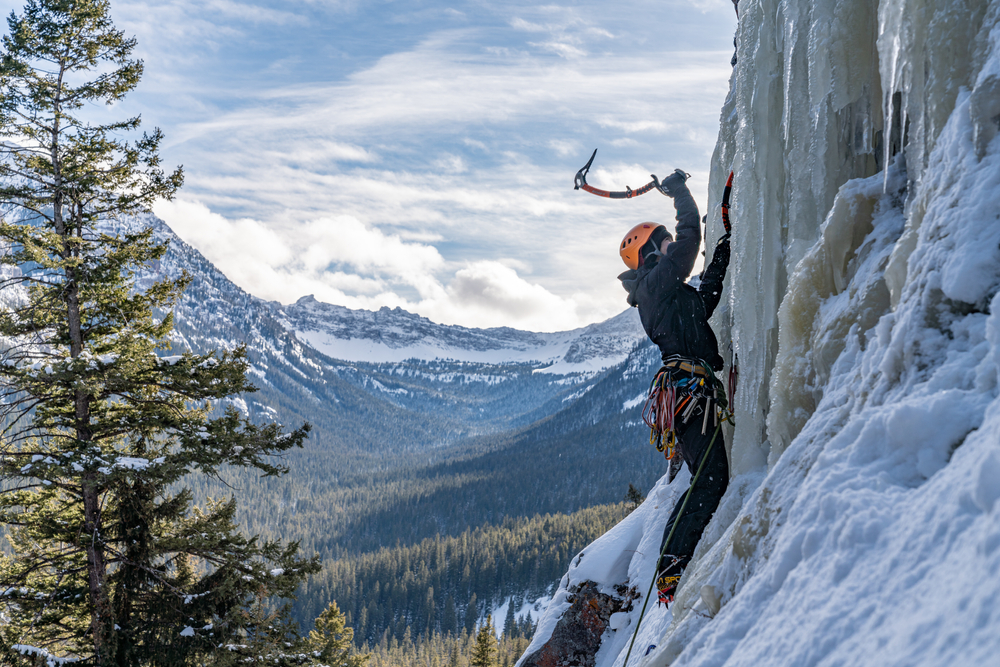 Plan a Trip to Missoula
Are you planning to make the best of the Montana winters? Looking for good winter getaways in the state?
One of the best things about Missoula is that it offers a lot of amazing attractions and activities to visitors.
There are many hot springs, breweries, ski hills, etc. around the town that the guests can make use of to keep them entertained in the winter.
There are certainly many fun things to do in Missoula!
If you are arriving in December, you will find the entire town beautifully decorated which is great to put yourself in the festive season.
Furthermore, since the students have left for home for the winter holidays, the town is much more peaceful and is great for strolls throughout the day.
So, whether you wish to spend time indoors or outdoors, you won't be disappointed with the options available both in and around this charming town.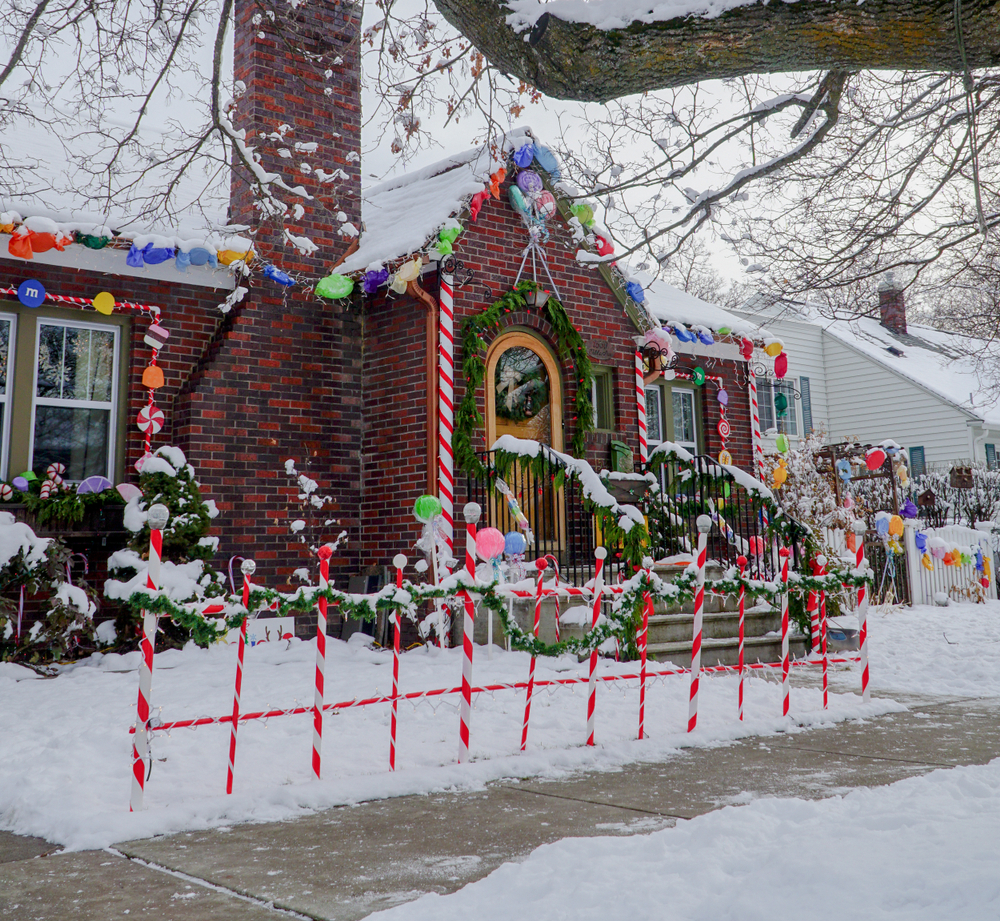 Skiing at Whitefish Mountain Resort
For a memorable Montana winter vacation, one of the best towns to visit is Whitefish where you can plan a stay at the famous Whitefish Mountain Resort.
One of the top Montana activities in the winter that are sure to enjoy is skiing at the Big Mountain behind the resort.
There are 3,000 acres of skiing terrain that can be accessed using 11 chairlifts available at this mountain resort.
Moreover, if the weather is clear, you can also enjoy stunning views of Glacier National Park from the slopes here.
Visitors can stay at the mountain resort and enjoy several amenities such as a lodge, restaurant, shopping, and more.
If you are into skiing adventures, then do plan a visit to the Whitefish Mountain Resort in Montana in winter.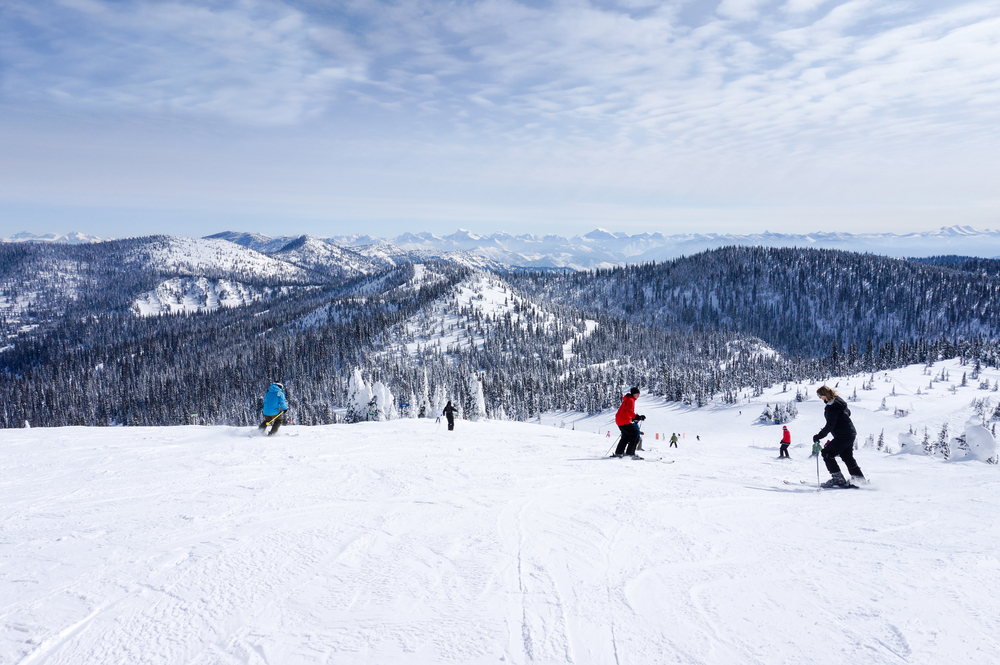 Visiting Bozeman Is One Of The Best Things To Do in Winter In Montana
One of the top Montana winter attractions that you should visit is the city of Bozeman. There are a lot of fun things to do in Bozeman including soaking in a geothermal hot spring, exploring the museums, and more.
There are over 12 hot springs to enjoy in this town that can help you relax and stay warm during the cold Montana temperatures.
Apart from that, this town is also perfect for foodies with lots of local food and fine-dining restaurants to try.
Most of the restaurants in Bozeman use locally sourced ingredients and are great for visiting with family or friends.
For those who are fed up with the cold temperature in Montana, there are many indoor museums to explore in the city as well.
The Museum of the Rockies is one of the major museums to visit as it features one of the largest collections of dinosaur fossils in the world.
This is why Bozeman is one of the best places to enjoy a Montana winter vacation!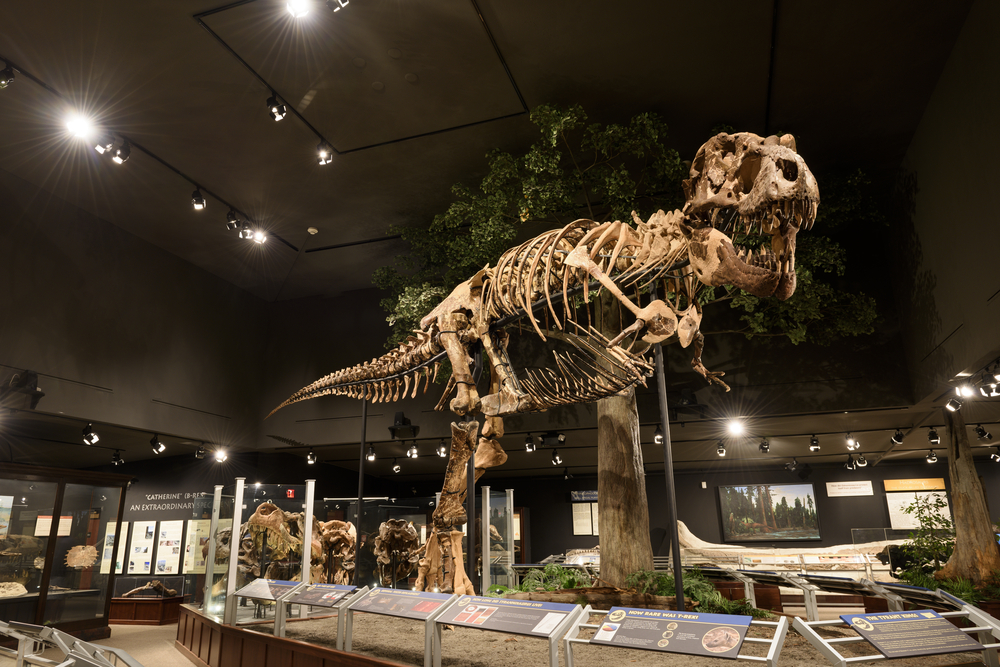 Explore The Lewis And Clark Cavern State Park During Winter In Montana
Lewis and Clark Cavern State Park is one of the top Montana winter attractions that you cannot miss out on.
Visitors can explore these limestone caves on a caving expedition and have the most amazing Montana winter vacation.
Take the self-guided nature trail to marvel at the tall columns and curtains of limestone in this state park. This two-mile hike into the caverns is how the hunters discovered these caves in 1882.
Plus, if you plan a visit to this state park during Christmas time, you can opt for a holiday candlelight tour inside the caves.
This special tour is the best way to understand how historians saw the caverns back in the day.
You can visit the caves only with a guided tour and there are different options available at the park.
So, if you are looking for unique Montana attractions in the winter for exploration, then you must visit Lewis and Clark Cavern State Park.
One of the best things to do in Great Falls MT is to visit the Lewis & Clark Exhibition there.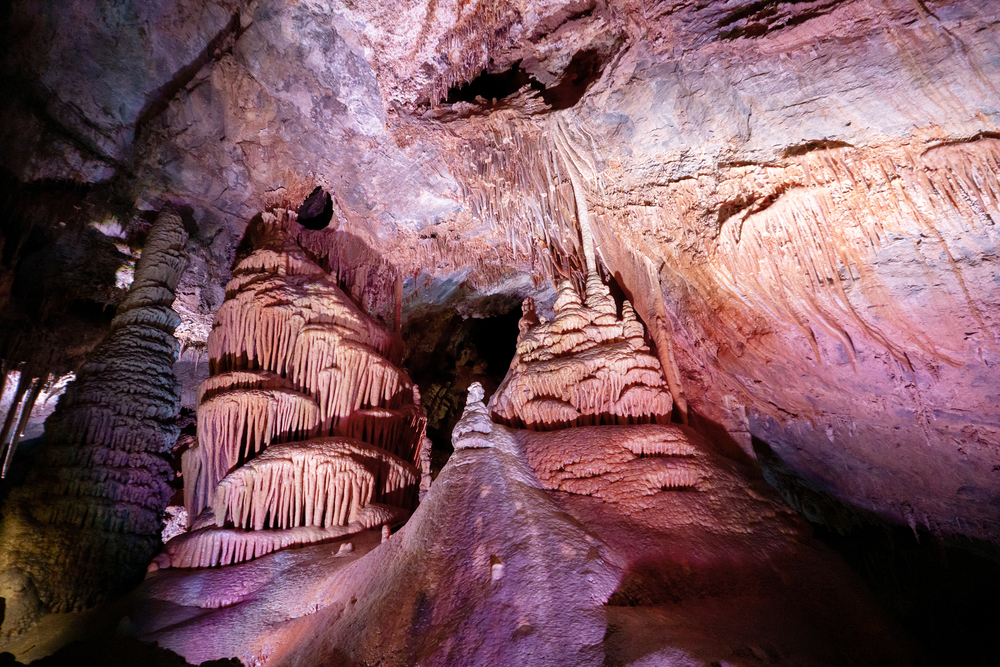 Enjoy Award-Winning Beer At Montana Breweries
Did you know that Montana is home to over 32 breweries? Yes, that's correct!
There are lots of local breweries available in this state that produce locally crafted beer using homegrown ingredients.
So, if you are looking for some winter fun to keep you warm, then drinking beer at one of these breweries is best for you.
You can choose Missoula city or Big Sky Country to sample the different kinds of beers that are offered here.
From dark ale to seasonal specials, you will find a large variety of beers available to sample at these breweries.
That's not all, paired with live music, these tastings turn out to be the best way to combat the low Montana temperatures in the winter.
If you are also trying to stay warm amidst the cold temperature in Montana in winter, then opt to sample award-winning beers at the Montana breweries.
Exploring breweries is one of the fun things to do in Helena MT.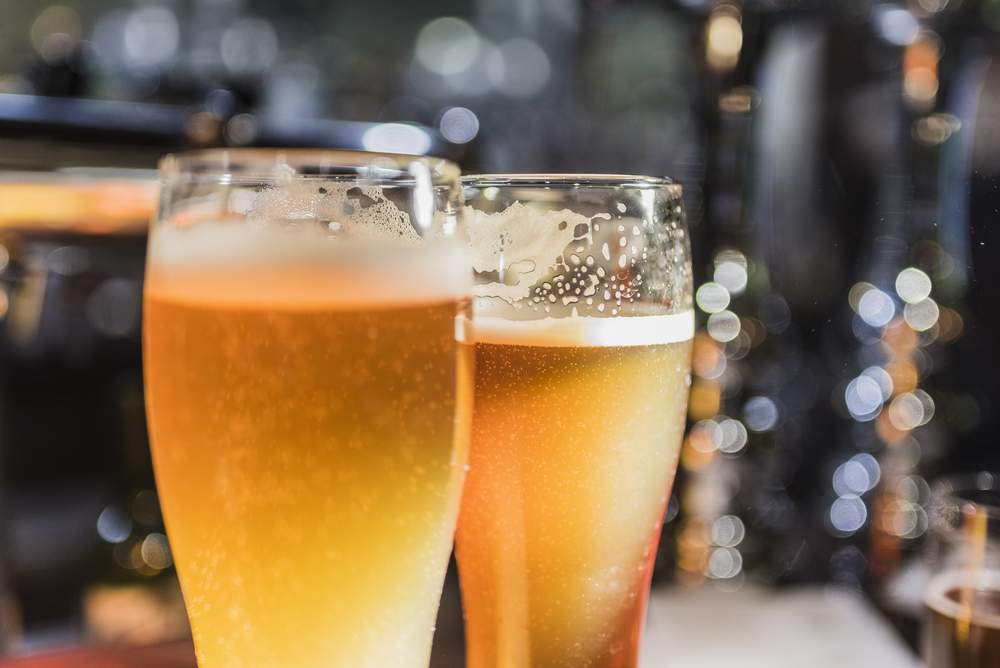 Go Snowboarding or Skiing at Snowbowl
Of course, when we are discussing fun Montana winter activities to enjoy, we cannot miss out on skiing or snowboarding at Snowbowl.
You can plan a complete winter vacation at Snowbowl and spend a few days learning how to snowboard or ski on the well-groomed slopes here.
This winter destination offers multiple lodging options and a couple of food options for adventure seekers.
Visitors can opt for the 3-day snowboarding and skiing lessons or the daily sessions, depending on the budget and time.
There are two main trails to explore here – Paradise and Grisly trails that include different challenges for the skiers.
Are you looking for an adventure-filled winter in Montana? If so, then do try snowboarding and skiing at Snowbowl.
If you are adventurous, camping in Montana is even fun during the winter!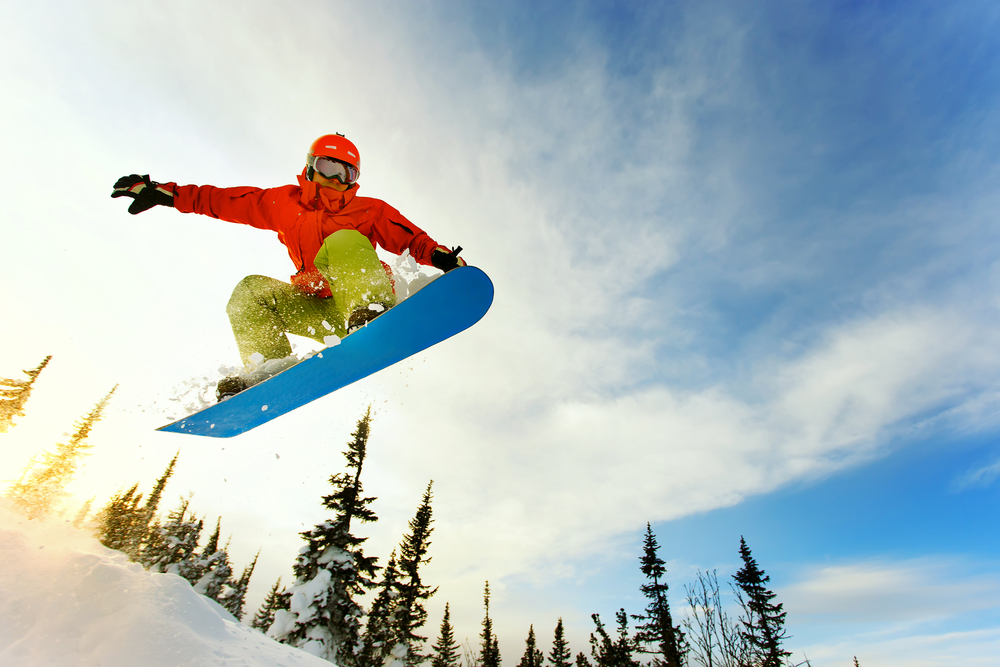 Attend the Montana Winter Fair
If you are still unsure of what to do in winter in Montana, then we have the perfect event for you.
Montana Winter Fair is an annual celebration of the world-class agricultural production and the western lifestyle of Montana.
This fair is being held every year since 1946 and was earlier celebrated in Bozeman. In 2002, it was relocated to Lewistown and has become a popular Montana winter event to visit for all ages.
There are over 20 events and activities to enjoy at this winter fair that includes a skijoring, chili cook-off, stick horse rodeo, cinnamon roll bake-off, and more.
For 3 days of absolute fun and mayhem in January, make sure to attend the Montana Winter Fair this season.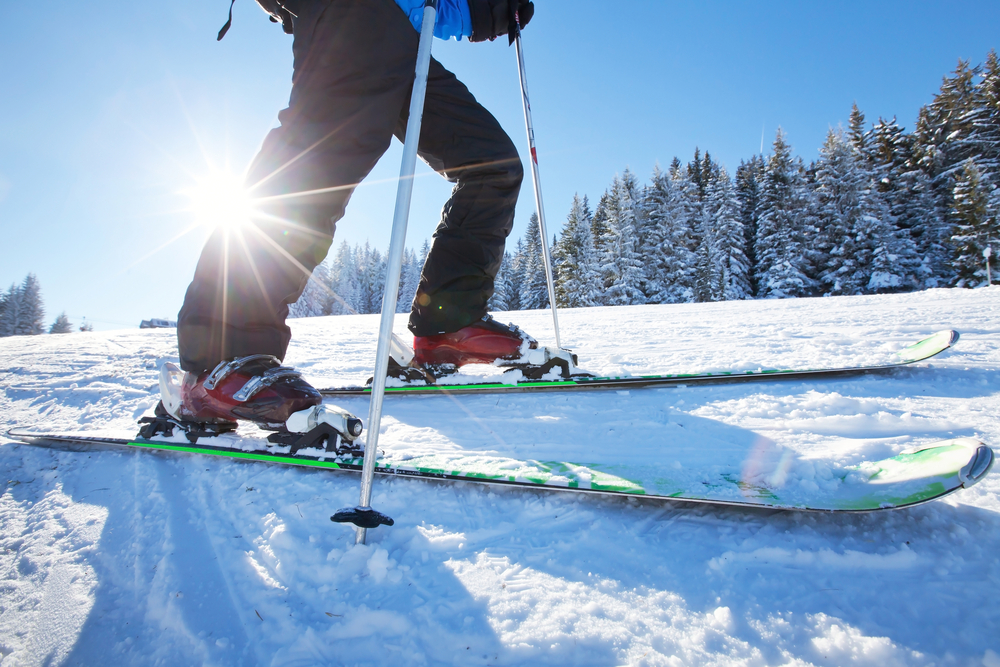 Indulge In Winter Hikes In Montana
Of course, if you wish to make the most of the winter in Montana, then you cannot miss the chance of going on a Montana hike in winter!
Although Glacier National Park offers lots of amazing winter hiking opportunities to the guests, it is not the only winter trail in Montana.
There are several amazing winter hikes to explore here such as Lava Lake Trail, Ousel Falls Trail, Four Dances Trail, Leverich Canyon Trail, and more.
So, whether you are looking to hike around a lake or climb a peak, or reach a canyon, you will easily find a fun winter hike to indulge in this state.
With the entire state blanketed with snow, these hikes will transport you to a winter wonderland with stunning views.
Trust me, a winter hike in Montana is a must to make the most of the snowy landscape.
There are several winter hikes to choose from in West Yellowstone MT!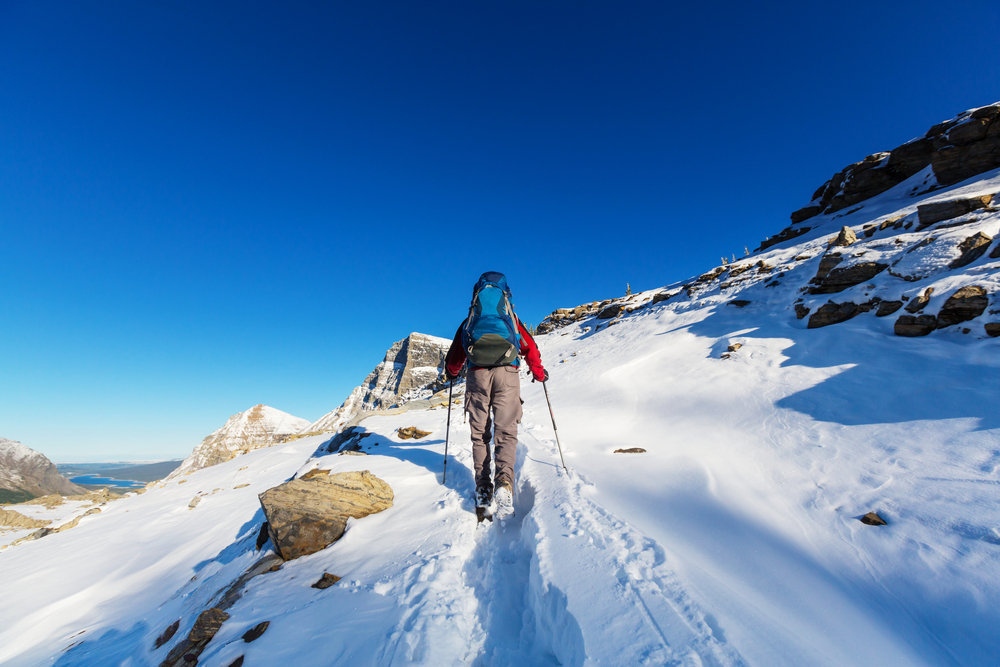 Packing List When Visiting Montana In Winter
If you will be traveling, either by plane or by car to Montana, here are some tips on how to pack lightly.
A concealed travel pouch may be one of the most important items you bring along when searching for things to do in the winter in Montana.
It is always important to protect your personal information. Identity thieves are everywhere.
This unisex RFID-blocking concealed travel pouch is lightweight and comes in several colors. It has lots of organization to give you peace of mind.
You can place it under your clothes next to your body to carry your ID safely.
If you have a pouch already that does not come with RFID protection, as I do, these RFID sleeves are the perfect solution.
This configuration comes with enough credit card sleeves that the entire family would be protected. They are slim too, so they will easily fit into your pouch or wallet.
If you are planning on taking a lot of pictures with your phone you will definitely want to consider an external charging battery.
This Anker high-speed phone charging battery is the exact one I carry with me on all of my trips.
It can be used on a variety of phones, not just an iPhone like I have. And wow is it fast!
My daughter gifted me with this FugeTek selfie stick and tripod setup for my birthday. I absolutely love it! It is made of lightweight aluminum and so easy to use.
It has Bluetooth connectivity and is a breeze to use for taking photos during your Montana winter trip.
You will want to bring your own refillable water bottle with you.
I never leave home on a trip without my Bobble filtration bottle. The 18.5-ounce size is perfect for hiking and it fits nicely in the pocket of a backpack.
When filled with water, it is not too heavy to carry. And the replaceable carbon filter ensures fresh clean water whenever you fill the Bobble.
Perhaps you are traveling a long distance and packing space is a premium in your suitcase, or in your car.
Then this collapsible silicone foldable water bottle would work well for you. Would not take up much space at all.
You will want a backpack or daypack with you to store snacks, your water bottle, phone, extra clothes, etc… No matter the time of day or evening.
This foldable water-resistant backpack would be great.
It is very affordable and is available in many color options for you to choose from. The fact that it folds down into a zippered pouch will make it easy to pack.
—
Visiting during winter in Montana is a great idea. Montana is a beautiful state, no matter the season, but during Montana winters, the state looks spectacular.