If you are searching for the best hot springs in Montana, you are in luck!
Montana has so many great, natural hot springs. Many of them are paired with hotels or resorts for easy access and a full luxury experience.
These commercial Montana hot springs make your visit seamless since you have everything you need.
If you are looking for one of the best things to do in Montana, make sure to check out one of these hot springs.
You will feel good knowing the water you are relaxing in is sourced from mineral-filled, natural hot springs. With zero chemicals added, the water is a rejuvenating experience!
The hot springs are dotted all over the state and make great day trips from major cities. If you want a relaxing Montana activity, this is it!
Let's take a look at the best natural hot springs in Montana for your next visit to Big Sky country!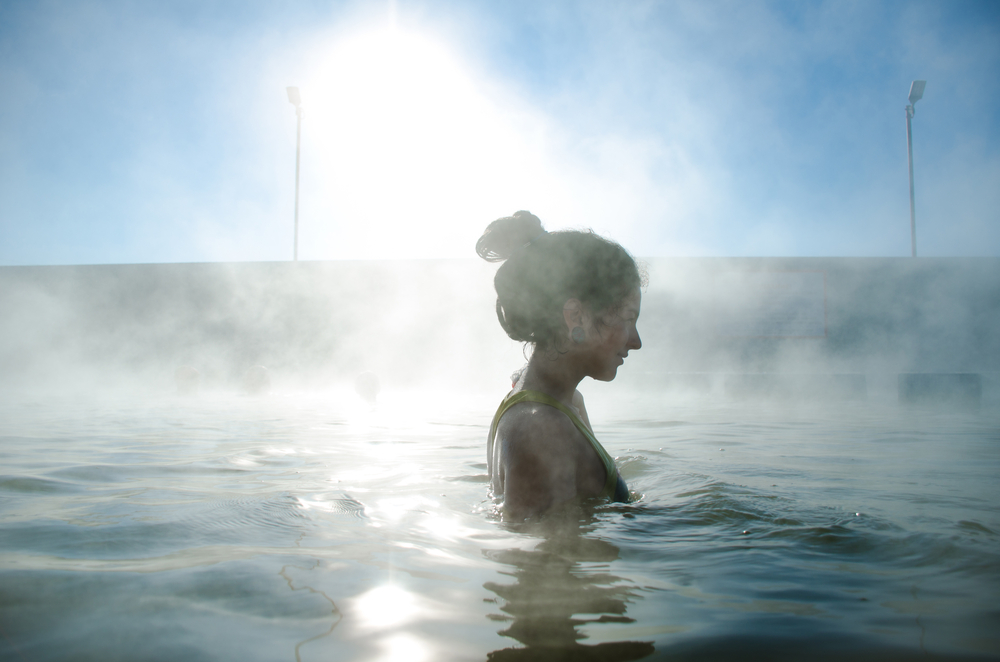 10 Best Hot Springs in Montana for Your Bucket List
Bozeman Hot Springs
The Bozeman Hot Springs have been enjoyed by people since the late 1800s. Located just north of Yellowstone National Park outside of Bozeman, these hot springs are in a convenient location.
There are twelve pools here both inside and outside ranging from 57 to 106 degrees Fahrenheit. Since they are hot year-round, a soak here is great even during winter in Montana.
The Bozeman Hot Springs pools are naturally heated by an underground well and have plenty of minerals.
The property also has wet and dry saunas and a state-of-the-art fitness center.
The weekly live concerts and amazing ambiance make this one of the best hot springs near Bozeman, MT.
Yellowstone Hot Springs
The Yellowstone Hot Springs in Gardiner is just a few miles from the north entrance to Yellowstone National Park. It offers a day of fun for the whole family.
There are three pools filled with natural mineral water. They range in temperature so there is something for all preferences.
In the summer, cool off in the cold plunge which is 60 to 65 degrees F. The main pool is 98 to 100 degrees F. For a nice, hot soak, unwind in the 103 to 105-degree hot pool.
This is also one of the best places for camping in Montana. You will love the surrounding mountain views when you stay here.
There are fully furnished cabins with private bathrooms, RV parking, and tent sites.
This is definitely a place to check out after exploring one of the best national parks in Montana.
Book Here: Booking.com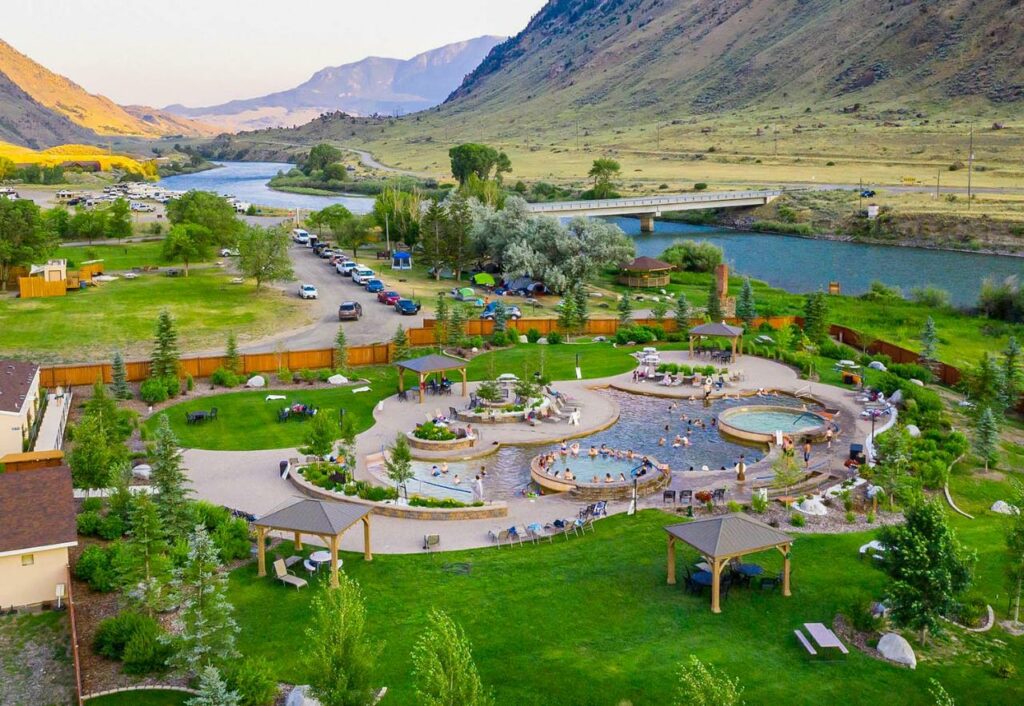 Quinn's Hot Spring Resort
Quinn's Hot Spring Resort is one of the best hot springs near Missoula. It is just over an hour northwest of the city.
This Montana spring is beautifully designed and picture-perfect with mountains as a backdrop.
There are multiple pools here with temps in the low 100s F. There is also a cold plunge pool at 55 degrees F. The water is 100% natural with many health benefits.
As one of the best hot spring resorts in Montana, you can stay in one of the two lodges or 25 cabins. Each has amazing views.
Enjoy fine dining at the Hardwood House Restaurant or drop by Quinn's Tavern for drinks and a game of pool.
Chico Hot Springs
Established in 1900, Chico Hot Springs Resort near the Yellowstone River is one of the top hot springs in Montana for a spa day.
The big outdoor pools are geothermally heated and perfect for some family fun.
This resort offers so much more than just a relaxing soak!
The spa offers many different massages and facials. For something special try the goat milk body butter wrap or full-body citrus salt scrub.
Multiple eateries are on-site, including the Tasting Room, an exclusive wine cellar with exquisite tasting menus. For something more casual and family-friendly, order a burger at the Poolside Grille.
Many accommodations are available at the property too. There are multiple lodges, cabins, and houses.
For something unique, stay at Camp Conestoga in one of the renovated covered wagons with an outdoor fire pit.
You are sure to love Chico Hot Springs, Montana!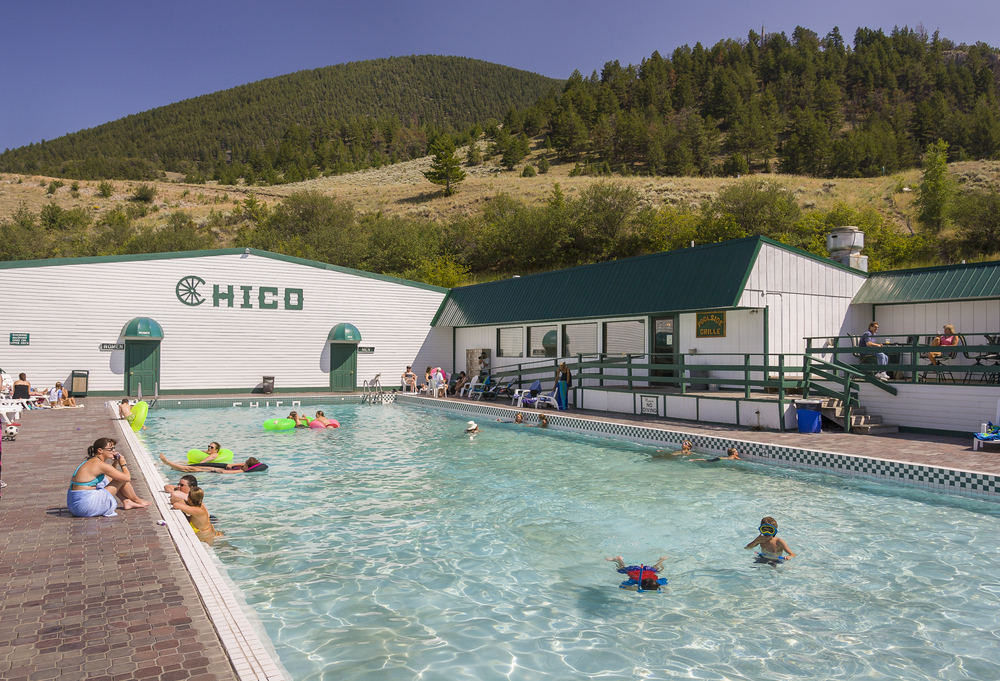 Elkhorn Hot Springs
In Polaris, Elkhorn Hot Springs is surrounded by trees and naturally heated by geothermal power. It is a great stop on the Pioneer Mountains Scenic Byway.
This historic hot spring in Montana has outdoor pools that range from 92 to 102 degrees F. The indoor wet sauna reaches temps of 104 to 106 degrees F.
For a fun getaway, book a stay at the lodge that dates back to 1918. There is also a mix of rustic and modern cabins that can accommodate small or large groups.
This hot spring is a great place to unwind after hitting the nearby ski slopes.
Lolo Hot Springs
Nestled in the Lolo National Forest, the Lolo Hot Springs is great for a family vacation in Montana.
There are two indoor hot spring grottos fed by mountain water. Book the romance package to enjoy the calming water with champagne.
The Lodge at Lolo Hot Springs also has a saloon, a casino, a library, and an assortment of board and card games. There is live music on the weekend.
Outside there is a swimming pool, a volleyball court, picnic tables, and a playground. You can also take horseback rides or rent snowmobiles.
Book Here: Booking.com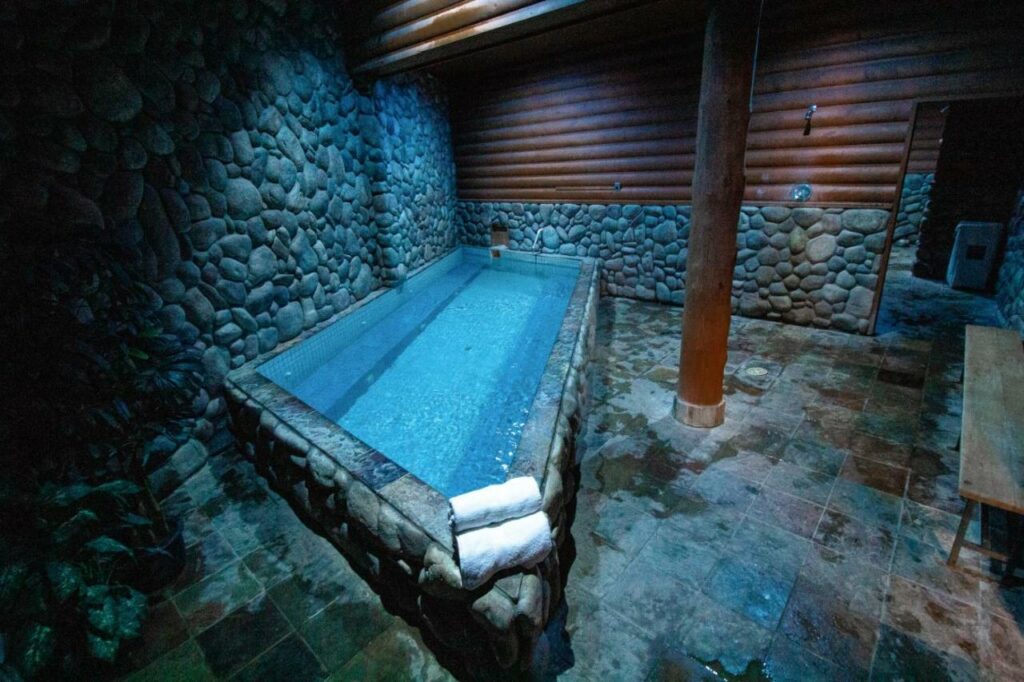 Symes Hot Springs
Of course, the town of Hot Springs, Montana, has a spring to check out. Book a stay at the Symes Hot Springs Hotel and Mineral Baths for one of the best weekend getaways in Montana.
It is one of the most unique small towns in Montana!
There are three pools here you can enjoy even if you are not a guest since they have day passes. The pools are different sizes and range in temperature from 95 to 107 degrees F.
After your soak, you can enjoy a massage or some time in the steam room.
You can stay at the historic hotel or in the campground with both RV and tent sites. Some of the hotel rooms feature a hot tub bath.
Eat breakfast, lunch, or dinner at the Symes Bathhouse Grill & Cantina. You can also get an assortment of drinks and pastries at the Daily Grind Espresso Bar.
There is also live music on the weekends.
Fairmont Hot Springs
If you want to stay at one of the best Montana hot springs resorts, head to Fairmont Hot Springs Resort outside of Butte.
There are two Olympic-sized swimming pools and two mineral-soaking pools. There is one of each both inside and outside. One pool even has a 350-foot water slide.
All of the pools are fed by natural hot springs. You will love the medicinal water.
There are many other amenities and things to do at this resort. The property has a golf course, a spa, and multiple places to eat or grab a drink.
The Fairmont Montana hot springs have a variety of rooms to choose from whether you are booking a romantic getaway or a fun family vacation.
Be careful not to confuse this resort with one of the same name in British Columbia, Canada!
Book Here: Hotels.com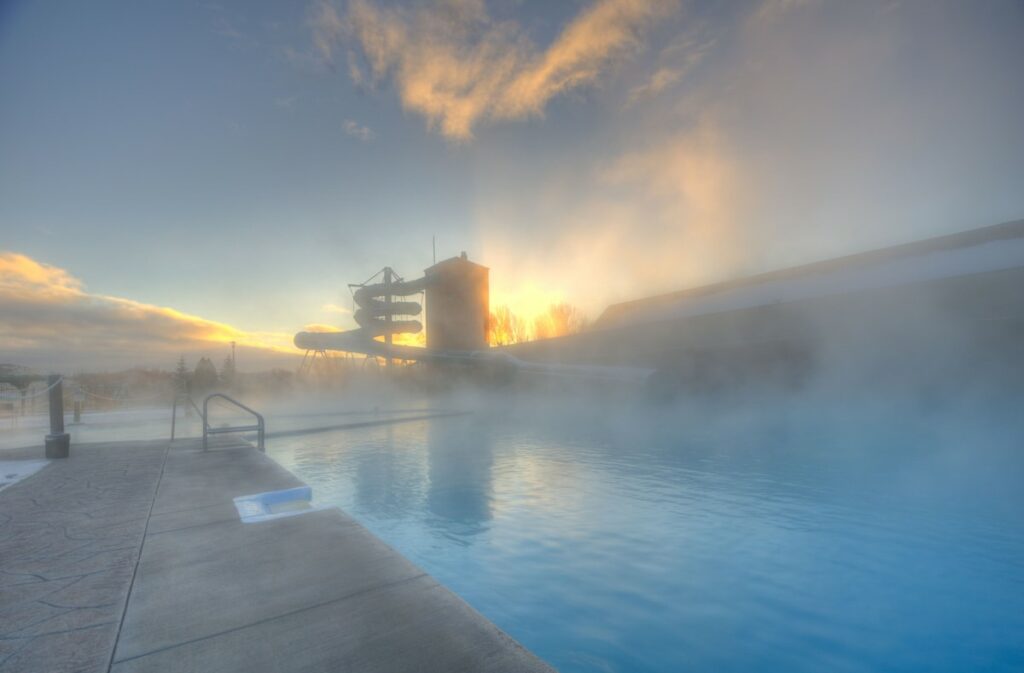 Lost Trail Hot Springs
Found in the Salmon-Challis National Forest, the Lost Trail Hot Springs are just a few miles south of Sula. The healing waters here have been used since the 1890s.
Today, it remains a beautiful and rustic place to soak your worries away in fresh, mineral water. The big pool is open year-round with a greenhouse roof placed over it in the winter.
The pool is about 95 degrees F throughout the year and is perfect for the whole family. One end is perfect for wading into the water while the other end reaches nine feet in depth.
There is also an indoor hot tub here at a temp of 103 to 105 degrees F.
Lodging at this Montana hot spring includes RV and tent campsites, cabins, and lodges. You will love your time spent here!
Norris Hot Springs
Known as the "Water of the Gods," Norris Hot Springs is one of the best Montana hot springs near Bozeman and Big Sky.
The large pool is filled with 38,000 gallons of mineral hot springs water. The water temp ranges from around 100 to 106 degrees F.
Each night it is drained and allowed to refill naturally. The chemical-free water is perfect for unwinding.
If you love the idea of soaking with entertainment, come to the hot springs on the weekend during one of the live concerts. The stage is right next to the pool.
For food, you can stop by the 50 Mile Snackbar and 50 Mile Grill. Many of the ingredients are grown in the garden at the springs. Everything else is sourced from local farms and ranches.
This would make a spectacular midwest weekend getaway!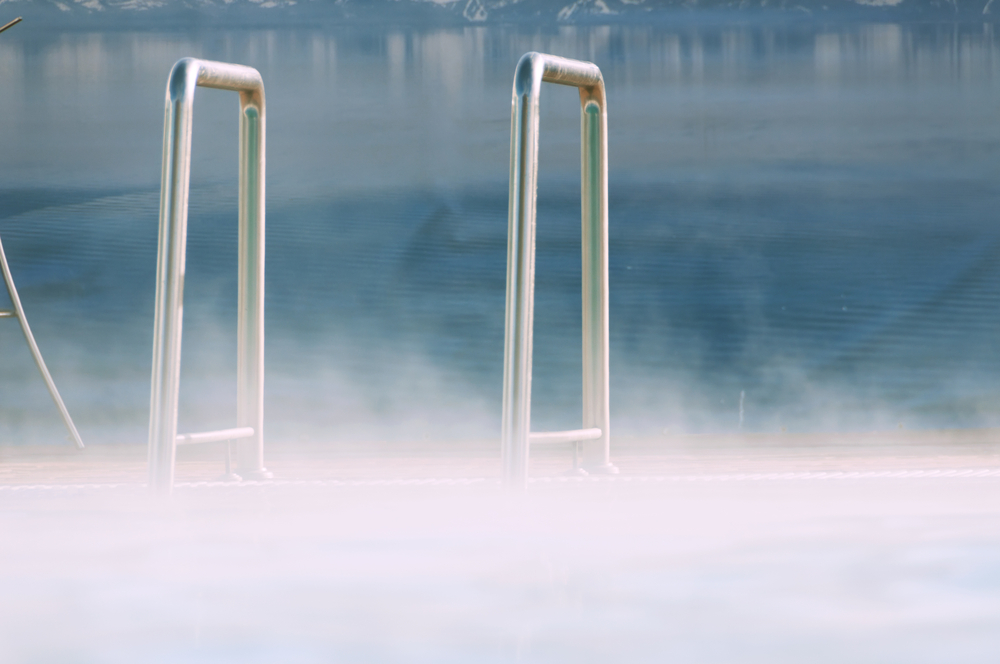 Packing List When Visiting Springs In Montana
If you will be traveling, either by plane or by car to Montana, here are some tips on how to pack lightly.
A concealed travel pouch may be one of the most important items you bring along when visiting Oklahoma springs.
It is always important to protect your personal information. Identity thieves are everywhere.
This unisex RFID-blocking concealed travel pouch is lightweight and comes in several colors. It has lots of organization to give you peace of mind.
You can place it under your clothes next to your body to carry your ID safely.
If you have a pouch already that does not come with RFID protection, as I do, these RFID sleeves are the perfect solution.
This configuration comes with enough credit card sleeves that the entire family would be protected. They are slim too, so they will easily fit into your pouch or wallet.
If you are planning on taking a lot of pictures with your phone you will definitely want to consider an external charging battery.
This Anker high-speed phone charging battery is the exact one I carry with me on all of my trips.
It can be used on a variety of phones, not just an iPhone as I have. And wow is it fast!
My daughter gifted me with this FugeTek selfie stick and tripod setup for my birthday. I absolutely love it! It is made of lightweight aluminum and so easy to use.
It has Bluetooth connectivity and is a breeze to use for taking photos.
You will want to bring your own refillable water bottle with you.
I never leave home on a trip without my Bobble filtration bottle. The 18.5-ounce size is perfect for hiking and it fits nicely in the pocket of a backpack.
When filled with water, it is not too heavy to carry. And the charcoal filter ensures fresh clean water whenever you fill the Bobble.
You can get replaceable charcoal filters here.
Perhaps you are traveling a long distance and packing space is a premium in your suitcase, or in your car.
Then this collapsible silicone foldable water bottle would work well for you. Would not take up much space at all.
—
These are just some of the best hot springs in Montana but there are so many more to discover!
With so many Montana hot springs resorts to choose from, you are sure to have a memorable time!
If you have time to explore, there are so many things to do in Missoula MT.