There are many cute, small towns in Montana dotted throughout the state.
These Montana towns are full of charm and are drenched in history. They are perfect for a day trip from the bigger cities or as a stopping point between national parks.
If you are looking for unique things to do in Montana, you must add some of these towns to your bucket list.
Now, let's look at the best pretty towns in Montana!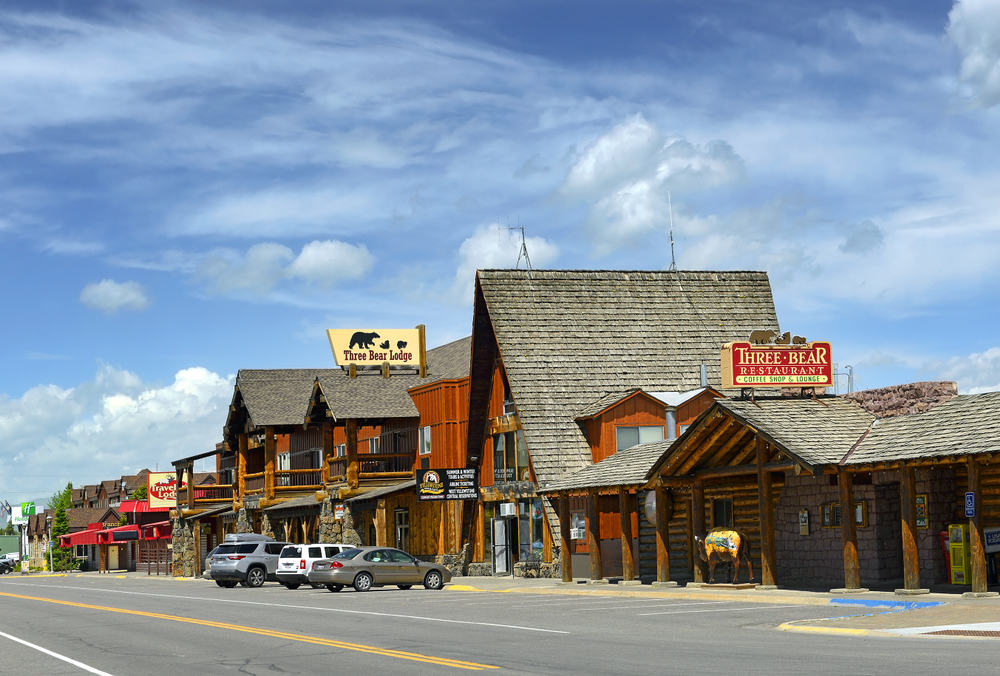 15 Small Towns in Montana You Should Visit
Whitefish
Located close to Glacier National Park, Whitefish is one of the top towns in Montana for outdoor recreation.
Whitefish Lake provides a beautiful place for swimming, paddleboarding, kayaking, and boating. For a thrill, try parasailing. Want a more relaxing activity? Grab a book and chill at the beach.
If you are looking for things to do in Montana in winter, Whitefish is known as one of the best places for skiing in the US.
Whitefish Mountain Resort has 3,000 acres for skiing and snowboarding. Whether you are an expert or a beginner, you will have a fun time zooming down the slopes.
Other things to do in Whitefish include golfing, hiking, and exploring the cute downtown.
Book Here: From Whitefish: Glacier National Park & Polebridge Day Tour
Where to Stay in Whitefish
Beautiful Lodge with an Outdoor Pool: Best Western Rocky Mountain Lodge. Check Rates: Booking.com
Close to Ski Slopes: Kandahar Lodge at Whitefish Mountain Resort. Check Rates: Booking.com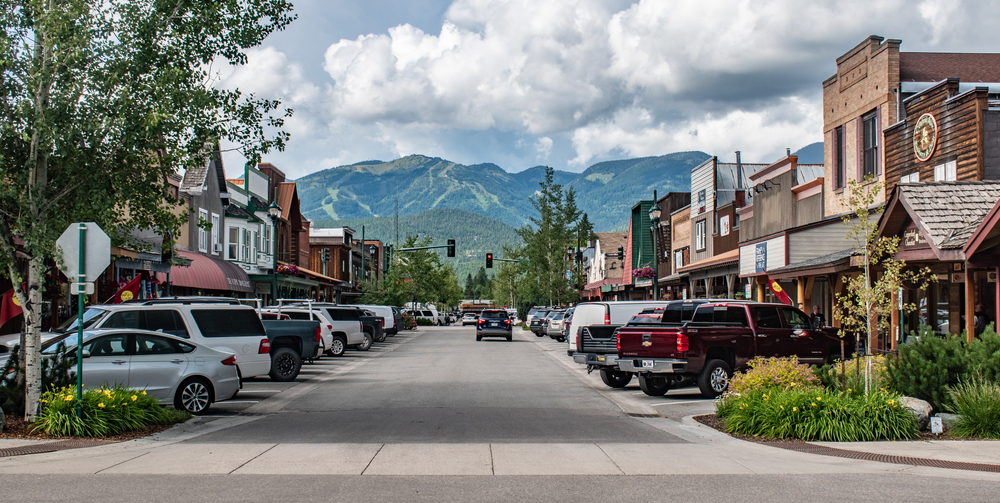 West Yellowstone
West Yellowstone, Montana, is known as the gateway to Yellowstone National Park found near the park's west entrance.
This is an adorable, Western town with many restaurants and shops to check out. There are lots of great things to do in West Yellowstone for the whole family.
Nature lovers will love the amazing hiking trails and many nearby lakes for some time on the water.
A visit to the Museum of the Yellowstone is another must. Housed in an old train depot, the museum teaches visitors about the history of the national park and surrounding area.
You will surely fall in love with this town in Montana!
Book Here: West Yellowstone: Yellowstone Day Tour Including Entry Fee
Where to Stay in West Yellowstone
Rustic Lodge: Kelly Inn West Yellowstone. Check Rates: Booking.com
Private Cabins: Explorer Cabins at Yellowstone. Check Rates: Booking.com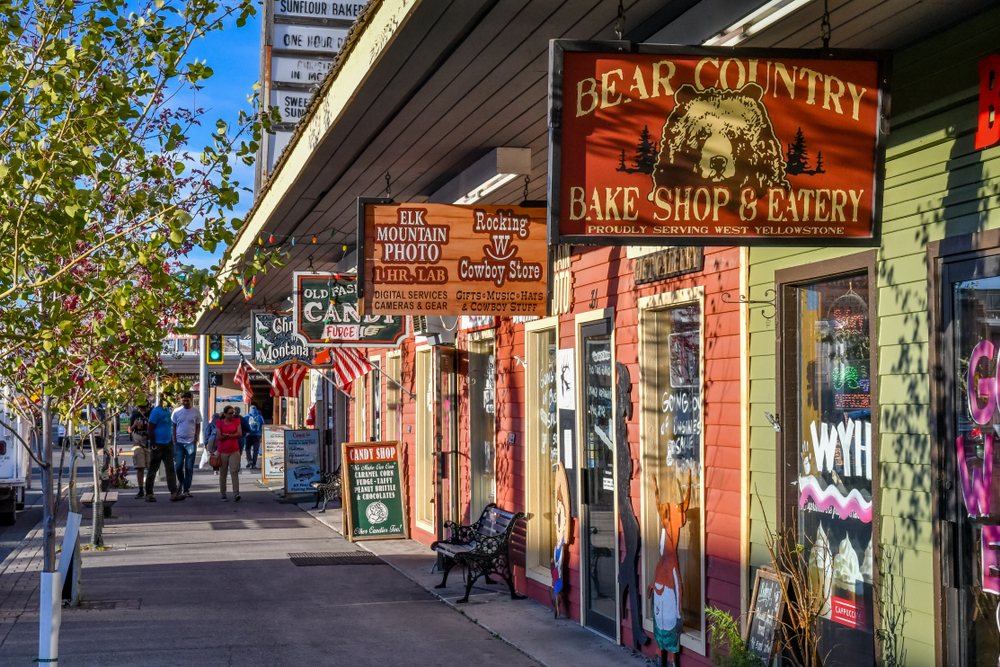 Stevensville
Just forty minutes south of Missoula, Stevensville is a great town for a day trip in Montana.
Founded by Jesuit missionaries in 1841, this is the oldest non-indigenous settlement in Montana. This was over forty years before the state entered the Union.
One of the top Montana attractions in town is the historic St. Mary's Mission which was originally built in 1841. It was later burned to the ground and rebuilt in 1866.
Over the years, it has been restored a few times. You must stop by to admire the old, wooden structure.
For the chance to see wildlife, head to the Lee Metcalf National Wildlife Refuge. You might spot bald eagles, osprey, deer, marmots, muskrats, and more.
Where to Stay in Stevensville
Big, Private Home: Charming Stevensville Home with Open Yard. Check Rates: Booking.com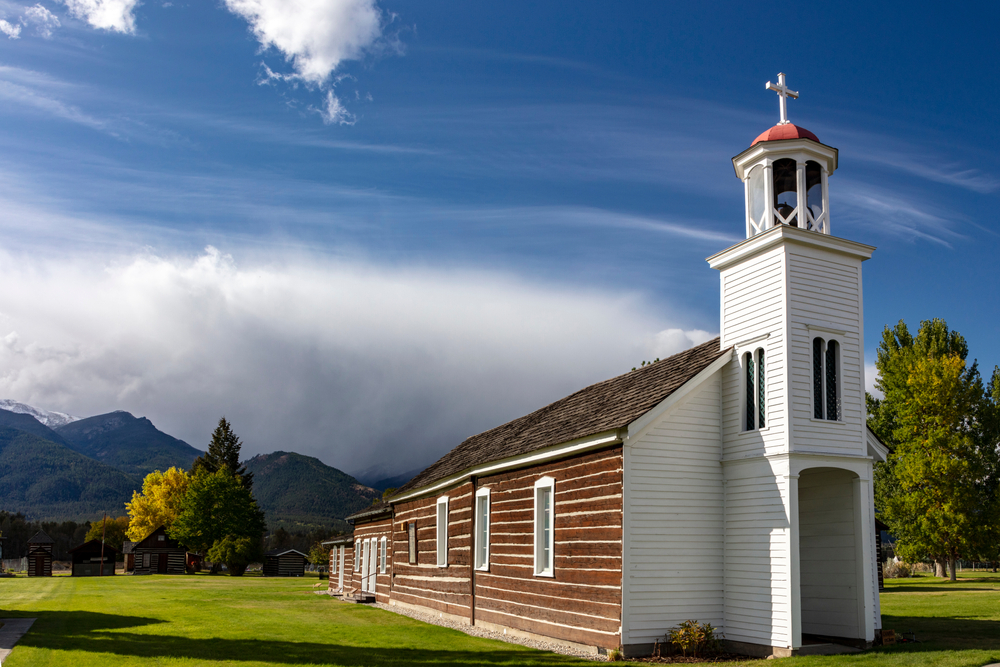 Virginia City Is One Of The Vintage Towns In Montana
Anyone interested in the Old West will agree Virginia City is one of the best towns in Montana. With a history dating back to the 1860s, this town is full of historic value.
While the town was booming during the gold rush, the town now only has a population of just over 200. It is a great place to step back in time among period buildings.
Fun activities include a train ride on the Alder Gulch Shortline Railroad or a narrated tour in a horse-drawn stagecoach.
Catch a show by the Virginia City Players Theatre Company. Learn about mining and pan for gold at the River of Gold.
After exploring Virginia City, Montana, head to nearby Nevada City. This is one of the best ghost towns in Montana.
You will love exploring the Nevada City Living History Museum which is made up of many old, furnished buildings.
Where to Stay in Virginia City
Beautiful, Rustic Stays: Fire Tower Ranch. Check Rates: Booking.com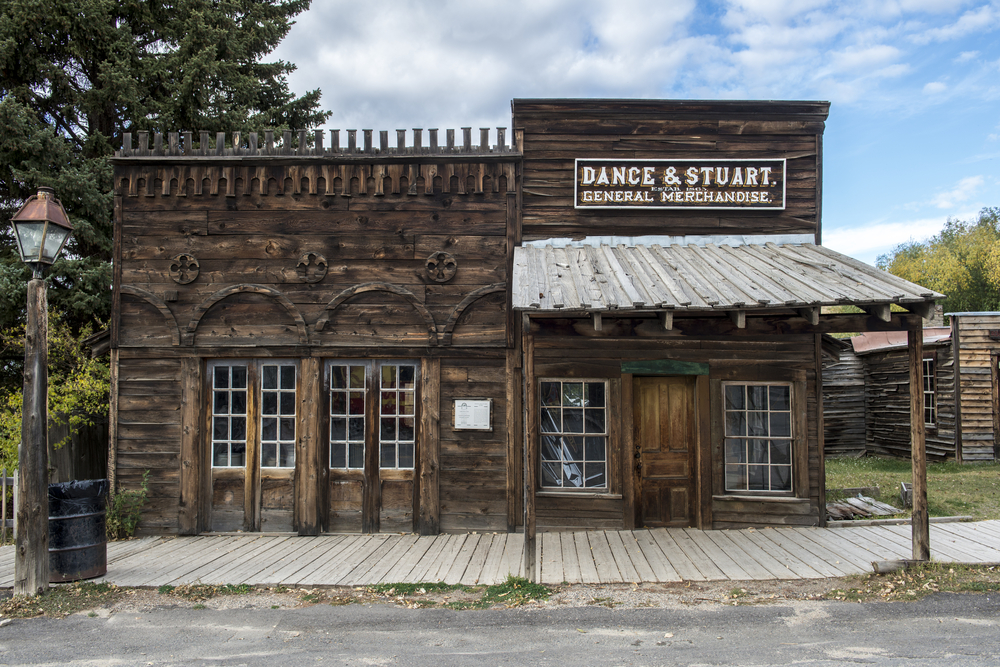 Livingston
Nestled along the Yellowstone River near Bozeman, Livingston is a great place to explore with many museums and abundant nature.
History buffs will want to stop by the Yellowstone Gateway Museum. There are exhibits about Yellowstone National Park, the Lewis and Clark Expedition, the Battle of Little Bighorn, Native American culture, and more.
Another museum can be found at the Livingston Depot Center which was built in 1902. There are rotating exhibits that cover all sorts of topics as well as old photographs and artifacts.
For nature activities, drive the Paradise Valley Scenic Byway, discover hiking trails, or rent kayaks or a boat to explore the river.
Where to Stay in Livingston
Luxury Hotel: Fairfield Inn & Suites by Marriott Livingston Yellowstone. Check Rates: Booking.com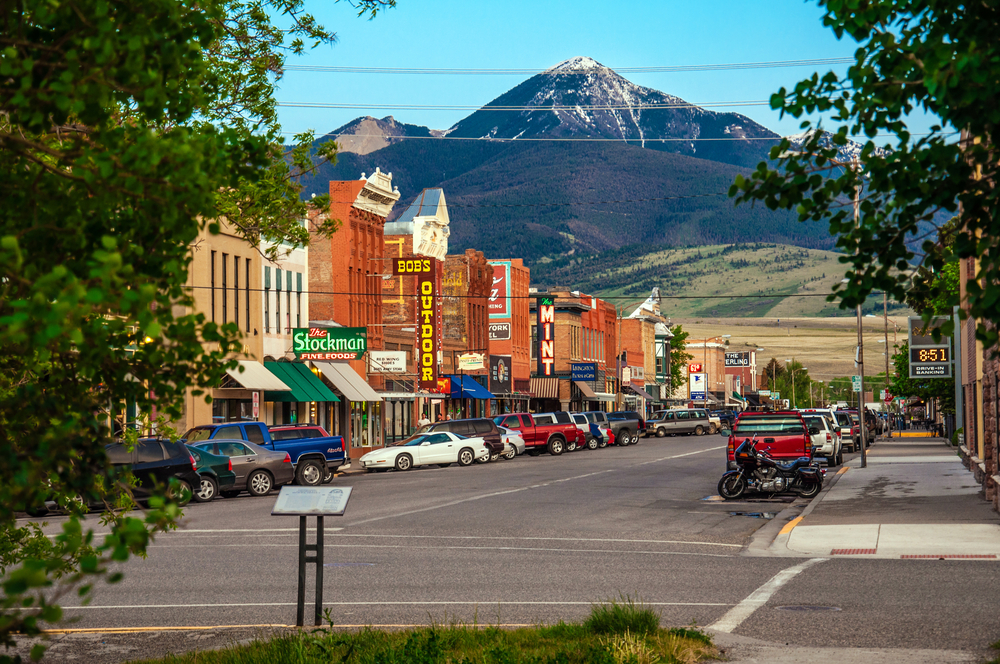 Fort Benton
Fort Benson was established in 1846 and was the most upstream navigable port on the Mississippi River, bringing in many steamboats.
Of course, you have to visit the Old Fort Benton which has an assortment of artifacts and period furnishings. You will learn all about the fort and its use as a trading post with the Native Americans.
Keep in mind the fort is only open from May through September.
Other museums in town include the Missouri Breaks National Monument Interpretive Center, the Museum of the Northern Great Plains, and the Museum of the Upper Missouri.
Each museum provides an in-depth look at Montana's history, culture, landscape, and wildlife.
You'll also want to walk the Historic Landmark District and admire the old buildings.
If you are looking for a place to stay, book a room at the Grand Union Hotel which dates back to 1882.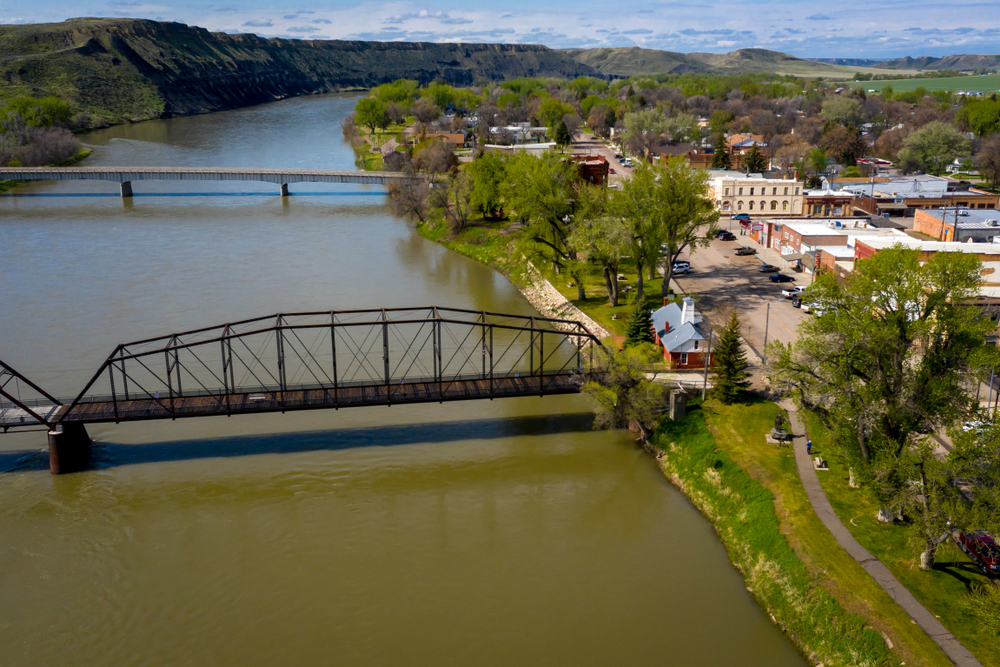 Red Lodge
Red Lodge is found on the Beartooth Scenic Byway and sits on the edge of Custer Gallatin National Forest.
After exploring the historic downtown, set out to enjoy the great outdoors. Go hiking, whitewater rafting, horseback riding, biking, or ATV riding.
In winter, you will have a blast skiing at Red Lodge Mountain. There are slopes for all levels.
Those interested in history can visit the Carbon County Historical Society and Museum in a historic 1909 building. The exhibits are all about homesteading, Native Americans, mining, and so much more.
You do not want to pass up Red Lodge since it is one of the best Montana towns for a home base when exploring the nearby forests and mountains.
Where to Stay in Red Lodge
Affordable Hotel: Beartooth Hideaway Inn & Cabins. Check Rates: Booking.com
Historic Luxury: The Pollard Hotel. Check Rates: Booking.com
Havre Is A Small Town In Montana Near The Canadian Border
Located near the Canadian border, Havre was founded in 1893 as a railroad town.
There are so many things to do in Havre including museums, art galleries, historic houses, breweries, and distilleries.
For a really unique attraction, book a tour of Havre Beneath the Streets. Head underground and back in time to see complete recreations of what Havre looked like over 100 years ago.
At the Wahkpa Chu'gn Archaeological Site, you will find a preserved Buffalo Jump which Native Americans used to hunt the animals.
Visit the John and Anna Brumley Interpretive Center to learn about Native American practices and see many artifacts.
Where to Stay in Havre
Mid-Range Hotel: Best Western Plus Great Northern Inn. Check Rates: Booking.com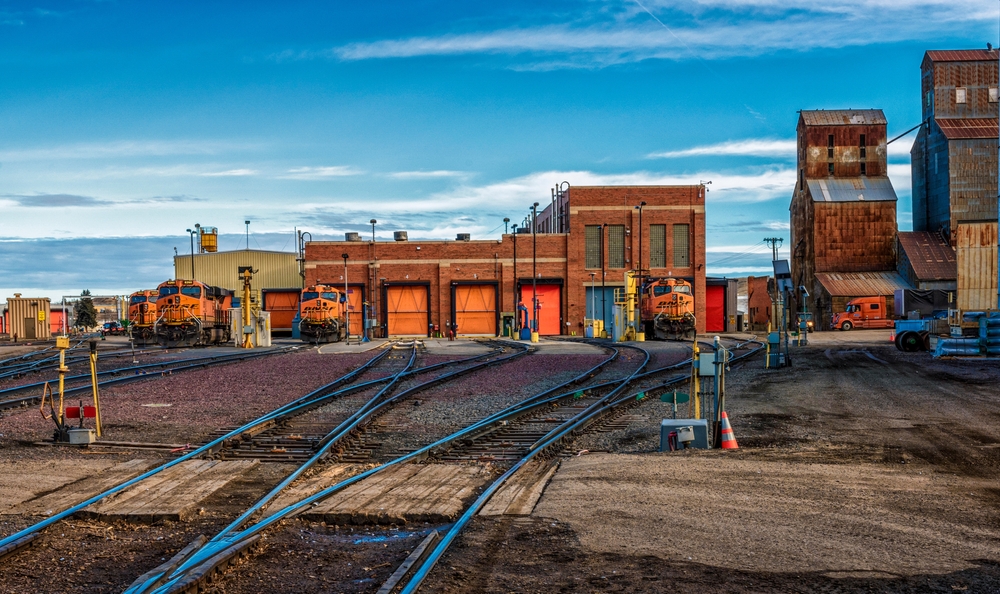 Hamilton
Found south of Missoula, Hamilton is a Montana town full of history with easy accessibility to beautiful nature.
This area offers some of the best hiking in Montana.
One of the top Hamilton attractions is the Daly Mansion. The estate was bought by "Copper King" Marcus Daly in 1886 and remodeled in 1889.
The mansion was remodeled many more times, adding elements of Queen Anne and Georgian-Revival styles.
As you tour the 50-room home, you will be amazed by the period furniture and family artifacts. There are many events held here throughout the year as well.
Just outside of town, the Blodgett Trail is a fantastic way to experience the Montana scenery. The 9-mile out-and-back trail is rated moderate to difficult.
The trail follows Blodgett Creek. You will love the views of waterfalls and the rugged mountains.
Interestingly, Hamilton was also a filming location for the Netflix show The Umbrella Academy.
Where to Stay in Hamilton
Great Hotel with Amenities: Bitterroot River Inn and Conference Center. Check Rates: Booking.com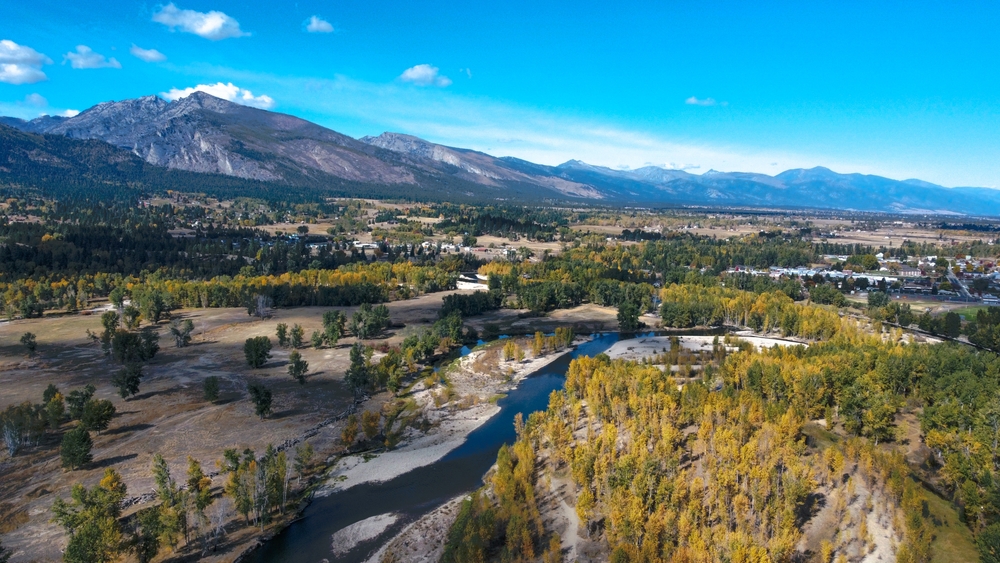 Anaconda
Anaconda is one of the best small towns in Montana for a relaxing getaway. You will love unwinding at the nearby Fairmont Hot Springs Resort, one of the best hot springs in Montana.
If you want a more exciting activity, you can go ziplining or rent an ATV. In winter, you can also hit the slopes at the Discovery Ski Area.
History lovers will want to visit Anaconda Smelter Stack State Park. The smelter stack was built by the Anaconda Copper Company in 1919 and towers at 585 feet.
Other things to do in Anaconda include the Anaconda Visitor Center, the Copper Village Museum and Art Center, and Washoe Park.
Where to Stay in Anaconda
Luxury Stay: The Forge Hotel BW Signature Collection. Check Rates: Booking.com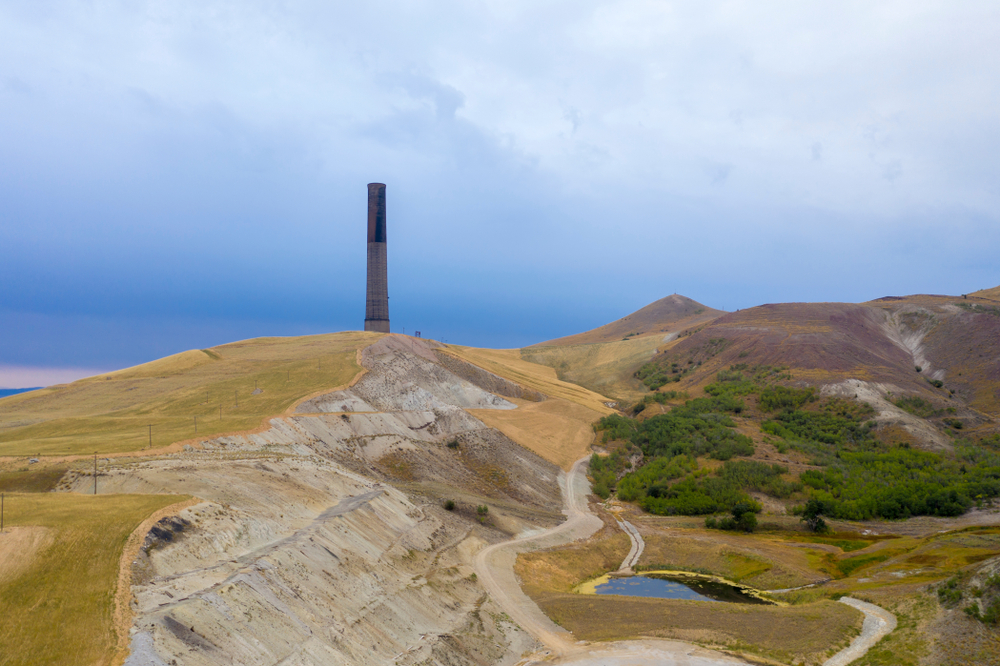 Choteau
Choteau has unique attractions the whole family will enjoy.
Start your visit at the Old Trail Museum which will walk you through the town's history with many exhibits and recreated buildings.
Do not forget to stop by the Old Trail Ice Cream Parlor for a tasty treat! Take a picture in front of the dinosaur statues too.
Speaking of dinosaurs, if you are interested in paleontology, you must drive north of town to the Montana Dinosaur Center.
Book an expedition to visit an active dig site and learn all about fossils. The museum also has great exhibits that will awe kids and adults alike.
Nature-based activities in the area include hiking, horseback riding, golfing, and birdwatching.
This is definitely one of the cute towns in Montana!
Where to Stay in Choteau
Cute, Unique Stay: Modern Tiny Cabin on the Rocky Mountain Front. Check Rates: Booking.com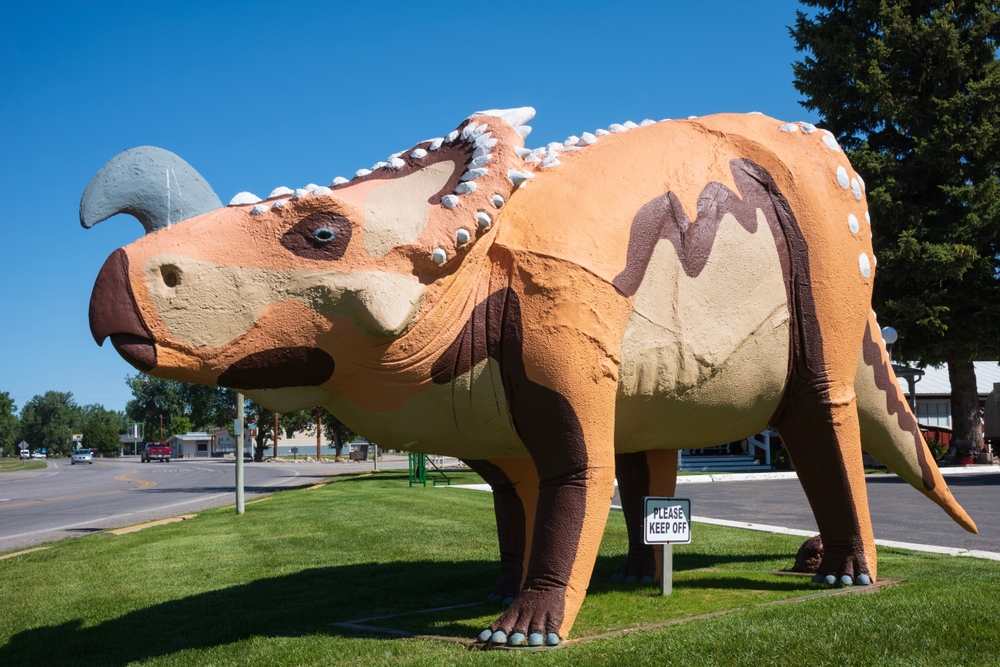 Big Timber
Big Timber on the Yellowstone River is one of the best Montana small towns if you want to be surrounded by nature and wildlife.
To see some of the cutest animals in the state, head to Greycliff Prairie Dog Town State Park. You will love watching the black-tailed prairie dogs scurry around and listening to their chirps.
For scenic views, there are many backcountry drives to embark on including the 40-mile Crazy Mountains Backcountry Drive.
Visit the Crazy Mountain Museum, set up camp at the pretty Spring Creek Campground and Trout Ranch, or check out the galleries and shops in town.
Where to Stay in Big Timber
Simple Hotel: Super 8 by Wyndham Big Timber. Check Rates: Booking.com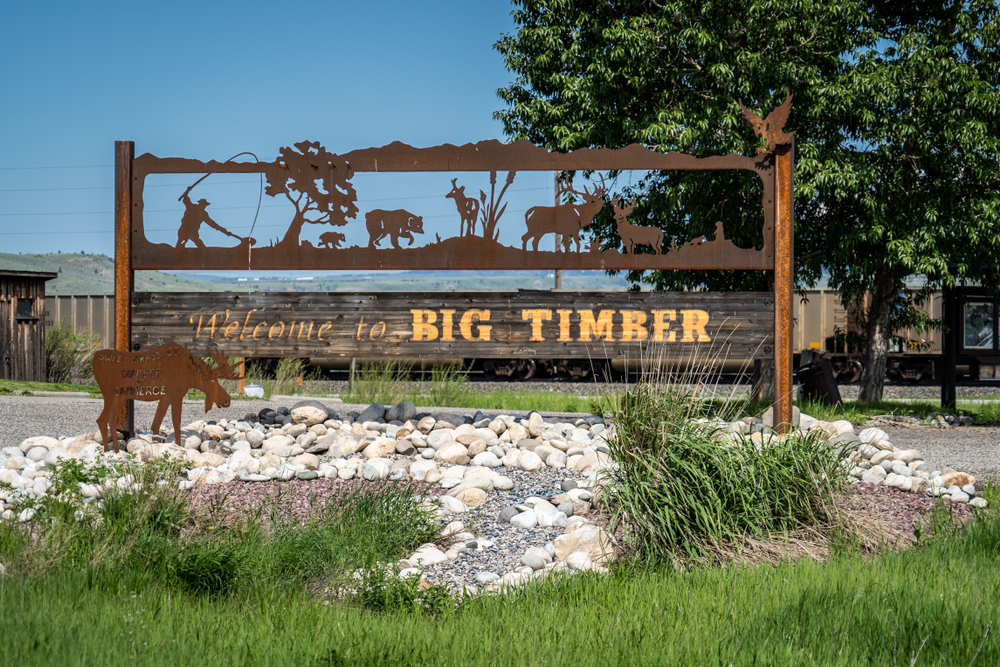 Philipsburg
From mining history to dazzling nature, Philipsburg has it all!
Head to Montana Gems of Philipsburg for the chance to mine your own sapphires. You can also purchase jewelry with authentic Montana gems.
After admiring some sapphires, walk down the street to either the Philipsburg Creamery or the Philipsburg Brewing Company.
Visit the Granite Ghost Town State Park to discover abandoned buildings dating back to the late-1800s.
To learn more about mining and ghost towns, stop by the Granite County Museum & Cultural Center.
There you will find the Ghost Town Hall of Fame exhibit with lots of information, artifacts, and old equipment.
This area offers some of the best camping in Montana.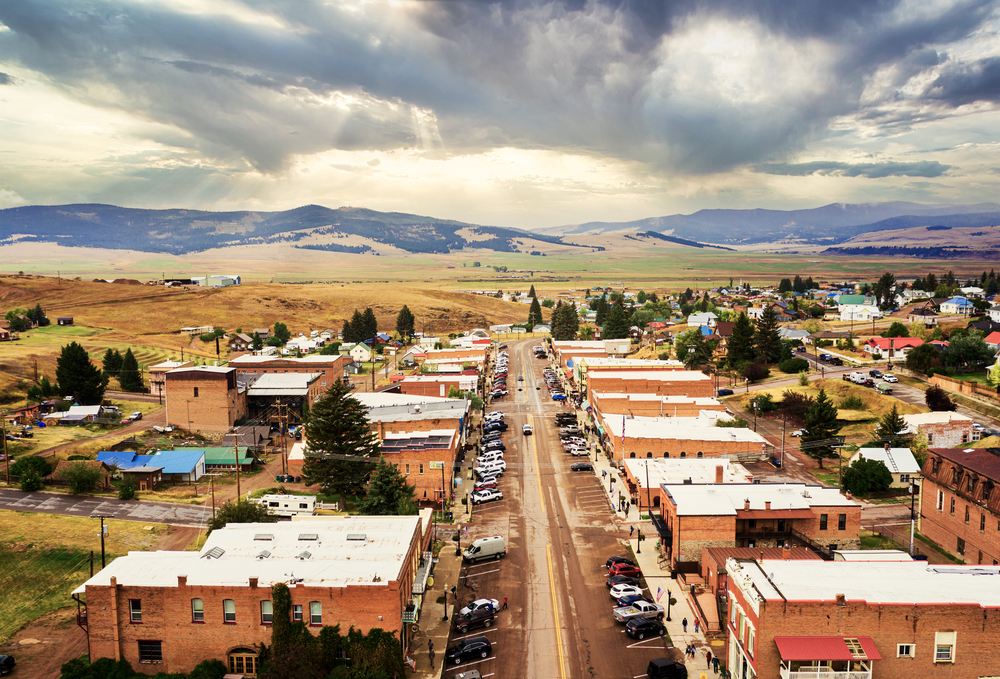 Glendive
Take a picture with Glendisaurus the Triceratops Statue before exploring the town of Glendive near the North Dakota border. This is yet another of the Montana towns on the Yellowstone River.
The top attraction here is Makoshika State Park, the largest state park in Montana. The badlands here are jaw-dropping with deep gorges and cool rock formations.
This park is an important part of the Montana Dinosaur Trail. Over ten species of dinosaur fossils have been found here. Stop by the visitor center to see fossils and interpretive displays.
Other things to do in the park include camping, hiking, wildlife viewing, mountain biking, and more.
Before leaving Glendive, check out the Frontier Gateway Museum, the historic Bell Street Bridge, and some of the local stores.
Where to Stay in Glendive
Simple Hotel: La Quinta by Wyndham Glendive. Check Rates: Booking.com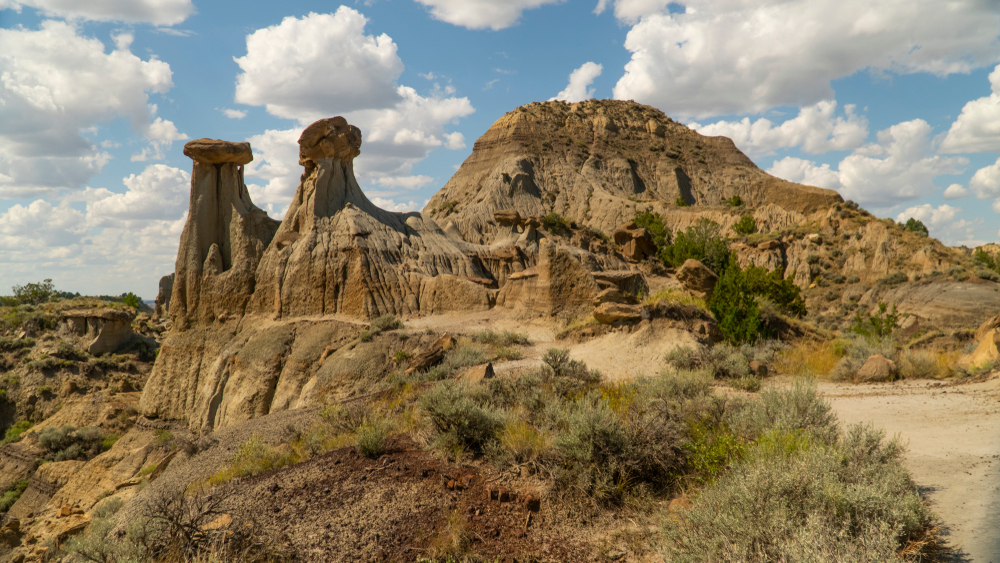 Cut Bank
Cut Bank is under an hour east of Glacier National Park on the edge of the Blackfeet Indian Reservation.
One of the top tourist sights here is the world's largest penguin statue. The 27-foot-tall penguin welcomes visitors to Cut Bank on the main road through town.
Built in 1989 by Ron Gustafson, the concrete statue also claims Cut Bank is the "coldest spot in the nation." This is, however, not true. Even so, the cute penguin is a perfect photo op!
As you explore the downtown area, keep an eye out for bug murals depicting Montana's history. Stop by Cut Bank Creek Brewery and the Glacier County Historical Museum.
Also, did you know there is a song called "Cut Bank, Montana" by Hank Williams Jr?
Where to Stay in Cut Bank
Simple Hotel: Super 8 by Wyndham Cut Bank. Check Rates: Booking.com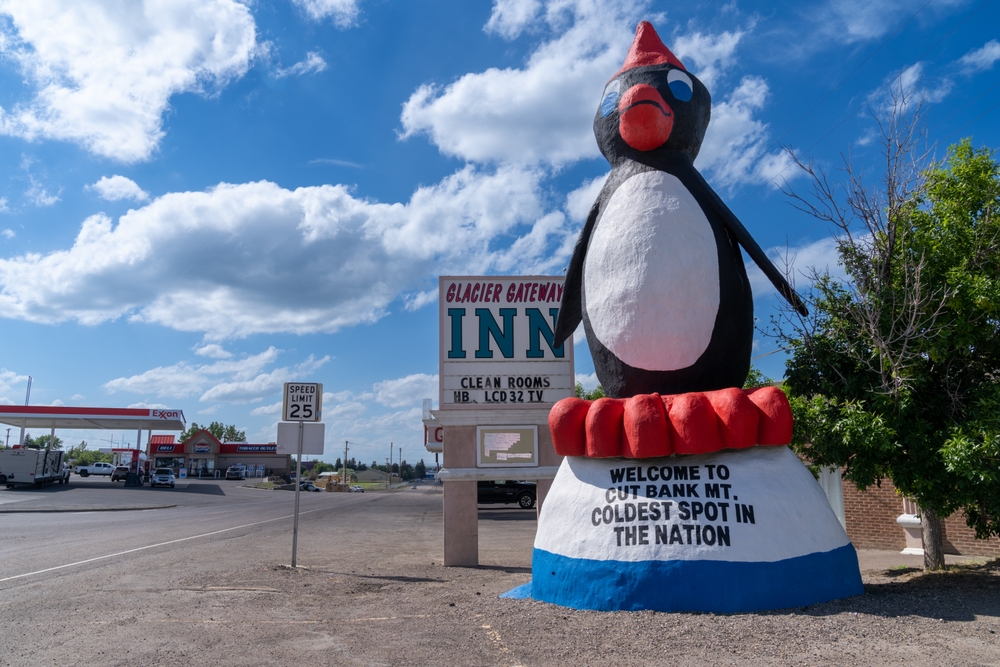 Packing List When Visiting Springs In Montana
If you will be traveling, either by plane or by car to Montana, here are some tips on how to pack lightly.
A concealed travel pouch may be one of the most important items you bring along when visiting the small towns in Montana.
It is always important to protect your personal information. Identity thieves are everywhere.
This unisex RFID-blocking concealed travel pouch is lightweight and comes in several colors. It has lots of organization to give you peace of mind.
You can place it under your clothes next to your body to carry your ID safely.
If you have a pouch already that does not come with RFID protection, as I do, these RFID sleeves are the perfect solution.
This configuration comes with enough credit card sleeves that the entire family would be protected. They are slim too, so they will easily fit into your pouch or wallet.
If you are planning on taking a lot of pictures with your phone you will definitely want to consider an external charging battery.
This Anker high-speed phone charging battery is the exact one I carry with me on all of my trips.
It can be used on a variety of phones, not just an iPhone as I have. And wow is it fast!
My daughter gifted me with this FugeTek selfie stick and tripod setup for my birthday. I absolutely love it! It is made of lightweight aluminum and so easy to use.
It has Bluetooth connectivity and is a breeze to use for taking photos.
You will want to bring your own refillable water bottle with you.
I never leave home on a trip without my Bobble filtration bottle. The 18.5-ounce size is perfect for hiking and it fits nicely in the pocket of a backpack.
When filled with water, it is not too heavy to carry. And the charcoal filter ensures fresh clean water whenever you fill the Bobble.
Perhaps you are traveling a long distance and packing space is a premium in your suitcase, or in your car.
Then this collapsible silicone foldable water bottle would work well for you. Would not take up much space at all.
—
Each town in Montana is rich with history, culture, and nature. Whether you like exploring historic sites, visiting museums, or hiking pretty trails, there are things to do in Montana for you!
If you are looking for one of the best towns to live in Montana, these are all great options!