There are great national parks in Montana encompassing epic nature and historic sites.
If you are looking for some of the best things to do in Montana, you cannot go wrong with these national parks!
Whether you like hiking through gorgeous nature, walking in the footprints of historic figures, or seeing the world through a historical lens, there are Montana national parks for you!
Let's take a look at what to do in Montana, USA!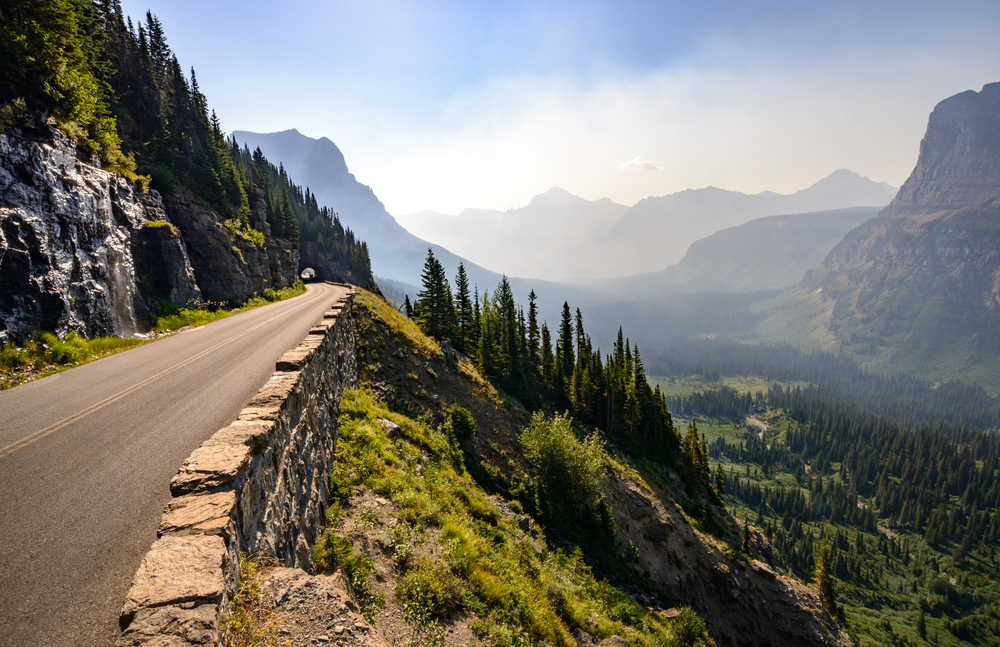 10 Epic National Parks in Montana for Your Bucket List
Glacier National Park
Glacier National Park offers the iconic landscapes Montana is known for from jagged mountain peaks to deep blue glacial lakes to pretty alpine meadows.
It is one of the coolest things to do near Butte MT.
If you love wildlife viewing, this is one of the best parks in Montana for doing so. You have the chance to spot bears, elk, bighorn sheep, mountain goats, eagles, and so much more!
While in the park, you will drive the Going-to-the-Sun-Road. This scenic, 50-mile drive is one of the best ways to experience the park.
You'll want to do some hiking in Glacier as well and with over 700 miles of trails, there are plenty of opportunities.
One of the most popular places to hike is around Lake McDonald. There are multiple trails ranging from under a mile to eight miles one-way.
Camping, photography, biking, and boating are other great activities at this national park in Montana!
This is a spectacular destination if you are visiting during winter in Montana!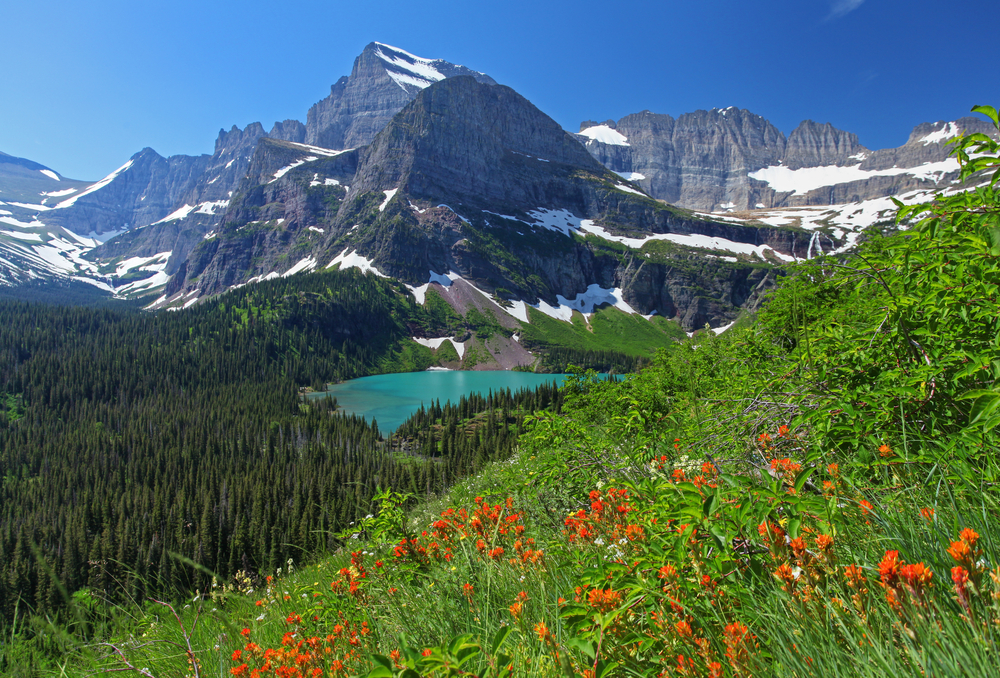 Bighorn Canyon National Recreation Area
Bighorn Canyon is another beautiful nature area in Montana, USA, encompassing 120,000 acres of wilderness and history.
This rugged park allows you to get out in Montana nature through hiking, biking, boating, and camping.
Rent a canoe or kayak and paddle through the canyon's water surrounded by colorful, towering cliffs. There are also free kayak tours available.
If you want to spot some unique wildlife, the park is home to the largest herd of wild horses in the U.S.
During the summer, you can also take guided tours of the four historic ranches found in the park. They date back to the late-1800s and early-1900s.
There is great Montana camping in the Bighorn Canyon.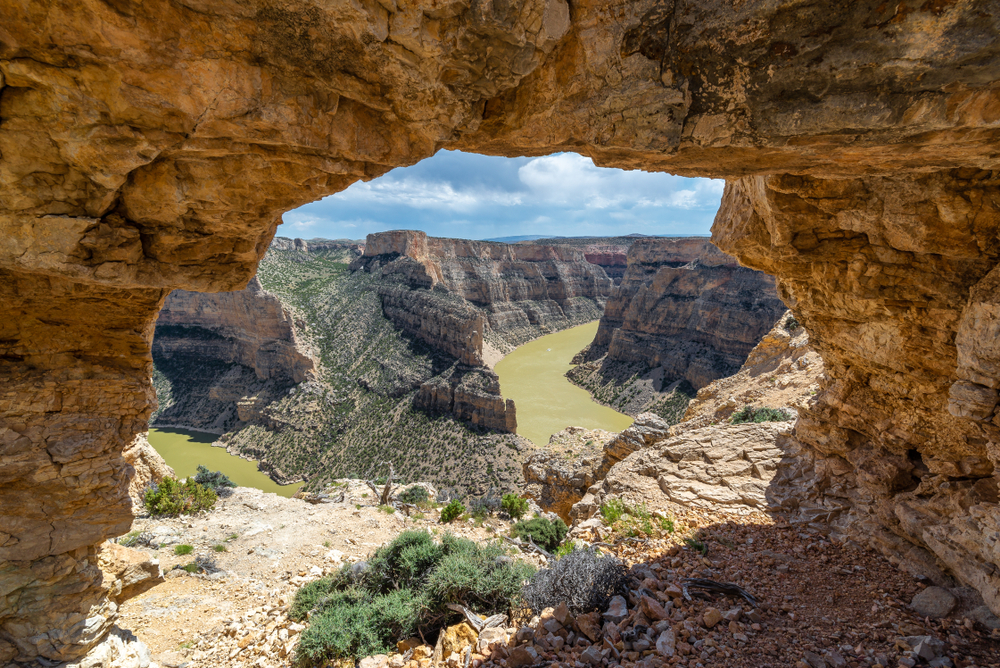 Little Bighorn Battlefield National Monument
History buffs will agree that the Little Bighorn Battlefield is one of the most interesting national parks in Montana.
It was here in June of 1876 that the important Battle of the Little Bighorn took place.
Also known as Custer's Last Stand, this battle raged for two days between Lieutenant Colonel George A. Custer's troops and the Nations of the Plains.
After hundreds of casualties, including Custer, the battle ended with a Native American victory.
Today, you can pay your respects to the fallen. Visit the Custer National Cemetery, the 7th Cavalry Monument, the Indian Memorial, and the museum.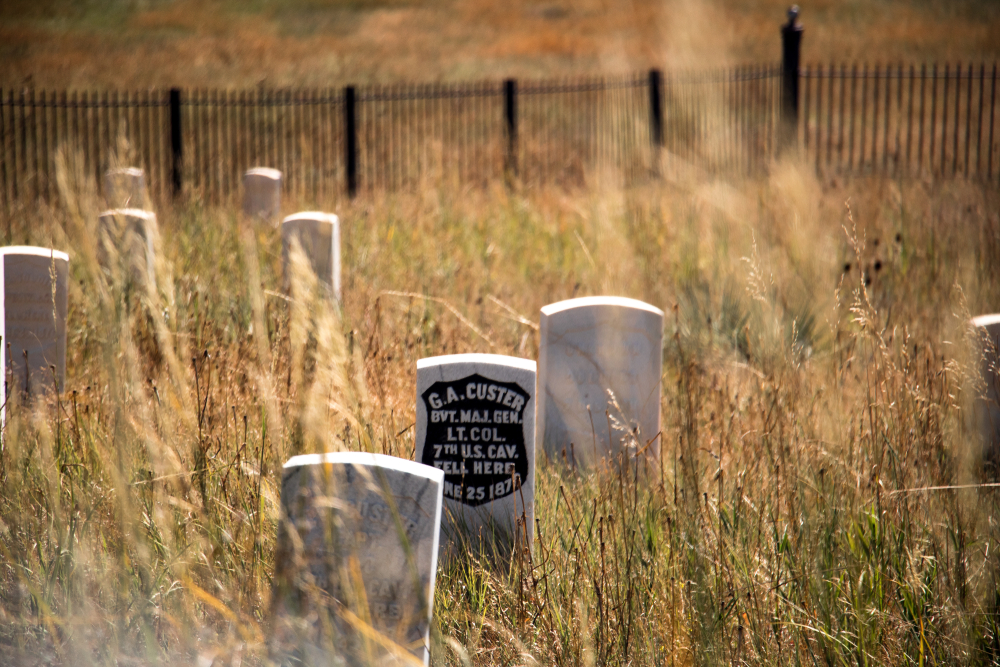 Fort Union Trading Post National Historic Site
The Fort Union Trading Post was the most influential and profitable trading post on the Upper Missouri River between 1828 and 1867.
The John Jacob Astor's American Fur Company and the Northern Plains Tribes struck up a successful and peaceful business.
Seven Native American tribes traded buffalo hides, beaver pelts, and other furs for imported goods such as cloth, guns, clothing, beads, cooking ware, and more.
Stop by the visitor's center in the Bourgeois House and walk around the fort to learn about this historic location.
This is one of the best free Montana national parks! It sits on the border with North Dakota.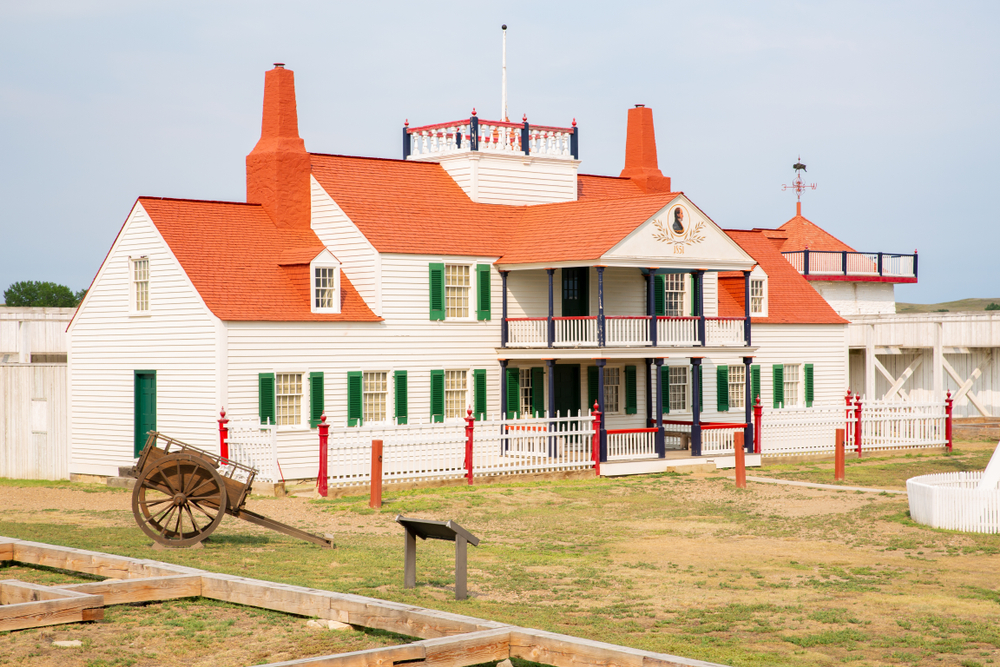 Grant-Kohrs Ranch National Historic Site
The Grant-Kohrs Ranch is a collection of 88 historic, preserved buildings where you can step into the history of homesteading and cattle ranching.
The ranch was established in 1862 by Johnny Grant and then later expanded by Conrad Kohrs.
Today, the ranch is a living history museum, operating similarly to how it would have been in the late-1800s.
Take a self-guided tour of the buildings and imagine cowboys working there back in the day. This is Montana's national park dedicated to the Old West.
You can also take a guided tour of the Ranch House which holds many original furnishings and personal items.
If you are looking for something to interest the kids, take them on a horse-drawn wagon ride. With big, draft horses doing all the work, this is a great way to see the property.
There are also many ranger programs to check out here.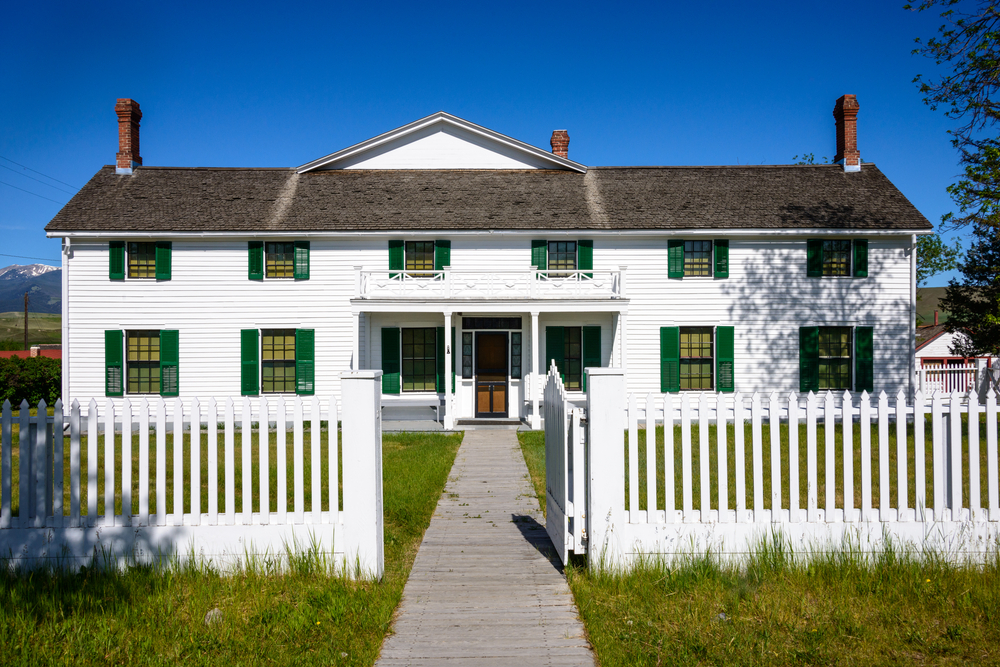 Ice Age Floods National Geologic Trail
The Ice Age Floods National Geologic Trail is 16,000 square miles, spanning portions of Montana, Idaho, Oregon, and Washington.
The Glacial Lake Missoula region in Montana holds many locations impacted by the Ice Age Floods. There are many sites to see in one of the best Montana national parks.
Stop by the Montana Natural History Center in Missoula to learn about how the Ice Age Floods have affected the area's nature.
There are short videos, cool artifacts, and lectures to attend.
Other sections of the trail include the Clark Fork River Valley, Fort Owen State Park, Travelers' Rest State Park, and the Ravalli County Historical Museum.
Anywhere you go, you will learn about the Ice Age and see firsthand how it impacted the landscape.
Lewis and Clark National Historic Trail Is One Of The Most Interesting National Parks In Montana
The Lewis and Clark National Historic Trail is about 4,900 miles, passing through sixteen states.
There are many significant sites in Montana related to the Lewis and Clark Expedition that took place between 1804 and 1806.
The Pompeys Pillar National Monument is one of the most important sites on the trail.
In July of 1806, William Clark carved his name and the date onto the massive rock. This carving is the only remaining on-site evidence of the expedition. You'll see history in person.
The rock also has many petroglyphs from Native Americans who had camped in this area. Other pioneers of the 19th century also used the rock as a registry.
Other landmarks in Montana where Lewis and Clark stopped include Camp Disappointment, Clark's Canoe Camp on the Yellowstone, the Great Falls Portage, and Clark's Lookout.
One of the best things to do in Great Falls is visiting the Lewis & Clark Exhibition located there!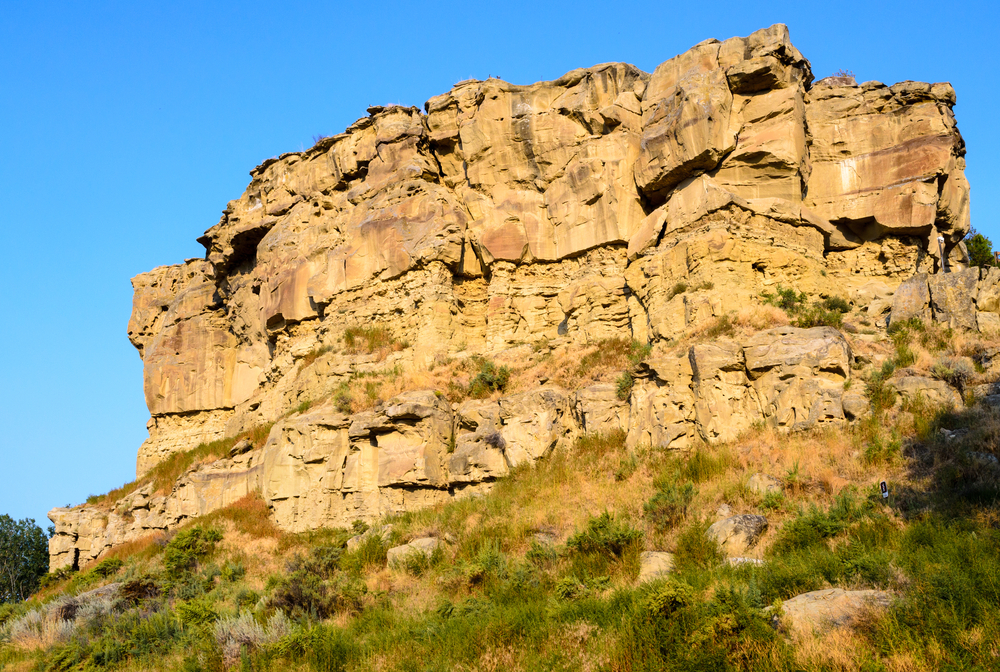 Nez Perce National Historical Park
The Nez Perce National Historical Park consists of 38 sites spread across four states. Most of the sites are in Idaho, but there are some in Montana to check out.
At Bear Paw Battlefield, you will see the site of the last battle of the Nez Perce Flight of 1877. Take a tour of the land and pay your respects.
Canyon Creek remains largely untouched, still looking as it did when the Nex Perce people fled across the plains.
This is one of the most historically important Montana parks.
Big Hole National Battlefield Is One Of The saddest National Parks In Montana
The Big Hole National Battlefield in Wisdom, MT, is part of the Nez Perce National Historical Park.
This Montana national park signifies the tragedy of the Battle of the Big Hole which took place during the Nez Perce Flight of 1877.
As the Nez Perce people fled to Canada, they were attacked while they slept by U.S. troops spurred on by Manifest Destiny.
The Battle of the Big Hole lasted two days and ended with over 100 casualties.
The visitor's center has museum exhibits, and you can watch the film Weet'uciklitukt: There's No Turning Back, Battle at Big Hole.
Outside, there is an observation deck looking out over the battlefield and hiking trails.
Each year in August, the Battle of Big Hole Commemoration takes place and all are welcome to attend, the Nez Perce people honor both the dead and the survivors.
There are many demonstrations, music, and ceremonies at the free event.
Yellowstone National Park, Montana
Only about 3% of Yellowstone National Park is in Montana, but it is worth mentioning. Most of the park lies within the border of Wyoming.
West Yellowstone, Montana, is one of the most popular towns in Montana, and the gateway to the park with many of its own fun attractions.
Stop by the West Yellowstone Visitor Information Center to learn everything you need to know before entering the park.
There are so many things to do in Yellowstone from hiking and wildlife viewing to watching Old Faithful burst into the sky.
This is one of the best places for camping in the U.S.!
There are many things to do in West Yellowstone MT as it is close to the west entrance of this national park!
Packing List When Visiting National Parks In Montana
If you will be traveling, either by plane or by car to Montana, here are some tips on how to pack lightly.
A concealed travel pouch may be one of the most important items you bring along when searching for things to do in the national parks in Montana.
It is always important to protect your personal information. Identity thieves are everywhere.
This unisex RFID-blocking concealed travel pouch is lightweight and comes in several colors. It has lots of organization to give you peace of mind.
You can place it under your clothes next to your body to carry your ID safely.
If you have a pouch already that does not come with RFID protection, as I do, these RFID sleeves are the perfect solution.
This configuration comes with enough credit card sleeves that the entire family would be protected. They are slim too, so they will easily fit into your pouch or wallet.
If you are planning on taking a lot of pictures with your phone you will definitely want to consider an external charging battery.
This Anker high-speed phone charging battery is the exact one I carry with me on all of my trips.
It can be used on a variety of phones, not just an iPhone like I have. And wow is it fast!
My daughter gifted me with this FugeTek selfie stick and tripod setup for my birthday. I absolutely love it! It is made of lightweight aluminum and so easy to use.
It has Bluetooth connectivity and is a breeze to use for taking photos during Bozeman attractions.
You will want to bring your own refillable water bottle with you.
I never leave home on a trip without my Bobble filtration bottle. The 18.5-ounce size is perfect for hiking and it fits nicely in the pocket of a backpack.
When filled with water, it is not too heavy to carry. And the charcoal filter ensures fresh clean water whenever you fill the Bobble.
Perhaps you are traveling a long distance and packing space is a premium in your suitcase, or in your car.
Then this collapsible silicone foldable water bottle would work well for you. Would not take up much space at all.
You will want a backpack or daypack with you to store snacks, your water bottle, phone, extra clothes, etc… No matter the time of day or evening.
This foldable water-resistant backpack would be great.
It is very affordable and is available in many color options for you to choose from. The fact that it folds down into a zippered pouch will make it easy to pack.
—
There are many national parks in Montana for nature lovers and history buffs alike.
No matter what you look for in a vacation, Montana's national parks have something for everyone!