Are you looking for apple orchards in Ohio?
There are so many fun autumn things to do in Ohio! Like Apple picking, apple treats, and fall festivals are hugely popular in Ohio and the Northeast.
I am an Ohio native. I was born and raised in Youngstown, Ohio and I know a thing or two about apple orchards in Ohio.
If you are visiting Ohio, I hope you have a memorable time visiting Ohio apple orchards.
Here I have listed for you 11 of the best apple orchards in Ohio.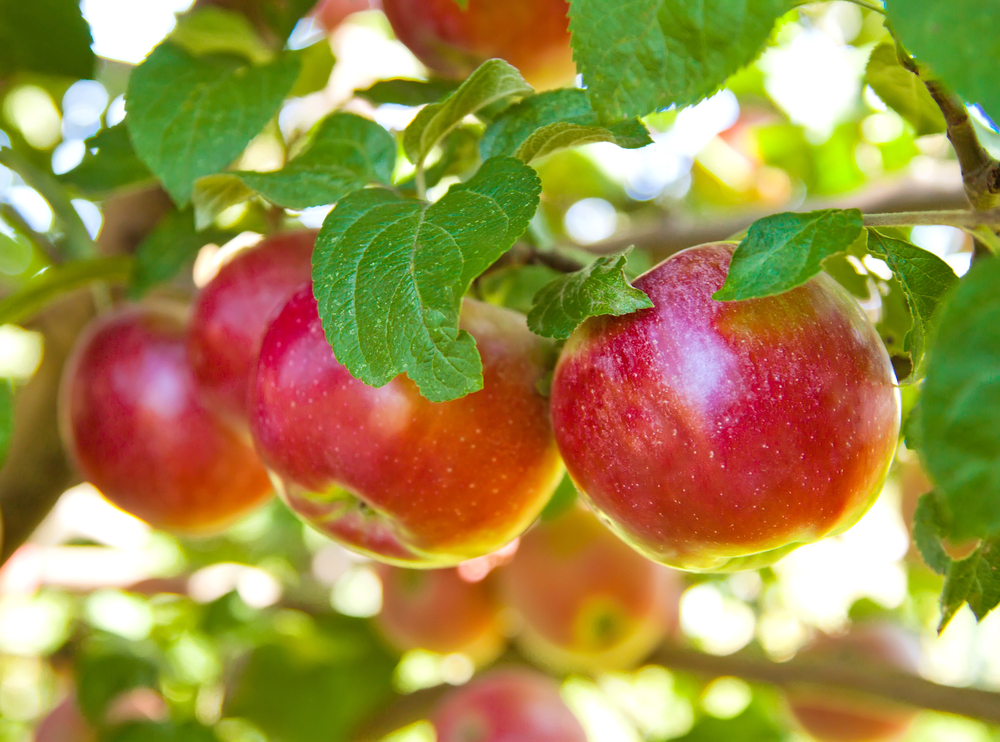 11 Best Orchards To Go Apple Picking In Ohio
Brant's Apple Orchard
Located in Ashtabula County, Brant's Apple Orchard is one of the best weekend getaways in Ohio for apple picking near Cleveland.
A hub of activity every weekend from late August to Thanksgiving Brandt's Apple Orchard offers 23 varieties of apples, that ripen throughout the autumn.
Their apple cider is so good it wins awards, and you can also get apple slushies.
There are trails to discover, fish feeding in their pond, and even hayrides! There is even a playground for the children.
A market selling produce and specialty food items, and a bakery selling Brand's famous apple cider donuts all to the fun of an afternoon spent at this apple orchard in Ohio!
Special events are ongoing throughout the season, so check to see what is of interest to you besides their delicious baked goods and epic apples.
While out visiting for orchards in Ohio, here are 11 places to see fall foliage in Ohio.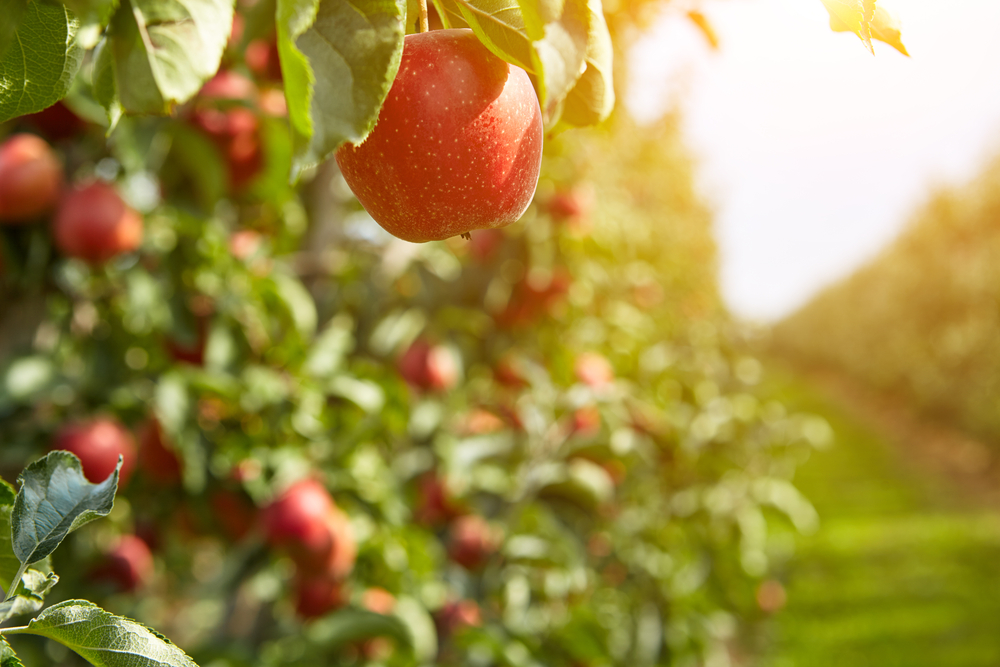 Burnham Orchards
Burnham Orchards, in Berlin Heights in northwest Ohio, is one of the premier Ohio apple orchards.
This Ohio small town is located in Berlin Heights, it is more than just an apple orchard.
Burnham's offers fresh produce at their Farm Market, which varies with the seasons. In addition, you can find local Ohio products and seasonal crafts, candies, and sauces.
Grandma Bea's Bakery serves up a wide variety of freshly baked goodies like apple fritters, apple pie, and coffee cakes, and cookies. Please do bring your appetite with you!
Of course, there is the opportunity for U-pick apples. (And cherries and peaches during their seasons!)
Honeycrisp apples usually sweeten and ripen during the mid-to-latter part of September.
Most fun of all is the Fall Harvest Activities. Every weekend in the fall there are fun activities for the entire family. Couples. Anyone who loves fall!
Burnham's is one of the most popular orchards in Ohio.
Here are 13 haunted places in Ohio for you to visit after apple picking in Ohio.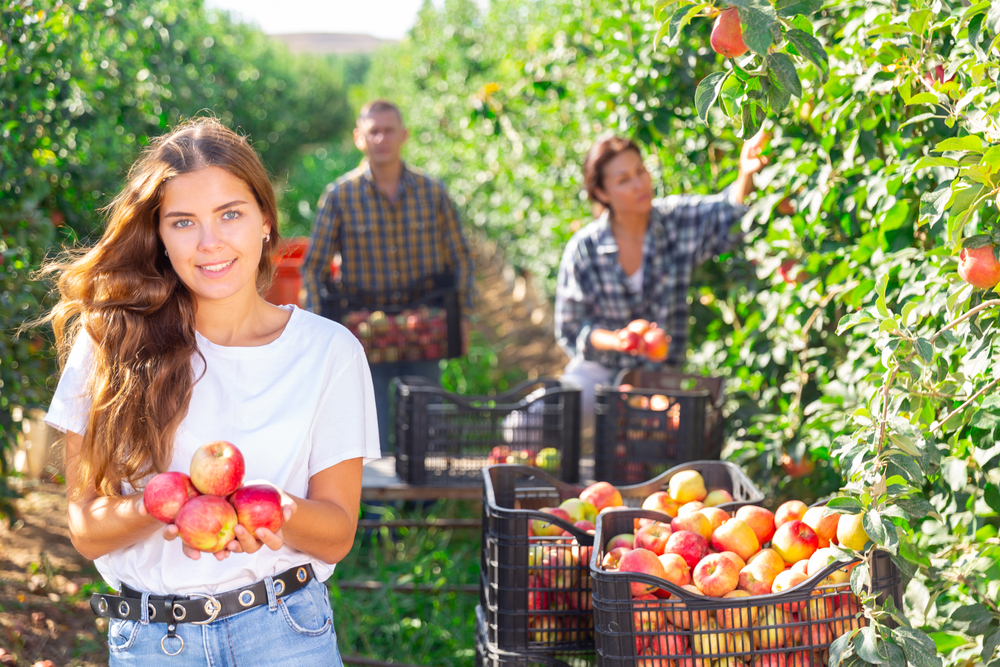 Beckwith Orchards Has Been Around Over 125 Years
Beckwith Orchards, located near Kent, Ohio has a history of serving its community for over 125 years.
Autumn brings cider, pumpkins, and the all-important apples in their farm market.
Offering over 20 varieties throughout the apple season, Beckwith Orchards has an apple to please everyone.
The bakery offers freshly baked treats. You can walk through the orchards to stretch your legs.
The gift shop has a variety of gift-giving options ranging from maple syrup to candles.
Beckwith Orchards has something for everyone and is one of the best apple orchards in Ohio.
Check out our list of fall festivals and events in Ohio.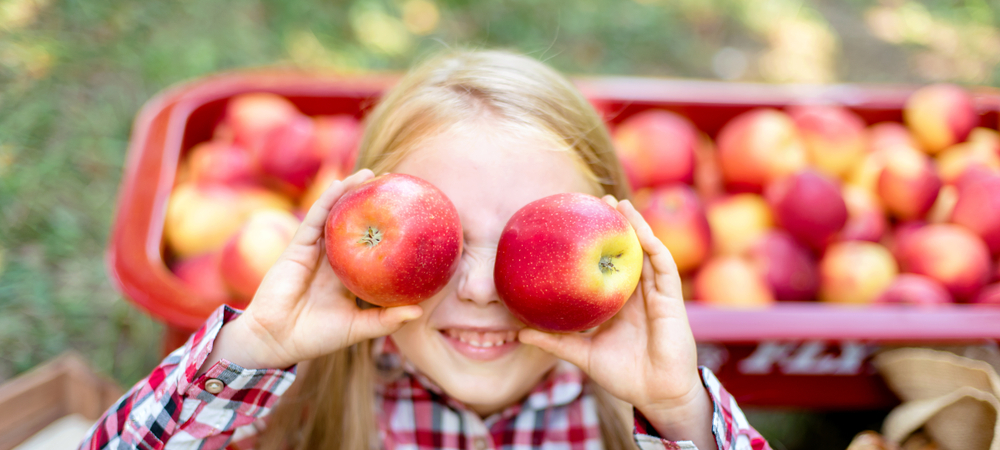 Applehouse Orchard
Applehouse Orchard is located in northeast Ohio in Paris.
It is one of the best orchards for apple picking near Cleveland and would make a fantastic Midwest weekend getaway.
Their fall activities and U-pick begins in early September with family activities, U-pick apples, and a pumpkin patch. Even sunflowers!
You can visit the Applehouse Farm Market for seasonal fresh produce, apple juice, and local treats.
Fall activities include apple and pumpkin picking, hayrides, and sunflower walks.
Bring the entire family and host an evening group campfire (additional fee), or rent a shelter and have a party! (additional fee as well.)
Applehouse Orchard offers so many kinds of delicious apples every fall, plus dedicated family activities. It is certainly one of the most fun orchards for picking near Cleveland!
Apple Hill Orchards For Thirty Varieties of Apple Picking In Ohio
Apple Hill Orchards is one of the best places to go for apple picking near Columbus, Ohio.
They proudly offer thirty varieties of apples (and other fresh produce when in season.)
If you want a treat, get some of their apple donuts which they make fresh daily! Yummmmm.
For your convenience, a drive-thru option is available to get freshly baked goods and coffee on the go.
Pick your own fruit is always a fun family activity. Apples ripen all throughout the fall and differ each year based on Ohio/s weather.
So check their website to see the updated schedule as you plan your trip to go apple picking near Columbus.
Here are 15 great things to do in Ohio after apple picking in Ohio.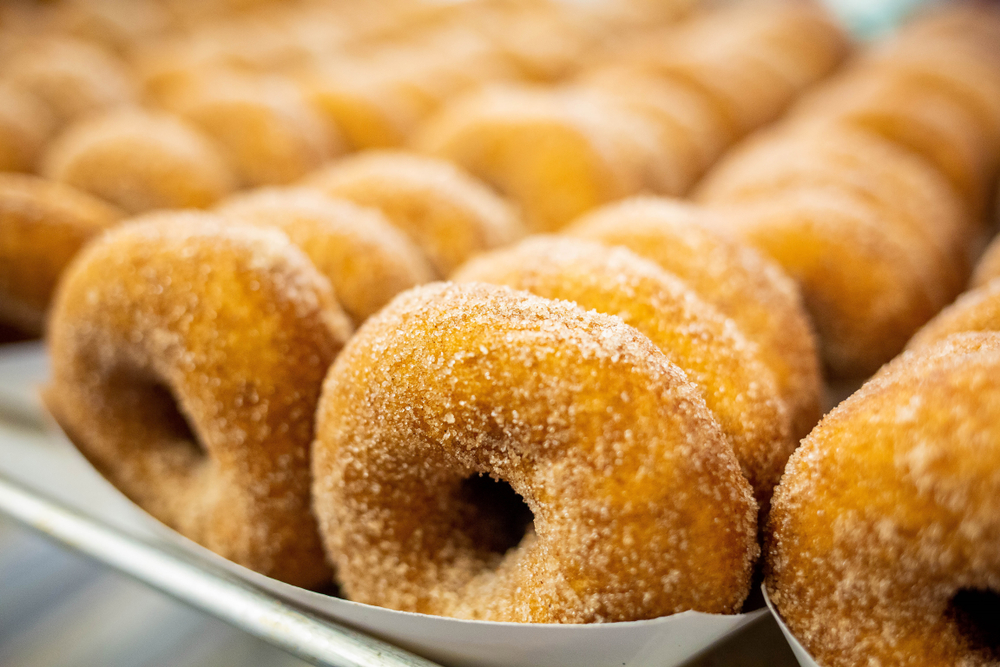 Lynd Fruit Farm
Located in central Ohio, in the city of Pataskala, is the family-operated Lynd Fruit Farm.
Encompassing over 500 acres of farmland, and offering 15 kinds of apples, Lynd Fruit Farm is a great place to go apple picking in Ohio. and would make the perfect Midwest Road trip!
The farm store sells seasonal produce and Lynd Farm memorabilia. And at Christmas, it is festive and offers unique ideas for seasonal gift-giving.
All fall long every weekend holds events and there are surprises galore.
For fall fun and great opportunities, Lynd Fruit Farm is one of the best apple orchards in Ohio.
Looking for an easy recipe to use for your fresh apples? Try these simple apple fritters.
MacQueen's Orchards
Located in Holland, Ohio, MacQueen's is an experience.
MacQueen's Orchards farm market is open year-round providing fresh fruits and vegetables and baked goods.
Martha's Gifts & Boutiques offers unique items for your home and gifts for those special people in your lives. Scarves, candles, kitchen items, and items bearing apples are available.
Pick your own apples begins at MacQueen's Orchards in mid-September and extends to the end of October.
You can wander the orchards, drive your vehicle to the trees, or purchase from apples already picked by the staff.
There are 16 apple varieties to select from through the season.
MacQueen's Orchards feature some of the best apple picking in Ohio!
If you are looking for inspiration, here are 18 Ohio waterfalls you can visit after visiting Ohio apple orchards.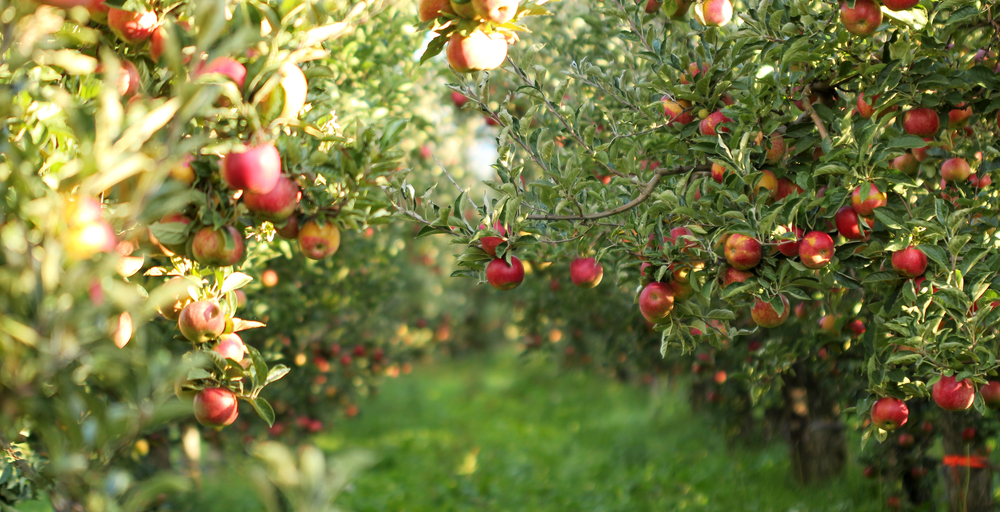 CherryHawk Farm Has Some Of The Best Apple Picking In Ohio
Located a short country drive away from Columbus is Cherryhawk Farm.
With over a dozen different kinds of apples that ripen over the fall from August to November, CherryHawk Farm is one of the best places to go apple picking near Columbus.
Have an old fashioned apple picking experience just like you remember when you picked as a child.
You can wanter through their sunflower fields in the fall and get an Insta-worthy memorable picture.
One of the best apple orchards in Ohio is Cherry Hawk Farm.
Johnston Fruit Farms
Located near Swanton, and 25 miles from Toledo in northwest Ohio, Johnston Fruit Farms offers U-pick for apples in September and October.
Please check their website to verify dates as apples do ripen at different times and depend on Ohio's weather.
Johnston Fruit Farms does not aim to be the largest orchard but rather focuses on the customer's experience while visiting.
Their aim to to provide reasonably priced fruit ( seasonal fruits as well such as berries, pumpkins, and flowers) in a personal way.
"Apples for Everyone" is a yearly event where the community gathers to volunteer to pick apples that the farm donates to the local food banks.
Music, hayrides, and food provide a festival-like atmosphere.
Johnston Fruit Farms is one of the finest apple orchards in Ohio and could be a very romantic getaway in Ohio!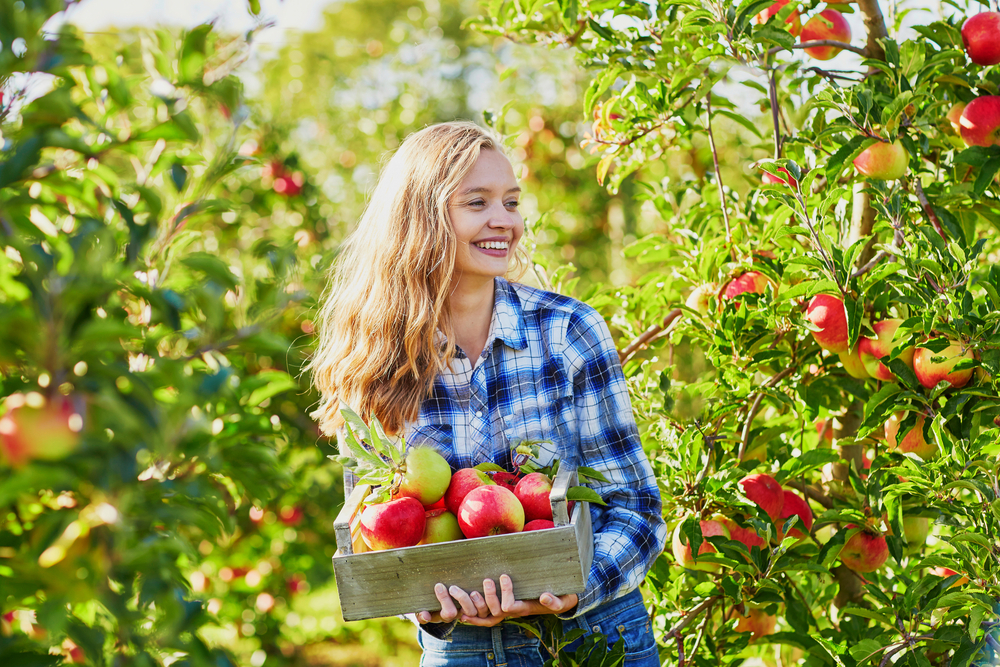 Hoen's Orchard Is One Of The Finest Apple Orchards In Ohio
Located west of Toledo, Hoen's Orchard is a family business where customer service and great produce are their goals.
Hoen's offers over 20 varieties of apples that ripen throughout the autumn season, and you are sure to find one that pleases you.
You can find an explanation of each with suggestions of uses for each variety and a guesstimate of when that particular kind will be ready to pick.
Also, you can venture on out into the orchards to handpick your own apples, or you can purchase fruit in their farm market instead.
Hoen's Orchards is one of the best family-owned and operated apple orchard's in Ohio.
If you will be visiting Youngstown here are the 18 best things to do when there.
Hirsch Fruit Farm In South Central Ohio
Located in Chillicothe, this family-owned business was started back in the 1890s.
Perhaps you do not want to go apple picking in Ohio, but you want fresh crisp apples. This is the place to visit, along with a retail store, where you purchase apples. Gift boxes and gift baskets are one of their specialties, so that may come in handy!
They offer seasonal fruits including strawberries, raspberries, and blackberries. You can even call ahead and your order of freshly-selected fruit or your gift basket will be ready for you when you arrive.
Hirsh Fruit Farm is one of the best orchards to go apple picking in Ohio, whether you do it yourselves, or they do it for you! And would make a great Ohio day trip!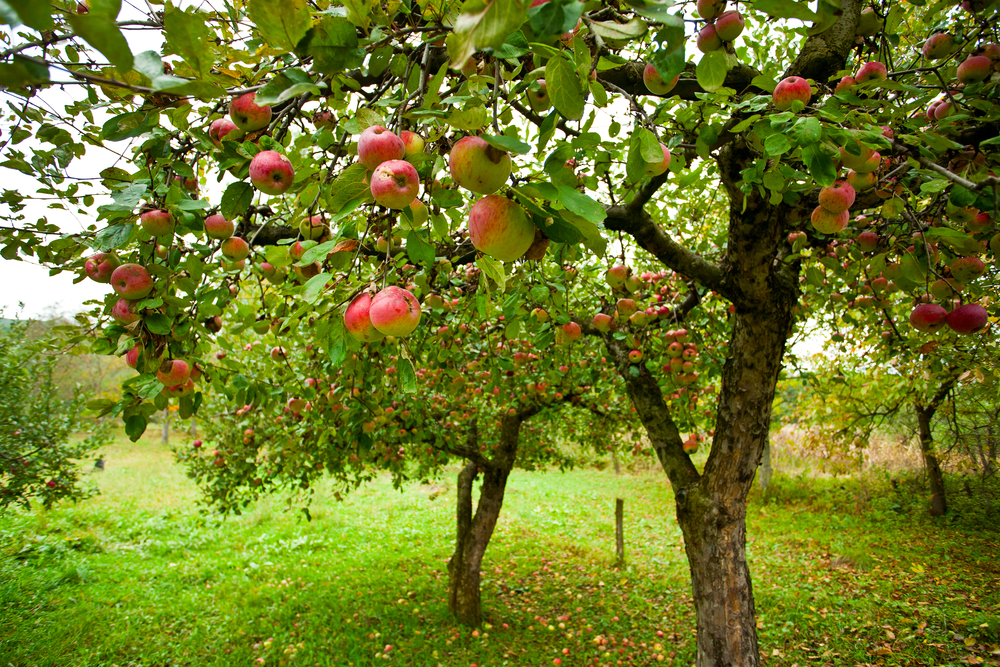 Packing List For Visiting Apple Orchards In Ohio
Whether you are visiting apple orchards in Ohio for the day or making a staycation out of it, these packing tips will help you have an organized day!
A concealed travel pouch may be one of the most important items you bring along when visiting Ohio apple orchards. It is always important to protect our personal information.
This unisex RFID blocking concealed travel pouch is lightweight and comes in several colors. It has lots of organization to give you peace of mind.
If you have a pouch already that does not come with the RFID protection, as I do, these RFID sleeves are the perfect solution.
This configuration comes with enough passport and credit card sleeves that the entire family would be protected. They are slim too, so they will easily fit into your pouch or wallet.
If you are planning on taking a lot of pictures with your phone you will definitely want to consider an external charging battery.
This Anker high-speed phone charging battery is the exact one I carry with me on all of my trips.
It can be used on a variety of phones, not just an iPhone like I have. And wow is it fast!
I like that it holds its charging capabilities for several uses so I do not have to worry about it while out and about, and if I forget to recharge it at night, it will still be good to go the next day.
My daughter gifted me with this FugeTek selfie stick and tripod setup for my birthday. I absolutely love it! It is made of lightweight aluminum and so easy to use. It has Bluetooth connectivity and is a breeze to use for group shots or that perfect selfie!
I was not a fan of packing cubes until I started to use them! This is the exact set of packing organizers I use whenever I travel.
I cannot believe how much they really do help with the organization. If you have not considered packing cubes, I would recommend giving them a try.
Hydration is so important. You want to remain hydrated to support your immune system which in turn will be stronger to fight off any germs you will encounter during your travels.
You will want to bring your own refillable water bottle with you.
I never leave home on a trip without my Bobble filtration bottle. The 18.5-ounce size is perfect for travel and it fits nicely in the pocket of a backpack or your purse.
When filled with water, it is not too heavy to carry. And the charcoal filter ensures fresh clean water whenever you fill the Bobble. You can find filter replacements here.
Perhaps you are traveling a long distance and packing space is a premium in your suitcase, or in your car. Then this set of collapsible silicone foldable water bottles would work well for you. Would not take up much space at all.
You will want a backpack or daypack with you to store snacks, your water bottle, phone, extra clothes, etc.. This foldable water-resistant backpack would be great.
It is very affordable and is available in many color options for you to choose from. The fact that it folds down into a zippered pouch will make it easy to pack.
Perhaps you need a more substantial backpack for your travel. This antitheft backpack has a charging port, is water-resistant, and can comfortably carry up to a 15.6″ laptop.
You will be walking more than usual during your weekend getaways in Ohio. A sturdy and comfortable pair of walking shoes are a must-have. These waterproof all-season shoes are extremely affordable and yet fashionable.
Mostly everyone is familiar with the Skechers brand, and these Air Run high fashion sneakers come in a lot of colors to match your outfits and are still affordable.
If you are visiting Ohio in warmer weather, maybe you want a pair of sandals to wear to dinner or to the local cafe, I highly recommend these Vionics adjustable strap orthotic sandals.
I have several pairs of Vionics that I bring with me *everywhere* I travel. They are very comfortable and have orthotic footbeds that cradle and support your feet.
We all need to protect our eyes from the sun's harmful UVA/UVB rays. These unisex polarized sunglasses come in a lot of lens colors and frame designs and are extremely affordable too.
If you are fond of the aviator-style of sunglasses these polarized aviators may interest you.
If you are in need of new luggage, this expandable soft side spinner luggage is affordable and comes in lots of colors.
If you like hard-sided better, then you may favor this hard-sided luggage set better. Both sets come with TSA locks and 8 wheels per piece.
Here I have listed 10 best apple orchards in Ohio. I hope you visit several of them, and get fresh apples to eat, bake and cook with. Happy picking!