Are you looking for the best things to do in Columbus, Ohio? Well, then you've come to the right place! There are so many interesting things to do in Ohio.
While Ohio is notorious for its cornfields, cities like Cincinnati, Cleveland, and Columbus provide bustling urban scenes that act in sharp contrast to the rest of the agriculturally centered state.
Columbus is the capital of Ohio and is full to the brim with activities. Some of the best things to do in Columbus Ohio center around the city's various professional sports teams, while others lean into the cultural diversity of the neighborhoods.
With a variety of fun things to do in Columbus Ohio, it is a great city for a romantic getaway, a family vacation, and anything in between.
While the city is primarily a driving city, there is an efficient, convenient bus system that runs throughout the heart of the city to reach many of Columbus' attractions.
If you are planning your trip, look no further than this article for the best things to do in Columbus Ohio.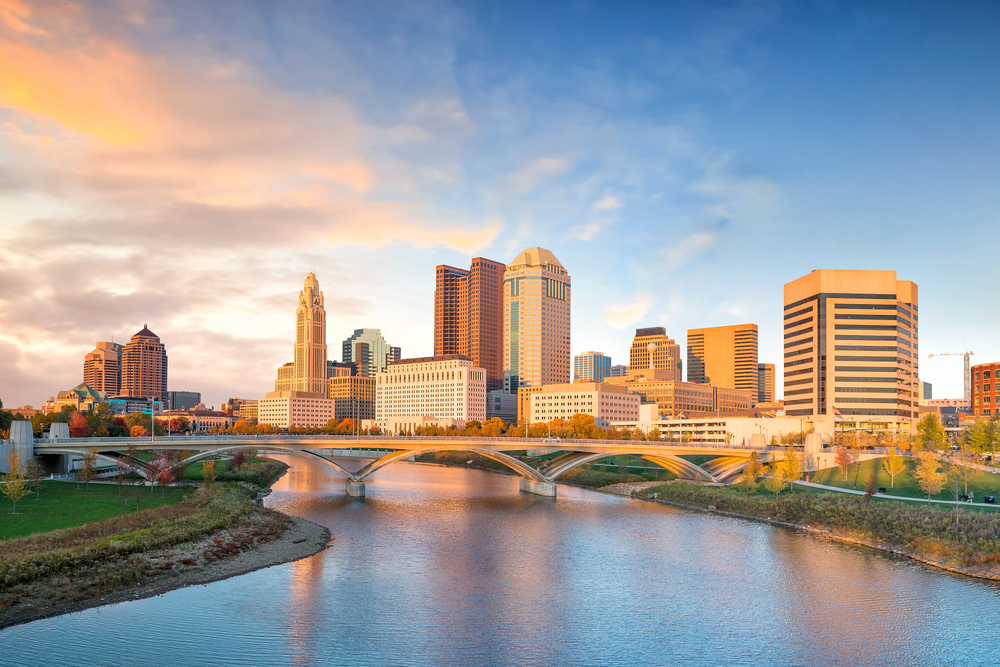 14 Best Things To Do In Columbus Ohio
Wander Through The Book Loft
The Book Loft is a chaotic, wonderful bookstore in the heart of Columbus' German Village. With room after room of stuffed shelves of both new and used books, you can spend hours getting lost browsing old and new titles.
You can feel great about supporting an independently owned bookstore while finding whatever literature you could want or need.
The Book Loft is located in a quaint area, so grabbing a coffee at Stauf's next door and sipping it on the patio is a great way to soak in all the German Village has to offer.
You could also pop into the cathedral across the street to see the beautiful stained glass windows.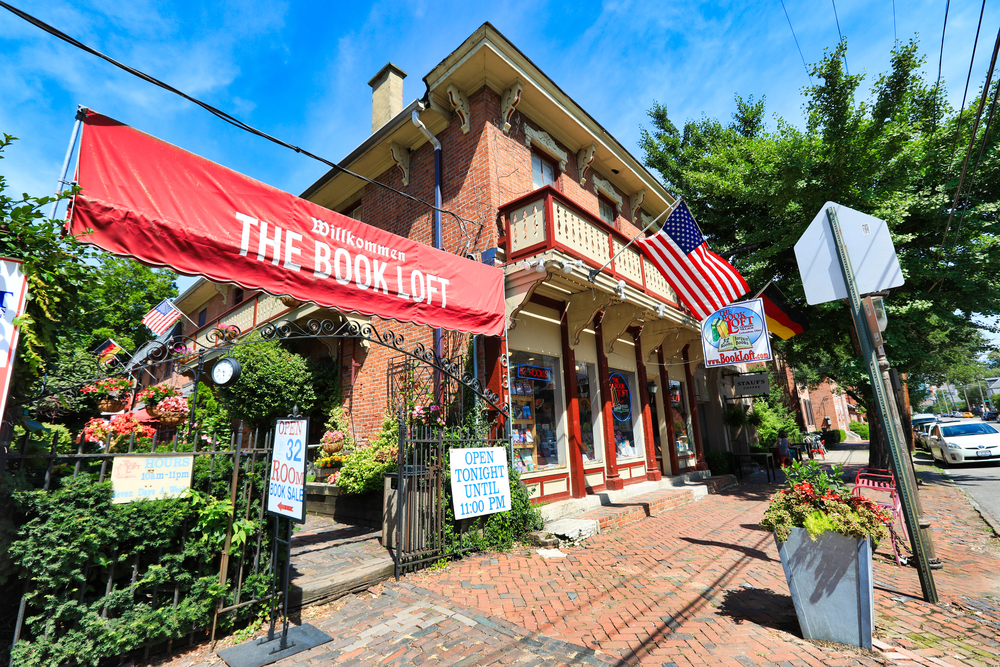 Explore At COSI
COSI, the Center Of Science and Industry, is a science museum that focuses on exploration. Great for kids and adults alike, COSI is a great stop in the heart of the city.
Featuring science-based play areas, daily experiment presentations, a sky unicycle, and various limited edition exhibits, COSI is a must when it comes to things to do in Columbus.
With all kinds of hands-on exhibits and interactive shows, even people who are too cool for school will learn and have fun doing it at COSI.
Many people love Newton's playground, especially the torque experiment: did you know that with enough torque, you can pick up a car?
Others love learning about bodily systems while testing their reaction times.
No matter what you are looking to explore, COSI has it all, so it is a great destination for an Ohio day trip! It is absolutely worth the drive, as it is one of the very best things to do in Columbus Ohio.
If you are road tripping from Columbus to Cleveland OH, this is a great place to explore!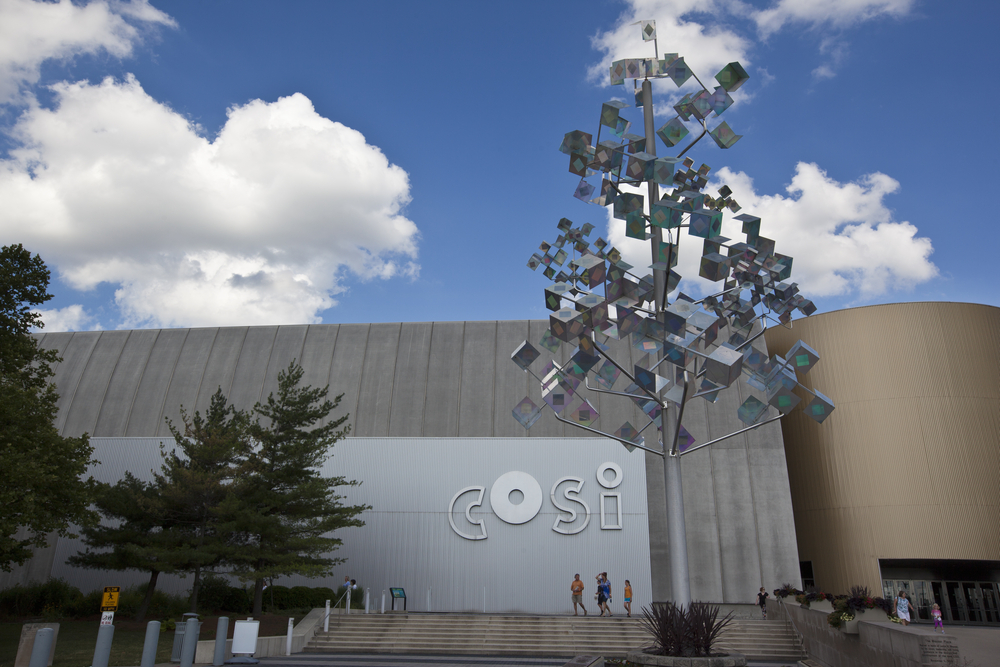 Head To A Columbus Crew Game
Another one of the best things to do in Columbus Ohio is cheer on the city's professional soccer team, the Columbus Crew.
With games all through the year against major league soccer teams from all over the world, the Columbus Crew is sure to excite.
You can watch the 2020 Major League Soccer reigning champs in their new stadium in Columbus that holds over 20,000 fans.
Expect great ballpark food and souvenirs as well as a top-tier competitive game.
These games are sure to be rowdy and full of excitement, and when it comes to things to do in Columbus Ohio, Crew games are certainly at the top of the list.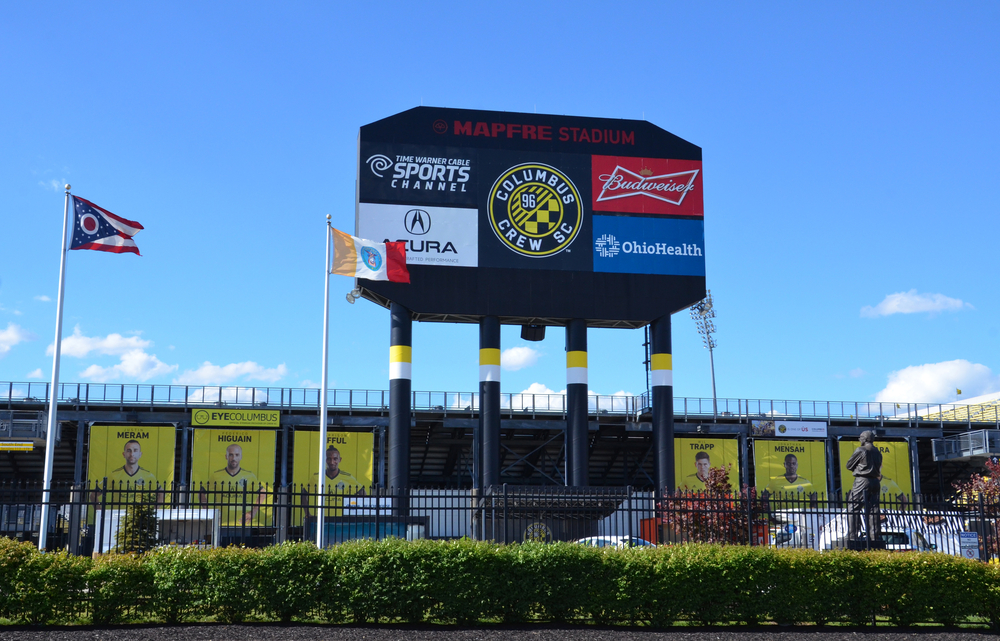 Meander Around North Market
The North Market is a wonderful microcosm of the culturally diverse city that Columbus truly is. With everything from fresh fruit to butchers, from coffee to gourmet pretzels, North Market is the place to be.
Hints of Columbus' German and Italian roots are evident in the market, so snacking is highly encouraged.
If you do grab something from a vendor, don't forget to have them validate your parking so that you can park for free in the front lot.
Most of the market is indoors, so don't let the weather deter your dining plans!
Many people like to grab a coffee or snack and just people watch as butchers prepare fresh meat and patisseries bake beautiful pastries.
Way more than a farmer's market and a bit off the beaten path, North Market is definitely one of the best things to do in Columbus, Ohio that every local swears by.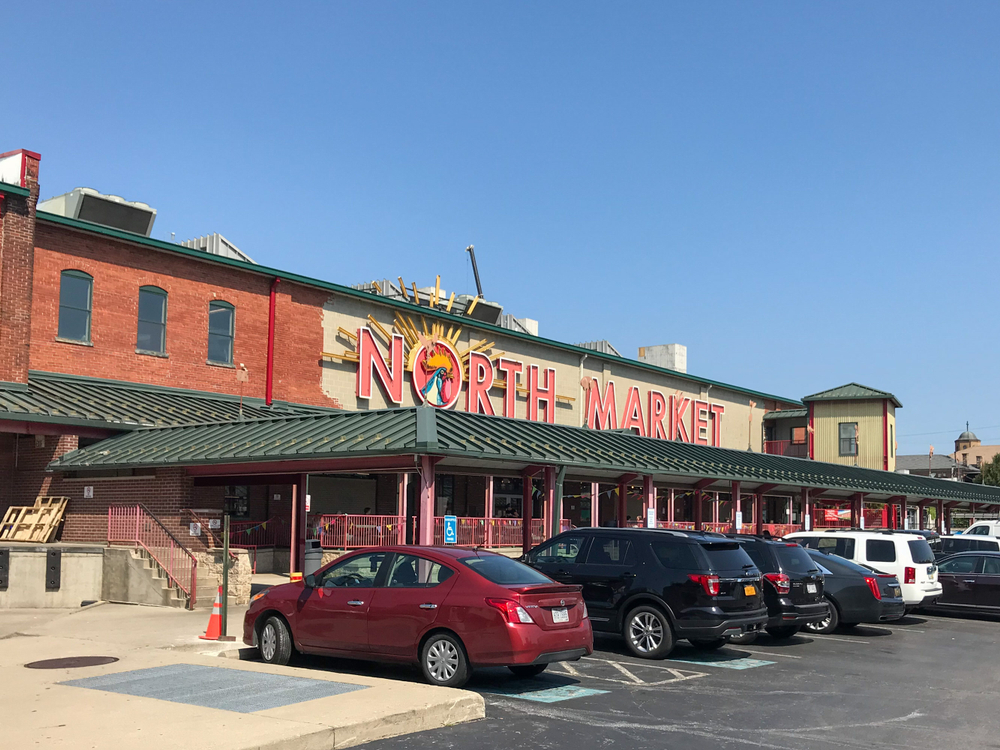 Thrift At Out Of The Closet
Some might consider Out of the Closet to be just another thrift store, but it is so much more than that.
Located in the heart of the Short North, one of the most fun, bustling areas of Columbus, Out of the Closet is a gold mine for vintage clothing, furniture, and other furnishings.
Probably the coolest thing about Out of the Closet is that, per their website, 96 cents out of every dollar made is contributed to global HIV/AIDS research and treatment, so shopping at Out of the Closet is shopping for a cause.
They also offer free (and stigma-free) HIV testing for the community.
Friendly employees, an interactive playlist, a bring your own bag discount, and a great cause make Out of the Closet a fun, sustainable, swanky Columbus attraction.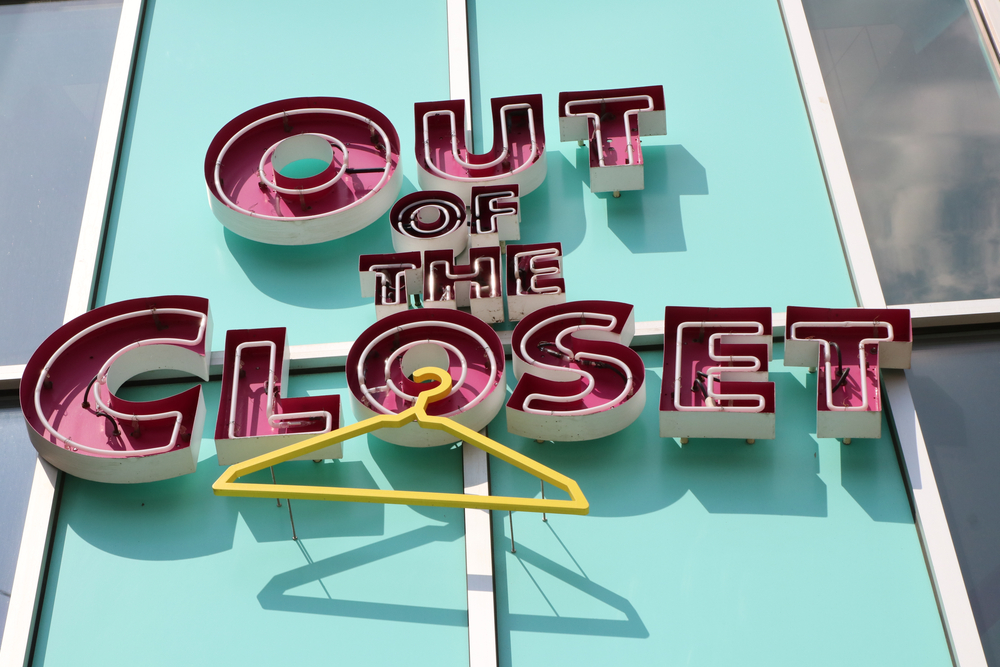 Check Out THE Ohio State University
No trip to Columbus is complete without a visit to THE Ohio State University!
Whether you take a stroll across the Oval, go to the 11th floor of Thompson, or go the high-energy BIG10 football game featuring the nation's 2021 college football runners-up, OSU is a must-do in Columbus.
Nestled between the Olentangy River and High Street, Ohio State's campus is a seamless blend of campus antiquities and Columbus' urban heartbeat.
With beautiful green spaces, buildings, and a lake for duck watching right in the heart of campus, you just can't miss at OSU.
Follow students to their favorite study spots like Thompson Library or the Union, or check out the best coffee shops to study at like Cielo Cafe and Coffee Underground.
If you are looking for a more bustling scene, you need not go farther than North High Street.
Littered with bars, concert halls, and event centers, there is never a dull moment on High Street, especially on a Friday night!
If you are out late, make sure to head towards Buckeye Donuts, a campus favorite donut shop that's open 24 hours.
Even at 2 am, there are lines out the door, but the donuts are so worth the wait making this a popular attraction in Columbus OH!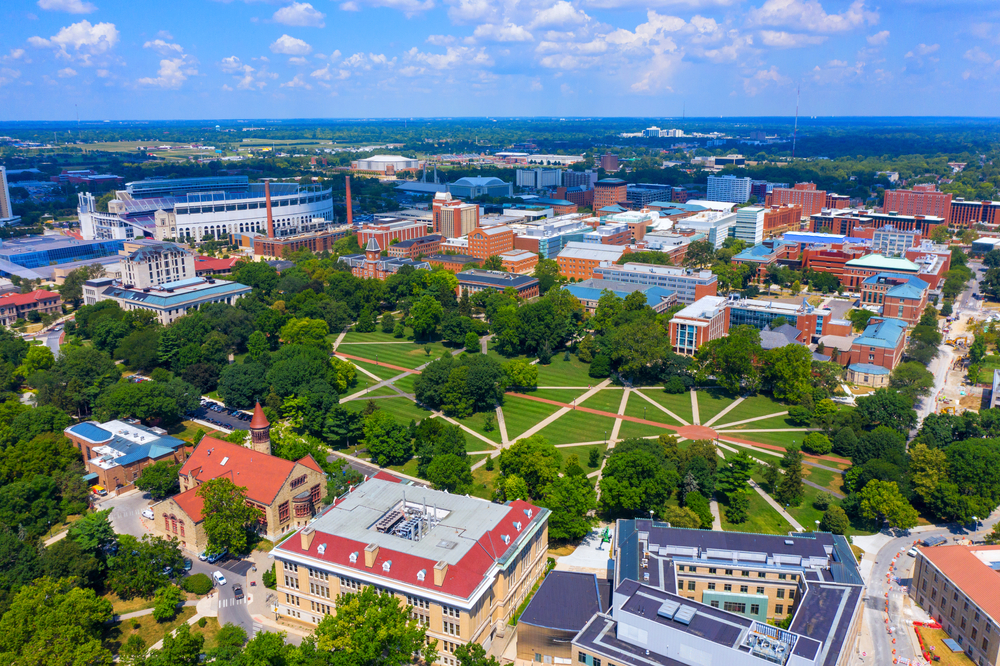 Shop Till You Drop At Easton
Easton is one of the best places in Columbus to shop till you drop.
With over 300 stores and restaurants, Easton shopping center actually has it all.
Whether you're looking for leggings or cheesecake, organic soap, or hiking gear, I am sure you will be able to find it somewhere at Easton.
If shopping isn't your speed, Easton has a huge movie theater where you can catch the most recent flicks. They also offer various types of programming throughout the year surrounding health, fitness, and art.
With all kinds of things to do, see, shop, and eat, Easton should be on your list when you head to Columbus.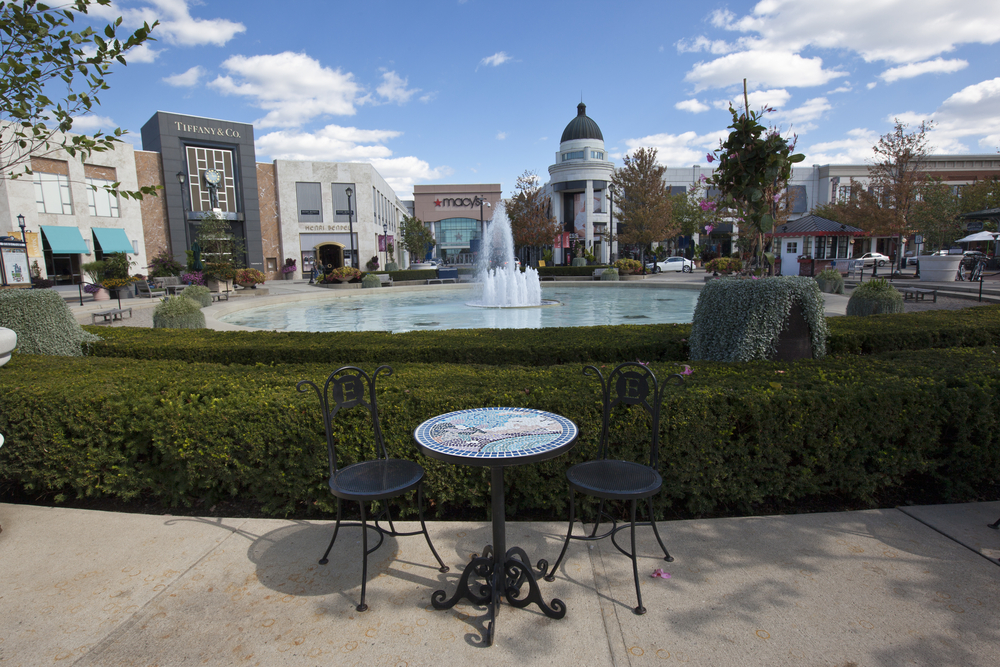 Be Transported At Otherworld
Otherworld can best be described as half art museum, half indoor playground, half awesome. It is truly one of the best things to do in Columbus, Ohio.
Otherworld is a huge warehouse with 40 rooms that have been transformed by over 40 artists and visionaries into interactive, immersive, glow-in-the-dark art exhibits.
Flush with LED lights and secret passageways, Otherworld truly feels like an alien planet.
People rave about the fun they have at Otherworld, and glow-in-the-dark Instagram photos are sure to pull in the likes. It is absolutely worth an Ohio road trip!
Otherworld also hosts events, so be sure to check out their website for dates and times if glow concerts are on your bucket list!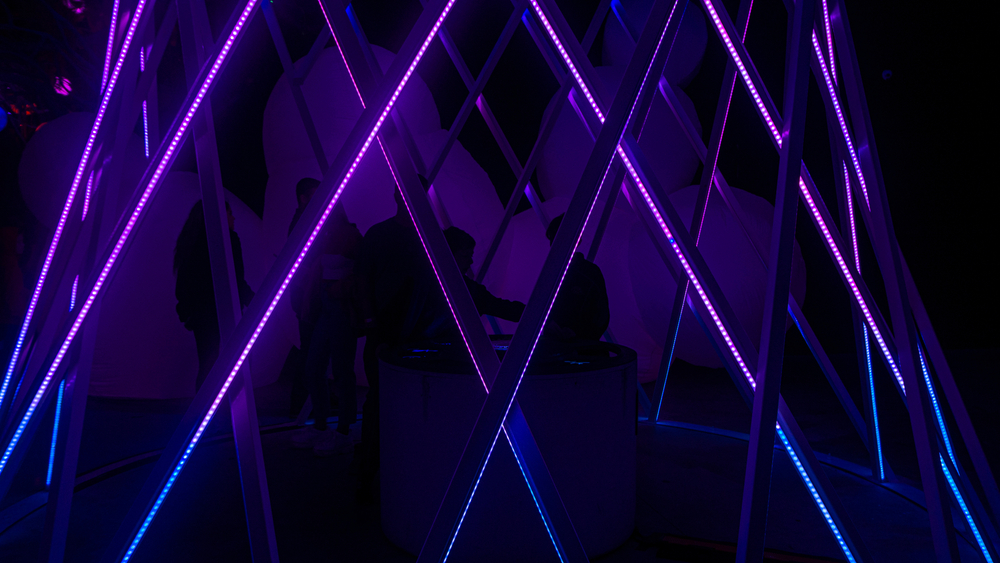 Take A Hike On Columbus' Urban Trails
With various trails to bike and hike throughout the city, there is simply no excuse to not take in some of the beauty of Columbus via bike ride or stroll. There are also a lot of great state parks in Ohio, to explore around Columbus.
With urban trails like the Scioto and Olentangy that showcase the diversity of downtown Columbus and the picturesque Olentangy River as well as suburban trails that sprawl out into the greater Columbus area, there is no shortage of paths to choose from.
You can use the trails to train for various races hosted in the city like the Columbus Marathon and the Hot Chocolate 5k, or just use them for a casual stroll.
Either way, the trails are a great way to explore the city and stay active.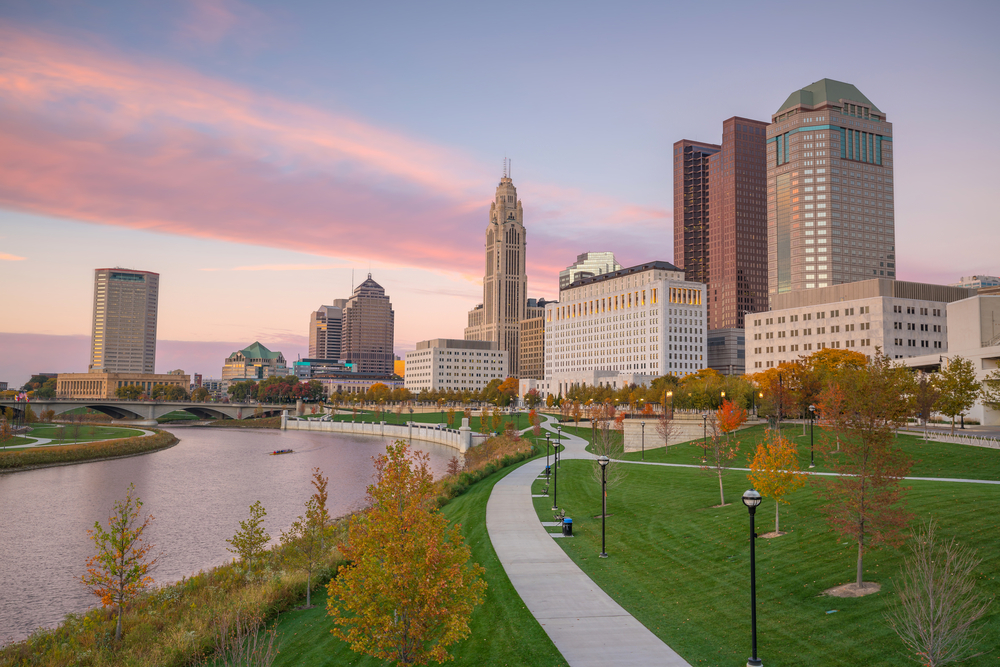 Bundle Up For A Blue Jackets Game, One Of The Coolest Things To Do In Columbus Ohio
The Blue Jackets are a great Columbus attraction!
As the only professional ice hockey team in the state, they draw crowds of fans for every game.
The Blue Jackets play at Nationwide Arena in the heart of the arena district in downtown Columbus. The area is flush with restaurants so grabbing a bite before or after a game is as easy as walking across the street.
The Blue Jackets are off in the summer but play consistently for the rest of the year.
Make sure to bring a jacket, as the arena is kept at a brisk 58 degrees. Grab your tickets ahead of time for some tooth smashing, puck slapping fun! And experience one of the coolest things to do in Columbus OH!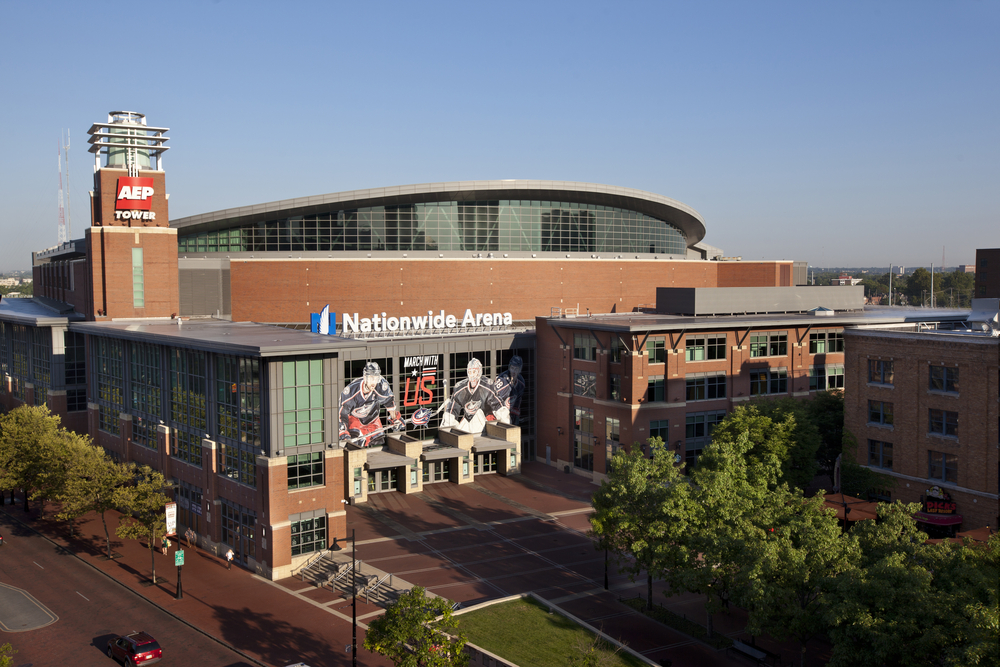 Peruse The Exhibits At The Columbus Museum Of Art
The Columbus Museum of Art is one of the most interesting things to do in Columbus Ohio.
With an extensive collection as well as traveling exhibitions, CMOA is full of beautiful exhibits and collections that can keep you occupied for hours on end.
Artists on display range from Claude Monet to Andy Warhol and all kinds of creators in between.
Interactive displays and creative spaces throughout the museum keep kids engaged, while information abounds for those that are more inclined towards an educational experience.
Free admission on Sundays only sweetens the deal!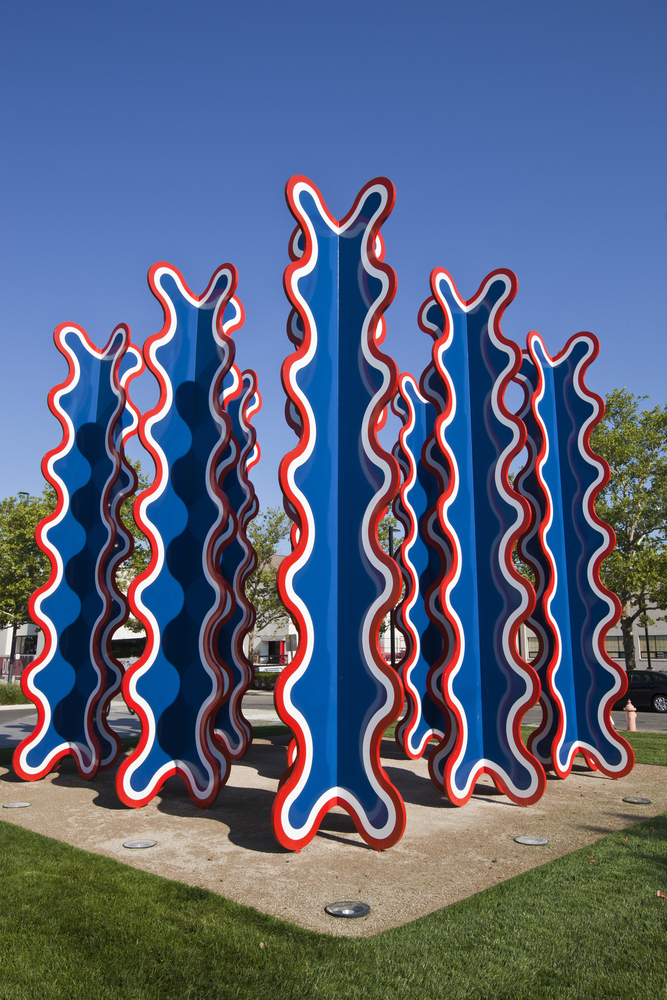 Explore The Swankiest Part Of Columbus, The Short North
A haven for trendy millennials, college students, and Columbus professionals alike, the Short North, nestled along High Street and running from just south of Ohio State's campus into downtown Columbus.
With delicious restaurant after delicious restaurant lining the street, High Street is a must for foodies of all ages.
The Short North is also known for classy boutiques, unique vintage stores, posh art galleries, and some of the hottest bars in the city. It's the place to be when it comes to an elevated nightlife scene in the city.
With local favorites like Townhall and Jeni's Ice Cream for dinner and dessert as well as fun shops like the Chunky Armadillo and the Red Giraffe for shopping, the Short North is a bustling haven for fun and food in Columbus.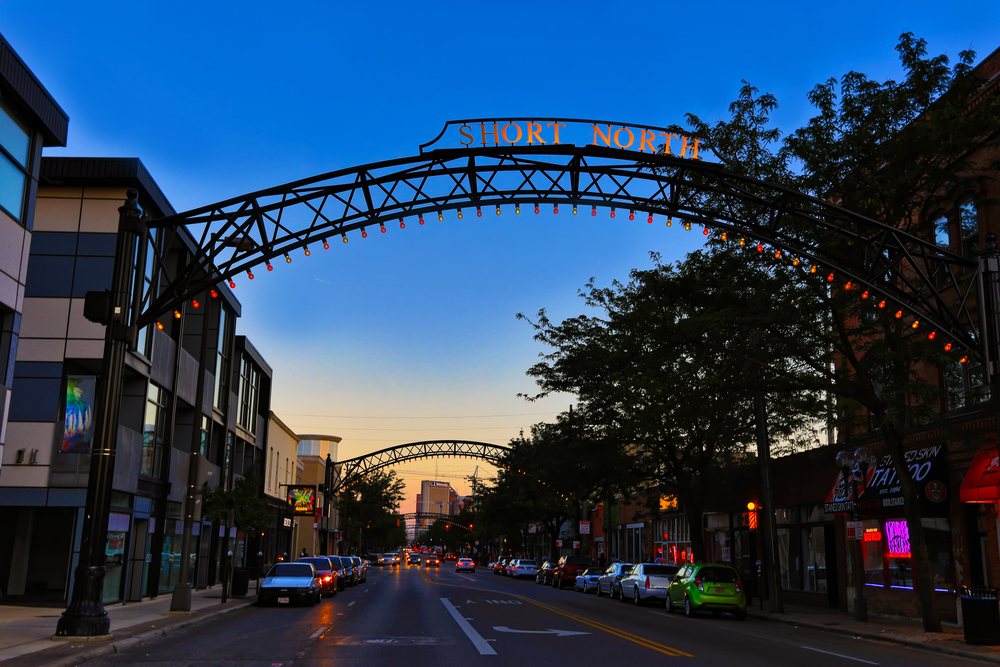 Rock Out At Skully's, One Of The Best Things To Do in Columbus Ohio
Skully's is a diner and music venue that is central to the Columbus experience. With Ladies 80s nights, live bands, and "American Eats", you just can't go wrong with Skully's.
If rocking out until the early hours of the morning sounds like your idea of a great time, Skully's is a must-do Columbus attraction.
Grab some friends and head to Skully's for dinner and a dance party you won't soon forget.
Wonder At The Beauty At Franklin Park Conservatory And Botanical Gardens
Of all the things to do in Columbus, Ohio, Franklin Park Conservatory is probably one of the most beautiful.
Full to the brim with exotic plants and Dale Chihuly glass art exhibits, there is no shortage of lovely sights here, making this a must-see attraction for any romantic getaway in Ohio.
There is an indoor glass conservatory, a palm house, outdoor botanical gardens, and a children's garden… Not to mention the bonsai collection and blown glass exhibit.
The Conservatory also hosts a farmer's market every Wednesday during the summer for free!
The full list of events at the Conservatory can be viewed on the website calendar, so make sure you don't miss a glass blowing demonstration or cooking class.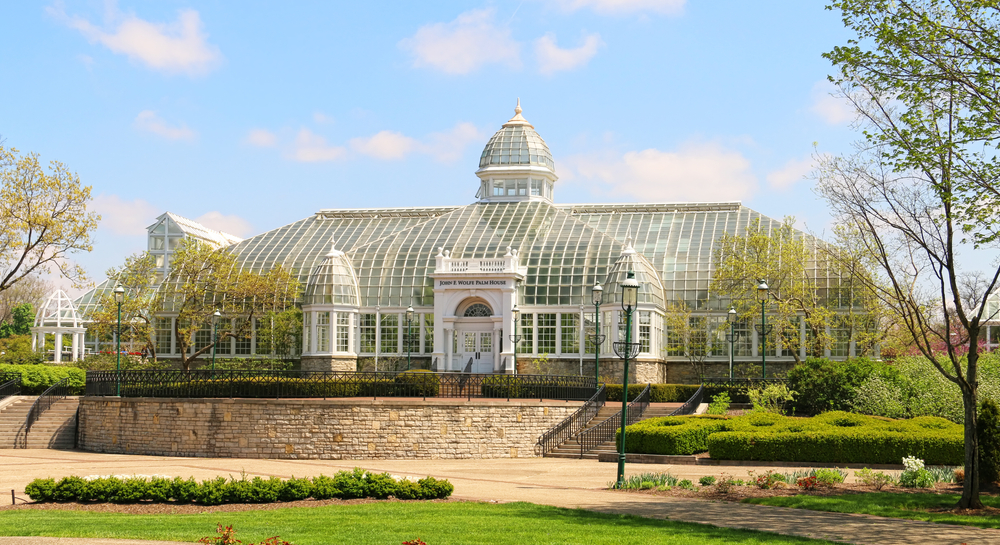 Packing List Suggestions When Visiting Attractions In Columbus Ohio
Read about how to travel with just carry-on sized luggage to make your trip easier and more organized.
A concealed travel pouch may be one of the most important items you bring along when searching for things to do in Columbus OH. It is always important to protect your personal information. Identity thieves are everywhere.
This unisex RFID-blocking concealed travel pouch is lightweight and comes in several colors. It has lots of organization to give you peace of mind. You can place it under your hiking clothes next to your body to carry your ID safely.
If you have a pouch already that does not come with RFID protection, as I do, these RFID sleeves are the perfect solution.
This configuration comes with enough credit card sleeves that the entire family would be protected. They are slim too, so they will easily fit into your pouch or wallet.
If you are planning on taking a lot of pictures with your phone you will definitely want to consider an external charging battery. This Anker high-speed phone charging battery is the exact one I carry with me on all of my trips.
It can be used on a variety of phones, not just an iPhone like I have. And wow is it fast!
I like that it holds its charging capabilities for several uses so I do not have to worry about it while out and about, and if I forget to recharge it at night, it will still be good to go the next day.
My daughter gifted me with this FugeTek selfie stick and tripod setup for my birthday. I absolutely love it! It is made of lightweight aluminum and is so easy to use.
It has Bluetooth connectivity and is a breeze to use for taking selfies with all those nature shots in Iowa.
Hydration is so important when hiking. You want to remain hydrated throughout your travels to support your immune system which in turn will be stronger to fight off any germs you will encounter during your travels.
You will want to bring your own refillable water bottle with you.
I never leave home on a trip without my Bobble filtration bottle. The 18.5-ounce size is perfect for hiking and it fits nicely in the pocket of a backpack.
The replaceable carbon water filter ensures there is fresh water when you need it.
Perhaps you are traveling a long distance and packing space is a premium in your suitcase, or in your car. Then this collapsible silicone foldable water bottle would work well for you. Would not take up much space at all.
You will want a backpack or daypack with you to store snacks, your water bottle, phone, extra clothes, etc.. when visiting Columbus Ohio. No matter the time of day or evening.
This foldable water-resistant backpack would be great.
It is very affordable and is available in many color options for you to choose from. The fact that it folds down into a zippered pouch will make it easy to pack!
—–
There are so many fun things to do in Columbus Ohio! I hope this list inspires you to explore some of Columbus Ohio's attractions!
Ohio's capital is a fun, lively city with so much to offer.
With professional sports teams, a nationally acclaimed university, diverse neighborhoods, and art abounding, Columbus is truly a culturally rich metropolis with interesting things to do for everyone!