Are you looking for the best small towns in Ohio?
There are so many fun things to do in Ohio, and exp[loring charming Ohio towns is one of them.
These Ohio towns range from lakefront gems to Amish country.
Born and raised in Youngstown, Ohio, I know a lot about my home state – including the best towns in Ohio.
Here I am giving you the 20 coolest towns in Ohio for your trip to this amazing state.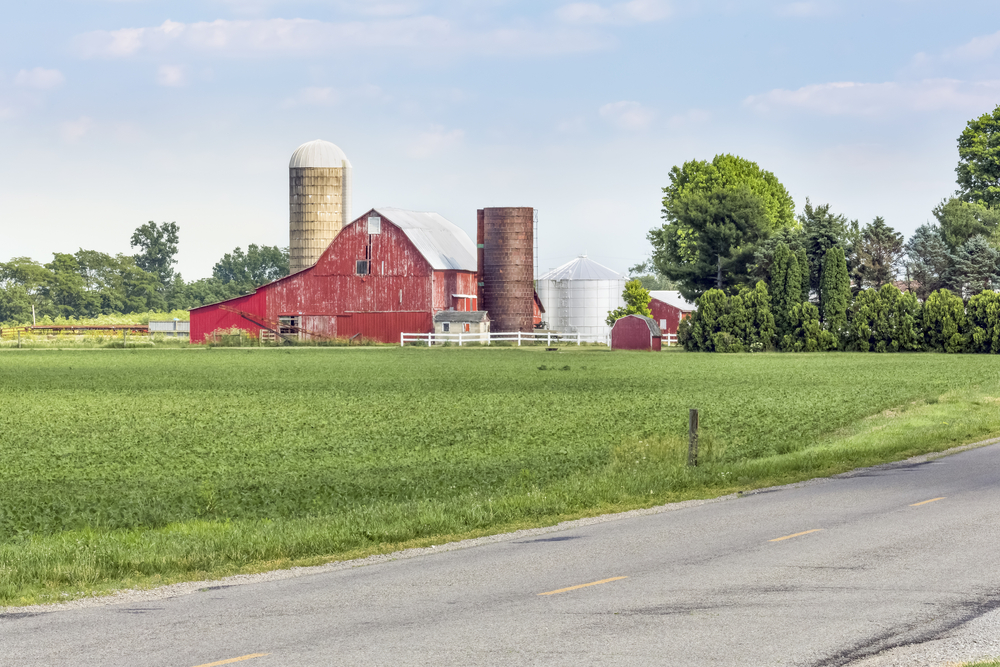 20 Small Towns in Ohio You Must Visit
One Of The Best Small Towns In Ohio To Visit Is Coshocton
Just an hour outside of Columbus, Coshocton is an adorable town in Ohio.
First, you must check out the Historic Roscoe Village.
While there, you can take a boat ride through the canals, admire the historic architecture, wander through the Gardens of Roscoe, and even participate in one of the many annual festivals.
After exploring this gem, you can also visit Coshocton's Three Rivers Wine Trail Clary Gardens, and Unique & Antique Trail.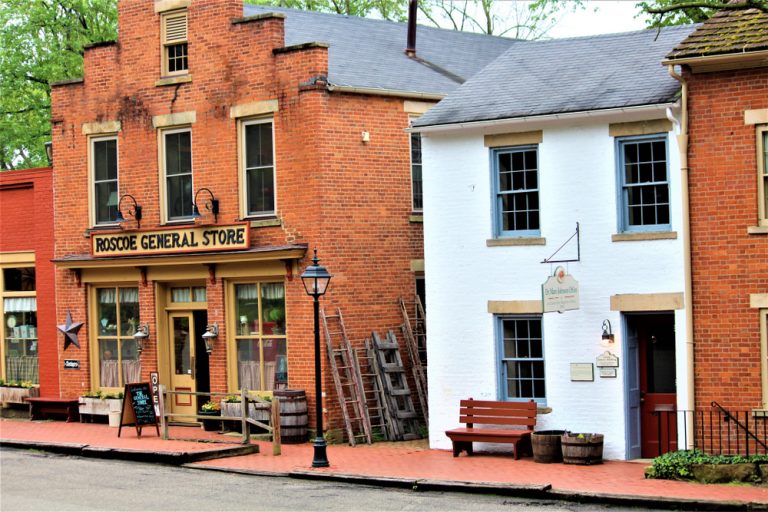 Sugarcreek, The Switzerland Of Ohio
The cute town of Sugarcreek has been dubbed the Switzerland of Ohio.
Since Sugarcreek was settled by Swiss immigrants, there is quite a bit of Swiss influence.
But that's not all! This little Ohio town has quite a bit of Amish influence as well!
While there, you can purchase some locally made cheese, go for a ride in an Amish buggy, and even see the World's Largest Cuckoo Clock.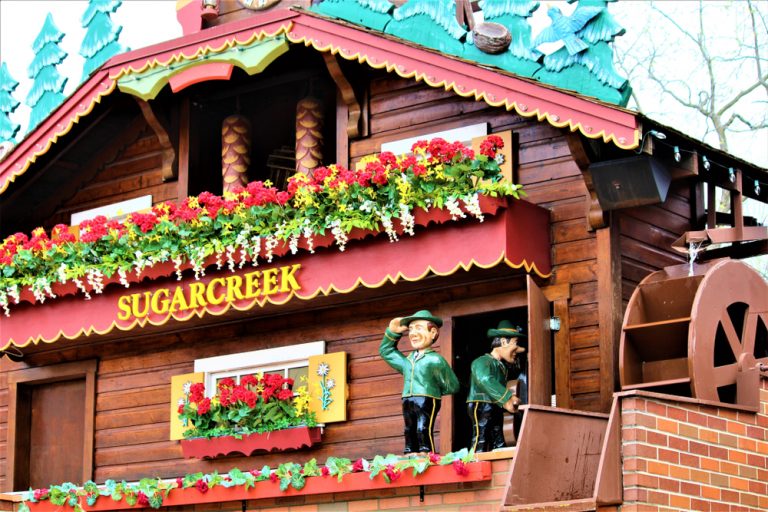 Milan Is One Of The Small Towns In Ohio Not To Skip!
With only 1,400 people living in Milan, this little town in Ohio is one of the smallest in the state.
But Milan's claim to fame is the fact that it is home to the birthplace and childhood home of the famous inventor, Thomas Edison.
And you can actually visit the historic home of this famed figure.
You can also stop by the St. Mary Mother of the Redeemer Church and the Summit Motorsports Park.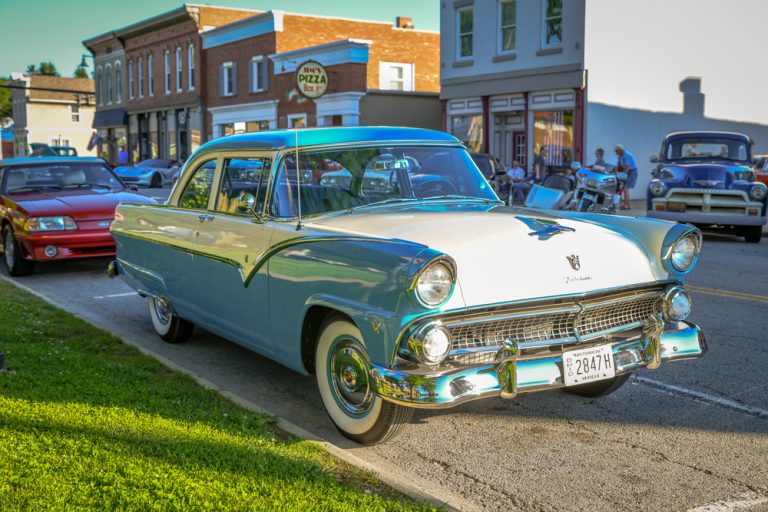 Gallipolis Along The Ohio River
Situated along the Ohio River, Gallipolis is definitely one of the cutest towns in Ohio.
With its quaint shopfronts, friendly people, and riverfront views, Gallipolis is a fantastic place to visit in Ohio.
This section of Ohio and a section of the neighboring state of West Virginia tell stories of a paranormal creature known as the Mothman.
This six-foot-tall monster with wings has made quite an impact on Gallipolis, as it is home to both a Mothman Statue and a Mothman Museum.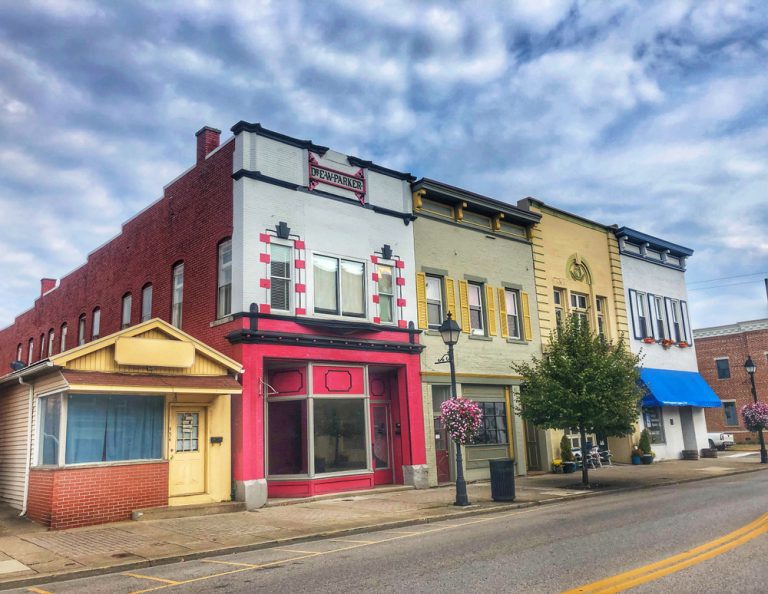 Yellow Springs Is For Nature Lovers
Yellow Springs is one of the best towns in Ohio for nature lovers.
Originally founded in 1825 by a man named Robert Owen, the goal of Yellow Springs was to emulate the town of New Harmony, Indiana – which Owen believed was a utopian village.
Today, it is more well known for the many beautiful parks in the area, rather than its unique origin story.
While in Yellow Springs, you'll have easy access to Clifton George State Nature Preserve, John Bryan State Park, and Little Miami State Forest Preserve.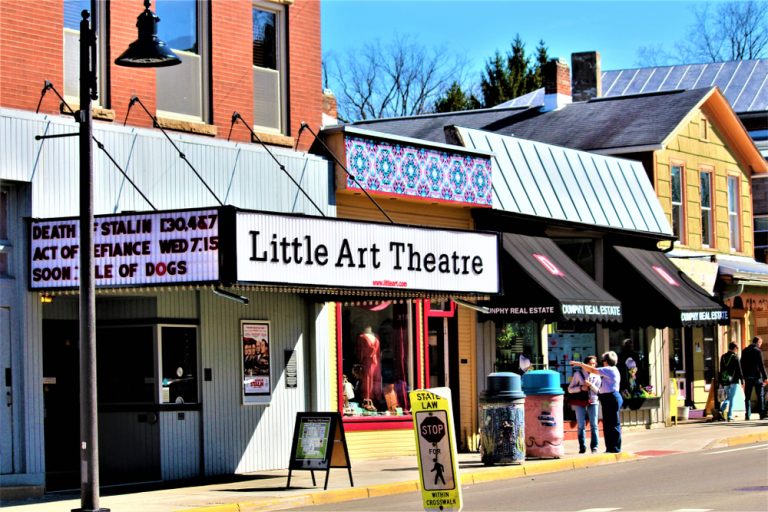 Ashtabula Has Great Beaches
Situated on the shores of Lake Erie, Ashtabula is one of the most romantic getaways in Ohio.
Ashtabula is most well-known for its many covered bridges, but it has so much more to offer.
In the fall, you can catch some of the most breathtaking fall foliage in Ohio and visit some of the best apple orchards in Ohio while in Ashtabula.
You can also learn a bit about Ashtabula's history in the harbor district. Once one of the largest iron ore ports in the world, it is now home to some of the hottest restaurants and bars in town.
Conneaut Is The Ohio Town Where Time Stood Still
When I lived in Ohio, I used to spend all of my summers in Conneaut.
Situated on Lake Erie, this little town in Ohio is packed with activities.
First, you'll want to head to Lakeview Park, where, as the name implies, you can enjoy the stunning views of Lake Erie.
While there, be sure to designate some time to the historical landmark known as Conneaut Lighthouse.
And while in town, you can also watch the World War II D-Day reenactment every summer and visit the exciting Raceway 7 off of Ohio Route 7.
Conneaut has the vibe as if time has stopped. Its charm makes it one of the quaintest towns in Ohio!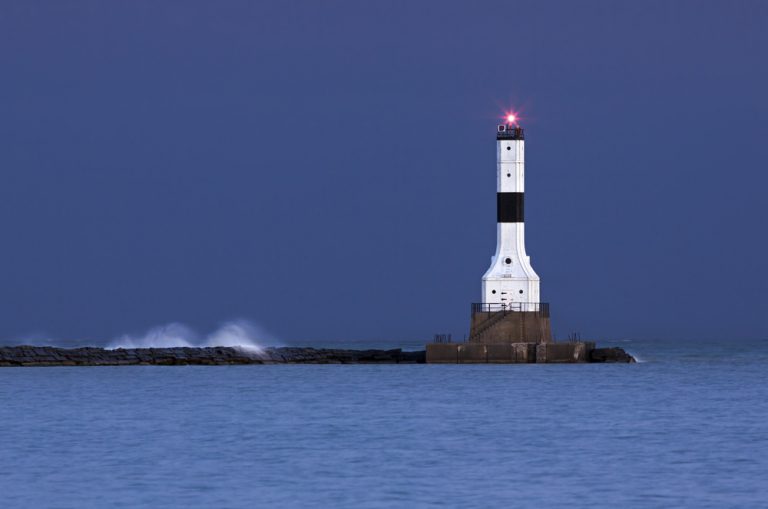 Put-In-Bay For All Things Lake Erie
Put-In-Bay is a small town in Ohio situated on the small South Bass Island in Lake Erie.
This hidden gem has been nicknamed the Key West of the North.
While in Put-In-Bay, you must visit the historic Perry's Victory and International Peace Memorial.
This popular monument commemorates the Battle of Lake Erie and the peace between the U.S., Canada, and Britain.
You can also pay a visit to the Butterfly House and South Bass Island State Park.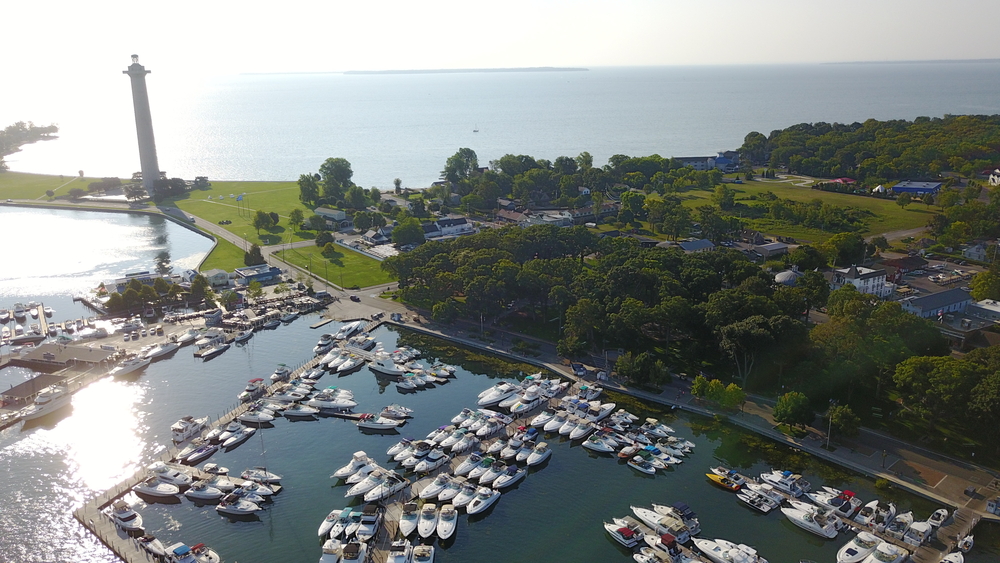 Bedford
The town of Bedford is actually a suburb of the big city of Cleveland.
That said, with a population of only 13,000 people, Bedford is still undoubtedly one of the coolest small towns in Ohio.
The highlight of Bedford is the Great Falls of Tinker's Creek, which is one of the best waterfalls in Ohio.
This lovely waterfall is about 15 feet tall and 80 feet wide!
You'll even see the ruins of a sawmill, grist mill, and an electric power plant while admiring Bedford's beautiful waterfall.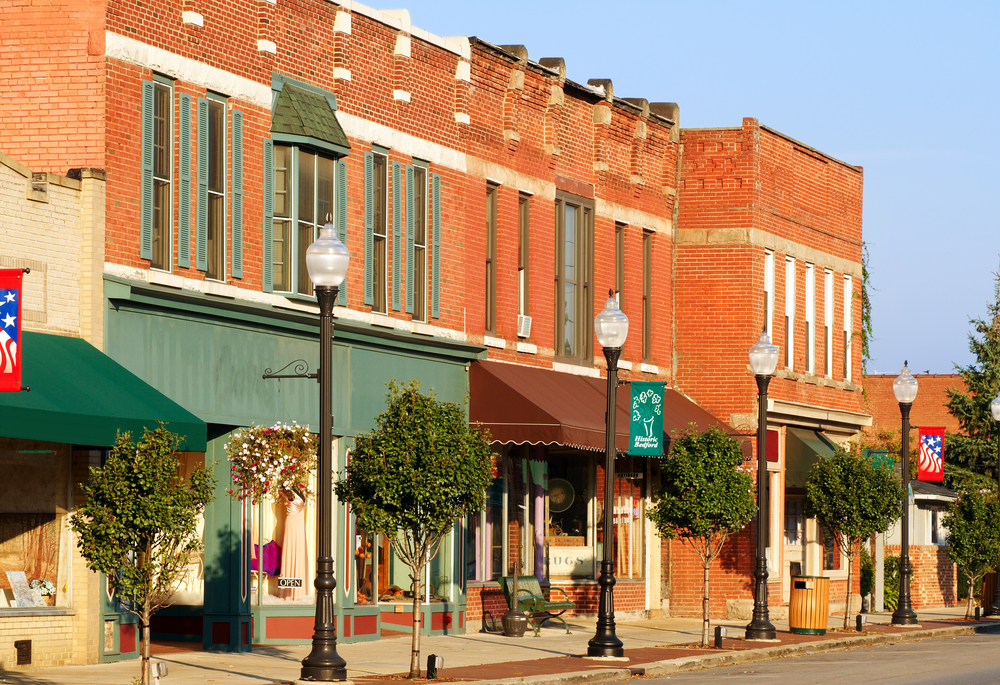 Twinsburg
True to its name, Twinsburg has a festival dedicated especially to twins known as Twins Days.
Every August, this small town in Ohio has the largest gathering of twins in the world!
As a matter of fact, this event draws twins from as far as Nigeria, India, and New Zealand!
While the Twin Days festival may be the coolest part of Twinsburg, you can also visit the nearby Cuyahoga Valley National Park and the Wildwater Kingdom.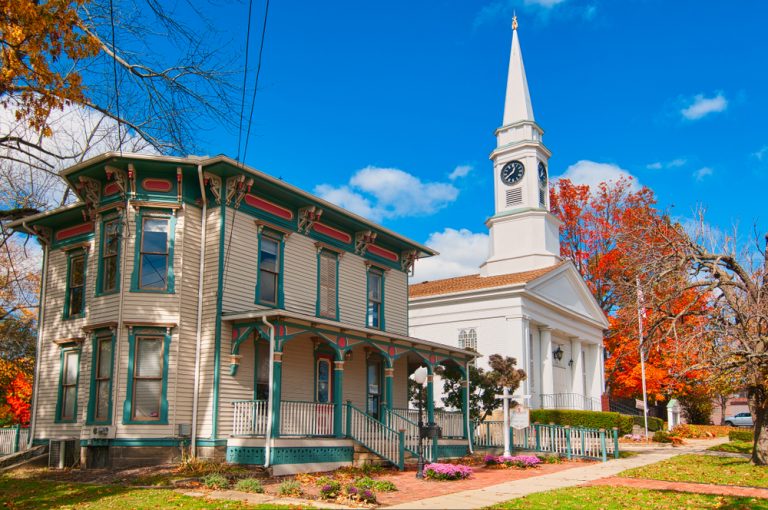 Bowling Green Has A Lot To Offer
Bowling Green is simultaneously one of the smallest towns in Ohio and a college town.
Home to Bowling Green State University, this town's population grows exponentially when the students are around. But when school is out of session, the population shrinks drastically.
Plus, there are quite a few festivals in town, including the Black Swamp Arts Festival and the National Tractor Pulling Championships.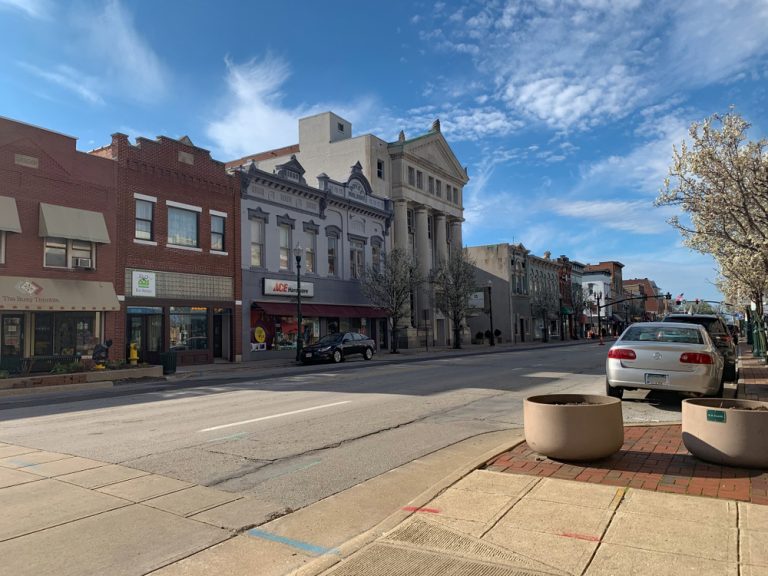 Athens For The Paranormal
Like Bowling Green, Athens, Ohio is a college town with a population that fluctuates significantly depending on the time of year.
This Ohio town comes to life each year on Halloween.
Athens is known for being a haunted town, and it has garnered quite a few superlatives that back this claim up.
It has been named one of the most terrifying places on Earth, one of the most haunted cities in America, and even the World Capital of Halloween.
To celebrate this holiday and the town's titles, Athens throws a massive Halloween Block Party.
While there, admire thousands of costumes, listen to live music, and even keep an eye out for paranormal activity.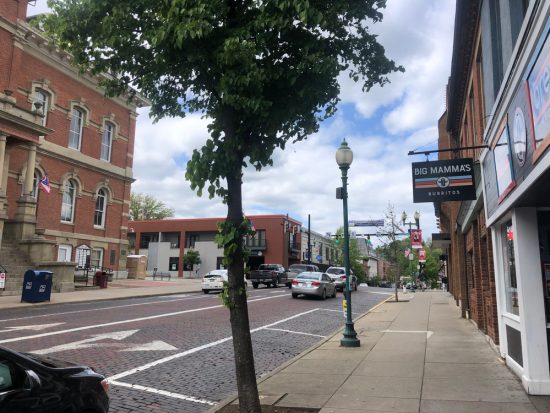 Chagrin Falls Is So Charming
Situated about 40 minutes outside of Cleveland, Chagrin Falls is one of the best weekend getaways in Ohio.
This small Ohio town's most prominent feature is its cascading waterfall in the main square!
Despite its small size, Chagrin Falls has something for everyone, including shoppers, history buffs, and nature lovers.
As a matter of fact, Cuyahoga Valley National Park, the only national park in Ohio, is just a short drive away!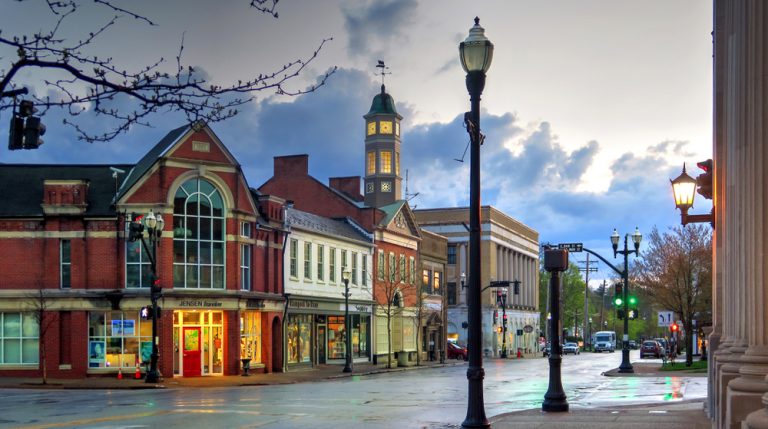 Westerville
Just 20 minutes outside of Columbus, Westerville is quite a small town in Ohio considering its proximity to such a large city.
For a long time, Westerville was known as The Dry Capital of the World, because it prohibited the sale of alcohol long after prohibition came to an end.
Now, Westerville is home to a handful of beautiful sights.
You can wander around the Inniswood Metro Gardens, spend a few hours at the Sharon Woods Metro Park, or visit the historic Everal Barn and Homestead.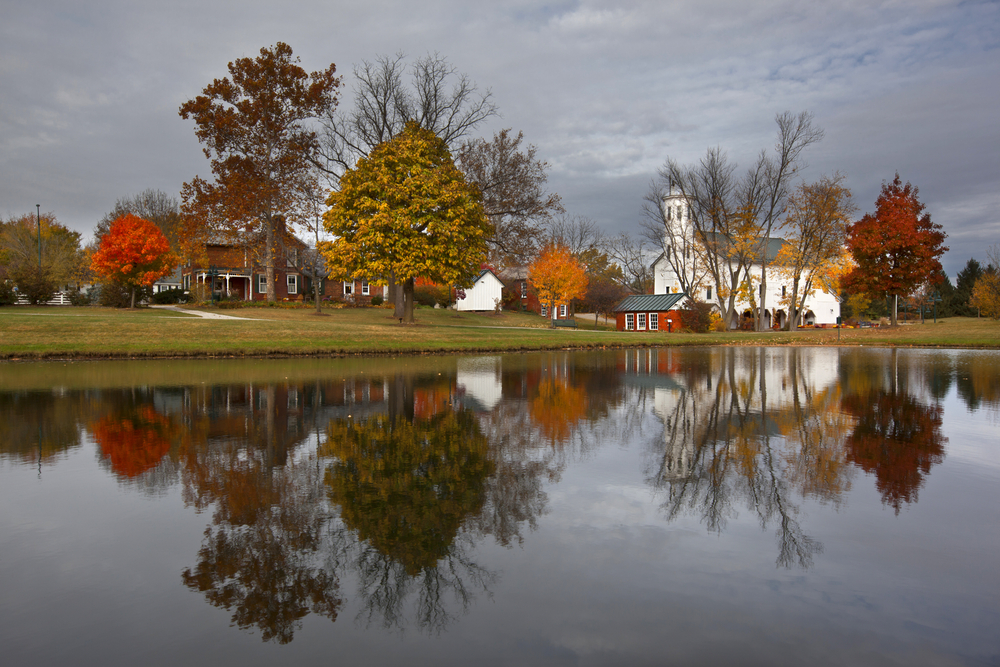 Glenford With Rural Charms
Glenford is by far the smallest town in Ohio on this list.
According to the 2010 census, Glenford had a population of only 173 people!
In other words, it's the perfect getaway for a little peace and quiet.
While there, you can simply enjoy the sunshine, fresh air, and friendly faces.
Perhaps you can even have an adorable picnic at Shelly Park or Henderson Park.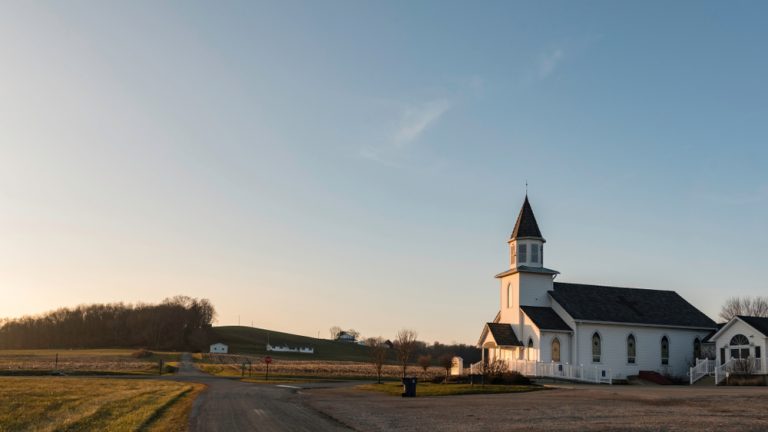 Medina For Rock Formations And Castles
Medina is the quintessential small town. With historic buildings, boutique shops, and friendly people, you really can't ask for much more.
Arguably the coolest thing to do in Medina is to visit Worden's Ledges. These striking rock formations are filled with carved folk art by local artist, Noble Stuart.
And if you happen to be in Medina for the holidays, you certainly have to visit Castle Noel.
This holiday-spirit-filled attraction is one of the best things to do for Christmas in Ohio.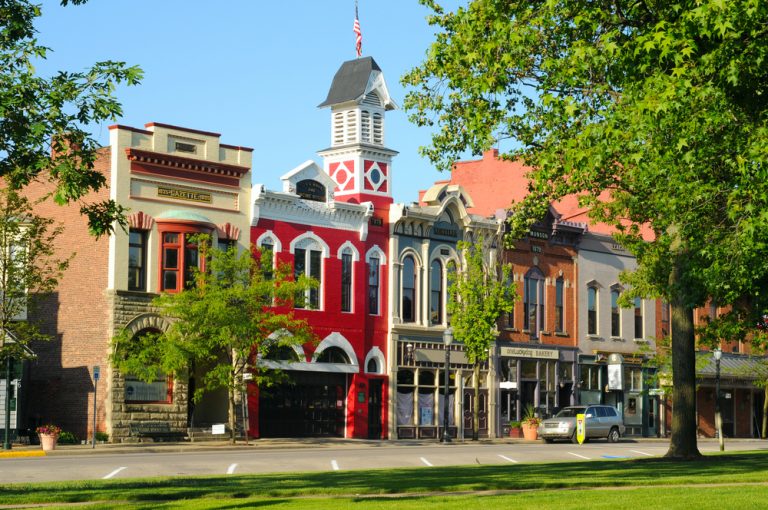 Hudson
Hudson is located just forty minutes outside of Cleveland.
One of the biggest perks of Hudson is its proximity to Cuyahoga National Park. Just ten minutes away, you'll have easy access to some of the best hikes in Ohio.
There are also quite a few parks in the neighborhood that are perfect for a picnic, a casual pick-up game, or just some relaxation.
But if you're looking for something that isn't as nature-focused, you can also admire the historic architecture and pop into the many boutique shops.
Millersburg For All Things Amish
When searching for Amish towns in Ohio, you'll inevitably come across the town of Millersburg.
Ohio is home to a relatively large population of Amish people, and most of them live in Millersburg.
The Amish are known for their simple, yet unique way of life, and you can experience a little bit of it during your trip to this small towns in Ohio.
As a matter of fact, a visit to Amish Country is one of the best things to do in Ohio.
While there, you can try the world-famous Amish foods, admire Amish buggies, and pop into the many Amish stores with handmade goods.
Plus, don't forget to stop at Holmes County Flea Market for a one-of-a-kind experience.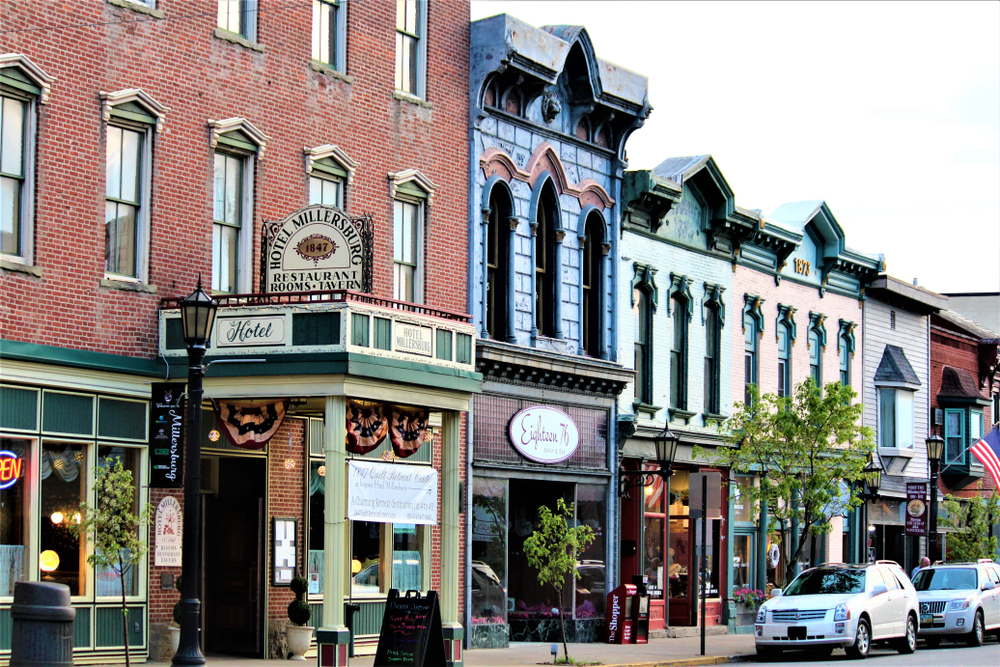 Circleville
The town of Circleville is primarily known for one thing: the Circleville Pumpkin Show.
Established in 1903, the Circleville Pumpkin Show has expanded to become the sixth-largest fair in the country!
That's quite a feat for such a small town!
While at this event, you can embrace everything pumpkin.
You can eat pumpkin pizza and pumpkin burgers, admire 1,000-pound pumpkins and even watch a pumpkin parade.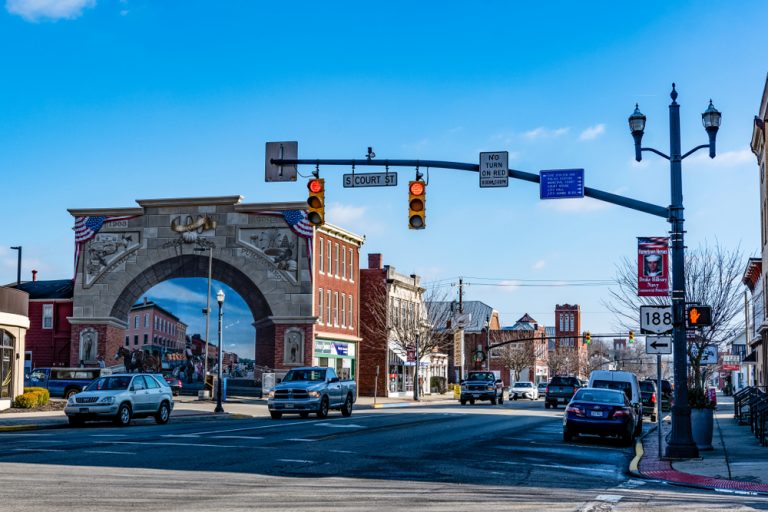 Geneva-on-the-Lake On The Shores Of Lake Erie
With a population of only 1,200 people, Geneva-on-the-Lake is one of the tiniest towns in Ohio.
Yet this little town has a surprising number of things to do.
You can watch the sunset on the shores of Lake Erie, explore the many antique stores, and pop into the vintage arcades on the main street.
While you can certainly enjoy a bit of peace and quiet, you can also find quite a bit to do in Geneva-on-the-Lake.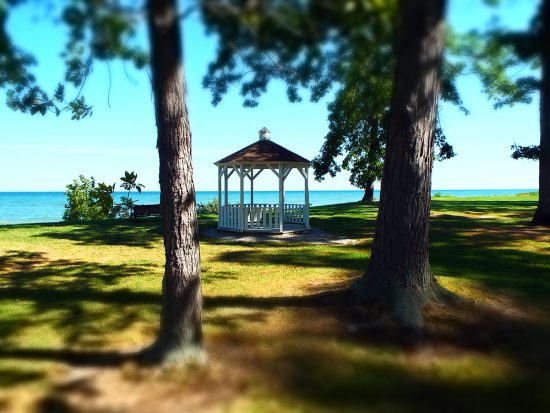 Packing List For Visiting The Small Towns In Ohio
If you will be traveling, either by plane or by car to Ohio, here are some tips on how to pack lightly.
A concealed travel pouch may be one of the most important items you bring along when visiting the small towns in Ohio. 
It is always important to protect your personal information. Identity thieves are everywhere.
This unisex RFID-blocking concealed travel pouch is lightweight and comes in several colors. It has lots of organization to give you peace of mind.
You can place it under your hiking clothes next to your body to carry your ID safely.
If you have a pouch already that does not come with RFID protection, as I do, these RFID sleeves are the perfect solution.
This configuration comes with enough credit card sleeves that the entire family would be protected. They are slim too, so they will easily fit into your pouch or wallet.
If you are planning on taking a lot of pictures with your phone you will definitely want to consider an external charging battery. This Anker high-speed phone charging battery is the exact one I carry with me on all of my trips.
It can be used on a variety of phones, not just an iPhone like I have. And wow is it fast!
I like that it holds its charging capabilities for several uses so I do not have to worry about it while out and about, and if I forget to recharge it at night, it will still be good to go the next day.
My daughter gifted me with this FugeTek selfie stick and tripod setup for my birthday. I absolutely love it! It is made of lightweight aluminum and so easy to use.
It has Bluetooth connectivity and is a breeze to use for taking selfies with all those nature shots while visiting Hocking Hills.
Hydration is so important when hiking. You want to remain hydrated throughout your Ohio travels to support your immune system which in turn will be stronger to fight off any germs you will encounter during your travels.
You will want to bring your own refillable water bottle with you.
I never leave home on a trip without my Bobble filtration bottle. The 18.5-ounce size is perfect for hiking and it fits nicely in the pocket of a backpack.
When filled with water, it is not too heavy to carry. And the replaceable carbon filter ensures fresh clean water whenever you fill the Bobble.
Perhaps you are traveling a long distance and packing space is a premium in your suitcase, or in your car. Then this set of collapsible silicone foldable water bottles would work well for you. Would not take up much space at all.
You will want a backpack or daypack with you to store snacks, your water bottle, phone, extra clothes, etc.. when celebrating Christmas in Ohio. No matter the time of day or evening.
This foldable water-resistant backpack would be great.
It is very affordable and is available in many color options for you to choose from. The fact that it folds down into a zippered pouch will make it easy to pack!
—
Here I have listed 20 of the best towns in Ohio for your consideration.
I hope I have inspired you to road trip around Ohio, or at least explore some of the best small towns in Ohio you may not have known about.
Please leave a comment if you've been to one of these small towns in Ohio. What was your experience like?