There are so many beautiful and diverse trails for hiking in Oklahoma!
When you first think of Oklahoma, you might imagine miles of flat prairies and farmland, but the state has a variety of landscapes to explore.
You will love hiking through mountains and forests as well as along rivers and lakes. Discover waterfalls and caves as you walk the Oklahoma trails.
Whether you want a short and scenic walk or a full-blown workout, there are all sorts of hikes in Oklahoma for all levels.
Let's take a look at the best places to go hiking in Oklahoma!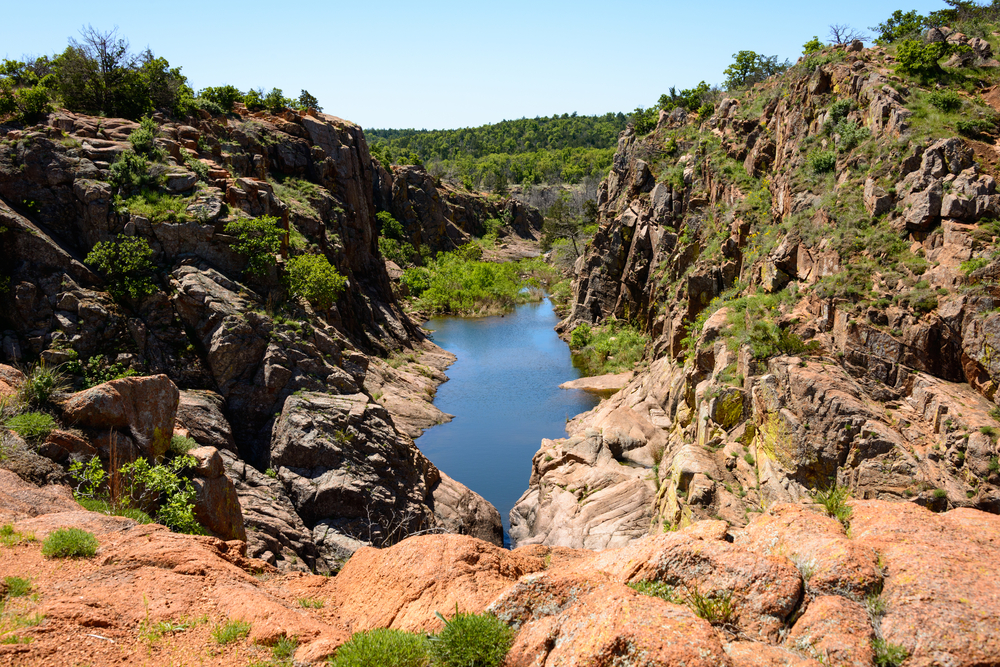 15 Best Places for Hiking in Oklahoma
Cathedral Mountain Trail
Gloss Mountain State Park near Fairview is a rugged landscape with orange and red colored rock and towering mesas.
The mountains get their name from the selenite in the rock that makes it look shiny. Watch the sky for soaring eagles and the rocks for quick-footed lizards.
If you want to enjoy some epic views, set out on the Cathedral Mountain Trail. This out-and-back trail is about 1.5 miles.
This OK hiking trail is rated moderate to difficult with some steep stairs. The effort is worth it though for the amazing, sweeping views of the mesas and surrounding plains.
Makes sure to bring sun protection because there is very little shade along the trail.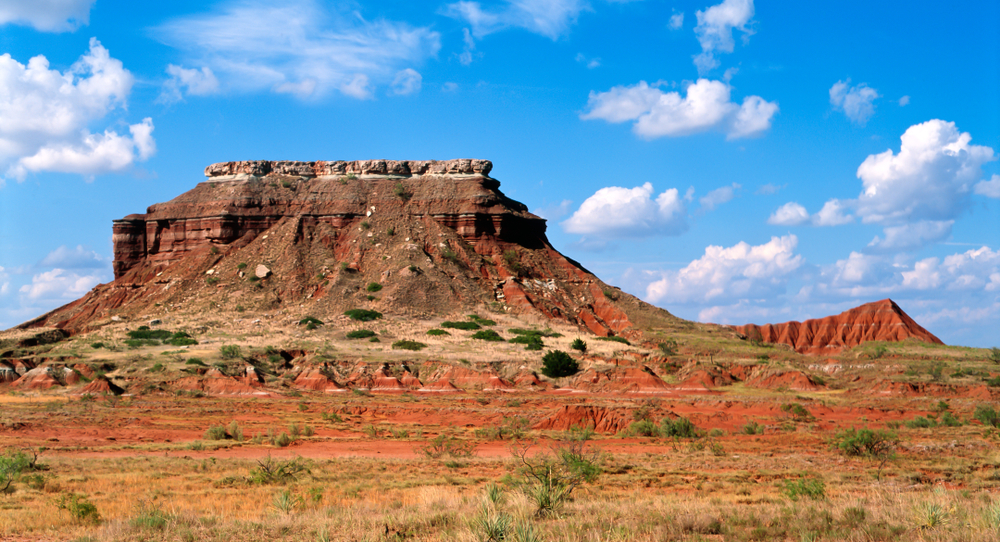 Wichita Mountains Wildlife Refuge Trails
The Wichita Mountains Wildlife Refuge is one of the best places for hiking in Oklahoma! This 60,000-acre refuge is found in the southeast portion of the state.
There are over a dozen trails adding up to about 15 miles. The trails are great places to see wildlife, including bison, prairie dogs, elk, and lizards.
Birdwatchers will love the opportunity to see over 270 species of birds during migration season.
Most of the trails here are under two miles roundtrip and are rated easy. If you want a place for Oklahoma hiking with kids, this is it!
The Elk Mountain Trail is one of the most popular hikes in Oklahoma. It is about 2.3 miles out-and-back and rated moderate.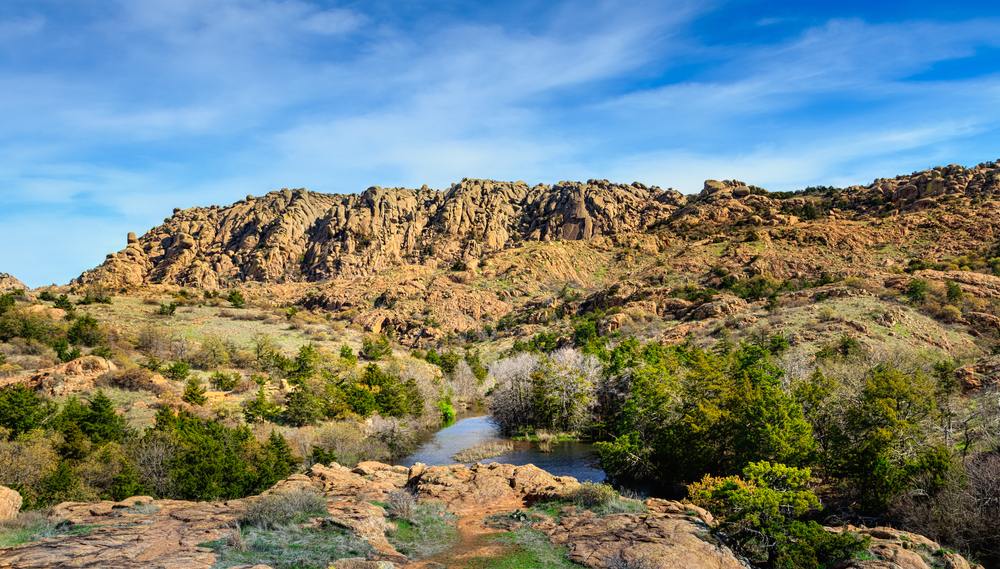 Beavers Bend State Park Trails
Beavers Bend State Park near Broken Bow has a number of great hiking trails in Oklahoma. You will find views of forests and the waters of Broken Bow Lake and Mountain Fork River.
The moderate Lakeview Lodge Trail is a 3.5-mile loop that partially follows the lake and brings you through pretty woodland.
For a more challenging hike, check out the Skyline Trail. It is a 9.5-mile loop with some steep areas and water crossings. You'll find amazing views of the river.
When you are done hiking, Beavers Bend State Park offers many other activities such as tennis, volleyball, mini-golf, and camping. Don't forget to stop by the Forest Heritage Center.
The lake is also popular for boating and scuba diving in the clear water.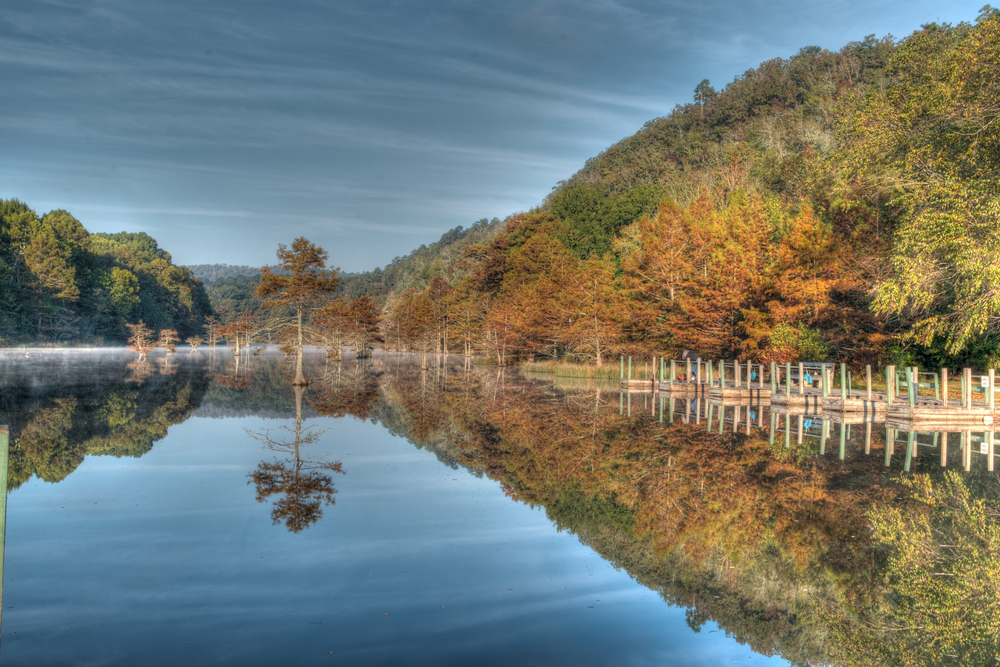 Oklahoma River Trail
If you are looking for one of the best trails for biking or hiking in Oklahoma City, then the Oklahoma River Trail is for you!
This paved loop is about 14 miles in total and follows both sides of the Oklahoma River. This is a scenic area for a leisurely walk, a run, or a bike ride.
You'll make plenty of stops to take photos of the OKC skyline and bridges. Watch the river for waterfowl or people rowing.
While this trail is long, it is flat and easy. You can hike whichever portion you want without taking on the entire thing.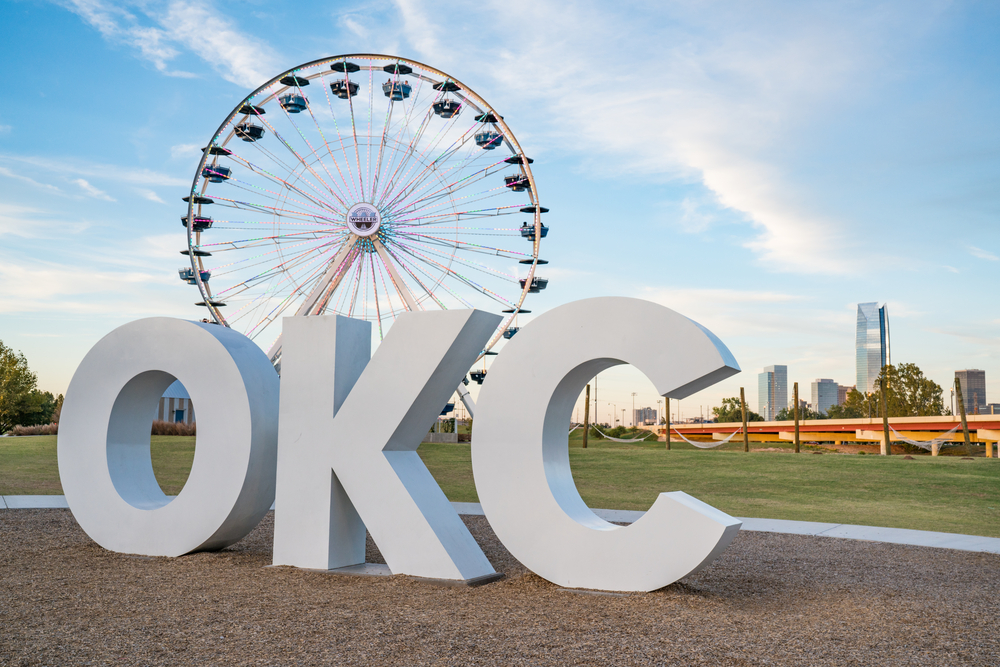 Travertine Creek Trail
In the Chickasaw National Recreation Area outside of Sulphur, you will find the beautiful Travertine Creek Trail.
This 2.8-mile out-and-back trail is a great place to discover waterfalls, find wildflowers, and spot wildlife.
This is an easy, mostly level trail with gravel sections, bridges, and stone stairs. If you want a family-friendly spot for the best hiking in Oklahoma, this is it!
The trail connects the Travertine Nature Center and Pavilion Springs.
There are many other great trails in the Chickasaw National Recreation Area to check out too. Some even lead to some of the coolest springs in Oklahoma!
This park has a history dating back to the early-1900s. It is a beautiful place to explore nature and camp.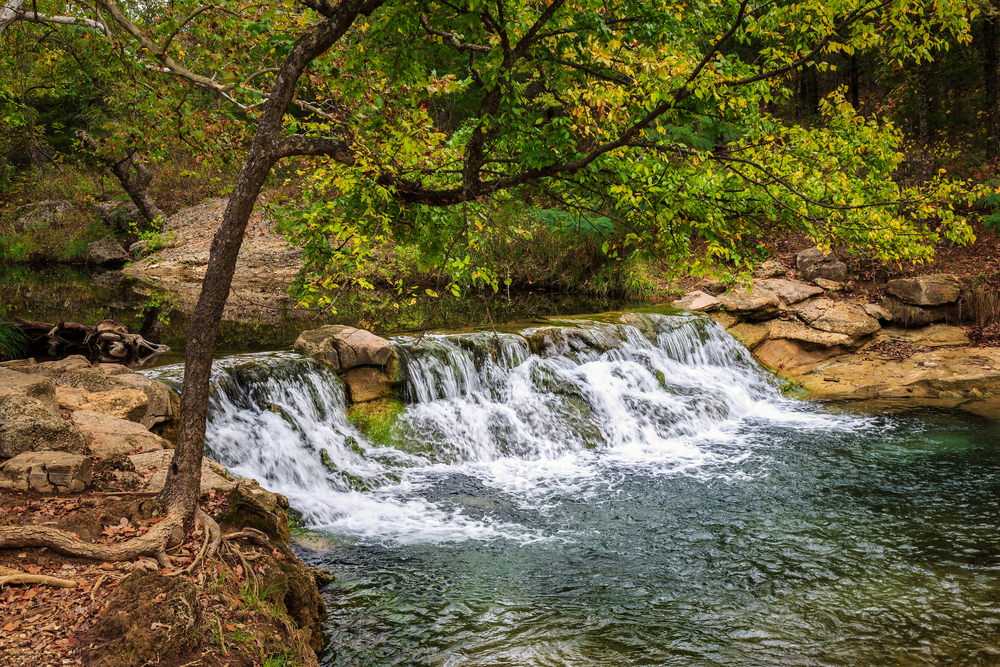 Sutton Wilderness Trail
The 160-acre George M. Sutton Wilderness Park in Norman is a lovely park perfect for a day in nature.
The Sutton Wilderness Trail is an easy 1.4-mile loop with nice views of the reservoir and woodland.
Birds, rabbits, deer, lizards, and more can be spotted in the area. In the spring, expect to see wildflowers and butterflies.
The trail is mostly paved or gravel and easily accessible.
Rough Horsetail Nature Trail
Red Rock Canyon Adventure Park is one of the best places for hiking and camping in Oklahoma! Located near Hinton, this park offers so much to do.
The Rough Horsetail Nature Trail is a 0.6-mile loop rated easy to moderate.
As you walk the trail, admire the vivid colors of the rocks and lush plants. You will be amazed at the power of erosion.
Keep in mind that after it rains the trail can get muddy. Alternatively, if it has been too dry, the trail becomes dusty.
There is also a per-car fee for this park. After hiking, you can swim in the pool or enjoy a picnic.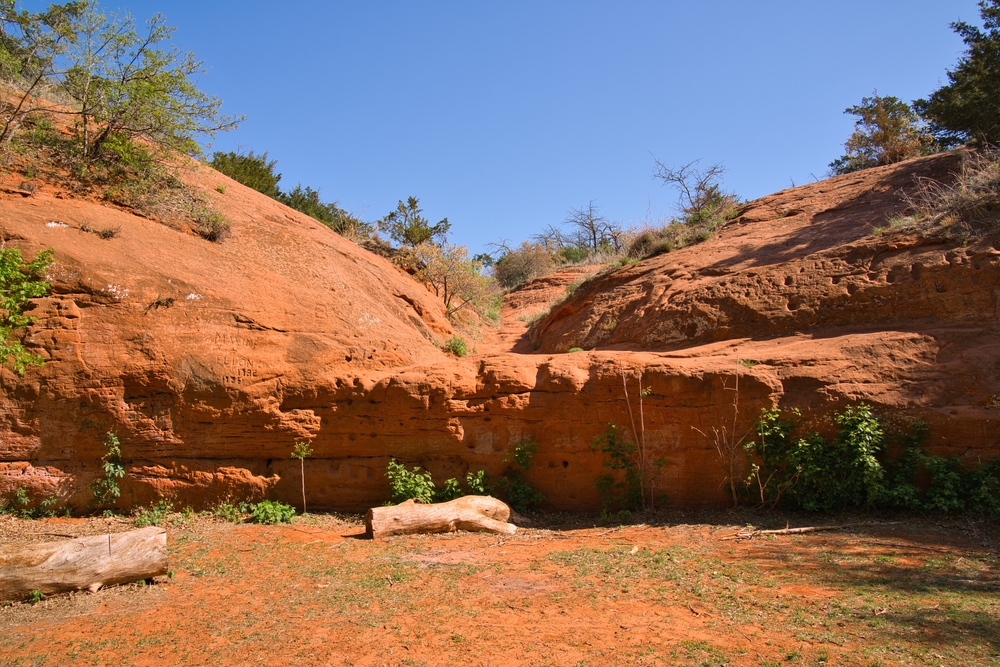 Black Mesa Summit Trail
If you want to hike to the highest point in Oklahoma, head west to Black Mesa State Park & Nature Preserve at the end of the panhandle.
The viewpoint from 4,973 feet above sea level makes the Black Mesa Summit Trail one of the best things to do in Oklahoma!
The 8.5-mile out-and-back trail is rated moderate to challenging. The first two miles are mostly flat before the 600-foot elevation gain begins.
This outdoor hike is well-marked with diverse flora and fauna, including cacti. Make sure to bring plenty of water and sun protection since there is not much shade.
Once you reach the summit, you will be awed by the panoramic views. On a clear day, you will be able to see New Mexico and Colorado.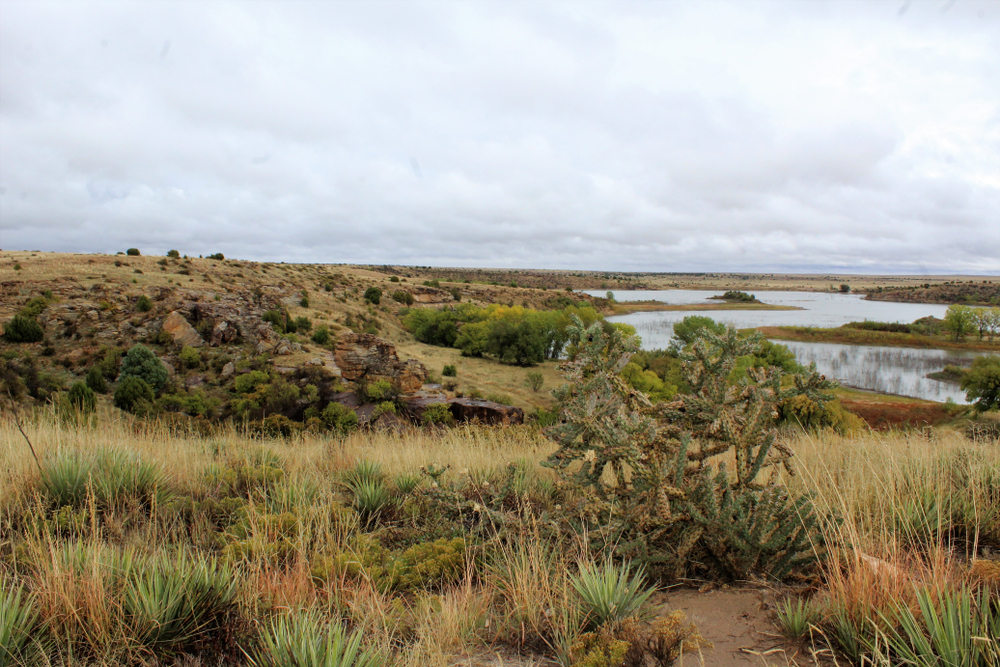 Keystone Ancient Forest Trails
The Keystone Ancient Forest near Sand Springs, a small town in Oklahoma, offers some of the best hiking in Oklahoma for nature lovers.
There are a few trails with a mix of difficulty and lengths. There is a trail for everyone here whether you want a longer trek or a short, accessible walk.
As you walk the paths, you will be amazed by the towering 500-year-old cedars and 300-year-old post oak trees.
This is a great place for wildlife viewing. Bring some binoculars and keep an eye out for bald eagles, deer, and even bobcats! Butterflies abound as well.
Lake Hefner Trail For Waterfront Hiking In Oklahoma
The Lake Hefner Trail north of Oklahoma City is a pretty place for a hike along the waterfront. If you love birdwatching while hiking, this lake is a great choice!
The trail is 9.4 miles and loops the entire lake. It is paved and flat, making it an easy place for a walk or bike ride.
Make sure to stop by the 36-foot-tall Lighthouse at East Wharf. It is the perfect place to watch the sunset over the water.
Keep in mind that it can get windy here and there is no shade.
This is one of the best places to hike in Oklahoma if you are looking for something close to the city. It is a convenient place for some exercise.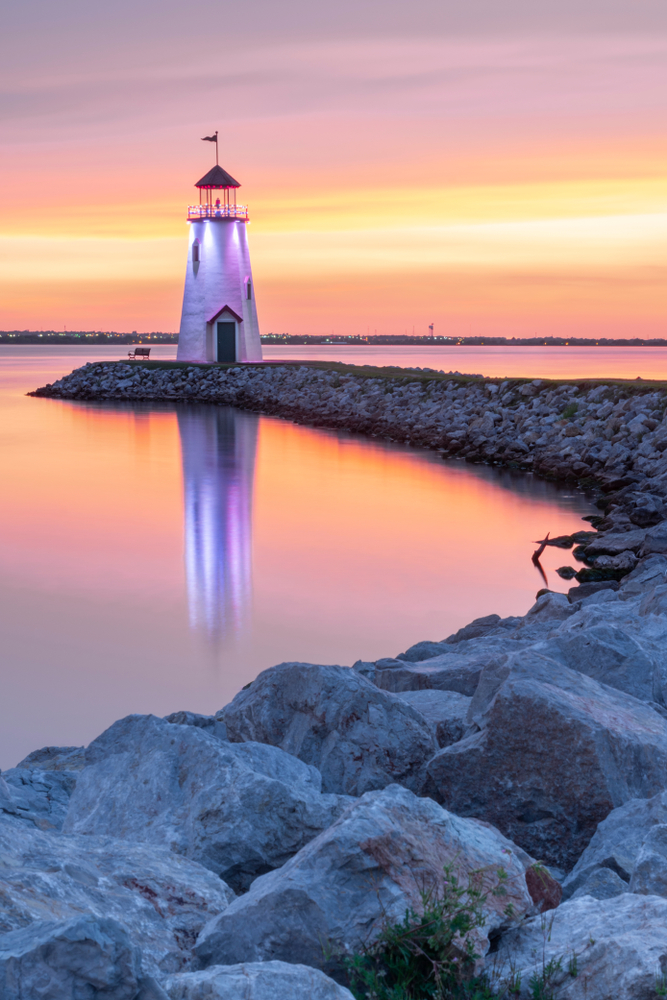 Roman Nose State Park Trails
Roman Nose State Park is another of the best state parks in Oklahoma for hiking. There is a great system of trails that interconnect so you can make your own route.
If you want a hike with a view, make sure to head up to Inspiration Point. Mountain biking and horseback riding are also options.
You will see Lake Watonga, canyons, natural springs, and mesas.
When you are not hiking, the park offers many other things to do including camping, swimming, canoeing, and golfing.
This is one of the coolest things to do in the Midwest!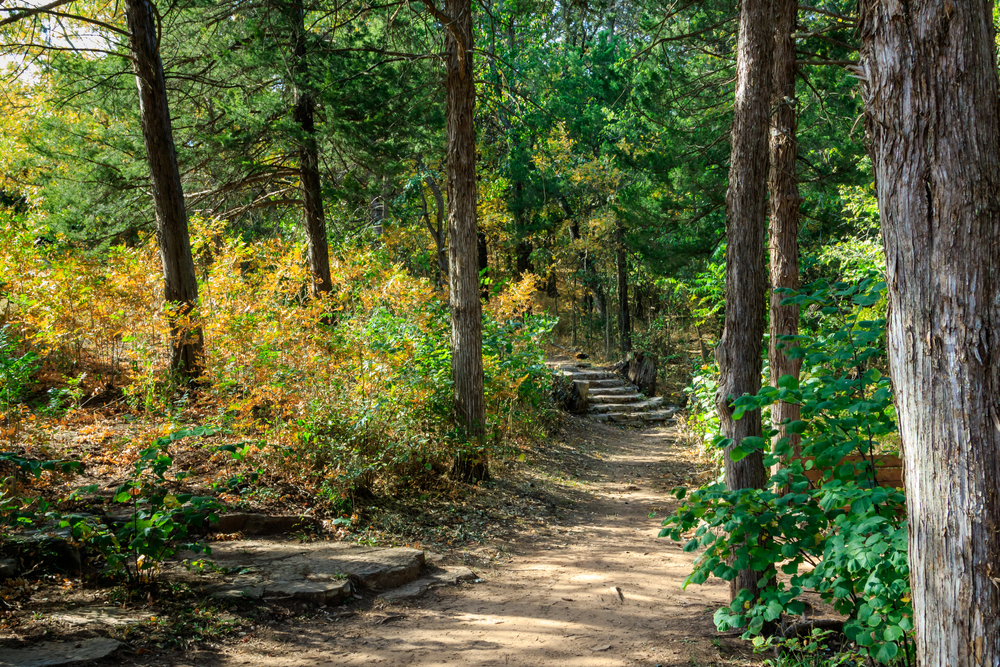 Robbers Cave Trail For Interesting Hiking In Oklahoma
If you want to explore an OK hiking trail tied to an interesting legend, then you will love visiting Robbers Cave State Park.
The 0.6-mile Robbers Cave Trail is a loop full of cool rock formations, cliffs, and vast views of the surrounding forest.
Make sure to wear sturdy shoes since this moderate trail is very rocky with some stone steps. It is all worth it when you reach the infamous Robbers Cave.
This cave was allegedly once used as a hideout by Civil War deserters and outlaws. Today, it is a fun place to explore.
Along with the best hiking in Oklahoma, rock climbing is popular in this park as well as camping, canoeing, and biking.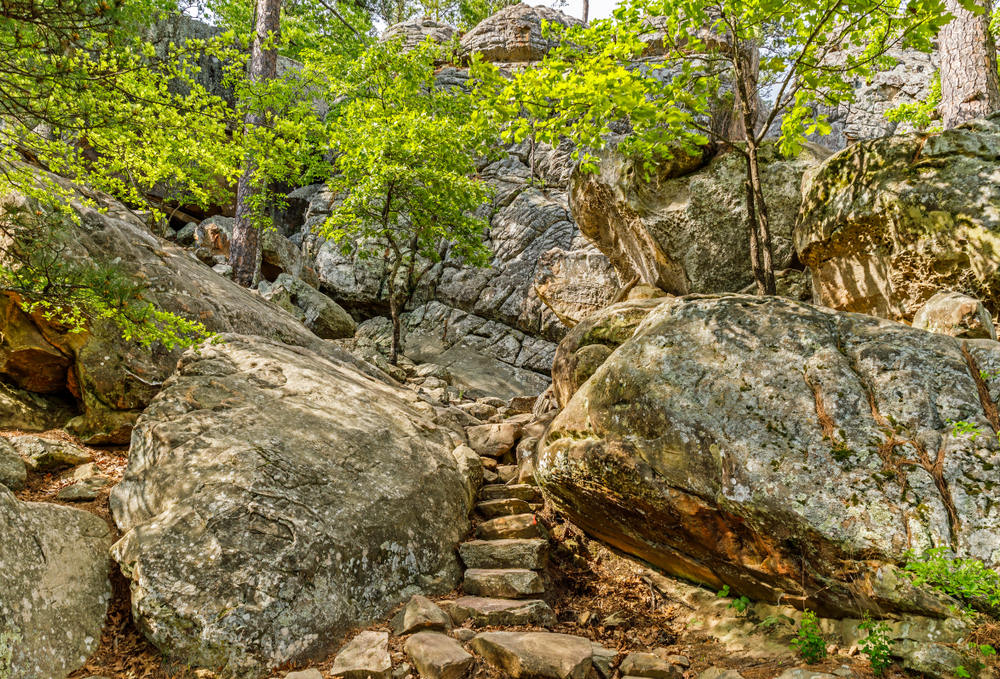 Martin Park Nature Center Trails Has Some Of The Best Hiking In Oklahoma
The Martin Park Nature Center north of Oklahoma City is a 140-acre park perfect for some outdoor recreation.
There are about 2.5 miles of trails here where you can explore and look for wildlife. The trails are easy and short, perfect for the whole family.
If you are looking for one of the best accessible hiking trails in Oklahoma, the Jim Thorpe Rehabilitation Courage Trail is ideal for anyone in a wheelchair or with mobility limitations.
The trail is a wide boardwalk featuring a wheelchair-accessible tree house and touch-based signs and exhibits for the visually impaired.
As you traverse the trails, you will find ponds, waterfalls, wildflowers, and an assortment of wildlife.
Along with the trails, the park has a picnic pavilion, a nature-themed playground, and a visitor's center where you can learn about native plants and animals.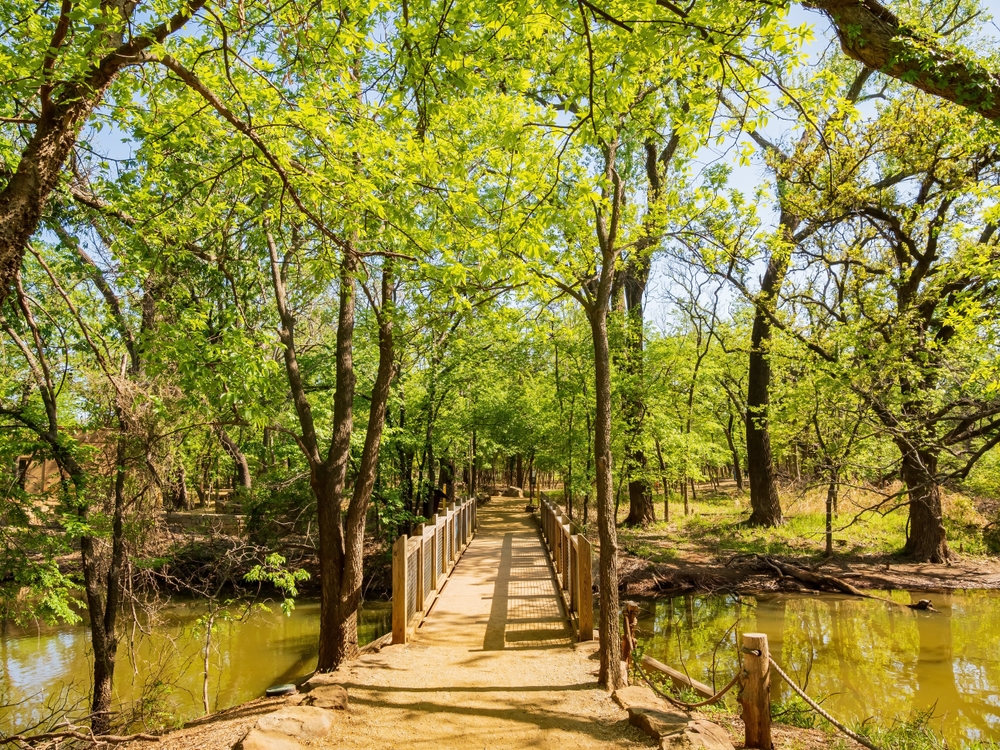 Greenleaf Trail
Greenleaf State Park is the place to go if you are looking for one of the longer, more challenging hikes in Oklahoma.
The Greenleaf Trail is a loop of about 18.8 miles partially following the shore of Greenleaf Lake.
The trail begins easier and well-marked, but then it becomes more primitive. There is rocky and uneven terrain and some steep portions.
This park is also a great place for camping with lakeside cabins dating back to the 1930s. Head onto the water in a kayak or canoe.
Other things to do in the park include a splash pad, a miniature golf course, volleyball and basketball courts, and a discovery center.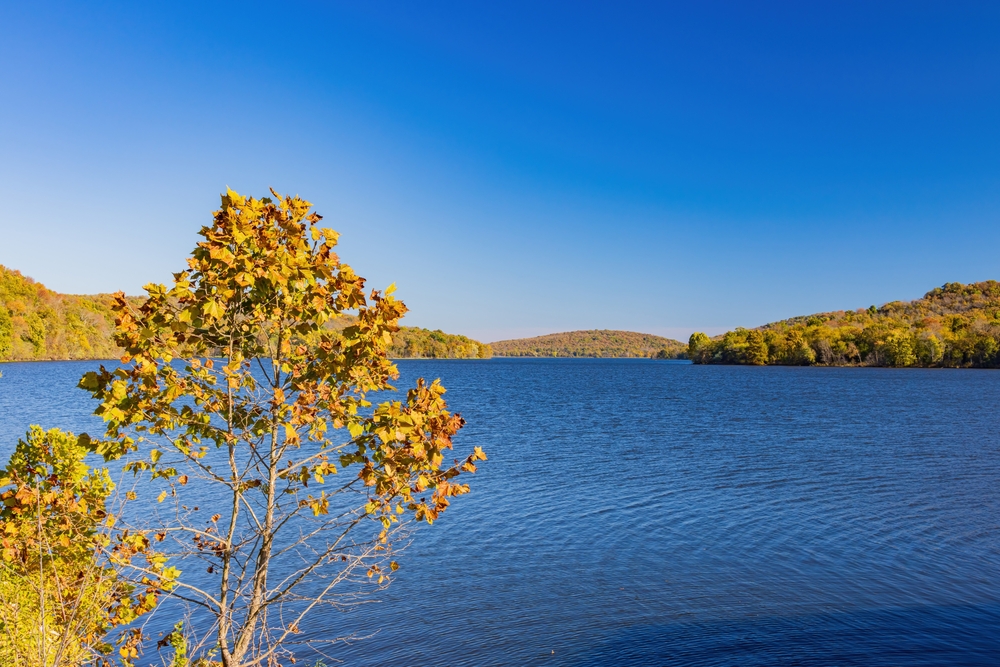 Natural Falls State Park Trails
Located near the Arkansas border, Natural Falls State Park is one of the best places for Oklahoma hiking if you love waterfalls.
There are about 4.5 miles of easy to moderate trails where you can soak in the beauty of nature. As you hike, you will find views of bluffs, mossy rocks, and water features.
This park is a beautiful oasis with diverse plant and animal life.
One of the most popular trails is the Dripping Springs Trail. It is a moderate 1.1-mile loop featuring a pretty 77-foot waterfall.
After hiking, take time to play volleyball, horseshoes, disc golf, or basketball, Pack a picnic as well.
Interestingly, this park was used as a filming location for the 1974 film adaption of Where the Red Fern Grows.
If you are looking for a unique place to camp in Oklahoma, you can rent a yurt at the park or there are RV and tents sites too.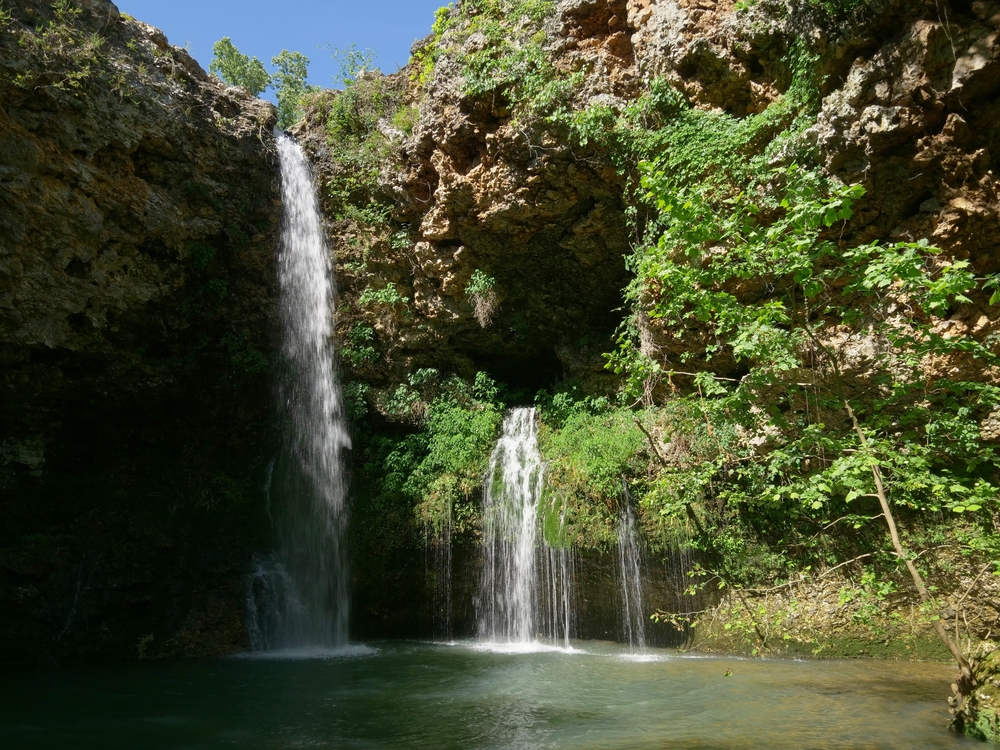 Packing List When Hiking In Oklahoma
If you will be traveling, either by plane or by car to Oklahoma, here are some tips on how to pack lightly.
A concealed travel pouch may be one of the most important items you bring along when hiking in Oklahoma.
It is always important to protect your personal information. Identity thieves are everywhere.
This unisex RFID-blocking concealed travel pouch is lightweight and comes in several colors. It has lots of organization to give you peace of mind.
You can place it under your clothes next to your body to carry your ID safely.
If you have a pouch already that does not come with RFID protection, as I do, these RFID sleeves are the perfect solution.
This configuration comes with enough credit card sleeves that the entire family would be protected. They are slim too, so they will easily fit into your pouch or wallet.
If you are planning on taking a lot of pictures with your phone you will definitely want to consider an external charging battery.
This Anker high-speed phone charging battery is the exact one I carry with me on all of my trips.
It can be used on a variety of phones, not just an iPhone like I have. And wow is it fast!
My daughter gifted me with this FugeTek selfie stick and tripod setup for my birthday. I absolutely love it! It is made of lightweight aluminum and so easy to use.
It has Bluetooth connectivity and is a breeze to use for taking photos during Montana attractions.
You will want to bring your own refillable water bottle with you.
I never leave home on a trip without my Bobble filtration bottle. The 18.5-ounce size is perfect for hiking and it fits nicely in the pocket of a backpack.
When filled with water, it is not too heavy to carry. And the charcoal filter ensures fresh clean water whenever you fill the Bobble.
Perhaps you are traveling a long distance and packing space is a premium in your suitcase, or in your car.
Then this collapsible silicone foldable water bottle would work well for you. Would not take up much space at all.
You will want a backpack or daypack with you to store snacks, your water bottle, phone, extra clothes, etc… No matter the time of day or evening.
This foldable water-resistant backpack would be great.
It is very affordable and is available in many color options for you to choose from. The fact that it folds down into a zippered pouch will make it easy to pack.
—
The best Oklahoma hiking can be found throughout the state in both parks and urban areas. These trails make it easy to get exercise while exploring the great outdoors.
You will love the many Oklahoma mountains, lakes, rivers, and forests! When you go to hike in Oklahoma, you are sure to have a great time!