Are you planning on hiking in Hocking Hills Ohio? You are in the right place. 
This article suggests the most scenic of the Hocking Hills hiking trails. And you can decide which of these hikes is best suited for you and your circumstances.
Within easy driving distance of Cincinnati in southeastern Ohio, Hocking Hills is part of the Allegheny Plateau. Known for its valleys, rugged terrain, and waterfalls, the area is full of deep gorges, unique rock structures, and caves.
The gorges, structures, waterfalls, and caves are made from eroded Blackhand Sandstone. This weather-resistant stone erodes from the inside out creating the unique topography of the area.
There is a lot to do in Hocking Hills, but the best way to explore it is by foot. Putting on your hiking boots and exploring this landscape on your own time means you see things that many others pass by.
You have the opportunity to experience the incredible geology of the area. There really is nothing similar to the Hocking Hills trails.
This article includes all kinds of Hocking Hills hikes, from easy and short to more challenging and longer.
Obtaining a map before you explore is a good idea. Download one on your phone or visit Hocking Hills Visitor Center on arrival.
Most of the trails are well marked but sometimes it can get a bit confusing.
Oh and if you go in autumn, you could quite possible see the best fall foliage in Ohio!
Here I will share with you 9 scenic Hocking Hills Hikes.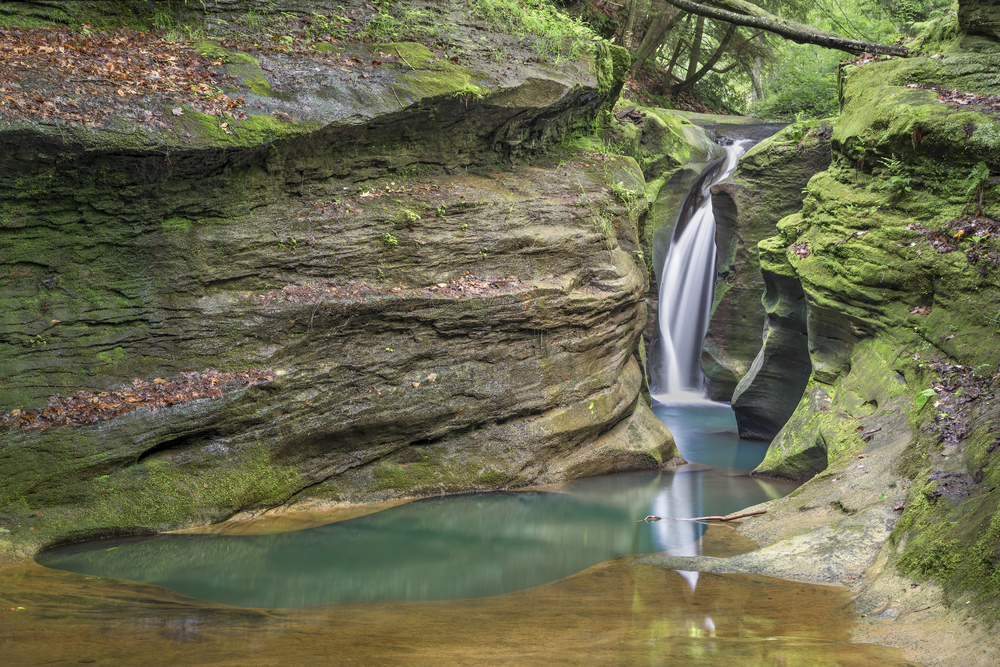 9 Scenic Trails For Hiking In Hocking Hills Ohio
Rock House Hiking Trail
The Rock House Hiking Trail is a moderate trail of just under a mile. A loop trail that is used often and easy to follow. The elevation gain is 203 feet, so there is a bit of a climb.
The trail is in the Hocking Hills State Park and leads to Rock House which is the only true cave in the park.
The tunnel-shaped corridor is situated halfway up a cliff. It is 25 ft high and 200 feet long and is a great example of the erosion of Blackhand sandstone.
The erosion has formed a feature that looks like a house with gothic arched windows and sandstone columns hence the name Rock House.
The native Americans did indeed use this as a home with several of the small recesses used as baking ovens and toughs used to collect water still evident.
Local folklore states robbers, horse thieves, murderers and bootleggers frequented Rock House which might account for the other name it is known as Robbers Roost.
Rock house is well worth a visit and the scenery around here is stunning. There are stone steps on the trail which might be challenging for people who have accessibility issues..
The best time to visit is April to October when the going is easier . You can walk it out of season but it might be icy so do so with caution.
If you are hiking in Hocking Hill with family this is a great trail and the children will love the cave at the end there is something rather magical about it.
The trail loops from the parking lot in Hocking Hills State Park.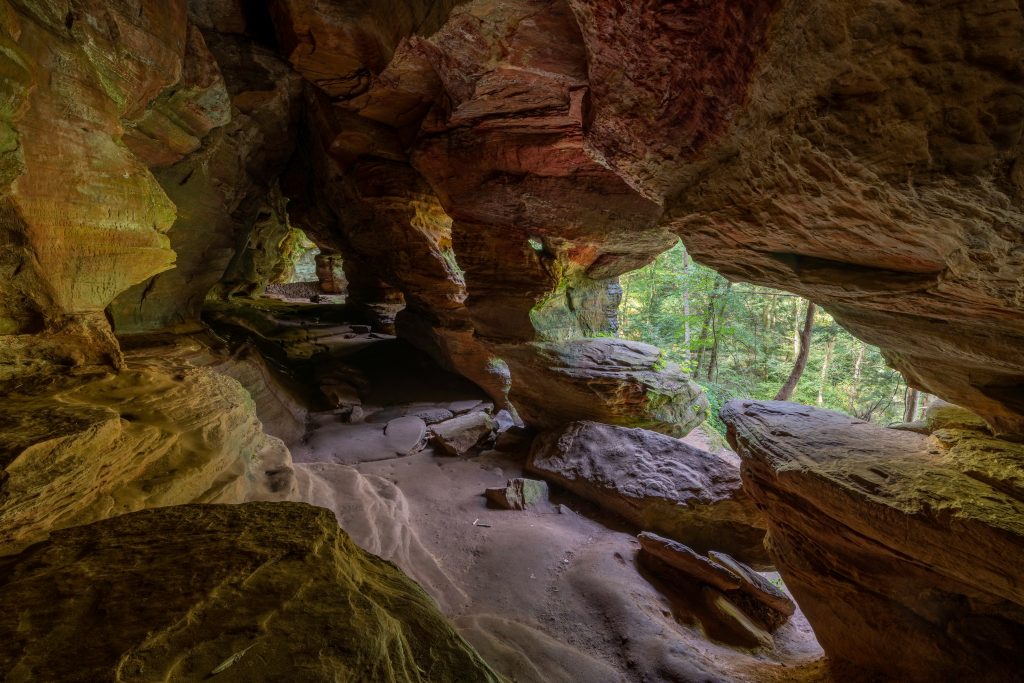 Cantwell Cliffs Hiking Trail
Located in the northern reaches of Hocking Hills this area tends to be less visited because it is more out of the way.
Don't be put off because it's a little further out because the scenery here is some of the best.
The hike is just under 2 miles and is a loop trail that is heavily trafficked. The elevation gain is 292 feet, and the walk is considered by most to be moderate to difficult in nature.
A trip around the rim is worth the extra effort but it can be a bit challenging as there are sharp climbs and often debris on the trail. However the view from the top is incredible.
The trail includes some narrow passageways caused by large slump blocks that have fallen away from the main cliff and you will also get to see a waterfall which is an added bonus.
This trail can get slippery and dangerous so make sure you have correct hiking boots on.
It's best experienced March to November. It's best to go early to avoid the crowds and take a reliable map with you can as the signage can be a little confusing.
If you like hiking locations in Ohio that are not crowded, while hiking in Hocking Hills this would be a great trail for you.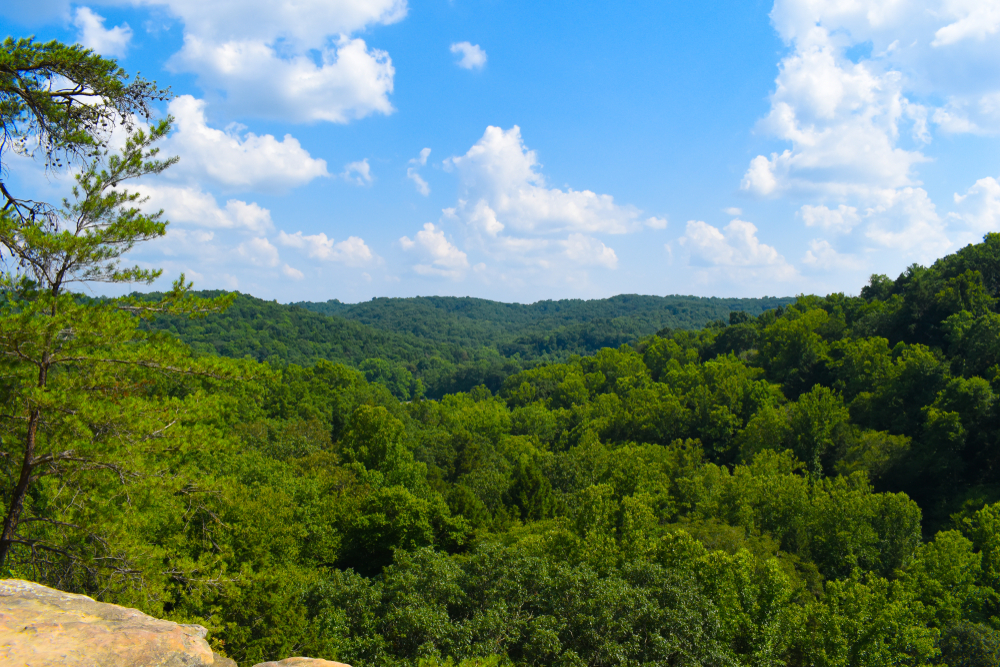 Cedar Falls Hiking Trail
If you like impressive Ohio waterfalls this is the hiking trail for you.
Just under a mile in length, it is a popular out-and-back trail that really is suitable for all skill levels and is accessible all year round. The elevation is a 157 feet gain.
The trail to Cedar falls is unusual in Hocking Hills due to the fact that the area feels very austere.
It has a somewhat mystical feel about it, steep rock walls covered in hemlock its almost like a movie set.
And when you arrive at the waterfall you be equally as impressed. It is the greatest volume waterfall in Hocking Hills. The trail is short and the payoff is big.
The steps leading down to the falls from the parking lot are known as Democracy Steps and were created by artist Akio Hizume.
He created a serpentine-style walkway to make the act of ascending and descending the stairs an experience rather than a chore.
The stars are angled as such so you have to change your leading leg and create a rhythm that reflects the mathematical principles of the Fibonacci sequence.
From the stars to the trail to the falls there is something very magical about this place.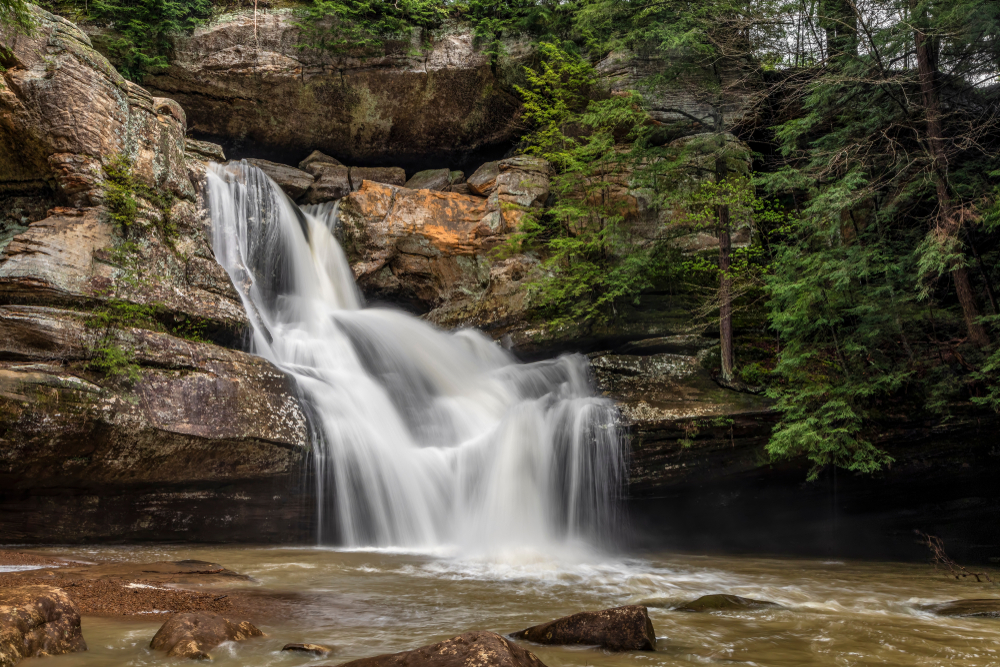 Conkle's Hollow Hiking Trail
If you are hiking in Hocking Hills with children this gorge trail is a great option.
It is a really fun thing to do in Ohio with Kids.
This is a trail just over 2 miles that is a loop trail and reaches an elevation of 236 feet.
The trail is paved handicap-accessible. Situated off S.R. 374 on Big Pine Road it is a rugged rocky gorge considered one of the deepest in Ohio.
The trail is suitable for all skill levels and it is best between April and November.
The scenery here is beautiful with ferns and wildflowers on the ground and hemlock and birch towering overhead.
The trail lead up the narrow ravine surrounded by vertical cliffs. As you continue to walk the gorge gets narrower to a distance of 300 feet as it's shortest.
You can stop and enjoy the many waterfalls, streams, cliffs and grottos along the way.
The hallow is named after W.J. Conkle who left his name and the date 1797 carved into the sandstone on the west wall of the gorge.
If you are feeling a little more adventurous there is a rim trail on top of the cliffs that circle the gorge and provides some incredible views.
Be warned though this trail can be dangerous and caution is recommended.
The Conkle's Hollow Nature Preserve offers an ample parking lot and restrooms.
Ash Cave Hiking In Hocking Hills Trail
When most people come to the Hocking Hills area they come to see Ash Cave. There is a gorge trail and a rim trail.
The gorge trail is handicap accessible and is about 1/2 mile there and back. The rim trail is just under a mile loop trail that elevates just 105 feet and is recommended for all skill levels.
Ash Cave is in the southernmost reaches of Hocking Hills and is the largest, most impressive recess cave in Ohio. It really is a truly stunning site especially when the waterfall is in full throw.
The trail to the cave is through a narrow gorge lined with towering trees that suddenly gives way to this massive cave 700 feet from end to end, 100 feet deep, and 90 meters high.
The cave is named after a huge pile of ashes found under the shelter by early settlers. The pile was recorded at 100 feet long, 30 feet wide, and 3 feet deep and no one really knows why it was there.
It is believed that perhaps this cave was used as a workshop and a resting place for travelers along the Indian trail to stock up.
The cave has also been used for town meetings and Sunday worship until a bigger church could be built.
The best time to visit is April to October but this place does look stunning in the winter. There is a parking lot and amenities at the trailhead.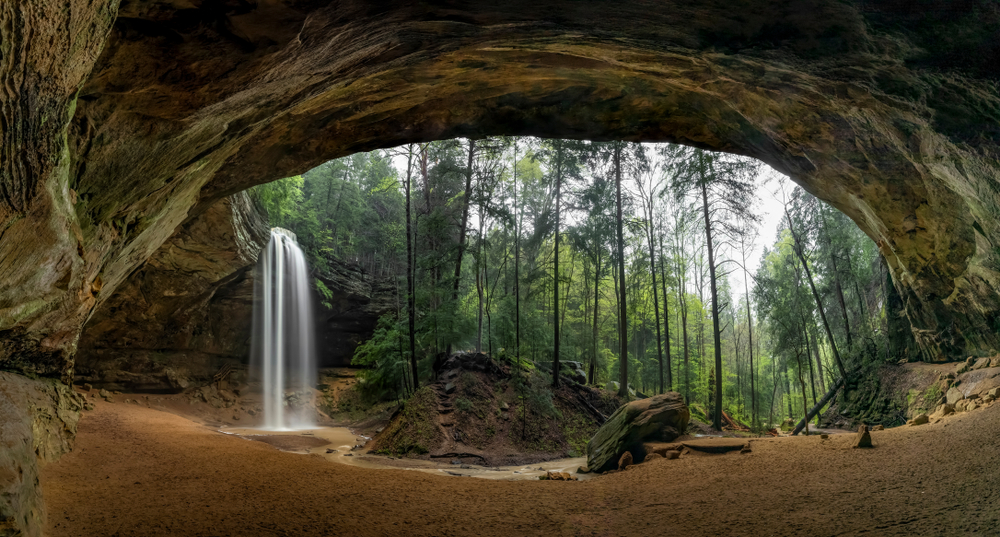 Old Mans Cave Trail Is Popular For Hiking In Hocking Hills
This trial is the most popular when it comes to Hiking at Hocking Hills.
This is mainly because it is close to the visitors center and connects with The Cedar Falls, and Ash Cave trails, and is the trailhead for the much longer Grandma Gatewood Trail.
It's an easy trail at just over half a mile and is an out-and-back trail that features waterfalls. It is best completed from April to October.
Despite what you might think you are not going to visit a cave here its more of a deep gorge with an overhanging lip. The stream running through the gorge produces waterfalls and a few rapids.
It's called Old Mans Cave because apparently an old man, an 18th-century hermit named Richard Rowe, used to live on a recess at one side of the gorge.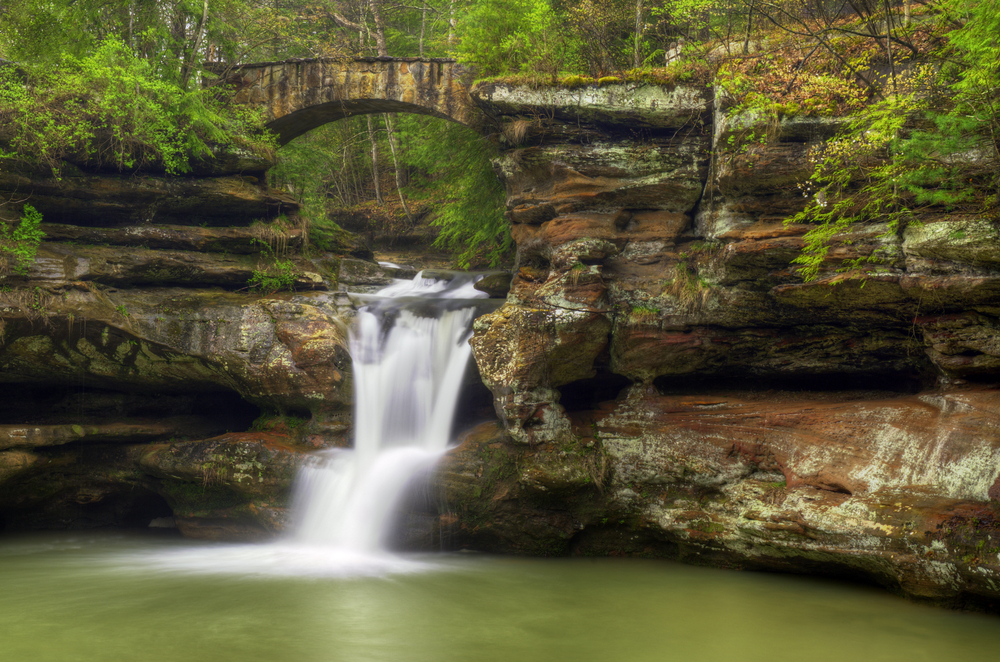 Zaleski State Forest Trails
Ohio's second-largest state forest covers nearly 27,000 acres this area is rich in nature, wildlife, and history. There is so much to do here including course hiking.
If you like your hiking in Hocking Hills to be a bit longer and quieter then this is the place for you.
This area was once at the heart of a very important iron-producing region known as the Hanging Rock Iron Region. The only evidence left are the remnants of the Hope Furnace.
The forest is big and not very crowded and often hiking through here you just have the wildlife for company.
Cliffs, caves, ravines the odd abandoned road, old homestead, abandoned cemeteries, mining ruins, and even the abandoned and allegedly haunted Moonville train tunnel.
The Zaleski Backpack Trail is a popular overnight hiking destination.
The main trail is 29.1 miles long which tends to be split into the north, middle and south loops. You can hike one of the loops in a day or all three with an overnight stay.
The south loop is a 13.3-mile south loop, the middle loop is 15.6-miles and the north loop is an 8.8-mile loop.
These are great trails for those a little more serious about their Hocking Hills hiking.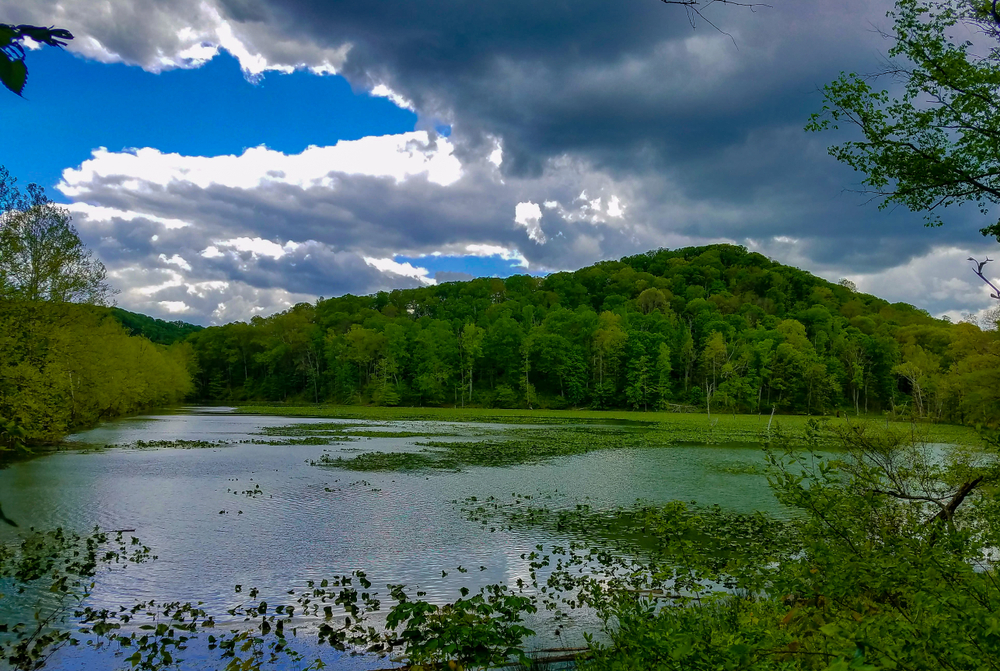 Lake Hope Trail Is Great For Hiking In Hocking Hills
Lake Hope is a combination of the rugged Appalachian foothills and a tranquil shoreline.
The trail forms a 3 miles loop around the southern shoreline of Lake Hope before taking you through the forest to a scenic shoreline. The trail is marked and signposted as well.
If you want to make the trail longer you can brand off with some of the multiple smaller hikes. The trail is pretty flat with some slight elevation and it's best completed from March to October.
This is one of those trails that you can take as quickly or as slowly as you want. You can hike around to your heart's content or just sit a while and enjoy the peace in beautiful surroundings.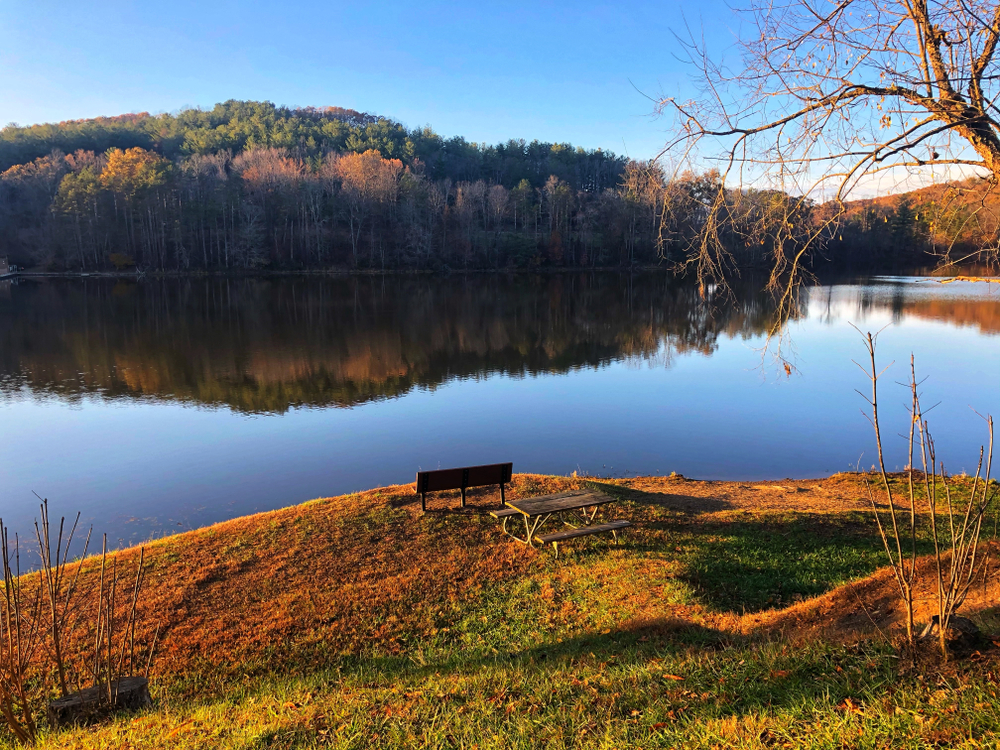 Boch Hollow Nature Preserve
If you like your Hiking in Hocking Hills a bit more on the longer and more strenuous side then this trail is for you.
Boch Hollow Nature Preserve is a little over seven miles loop trail near Bremen. It is rated as a moderate trail and is accessible all year round.
What people love about this trail is the diversity it offers. Ponds, streams, waterfalls, coves rocks, and meadows. It really is a mix of everything.
It is a very up-and-down trail so be prepared. Also, it can be broken into smaller hikes if needed. The trail is well marked and you will not share the trails with many other people
The Boch Hollow Nature Preserve is a trail loved by a lot of people and don't be surprised when you come across an old graveyard.
As Hocking Hills hikes go this one is a little different but I am sure you will love it.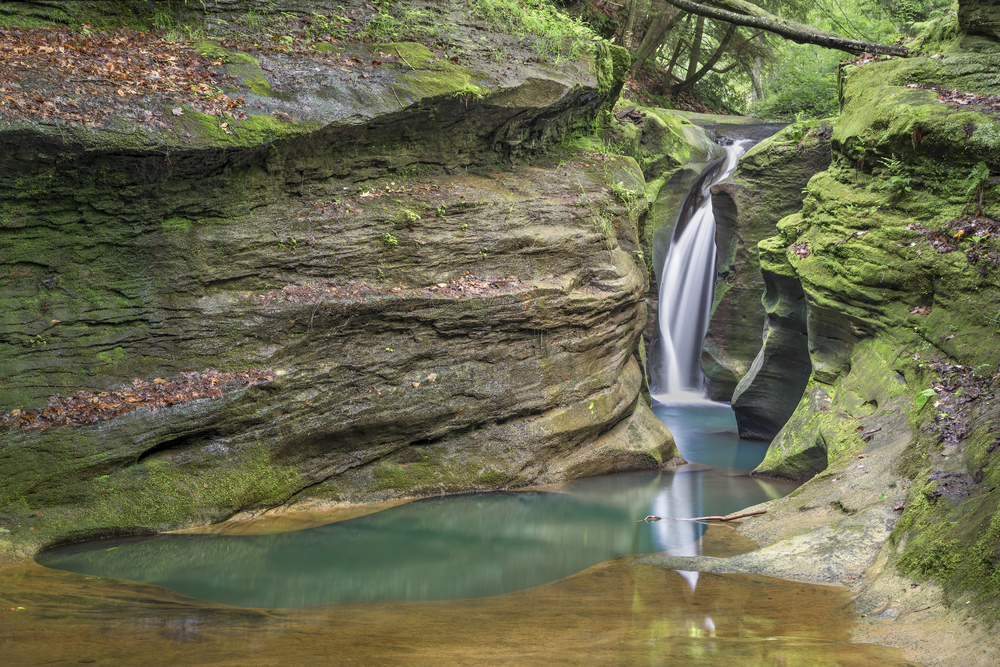 Packing List For Hiking In Hocking Hills
No matter how you plan to travel to Ohio, packing light is always a prudent idea. Read my tips on how to pack lightly here.
A concealed travel pouch may be one of the most important items you bring along when visiting Hocking Hills, Ohio. It is always important to protect our personal information.
Read my tips on how to pack lightly here.
This unisex RFID blocking concealed travel pouch is lightweight and comes in several colors. It has lots of organization to give you peace of mind.
If you have a pouch already that does not come with the RFID protection, as I do, these RFID sleeves are the perfect solution.
This configuration comes with enough passport and credit card sleeves that the entire family would be protected. They are slim too, so they will easily fit into your pouch or wallet.
If you are planning on taking a lot of pictures with your phone you will definitely want to consider an external charging battery. This Anker high-speed phone charging battery is the exact one I carry with me on all of my trips.
It can be used on a variety of phones, not just an iPhone like I have. And wow is it fast!
I like that it holds its charging capabilities for several uses so I do not have to worry about it while out and about, and if I forget to recharge it at night, it will still be good to go the next day.
My daughter gifted me with this FugeTek selfie stick and tripod setup for my birthday. I absolutely love it! It is made of lightweight aluminum and so easy to use.
It has Bluetooth connectivity and is a breeze to use for group shots or that perfect selfie!
I was not a fan of packing cubes until I started to use them! This is the exact set of packing organizers I use whenever I travel.
Hydration is so important. You want to remain hydrated to support your immune system which in turn will be stronger to fight off any germs you will encounter during your travels.
You will want to bring your own refillable water bottle with you.
I never leave home on a trip without my Bobble filtration bottle. The 18.5-ounce size is perfect for travel and it fits nicely in the pocket of a backpack or your purse.
Perhaps you are traveling a long distance and packing space is a premium in your suitcase, or in your car.
Then this set of collapsible silicone foldable water bottles would work well for you. Would not take up much space at all.
You will want a backpack or daypack with you to store snacks, your water bottle, phone, extra clothes, etc… This foldable water-resistant backpack would be great.
It is very affordable and is available in many color options for you to choose from. The fact that it folds down into a zippered pouch will make it easy to pack.
Perhaps you need a more substantial backpack for your travel. This antitheft backpack has a charging port, is water-resistant, and can comfortably carry up to a 15.6″ laptop.
You will be walking more than usual while hiking in Hocking Hills. A sturdy and comfortable pair of walking shoes are a must-have. These waterproof all-season shoes are extremely affordable and yet fashionable.
Mostly everyone is familiar with the Skechers brand, and these Air Run high fashion sneakers come in a lot of colors to match your outfits and are still affordable.
If you are hiking in Hocking Hills, Ohio in warmer weather, maybe you want a pair of sandals to wear to dinner or to the local cafe, I highly recommend these Vionics adjustable strap orthotic sandals.
I have several pairs of Vionics that I bring with me *everywhere* I travel. They are very comfortable and have orthotic footbeds that cradle and support your feet.
We all need to protect our eyes from the sun's harmful UVA/UVB rays. These unisex polarized sunglasses come in a lot of lens colors and frame designs and are extremely affordable too.
If you are fond of the aviator-style of sunglasses these polarized aviators may interest you.
If you are in need of new luggage, this expandable soft side spinner luggage is affordable and comes in lots of colors.
If you like hard-sided better, then you may favor this hard-sided luggage set better. Both sets come with TSA locks and 8 wheels per piece.
—
I do hope one of these Hocking Hills hiking trails works for you. Please let me know which one you try.
There are so many Hocking Hills hikes to choose from.
Hiking in Hocking Hills is an experience, that is beautiful and the scenery is breathtaking, making it one of the best places to visit in Ohio.
I know whenever or wherever you go you will have an amazing time.