Are you interested in exploring the amazing caves in Ohio? Then you've come to the right place!
Lots of people who live in Ohio or come to visit the Buckeye State, don't realize that it is full of stunning caves and caverns. and there are so many exciting things to do in Ohio!
There are actually over 400 caves in Ohio, however, most of them are not accessible to the public.
That's either because they aren't safe, haven't been fully explored, or are being preserved and protected.
So, let's take a look at 15 of the most amazing caves in Ohio you have to explore!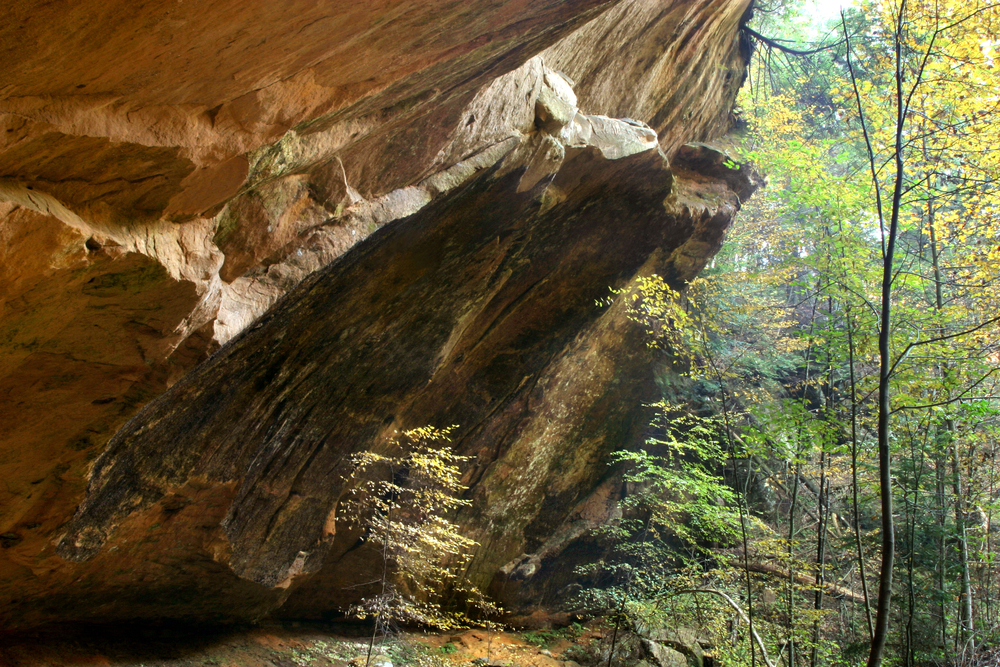 15 Amazing Caves In Ohio For You To Explore
Old Man's Cave Is One Of The Most Popular Caves In Ohio
You'll find Old Man's Cave in Hocking Hills State Park.
The trail leading to Old Man's Cave is one of the most popular hiking trails in Hocking Hills.
It's beautifully scenic, fairly easy to hike, and leads to some incredible waterfalls, and of course, Old Man's Cave.
The name of the cave actually comes from a hermit, named Richard Rowe, who called the cave home in the early 1800s.
Rowe lived out the rest of his life in the cave and was eventually buried beneath the ledge of the main cave.
There was also a family in the late 1700s that built a cabin near the cave. They lived there for some time before moving.
However, two of the brothers are also said to be buried in or around the cave.
The cave itself is black sandstone and was carved out over millions of years by a creek that now forms several waterfalls along the cave structure as well.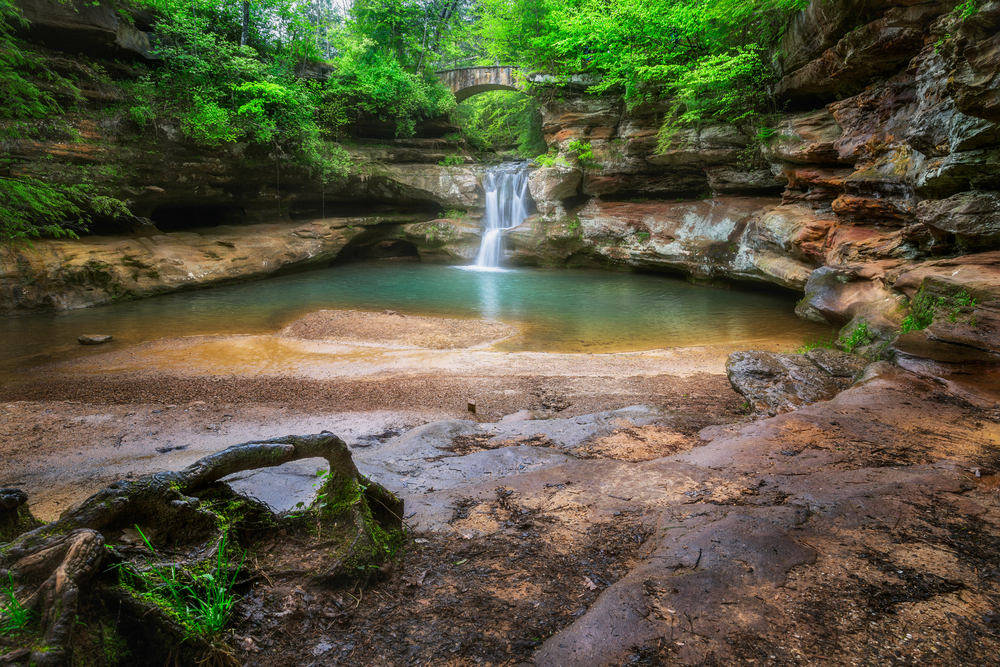 The Olentangy Indian Caverns Is A Fun Place To Take Kids
If you're looking for a family adventure exploring Ohio's caves, then head to the Olentangy Indian Caverns.
The Indian Caverns are massive and consist of natural passageways and rooms that span three levels.
Those passageways, caves, and rooms were naturally carved by an underground river over millions of years.
This Ohio cave system itself is mostly made up of limestone.
This cavern system gets its name because it was frequently used by the Wyandotte Indians as a shelter space from bad weather and enemy tribes.
When archeologists first explored the cave system, they found tons of artifacts from the Wyandotte Indians throughout areas of the Indian cavern system.
In fact, it's believed, based on these artifacts, that the Wyandotte Indians were still using the caverns for this purpose up until at least 1810.
The Olentangy Indian Caverns are some of the coolest caverns in Ohio and you'll definitely want to check them out!
there are so many cabins with hot tubs in Ohio in this area!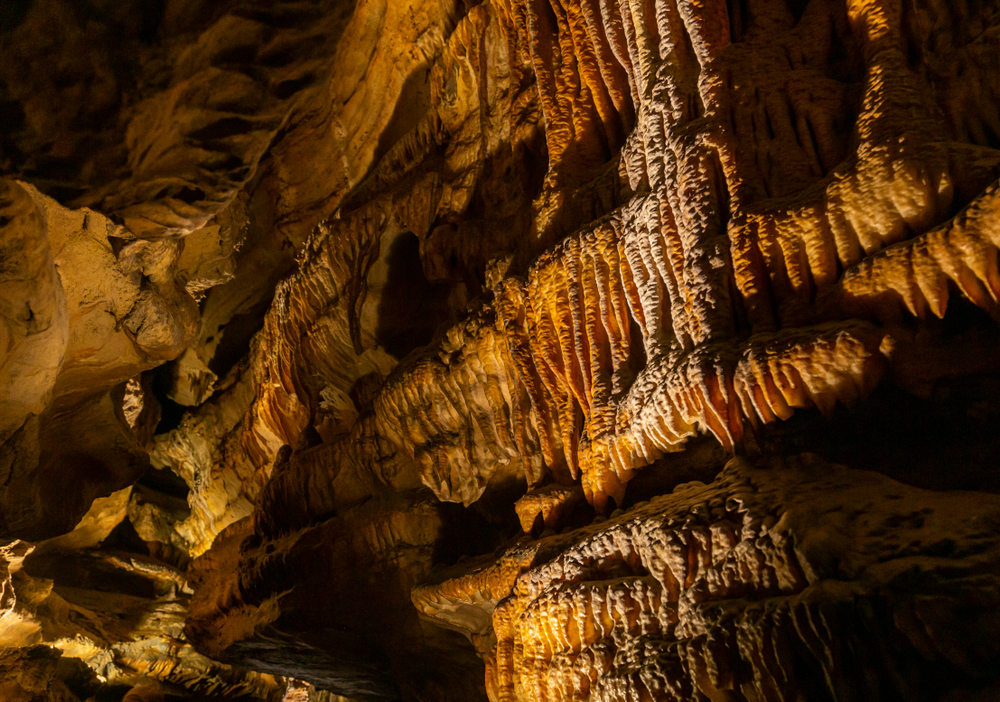 Hike To The Chapel Cave
Chapel Cave is a unique cave in Ohio located in Hocking Hills State Forest.
To get to Chapel Cave, you'll need to hike uphill, on a fairly moderate-level trail.
The trailhead starts at the Hocking Hills State Forest Rock Climbing and Rappelling Area parking lot.
You'll want to pay close attention to the trail markers and informational posts for the trail.
It can be a bit confusing, but when you are just under a mile in, you'll see a rocky outcropping uphill and to your right.
That outcropping is the Chapel Cave. The trail to get up to the cave is pretty poorly marked, so this is where you'll want to make sure you're paying attention.
As you get closer to the cave, the trail markers get better. Once you get to the end of the trail, you'll be right at the cave entrance.
If you're up for the challenge, this is one of the best caves in Ohio!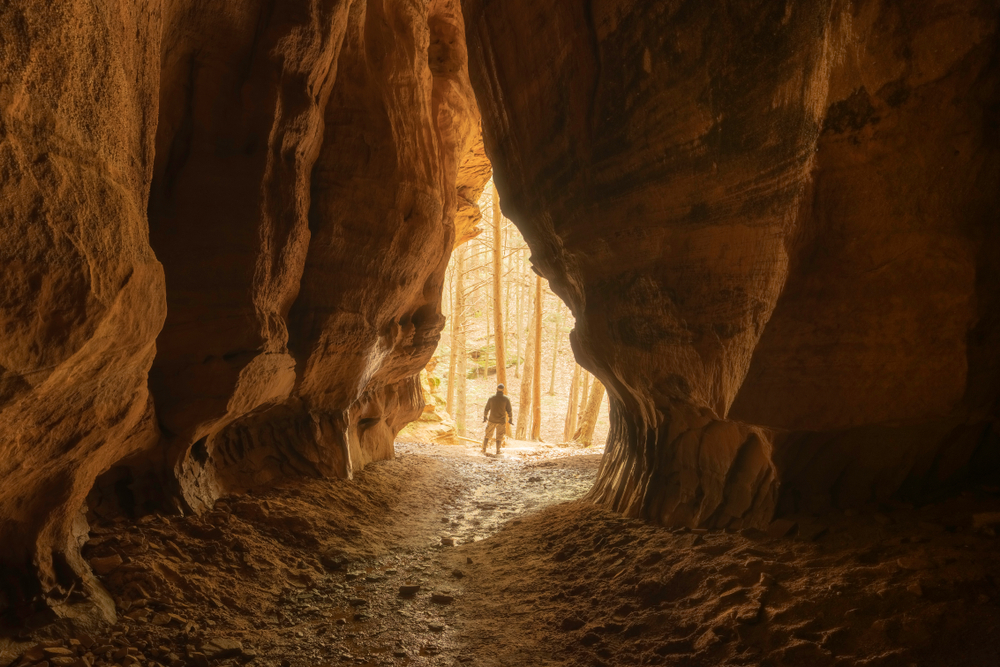 Crystal Cave Is A Unique Put-in-Bay Cave To Explore
One of the best things to do in Put-in-Bay, Ohio, is to explore the Crystal Cave.
Crystal Cave Put-in-Bay is home to the largest geode in the world. You read that right!
Inside this Put-in-Bay cave, there are celestine crystals that are up to 3 feet in width.
The walls of the cave are covered in a mineral called celestite that gives off a blueish color.
Crystal Cave was accidentally discovered by miners that were digging a well for the Heineman Winery, a historic Ohio Winery, that is on the same property.
For a while, the crystals within the cave were harvested to make fireworks.
During the prohibition era, the winery used the cave as a place to hide their contraband alcohol.
Today, the Heineman Winery is doing its best to preserve the crystals that are still left in the cave.
You can take cave tours for a small fee from early May to late September.
Crystal Cave is one of the most stunning caves in the USA, so I highly suggest taking a tour!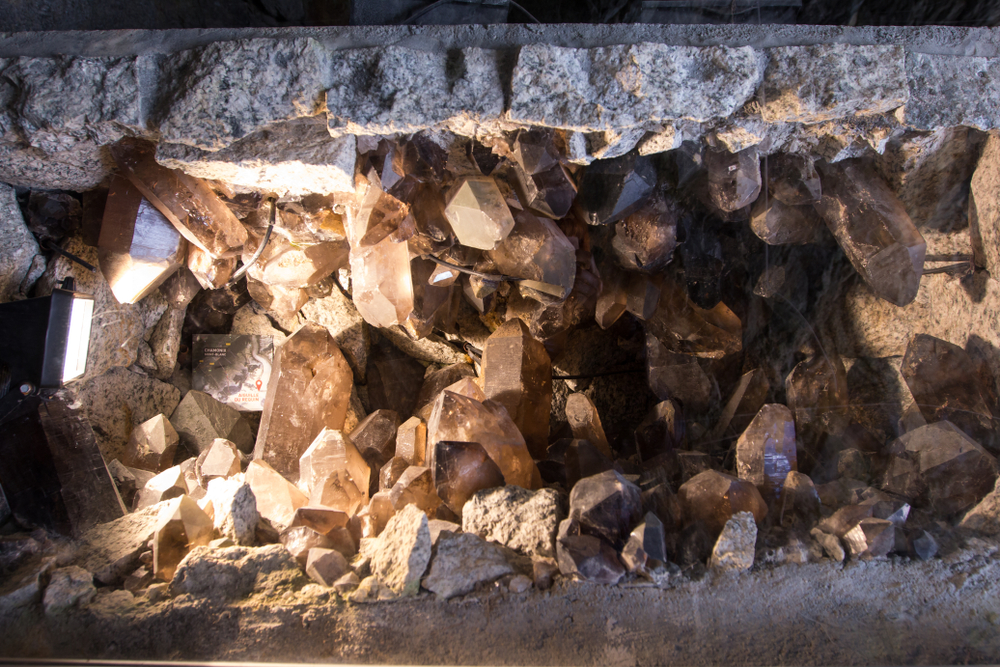 See The Ash Cave When You're In Hocking Hills
Another popular area in Hocking Hills State Park is the Ash Cave.
Ashe Cave is actually the largest, and most impressive, cave in Ohio.
In fact, many people believe it is the prettiest cave in the USA!
You'll find Ash Cave in the southernmost area of Hocking Hills via the Ash Cave Hiking Trail.
This Hocking Hills hiking trail is about half a mile long and typically takes about 40 minutes to complete. and is one of the coolest things to do in Hocking Hills.
The hike itself is fairly easy, and most of it is paved. It's also wheelchair accessible, so everyone can get to experience the beauty of Ash Cave.
When you reach this Ohio cave, you'll see just how big it is.
From end to end, it measures 700 feet wide and 100 feet deep.
It's in a horseshoe shape and has a small waterfall that drops down over part of the entrance and into a small creek.
If you're looking for the best Ohio caves to visit, you have to see Ash Cave!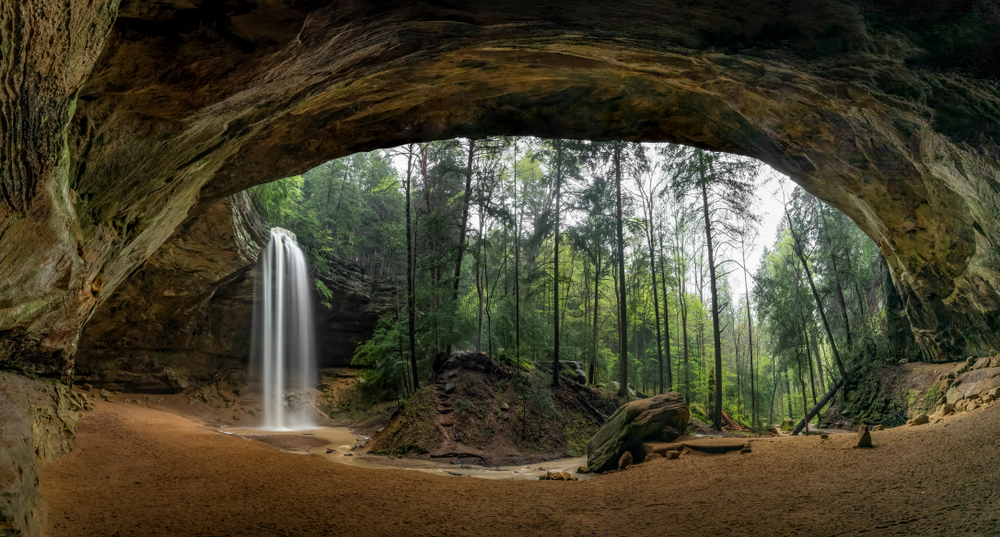 See The Bats At Ice Box Cave
Ice Box Cave is a protected bat habitat in Cuyahoga Valley National Park, one of the best National Parks in Ohio.
There have been nine bat species identified in the park, and many of them call Ice Box Cave home.
Because the bats of Cuyahoga Valley National Park live there, the cave is temporarily closed.
This is to protect the bats and help stop the spread of a deadly disease known as White-Nose Syndrome.
So, while you can't actually explore the inside of the cave, you can hike to it and view it from the outside.
Learning about the bats, their natural habitat, and seeing the Ice Box Cave, are one of the coolest things to do in Cuyahoga Valley National Park.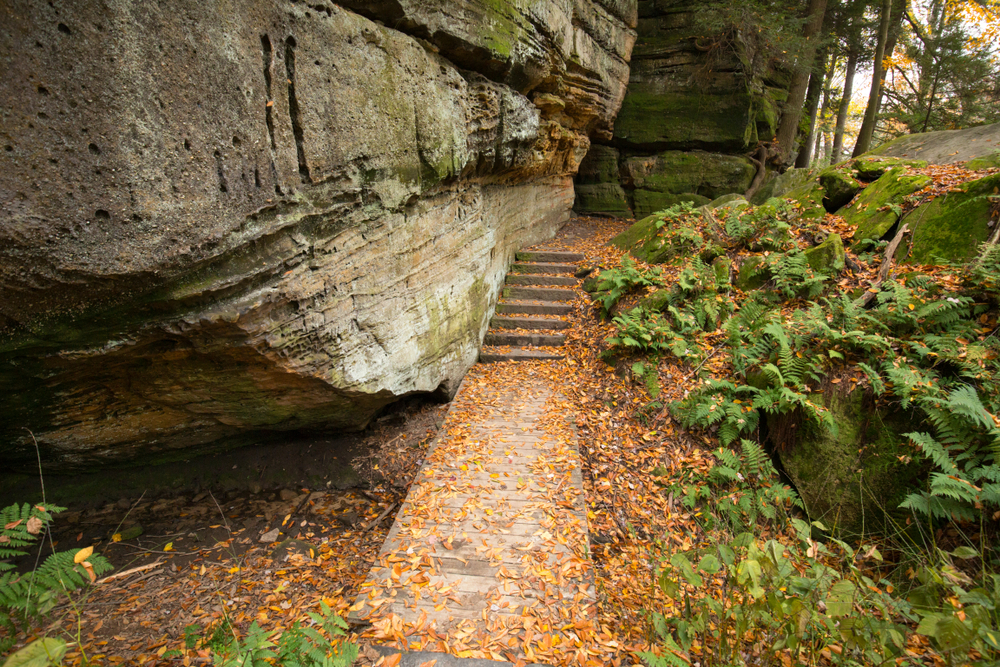 The Seneca Caverns Are A Geological Wonder
Seneca Caverns, Ohio, is a Registered Natural Landmark cavern system in Bellevue, Ohio.
These Ohio caverns were originally discovered in 1872, and in 1933 the caves were open to the public to be toured.
Inside the massive caverns, there are several rooms, passageways, and even an underground river.
All of these unique geological features are why it has been registered as a Natural Landmark.
Geologists from around the world come to the caves to learn more about cavern systems, their geology, and more.
The Seneca Caverns are still open to the public. Because they are natural landmarks, you can only tour certain areas of the caverns.
This helps preserve the caverns and keeps everyone safe.
You can book tours with a tour guide during their open season from May to the middle of October.
This is one of the most amazing things to do in Ohio!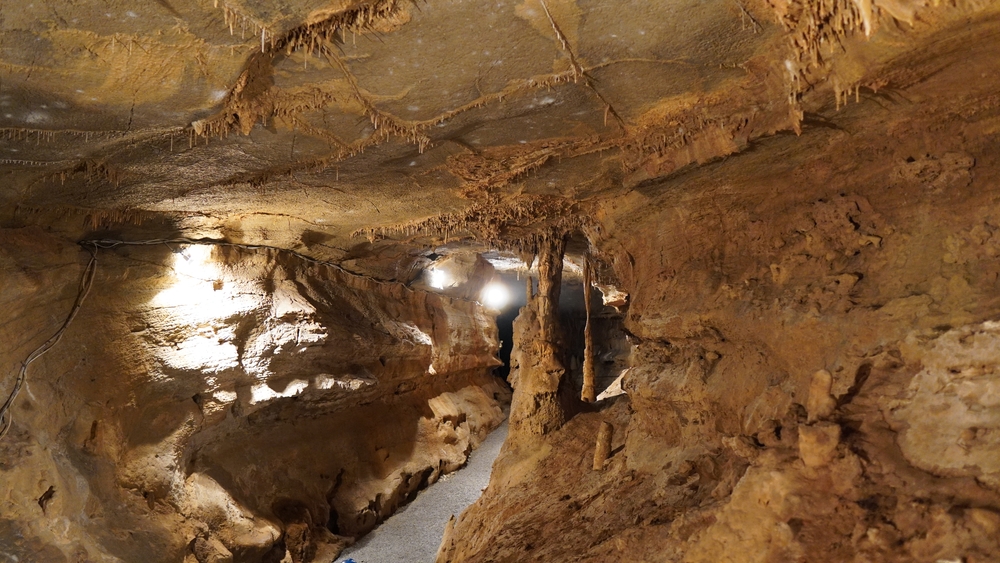 Find The Piatt Park Cave At Cincinnati's Oldest Park
You may not think of urban cities like Cincinnati when you think of caves in Ohio.
However, one of the best caves in Ohio can actually be found in Cincinnati's oldest park!
Piatt Park is an urban park that is about the size of two city blocks.
Inside the park, you can hike to the Piatt Park Cave on a fairly easy hike.
This cave nearby the city isn't super big, and often it's described as a large gorge.
But, it's a really beautiful spot in the park, and definitely worth a visit.
It's especially pretty during the fall, and it's where you can find some of the best fall foliage in Ohio.
If you don't want to do a long hike or are just looking for unique things to do in Cincinnati Ohio, then head to Piatt Park.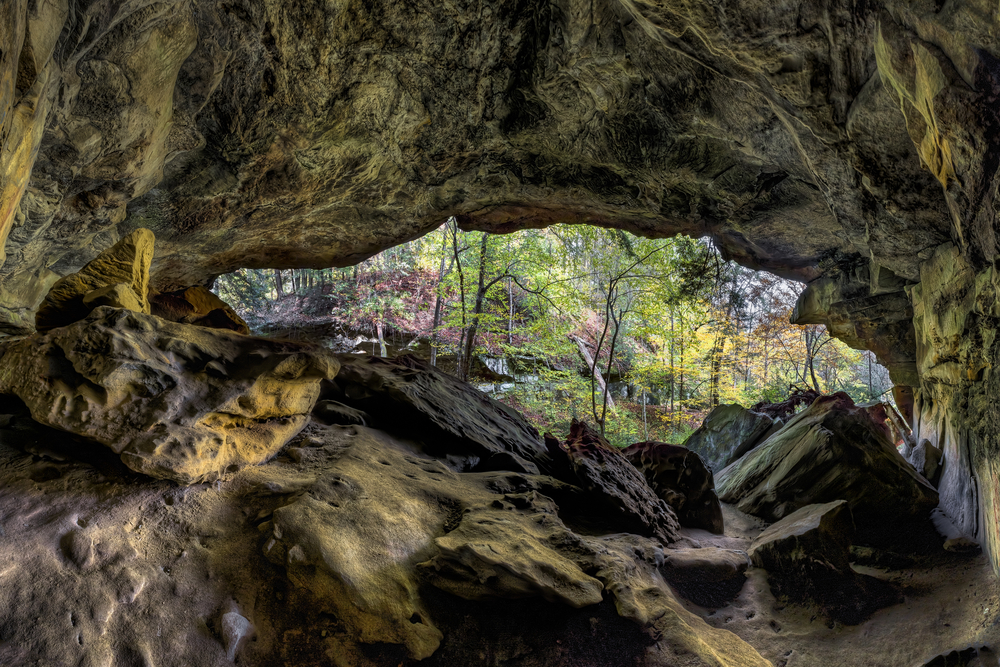 The Rock House Is Another Popular Cave In Ohio
Like many of the caves in Ohio on this list, you'll find the Rock House in Hocking Hills State Park.
However, unlike the others, the Rock House is considered to be the only 'true cave' in the park.
The cave is a tunnel-like corridor carved into Blackhand sandstone in the middle of a 150-foot cliff.
Inside, the ceilings of the cave average around 25 feet.
There are a few different parts of the cave, but the main corridor is 200 feet long, and generally 20 to 30 feet wide.
Because of the type of stone the cave is carved out of, the inside of the cave is full of colorful bands that make the cave look stunning.
All along the main corridor, there are different 'windows' that have also been carved into the rock over time.
These windows resemble large Gothic-style arched windows and look out on the woods surrounding the cave.
If you're looking for the best caves to visit in Ohio, you have to see the Rock House!
It is one of the best places to visit in Ohio.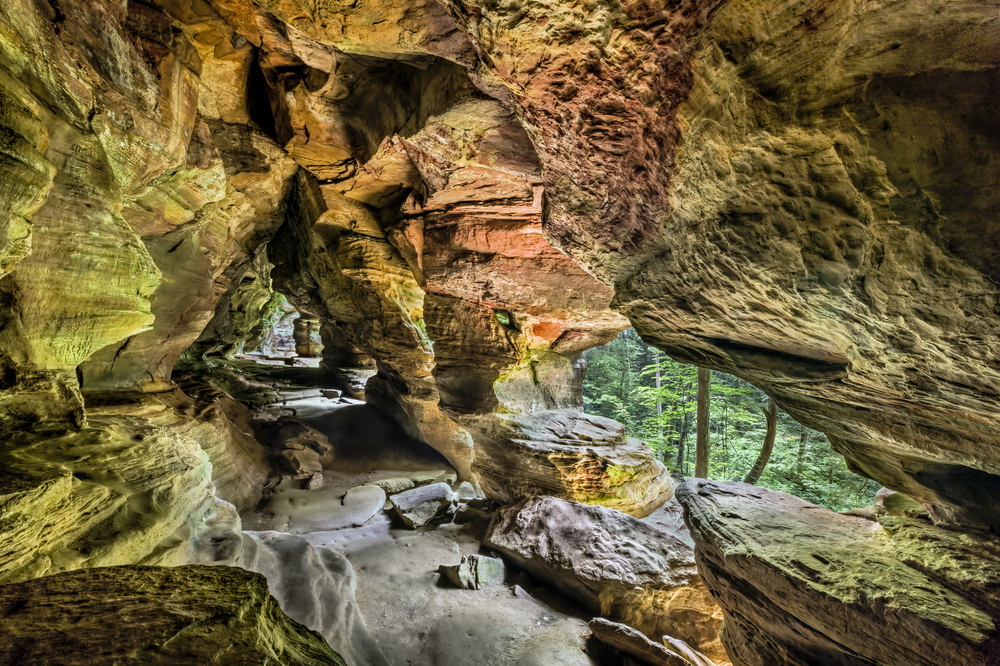 You'll Need A Permit To Find The Saltpetre Caves
The Saltpetre Caves are in Hocking County, Ohio.
In order to preserve the caves on the 14-acre nature preserve, there is no address listed anywhere for the preserve.
Instead, if you want to explore the nature preserve and the caves, you'll need to apply for a permit through the Ohio DNR.
There are four caves on the grounds of the nature preserve, and they are pretty large.
Two of the caves have eight-foot ceilings and the mouth of the caves is over 100 feet wide.
There is another smaller cave with a nice-sized chamber and two small openings, as well as another cave that actually has three separate chambers.
If you manage to get a permit to visit the Saltpetre Cave Nature Preserve, you're in for a real treat.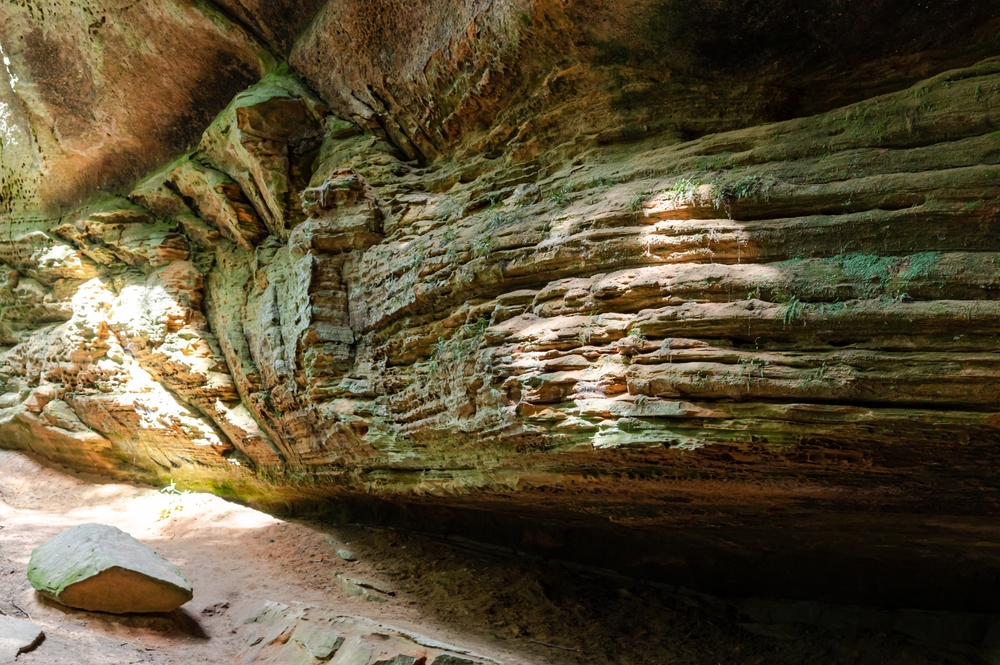 The Ohio Caverns Are A Great Place For Family Fun
The Ohio Caverns are a popular tourist destination just outside of Dayton.
Its location is perfect if you're looking for fun things to do in Dayton with the whole family!
The Ohio Caverns are also the largest caverns in Ohio!
Because it's a big tourist destination cavern in Ohio, you could easily spend hours there, and it's one of the best things to do in Ohio with kids.
Of course, you'll be able to tour the caverns and see 'America's most colorful caverns'.
They offer a variety of different tours, including lantern tours. On every tour, you'll see the best parts of the caverns.
On the grounds of the Ohio Caverns, they also have a few other fun attractions.
They have a gift shop where you can find some unique trinkets and they also have an area where you can go gem and fossil mining.
The gem and fossil mining costs extra, but it's available year-round, and it's something the whole family can enjoy!
Ohio Caverns is a super fun thing to do in Ohio that you won't want to miss!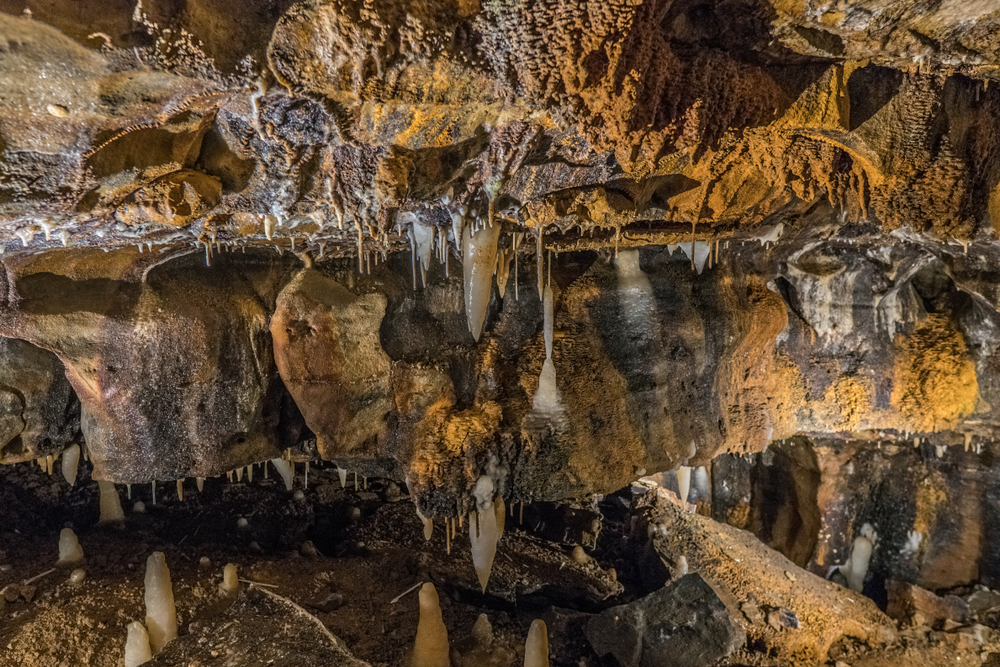 Visit The Zane Shawnee Caverns And Southwind Park One Of The Best Caves In Ohio
The Zane Shawnee Caverns and Southwind Park can be found in a small town in Ohio called Logan.
These Ohio caverns are actually owned by the Shawnee Nation, a Nation of Native Americans in Ohio.
When you're visiting Ohio Caverns, the Zane Shawnee Caverns are really close by. So I suggest making a stop there too!
To tour the caverns, you'll need to book a ticket in advance.
For adults, the tickets are about $16 and only $7 for kids. It's a great deal for a tour of a decent length.
Inside the caverns, you'll find some beautiful rock formations, and many people prefer the Zane Shawnee Caverns to the Olentangy Indian Caverns!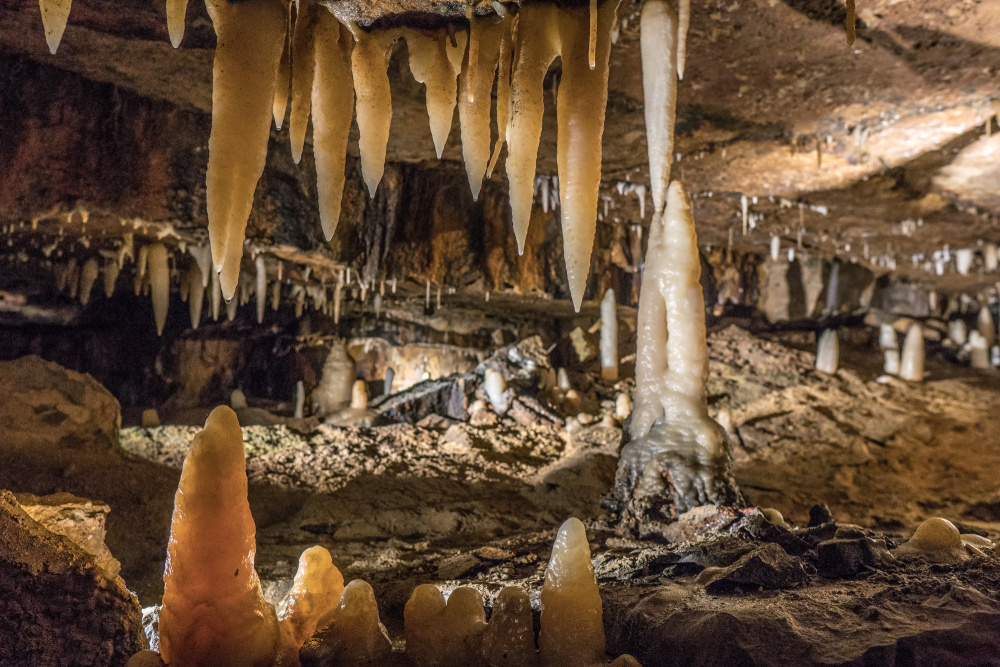 Visit The Whispering Cave If You're Up For A Challenge
Whispering Cave is another cave in Hocking Hills State Park.
However, unlike many of the other Hocking Hills caves, this one is a bit more difficult to reach.
The trail to get to the Whispering Cave is a 5-mile loop, and it's often suggested as a day hike.
You also can't hike to the cave and then turn back as that is not allowed. This particular hiking trail is one-way only, so if you want to hike to the cave, you have to hike the entire trail.
So, this isn't a good cave to visit unless you're up for a challenge.
The hike itself can be strenuous in spots because you'll be gaining in elevation and walking over large rocks, boulders, and tree roots.
But, if you think you're up for it, you'll be rewarded with one of the prettiest caves in Ohio.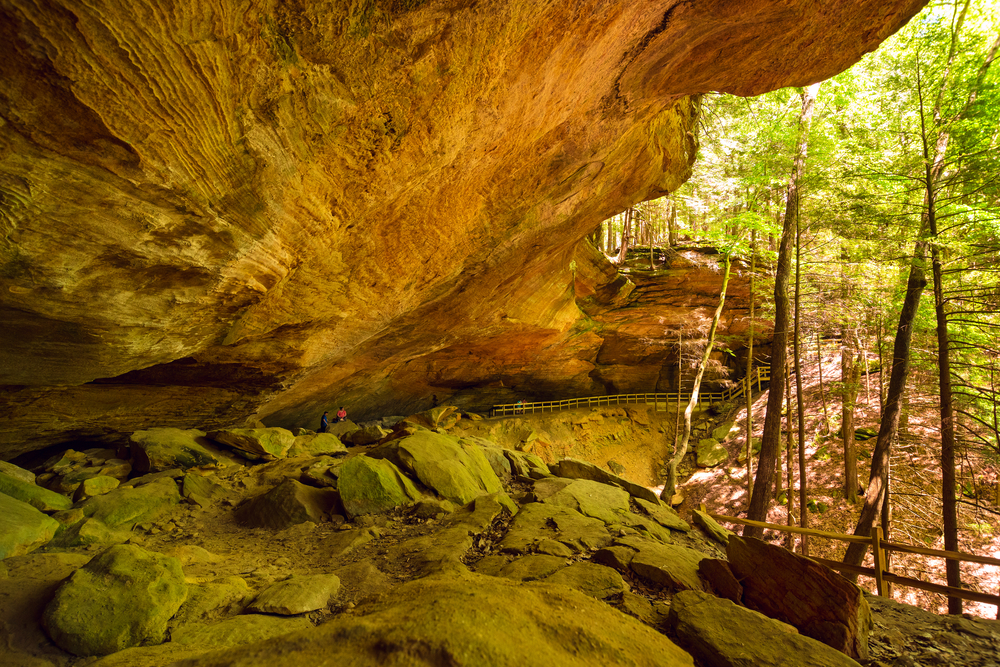 Hike To The Conkle's Hollow Gorge Cave
Conkle's Hollow Gorge is located in Conkle's Hollow State Nature Preserve, near Hocking Hills.
The gorge is considered to be one of the deepest in Ohio and in spots it's only 100 feet wide.
Hanging above the gorge are cliffs that are over 200 feet tall, which make it feel closed in and cave-like.
Because of its unique structure, many people consider it to be a cave. However, it's like many of the caves in Ohio in that most of them are technically gorges.
If you hike to Conkle's Hollow using the Lower Trail, you'll get to see a few different smaller cave recesses along the way.
In the valley of the gorge, you'll find a lush landscape of wildflowers, ferns, and even some hemlock trees.
The view is absolutely beautiful year round and easily one of the best Ohio caves to visit.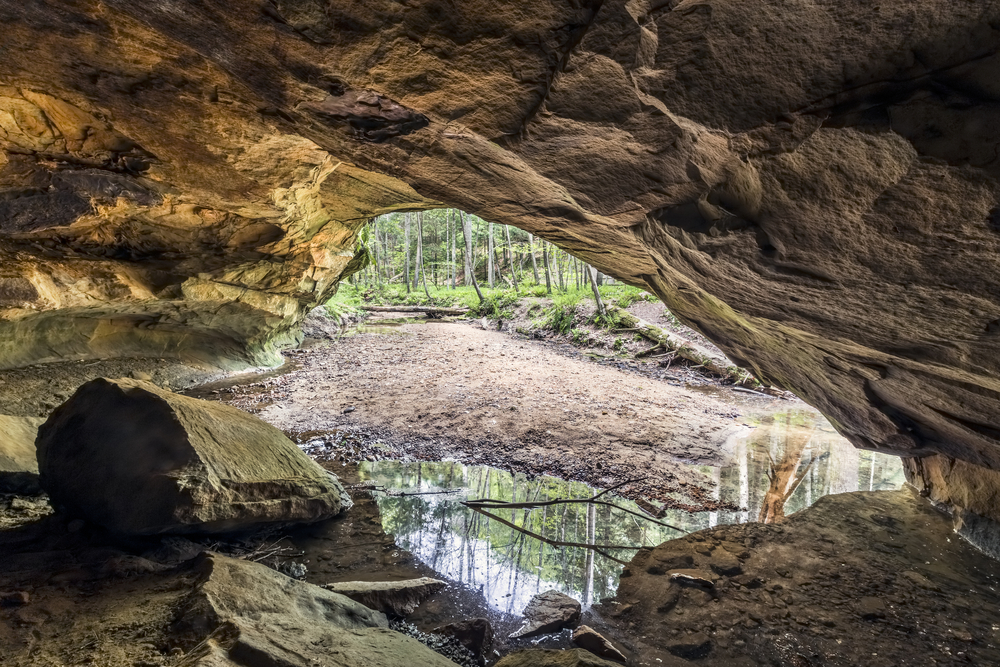 You'll Find The Hobo's Cave In Camp Buckeye
Camp Buckeye was originally a Boy Scout campground until 1984 when the scouts sold it.
Despite that, the name is still the same, and it's still a popular campground in Ohio.
The small cave gets its name from when it was used by transients who would 'ride the rails' and use the cave as a place to stay.
This is a fairly small cave, but you can easily explore it if you want.
The entrance is a small hole that is well hidden on the side of a hill.
It's a tunnel, that has several twists and turns, and deposits you on the other side of the hill.
If you plan on exploring Hobo's Cave, make sure to bring a flashlight, and plan to spend about 20 to 30 minutes inside the cave.
Packing List When Exploring Caves In Ohio
If you are searching, here are some tips on how to pack lightly when packing when heading to the best Ohio caves.
A concealed travel pouch may be one of the most important items you bring along when searching for beautiful caves to visit in Ohio.
It is always important to protect your personal information. Identity thieves are everywhere.
This unisex RFID-blocking concealed travel pouch is lightweight and comes in several colors. It has lots of organization to give you peace of mind. You can place it under your clothes next to your body to carry your ID safely.
If you have a pouch already that does not come with RFID protection, as I do, these RFID sleeves are the perfect solution.
If you are planning on taking a lot of pictures with your phone you will definitely want to consider an external charging battery. This Anker high-speed phone charging battery is the exact one I carry with me on all of my trips.
I like that it holds its charging capabilities for several uses so I do not have to worry about it while out and about, and if I forget to recharge it at night, it will still be good to go the next day.
My daughter gifted me with this FugeTek selfie stick and tripod setup for my birthday. I absolutely love it! It is made of lightweight aluminum and is so easy to use.
It has Bluetooth connectivity and is a breeze to use for taking Insta-worthy selfies when exploring caverns and caves in Ohio.
I never much believed in using packing cubes when traveling. That is until I tried them. Now I am hooked. These are the exact cubes I use to stay organized when I pack for a trip!
You will want to bring your own refillable water bottle with you.
I never leave home on a trip without my Bobble filtration bottle. The 18.5-ounce size is perfect for your adventures and it fits nicely in the pocket of a backpack.
The replaceable carbon filter ensures you have fresh drinking water.
Perhaps you are traveling a long distance and packing space is a premium in your suitcase, or in your car. Then this collapsible silicone foldable water bottle would work well for you. Would not take up much space at all.
You will want a backpack or daypack with you to store snacks, your water bottle, phone, extra clothes, etc.. . No matter the time of day or evening.
This foldable water-resistant backpack would be great. And it comes in many different colors!
—
There are so many cool caves in Ohio to explore. I was born and raised in Youngstown, Ohio. and I never knew about this interesting part of Ohio!
Some are well-hidden secret gems in Ohio while others are incredibly popular, making them the perfect Midwest weekend getaway.
One thing is for sure, all of these Ohio caves are unique and definitely worth a visit.
Have you seen any of these caves in Ohio?
I'd love to hear about your experience in the comments!