Are you looking for things to do in Put-in-Bay Ohio? You have come to the right place. In this article, I will walk you through Put-in-Bay attractions, and all the incredible things that Put-in-Bay, Ohio has to offer.
Put in Bay is a charming town in northern Ohio on South Bass Island. It is often called the 'Key West of the North' as it has incredible views, a lot of history and some amazing beaches.
The area is also rich in history with lots of historic sites and museums that track the unique historical background of this location.
To get to Put in Bay you will need to take the ferry called the Jet Express. It leaves from Port Clinton and Sandusky docks and costs $8 per person over 11 and $1.50 for those under.
Here are 14 of the best things in Put-In-Bay Ohio you should not miss!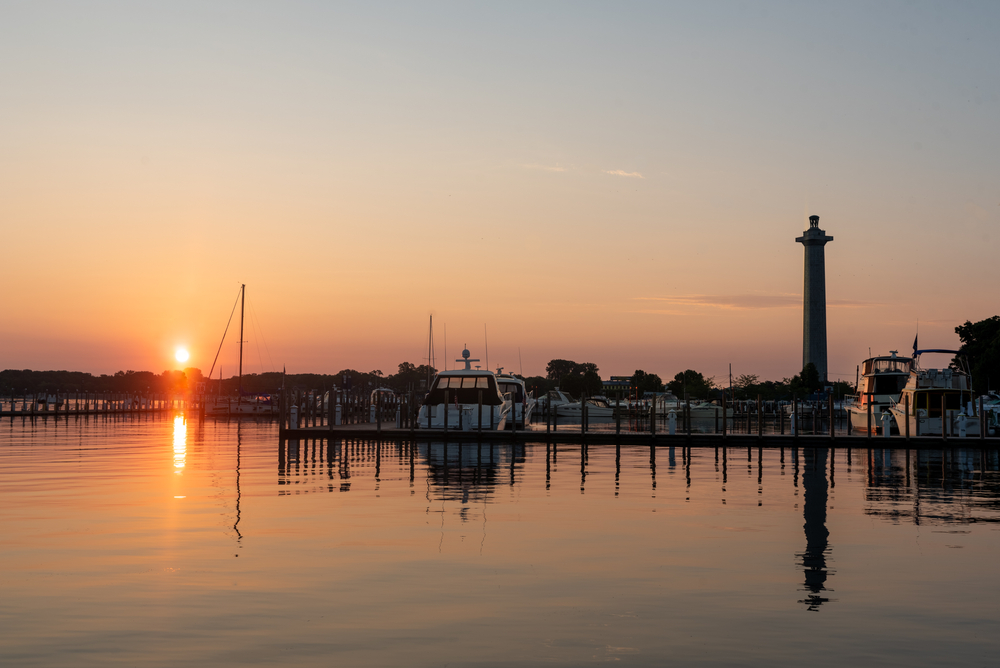 14 Best Things To Do In Put-In-Bay You Shouldn't Miss
Benson Ford Ship House
When it comes to attractions in Put-in-Bay there might not be any odder than this one. Set on the shores of Lake Erie this unique home was once the forecastle of a huge cargo ship created for Henry Ford and the Ford Motor Company.
The ship which use to haul iron around the Great Lakes is now a holiday home and is breathtaking. Owned by Bryan Kasper and family, you can rent this 7,000 square foot summer home.
It is occasionally open to the public so check to see if it is open when you are there. However, you can easily see it from the Ferry to the island so make sure you take a look.
Visiting this Put-in-Bay attraction would certainly make an incredible Midwest weekend getaway.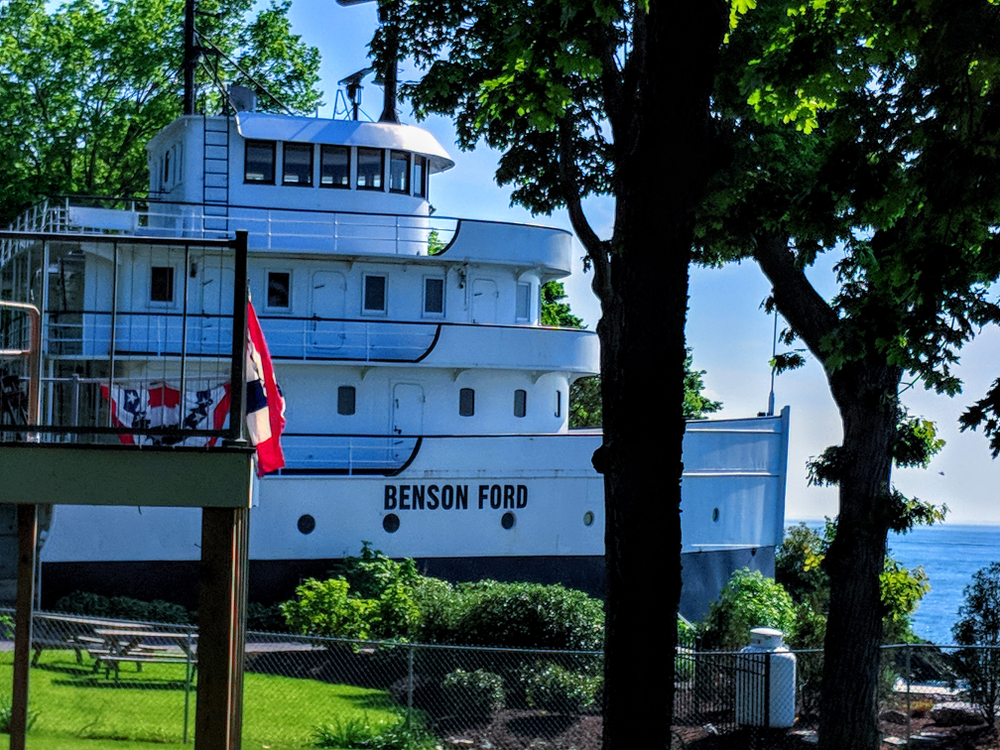 Perry's Victory And International Peace Memorial
Towering 352 feet in the air you can't miss this Put in Bay, OH attraction. Built in 1915 this column is a testament to everlasting peace and friendship between Great Britain, Canada, and the United States.
The monument sits in a narrow piece of land close to downtown Put-in-Bay a short walk from the ferry terminal. It is open daily and entry is $7.
The visitor center is free but the entry price will let you climb to the observation deck and the views from here are incredible. On a clear day, you can see all the way to Canada.
The grounds in front of the column are a popular space for events so check to see if something is happening while you are there.
Wondering why this monument is so special? Well, it's 47 feet taller than the Statue of Liberty and the observation deck sits 12 feet higher than Lady Liberty's torch. It is one of the tallest monuments in the country.
When thinking of things to do in Put-in-Bay this has to be top of your list.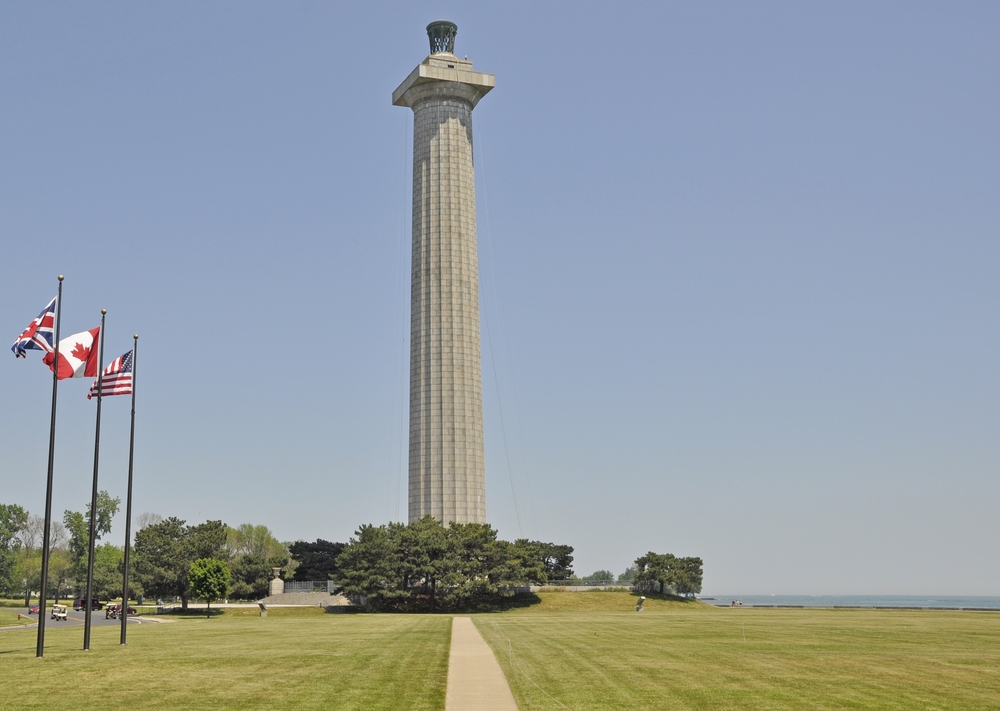 A Popular Put-in-Bay Attraction Is The Tour Train
If you want to get your bearings and see as much as you can then take a ride on the tour train. It is bright, cheery, and complete with choo-choos, and the children love it.
This open-air trolley is a one-hour guided tour and is a great way to also cool off as well as seeing all the Put-in-Bay attractions.
You can purchase tickets at the bus terminal in the heart of downtown. The train stops at various locations including Perry's Cave and Family Fun Center, Heineman's Winery, Perry's Victory, and International Peace Monument, and the Lake Erie Island Nature and Wildlife Area.
And it all takes place with an experienced tour guide who guides you through the history and all the information you will need on the area.
It's a great way to take in this town and all it has to offer.
Relax On The Beaches
The beaches in Put in Bay are great places to cool off. On the shores of Lake Erie, there are two main beaches for you to enjoy.
Near Perry's Victory and International Peace Memorial, there is a beach at the end of Delaware Ave. The second beach is in the South Bass Island State Park.
Since the island is made predominantly of dolomite rock the beaches do tend to have a pebble shoreline.
The South Bass Island beach is bigger however the beach at the monument is nearer downtown and has great views.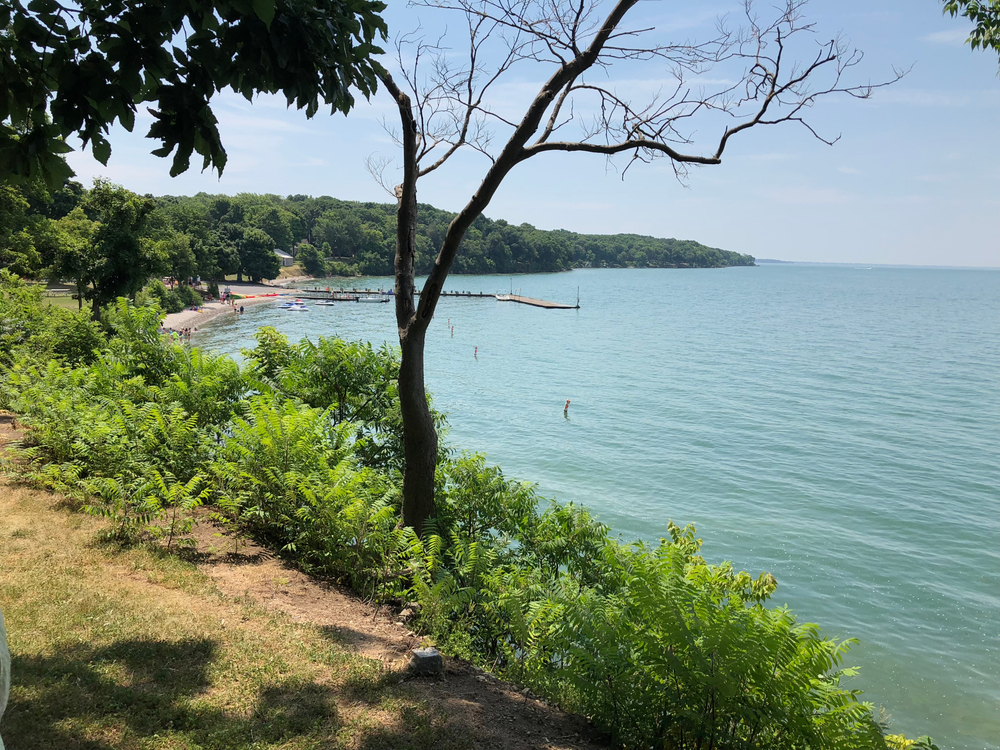 Butterfly House
I think a visit to The Butterfly House is a must for your things to do in Put-in-Bay list. Apart from the fact it is full of butterflies, it's a little oasis with soothing music and lush greenery.
The Butterfly House is truly special. Every visit to Put-in-Bay should include a stop here This peaceful oasis in the midst of Perry's Cave and Family Fun Center is full of beautiful butterflies, lush greenery, and soothing music.
It's a 4000 sq foot space with over 50 species of butterflies. The Butterflies are from all over the world and include such species as Mosaic from Central America, the Rose Swallowtail from Southeast Asia, and the Dead Leaf Butterfly.
You can download a butterfly identification card before you go or just enjoy looking at these colorful and magnificent creatures.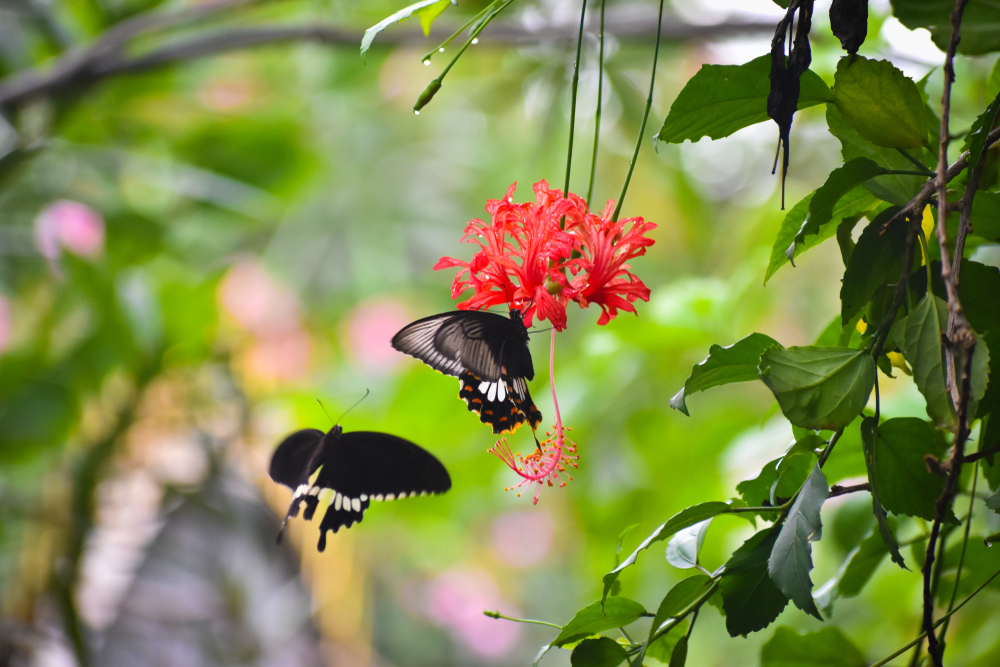 Chocolate Cafe and Museum
Of all the things to do in Put-in-Bay, this is perhaps the most delicious. One side is the cafe and the other the museum.
In the cafe, you can meet your every chocolate whim. They also have 32 flavors of ice cream and as you can imagine the hot chocolate menu is very impressive.
The Museum features exhibitions about chocolate making as you would expect. There are also displays of movies linked to chocolate.
It's both interesting and satisfying at the same time. A must for all chocolate lovers.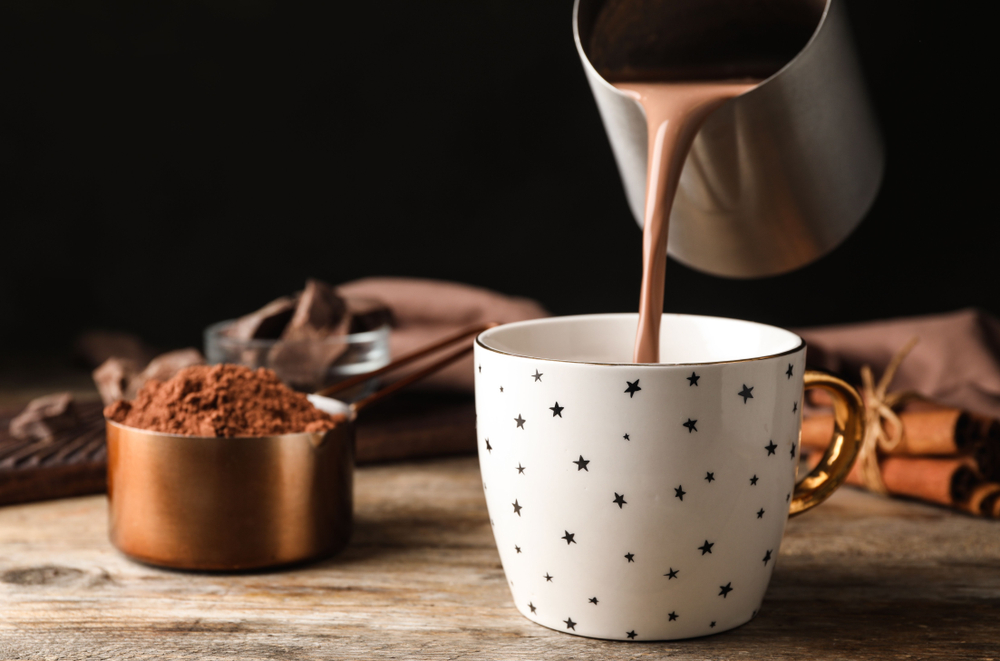 Stonehenge Historic Estate
Dating back to the 1800s, the Stonehenge Historic Estate's Farmhouse and Wine Press Cottage is listed on the National Register of Historic Places.
On the eastern shore of the island, about half a mile from the town, Stonehenge sits in six acres of woodland and has incredible views of Lake Erie.
The property consists of a farmhouse, the Wine Press Cottage, pole barn, workshop, and storage buildings. It is $7 to take a self-guided tour.
Take your camera because the views are amazing and the location is very picturesque.
Jane Coates Wildlife Trail
Jane Coates Wildflower Trail is a half-mile loop located on the southern end of South Bass Island. With gorgeous wildflowers everywhere, you can look at migratory birds singing in the trees making this oasis is a hidden gem of Put-in-Bay.
This trail is at its best in April and May but don't let that put you off as it's a lovely walk whenever you go. The trail links three acres of woodland and is protected from further development.
Named after a local artist Jane Coastes it celebrates her love for the island. The trail is a mix of Sugar Maple, Blue Ash, Basswood, Black Cherry, and Common Hackberry.
All the wildflowers you can see include Dutchman's Breeches, Jack in the Pulpit, and Blue Phlox to name but a few.
The islanders are very proud of this trail and you can often see one of them cleaning up the trail and keeping it pristine. And when you walk it you will see why.
It's an ideal place to watch birds, enjoy wildlife, walk in the woods, or just enjoy some peace and quiet.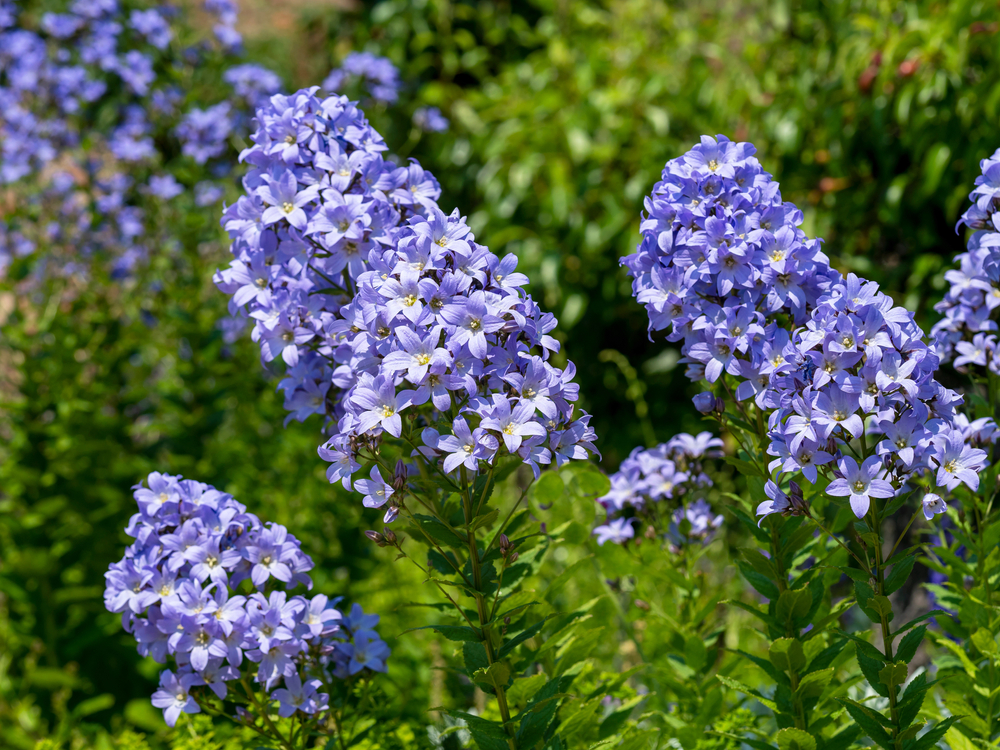 Put-in Bay Winery
Located at the Doller House Estate, this is a lovely place to spend an afternoon. Founded in 2009 this property included a winery exhibition, a wine garden, and a store.
There are wine tours that go through the history of the region when it comes to wine. You even get to try some of the local wine, a sparkling Moscato.
Learning about the Historic Ice House and the Dollars ice business which played an important part in this wine region is part of your tour. The Doller House is an Italian-style beauty and the views from here are incredible.
It's a testament to Put-in-Bays past and the history of this incredible entrepreneur, and would make a romantic Midwest getaway!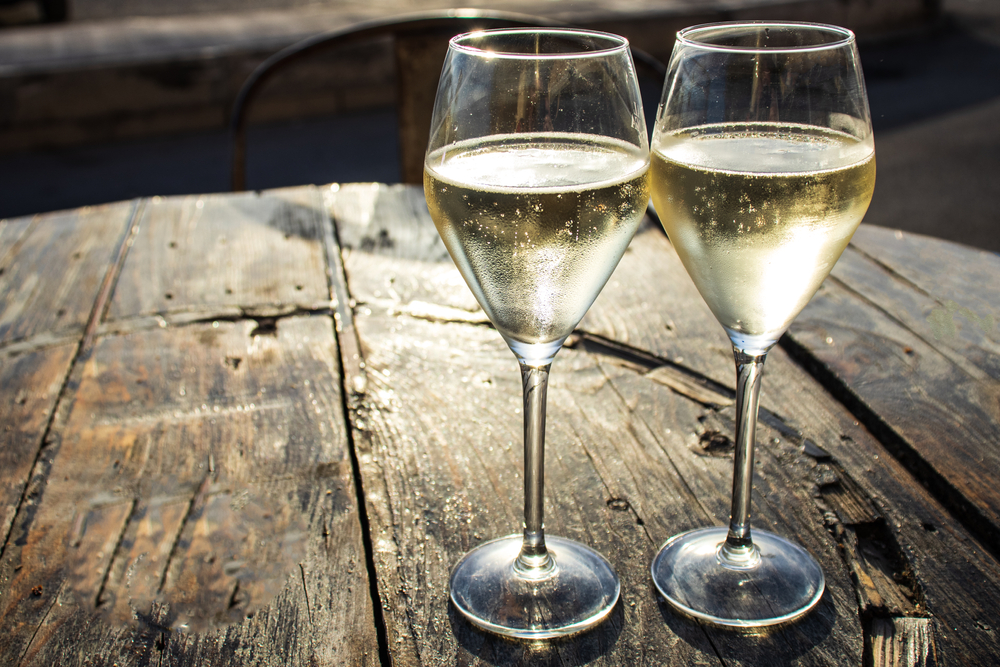 Seeing Crystal Cave Is One Of The Beautiful Things To Do In Put-in-Bay Ohio
The Crystal cave is a not-to-be-missed attraction in Put in Bay. It's located at the Heineman Winery so you can also enjoy a glass of wine in the beautiful garden.
The cave is home to the largest geode in the world and some of the crystals are up to 3 feet in width. The walls are covered in loads of crystals some up to 18 inches in length.
Discovered in 1897 by miners digging a well for the winery it was eventually opened for the public and its popularity grew from there.
Tours of the cave are $8 for those over 11 and $4 for 6-11-year-olds. The Cave is open seven days a week from May until September. Also, pack a sweater as it can get very chilly in the cave.
Massie Cliffside Preserve Is One Of The Peaceful Things To Do In Put-in-Bay
Massie Cliffside Preserve is an eleven-acre piece of shoreline that offers not only peace and quiet but some incredible habitat. It's a short walk from Perry's Victory and International Peace Memorial so it is really easy to get to.
The trail takes you to the lake which is great for bird watching or photography. Or just enjoy the surroundings.
There are some lovely benches along the edge of the cliff to enjoy the view. It's a beautiful area and is well worth
Lake Erie Island Historical Museum
Located right in the downtown area the Museum archives and documents the history of the entire region. It is open every day during the summer and is a great place to learn a little more about this incredible area.
Entry for adults is $5 and it's easy to find just behind the police department and the Put in Bay Brewing company.
The museum regularly puts on interesting exhibits and events so check before you go what is happening. The museum covers everything from the history of the American Indians who once populated the islands to the turning point of the Battle of Lake Erie.
South Bass Island Lighthouse
First lit in 1897 the South Bass Island Lighthouse is pretty much the same as it was when it was built. It is open on select dates through June-October so check before you go.
You can climb the stairs to the top and the views are stunning. There are also lots of historic educational points so you can learn along the way.
It's an unusual lighthouse in that it is a red brick dwelling with an attached square tower. The tower stands forty-five feet tall.
Visiting this historic attraction in Put-in-Bay is worthy of your time. It is definitely one of the best Ohio day trips you want to look into!
Perry's Cave
Located less than a mile from downtown, Perry's Cave Family Fun Centre of the most popular attractions in Put in Bay. There are eight attractions in total here with the main drawn been Perry's Cave.
The cave is located 52 feet underground and really is magical. It's home to a rare underground lake full of fresh water.
The lake rises and falls with the tides but no one knows where it is connected and it is definitely one of Put-in-Bay's unsolved mysteries.
The cave is said to have been discovered in 1813 by Commodore Oliver Hazard Perry who used the lake to provide water for his troops during the war of 1812.
Bring a sweater because it can get cold in the caves.
Visiting Gibraltar Island Is One Of The Coolest Things To Do In Put-in-Bay Ohio
The island is in the Put-in-Bay Harbor and has the tallest land elevation in the area. The island is now managed by Ohio State University.
The island has changed hands a lot. Originally owned by Jay Cooke a Civil War financier who gave it to her daughter who then sold it to Franz Theodore Stone who later donated it.
Stone left his mark and the building on the island is known as Stone Laboratory used for research by university students. The Laboratory is the oldest freshwater biological field station in the United States.
It is named after Gibraltar Island in the Mediterranean Sea since it resembles the fortress island.
It is closed to the public however in the summer there are weekly science and history tours.
If you are there during the summer try and get on one of these tours as they are really special and one of the best things to do in Put-in-Bay!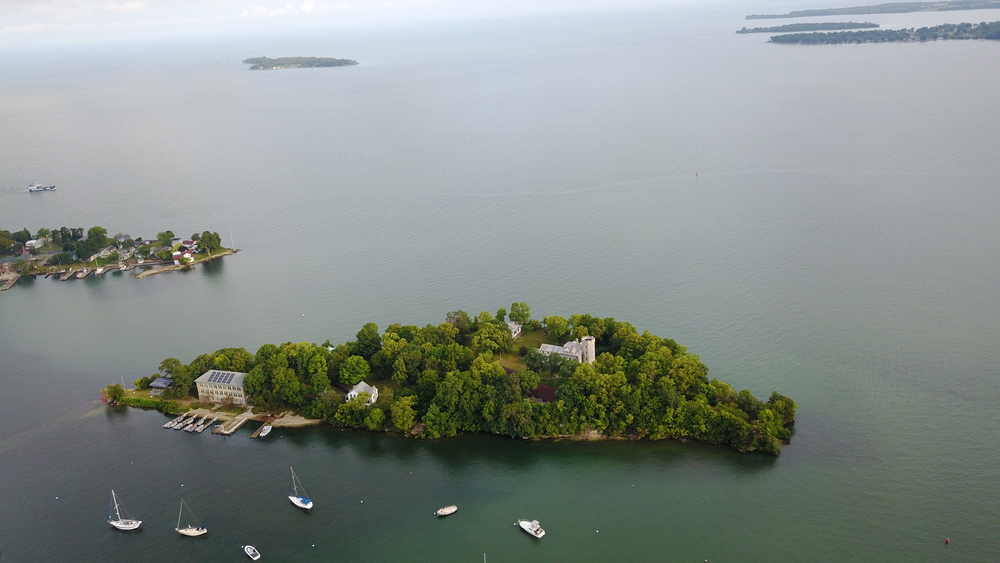 Packing List Suggestions When Visiting Put-in-Bay Attractions
Read about how to travel with just carry-on sized luggage to make your trip easier and more organized.
A concealed travel pouch may be one of the most important items you bring along when searching for things to do in Put-in-Bay Ohio. It is always important to protect your personal information. Identity thieves are everywhere.
This unisex RFID blocking concealed travel pouch is lightweight and comes in several colors. It has lots of organization to give you peace of mind. You can place it under your hiking clothes next to your body to carry your ID safely.
If you have a pouch already that does not come with the RFID protection, as I do, these RFID sleeves are the perfect solution.
This configuration comes with enough credit card sleeves that the entire family would be protected. They are slim too, so they will easily fit into your pouch or wallet.
If you are planning on taking a lot of pictures with your phone you will definitely want to consider an external charging battery. This Anker high-speed phone charging battery is the exact one I carry with me on all of my trips.
It can be used on a variety of phones, not just an iPhone like I have. And wow is it fast!
I like that it holds its charging capabilities for several uses so I do not have to worry about it while out and about, and if I forget to recharge it at night, it will still be good to go the next day.
My daughter gifted me with this FugeTek selfie stick and tripod setup for my birthday. I absolutely love it! It is made of lightweight aluminum and is so easy to use.
It has Bluetooth connectivity and is a breeze to use for taking selfies with all those nature shots in Iowa.
Hydration is so important when hiking. You want to remain hydrated throughout your travels to support your immune system which in turn will be stronger to fight off any germs you will encounter during your travels.
You will want to bring your own refillable water bottle with you.
I never leave home on a trip without my Bobble filtration bottle. The 18.5-ounce size is perfect for hiking and it fits nicely in the pocket of a backpack.
Perhaps you are traveling a long distance and packing space is a premium in your suitcase, or in your car. Then this set of collapsible silicone foldable water bottles would work well for you. Would not take up much space at all.
You will want a backpack or daypack with you to store snacks, your water bottle, phone, extra clothes, etc.. when celebrating Christmas in Ohio. No matter the time of day or evening.
This foldable water-resistant backpack would be great.
It is very affordable and is available in many color options for you to choose from. The fact that it folds down into a zippered pouch will make it easy to pack!
—
As you can see there are so many things to do in Put-in-Bay, Ohio. Matter of fact, you will be spoiled for choice. Whichever one of the Put-in-Bay attractions you choose I know you will have an incredible time.
Put-in-Bay, Ohio is beautiful. It really is an amazing town with so many things to see and enjoy. I hope you have an amazing time and please come back and tell me all about it.