Are you looking for interesting and exciting hidden gems in the Midwest?
Then check out this list that is full of unique, fun, and adventurous vacations in the Midwest.
The Midwest is a great place to explore, and as someone who grew up there, I know how varied the activities can be.
On this list, I've found things to do in every Midwest state that most people may not know about.
From roadside attractions, abandoned towns and castle ruins, and everything in between, here are some of the best places to visit in the Midwest.
So, lets take a look at 15 amazing hidden gems in the Midwest!
15 Amazing Hidden Gems In The Midwest
Serpent Mound, Ohio A World Historic Site
In Peebles Ohio you can visit the Serpent Mound World Historic Site.
Serpent Mound is the world's largest surviving prehistoric effigy mound.
The monument is over 1,300 feet long, in the shape of a serpent, and anywhere from 1,000 to 2,000 years old.
Archeologists are still unsure which Native American nation created this beautiful and moving piece of earthen sculpture.
There are no written records that have been found to indicate who built the mound and why. So it is a fascinating mystery tucked away in this small town in Ohio.
If you are looking for vacations in the Midwest for families that are also educational, then you have got to explore Serpent Mound.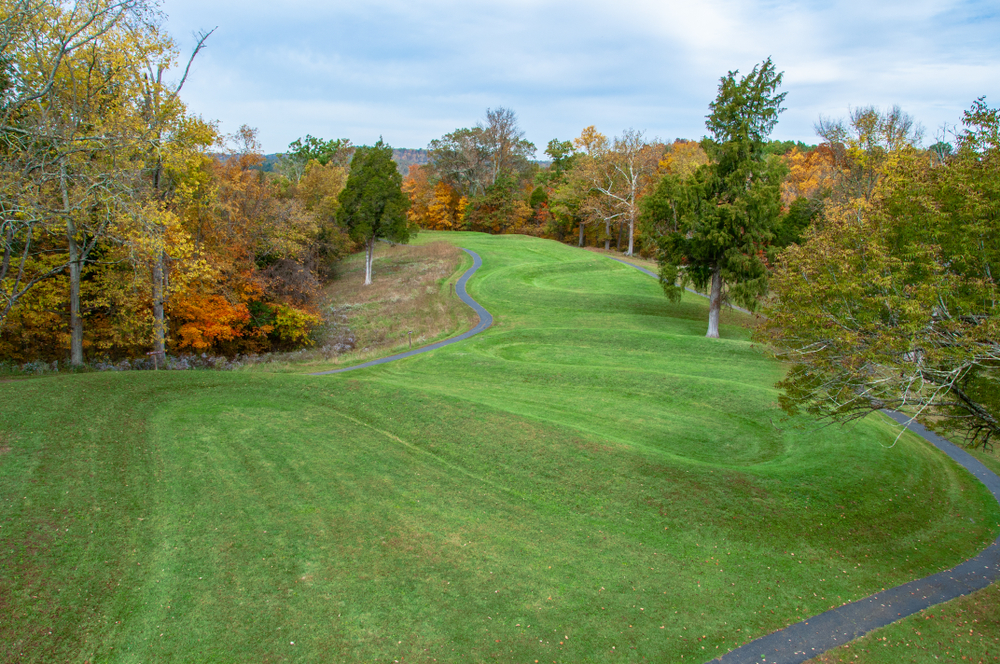 World's Largest Ball of Twine, Kansas Is One Of The Coolest Hidden Gems In The Midwest
There are several things that are quintessentially American, and roadside attractions are one of those things.
From the 1940's to the 1960's, American's started taking more road trips, and that meant more small towns were trying to find ways to get people to stop there.
Thanks to this new vacation style, the roadside attraction was invented.
Kansas is home to a few of those roadside attractions, including the World's Largest Ball of Twine.
You can find the World's Largest Ball of Twine in Cawker Kansas.
This funky roadside attraction is open 24 hours and free to admire.
The ball of twine weighs over 19,000 pounds and is over 8 feet tall.
Every year the small town hosts a twine-a-thon where everyone has the opportunity to add more twine to the massive ball.
If you are looking for a really fun and unique Midwest getaway, consider taking a roadside attraction road trip.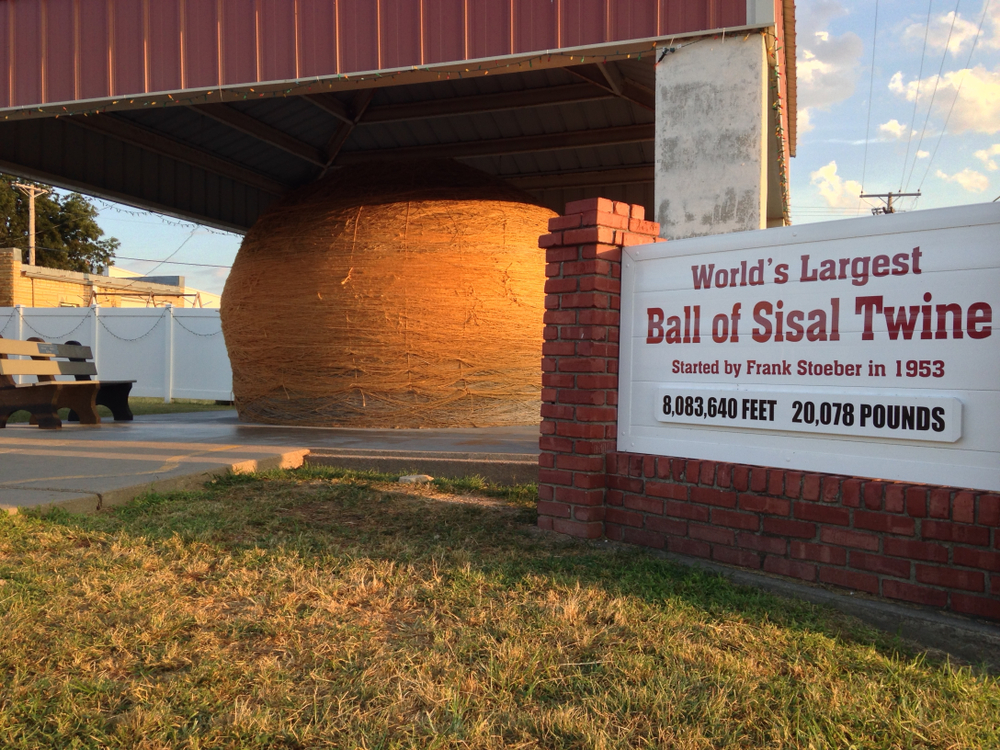 American Gothic House, Iowa
Most people know the iconic American Gothic painting of an older couple standing in front of their white house, pitchfork in hand, with very disinterested looks.
But most people don't know that the house in the background of the painting is a real house.
The artist of the American Gothic painting, Grant Wood, saw the home while touring the small town of Eldon Iowa, and then returned to Michigan to paint it.
Now, art lovers can experience the now iconic home for themselves at the American Gothic House Center.
There is a visitors center where you can learn about the house, the painting, and the area, that is open three days a week.
If you hope to tour the inside of the house when you visit, you'll have to check their schedule.
The interior of the home is only open a few times a month, so plan accordingly.
The American Gothic House is truly one of the best hidden gems in the Midwest.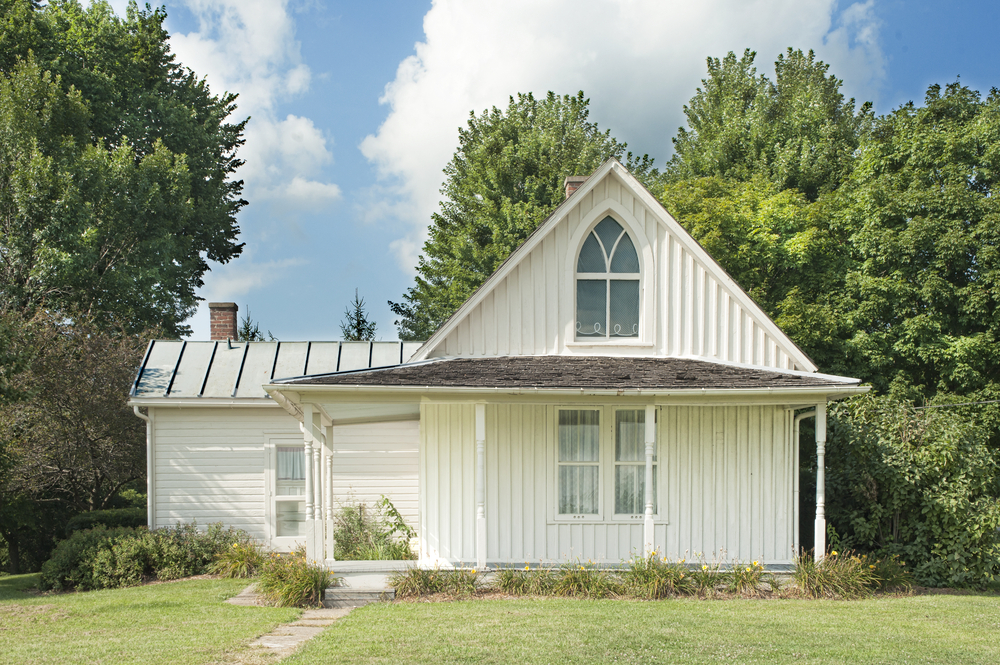 Red Oak II, Missouri To Explore A Rebuilt Small Town
Just off of America's Route 66 in Missouri is Red Oak II.
Red Oak II is an open air museum of sorts created by the artist Lowell Davis.
Davis grew up in the original Red Oak but returned in the 1970s to find that his beloved hometown had been abandoned almost completely.
In the late 1980's Davis was living on 18 acres of farmland outside of the original Red Oak, and decided to turn his farmland into an homage to his hometown.
He slowly began buying the buildings from the original town and transplanting them to his property where he dedicated his time to restoring them.
Now visitors can stroll through this vintage ghost town and experience stepping back into a completely different time.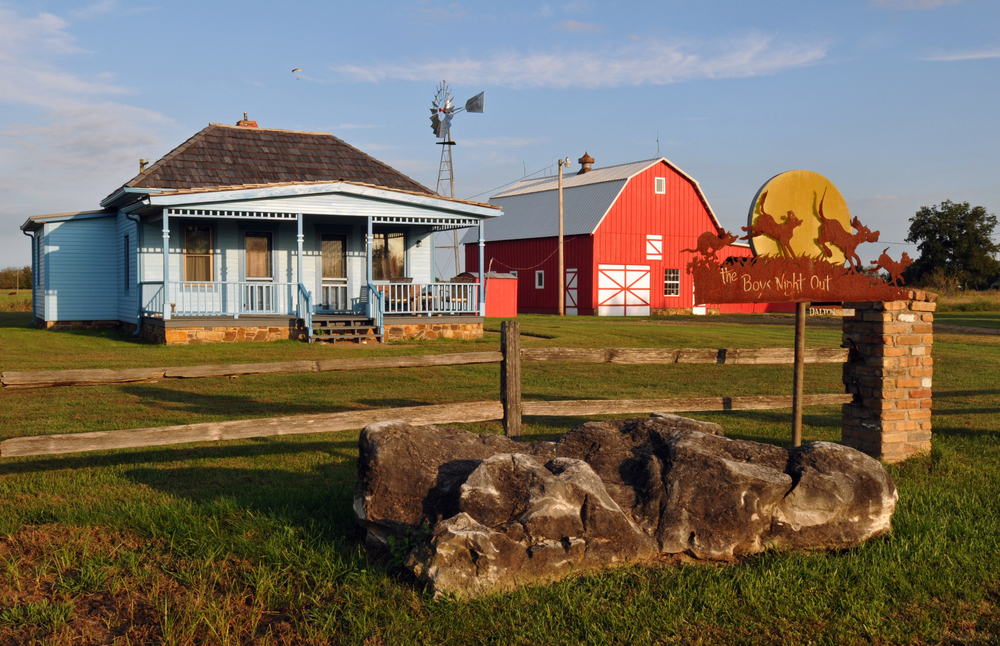 Monon High Bridge, Indiana, A Midwest Hidden Gem
In the small town of Delphi Indiana is the Monon High Bridge, one of the most amazing hidden gems in the Midwest.
The bridge was built in 1891 and is believed to be the second highest bridge in Indiana.
The Monon High Bridge was originally built to carry trains over Deer Creek, but has been abandoned since 1987.
Even though it has been abandoned for so many years, Delphi natives think it's one of the best places in the Midwest to visit, especially in Indiana.
If you'd like to explore and walk across the Monon High Bridge, you can explore the 10 miles of trails on the Delphi Historic Trails system.
On the trail, you'll pass architectural gems of the small town of Delphi, as well as the Monon Bridge.
If you're feeling brave, you can even walk across the bridge, but you do so at your own risk.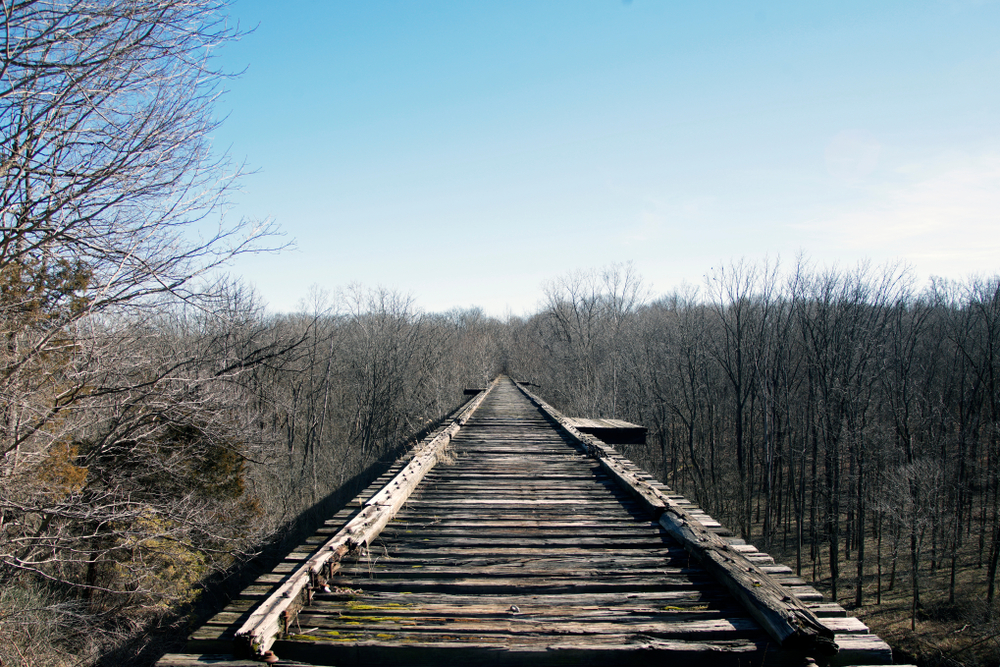 Mitchell Corn Palace, South Dakota
If you want to see the world's only corn palace, then head to Mitchell, South Dakota.
The Mitchel Corn Palace has been the top attraction in the small town of Mitchell, South Dakota since it was built in 1892.
Over the last 100 years, the entertainment venue has grown from a small corn palace to the large building it is today.
Every year in August, The Corn Palace hosts The Corn Palace Festival, where you can enjoy all things corn.
You'll also want to consider making this a yearly spot for a vacation in the Midwest because the building's corn murals are changed every year.
The Corn Palace is considered a folk-art wonder of the world and you won't find anything like it anywhere else.
It's places like The Corn Palace that make vacations in the Midwest so unique.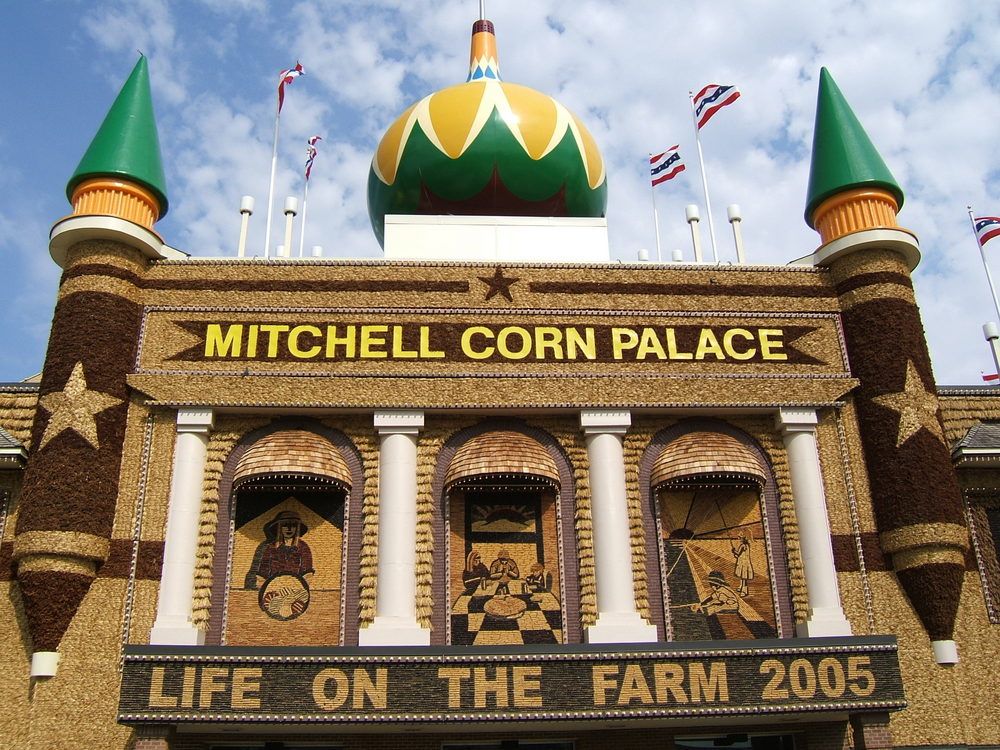 Carhenge, Nebraska For A Unique Car Sculpture
The Midwest may not have Stonehenge, but it does have Carhenge.
Carhenge is a quirky sculptural piece on a family farm in Alliance, Nebraska.
This is one of the more unique hidden gems in the Midwest.
Carhenge is an exact replica of the famous Stonehenge and you can visit it year round from dusk to dawn.
On the property are several other car sculptures and even a seasonal gift shop.
This super unique roadside attraction was built in 1987 as a dedication to the Summer solstice by Jim Reinders.
Since then, it has been offering visitors a day spent admiring quirky car sculptural art.

Bronner's Christmas Wonderland, Michigan
If you are planning a Michigan getaway, consider heading to Frankenmuth Michigan.
Not only will you find a super cute town to explore, but it's also home to Bronner's Christmas Wonderland.
Brommer's Christmas Wonderland is the World's Largest Christmas Store.
Open year round, it is a massive complex of buildings full to the brim with all things Christmas.
It doesn't matter what kind of Christmas décor you are looking for, Bronner's has it.
If you love all things Christmas, then you will love spending hours exploring this massive store.
Frankenmuth is one of the best vacations in the Midwest for families. Your kids are sure to love the Christmas wonderland at Bronner's, year-round.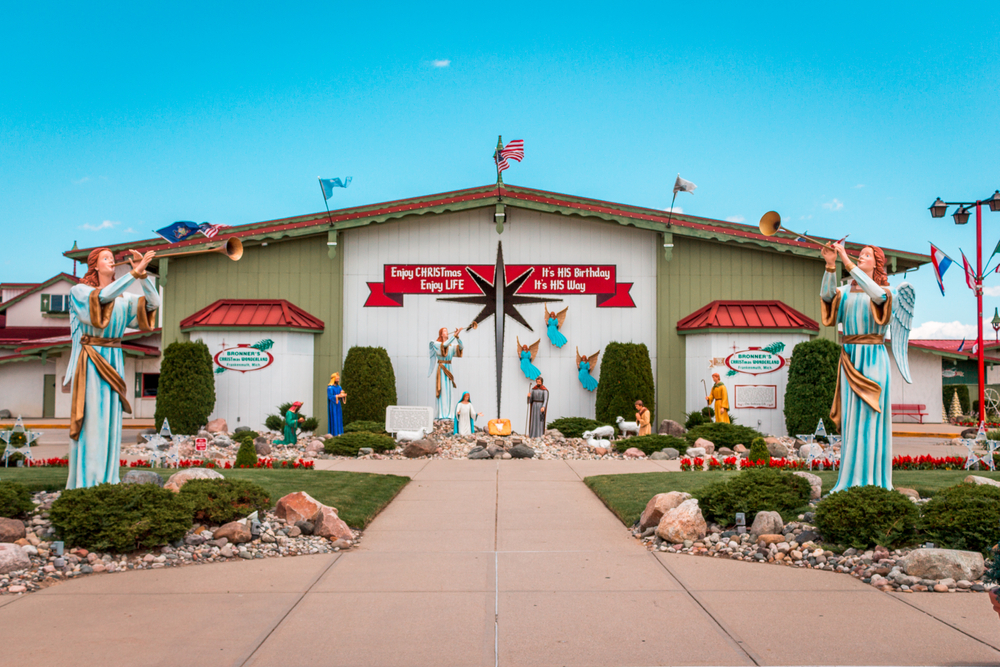 Scandinavian Heritage Park, North Dakota
The Midwest was a popular place for immigrants from Scandinavian countries to make a new home.
In North Dakota, you can learn more about those early immigrants at the Scandinavian Heritage Park in North Dakota.
There are building replicas from five different countries: Finland, Iceland, Denmark, Norway, and Sweden.
The highlight of the Heritage Park is the full-scale replica Stave Church, which is from Gol Norway.
You can also explore a real Stabbur, admire the 25 foot tall Dala Horse, and even a Danish Windmill.
There are also statues to commemorate important Scandinavian icons, like Hans Christian Anderson and Leif Erikson.
It is so cool that in the Midwest you can explore a place that makes you feel like you are half a world away.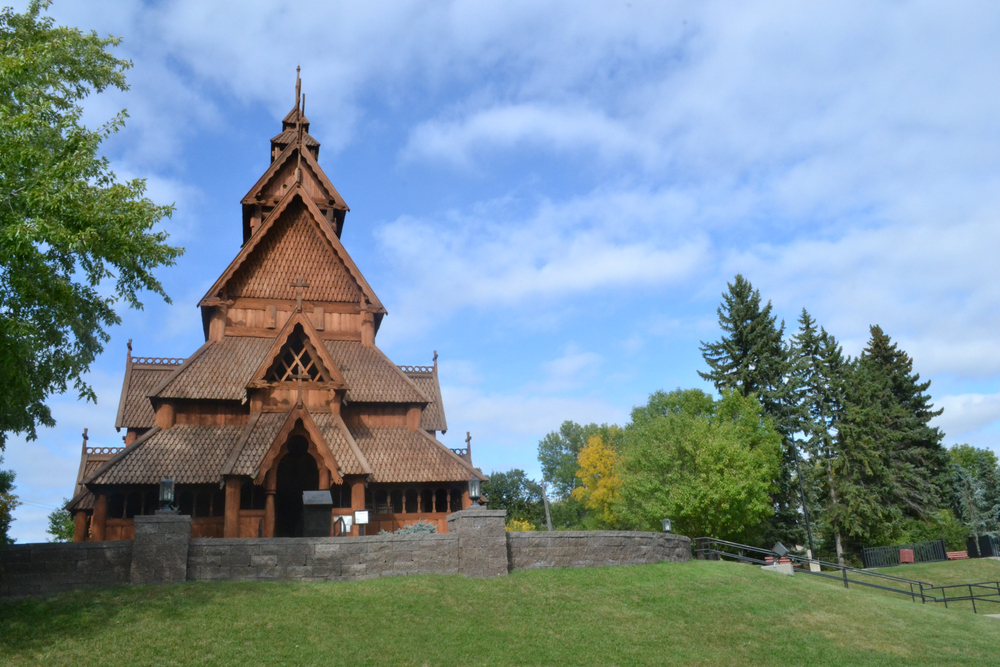 The Ohio Caverns, Ohio To Explore A Cave System
The Ohio Caverns are known as 'America's Most Colorful Caverns'.
The Caverns were originally explored from 1897 to 1925, and has been open to the public for almost as long.
While the caverns are privately owned, there have been painstaking steps taken to make sure experiencing the caverns is as close to how they would have been originally experienced as possible.
You can tour the caverns all year long, but the tour hours change depending on what time of year it is.
There are also different types of tours.
For the Natural Wonder Tour, you'll walk the one mile of cavern that was explored after 1925.
In the Winter, you'll learn a bit about the history and the geological aspects of the caverns.
There are also tours that focus on just the history of the caverns, just the geology, combination tours, and more.
If you are looking for great vacations in the Midwest for families, then this is a great stop! The caverns are not that far from Amish Country Ohio, which the entire family will enjoy as well!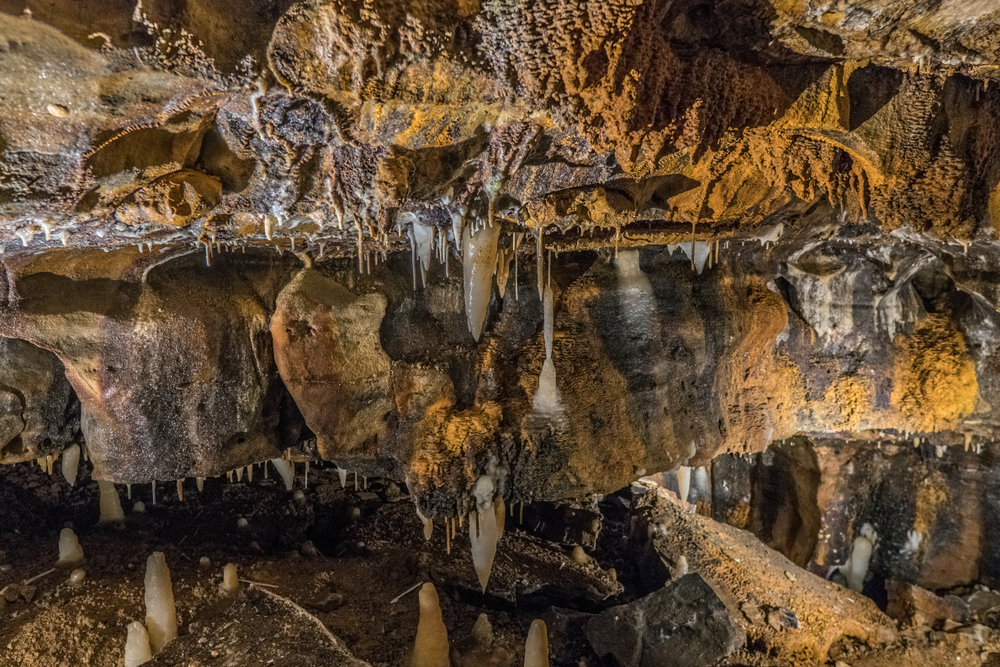 Enchanted Highway, North Dakota
If you are looking for something fun to do during a road trip or on an afternoon, consider checking out the Enchanted Highway.
The Enchanted Highway is in North Dakota on I-94 and begins at Exit 72 and truly one of the best places to visit in the Midwest.
For 32 miles, you'll drive towards the town of Regent and get to enjoy massive metal sculptures on the side of the road.
There are several different metal sculptures, like 'Grasshoppers in the Field', 'Fisherman's Dream', and 'Deer Crossing'.
Each of the metal sculptures has a small parking area so that you can get out and enjoy them and take pictures of them closer up. These sculptures can be added to your itinerary and become one of the best vacations in the Midwest for families!
In the town of Regent there is a small gift shop where you can buy trinkets and souvineers from the Enchanted Highway.
It's a one of a kind hidden gem in the Midwest.
Frank Lloyd Wright Gas Station, Minnesota
Most people know of the famous architect Frank Lloyd Wright.
He designed several homes around the country and may of them are now open as museums.
But did you know he also designed a gas station? One of the true Midwest hidden gems!
In Cloquet Minnesota you can find the only Frank Lloyd Wright gas station in the world.
It was originally designed in 1927 and intended to be built in Buffalo New York.
Wright finally got to build 30 years later in Cloquet, when he was almost 91.
The gas station is still open and is a functioning gas station that you can visit and buy gas and snacks from.
There is literally no other place in the world where you can fill up your tank at a gas station designed by Frank Lloyd Wright.
That's what makes it one of the best hidden gems in the Midwest.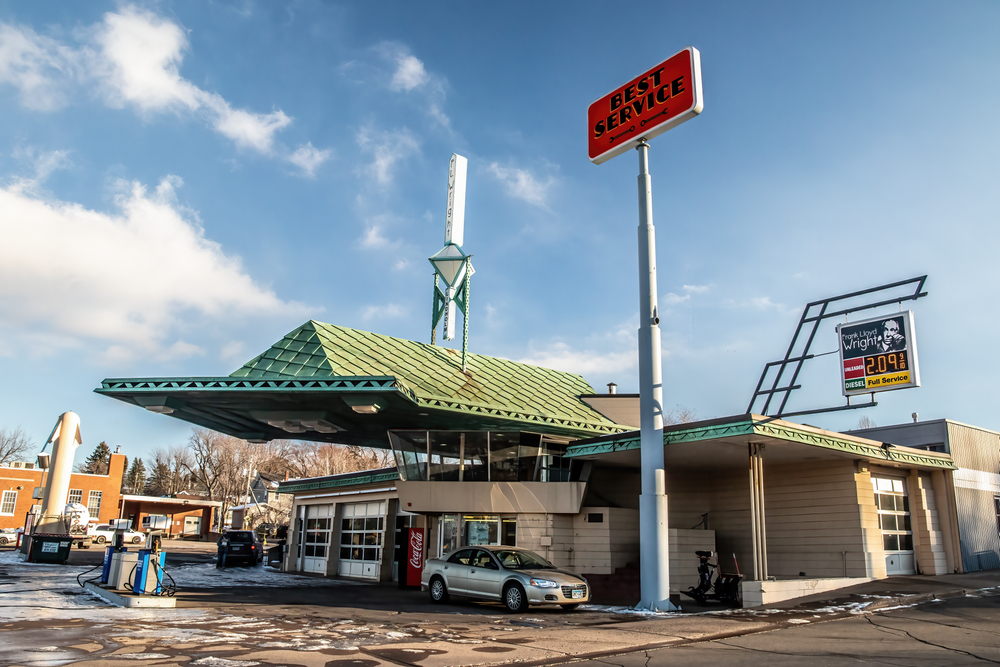 The Dells Of The Wisconsin River, Wisconsin, One Of The Best Midwest Getaways
The Dells in Wisconsin is a pretty popular town and is known as The Waterpark Capital of the World.
But while everyone who visits is focused on the man made waterparks, they are missing one of the best things about the area.
The Dells of the Wisconsin River is a state park in the area.
Instead of hitting up a packed waterpark, escape and immerse yourself in the outdoors.
At the State Park you can go kayaking through canyons carved into Cambrian sandstone and formed over 510 million years ago.
Some of these carved cliffs jut out of the river creating an incredibly unique landscape.
Enjoy hiking, kayaking, and exploring the Dells original waterpark. It is certainly one of the coolest vacations in the Midwest for families!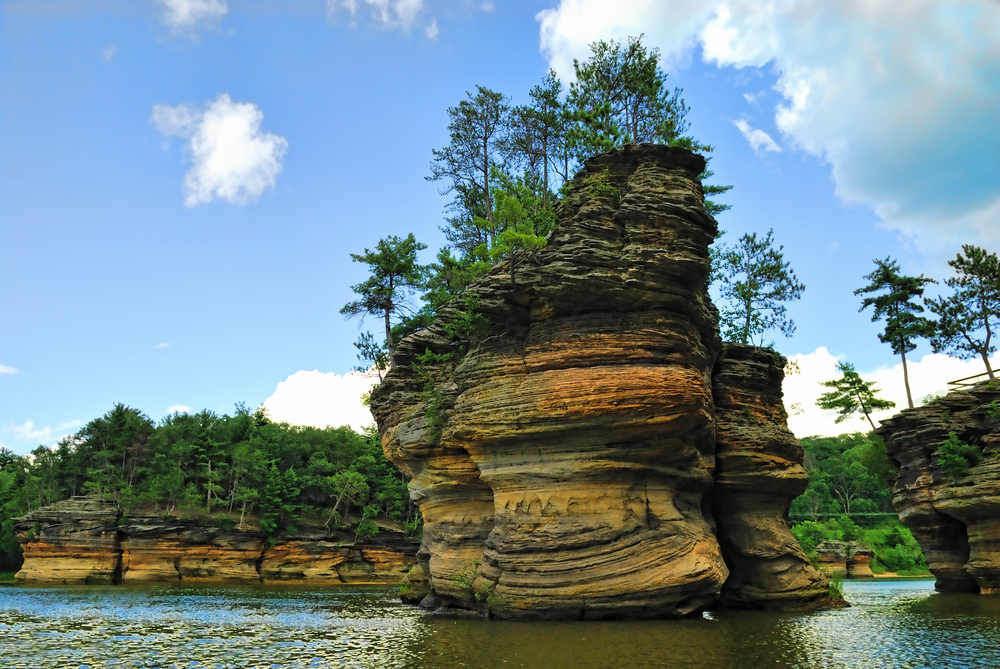 Cairo, Illinois To Explore A Ghost Town
When the steamboat industry was booming, the town of Cairo Illinois was too.
But slowly, with racial unrest and economic shortsightedness, the town began to crumble and people began to leave the once bustling town.
In 2010, only an estimated 2,000 people still lived in the town. At it's peak, 15,000 people once called Cairo home.
Now, most of the city's once lively Downtown Business District is boarded up and crumbling.
If you are interested in exploring abandoned spaces, then this small town in the Midwest is perfect for your next vacation in the Midwest.
There are beautiful Victorian Mansions, Art Deco shops, and once stunning Bungalows.
This Midwest hidden gem is a wonderful vacation spot for lovers of history and architecture.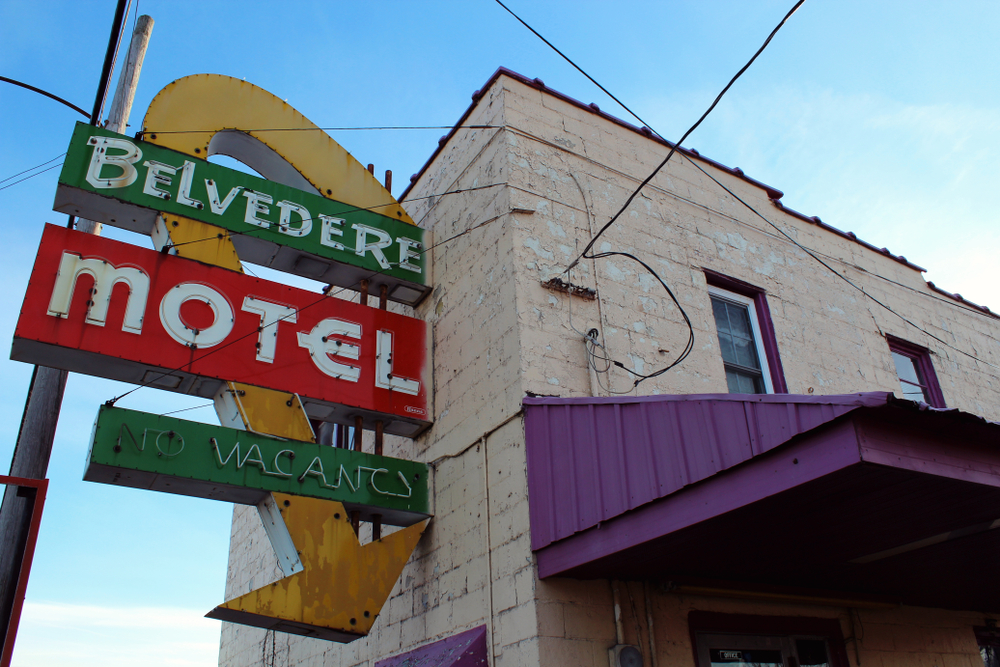 Ha Ha Tonka Castle Ruins, Missouri
With so many great State Parks, the Ha Ha Tonka State Park often gets forgotten when people visit Missouri. But it shouldn't! It is one of the amazing hidden gems in the Midwest!
It's full of natural wonders like sink holes, sheer bluffs, caves, and even a natural bridge.
But what makes this state park so unique are the castle ruins.
It's not often that you go to explore a state park and find the massive ruins of a turn of the century castle.
There are so many fun things to do and explore at Ha Ha Tonka State Park making it one of the best vacations in the Midwest for families.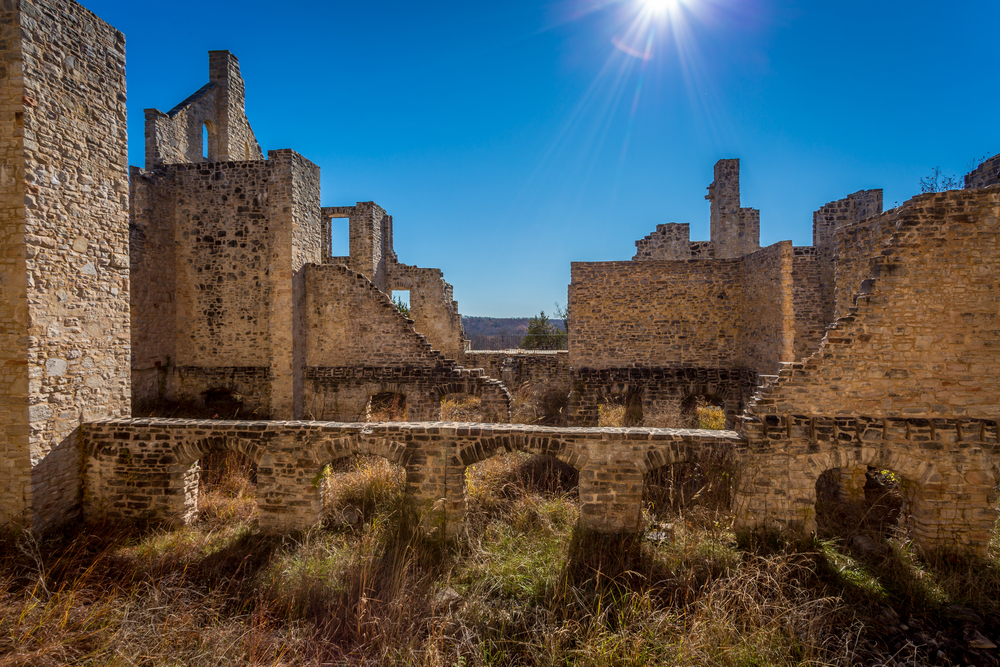 Packing List For Visiting Midwest Hidden Gems
A concealed travel pouch may be one of the most important items you bring along when on your vacations in the Midwest. It is always important to protect your personal information.
Read my tips on how to pack lightly here if you need packing tips.
This unisex RFID blocking concealed travel pouch is lightweight and comes in several colors. It has lots of organization to give you peace of mind.
If you have a pouch already that does not come with the RFID protection, as I do, these RFID sleeves are the perfect solution.
This configuration comes with enough passport and credit card sleeves that the entire family would be protected. They are slim too, so they will easily fit into your pouch or wallet.
If you are planning on taking a lot of pictures with your phone you will definitely want to consider an external charging battery.
This Anker high-speed phone charging battery is the exact one I carry with me on all of my trips.
It can be used on a variety of phones, not just an iPhone like I have. And wow is it fast!
I like that it holds its charging capabilities for several uses so I do not have to worry about it while out and about, and if I forget to recharge it at night, it will still be good to go the next day.
My daughter gifted me with this FugeTek selfie stick and tripod setup for my birthday. I absolutely love it! It is made of lightweight aluminum and so easy to use. It has Bluetooth connectivity and is a breeze to use for group shots or that perfect selfie!
I was not a fan of packing cubes until I started to use them! This is the exact set of packing organizers I use whenever I travel.
I cannot believe how much they really do help with the organization. If you have not considered packing cubes, I would recommend giving them a try.
Hydration is so important. You want to remain hydrated to support your immune system which in turn will be stronger to fight off any germs you will encounter during your travels.
You will want to bring your own refillable water bottle with you.
I never leave home on a trip without my Bobble filtration bottle. The 18.5-ounce size is perfect for travel and it fits nicely in the pocket of a backpack or your purse.
When filled with water, it is not too heavy to carry. And the charcoal filter ensures fresh clean water whenever you fill the Bobble. You can find filter replacements here.
Perhaps you are traveling a long distance and packing space is a premium in your suitcase, or in your car. Then this set of collapsible silicone foldable water bottles would work well for you. Would not take up much space at all.
You will want a backpack or daypack with you to store snacks, your water bottle, phone, extra clothes, etc.. This foldable water-resistant backpack would be great.
It is very affordable and is available in many color options for you to choose from. The fact that it folds down into a zippered pouch will make it easy to pack.
Perhaps you need a more substantial backpack for your travel. This antitheft backpack has a charging port, is water-resistant, and can comfortably carry up to a 15.6″ laptop.
You will be walking more than usual during your weekend getaways in Ohio. A sturdy and comfortable pair of walking shoes are a must-have. These waterproof all-season shoes are extremely affordable and yet fashionable.
Mostly everyone is familiar with the Skechers brand, and these Air Run high fashion sneakers come in a lot of colors to match your outfits and are still affordable.
If you are visiting Midwest hidden gems in warmer weather, maybe you want a pair of sandals to wear to dinner or to the local cafe, I highly recommend these Vionics adjustable strap orthotic sandals.
I have several pairs of Vionics that I bring with me *everywhere* I travel. They are very comfortable and have orthotic footbeds that cradle and support your feet.
We all need to protect our eyes from the sun's harmful UVA/UVB rays. These unisex polarized sunglasses come in a lot of lens colors and frame designs and are extremely affordable too.
If you are fond of the aviator-style of sunglasses these polarized aviators may interest you.
If you are in need of new luggage, this expandable soft side spinner luggage is affordable and comes in lots of colors.
If you like hard-sided better, then you may favor this hard-sided luggage set better. Both sets come with TSA locks and 8 wheels per piece.
—
There are so many unique and amazing hidden gems in the Midwest.
I hope you've enjoyed this list full of some of my favorite spots to explore.
If you've visited any of these unique vacations in the Midwest or plan to, I'd love to hear about it in the comments!