Are you looking for amusement parks in the Midwest? You are in the right place. I grew up in the Midwest and there is nothing I like more than going to an amusement park.
In this article, I will walk you through the best amusement parks in the Midwest so you can make a decision about which one is the best for you to visit.
I have such found memories of taking my own children to amusements parks in the Midwest. While we loved adventuring we had so much fun spending the day at an amusement park.
I have all kinds of Midwest amusement parks here for you, from water parks to storybook lands. Hopefully, there will be an amusement park for everyone.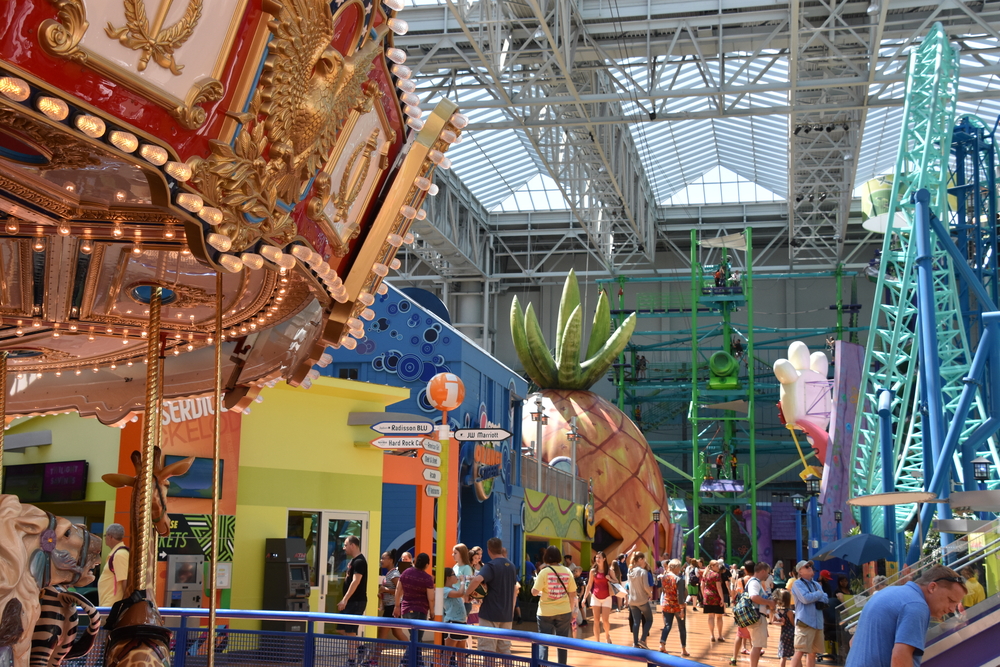 14 Best Amusement Parks In The Midwest
Six Flags Great America In Illinois
If you reading this and you are American you will be very familiar with Six Flags, as a chain, they exist in several locations. In fact, there are 26 of them throughout the country. They are known for their thrilling and state-of-the-art rides.
This is particular location is undoubtedly one of the best amusement parks in the Midwest and one of the largest. With over 45 rides shows and attractions and a 20 acre water park it's a thrill a minute.
With over 9 thrill rides including the world's first suspended outside-looping roller coaster this is a great park to bring teenagers too. There is enough here to keep them occupied all day.
There are also lots of family and children's rides and the waterpark offers some thrills too.
Like most amusement parks the opening time varies depending on the season you go so check beforehand.
On the weekends the park can get really busy so it is best to go in the week if you can. May, June, and September tend to be better days to visit.
The park does a lot to help families like Kidswap on rides so make sure you check before hand so you can prepare for your trip.
A trip here is bound to please all family members whatever their ages.
The best thing is that this park is close to Chicago and would make a great day trip from Chicago.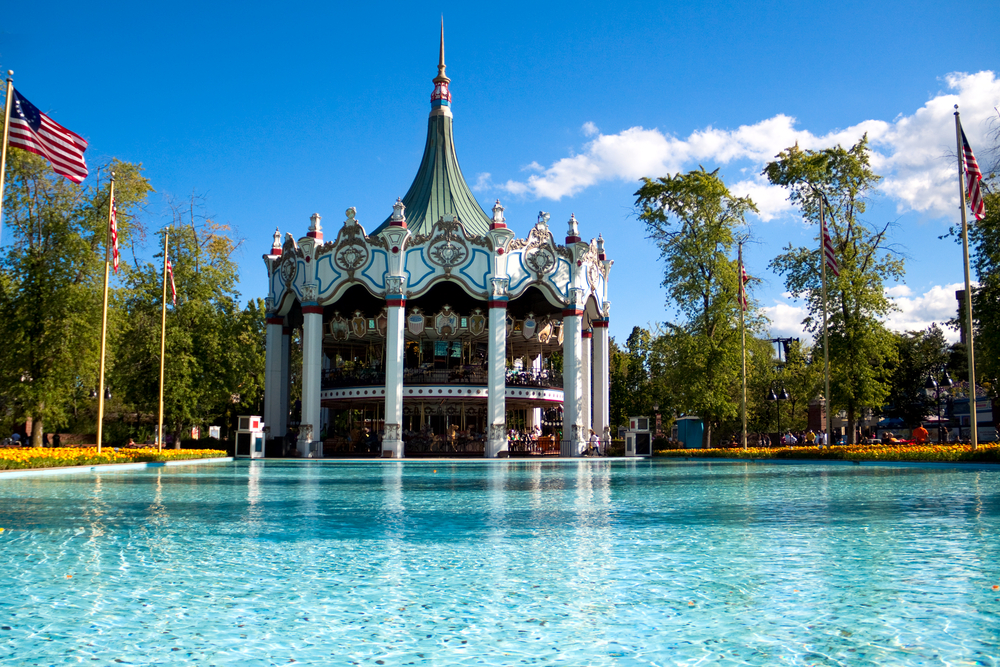 Holiday World Splashin' Safari In Indiana
In the tiny town of Santa Claus, this is another Midwest amusement park that combines roller coasters with water rides and will have something for everyone.
It also has the world's longest water coaster which sounds like a lot of fun.
If you are a thrill seeker you will love it here. The park is home to Thunderbird, the nation's only launched wing coaster which has one of the tallest vertical loops.
Holiday World has a tradition of sending roller coasters through thickly wooded and hilly terrain which is something a little different.
The park also offers free soft drinks all day as well as free parking, WIFI, and sunscreen which is a lovely added bonus.
Park hours vary due to the season and I advice you to buy your tickets online as they tend to offer greater savings.
May, June, September, and October tend to be the quieter months with Tuesdays and Thursdays tending to be the quietest days.
This is one of the amusement parks in the Midwest that is well worth a visit.
Arnolds Park In Iowa
A charming waterfront amusement park on Lake Okoboji, this park has a long history dating back to 1882 when Wesley Arnold built a hotel on the site.
The first attraction was built in 1889 and from that time the park has grown to become what it is today.
It's unique to see a Midwest amusement park with such history as it doesn't often happen. There is even a park museum on site.
The big thrill ride here is The Legend which opened originally in 1927. There is something so nostalgic about riding a wooden roller coaster and this is no different.
There are lots of family rides as well to enjoy and a great racetrack ride if you want to have lots of fun.
The park is free to enter but the thrill rides cost. You can purchase some great tickets online, some that even include food which is a great way to save money.
Oh, and you can also go on an old-fashioned steamboat. There really is so much to do here and the fact you only have to pay for the ride is appealing.
A real nostalgic fun day out at one the amusements parks in the Midwest.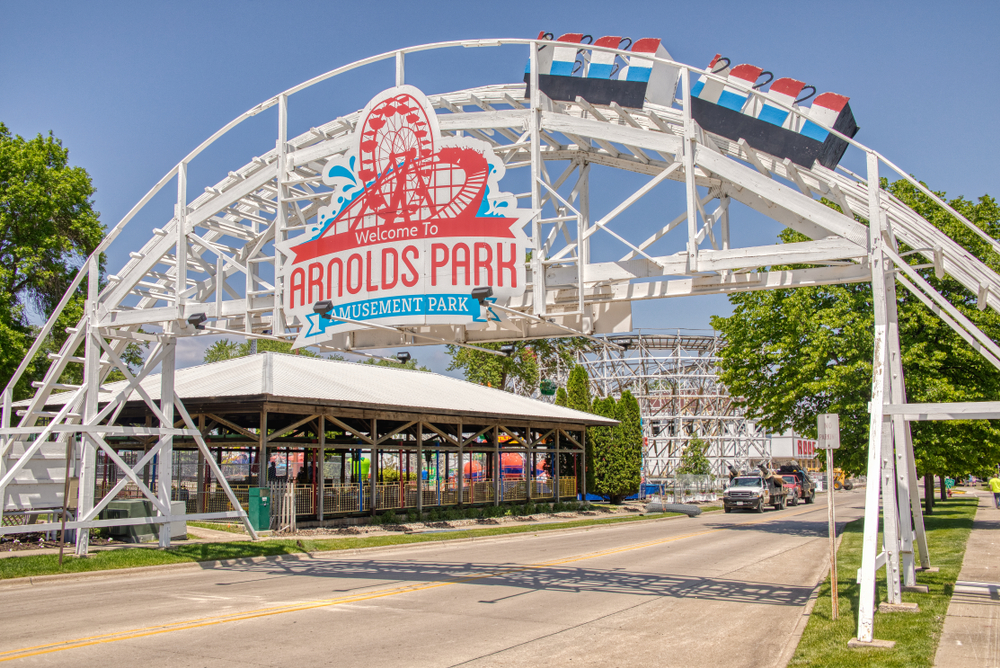 Michigan Adventure In Michigan
The largest amusement and water park in Michigan, this Midwest theme park has more than 60 rides and attractions, including seven roller coasters and more than 20 water slides.
This 250 acre park really is an experience.
The thrill ride here is The Shivery Timbers which holds the record for the the longest and fastest in the state but there is so much more to enjoy.
In this park you can take it as fast or as slow as you want.
Going out of peak times if you can mean the park is not as busy. Order your tickets online for some great tickets.
One of the best amusement parks in the Midwest.
There is also much more to explore in Michigan including historical and beautiful national parks in Michigan and epic Michigan Beaches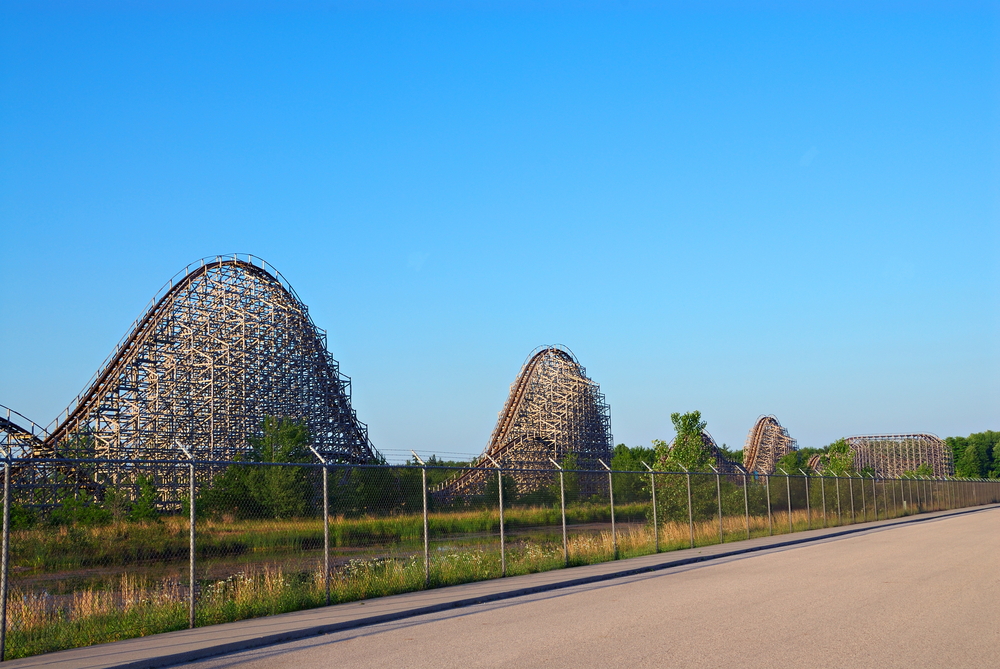 Valley Fair In Minnesota
This amusement park in the Midwest mixes the old and new having old wooden roller coaster with some very modern additions.
From roller coasters to swings, this park is built for thrills and fun.
Valley Fair has a 230-foot-tall tower that spins riders more than 20 stories above the ground or you can get getting rocketed into the sky or thrust down from above. There is a lot to do here for the thrill seeker.
There is also enough to keep the family and children happy including a waterpark. You will also find live entertainment and shows so the non-riders will be happy too.
Again get tickets online for better deals and if you can, plan to go on nonpeak times. A great park for those looking for one of the best amusement parks in the Midwest!
If you have some spare time explore the surrounding area because it is beautiful and there are so many small pretty towns to see.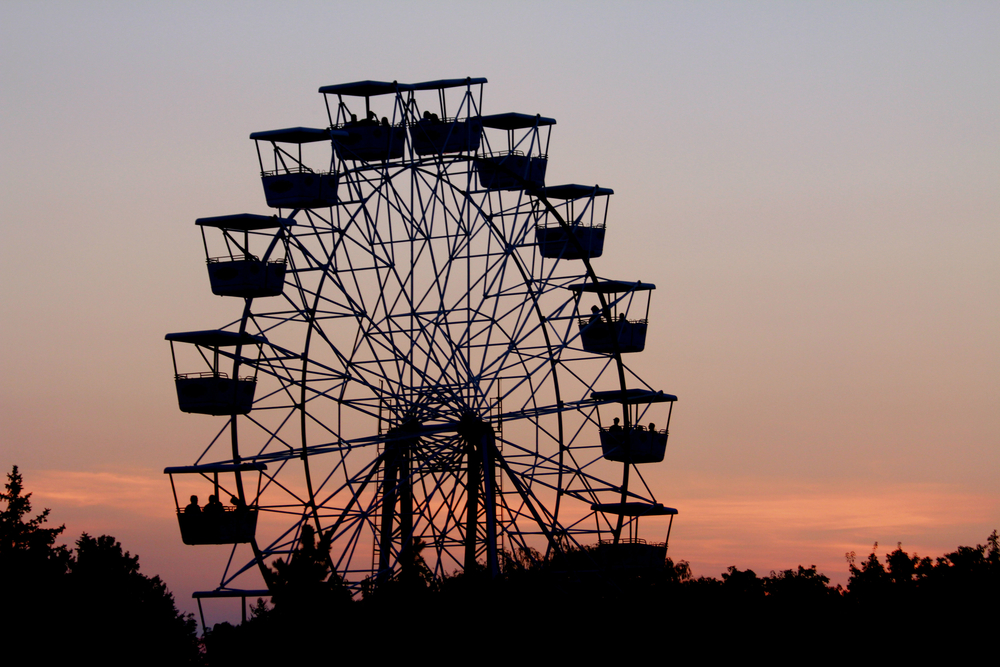 Nickelodeon Universe In Minnesota
An amusement park inside a mall! Yes, it is possible and happing at Bloomington's Mall of America in Minnesota. And one good thing is you don't have to worry about the weather.
It is a colorful vibrant park all packed into 7 acres so you will not tire as quickly, as there is less walking than a normal Midwest amusement park.
As the name suggests the park is based around children's favorite characters and this Midwest attraction is also a certified autism center.
There are over 27 rides and attractions in this small space with the big thrill coming from the Teenage Mutant Ninja Turtles Shell Shock.
There is plenty for younger children to enjoy too and some mini-golf areas if you would like to try your gold skills. Its hard to believe so much is in a small space.
You can buy tickets online or at the Nickelodeon store in the mall.
And if you know your stay with my short you can buy a two-hour pass at the Nickelodeon store. And they do offer reduced tickets for none riders.
This place really is an experience and one of the best amusement parks in the Midwest you really need to visit.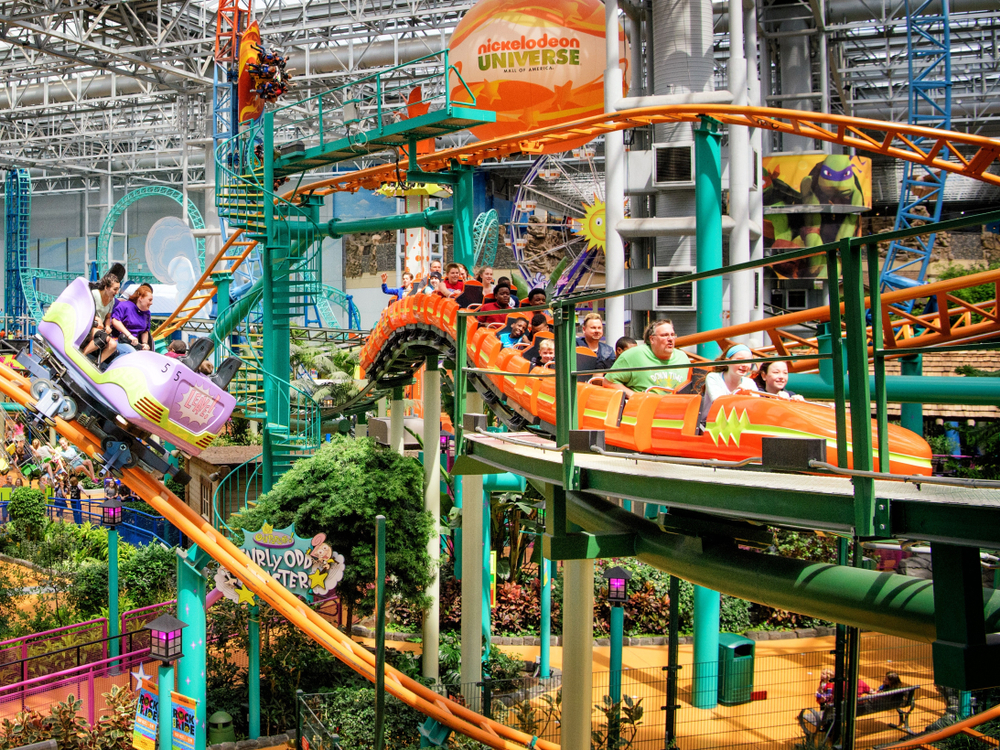 Silver Dollar City In Missouri
This Midwest theme park has something a little different to offer.
It has all the thrills and spills plus it adds on some interesting extras: 100 resident craftsmen demonstrate America's heritage crafts, 18 award-winning restaurants, and 60 unique shops.
It's an 1880s-style Midwest theme park located in Branson, Missouri that mixes vintage with modern to make a great day out. All sitting atop one of Missouri's deepest caves.
The site also has a water park, a campground and a dinner cruise you can take part in.
There is so much to do here and so much to explore you could easily spend a few days and not get the slightest bit bored.
The scenery, food, and atmosphere here are all very unique and the visiting craftsmen really add to the ambiance of this place. They bring history to life and you and your family can have fun while also learning at the same time.
Get your tickets online for some great offers and if you fancy spending a few days here take a look at the campground. It offers something quite unique.
Silver Dollar City is one of the best amusement parks in the Midwest.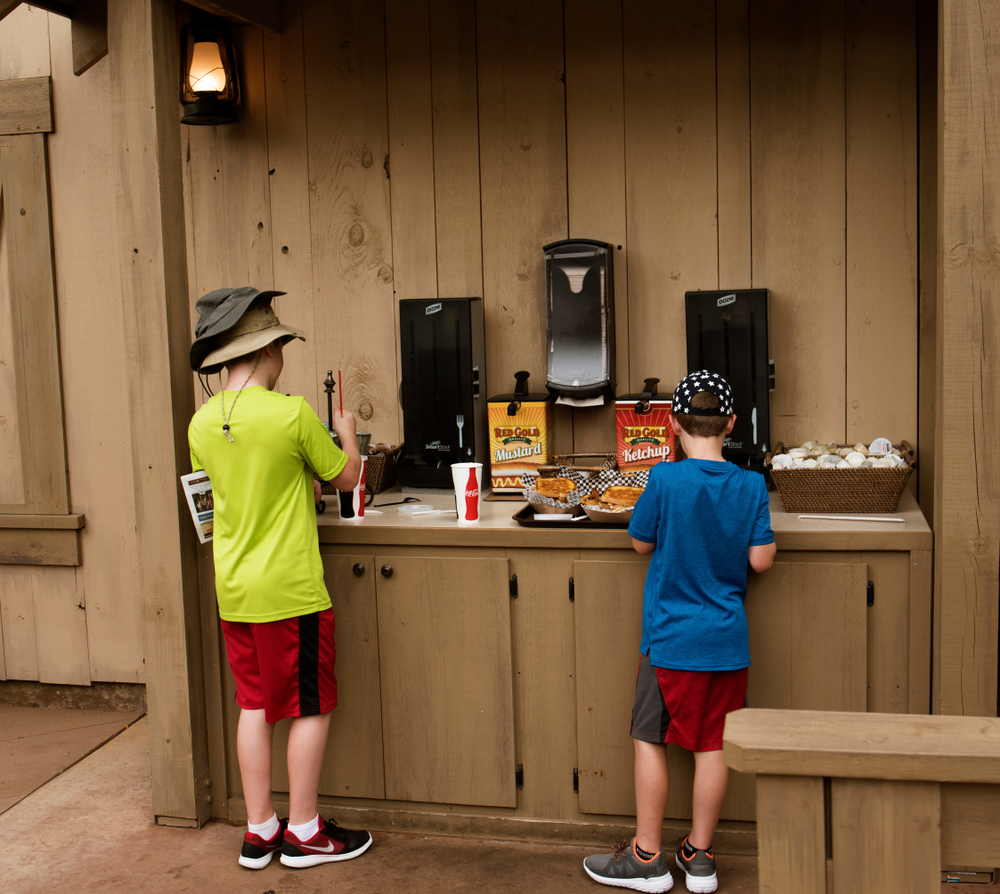 Fun Plex In Nebraska Is One Of The Best Amusement Parks In The Midwest
Fun Plex has been drawing visitors since 1979. With the largest waterpark in the state, this theme park in the Midwest has more of a fairground feel and it makes a perfect day out.
There are all the traditional rides you would find at a fairground including bumper cars, Tilt-a-Whirl, go-karts and a carousel.
This Midwest amusement park might not have all the big rides but that is its charming appeal.
It's a perfect place if your child loves the water as you can rent a cabana and enjoy a pretty restful day.
You can purchase day tickets or twilight tickets which start after 4p.m.
Raging Rivers Waterpark In North Dakota
If you love the water you will love this Midwest amusement park. It offers tube slides, speed slides, a lazy river, and a brand new aqua play area.
The speed slides stand 66 feet above the park and provide the ultimate thrill for those that way inclined.
The lazy river is provides everything you need to just relax for a little while. There is also a river run, tube slide, and a black hole tube slide.
You can purchase a nonswimmer day pass and children under 3 are free. The weather can have an impact on when this park opens so please make sure you check before you to one of the best amusement parks in the Midwest!
Storybook Island In South Dakota
The mission of Storybook island is "To provide a free, safe, educational environment for those young in years or young at heart to experience the power of imagination"
Its a great park for the under 10's and has been in operation for over 60 years.
The park isn't anything fancy but is cute and the rides are affordable and a great safe park to take small children.
The park gets great reviews which is why it makes it onto my list of the best amusements parks in the Midwest.
Kings Island In Ohio
The second biggest amusement park in Ohio Kings Island offers you all the thrills and spills you would expect.
Orion, which debuted in 2020 is one of only seven giga coasters in the world. The Beast, is listed in the prestigious Guinness Book of World Records as the longest wooden roller coaster in the world at a staggering 7,350 feet.
This amusement park in the Midwest provides lots of thrills, with 15 coasters, 5 thrill rides and lots of family rides to keep you entertained for hours.
There is also Kings Island Camp Cedar opening in 2021 if you want to stay on site and spend a few days here.
If you like thrills you might also consider visiting some of the creepy places in Ohio too.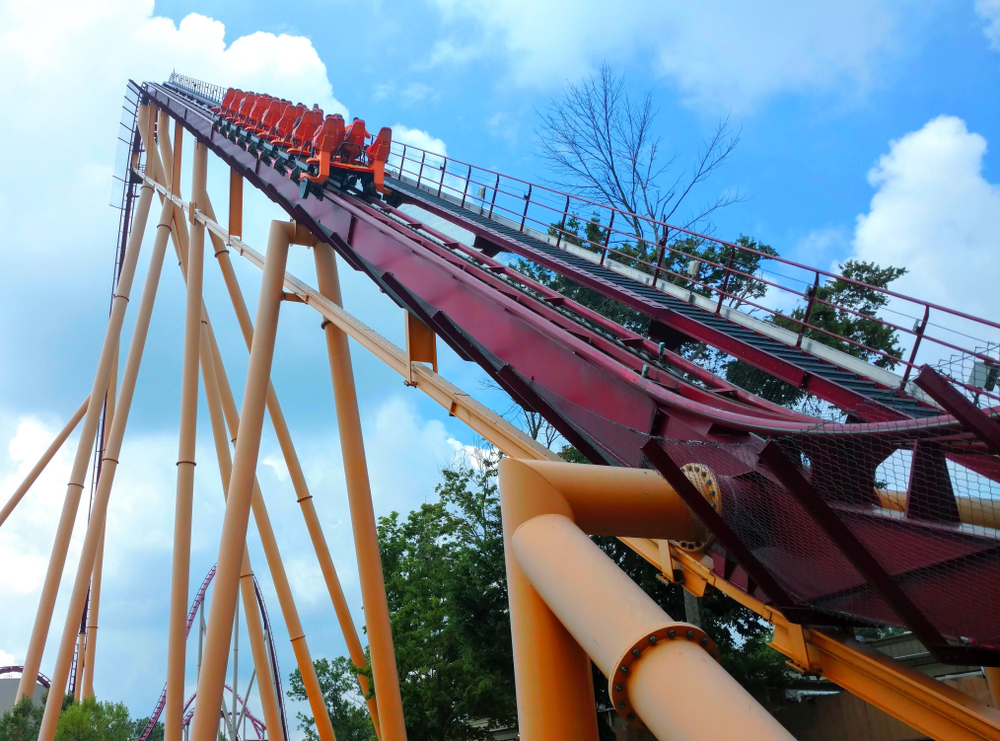 Cedar Point In Northwest Ohio
Celebrating it's 150 year anniversary in 2021 Cedar Point is partly what gave Ohio the title of Roller Coaster Capital Of The World.
Set in 365-acre on a Lake Erie peninsula, this beachside vibe is mixed with 18 world class roller coasters.
It mixes all these thrills with an 18-acre waterpark with plunging slides and shallow-depth kids areas making this palace perfect for anyone.
If you want a more relaxing day rent a cabana at the waterpark. There is so much to do here you might need two days. They have got resort hotels if you want to stay over.
Lets just say this place is an experience and one where you really do choose you own adventure. And the location makes it all that bit more special.
If you want to continue the magic you could visit some of the Fairytale castles in this area you will be surprised at how many there are.
And would you believe there are epic waterfalls in Ohio as well?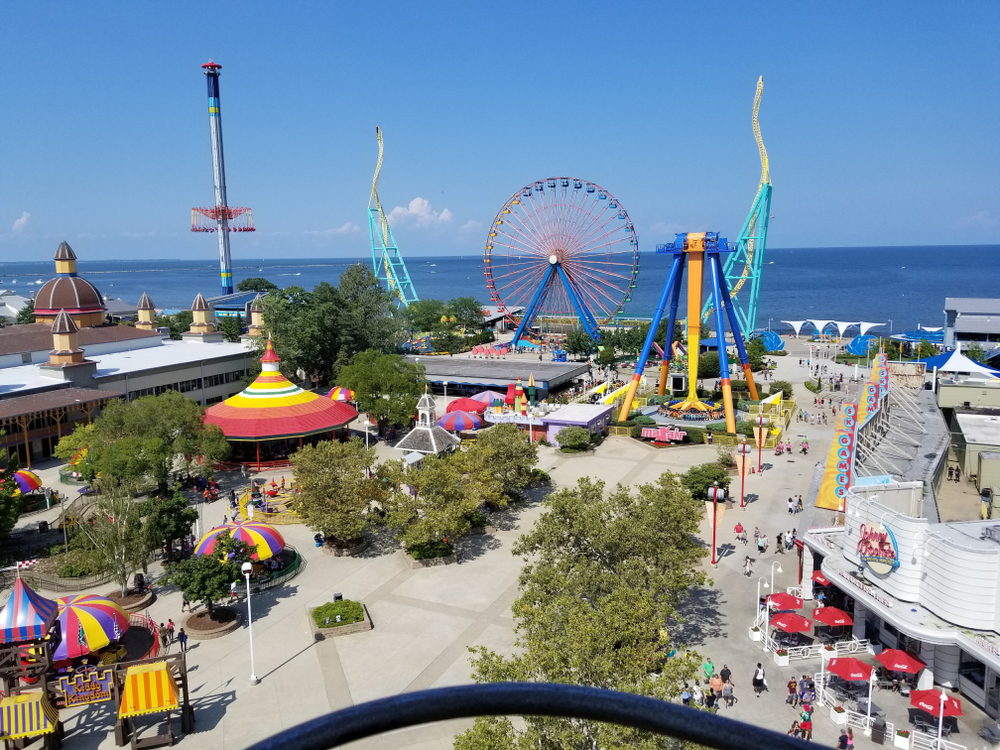 Worlds of Fun and Oceans of Fun In Kansas
One of the largest amusements park complexes in the Midwest there is so much to do and see here.
With 15 thrill rides raging from classic roller coasters to Fury of the Nile, a water splash ride like no other. They can shoot your forwards, backwards, upside down, you name this park offers it.
Planet Snoopy will keep the smaller children occupied and the waterpark has a tropical feel.
The park has distinct areas Africa, Americana, Europa, Orient, Scandinavia and Planet Snoopy each offering something different.
If you want to stay overnight, there is a world of Fun Village where you can stay in a cottage, a cabin, or on a RV site. And let's face it with so much to do you may need to take a few days to explore this place.
Bay Beach In Wisconsin
A little different from the high-powered Midwest amusement parks, Bay Beach was built as a private beach resort in 1892 and continues to offer family-friendly rides.
There is no admission fee or parking fee. Ride tickets are $.25 each with most rides requiring one or two tickets per rider making things a very purse-friendly place to visit.
Overall there are 19 rides so this amusement park in the Midwest isn't huge but it is packed with charm and the food tends to be in the affordable range too.
A great place for a day out, and if you have some spare time, consider going waterfall hunting as there are loads in this area.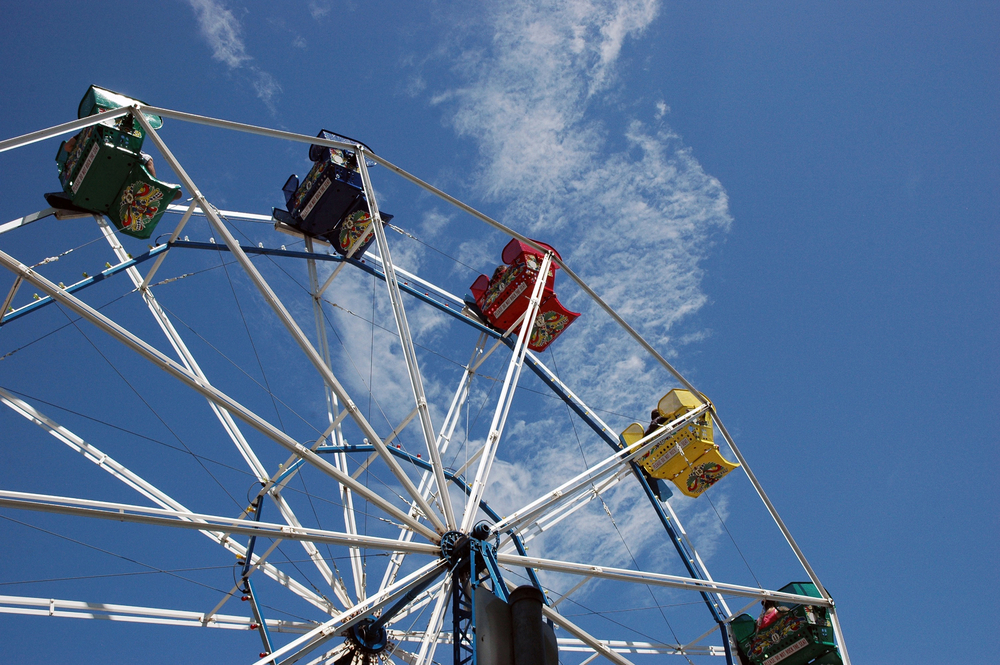 Let me know if you visit one of these best amusement parks in the Midwest
Wherever you are in the Midwest you are never far from an amusement park. These Midwest amusement parks are some of the best the Midwest offers.
Each has something to suit everyone. Whichever one you choose I hope you have an amazing time.
Packing List For Visiting The Best Amusement Parks In The Midwest
If you will be traveling, either by plane or by car to the Midwest, here are some tips on how to pack lightly.
A concealed travel pouch may be one of the most important items you bring along when visiting Midwest amusement parks. It is always important to protect your personal information. Identity thieves are everywhere.
This unisex RFID blocking concealed travel pouch is lightweight and comes in several colors. It has lots of organization to give you peace of mind. You can place it under your hiking clothes next to your body to carry your ID safely.
f you have a pouch already that does not come with the RFID protection, as I do, these RFID sleeves are the perfect solution.
This configuration comes with enough credit card sleeves that the entire family would be protected. They are slim too, so they will easily fit into your pouch or wallet.
If you are planning on taking a lot of pictures with your phone you will definitely want to consider an external charging battery. This Anker high-speed phone charging battery is the exact one I carry with me on all of my trips.
It can be used on a variety of phones, not just an iPhone like I have. And wow is it fast!
I like that it holds its charging capabilities for several uses so I do not have to worry about it while out and about, and if I forget to recharge it at night, it will still be good to go the next day.
My daughter gifted me with this FugeTek selfie stick and tripod setup for my birthday. I absolutely love it! It is made of lightweight aluminum and so easy to use.
t has Bluetooth connectivity and is a breeze to use for taking selfies with all those nature shots while visiting Hocking Hills.
Hydration is so important when on vacation. You want to remain hydrated throughout your trip to support your immune system which in turn will be stronger to fight off any germs you will encounter during your travels.
You will want to bring your own refillable water bottle with you.
I never leave home on a trip without my Bobble filtration bottle. The 18.5-ounce size is perfect for hiking and it fits nicely in the pocket of a backpack.
When filled with water, it is not too heavy to carry. And the charcoal filter ensures fresh clean water whenever you fill the Bobble.
You can find filter replacements here.
Perhaps you are traveling a long distance and packing space is a premium in your suitcase, or in your car. Then this set of collapsible silicone foldable water bottles would work well for you. Would not take up much space at all.
You will want a backpack or daypack with you to store snacks, your water bottle, phone, extra clothes, etc.. during long hours at the theme parks in the Midwest. No matter the time of day or evening.
This foldable water-resistant backpack would be great.
It is very affordable and is available in many color options for you to choose from. The fact that it folds down into a zippered pouch will make it easy to pack!