Searching for the best things to do in South Dakota? Then I have you covered! This is more than a fly-over state.
And if you take the time to explore, you will be surprised at how much there is to do and see.
There are amazing national parks, cute small towns, and fun big cities you will fall in love with in South Dakota.
No matter what type of traveler you are and what you like to do, you will find things to entertain you.
Nature lovers will enjoy hiking while history buffs will want to check out the historic memorials. There is cool art to find as well as kitschy tourist attractions.
Now, let's look at some of the best South Dakota attractions!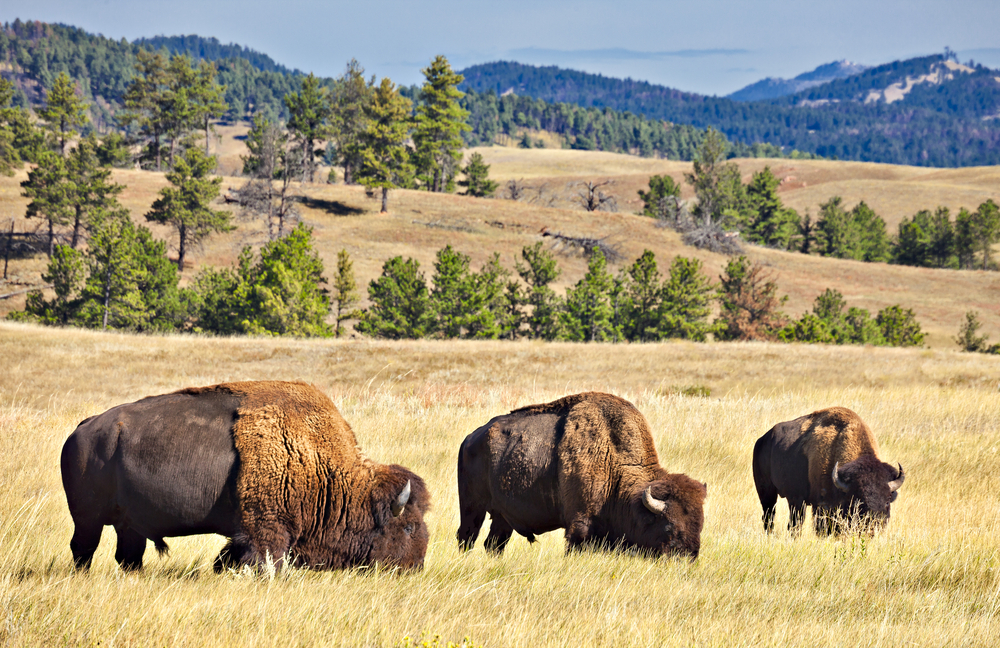 15 Best Things to do in South Dakota: The Ultimate Bucket List
Mount Rushmore National Memorial
Mount Rushmore, found on Six Grandfathers Mountain in the Black Hills, is one of the first South Dakota attractions people imagine when they think of this state.
Here you will find the sixty-foot faces of George Washington, Thomas Jefferson, Theodore Roosevelt, and Abraham Lincoln.
Construction of Mount Rushmore took place from 1927 to 1941. Today, millions of people come each year to admire this National Memorial.
While here, you can hike the scenic Presidential Trail, learn about the area's history at the Borglum Visitor Center, or take part in a guided ranger program.
Mount Rushmore is a bucket list American attraction, and you will definitely want to add it to your South Dakota itinerary.
There are so many amazing things to do in Mount Rushmore. Plan to spend some time there to explore!
Tickets Here: Private Tour of Mount Rushmore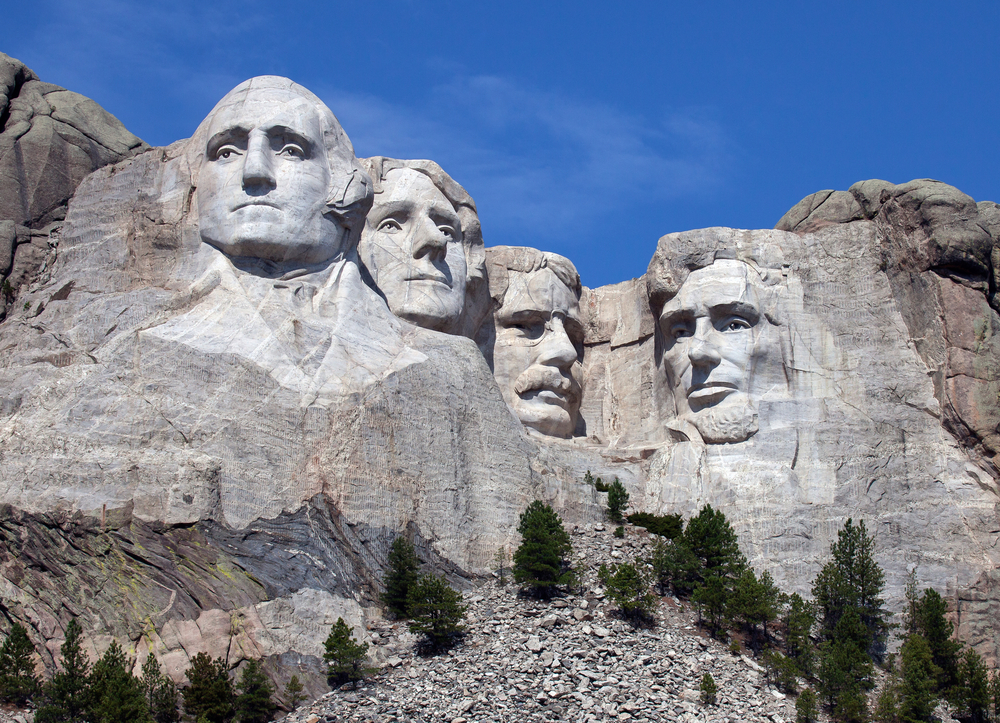 Badlands National Park
Badlands National Park is one of the best natural things to do in South Dakota. Made up of rugged mountains, deep canyons, and grassy prairies, you will have a ton of fun exploring this unique landscape.
There are over 200,000 acres to explore, so you will not get bored!
This is a fantastic place to go hiking, and mountain biking. And here you will find some of the best places for camping in South Dakota!
At night, the sky is dark and sprinkled with stars, making it a great place to stargaze.
There are awesome hiking trails, including Castle Trail, Door Trail, and Fossil Exhibit Trail.
If you love seeing animals in their natural habitat, then Badlands is the place for you as well. You can spot bighorn sheep, bison, elk, and prairie dogs. Even the endangered black-footed ferret lives here.
The visitor's center shows off fossils of creatures that lived here long ago.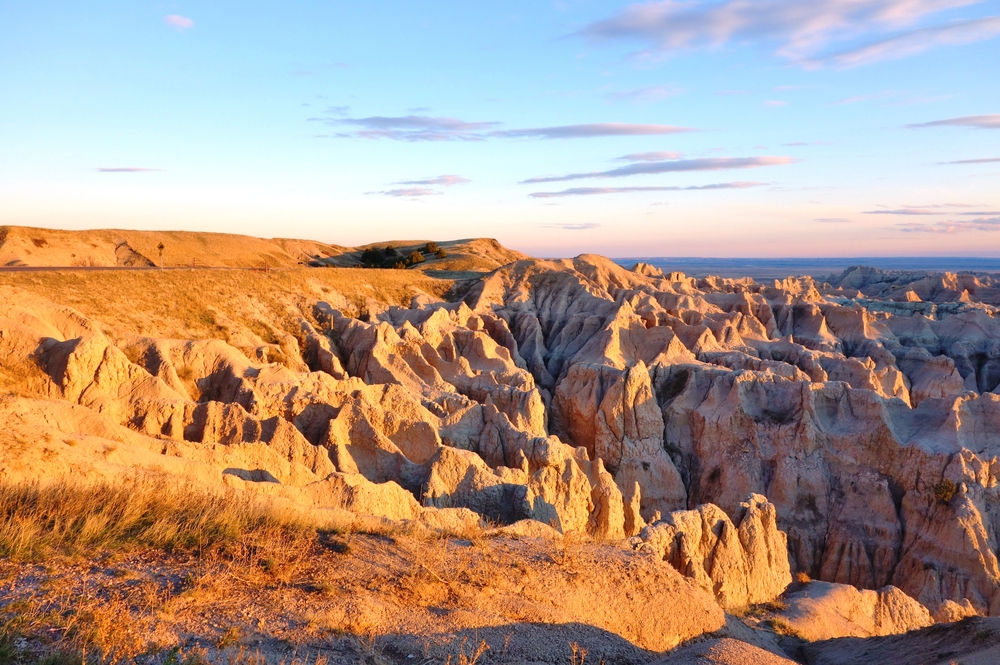 Mitchell Corn Palace
If you are looking for really unique things to do in South Dakota, then you need to visit the Mitchell Corn Palace.
Known as the "World's Only Corn Palace," this South Dakota attraction dates back to the 1820s and was originally made to show off South Dakota's agriculture.
Today, the Corn Palace is the place to go for festivals, concerts, and all sorts of shows and events. There is also a farmers' market held here.
The outside walls of the palace have creative murals made from colorful corn kernels. The art pieces change each year with different themes and are designed by college art students.
You will want to snap some photos in front of these awesome murals when you visit this attraction in South Dakota!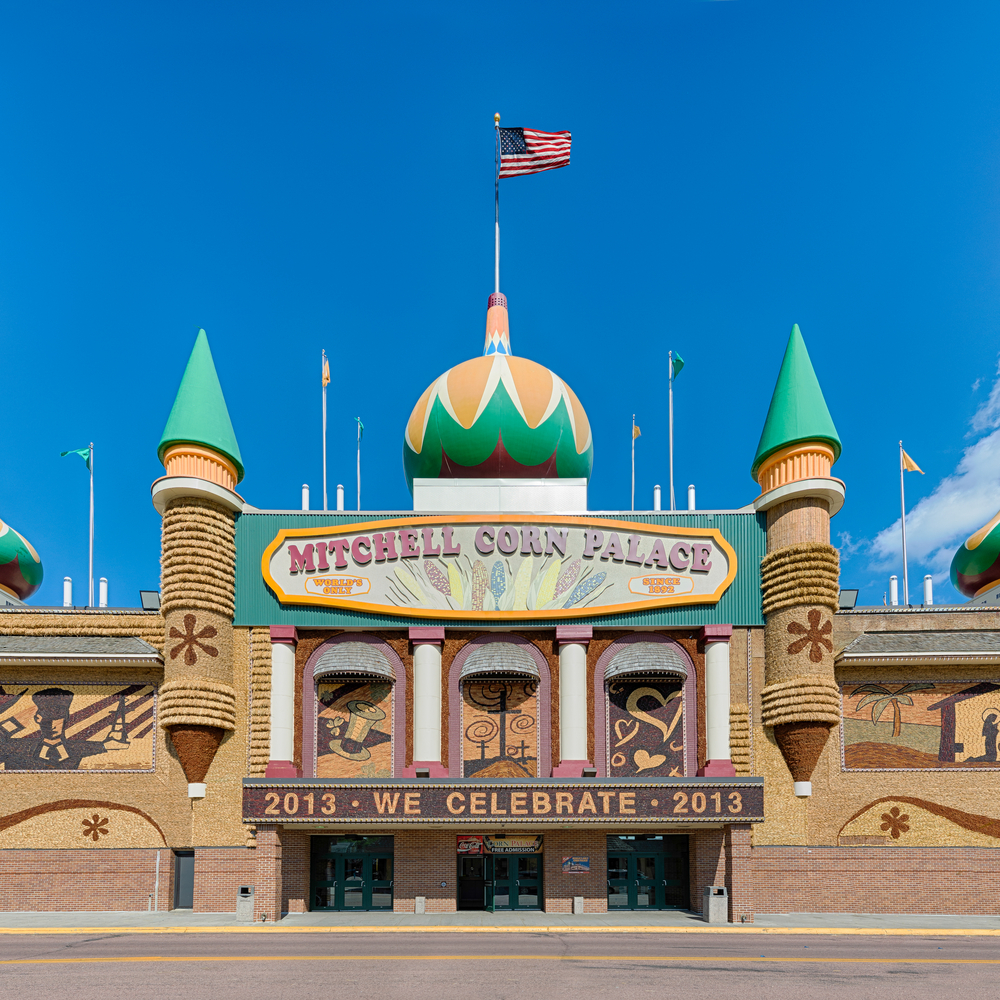 Visiting Black Hills National Forest Is One Of The Best Things To Do In South Dakota
The Black Hills National Forest is another amazing place to visit in South Dakota for nature adventures.
The forest covers over a million acres, so there are plenty of beautiful areas to explore.
If you
If you feel like roughing it, this is a scenic place to camp. You will be able to fall asleep to the peaceful sounds of nature.
Other activities to keep you entertained here include hiking through pretty trees and on Black Elk Peak, fishing for trout in the rivers, and taking pictures at every sweeping overlook.
There are also a ton of chances to view wildlife such as mountain goats, bighorn sheep, black bears, elk, bald eagles, and more.
If you are interested in hiking in South Dakota, you will find interesting hiking trails here to explore!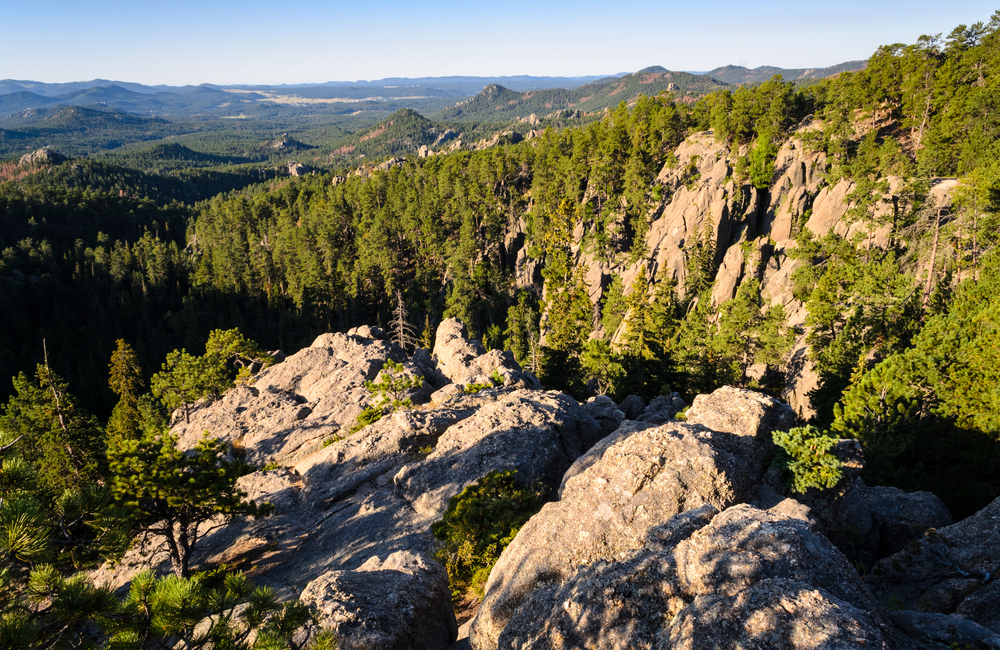 Wind Cave National Park
If you are not afraid to head underground, you need to visit Wind Cave National Park. This is the longest-explored cave in the world and is sure to amaze visitors of all ages.
It is one of the really interesting national parks in South Dakota!
You will feel as if you have traveled to another planet when you see the notable calcite formations and other features of this cave.
Explore the cave on a guided tour as you learn all about its formation and history. If you visit in the summer, this is also a great place to cool down.
If you think cave exploration is too claustrophobic, then you might enjoy the wide-open prairie found above ground. This national park also has the largest natural mixed-grass prairie in the United States.
You can see elk and bison grazing here. The thirty miles of hiking trails allow you to explore even more. Do not miss out on one of the best places to visit in South Dakota.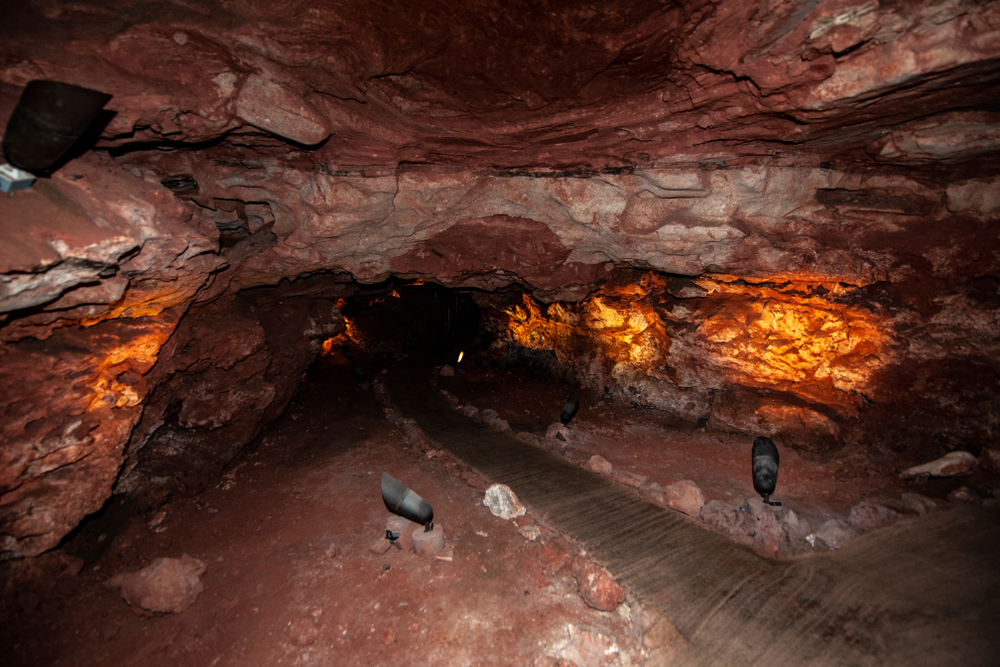 Sioux Falls
There are so many fun things to do in Sioux Falls. It is the largest city in South Dakota and a must-visit place in the state.
There are a ton of fun things to do here for everyone including nature, history, art, and architecture.
Sioux Falls Park is one of the best outdoor attractions in the city. The old Queen Bee Mill found here sits along the Sioux River. You can photograph the waterfall on the river and hike along the trail.
History buffs will want to visit the South Dakota Battleship Memorial, the Old Courthouse Museum, and the Pettigrew Home and Museum.
Nature lovers will enjoy the Sertoma Butterfly House and Marine Cove.
The Cathedral of Saint Joseph is a beautiful place to visit well the Wild Water West water park is great for kids. The city also has great restaurants and places to shop.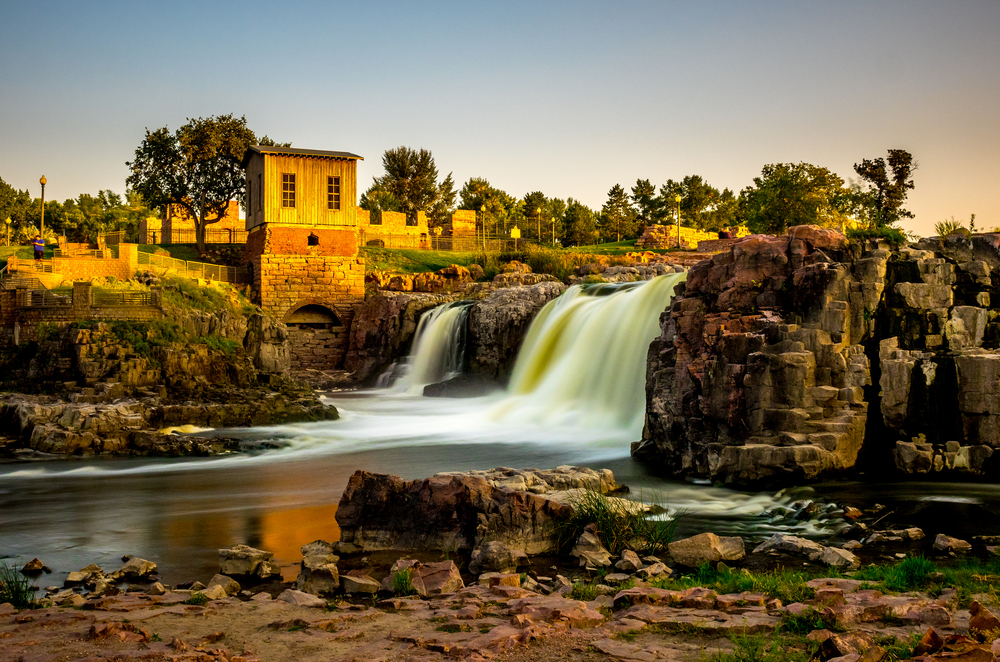 Historic City of Deadwood
Deadwood is a cute, historic town that was a central location during the Black Hills Gold Rush in the 1870s.
This is one of the best places to visit in South Dakota for small-town vibes mixed with history.
To preserve its history, the entire town is a National Historic Landmark.
You will enjoy walking down historic Main Street. Check out the old architecture and the new shops and restaurants that have now filled the buildings.
You can also visit the Mount Moriah Cemetery and see the graves of some Wild West figures such as Wild Bill and Calamity Jane.
There is also a visitor's center where you can learn more about the cemetery's history.
There are so many things to do in Deadwood, and if you have the time, plan to visit!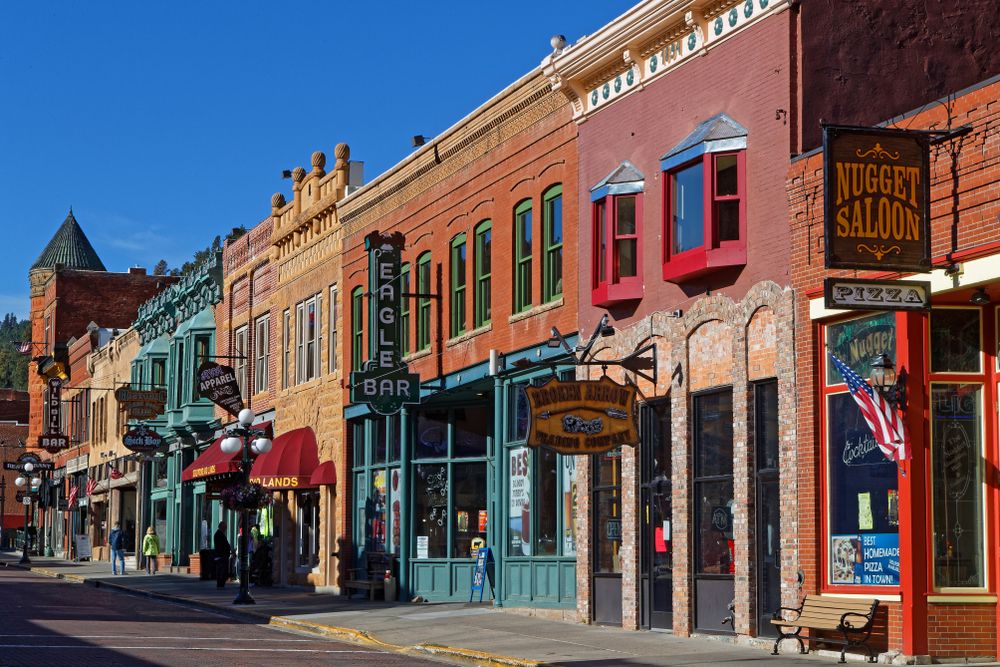 Visiting Custer State Park Is One Of The Best Things To Do In South Dakota
Custer State Park is another natural paradise in South Dakota. And one of the coolest state parks in South Dakota!
The hikes will take you through beautiful scenery and give you the chance to see wildlife. Camping and rock climbing are popular activities as well.
One of the most popular attractions in South Dakota's Custer State Park is Sylvan Lake. This pristine, man-made lake is surrounded by cool rock formations and trees.
You can hike the trail around the shoreline to take in the pretty views.
You can cool off in the water by swimming or have fun canoeing, kayaking, or fishing. In the winter, the park is a great place for snowshoeing and cross-country skiing.
This is one of the best things to do in South Dakota since you can visit and make memories at any time of the year.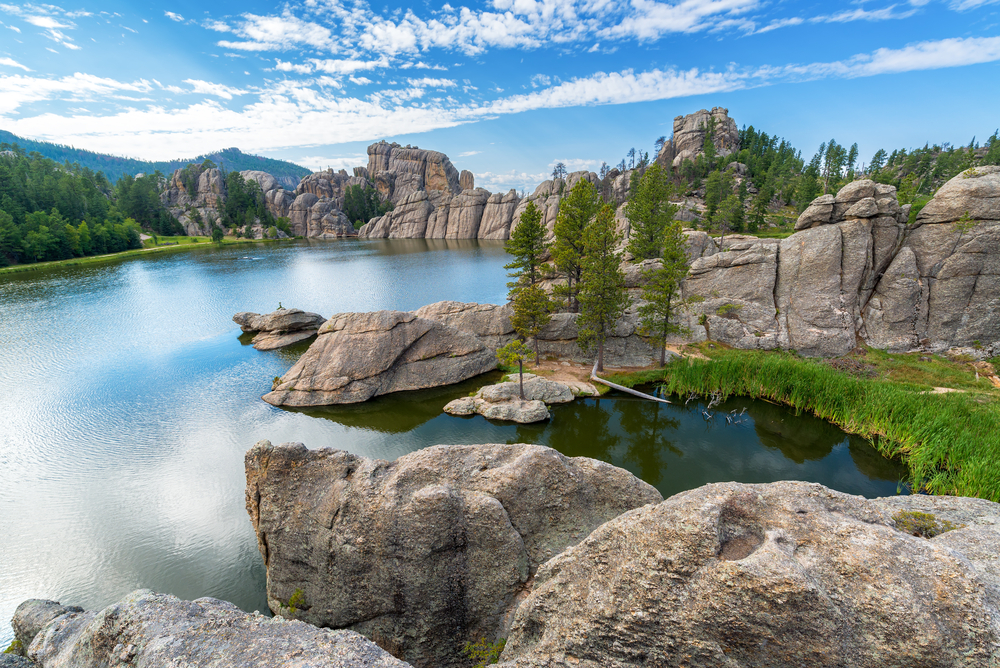 Jewel Cave National Monument
Jewel Cave National Monument is another cool cave and popular attraction in South Dakota. This is the third-longest cave in the world, and it hosts over two hundred miles of passageways.
It is still being explored and expanded today.
There are three different tours you can do here depending on your interests. The first is the historic tour which will teach you about the cave as you enjoy a more authentic cave exploration experience.
The scenic tour is more developed and features more lit paths. Do this one if you are afraid of the dark.
The last tour option is only for the brave and adventurous. The wild caving tour allows you to traverse some of the undeveloped passages.
This is a really exciting thing to do in South Dakota if you like adrenaline rushes.
There are so many things to do in Custer SD, which is nearby! Be sure to check it out.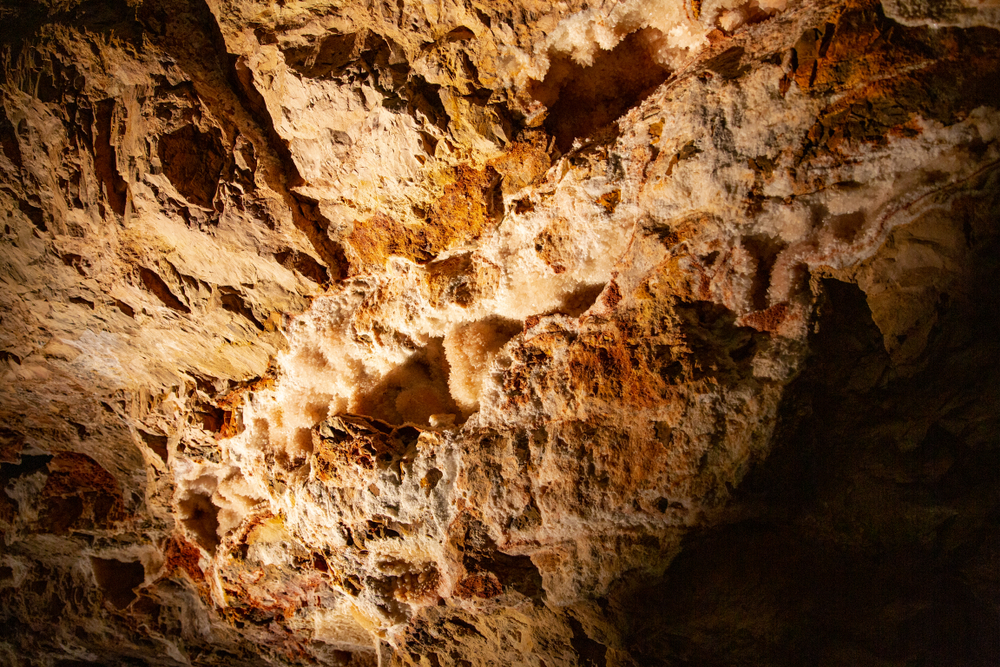 Touring The Ingalls Homestead Is One Of The Fun Things To Do In South Dakota
If you are a fan of the Little House on the Prairie books or television show, then you will want to add the Ingalls Homestead to your South Dakota itinerary.
It would make a spectacular Midwest weekend getaway!
Author Laura Ingalls Wilder lived in the small town of De Smet from 1887 until 1928, and you can now visit her home to see what it would have been like to live and work here.
Visitors to the homestead will step back in time as they explore the home and surrounding farm. You can ride in a covered wagon or drive a pony cart.
Kids will have fun making their own jump rope and corn cob dolls.
In De Smet, the Laura Ingalls Wilder Memorial Society will give you a tour of two other Ingalls family homes. The old Loftus Store is a great place to buy souvenirs.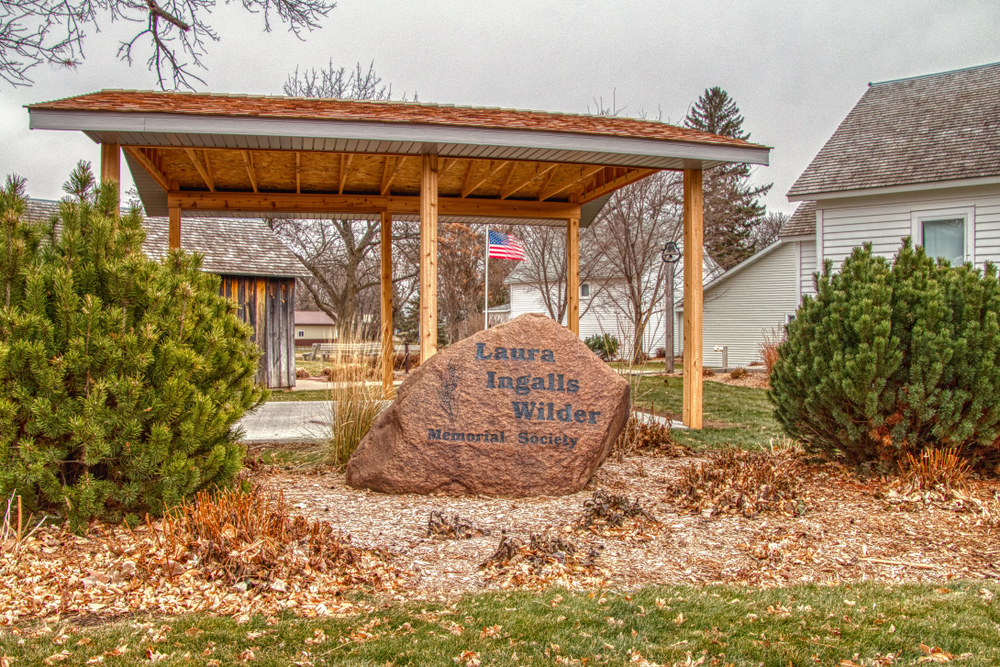 Rapid City
Another big South Dakota city worth visiting is Rapid City. This is also a great home base while visiting the state since it is near many of the other places on this list.
If you are traveling with kids, they will have fun in Rapid City going to the Reptile Gardens, the Depression-era Dinosaur Park, the Storybook Island children's park, and Bear Country USA.
From animals to unique attractions, kids will not be saying they are bored.
Visitors interested in natural science will enjoy learning about the formation of the Black Hills at the Journey Museum. The Museum of Geology has a fascinating collection of fossils and minerals.
If you want to see yet another cave, go to the Black Hills Caverns.
If you love cool architecture or art, visit the Chapel In The Hills. This beautiful, wood-stave church is a gorgeous sight nestled among the trees. It is based on the ancient, Norwegian Borgund church.
There are so many things to do in Rapid City SD you do not want to miss visiting here!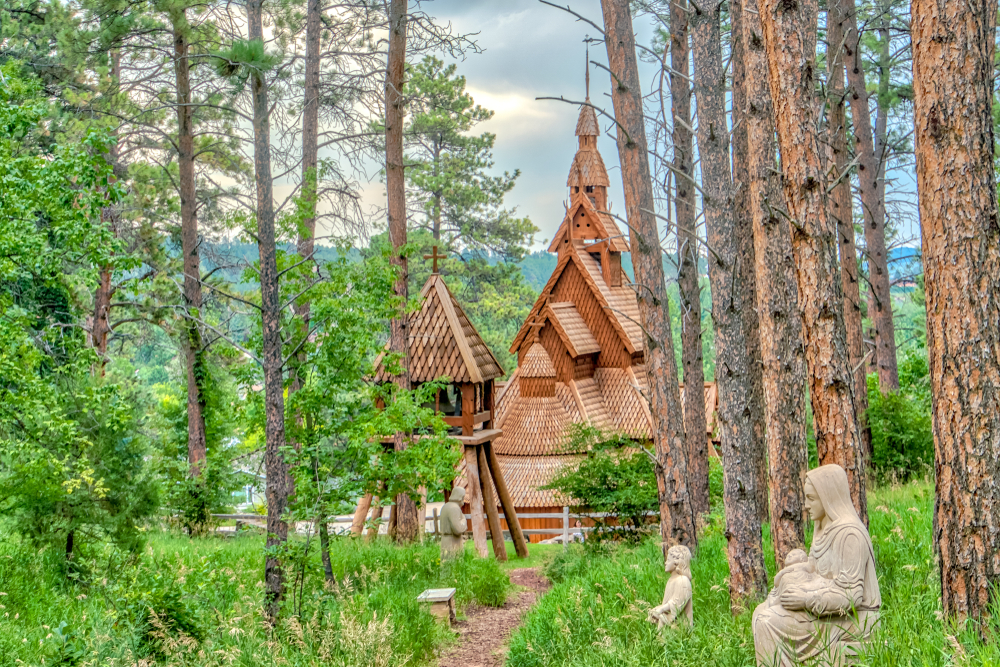 Crazy Horse Memorial
The Crazy Horse Memorial is an interesting South Dakota attraction since it is actually unfinished.
Even though construction began in 1948, budget restraints kept it in the developmental stage. The face is the only portion that is complete.
Even though it is still a work in progress, this is still one of the best things to do in South Dakota.
The memorial honors the famous Lakota Chief Crazy Horse who fought against the encroachment of Native American land.
The Indian Museum of North America found here teaches visitors about Native American tribes, their culture, and history. There are also special events and performances.
Before you leave, grab a meal at the Laughing Water Restaurant.
There are so many things to do in the Black Hills of South Dakota, that you need to explore here!
This is truly one of the best places to visit in South Dakota.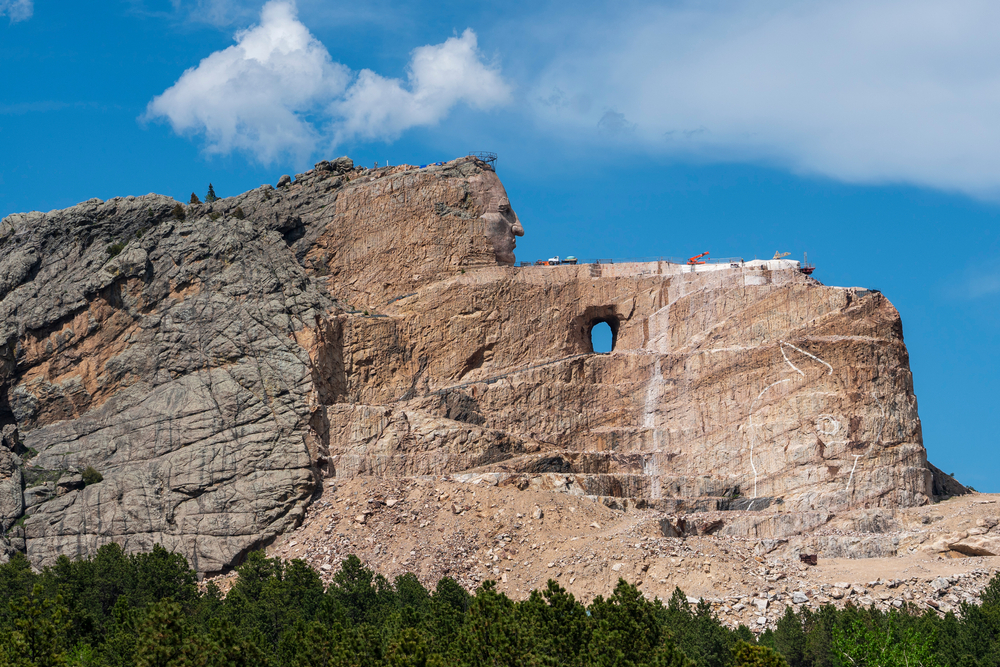 Mammoth Site
The Mammoth Site in the city of Hot Springs is an awesome place to visit for kids and adults who are interested in paleontology or prehistoric creatures.
Discovered in the 1970s, this sinkhole is the largest concentration of mammoth remains in the world and scientists are still excavating fossils today.
Tour the active dig site and visit the museum. You will learn about the fascinating mammoth and see their fossils along with those of other creatures. It is interesting to visit a place where scientific discoveries are still being made.
This is a great place to introduce kids to paleontology and get them excited about science.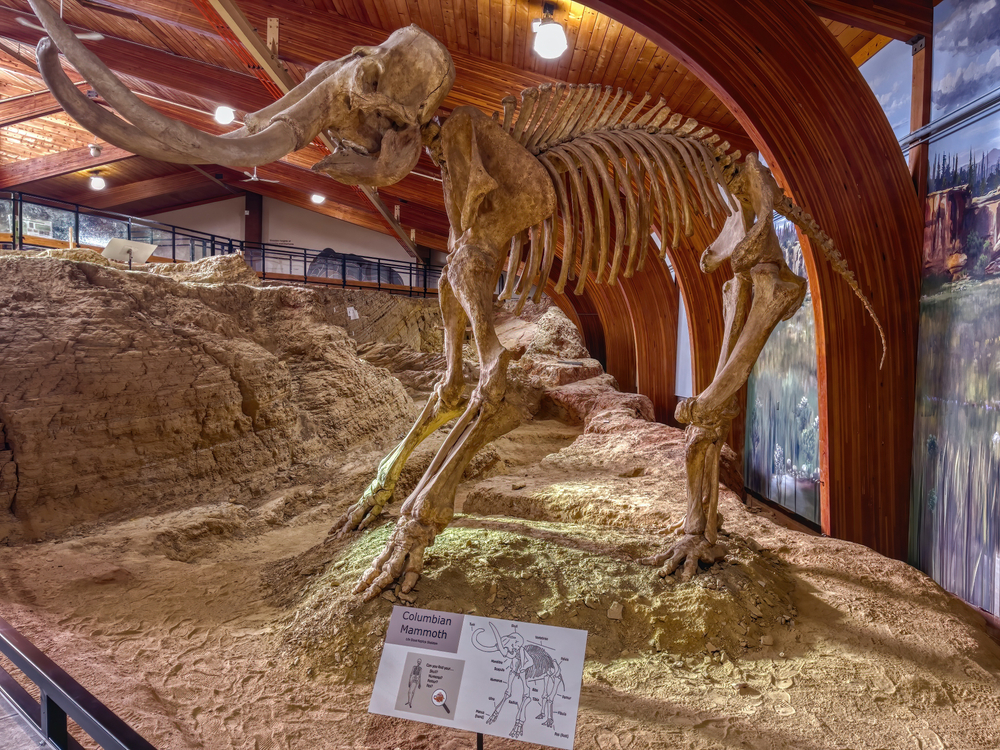 Petrified Forest Park
In Lemmon, South Dakota, you will find an entire city block made of petrified wood.
The Petrified Wood Park and Museum were built in the 1930s and visiting here is definitely one of the most unique things to do in South Dakota.
The park features beautiful petrified wood sculptures as well as a wishing well, a waterfall, and even a castle with spires and turrets. There are over one hundred formations to explore.
As you look around, try to find the fossilized dinosaur claws, bird tracks, and snakes hidden among the wood patterns.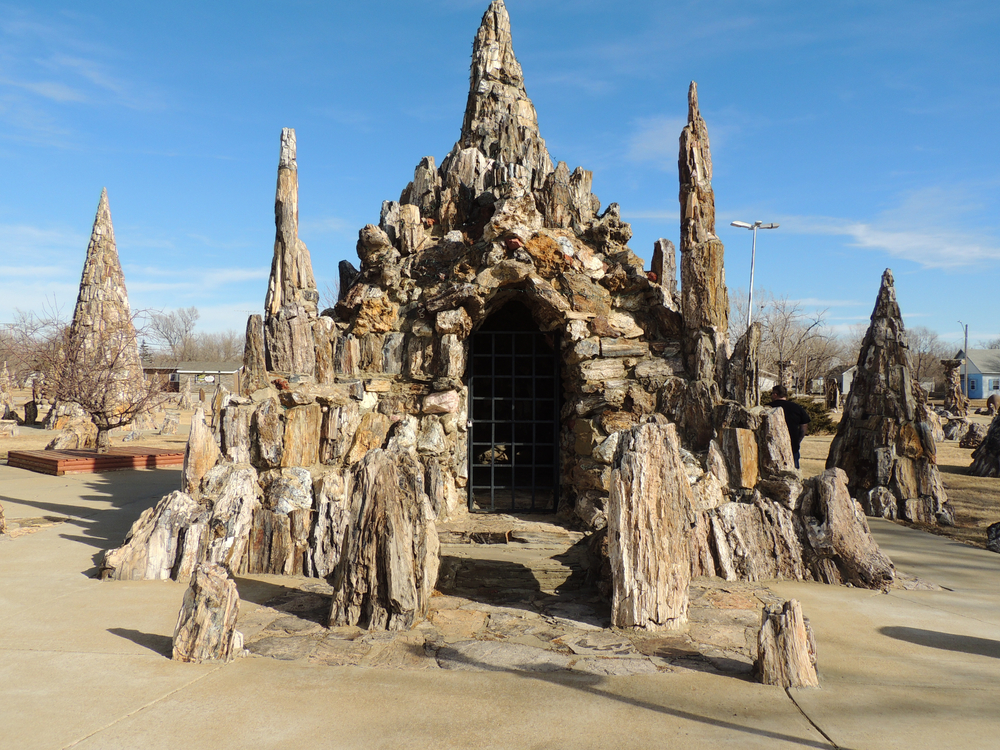 The Dignity of Earth and Sky
The Dignity of Earth and Sky sculpture depicts a Native American woman holding a star quilt. This fifty-foot art piece is found in Chamberlain, South Dakota, overlooking the Missouri River.
This beautiful and intricate sculpture is a must-see attraction in South Dakota. It does a great job honoring the women of the Lakota and Dakota Nations.
The colorful diamonds in the quilt move when it is windy adding a cool lifelike feel. At night, lights create a constellation on the quilt. Visit the Atka Lakota Museum and Cultural Center while in town as well.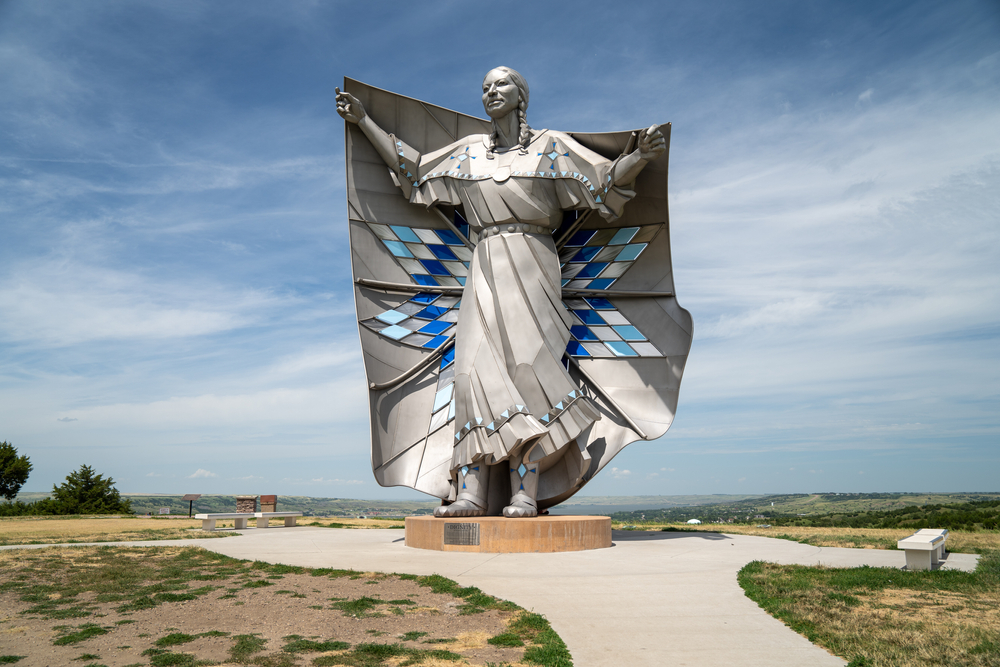 Packing List When Visiting South Dakota
If you are searching, here are some tips on how to pack lightly when packing to head to South Dakota attractions.
A concealed travel pouch may be one of the most important items you bring along when searching for things to do in South Dakota. It is always important to protect your personal information. Identity thieves are everywhere.
This unisex RFID blocking concealed travel pouch is lightweight and comes in several colors. It has lots of organization to give you peace of mind. You can place it under your clothes next to your body to carry your ID safely.
If you have a pouch already that does not come with the RFID protection, as I do, these RFID sleeves are the perfect solution.
If you are planning on taking a lot of pictures with your phone you will definitely want to consider an external charging battery. This Anker high-speed phone charging battery is the exact one I carry with me on all of my trips.
I like that it holds its charging capabilities for several uses so I do not have to worry about it while out and about, and if I forget to recharge it at night, it will still be good to go the next day.
My daughter gifted me with this FugeTek selfie stick and tripod setup for my birthday. I absolutely love it! It is made of lightweight aluminum and is so easy to use.
It has Bluetooth connectivity and is a breeze to use for taking Insta-worthy selfies during all the South Dakota activities you attend.
I never much believed in using packing cubes when traveling. That is until I tried them. Now I am hooked. These are the exact cubes I use to stay organized when I pack for a trip!
You will want to bring your own refillable water bottle with you.
I never leave home on a trip without my Bobble filtration bottle. The 18.5-ounce size is perfect for your adventures and it fits nicely in the pocket of a backpack.
Perhaps you are traveling a long distance and packing space is a premium in your suitcase, or in your car. Then this set of collapsible silicone foldable water bottles would work well for you. Would not take up much space at all.
You will want a backpack or daypack with you to store snacks, your water bottle, phone, extra clothes, etc.. . No matter the time of day or evening.
This foldable water-resistant backpack would be great. And it comes in many different colors.
–
South Dakota is so much more than a fly-over state!
There are so many fun and unique things to do in South Dakota. If you plan to visit the capital of South Dakota, there are great restaurants in Pierre SD to tempt you!
Add these activities to your bucket list and start planning a trip to this Midwest state. You are sure to have a great time!