Are you wondering which of the restaurants in Bay City Michigan serves great food? You are in the right place.
In this article, I will walk you through places to eat in Bay City and where to find the best food in Bay City, MI.
Bay City, Michigan is one of the most vibrant cities in the Midwest that you must visit.
It's an excellent place for a weekend getaway in Michigan and there is so much to see and do in Bay City.
Located near the base of the Saginaw Bay on Lake Huron it's a city known for riverwalks, a lovely downtown area, and fantastic antique shopping.
Bay City food is also pretty great with so many wonderful restaurants to choose from.
So are you ready to see which Bay City Michigan restaurants I have chosen for you? Pull up a chair and let me walk you through the restaurants in Bay City.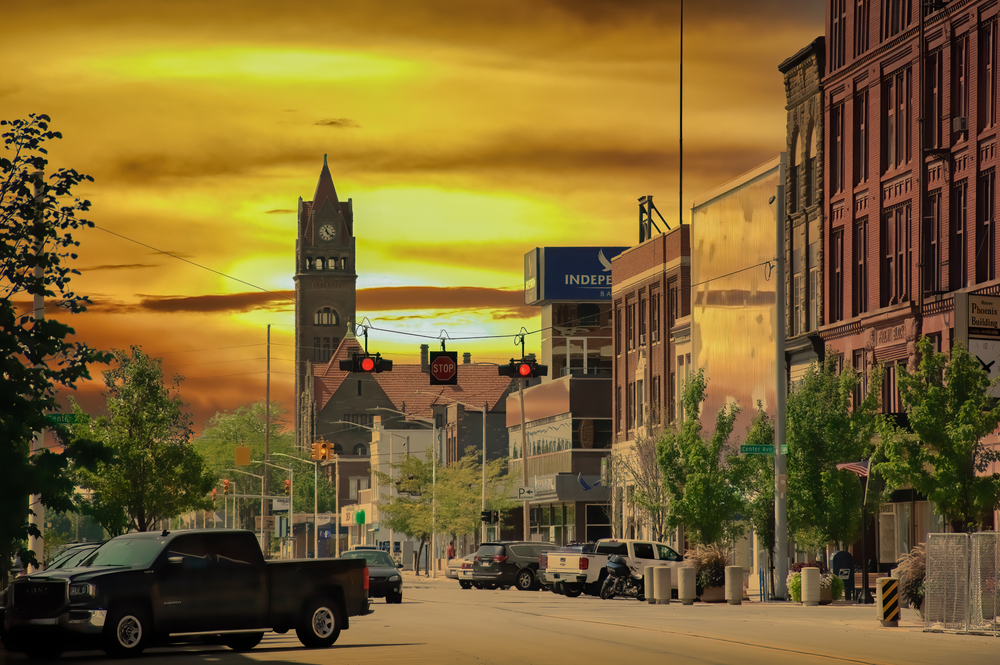 15 Best Restaurants In Bay City MI You Must Try
BJay's Pizza and Coneys
If you love a good pizza then look no further than BJay's Pizza and Coneys. With hundreds of positive reviews, most agree this is the best pizza in Bay City.
It's not all pizza here though they also serve subs, wings, salads, nachos, steak sandwiches, homemade bread, and much more. It's a mixture of Italian and American and oh so delicious.
The staff is friendly and the restaurant caters well to vegetarians. This is definitely one of the best places to eat in Bay City, Michigan.
Latitude 43 Grill And Bar
If you are after great food in a laid-back atmosphere then this is the Bay City restaurant for you. The goal here is to serve the best food at the best price and I think they deliver.
The food is made from scratch with a smokehouse on the grounds. They are vegetarian-friendly and can cater to vegans and those who require gluten-free alternatives.
It's upscale casual with some great menu items. Bourbon Smoked Salmon, House Sirloin, and The 43 Burger seem to be firm favorites.
Food in Bay City, MI doesn't get much better than it does here and this restaurant should be top of your list.
Uptown Grill
This light and airy restaurant in Bay City is open until 3:30 pm and offers one of the best breakfasts and brunch menus in the area.
Customers rave about the breakfast here and the gourmet french toast and specialty pancakes seem to get the most praise. The Zucchini Bread French Toast is a firm favorite with the locals.
They also do a great selection of sandwiches and salads if you decide to visit at lunchtime. The restaurant is also vegetarian-friendly and has vegan and gluten-free options available.
This downtown Bay City restaurant is a great place to grab a late breakfast or lunch.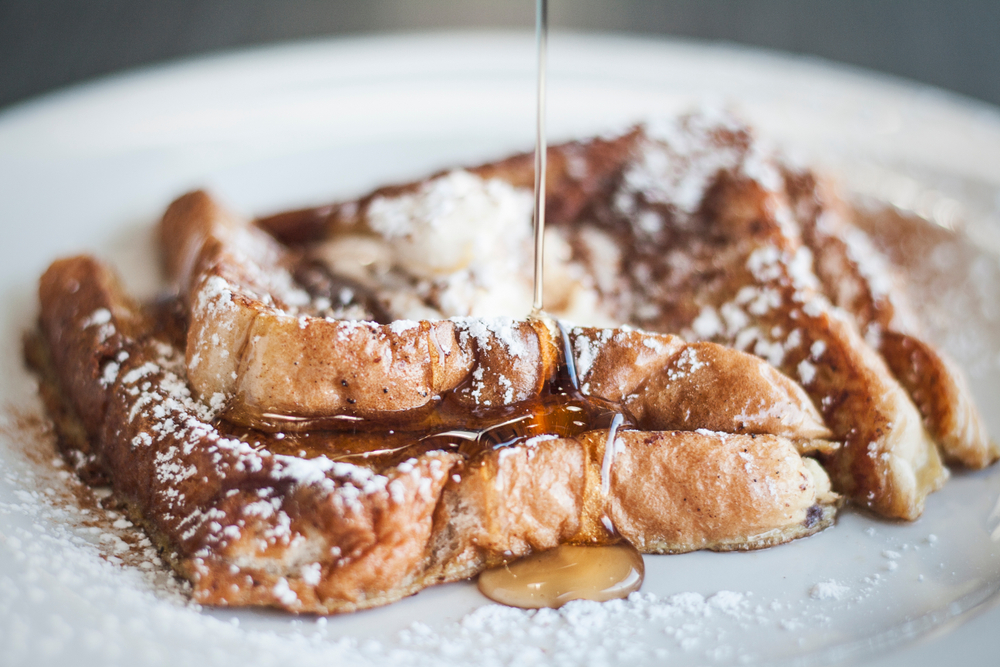 Brooklyn Boyz Pizza
Think pizza but upscale and you get a sense of what this place is all about. Here they serve authentic New York-style pizza and Italian pasta all cooked from scratch.
Most of the items are made in-house allowing them to eliminate many unnecessary ingredients and additives.
You can build your own pizza or choose from one of the specials. I particularly love that they have a build-your-own vegan pizza.
They do offer other dishes but really you come here for the fresh pizza. Oh and their garlic knots seem to be well-loved.
One of the best restaurants in Bay City for pizza.
Old City Hall Restaurant
If you are looking for casual fine dining in an impressive building then this is the place for you. It's all brick walls, wood, and a relaxing atmosphere.
The food is delicious and upmarket American with a twist. They also have some great vegan options.
And if you like wine there are over 150 on the list, 120 spirits, and 23 beers on tap. You come here for the food but stay for the alcohol.
This Bay City restaurant is a real treat and a great way to spend the evening.
Real Seafood Company
If you love fresh seafood then this contemporary restaurant in Bay City is perfect for you. The fish is fresh from the local waters and cooked to perfection.
You will find the highest quality ingredients served in a creative way in a restaurant with a lovely atmosphere. The riverfront location is also an added bonus.
Expect things like oysters, lobster, and shrimp but also the unexpected like crispy fried Brussel sprouts, cajun beef tenderloin, and ancient grains pilaff.
While primarily a fish restaurant they also cater to vegetarians, vegans, and gluten-free. If you are after a great meal in a fantastic location look no further.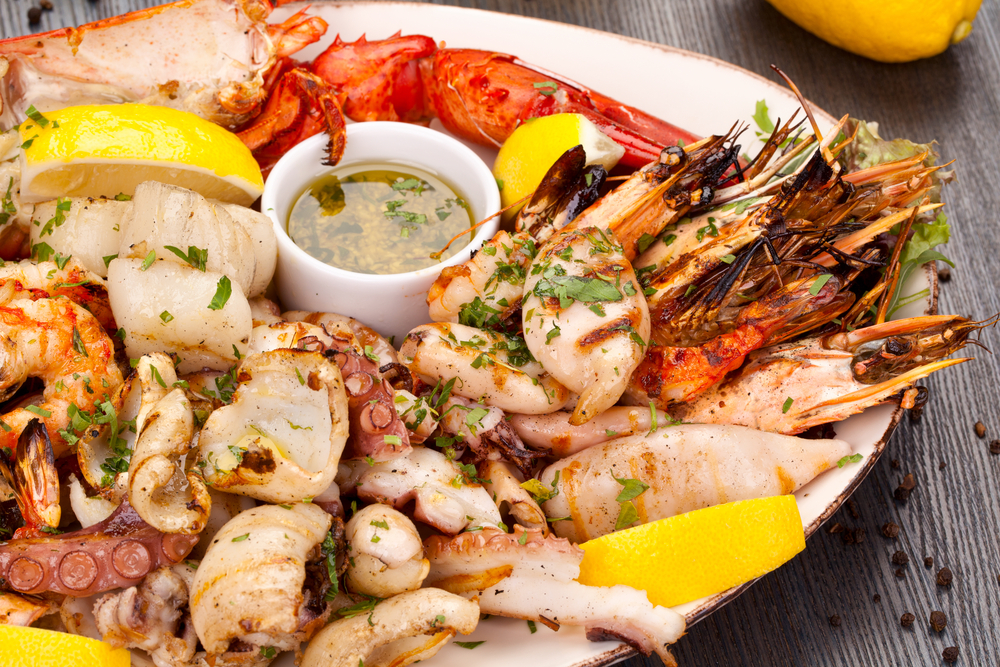 Gatsby's Seafood And Steakhouse
This is one of the downtown Bay City restaurants that you simply must visit. You will find fresh fish, choice meat cuts, and a great atmosphere.
The restaurant inside has a pub feel and is very cozy and the outside dining is a wonderful option. The service gets great praise here as does the food.
Expect menu items such as Ahi Tuna, The Bronx Sirloin, and London Broil. They also have vegan options on the menu such as Unchicken Sandwich, Vegan BBQ Pulled Pork and Vegan Gyro.
This is one of the Bay City Mi restaurants that cater really well to vegetarians and vegans as well as meat-eaters. It's a great place to have lunch or an evening out.
Riverfront Grille
While there is lots to love about this restaurant the main thing is the large patio and views over the river. This upscale casual restaurant serves American and regional cuisine with a view that is spectacular.
In the Hilton Doubletree, this restaurant serves breakfast, lunch, and dinner in a great setting. Menu items include items such as Lake Huron Walleye, Street Tacos, and Riverfront Burger.
The atmosphere is relaxed, the location perfect and the menu offers a variety of food that will suit all tastes.
This restaurant in Bay City, Michigan is perfect for date night or a family get-together.
Lucky's Steak House
If you are after award-winning steaks then this is the place to come. Known for big portions, affordable prices, and great service Lucky's should be high on your list of places to visit.
The menu as you would expect is heavy on the meat, with items like Maryland Chicken, BBQ Ribs, and an array of steaks. They also have some seafood dishes and salads.
If you love large meals full of meat this is the place for you.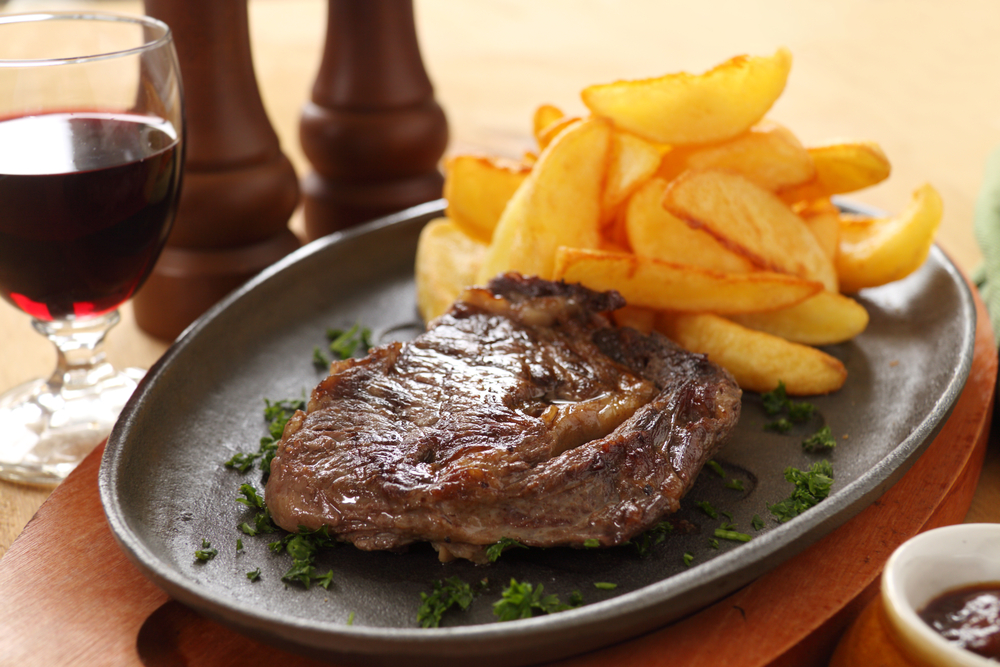 Tavern 101
Modern, light, and airy this restaurant is right in the downtown area. It's a stylish restaurant but it doesn't take itself too seriously serving great food and craft beer.
The food is a twist on the classics such as mushroom Swiss burger and fried green beans, Pizzaioli Burger and Cuban Panini.
One of the restaurants in Bay City that's perfect for lunch.
Krzysiak House
Serving authentic Polish and traditional American cuisine this restaurant is open for breakfast, lunch, and dinner and is well worth a visit. If you are after something a little bit different this is it.
Try a Kluski noodle bake for breakfast or indulge in the meat and seafood buffet all served in a friendly atmosphere by caring staff.
All the food is homemade and they are somewhat famous in these parts for their sausage and noodles. If you are after good food that is filling and delicious this is the place for you.
Mulligan's Pub
Since 1990 this bar has been somewhat of a downtown staple. It offers a feeling of nostalgia as well as great food and service.
It's typical American bar food with burgers, tacos, wings, and the like. They also have an extensive craft beer menu.
If you are after good food at a reasonable price in a bar-type atmosphere you can't get much better than this.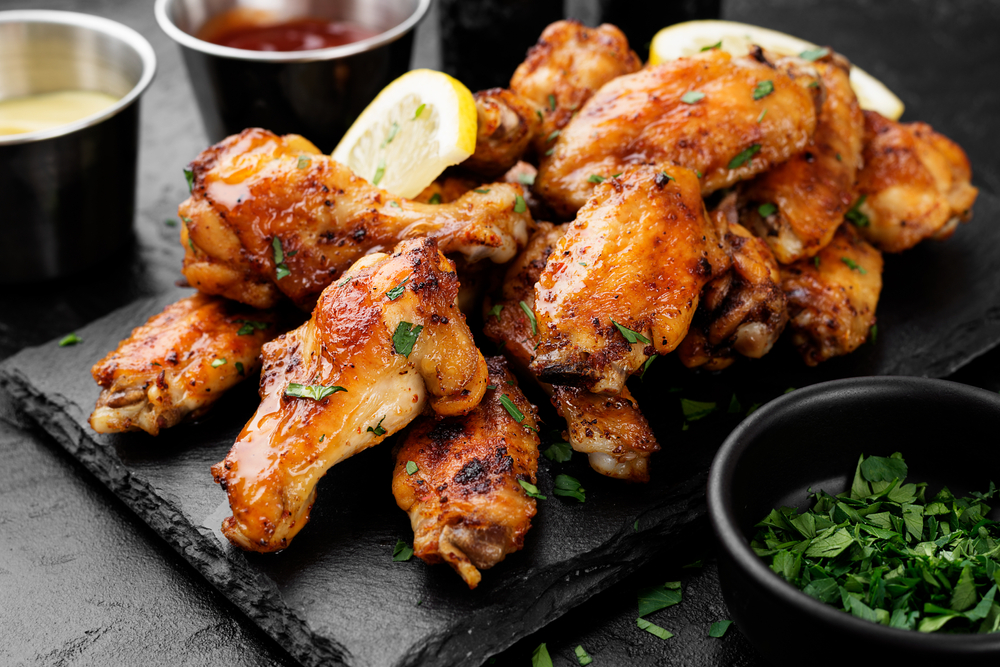 One Of The Coolest Restaurants in Bay City With A View Is Castaways
If you are looking for something a little unique then how about a restaurant located on the Kawkawlin River? It has live entertainment at the weekend and is home to Bay City's Original Bike Night.
You will find a menu of salads, wraps, burgers, and the like. They even have a Mac-n-Cheez Burger.
They have an extensive drinks menu too serving a wide variety of cocktails. The staff is friendly and welcoming and the atmosphere is lively.
Bay City food here comes with a unique touch and a great view.
Grampa Tony's Is One Of The Family-Owned Restaurants in Bay City MI
Family-owned and operated since 1962 here you will find generous portions, reasonable prices, and a warm welcome.
They are open for breakfast, lunch, and dinner and their lasagna is pretty legendary. The food is American/Italian and any place where you order pasta by size is a hit with me.
The menu is extensive and will have something to please most people. They also have vegan and vegetarian options.
This is one of the restaurants in Bay City that serves great quality home food cooking that everyone will love.
Fusion 1 Cafe Is One Of The Best Japanese Restaurants In Bay City
If you are looking for a Japanese restaurant in Bay City look no further. Best known for its sushi this restaurant is always on trend with a current menu.
The menu includes items such as cooked sockeye salmon, Asian salads, noodle salads, and a large selection of sushi.
The food is tasty and well priced and the staff is friendly and eager to help. A great restaurant for all those who love Asian food.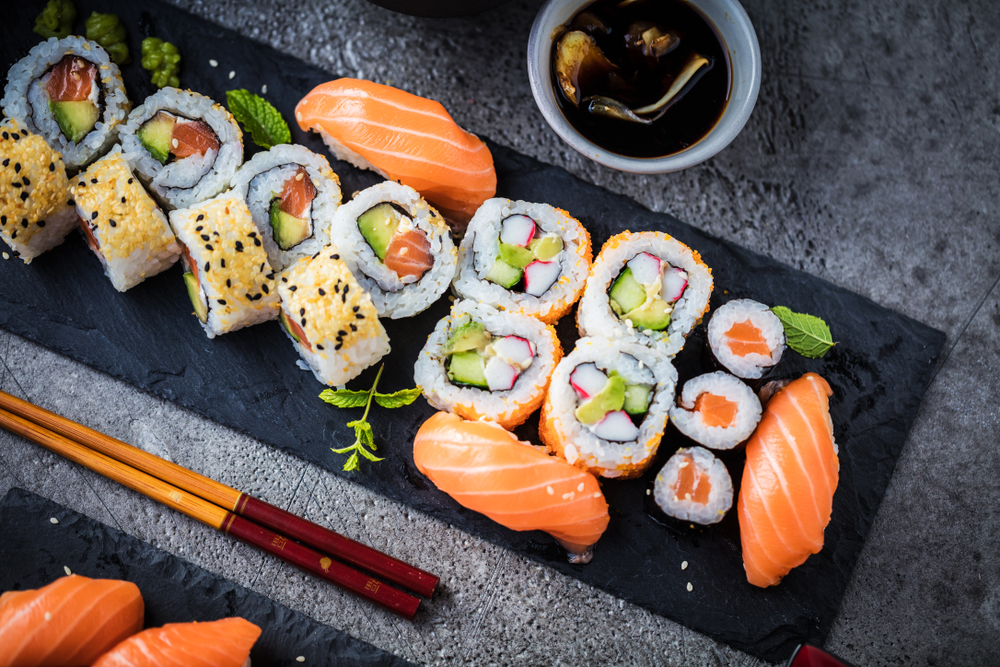 As you can see when it comes to restaurants in Bay City there are so many to choose from. Bay City food has a lot to offer.
Whichever of these places to eat in Bay City you choose I know you will have a great meal.
Michigan is a state with so much to do and see.
From all the MI waterfalls, MI lighthouses, and Michigan national parks you will be spoilt for choice. Visiting one of the vibrant cities is a lovely way to contrast your midwest getaway and Bay City is a great one to add to your list.
Please come back and tell me which of these places to eat in Bay City you experienced and I hope you have a great vacation.