If you are looking for things to do in Sioux Falls, South Dakota, we have you covered!
As the largest city in the state, there are plenty of Sioux Falls attractions to keep you and the whole family entertained. Nature, art, history, and great food will fill your South Dakota vacation.
No matter your interests, there are cool and unique Sioux Falls activities that will make for a fantastic itinerary. Photographers will love the pretty parks while science and art lovers can explore museums.
Families will have a blast exploring all of the outdoor recreation opportunities. No matter what season you visit, there are fun things to do outside in Sioux Falls.
Let's take a look at the best attractions in Sioux Falls, SD!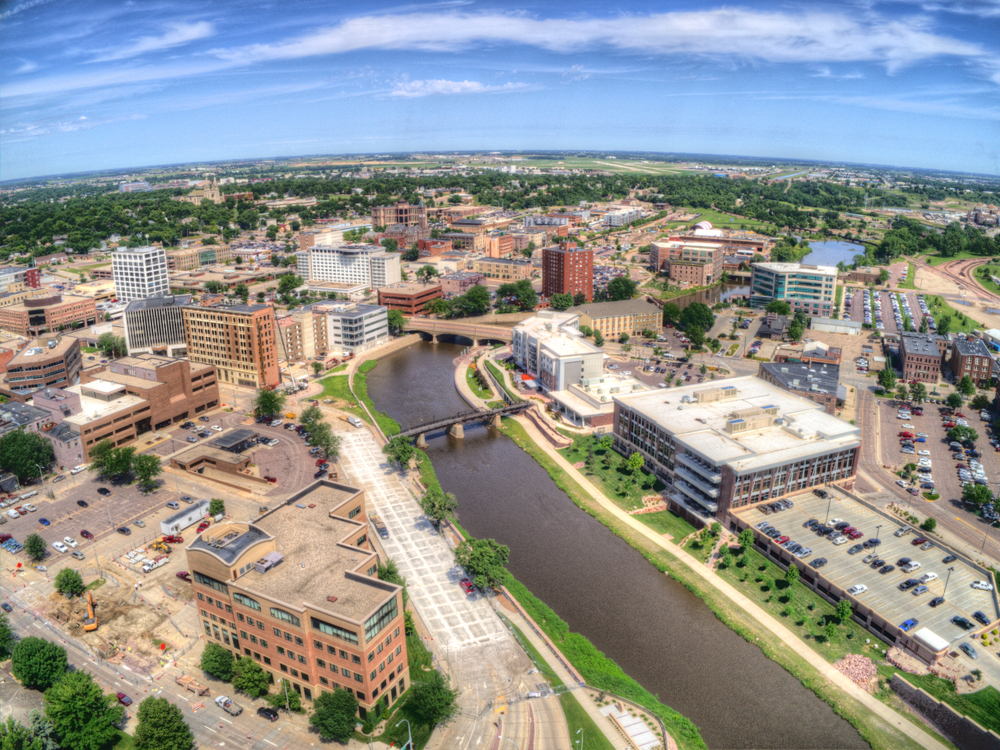 15 Best Things To Do In Sioux Falls SD You Shouldn't Miss
Take Pictures in Falls Park
Visiting Falls Park is one of the top things to do in Sioux Falls because this is where you will find the waterfalls the city is named for.
The Big Sioux River flows through this 123-acre park, creating a beautiful landscape.
Along the river is a series of small waterfalls and the old Queen Bee Mill, perfect for photography. Grab some food at the Falls Overlook Cafe and enjoy the pretty views.
The Stockyards Ag Experience is an interesting museum dedicated to agriculture and livestock. You'll learn history in an interactive way.
The park also has walking and biking trails with statues and informational signs.
Relax In Nature At The Butterfly House And Aquarium
The Butterfly House and Aquarium is a great thing to do in Sioux Falls for nature lovers.
In the Butterfly House, you will find a rainforest environment where hundreds of butterflies flutter freely. You will be amazed by the bright colors of species from around the world.
The Butterfly House also works with the Prairie Butterfly Conservation Program to help protect native species like the Dakota Skipper. You will also learn ways to attract more butterflies to your garden.
In the aquarium portion, there is a variety of fish, seahorses, rays, coral reefs, and more. This is a wonderful place to learn about aquatic animals and conservation.
One of the coolest features here is the Pacific Tide Pool. You will be able to study this unique ecosystem and even touch some creatures like starfish and sea anemones.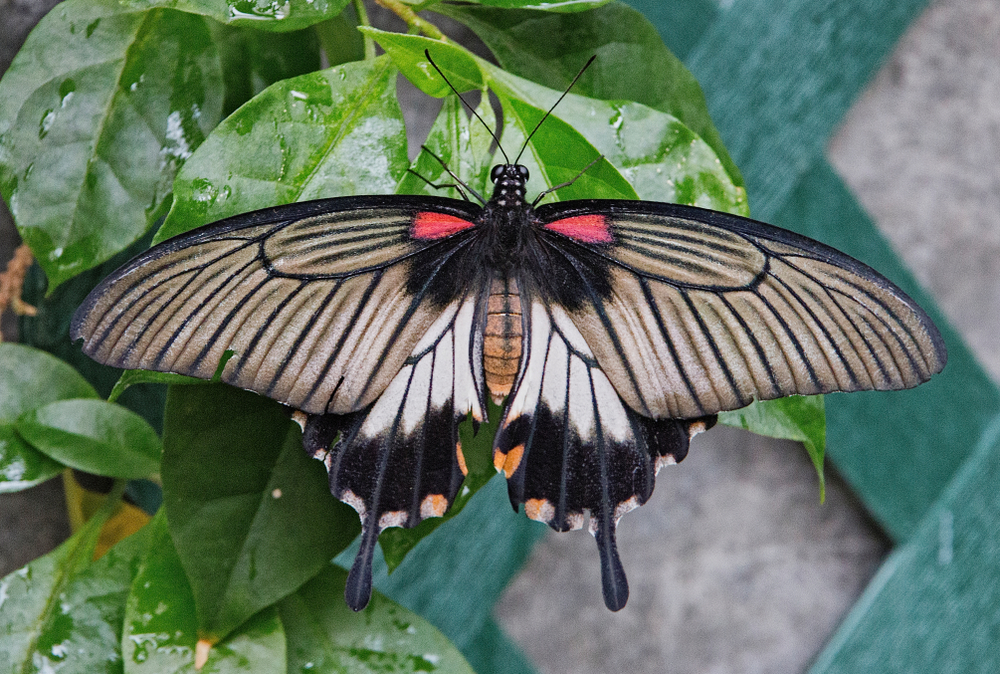 Learn History At The Old Courthouse Museum
If you are a fan of beautiful architecture mixed with history, you need to visit the Old Courthouse Museum. With no admission cost, this is one of the best free things to do in Sioux Falls.
Found downtown Sioux Falls, this quartzite building is easy to spot because of its 165-foot tall clock tower. The courthouse was built in the last 1800s and was one of the tallest in the Midwest at the time.
Inside, you will find sixteen large murals throughout the hallways. These paintings depict scenes from the pioneer days in the Dakotas as well as natural landmarks.
The whole museum is three floors of exhibits covering Native Americans, colonial life, the railroad, and other pieces of regional history. The gift shop is great for souvenirs too!
If you want to see some more historic buildings in Sioux Falls, stop by the Pettigrew Home & Museum or the Cathedral of Saint Joseph.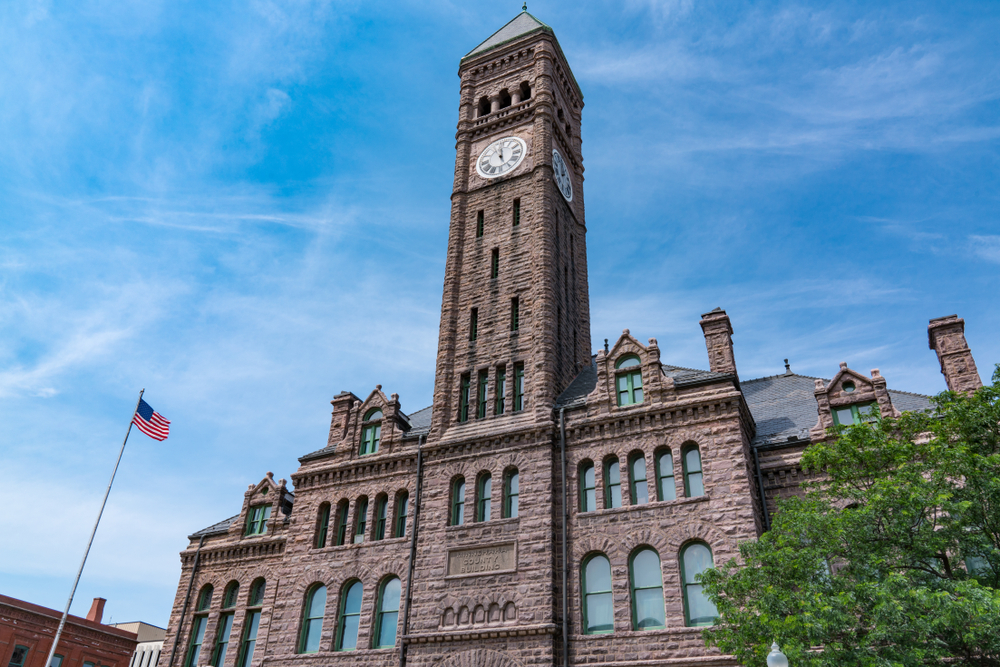 Head Downtown To The Sioux Falls ScultpureWalk
Anyone interested in cool art will want to stroll the SculptureWalk in downtown Sioux Falls, South Dakota. Try to find as many art pieces as you can as you walk the historic district and check out the local shops and restaurants.
There are a ton of sculptures scattered around with many different themes and subject matter. There are abstract, geometric sculptures as well as realistic people and animals.
The SculptureWalk exhibit changes every year so you can see different artwork every time you visit. There are often over sixty pieces on display at a time.
This is an awesome free activity in Sioux Falls! It is also perfect if you are looking for places to take Instagram photos.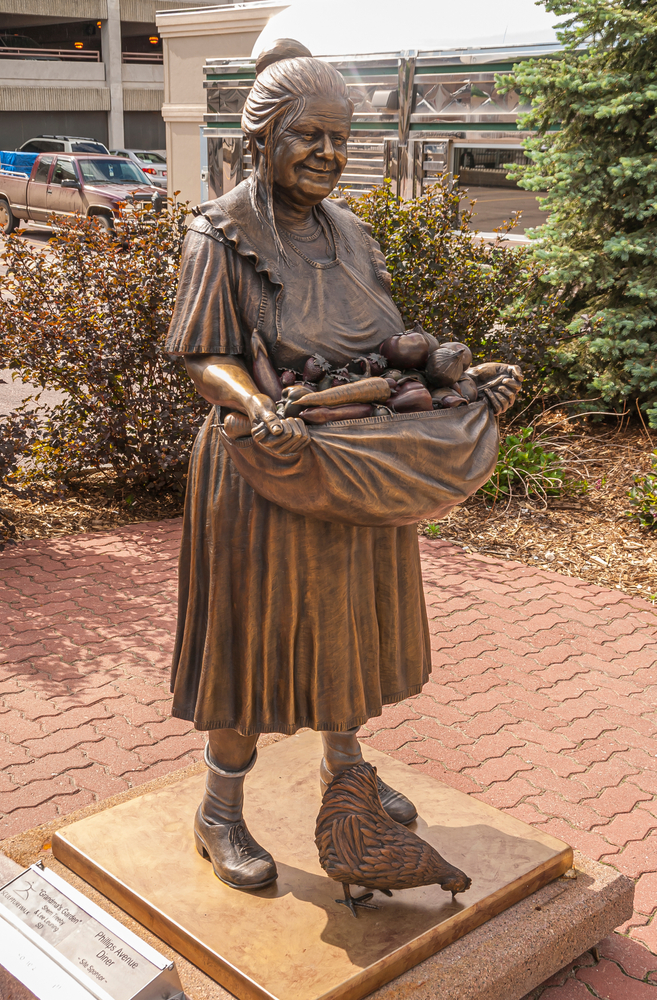 Cool Off At Wild Water West
If you want fun things to do in Sioux Falls with kids, then pack up the family for a day at a waterpark. Wild Water West is the largest waterpark in South Dakota and the perfect summer destination.
There are rides and pools here for all ages as well as a swim-up bar for the adults. Get your heart pumping on the 55-foot tube slide known as Tornado Alley or simply chill in the lazy river.
Wild Water West has more than water fun! There are also go-karts, mini-golf, and batting cages. This Midwest amusement park is perfect for a day when it is not hot enough to get wet.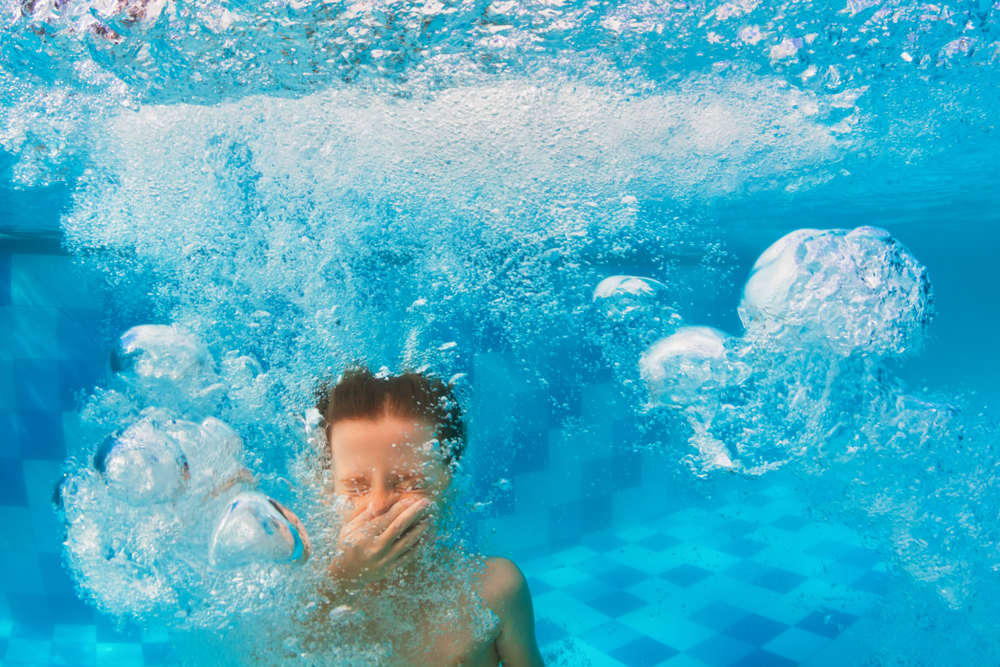 Taste Craft Beer At WoodGrain Brewing Company
If you enjoy sipping local craft beer on your travels, add the WoodGrain Brewing Company to your Sioux Falls itinerary. This microbrewery serves handmade beer in the heart of downtown.
The taproom is gorgeous with tables and a bar that shows off their woodgrain namesake. Order a flight of tasty beers made with locally harvested hops and barley.
Woodgrain also hosts many fun events in Sioux Falls throughout the year often involving food trucks.
This is certainly one of the coolest restaurants in Sioux Falls SD!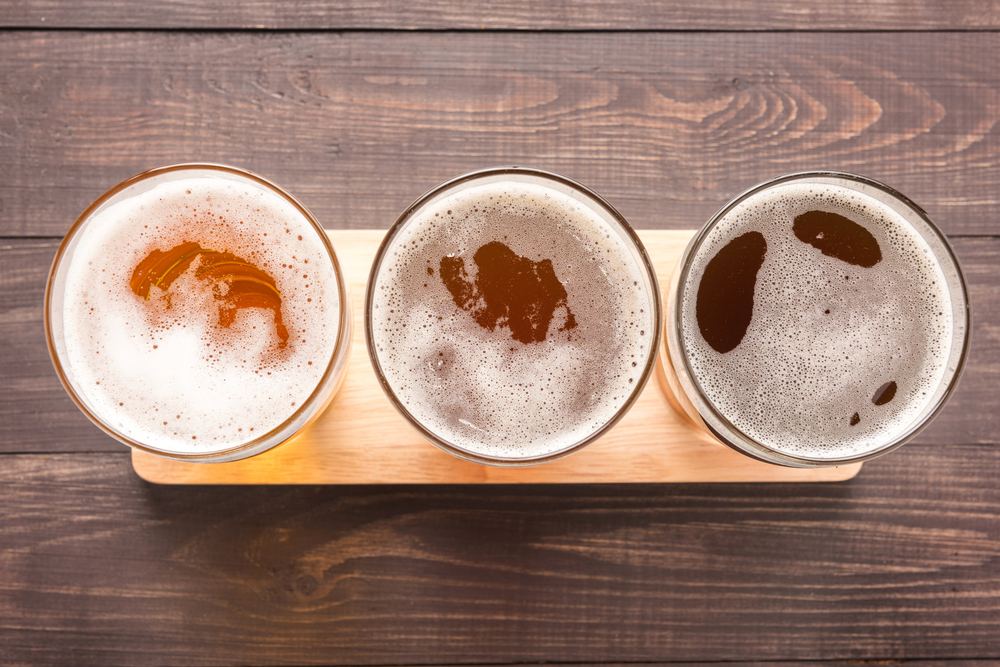 Go Skiing
If you visit Sioux Falls in winter, you can't miss out on the chance to hit the slopes. Breathe the crisp air as you sail down powdery slopes.
Skiing is the perfect outdoor recreation if you want an adrenaline rush.
The Great Bear Ski Valley is just outside of town and offers 14 downhill slopes for skiing and snowboarding. The slopes rank from beginner to advance.
There is also a 4-mile cross-country skiing trail. If you have younger kids, try out the awesome tubing hill.
After having fun in the snow, you can warm up in the Lodge with hot cocoa by the fire.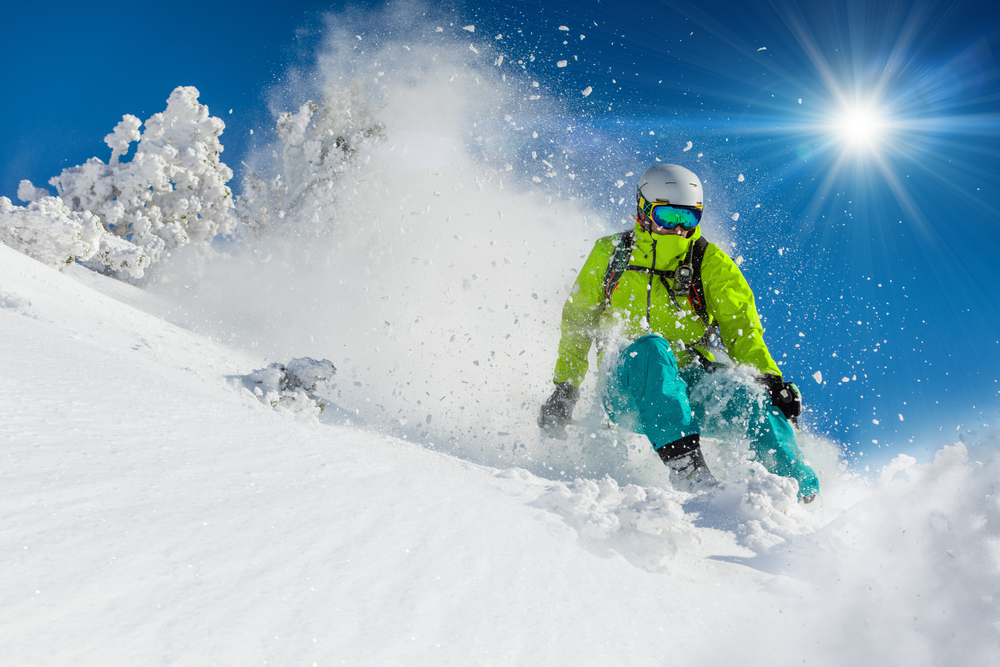 Enjoy The Sioux Falls Bike Trails
One of the best ways to see Sioux Falls is by biking the extensive Sioux Falls Bike Trails. This loop is about 30 miles and connects many of the city's parks and follows the river in parts.
Save money on gas and rent a bike instead. Pedal through town, stopping at whatever shops and cafes catch your eye. There are also drinking fountains along the path to keep you hydrated.
This is a great cheap thing to do in Sioux City for the whole family.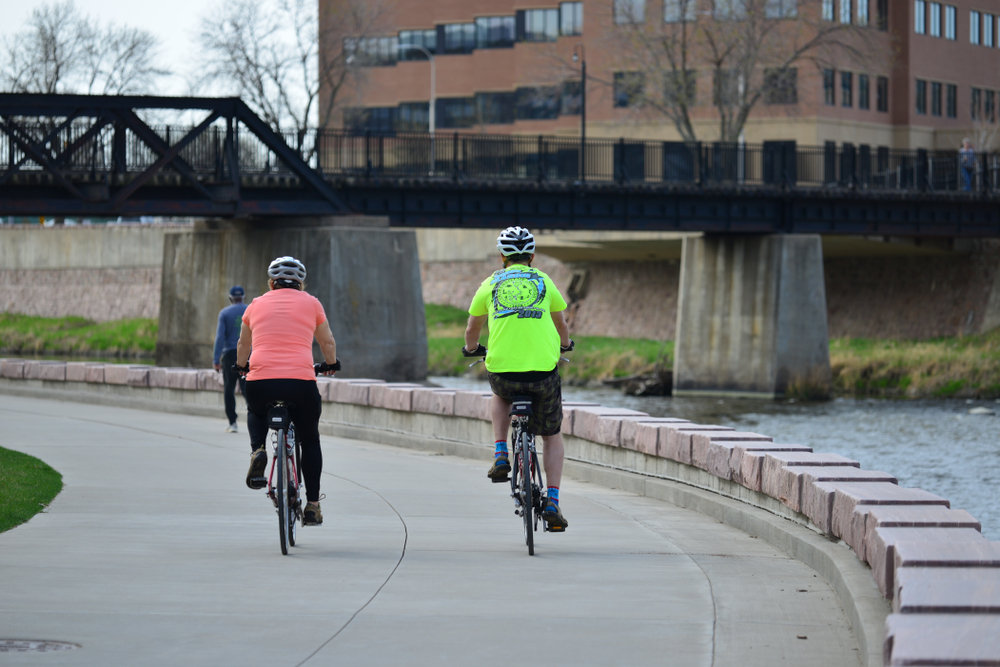 Discover The Arc Of Dreams
The Arc of Dreams is a beautiful metal sculpture that spans the Big Sioux River near downtown. Built in 2016 by artist Dale Claude Lamphere, this structure is a sight to behold.
It is dedicated to the dreamers and the gap between sections at the highest point represents the leap of faith people must take to see their dreams come true.
If you have the chance to see the Arc of Dreams at night, you will be extra impressed. It is lit with colorful lights that change throughout the year based on holidays and events.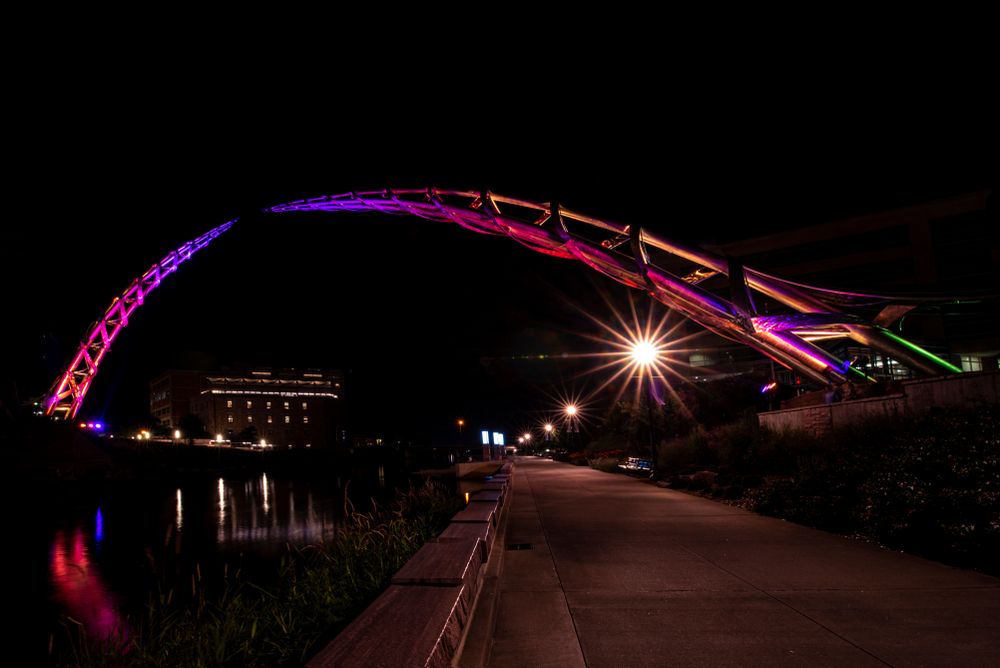 Visit The USS South Dakota Battleship Memorial
History buffs will want to visit the USS South Dakota Battleship Memorial. The building and lawn are in the shape of the ship, showing just how big it was.
The USS South Dakota was the most decorated battleship in World War II history. This museum aims to preserve its history and tell the story of those who served aboard it.
There are many exhibits highlighting many photographs and letters from sailors. This museum is also free!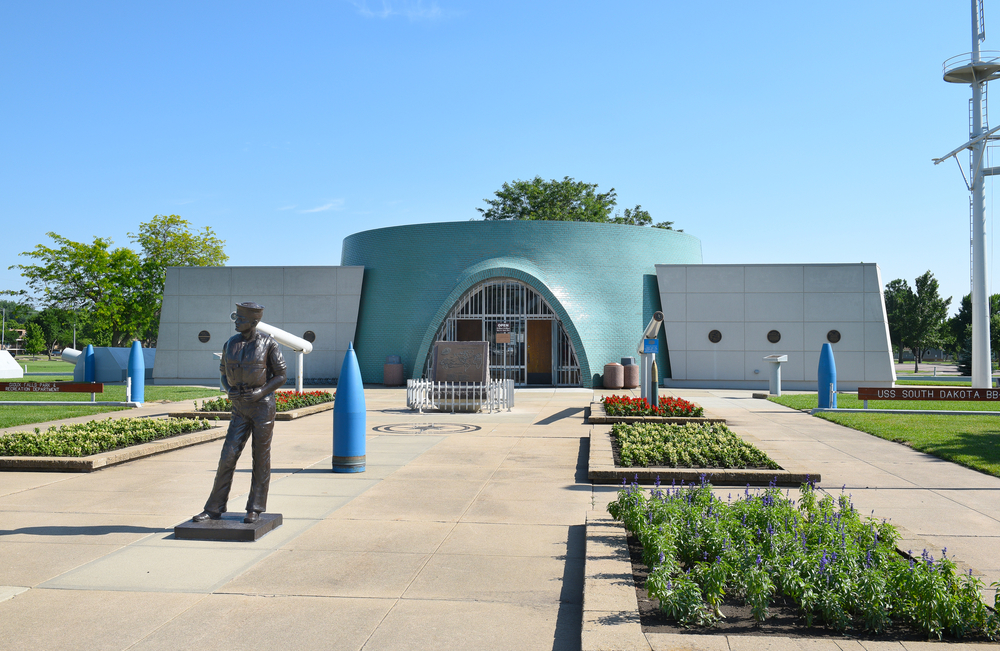 Find Something Cool At The Washington Pavilion Ff Arts And Science
The Washington Pavilion of Arts and Science is one of the best things to do in Sioux Falls because there is so much to do here.
This venue puts on a ton of Sioux Falls events throughout the year including Broadway musicals, plays, concerts, and dances.
There is also a state-of-the-art theater with a 60-foot wide and four-story tall screen that plays educational movies.
The Washington Pavillion also has an awesome science museum that both kids and adults will love. You can learn about dinosaurs, space, plants, and more.
Don't forget to check out the Visual Arts Center with works from regional and international artists. There is a children's studio where kids can make art too.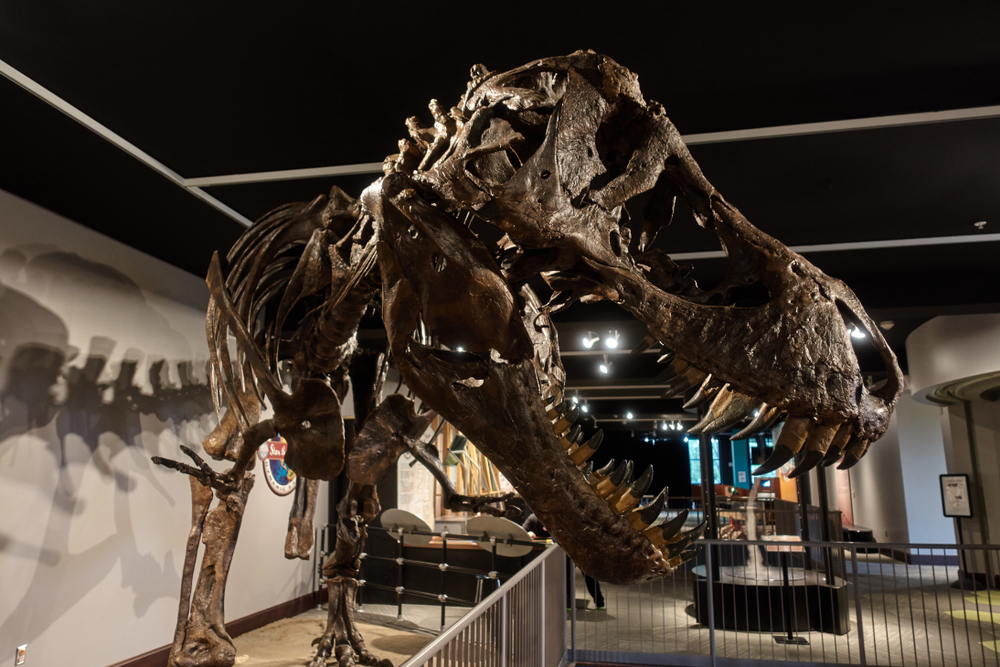 Have Fun At The Outdoor Campus
The South Dakota Game, Fish, and Park Department runs the Outdoor Campus in Sertoma Park. This is where you can get in touch with nature and learn outdoor skills.
There are courses for fishing, archery, gardening, and more. They also have events for things like kayaking and fishing. There are also animal encounters where you can learn about local wildlife.
The activities here are cheap and often free so it is a great budget thing to do in Sioux Falls, SD.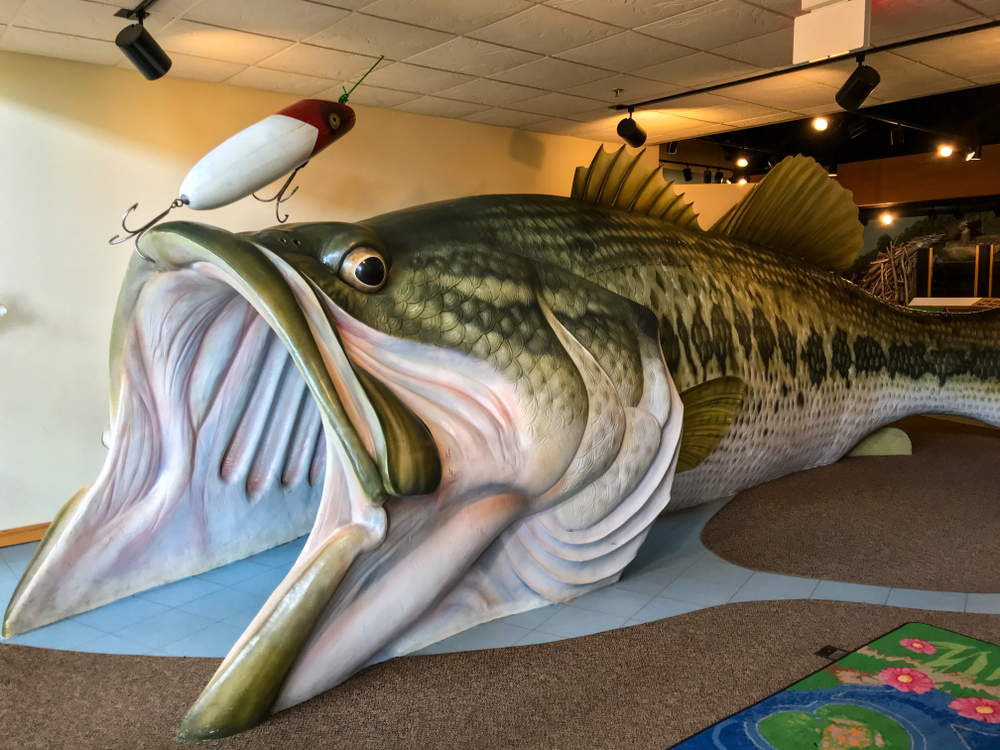 Satisfy Your Sweet Tooth
If you love sweet treats or have kids, you need to visit the Candy Cloud Factory. This cotton candy shop has 18 flavors in a variety of bright colors.
If you want some to share, buy a big bag or even a cotton candy cake. For a unique and fun treat, try the Magical Tacos which are made from a cotton candy shell and scoops of ice cream on the inside.
There are also Magical Burritos and regular ice cream cones as well. Yum!
If you want a chocolatier goodie, head to the Prairie C Dessert Bar. They have pretty cakes, intricate cookies, and swoon-worthy milkshakes topped with deliciousness!
Their motto is "Eat More Art" and you might agree some of these desserts are too pretty to eat. But they all taste so good with quality ingredients from all over the world.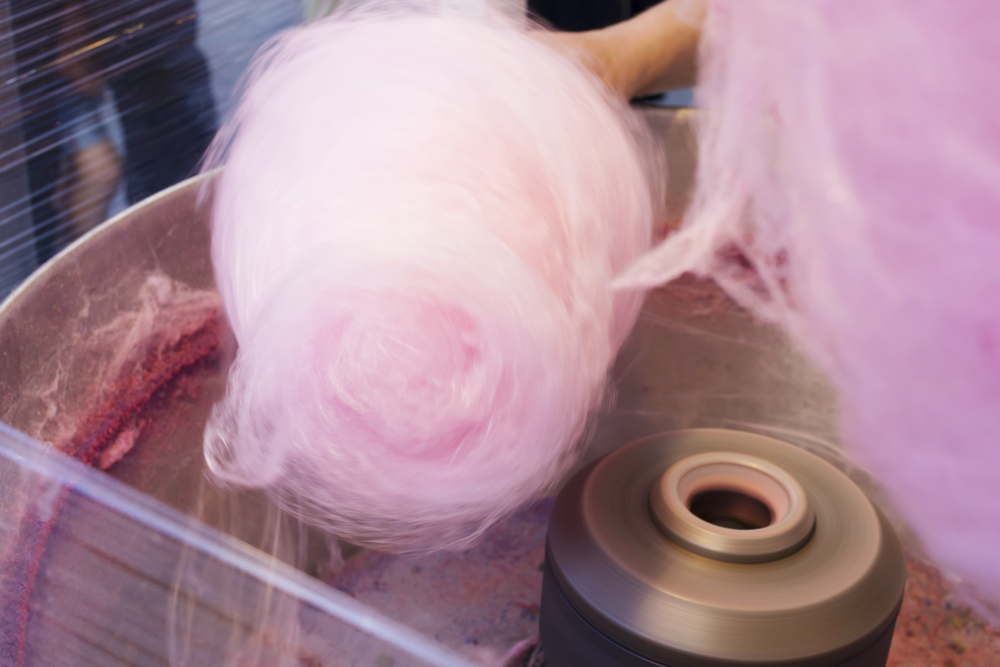 Relaxing In Arrowhead Park Is One Of The Fun Things To Do In Sioux Falls
Another great place to explore outside is Arrowhead Park. Named for the arrowhead-shaped quarry turned lake, this is a beautiful area to be close to nature.
There are many trails that go through forests and native prairie. A restored barn dating back to 1888 is a cool sight here too.
One of the best things to do in Arrowhead Park is birdwatching. It is a bird sanctuary and there are a ton of species that inhabit the prairie grasses and lakes.
If you visit at night, it is also a great place for stargazing!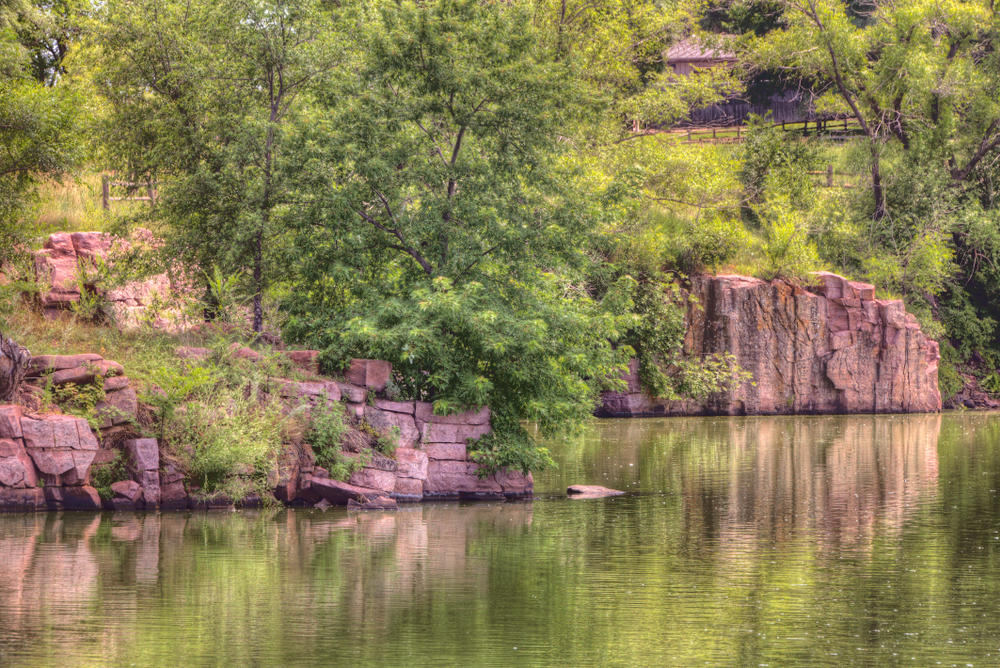 Exploring Good Earth State Park Is One Of The Fun Things To Do In Sioux Falls
Southeast of town is one of the best state parks in South Dakota. Good Earth State Park is a beautiful slice of nature and is also an important historic site.
This area is one of the oldest sites of long-term human habitation in the U.S. The fertile land, abundant wildlife, and flowing river came together to create the perfect gathering place for ceremonies and trading.
Native Americans used this spot as a base from 1300 to 1700 A.D. Isn't that incredible? You can learn more about this long history at the visitor's center which has cool exhibits.
Along with history, you can immerse yourself in nature. The hiking trails will lead you through the woodland and meadows as you enjoy scenic overlooks.
Birdwatching, fishing, and picnicking are also popular pastimes here. in winter, you can check out snowshoes and experience the trails in a whole new way.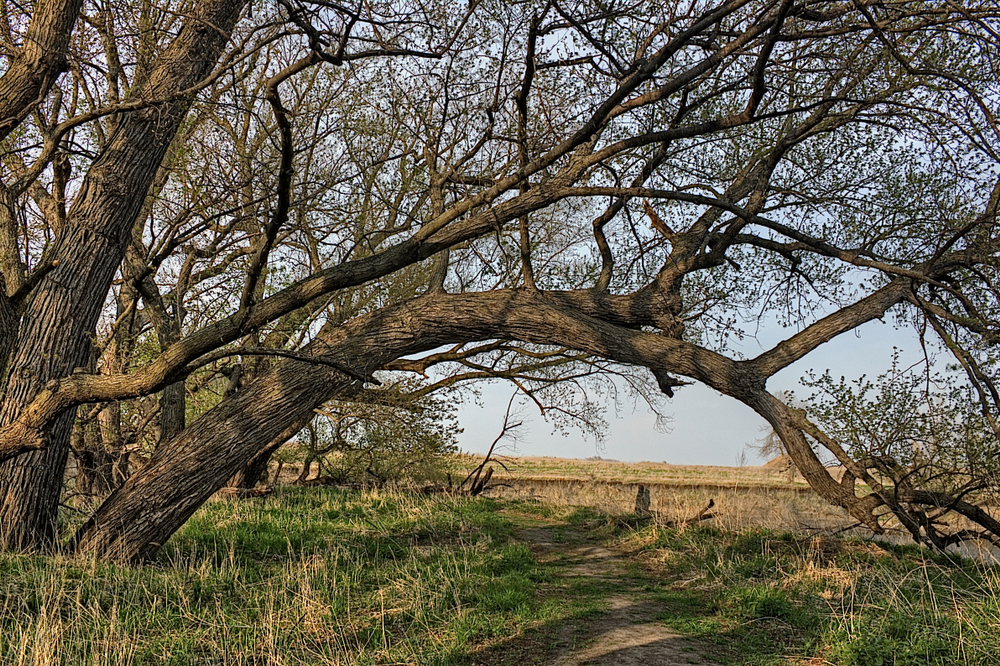 Packing List When Visiting Sioux Falls SD
If you are searching, here are some tips on how to pack lightly when packing to head to Sioux Falls.
A concealed travel pouch may be one of the most important items you bring along when searching for things to do in Sioux Falls.  It is always important to protect your personal information. Identity thieves are everywhere.
This unisex RFID blocking concealed travel pouch is lightweight and comes in several colors. It has lots of organization to give you peace of mind. You can place it under your clothes next to your body to carry your ID safely.
If you have a pouch already that does not come with the RFID protection, as I do, these RFID sleeves are the perfect solution.
If you are planning on taking a lot of pictures with your phone you will definitely want to consider an external charging battery. This Anker high-speed phone charging battery is the exact one I carry with me on all of my trips.
I like that it holds its charging capabilities for several uses so I do not have to worry about it while out and about, and if I forget to recharge it at night, it will still be good to go the next day.
My daughter gifted me with this FugeTek selfie stick and tripod setup for my birthday. I absolutely love it! It is made of lightweight aluminum and is so easy to use.
It has Bluetooth connectivity and is a breeze to use for taking Insta-worthy selfies at all the Sioux Falls SD activities you attend.
I never much believed in using packing cubes when traveling. That is until I tried them. Now I am hooked. These are the exact cubes I use to stay organized when I pack for a trip!
You will want to bring your own refillable water bottle with you.
I never leave home on a trip without my Bobble filtration bottle. The 18.5-ounce size is perfect for your adventures and it fits nicely in the pocket of a backpack.
Perhaps you are traveling a long distance and packing space is a premium in your suitcase, or in your car. Then this set of collapsible silicone foldable water bottles would work well for you. Would not take up much space at all.
You will want a backpack or daypack with you to store snacks, your water bottle, phone, extra clothes, etc.. . No matter the time of day or evening.
This foldable water-resistant backpack would be great. And it comes in many different colors.
—
Did Sioux Falls, South Dakota, hold more than you expected? This is one of the best cities in the Midwest you should not miss out on!
This bustling city is full of fun attractions that everyone can enjoy. You do not have to break the bank on your Sioux Falls vacation either since many activities are free or cheap to enjoy.
Visiting Sioux Falls is one of the best things to do in South Dakota! You won't have trouble finding what to do in Sioux Falls.