Are you looking for restaurants in Sioux Falls? I have you covered. In this article, I will walk you through Sioux Falls restaurants, and tell you all you need to know about Sioux Falls food.
This state might be mainly known for the wonderful South Dakota state parks and incredible camping locations.
However, South Dakota is a state that has so much to see and do and a visit to this vibrant city should be high on your list. It's the perfect location for a midwest getaway.
The largest city in SD Sioux Falls shows that this state has a lot to offer. There is so much to see and do here that you will be spoiled for choice.
The same goes for the places to eat in Sioux Falls SD, there are so many to choose from.
When it comes to restaurants in Sioux Falls SD this city is beginning to make its presence known. It is getting quite the reputation in the food world and with good reason.
There are all kinds of Sioux Falls restaurants and it can be really hard to know which is right for you.
Here I have picked restaurants that the locals and tourists both love so you can decide which is best for you.
So are you ready to see which restaurants in Sioux Falls I have chosen for you? Pull up a chair grab a cup of coffee and let me walk you through the best restaurants in Sioux Falls.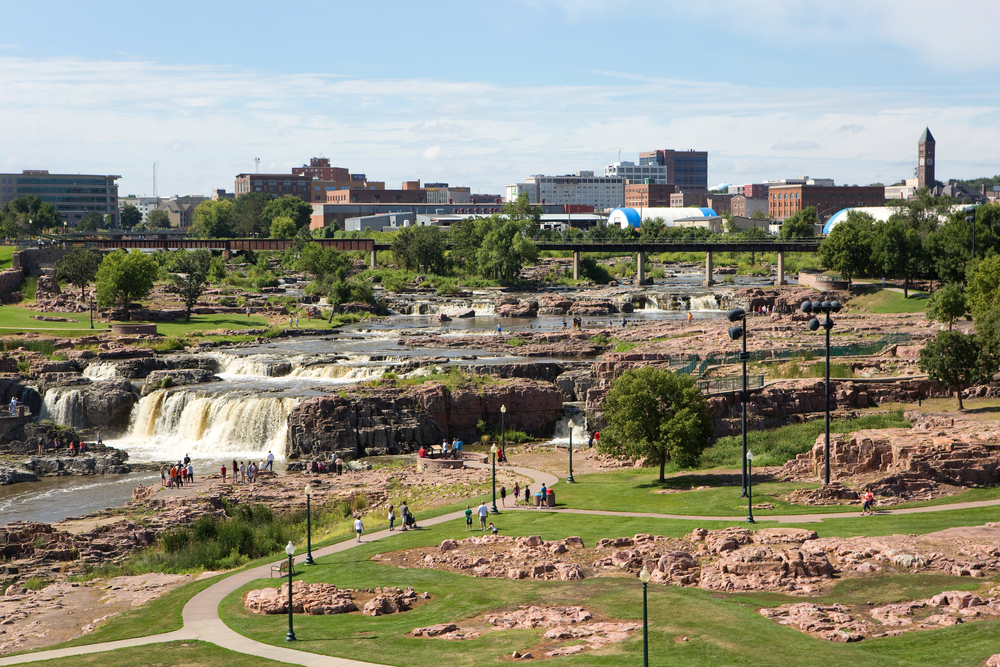 15 Best Restaurants In Sioux Falls SD You Must Try
Phillips Avenue Diner
If like me you love a retro American diner then this restaurant in Sioux Falls is perfect for you. Located in downtown Sioux Falls, this restaurant started life as an airstream trailer and grew from there.
The menu is as you would expect full of American fare with sandwiches, burgers, pancakes, and the like all gracing the menu.
The menu is large and there are some vegetarian and gluten-free options. I feel like most people will find something they love on this menu.
It's a popular place whenever you go and is much loved by families, especially for breakfast or brunch.
Oh and Wednesday is Waffle day. I recommend you try the Elvis Waffle with peanut butter, bananas, and nuts. The locals love it.
This is one of the best restaurants in Sioux Falls, especially for breakfast.
Morrie's Steakhouse
If you love a good steak then this is the Sioux Falls restaurant for you. Here you will have great food and service and one of the best steaks cooked as you like it.
Situated in the Empire Mall district it has a somewhat nostalgic feel about it. The cozy ambiance makes it great for intimate evenings or a memorable meal with friends or family.
The aged premium steaks are from grass and grain-fed cattle and come served in so many different ways and different cuts. There is more than steak here though.
They have bison, fish dishes, and small plates for those with not such a big appetite. They do also have a few vegan and vegetarian meals so no one will be left out.
If you are after something a little bit special then this Sioux Falls restaurant might just do the job.
Lalibela
Never tried Ethiopian food? You don't know what you are missing. This restaurant in Sioux Falls South Dakota is here to show you.
Serving the community since 2003 this is a restaurant the locals love. The food is unique and flavorsome and the staff is always so friendly.
The menu is a smorgasbord of new and unusual items. Sambusa made from ground beef with lentils, vegetables, and traditional spice in a fried dough packet is a favorite here.
The combination plate 'Beyaynetu' is a great way to get a taste of the style of cooking here as it contains various traditional Ethiopian dishes.
If you are adventurous with food and love trying new things then this is the Sioux Falls restaurant for you. They do also cater to vegetarians and vegans well here.
There are so many things to do in Sioux Falls SD and visiting one of their eateries is high on the list!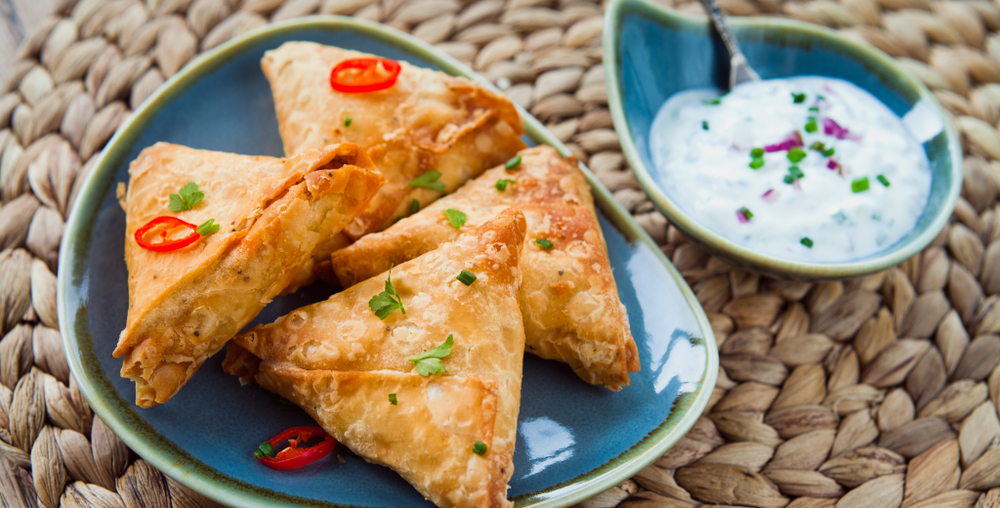 Falls Overlook Café
In a restored 1908 hydroelectric plant on the east bank of the Sioux River in Falls Park is Falls Overlook Café. On pure location alone this place wins hands down as one of the best Sioux Falls restaurants.
Whether you sit inside or outside you will be afforded views of the falls but if you can sit outside as the gardens are beautiful, especially in the summer.
It's a great place for lunch and they have some of the best ice creams here. The menu isn't huge but has a nice selection of lunchtime-style food such as sandwiches and tacos.
The street tacos here get high paise as do the curds and bacon panini. There are a few vegetarian options on the menu.
If you are after a restaurant in Sioux Falls with a view then this is a great place to spend a leisurely lunch.
Crawfords
Located downtown situated in one of the first butchers in Sioux Falls is Crawfords. Many of the original features still remain for you to admire while you eat.
The inside of this restaurant in Sioux Falls SD is impressive all brick and wood and very stylish. It's a lively happening place that even boasts a whisky menu.
The menu consists of steak, seafood, and pasta dishes and even serves an Elk chop. This is a great restaurant for a group of friends and has some of the best Sioux Falls food.
Sanaa's
In the East Market Arts Hub is this Mediterranean restaurant which is well worth a visit. It caters to vegans, vegetarians, and gluten-free eaters really well.
This healthy, affordable great food is cooked daily using fresh ingredients with a focus on environmentally friendly policies in everything they do.
If you can, go here on Saturday lunchtime when they have the most amazing buffet where you can sample all they have to offer.
The menu during the week is extensive and creative combining ingredients to make innovative dishes.
Sweet potato diced and cooked with caramelized onion, pepper, sun-dried tomato, Mediterranean sumac, cilantro, harissa, lemon zest, and lemon juice is just one example.
The food here is always great and I guarantee everyone will find something they love on this menu. this is one of the best restaurants in Sioux Falls.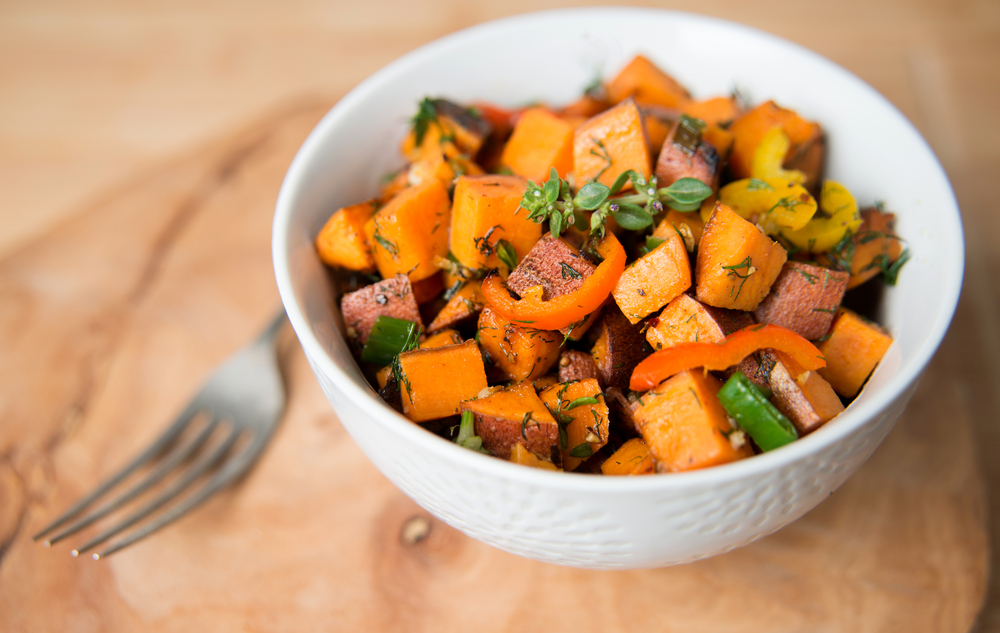 Minervas
This downtown Sioux Falls restaurant has occupied this location since 1977. This restaurant is a true staple in the city. The food, service, and decor all combine to create something quite special.
The menu includes hand-cut, in-house aged steaks, fresh seafood, chops, classic pasta dishes, the freshest salads, and house-made desserts.
If you are looking for fine upscale dining then this is the restaurant for you.
If you looking to celebrate or take your family, friends, or loved ones somewhere special then you can't go wrong here.
Here they believe restaurants are about more than just food they are about creating memories. And I think they do this really well.
This is definitely one of the best places to eat in Sioux Falls SD.
All Day Café
Here they call their food edgy, healthy, fresh, and fun. The decor is eclectic.
The relaxed and comfortable way this place approaches food makes it a popular place and I guarantee you will want to visit more than once.
Meals are freshly prepared with great ingredients and everything is served with a smile.
The menu is comfort food with a twist and is always delicious. Lingonberry Chicken, Oysters and Fries, and Beef Tandori Melt give you an idea of menu options.
The bar also does great cocktails and on Sunday they serve bottomless Mimosas. In fact each day they have special offers like Thursday Burger night so check before you go.
This is a great brunch spot or a great anytime spot. Don't miss this restaurant in Sioux Falls SD.
Monks House
If you love craft beer then you are going to love this place.
It's Sioux Falls's first craft beer bar constantly rotating a selection of 50 tap beers and over one hundred different bottles and cans of the world's rarest and finest craft beer.
Oh, and it serves some great food to go with that beer.
You will find pizzas, salads, and sandwiches here that all complement the beer perfectly.
Oh and if you have ever wondered what a breakfast pizza tastes like now is your time to try one. They also have mashed potato pizza.
This place is serious about good food and beer but doesn't take itself too seriously and I'm sure whether you like beer or not you will love this restaurant.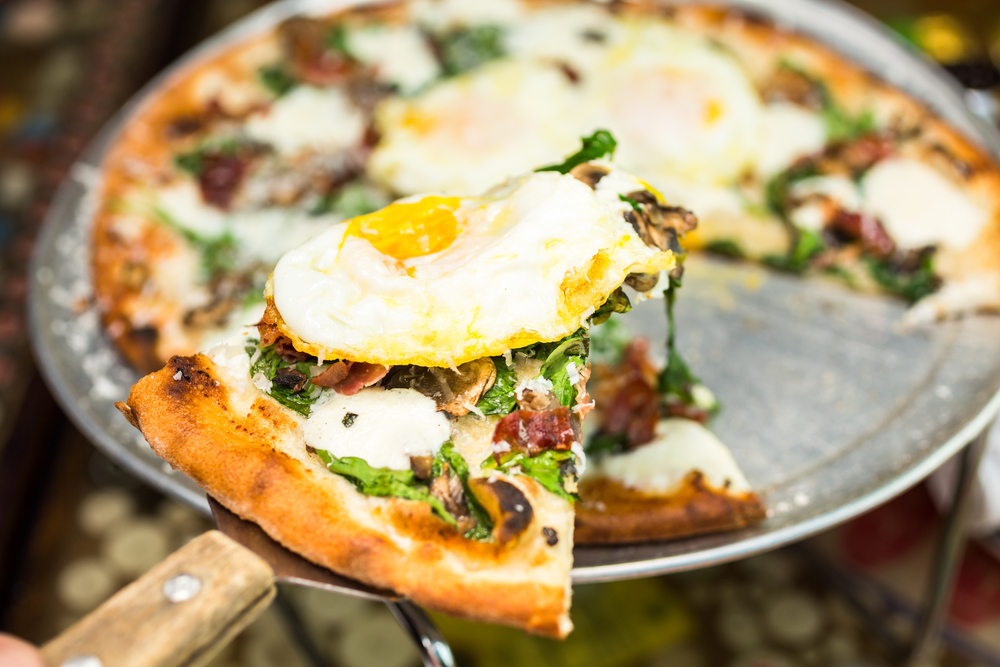 Carnaval Brazilian Grill
This place calls itself a festival of beef and is famous for carving meat none stop at your table.
Or at least until you tell them to stop which you indicate through a token. If you are a meat lover this place is for you.
You, of course, get sides and veggies with your meat but the skewered meat takes center stage here.
There are lots of different options for you to choose from but most tend to choose The Churrasco Sampler.
It includes 2 skewers of your choice of meat, served with some mashed potato or rice, Farofa, a side salad, and some chimichurri sauce.
If you are an avid meat lover this is the best Sioux Falls restaurant for you.
JL Beers
If you are a burger and beer kind of person then you are going to love this place. Situated in downtown Sioux Falls SD, it's a popular place with some unique offerings. 
This is a casual place with comfort food and some gourmet burgers.
How about the Rajun Cajun Burger with pepperjack cheese, cajun lime sauce, grilled onions, and cajun seasoning?
Or Not Just A Nutter Burger with fresh peanut butter, red pepper jelly, diced jalapeños, pepper jack cheese, and cottage bacon.
Yes, the burgers here are next level.
I mean what could be better than a burger and a nice cold beer? This is one of the best downtown Sioux Falls restaurants.
Grille 26
Here you will find tasty dishes from Greek to Mexican to American. The ingredients are fresh, the food delicious, in a casual contemporary setting.
The menu contains things like flame-roasted pizzas, burgers, steak, walleye, and chicken entrees.
Whatever you have it will be delicious and you will leave full. This is one of the best Sioux Falls restaurants.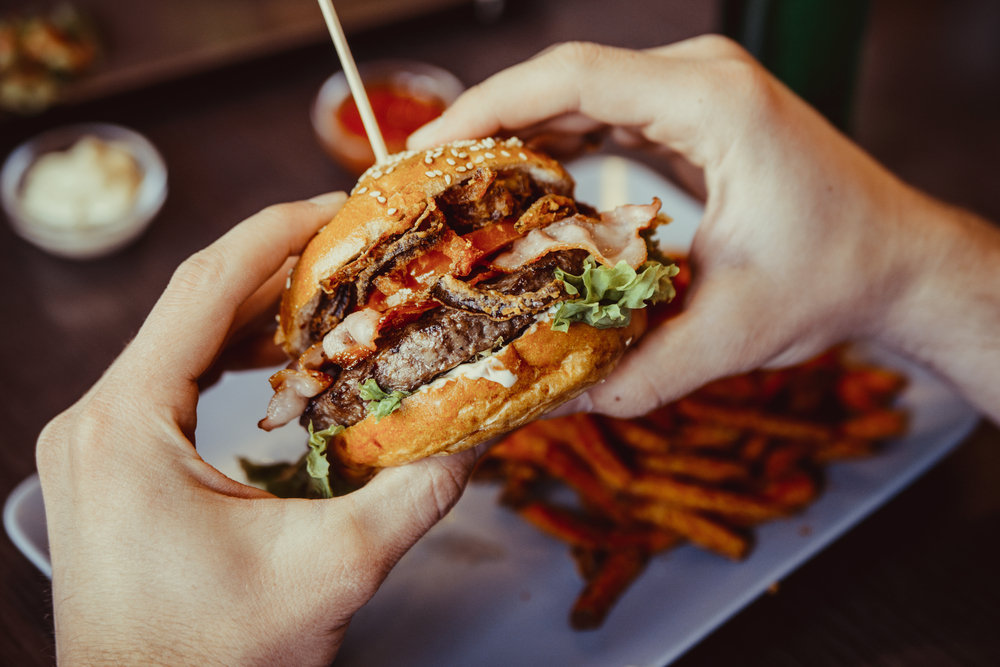 Jacky's Restaurant Is One Of The Mexican Restaurants In Sioux Falls
If you're after authentic Mexican/Guatemalan food in Sioux Falls then this is it. Established in 2008 there is a lot to love here.
How about Shrimp Nacho Supreme or Tilapia Frita, served with some coconut rice, beans, pickled onions, lime, and some green plantains. These are the kind of dishes you can expect here.
The food has a home-cooked quality about it and locals say they serve the best burrito in town.
Crave Is A Unique Sioux Falls Restaurant
Crave is one of those places that really care about the community it serves each month supporting a different local charity. This alone is a great reason to eat
there.
It's also vegan-friendly and is what can only be described as an American kitchen and sushi bar.
Vegan choices include sushi rolls, salads, a stir fry, pasta bolognese, mac n cheese, burger, and flatbread/pizza.
If you are a vegan or vegetarian you are going to love this place.
And don't worry meat lovers they have you covered too with lots of choices including burgers, sandwiches, poke bowls, entrees, and of course sushi.
This is one of the restaurants in Sioux Falls where everyone will find something delicious to eat. And everyone will walk out well-fed and happy.
Daily Clean Is One Of The Best Restaurants In Sioux Falls SD
This health-focused restaurant makes everything from scratch with great ingredients. The menu focuses on more vegetarian and vegan food but there are some meat dishes.
You will find vegan burgers, build your own acai bowls, vegan smoothies gourmet toast, breakfast, and pizza.
If you like to eat clean or have a special diet then this is the Sioux Falls restaurant for you.
It's an unassuming place with large wooden tables and minimalist decoration. They also do some great family-sized meals which are great if there is a group of you.
A great restaurant for those that are living a healthy lifestyle.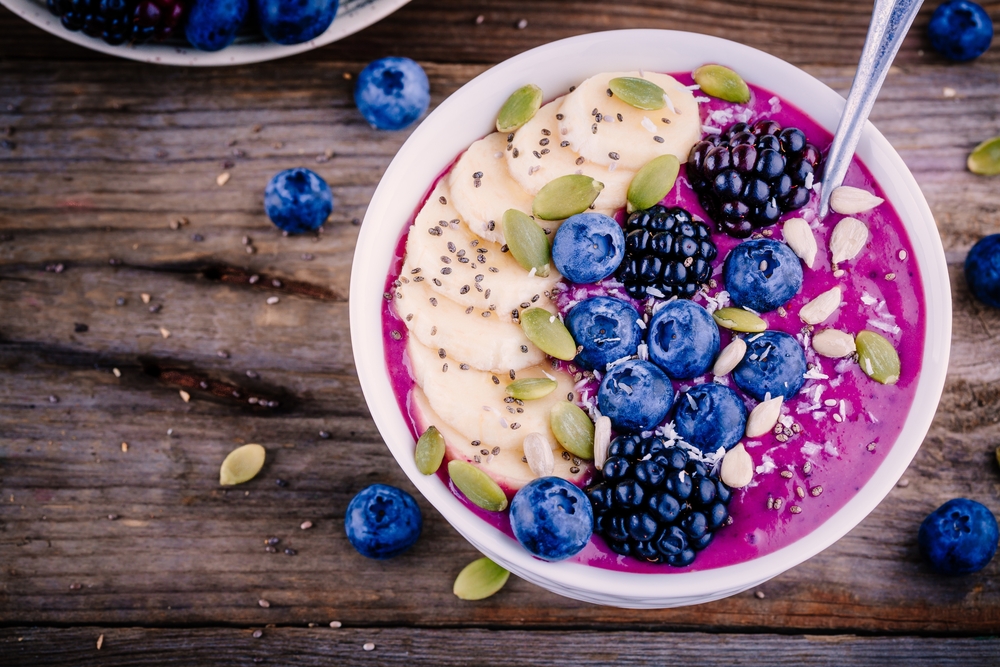 As you can see when it comes to restaurants in Sioux Falls, there are so many to choose from.
Whether you choose one of the established downtown Sioux Falls restaurants or one of the new restaurants in Sioux Falls I am confident you will have a great meal.
All of these places to eat in Sioux Falls SD get fantastic reviews and are popular with locals. Please come back and let me know which one you try and I hope you have an amazing vacation.