Looking for the best things to do in Deadwood, South Dakota? This Wild West town has so much to offer!
Founded in 1876 during the Black Hills gold rush, this cute small town in South Dakota is now a well-preserved National Historic Landmark.
Nestled in the beautiful Black Hills National Forest, Deadwood is one of the best places to see in South Dakota so make sure to add it to your itinerary.
As you walk the historic Main Street, you will be amazed by the architecture and Old West themes.
Walk in the footprints of the frontiersmen as you enjoy some of the same activities.
Drink at the saloon, try your hand at the casino, and even tour a historic brothel. Just don't shoot your poker partner!
Afraid these Deadwood activities aren't very family-friendly? Don't worry!
The whole family will love the nearby hiking opportunities, entertaining shows, and many informative museums.
Let's take a closer look at what to do in Deadwood, SD!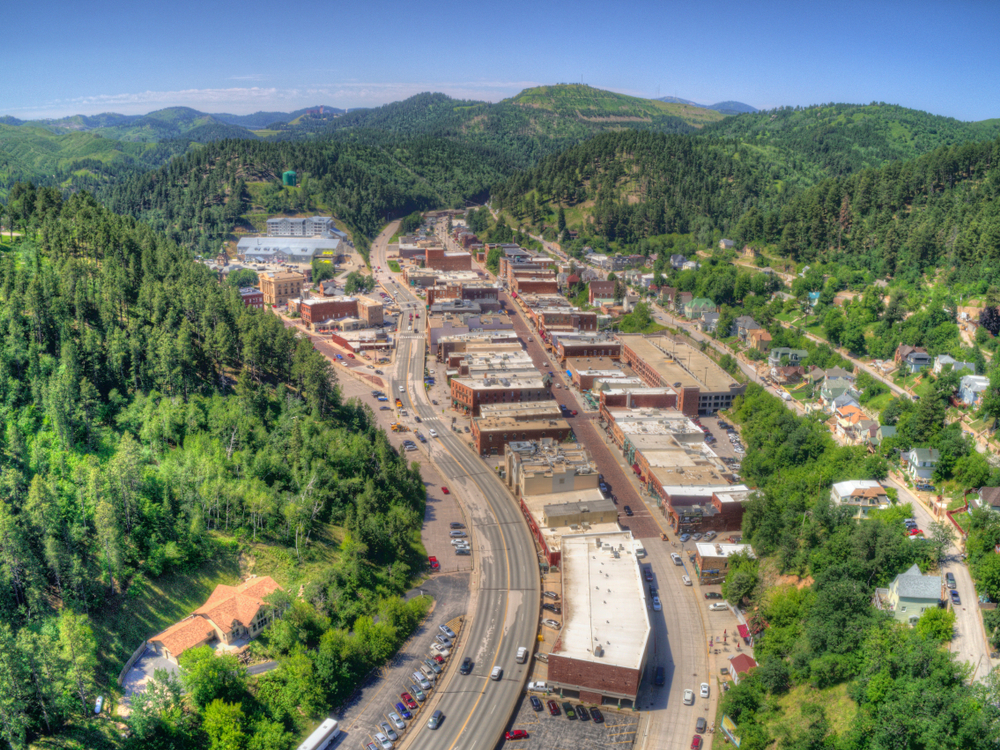 15 Best Things to do in Deadwood, SD
Walk the Historic Main Street
When you first arrive in Deadwood, you have to walk the stunning historic Main Street. You will want to take a photo of every building!
With all the charming, 1800s buildings, you will feel as if you have stepped onto a movie set. In fact, many movies have been filmed here throughout the years.
As you walk the brick streets of downtown Deadwood, check out the many bars, restaurants, and hotels or attend an event in Outlaw Square.
This is one of the best places for shopping in Deadwood, SD, too.
Many of the other Deadwood attractions on this list are located on Main Street so it is a good central location to stay in the city.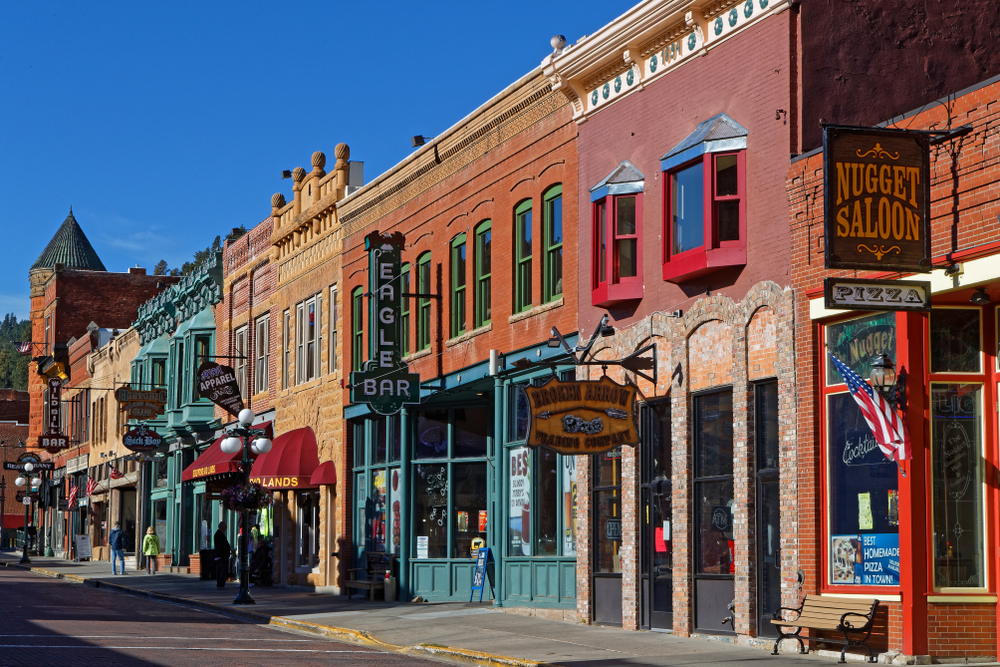 Visit Mount Moriah Cemetery
Mount Moriah Cemetery is a beautiful, wooded cemetery overlooking Deadwood Gulch. Despite dating back to 1878, it is well taken care of and easy to explore.
This scenic location is the final resting place of many of Deadwood's famous residents, making it one of the top things to do in Deadwood.
Most notably, you will find the graves of Wild Bill Hickok, Calamity Jane, and Seth Bullock who all left their mark on history.
Continue walking through the cemetery to find the Jewish and Chinese sections as well as multiple Potter's fields. There is also a mass grave where victims of disease outbreaks were buried.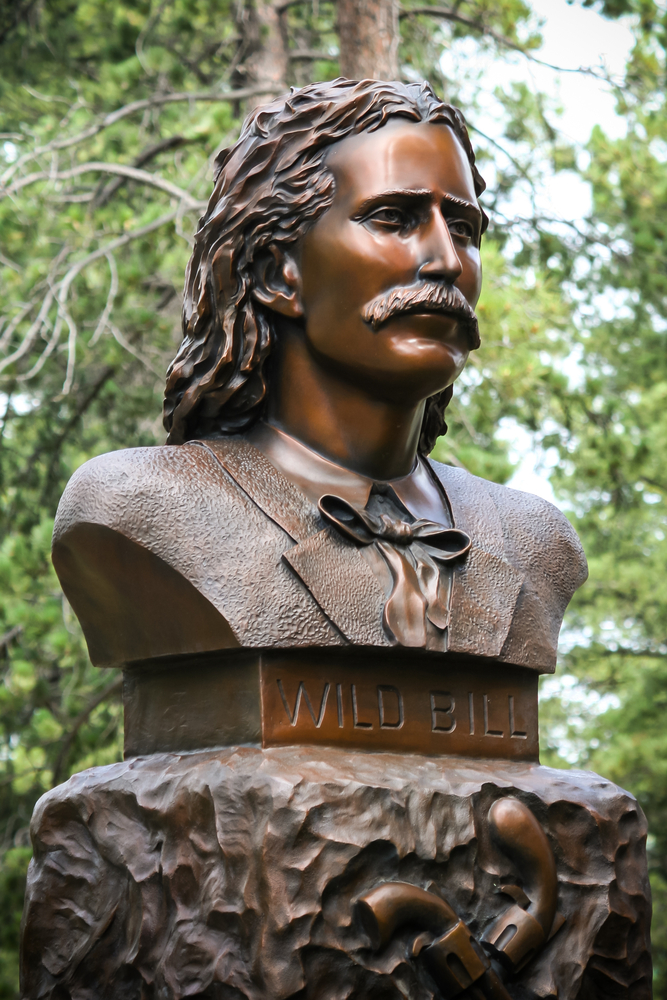 One Of The Best Things To Do In Deadwood Is To Check Out The Adams Museum
The Adams Museum is one of the oldest museums in the area, dating back to 1930. Its goal is to preserve the history of the Black Hills region.
Any history lovers will agree this is one of the best South Dakota tourist attractions.
Some of the best exhibits here include a plesiosaur fossil, a gold nugget that belonged to Potato Creek Johnny, and a pencil sketch of Wild Bill Hickok by N.C. Wyeth.
In the Legends Gallery, you will find memorabilia and personal belongings from many infamous Deadwood residents.
In the Risky Business exhibit, you will learn about the crime and seedy activities that occurred in Deadwood during its heyday.
If you want to learn about Deadwood's history, this museum should be on your SD itinerary. There is a suggested donation of only a few dollars per person.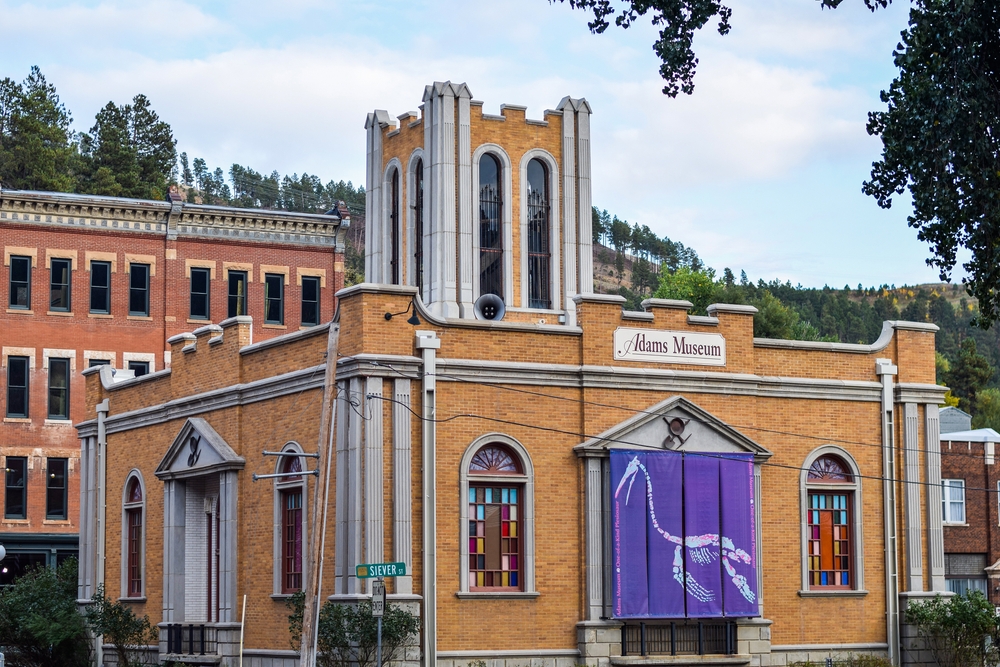 Admire the Historic Adams House
For more history, head to the beautiful historic Adams House.
This Queen Anne-style house was built in 1892 by pioneers Harris and Anna Franklin. It was later the home of W.E. Adams, one of the most influential leaders in Deadwood.
After Adams died in 1934, the house was left intact and was eventually restored and turned into a museum in 2000.
Take a tour of the opulent house and discover why it was known as one of the grandest homes of its time.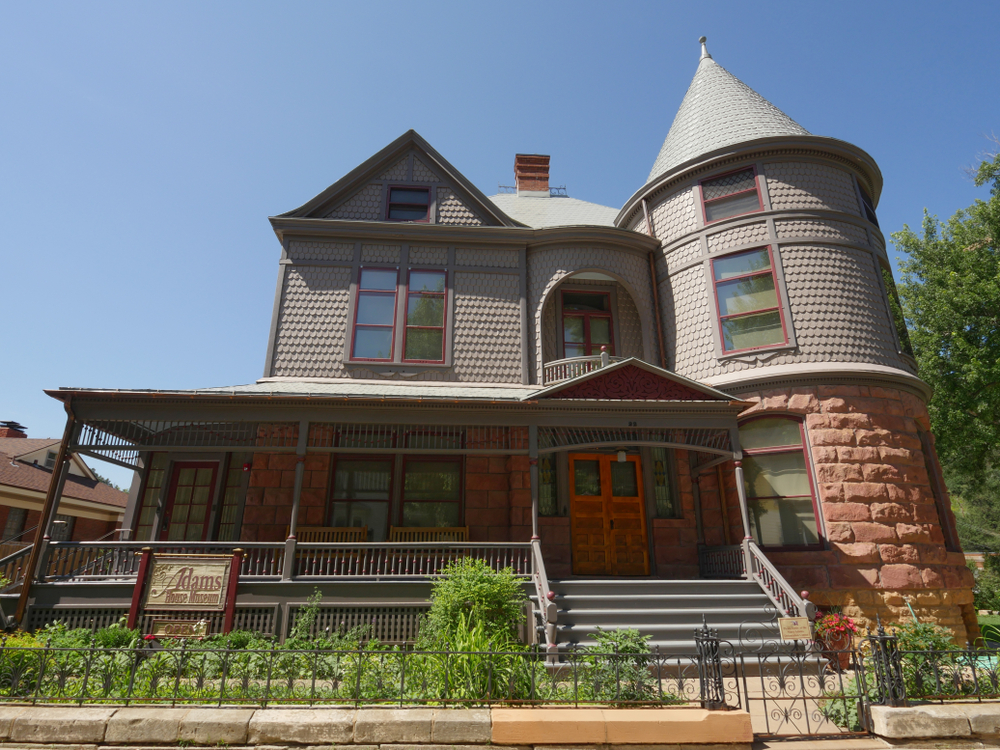 Pan for Gold at the Broken Boot Gold Mine
If you want to learn more about Deadwood's gold rush, the Broken Boot Gold Mine gives great guided tours.
This gold mine was established in 1878 and today, you can head underground like the miners of the past.
As you explore the old mine shafts, you will learn about the mine's history and the mining techniques used.
After the tour, you can pan for gold. You get to keep whatever flakes you find which make for a great souvenir.
This is one of the most fun things to do in Deadwood with kids!
Learn About the Past at the Days of '76 Museum
The Days of '76 Museum honors the first pioneers of Deadwood and holds many great exhibitions.
You will find a huge collection of horse-drawn vehicles, including wagons, stagecoaches, and carriages.
There is also clothing, firearms, Native American artifacts, photographs, and other memorabilia on display.
If you visit Deadwood in July, the Days of 'Deadwood '76 Rodeo and Parade is a must-see event! This is one of the best things to do in Black Hills, SD.
Over the course of five days, you can watch awesome rodeo events such as barrel racing and steer roping.
The parade includes people in period costumes, horseback riding, and horse-drawn wagons and stagecoaches.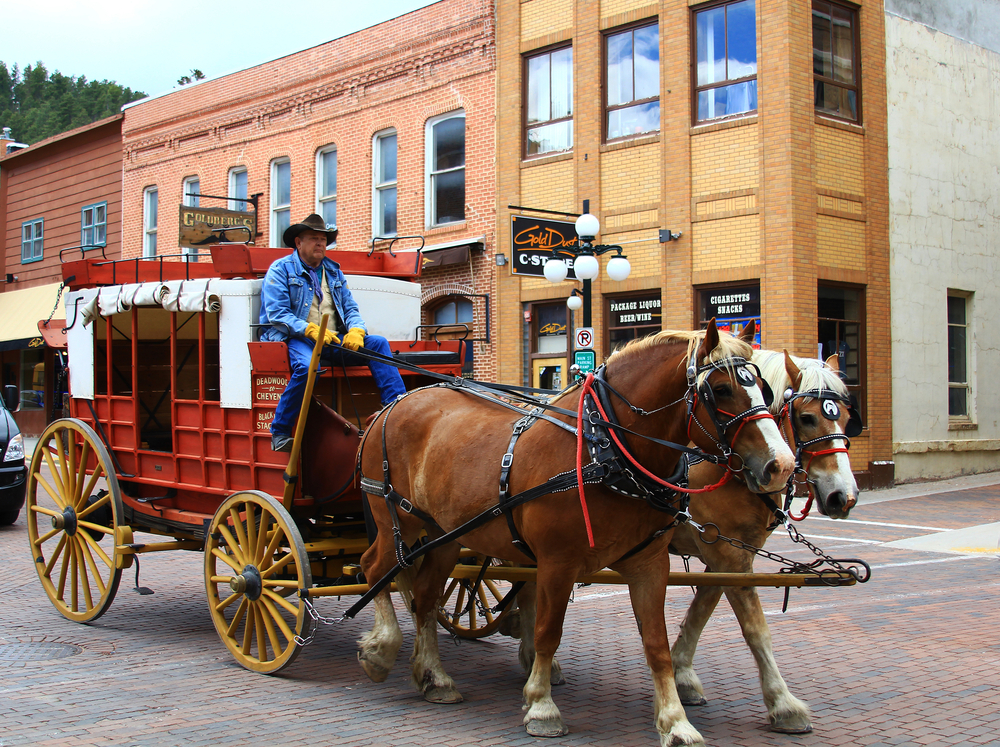 Hike to the Mount Roosevelt Friendship Tower
If you want some time out in nature, the Mount Roosevelt Friendship Tower is a beautiful location. It is one of the best places to see fall foliage in South Dakota!
The hike to the tower is an easy 0.6-mile hike among ferns and beautiful aspen and birch trees.
The stone tower was built in 1919 by Seth Bullock to honor his friendship with President Theodore Roosevelt.
The tower is 31 feet tall and offers incredible panoramic views of the Black Hills. You will not want to forget your camera so you can snap some awesome photos!
Pack a lunch and enjoy it at one of the picnic tables near the trail as you soak in the beauty of nature.
This is one of the best trails for hiking in South Dakota!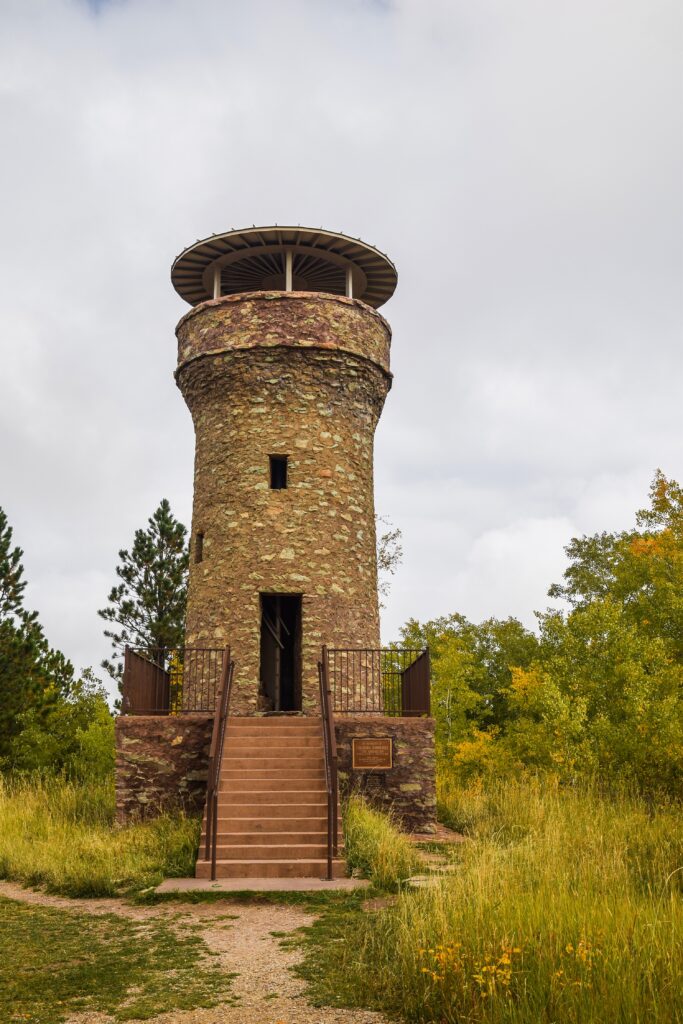 Learn About Native American History at Tatanka: Story of the Bison
Tatanka: Story of the Bison is a museum founded by actor Kevin Costner after his time spent with the Lakota People during the filming of Dances with Wolves.
This center focuses on the relationship between the Lakota People and the bison that once roamed the plains in the millions.
There are many artifacts, Native American artwork, informational displays, and photographs.
Also at the property is the 3rd largest bronze sculpture. It depicts 14 bison and three Lakota riders on horseback.
You will also find a recreated Lakota Encampment outside. During the summer, there are cultural presentations as well.
Don't forget to check out the gift shop which is filled with goods, art, and jewelry made by local, Native American owned companies.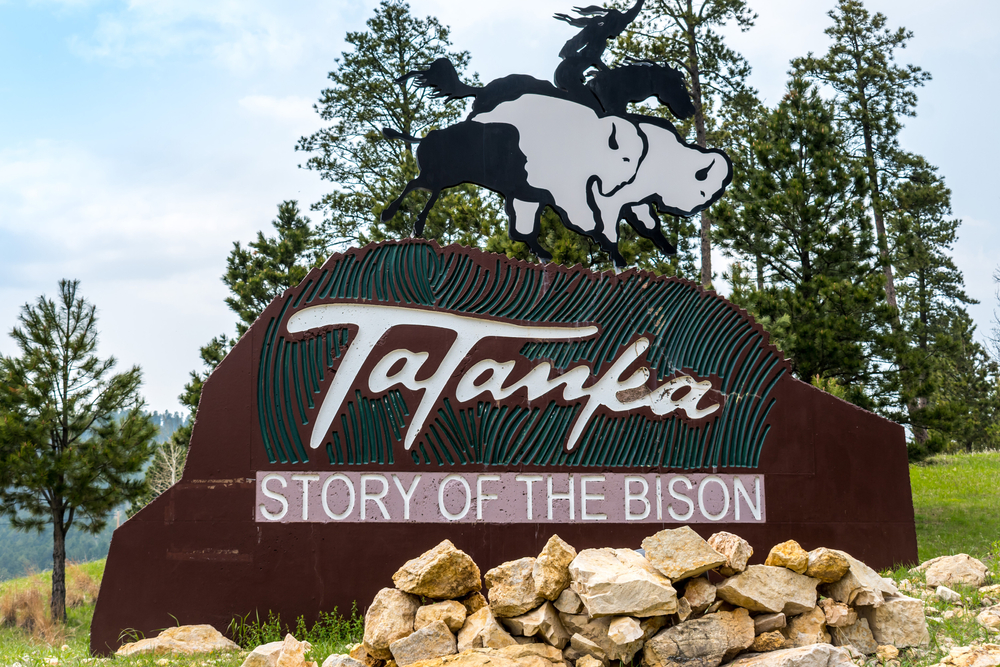 Eat at the Buffalo Bodega
The Buffalo Bodega Complex in the city of Deadwood has everything you need for a fun night out!
There is a bar, a steakhouse, and a casino. On Friday and Saturday nights, you can dance to a DJ and sing karaoke.
The steakhouse is one of the best places to eat in Deadwood. The menu includes classic American food such as burgers, steak, salads, and sandwiches.
The bar has a selection of 20 craft beers to enjoy. In summer, you can dine outside while listening to live music.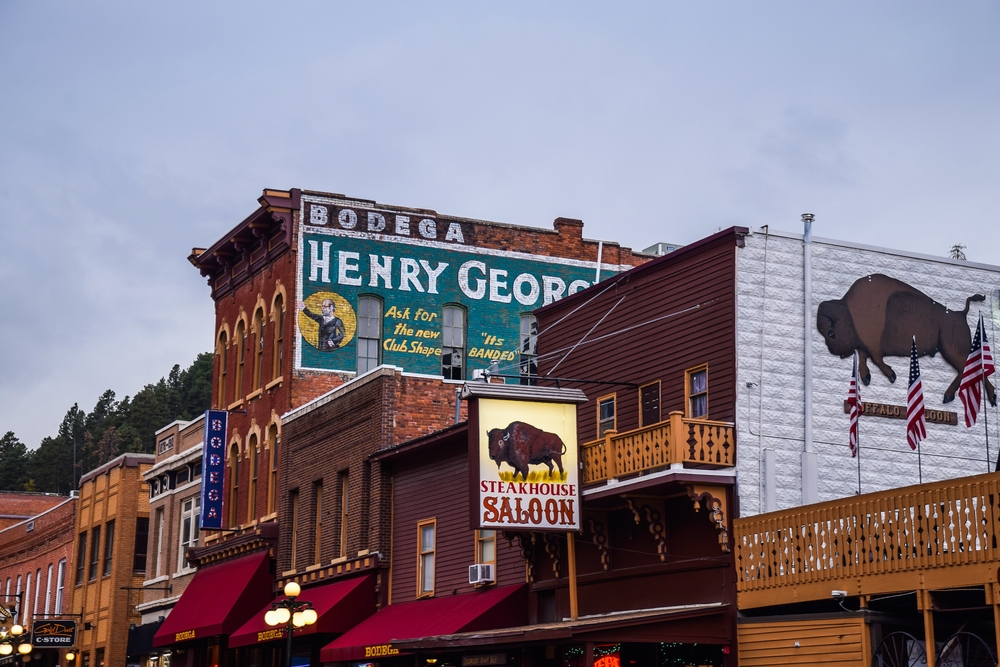 Delve into History at the Old Style Saloon No. 10
If you are looking for cool landmarks in South Dakota, visit Old Style Saloon No. 10 in downtown Deadwood.
There are two sites to check out, one on each side of Main Street.
Above the Wild Bill Bar, you will see a sign marking it as the original location of Saloon No. 10 where Wild Bill Hickok was shot by Jack McCall during a poker game in 1876.
The original bar, along with most of the town was burned down during a fire in 1879.
The current Old Style Saloon No. 10 is a bit farther south. It is full of Old West memorabilia, photographs, and antiques.
Most notably, you will have the chance to see Wild Bill's Death Chair in a fancy display case. Getting a glimpse of this famous relic is one of the top things to do in Deadwood, South Dakota.
Both bars are also great places to drink or eat in Deadwood.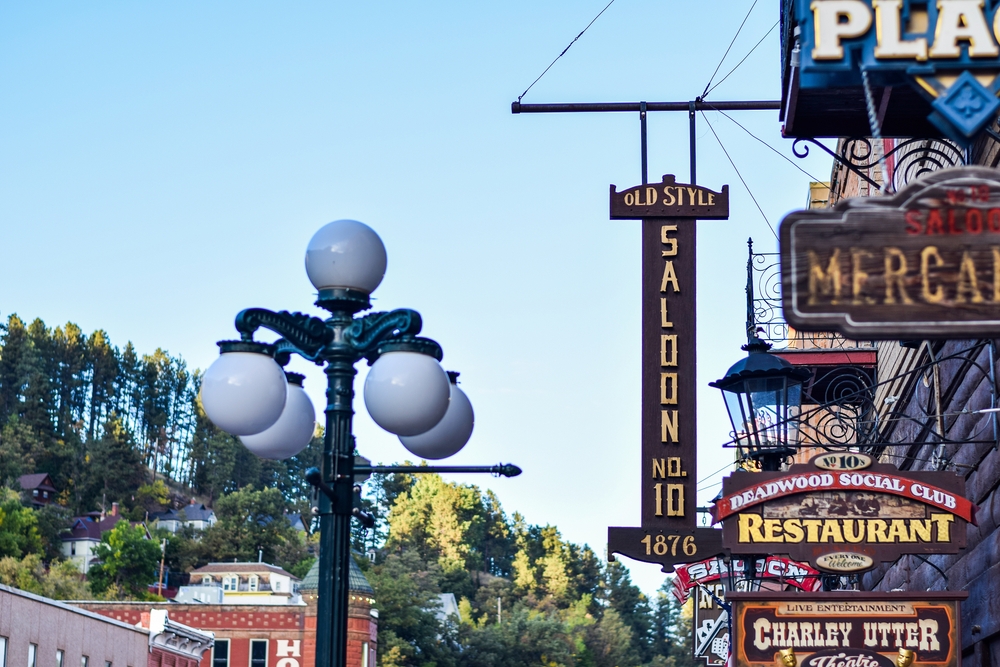 Attend a Wild West Re-Enactment
One of the coolest free things to do in Deadwood is watching the action-packed reenactments of shootouts on Main Street.
Multiple times a day, actors dressed in period clothes put on historically accurate shows of gunfights, tell stories, and answer questions.
The Deadwood Alive actors put on a great show, and this is a must-see attraction in Deadwood if you visit from May through September.
Make sure to check the schedule online so you know when and where to be for the shows. Or just follow the sounds of gunshots!
This is definitely one of the best things to see in South Dakota for family entertainment.
Watch the Trial of Jack McCall
For a fun, family-friendly show, head to the Franklin Hotel Theatre for the Trial of Jack McCall.
This event is a continuation of one of the free live shows that happen on Main Street. After Jack McCall kills Wild Bill and is captured, it is time for his trial.
This hour-long show is a humorous recreation of the real murder trial. The play will leave you laughing, especially when an audience member is called up to join in.
This is one of the longest-running stage shows in the country, dating back to the 1920s. It only takes place during peak season, so check the schedule and buy tickets ahead of time.
There are plenty of places for camping in North Dakota is you plan to extend your stay!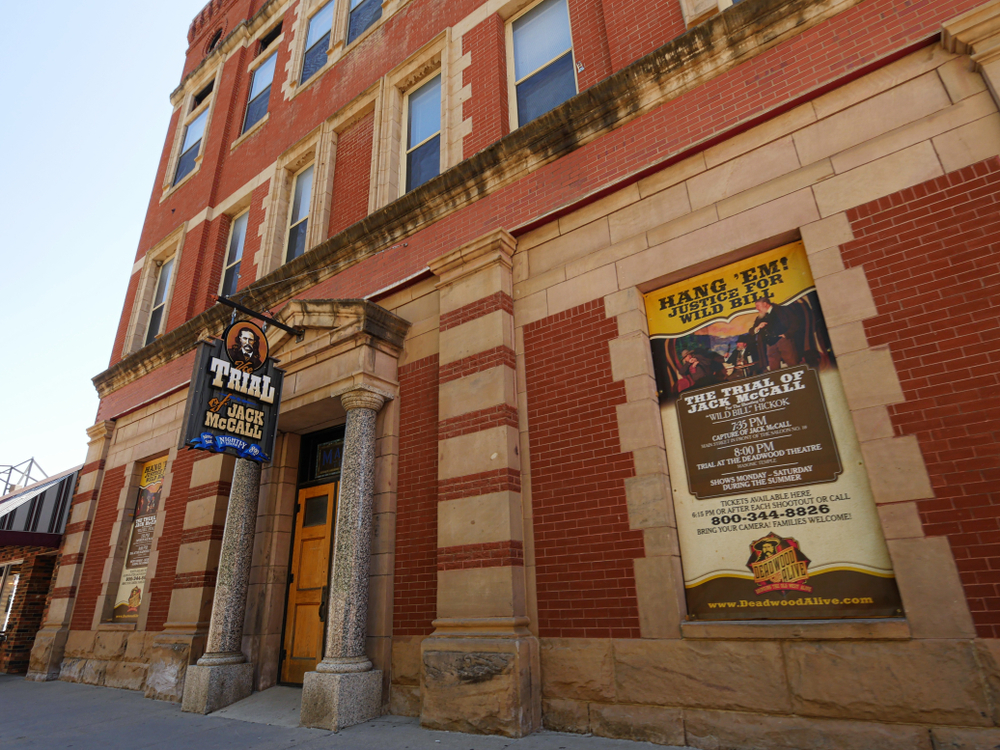 Try Your Luck At The Casino
If you feel like some responsible gambling, Deadwood is a great place to go! Many casinos line Main Street and most hotels at least have some slot machines.
While slot games are the most common, some casinos also feature table games such as roulette, craps, poker, and blackjack.
Some of the best casinos in Deadwood include Cadillac Jack's Gaming Resort, the Tin Lizzie Gaming Resort, and the Silverado Franklin Historic Hotel and Gaming Complex.
While casinos are one of the most fun things to do in Deadwood for adults, make sure to set a spending limit ahead of time and know that chances of winning big are low.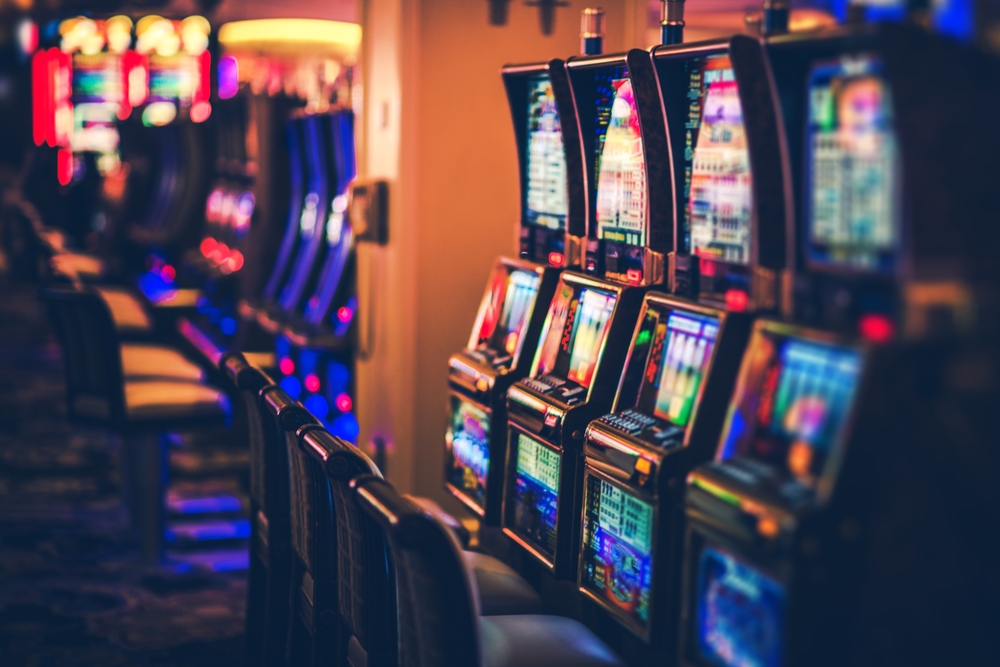 One Of The Couples Things To Do In Deadwood Isget your c A Tasting At The His & Hers Ale House And Wine Bar
If you want to enjoy one of the best things to do in Deadwood, SD, for couples, grab some drinks at the His and Hers Ale House and Wine Bar.
This is a more laid-back bar in Deadwood, perfect if you want to get away from the rowdy, Wild West-themed bars.
You will find a large selection of rotating local craft beers and wines by the glass or bottle.
There is charcuterie to match with drinks or you can order yummy up-scale bar food such as paninis and flatbread.
The His and Hers Ale House and Wine Bar is housed in a beautiful building that was once a bank. The vault is on display creating a cool feature.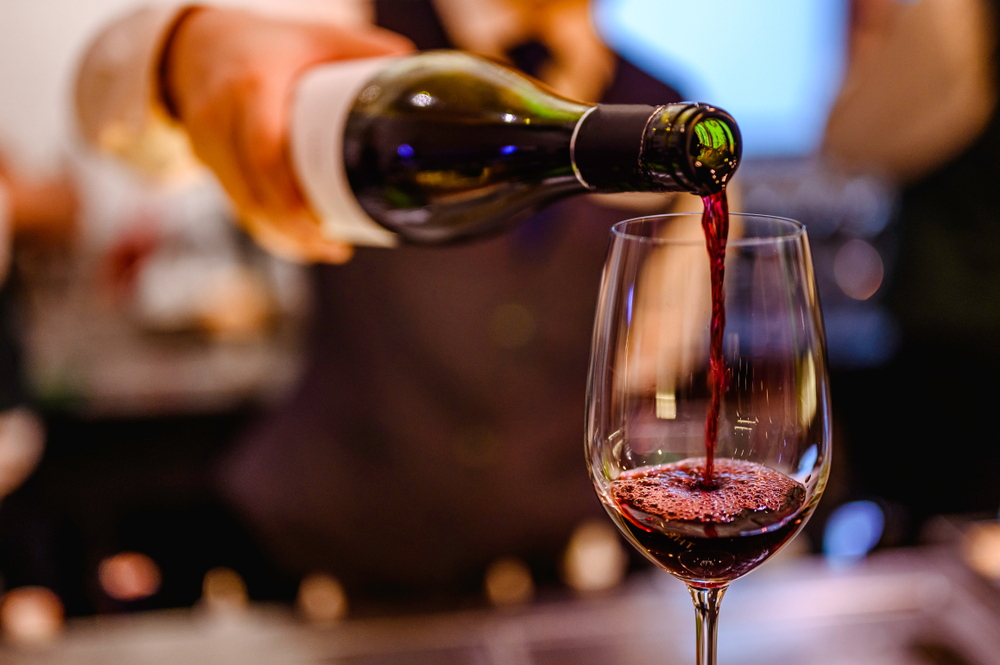 Take a Ghost Tour
In a town with such a sordid past, it only makes sense that ghost tours are popular activities in Deadwood.
If you are into paranormal activity, there are a few ghost tour options in Deadwood that will bring you to haunted locations while guides explain their dark past.
Some of the most haunted spots in town include the Fairmont Hotel, the Bullock Hotel, and the Adams House. The walking tours will take you around town to these locations and more.
In October, the Adams House even offers paranormal investigations inside with Black Hills Paranormal Investigations.
For another spooky adventure, check out the Candlelight Ghost Tour at the Broken Boot Gold Mine.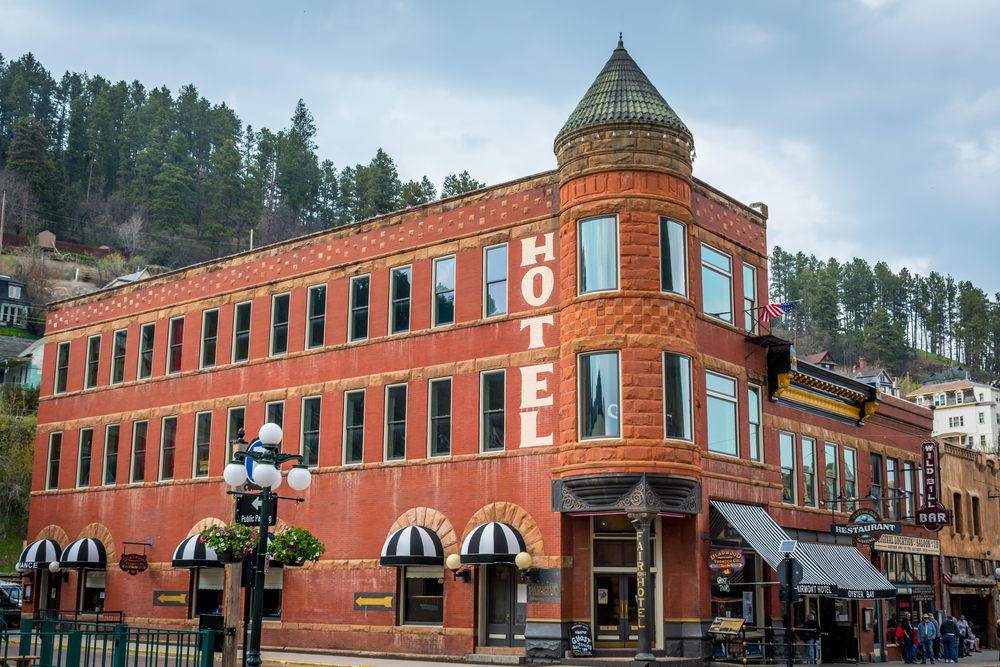 A trip back in time to Deadwood is one of the best things to do in South Dakota!
There are so many Deadwood attractions for the whole family. No matter your interests, you will find something fun to do.
After exploring Deadwood, you can check out things to do in Custer for another cute, small town nearby. Or, if you want more city vibes, there are plenty of fun things to do in Rapid City.
—
Packing List When
If you will be traveling, either by plane or by car to Deadwood South Dakota, here are some tips on how to pack lightly.
A concealed travel pouch may be one of the most important items you bring along when attending activities in Deadwood SD.. 
It is always important to protect your personal information. Identity thieves are everywhere.
This unisex RFID-blocking concealed travel pouch is lightweight and comes in several colors. It has lots of organization to give you peace of mind.
You can place it under your clothes next to your body to carry your ID safely.
If you have a pouch already that does not come with RFID protection, as I do, these RFID sleeves are the perfect solution.
This configuration comes with enough credit card sleeves that the entire family would be protected. They are slim too, so they will easily fit into your pouch or wallet.
If you are planning on taking a lot of pictures with your phone you will definitely want to consider an external charging battery.
This Anker high-speed phone charging battery is the exact one I carry with me on all of my trips.
It can be used on a variety of phones, not just an iPhone like I have. And wow is it fast!
My daughter gifted me with this FugeTek selfie stick and tripod setup for my birthday. I absolutely love it! It is made of lightweight aluminum and so easy to use.
It has Bluetooth connectivity and is a breeze to use for taking selfies during Deadwood SD events.
You will want to bring your own refillable water bottle with you.
I never leave home on a trip without my Bobble filtration bottle. The 18.5-ounce size is perfect for hiking and it fits nicely in the pocket of a backpack.
When filled with water, it is not too heavy to carry. And the charcoal filter ensures fresh clean water whenever you fill the Bobble.
Perhaps you are traveling a long distance and packing space is a premium in your suitcase, or in your car.
Then this collapsible silicone foldable water bottle would work well for you. Would not take up much space at all.
You will want a backpack or daypack with you to store snacks, your water bottle, phone, extra clothes, etc… No matter the time of day or evening.
This foldable water-resistant backpack would be great.
It is very affordable and is available in many color options for you to choose from. The fact that it folds down into a zippered pouch will make it easy to pack.