Wondering which are the best towns in South Dakota? Wonder no more.
In this article, I will walk you through the small towns in South Dakota so you can make a decision about which is the best to visit.
South Dakota is a nature lover's dream. The hiking in SD is exceptional and the South Dakota state parks are among some of the best in the world.
It's a state for those that love the great outdoors. It's also a sparsely populated state with wide-open spaces giving way to some charming South Dakota towns.
The small towns in South Dakota come in all shapes and sizes. Some offer all the vintage vibes, some are places for fun activities, and others are just places to chill and relax.
Whatever you love doing chances are SD towns will deliver.
With a diverse landscape, lots of history, and all the charm you could ask for a Midwest Getaway that takes in small towns in South Dakota should be high on your list.
So are you ready to see which I feel are the best towns in South Dakota? Pull up a chair grab your favorite drink and let me walk you through some SD towns.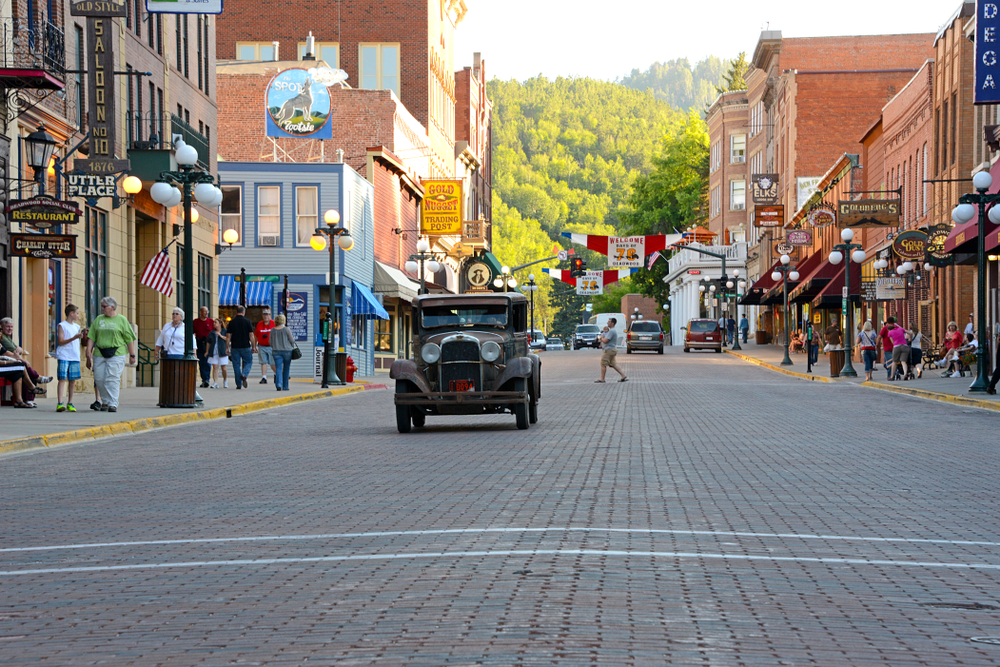 16 Best Small Towns In South Dakota You Should Visit
Deadwood For Vintage Vibes
This town in South Dakota looks more like a film set than a real place. Everywhere you look there is something that wouldn't look a miss in a Wild West film. 
There are so many things to do in Deadwood, so don't miss it!
It was the epicenter of a gold rush in 1876 and it has lost none of this charm. This town's cemetery is the final resting place of Wild West figures Wild Bill Hickok and Calamity Jane.
The whole town is listed on the National Historic Register. Historical reenactments take place regularly and you can of course take guided tours of the area.
To top it all off the town also has over 80 gaming halls, yes you heard that right 80, which have all helped fund the restoration of the town.
And it's all set against the most wonderful backdrop of the Black Hills.
There are so many things to do in the Black Hills, so do not miss visiting there!
This is by far the best vintage town in South Dakota and should be top of your list.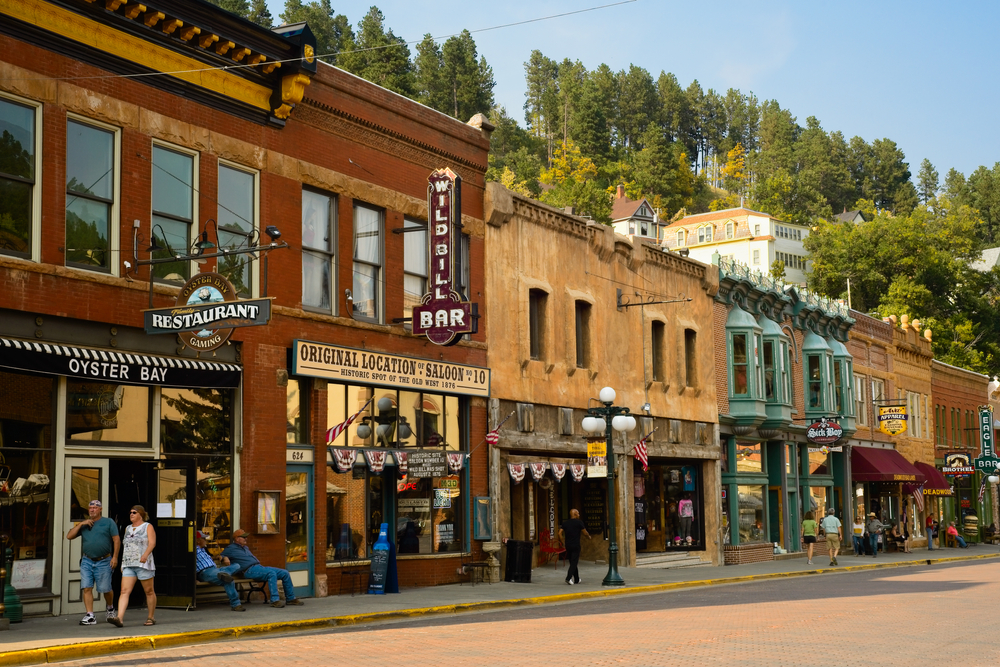 Custer For Wildlife
Located near the Custer State Park this South Dakota town offers lots of outdoor opportunities.
Custer State Park is famous for its bison herds, scenic drives, historic sites, and hiking trails. It is in fact one of the World's Top Ten Wildlife Destinations.
While the state park offers camping, in my opinion, a stay in this charming mountain town is a must. It's the area's oldest town and has a wonderful historic downtown.
It's one of the South Dakota small towns often missed by most and with a population of just under 2000, it offers some peace and solace after your outdoor adventures.
There are so many cool things to do in Custer SD!!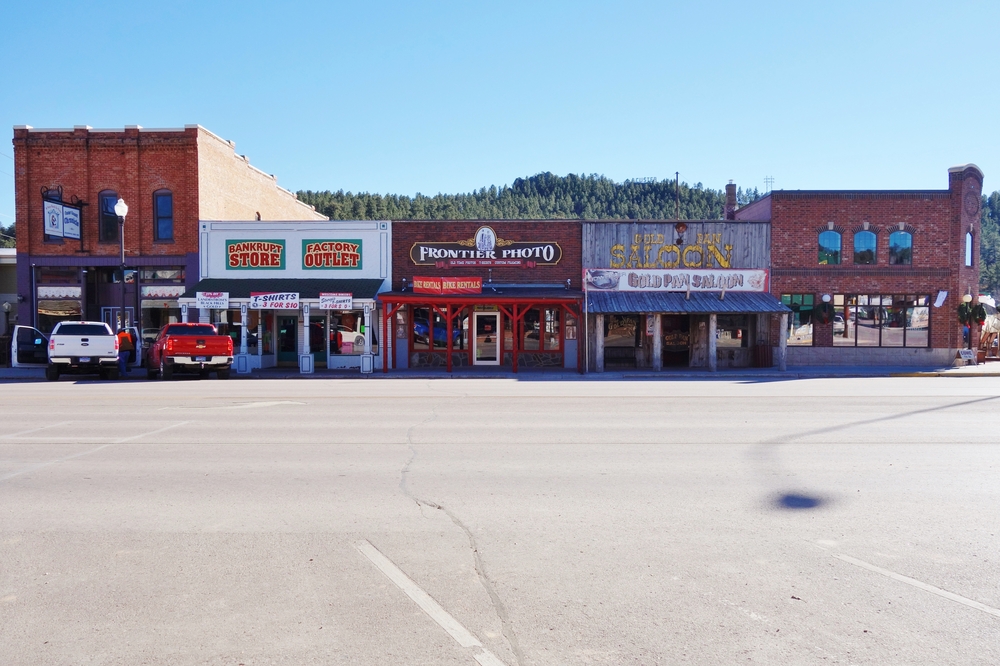 Hill City For Vintage Trains
Located in South Dakota, Hill City is the oldest city in the country. Often referred to as 'The Heart of the Black Hills' don't let the word city put you off here the population is just over 1000.
If you love all things trains and history then this is the place for you. It's home to The South Dakota State Railroad Museum and Black Hills Central Railroad.
The museum is dedicated to the history of the area's steam trains and the railroad is a heritage railroad that operates an authentic 1880 steam engine.
The town is also surrounded by caves, mountains, and forests making it even more wonderful. Most think it is one of the best places to live in South Dakota.
It's one of the South Dakota towns, that offers a little bit of everything. It's also close to The Crazy Horse Memorial Mountain Monument which is well worth seeing.
Hill City is one of the best locations to experience fall in South Dakota!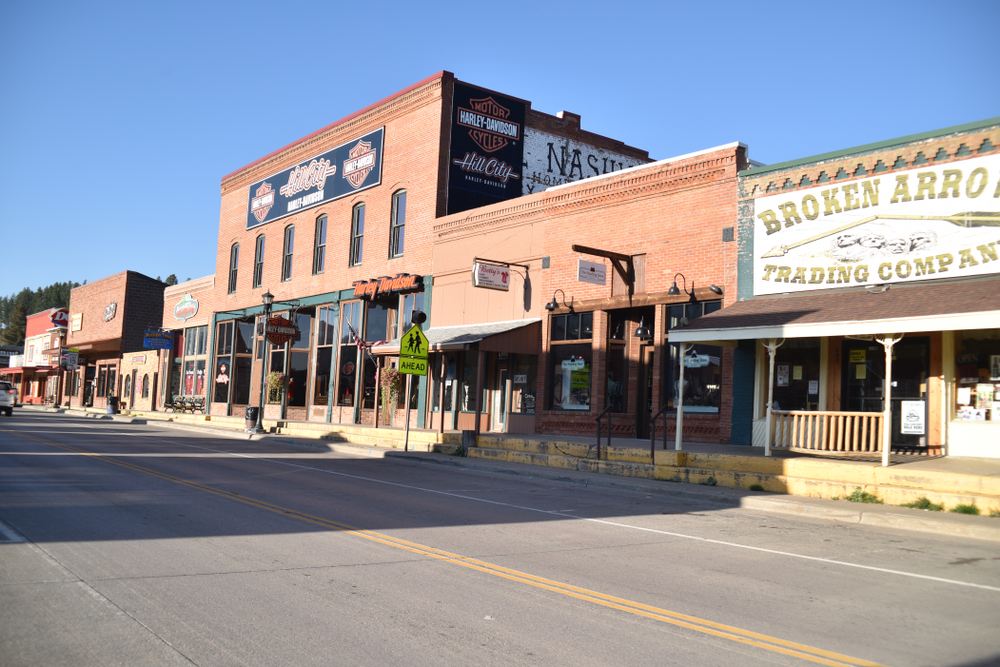 Keystone Is One Of The Best Towns In South Dakota For Tourist Fun
If you like a little bit of adventure and history then Keystone is the town in South Dakota for you. In the Black Hills, this is a town that was really built for tourism.
It is home to the Mount Rushmore National Memorial and Presidential Trail, one of the 6 South Dakota national parks.
It is a town that gets busy. It's also a town that knows what tourists like.
The main strip which is about a mile long features countless restaurants, shops, and activities. It's certainly one of the most fun towns in South Dakota with lots to offer.
One of the oldest towns in the Black Hills it what originally a mining town, then a logging town, and now a tourist destination.
The mining history is charted at The Big Thunder Gold Mine Museum and it's worth a visit.
A historic walking tour is also a great activity if you want to learn about this town's long history and keep away from the tourist traps.
And fun fact the Nicholas Cage movie "National Treasure: Book of Secrets" was filmed here.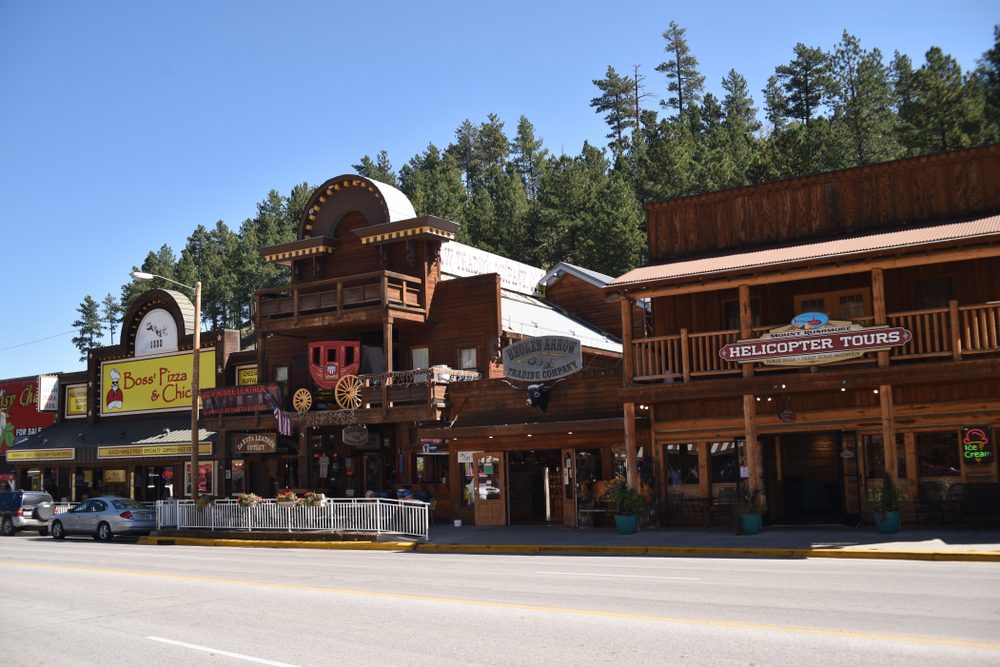 Mitchell For Something Unique
Now I bet you never knew that you wanted to visit a Corn Palace. Well, let me tell you, you do and Mitchell is where it's at.
Mitchell is best known for one thing and that is the world's only Corn Palace.
This palace which looks Moroccan attracts half a million tourists per year who take selfies in front of this unusual building.
The town has its roots in the railroad industry and agriculture, hence the corn. It is also home to the Dakota Discovery Museum and the Carnegie Resource Center which are well worth seeing.
But here it's the Corn Palace that steals the show. It's an elaborate colorful building with huge domes and murals all made out of, yes you guessed it, corn.
It's quite a feat of engineering which changes each year. Mitchell is one of the coolest small towns in South Dakota!
There are so many things to do in South Dakota and visiting Mitchell is definitely one of them!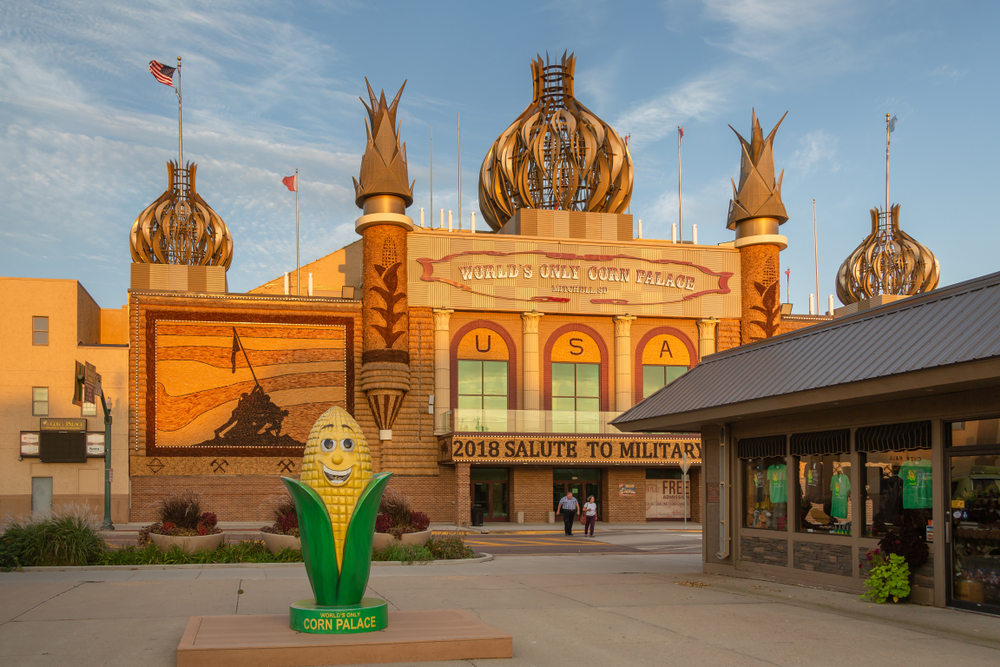 Pierre For History
Including the capital of South Dakota in a list of small towns in South Dakota might seem odd, however, this town is home to only 14,000 so I think it still qualifies.
Founded in 1880 on the shores of the Missouri River it has a historic downtown, lots of restaurants, and some incredible architecture.
Pierre was the first permanent settlement in Dakota and there's a wonderful trail that charts the journey of Lewis and Clark through the town.
Things to see here include the Fort Pierre Chouteau site, The South Dakota State Capitol building, South Dakota Heritage Centre, and the National Guard Museum.
There are also a lot of outside adventure opportunities available here with water sports on the river and nearby lakes. It's a fun town in South Dakota with so much to do.
If you work up an appetite, check out the delicious restaurants in Pierre!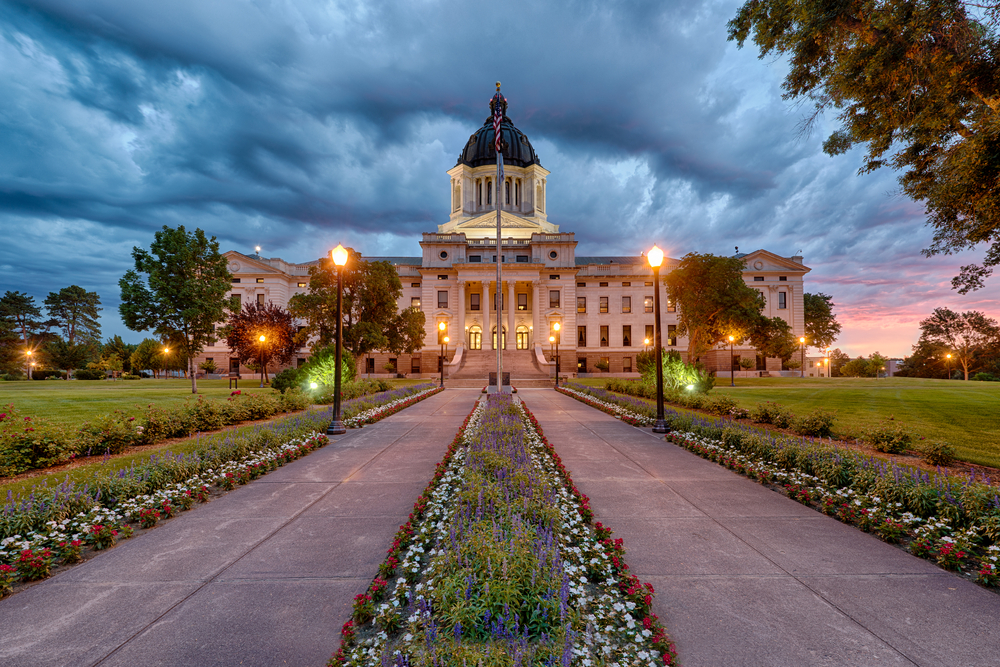 Spearfish For Landscapes
With over 10,000 residents this is one of the bigger towns in South Dakota. Located in the northern region of the Black Hills there are so many outdoor activities available here.
You will find endless hiking trails, acres of lush forests and lakes, and lakes and rivers to enjoy.
This town is mostly known for its strange geographical phenomenon. It has some of the biggest temperature fluctuations in a short period so be prepared.
It's also a photographer's dream around here with some of the most incredible landscapes. This is one of the best places to see fall in the midwest.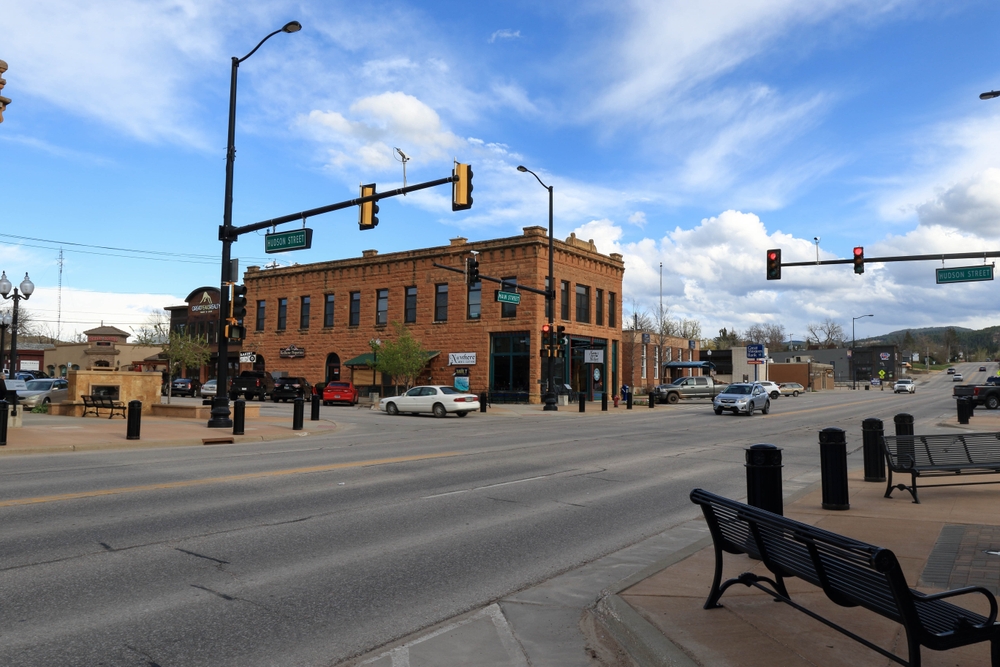 Wall Is A Charming Town in South Dakota
Located near the Badland National Park this town makes a great base for exploring the area. It might be a small town with about 800 residents but it gets close to 2 million visitors a year.
It's most famous for the Wall Drug Store which opened in 1931 and still runs independently today.
For a small town it treats tourists well and it is a great town to really get a feel of this state.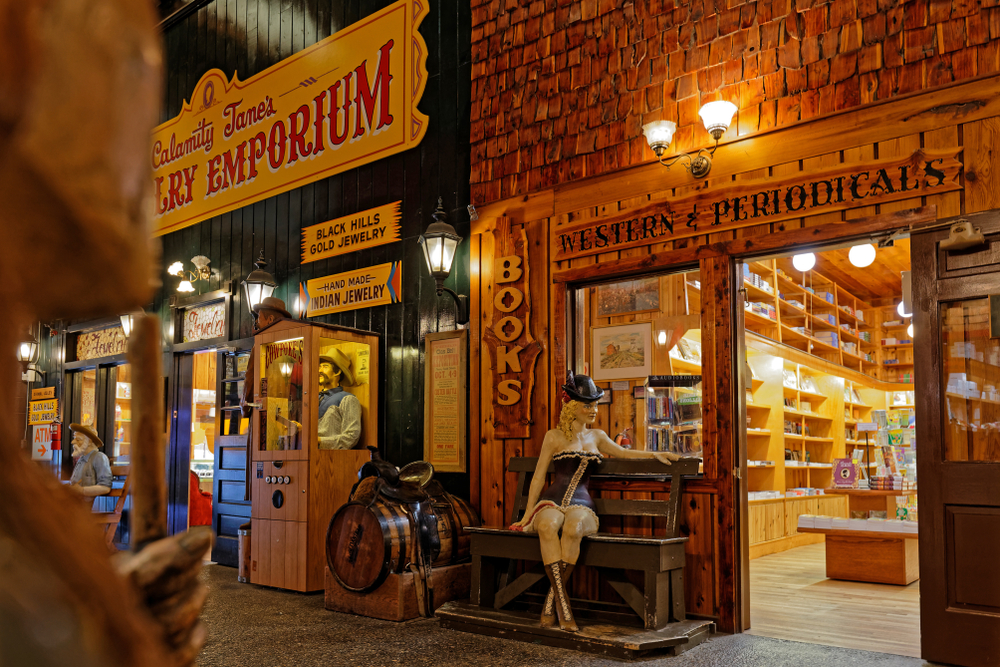 Platte For Small Town America
When you think of small-town America chances are what you envision is a town like Platte. This picturesque town is a close community town that welcomes visitors with great hospitality.
Near Lake Francis Case and three state parks, it also makes a great town in South Dakota for exploring.
The town offers enough to keep you busy. You will find boutique shops, antique shops, and some great restaurants.
Also worth seeing is the Cecil and Phyllis Melcher Museum and the restored historic theatre.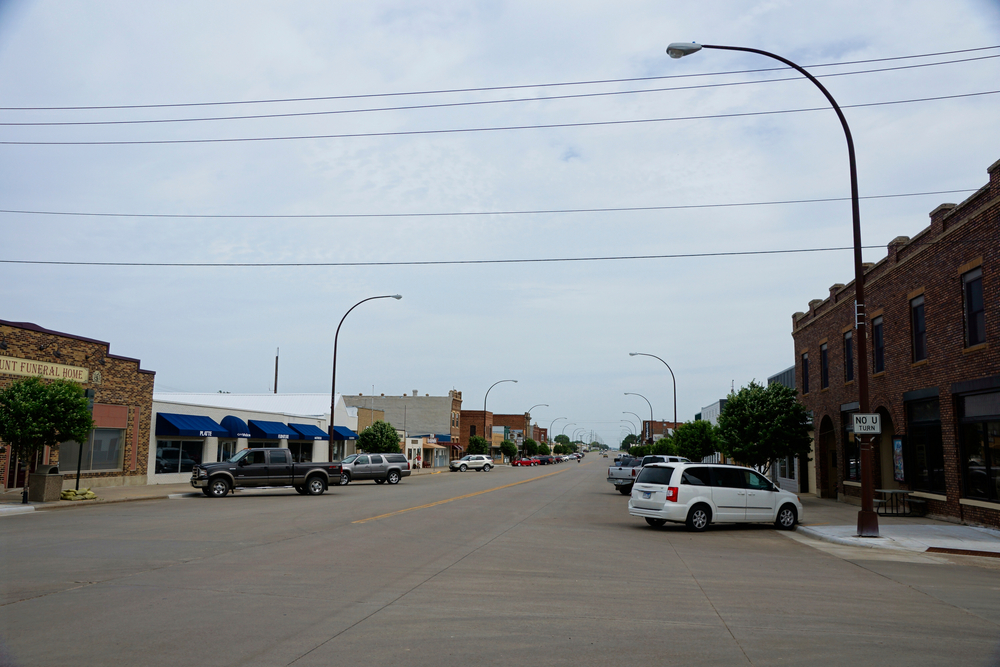 Aberdeen For A Bit Of Everything
This town in SD is award-winning. Year after year it wins awards for practically everything you can think of.
It's one of the best places to live in South Dakota with a great economy and throwing services.
Located in South Dakota, it's one of the most populated towns on the list and is surrounded by rolling hills and scenic rivers.
Places to visit include the Dacotah Prairie Museum, Sand Lake National Wildlife Refuge, Wylie Park, and Fort Sisseton Historic State Park.
It's also the home to Storybook Land, The Land of Oz which children will love.
There is so much to see and do here it's one of the most fun towns in South Dakota.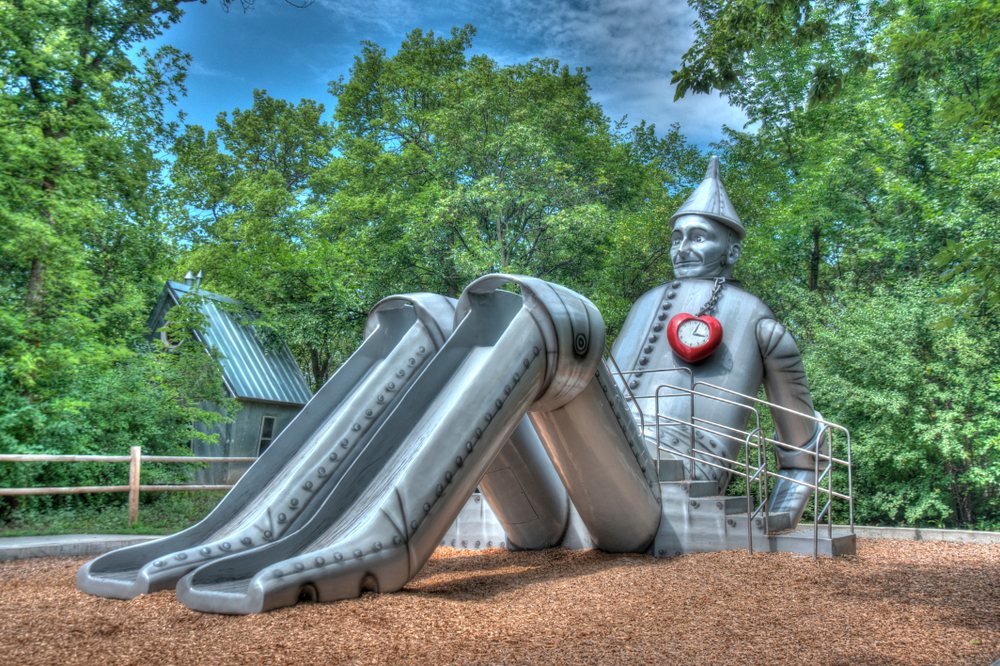 Madison For The Great Outdoors
With hiking state parks, lakes, and miles of rolling prairie this is one of the towns in South Dakota for outside adventure.
It's a very unspoiled area in the state and the crowds here, compared to other areas are lower.
It's considered one of the best places to live in South Dakota and when you visit you will see why. It's a perfect size, with the perfect amount of things to do and incredible surroundings.
Things to do include the Prairie Village Living Museum, the John Green Art Studio, hiking to Walkers Point, and enjoying the local restaurants.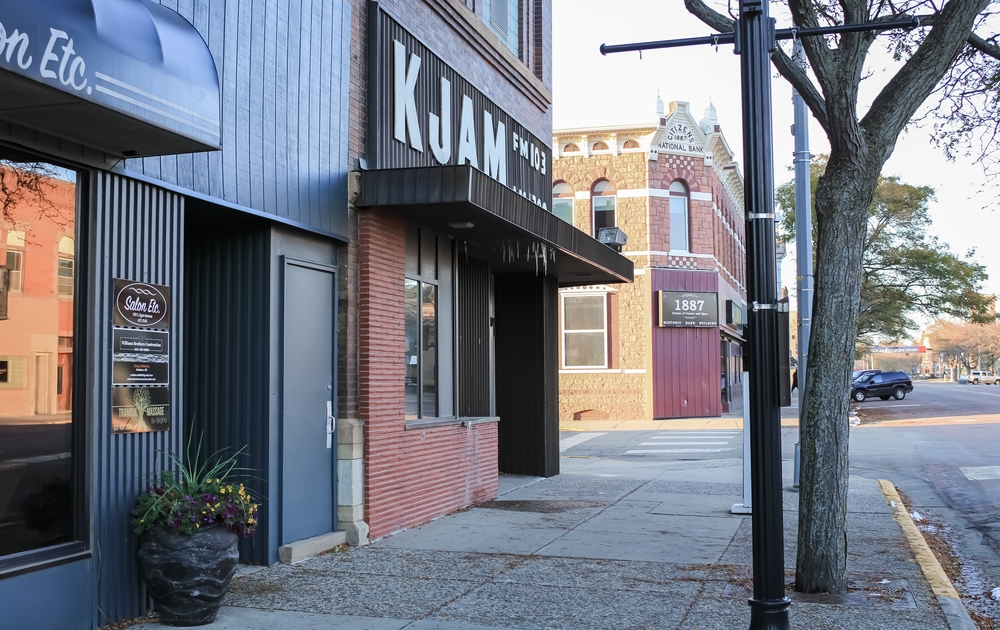 Yankton For Art
Along the banks of the Missouri River in the southeast area of the state is Yankton. Founded in 1861 it was named after the Yankton tribe of Western Dakota people.
Originally a transportation hub for steamboats and then the railroad it is now known more for its art and culture. The downtown is historic, town activities plentiful, and the history iconic.
As with all the small towns in South Dakota there are also plenty of outdoor activities on offer.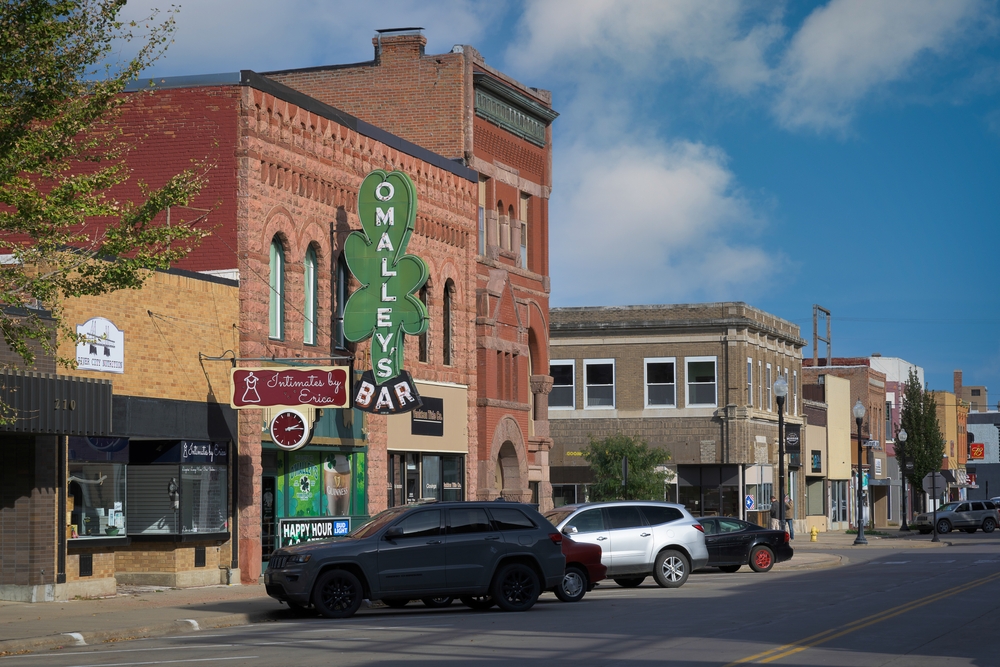 Sturgis For Motorcycles
This SD town is best know for one thing and that's Motorcycles. Sturgis has long been the location of the Sturgis Motorcycle Rally which was first held in 1938.
It's also home to The Sturgis Motorcycle Museum And Hall of Fame which seems very apt.
But it's not all motorcycles, you will also find Fort Meade, a 19th-century military outpost, and the Old Fort Meade Museum.
Other local attractions include Black Hills National Cemetery, Bear Butte State Park, Vanocker Canyon, and Wonderland Cave. If you are looking for a fun town in South Dakota this is it.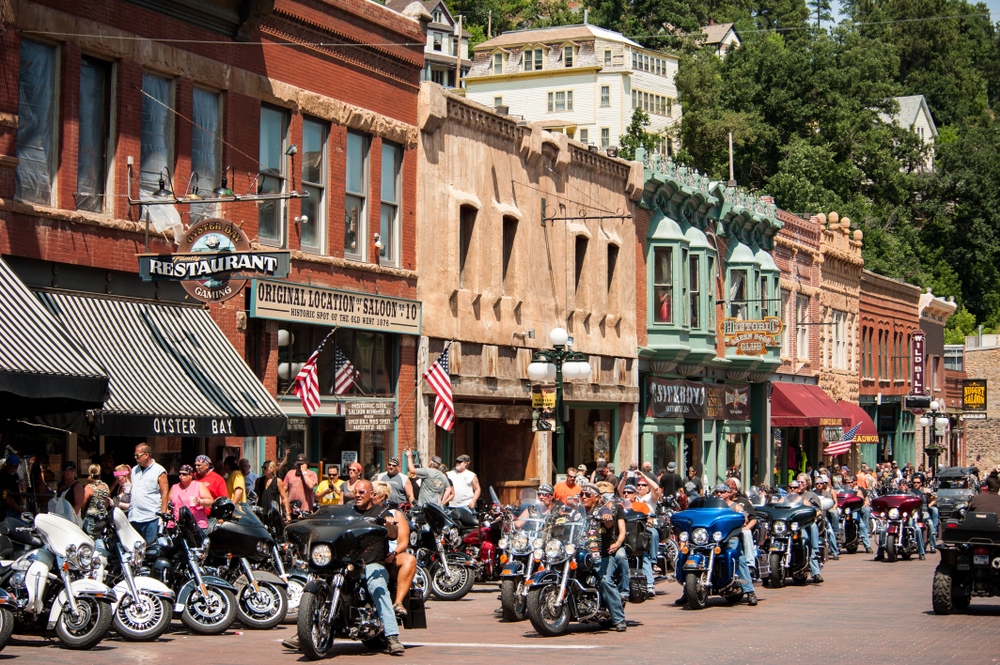 Hot Springs For Relaxing
Living up to its name this SD town is known for its, you guessed it, hot springs. The healing waters here were discovered by the Native Americans and later by the settlers.
Fred Evans turned Hot Springs into a destination after he built Evans Plunge over the top of the mineral springs.
Evans Plunge still exists and is refreshed with 5,000 gallons of fresh spring water at 87 degrees every minute.
Many of the original hot springs have now been turned into spas and bath houses however if you travel out of town there are still some naturally occurring undeveloped ones.
If you are looking for a place for some rest and relaxation then this is it.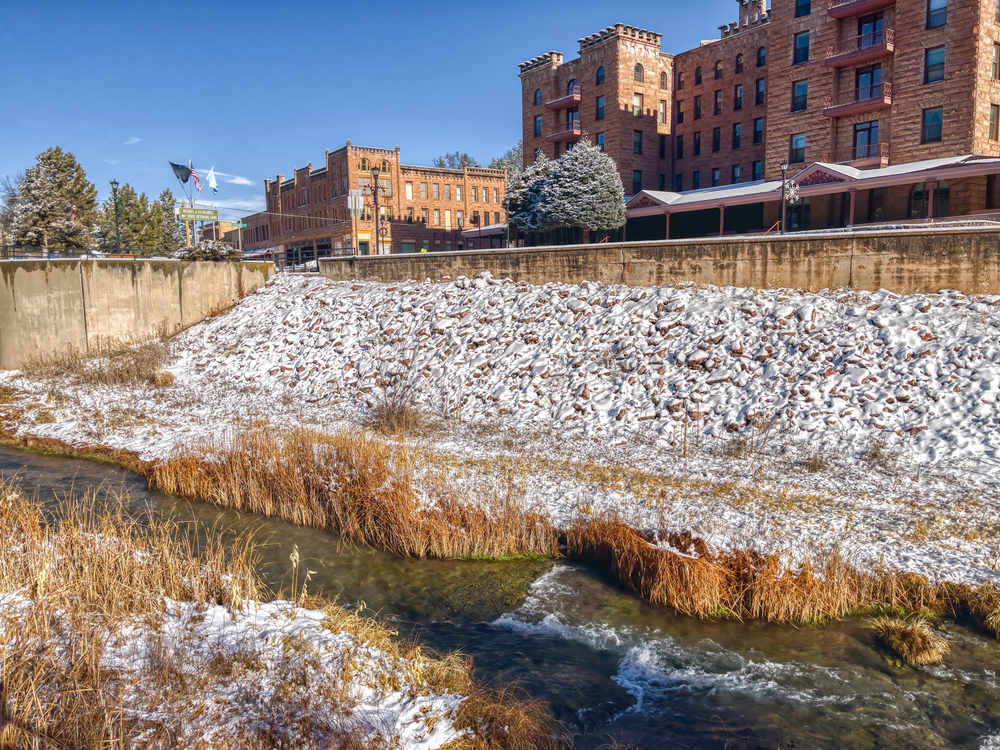 Lead For Quiet
Lead is right on the border with Wyoming and here the landscape turns more rugged. Prairies give way to dramatic granite spires and harsh winters.
The town's history is in gold mining and the entire town is listed on the National Register of Historic Places. In fact, the largest gold mine in the Western Hemisphere was discovered here.
Close to Deadwood it shares many similarities but is less busy and great for those who want the atmosphere of Deadwood but something quieter to retreat to.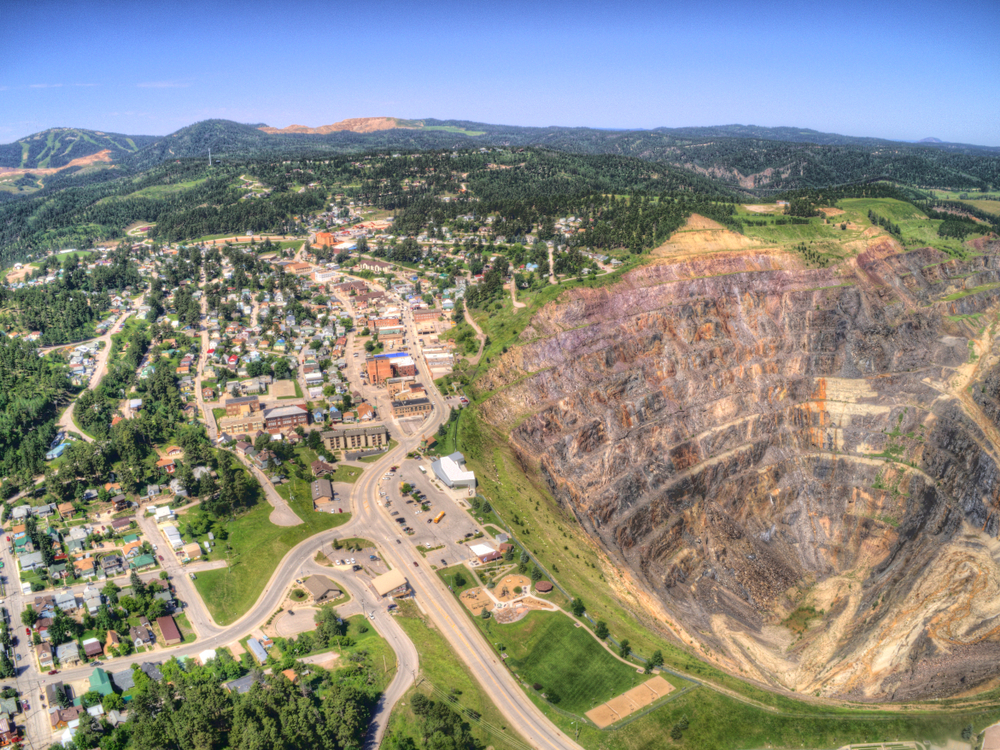 Chamberlain For Culture
Located on the eastern bank of the Missouri River is the town of Chamberlain.
It is perhaps best known for the Dignity Sculpture which is a 50-foot-tall statue built to honor the cultures of the Lakota and Dakota people.
The Akta Lakota Museum and Cultural Centre can also be found here.
It's also the home to the South Dakota Hall of Fame as well as museums, restaurants, and specialty shops.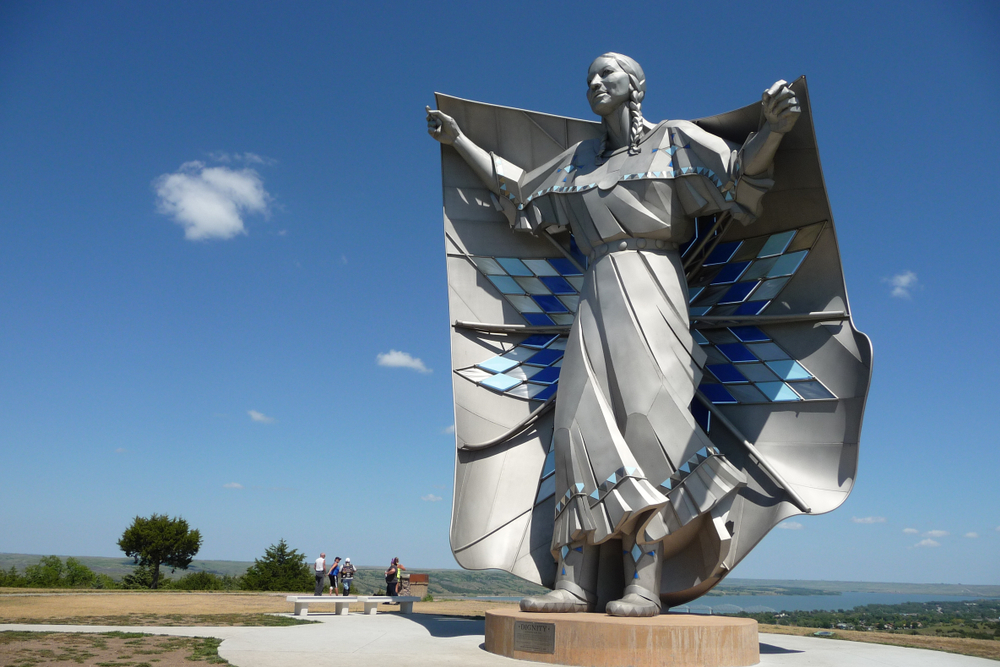 Packing List When Exploring Towns In South Dakota
If you are searching, here are some tips on how to pack lightly when packing when visiting SD towns
A concealed travel pouch may be one of the most important items you bring along when touring quaint towns in South Dakota. It is always important to protect your personal information. Identity thieves are everywhere.
This unisex RFID blocking concealed travel pouch is lightweight and comes in several colors. It has lots of organization to give you peace of mind. You can place it under your clothes next to your body to carry your ID safely.
If you have a pouch already that does not come with the RFID protection, as I do, these RFID sleeves are the perfect solution.
If you are planning on taking a lot of pictures with your phone you will definitely want to consider an external charging battery. This Anker high-speed phone charging battery is the exact one I carry with me on all of my trips.
I like that it holds its charging capabilities for several uses so I do not have to worry about it while out and about, and if I forget to recharge it at night, it will still be good to go the next day.
My daughter gifted me with this FugeTek selfie stick and tripod setup for my birthday. I absolutely love it! It is made of lightweight aluminum and is so easy to use.
It has Bluetooth connectivity and is a breeze to use for taking Insta-worthy selfies in all the vintage towns in SD.
I never much believed in using packing cubes when traveling. That is until I tried them. Now I am hooked. These are the exact cubes I use to stay organized when I pack for a trip!
You will want to bring your own refillable water bottle with you.
I never leave home on a trip without my Bobble filtration bottle. The 18.5-ounce size is perfect for your adventures and it fits nicely in the pocket of a backpack.
Perhaps you are traveling a long distance and packing space is a premium in your suitcase, or in your car. Then this set of collapsible silicone foldable water bottles would work well for you. Would not take up much space at all.
You will want a backpack or daypack with you to store snacks, your water bottle, phone, extra clothes, etc.. . No matter the time of day or evening.
This foldable water-resistant backpack would be great. And it comes in many different colors!
—
As you can see when it comes to towns in South Dakota there are so many to choose from. Whichever of these SD towns you visit I hope you will have a great time.
Small towns in South Dakota have a lot to offer and I hope you enjoy your vacation. Come back and tell me where you visited and what you loved about it.