Are you looking for things to do in Rapid City? You are in the right place, in this article I will walk you through Rapid City attractions, and help you decide what to do in Rapid City.
Rapid City is on the eastern slope of The Black Hills mountains in the western area of South Dakota.
There is so much to see and do in South Dakota and a visit to Rapid City should be high on your list.
There are some amazing national parks and state parks in South Dakota, and while the great outdoors is the main attraction here the towns and cities of SD have a lot to offer too.
Rapid City is often called the 'gateway to the Black Hills' due to its enviable location but seeing it as a place to merely pass through would be a mistake.
As well as nearby attractions, the city has a number of museums, galleries, water parks, and open spaces to enjoy.
The downtown is vibrant, the history apparent everywhere you go, the restaurants plentiful, the shopping varied, and the fun to be had endless.
It makes the perfect place for a Midwest weekend getaway.
So are you ready to see the activity in Rapid City I have chosen for you? Grab a chair and let me walk you through the best things to do in Rapid City.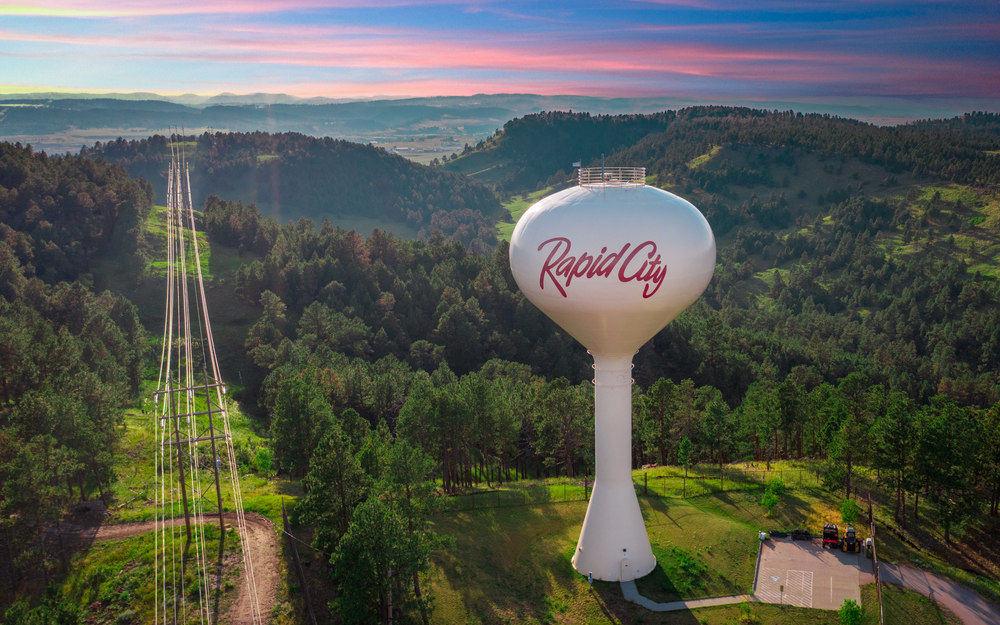 15 Best Things To Do In Rapid City SD You Shouldn't Miss
Enjoy Downtown
Downtown Rapid City has a lot to offer and I feel is the best place to start exploring. You will find galleries, museums, theatres, cafes, and bars here.
The heart of downtown is Main Street Square where you will find some open spaces and playgrounds as well as some great shopping.
The center plaza even features a waterfall, a dancing water fountain, and public art sculptures.
The downtown is full of culture and is best enjoyed leisurely and with wonder. Everything happens here and it's a great place to gather your bearings and people-watch.
This is one of the things to do in Rapid City SD, especially at the beginning of your vacation.
There are excellent downtown restaurants in Rapid City for you to explore as well.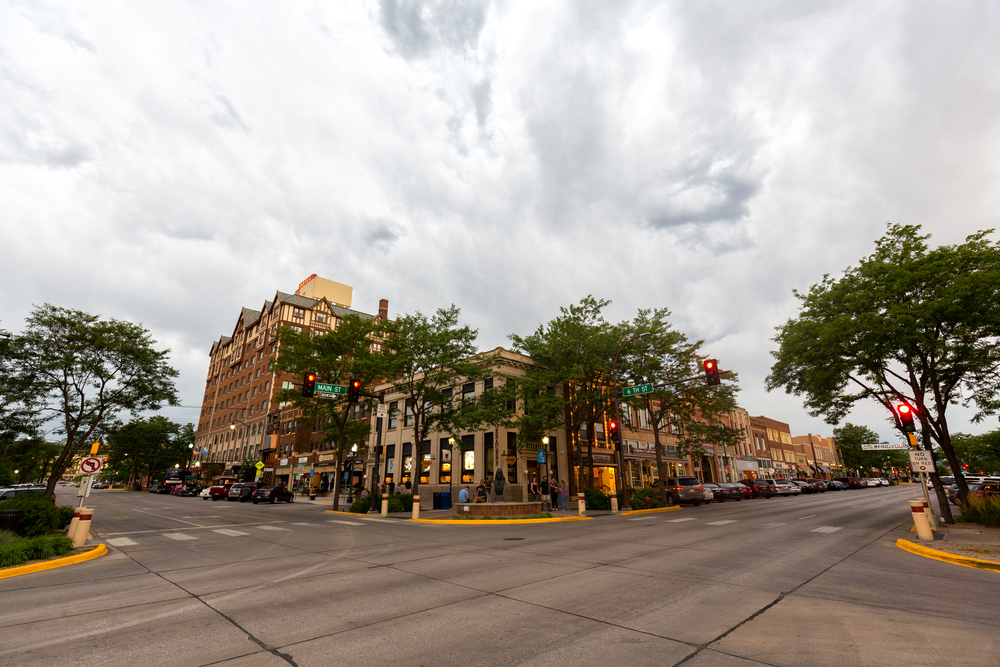 Walking With Dinosaurs Is One Of The Family Fun Things To Do In Rapid City SD
If you have children then this is one of the Rapid City activities they will love. The Dinosaur Park was built in 1936 and it features seven dinosaur replicas created by Emmet Sullivan.
Each sculpture was chosen based on fossils found in South Dakota and the Western United States. You will also find educational information such as what they ate and how much they weighed.
It's free to enter and the views from the hill are worth it even if Dinosaurs aren't your thing. There are also nature trails and real dinosaur footprints. This is one of the fun things to do in Rapid City.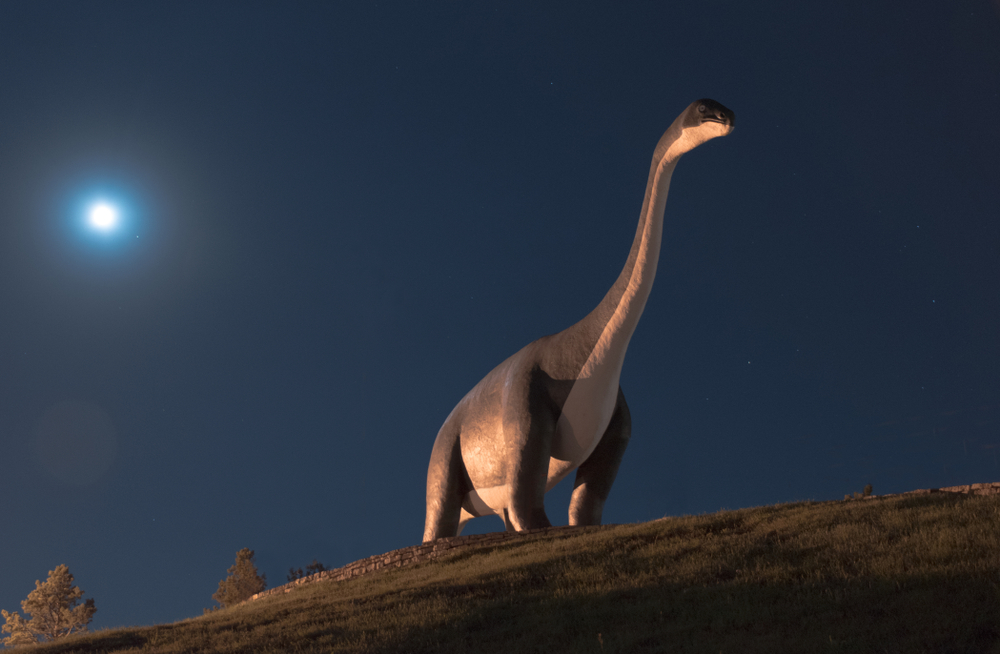 Go Back in History At The South Dakota Air and Space Museum
The South Dakota Air and Space Museum walks you through aviation history. Here you get to see exhibits and galleries all with an aviation theme.
The museum has 30 classic military aircraft from World War II and showcases aircraft like the B-1B Lancer and the H-13 Sioux helicopter.
You will learn how far technology, science, and engineering have come since the start of aviation.
This is one of the attractions in Rapid City, South Dakota which I feel everyone will find interesting.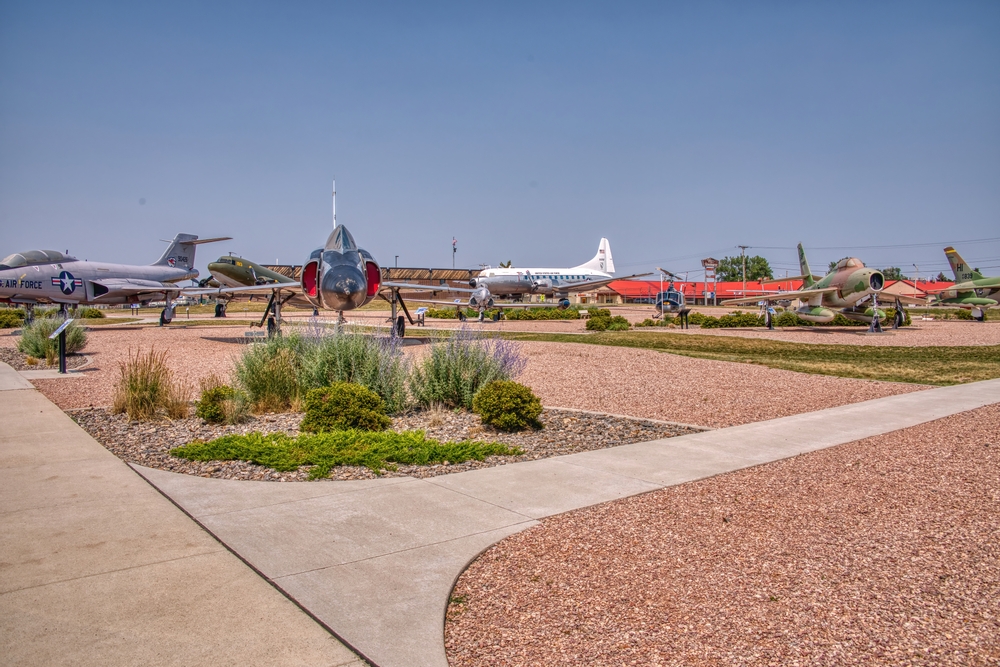 Marvel At The Chapel in the Hills
When it comes to beautiful impressive buildings in Rapid City I don't think they get much more impressive than the Chapel in the Hills.
Completed in 1969 it was inspired by the Borgund Stave Church in Norway and built to celebrate the Norwegian heritage of the area.
The setting arguably makes this structure look all the more magical. The intricate wooden building seems to rise from the lush foliage demanding attention.
The grounds also house an authentic grass-roofed Norwegian storehouse and a log cabin from 1978 which is now a museum. It is also a great place to go exploring in the forest.
When thinking about what to do in Rapid City North Dakota makes sure a visit here is top of your list.
This would be very dramatic if you experienced the fall in South Dakota!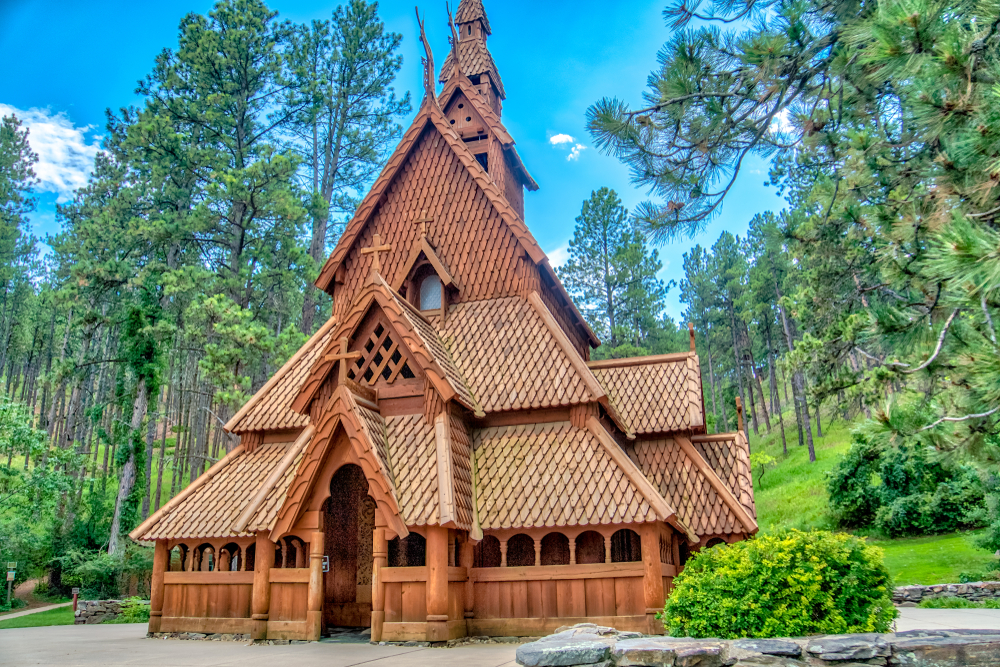 Exploring Art Alley Is An Eclectic Thing To Do In Rapid City
Rapid City is one of the best small towns in South Dakota and here's a great example of why!
Art Ally is a free open exhibition that features an entire ally covered in murals and graffiti. The graffiti here is varied some even mythical but most with a message.
The alley is between 6th and 7th street and every time you go things change slightly. It's an example of living and breathing creativity driven by and for the locals.
While this might be one of the more unusual attractions in Rapid City, SD it's one I think most will enjoy and it makes a great backdrop for some wonderful photographs.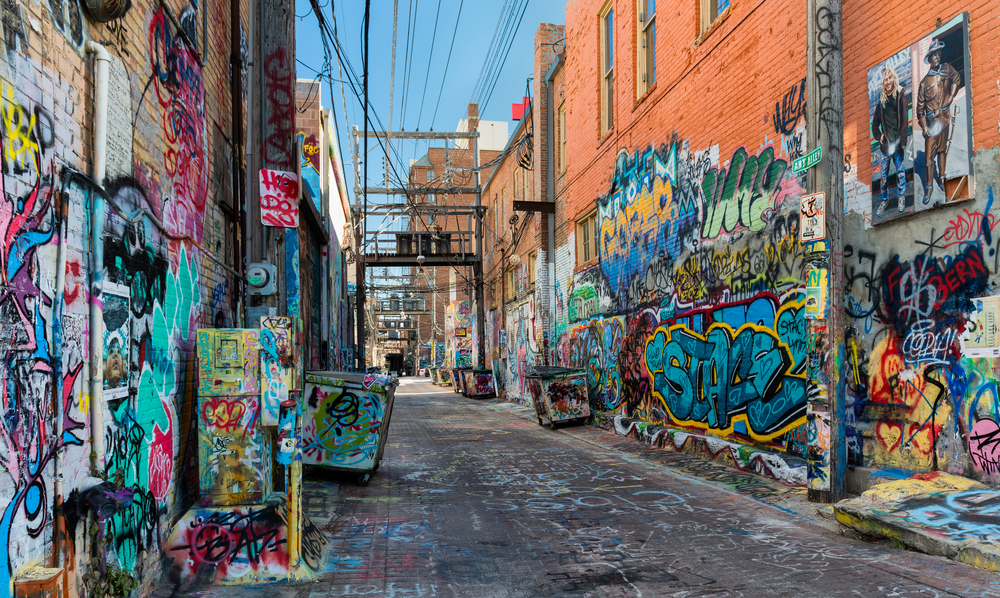 Have Fun At Storybook Island
This is another great Rapid City attraction if you have children. Storybook Island is a free children's theme park that is open every summer for you to enjoy.
It's a bit of a cultural icon in these parts and has been entertaining children here since 1959. If you grew up here this is part of your psyche.
Here you will find fables, nursery rhymes, and children's stories brought to life with characters and structures. It's an immersive experience and children are encouraged to explore and interact with the exhibits.
It's a place to let your child's imagination run free and with over 100 settings there is plenty to choose from.
For a nominal fee children can also watch theatre productions, magic shows, and ride the train and carousel.
One of the fun things to do in Rapid City that won't cost you a fortune.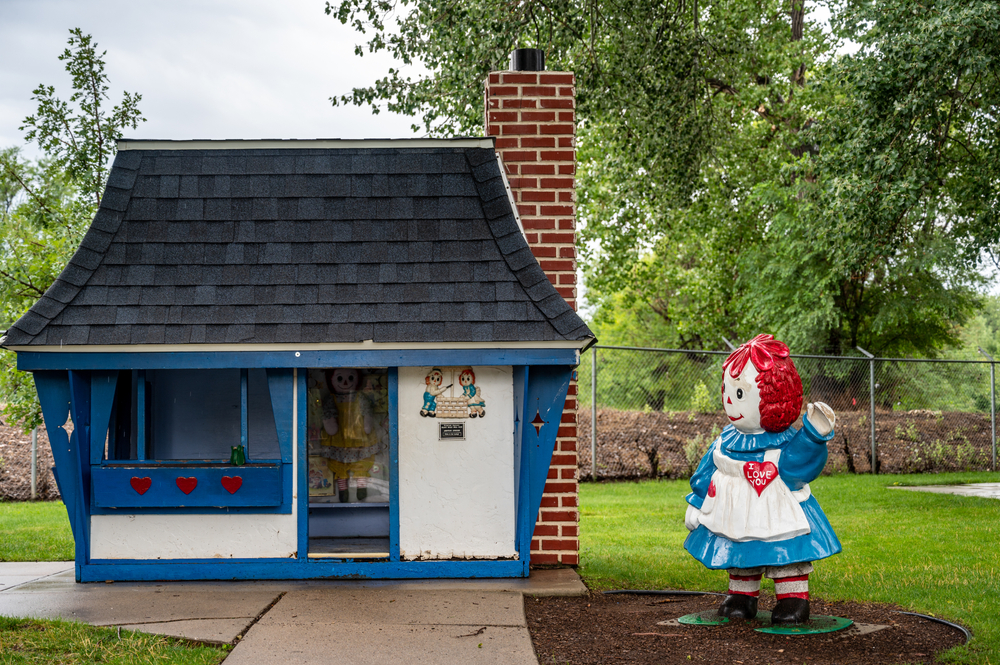 See Rare Fossils At The Museum of Geology
This area of South Dakota is known for its interesting geology and fossils so it seems only fitting that it has a museum of Geology.
This attraction in Rapid City exhibits paleontology and mineralogy in interesting exhibits.
Mounted skeletons of mammals, fish, marine reptiles, and dinosaurs can be seen. And they also have some rare fossils here discovered at the White River Badlands.
For something amazing make sure to check out the fluorescent mineral room which is quite spectacular. And the best bit of all this is one of the free things to do in Rapid City.
Play At The Watiki Water Park
If you find yourself in Rapid City with children on a rainy day then this might be just what you need. Here you will find 30,000 square feet of swimming pools and waterslides at your disposal.
The lazy river surrounded by a mock jungle is the main pull here but there really is so much to do. Water basketball, body slides, and Oasis Hot Tub are all examples.
It's open all year round and surrounded by some great restaurants and bars so you can really make it a family adventure.
This is one of the things to do in Rapid City that will suit families or a group of friends.
Watch the Sunset At Badlands National Park
Rapid City is the perfect place to explore some of the incredible landscapes around this area and they don't get much better than the Badlands National Park.
This Midwest national park has some of the best camping in South Dakota.
It is about an hour out of the city but the scenery is spectacular and will take your breath away.
Watching a sunrise or a sunset here is truly magical. It's probably one of the most romantic things to do in Rapid City.
There is so much to do here like Midwest hiking trails, horseback riding, and four-wheeling to name but a few. Whatever you choose to do you have 242,756-acre at your disposal.
Watching the sunset here is one of the Rapid City events you don't want to miss.
Tickets Here: Mount Rushmore and Badlands Full Day Tour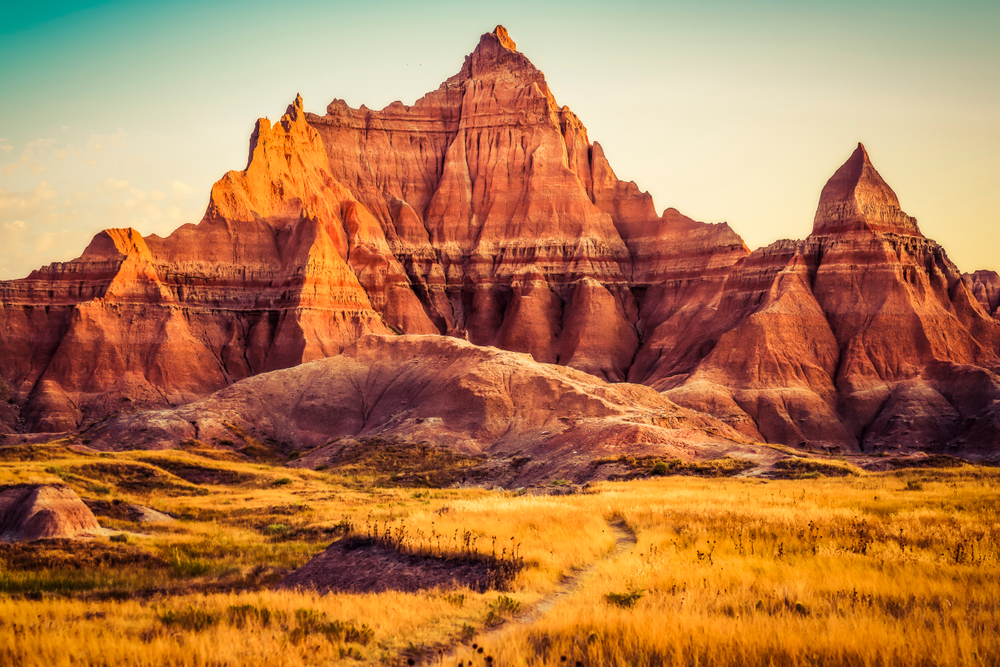 Learn At The Journey Museum And Learning Center
If like me you love learning about the heritage, cultures, and environment of the places you visit then The Journey Museum And Learning Center is the place to go.
It's one of the best attractions in Rapid City and one of the top things to do in South Dakota.
Here they have four major collections each contributing to the full story of the Lakota people and the pioneers who shaped this region.
The collections are interactive experiences rather than things you look at with the whole objective being learning.
They have preserved thousands of years of history and tell it in an engaging form on the 7-acre site.
There are indoor and outdoor exhibits that cover geology, paleontology, archeology, Native American culture, and the history of American pioneers.
If you are looking for things to do in Rapid City, South Dakota make sure this is top of your list.
Go Underground At The Black Hills Caverns
Just 14 minutes out of the city is the Black Hills Caverns. It is the perfect place to begin a private Black Hills Monuments Tour.
Originally discovered in 1882 by gold miners visitors now flock here to see these underground caverns.
The cavern is approximately 3,400 feet long and features more than a dozen rock formations, including stalactites, helictites, and popcorn crystals.
The Lakota Native Americans had been using the calcite crystals here for hundreds of years before the miners discovered this area. The crystals here are said to improve mental clarity.
Touring the caves is a thing to do in Rapid City, SD that won't disappoint.
Tickets Here: Private Black Hills Monuments Full Day Tour
Experience The City of Presidents Walking Tour
If you are still deciding what to do in Rapid City DA, then another one of the free things to do in Rapid City is doing the City of Presidents Walking Tour.
Here you take a self-guided tour among a series of life-size presidential bronze statues in historic downtown.
There is an interactive walking guide you can download. Follow the map to find the statues and then learn all about them through the map.
The statues line the streets and it's a great way to get around and see the city.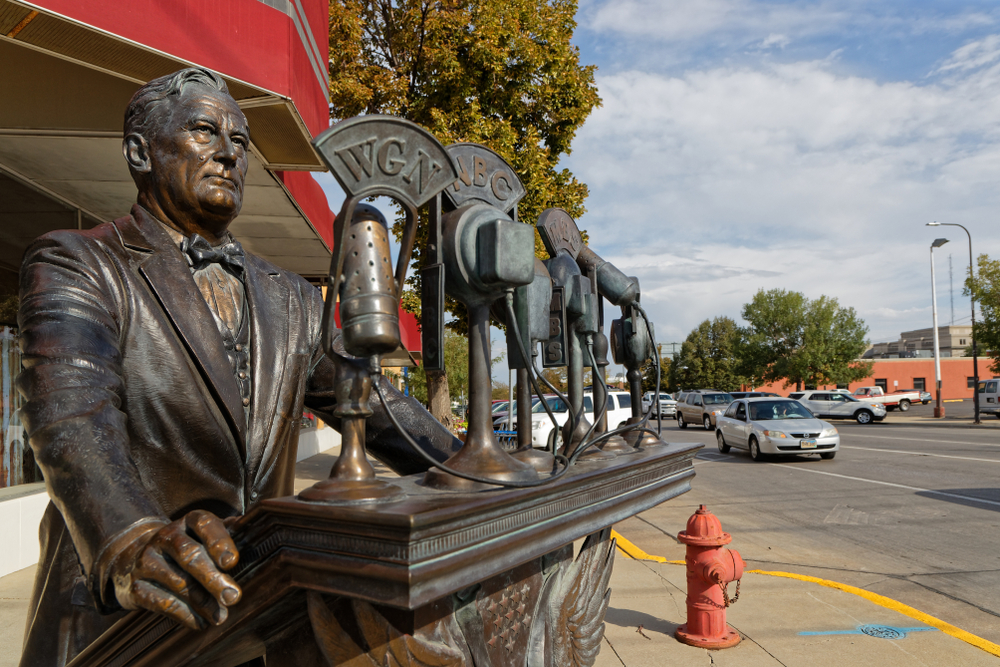 Wonder At The Crazy Horse Memorial
An hour outside the city Crazy Horse Memorial is situated on one of the tallest pegmatite granite mountains in the Black Hills. It's the largest sculpture in the world.
Its construction began in 1948 and it depicts the famous Native American warrior Crazy Horse.
Construction was initiated by Lakota Chief Henry Standing Bear's persistent appeals to sculptor Korczak Ziolkowski.
There is a lot to do here with an onsite restaurant, museum, guided tours, and gift shop. The museum is a must-visit here as it charts Native American history.
And if you are looking for a Rapid City event in the evening the monument has an incredible laser light show.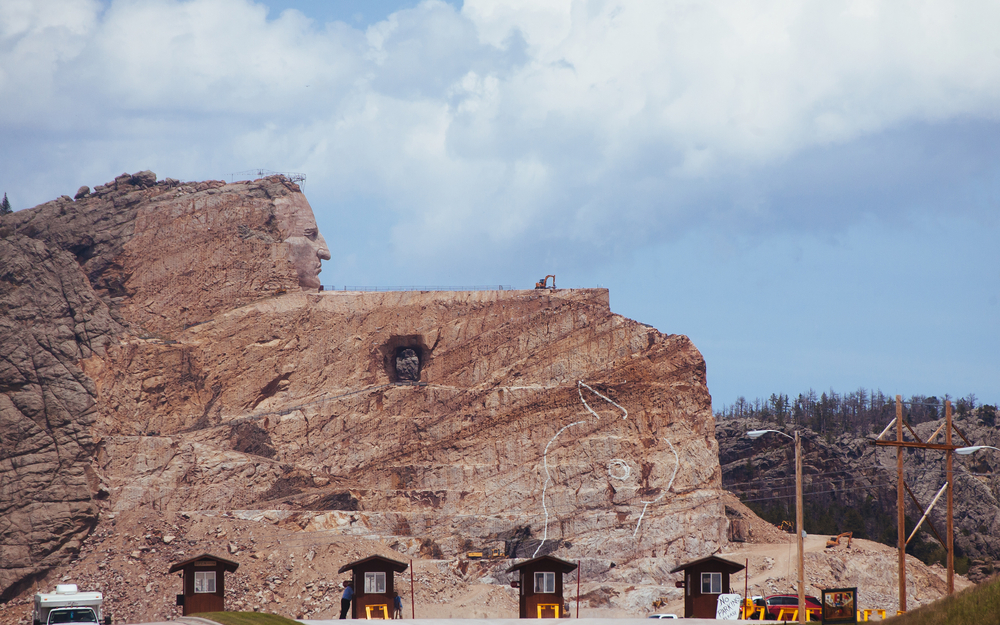 Go Back In Time At The Motion Unlimited Museum
At this attraction in Rapid City, you will find over 100 beautifully displayed vintage cars. The collections include motorcycles, pedal cars, pickup trucks, and bicycles as well as classic cars.
The museum is packed with memorabilia as well as equipment that was used to service cars in days gone by.
They also have an extremely rare 1934 Studebaker Dictator 3 and a 1938 Lincoln Zephyr V-12.
If you love those beautiful classic cars then this is one of the fun places to visit in Rapid City!
Taking In Mount Rushmore Is One Of The Best Things To Do Near Rapid City
You can't put a list together of things to do in Rapid City without including a trip to Mount Rushmore.
It's only 30 minutes away from the city and one of the coolest things to do in South Dakota.
For those unfamiliar with it, Mount Rushmore is a rock that has George Washington, Abraham Lincoln, Theodore Roosevelt, and Thomas Jefferson, carved into it.
It took over 12 years to complete and opened in 1941.
It's free to visit much to most people's surprise with the park it sits in offering some great views and guided yours. And it offers some of the best hiking in South Dakota.
There are tours available if you want a much more rounded experience.
These tours take in things like the Dances with Wolves film set, Iron Mountain Road, and Custer State Park, with food and drinks included.
Of all the activities in Rapid City, SD this is the one you must do.
Tickets Here: Private Tour Of Mount Rushmore with Hike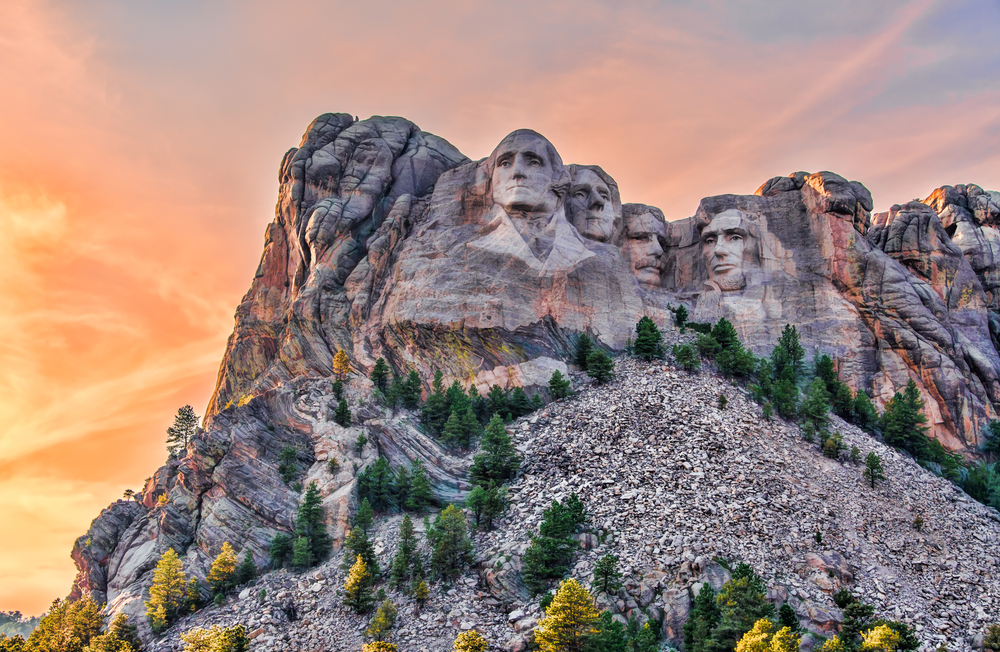 Packing List When Searching For Things To Do In Rapid City SD
If you are searching, here are some tips on how to pack lightly when packing when heading to attractions in Rapid City South Dakota.
A concealed travel pouch may be one of the most important items you bring along when visiting Rapid City. It is always important to protect your personal information. Identity thieves are everywhere.
This unisex RFID blocking concealed travel pouch is lightweight and comes in several colors. It has lots of organization to give you peace of mind. You can place it under your clothes next to your body to carry your ID safely.
If you have a pouch already that does not come with the RFID protection, as I do, these RFID sleeves are the perfect solution.
If you are planning on taking a lot of pictures with your phone you will definitely want to consider an external charging battery. This Anker high-speed phone charging battery is the exact one I carry with me on all of my trips.
I like that it holds its charging capabilities for several uses so I do not have to worry about it while out and about, and if I forget to recharge it at night, it will still be good to go the next day.
My daughter gifted me with this FugeTek selfie stick and tripod setup for my birthday. I absolutely love it! It is made of lightweight aluminum and is so easy to use.
It has Bluetooth connectivity and is a breeze to use for taking Insta-worthy selfies at all events in Rapid City you explore.
I never much believed in using packing cubes when traveling. That is until I tried them. Now I am hooked. These are the exact cubes I use to stay organized when I pack for a trip!
You will want to bring your own refillable water bottle with you.
I never leave home on a trip without my Bobble filtration bottle. The 18.5-ounce size is perfect for your adventures and it fits nicely in the pocket of a backpack.
Perhaps you are traveling a long distance and packing space is a premium in your suitcase, or in your car. Then this set of collapsible silicone foldable water bottles would work well for you. Would not take up much space at all.
You will want a backpack or daypack with you to store snacks, your water bottle, phone, extra clothes, etc.. . No matter the time of day or evening.
This foldable water-resistant backpack would be great. And it comes in many different colors!
–
As you can see when it comes to things to do in Rapid City there is so much to choose from.
Attractions in Rapid City, South Dakota come in many shapes and sizes and there is something for everyone in this vibrant Midwest city.
Whichever of these activities in Rapid City you do I know you will have an amazing time. Please come back and tell me which you choose. I hope you have a great vacation.