Are you looking for some fun things to do in Nebraska? Well, look no further.
Nebraska is an amazing travel destination that often gets overlooked by the popular nearby places.
What makes this place wonderful is that it not only has cute towns and natural landscapes but several cultural and historic sites to explore too.
From mountains to lakes, you will find a wide range of attractions in Nebraska that are fit for all ages.
If you are traveling with family, then there are many parks, gardens, and museums for you to visit.
For those who are looking for an adventure, many hiking trails around Nebraska will ensure you have a great time here.
So, let's take a look at the 15 best things to do in Nebraska!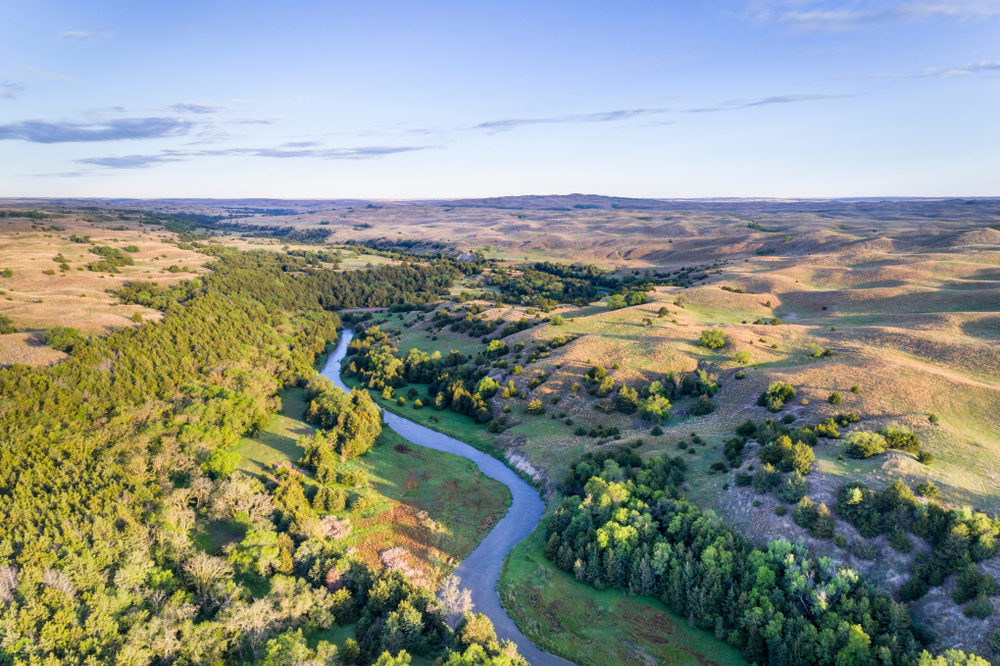 15 Best Things To Do In Nebraska: The Ultimate Bucket List
Take A Tour Of The Nebraska State Capitol
If you are visiting Nebraska for the first time, then one of the best things to do in Nebraska is to take a tour of the Nebraska State Capitol building in Lincoln.
Completed in 1932, this is one of the top attractions in Nebraska to learn about the building's history and Nebraska.
The building has an impressive interior with marble floors, massive archways, artworks on walls, and more. This will surely attract all the architecture enthusiasts in town.
Apart from that, visitors can enjoy a guided tour of the building. Take a peek into the courtyard, halls, offices, and more here.
Don't forget to head to the observation deck to enjoy a stunning view of Lincoln City.
So, if you are looking for fun and free things to do in Lincoln, then visit the Nebraska State Capitol. It is open from 8 am to 5 pm on weekdays.
On Saturdays, you can visit from 10 am to 5 pm and from 1 pm to 5 pm on Sundays.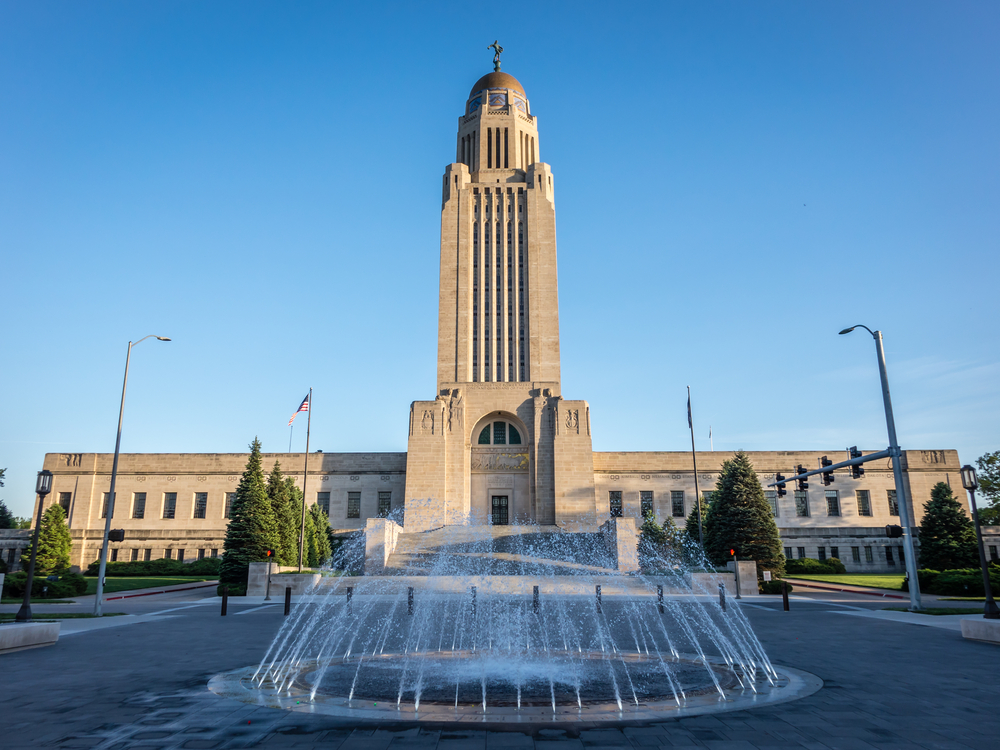 Learn About Chimney Rock National Historic Site
Chimney Rock National Historic Site is one of the most recognized attractions in Nebraska which is also an iconic symbol.
Chimney Rock dates back to around 25 million years ago. It was noted by the pioneers traveling on the Oregon Trail to reach the Great Plains.
This rock formation resembles the shape of a chimney and towers at a height of 480 ft, so it is easily visible from afar.
Since this landmark played a huge role in the pioneer's journey towards the west in the mid-19th century, it has been designated a national historical site for conservation.
One of the best things to do in Nebraska is to visit the rock formation and the museum here to learn about the geology and the pioneers.
Visiting this landmark would make a great Midwest weekend getaway.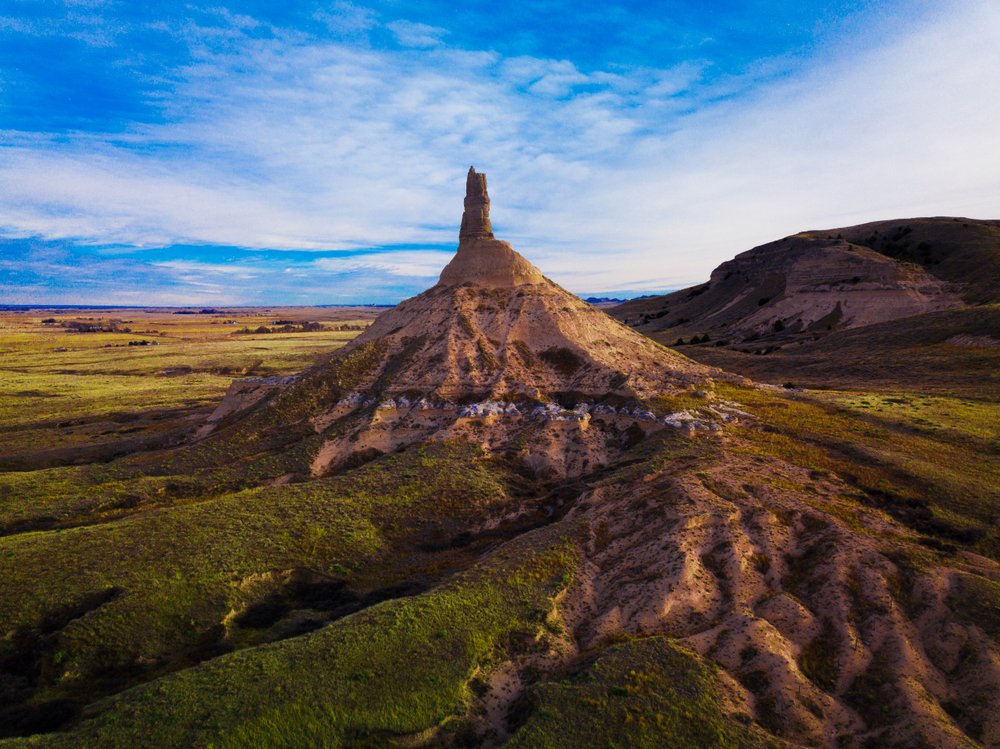 Visit the Henry Doorly Zoo and Aquarium
Do you love learning about and interacting with different animal species? If yes, then one of the best things to do in Nebraska is to visit the Henry Doorly Zoo and Aquarium in Omaha.
The reason why this Nebraska attraction is such a hit is that it has the world's largest indoor rainforest jungle, largest indoor desert, and largest nocturnal exhibit.
There are over 1000 species here including lions, giraffes, elephants, and more.
If that wasn't enough, the aquarium exhibits are exceedingly fun too, and offer the visitors a chance to touch the stingrays and interact with other marine animals here.
You can also watch a feature film in the Lozier IMAX 3D theatre and spend quality time with your family here. If you are looking for fun things to see in Nebraska, then this fits the bill perfectly!
Thinking of extending your stay in Nebraska? Here are some interesting cabins in Nebraska for your consideration!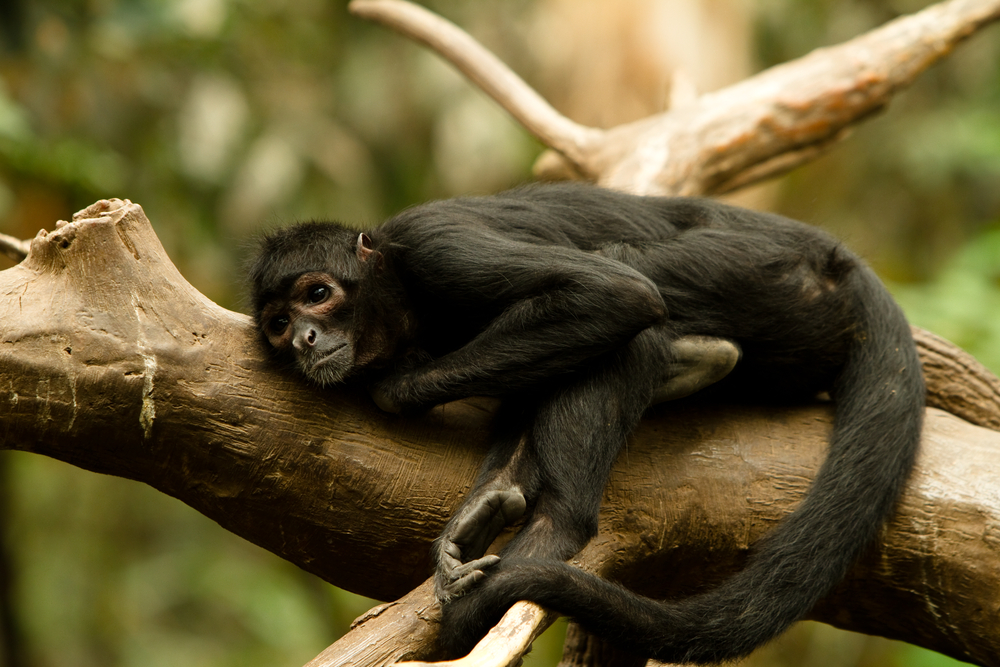 Visiting Platte River State Park Is One Of The Best Things To Do In Nebraska
Platte River State Park is located between Omaha and Lincoln and offers a lot of fun things to do in Nebraska.
This recreational park offers gorgeous views of the Platte River and has several attractions for visitors to explore.
It is one of the top places to visit in fall in the Midwest due to the beautiful autumn colors that one can find here.
From the Strategic Air and Space Museum to Mahoney State Park, there are many amazing places to visit around here.
If that's not enough, there are lots of activities to enjoy in this park. Such as some of the best hiking in Nebraska, canoeing, kayaking, and more.
For those who want to spend a couple of days exploring this park, there are several camping options available as well to spend some time amidst nature.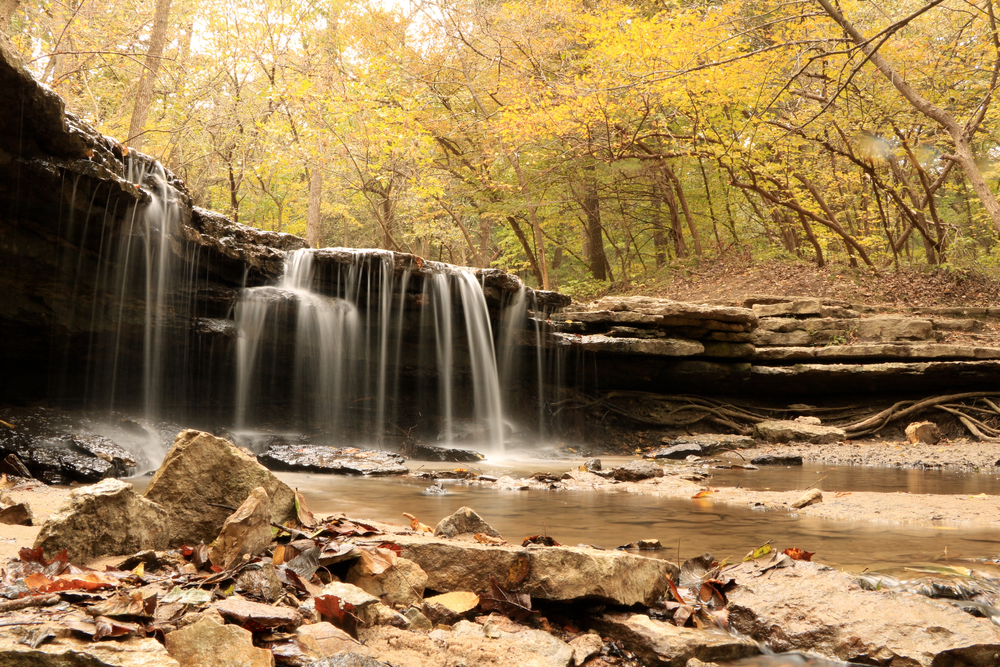 Smith Falls Is Nebraska Attraction
At 19 meters, Smith Falls is the highest fall and one of the top Nebraska attractions to visit.
Located 18 miles from the cute Nebraska town of Valentine, the waterfall is located in a park that protects the scenic beauty of the place.
Visitors can hike through the marked trails and reach the falls on the south side of the Niobrara river via a footbridge.
One of the best things about this Midwest waterfall is that there are a lot of facilities available close to it.
You can camp in a tent, use restrooms and pay showers, or buy snacks and drinks from the concession stand from the north side of the river.
If you love waterfalls and camping, then one of the best things to do in Nebraska is hiking to Smith Falls.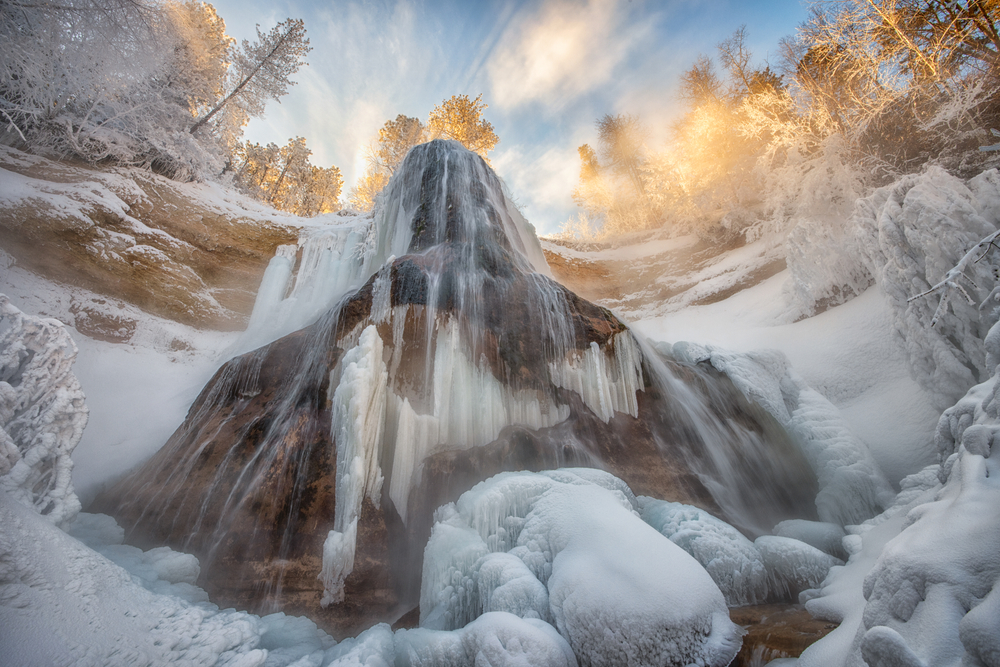 Scotts Bluff National Monument
One of the top things to do in Nebraska is visiting the Scotts Bluff National Monument in the North Platte Valley.
This is a prominent attraction in Nebraska that was used as a landmark by Native Americans, travelers, and pioneers over the years to determine their progress towards the Great Plain area.
The sandstone rock formation that towers 800 ft above the valley and the surrounding area is considered a national monument to ensure preservation.
When you are here, go to the visitor center to check out a documentary and the exhibits on Scotts Bluff. For kids, there are many interactive activities available too.
There are many hiking trails here as well that will offer you amazing views of Nebraska including Chimney Rock.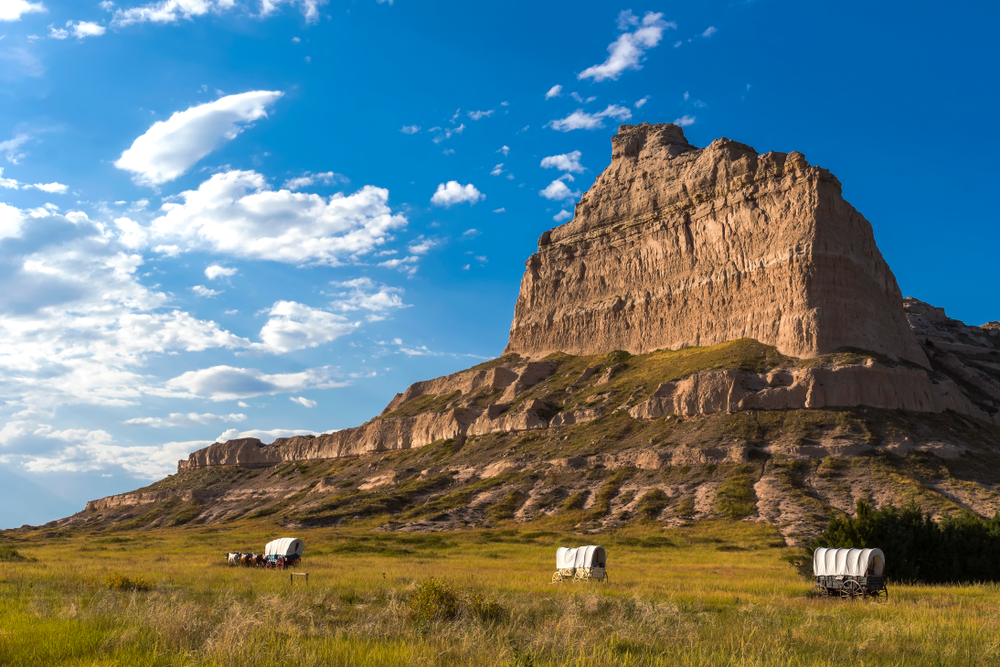 Golden Spike Tower Is One Of The Top Things To See In Nebraska
One of the top things to see in Nebraska, Golden Spike Tower offers visitors a bird's eye view of Bailey Yard, the world's largest railroad yard.
This yard sees more than 150 trains and 10,000 rail cars come in a day.
The tower is eight stories tall and fully enclosed in glass.
Visitors can enjoy a view of the yard and the expanding landscape of the Platte River Valley from the observation deck starting from the 7th floor.
You can observe hundreds of tracks with trains moving on them from the viewing area.
Listen to the exciting stories of the yard by the retired engineers who volunteer as guides here. This is one of the fun things to do in Nebraska, especially if you are a rail enthusiast.
And visiting here would make a really fun Midwest Road Trip!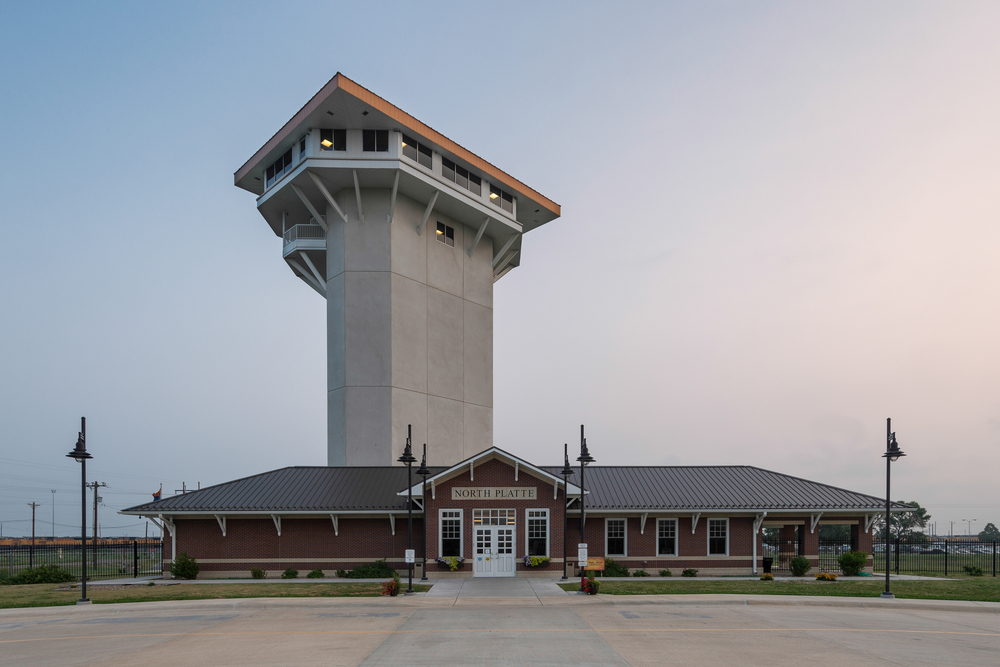 Indian Cave State Park
Do you love outdoor activities? Then, one of the best things to do in Nebraska is to explore the historical sites and the parks in Indian Cave State Park.
Located near the Missouri River, this park covers around 3,400 acres of land. Here, you will find caves where Native Americans and pioneers stayed during their journey. Also, the Native American caves are full of log cabins and petroglyphs.
There are lots of interesting hiking trails to explore and many highlights to enjoy including the Lincoln Bend Wetlands.
If you are planning to spend a few days here, hen you can also check out some of the best camping in Nebraska that is in the park.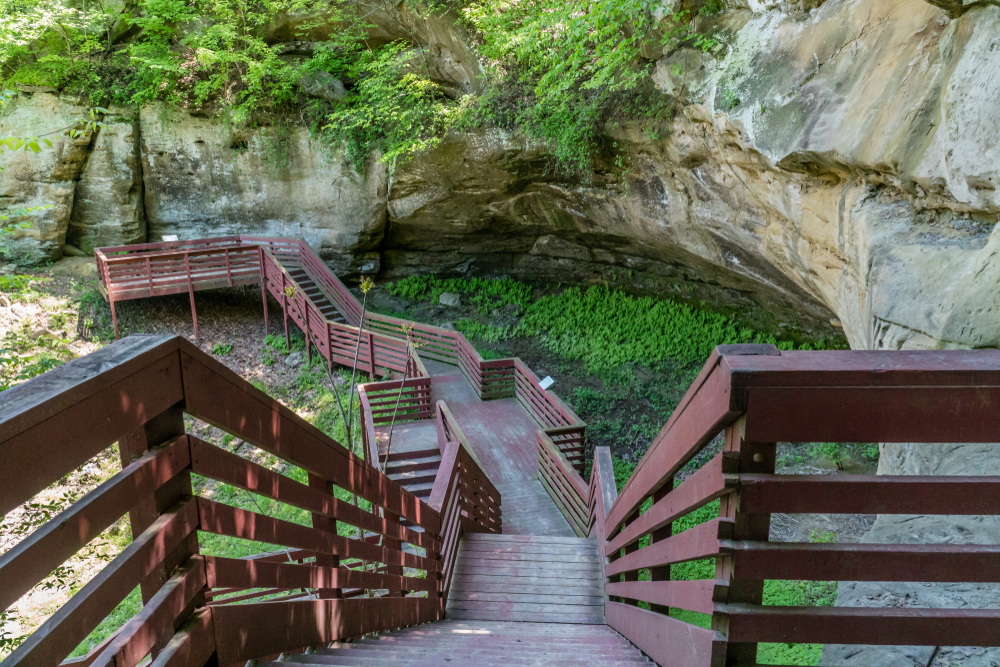 Carhenge
If you are looking for offbeat and quirky things to see in Nebraska, then Carhenge is the best attraction in Nebraska to visit.
Based on Stonehenge in England, this hidden gem in the midwest uses vintage cars to imitate the original design.
It was created by a local artist named Jim Reindeers who made this in memory of his father. The installation is located on his father's farmland and is open to the public for free.
At the site, visitors will observe 39 cars stacked on top of each other to perfectly replicate Stonehenge.
Take photos, touch the cars, or buy a souvenir from an on-site gift shop when you visit this attraction.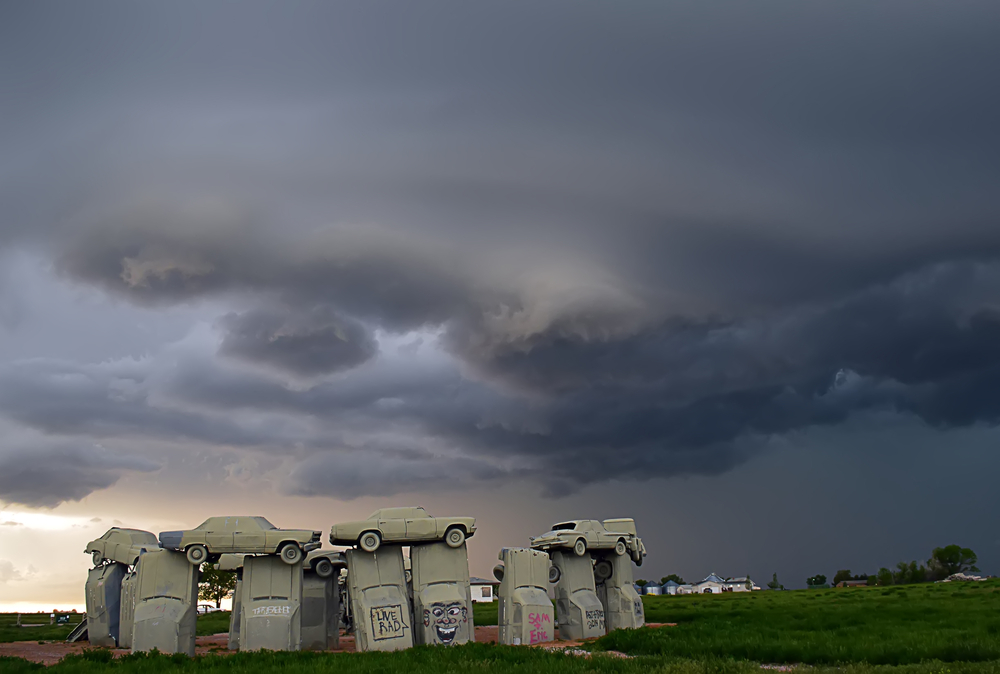 The Archway
Drive along the Interstate and you will come across one of the most famous Nebraska attractions – The Archway.
It is a museum for travelers that will give you a peek into the history of Nebraska and the western migration.
As you enter the museum exhibits, you will notice several scale models of Nebraska and Platte River Valley showing life during the pioneer era.
Apart from the displays, there is a TrailBlaze maze for kids and a lake where the entire family can enjoy a nice picnic.
So, if you are looking for fun things to do in Nebraska with family while being educated about its history, then is one of the top places to visit in Nebraska.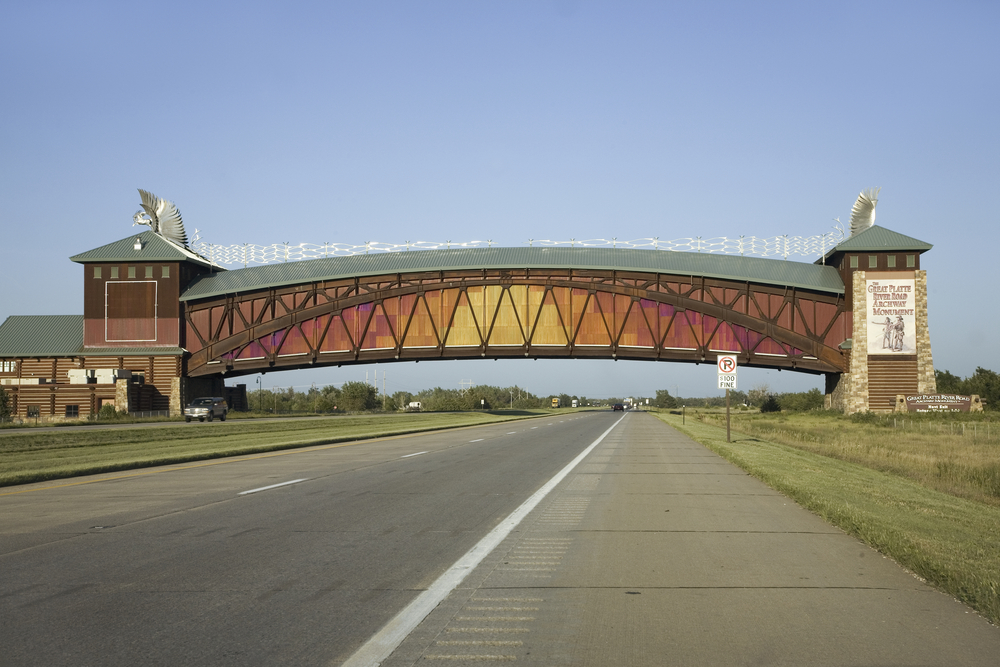 Driving to Sandhills Is One Of The Best Things To Do In Nebraska
For nature lovers, one of the best things to do in Nebraska is going on a drive to Sandhills. The region is filled with grasslands, shallow lakes, and dunes, a few of which are 300 feet high as well.
This is one of the most scenic drives in the USA. It will take you through lots of quirky sights, both natural and man-made.
The drive starts from Grand Island and ends at Alliance, covering Carhenge on the way.
If you love drives, then this is one of the top places to visit in Nebraska.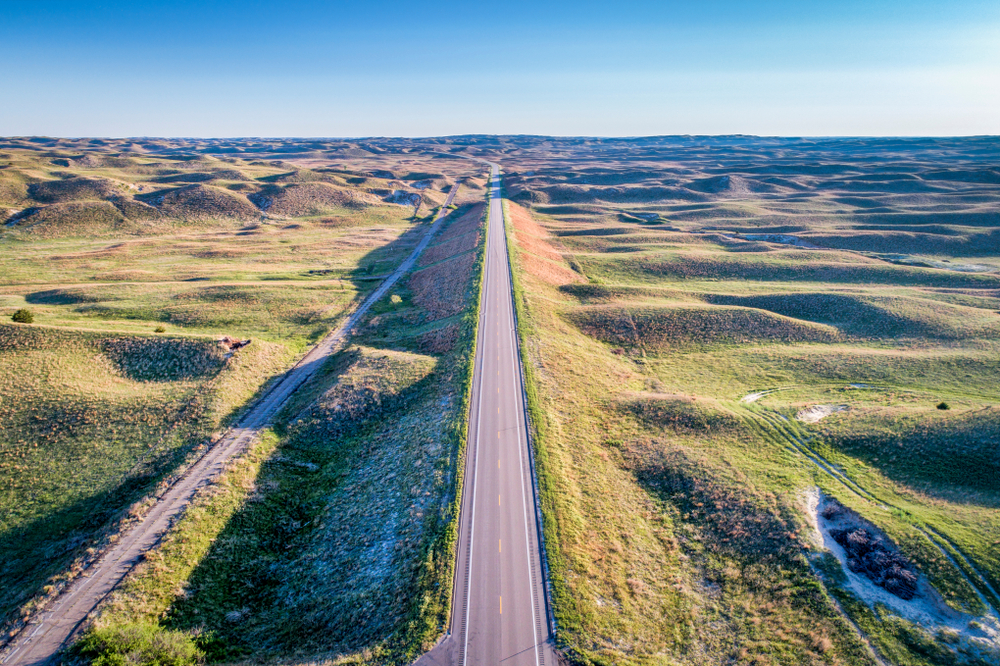 Explore the Cowboy Trail
Have you dreamt of traveling as a cowboy through the Great Plains? Then, one of the best things to do in Nebraska is to ride through the cowboy trail.
This is a 195-mile trail, the longest trail in the state, that follows the old Chicago and Northwestern railway lines. Definitely one of the coolest Midwest road trips!
There aren't any railway tracks here anymore, just gravel trail that covers the northern region.
Since it's not in use anymore, the trail is perfect for hiking, cycling, or horseback riding. You will pass through lots of beautiful farmlands, prairies, and landscapes on the trail.
There are a lot of towns on the way too. So, you can always spend a night and enjoy the trail for a couple of days.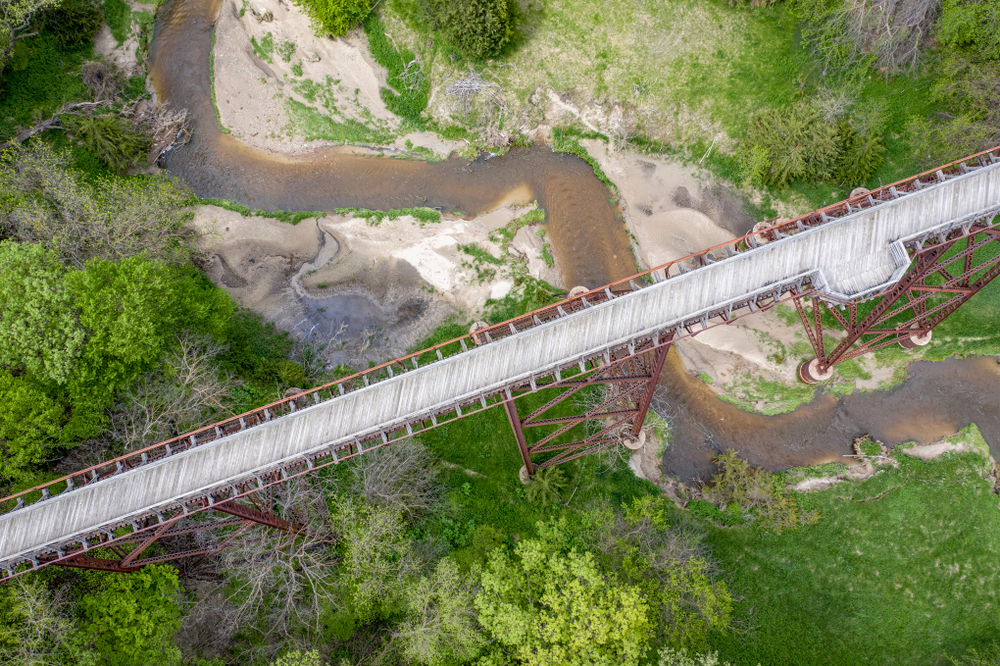 Toadstool Geological Park
There are lots of beautiful and unique things to see in Nebraska, Toadstool Geological Park being one of them.
One of the most interesting attractions in Nebraska, this park is filled with badlands and rock formations that resemble a toadstool.
If you love hiking, then one of the best things to do in Nebraska is climbing and jumping from one rock to another. And if you are lucky, you might find some fossils here as well.
For hikers, this place is a paradise as there are different hiking trails of varying difficulties to check out here. The longest trail is 5 miles long and will offer you some stunning views.
Toadstool Geological Park is a great place for a picnic or overnight camping in Nebraska!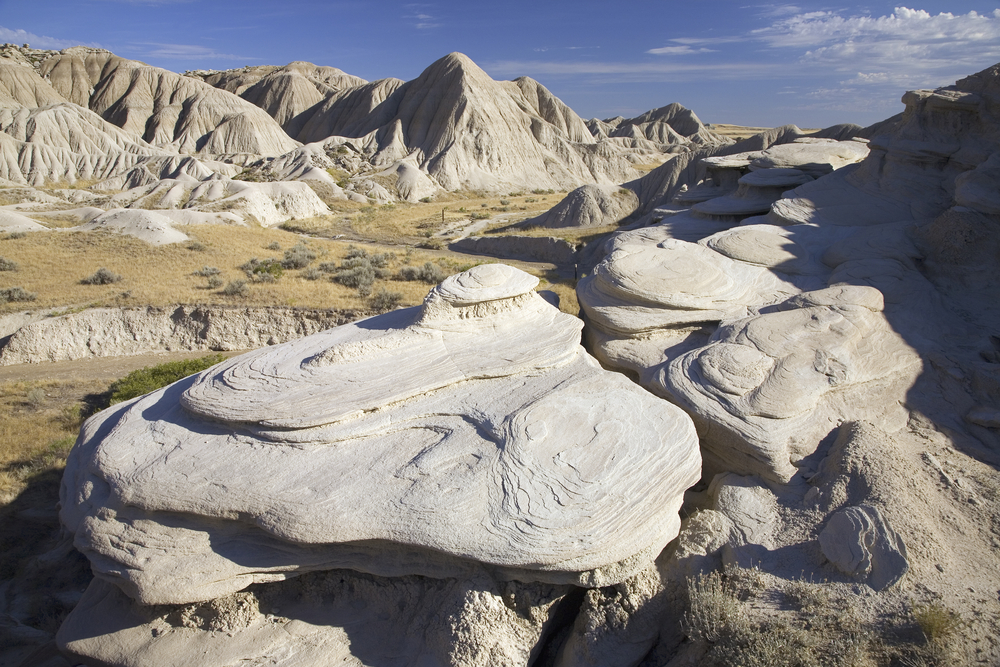 Lauritzen Gardens
Do you love long walks in a garden? Then, one of the best things to do in Nebraska is to stroll through the beautiful Lauritzen Gardens in Omaha.
There are many fun things to do in Omaha NE and stopping here is one of them.
This peaceful garden is a great place to relax on your trip amidst a variety of flora. This attraction in Nebraska was opened in 1982 and features acres of themed gardens.
Visitors will find a lot of plant species here, including the native plants of the region.
Enjoy a walk through the Victorian-style gardens where there is a rose garden, a Japanese garden, and a greenhouse.
If you wish to learn more about this garden, then you can also visit the Visitor Center. Here, you will find plant exhibits and information on the plant species found here.
For a memorable romantic experience, plan your trip to the garden during a floral festival or a holiday decoration.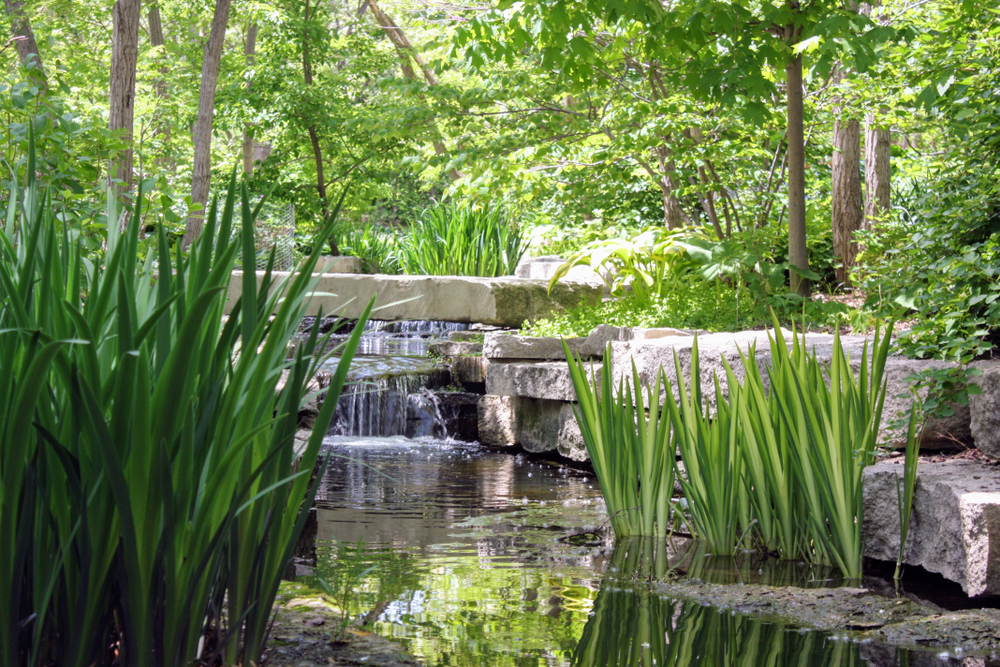 Niobrara National Scenic River
Another offbeat attraction in Nebraska that you should visit is the Niobrara National Scenic River.
If you are traveling with family or friends, you can turn it into a camping trip. Stay overnight on the river banks of this scenic river. That's not all though!
There is a 76-mile section of the river converted to a national park to preserve the environment. Visitors can explore the park and enjoy the many outdoor activities available here.
This is one of the best places for water activities, especially in summer. From tubing to kayaking, you can make the most of the 300-mile-long Niobrara River.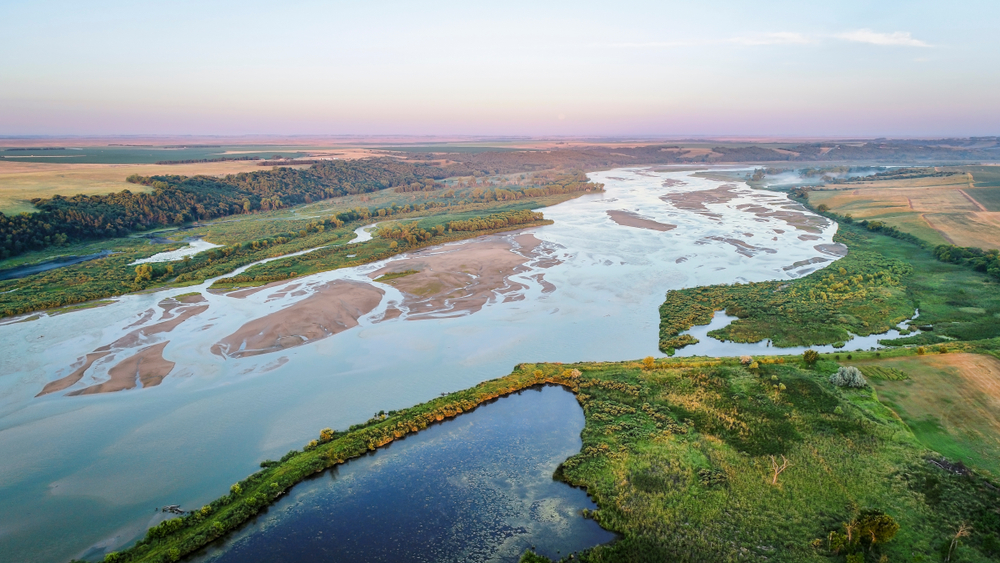 Packing List For Visiting Nebraska Attractions
If you will be traveling, either by plane or by car to Nebraska here are some tips on how to pack lightly.
A concealed travel pouch may be one of the most important items you bring along when visiting Nebraska attractions.
It is always important to protect your personal information. Identity thieves are everywhere.
This unisex RFID blocking concealed travel pouch is lightweight and comes in several colors. It has lots of organization to give you peace of mind.
You can place it under your hiking clothes next to your body to carry your ID safely.
If you have a pouch already that does not come with the RFID protection, as I do, these RFID sleeves are the perfect solution.
This configuration comes with enough credit card sleeves that the entire family would be protected. They are slim too, so they will easily fit into your pouch or wallet.
If you are planning on taking a lot of pictures with your phone you will definitely want to consider an external charging battery. This Anker high-speed phone charging battery is the exact one I carry with me on all of my trips.
It can be used on a variety of phones, not just an iPhone like I have. And wow is it fast!
I like that it holds its charging capabilities for several uses so I do not have to worry about it while out and about, and if I forget to recharge it at night, it will still be good to go the next day.
My daughter gifted me with this FugeTek selfie stick and tripod setup for my birthday. I absolutely love it! It is made of lightweight aluminum and is so easy to use.
It has Bluetooth connectivity and is a breeze to use for taking selfies when experiencing events in Nebraska.
Hydration is so important when traveling. You want to remain hydrated throughout your travels to support your immune system which in turn will be stronger to fight off any germs you will encounter during your travels.
You will want to bring your own refillable water bottle with you.
I never leave home on a trip without my Bobble filtration bottle. The 18.5-ounce size is perfect for hiking and it fits nicely in the pocket of a backpack.
When filled with water, it is not too heavy to carry. And the charcoal filter ensures fresh clean water whenever you fill the Bobble.
Perhaps you are traveling a long distance and packing space is a premium in your suitcase, or in your car.
Then this set of collapsible silicone foldable water bottles would work well for you. Would not take up much space at all.
You will want a backpack or daypack with you to store snacks, your water bottle, phone, extra clothes, etc.. when hiking This foldable water-resistant backpack would be great
It is very affordable and is available in many color options for you to choose from. The fact that it folds down into a zippered pouch will make it easy to pack.
—
There are so many fun things to do in Nebraska!
You'll want to give yourself plenty of time to explore all this historic and beautiful state has to offer.
From historic sites, unique museums, beautiful parks, and scenery, the Cornhusker State truly has something for every type of traveler.