Looking for the best things to do in Omaha, NE?
Then you've come to the right place! I was born and raised in the Midwest, and I know that it is full of some vibrant and exciting cities.
Omaha Nebraska is no different!
There are plenty of things to do in Omaha, especially if you are interested in Pioneer history.
On top of the several Pioneer-themed museums, there are also art museums, beautiful parks, and historic sites and buildings.
Just outside of Omaha you can also find several parks and quiet secluded cabins, which are a great option if you are thinking about staying to explore Omaha for a few days.
Let's take a look at the 15 best things to do in Omaha, Nebraska that you don't want to miss!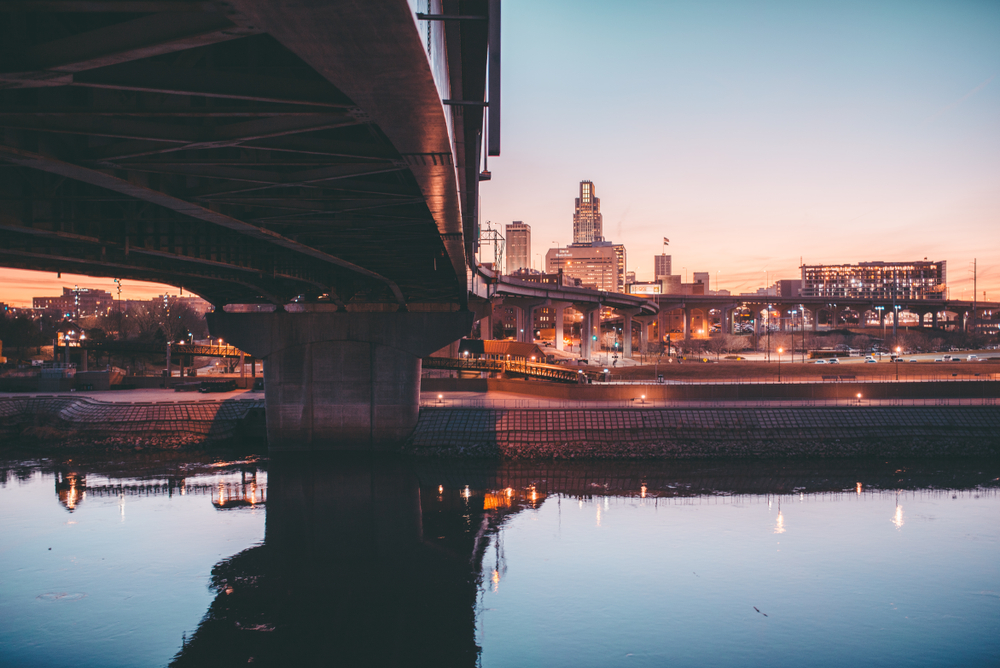 15 Best Things To Do In Omaha NE You Shouldn't Miss
Admire The Art In The Joslyn Art Museum
Not only is the Joslyn Art Museum one of the top things to do in Omaha it is also free to enjoy.
The art museum is two floors with a cafe, shop, and sculpture garden.
Throughout each floor, you'll find art from all over the world and some of it is as old as at least the Medieval period.
You'll be able to admire art from Asia, Europe, Latin America, the American West, and Native American Nations.
The Joslyn Art Museum also has a section of the museum that is dedicated to special exhibits.
These exhibits may change several times a year, or be longer temporary exhibits.
Before your visit, make sure to check out what the current special exhibit is!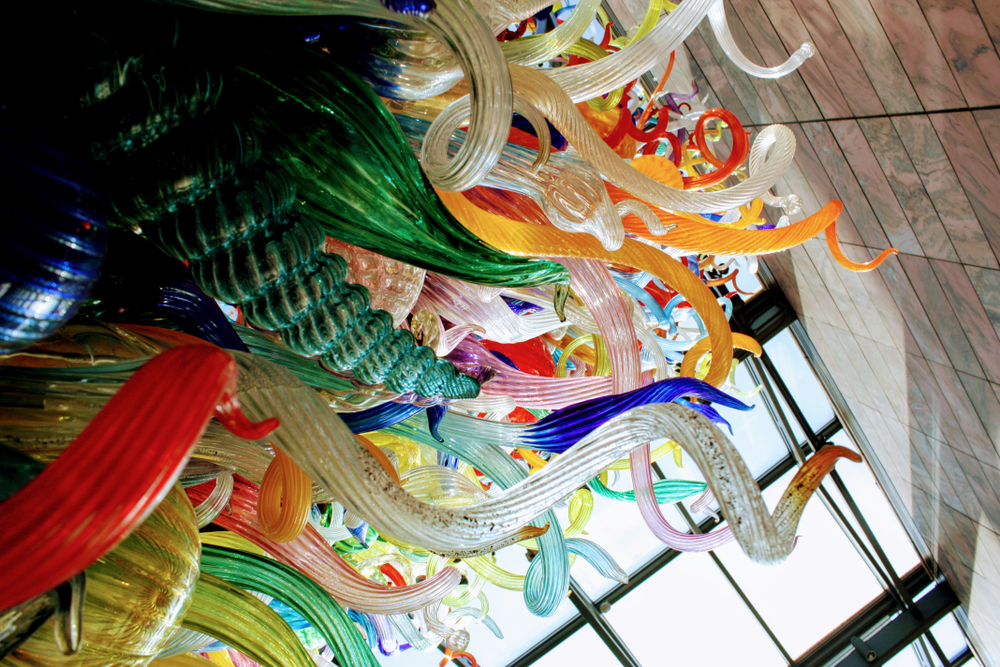 Learn About The American West At The Durham Museum
You can find the Durham Museum in what was once the Omaha Union Train Station.
There is a small entrance fee to enter the museum, and the price is dependent on age.
The stunning architecture of the Art Deco building just adds to the experience of walking through the museum.
At the Durham Museum, you'll learn all about Omaha's history, heritage, and the early Pioneers.
There are several permanent exhibits, and many of them are even interactive.
Explore the architecture of early buildings during the Pioneer period, check out a classic covered wagon, and experience shopping in a grocery store from 1915.
If you are traveling with kids, this is one of the most fun things to do in Omaha if you're interested in Pioneer and American West history. Bringing your family to the museum would be a fantastic getaway!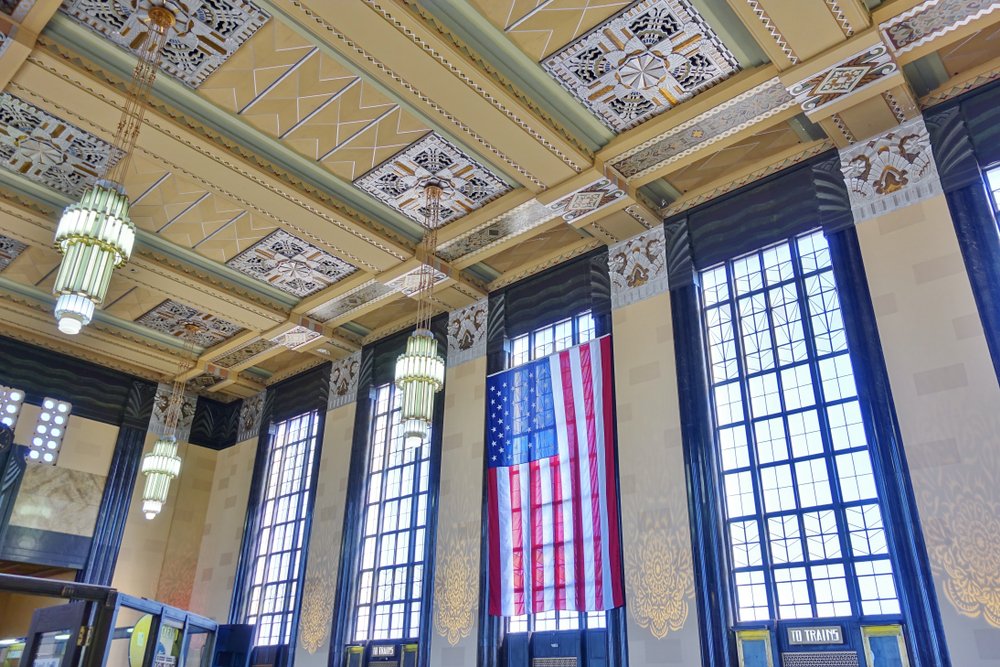 Visiting Fontenelle Forest Is One Of The Best Things To Do In Omaha
The Fontenelle Forest spans 1,400 acres and is a beautiful forest escape.
Because Fontenelle Forest is so large, part of it is in Omaha and part of it is in Bellevue.
In Omaha, you can visit the Neale Woods section of Fontenelle Forest.
The Neale Woods area makes up about 600 acres of the forest.
You can explore hiking trails along the Missouri River, go bird watching, admire the local flora and fauna, or stroll through the seasonal butterfly garden.
There is an entrance fee to the park, but there isn't a visitor's center.
Instead, you pay your entrance fee at the entrance gate, typically via a lockbox.
For those looking to escape the city for a bit, you can not go wrong with some time spent in Fontenelle Forest.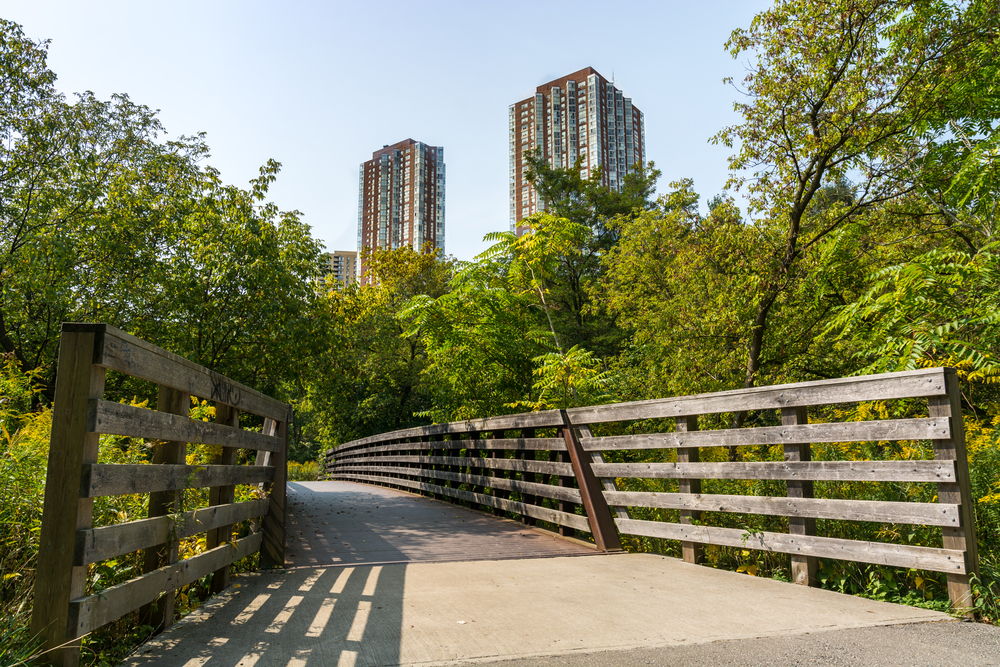 Visit The Saint Cecilia Cathedral
One of Omaha, Nebraska's most iconic pieces of architecture is the Saint Cecilia Cathedral.
The cathedral is located in Omaha's Gold Coast Historic District and it's really hard to miss.
That's because it's one of the ten largest cathedrals in the US.
It is also a National Landmark and is frequently listed as one of the most impressive and beautiful cathedrals in the United States.
The groundbreaking for the cathedral took place in 1905, but it took 50 years to finish building.
Unlike many of the other cathedrals in the US built at this time, Saint Cecilia is designed in the Spanish Renaissance Revival style.
Inside it features domed ceilings, beautiful stained glass, and arched entryways.
Towards the back of the cathedral is a massive pipe organ that was recently built and added to the space.
The Saint Cecilia Cathedral is a stunning piece of Omaha architecture and history that is definitely a must-see.
It certainly would make a wonderful bucket-list road trip.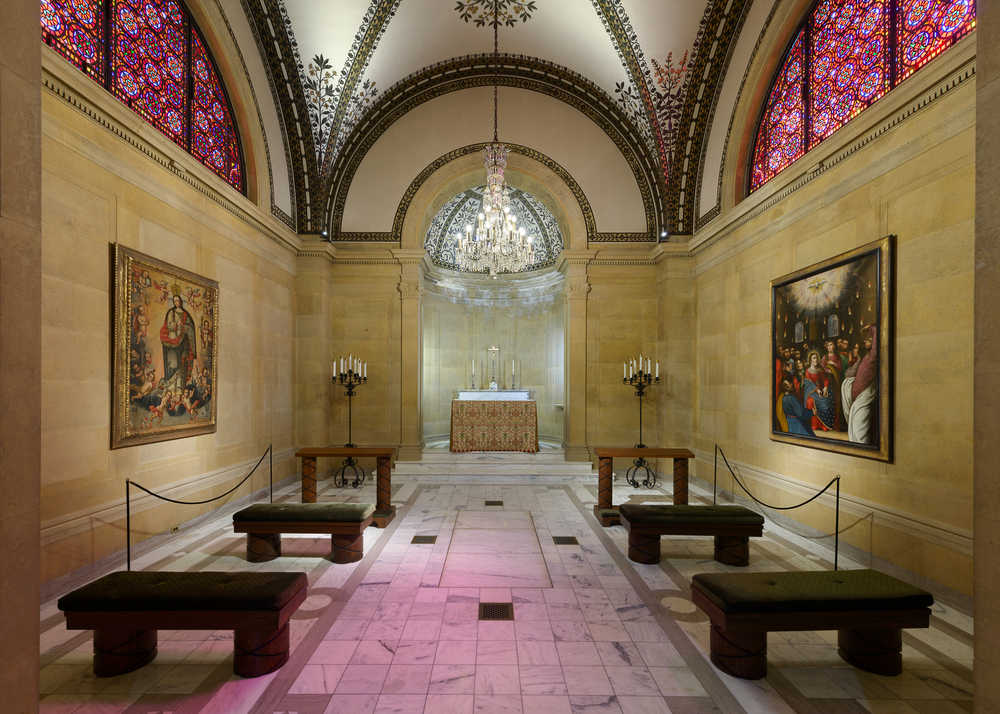 Stroll Through The Lauritzen Gardens
You don't want to miss a chance to stroll through the Lauritzen Gardens while you are looking for things to do in Omaha NE.
The Lauritzen Gardens are an extensive botanical garden in Omaha that features a series of one-of-a-kind four-season plant displays.
With about 100 acres of land in the middle of urban Omaha, it's a beautiful oasis any time of year thanks to the different seasonal gardens.
In the 4 acre arboretum, you will find a selection of representatives from the seven regional plant groupings.
There are examples of prairies, an oak-hickory forest, a savannah, marshland, a flood plain, a maple-linden forest, and a farmstead windbreak.
Even if you come back to visit every year, you'll find a new garden that has been created.
It's fun to see the changes that happen throughout the garden year after year and experience the new gardens.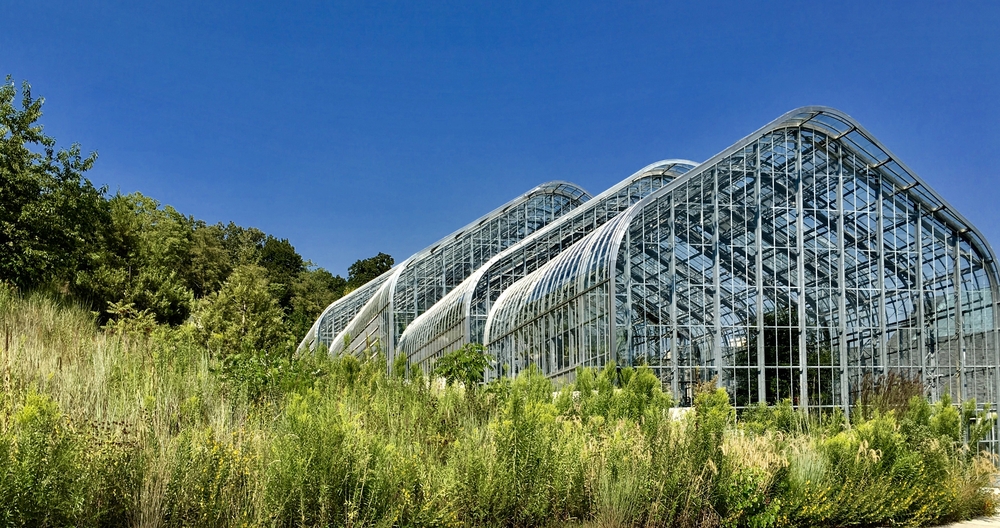 The Museum Of Shadows Is One Of The Most Unique Things To Do In Omaha
If you're looking for a more unique activity while exploring Omaha, Nebraska, I suggest a trip to the Museum of Shadows.
The Museum of Shadows is known as the 'Most Haunted Museum in the World'.
That reputation means you're in for an interesting experience if you enjoy spooky activities. It's especially fun to visit around Halloween!
Inside, you'll find the largest collection of supposedly verified haunted objects in the world, from all over the world.
This unique museum has been featured on several Travel Channel and Discovery Plus shows, including Ghost Adventures and Fright Club.
Touring this museum is not for the faint of heart though.
Many guests report odd things happening or touching them as they walk through the display rooms.
So if that isn't your thing, best to avoid this unique Omaha Nebraska activity.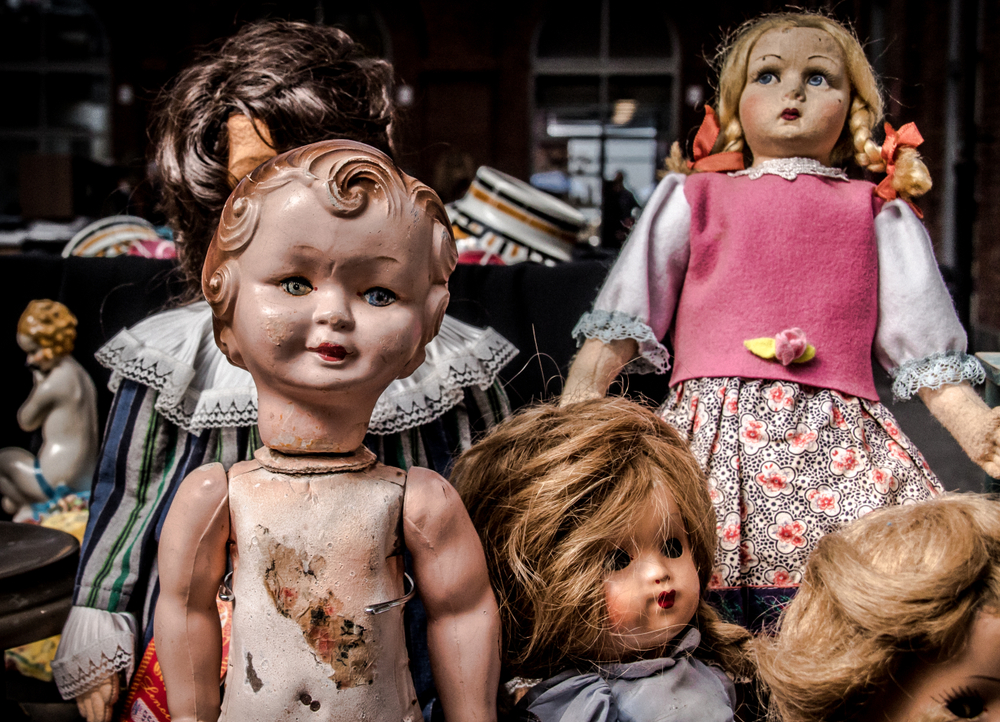 Walk Along The River At The Gene Leahy Mall
Take a nice walk along the Missouri River in the Gene Leahy Mall if you want to get a good view of the Omaha skyline.
The mall has been recently undergoing major renovations, so you'll want to check to make sure it is open when you visit.
If it is open, it's a lovely place to get a way from the hustle and bustle of the city streets without having to leave the city.
There are playgrounds, walking trails, and even an amphitheater that hosts live music in the warmer months.
With the new renovations, you can expect an even bigger and better park experience in the Gene Leahy Mall.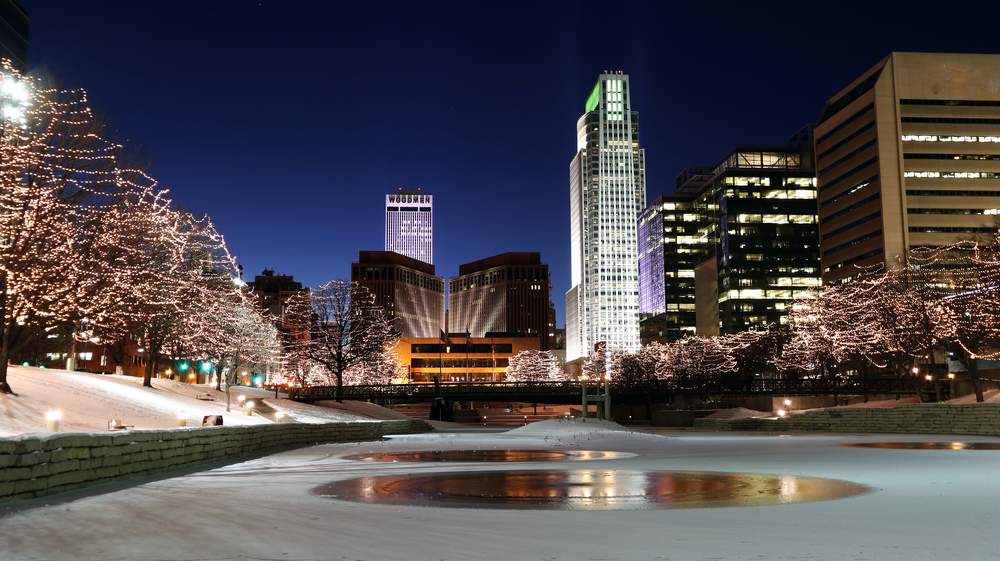 Spend Some Time At The Memorial Park And Rose Garden
The Memorial Park and Rose Garden is a beautiful and poignant place to visit in Omaha NE.
To get the full effect of the Rose Garden, I suggest visiting in the late spring or early summer when most of the roses will be in full bloom if you are able.
The memorials and statues within the park were originally dedicated to the soldiers of World War II.
Eventually, the dedication came to include everyone from Douglas County who has served in the armed forces.
It is a beautiful place to walk through and is typically not very crowded.
On the Fourth of July, the Memorial Park is where the big celebration and fireworks display is held every year.
this Omaha Nebraska destination is definitely worth a visit all year round though.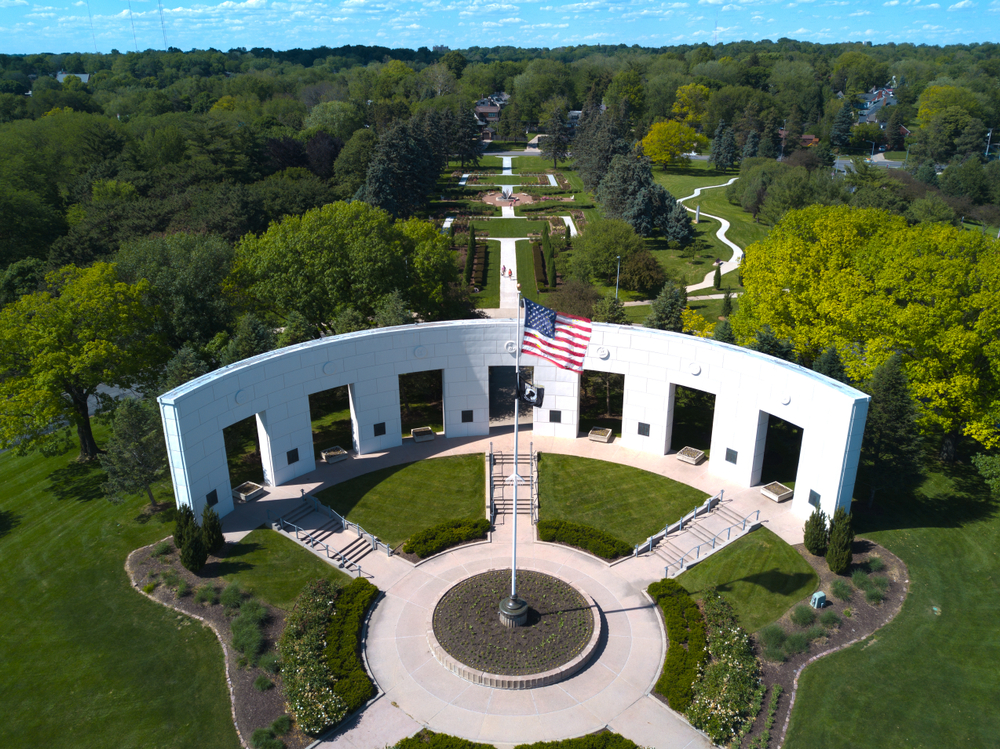 Experience The Holy Family Shrine
You will need to travel about 30 minutes outside of Omaha to experience the Holy Family Shrine, but it is totally worth it.
While it may not be right in Omaha, it's still one of the things to do in Omaha that travelers love to see.
You can find it just off of I-80, which runs through Omaha, at the Gretna exit.
At the site of the shrine, there is a visitor's center that has a courtyard and stone path that leads to the shrine itself.
The shrine sits in a prairie near the edge of a mountain.
With huge glass windows that seem to look out into the sky, stone floors, a stream that runs through the door and onto either side of the inside of the chapel, and large wood beams, its architecture is stunning.
The shrine and the visitor's center are open daily for visitors and it is free to tour.
If you are Catholic or simply wish to experience a Catholic Mass in the shrine, they hold Mass every Saturday morning.
However, even those who aren't religious can appreciate and experience the beauty of the Holy Family Shrine.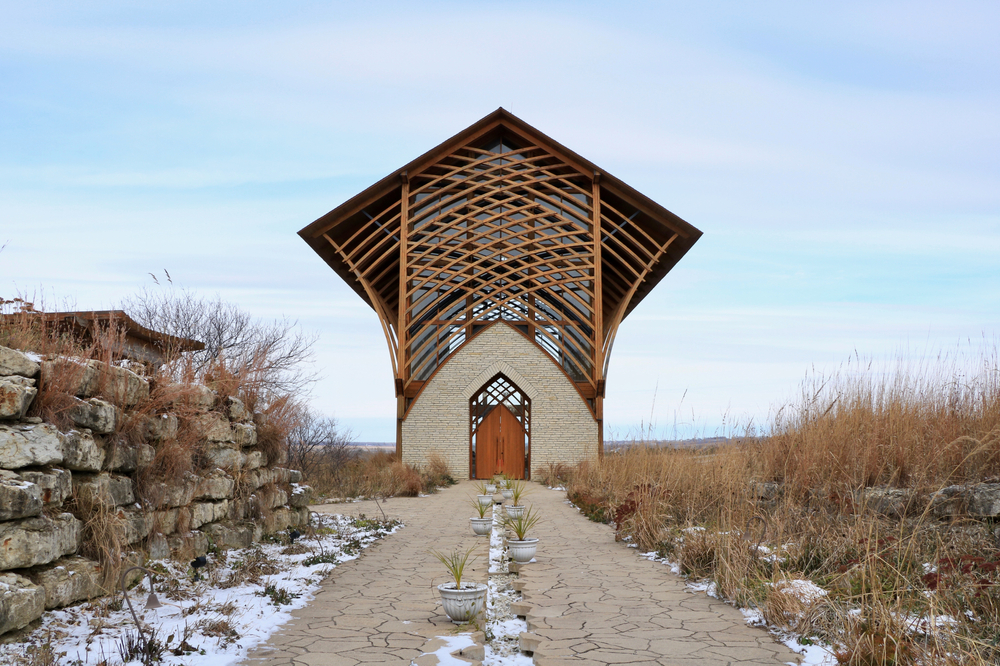 Lewis And Clark National Historic Trail Headquarters And Visitor Center
The Lewis and Clark National Historic Trail runs through most of the Midwest and into the West.
It is considered the trail that Lewis and Clark took, with the guidance and help of Sacagawea.
The route was made famous thanks to the Lewis and Clark Expedition following the Lousiana Purchase.
The Headquarters and Visitor Center marks one of the stops Lewis and Clark took as they progressed through the Midwest.
It has been placed in Omaha because at the time of the expedition, it was a part of Missouri. It was known for being a location where the duo often held council with Native American Chiefs regarding their trip.
At the center, you'll learn all about the Lewis and Clark Expedition, the two explorers themselves, and the Native Americans who assisted in their progress.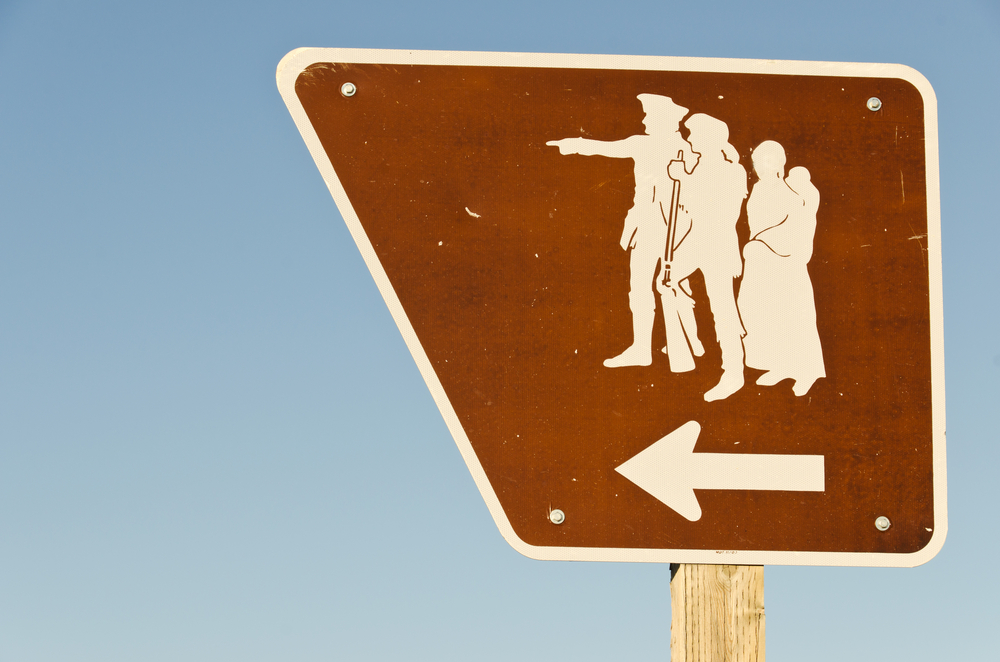 Joslyn Castle Is One Of The Best Things To Do In Omaha Nebraska
One of the coolest activities in Omaha Nebraska is to take a tour of the Joslyn Castle.
The Joslyn Castle was actually the private mansion home of George and Sarah Joslyn, who were famous Omaha socialites in the early 19th century.
Constructed in 1903, the castle features a Scottish Baronial architectural design that is stunning as it sits on top of a grassy hill.
It is surrounded by manicured lawns, planned gardens, a conservatory, and other smaller buildings.
The castle was put on the National Register of Historic Places in 1972 and has been a designated Omaha landmark since 1979.
The grounds are free and open to the public, but to tour the inside of the castle you need to reserve a tour time and pay a small fee.
If you want to experience a little bit of Europe in the middle of urban Omaha, spend some time at Joslyn Castle.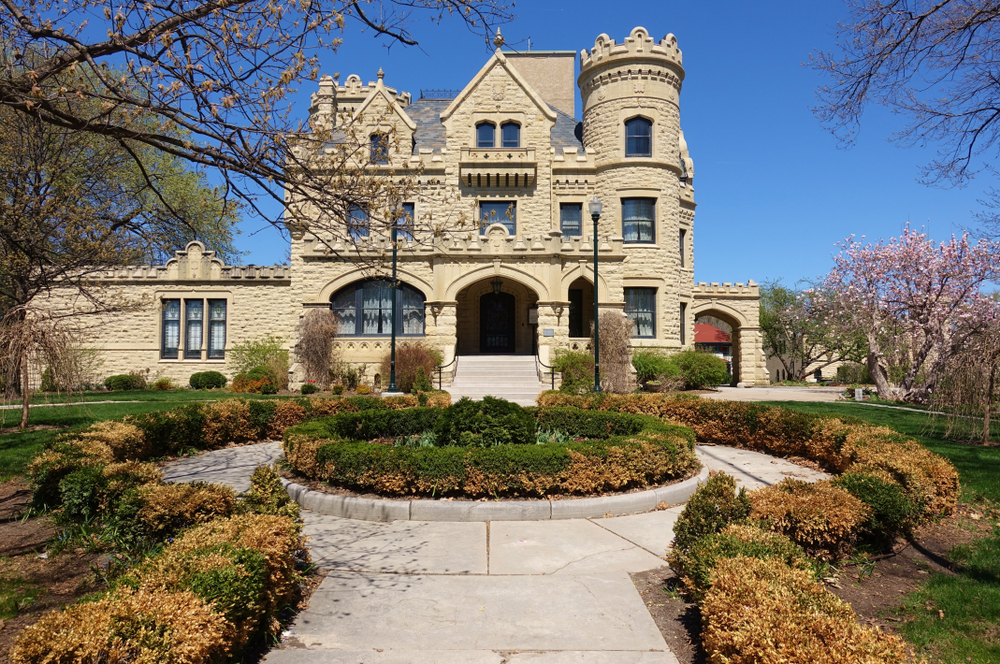 Learn About Latin Art And History At El Museo Latino
El Museo Latino was the first museum in the Midwest dedicated to Latin Art and History and originally opened in 1993.
Even today, it is one of only 17 Latino museums currently open and operating in the US.
Being the first such museum in the Midwest, it also serves as a hub for Latino studies in the Midwest.
When you visit you can expect to see a rotating schedule of exhibits that highlight different aspects of Latin history, art, culture, and more.
Part of the museum's aim is to teach others about Latin culture.
They often have films, lectures, art classes, and more that teach various parts of the culture.
During September for Spanish Heritage Month and various Latino holidays, they hold special programs and events.
It's a cool way to learn about the Latino culture and heritage and how that is often reflected in the Midwest.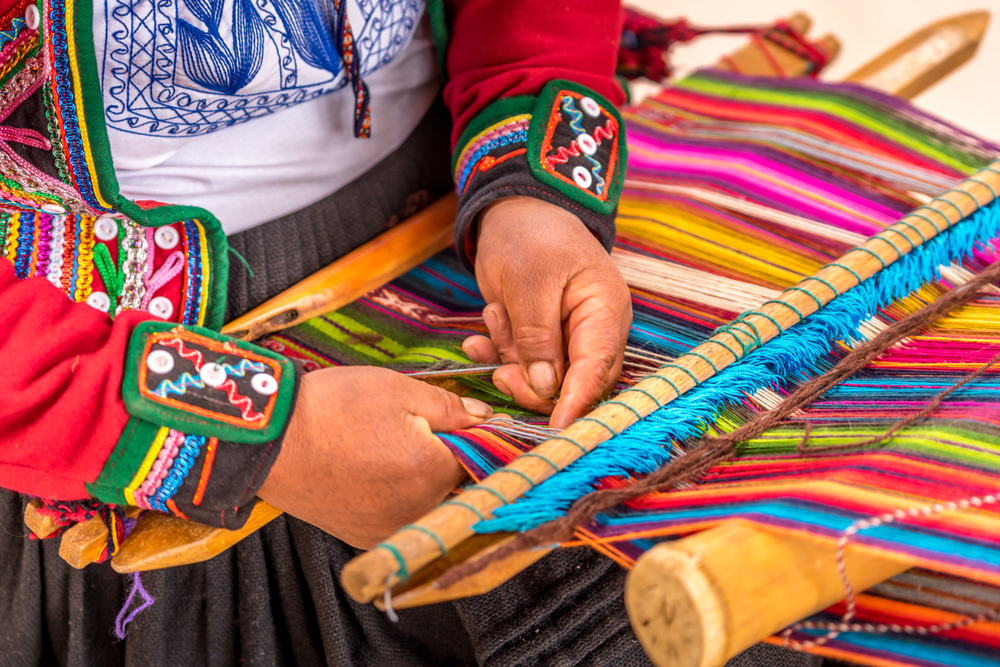 Find Adventure At Eugene T. Mahoney State Park
The Eugene T. Mahoney State Park is another Omaha activity that isn't actually in Omaha.
It is about 30 minutes south of Omaha, but it's a super popular state park that people from Omaha, or those who are visiting, love to explore.
The biggest reason for the love of Mahoney State Park is how unique it is, at least for a state park.
There are of course state park classics like hiking trails and chances to see the local flora and fauna.
But Mahoney State Park has a ton of other really cool amenities.
You can try indoor rock climbing, scale the treetops. And have fun in the treetop ropes course, or climb the observation tower.
If you visit when the weather is bad, don't worry. You can spend the day having fun at the indoor aquatic center and playground.
You can also spend a few days in the park thanks to the massive lodge and many Mahoney State Park cabins that are on the grounds.
It is a really fun way to get out of the city and enjoy the great outdoors, especially in the fall!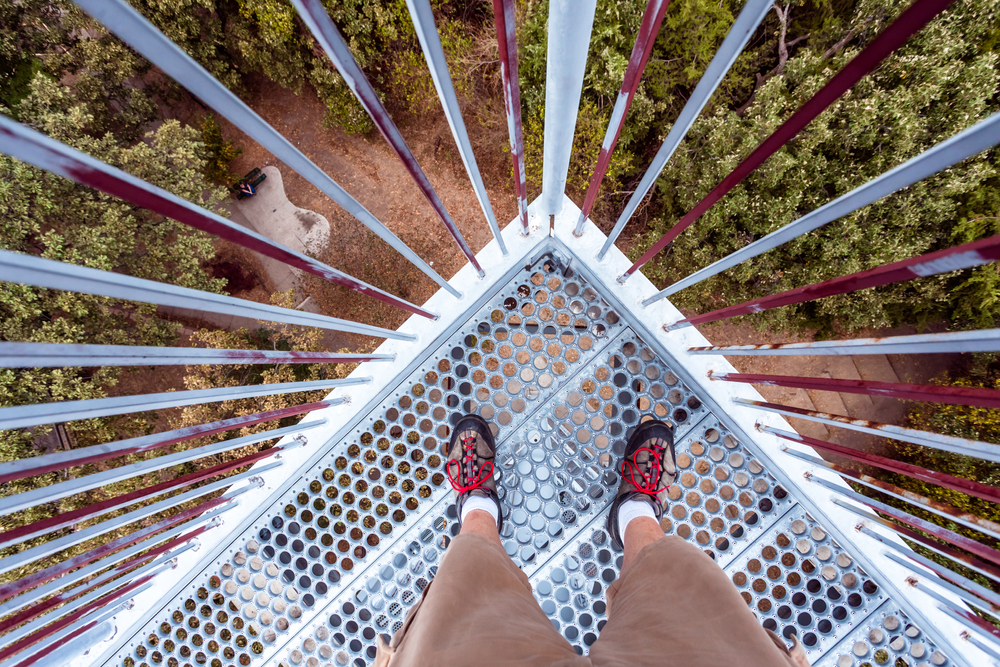 Explore The Gerald R. Ford Birthsite And Gardens
Former President Gerald R. Ford was actually born and lived, for a short time as a baby, in Omaha.
The site of the Gerald R. Ford Birthsite and Gardens was his grandparents' home, and after being born, Ford lived there for a few weeks.
Originally, a three-story Victorian mansion stood on the property, but after it burned down in 1971 the space was left vacant.
Shortly after Ford became President, a local businessman bought the plot with plans to make it a memorial site for President Ford.
When you visit the site now, you'll find a beautiful garden, a portico structure that represents the White House, and a pagoda that is meant to represent the original home President Ford was born in.
If you are interested in visiting prominent presidential places, then you will want to add the Gerald R. Ford Birthsite and Gardens to your Omaha Nebraska itinerary.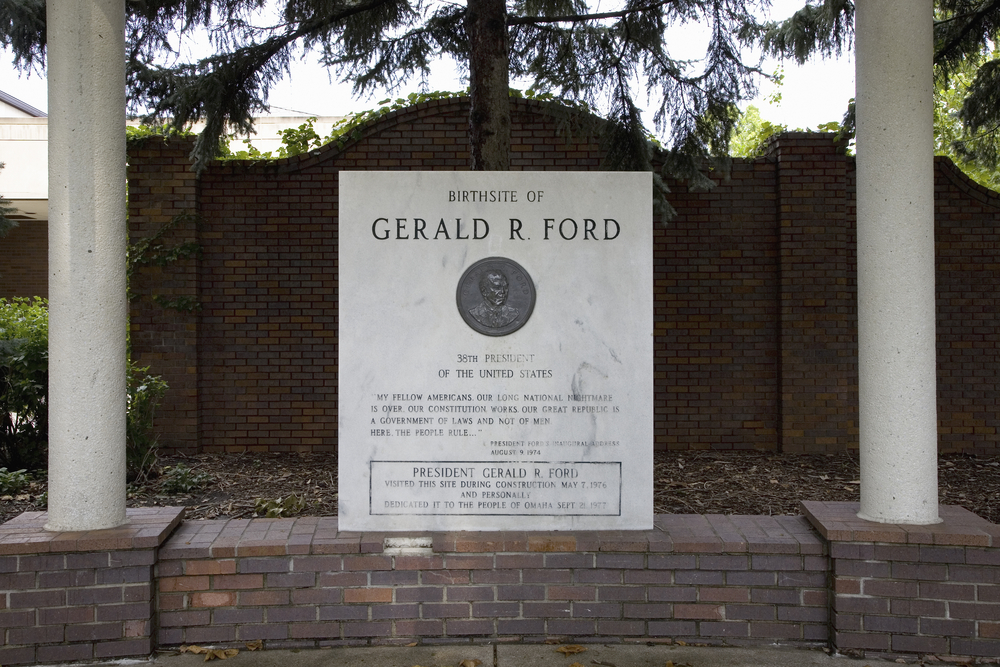 Walking The Bob Kerrey Pedestrian Bridge Is A Fun Thing To Do In Omaha
The Bob Kerrey Pedestrian Bridge is a relatively new addition to the Omaha skyline.
Constructed in 2008, the bridge crosses the Missouri River and connects Council Bluffs, Iowa, and Omaha, Nebraska.
Because only pedestrians and cyclists can use the bridge, it is a fun and safe way to get between Iowa and Nebraska.
You can access the entrance of the bridge from the Port of Omaha Miller Landing.
It is 3,000 feet long and sits about 52 feet above the river.
Not only is it fun to walk across it and sight see, but the bridge itself is also a really cool piece of architecture.
It features several curving sections that you can admire from the shores of the Missouri River.
If you're looking for a free Omaha activity that is also fun, take a walk on the Bob Kerrey Pedestrian Bridge.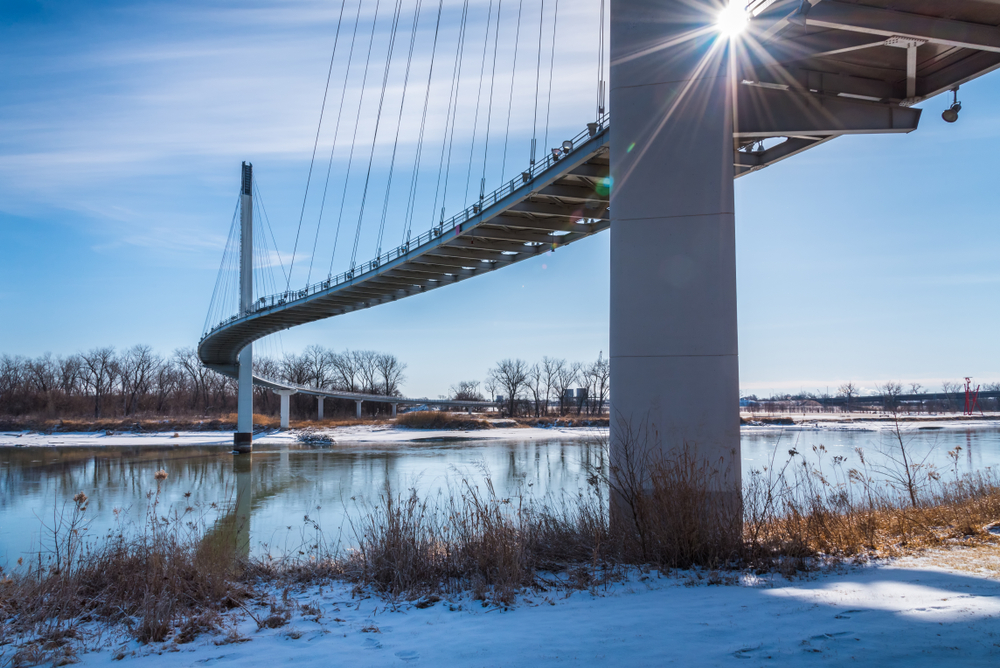 Packing List For Visiting Omana Nebraska
A concealed travel pouch may be one of the most important items you bring along when visiting Ohio apple orchards. It is always important to protect our personal information.
This unisex RFID blocking concealed travel pouch is lightweight and comes in several colors. It has lots of organization to give you peace of mind.
If you have a pouch already that does not come with the RFID protection, as I do, these RFID sleeves are the perfect solution.
This configuration comes with enough passport and credit card sleeves that the entire family would be protected. They are slim too, so they will easily fit into your pouch or wallet.
If you are planning on taking a lot of pictures with your phone you will definitely want to consider an external charging battery.
This Anker high-speed phone charging battery is the exact one I carry with me on all of my trips.
It can be used on a variety of phones, not just an iPhone like I have. And wow is it fast!
I like that it holds its charging capabilities for several uses so I do not have to worry about it while out and about, and if I forget to recharge it at night, it will still be good to go the next day.
My daughter gifted me with this FugeTek selfie stick and tripod setup for my birthday.
I absolutely love it! It is made of lightweight aluminum and is so easy to use. It has Bluetooth connectivity and is a breeze to use for group shots or that perfect selfie! 
I was not a fan of packing cubes until I started to use them! This is the exact set of packing organizers I use whenever I travel.
I cannot believe how much they really do help with the organization. If you have not considered packing cubes, I would recommend giving them a try.
Hydration is so important. You want to remain hydrated to support your immune system which in turn will be stronger to fight off any germs you will encounter during your travels.
You will want to bring your own refillable water bottle with you.
I never leave home on a trip without my Bobble filtration bottle. The 18.5-ounce size is perfect for travel and it fits nicely in the pocket of a backpack or your purse.
When filled with water, it is not too heavy to carry. And the charcoal filter ensures fresh clean water whenever you fill the Bobble.
Perhaps you are traveling a long distance and packing space is a premium in your suitcase, or in your car. Then this set of collapsible silicone foldable water bottles would work well for you. Would not take up much space at all.
You will want a backpack or daypack with you to store snacks, your water bottle, phone, extra clothes, etc.. This foldable water-resistant backpack would be great.
It is very affordable and is available in many color options for you to choose from. The fact that it folds down into a zippered pouch will make it easy to pack.
Perhaps you need a more substantial backpack for your travel. This antitheft backpack has a charging port, is water-resistant, and can comfortably carry up to a 15.6″ laptop.
You will be walking more than usual during your weekend getaways in Ohio. A sturdy and comfortable pair of walking shoes are a must-have. These waterproof all-season shoes are extremely affordable and yet fashionable.
Mostly everyone is familiar with the Skechers brand, and these Air Run high fashion sneakers come in a lot of colors to match your outfits and are still affordable.
If you are visiting Ohio in warmer weather, maybe you want a pair of sandals to wear to dinner or to the local cafe, I highly recommend these Vionics adjustable strap orthotic sandals.
I have several pairs of Vionics that I bring with me *everywhere* I travel. They are very comfortable and have orthotic footbeds that cradle and support your feet.
We all need to protect our eyes from the sun's harmful UVA/UVB rays. These unisex polarized sunglasses come in a lot of lens colors and frame designs and are extremely affordable too.
If you are fond of the aviator-style of sunglasses these polarized aviators may interest you.
If you are in need of new luggage, this expandable soft side spinner luggage is affordable and comes in lots of colors.
If you like hard-sided better, then you may favor this hard-sided luggage set better. Both sets come with TSA locks and 8 wheels per piece.
—–
With so many fun and unique things to do in Omaha, it is hard to pick just one!
Whether you are looking to learn about the history and culture of the area, enjoy the great outdoors, admire art, or even explore a castle, Omaha Nebraska has it all.
Here are some suggestions for accommodations if you want to spend more time in Omaha Nebraska!
Have you had the opportunity to enjoy any of these fun Omaha activities?
I'd love to hear about your trip to Omaha in the comments!