If you're looking for a list of towns in Nebraska to visit, then you've come to the right place!
Nebraska is a state in the Midwest that often gets overlooked when people are planning trips to the Midwest.
But, like all the states in the Midwest, I think Nebraska is full of things to do and places to stay if you just know where to look!
Nebraska is probably best known for being the home of the Great Plains, the Sandhills, and other unique landscapes.
However, Nebraska also has some exciting cities to explore, like Omaha and Lincoln.
Outside of the major cities in Nebraska, there are tons of cute small towns in Nebraska that are just waiting to be explored too.
On this list, I've found some of the cutest Nebraska small towns that you should explore.
Each of these Nebraska towns has something unique and fun to offer visitors that make them worth the drive.
I think you'll find plenty of places to explore on this list of Nebraska towns!
So, let's take a look at 15 of the best towns in Nebraska you have to visit.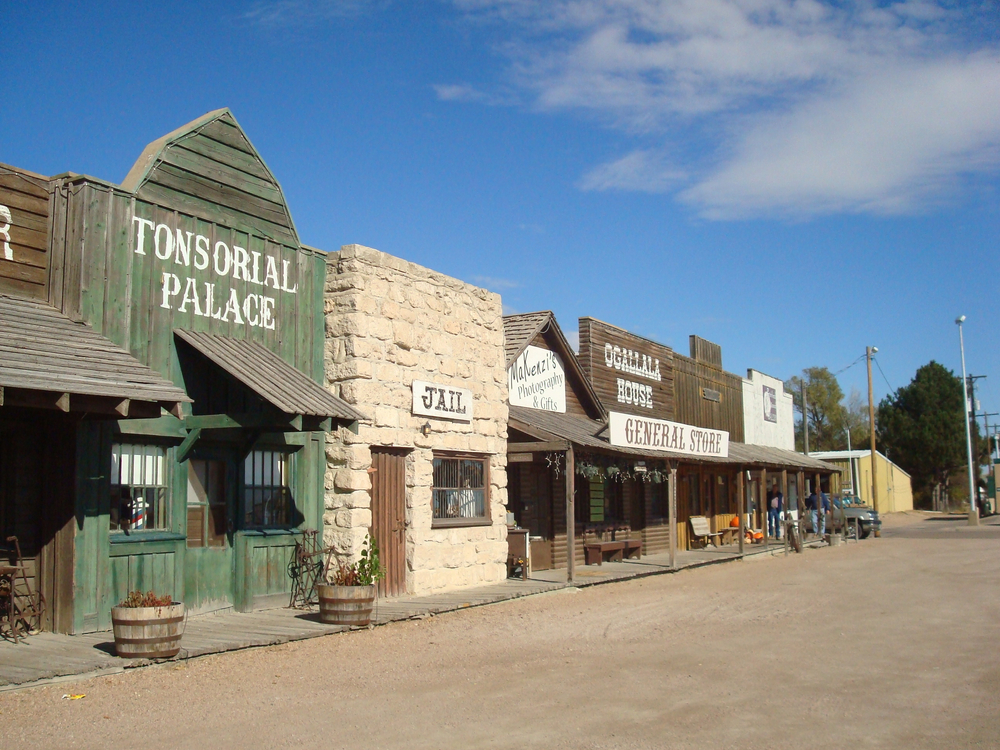 15 Small Towns In Nebraska You Must Visit
Stop By Columbus, One Of Nebraska's Biggest Little Towns
Columbus NE is a town in Nebraska that is actually more like a small city.
With a population of about 22,000, it's the 10th largest city in Nebraska. It's also the county seat for Platte County.
Being the county seat, Columbus has a lot of different activities and attractions for visitors to enjoy.
Columbus is known as the 'birthplace of public power' in Nebraska, thanks to the Loup Project.
The Loup Project was a way of providing jobs to those hit by the Great Depression, as well as a way of creating hydroelectric power.
In fact, the Loup Project is still responsible for providing hydroelectric power to Columbus.
Along with this unique history, Columbus is one of the Nebraska small towns that was often visited by the famous Buffalo Bill.
Buffalo Bill enjoyed visiting Columbus so much, and so often, that the first dress rehearsal of Buffalo Bill's Wild West Show took place in Columbus.
If you're looking for a Nebraska town full of Nebraska state history, then I suggest visiting Columbus.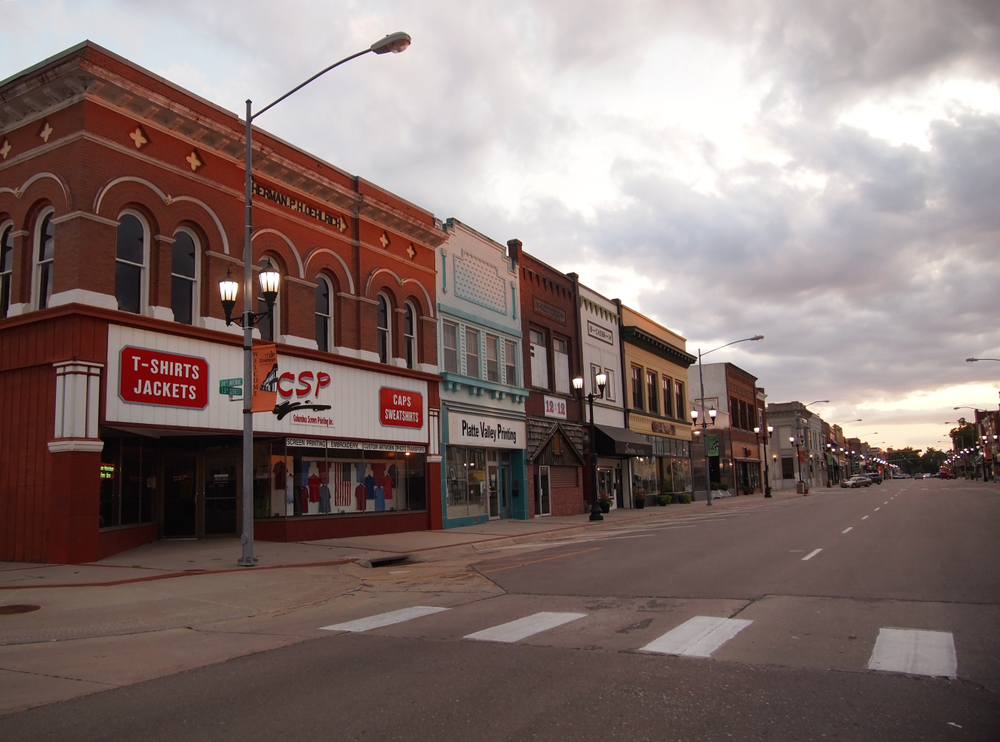 Ogallala Is One Of The Best Small Towns In Nebraska
You'll find tons to do in Ogallala Nebraska and around the town too.
Ogallala truly is a small town, with a population of just under 5,000 people.
The most popular thing to do in Ogallala is to spend the day at Lake McConaughy.
Lake McConaughy is Nebraska's largest body of water, so it attracts visitors from all over the state during the warm summer months.
You can go camping, swimming, boating, or just relax on the beach when you visit Lake McConaughy.
Along with the large lake, Ogallala has some other great attractions.
You can check out Front Street, which is made to look like the main street of an old west town, and tour the Cowboy Museum.
Ogallala also has a large lilac garden, art galleries, historic sites like the Historic Walk of Fame and Boot Hill, and lots more.
It's easily one of the most popular Nebraska small towns to visit!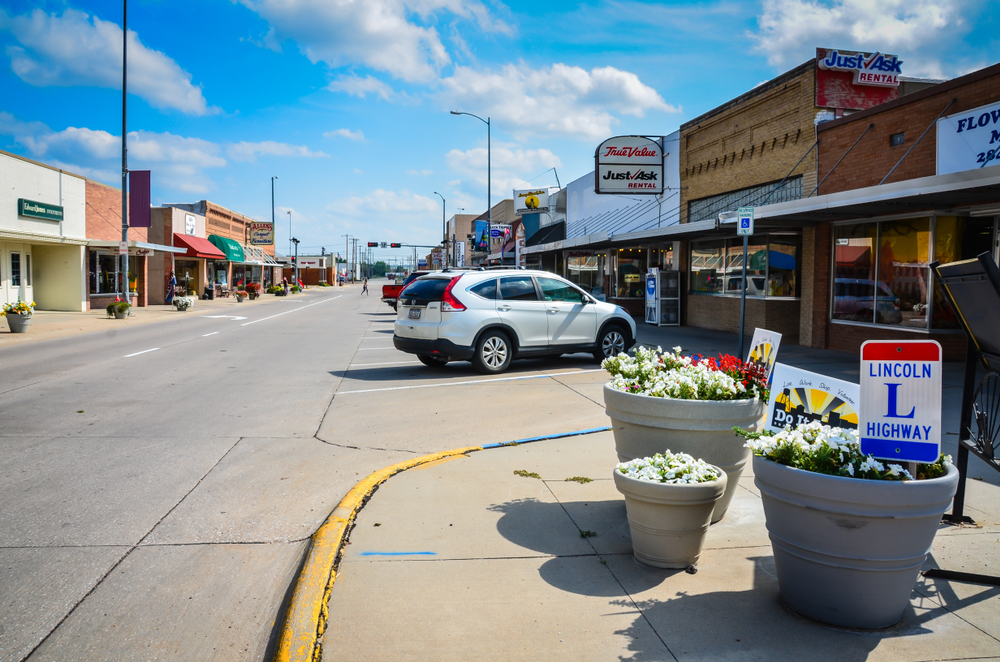 Bassett NE Is Home To One Of The Best State Parks In Nebraska
The town of Bassett is truly tiny, with a population of just under 1,000 people.
You'd think that a town that small wouldn't have much to offer.
But that's simply not true when it comes to this small town in NE.
In fact, Bassett is home to one of the best state parks in Nebraska.
The Long Lake State Recreation Area is a state park in Nebraska that is super fun to explore.
It's got a massive lake, Nebraska hiking trails to explore, opportunities for boating, and a nice campground.
Bassett also has a few art galleries, the Rock County Historical Museum, and boutique shops.
It's a small NE town that has plenty to offer visitors who are looking for a great day trip.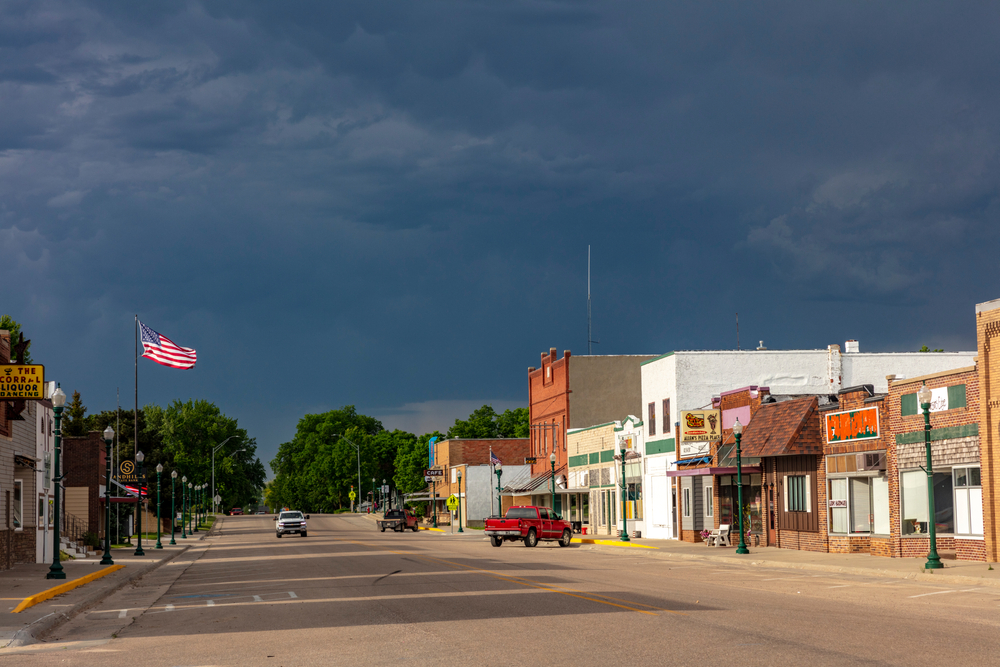 York Is Another Great Little City In NE
With a little over 7,000 people, York is actually considered a city in Nebraska.
However, it's a small city bursting with tons of small-town Nebraska charm.
In fact, the small city is actually a college town.
York College is located in York Nebraska and is one of the reasons people often stop for a visit in this Nebraska town.
The college has one of the best museums in town, the Clayton Museum of Ancient History.
Inside the museum, you'll find ancient artifacts from around the world.
There is also a children's museum, a playhouse, a living history farm, and the Anna Palmer Museum.
With tons of museums to explore, York is a great Nebraska town to visit if you love learning about history from around the world.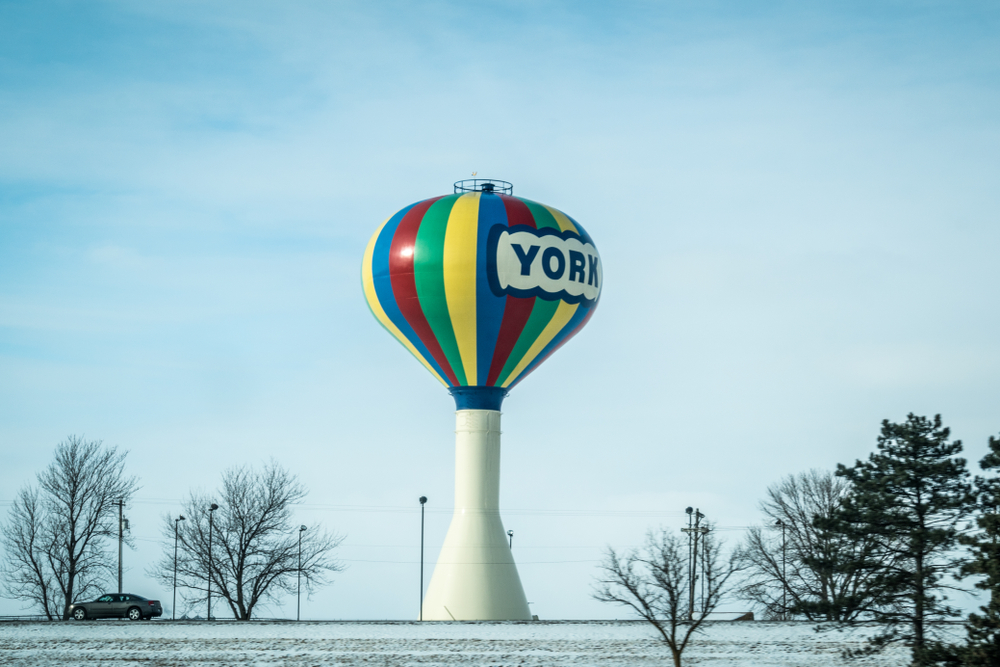 Harrison Is A Cute Small Town In Nebraska
Harrison NE truly is a small, small, town.
In 2010, only 251 people were listed on the town's census!
However, just because they don't have a huge population, doesn't mean there isn't anything to do or see in Harrison.
There are several cute bed and breakfasts and inns in historic homes located right in the heart of the town.
If you stay at one of these inns or B&Bs, you'll be able to easily walk around town and explore.
When you do, you'll find a wide variety of unique attractions.
You can see the Agate Fossil Beds National Monument, explore the Warbonnet Battlefield, or check out the Sioux County Historical Museum.
Finish your day at the Long Horn Bar for a taste of Harrison.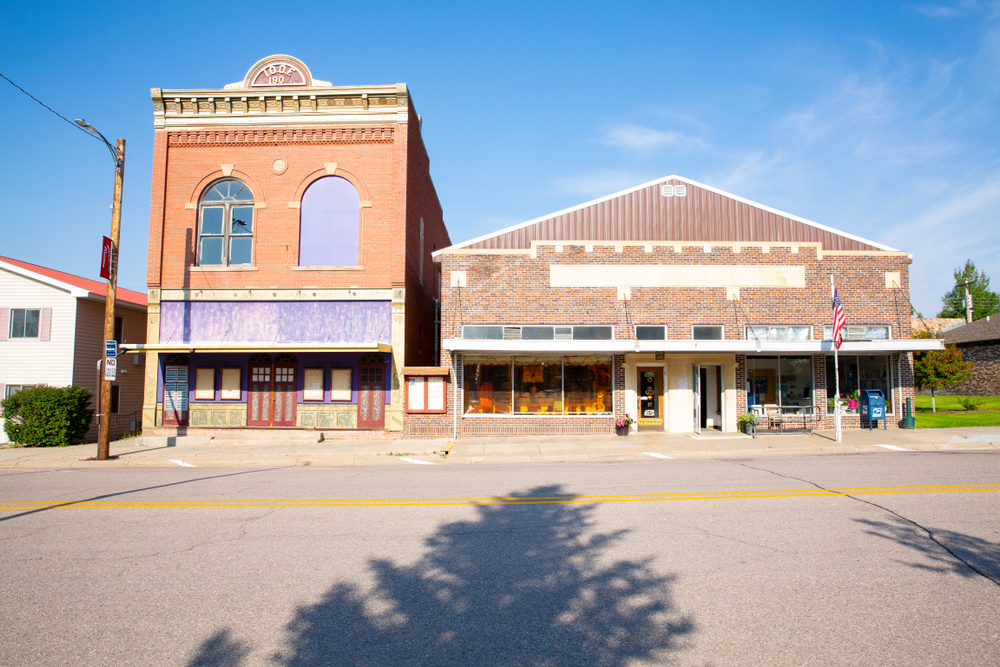 Explore The Town Of Valentine In Nebraska
You'll find Valentine NE in Cherry County. It's actually the county seat, which means there are quite a few attractions within the town.
Valentine has a population of 2,000.
However, it's got a great small-town atmosphere, and it truly is not very big at all.
This Nebraska small town is great for outdoor lovers.
Valentine is near the sandhills as well as the Niobrara River.
So you can go kayaking and canoeing on the river, or explore the sandhills on the many hiking or horseback riding trails.
Within the Nebraska town, you'll find some great restaurants, cute boutiques, art galleries, and even amazing golf courses.
Valentine is a town in Nebraska that is perfect for lovers of the great outdoors!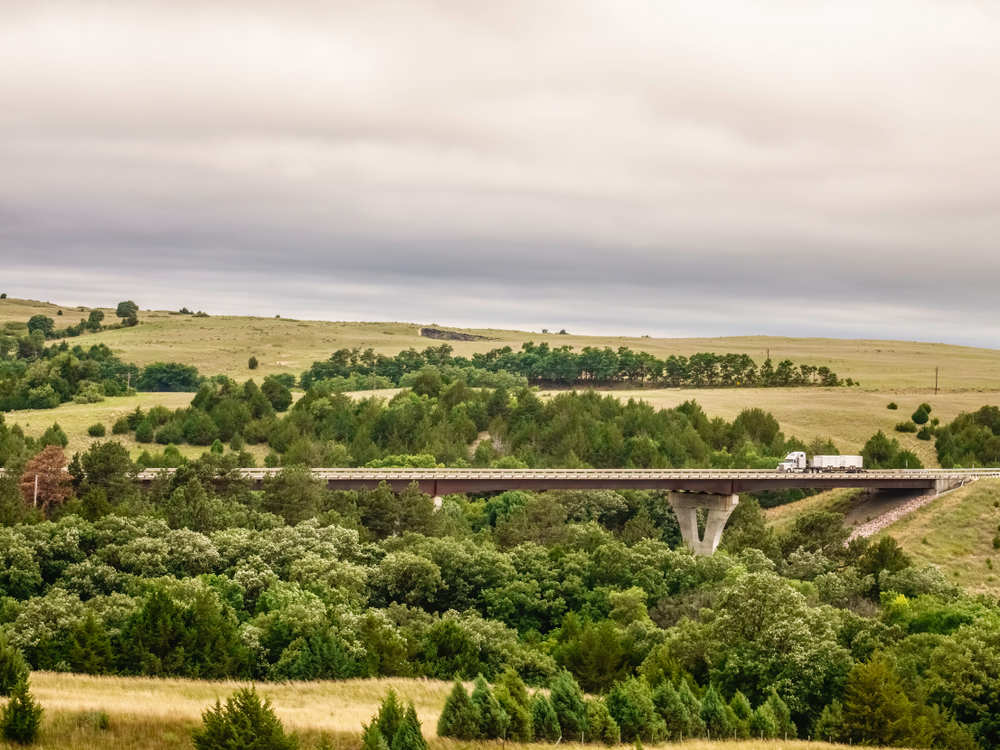 Waverly Is A Cute Suburb Of Lincoln NE
If you want to explore a small town in Nebraska, but you don't want to drive too far, then you may want to visit Waverly.
Waverly is a suburb of Lincoln where you'll find tons of cool stuff to do in Lincoln and some amazing Lindoln restaurants.
It's actually just 15 minutes away from Lincoln, so it's a great place for a day trip from Lincoln.
But Waverly has a lot to offer on its own too!
You can try homemade candies at Bakers Candies, or tour the Deer Springs Winery which is nearby.
There are also boutiques, a massive antique mall, art galleries, and restaurants to try in Waverly.
Because it's so close to Lincoln, it's also a popular place to stay if you want to visit the city, but not necessarily stay in the city.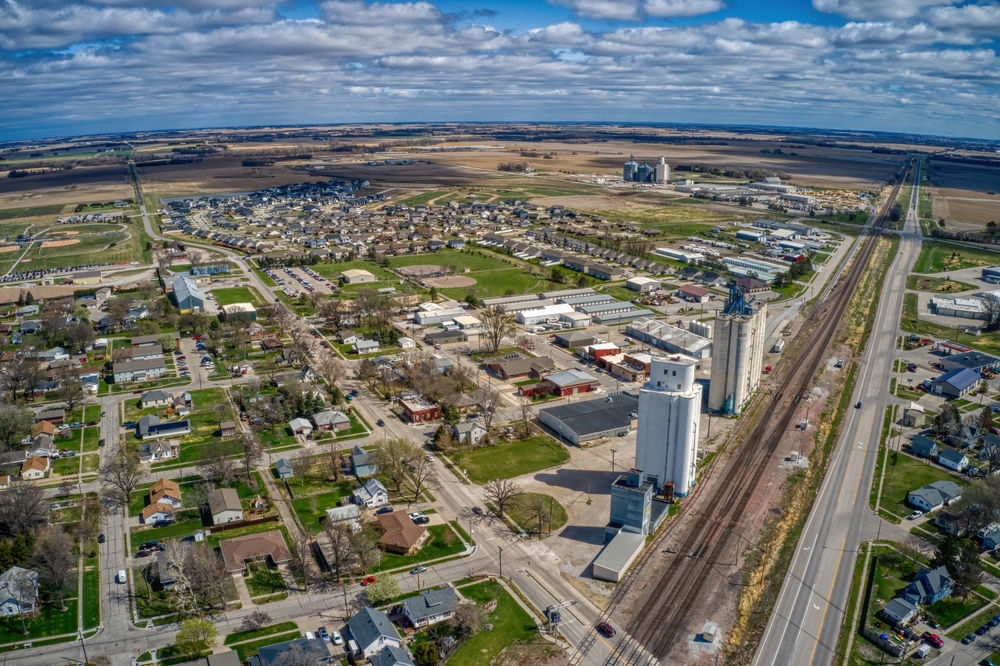 Visit Gering For An Epic Western Nebraska Getaway
If you're looking for an epic Midwestern getaway in Nebraska, head to Gering.
This western Nebraska town is particularly popular with outdoor adventurers because it's surrounded by some of the most iconic Nebraskan landscapes.
You can watch the sunset over the North Platte River Valley, see one of the best Midwest National Parks, Scotts Bluff National Monument or explore original Oregon Trail roads.
Gering also has a few museums and historic sites that you can visit too.
Learn about the area at the Legacy of the Plains Museum and see an original trading post at the Robidoux Pass and Robidoux Trading Post Historic Site.
If you're looking for a town in Nebraska that is bursting with beautiful scenery and history, head to Gering.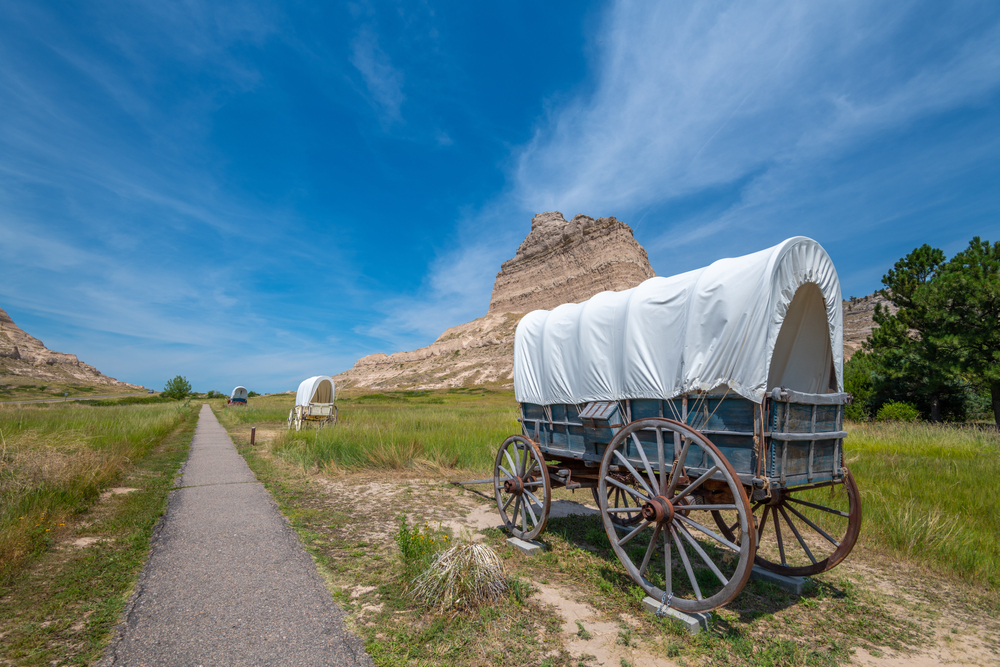 Seward Is Nebraska's '4th Of July City'
Seward is a small town in Nebraska that is known as Nebraska's '4th of July City'.
That's because every year, Seward puts on a huge festival for the 4th of July.
If you visit this charming Nebraska small town for the festivities, you'll find lots to do.
They have a grand parade, a huge fireworks show, a car show, a craft show, and live entertainment in their bandshell.
Even if you don't get to visit for the 4th of July, Seward is still worth a visit. In fact, it's previously been voted the 'Cutest Town in Nebraska'.
The small town in Nebraska has the Nebraska National Guard Museum, art galleries, wineries and breweries, and plenty of charming locally-owned restaurants.
Seward is also home to the 'World's Largest Time Capsule'!
You don't want to miss visiting this cute Nebraska small town.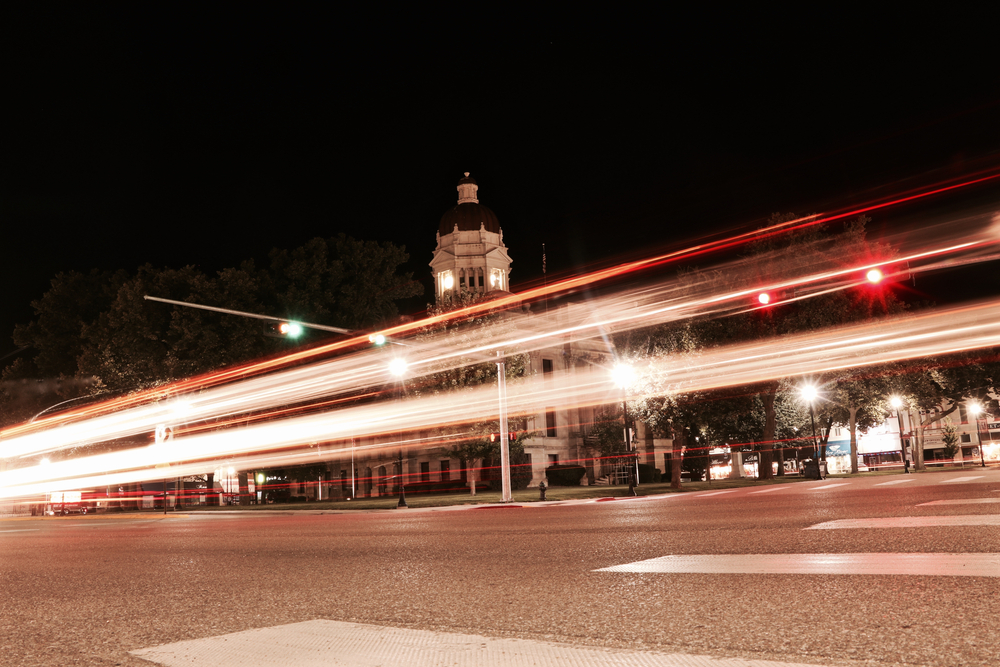 Head To Gretna To See One Of The Best Hidden Gems In Nebraska
The town of Gretna is a fairly small Nebraska town with a population of around 4,000 people.
Despite being a small town in Nebraska, there are plenty of things to do in Gretna.
In Gretna, you'll find the Schramm Park State Recreation Area and Education Center.
There, you can hike miles of trails, explore the geological display in the Education Center, or enjoy a picnic.
In the late summer and into the fall, you can also take the entire family to Vala's Pumpkin Patch and Apple Orchard.
Gretna is also super close to Omaha, where you'll find tons of things to do in Omaha.
Many people who are visiting Omaha make the trip out to Gretna to see the Holy Family Shrine.
Even if you are not religious, the Holy Family Shrine is a beautiful piece of architecture in the middle of the Nebraska plains, in Gretna.
It's a super unique hidden gem in the Midwest and one of the top reasons to visit this Nebraska small town.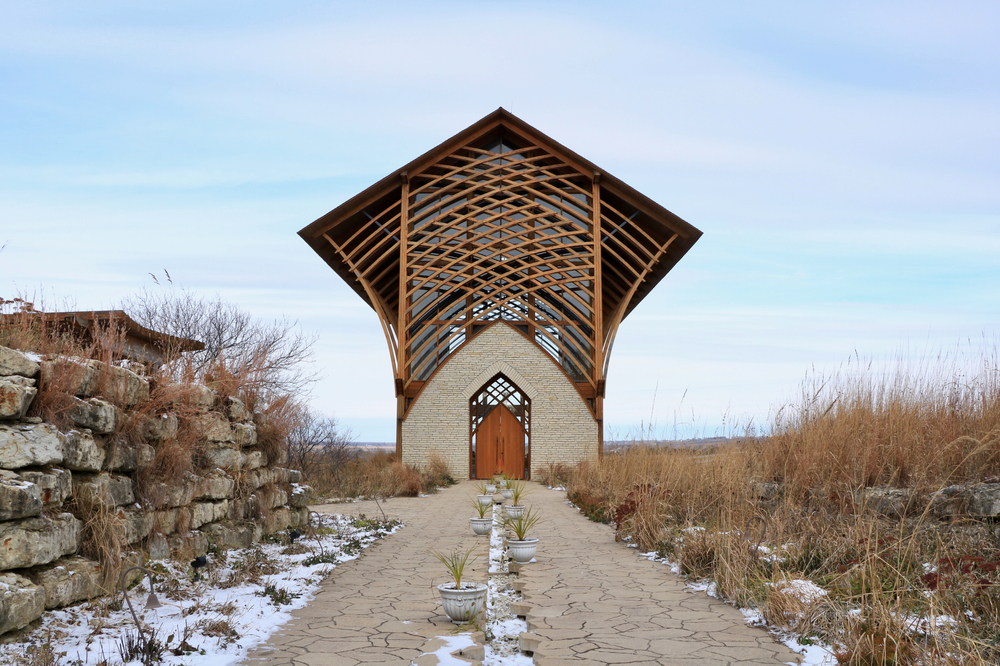 Tour A Variety Of Museums In Chadron NE
Chadron is a Nebraska small town with a population of just over 5,000 people.
It's also a college town where you'll find Chadron State College.
Because it's a college town, it's a small town in Nebraska that has a lot of attractions.
While you're in Chadron, I suggest taking some time to walk the Chadron State College Campus.
It's a really pretty campus that doesn't take long to explore, but it's a nice place for a walk.
There are also a few museums in Chadron, like the Museum of Geology, the High Plains Heritage Center, the Dawes County Historical Society Museum, and more.
While you're in Chadron, you'll also be close to several state parks and recreation areas.
You can go hiking and biking at the Chadron State Park, go swimming and boating at the Walgren Lake State Recreation Area, or explore the Box Butte Reservoir.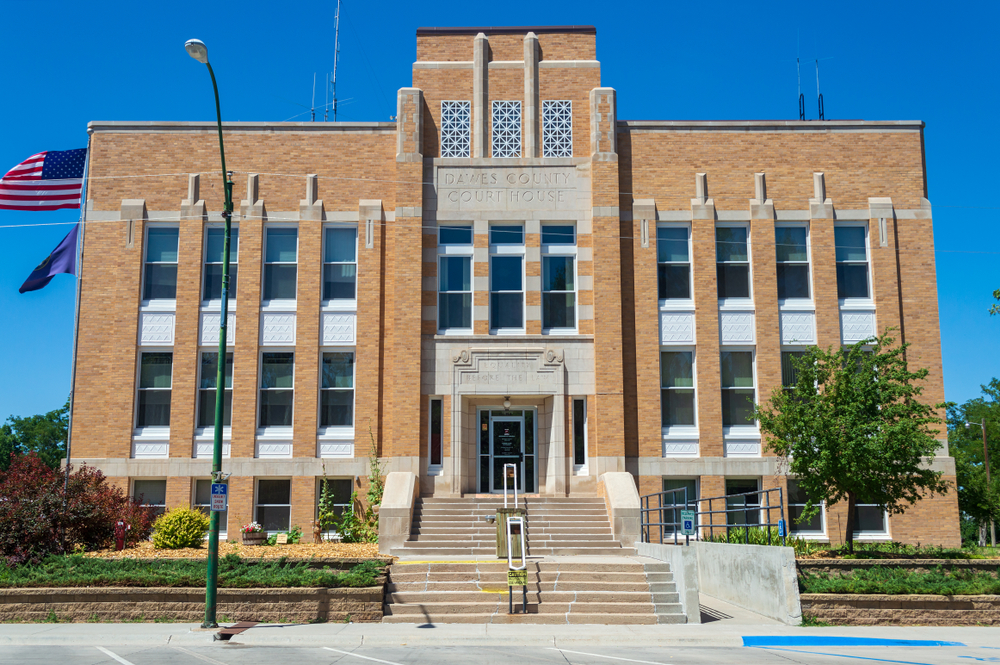 See Two Original Pony Express Stations In Gothenburg, One Of The Best Small Towns In NE
Gothenburg is a Nebraska small town that is home to not one, but two original Pony Express Stations.
For those who don't know, the Pony Express was a mail system that used horseback riders to deliver mail across the country once the west began expanding.
It's often considered to be the inspiration for what would become the USPS.
Despite only running for 18 months, from 1860 to 1861, the Pony Express has had a huge impact on American West history.
Today, you can explore that history at two of the original Pony Express Stations in Gothenburg that have been turned into museums.
Gothenburg also has the Swedish Crosses Historic Cemetery, the Gothenburg Historical Museum, and the Sod House Museum that you can tour.
It's also right by the Lake Helen Recreation Area if you want to enjoy some outdoor activities like hiking, boating, or swimming.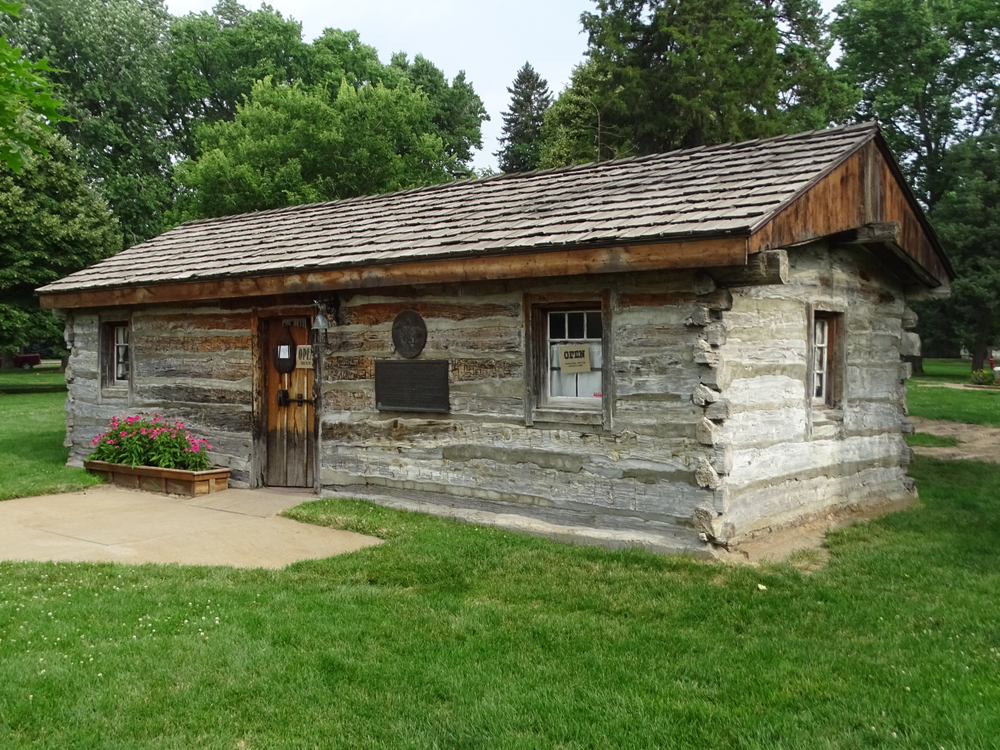 Learn About Buffalo Bill When You Visit North Platte NE
North Platte is a small city in Lincoln County, NE.
As North Platte's population continues to grow, it's starting to inch away from its small-town roots, but it's still full of that Nebraska small-town charm.
North Platte is known for a variety of reasons.
It's one of the main railroad hubs for Nebraska, host the Nebraskaland Days Festival every year, and is also the city that hosts the Miss Nebraska competition.
However, North Platte is probably best known for its involvement in the history of the famous wild west showman, Buffalo Bill.
In 1883 Buffalo Bill established the Buffalo Bill Wildwest show, which was a circus-like attraction that emphasized the wild west cowboy culture, in North Platte.
From North Platte, its headquarters, the show traveled throughout the states and eventually did a tour in Europe.
Now, there are other Buffalo Bill-style attractions in North Platte, as well as the Fort Cody Trading Post, which is inspired by wild west trading posts.
If you want to learn more about the wild west, and Buffalo Bill, then you'll want to make a trip to North Platte.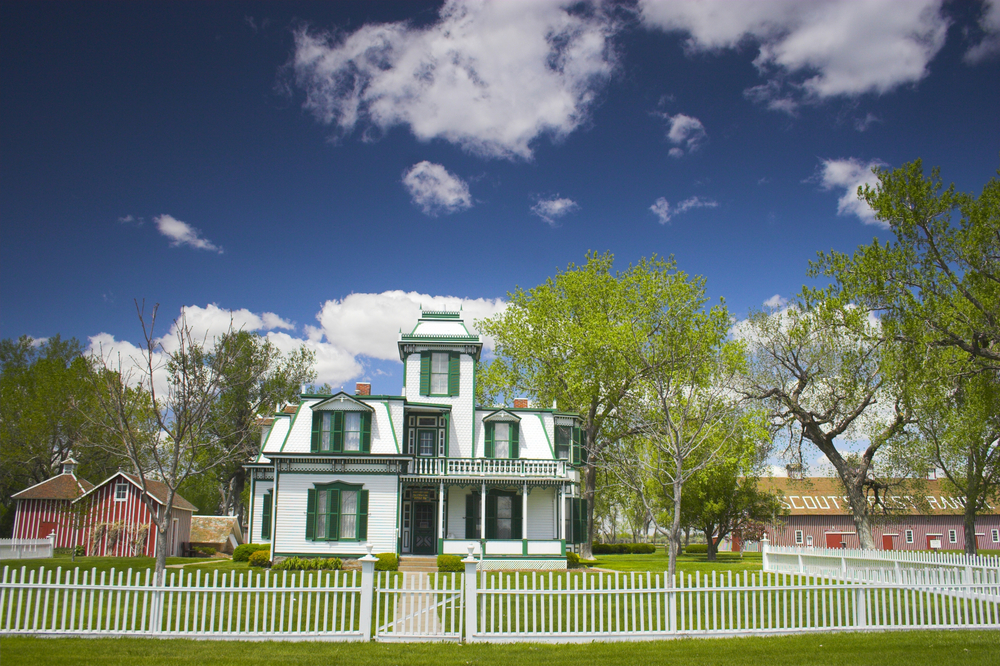 Explore The Great Plains When You Visit Crawford Nebraska
Crawford is a super tiny town in Nebraska's Great Plains region. In 2010, there were less than 1,000 people who called this Nebraska small town home.
Despite its small population, there are tons of things to do in Crawford.
This small town in Nebraska is great for those who want to explore the Great Plains and enjoy some Nebraska outdoor fun.
Crawford is full of natural attractions to see.
You can check out the Ash Creek Ranch, the Ponderosa Ranch, Fort Robinson State Park, or the Soldier Creek Wilderness Area.
There is also the Toadstool Geological Park, where you'll find some very unique rock formations.
Crawford also has the Trailside Museum of Natural History, the Hudson-Meng Research and Education Center, and the High Plains Homestead.
If you're looking to explore the great outdoors, then this is one of the best towns in Nebraska.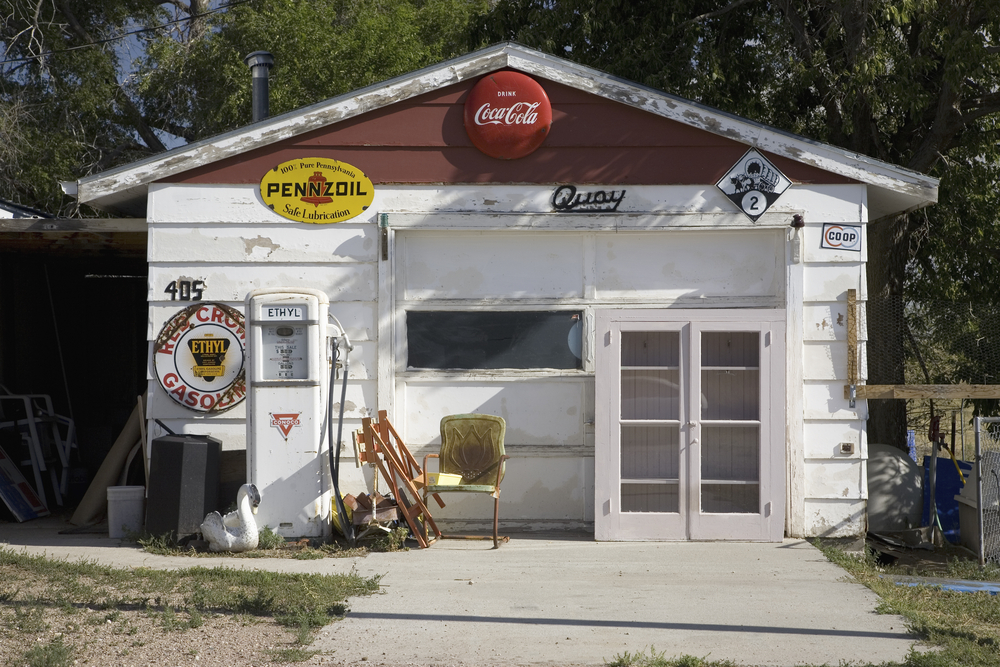 Spend A Romantic Weekend In Roca, A Cute Town In Nebraska
If you're looking for a romantic getaway in the Midwest that is full of small-town charm, then I suggest staying in Roca.
Roca is a super tiny town, and the population of Roca was just over 200 in 2010.
However, don't let this Nebraska small town's small population fool you.
It's a great town in Nebraska for a quiet romantic getaway.
You can stay at the Wunder Roost B&B, sample local wines at the Capital View Winery, or go strawberry picking at the Roca Berry Farm.
If you're looking for a quiet but romantic getaway in a charming town in Nebraska, then I suggest giving Roca a try.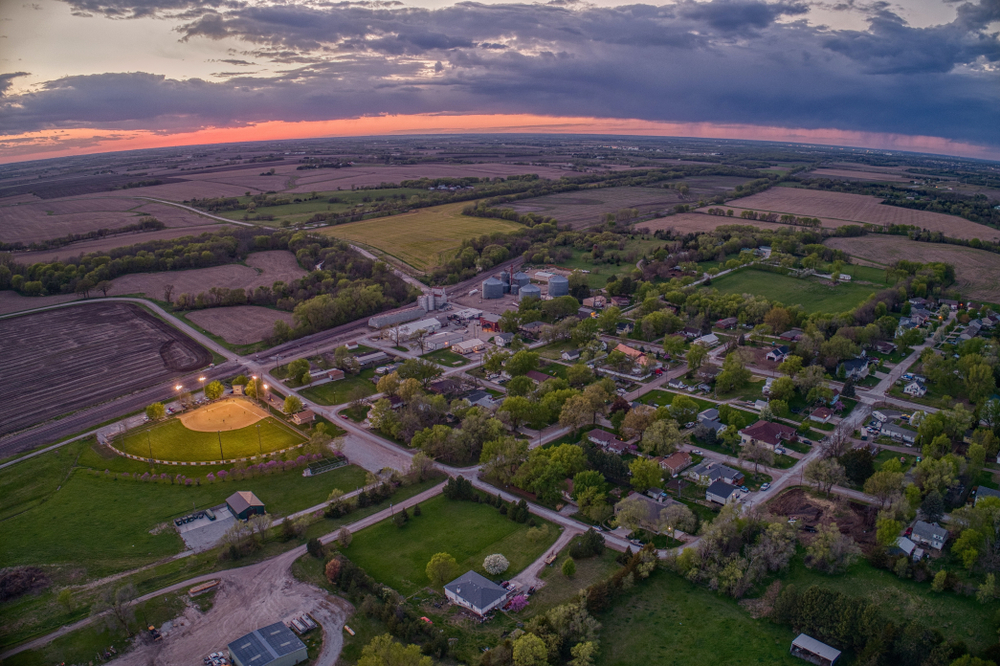 Packing List When Visiting Towns in Nebraska
If you are searching, here are some tips on how to pack lightly when packing to visit Nebraska towns.
A concealed travel pouch may be one of the most important items you bring along when traveling to visit the cool towns in Nebraska. It is always important to protect your personal information. Identity thieves are everywhere.
This unisex RFID blocking concealed travel pouch is lightweight and comes in several colors. It has lots of organization to give you peace of mind. You can place it under your clothes next to your body to carry your ID safely.
If you have a pouch already that does not come with the RFID protection, as I do, these RFID sleeves are the perfect solution.
If you are planning on taking a lot of pictures with your phone you will definitely want to consider an external charging battery. This Anker high-speed phone charging battery is the exact one I carry with me on all of my trips.
I like that it holds its charging capabilities for several uses so I do not have to worry about it while out and about, and if I forget to recharge it at night, it will still be good to go the next day.
My daughter gifted me with this FugeTek selfie stick and tripod setup for my birthday. I absolutely love it! It is made of lightweight aluminum and is so easy to use.
It has Bluetooth connectivity and is a breeze to use for taking Insta-worthy selfies at one of the vintage NE towns.
I never much believed in using packing cubes when traveling. That is until I tried them. Now I am hooked. These are the exact cubes I use to stay organized when I pack for a trip!
You will want to bring your own refillable water bottle with you.
I never leave home on a trip without my Bobble filtration bottle. The 18.5-ounce size is perfect for your adventures and it fits nicely in the pocket of a backpack.
Perhaps you are traveling a long distance and packing space is a premium in your suitcase, or in your car. Then this set of collapsible silicone foldable water bottles would work well for you. Would not take up much space at all.
You will want a backpack or daypack with you to store snacks, your water bottle, phone, extra clothes, etc.. . No matter the time of day or evening.
This foldable water-resistant backpack would be great. And it comes in many different colors.
—
I hope you enjoyed this list of Nebraska towns!
All of these small towns in Nebraska have so much to offer visitors who are looking to experience a different part of Nebraska besides its large cities.
When you visit these Nebraska towns you'll learn about the Pony Express, see historic sites, explore a variety of unique museums, and get to see some really unique landscapes.
If you've been to any of these small towns in Nebraska, I'd love to hear about your experience in the comments!