Are you visiting the area and looking for breweries in Cleveland Ohio? You are in the right place.
In this article, I will walk you through the best breweries in Cleveland and tell you everything you need to know about craft beer in Cleveland.
Ohio breweries are some of the best in the world, and many are in Cleveland.
There are so many things to do in Cleveland and a visit to one of the Ohio Breweries needs to be very high on your list.
The craft beer scene in Cleveland is lively and growing with most of the breweries being easy to get to.
There are multiple locations where you can sample the beer of your choosing. Whether you like a dark stout or a light pale ale Cleveland beer offers it all.
Forbes recently suggested that Cleveland was going to be the next big craft beer destination so get in quick before the crowds flock here.
It's important to note that most of the Cleveland breweries take on the new brewpub model.
When you think of breweries think of them as three types. You have your typical brewery which offers tours and tasters.
Then you have a tap room that sells the beers produced on site but only those beers and only packaged snacks like crisps.
Then you have a brew pub which is a full-service restaurant that makes beer on site, they have liquor licenses and sell other alcohol as well as what they make.
Microbreweries in Cleveland tend to lean more towards the brewpub style. Some offer tours but not all and one of the best ways to see breweries in Cleveland is through an organized tour which there are lots of.
So pour yourself a pint of the cold stuff and let me walk you through the best breweries in Cleveland.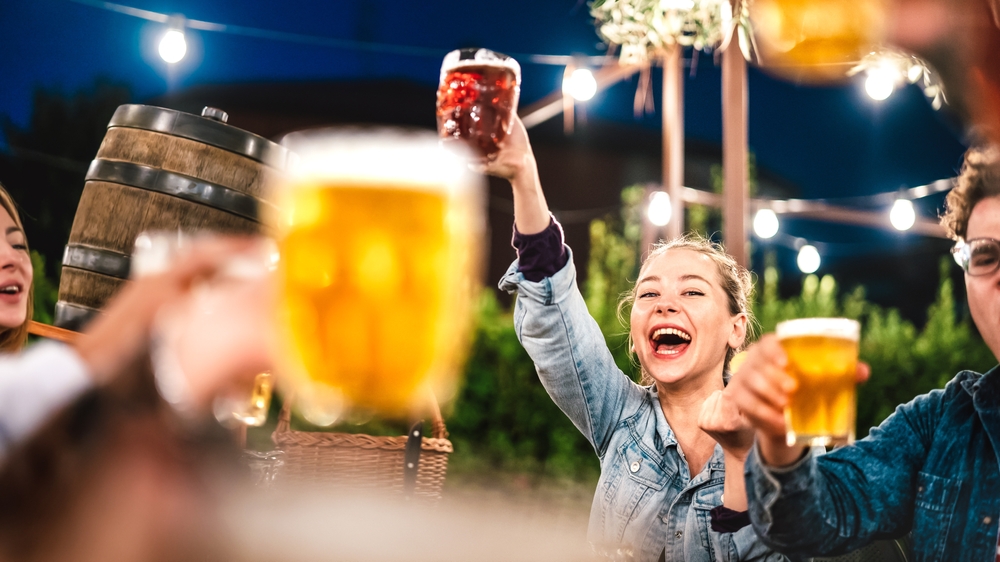 15 Best Breweries in Cleveland OH You Must Visit
Forest City Brewery
In the city's Duck Island neighborhood this microbrewery in Cleveland produces beer inspired by European beer styles and American classics.
Its name comes from the old name for the city and Cleveland's baseball team.
This brewery in Cleveland opened in 2014 and has one of the best outdoor beer drinking spaces in Cleveland.
The Atlantic Biergarten is believed to be the oldest beer garden in Cleveland and while large has a backyard feel about it.
The brewmaster here has developed a great line of ales and lagers and they also have seasonal craft beers on offer. The Black Betsy and Grey Eagle seem to be the most popular.
If you are looking for an array of beer to serve an array of tastes then this is the Cleveland brewery for you.
Terrestrial Brewing Company
If you like your beer to be different with a little bit of a funky edge then this is the place for you.
Beer names such as Luminous Creatures and Space Chimp are just some of the beers on offer here.
It's industrial chic with a large taproom and plenty of patio seating. The Lake Erie sunset from the patio is worth the journey alone.
Located in Battery Park close to the beach it's the perfect place to finish off a day spent sunbathing. This Cleveland OH brewery serves small-batch adventurous beers with a view.
Tickets Here: Cleveland Brewery Tour with Craft Beer Tastings and Lunch
Great Lakes Brewing Co
In terms of Cleveland beer, this craft beer company is an old-timer.
In 1986 Great Lakes Brewing Company made its home in a rundown neighborhood and began to revitalize the craft beer market and the neighborhood.
It was the first microbrewery and brewpub in the state and they take beer very seriously here. Great Lakes beers on offer are plentiful with playful names.
A lot of the beers here are inspired by Cleveland with names like Burning River IPA, a nod to the Cuyahoga River fire.
And Elliott Ness Amber Lager a nod to the prohibition-agent-turned-safety-director in Cleveland.
While they are a brewpub they do offer traditional brewery tours. These tours last 60 minutes and you get four 5 oz. samples and an exclusive tour pint glass.
Craft beer in Cleveland doesn't come more historic than it does here.
Masthead Brewing
If your idea of a good time is a beer in one hand and pizza in the other then this place is for you. The beer is American and Belgium-inspired and the pizza wood fired.
This is a great brewery in Cleveland for a group of friends to mingle and enjoy some delicious Great Lakes beer.
It's located in the historic Bryant Building which was built in 1921 as an automotive dealership and is now listed on the National Register of Historic Places.
This craft beer company is popular and even with a 300-seat taproom and a 100 feet long bar there are sometimes still queues in the street.
The beers rotate and are released with a party and when they are gone they are gone. They are mostly known for their New England IPAs.
This is a place that seems to mix innovation with the old-fashioned and produce something very cool and very popular.
This is an Ohio brewery that offers it all. A great downtown Cleveland brewery.
Tickets Here: Cleveland Brewery Tour with Tastings
Rocky River Brewery
This brewpub opened in 1998 and hasn't looked back since. Think elevated pub, all wood paneling, and you get what this place is all about.
Beers featured include Rocky River Pirate Light, Hop Goblin IPA, and Don't Hit Send Hazy. They even have a Blueberry Ale.
The beers here are world-class and the food here is also worth a mention as it's delicious. This brewery in Ohio is about a 16-minute drive from downtown in the Rocky River Area.
Southern Tier Is A Cool Downtown Cleveland Brewery
If you are looking for a downtown Cleveland brewery this is it. It's one of the newer breweries on the scene opening its doors in 2018 and is an outpost of a NY brewery.
There is a dining room on the main floor and a more casual bar downstairs. They have 30 taps on offer pouring such beers as 8 Days A Week and Pumking Imperial Ale.
Their more unusual offering include Cinnamon Roll Imperial Ale and Nitro Smores Stout. They also have 'Cleveland Brew'd' specialties.
The beers here are unusual and it's definitely worth a visit.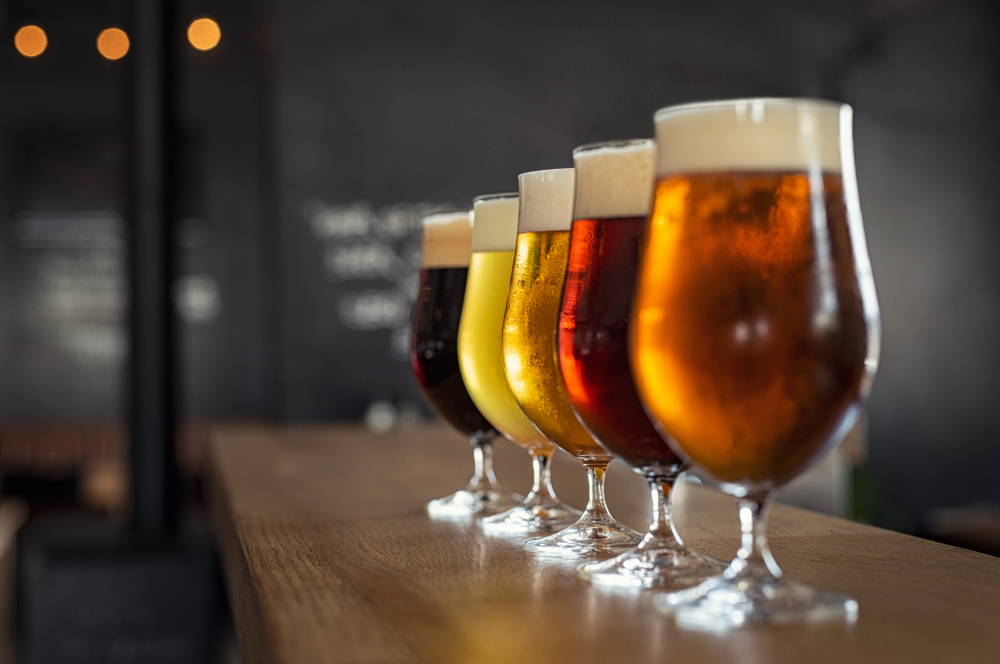 Goldhorn Brewery
Here they believe beer is a shared experience between brewer, buyer, and community.
It's located in St. Clair Superior's Hub 55 complex and is one of the best breweries in Cleveland.
It is named after a famed mountain goat of Slovenian folklore paying homage to the roots of the neighborhood the brewery is in. It opened in 2016 and has a rotating draft list.
This Cleveland brewery strives to connect the heritage of the area and the traditions of the culture into the beer it produces.
The taproom is large with long tables taking on a tavern-like atmosphere.
Beers include Dead Man's Curve Ale, Polka City Pilsner, and Beer of the Goat Bock Beer.
This brewery in Ohio is well worth a visit.
Saucy Brew Works
Saucy Brew Works is the result of two beer fanatics getting together and turning an old disused building into a brewery.
The beer is produced with as much passion as was needed to start this venture.
Core beers include Habituale Kolsch Style Golden Ale and more adventurous beers include things like peach guava and strawberry chamomile wild ale.
Founded in 2017 this brewery has grown in popularity. T
The Ohio City location (just a 7-minute drive from downtown Cleveland) has a sand volleyball court, Giant Yard Pong courts, and plenty of picnic tables.
This is a fun, hip, and happening place where the passion for craft beer just oozes out of every nook and cranny. A great Cleveland brewing company with some fantastic beers.
Market Garden Brewery
Since it opened in 2011 Market Garden Brewery has brought bold award-winning beers to Cleveland. They have a rotating craft beer list and the ingredients are local wherever possible.
If you don't just want to taste the beer then here you will find great fresh locally sourced food to accompany it. In fact, they have 3 bars, event spaces, and multiple outdoor seating areas.
They do also offer brewery tours around their 35,000 square-foot production brewery.
It has state-of-the-art canning and kegging lines. The brewery is located behind the West Side Market, under the giant beer sign, you really can't miss it.
This is one of the best breweries in Cleveland that offers you a little bit of everything.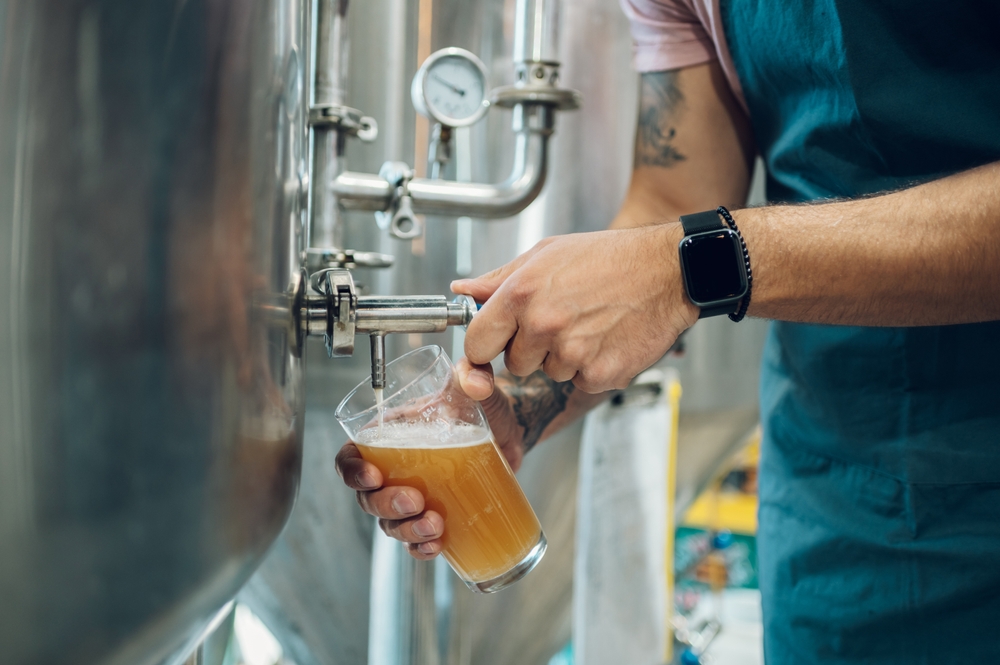 Fat Head's
In the west side suburb of North Olmsted about a 19-minute drive from downtown is Fat Heads. It's a huge space with a strong sports bar vibe.
The space has an enormous beer hall with a full menu serving items like wings, burgers, and huge sandwiches which it calls 'headwiches'. There is also a souvenir shop on site.
The beers have names like Prohibition Paulys Porter, Bumbleberry Honey Blueberry Ale, and Seeing Red. The beer menu really is huge.
If you are looking for more of a traditional type of establishment that's a little rawer then this might be the place for you. This brewery in Cleveland is a delight for real ale drinkers.
Butcher and the Brewer
I love the fact that their motto is 'embrace your inner hop hog', it's such a fun way to promote a brewery.
Here they blend the classic craft of beer making with what they call modern ingredient alchemy. It all sounds very mysterious and magical.
Located on Cleveland's bustling East 4th Street, Butcher and the Brewer is all about sharing and enjoying a beer. Think good beer and shared plates in a great atmosphere and you have this place.
The beer menu contains such beers as The Peatpeter, the Kepp on Keepin On, Sky Sharks Part 2, and Old School Amber America.
This is a fun place that doesn't take itself too seriously yet serves great food and great beer.
Collision Bend Brewing Company
This brewery is named after the narrow and crooked passages along the Cuyahoga River.
It has three bars, seating for 200, outdoor seating with amazing riverfront views, and a brewer's room that accommodates private parties, tastings, and events.
This is one of the most interesting patios to drink beer as boats can just dock along the patio. It's also a fashionable place even having its own on-site valet.
It's one of the great breweries in downtown Cleveland to sit enjoy dinner and maybe share a cheese and charcuterie board. Or try the beer cheese mac.
Beers include items like Benny's Cream Ale, Hope Flows, and Bollard Pull. Like all the breweries you will find a mixture of ales, and stouts with American and European influences.
The Lake Erie sunset is a favorite here
If you are after a somewhat elevated beer experience then this is the brewery in Ohio for you.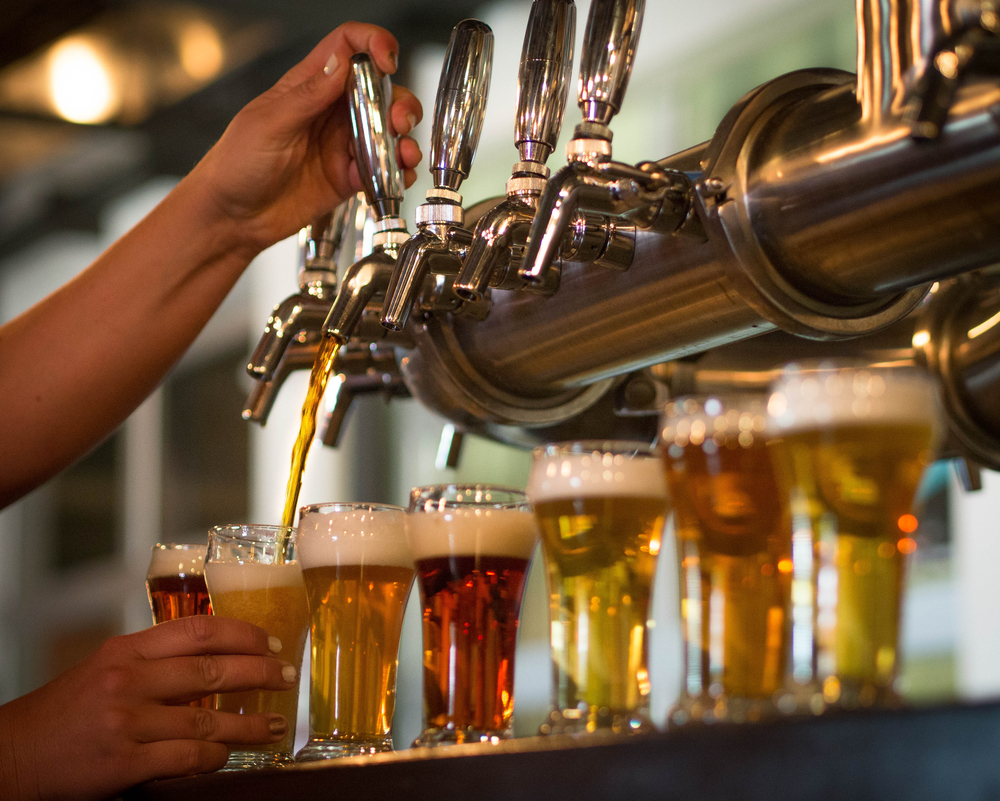 Noble Beast Brewing Company
On a summer day, there is somewhat of a European feel to this brewery in Ohio as the front wall opens onto the outside and the place buzzes with life.
This is good beer, good conversation, a great atmosphere, and a really great variety of beers.
It's a popular happening place that always seems to have an atmosphere about it. And I feel I should mention the food which is of the farm-to-table variety and has some vegan offerings.
Some of the more quirky beers include the Imperial Cookies and Milk Stout or Kilbane's Irish Nitro Stout. But most agree their German-inspired beers are the best.
Platform Beer Co.
Platform Beer Co is known for its sours so this is the Cleveland brewery if that's your thing.
Opened in 2014 just a short walk from the Great Lakes Brewing Company. They have a 100-seat tasting room and patio. The brewhouse menu is constantly changing
Beers include such items as Odd Future, Sun Surfer, and Speed Merchant. The Sweet Chery Pye and Pink Martain are among the large selection of sours on offer.
If you are visiting one of the other breweries in Ohio City then make a stop here too. This Cleveland Ohio brewery is definitely one for your list.
Bookhouse Brewing Is A Cool Brewery In Ohio
In a building that was once the Jacob Baehr Brewery, this Ohio brewery mixes innovation with history. The walls speak of times gone by and the menu speaks of a time yet to come.
Voted one of Cleveland's best breweries, here the beers are what they call approachable and they also brew cider. Think eclectic, unusual, and historical and you have what this place is all about.
They have something here that will serve the hard-core beer fan as well as the casual drinker.
Oh, and wondering why it's called Bookhouse they have a snug reading room. Their library has a 'give a book take a book' ethos and the library shelves are always full.
One of the more unusual breweries in Cleveland and well worth popping into.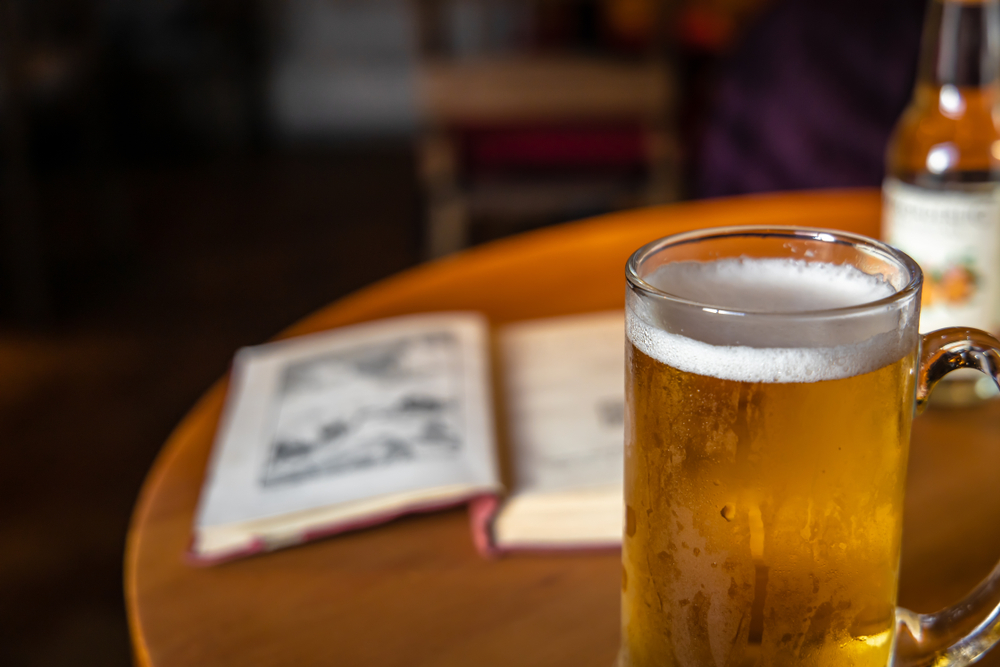 Packing List When Exploring Breweries in Cleveland
If you are searching, here are some tips on how to pack lightly when packing to visit Cleveland pubs.
A concealed travel pouch may be one of the most important items you bring along when visiting Cleveland OH breweries.
It is always important to protect your personal information. Identity thieves are everywhere.
This unisex RFID blocking concealed travel pouch is lightweight and comes in several colors. It has lots of organization to give you peace of mind.
If you have a pouch already that does not come with the RFID protection, as I do, these RFID sleeves are the perfect solution.
This configuration comes with enough credit card sleeves that the entire family would be protected. They are slim too, so they will easily fit into your pouch or wallet.
If you are planning on taking a lot of pictures with your phone you will definitely want to consider an external charging battery.
This Anker high-speed phone charging battery is the exact one I carry with me on all of my trips.
It can be used on a variety of phones, not just an iPhone like I have. And wow is it fast!
My daughter gifted me with this FugeTek selfie stick and tripod setup for my birthday. I absolutely love it! It is made of lightweight aluminum and is so easy to use.
It has Bluetooth connectivity and is a breeze to use for taking selfies with family and friends at the breweries in Cleveland!
—
As you can see when it comes to breweries in Cleveland, there are so many places to choose from.
Some of the best brewing companies are located here and it's the best place to try Great Lakes beer.
If you are looking for a place to eat before or after you visit a brewery in Cleveland, check out the restaurants in Cleveland.
And if you are driving up from Columbus to Cleveland, you are really in for an amazing time.
Whichever of these Ohio breweries you choose I hope you can have an amazing time. Come back and tell us all about your craft beer in Cleveland experience and have a great getaway.