Are you searching for the best Airbnbs in Ohio as you are preparing for a trip to the Buckeye State?
I was born and raised in Ohio and it is a perfect place to live, visit, and vacation.
It links the northeast of the United States to the midwest. It has a great series of highways and connector roads.
It stretches from the Ohio River and the Appalachian Mountains in the south to 312 miles of beaches and coastline on Lake Erie to the north.
I am a midwestern girl through and through. I was born and raised in Youngstown, Ohio. So, I've got you covered with these 21 unique Ohio Airbnb options!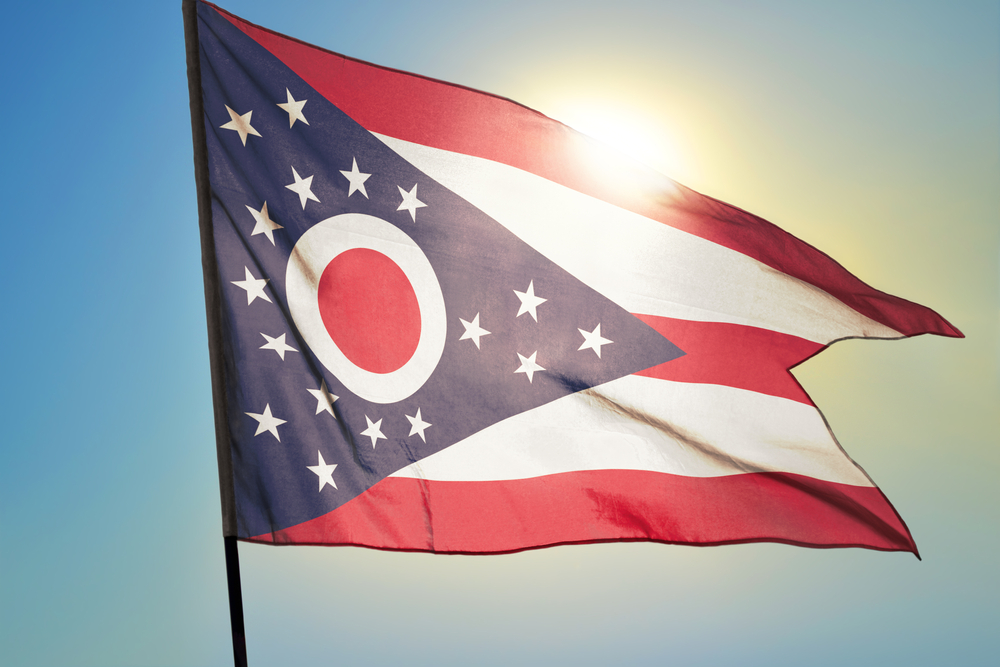 21 Best Airbnbs in Ohio (Cabins, VRBOs & More!)
Riverside Hideout, A Tiny House Shipping Container
Time to relax, unwind, and soak up nature around you?
An Ohio VRBO never looked more appealing than the Riverside Hideout.
A quaint tiny house shipping container, Riverside Hideout is located in rural Dover, Ohio. It is a centrally located area of Ohio adjacent to I77, which makes it easy to get to other Ohio attractions if you want.
Located on the top of a hill, this unique container is surrounded by peace and quiet, and lots of trees.
This one-bedroom, one bath tiny home accommodates up to 4 guests. It is wheelchair and stroller accessible.
Hike nearby on scenic trails, or relax at home taking advantage of the fully-stocked tiny kitchen. Have a barbecue out on the patio. Have a soak in the hot tub!
Bring the outdoors inside by throwing open the glass sliders in the main living room, or the bedroom door.
Wifi is available at an additional charge. Notify host at booking.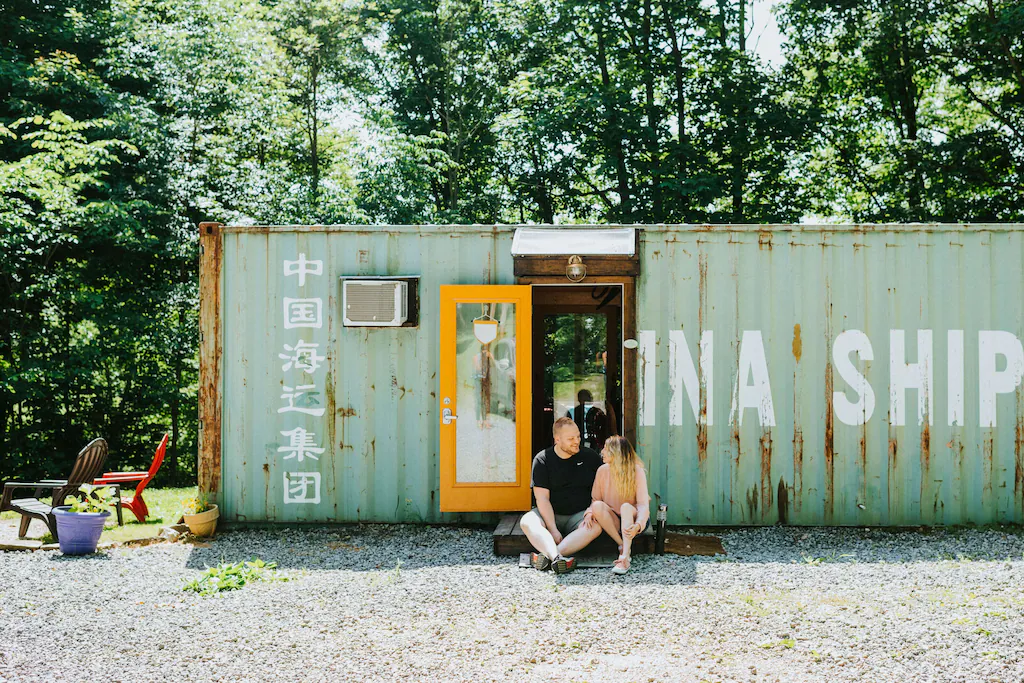 Romantic Treehouse Getaway With Treetop Views
Remember when you were a little kid and you thought treehouses were the coolest thing ever?
I'm sure you still think so as an adult. And since treehouses are basically cabins up in the trees, they belong on this list of the best cabins in Ohio.
This romantic treehouse getaway will fulfill all of your childhood dreams.
With treetop views, a cozy fireplace, and a comfy bed, you'll never want to leave!
But if you do find the motivation to leave this amazing hideaway, you can venture out into Ohio's Amish country or tackle a couple of hiking trails.
Click Here To Check The Current Rates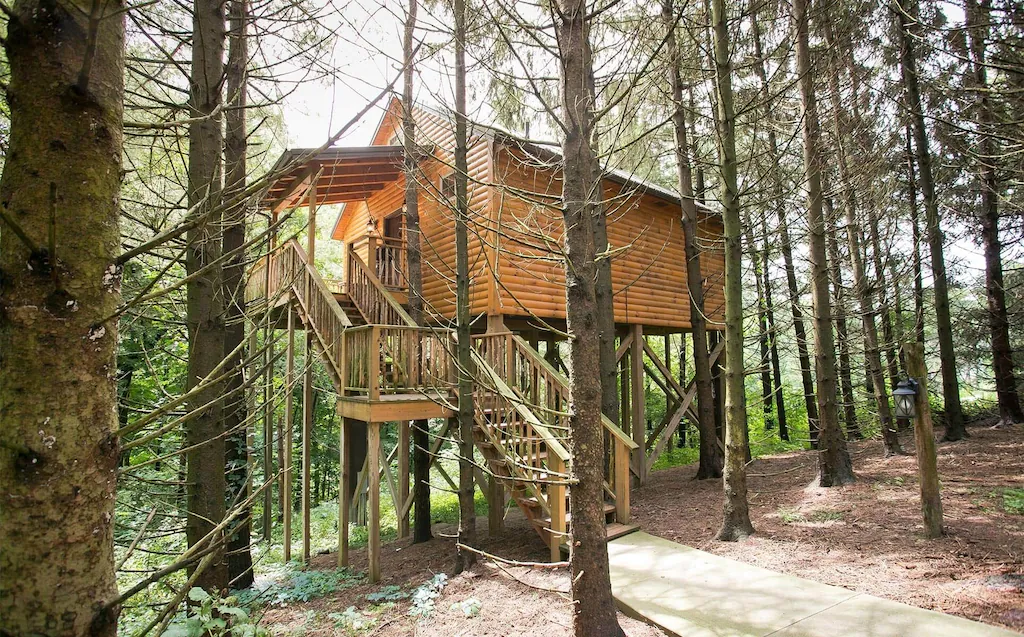 The Grey Barn Suite 2
Located in a trendy area of Cleveland, The Grey Barn, Suite 2, offers charming accommodations and a superb location for your convenience!
Recently updated with oak floors, it generously sleeps 4, offering 2 bedrooms and one full bath. The kitchen has quartz countertops and stainless steel appliances. The flow into the living room adds to the ambiance.
A side porch is available to begin or end your days with your favorite beverage.
This is one of the most well-appointed, and conveniently located VRBOs in Ohio you should look into.
Click Here To See Current Rates.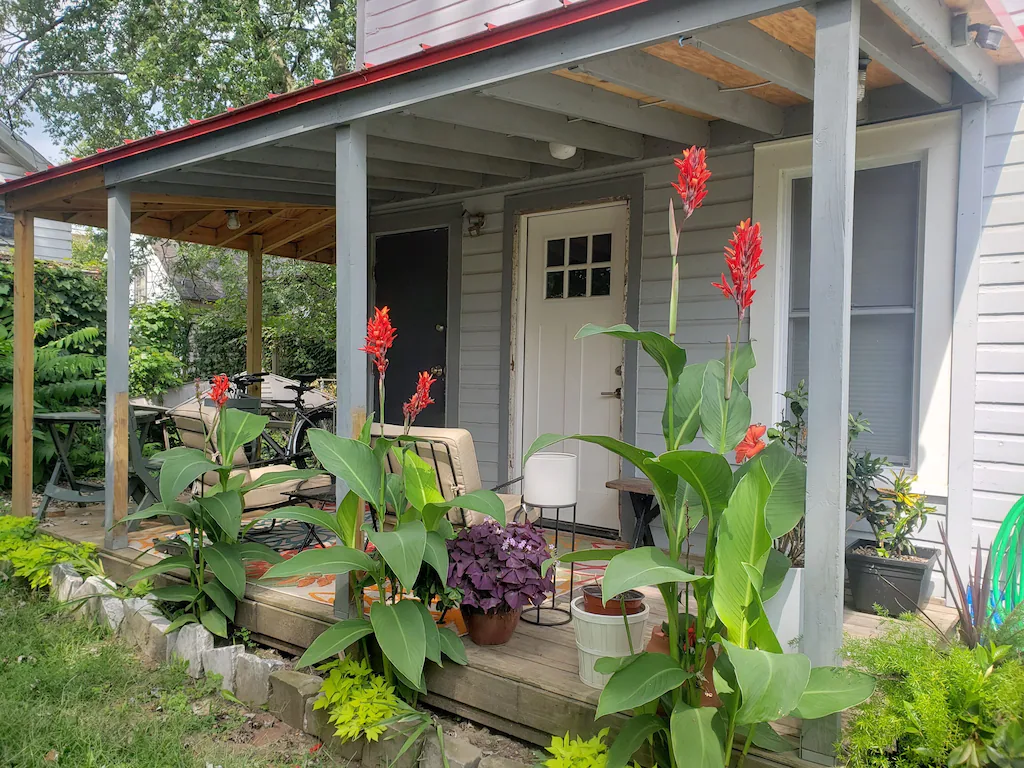 Lake Erie Waterfront House Is One Of The Best Airbnbs In Ohio
Looking for one of the most quintessential Airbnbs in Ohio for the perfect Lake Erie weekend?
With almost 180 degrees of panoramic Lake Erie views, this waterfront home is ideal.
The entire house would be yours full of beachy amenities that go along with the views!
Walk to Ashtabula's Historic Harbor district, shop the lovely antique shops, and visit the local museums. Visiting Ashtabula would be a wonderful Ohio road trip.
Click here to check rates on Airbnb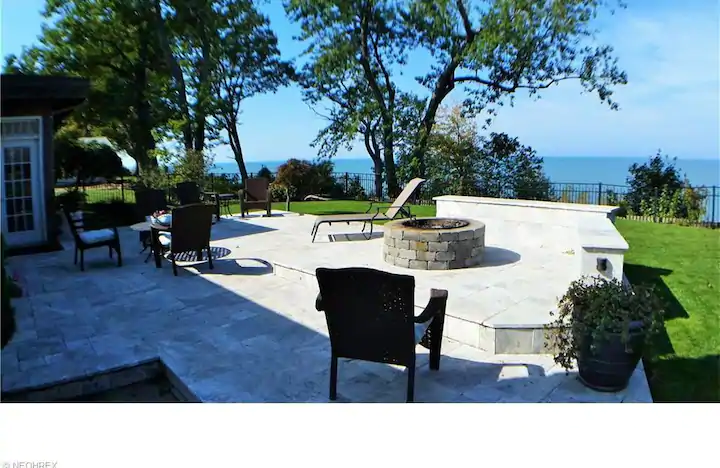 Hocking Hills Treehouse
If hiking and looking for waterfalls or general overall adventure at Hocking Hills State Park is on your agenda, the unbelievable Hocking Hills Treehouse could not be more convenient for you!
Situated minutes from the park's most popular attractions such as Old Man's Cave, Ash Cave, and Cedar Falls is this treehouse gem tucked away in the trees. and one of the best VRBOs in Ohio.
There are so many scenic hiking trails in Hocking Hills!
Rugged only in its outdoorsy charm, this studio-style treehouse has all the modern amenities you could want.
This treehouse is one of the best VRBOs in Ohio you should consider if visiting Hocking Hills.
With sleeping accommodations for 4, an indoor bathroom, and a fully functional kitchen, it also offers central air conditioning and heat, depending on when you visit.
Have your morning coffee or dinner every evening out on the balcony admiring the epic views!
Click Here To Check The Current Rates.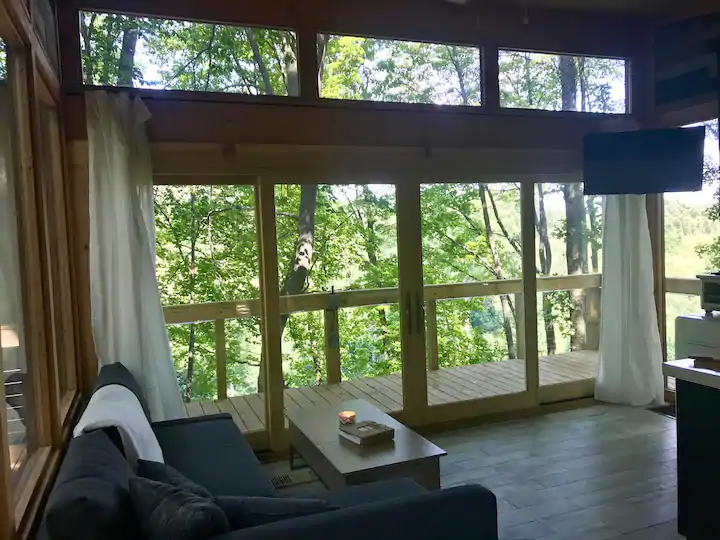 Bock's Jukejoint, Magical Barn
Eclectic is a great way to describe this funky recycled barn located in Amherst, Ohio.
Matter of fact, the hosts describe it as rustic, unique, and truly magical!
Able to sleep up to 4, with one bedroom and one bathroom it is rural yet close to Cedar Point and 30 minutes from Cleveland.
You will have access to the entire barn with its twinkling lights and leaded-glass windows to allow plenty of light to enter the space.
The huge barn comes with a full kitchen with amenities, and there are games to keep your attention if you are planning a digital detox weekend.
Relax with a glass of wine or your fave beverage on the back patio to watch the sunset, or make smores with your family at the fire pit.
This is truly one of the best Airbnbs in Ohio!
Please click here to check the rates on Airbnb.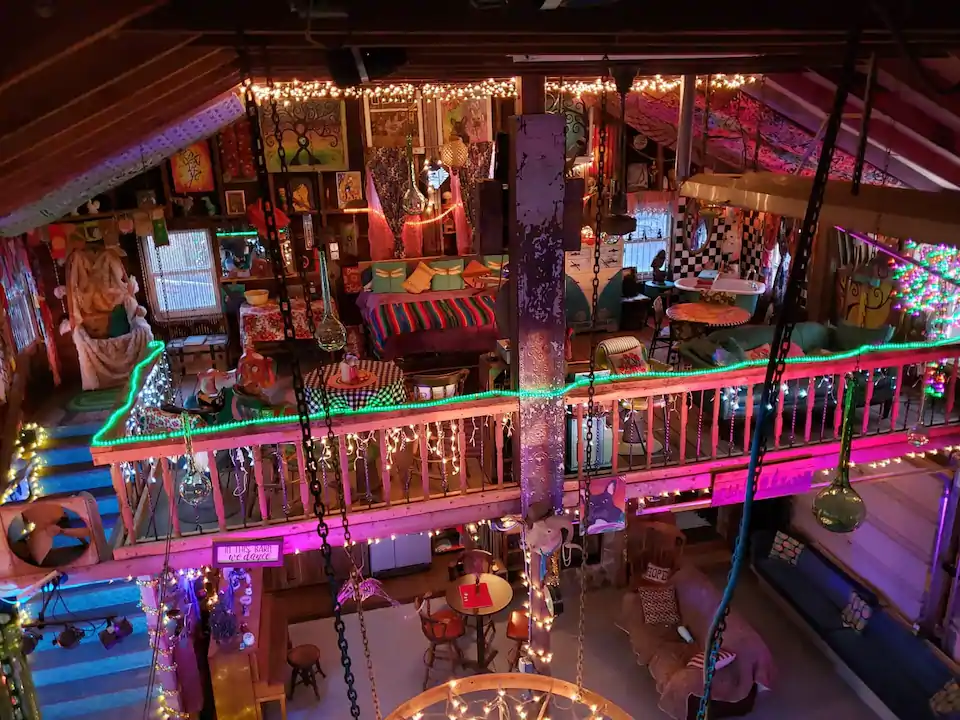 One Of The Best VRBOs In Ohio Is Deer Run
Located on top of a hill, you can watch the sunset while relaxing in this Ohio cabin with a hot tub! Can you even imagine?
This board-and-batten mountain-style cabin is close to all the parks and waterfalls that make Hocking Hills so popular.
Able to accommodate 4 guests, with 2 bedrooms, and 2 bathrooms this could be your home-away-from-home cabin in Hocking Hills.
Fully stocked with the necessities you need to have a comfy stay, from the kitchen to the bathrooms.
You will also find satellite tv, a swimming pool, and a fire pit for making smores at the end of the day.
Settle in for the sunset, as this is one of the best Hocking Hills cabins with pools for a romantic Ohio getaway.
Click here to check the current rates.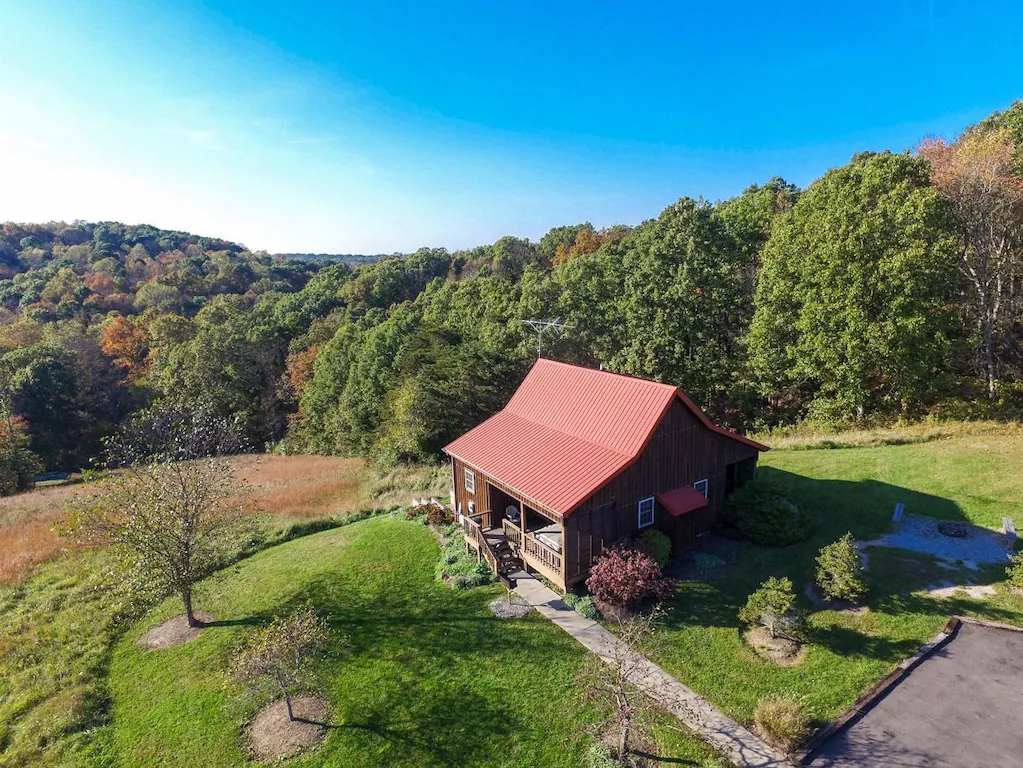 The Beautiful Garden Villa
This gorgeous quiet villa is the perfect Columbus Ohio VRBO for that special in-town or Ohio getaway!
Situated in a 3/4 acre private European-inspired garden, this retreat in northwest Columbus is near shops, restaurants, and amenities.
Look here for things to do in Columbus Ohio.
Yet far enough away for a perfect weekend of luxury and relaxation.
This beautiful quiet villa offers modern furnishings and luxurious amenities for 2 adults.
Enjoy the lush immaculately manicured gardens all year round.
Click Here To Check Current Rates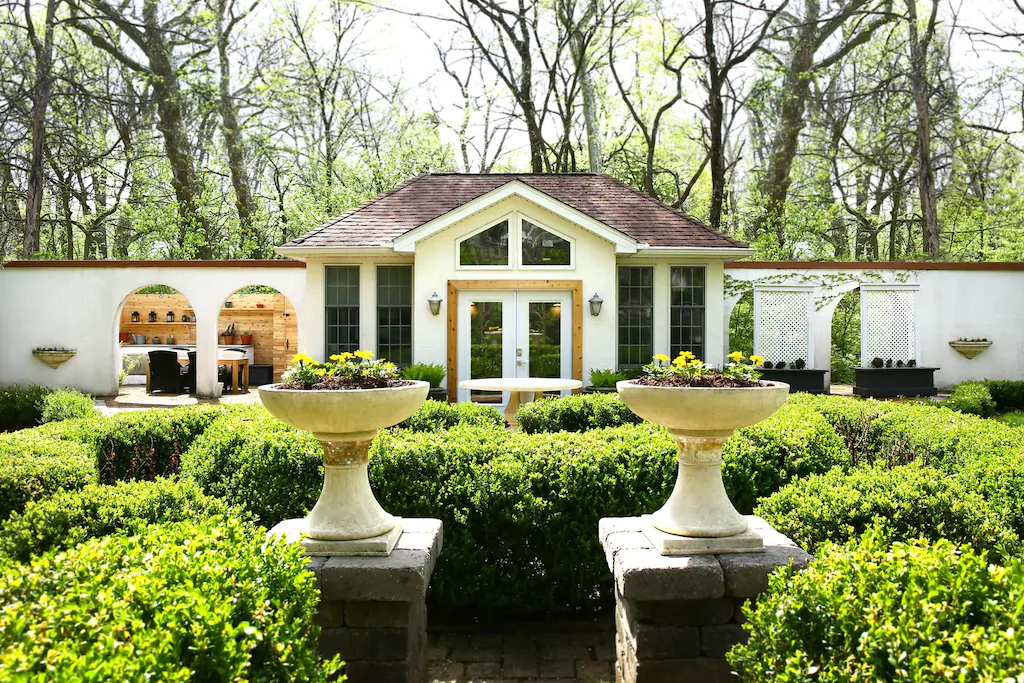 Oasis Retreat Cabin In Amish Country
Able to sleep 6 guests in 3 bedrooms with 2 baths, Ohio Retreat Cabin is located in the heart of Ohio's Amish countryside.
The cabin was constructed in 2017 and while it feels upscale-rustic, it has all the modern conveniences you are used to when on vacation.
A beautiful stocked eat-in kitchen leads into the open concept living-dining area. There is a stone fireplace and large windows throughout the house with killer views of the surrounding nature.
You can spend your days exploring the local Amish culture, or hiking the trails just outside your doorstep. The lake on the property can be seen right off the front porch.
After busy days end your days soaking in the hot tub, sitting around the fire pit, or stargazing!
Whatever you chose, this is one of the best cabin rentals in Ohio.
Please click here to check the online rates.
Cove Get Away Unit Bayside
Are you an adrenalin junkie planning to get your thrills riding the coasters at Cedar Point? This recently renovated house has the location you are looking for!
This Sandusky Ohio Airbnb is located in the "Cove District." You will be one-half mile from all the amenities of downtown Sandusky. Heading to the theme parks would make a cool Ohio road trip.
And one mile from the chills and thrills of Cedar Point and its accompanying water park, and beach.
There are two identical units in the house that can be rented, which could accompany up to 12 of your family and friends! So many options make this one of the best Airbnbs in Ohio!
Click here for rates on Airbnb.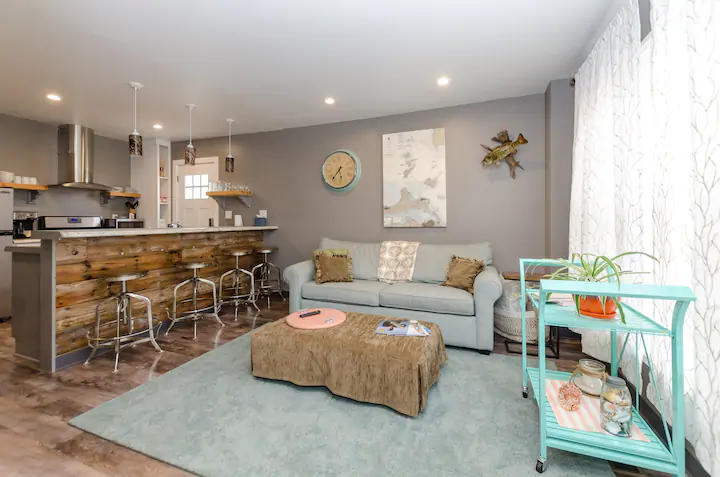 Cottage for Two On The Shores Of Lake Erie Is One Of The Best Airbnbs In Ohio
Planning a lake getaway to Kelleys Island on the western shores of Lake Erie?
This quaint Island Cottage Suite would be perfect for two!
Historic Kelleys Island offers a plethora of things to do and this guesthouse is located near all of them.
There is complete privacy and an outdoor fire pit/picnic table to use whilst enjoying epic sunsets.
Inside enjoy the charm and beauty of this guesthouse. A beautifully appointed kitchenette and bathroom area for your convenience.
Nearby Ohio beaches, hiking, and visiting the Glacial Grooves natural phenomenon makes this perfectly located suite the best Airbnbs in Ohio on Kelleys Island.
And there is a ferry taking guests to and from Cedar Point too.
Click here to check the rates on Airbnb.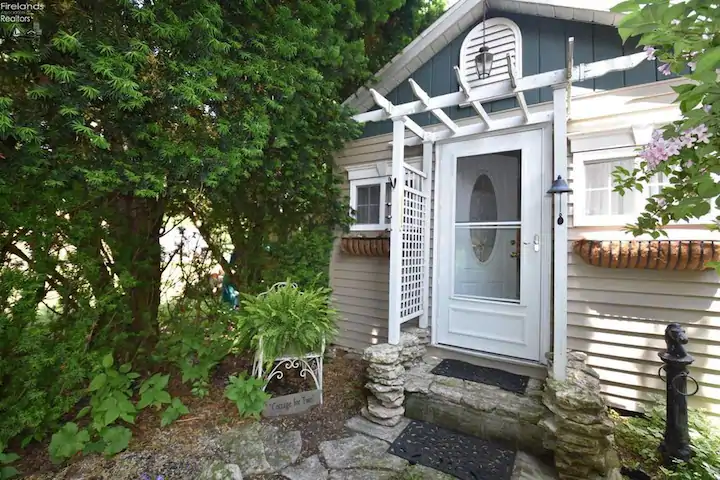 The Lily Pad Shipping Container Is A Unique VRBO in Ohio
Situated within 13 acres of lush forested land, this stylish shipping container is a short two miles from the popular Hocking Hills State Park.
Read more information here about the waterfalls in Ohio as you begin to explore the area.
Fully heated and/or air-conditioned, (depending on the season!) this is comfort at its finest.
Sleeping 2 guests in one beautiful bedroom, you can bring nature indoors through the large glass windows.
Relax on the fully equipped covered patio with outdoor string lighting adding a touch of charm. A long soak in the hot tub is the perfect way to end a day after hiking in the nearby Hocking Hills.
Roasting marshmallows in the fire pit and making smores outdoors is quintessential camping but with all the luxuries that are afforded at the Lily Pad!
These are all great reasons to check out this amazing VRBO in Ohio!
Click Here To Check The Current Rates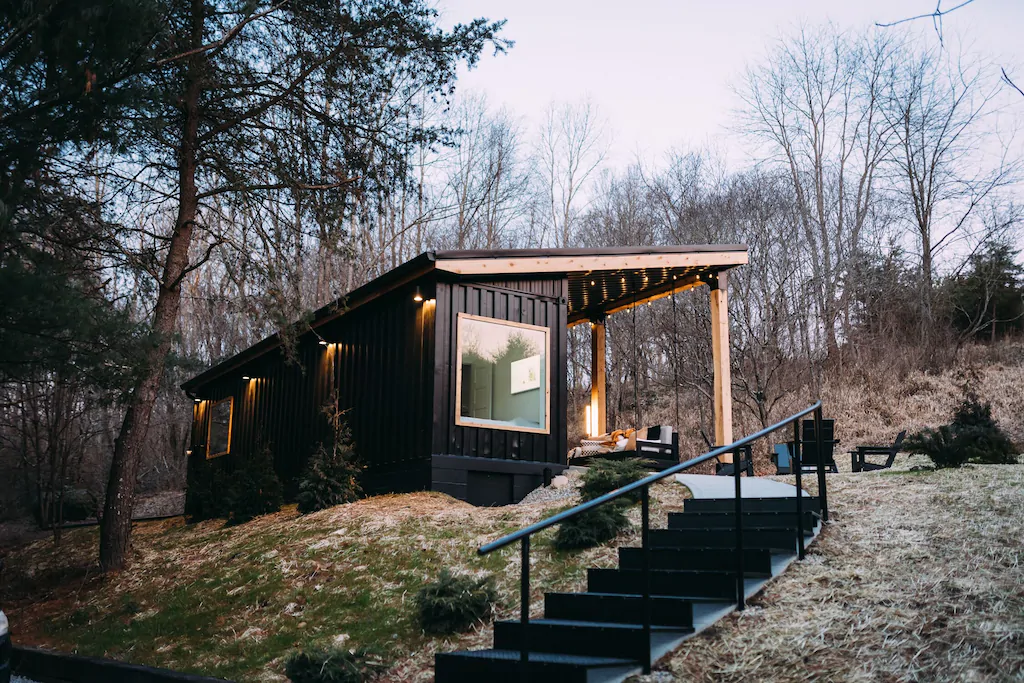 Forever Spring Cabin
This cute little cabin is located in a private wooded setting to ensure you have the utmost privacy!
Able to accommodate up to 4 guests, it offers one bedroom, one full bathroom, and an open concept living space.
It is vintage and the logs used inside were literally shipped in from Montana.
You will find a gas fireplace in the living room and kitchen amenities to make your stay comfortable and homey. Continental breakfasts are included!
Eat inside or outside on the picnic table. End your day making smores around the firepit, the firewood is included free of charge.
Begin or end your busy days here on the glider on the front porch sipping your fave beverage. This is truly one of the best VRBOs in Ohio you need to look into.
Click here to see the current prices.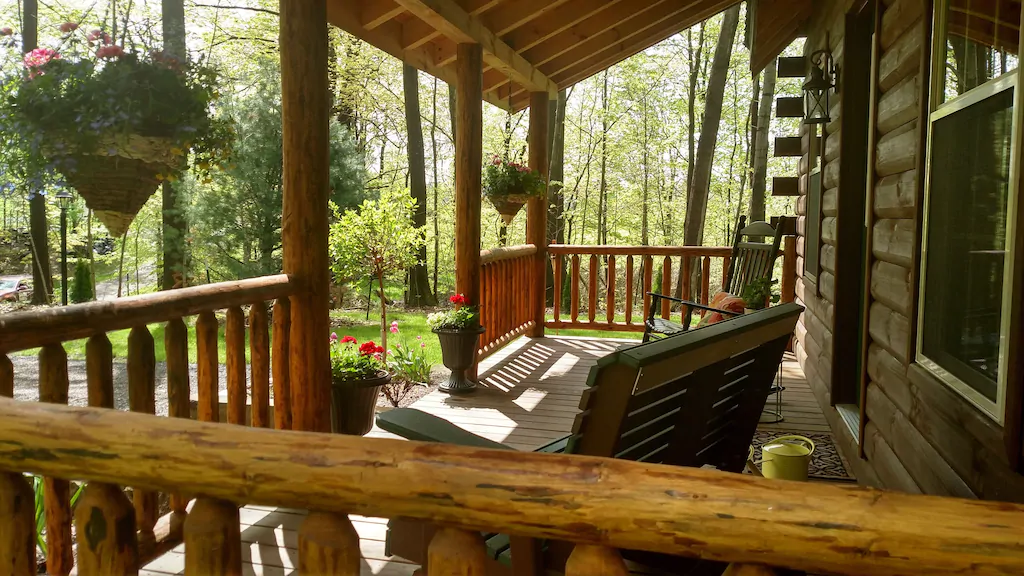 Wooly Bear Cabin
Luxury is in no short supply in this beautiful cabin. Making it one of the best cabin rentals in Ohio.
The interior is tasteful with granite countertops, stainless steel, and hardwood floors.
Bring your hiking shoes because this cabin is on five acres with trails. And it is only a 5-minute drive to Salt Fork State Park which offers boating and golfing.
There is a generous loft bedroom with a king-sized bed and a pullout couch in the main living space allowing for 4 to sleep comfortably.
If listening to the birds, hiking, or simply relaxing in sumptuous surroundings, this Ohio Airbnb is for you!
Click here to check the most current rates.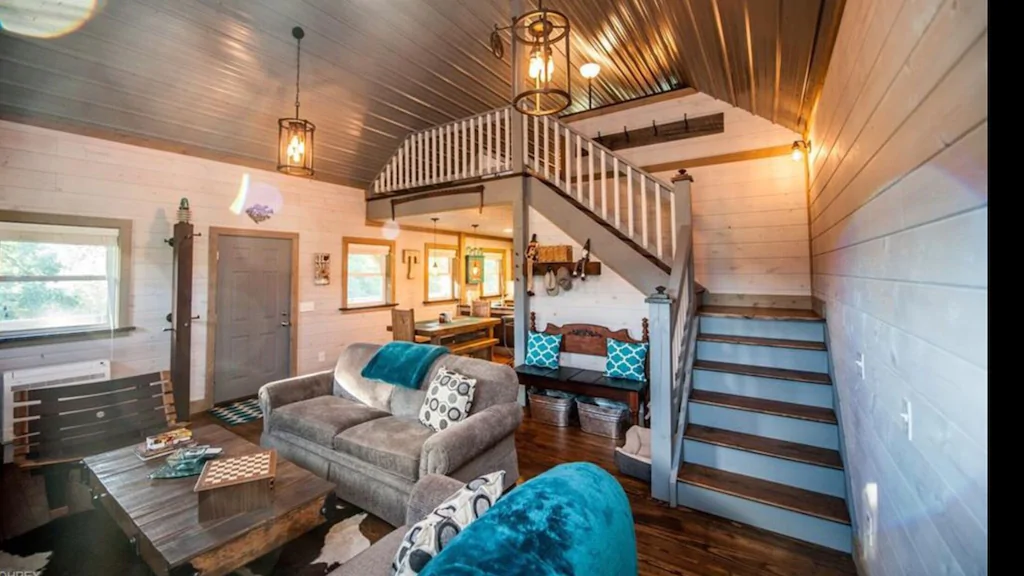 Try Glamping In Ohio At The Spacious Geodome
Looking to try something unique? How about Ohio glamping in this Spacious Geodome located
in Hocking Hills, Ohio on 20 private wooded acres of land.
This 700-square-foot geodesic dome has a large panoramic window and according to the host, is "glamping on steroids!"
This is one of the Airbnbs in Ohio that comes with one bedroom and one full bath.
The kitchen has everything you need. This is one of the VRBOs in Ohio with a hot tub to begin or end your busy days!
If you plan on an Ohio vacation specifically in Hocking Hills, here are the best cabins in Hocking Hills to inspire you!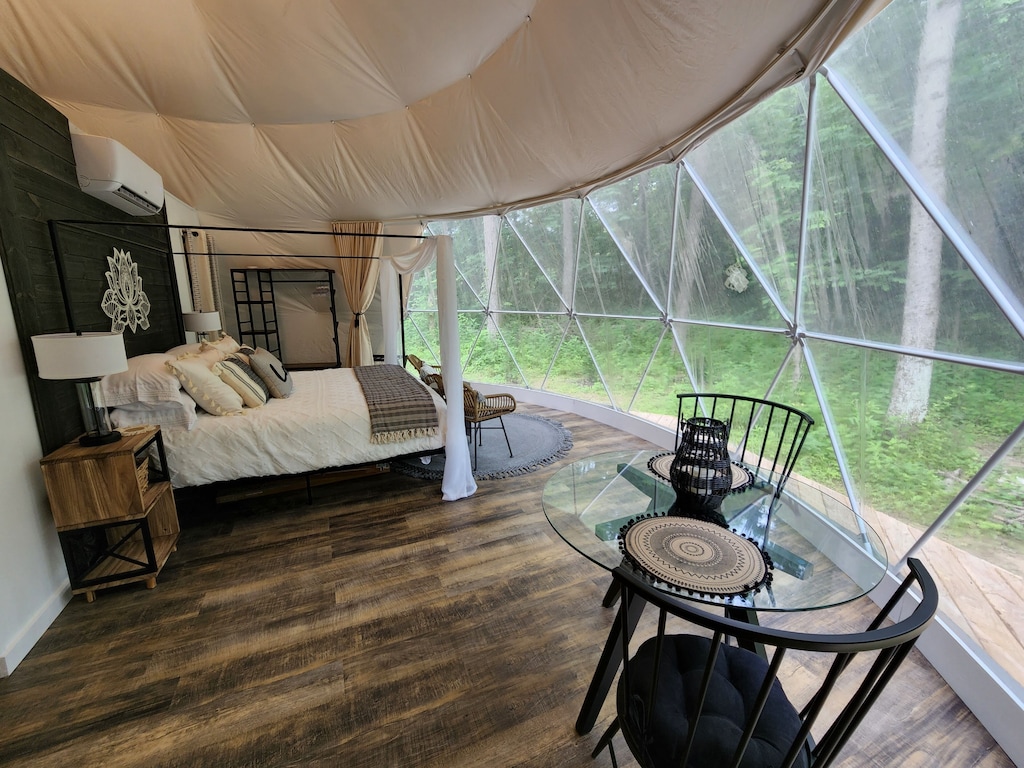 Spacious Eagle's Landing Cabin Is An Amazing Ohio VRBO
Charming Eagle's Landing Cabin is located on seven acres of private rolling hills in southeast Ohio.
It has 4 bedrooms, with 2 full bathrooms and its 2100 square feet can accommodate up to 9 guests comfortably. this ample space is great for large families, and family reunions.
The location could not be more perfect, as you will be close to both Wayne National Forest and Hocking Hills.
The yard is huge, so everyone can run around, dogs included! The firepit is a very popular way to make memories as is the hot tub!
Enjoying the night sky with its brilliant stars here at Eagle's Landing Cabin is certainly one of the fun things to do in Ohio.
Click here to check the current rates.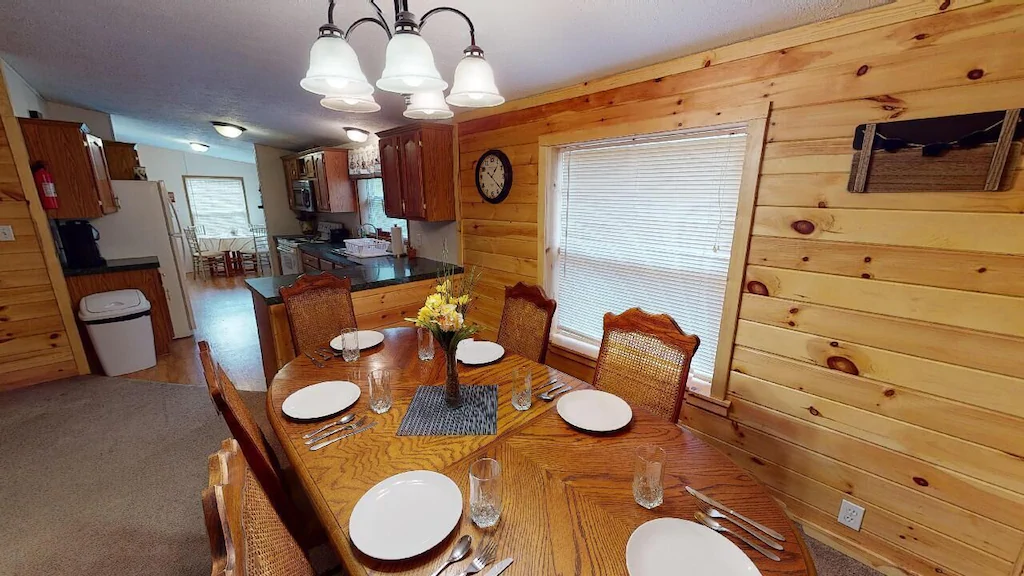 Rustic Modern VRBO In Cleveland
If you are looking for a great location then this Rustic Modern Apartment may be what you are looking for!
With one bedroom and one bath in 580 square ft, it sleeps 2 comfortably but can accommodate 3 guests.
This Airbnb in Ohio is located on Cleveland's west side, a few minutes walk to Edgewater Park and not far from downtown Cleveland's exciting amenities.
The kitchen has all the amenities needed, stainless steel appliances, and a gas stove!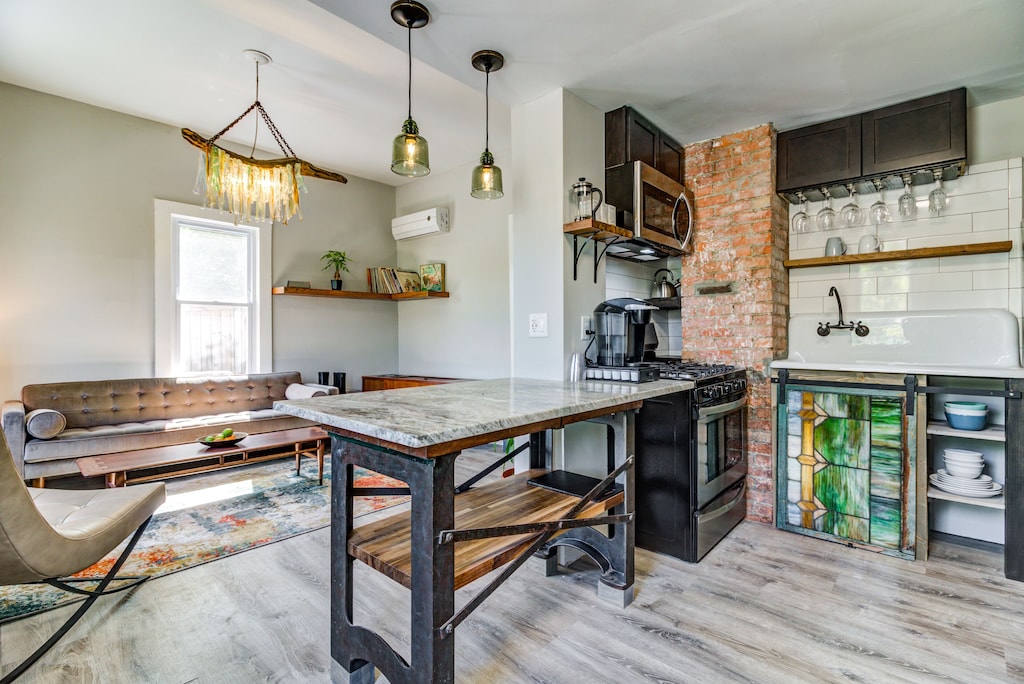 The Overlook Cabin Is One Of The Best VRBOs In Ohio
The adorable orange Overlook Cabin has something that most of the other cabins in Ohio on this list don't have: a waterfront location.
Situated on a lovely stocked pond, the Overlook Cabin embraces the calming atmosphere provided by this body of water.
With the open-air patio, fun paddleboat, and winding hiking trails on the property, you'll likely find yourself spending all of your time outside, enjoying the fresh air.
When night falls, you can make your way back to this cozy VRBO cabin in Ohio, throw some wood into the fire pit, and continue to enjoy the beauty of nature until it's time to go to sleep.
Click Here To Check The Current Rates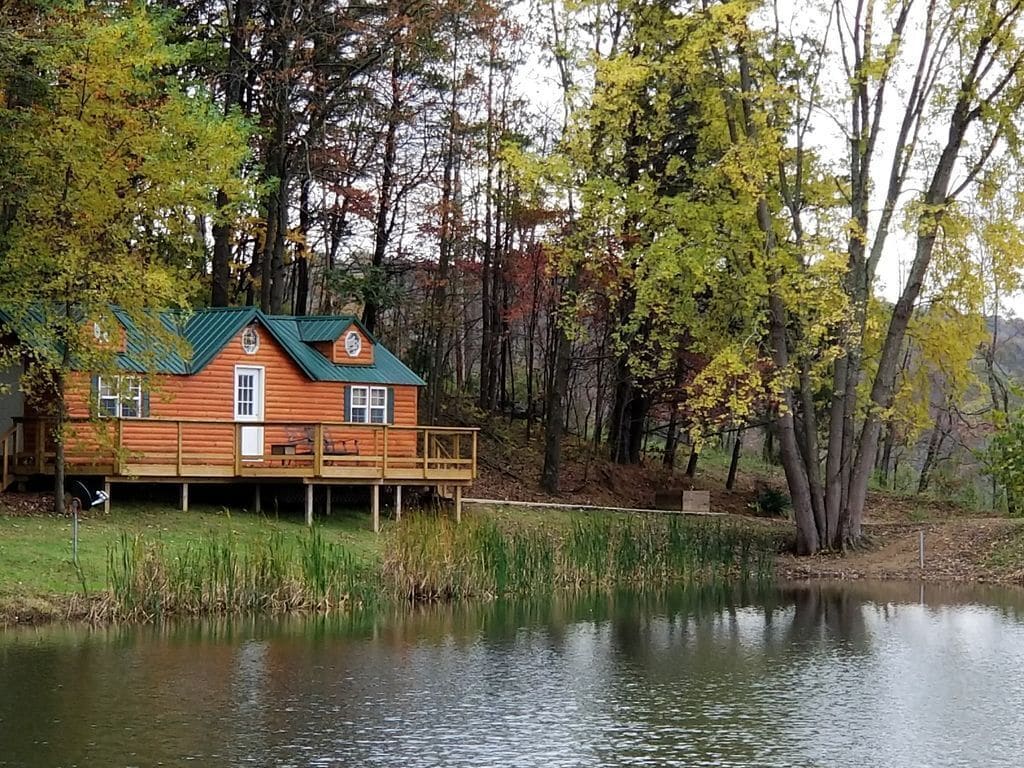 Historic Lake View Home On Mill Creek Park (Apt) Is One Of The Best Airbnbs In Ohio
A lovely 400-square-foot private apartment suite will be your home in this beautifully restored brick home at this gorgeous Airbnb in Youngstown Ohio.
You have your own private bathroom and kitchenette including a coffee maker. In addition to this private space, you will have access to the common spaces in the main house.
The main kitchen of one of the best Airbnbs in Ohio has updated modern appliances and a 60-inch Sony flat-screened 3-D TV in the living room! With loads of cable entertainment options.
You will enjoy the park-like setting of Mill Creek MetroParks from your private suite, or view nature's beauty from the 3-season room, a wooden deck, or the covered patio.
Better yet, the park is simply steps away from the back door! and steps away from Newport Lake and all the amenities (hiking, biking, bird watching) the park has to offer.
One of the more popular Mill Creek Park attractions, historic Lanterman's Mill is just a short walking distance away!
This Lake View Home's private apartment suite on Mill Creek Park's doorstep is one of the best Airbnbs in Ohio.
Check here for rates on Airbnb.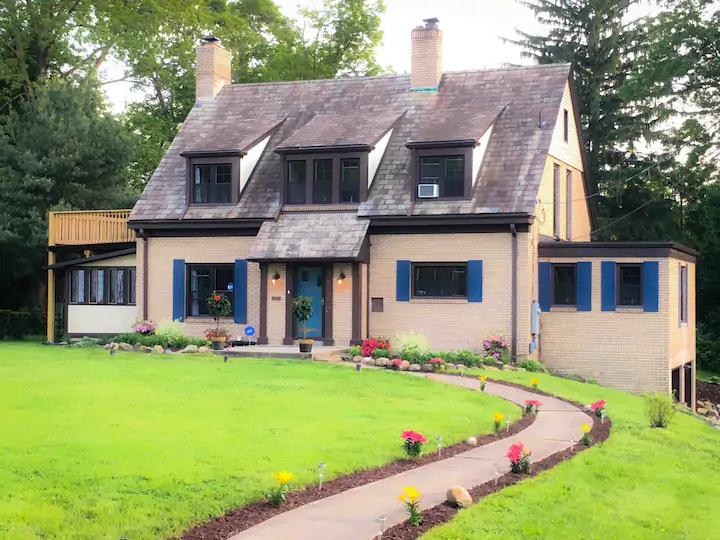 Pine Creek Cabin
If you are looking to relax and unwind, this secluded Hocking Hills cabin is perfect for you.
Able to sleep 4, with 2 bedrooms, and 2 baths, you will enjoy the rustic and charming interior.
Situated in a wooded location, yet close to all the area parks, this cabin has an open-living kitchen-dining-living area, with a handsome wood-burning fireplace.
Enjoy soaking tired muscles in the hot tub, or have a glass of wine whilst swinging on the porch swing.Of course, smores around the firepit sounds wonderful too!
This is one of the best VRBOs in Ohio to spend time in nature.
Please click here for the current rates.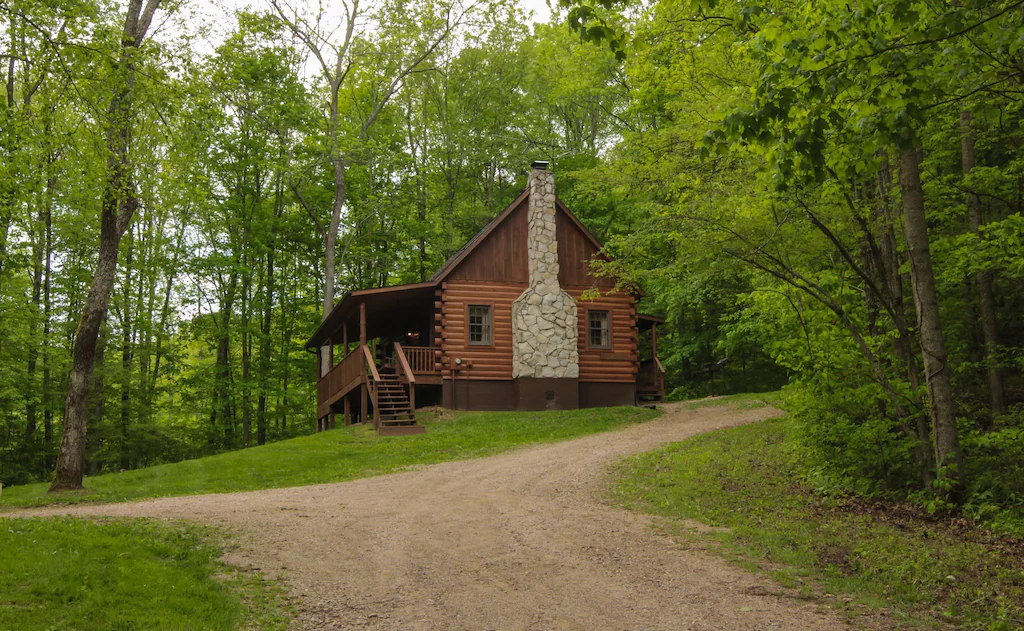 Packing List For Visiting The Best Airbnbs in Ohio Ohio
If you will be traveling, either by plane or by car to Ohio, here are some tips on how to pack lightly.
A concealed travel pouch may be one of the most important items you bring along when staying at the best Airbnbs in Ohio. It is always important to protect your personal information. Identity thieves are everywhere.
This unisex RFID blocking concealed travel pouch is lightweight and comes in several colors. It has lots of organization to give you peace of mind. You can place it under your hiking clothes next to your body to carry your ID safely.
If you have a pouch already that does not come with the RFID protection, as I do, these RFID sleeves are the perfect solution.
This configuration comes with enough credit card sleeves that the entire family would be protected. They are slim too, so they will easily fit into your pouch or wallet.
If you are planning on taking a lot of pictures with your phone you will definitely want to consider an external charging battery. This Anker high-speed phone charging battery is the exact one I carry with me on all of my trips.
It can be used on a variety of phones, not just an iPhone like I have. And wow is it fast!
I like that it holds its charging capabilities for several uses so I do not have to worry about it while out and about, and if I forget to recharge it at night, it will still be good to go the next day.
My daughter gifted me with this FugeTek selfie stick and tripod setup for my birthday. I absolutely love it! It is made of lightweight aluminum and so easy to use.
It has Bluetooth connectivity and is a breeze to use for taking Insta-worthy selfies while visiting cities in the Midwest.
Hydration is so important when on vacation. You want to remain hydrated throughout your trip to support your immune system which in turn will be stronger to fight off any germs you will encounter during your travels.
You will want to bring your own refillable water bottle with you.
I never leave home on a trip without my Bobble filtration bottle. The 18.5-ounce size is perfect for your adventures and it fits nicely in the pocket of a backpack.
When filled with water, it is not too heavy to carry. And the charcoal filter ensures fresh clean water whenever you fill the Bobble.
Perhaps you are traveling a long distance and packing space is a premium in your suitcase, or in your car. Then this collapsible silicone foldable water bottle would work well for you. Would not take up much space at all.
You will want a backpack or daypack with you to store snacks, your water bottle, phone, extra clothes, etc.. during long hours at the theme parks in the Midwest. No matter the time of day or evening.
This foldable water-resistant backpack would be great.
It is very affordable and is available in many color options for you to choose from. The fact that it folds down into a zippered pouch will make it easy to pack!
Here I have listed 20 of the best Airbnbs in Ohio, including cabins in Ohio and VRBOs in Ohio, for your consideration. Have fun!