Are you looking for things to do in Toledo Ohio? If so you are in the right place? In this article, I will walk you through, Toledo attractions, Toledo museums, and other things to do in Toledo. 
I grew up in Youngstown, Ohio and I know the area well. And in my mind, Toledo is definitely one of the most underrated places in Ohio. For such a long time it was just a place that people passed through on their way to Michigan.
Toledo is now a go-to destination in its own right with so much to see and do. You will find, great museums, lots of attractions some great recreational activities, and brilliant dining and entertainment. It's a great city for a weekend getaway.
Sitting on the banks of the Maumee River, Toledo is rich in history, a lot of it centered around the river. The 200 acres of riverfront has played an important part in this city regeneration with many of the dining and unique shopping experiences in this area.
Toledo, Ohio also has 16 Metroparks to explore so if you need a moment of quiet you will find a place in Toledo. I've included some of the parks in this list of things to do in Toledo Ohio.
The attractions in Toledo are numerous, the museums in Toledo are unique, and dining is fabulous and plentiful.
Here are 15 things to do in Toledo OH you shouldn't miss!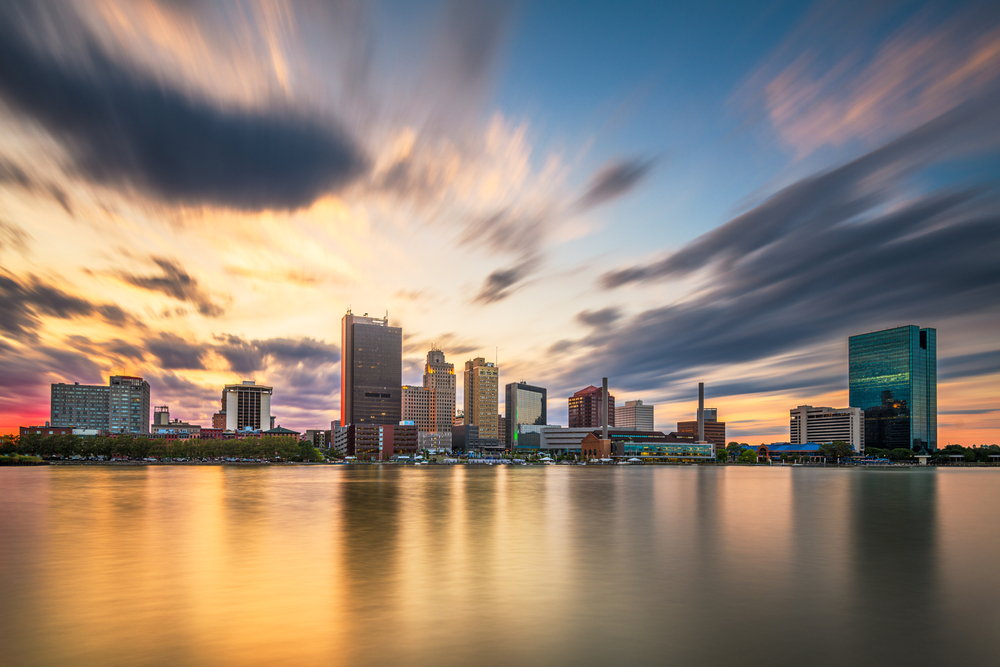 15 Things To Do In Toledo OH You Shouldn't Miss
Enjoy The Toledo Museum Of Art
Recognized globally for its collections, the Museum Of Art is one of the museums in Toledo that you must visit. Not only is it free but it features art from all over the world.
You will find some classic masterpieces by Rembrandt and Rubens. If the classics aren't your thing I'm sure you will find something you love within the 30,000 exhibits.
The museum has over 35 galleries and includes collections that are Greek, Asian, Egyptian, and African in origin. The collection spans from some medieval pieces to contemporary pieces.
The gardens are outstanding and include some great art sculptures. But the best place in the museum is undoubtedly the glass pavilion. The museum is most famous for its collection of glass art with an ever-changing exhibit.
You will need a few hours to get the most out of your visit and you can combine a trip with a walk around the stunning Old West Area.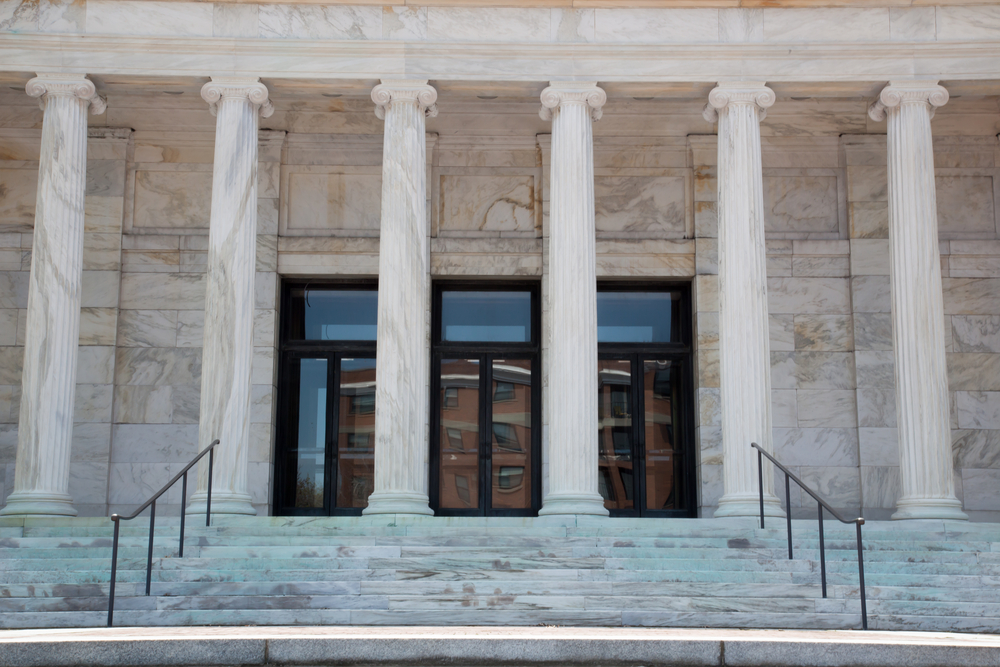 Get Creative At Imagination Statio One Of The Best Attractions In Toledo
Located in downtown, this is a great attraction in Toledo for all the family. There is something here that will entertain visitors whatever their age.
A science center with hundreds of exhibits to explore, Imagination Centre is a great activity in inclement weather. Visitors can explore science through interactive stations in energy, water, agriculture, engineering, and health to name but a few.
Make sure to head to the Extreme Science Theater and watch a live experiment It is definitely one the children will love. The whole place is an immersive hands-on experience that will keep you occupied for hours.
Located at Discovery Bay on the riverfront it's easy to find and you won't regret a visit. With over 300 exhibits the only problem might be making sure you see everything at this Toledo attraction.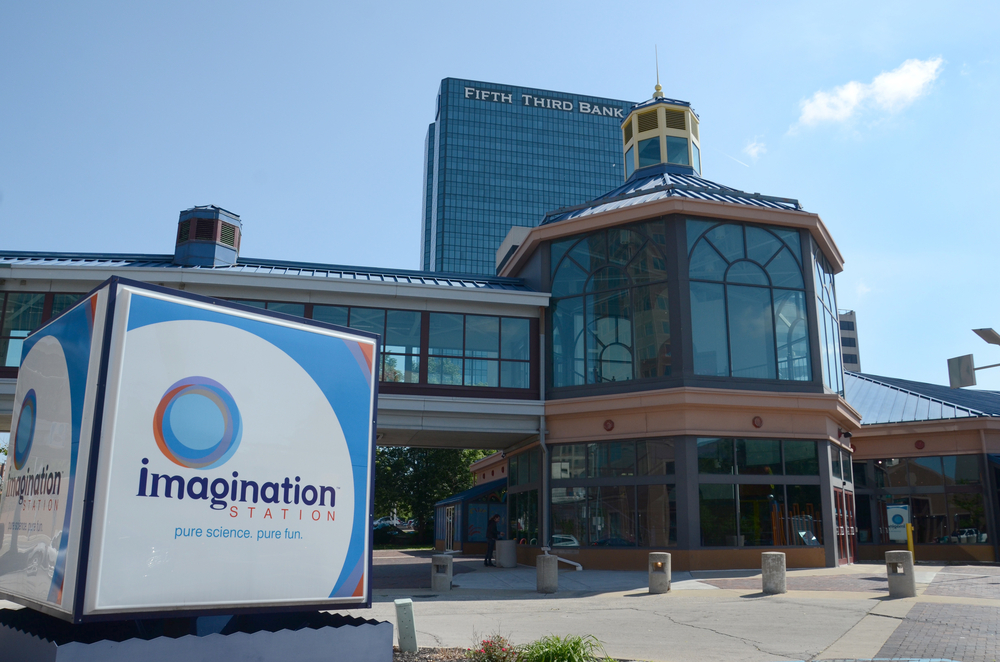 Wander The Pretty Streets Of The Old West End
A trip to the Old West End should be top on your Toledo list. It's northwest of the city center and is a great place to explore on a sunny day.
Dating from the 19th century Old West End is a grid of picture-perfect streets with rows of Victorian and Georgian buildings.
If you are looking for some stunning photographs this is the place to visit. It's a beautiful spot to get lost in for a few hours.
There are tours of the area if you want to learn more about the architecture and history. However, you may prefer to just wander and go where the mood takes you. Whatever you decide to do, this area is well worth a visit.
Experience The Canal
The canal has played an important part in the past and present development of this city. And if you love learning about history, hopping on The Volunteer Canal Boat is a must.
Located within the Providence Metropark you can hop on and off of The Volunteer. Onboard you will learn about the vital part the camel played for Toledo.
The staff is in period costumes adding to the ambiance. You'll see a gristmill the last working canal lock and parts of the Miami and Erie Canal towpath on your travels.
This is a great thing to do in Toledo Ohio.
Explore The Toledo Botanical Garden
If you need some downtime then I suggest a visit to the beautiful Toledo Botanical Garden. On the northern fringes of Toledo, you have over 60 acres to explore.
It's just a stunning place with sculptures, all kinds of different flowers, and lovely places to sit and watch the world go by, or at least the wildlife.
The Garden Discovery Trail is a hit with children as they get to experience nature through interactive stations. And the adults might like an evening of jazz here.
It's free to visit and the charming paths and patchwork of flowers will delight you, making this Toledo attraction a great Midwest weekend getaway!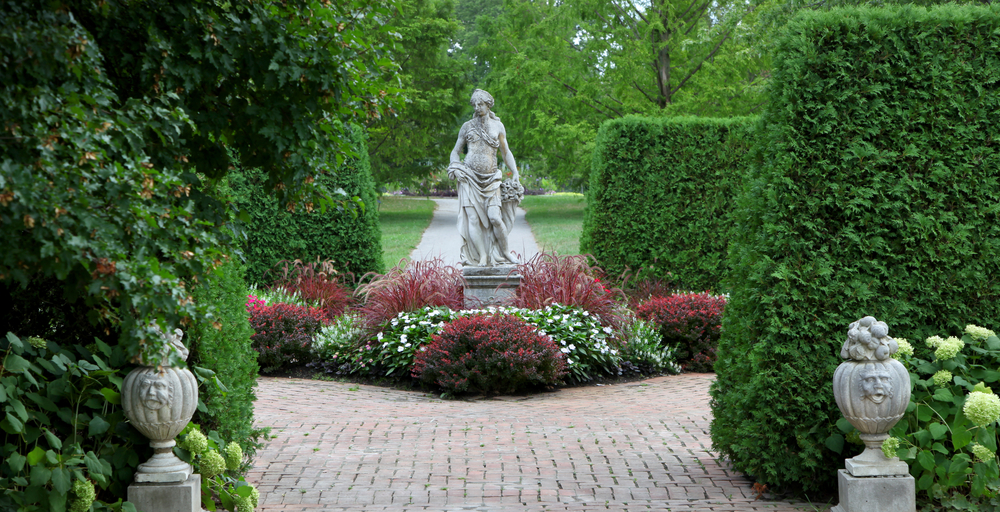 Take A Walk At The Wildwood Preserve Metropark
While there are many Metroparks in ToledoOH, this one should be top of your agenda. It's one of the largest and most visited of the parks.
You will find meandering walking trails, rolling grassland, meadows, forest prairies, and a Georgian Colonial manor house at the center.
You can tour the house and the tours are free. This is a great park to visit with lots to see and do. It's close enough to the center to be walkable yet you feel like you are out in the countryside.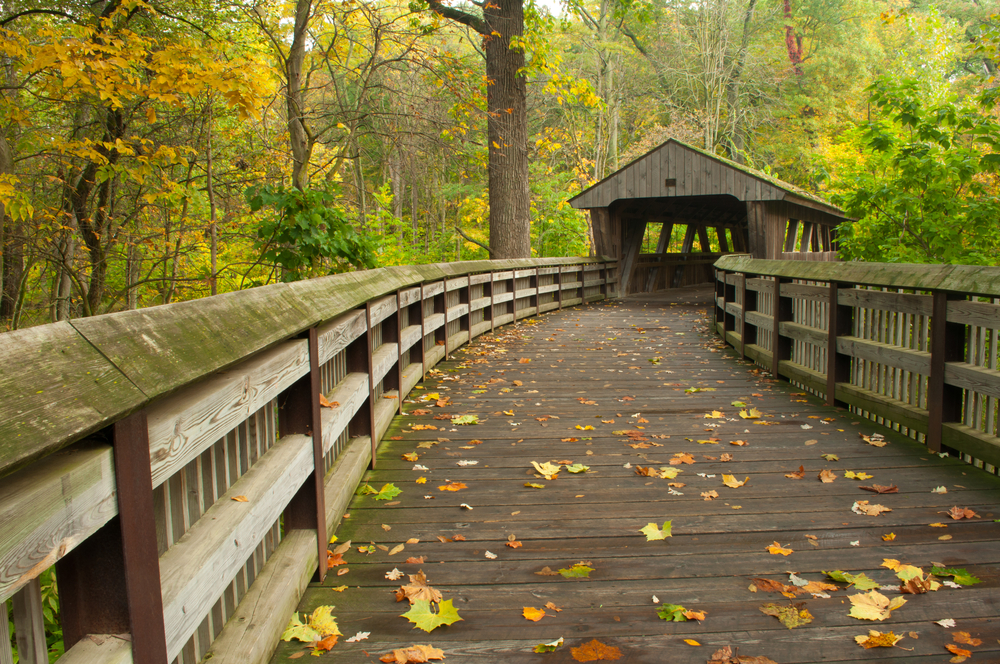 Eat Your Heart Out On A Food Tours
While Toledo Ohio isn't necessarily known as a foodie destination, it deserves some credit in that direction. And a food tour will allow you to sample the delights.
These tours show people all that Toledo had to offer and give you a taste of the city's many flavors and delights.
You have the opportunity to taste food from a variety of venues including a bakery, a coffee shop, a food truck, a pub, a restaurant, and a wine bar. You also visit the Toledo Farmer's Market.
The hosts are very knowledgeable and it's as much a history tour as it is a food tour. These tours are a great way to learn more about the city and its past and future.
Most of the tours start in downtown Toledo near the intersection of South Superior Street and Washington Street close to the Maumee River.
A food tour is one of the delicious things to do in Toledo OH!
Enjoy The View From The Toledo Lighthouse Tour
A small group boat tour to the Toledo lighthouse is a great thing to do in Toledo. It really is worth the effort.
On the boat tour, you can choose to just observe the lighthouse from outside or step inside. To see the inside you need to climb a rung ladder of 76 steps so be prepared for this.
The history of the lighthouse dates back to the 1800s where it played an important part in building Toledo.
The boat leaves from the Toledo Harbor Lighthouse Preservation Society at the Marina at Maumee Bay State Park. The tours are weather dependant due to the exposed location of the lighthouse.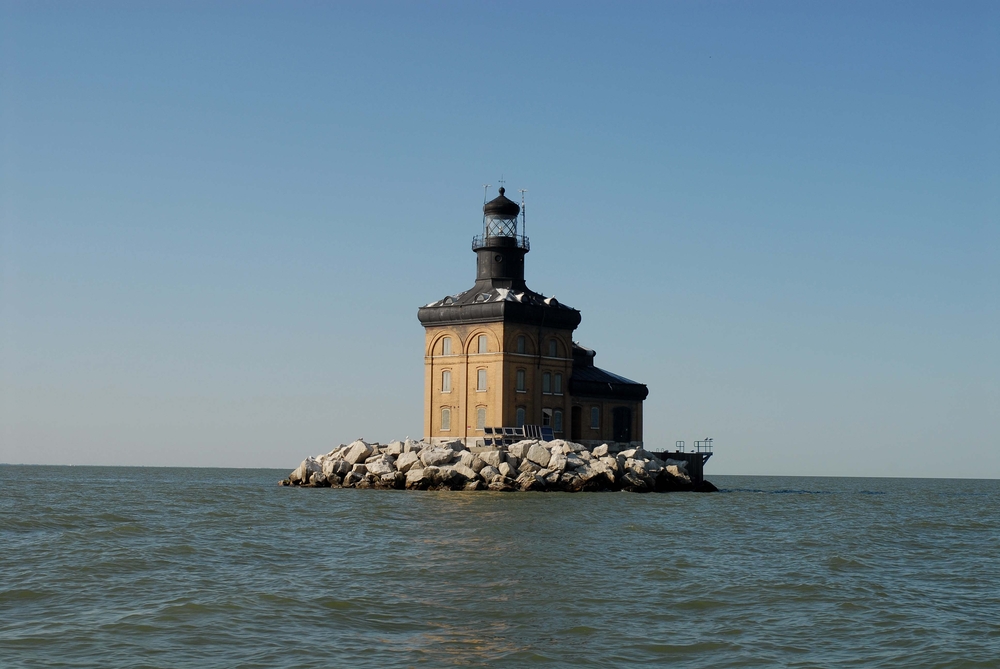 Learn At National Museum Of The Great Lakes
If you love discovering the history of a location you are visiting, then head to the National Museum Of The Great Lakes. It's a great learning experience.
The interactive exhibits tell the story of the significance of the Great Lakes in this region.
One of the exhibits is Col. James Schoonmaker's ship which is over a century old. They also have models of freighters and machinery leftover from the industrial boom times
The tours are self-guided and you can also enjoy the maritime park outside as an added bonus.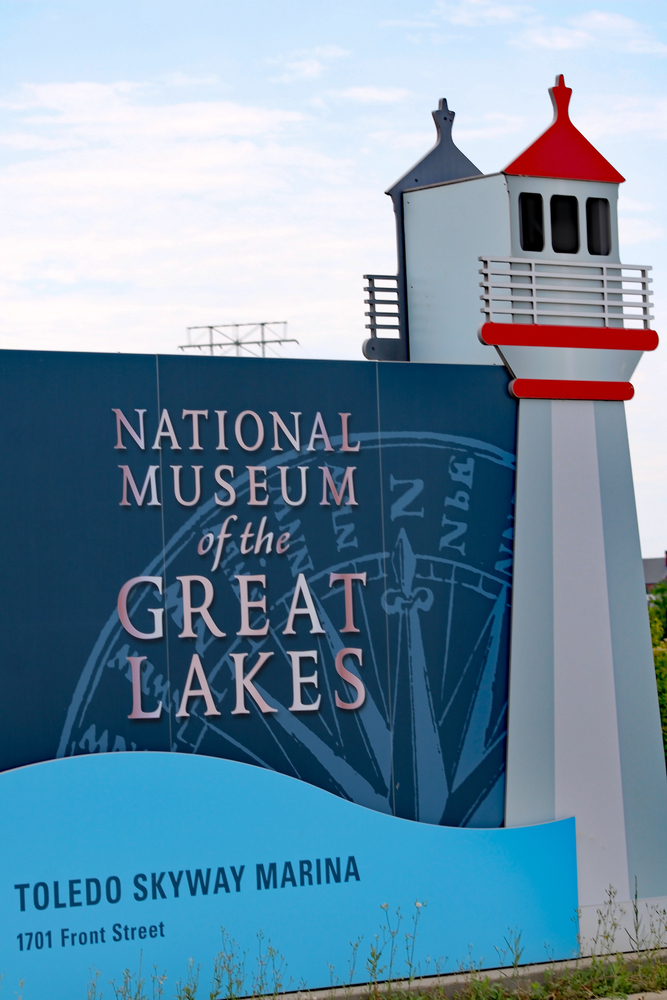 Wonder At The Gorgeous Queen Of The Most Holy Rosary Cathedral
In the heart of the Old West End among the Georgian mansions sits the Queen of the Most Holy Rosary Cathedral. If you are in this area I highly recommend a visit.
It's architecturally beautiful and is a unique find in this part of America. Designed and built in the early 20th century It was built to model the Mudéjar, arabesque, and Castilla-La Mancha styles of Toledo Spain.
It's a lovely place to explore and enjoy, and definitely one of the best things to do in Ohio.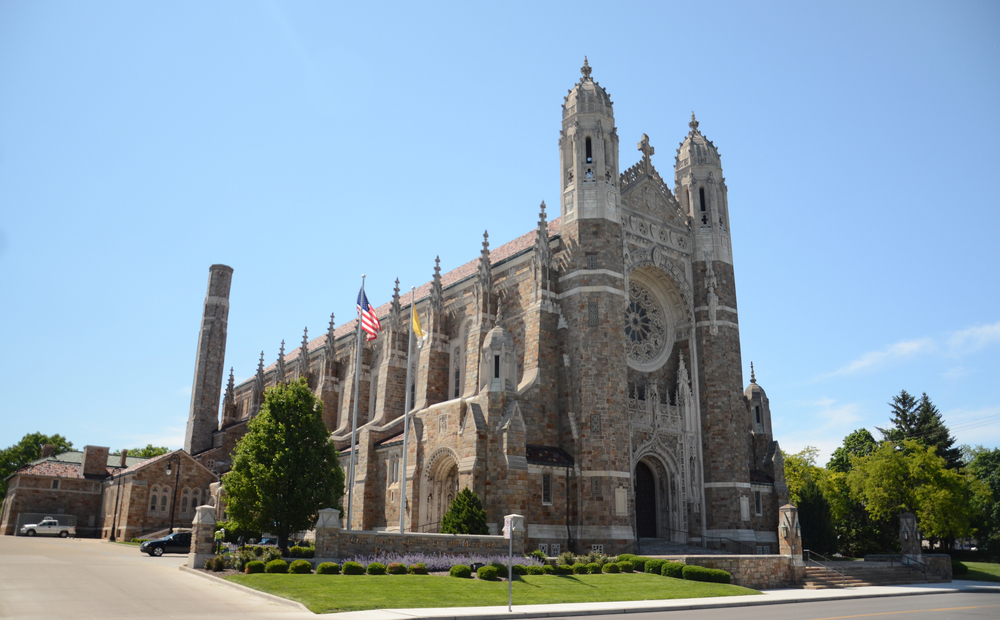 Seek Wildlife At Swan Creek
I told you there were a lot of Metroparks in Toledo and this is one of the best ones to visit. It's smaller but perfectly formed.
You will find it between the city suburbs and southeast outskirts. It's a triangle piece of land filled with trees and is known for migratory birds.
If you love wildlife watching this is the place in Toledo for you. It's a great place for a summer picnic or a winter one for that matter the picnic spots have covered roofs. And it would make the perfect Ohio Day trip!
In the woods, you might see deer and foxes and birds can be seen along the creek bank. In spring this place is awash with wildflowers.
You also have a host of trails to explore here, a couple of playgrounds for the children, and a swinging bridge which is always fun.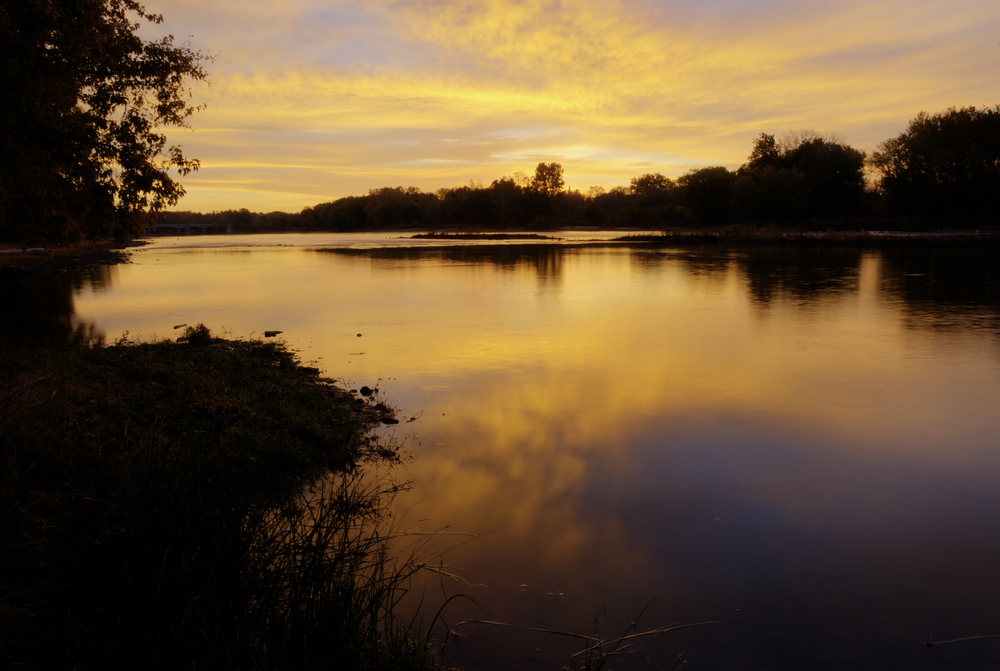 Watch A Race At Toledo Speedway
Now I know the speedway might not be to everyone's taste but if this is your thing then make a trip to Toledo Speedway.
You will find stock car racing, USAC heats, and much more. You can even book your own NASCAR experience.
The track is open seasonally with the last race usually held in October. Please check before you visit.
Toledo Firefighters Museum
This is a quick and fun Toledo activity to do with children or adults who enjoy anything vintage. Inside the historic Firehouse Number 18, you will find vintage firefighting equipment and lots of history.
Inside there are rooms showcasing the stories of firefighters who have lost their lives in the line of duty.
It's a special museum that is perfect for those who love learning about history.
Wacth The Toledo Mud Hens
If you like baseball then a trip to watch the Toledo Mud Hens is a must. They are minor league but baseball is baseball.
Games take place at Fifth Third Field in the Hansville area of downtown Toledo's Warehouse District. This area is well worth an explore even without baseball.
The facilities are award-winning and you can get anything from a hotdog to a steak. Most home games also end in fireworks so it really is a great Toledo experience.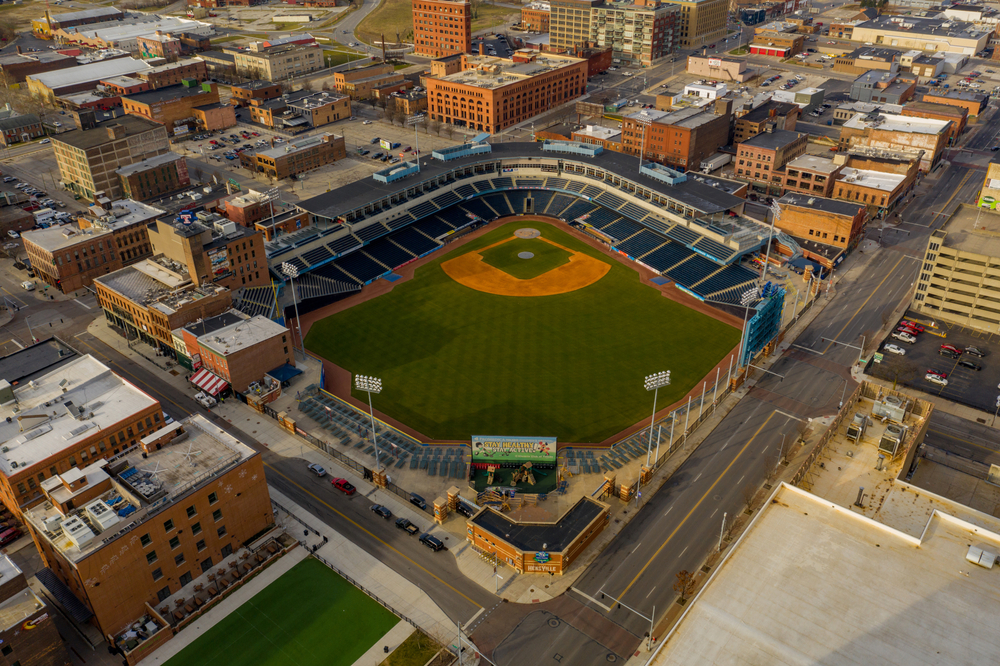 Live In The Trees At Oak Openings Preserve
Located between Whitehouse and Swanton, this is one of the largest parks in a region of global significance. It's also home to the nation's only public treehouse village.
At 5000 acres there is a lot to explore here and this area looks just stunning in the fall. It was named "Oak Openings" by the pioneers because of the widely-spaced oaks dotting vast prairies
It's a mix of oak savanna, wetlands, and vegetated sand. These sandy regions were named by the Nature Conservatory as one of the 200 "Last Great Places on Earth."
There are more than 70 miles of trails here to explore and the different types of trees make for some great photography spots.
Expect to see lots of wildlife including birds some quite rare who come to this area. Also look out for cacti, orchids, and wild lupines.
The park is located on Girdham Road southwest of downtown Toledo.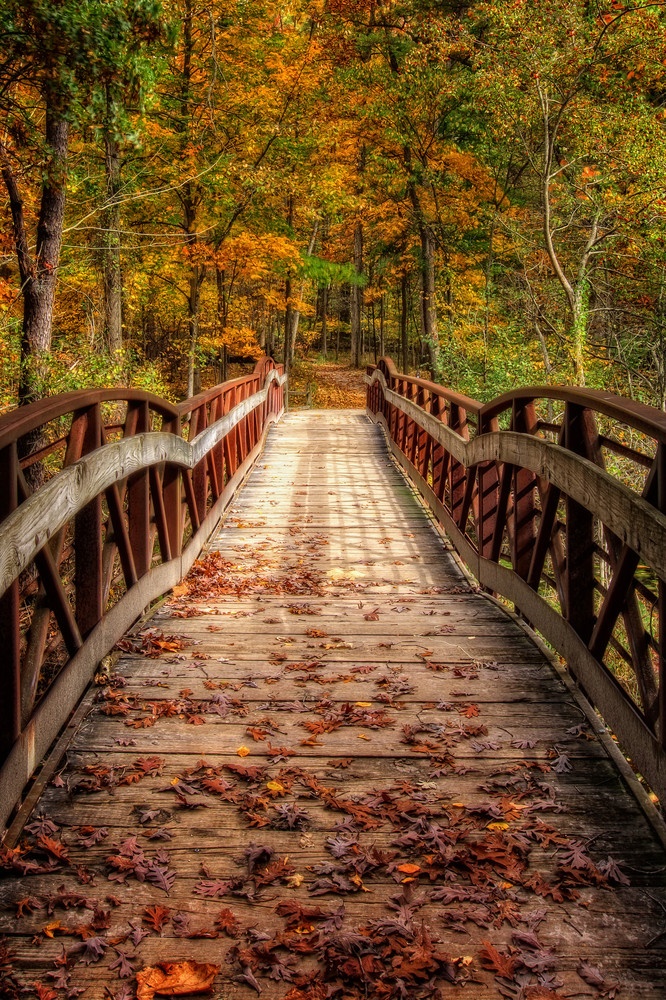 Packing List For Visiting The Toledo Attractions
If you will be traveling, either by plane or by car to Fargo ND here are some tips on how to pack lightly.
A concealed travel pouch may be one of the most important items you bring along when visiting Toledo Ohio. It is always important to protect your personal information. Identity thieves are everywhere.
This unisex RFID blocking concealed travel pouch is lightweight and comes in several colors. It has lots of organization to give you peace of mind.
You can place it under your hiking clothes next to your body to carry your ID safely.
If you have a pouch already that does not come with the RFID protection, as I do, these RFID sleeves are the perfect solution.
This configuration comes with enough credit card sleeves that the entire family would be protected. They are slim too, so they will easily fit into your pouch or wallet.
If you are planning on taking a lot of pictures with your phone you will definitely want to consider an external charging battery. This Anker high-speed phone charging battery is the exact one I carry with me on all of my trips.
It can be used on a variety of phones, not just an iPhone like I have. And wow is it fast!
I like that it holds its charging capabilities for several uses so I do not have to worry about it while out and about, and if I forget to recharge it at night, it will still be good to go the next day.
My daughter gifted me with this FugeTek selfie stick and tripod setup for my birthday. I absolutely love it! It is made of lightweight aluminum and is so easy to use.
It has Bluetooth connectivity and is a breeze to use for taking selfies when staying in one of the best Airbnbs in Illinois.
Hydration is so important when traveling. You want to remain hydrated throughout your travels to support your immune system which in turn will be stronger to fight off any germs you will encounter during your travels.
You will want to bring your own refillable water bottle with you.
I never leave home on a trip without my Bobble filtration bottle. The 18.5-ounce size is perfect for hiking and it fits nicely in the pocket of a backpack.
When filled with water, it is not too heavy to carry. And the charcoal filter ensures fresh clean water whenever you fill the Bobble.
Perhaps you are traveling a long distance and packing space is a premium in your suitcase, or in your car.
Then this set of collapsible silicone foldable water bottles would work well for you. Would not take up much space at all.
You will want a backpack or daypack with you to store snacks, your water bottle, phone, extra clothes, etc.. when hiking This foldable water-resistant backpack would be great
It is very affordable and is available in many color options for you to choose from. The fact that it folds down into a zippered pouch will make it easy to pack.
---
As you can see there are lots of things to do in Toledo OH. Whichever one of these things you choose to do I am sure you are going to love this city and enjoy it.
Whether you visit one of the Toledo museums, one of the Toledo attractions, or enjoy the open spaces, I hope you have a great time.You can even make a romantic weekend out of it! I can't wait to hear all about it.