If you're looking for an itinerary to help you navigate your upcoming 2 days in Chicago, you've come to the right place!
This 2 days in Chicago itinerary will help you hit as many top destinations in the city as possible while experiencing culture and history on the way.
Planning your trip to Chicago last minute?
Make sure to book ahead. Hotels and tours often sell out the closer you get to your trip. Here are our top pics for Chicago!
Top Experiences And Tours In Chicago:
Hop Hotels In Chicago:
Here I will equip you with the know-how and insider tips to help you get around in a breeze so that you can make your trip as effortless as possible.
Chicago is a relentless, innovative metropolitan hub in the center of the American Midwest with a culture and mentality of its own.
The "Windy City" is known for its groundbreaking city planning, its skyscrapers (with famous architects like Frank Lloyd Wright), and its financial and commerce centers.
And of course, in pop culture, Chicago's also known for its prohibition characters like Al Capone, its deep-dish pizza, improv comedy, and its contribution to countless music genres.
After the Great Chicago Fire destroyed most of the town is 1871, the resilient community was able to quickly rebuild itself out of its ashes, but this time from stone, steel, and with the help of new technologies.
Soon afterward, the 1893 Colombian exposition showcased the city's bold intentions to create a "city beautiful," which were also incorporated into the 1909 plans of Chicago.
One result of this plan has become Chicago's ever-growing green spaces and parks!
The city that pioneered American city planning has continued to routinely make ground-breaking technological and architectural achievements.
This includes the Chicago canal, which revered the flow of the Chicago River, the construction of the world's first skyscraper (in the 1880s!), and many architectural schools of thought. The city is a hub for creativity and innovation!
Here you will find the ultimate 2 day Chicago itinerary.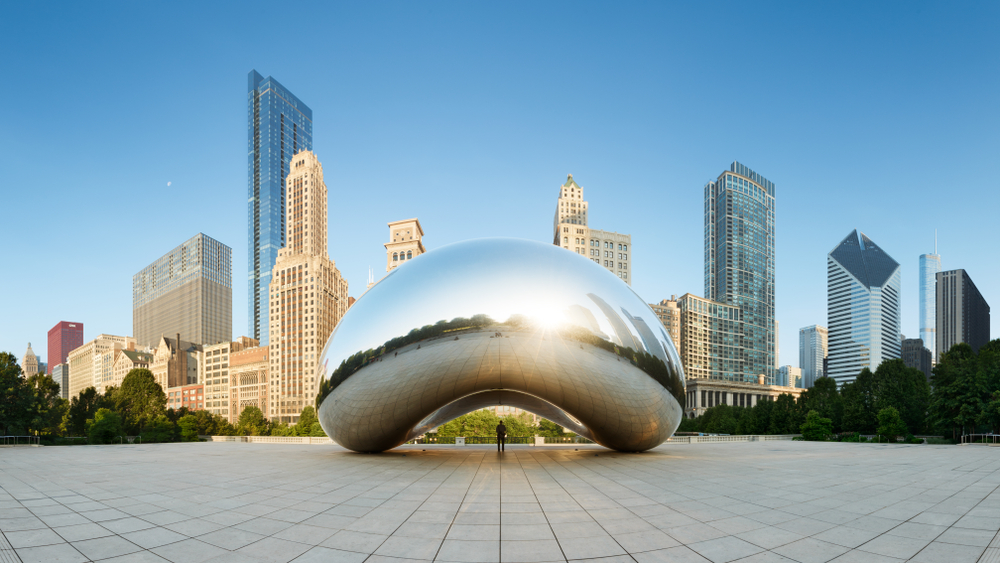 The Ultimate 2 Days In Chicago Itinerary
Day 1 – The Historic River North Of Your 2 Days In Chicago
Your first day in Chicago is primarily centered on and above the Chicago River!
Stop 1 – The Willis Tower and John Hancock Center
Your 2 days in Chicago, the city that birthed the modern skyscraper, must include at least one stop inside one of its tallest skyscrapers!
Of the two noteworthy Skydeck options in Chicago, most tourists will end up visiting the Willis Tower (formerly the Sears Tower) because it's the tallest, and most well-known of the Chicago skyscrapers.
In fact, it's also the tallest observation deck in the United States! Bringing in over 1.3 million visitors a year, you'll want to arrive here as early as possible to avoid long lines!
The Willis (Sears) Tower Skydeck is located on the 103rd floor of the 110-storied building, and offers panoramic 360-degree views of the city!
The Willis (Sears) building is located on Wacker Avenue in the heart of downtown Chicago. On a good day, one can see into the distance for miles, even into the neighboring states.
And of course, it's one of the best views of Chicago's downtown, Navy Pier, and Lake Michigan. In addition, the Skydeck offers a feature called "The LEDGE," a series of glass boxes extending 4 feet out from the building.
The experience is fun and unique, though it may require waiting in line for your turn!
The 1,454-foot-tall skyscraper was the tallest building in the world for 25 years until 1998 and is currently the second tallest in the United States.
And of course, this skyscraper is especially iconic to Chicagoans because this city has made important contributions to the development of the modern skyscraper, including the first skyscraper in the world, which was constructed in the 1880s (it has since been deconstructed).
The Skydeck entrance is accessible from Jackson Boulevard, which can be reached easily by the famous "L" line in the famous downtown loop district.
Because it's likely the lengthiest time commitment of the tourist attractions in Chicago, it's ideal to get this stop out of the way as soon as it opens. Be prepared to wait!
On a busier day, the waiting time may exceed 2 ½ hours! If it's not possible to arrive in the day (e.g. the weather isn't ideal) the crowds will generally begin to diffuse after 5 pm.
From March to September, the Skydeck's hours span from 9 am to 10 pm, while from October to February they are 10 am to 8 pm.
A second skydeck opportunity that many tourists aren't aware of is located in the 875 North Michigan Avenue Building, more often referred to as the John Hancock Center (its previous name).
Lying next to Lake Michigan at the top of the Magnificent Mile, this tower is 100 stories tall and offers a Skydeck called "360 Chicago" on its 94thfloor.
A special feature this viewpoint offers is TILT, a moving glass platform that leans visitors over the edge of the skyscraper at a 30-degree angle!
Other than having the TILT feature over the Willis' Ledge, the John Hancock building's "360 Chicago" Skydeck is, in essence, the same experience and an excellent alternative for anyone who just wants to capture an amazing view of the city without the wait.
The line can sometimes be as short as 5 minutes, and is almost never more than an hour!
The John Handcock Center can be reached via the red metro line and is located at the top of the famous Magnificent Mile on Michigan Avenue.
When it comes down to it – both are amazing experiences, and I highly recommend trying out both sky decks if time permits! For ambitious travelers, 2 days in Chicago is just enough time to see both!
Whether you prefer Chicago 360 or the Skydeck, we highly recommend purchasing a Chicago CityPass.
It is a bundle of Chicago's most popular attractions that will save your wallet while visiting Chicago. Of course, you'd want to visit at least three of the included locations to make the bundle worth your while.
There are so many tours in Chicago to take advantage of!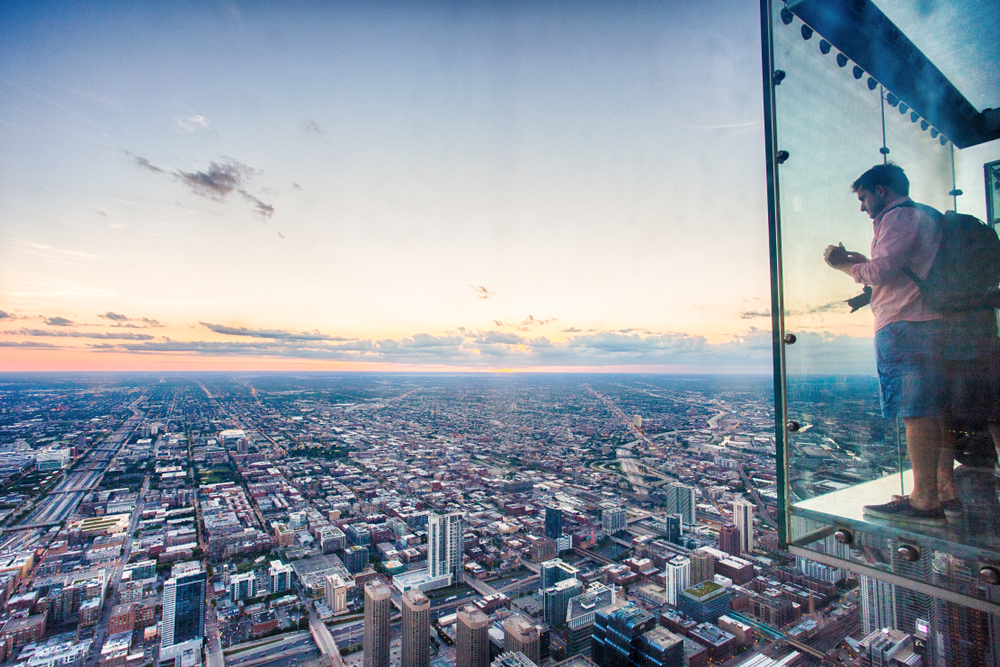 Stop 2 – Architecture Boat Tour On The Chicago River
After having waited in long lines, doesn't a boat ride down the Chicago river sound nice?
Chicago is world-famous for its architecture, and this is exactly why you can't pass up a Chicago Architecture Cruise on your 2 days in Chicago!
Whether history or architecture is of any interest to you, these cruises are a wonderful way to kick back and relax while quickly hitting the top tourist destinations.
Offering a full-service bar and snack bar, an hour and a half tour might be the very best opportunity to capture the skyline's views, and of course, to take some great photos.
Cruising down the Chicago River, you'll be able to see the Navy Pier, the Willis Tower, the John Hancock Center, Millennium Park, the Historic Water Tower, and many more.
Many of the skyscrapers on the Chicago river represent the cutting edge of art form in skyscrapers when they were built, a legacy that's continued to draw famous architects into the city today as much as before.
Although there are quite a few companies that offer architecture tours, I recommend the original tour run by the Chicago Architecture Company.
They offer a wide selection of departure times (every 30 minutes after 9 am until 5 pm) when the weather is appropriate.
Lasting an hour and a half each, they're run by volunteers from Chicago's Architectural Center and are operated via Chicago's First Lady Cruise ships.
These tours depart from 112 E. Wacker Drive, next to the Chicago Architecture Center.
Tickets are best purchased online to avoid lines and sellouts. And are best purchased a day or two before the tour to avoid bad weather (tickets are sometimes not refundable.)
Another bonus to buying tickets through this company is the cheap extra $5 add-on offer that allows guests to access the museum at the Architectural Center!
And of course, if an architectural tour isn't your cup of tea but you still want to take a boat ride, that's totally fine! Chicago operates water taxis, and they're far more fun than the ones that drive!
It's fairly inexpensive, and a great practical alternative to just get around during your two days in Chicago.
If you are looking at where to stay in Chicago, this Chicago neighborhood should be considered.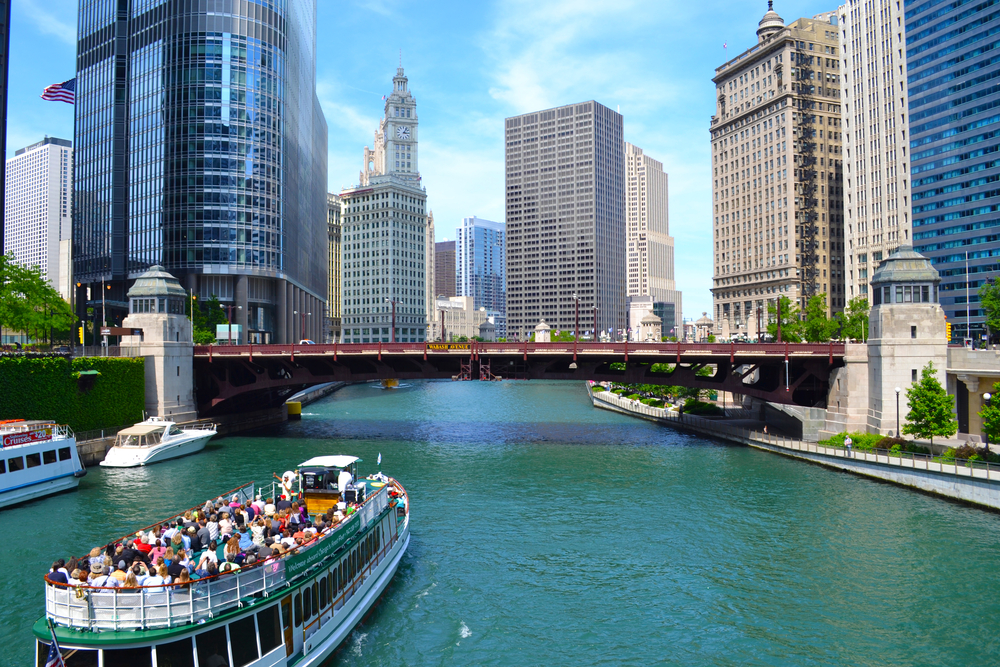 Stop 3 – Navy Pier For Some Fun When Spending 2 Days In Chicago
Iconic for its large Ferris wheel and family-oriented facilities today, the 3300-foot-long pier on the shoreline of Lake Michigan hasn't always been one of the Midwest's premier amusement park destinations.
"Municipal Pier" opened in 1916 and served as a dock for passenger arrivals, freights, and for indoor and outdoor expositions.
The pier was probably best remembered for its association with the navy.
Renamed "Navy Pier" in 1927 to honor the naval veterans of the First World War, it subsequently served as the training center for the United States Navy between 1941 and 1946.
It wasn't until 1995 that the pier began to rebrand itself as an amusement park and first incorporated a Ferris wheel into the park.
In 2016, the park celebrated its centennial birthday, erecting a new Ferris wheel, among many other new attractions.
This wheel, like the one before it, has always been the main draw to the park because of the incredible skyline views it offers and also just because it's in Chicago!
The world's first Ferris Wheel was a 250ft towering novelty was chosen to serve as the focal point of the 1893 Columbian exposition in this city, just a year after the Eiffel Tower was featured in the previous world fair.
Although not standing at the same location, this new 2016 Centennial Wheel celebrates the amazing legacy of this city!
The ride is just $15 when you get your tickets in person, however, if you're traveling during the summer or over the holidays it's a good idea to book them ahead of schedule to avoid unpleasant long lines.
Since turning over into a non-profit organization in 2011, Navy Pier has heavily redeveloped and rebranded itself to better outfit what has become such an important civic landmark in the United States.
Besides beautiful shorelines, and an amazing city skyline, the Pier compromises of an amusement park, a children's museum, a Shakespeare Theater, an IMAX theater.
Also, you will find an indoor botanical garden, a beer garden with live performances throughout the week, and stages set up specifically to serve local community organizations.
Navy Pier has really become a "people's pier," an urban oasis where the community is able to play, learn, and celebrate its diversity!
Whether you have kids, or you're an adult traveling by yourself, Navy Pier has so much to offer, and shouldn't be overlooked on your 2 days in Chicago.
Day or night Navy Pier has something to offer everyone. It is especially a fantastic date night in Chicago.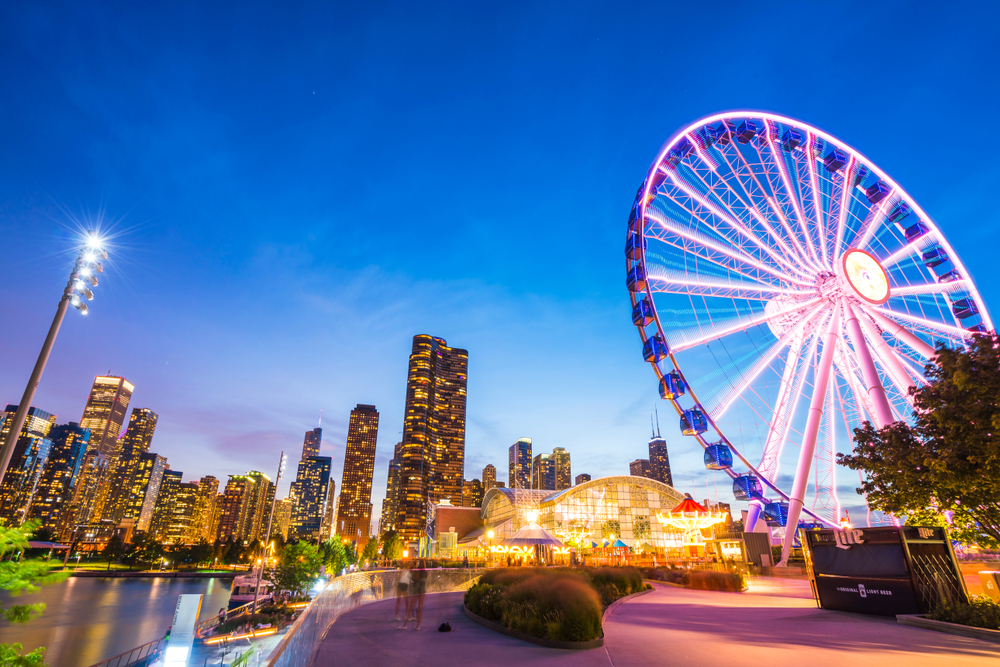 Stop 4 – The Upscale Magnificent Mile
Get ready to walk! The magnificent mile, a nickname referring to the upscale shopping district on the northern end of Michigan Avenue in Chicago, is one of the must-see streets in downtown Chicago!
As the most successful shopping district in Chicago, the area is comparable to New York's Fifth Avenue or Rodeo Drive in Beverly Hills.
The area boasts the eighth-highest rent in the country and is scoured with high-end hotels, restaurants, and expensive brand names like Versace, Burberry, Tiffany's, and Cartier.
The commercial district features some of the tallest skyscrapers in the city including the former John Hancock Center, the Wrigley buildings, and the Tribune Tower.
The street is also home to the popular Historic Water Tower that famously survived the Great Chicago Fire of 1871.
Whether to shop or to merely look around, the Magnificent Mile is undoubtedly a memorable destination you'll want to see on your 2 days in Chicago.
This street has become a staple in the city and a popular tourist destination! The beautiful rising architecture and the historic water tower are on their own worth a visit to see!
For those interested in architecture, consider taking a walking tour down the Magnificent Mile.
Stop 5 – The Riverwalk Along The Chicago River
The next stop has increasingly become one of the most popular hang-out spots in the city and is another great example of a newer extension of the city that follows one of its great traditional legacies – its waterways.
In a similar spirit, the city of Chicago recently completed a decades-long Riverwalk project in 2016 that sought to make the Chicago's primary river more meaningful, sustainable, and intuitive by opening up the riverside of the Chicago River to the public.
The $98.6 million projects created walking paths in the heart of the city and merged local businesses with nature to create the ultimate urban oasis!
The project is an extension of a larger one that has amplified the philosophy that the city has grown up on, one that envisioned a garden inside a city.
While on the riverwalk, take the opportunity to stop at a café and sit outside for a bit!
It is also a great location for dinner, or a late-night walk when the city can be enjoyed illuminated and reflected against the water. This is one of the coolest places to experience Chicago at night!
As one of the hottest new spots for locals to relax, this spot can't be missed when you spend 2 days in Chicago!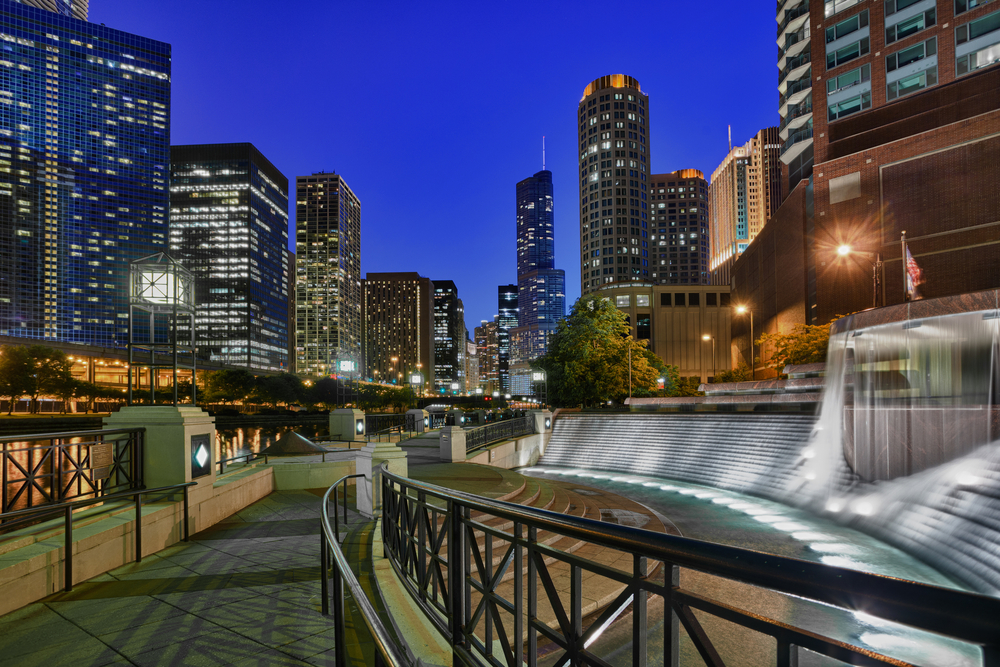 Stop 6 – See a Broadway Show In Chicago During Your 2 Days In Chicago!
Alongside New York City, Chicago has one of the most active theater scenes in the United States.
It is home to over 200 small independent theater groups and a hoard of theaters supporting traveling Broadway shows, and Chicago is a great stop for anyone who loves the theater!
The city has long held a creative tradition of producing up-and-coming Broadway musicals, experimenting with off-broadway theater, and showcasing famous traveling Broadway shows!
Don't forget to see a show during your 2 days in Chicago!
Most of these shows are today performed in historic theaters like the James M. Nederlander Theatre, the Cadillac Palace Theatre.
Also the CIBC Theatre, and Auditorium Theatre, as well as the more recently constructed Broadway Playhouse Theater
Some other theater companies to consider for off-Broadway shows are The Goodman theater, an excellent non-profit community theater with quality productions in the heart of downtown.
As well as the Shakesphere theater at Navy Pier, or the Steppenwolf Theater company in Lincoln Park.
Additionally, the "Drunken Shakespeare" act by The Drunk Shakespeare Society has been a popular show because it involves a unique level of audience interaction!
Finally, Chicago is the city behind the modern improv movement! The Second City, a theater troupe started by a group of university students in 1952.
It has raised generations of comedians for the popular Saturday Night Live television comedy series in the US, and SCTV in Canada.
Both are very reminiscent of the Chicagoan comedy style which began with a mix of theater games and rehearsed skits.
Having evolved greatly through the years, this theater group is still at the frontline of developing great new comedians! Check out the Second City's performances at their new location on 230 West North Avenue.
Whichever option is of most interest to you, you may consider adding seeing a professional show to your 2 day Chicago itinerary!
And if you are hungry after the show check out some of the best pizza in Chicago.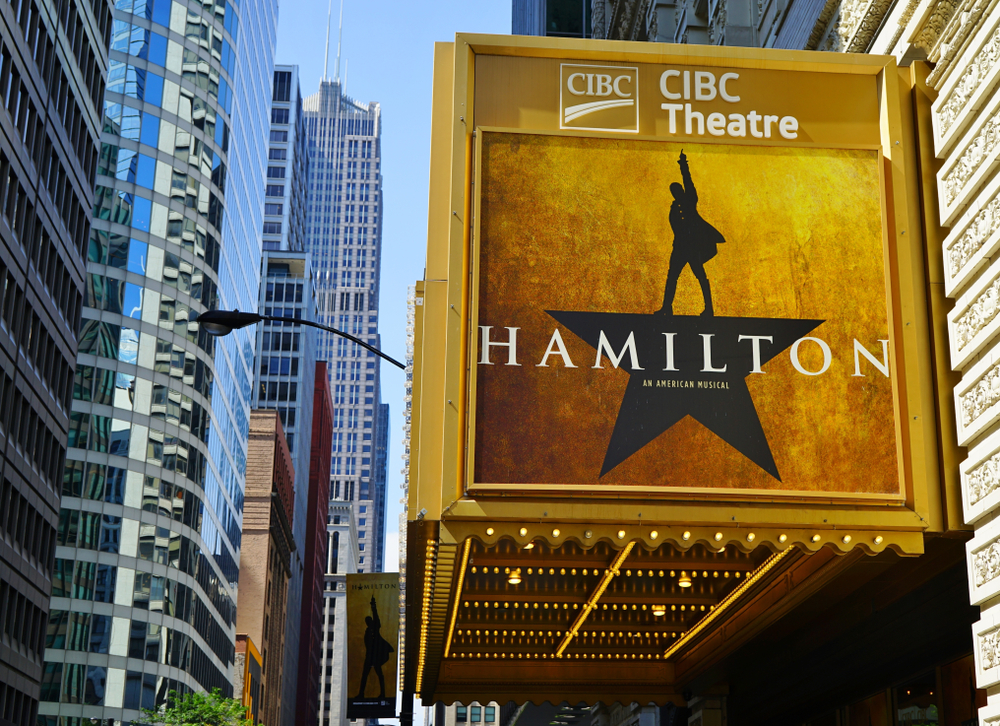 Day 2 – Museums and the Historic Loop District Of Your 2 Days In Chicago
Day 2 of your 2 days in Chicago itinerary is all about exploring the historic downtown area, including the "loop" district and the city's amazing museums!
Stop 1 – The Iconic Millennium Park
As one of the most popular spaces in Chicago today, you'll want to arrive here before the crowds come, but late enough to have enough sunshine in your photos.
Don't be afraid to sit down for a while and enjoy the sun! 8 am is usually early enough to beat out the crowds.
Millennium Park is one of the most beautiful spaces in the entire city! The park was designed to upgrade the city into the 21st Century, while still aligning its ethos with the city's legacy as a "city in a garden."
This park is important within the city because it was designed to serve the needs of its current and future generations of residents while celebrating its diversity.
The park was a major addition to the city and has been considered by many unprecedented since the legendary 1893 Columbian Exposition!
Millennium Park is in itself the largest landscaped terrace in the world, having been built atop a parking garage and railway tracks (today Millennium Station).
The park, an extension of the larger Grant Park, has many attractions and monuments.
The main attraction to the park, which may be the most iconic structure in Chicago, is located above the only permanent restaurant in the park and is known locally as "The Bean."
Officially called "Cloud Gate," the 23 million-dollar 3-story reflective steel sculpture comprised of 168 welded steel plates that evenly cover the bean-shaped structure, offering viewers a unique mirror-view portrait of the city.
Another unique element to the structure is its concave underside, which warps multiple reflections like a kaleidoscope.
The unique monument poetically fuses the viewer into the historic yet modern cityscape and is a powerful reminder of the complex, diverse world we live in, as it literally reflects every person who approaches it.
Another powerful interactive work of art in the millennial park is the Crown Fountain. Two transparent towers with water flowing down their faces collect water in an adjoining granite reflecting pool.
Behind the surface of each tower, LED lights display a digital video depicting a set of 1000 faces belonging to Chicagoans.
Water flows from each mouth, symbolizing life. When the weather is nice, dozens of children can be seen playing in the pool!
Finally, the Lurie Gardens (sometimes called the "hidden gardens") on the south side of Millennium park consist of a combination of perennials, bulbs, grasses, shrubs, and trees.
The garden is split into 2 sections, one representing Chicago's past with shade-loving plants and trees, and the other with sun-loving perennials representing Chicago's future.
This botanical park, in particular, pays tribute to the city's motto as an "Urbs in Horto," or a city in a garden.
Located just off the city's historical district, and sitting next door to the Art Institute of Chicago, the park is the perfect spot for tourists to relax between activities.
And a great space for college students and business employees to relax on lunch break.
Visiting this space on your two days in Chicago is worth your effort because it is a perfect place to run into locals and tourists alike. And you can get an Insta-worthy photo as well.
Do not forget to stop at the park's scenic outdoor Plaza Café for a quick bite or drink The perfect way to spend a few minutes while visiting Chicago in two days.
It is especially spectacular if you are visiting Chicago in the fall!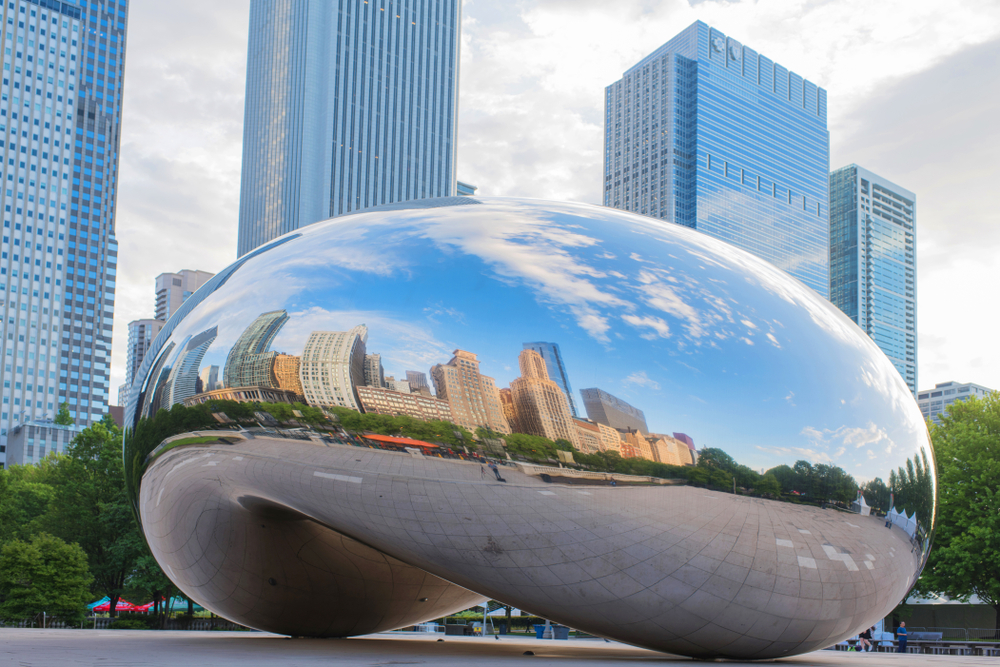 Stop 2 – Visit The Art Institute of Chicago During Your 2 Days In Chicago
The Art Institute of Chicago is an important museum for everyone to explore because its exhibits, its legacy, and traditions have been the backbone of Chicago's art scene for ages.
Ii is also the most popular museum in Chicago! The world-class museum is one of the largest in the country, featuring one of the world's best collections of Impressionist and post-impressionist paintings in the world.
Famous artists represented in the collection include Seurat, Monet, Georgia O'Keefe, Van Gogh, Matisse, Jackson Pollock, and Andy Warhol.
You will also be able to find artwork from all around the world here, including works from Frank Lloyd Wright – a native to the region and a great contributor to Chicago's famous architecture.
Today Chicago's art scene is arguably the most diverse and one of the most distinguished in the country, owing much of its success to the famous Art Institution.
Art in Chicago is today still inextricably conceptual and design-oriented. To learn more about art and its place in Chicago, you absolutely have to explore the Art Institute of Chicago Museum on your 2 days in Chicago!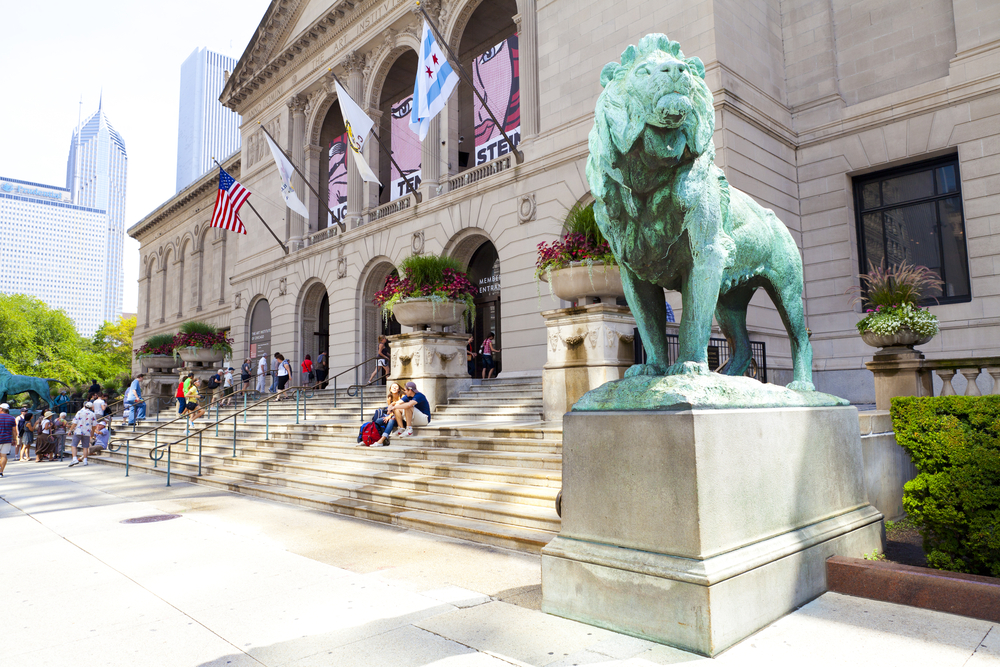 Stop 3 – The Field Museum Of Natural History
The Field Museum of Natural History (generally referred to as the Field Museum) is another noteworthy museum you may consider adding to your 2 days in Chicago itinerary.
The museum is one of the best natural history museums of its kind, and very engaging for all ages.
The Field Museum is one of the most successful, most reputable, and largest natural history museums of its kind in the world with over 2 million visitors a year.
In particular, the museum is renowned for the quality of its educational and scientific research programs and its state-of-the-art interactive exhibits.
It is also famous for attracting popular traveling exhibits, for which it owes much of its foot traffic.
The Field Museum has an impressive permanent collection, with over 24 million specimens and objects belonging to its research.
And display collections that include fauna, gems, meteorites, fossils, and anthropological/archaeological artifacts.
Some of the most famous exhibits include the Egypt exhibit, featuring multiple mummies, and a replica of a Mauri meeting house.
The famous SUE T.Rex skeleton formerly stood inside the great main hall of the museum until she was moved to make room for a casted replica of the world's largest dinosaur, Maximo the Titanosaur.
Visiting the Field Museum is something you can do during summer or winter in Chicago.
Just south of the Art Institute from Grant Park, the Field Museum is located on Chicago's Museum Campus at 1400 South Lake Shore Drive and can be easily accessed by foot (or public transportation).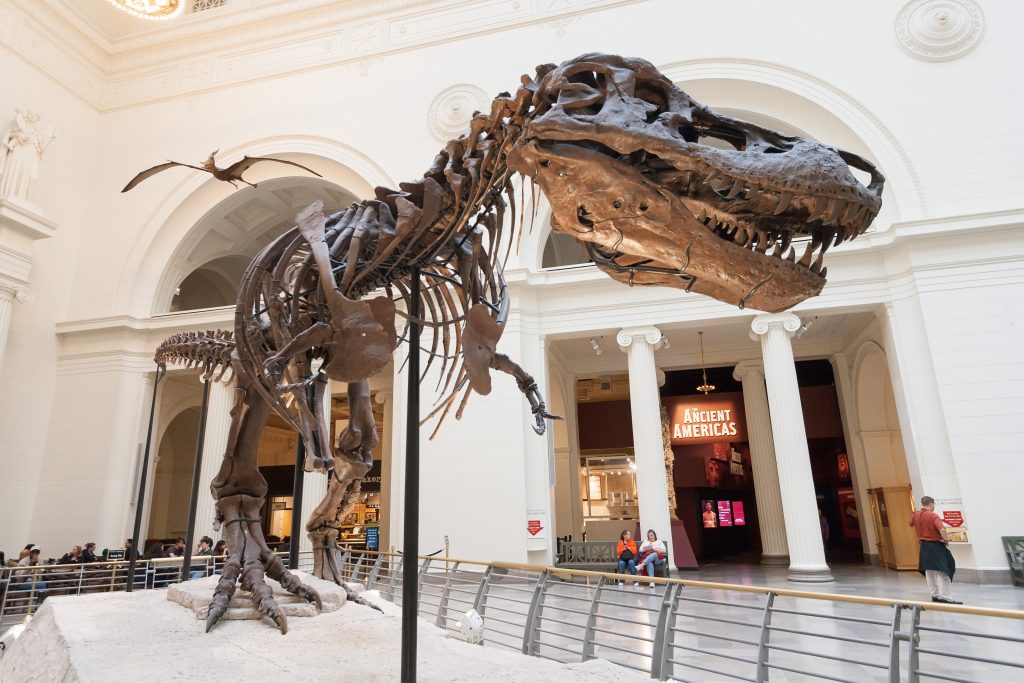 Stop 4 – State Street Area Including The Historic Loop Shopping District
You haven't seen the city until you've seen Chicago's historic downtown district! The area is bound between Lake Street in the North, State street in the West, Wells Drive in the South, and Wabash in the South.
Traditionally the premier shopping district in Chicago and the center of the city, no other area has more buildings registered under National Historic Landmarks or Places.
The area was also famous for introducing the "L" that became the namesake of the "Loop district."
A system of tracks was built above the streets and designed to support the popular shopping market by cutting down on taxing traffic and transporting shoppers in and out of the area efficiently.
Your 2 days in Chicago should essentially gravitate in and around this central area.
After the Great Chicago Fire in 1871, State Street was considered to be the center of downtown.
And therefore still comprises the city's oldest and most noteworthy buildings, including the former Marshall Fields building and Sullivan Center.
One of the best streets for shopping today is still State Street, where you'll also be able to find the Chicago Theater with its iconic "Chicago" marquee.
The Sullivan Center, although no longer home to the Carson Pirie Scott retail store (it's now Target), still stands to display the beautiful architectural motifs designed by Louis Sullivan.
As does the famous Marshall Fields building that houses Macy's today.
If you are spending 3 days in Chicago you may want to come back here twice!
Today, the historic loop shopping district is one of the liveliest areas of the city.
Filled with university students, and new residents have spilled into the area by the opening of new apartment spaces and offer a mix of popular restaurants, cafes, and affordable clothing brands.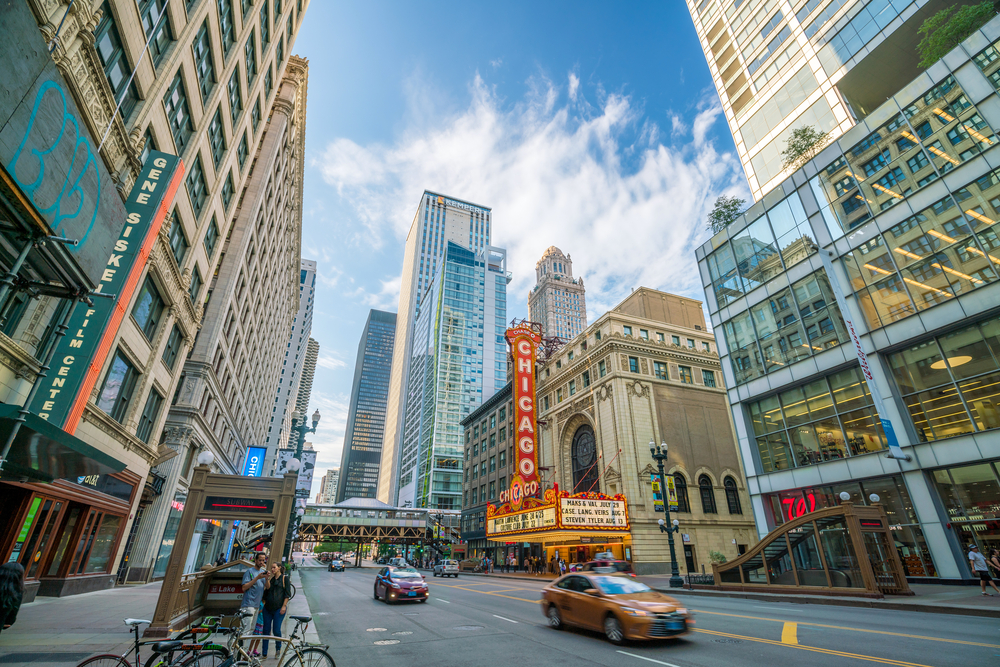 Packing List For Spending 2 Days In Chicago
A concealed travel pouch may be one of the most important items you bring along when visiting Chicago for two days. It is always important to protect your personal information.
Read my tips on how to pack lightly here if you need packing tips.
This unisex RFID blocking concealed travel pouch is lightweight and comes in several colors. It has lots of organization to give you peace of mind.
If you have a pouch already that does not come with the RFID protection, as I do, these RFID sleeves are the perfect solution.
This configuration comes with enough passport and credit card sleeves that the entire family would be protected. They are slim too, so they will easily fit into your pouch or wallet.
If you are planning on taking a lot of pictures with your phone you will definitely want to consider an external charging battery.
This Anker high-speed phone charging battery is the exact one I carry with me on all of my trips.
It can be used on a variety of phones, not just an iPhone like I have. And wow is it fast!
I like that it holds its charging capabilities for several uses so I do not have to worry about it while out and about, and if I forget to recharge it at night, it will still be good to go the next day.
My daughter gifted me with this FugeTek selfie stick and tripod setup for my birthday. I absolutely love it! It is made of lightweight aluminum and so easy to use. It has Bluetooth connectivity and is a breeze to use for group shots or that perfect selfie!
I was not a fan of packing cubes until I started to use them! This is the exact set of packing organizers I use whenever I travel.
I cannot believe how much they really do help with the organization. If you have not considered packing cubes, I would recommend giving them a try.
Hydration is so important. You want to remain hydrated to support your immune system which in turn will be stronger to fight off any germs you will encounter during your travels.
You will want to bring your own refillable water bottle with you.
I never leave home on a trip without my Bobble filtration bottle. The 18.5-ounce size is perfect for travel and it fits nicely in the pocket of a backpack or your purse.
Perhaps you are traveling a long distance and packing space is a premium in your suitcase, or in your car. Then this collapsible silicone water bottle would work well for you. Would not take up much space at all.
You will want a backpack or daypack with you to store snacks, your water bottle, phone, extra clothes, etc.. This foldable water-resistant backpack would be great.
It is very affordable and is available in many color options for you to choose from. The fact that it folds down into a zippered pouch will make it easy to pack.
Perhaps you need a more substantial backpack for your travel. This antitheft backpack has a charging port, is water-resistant, and can comfortably carry up to a 15.6″ laptop.
You will be walking more than usual during your weekend getaways in Ohio. A sturdy and comfortable pair of walking shoes are a must-have. These waterproof all-season shoes are extremely affordable and yet fashionable.
Mostly everyone is familiar with the Skechers brand, and these Air Run high fashion sneakers come in a lot of colors to match your outfits and are still affordable.
If you are visiting Midwest hidden gems in warmer weather, maybe you want a pair of sandals to wear to dinner or to the local cafe, I highly recommend these Vionics adjustable strap orthotic sandals.
I have several pairs of Vionics that I bring with me *everywhere* I travel. They are very comfortable and have orthotic footbeds that cradle and support your feet.
We all need to protect our eyes from the sun's harmful UVA/UVB rays. These unisex polarized sunglasses come in a lot of lens colors and frame designs and are extremely affordable too.
If you are fond of the aviator-style of sunglasses these polarized aviators may interest you.
If you are in need of new luggage, this expandable soft side spinner luggage is affordable and comes in lots of colors.
If you like hard-sided better, then you may favor this hard-sided luggage set better. Both sets come with TSA locks and 8 wheels per piece.
Where To Stay In Chicago
Palmer House
Other than being right around the corner from Millennium Park and the Art Institute of Chicago, this hotel has one of the most stunning historic interiors in Chicago. The hotel pays homage to the extreme opulence bequeathed by its celebrity owners, the Palmers, in the late 19thcentury.
The hotel's stunning vaulted ceilings and frescoes can be viewed from its lobby, bar, and lounge. As one of the longest operating hotels in America, the Palmer House has had its share of famous guests from Ulysses S. Grant to Mark Twain and Judy Garland. A hotel is still a place of luxury today!
The majority of this building dates to the 1920s, when 14 stories were added to the lower structure, and has been heavily renovated over the last few decades.
Royal Sonesta Chicago Riverfront
Located on the waterfront of the Chicago River on Wacker Drive, no location could possibly be more perfect than this one for 2 days in Chicago.
In the center of downtown Chicago, guests here are showered with the absolute best views of the famous river, and able to commute easily between all corners of downtown, such as the Navy Pier and Museum Campus.
The hotel has comfortable modern interiors.
Staypineapple
Originally designed by the famous Chicago architect Daniel Burnham in the late 19thCentury, this chic boutique hotel tastefully blends modern trendiness with a bit of nostalgia. Marble floors, mosaics, mahogany doors, and an early hydraulic elevator accent the otherwise bright and crisp furnishings of the hotel.
The hotel is located in a perfect location, immediately next to State Street in the Loop District.
Congress Plaza Hotel
Located on Michigan Avenue, just across from the Buckingham Fountain and Millennium Park, this hotel has both budget and location on its side.
Adjacent to the Museum Campus and Millennium Park, this hotel is particularly convenient on your second day of our 2 days on the Chicago trip.
The Congress Plaza Hotel is a historic hotel dating to the 1920s with cozy interiors and modern furnishings.
Cambria Hotel Chicago
Located within the same complex as Chicago's famous historical Oriental theater (the James M. Nederlander theater as of 2019), this trendy boutique hotel boasts a great location with a little bit of history.
This hotel puts you in the center of Chicago's entertainment district! The location also offers easy access to Chicago's museums, the city's oldest architecture, and the Chicago River.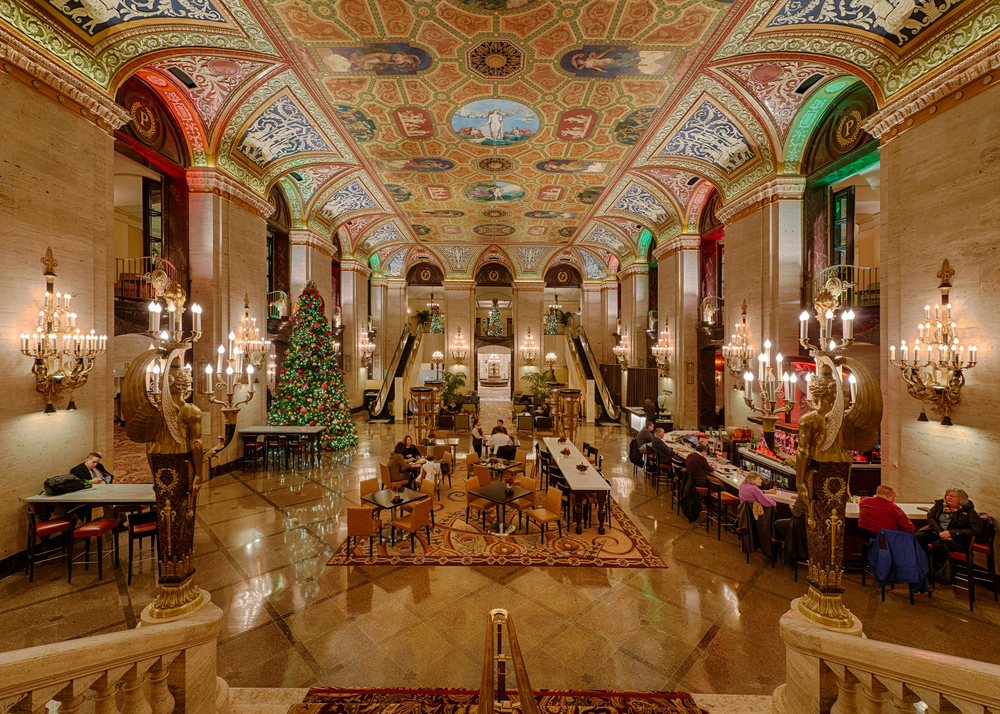 Getting To Chicago For Your Two Days In Chicago
For those arriving in Chicago from outside of the Midwest, one of the easiest ways to get into Chicago will be by plane.
The largest airports in the immediate Chicago area are the O'hare airport and Midway airport. As the 3rd busiest airport in America, O'hare is far more likely to deliver cheaper flights into the City solely because it offers more.
However, the advantage of Midway is a smaller airport with fewer crowds and shorter lines, and of course a shorter commute into the city.
From O'hare, one of the cheapest ways to get into the downtown area is by train.
Chicago's "Blue Line, operated by CTA Trains, allows you to skip on the expensive uber/taxi ride into the city or the burden of renting a car. This train takes 45 minutes to reach downtown Chicago.
From Midway, the same can be achieved by taking the "Orange Line," and 25-minute ride. Many hotels in Chicago offer shuttles that pick up guests from the airport every 10-15 minutes!
If your hotel doesn't offer pick-ups, there are many shuttle services, including GO Airport Shuttle, that operate to drop hotel guests off at their destinations for a fee.
For those who are coming from the Midwest, Chicago makes a fun Midwest road trip!. However, cars make for a very large burden in downtown Chicago.
Luckily, Chicago is known for having a great rail system that extends to the far ends of the state of Illinois.
Therefore, it's very easy to park your car at a small train station outside of the city (for free!) and take the train into the city (Chicago's Union Station, or OTC).
This way, you'll avoid having to drive in the city's infamously terrible traffic and dodge hefty parking fees.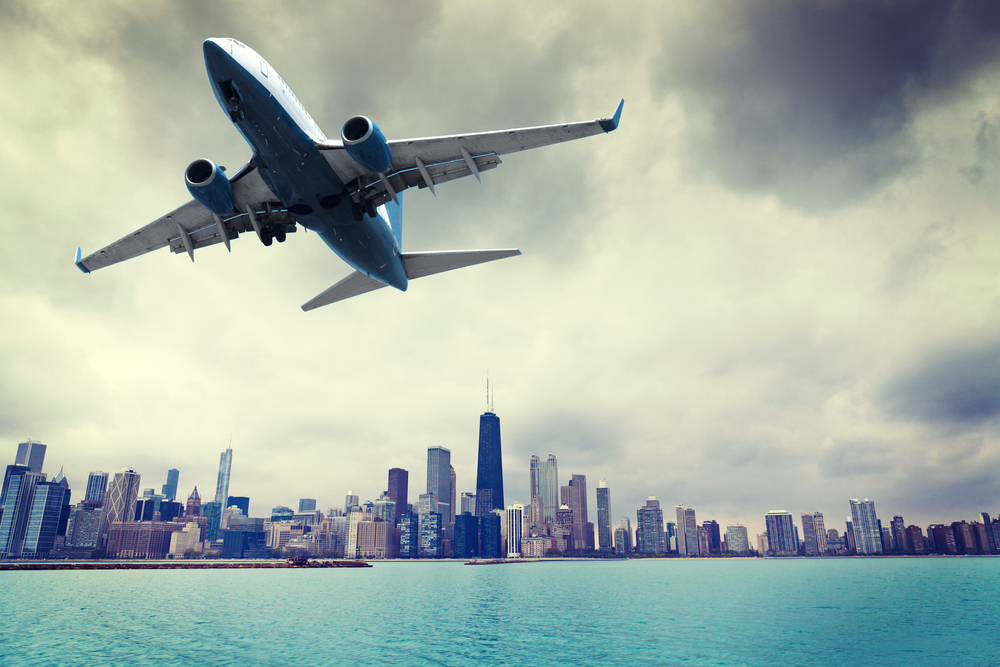 How To Get Around Chicago
The downtown area of Chicago is an incredibly walkable environment, so finding a centrally-located hotel that allows you to walk is so important for your 2 days in Chicago.
Ubering or taxiing is notoriously expensive and inconvenient in Chicago.
If you plan to take any day trips from Chicago, you may want to rent a car! But if you are only staying in the city, you won't need one!
Some rides can take 30 minutes to an hour to arrive at your location in popular areas. However, this is nothing to worry about!
There are so many options at your disposal! Once you've arrived at your hotel (assuming it's located downtown), walking and public transportation (the "L", metra, and river taxis) will become your preferred forms of transportation!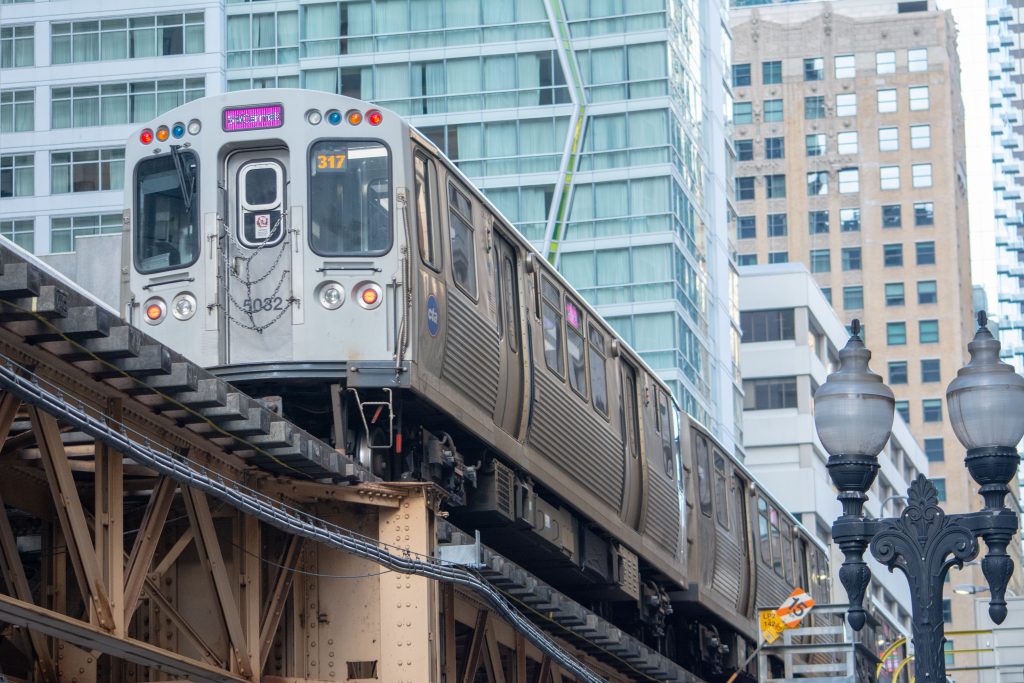 Chicago is a city that's filled to the brim with tenacity and edge. The city is celebrated with diversity, a thriving arts and entertainment culture, and dynamic architecture.
Its downtown is at the center of this celebration. With the help of this 2 days in Chicago itinerary, you'll be able to glimpse into the history and landscape during your two days in Chicago.
I hope I have inspired you with these options to add to your Chicago itinerary, and these Midwest hidden gems as well!