Are you looking for the best places to experience fall in Indiana? You are in the right place.
In this article, I will walk you through the best fall foliage in Indiana, the beautiful fall scenery in Indiana, and the best place to see Indiana fall colors.
When it comes to fall foliage Indiana knows how to deliver. You will find the yellows and golds of poplars, and vivid oranges from the maples.
And the native sumacs provide vibrant reds. The Indiana fall colors really are spectacular.
The state really comes alive with color and there are so many places to see Indiana fall foliage. The fall season tends not to last long here.
And can vary in timing from September to October so makes sure you plan for peak foliage season.
The fall colors in Indiana are so favorable mainly due to the many varieties of trees in the region. The state provides many opportunities to see fall scenery on foot, on the water, or from the car.
Weekend getaways in Indiana are beautiful, especially in the fall.
There are so many small towns in Indiana worth visiting and Indiana hiking really is a great adventure accompanied by the brightly colored leaves.
There is so much to see and do in Indiana and if you come in the fall you just get to experience this all in multicolor.
So are you ready to see the best places for fall foliage in Indiana? Grab a chair, get a hot drink and wrap yourself up in a blanket and let me walk you through the best places to experience fall in Indiana.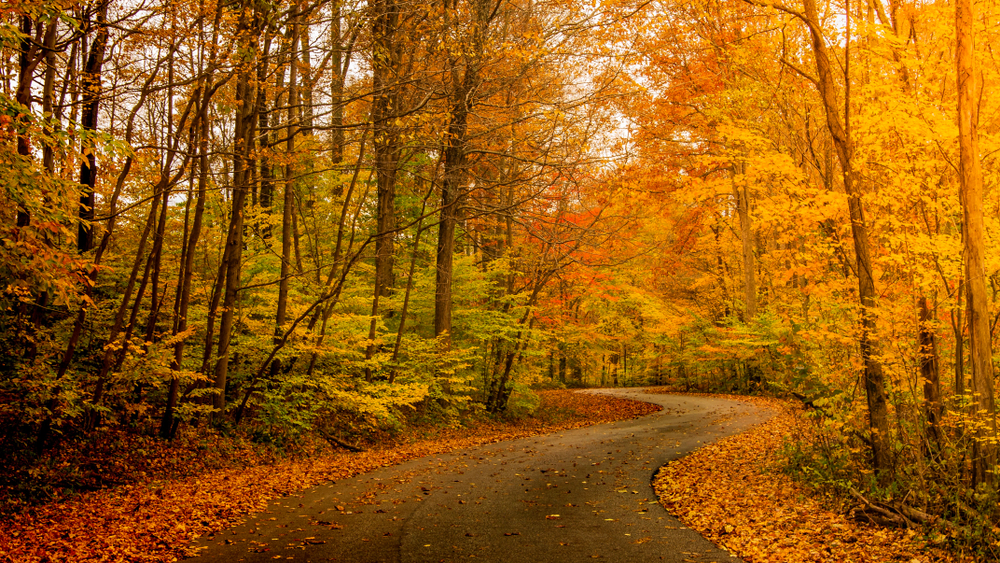 15 Best Places To Experience Fall In Indiana
Lieber State Recreation Area, Cloverdale
In Owen County near Cloverdale is Lieber State Recreation Area. It's one of the best places to see Indiana in the fall.
The park is best known for Cataract Falls and the area around here is beautiful. It's one of the best waterfalls in the midwest and the largest waterfall by volume in Indiana.
Here you get two falls connected by a path along the riverwalk which is beautiful in the fall. The walk between the two is about a mile and is nothing strenuous.
The Upper Falls has a drop of 45 feet and the lower has a 30 feet drop. Upstream from the Upper Falls on Mill Creek, you will also find the Cataract Covered Bridge.
At any time this place is a photographer's dream but in fall it takes on another quality and is absolutely beautiful.
The park which is in the middle of rolling countryside in west-central Indiana has a lot to offer. You will also find shelters, a volleyball court, and a playground.
In addition, there are hiking trails, boat access to Cagles Mill Lake, and a very cool Indiana campground as well. .
If you are looking for an easy and epic way to see Indiana fall scenery this is it.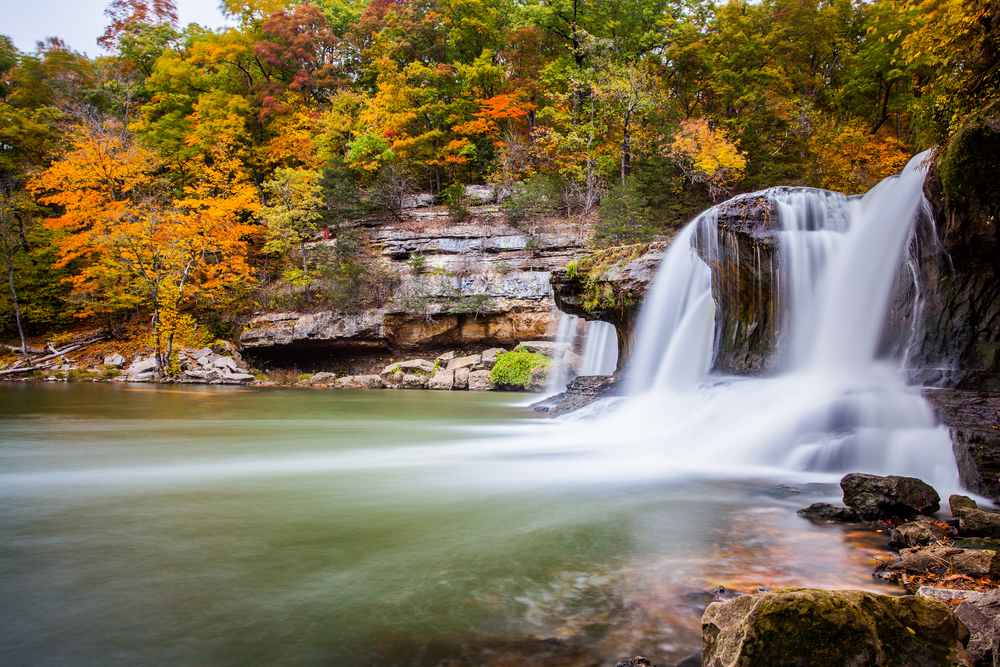 Eagle Creek State Park, Indianapolis
Located on the northwest side of the city is Eagle Creek, State Park. It is one of the largest municipal parks in the U.S with more than 1,400 acres of water and 3,900 acres of forest. It is definitely one of the best things to do in Indianapolis.
It's also a great place to see beautiful fall scenery in Indiana without having to travel very far.
There are so many activities to enjoy here too such as boating, hiking, kayaking, and even zip-lining if you fancy seeing the fall colors up close.
The park has an expansive trail system and the best way to experience the Indiana fall scenery is you put on your walking boots and get exploring. The colors around the lake are always so delightful.
This is one of the best places for fall foliage in Indiana.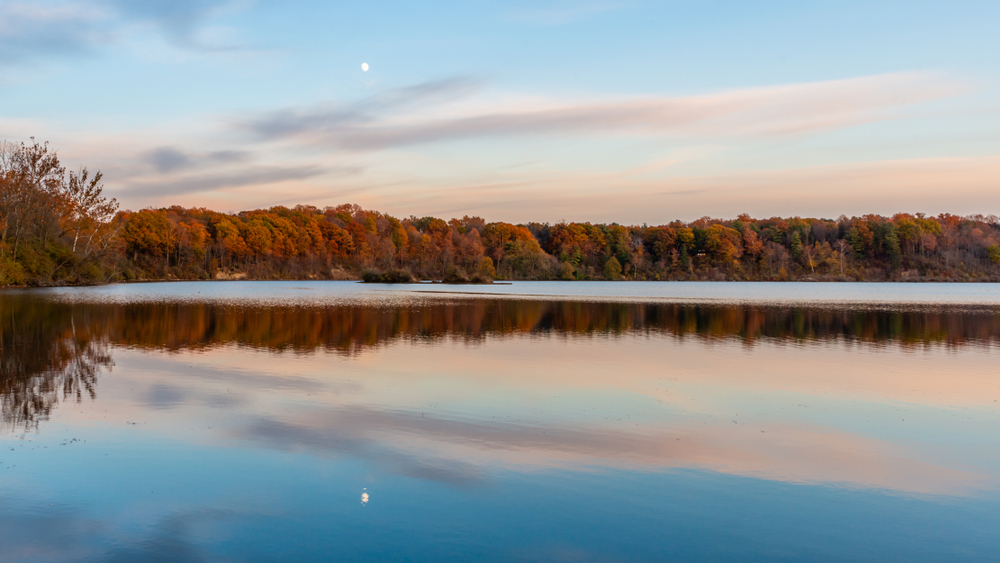 Wildcat Creek, Lafayette
In north-central Indian sits Wildcat Creek a tributary of the Wabash River. The creek consists of three main forks, north, south, and middle.
All forks flow in an east-west direction and flow through various landscapes including pastures, landscapes, and developed areas.
The north and south forks of Wildcat Creek offer the best canoeing opportunities.
The north fork cuts through bedrock and tends to have the best scenic overlooks.
Along the creek and surrounding areas, you will find silver maple, sycamore, cottonwood, redbud, willow, green and white ash, red oak, American elm, and tulip poplar towards the bottom of the forest.
Oaks, beeches, maples, walnuts, and white dogwoods are found on the upper ridges of the valley.
The best place to see this area at its best is to get up high on one of the ridges on the north fork. The Clegg Memorial Garden is on the hillside overlooking the creek for example and is an excellent place to see fall scenery.
There is also so much to see and do in Lafayette and some great Lafayette restaurants so make sure you stop here while seeing the fall colors in Indiana.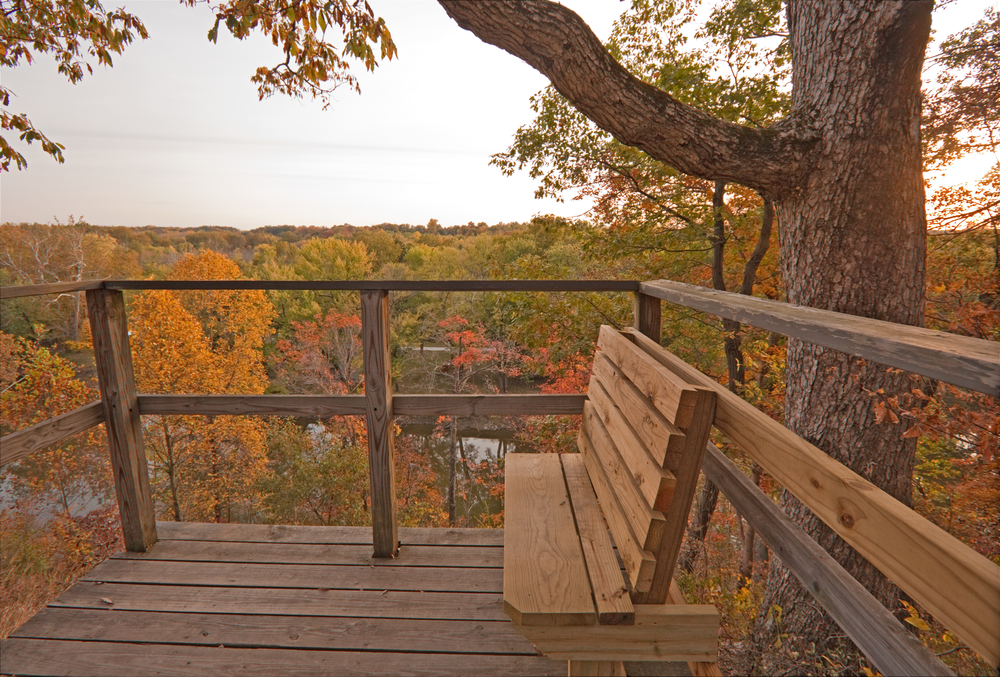 West Park, Carmel
One of the largest parks in Carmel this is a great place to see fall foliage in Indiana. The 120-acre park is a great park whatever the season but is truly beautiful in fall.
The park offers year-round fun with a playground, splash pad, amphitheater, trails & more. The prairie maze and pond boardwalks provide beautiful walks through the Indiana fall foliage.
The boardwalk over the pond is a particularly lovely experience that children will love. If you are looking to see fall in Indiana this is a great place to start.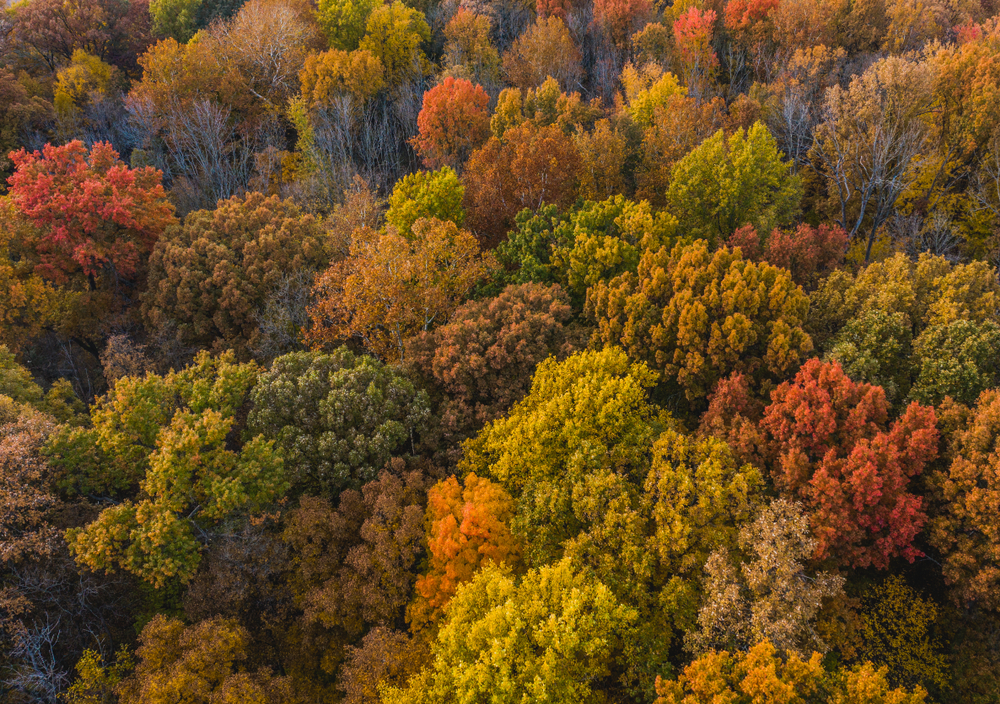 Yellowwood State Forest, Bloomington
Brown County is the place to come to see fall in Indiana and this park is no exception.
Located 14 miles east of Bloomington you have just under 24,000 acres of forest to wander through here and in fall colors could not be more vibrant.
There are three lakes, lots of hiking opportunities, primitive overnight campsites, and lake activities to enjoy.
The three main trails to see the best foliage are Jackson Creek Trail, High King Trail, the Lake Trail, and Tecumseh Trail.
If you are short on time the Jackson Creek Trail is a 1.5 trail through a variety of terrain and forest types. The High King Trail is just under half a mile and is steep but offers amazing views of the foliage.
The Lake Trail loops the lake and is 4.5 miles long and if you want to make a few days of it the Tecumseh Trail is 42 miles through the forest.
This is one of the best places for fall foliage in Indiana.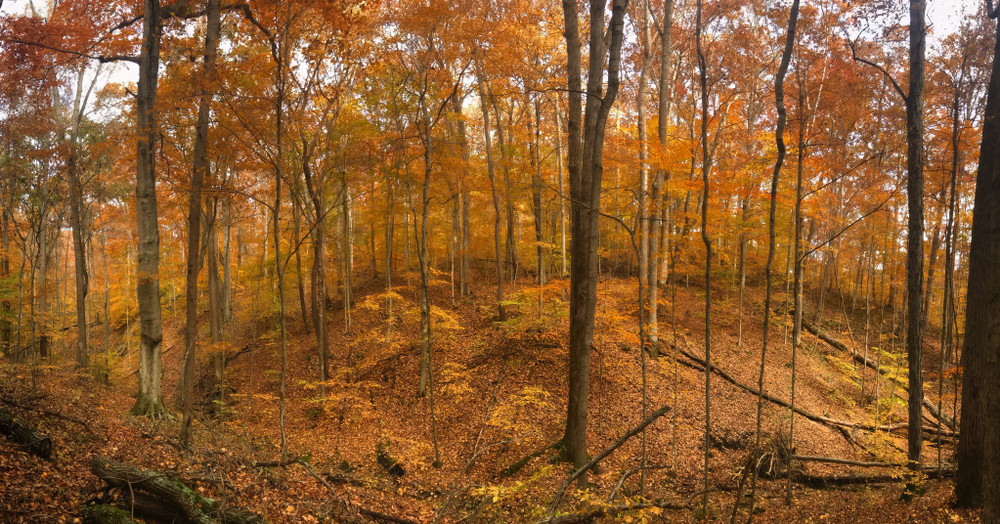 Riverside Park, Indianapolis
Established in 1903 Riverside Park is the second-largest park in Indianapolis and is a great place to experience fall in Indiana.
The 862-acre park is located on the banks of the White River and just looks incredible in the fall.
It's on the west side of Indianapolis and is one of the city's top recreational spaces. There is so much to see and do here.
Make sure you visit Thomas Taggart Memorial. Thomas Taggart was mayor of Indianapolis from 1895 to 1901, chairman of the Democratic National Committee from 1900 to 1908, and founded the park.
If you are in the area in the fall and want somewhere quick and easy to see the foliage at its best then this is a great place.
If you are in the area for a while you might want to try some of the restaurants in Indianapolis.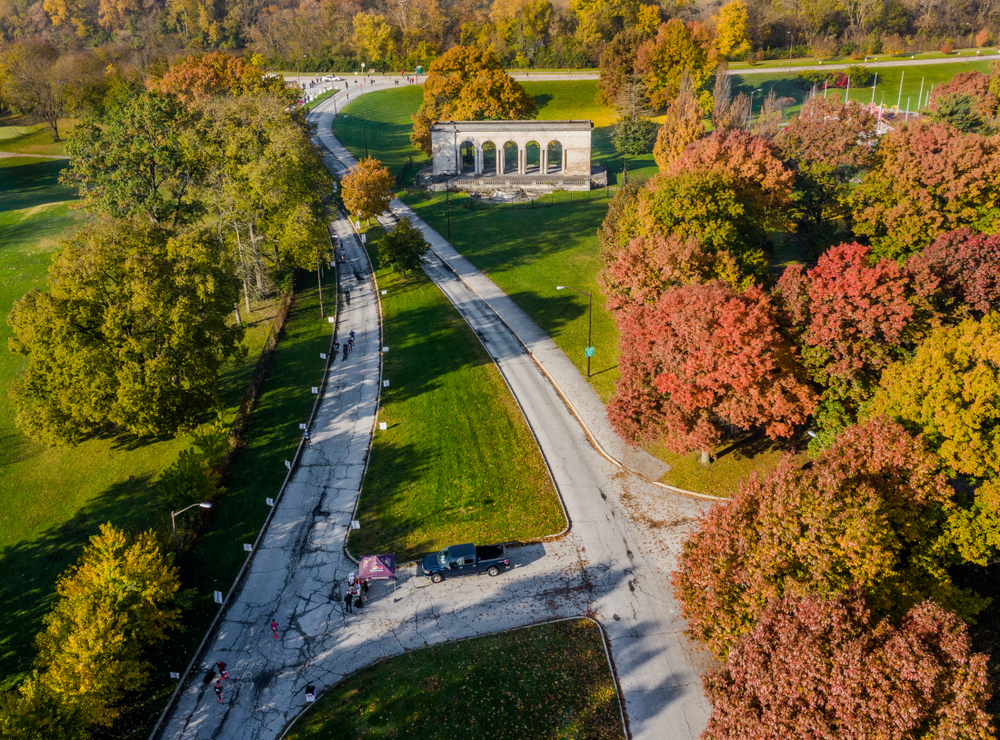 Brown County State Park, Nashville
In southern Indiana lies the beautiful Brown County State Park. At 16,000 acres it is Indiana's largest state park and has some amazing autumn foliage.
It is often nicknamed the "Little Smokies" because it resembles the Great Smoky Mountains. It is all ridges, ravines, and rugged hills.
You will find over 20 miles of tree-lined roads and many scenic vistas overlooking miles of uninterrupted forestland. For the best views Climb the 90' Fire Tower for stunning views of the surrounding area.
The fall foliage can be seen all around and a drive through the area is incredible. Stop off at one of the many points to marvel at the views.
There are seven specific areas with great views and all are well marked and known as the 7 Vista Challenge.
Indiana in the fall doesn't get much better than this and this area should be top of your list.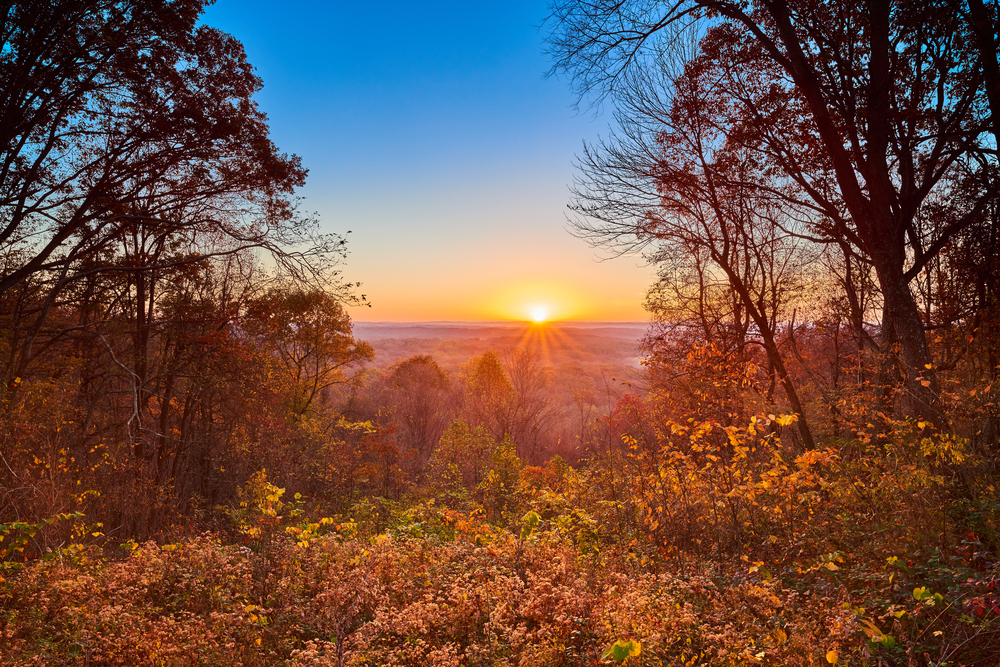 Indiana Dunes State Park
The Indiana Dunes are a great place for stunning fall drives and hikes. Starting in mid-October the trees here explode into vibrant colors that can rival any other location.
You can drive through the area to get some great views of the colorful foliage or get out and up close by hiking some of the areas.
If you want an easy walk the Paul H. Douglas Trail in Miller Woods takes you through black oak savanna woodlands and out to the shores of Lake Michigan.
The state park has seven trails that take in some of the most diverse plants and animals in the Midwest. National Natural Landmark Cowles Bog Trail is quite a strenuous hike but takes in some great foliage.
The historic sites of Bailly Homestead And Chellberg Farm make a great photo opportunity and is an interesting place to visit.
To see the fall colors in the car head down the tree-lined highway 12 which runs right through the park and gives great views of fall in Indiana.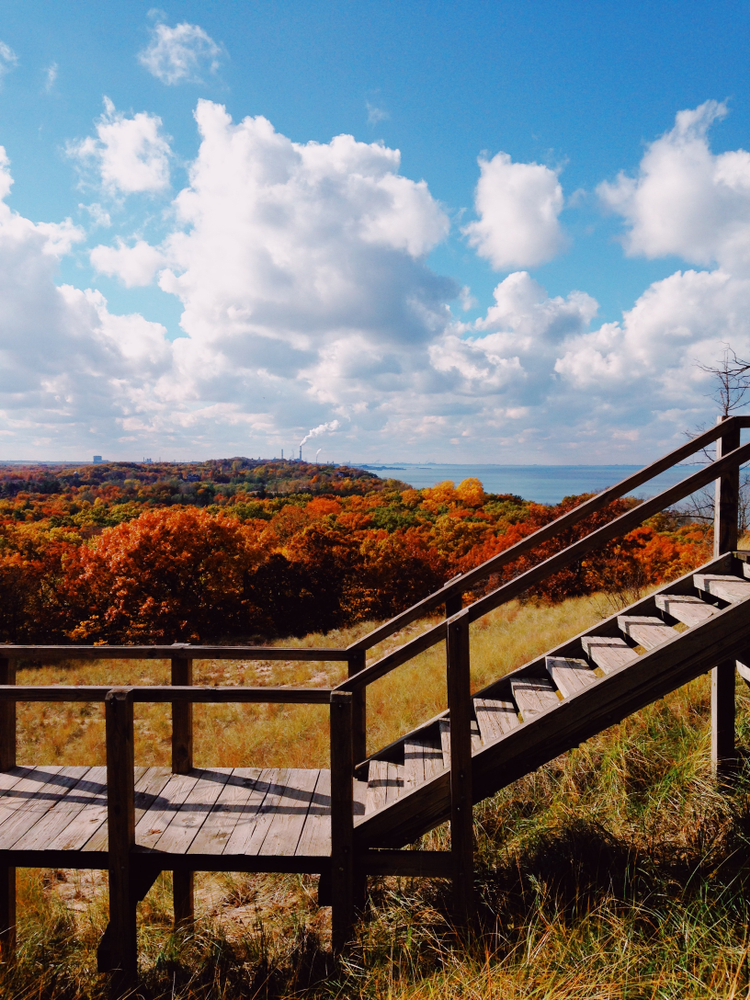 Potato Creek State Park, South Bend
This 4000-acre state park is one of the best for hiking and trail biking and also foliage hunting. It's a popular park all year round but in fall it really does come into its own.
In north Indiana about 12 miles southwest of South Bend, the park includes fields, woodlands, restored prairies, and wetlands. It offers countless opportunities to see fall at its finest.
There are also so many things to see and do in South Bend and some great South Bend restaurants if you want to spend a little longer here.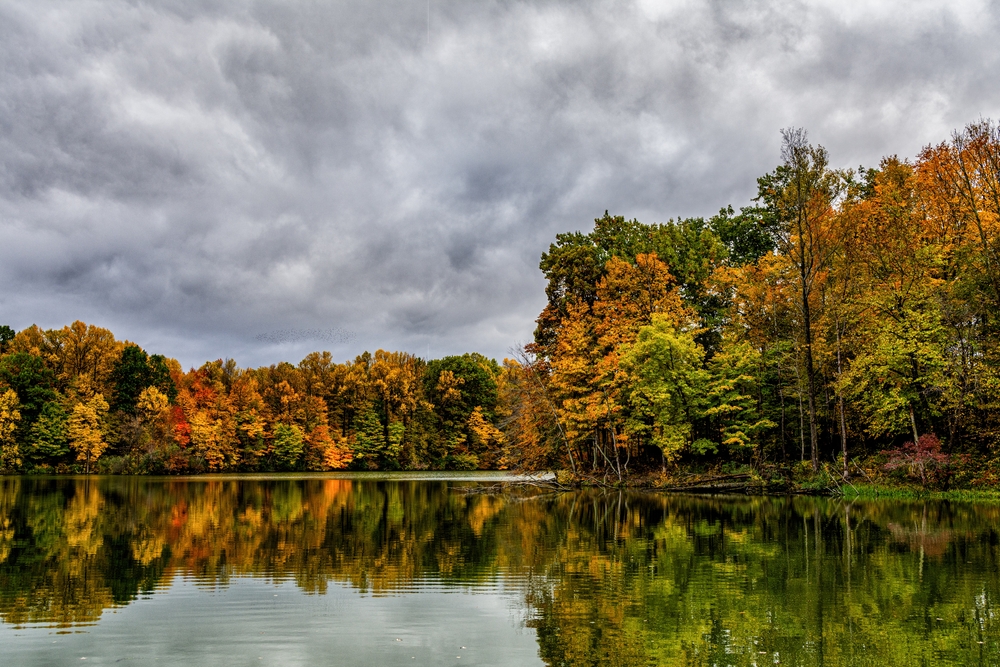 Turkey Run State Park, Crawfordsville
Southwest of Crawfordsville is Turkey Run State Park. It offers breathtaking fall foliage views from its sandstone cliffs and suspension bridge.
Here you will find ravines, gorges, accents forests, and fantastic views along Sugar Creek. There are over 14 miles of hiking trails to explore here so many opportunities to see autumn colors.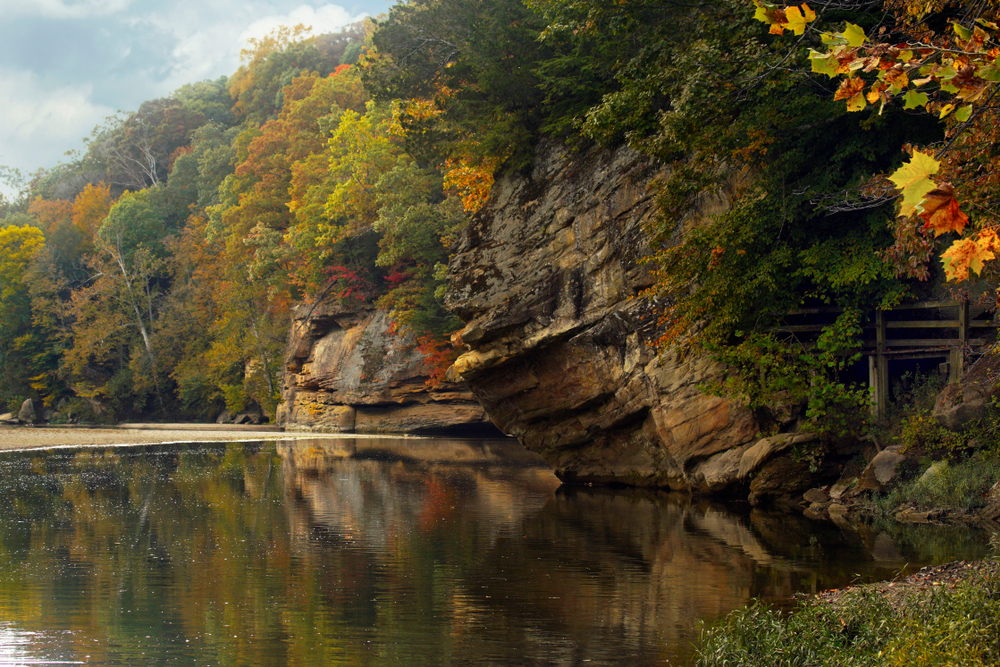 Spring Mill State Park
South of Bloomington sits Spring Mill State Park. It's a 1,358-acre and contains a settler's village, the Gus Grissom Memorial, a nature's center, and campgrounds
Here you find mighty oaks and rolling hills and some incredible scenic vistas. Oh, and it also has caves.
There is a lot of history here which you see reflected on the landscape as you hike the trails. The pioneer village is also a great place to visit and learn more.
Most of the facilities other than the cave boat tour are open into the fall season. This is a great place to come if you want to do more than just look at the foliage.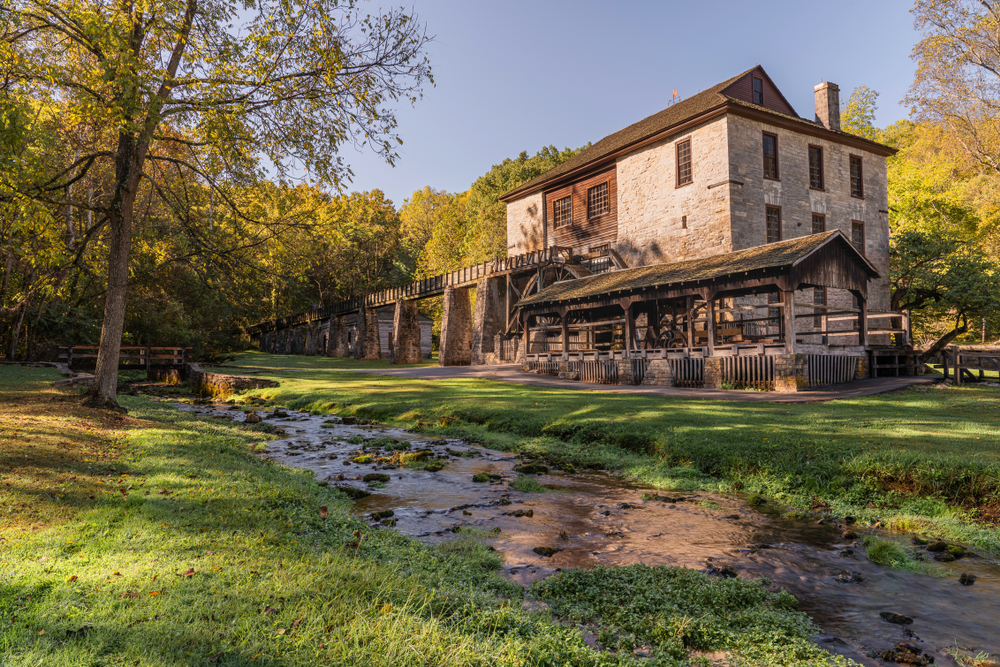 Nature Preserves in Kosciusko County
Acres Land Trust protects the forest and landscapes in the north of Indiana and manages two preserves which are great places to see the autumn foliage.
Both are easy to walk and offer incredible views of the foliage.
Bock Nature Preserve is 47 acres and is close to Akron. Here you will find maples, beech trees, sycamore, and the blue ash which is rare in these parts.
The combination of trees leads to a vibrant mosaic of colors that really is worth driving to see.
A few miles east of Silver Lake is the larger Wildwood Nature Preserve. It's 240 acres of dense woods prairie, farmland, and wetlands.
The trees here are predominately oak and hickory but still make great fall colors. It's also a great place for bird watching
Indiana University, Bloomington, To See Fall In Indiana
Indiana University is a beautiful place to see fall colors. The limestone architecture seems to show off the fall colors at their best.
The whole place tends to be very photo-worthy but there are a few spots that are the best to see the foliage.
The red maples that line Barnhill Drive are always beautiful and the sugar and red maples near the parking garage on West Michigan Street always show off.
Lockefield Green has a mix of fall colors and a drive along West New York Street provides oak-lined streets. The Wood Fountain is always surrounded by golden trees at this time.
Lilly Arbor has a great walking trail to view the foliage and the London plane trees north of Cavanaugh Hall will get you in the fall mood.
There are also some ash trees near Medical and Riley Hospital. One of the easiest places to see fall in Indiana.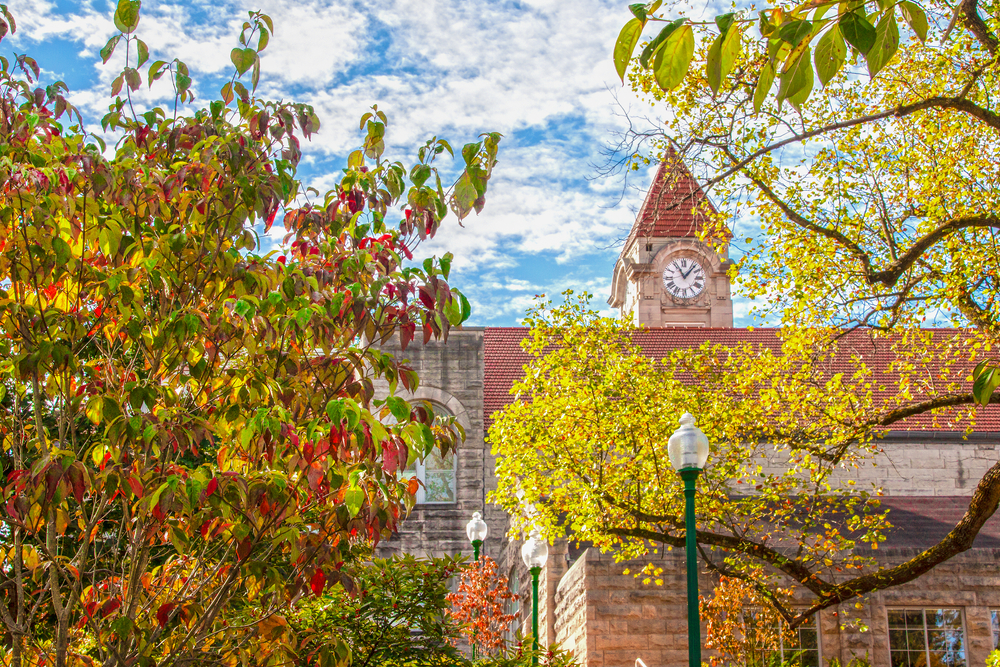 Clifty Falls State Park, Madison, Is A Great Place To See Fall In Indiana
Just west of Madison is the lovely Clifty Falls State Park. This state park sits on top of the hills overlooking the Ohio River so as you imagine the views are stunning.
Here you will find picturesque waterfalls, cliffs, and steep gorges. You can explore the area by foot or via the winding road that takes in the views.
The colors here are beautiful whenever you visit obviously the waterfall changes with the seasons though. Clifty Canyon offers great hiking and scenery whatever the season but in fall it really does deliver.
Visit Parke County To Experience Fall In Indiana
If you think the perfect autumn vista has a covered bridge in it then head to Parke County. It's the "Covered Bridge Capital of the World" with 31 photogenic bridges to search for.
Fall doesn't really get much better than it does here and consequently, it can get busy, especially during the Parke County Covered Bridge Festival in October.
It lies in the western part of the state along the Wabash River with the main town being Rockville. And it brings all the rustic fall charm you could ask for.
The best way to enjoy it is a scenic drive bridge hunting. You will find rolling hills and vibrant hues of orange and yellows. Turkey Run Park and Shades State Park offer some amazing foliage.
And while all the bridges are worth a visit I feel Marshall covered bridge and Narrows covered bridge offers some of the best photographic opportunities.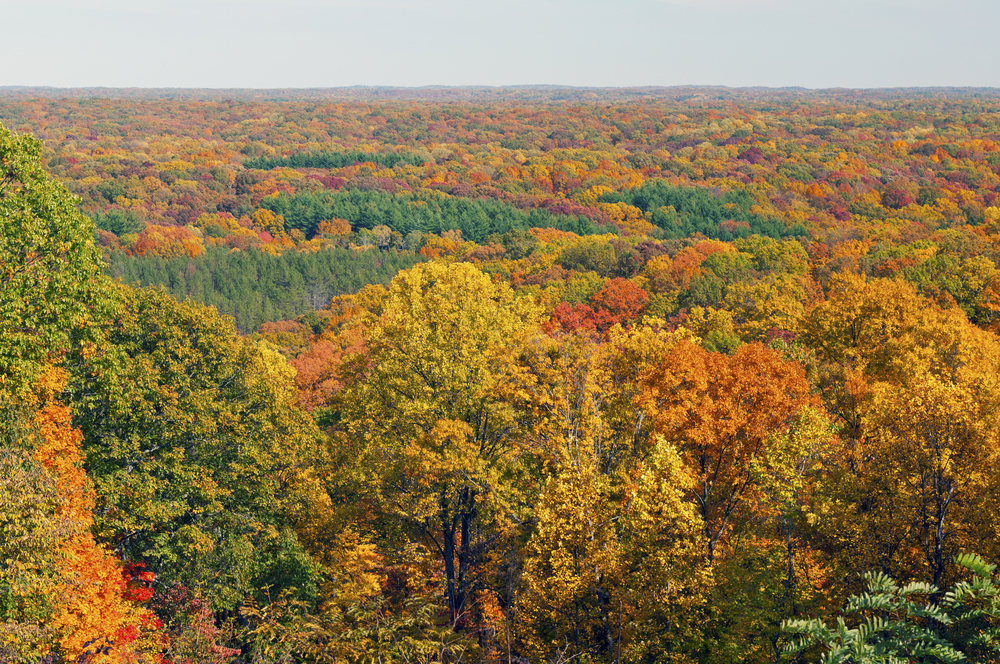 Packing List For Fall In Indiana
If you are searching, here are some tips on how to pack lightly when packing when visiting Indiana in the fall.
A concealed travel pouch may be one of the most important items you bring along when searching for Indiana fall foliage. It is always important to protect your personal information. Identity thieves are everywhere.
This unisex RFID blocking concealed travel pouch is lightweight and comes in several colors. It has lots of organization to give you peace of mind. You can place it under your clothes next to your body to carry your ID safely.
If you have a pouch already that does not come with the RFID protection, as I do, these RFID sleeves are the perfect solution.
If you are planning on taking a lot of pictures with your phone you will definitely want to consider an external charging battery. This Anker high-speed phone charging battery is the exact one I carry with me on all of my trips.
I like that it holds its charging capabilities for several uses so I do not have to worry about it while out and about, and if I forget to recharge it at night, it will still be good to go the next day.
My daughter gifted me with this FugeTek selfie stick and tripod setup for my birthday. I absolutely love it! It is made of lightweight aluminum and is so easy to use.
It has Bluetooth connectivity and is a breeze to use for taking Insta-worthy selfies with all the colorful Indiana fall scenery.
I never much believed in using packing cubes when traveling. That is until I tried them. Now I am hooked. These are the exact cubes I use to stay organized when I pack for a trip!
You will want to bring your own refillable water bottle with you.
I never leave home on a trip without my Bobble filtration bottle. The 18.5-ounce size is perfect for your adventures and it fits nicely in the pocket of a backpack.
Perhaps you are traveling a long distance and packing space is a premium in your suitcase, or in your car. Then this set of collapsible silicone foldable water bottles would work well for you. Would not take up much space at all.
You will want a backpack or daypack with you to store snacks, your water bottle, phone, extra clothes, etc.. . No matter the time of day or evening.
This foldable water-resistant backpack would be great. And it comes in many different colors.
—
As you can see when it comes to fall in Indiana there are so many places you can choose from. Wherever you choose I know you will find some beautiful Indiana fall foliage.
I do hope you love Indiana in the fall and enjoy all the vibrant colors. Have a great getaway and please come back and tell me all about it.
If you are a foodie, there are a lot of restaurants in Evansville IL to explore!