Are you looking for some small towns in Indiana for a fun day trip or romantic weekend getaway? We have picked out a few of the cutest Indiana towns for you!
There is a certain charm to small towns which makes them a great place to slow down and relax. If you want to escape city life, these Indiana small towns offer a respite from the real world.
Photographers and architecture lovers will enjoy all the historic buildings while anyone needing a little retail therapy can support the local economy by shopping at boutiques and antique shops.
One of the best ways to really get to know a state is by visiting the small towns and seeing how locals live.
Let's dive into these charming small towns in Indiana.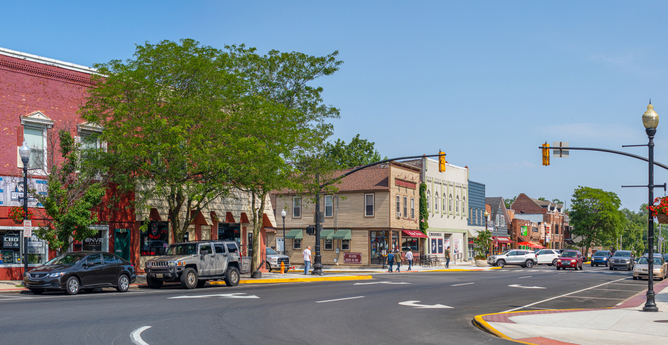 15 Small Towns in Indiana You Must Visit
Crown Point
Crown Point is a pretty town and the downtown square is the biggest tourist draw. Here is where you will find the Old Lake County Courthouse. The building's nickname, the "Grand Old Lady," tells you all you need to know.
The courthouse was built in 1878 and was known as the "Marriage Mill" since there was no waiting period for marriage licenses. Even Muhammad Ali picked up a license here.
After touring the courthouse, you can shop downtown. If you have kids with you, they will love visiting Bulldog Park next to the square. In summer there is a splash pad and in the winter there is an ice rink.
The park also hosts the Crown Point Car Cruise in the summer, a farmers' market, and other events throughout the year.
French Lick Is One Of The Pretty towns in Indiana
French Lick, Indiana, is cuter than the name may suggest! Many people come here to stay at the historic French Lick Resort and Casino. This grand resort is made of two old hotels and dates back to 1845.
The hotels date back to when people would come to relax at natural sulfur mineral springs. You can still rejuvenate yourself at the hotel's spa.
When the hotels were built, golf courses were created too where you can still play today. While in town, you should also visit the French Lick West Baden Museum to learn the history of the area.
Another of the best things to do in French Lick is taking a ride on the French Lick Scenic Railway. There are twenty-mile trips through parts of the Hoosier National Forest.
Visiting French Lick is one of the really fun things to do in Indiana.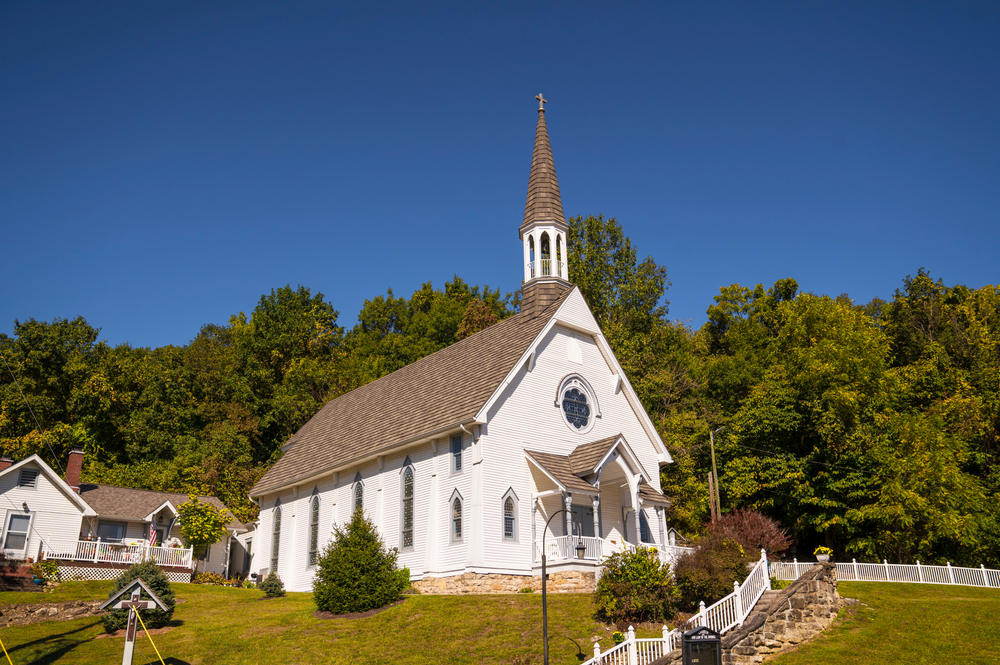 Bridgeton
Bridgeton is quite a small Indiana town, but it is still worth a visit! The number one attraction here is the Bridgeton Covered Bridge, which the city claims is the most famous in the state.
The red bridge runs over a waterfall next to an old mill. It was originally built in 1868 but was destroyed in a fire in 2005. It was rebuilt to match the historic original in 2006.
In October, you can come to the Bridgeton Covered Bridge Festival. The city is also home to the 1907 Conley Ford Bridge. There are over thirty other covered bridges in Parke County to admire.
Even if you are not a huge fan of covered bridges, Bridgeton also has a ton of historic buildings to check out, including a mill, school, and firehouse.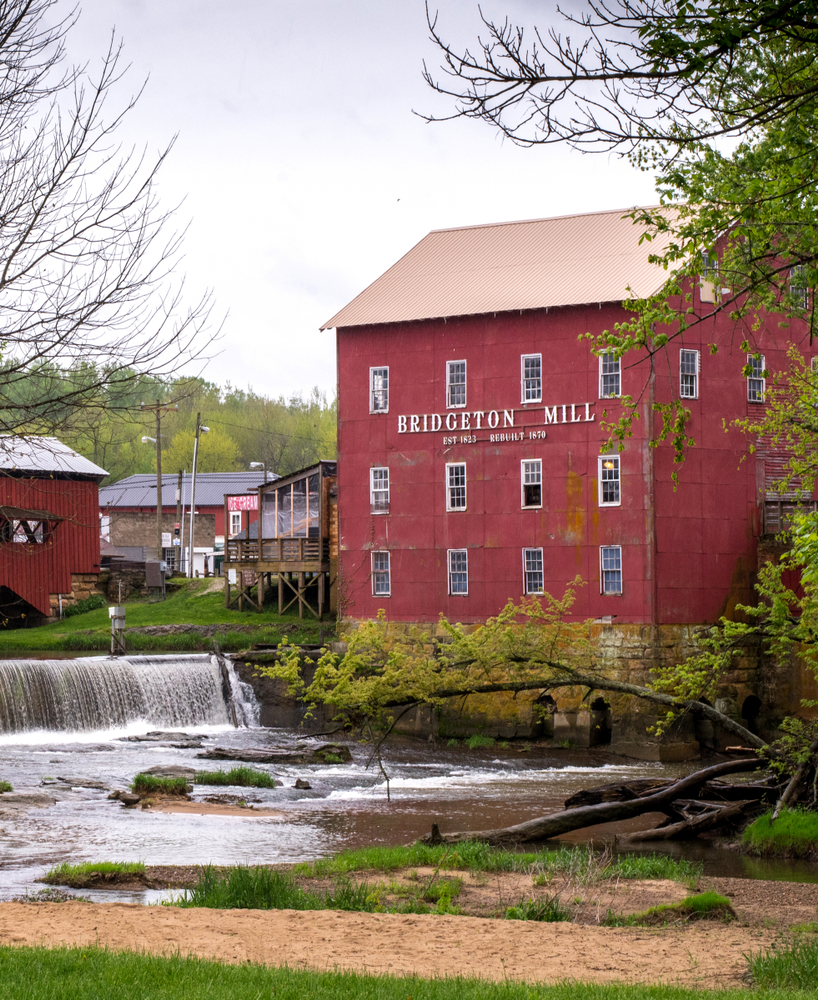 Hartford City
Hartford City is a great place to step back in time and enjoy the wonder of small-town living. Come walk along the cute, downtown square and photograph the pretty Blackford County Circuit Courthouse.
If you like chasing paranormal activities or hearing ghost stories, then you can visit the Old Blackford County Jail around the corner from the courthouse.
This jail was built in 1879 and was in use until 1995. It is a popular place for ghost hunts since some alleged evidence shows spirits still linger here.
Another place to visit in Hartford City is Wilderness Park. This beautiful fifty-acre park has trails and picnic tables.
Hartford City is one of the small towns in Indiana you should not skip!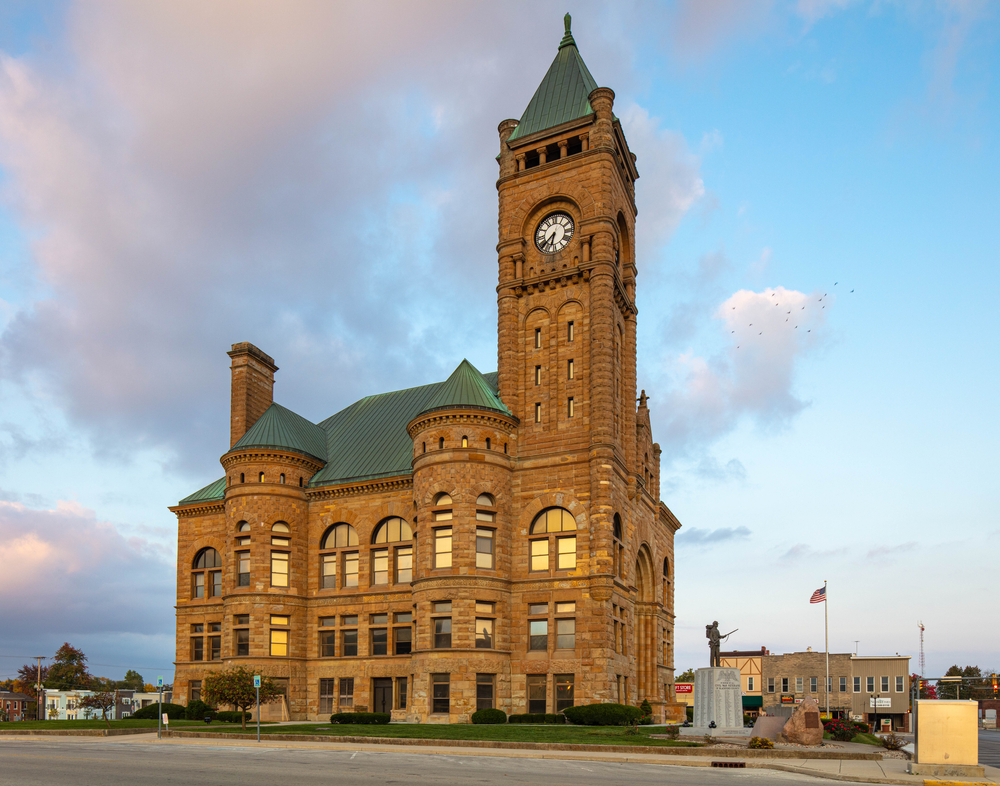 Wabash
In 1880, Wabash became the first electrically lighted city in the world. Isn't that interesting?
Today, people come here to walk the pretty downtown streets and visit history museums. You can learn about the past at the Dr. James Ford Historic Home and the Wabash County Historical Museum.
If you want some time in nature, you can check out some of the parks. The Paradise Spring Historical Park has a bunch of historic buildings and beautiful trails. There are also cool, annual events.
The Asherwood Nature Preserve is 160 acres of amazing flora and fauna. The trails are a great place to get exercise and take photographs.
Wabash also has a myriad of restaurants, markets, wineries, and breweries if you are looking for some good food this Indiana town will not disappoint.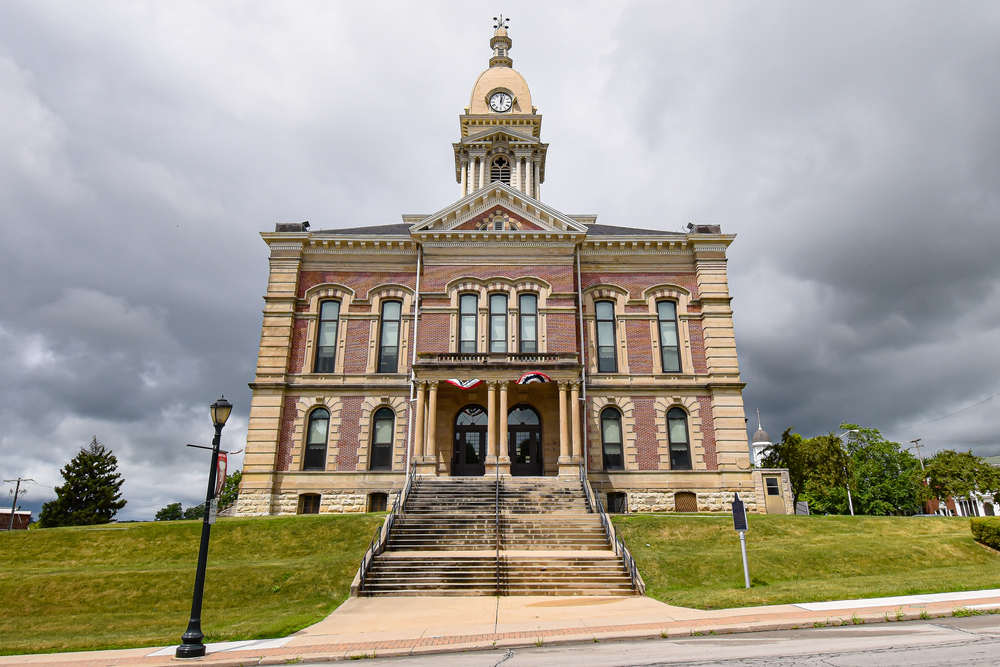 Cloverdale
Cloverdale is a great Indiana town to visit if you like to be surrounded by nature. The Lieber State Recreation Area and Cagles Mill Lake are found to the southwest of town.
There are a few great campgrounds for a classic, family vacation. Or you can rent a cabin for more luxury. This is also a beautiful area to hike, boat, jet ski, or birdwatch.
Further south, where the lake meets the river, is the Cataract Falls State Recreation Area. The multi-section Cataract Falls is super photogenic with a covered bridge in the distance.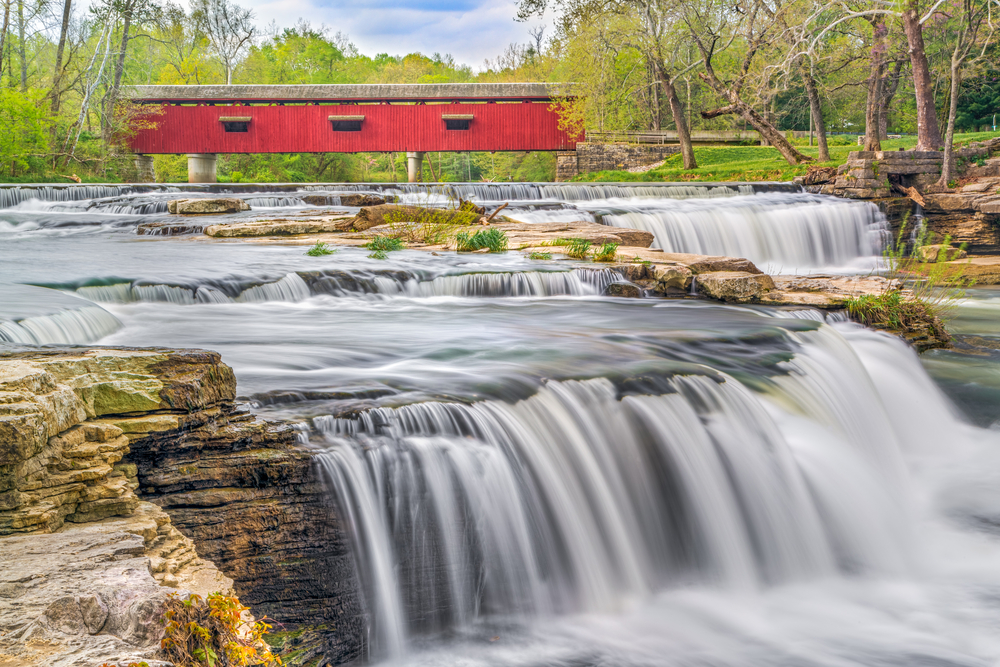 Auburn
Auburn is one of the best small towns in Indiana to visit if you are interested in classic cars. The city played a role in the early days of the automotive industry, and the city is proud of this history.
Start your trip here by touring the Auburn Cord Duesenberg Automobile Museum. Here you will see 120 cars in a variety of types. There are unique exhibits dedicated to cars.
The National Automotive and Truck Museum and the Early Ford V-8 Foundation & Museum are two more great car museums to check out.
Even if you are not a huge car fan, Auburn is worth a visit. There are parks and golf courses if you want time outside. There are also lots of great restaurants, shops, and wineries.
This small town in Indiana has something to please everyone.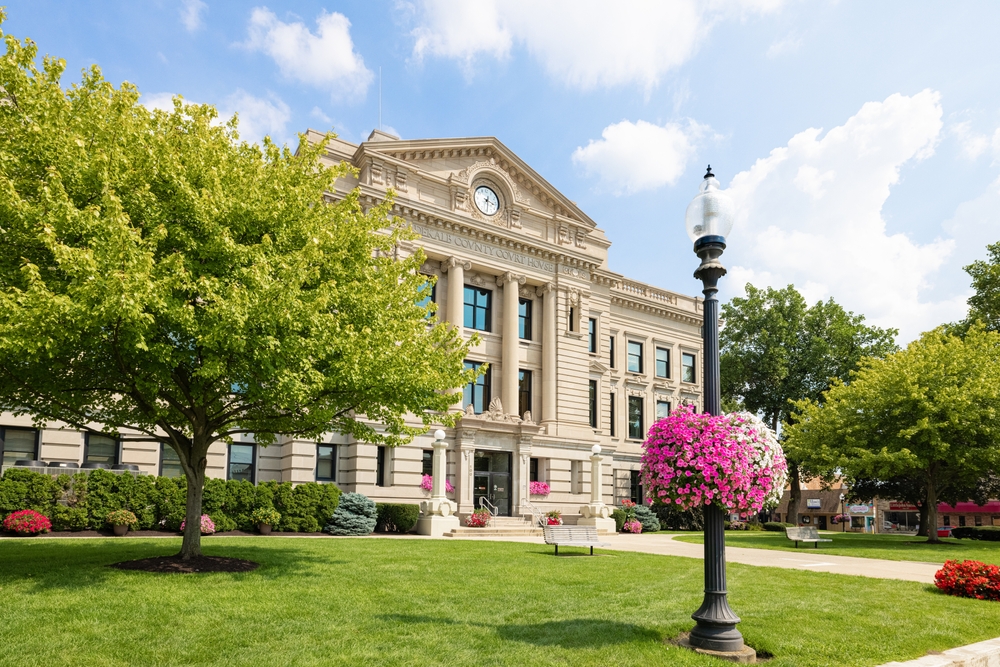 Decatur
Decatur is south of Fort Wayne, Indiana, and makes a great day trip from the city. It is found along the St. Mary's River.
Come to Decatur to walk the beautiful downtown district. You will find many cool art sculptures hidden among the gorgeous, historic buildings.
If you love shopping for antiques, you can check out Yvonne Marie's Antique Mall. There are also other shops, restaurants, and bars to explore. A few small, parks will give you a place to relax.
Decatur is one small town in Indiana not to miss.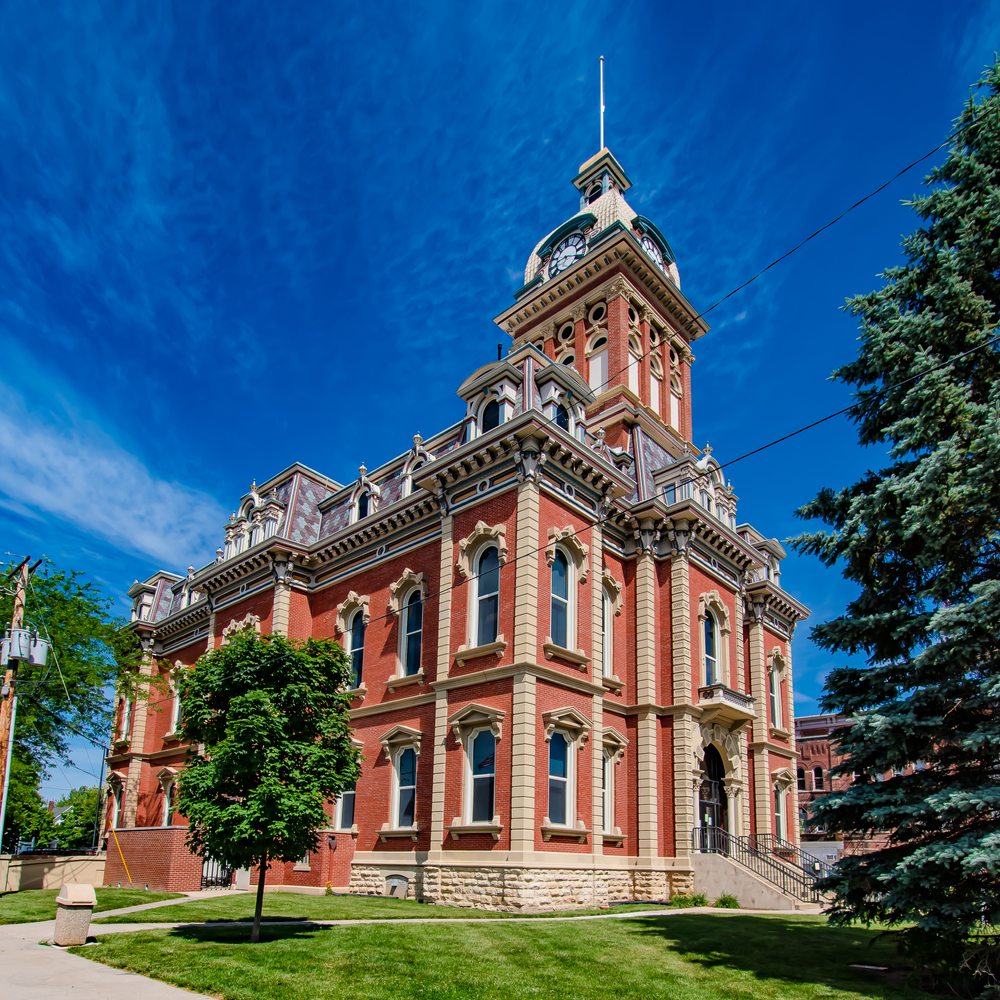 Tipton
Tipton, Indiana, was named after John Tipton who fought in the 1811 Battle of Tippecanoe and later became an Indiana State Senator.
When you come to this small Indiana town, make sure to stop by the Tipton County Heritage Center and Museum. There is where you can learn the history of the county through local artifacts and a history library.
You should also make time to photograph the Tipton County Courthouse. This Romanesque Revival building was completed in 1894. The clock tower stands out with a height of 206 feet.
This lovely town in Indiana would make a wonderful weekend getaway!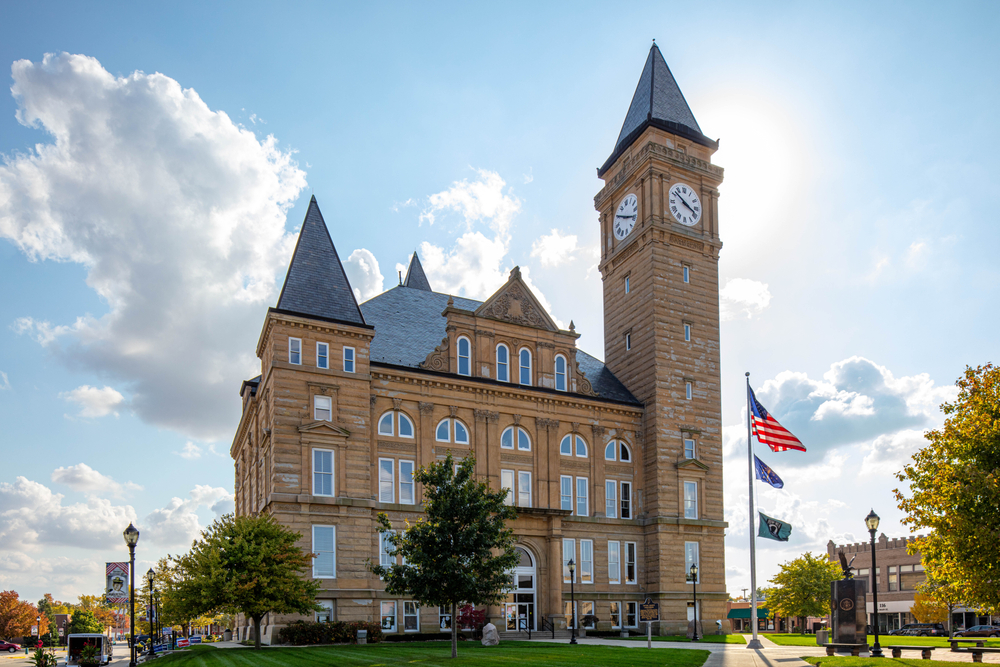 Westport Is An Indiana Small Town Not To Miss
People from all over come to Westport to photograph the pretty Westport Covered Bridge. This white and green bridge was built in 1880 and spans 115 feet across Sand Creek.
If you are looking for a pretty hike, you can head to Anderson Falls, one of the prettiest waterfalls in the Midwest. This waterfall is not too tall, but it spreads across the whole creek.
The waterfall is found within a bog park with a couple of hiking trails. This is a great place to cool off on hot summer days. Kids will love climbing on the rocks and looking for crawfish.
With so many options it is best not to miss out on this charming small town in Indiana.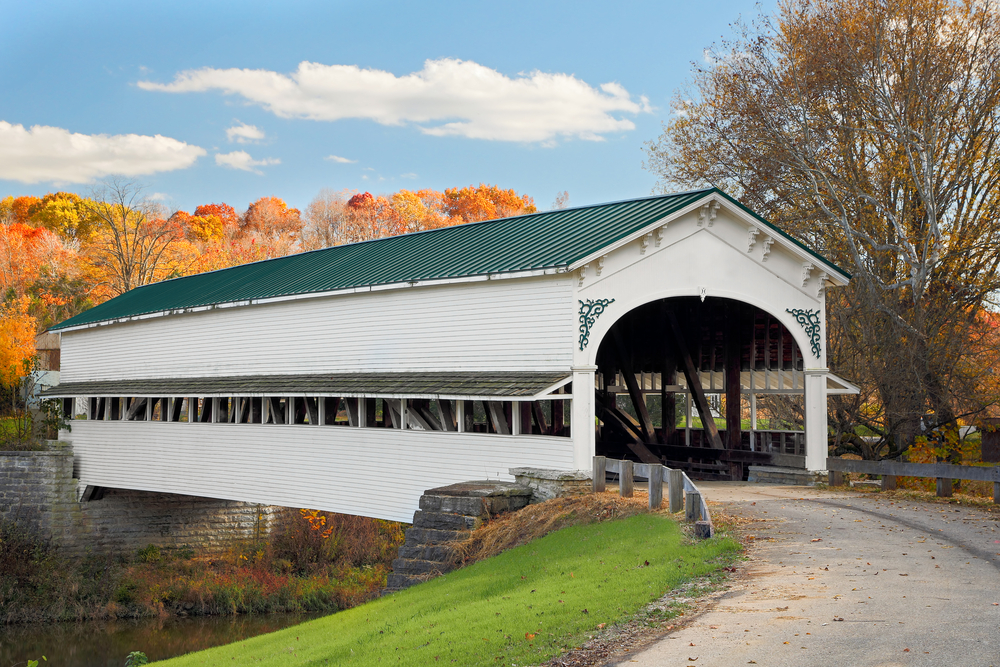 Huntington
Huntington is a beautiful, little town with plenty of fun things to do. Start at the Huntington County Historical Museum to learn about the history of the area from before the town was founded until today.
If you love pretty parks, then take a stroll through the Sunken Gardens. There are plenty of plants, ponds, and fountains. Come during Christmas for awesome light displays.
Another cool park is the Forks of the Wabash Historic Park. This is a park for anyone interested in history. There are historic buildings to explore and a trail to walk. Another great place for hiking is the Pehkokia Woods.
Traveling with kids? Take them to the Abbett Splash Park at Drover Park to cool off during the summer. They might also enjoy the Hayes Lemmerz Skate Park.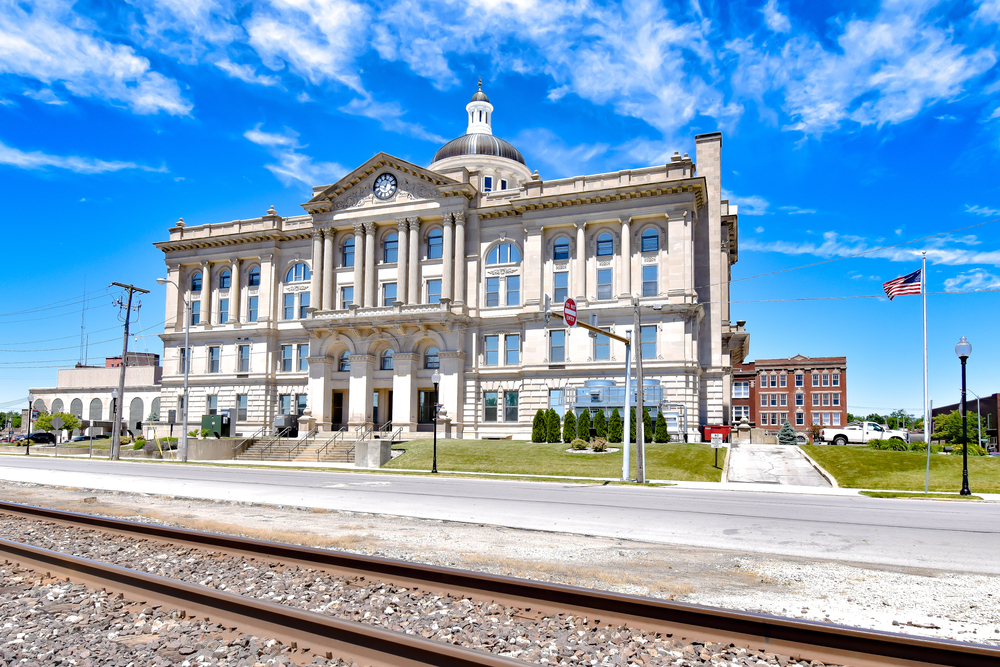 Angola
Angola has a wonderful downtown and plenty of parks to explore. Take a photo with the Steuben County Soldiers Monument in the heart of downtown before perusing the local shops.
The town is surrounded by lakes, so there is plenty of chances to get out on the water. Swimming, fishing, kayaking, and boating are all fun options to fill a summer day.
Just north of Angola is Pokagon State Park, which is one of the best recreation areas nearby. The park is nestled on Lake James. There are picturesque beaches, pretty hiking trails, and a cool nature center.
Make great memories with your family by taking a guided horseback ride. In winter, you can go cross country skiing or enjoy the awesome toboggan run.
You can also rent paddleboards, kayaks, paddleboats, or bikes in one of the most charming towns in Indiana.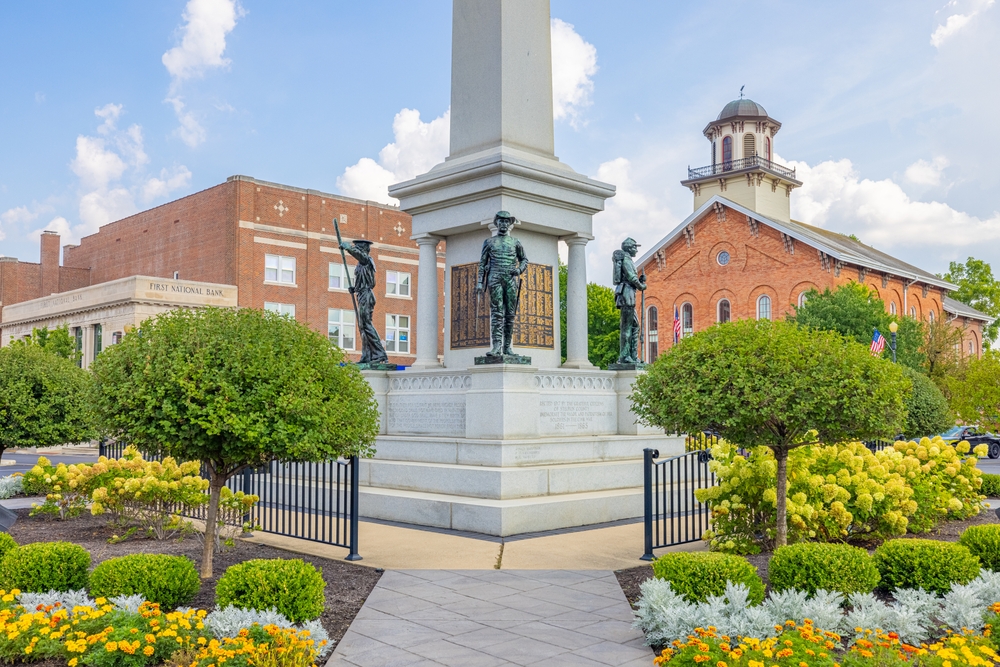 Greenfield
Greenfield is just outside of Indianapolis so it makes a great day trip from the city.
This Indiana small town is best known as the birthplace of author James W. Riley. He wrote the poem "Little Orphant Annie" which inspired the "Little Orphan Annie" comic strips and later Broadway musicals and movies. You can visit the Riley Home Museum.
If you are interested in history, you can visit the Chapel in the Park Museum and Old Log Church Museum. They have a collection of Native American artifacts, Civil War memorabilia, fossils, and more.
Outside time can be spent at Riley Park where there are walking paths, playgrounds, and places to play sports. Brandywine Park has more trails and is great for birdwatching.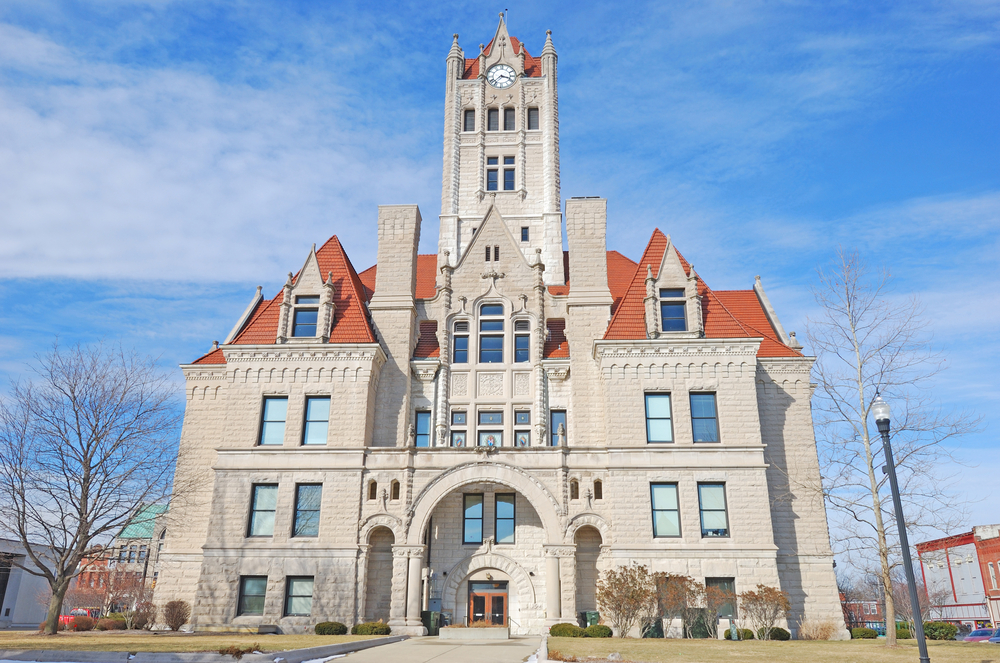 Whiting
Whiting is on Lake Michigan near the Illinois border. Since it is only a thirty-minute drive from Chicago, it is an awesome day trip worth the effort.
There are a lot of fun things to do here, making it one of the best small towns in Indiana. The whole family will have a blast exploring the cool attractions.
Everyone will love hanging out at Whihala Beach. This is a relaxing place to swim or soak in some sun. The WhoaZone is found at this beach and is just as exciting as the name would suggest.
There are awesome inflatable obstacle courses and slides in the water. You can also rent kayaks or paddleboards.
For some fun on land, you can walk Whiting Lakefront Park. There are also sand volleyball and tennis courts here. In the far distance, you can see the Chicago skyline across the water.
Whiting is also home to the unique Mascot Hall of Fame. This is an interesting, interactive museum great for kids. There is even a Build-A-Bear Workshop where you can make your own mascot. Isn't that cool?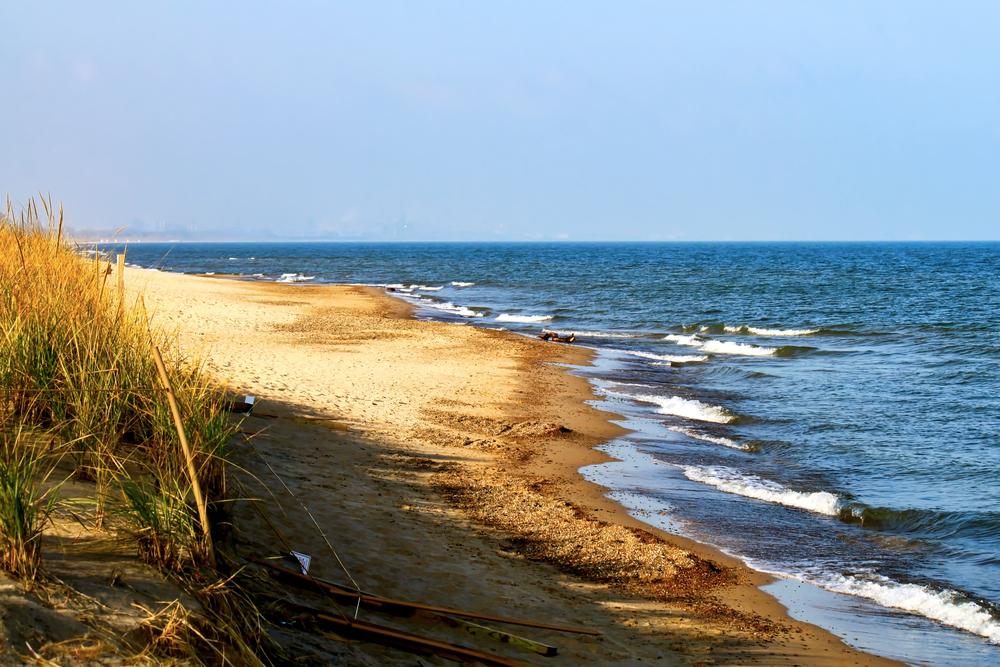 Vincennes
Vincennes is one of the best historic small towns in Indiana. Visit the George Rogers Clark National Historical Park to see the largest national monument outside of Washington D.C. This white and columned structure is super photogenic.
If you are interested in American history, take time to check out the Indiana Military Museum which covers wars from the Civil War until today. There are airplanes, vehicles, uniforms, and more on display.
You can also tour Grouseland, the President William Henry Harrison Mansion. This historic building was built in 1804 and is furnished with pieces accurate to the time period, including some that belonged to Harrison.
This is indeed one of the most interesting towns in Indiana.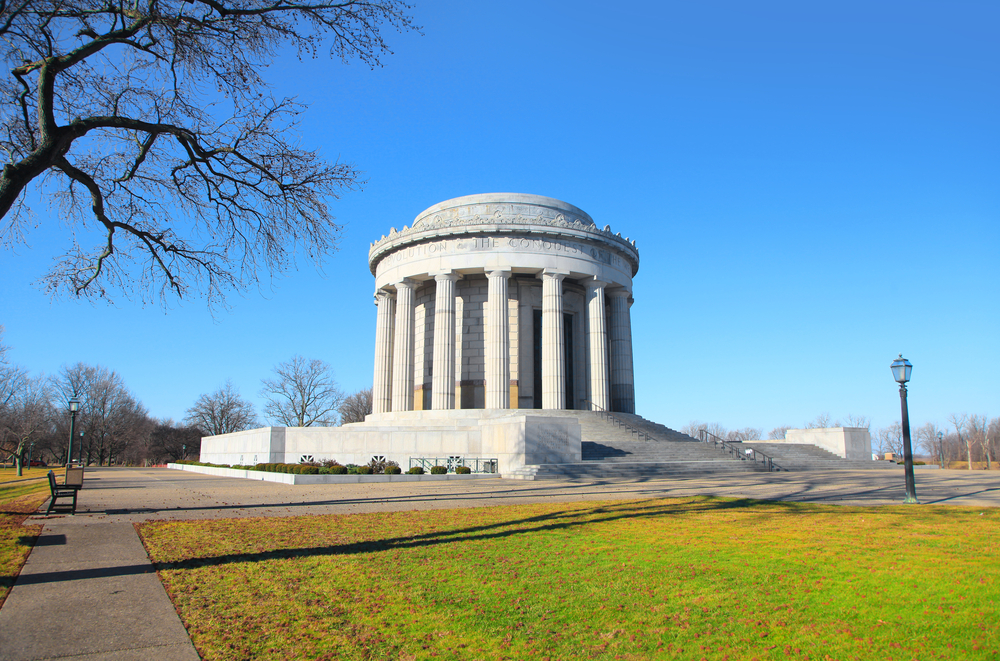 Packing List For Visiting Small Towns In Indiana
A concealed travel pouch may be one of the most important items you bring along when exploring Indiana towns. It is always important to protect your personal information. Identity thieves are everywhere.
This unisex RFID blocking concealed travel pouch is lightweight and comes in several colors. It has lots of organization to give you peace of mind.
If you have a pouch already that does not come with the RFID protection, as I do, these RFID sleeves are the perfect solution.
This configuration comes with enough credit card sleeves that the entire family would be protected. They are slim too, so they will easily fit into your pouch or wallet.
If you are planning on taking a lot of pictures with your phone you will definitely want to consider an external charging battery. This Anker high-speed phone charging battery is the exact one I carry with me on all of my trips.
It can be used on a variety of phones, not just an iPhone like I have. And wow is it fast!
I like that it holds its charging capabilities for several uses so I do not have to worry about it while out and about, and if I forget to recharge it at night, it will still be good to go the next day.
My daughter gifted me with this FugeTek selfie stick and tripod setup for my birthday. I absolutely love it! It is made of lightweight aluminum and is so easy to use.
It has Bluetooth connectivity and is a breeze to use for taking selfies during Indiana camping.
Hydration is so important when traveling. You want to remain hydrated throughout your travels to support your immune system which in turn will be stronger to fight off any germs you will encounter during your travels.
You will want to bring your own refillable water bottle with you.
I never leave home on a trip without my Bobble filtration bottle. The 18.5-ounce size is perfect for hiking and it fits nicely in the pocket of a backpack.
When filled with water, it is not too heavy to carry. And the charcoal filter ensures fresh clean water whenever you fill the Bobble.
Perhaps you are traveling a long distance and packing space is a premium in your suitcase, or in your car.
Then this set of collapsible silicone foldable water bottles would work well for you. Would not take up much space at all.
You will want a backpack or daypack with you to store snacks, your water bottle, phone, extra clothes, etc.. then this foldable water-resistant backpack would be great
It is very affordable and is available in many color options for you to choose from. The fact that it folds down into a zippered pouch will make it easy to pack.
—
Hopefully, you found some new Indiana towns to visit soon! These towns hold some of the best and most unique Indiana attractions. Art, history, and nature lovers will all find something to do.
These towns in Indiana might be small, but they are full of character, hospitality, and down-to-earth people. You will not regret taking the time to explore some of the best small towns in Indiana!