Are you looking for the best attractions in Ohio? Then you've come to the right place!
I was born and raised in Ohio, so I know there are tons of things to do in Ohio.
And so many of them are unique to the state!
Whether you're looking for places for sightseeing in Ohio, fun amusement parks, or one-of-a-kind museums, Ohio has something to offer.
On this list, I've included some of the most popular Ohio travel destinations.
You'll find activities perfect for families, quiet places to explore and learn, and everything in between.
I'm confident that you'll find an Ohio attraction on this list that is perfect for your next trip to my home state.
So, let's take a look at 15 of the best attractions in Ohio that you don't want to miss!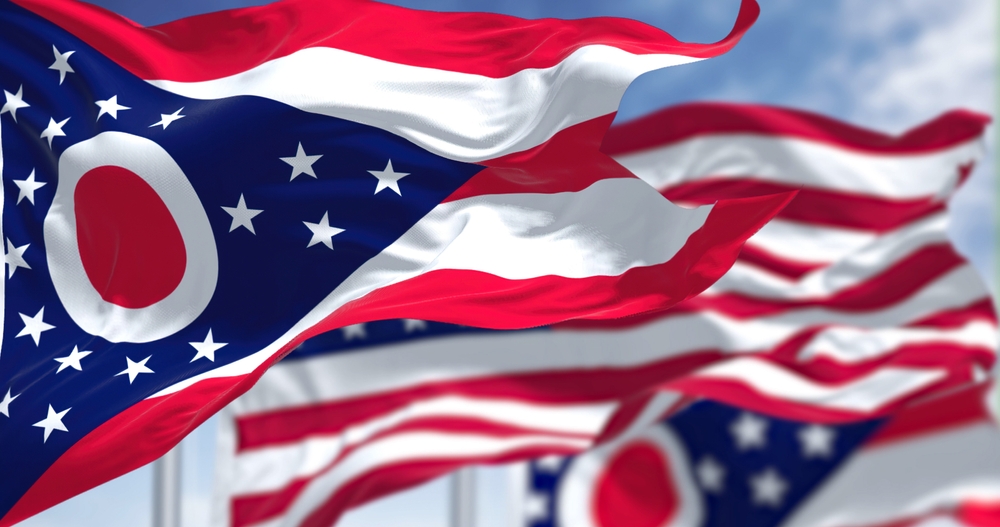 15 Best Attractions In Ohio Not To Miss!
Kalahari Water Park Is A Favorite Ohio Amusement Park
The Kalahari Resort is one of the biggest indoor waterparks in Ohio and is definitely one of the fun places to visit in Ohio.
It's one of the top attractions in Ohio for families because there are so many things to do there.
The entire park is themed around Africa, so you'll find rides like the Cheetah Race, the Rippling Rhino, and the Leopard's Lair.
And if you want to relax, there are indoor and outdoor spa pools. Adults will also love the swim-up bar.
The Kalahari Water Park Ohio also has an outdoor waterpark, that opens every summer.
Enjoy the Zambezi Outdoor Waterpark where there are even more thrilling waterslides. The Safari Outdoor Adventure Park also has mini-golf, ziplining, and climbing walls.
Stay Here: Booking.com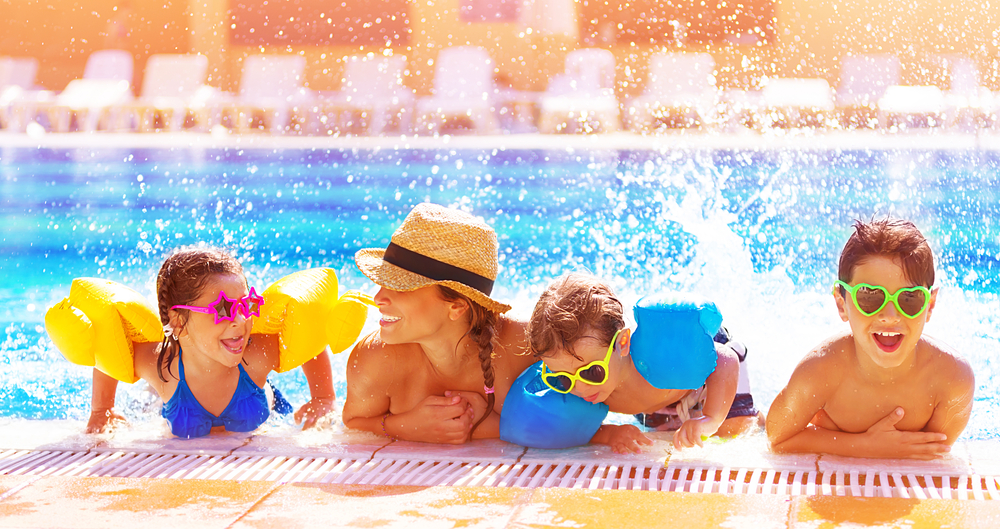 Cuyahoga Valley National Park Is One Of The Best Attractions In Ohio
One of the best outdoor Ohio vacation spots in Cuyahoga Valley National Park.
This National Park is one of the most incredible things to do in Ohio and is best known for its many beautiful waterfalls.
Let's face it, when you think of waterfalls, Ohio probably doesn't immediately come to mind.
However, thanks to its topography, waterfalls in Ohio are actually fairly common.
In fact, there are over one hundred waterfalls in this national park! Plus, over 125 miles of hiking and biking trails.
The park's most famous waterfalls are Brandywine Falls, Blue Hen Falls, and Bridal Veil Falls.
Many of the falls are fairly easy to get to, but for some of them you'll need to be a fairly experienced hiker to visit.
Stay Here: Booking.com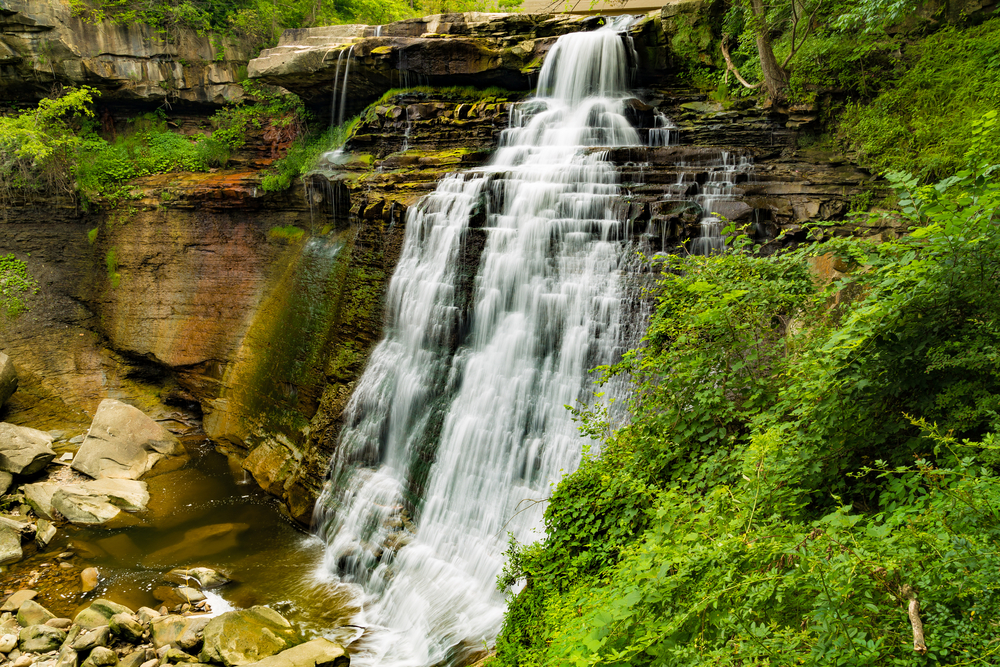 Take The Kids To Legoland
There are several Legoland Discovery Centers across the US, and one of them is in Columbus Ohio!
If you're looking for things to do in Ohio with kids, Legoland is a sure hit!
Legoland Ohio Discovery Center is open 7 days a week.
You'll need to purchase your entry tickets ahead of time, and there are different price points depending on what level of package you choose.
Plan ahead and purchase tickets to Legoland Discovery Center Columbus!
There are small rides, a place for building Legos, a tour of the Lego factory, earthquake tables, and tons more.
Legoland Columbus Ohio is quickly becoming one of the most popular places in Ohio for families to spend the day.
Stay Here: Booking.com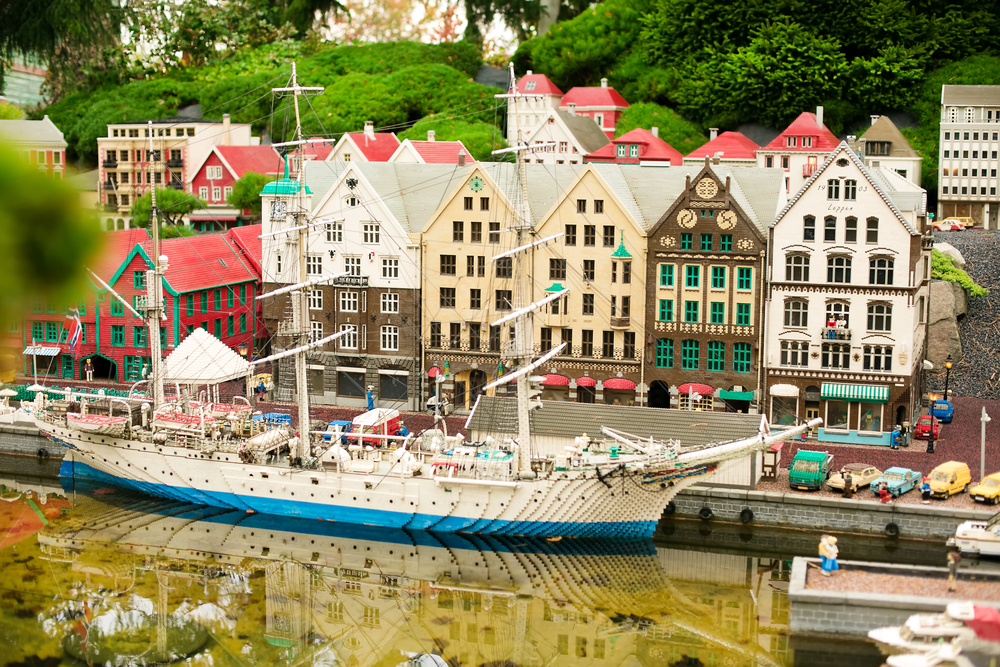 Seneca Caverns Are A Famous Ohio Landmark
Seneca Caverns is one of the most amazing caves in Ohio. It's even a Registered Natural Landmark cavern system in Bellevue, Ohio.
These Ohio caverns were originally discovered in 1872, and in 1933 the caves were open to the public to be toured.
Since then, they've become a famous Ohio landmark.
From May to the middle of October, hundreds of thousands of visitors flock to this unique attraction in Ohio.
Inside the massive caverns, there are several rooms, passageways, and even an underground river. All of these unique geological features are why it has been registered as a Natural Landmark.
If you're looking for a unique place in Ohio to explore, head to Seneca Caverns!
Stay Here: Booking.com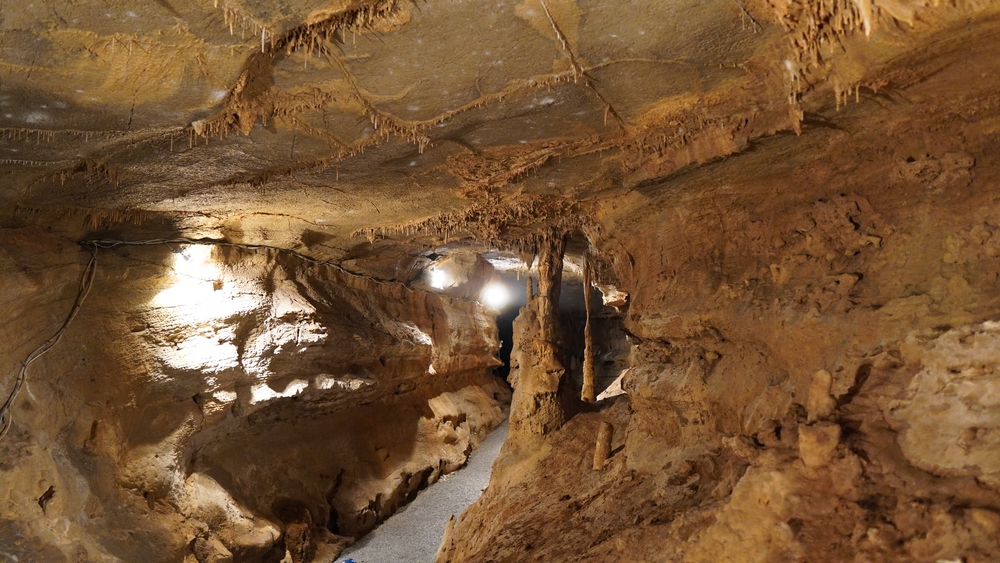 The Rock & Roll Hall Of Fame Is A Popular Ohio Tourist Attraction
You can easily spend the entire day exploring one of the most unique attractions of Ohio, the Rock and Roll Hall of Fame!
The museum is located in Cleveland and is one of the best things to do in Cleveland.
It's become one of the most famous places in Ohio for music lovers to visit.
It is dedicated to the artists, producers, and other persons instrumental in the development of rock music.
The building consists of seven levels and within it is 55,000 square feet you will find rock exhibitions, offices, a souvenir store, and a café.
The museum documents the entire history of the rock and roll genre, and every year new musicians are inducted.
Stay Here: Booking.com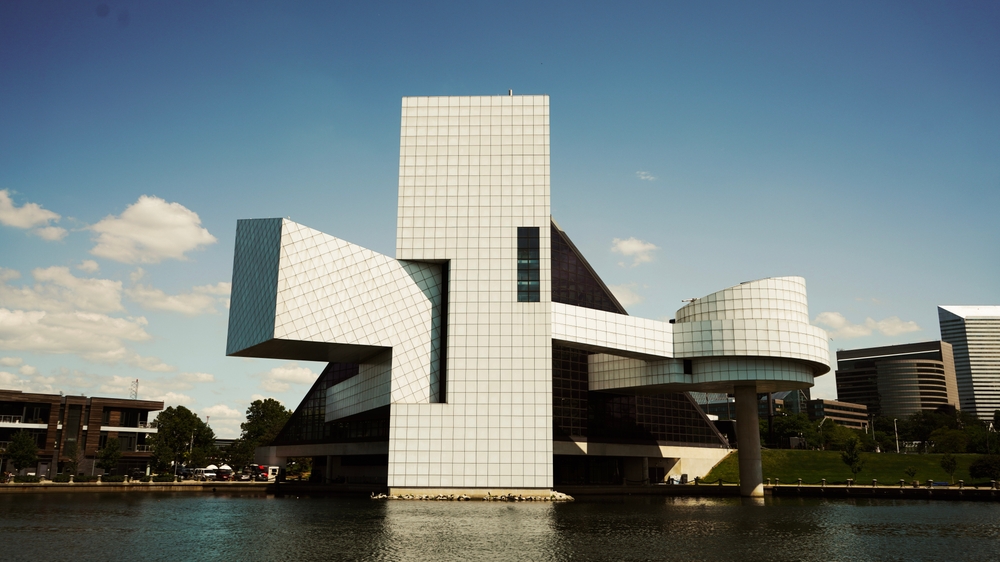 Cedar Point Is A Popular Attraction In Ohio For Thrill Seekers
Cedar Point is an amusement park in Sandusky Ohio, and it's easily the most popular Ohio amusement park.
There are so many fun things to do in Sandusky OH.
It's on the shores of Lake Erie and is just over 360 acres. On those 360 acres, there are over 70 different rides.
The rides range from simple and on the calm side to high-speed rollercoasters.
Even if you don't enjoy thrill rides, they also have games, food, and other attractions in Ohio for families to enjoy.
In the summer, Cedar Point is also home to one of the most popular Sandusky waterparks. In the fall and winter, they also host special events themed around the holidays, with special opening hours.
So a trip to this popular Ohio theme park is always a good time, all year!
Stay Here: Booking.com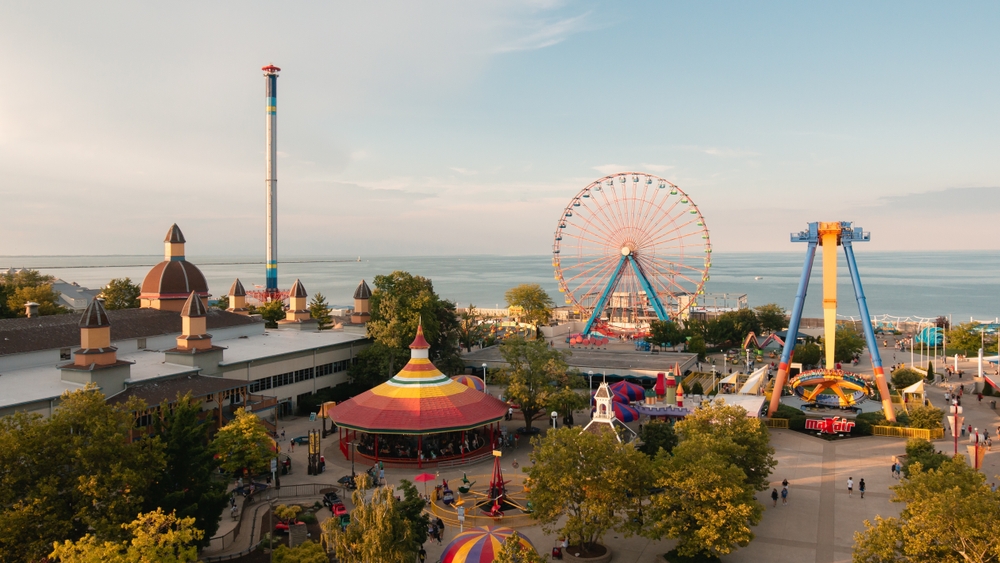 Hocking Hills Is One Of The Prettiest Places In Ohio To Visit
Hocking Hills is one of the prettiest and most well-known state parks in Ohio.
With opportunities for camping, hiking, canoeing, zip-lining, and more, Hocking Hills is fun for the whole family.
And if you're looking for the best hiking trails in Hocking Hills, the trails to Ash Cave, Old Man's Cave, and Cedar Falls provide some of the prettiest views in the whole state.
In fact, Hocking Hills is perfect for scenic sightseeing in Ohio, year-round.
The park is especially popular during the fall season in Ohio because the trees are full of gorgeous colors.
But, no matter when you decide to visit, this is a must-see Ohio travel destination for outdoor lovers.
Stay Here: Booking.com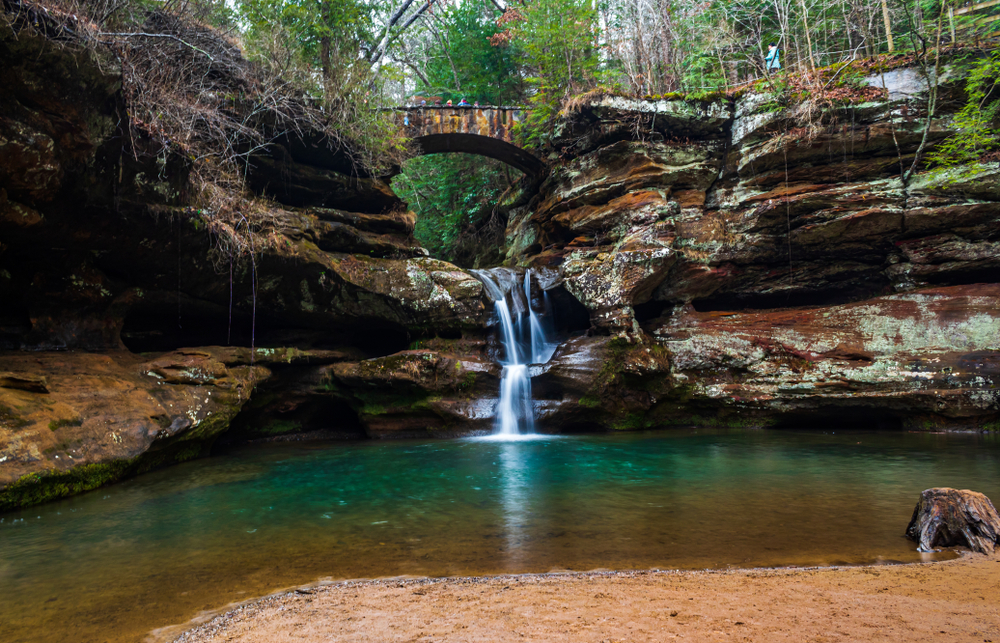 The Pro Football Hall Of Fame Is A Popular Attraction In Ohio For Sports Fans
The iconic Profession Football Hall of Fame is in Canton, Ohio, and it pays tribute to America's sport, football.
For all the sports fans, it would make an amazing Ohio day trip! But football lovers from around the world come to this Ohio tourist attraction.
At this attraction in Ohio, there are interpretive exhibits and interesting tours.
You can also find your football heroes, or learn about the history of your favorite pro football team!
The Super Bowl Theatre shows videos of the legends that made football the sport it is today.
Visiting the Pro Football Hall of Fame is one of the most fun things to do in Ohio!
Stay Here: Booking.com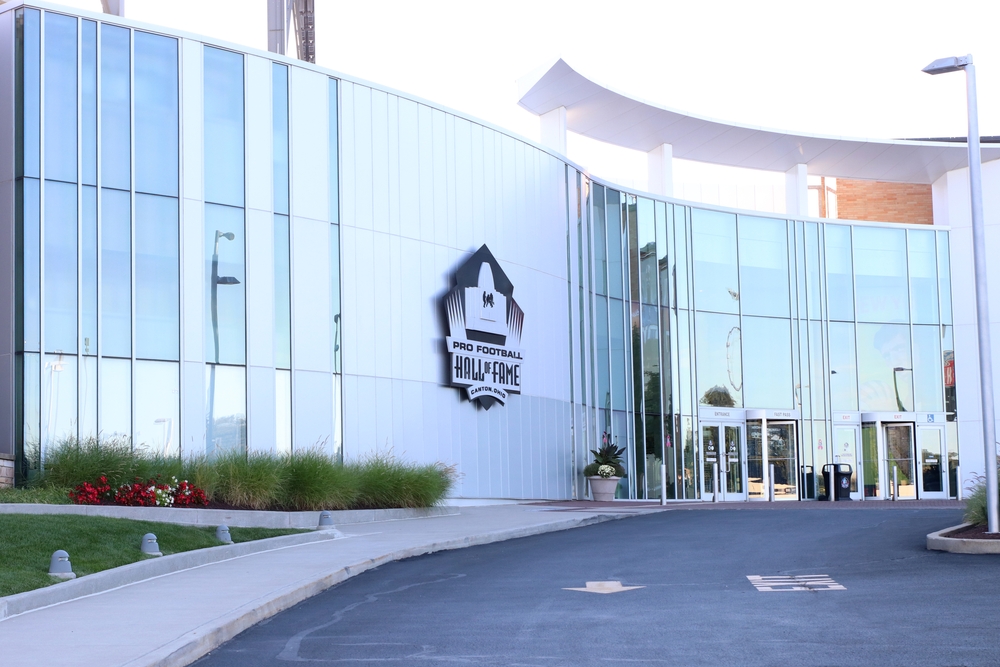 Take The Whole Family To Great Wolf Lodge
The Great Wolf Lodge is an Ohio vacation spot that is perfect for the whole family.
Inside this resort in Ohio, you'll find something to entertain everyone in the group.
There is an indoor waterpark, a family-friendly restaurant, spots for the adults to relax, and some locations even have an outdoor pool.
The suites come in a variety of sizes.
Some fit a group of up to eight people and come with kitchenettes, a seating area, and a balcony or patio.
They also have smaller options if you're traveling with a much smaller group.
If you're wondering what to do in Ohio with the whole family, consider a vacation at the Great Wolf Lodge.
Stay Here: Booking.com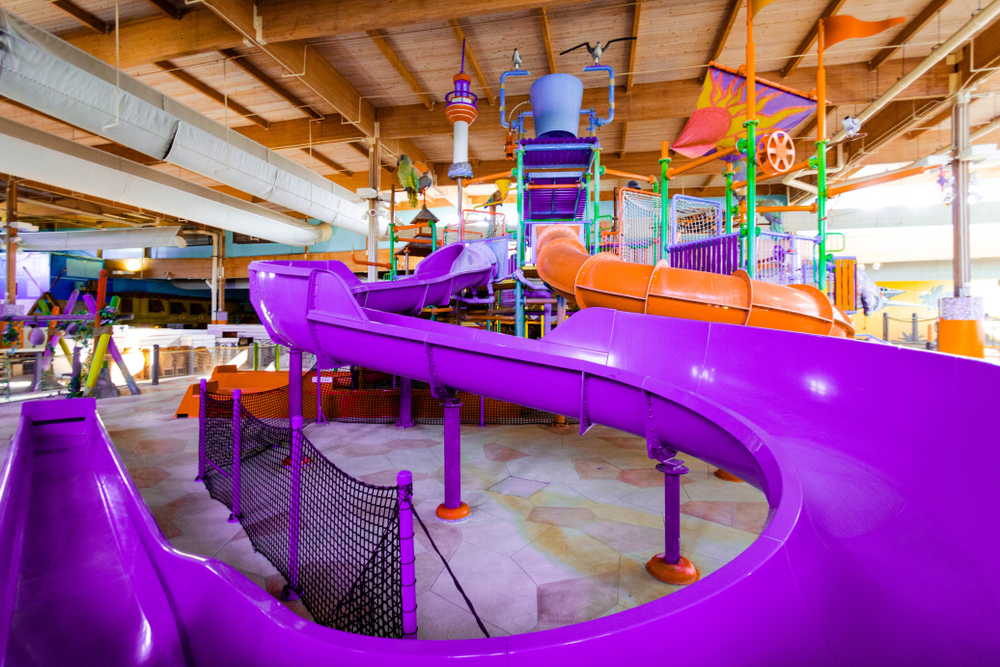 Get In The Festive Mood At The Christmas Story House
If you've seen the holiday movie classic, A Christmas Story, then you are probably aware of the Christmas Story house.
The movie is set in Ohio and was actually filmed throughout the state – and the family home is in Cleveland!
Christmas in Ohio isn't complete without a trip to the Christmas Story House Museum.
While at the home, you can check out original props from the movie, and buy a souvenir from the gift shop.
You can even spend a night at this special and unique attraction of Ohio film history.
While the home is open throughout the year, the hours are extended during the holiday season.
They even have the infamous 'Leg Lamp' on display in the front window!
Stay Here: Booking.com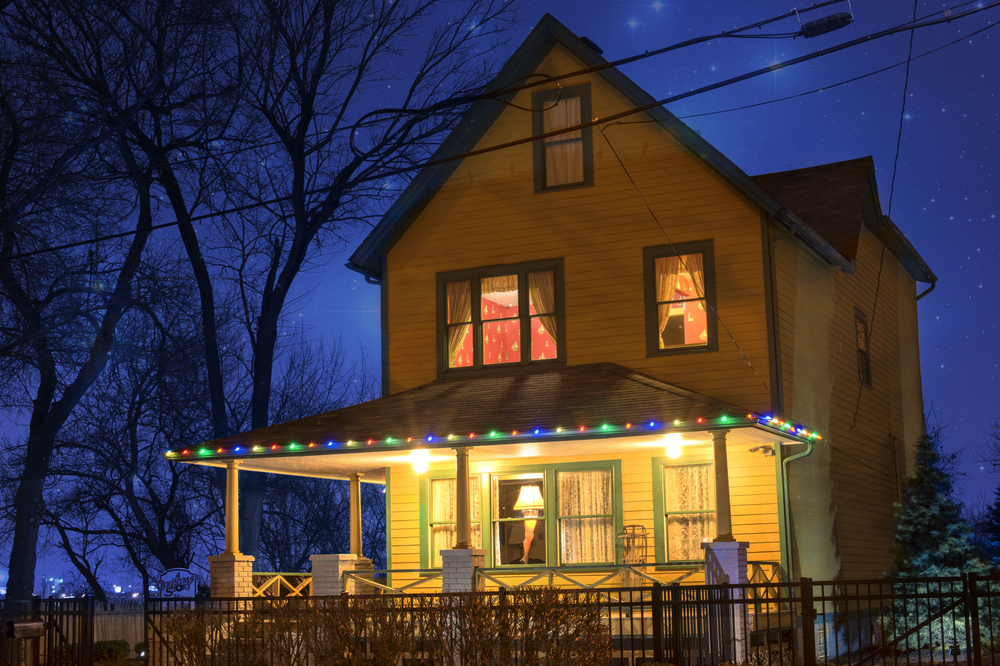 Tour The Stan Hywet Hall & Gardens
In Akron, you'll find the beautiful Stan Hywet Hall & Gardens.
This famous place in Ohio is perfect for architecture and garden lovers.
The massive estate features a 65-room Tudor Revival Manor House, a Gate Lodge, the Corbin Conservatory, and some historic gardens.
They offer tours of the manor house and gardens, and you can also explore the grounds without a tour.
If you are a history buff or an architecture enthusiast, then a visit to this Ohio landmark should be on your trip itinerary!
Stay Here: Booking.com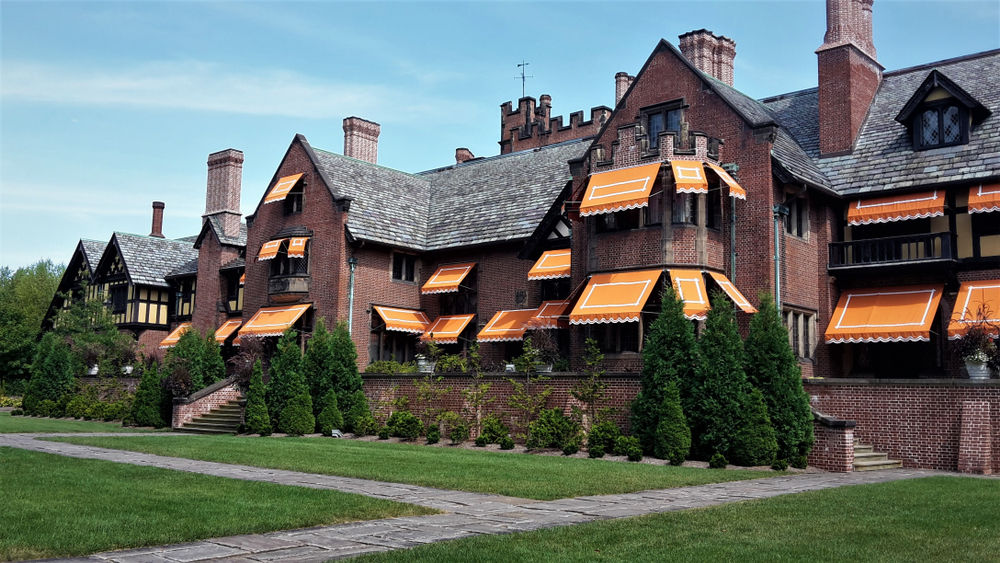 Spend The Day At The Cleveland Museum Of Art
The Cleveland Museum of Art is one of the best places to visit in Ohio, even if you aren't an art lover.
It originally opened in 1916 and today it holds about 45,000 pieces of work from a wide variety of cultures and centuries.
In fact, some pieces date back over six thousand years ago!
The Cleveland Museum of Art is also free to visit, which makes it a great budget-friendly attraction in Ohio.
Throughout the year, they also offer special themed exhibits, which you will have to pay an entry fee to see.
You could easily spend the whole day walking from room to room, admiring the art and learning about the cultural and historic significance of each piece.
Stay Here: Booking.com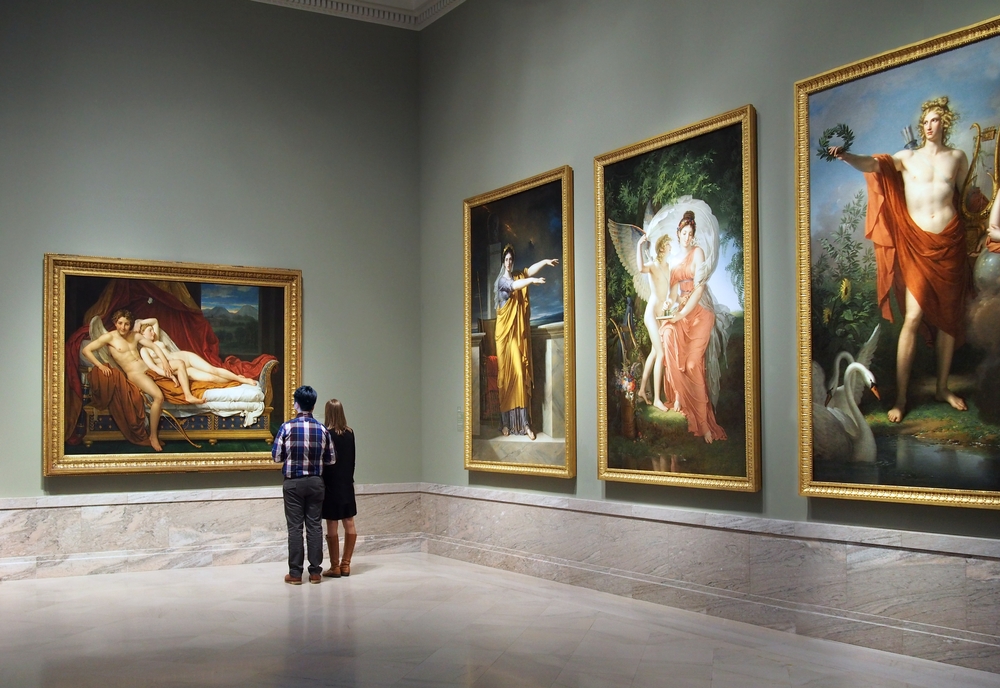 King's Island Is The Largest Amusement Park In Ohio And The Midwest
You can find the largest Midwest amusement park in Ohio!
King's Island is an epic Ohio attraction that is perfect for thrill seekers.
As the largest amusement park in the Midwest, you can easily find tons of things to do.
There are wild rollercoasters, an authentic 1926 wooden carousel, and even the tallest Gyro drop tower in the world!
Right next to this Ohio theme park, you'll find the Soak City Waterpark, which is part of King's Island.
The waterpark has 36 waterslides and two wave pools, just to name a few attractions.
Stay Here: Booking.com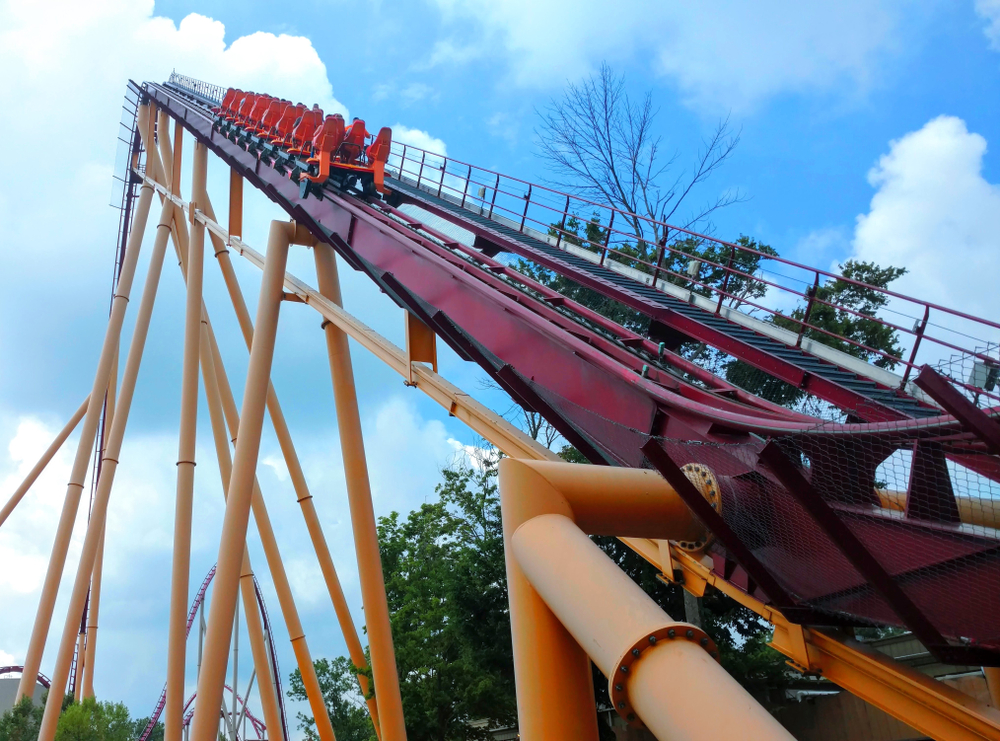 Castle Noel Is One Of The Most Festive Ohio Attractions
Castle Noel is located in Medina, a cute small town in Ohio.
So what makes it so festive?
Castle Noel is actually America's largest indoor Christmas entertainment attraction that is open year-round.
While it's open year-round, this is easily one of the most popular attractions in Ohio during the holiday season.
It's home to the largest collection of Christmas props from Hollywood movies.
In their collection, you'll find costumes and props from some amazing Christmas movies. Like Fred Claus, Elf, The Grinch, A Christmas Carol, and more.
Castle Noel, Medina is one of the coolest attractions on Ohio's list of one-of-a-kind museums.
Stay Here: Booking.com
Stroll Through Franklin Park Conservatory And Botanical Garden
When it is spring in Ohio, you'll want to visit the Franklin Park Conservatory and Botanical Gardens.
The Conservatory and Botanical Garden is beautiful year-round, but it really comes to life in the spring.
Yearly, they host the Columbus Blooms Festival, a popular Ohio attraction in Columbus.
The outdoor floral exhibition shows off the colors of the season, including bright tulips, narcissus, daffodils, and hyacinths.
Franklin Park is also full of beautiful flowering trees in the spring. You can expect to see cherry, dogwood, forsythia, lilac, and magnolia trees full of spring color.
It's easy to see why Franklin Park Conservatory and Botanical Garden is one of the best attractions in Columbus.
Stay Here: Booking.com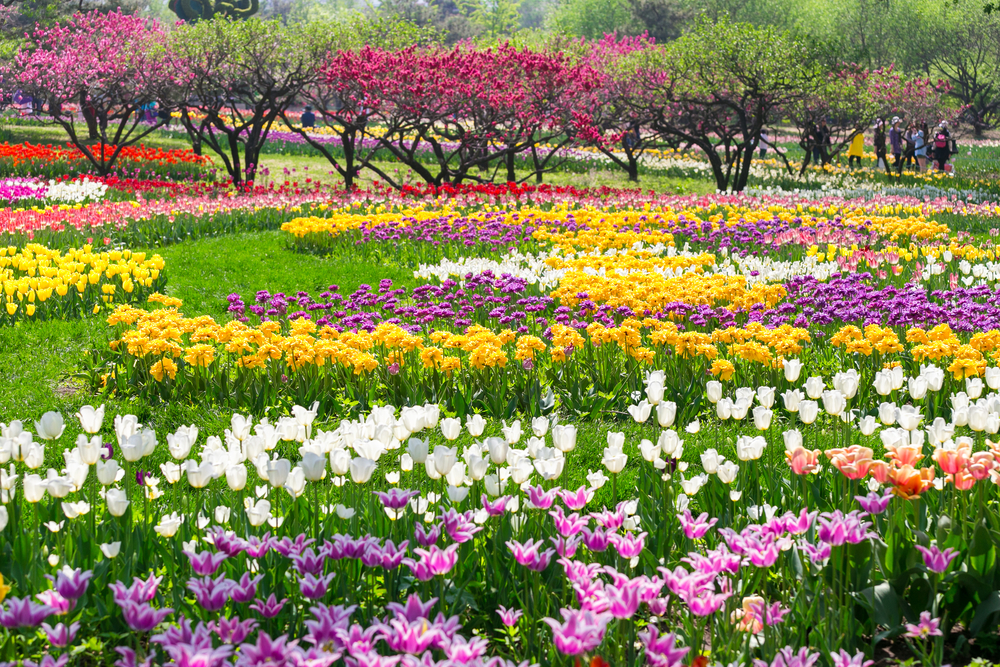 Packing List When Visiting Attractions In Ohio
Whether you will be traveling by plane or by car to Ohio, here are some tips on how to pack lightly.
A concealed travel pouch may be one of the most important items you bring along when attending any events in Wisconsin!
It is always important to protect your personal information. Identity thieves are everywhere.
This unisex RFID-blocking concealed travel pouch is lightweight and comes in several colors. It has lots of organization to give you peace of mind.
You can place it under your clothes next to your body to carry your ID safely.
If you have a pouch already that does not come with RFID protection, as I do, these RFID sleeves are the perfect solution.
This configuration comes with enough credit card sleeves that the entire family would be protected. They are slim too, so they will easily fit into your pouch or wallet.
If you are planning on taking a lot of pictures with your phone you will definitely want to consider an external charging battery.
This Anker high-speed phone charging battery is the exact one I carry with me on all of my trips.
It can be used on a variety of phones, not just an iPhone as I have. And wow is it fast!
My daughter gifted me with this FugeTek selfie stick and tripod setup for my birthday. I absolutely love it! It is made of lightweight aluminum and so easy to use.
It has Bluetooth connectivity and is a breeze to use for taking photos.
You will want to bring your own refillable water bottle with you.
I never leave home on a trip without my Bobble filtration bottle. The 18.5-ounce size is perfect for hiking and it fits nicely in the pocket of a backpack.
And here are the carbon filter replacements.
Perhaps you are traveling a long distance and packing space is a premium in your suitcase, or in your car.
Then this collapsible silicone foldable water bottle would work well for you. Would not take up much space at all.
—
With so many cool attractions in Ohio, you'll want to plan to spend plenty of time in my home state!
Ohio is full of beautiful natural scenery, really unique museums, some of the best amusement parks in the Midwest, and so much more.
Have you had a chance to check out any of these popular Ohio attractions?
I'd love to hear about your favorite ones in the comments!