Are you looking for things to do in Milwaukee? You are in the right place. In this article, I will walk you through things to do in Milwaukee WI and attractions in Milwaukee.
Milwaukee is the largest city in the state of Wisconsin, and the fifth-largest in the midwest. The name Milwaukee comes from an Algonquian word millioke.
Milloke means good, beautiful, and pleasant land which explains a lot about how lovely this area is.
It's also a city where water plays an important part. Milwaukee lies on the shores of Lake Michigan at the confluence of three rivers: the Menomonee, the Kinnickinnic, and the Milwaukee.
Many small rivers also run through the city, water has played an important part in the local produce and the craft beer industry
Most associate Milwaukee with such things as The Fonz and Harley Davidson. However lately Milwaukee is turning into a bit of a craft beer mecca. It has affectionately become known as Brew City.
Milwaukee is a culturally diverse city with immigrants from Germany, England, Ireland Italy, and Poland all settling here. This can be evidenced in the many different restaurants in the city.
The downtown is filled with preserved historic buildings, many museums, a lighthouse, and all the bright lights of a thriving city.
As you can imagine there are so many things to do in Milwaukee it's really hard to choose. In this list, I've included a variety of choices so there is something to please everyone. This list is by no means an exhaustive list though.
So are you ready to see what Milwaukee attractions I have chosen for you in this vibrant Midwest city? Grab a drink, settle yourself comfortably and let's get started.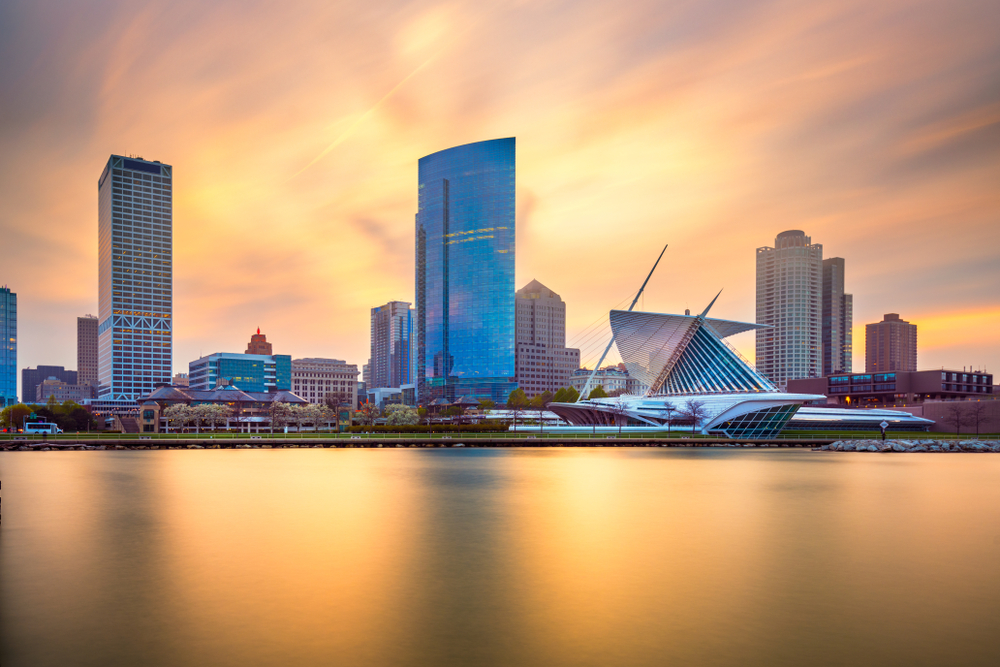 20 Things To Do In Milwaukee WI You Shouldn't Miss
Walk The Milwaukee Museum Mile
If you are looking for attractions in Milwaukee you will not be let down. Milwaukee is home to many world-renowned museums many of them house museums.
These house museums give you a more intimate look into the past. They show you how early residents of Milwaukee lived, the furnishings and works of art they collected
The Milwaukee Museum Mile is a joint effort between five art and cultural museum located in the historic Eastside and creates a simple and affordable way for you to experience them.
All five museums are within walking distance of each other and they offer discounted prices when you visit them all.
The museums included are Charles Allis Art Museum, Jewish Milwaukee, Museum Museum of Wisconsin Art at Saint John's On The Lake, North Point Lighthouse, and Villa Terrace Decorative Arts Museum.
It's a wonderful way to experience the city, see some great works of art and learn some history.
Particular of note is the Charles Allis House which allows you to experience one couple's passion for art shown off in their grand 1991 mansion.
Visiting the Miracle Mile is one of the best things to do in Milwaukee Wisconsin.
Say 'Ayy' to The Fronz
When it comes to things to do in Milwaukee this has to be one of the most iconic Milwaukee attractions. Who can resist a photo opportunity with a bronze statue of The Fonz?
He has stood on Milwaukee's River Walk just south of Wells Street since 2008 and is seldom seen without someone posing with him for a photo.
Obviously here to celebrate the iconic Arthur Fonzarelli from Happy Days he looks every inch the part.
With his black leather jacket, blue jeans, and his trademark double thumbs up he is just begging for a picture-perfect moment.
This would make a fun stop if you were on a Wisconsin road trip, for sure!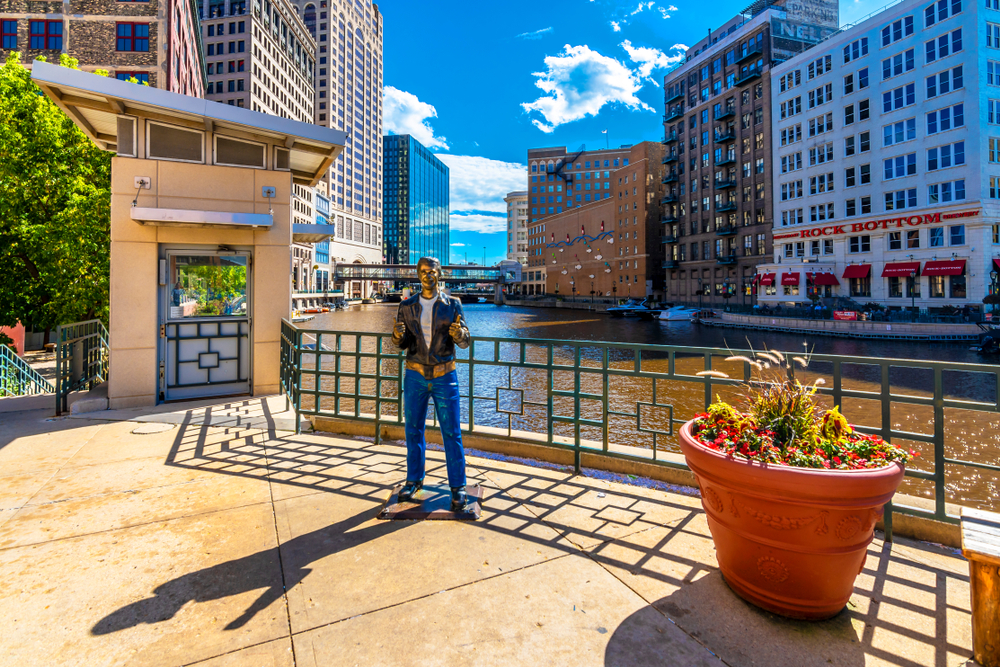 Be a Petrolhead at The Harley-Davidson Museum
Believe me when I say this museum is not just for diehard bikers. This is one of the things to do in Milwaukee, Wisconsin that most people enjoy and is well worth exploring.
Spread over 20 acres of riverfront, the museum has 11 permanent exhibits, rotating special exhibits, and some real surprises.
There is an engine room, a motorcycle gallery, and among the more unusual is a recovered motorcycle from the tsunami that devastated Japan in 2011.
If you are a diehard Harley fan buy the audio narration for a small additional cost. There is an entrance fee and bring some extra cash because the gift shop is exceptional as you would expect.
Here is a great reason why Milwaukee is one of the great places to visit in Wisconsin.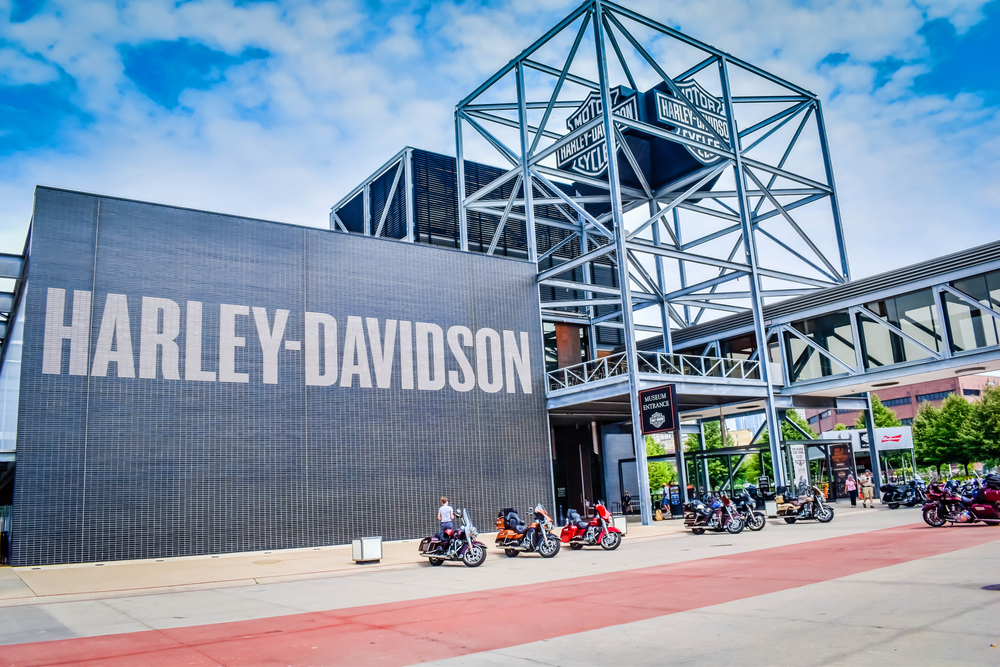 Browse The Stalls At Milwaukee Public Market
One of the great free things to do in Milwaukee. It's also undercover so perfect if the weather isn't on your side.
The market is home to lots of food and beverage vendors selling everything from vegan sandwiches to Belgian beer.
The market also operates cooking classes and hands-on demonstrations if you want to get your hands dirty.
And head to C. Adam's Bakery for the best cupcakes. There are vendors selling items including Brew City Brand Apparel where you can celebrate all things craft beer.
It is open from 10 am to 8 pm Monday to Friday 8 -8 on Saturday and 9-6 n Sunday. Go early or later if you can as it does get very busy and can be crowded.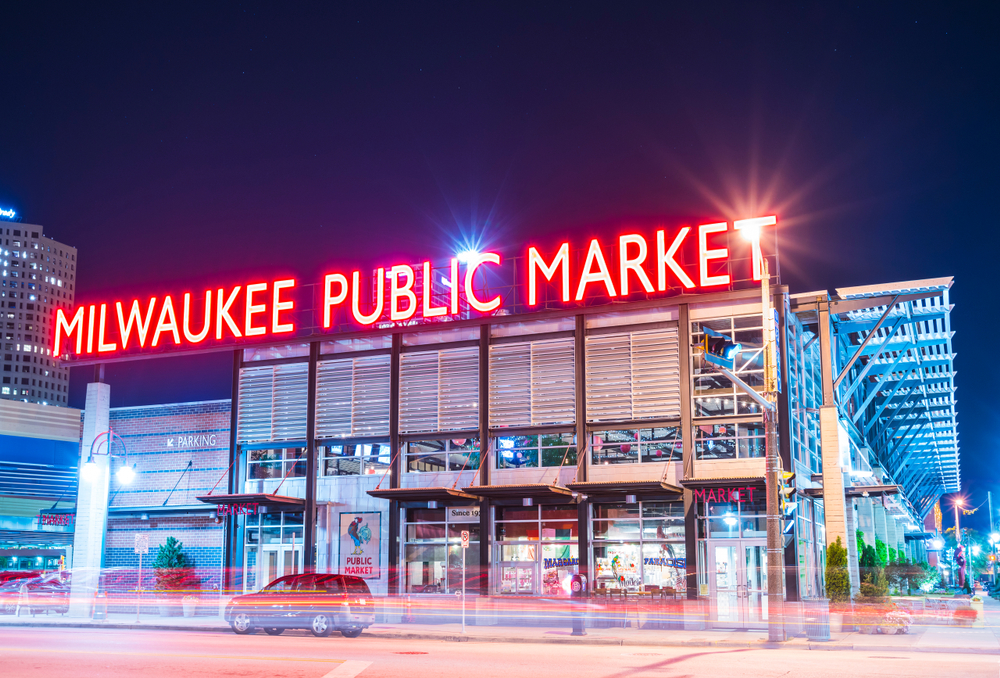 Marveling At The Milwaukee Art Museum Is A Great Thing To Do In Milwaukee WI
This is one of the attractions in Milwaukee that really is as good as it looks. And it has a lot to live up to.
The building as you can see from the picture below is impressive.
A futuristic, gleaming, almost gravity-defying building it certainly demands attention. Well, the museum is actually made up of three buildings.
With a 90-foot vaulted glass ceiling, a white suspension bridge, and cantilevered wings, it's certainly unusual.
Inside there are 341,000 square feet of space where visitors can browse over 30,000 pieces of art. The art includes one of the largest Georgia O'Keeffe collections in the world.
It's open daily and there is an admission fee. Please note sometimes high winds can shut certain parts of the museum.
There are all the amenities you would expect inside including a coffee shop and wine bar.
It is one of the great things to do in Milwaukee. Spend some time enjoying an incredible building containing some incredible art.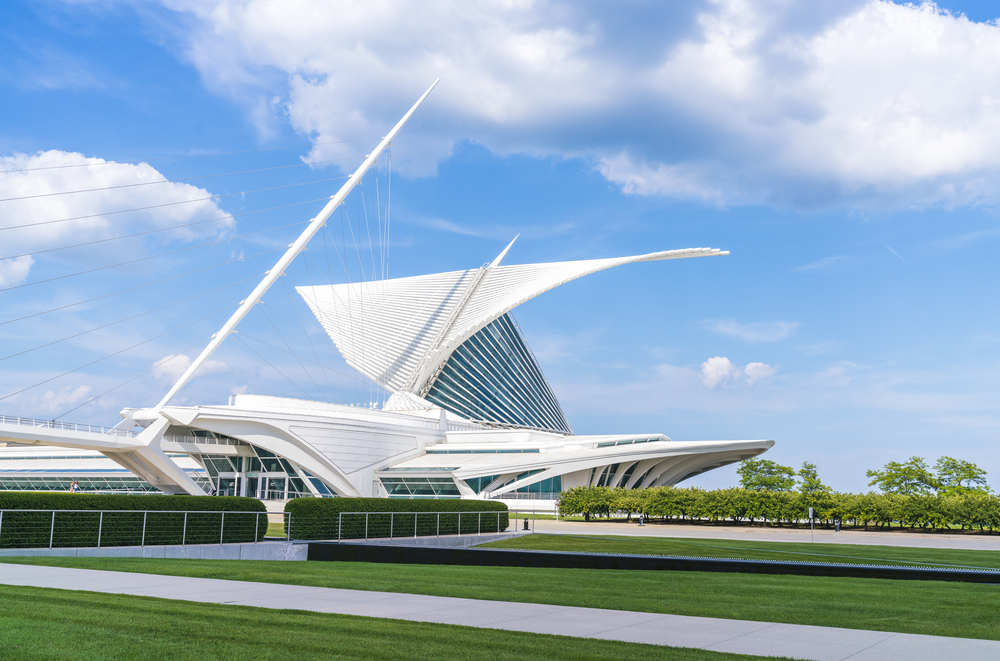 Get Historic At The Pabst Mansion
Near Milwaukee's Marquette University is the incredibly beautiful Pabst Mansion. It's one of a dozen lavish homes that line what once was Grand Avenue.
The home of Captain Frederick Pabst was built in 1892 and contains 37 rooms, dozens of hidden compartments, and 14 fireplaces.
You can tour the home, which I highly recommend, or just appreciate it from the outside. On a tour, you learn about the construction, the history of the Pabst brewing family, and the decorative elements within the home.
If you are here during the Christmas season, definitely go inside as it looks incredible with all its splendid Christmas decorations.
It opens daily from 10 am until 3 pm and there is an entry fee.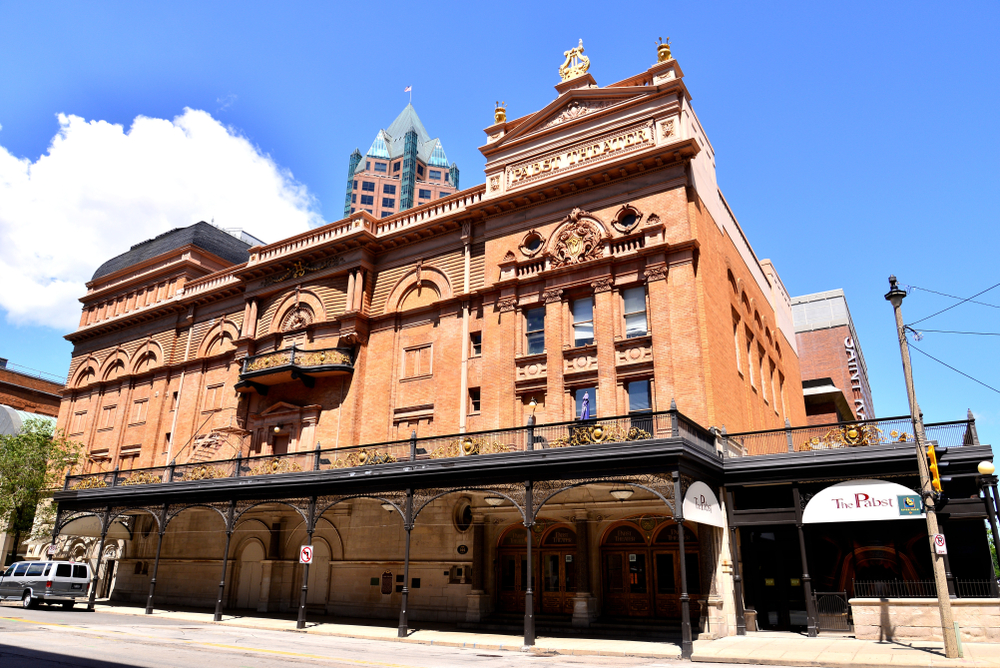 Look Up At Basilica of St. Josaphat
Designed by German architect Erhard Brielmaier the Basilica of St. Josaphat is one of the free things to do in Milwaukee. Modeled on Rome's St. Peter's Basilica this place really is impressive.
It's a grand church with a cross-shaped floor plan, as well as a massive copper dome. You can attend mass here if you or take a property tour.
The tour is offered when Mass is not been held. The Basilica of St. Josaphat is open Monday through Saturday from 9 a.m. to 4 p.m.
Tours operate throughout the day, or get a walking tour brochure and go it alone.
There is also a small museum in the pavilion's lower level if you want to learn more about the church.
Entrance is free however donations are welcome and are for the upkeep of his incredible building.
This is a Milwaukee attraction not to miss.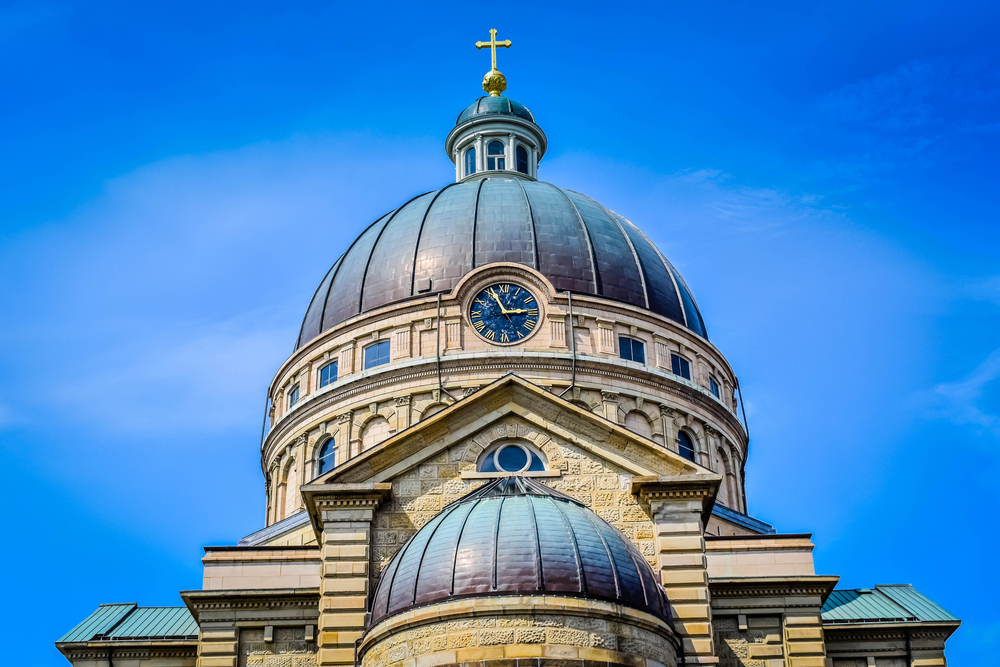 Support The Brewers At American Family Field
If you love baseball then this is one of the fun things to do in Milwaukee to put on your list.
American Family Field formally Millers Park is home to Major League Baseball's Milwaukee Brewers.
The park is pretty spectacular with a retractable roof, which is the only fan-shaped convertible roof in North America and well worth a visit and even better to watch a game.
Inside the stadium, you will find everything you would expect. Stadium tours are offered on all days when no scheduled events or home games are on.
There is a cost for these but if you are a baseball fan it is well worth it.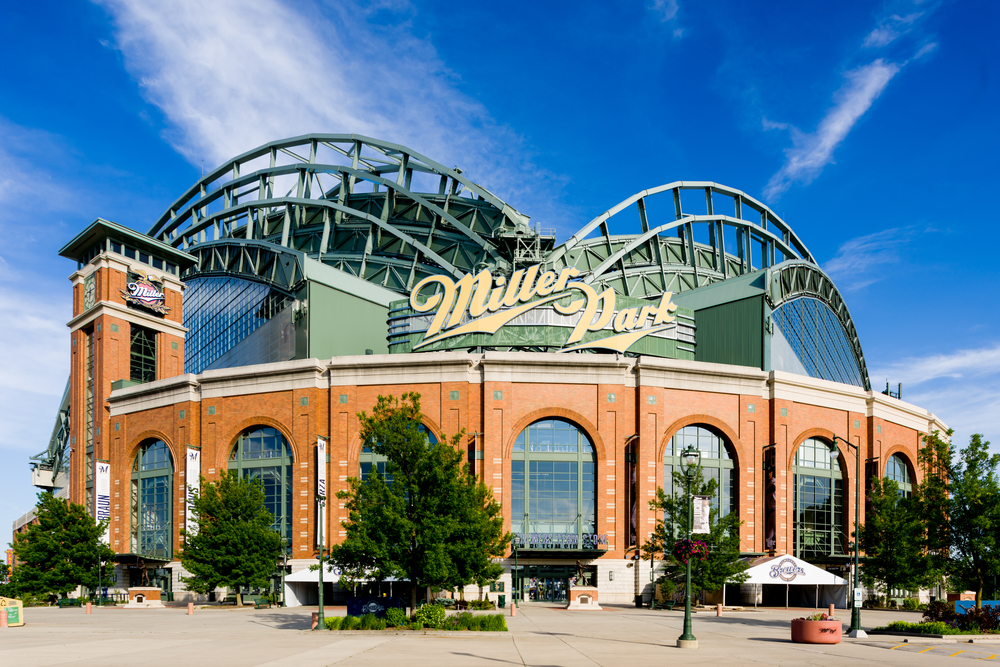 Have Fun At Discovery World
If you have children then this is definitely one of the best things to do in Milwaukee you want to put on your itinerary.
Discovery World offers multiple hands-on exhibits and experiences all in the name of science.
There is so much here to keep the children involved. There are different demonstrations each day of the week at the museum's Reiman Aquarium.
Stingrays are on Thursdays and Pythons on Friday for example.
There is also a virtual reality exhibit, a bed of nails at Innovation Station, and a lab where kids can make crafts to take home.
In the warmer months, you can also board the Denis Sullivan, a replica of a 19th-century ship, and set sail on Lake Michigan.
There is a cost to get in and parking is available. The car park can fill up quickly but street parking is also an option.
This is one of the fun things to do in Milwaukee, Wisconsin for families.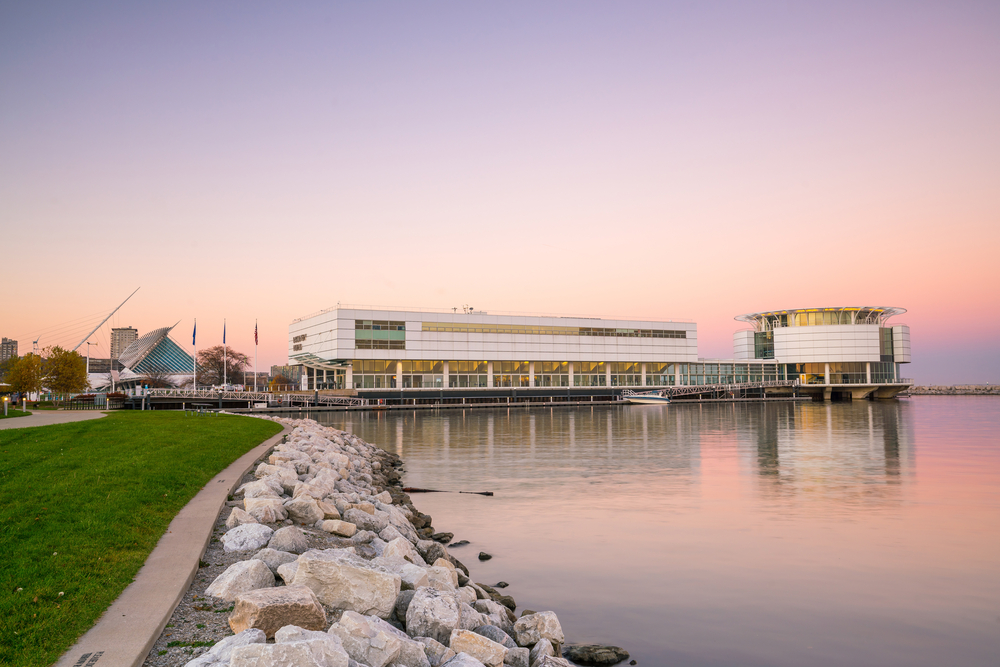 Step Into History At The Milwaukee Public Museum
If you like learning about the history and culture of the places you visit then the Milwaukee Public Museum is right up your alley. Oh and also they have live butterflies.
As well as the Puelicher Butterfly Wing, the permanent exhibits range from a 14,000-year-old mammoth skeleton to a life-size diorama of early-1900s Milwaukee.
You can also wander through a re-created century-old village, inspired by 33 different European cultures.
There is also a Native Games exhibit where visitors can learn about the history and significance of games played by indigenous tribes throughout the U.S. and Canada.
And the museum's candy store is well worth a visit. The museum is open most days and stays open late on the first Thursday of every month. There is an admission fee.
Admire The View North Point Lighthouse
The beautiful restored 1888 North Point Lighthouse Museum really is a symbol of this region's Great Lakes maritime heritage.
It is one of the coolest lighthouses in Wisconsin.
The museum features exhibits and artifacts relating to shipping and lighthouse history. And you can climb the tower and tour the museum.
Frederick Law Olmsted's Lake Park is also a beautiful place to explore and of course, there is a gift shop. T
This is definitely one of the things to do in Milwaukee if you love a good photo opportunity.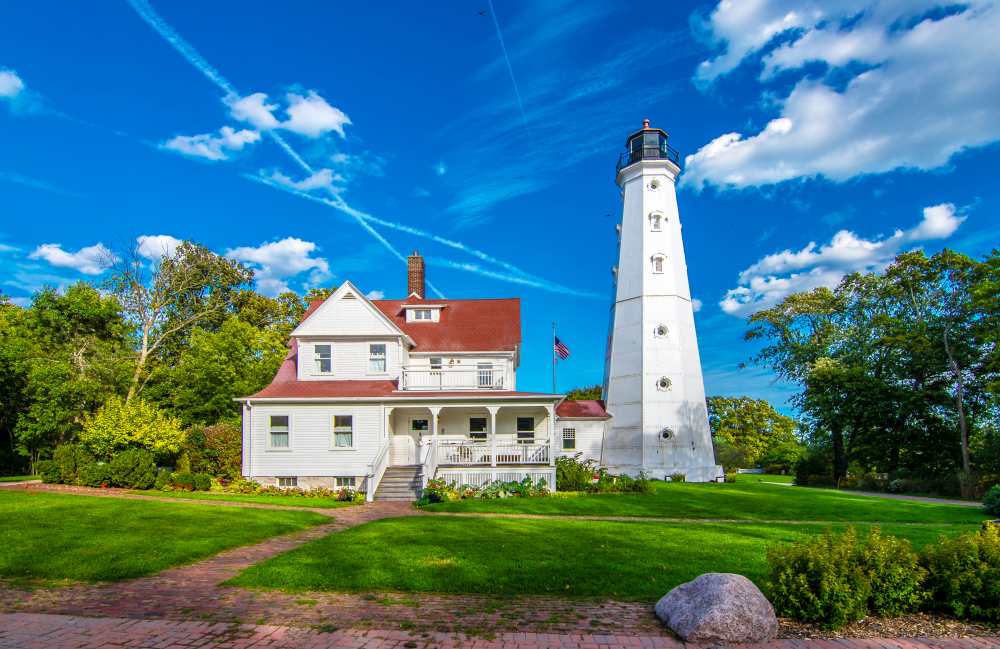 Going Mural Hunting Is One OF The Best Things To Do In Milwaukee WI
Milwaukee, Wisconsin is known for its art museums but the art around the walls of Milwaukee is also well worth exploring.
Not all art lives in museums and tucked away on the streets of Milwaukee you find some great murals and of course it's absolutely free to browse.
The Alley between Prospect and Farwell, Ivanhoe, and Kenilworth has turned into somewhat of an open-air art gallery.
In Milwaukee's Eastside neighborhood you will find art by locals and muralists from around the world. Perhaps the most famous is Black Cat Alley which was created by French artist MTO.
The Hanhala is also a mural you need to check out at 2433 W. National Avenue. There is a Milwaukee Mural Map which provides an interactive map dedicated to documenting the city's art.
One of the coolest free things to do in Milwaukee, Wisconsin.
Walk The River Walk
This 3 miles walk along the river is not only a scenic way to get from one end of downtown to the other. It's also home to River Sculpture.
River Walk is an outdoor gallery that includes permanent and temporary changing installations. There are some incredible works of art.
Possibly the most well-known, apart from The Fonz, is Gertie the world's most celebrated duck. You will also find some of Milwaukee's best restaurants and brewpubs along this stretch.
If you visit Wisconsin in winter, Milwaukee is a great place to start.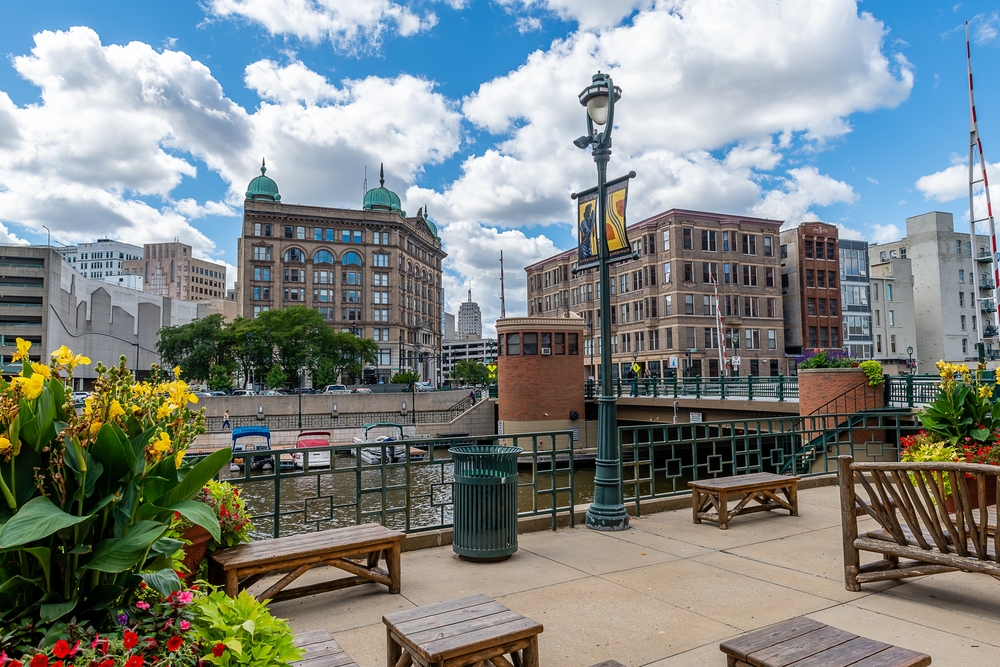 Enjoy One Of The Corner Bars
Old school bars are a huge part of the history of this city so put visiting on your things to do in Milwaukee list.
In fact, Milwaukee was runner-up for the"Destination-Worthy Old-School Bar Scene" in The Good Taste Awards.
Russ Klisch, one of the founders of Lakefront Brewery, likes to say, "London has its pubs, Paris has its cafes, but Milwaukee has the corner bar."
When they started in the late 19th century they were called tied houses meaning when they were opened tied to a particular brewery.
Walking into these places is like walking into the past. The places well worth a visit are Bryant's Cocktail Lounge a yield miller brewing house in 1936.
Wolski's opened in 1908 and was known for "I Closed Wolski's" bumper stickers.
Swingin' Door Exchange old-school saloon-style initially opened as the Grain Exchange Tavern in 1933.
Holler House is home to the oldest certified bowling alley in the country it open in 1908. Uptowner has operated since 1884 and was tied to Schlitz.
Landmark 1850 Inn was a stagecoach stop and is the oldest tavern and opened in 1850.
Definitely a great way to spend some time in this incredible city.
There are so many breweries in Milwaukee to explore!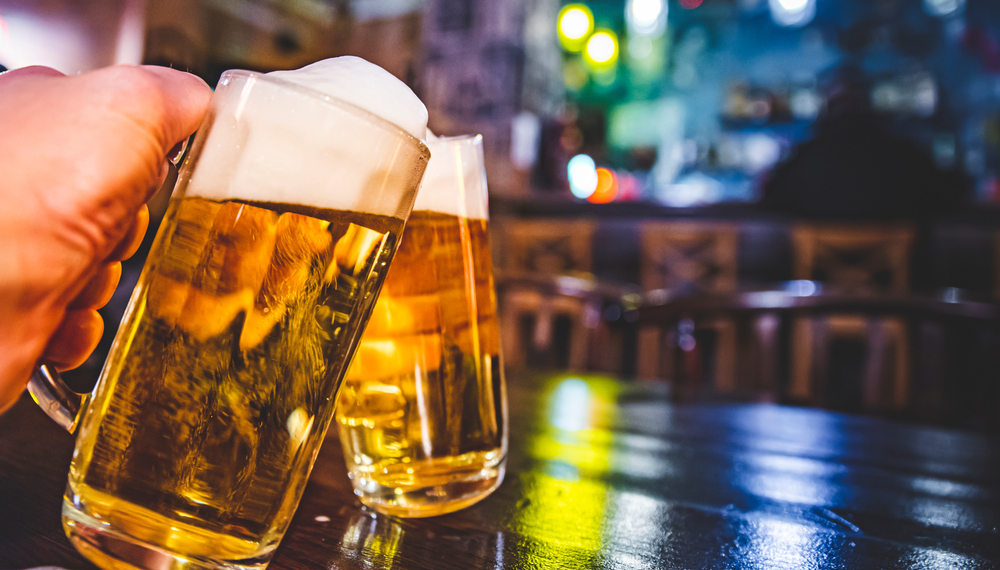 Go Ghost Hunting
Wisconsin is a really haunted state and Milwaukee is no exception.
There are so many ghost tours to take and on them all, you will learn about haunted history, legends, real ghost stories, and modern-day paranormal reports.
Milwaukee has numerous historic buildings a lot of them said to have ghostly happenings. Some have even garnered national media attention.
Pabst Mansion is said to be haunted by its former resident Captain Frederick Pabst, a portly smiling gentleman said to roam the Pfister Hotel.
Joe Couto, the founder of the Northern Alliance of Paranormal Investigators, says he's seen apparitions in the Brumder Mansion.
Sabbatic leaves a shot of whisky on the bar for the ghost. And Shaker's seems to have the most ghost stories.
The numerous ghost tours take in some or all of these places. Visiting these haunted locations is one of the most frightfully fun things to do in Milwaukee.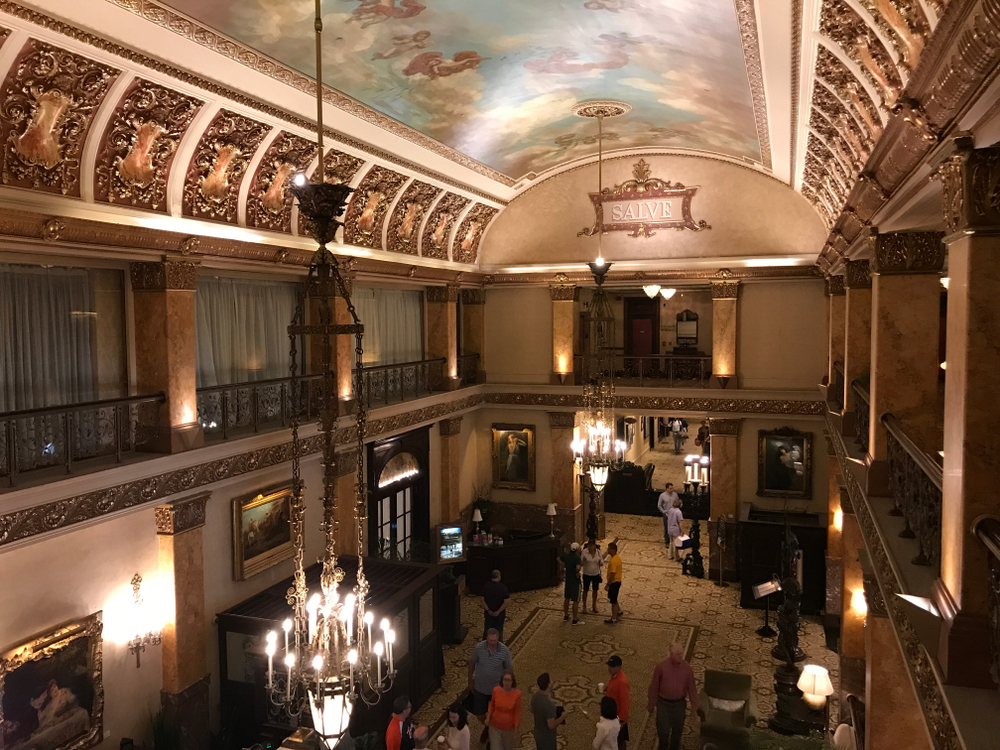 Take A Brewery Tour In Milwaukee Wisconsin
If there is something that Milwaukee does well it's brewing. So a visit to one of the many breweries is a must on your things to do in Milwaukee list.
Most offer tours and tasting so take your pick. The one that most people recommend is the Lakefront Brewery Tour mainly due to its entertaining guides.
If beer isn't your thing there is also a distillery in town. The Great Lakes distillery distills rum, whisky, vodka, and gin.
I can't think of a better way to spend the afternoon visiting one of these Milwaukee attractions.
It would definitely make for a great Midwest weekend getaway.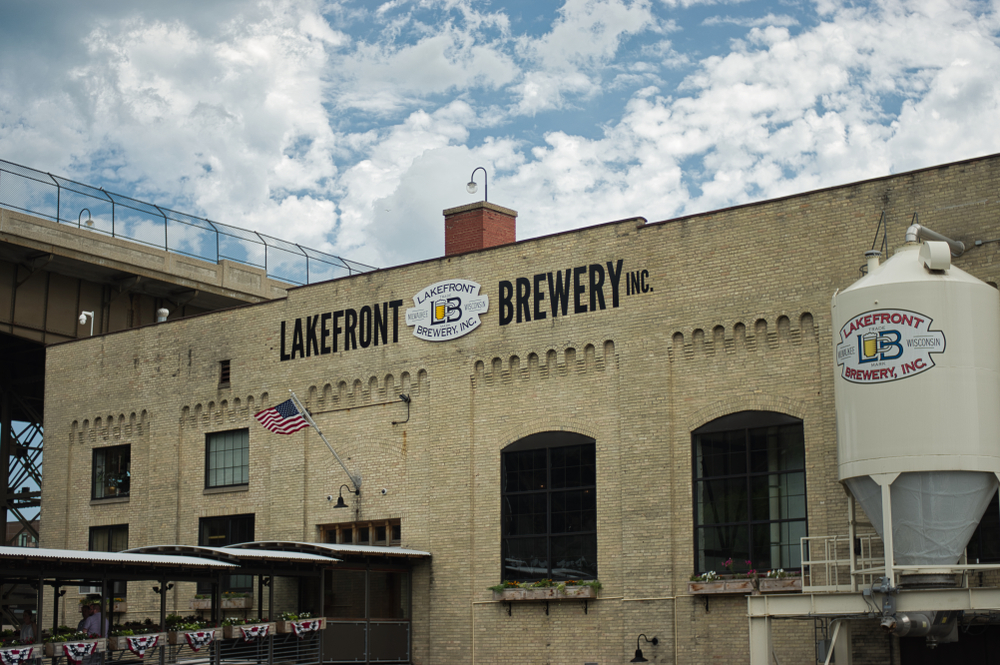 Tour Around Milwaukee's History And Architecture
Why not see this 'cream city' from a different viewpoint and take a tour of the creamy yellow clay buildings?
There are guided and self-guided tours so choose what feels right for you.
Take a stroll across the Skywaukee Skywalk System and see the city from the air. You will also learn about the historic downtown landmarks on your travels.
You will also find trolley tours and Historic Milwaukee offers tours around the historic German Old World Third Street to private guided tours of the North Point mansions.
Whichever tour you take this city has a lot to offer, showing off some of the best attractions in Milwaukee WI!
One of the best ways to explore Milwaukee is by taking a sightseeing bus tour.
Tickets Here: Milwaukee Sightseeing Bus Tour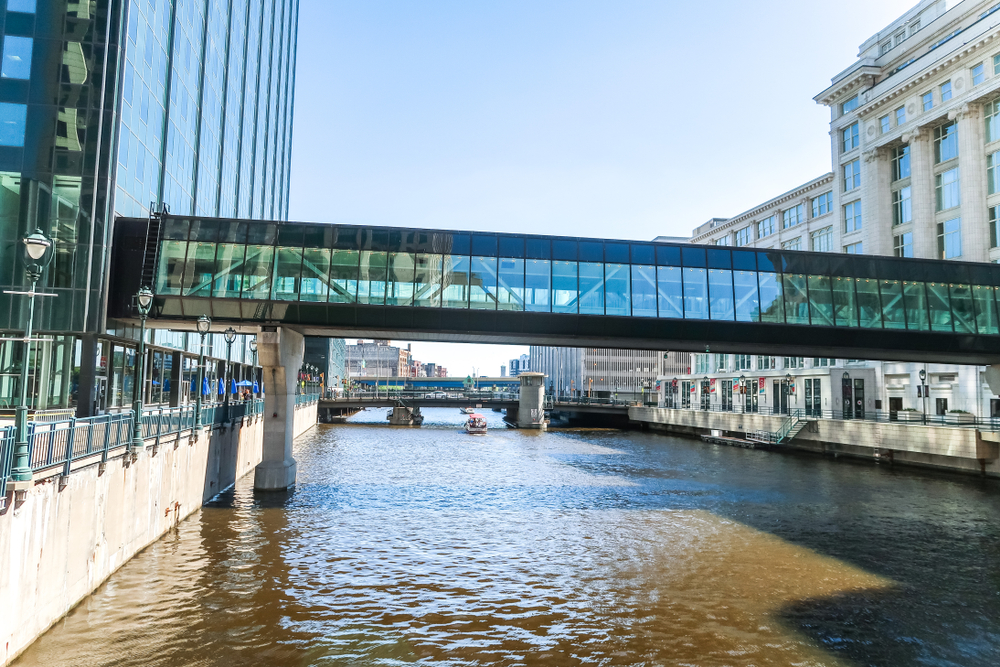 Go Green At The Mitchell Domes
A botanical garden housed in three ain't geodesic dome! Yes, Milwaukee has one of those.
Built by the richest man in Wisconsin, Alexander Mitchess in the late 1800s these domes originally sat in his own park.
He opened this park to the public and the city bought the land after his death.
The domes you see today are not the original and were completed in 1965. The gardens hold over 1000 different plant species and each dome has a different theme.
You have the Tropical Dome, Desert Dome, and Show Dome
Located in the Clare Square neighborhood they are open every day from 9 am. There is a cost to enter.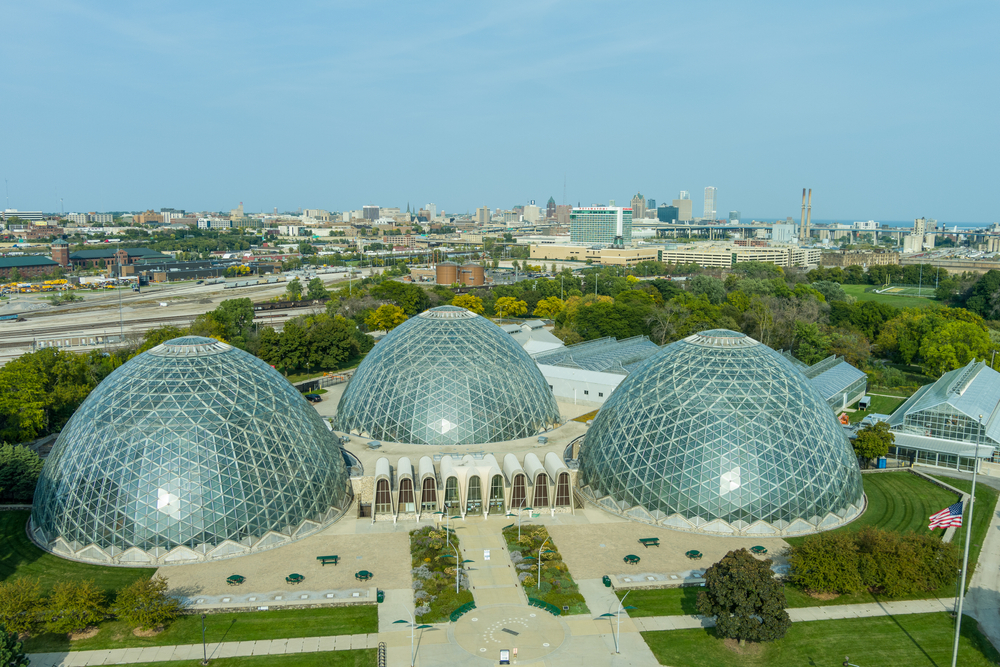 See The Bizarre Mary Nohl House
In the affluent neighborhood of Fox Point sits an unusual garden. The garden is full of fish, monsters, and humans.
They are all the art of Ms. Nohl who owned the property and created this garden between 1914 and 2001.
As you can imagine Ms. Nohl was seen as somewhat odd and the house became known as "the Witch's House." After her death, local residents tried to have the site demolished.
They did not succeed and in 2005 it was placed on the National Register of Historic Places. It isn't open to the public but you can see the sculptures from the street.
It's not the easiest place to see due to parking issues nearby but if you can find a place to park and walk it is worth seeing.
Take a Stroll Along The Lakefront
One of the prettiest places in the downtown area, walking along the lakefront is well worth it. As well as boutiques shops and dining options you will also see a lot of sights.
You will stroll past the War Memorial Center, the Milwaukee Art Museum, Municipal Pier, Henry Maier Festival Park, and Discovery World. And there is also a beach.
It's a great way to see the Milwaukee attractions and also just soak up the atmosphere of this incredible city.
It could make for a romantic Wisconsin getaway.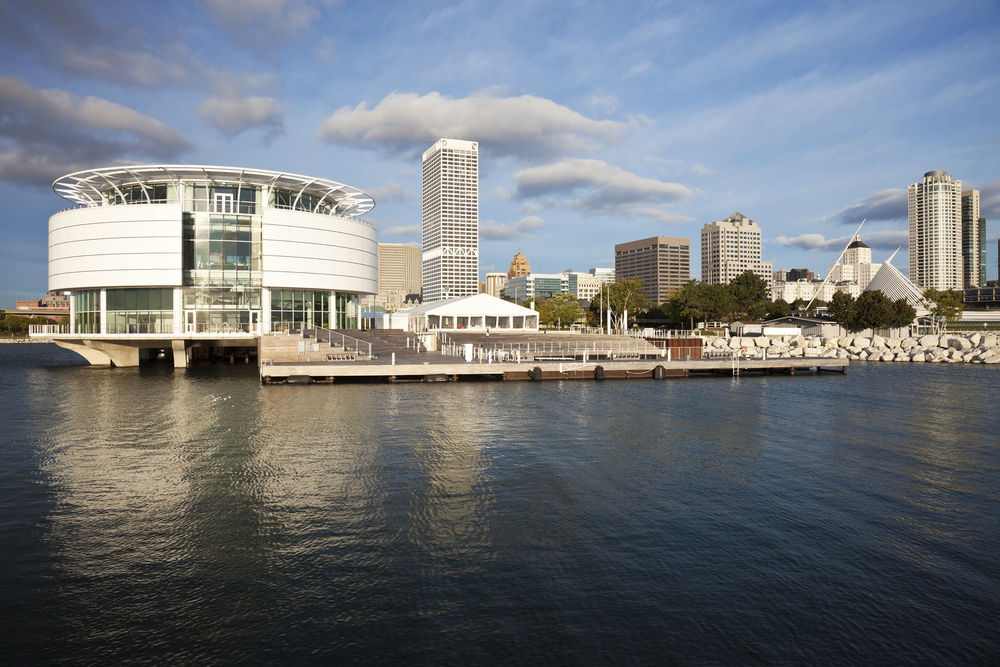 Packing List For Visiting Milwaukee Wisconsin
A concealed travel pouch may be one of the most important items you bring along when visiting Milwaukee WI.
It is always important to protect your personal information. Identity thieves are everywhere.
This unisex RFID-blocking concealed travel pouch is lightweight and comes in several colors. It has lots of organization to give you peace of mind.
If you have a pouch already that does not come with the RFID protection, as I do, these RFID sleeves are the perfect solution.
This configuration comes with enough credit card sleeves that the entire family would be protected. They are slim too, so they will easily fit into your pouch or wallet.
If you are planning on taking a lot of pictures with your phone you will definitely want to consider an external charging battery.
This Anker high-speed phone charging battery is the exact one I carry with me on all of my trips.
It can be used on a variety of phones, not just an iPhone like I have. And wow is it fast!
My daughter gifted me with this FugeTek selfie stick and tripod setup for my birthday. I absolutely love it! It is made of lightweight aluminum and is so easy to use.
It has Bluetooth connectivity and is a breeze to use for taking selfies when exploring attractions in Milwaukee.
Hydration is so important when traveling.
You want to remain hydrated throughout your travels to support your immune system which in turn will be stronger to fight off any germs you will encounter during your travels.
You will want to bring your own refillable water bottle with you.
I never leave home on a trip without my Bobble filtration bottle. The 18.5-ounce size is perfect for hiking and it fits nicely in the pocket of a backpack.
When filled with water, it is not too heavy to carry. And the charcoal filter ensures fresh clean water whenever you fill the Bobble.
Perhaps you are traveling a long distance and packing space is a premium in your suitcase, or in your car.
Then this set of collapsible silicone foldable water bottles would work well for you. Would not take up much space at all.
You will want a backpack or daypack with you to store snacks, your water bottle, phone, extra clothes, etc.. then this foldable water-resistant backpack would be great
It is very affordable and is available in many color options for you to choose from. The fact that it folds down into a zippered pouch will make it easy to pack.
—
As you can see from this article when it comes to things to do in Milwaukee you will not be short on options. Whichever of these fun things to do in Milwaukee you choose, you will have a great time.
When it comes to attractions in MI there really is something for everyone. I hope you have an amazing trip and please come back and tell me all about it.