Looking for vegan restaurants in Chicago? You are in the right place.
As a vegan, I'm pleased to say there are so many vegan restaurants in Chicago and I can't wait to walk you through them.
Planning your trip to Chicago last minute?
Make sure to book ahead. Hotels and tours often sell out the closer you get to your trip. Here are our top pics for Chicago!
Top Experiences And Tours In Chicago:
Hop Hotels In Chicago:
In this article, I will share where to get the best vegan food in Chicago and tell you all you need to know about the vegan food scene in this incredible city.
When you think of this city the first thing that probably springs to mind is the Chicago pizza.
Whether you are looking for a vegan pizza, a vegan burger, or a vegan milkshake, you will find it.
Chicago vegan food is incredible and there are so many restaurants to choose from.
So when you are done with your Chicago sightseeing, no more hunting for a restaurant that can accommodate your needs, save this list and refer to it when needed.
I have included what I feel are the best vegan restaurants in Chicago.
So are you ready to see where to eat as a vegan in Chicago? Grab a pen, pull up a chair, and let me walk you through some of the best vegan food in Chicago.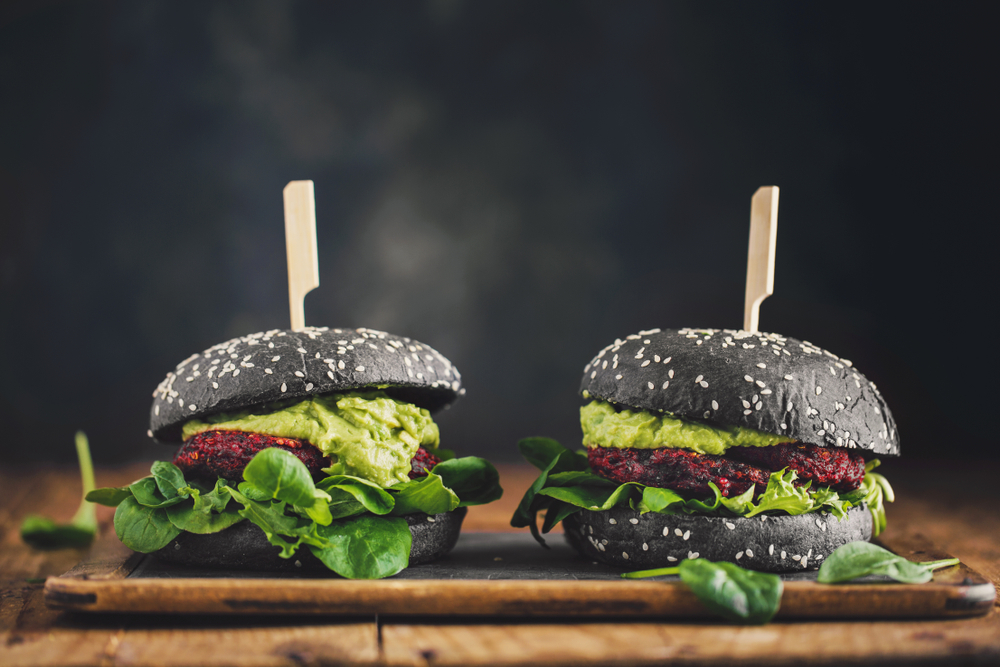 15 Best Vegan Restaurants In Chicago You Must Try
Althea
If you are celebrating and looking for the best vegan food in Chicago then Althea is the place for you. It's the brainchild of celebrity vegan chef Matthew Kenney and not only is the food vegan but it's raw.
If you have never eaten raw food restaurant-style before let me tell you it is some of the tastiest food ever. Most who taste raw food are so surprised at how good it is.
The menu includes items such as Corn Risotto, Zucchini Lasagna, and Baked Mac and Cheese. It's also a great place for vegan brunch in Chicago.
The restaurant is on the seventh floor of Saks Fifth Avenue and has a great view of Michigan Avenue. It's one of the best places for a vegan dinner in Chicago.
This vegan restaurant in downtown Chicago should be high on your list for that special occasion. If you are looking for romantic date night ideas in Chicago put this restaurant on your list.
Fancy Plants Cafe And Kitchen
Here you get two vegan restaurants for the price of one. Just a seven-minute drive from each other Fancy Plants Cafe and Fancy Plants Kitchen are 100 % vegan and serve delicious food.
For the best vegan breakfast in Chicago, head to the cafe on West Briar Place. You will find breakfast burritos, 'just egg' breakfast patties, bagels with cashew cream cheese, and house-made pastries.
Fancy Plants Kitchen is a farm-to-table restaurant that has some of the best vegan food in Chicago.
It's open from Wednesday to Sunday in the evenings for dinner. If you are looking for somewhere to do after an evening in Chicago this place might be perfect.
You will find craft cocktails, friendly staff, and an ever-changing menu. The menu contains items that will make your mouth water. The parsnip apple velvet soup and smoked tempeh are delicious.
They also do a 5-Course 'Taste of Fancy Plants' tasting menu which has garnered many rave reviews.
Chicago vegan food doesn't get much better than it does here.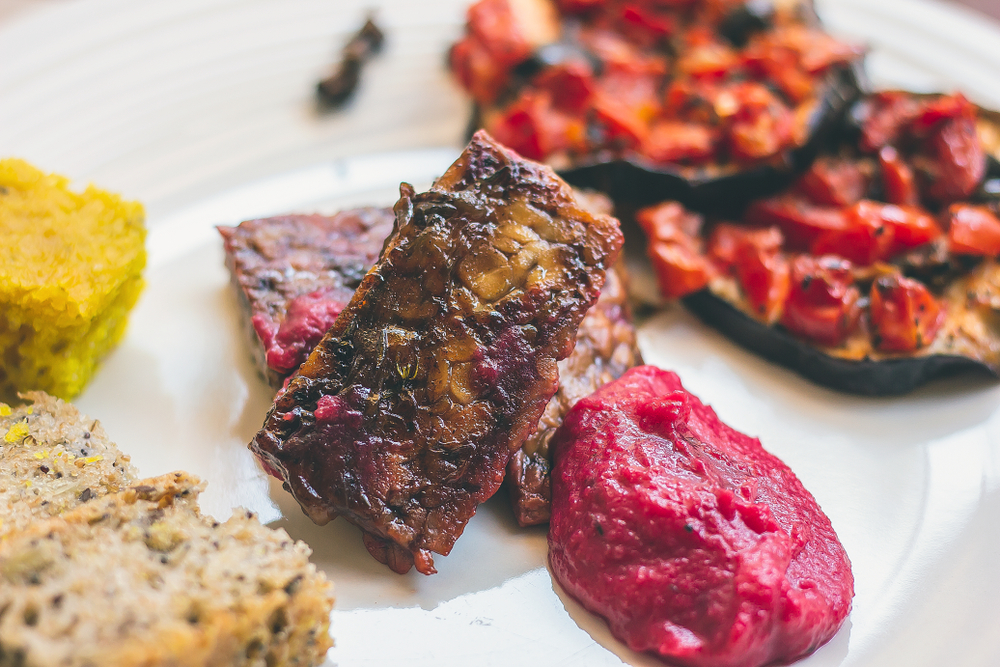 The Chicago Diner
While this diner is officially vegetarian most also consider it vegan because there are endless vegan options and vegan options on all items. They even have vegan milkshakes and vegan cakes.
"Meat Free Since '83" is the motto at the Chicago Diner and they really know what they are doing here when it comes to vegetarian and vegan food.
The menu has enough to keep everyone happy with soups, sandwiches, burgers, and some great brunch items. Their menu reads like the items have meat and fish in them even though they don't.
For example, the Diablo Der Mar it's 'Linguine in a fiery, smokey, tomato sauce, "scallops" made from
trumpet mushrooms, "calamari" made from hearts of palm, button mushrooms, and spinach.'
Here you feel like you are not missing out on anything.
This is one of the places you will be happy to be vegan in Chicago.
Handlebar Is A Great Restaurant In Chicago
Handlebars is another vegetarian/vegan restaurant where most options have vegan alternatives.
In Wicker Park, this place is a small casual neighborhood restaurant that makes everything from scratch. Items are locally sourced and sustainability is big on the agenda.
The menu is comfort vegan food with items like Sloppy Joes, Grilled Cheese Sandwiches, and Fried Avacado Tacos on the menu.
This is a lovely place just to hang out and spend time with people you love eating great food. It's one of the best vegan restaurants in Chicago.
There are plenty of vegan eateries for brunch in Chicago.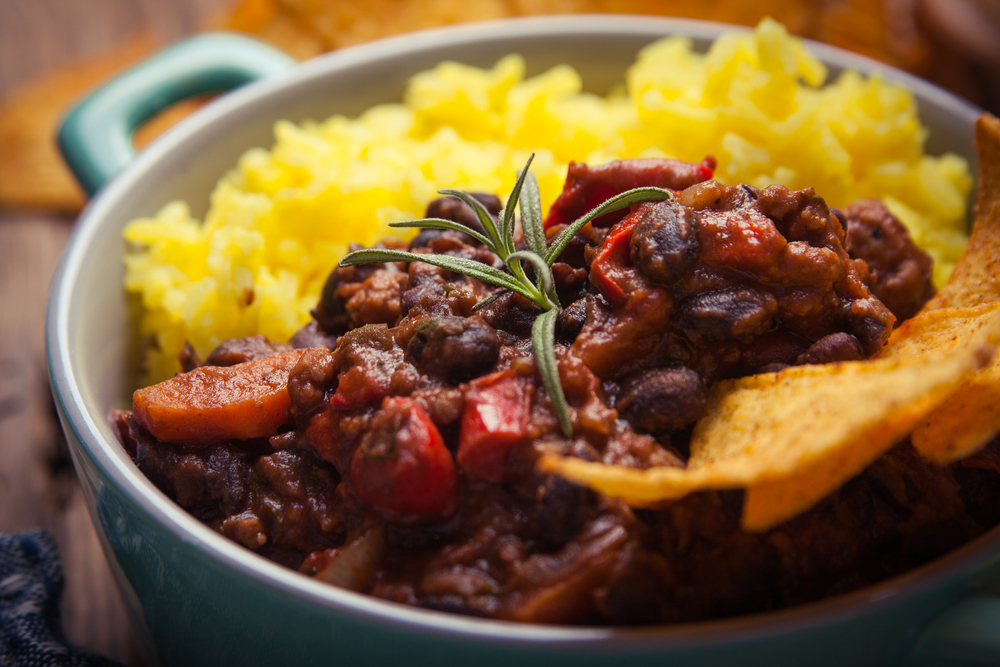 Liberation Kitchen
Liberation Kitchen use to be Upton's Breakroom and Liberation Donuts until they combined to form Liberation Kitchen. The menu is 100% vegan and it's open 7 days a week.
The menu is not huge but very satisfying. They have Chicago Style Up-Dogs, Bacon Ranch Cheeseburger, and their famous Fried Bacon Mac.
The donuts change daily but are gourmet and delicious. They are must-eats in Chicago. This is some of the best vegan food in Chicago.
This is one of the best downtown Chicago restaurants for vegans.
One Of The Best Vegan Restaurants In Chicago is Soul Veg City
Looking for vegan soul food in Chicago? Then Soul Veg City is where it's at.
For over 40 years this restaurant has served vegan food to the Chatham neighborhood.
It's more than a restaurant this is a place that cares about being more compassionate and sustainable in the world. It's a bright friendly establishment with a great reputation.
The chefs are highly skilled and believe me you are going to want to try everything on the menu. Come here hungry.
You will find salads, smoothies, mac and cheese pizza, zesty cauliflower wings, tacos, and delicious entrees like Soulful Steak and Rice.
This is one of the most loved and best vegan restaurants in Chicago you really have to give it a try.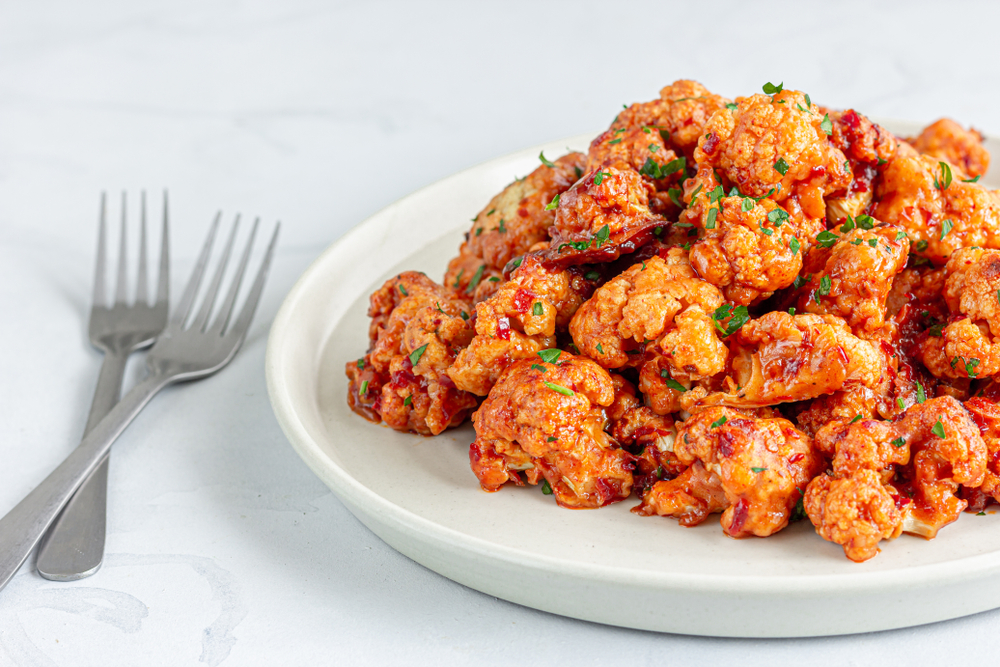 One Of The Best Vegan Restaurants In Chicago For Pizza Is Kitchen 17
Chicago's vegans need to look no further than Kitchen 17 for a great vegan deep-dish pan pizza. So if you are vegan but still want to partake in the Chicago pizza experience this place is for you.
This 100% vegan restaurant's line of pizzas is so good they are sold nationally. As well as pizza, they have made-from-scratch vegan comfort food with house-made vegan meats, cheeses, bread, sauces, and desserts.
The Cheeseburger Pizza, and Mac and Cheese deep dish really caught my attention. The deep dish here is one of the must-eats in Chicago
Vegan World Cafe
As an unassuming place on North Avenue, most come here for takeaway but they can sit 20 dinners inside. Think of this more like fast-food vegan dining.
The Chef has more than 20 years of vegan cooking experience and the ingredients here are locally sourced. They really care about their food here and it shows.
The menu changes often but the soul plates are always best sellers. You get a choice of protein, two sides, and a choice of soup or salad. They also do a large range of burgers, sandwiches, and tacos.
This is a no-frills kind of place with soul-cooked food that tastes amazing.
Majani Vegan Restaurant In Chicago Serves Up Delicious Food
Manjani means green leaf in Swahili and this place is all about fast, casual and delicious vegan food.
Fresh local ingredients are combined with the owner's African heritage to give the South Shore neighborhood something rather special.
The menu is a vegan delight containing things like black eye pea fritters, crab cake tacos, and jerk chicken sandwiches. They also have a great selection of soups, salads, and desserts.
This place is a real delight and one of the best vegan restaurants in Chicago.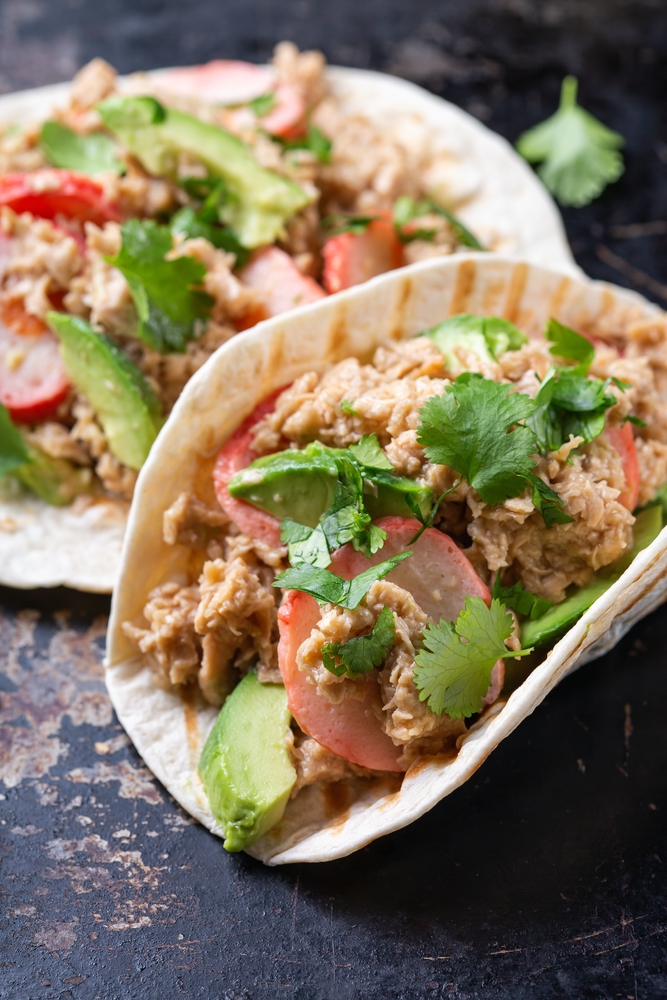 Urban Vegan Thai Cuisine Restaurant In Chicago
Yes, you can get Thai vegan food in Chicago and Urban Vegan is the place for that. This restaurant is 100% vegan with no fish sauces or egg washes in sight.
The menu as with all Thai establishments is extensive and contains every conceivable Thai-style vegetable dish you can think of.
The Steamed Curry Dumpling, Shrimp Tempura, and Teriyaki chicken sound particularly appetizing
Inside it's fresh and bright and the serving staff is always friendly and helpful. Chicago vegans love this place and so will you.
This vegan restaurant in downtown Chicago is well worth a visit.
Can't Believe It's Not Meat
If you are looking for a Hyde Park vegan restaurant then Can't Believe It's Not Meat might be perfect for you.
It is flavorsome vegetarian and vegan food and is perfect if not all in your party are familiar with vegan food.
The food here could easily be mistaken for meat alternatives with burgers, brats, and hot dogs deserving special attention.
The Hot Diggity Chili Dog, Philly Cheesesteak, and the Who Betta Burger all receive high praise.
This is the kind of vegan restaurant where you can bring the kids and they won't be able to tell the difference. Being vegan in Chicago has never tasted so good.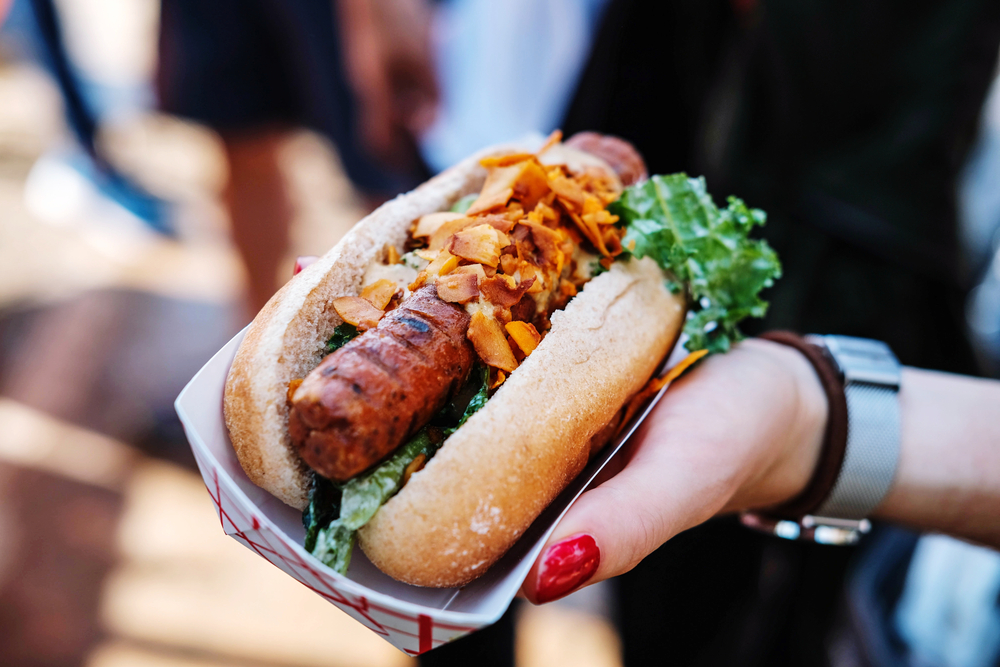 Kale My Name
Any menu that starts with 'I'm not really hungry but I'm going to eat anyway' is a hit in my book. This award-winning restaurant is on Melrose Avenue and is 100% plant-based.
The first thing of note here is that from 11-5 pm you can have an afternoon tea party, so if you and a group of friends are visiting book up for one of these.
They also serve great cocktails, with the Kale Me Up All Night being well worth a try.
The food here is also delicious and the menu really playful. It's eclectic containing so many items from burgers to jackfruit tacos with some great desserts added in for good measure.
Oh, and it's also the winner of the Best Vegan Restaurant in Chicago so you know it's good.
This vegan restaurant in Chicago is a real joy and lots of fun.
One Of The Best Vegan Restaurants in Chicago Is Alice and Friends
There is something rather magical and gentile about this place. The wonderland theme is somewhat at odds with the menu of pan-Asian options but it works.
Here they want everyone to enjoy vegan food and it's all about simple ingredients made into something beautiful.
The menu contains delights such as Heavenly Curry, Sweet and Sour Cauliflower, and Golden Yuba Fried Rice. The menu is extensive and everyone will find something they love here.
This vegan restaurant in downtown Chicago is a real experience that will leave you wanting to visit a second time.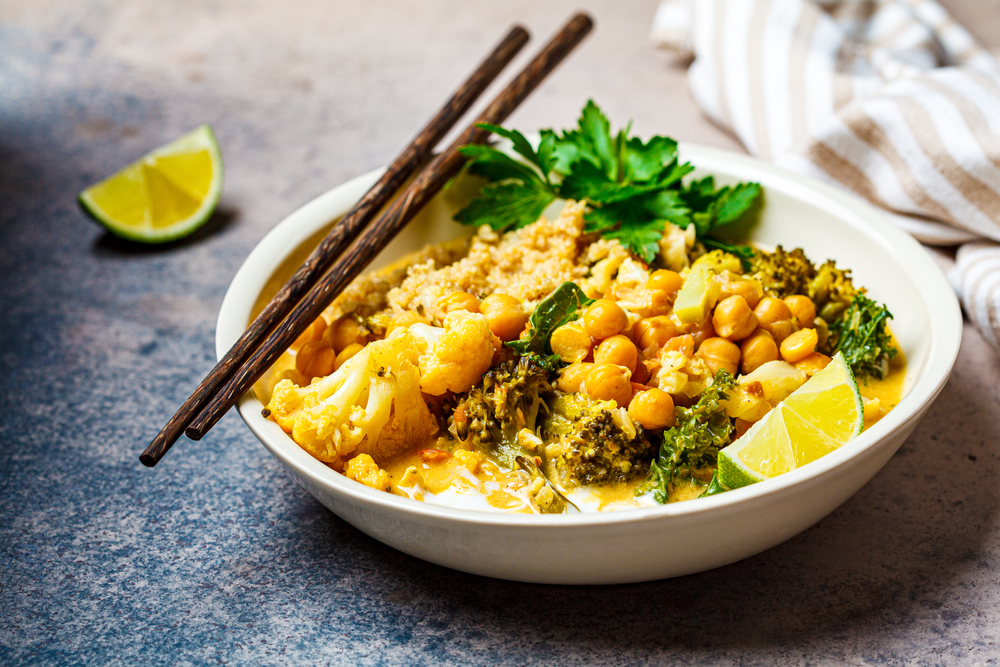 Penelope's Vegan Taqueria Is A Mexican Vegan Restaurant In Chicago
Looking for vegan Mexican food in Chicago? You found it. Penelope's is a Mexican plant-based taqueria in Chicago's North Side neighborhood.
First, let me say you won't miss, this place as it's bright pink covered in painted flowers which feels like a great start.
It's typical Mexican food but vegan. The Enchiladas are filled with potatoes, the Baja Taco with fried avocado, and the El Ceviche is cauliflower marinated in line juice.
The food is delicious and goes so well with the crafted tequila and mezcal cocktails. This is another one of those great restaurants to bring the none vegans as they won't even notice the difference.
Planta Queen
If you are looking for vegan Sushi in Chicago then this is the place to come. While there are many great restaurants in Chicago that serve sushi this is one of the only ones that are 100% vegan.
Sushi items include things like Ahi Watermelon Nigiri, Dragon Roll, and Baked Crab Roll. They also serve a wide array of dumplings, noodles, small plates, and raw items.
If you are after true 100% vegan sushi then this is the place for you.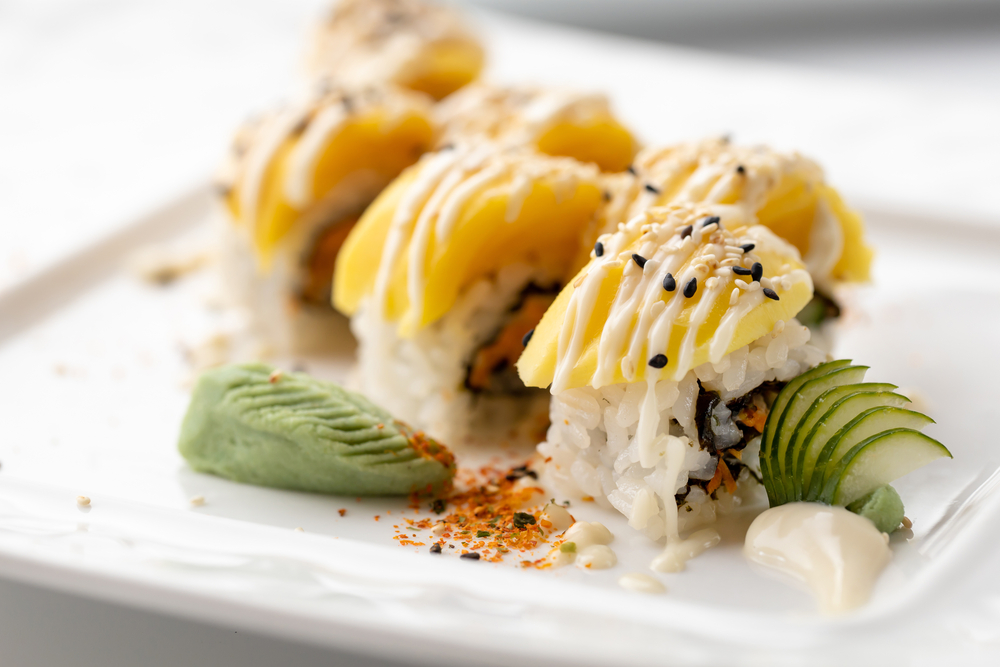 As you can see when it comes to vegan restaurants in Chicago the options are endless. This is a great city to come to if you are vegan.
Whether you choose one of the vegan restaurants in downtown Chicago or venture further afield all these restaurants have great reviews.
Try the famous Chicago deep-dish pizza have vegan sushi and enjoy vegan comfort food, Chicago has it all.
Whichever of these vegan restaurants in Chicago you choose have a great time and come back and let me know about the experience.
And if you are looking to plan your getaway a little more take a look at my Ultimate 2 Days In Chicago Itinerary.