Have you always dreamed of spending Christmas in Chicago?
There is nothing like celebrating the holiday season in a big city, and Chicago is no different.
Because it is a big city, there are plenty of holiday activities in Chicago during the month of December.
From light shows, ice skating in the park, and sampling decadent hot cocoa, I'm sure you'll love Chicago at Christmas.
There is so much to do and see when you enjoy the holidays in Chicago, so let's take a look at 15 festive ways to celebrate Christmas in Chicago.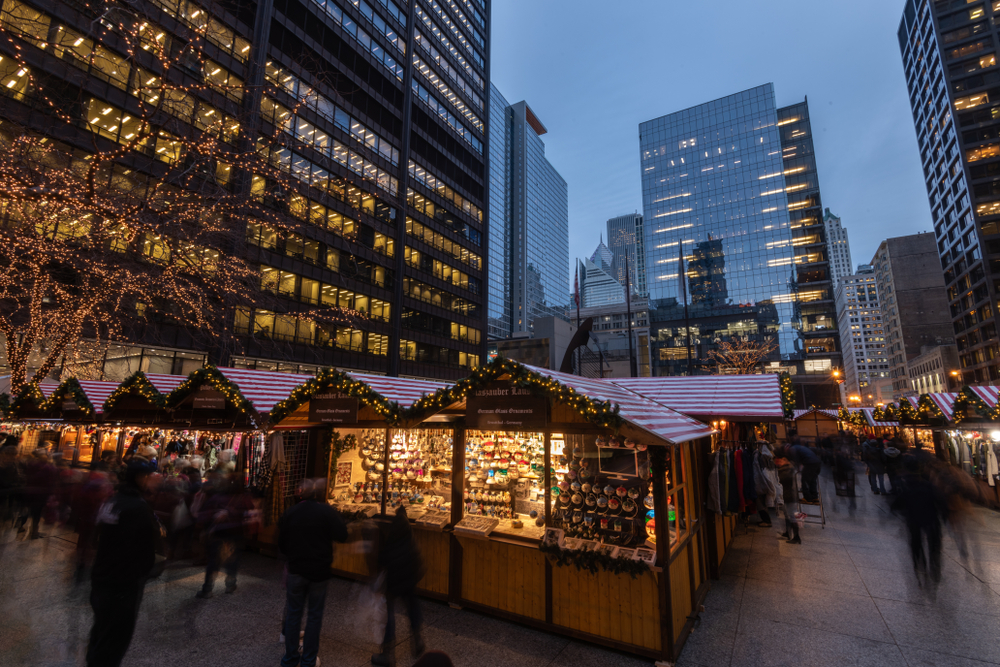 15 Festive Ways To Celebrate Christmas In Chicago
The Magnificent Mile Lights Festival
The Magnificent Mile Lights Festival is a yearly lights festival in the Magnificent Mile area of downtown Chicago.
At the Lights Festival, you can expect to see tons and tons of lights, a fireworks show set to music, and more.
Both locals and visitors love to walk along the Magnificent Mile on a beautiful winter night.
The lights festival is open every night, but to see the fireworks show, you'll need to come during the weekends.
It is one of the must-see things to do in Chicago at Christmas.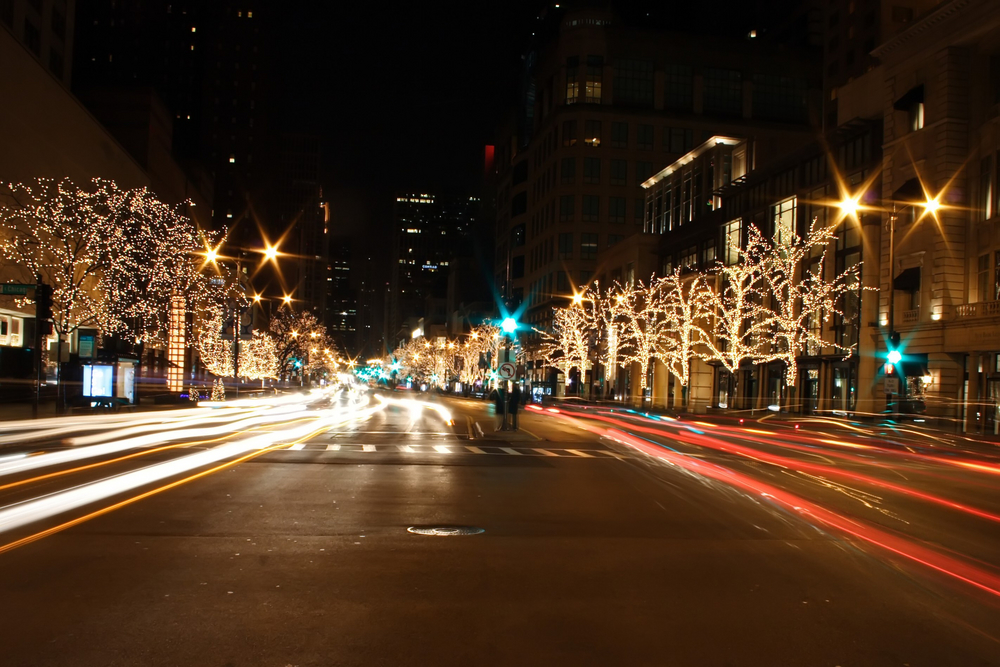 Ice Skating In The Parks Is One Of The Best Christmas In Chicago Activities
One of the best Christmas in Chicago activities is ice skating in one of the many outdoor ice rinks.
The outdoor ice skating rinks are an iconic holiday activity in Chicago.
There are several different outdoor rinks throughout the city and they all have different schedules and fees.
So make sure you research which one you want to go to before you go skating.
You'll get to see some beautiful views of the city while you enjoy the crisp winter air.
Since it is a popular activity, you'll most likely need to reserve your time slot for ice skating ahead of time.
A few of the rinks are free, but most charge a small fee to use the outdoor skating rink.
With skate rentals, it usually costs around $15 per adult.
But make sure you check the fees when you make your reservation.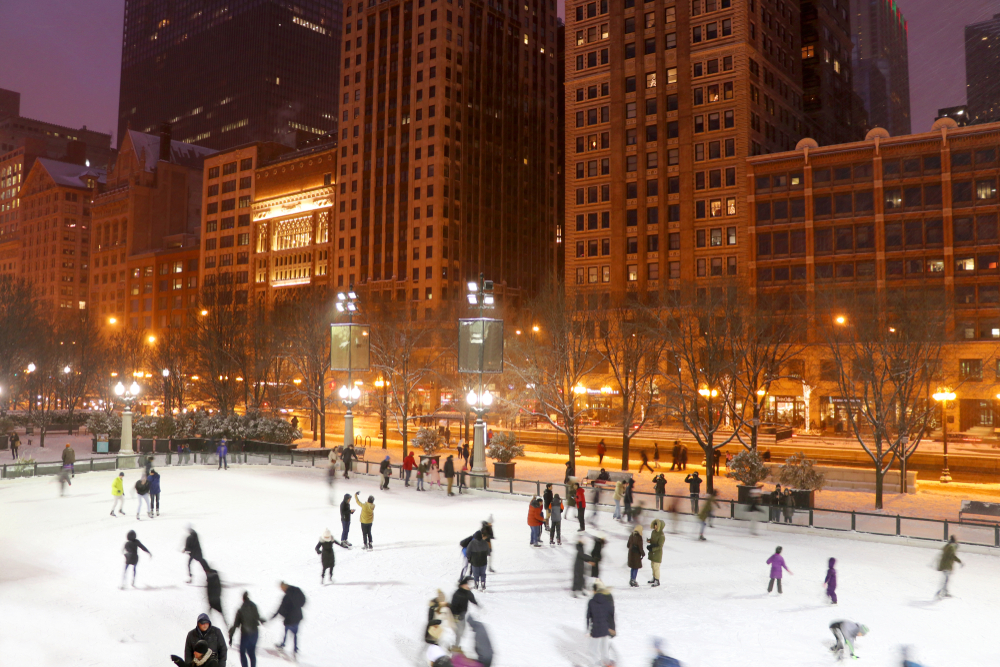 Try Speciality Hot Cocoa
After an afternoon spent ice skating outside, there is nothing better than getting a big cup of specialty hot cocoa.
There are several shops and restaurants throughout the city that serve up some truly decadent hot cocoa options.
All of them also offer completely different styles of this traditional holiday drink.
You can try decadent drinking chocolate, Mexican hot chocolate, or a large cup of cocoa topped with unique and fun toppings like whip cream, rock candy, and more.
If you want to take your hot cocoa home to enjoy, there are also a few places that sell hot cocoa kits.
Sipping a hot cup of cocoa is an excellent way to enjoy an afternoon in Chicago at Christmas.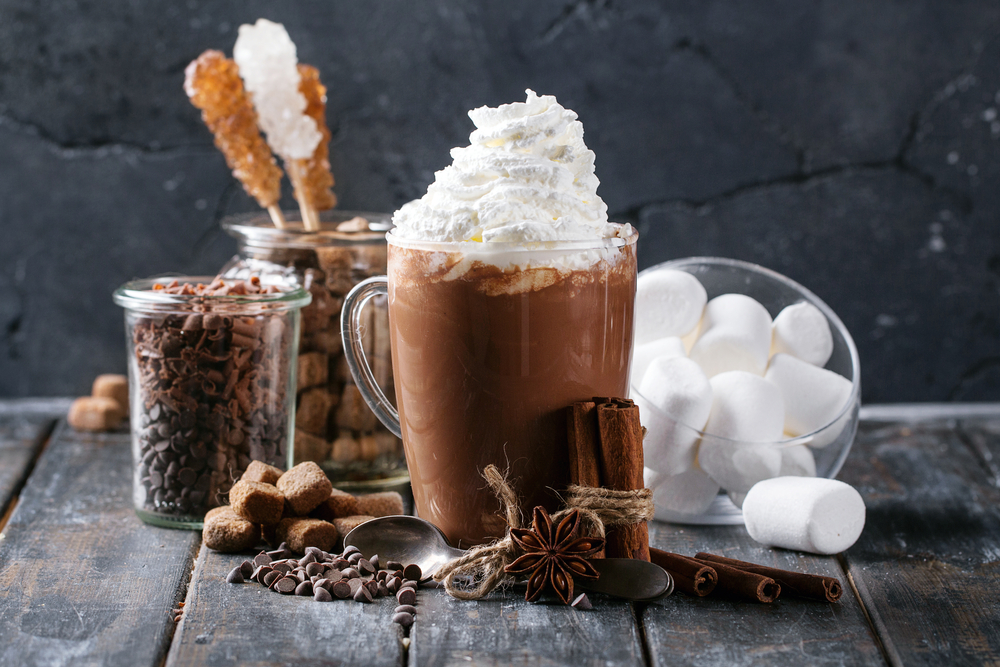 See The Millennium Park Christmas Tree
Every city has its own Christmas Tree that gets lit up every year.
The Christmas Tree in Chicago can be found in Millennium Park.
Millennium Park is a popular free park within the city that has iconic sculptures, like the famous 'bean'.
Not too far away from the bean is the Millennium Park Christmas Tree.
It typically goes up in November and there is a Christmas Tree lighting after Thanksgiving.
The beautiful tree is typically about 45 feet tall and is decked in lights and ornaments that make it look absolutely gorgeous, both during the day and at night.
You absolutely must see the beautiful Christmas Trees of Chicago, especially the city's main tree. Matter of fact, this would make the perfect Midwest weekend getaway trip!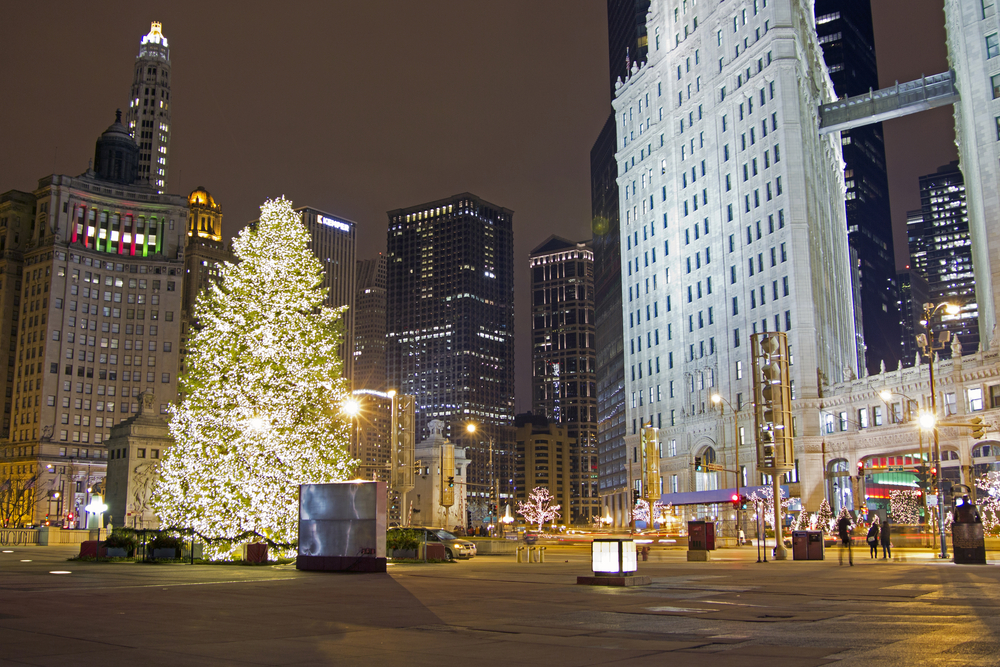 Catch A Christmas Classic At The Drive-In
Every year at the ChiTown Movies or the Lincoln Yard Drive-In you can catch some Christmas classics.
All throughout the Christmas season, the two drive-in movie theaters play a selection of Christmas movies.
You can typically see movies like Elf, Love Actually, A Christmas Story, and more.
Nestled in the warmth of your car, you can get a unique Chicago at Christmas experience. Experience this with your kids, or turn it into a romantic getaway. Either way, it is really unique.
There aren't many places you can enjoy the atmosphere of a drive-in movie theater, especially in the winter.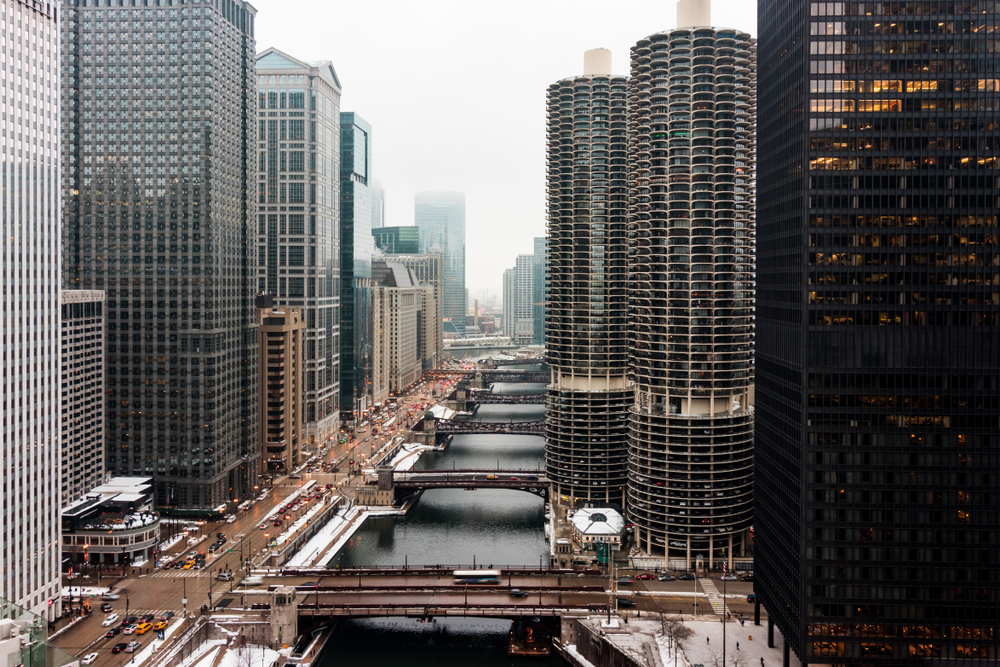 Christmas Shopping On The Magnificent Mile
While you are admiring the Lights Festival, take care of some of your Christmas shopping.
The Magnificent Mile is the most popular shopping street in Chicago.
It is full of high-end shops, department stores, and unique boutiques.
If you still need to get some of your Christmas shopping done, there is no better place than the Magnificent Mile.
It is a fun downtown Chicago at Christmas activity.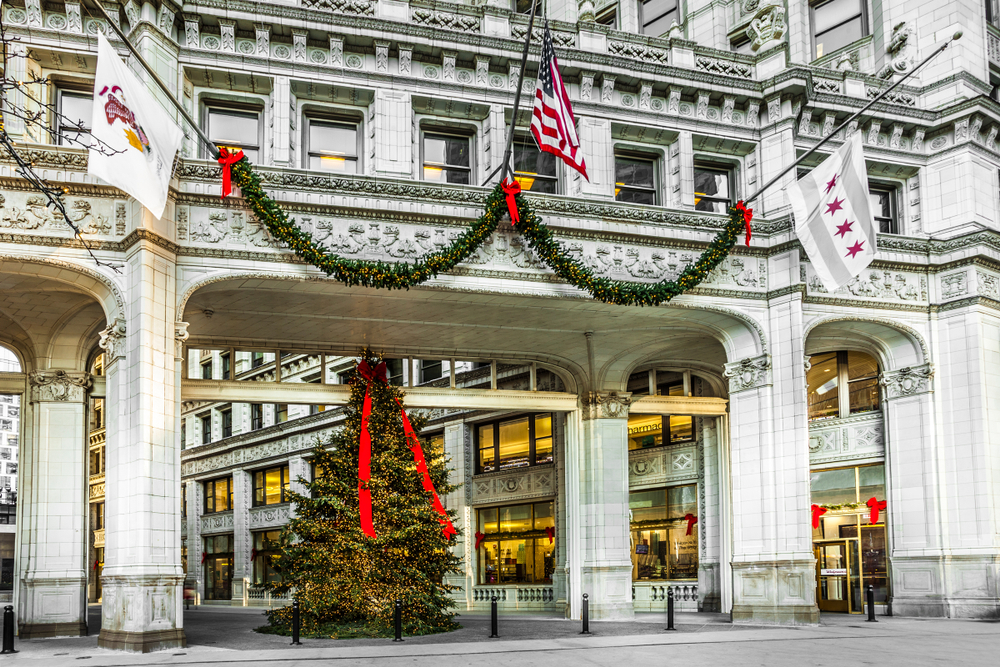 Lightscape At Chicago Botanic Garden
Another great place to admire Chicago Christmas lights is the Chicago Botanic Garden.
Every year the Lightscape at Chicago Botanic Garden is a beautiful light set up that draws visitors from all over.
You can wander through the botanic garden and see fun light sculptures, trees wrapped in multicolor lights, and more.
The Lightscape begins opening around the middle of November, so you can get in the Christmas spirit a little early if you want to beat the crowds that happen in December.
As you wander down the path, you'll enjoy a unique assortment of light installations that people of all ages will enjoy.
It's a great Christmas in Chicago activity for the whole family.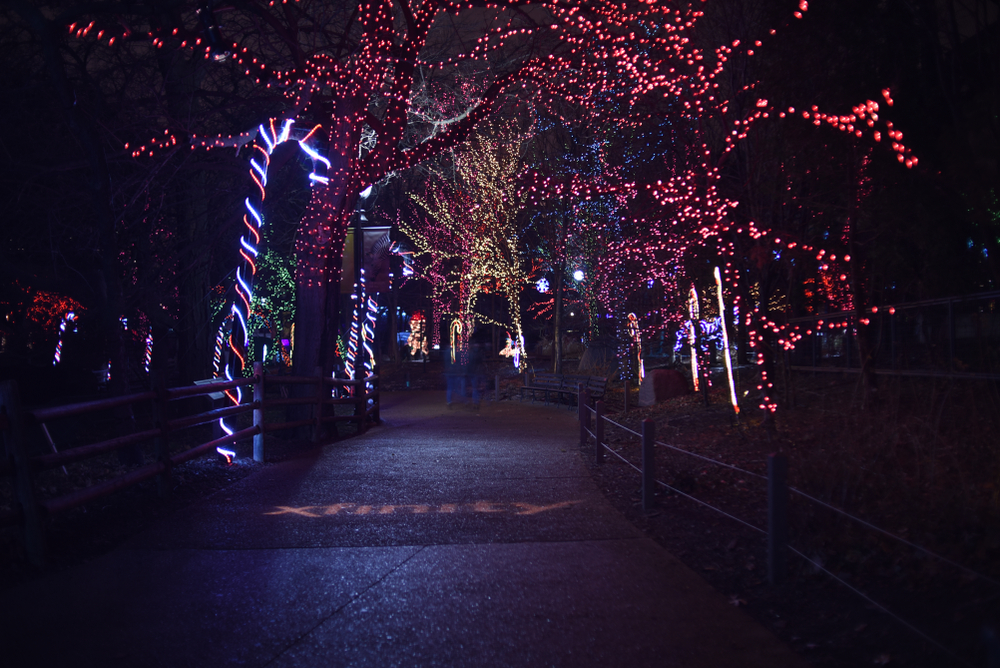 Enjoy The Christkindlmarket For A Great Christmas In Chicago Experience
Starting at the beginning of November you can enjoy one of the best Chicago Christmas attractions.
The Christkindlmarket is a super popular outdoor Christmas market that is styled after a traditional German Christmas Market.
It is located in Chicago's Daley Plaza and attracts visitors and locals to its charming atmosphere every year.
As you walk the stalls sipping on your mulled wine you will find Christkindlmarket classics.
There are handmade crafts, candles, sweets, and other food items, and ornaments to put on your tree.
If you are looking to give your loved ones a unique holiday gift while you are in Chicago, you're guaranteed to find something special at the Christkindlmarket.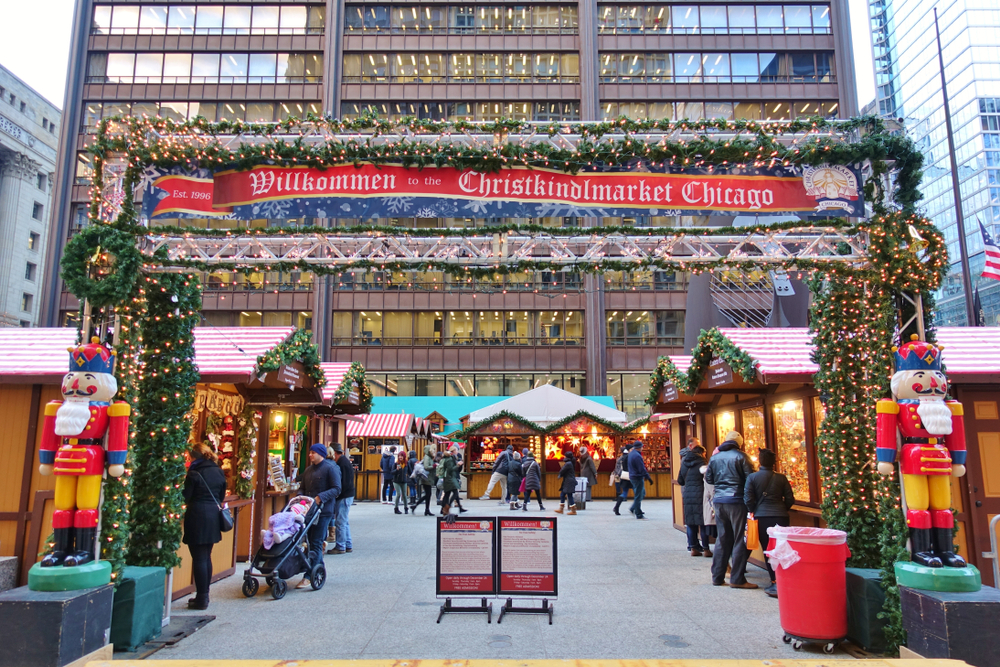 Seeing The Nutcracker Is One Of The Best Christmas In Chicago Activities
One of the most popular Christmas activities is going to see a live performance of The Nutcracker.
Chicago has its own Nutcracker performance for you to enjoy.
There are a few places in Chicago where you can see The Nutcracker performed live, but the most popular is at the Joffrey Ballet.
The version performed by the Joffrey Ballet brings the story home by depicting the story during the 1893 Chicago World's Fair.
This fun little twist makes the performance something that you can only see in Chicago.
From the beautiful performance to the unique take on the classic ballet, the Joffrey Ballet version of The Nutcracker is one of the best Christmas activities in Chicago.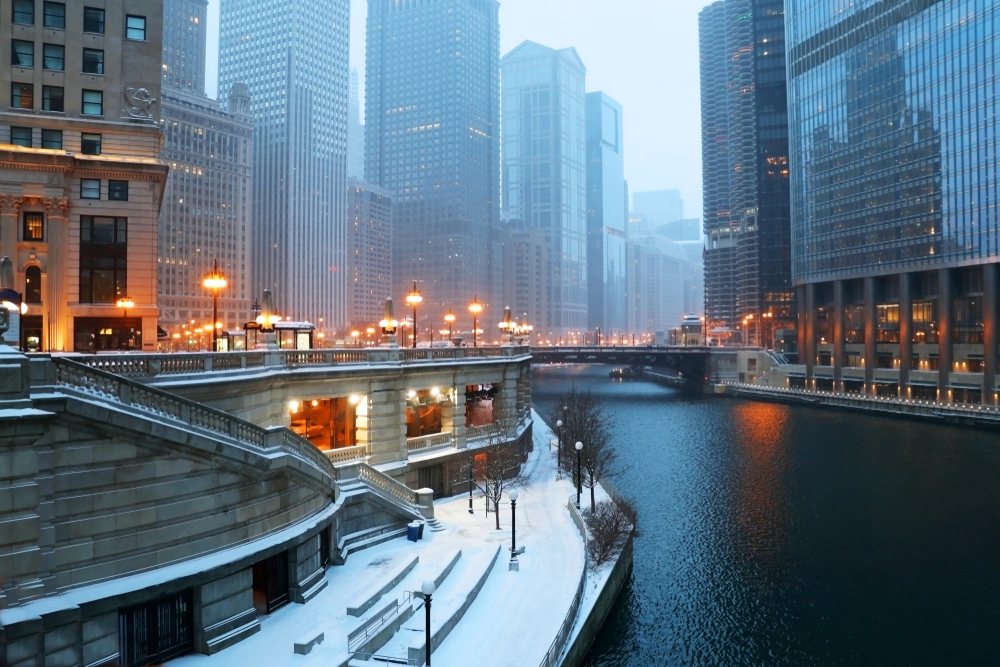 Visit The Walnut Room
The Walnut Room is located in the Macy's in Chicago.
It is often considered one of the best things to do in Chicago at Christmas.
In the Walnut Room, you'll find a massive Christmas tree on a pedestal in the middle of the room.
All around the pedestal are tables where you can sit and enjoy a delicious meal.
The room itself was the first restaurant opened inside a Macy's and is elaborately and luxuriously decorated.
It is a popular restaurant year-round, but it is especially popular during the Christmas season.
So make sure you make reservations ahead of time to make sure you'll be able to enjoy this iconic Christmas in Chicago tradition.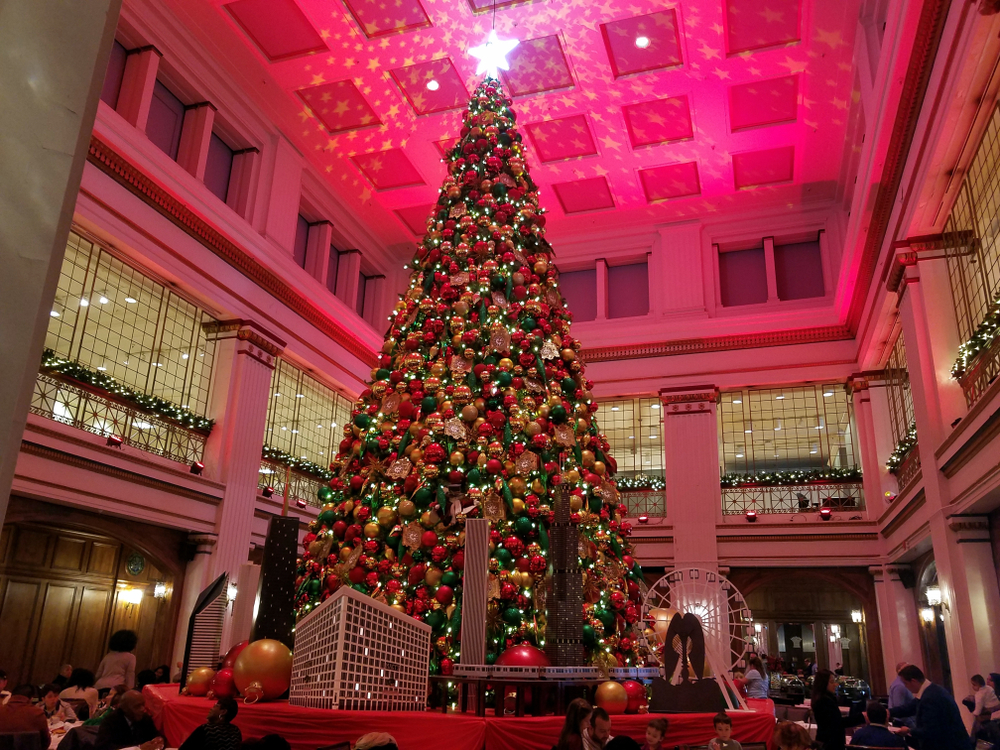 Wave To Santa On The CTA Holiday Train Or Bus
While you are enjoying exploring Chicago at Christmas, keep an eye out for the CTA Holiday Train or Bus.
All day, the CTA Holiday Train and Bus loop around the city with Santa sitting in the back.
If you want to make sure you get a chance to see the train or bus, you can check the schedule.
But both the train and bus will run along routes throughout Chicago, so you will most likely see it just as you are walking around.
If you are traveling to Chicago for Christmas with kids, it is a really fun activity for them.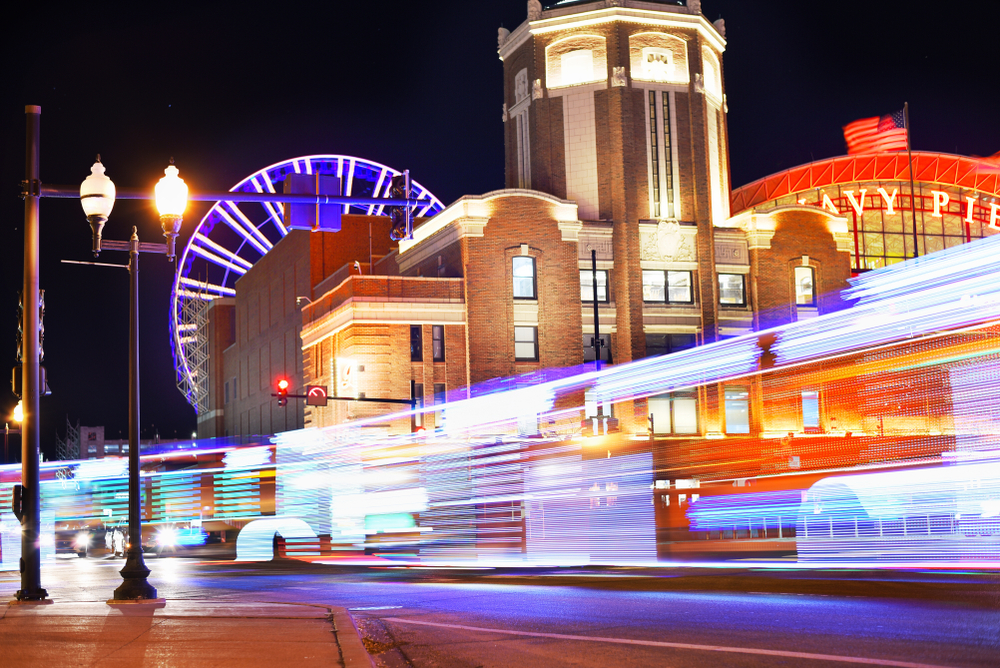 Explore Christmas Around The World
Every year, the Museum of Science and Industry hosts the annual Christmas Around the World exhibit.
The tradition started in 1942, and since then it has grown to a full-blown exhibit within the museum.
You can typically find a massive four-story-tall tree in the center of the exhibit.
Surrounding it is a small forest of trees, with anywhere from 40 trees, all lit up.
Each tree depicts a Christmas tradition from around the world.
It's a unique way to see how people everywhere celebrate Christmas and the similarities and differences between holiday traditions around the world.
This is a popular exhibit, so make sure you reserve a timeslot ahead of time to enjoy it.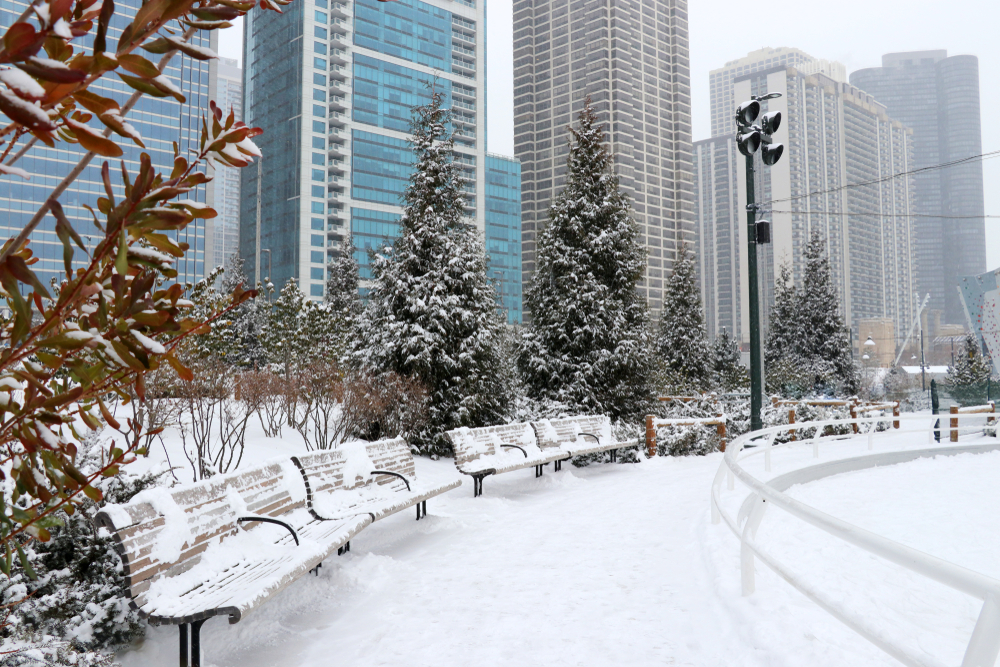 See The Art Institute Of Chicago's Miniature Christmas Decorations
In the Thorne Miniature Rooms at the Art Insitute of Chicago, you can find a very unique Chicago Christmas attraction.
The institute is home to 68 miniature rooms created in the 1930s by Narcissa Niblack Thorne.
Skilled miniaturists decorate the 68 rooms every year with perfectly scaled Christmas decorations.
As you walk through the Thorne Miniature Rooms you will see Christmas decor that matches the time period or style that each miniature room is meant to represent.
In the English Great Room of The Late Tudor Period 1550-1603, there is an elaborate Christmas feast on the large banquet table.
Or in California Hallway, about 1940 you can find a Menorah and Hannukah decorations.
It is a truly unique exhibit that is an iconic way to celebrate Christmas in Chicago.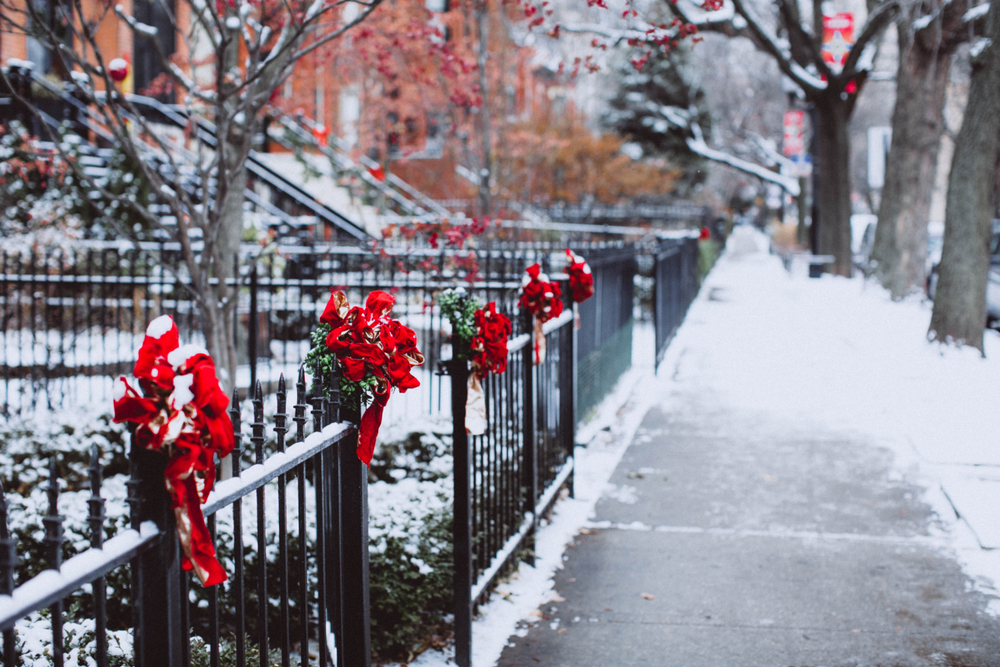 Experience Christmas At Art On theMart
Every year the Art on theMart transforms the massive projection program into a holiday-themed one.
The Art on theMart is the largest permanent digital projection in the world and is displayed on the side of the massive Merchandise Mart.
The Merchandise Mart's facade is about 2.5 acres in space that is all lit up with a digital projection show.
The show typically cycles through a series of holiday images and animations.
It is free to view and runs every night from about the middle of November until just after Christmas.
After Christmas, it returns to its non-holiday program.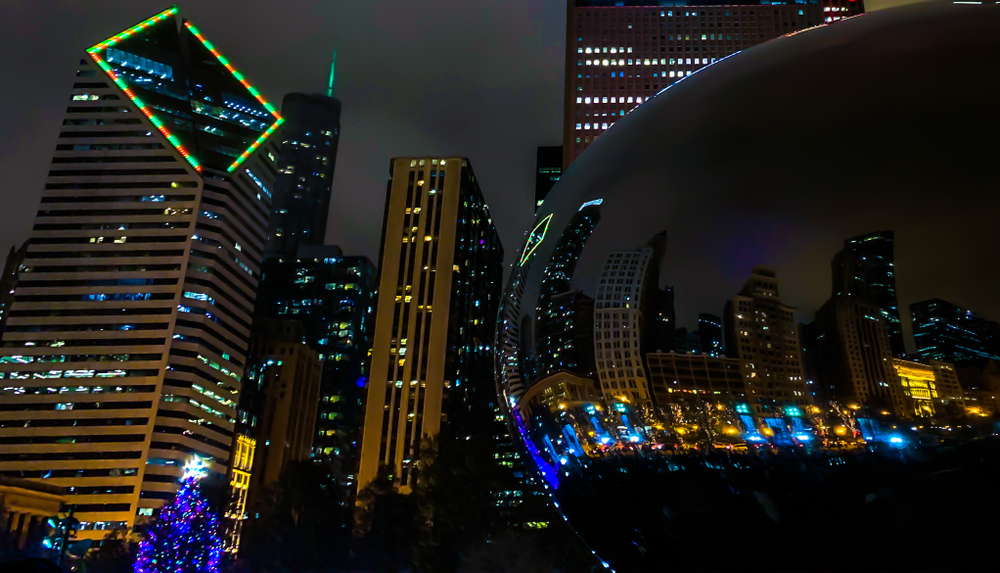 Santaland Is One Of The Best Christmas in Chicago Activities
Every year during the Christmas season you can visit Santaland in the Macy's department store on State Street in Chicago.
An entire section of the store is decked out in Christmas decorations and you can even meet Santa himself.
The Macy's Santaland is not a free event, so you will need to make a reservation to explore the exhibit ahead of time.
If you are bringing small kids, they will absolutely love it.
But keep in mind that there may be a long line, even if you have reservations, to actually get into Santaland.
It is worth the wait though to be fully immersed in a Christmas village that features Santa and his elves.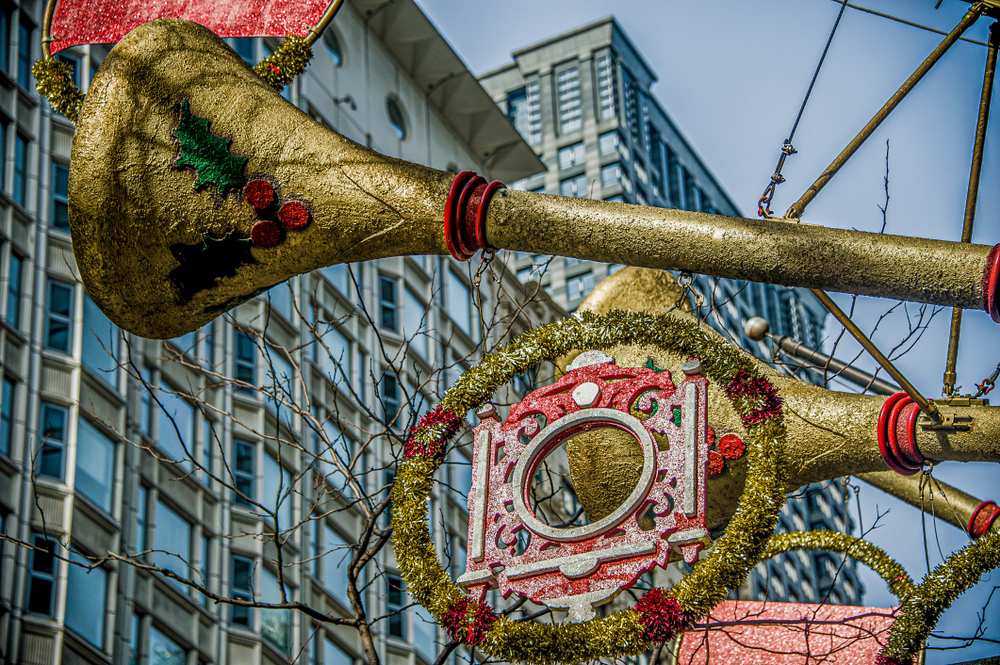 Christmas in Chicago is one of the best times to visit one of the Midwest's most popular cities.
It is full of fun Christmas activities, beautiful Chicago Christmas lights, and so much more.
Have you ever experience Chicago at Christmas time?
If so what was your favorite activity? If you haven't experienced the magic of downtown Chicago at Christmas you absolutely must add it to your travel plans!
No matter if you fly or road trip to Chicago, it is always prudent to pack lightly using only a carry-on bag!